Poné la pava que estoy cerca.
Put the kettle on, I'm close.
I've heard this phrase repeated so many times and one woman described it as the Argentine way of saying, "I love you."
It is communal and ritualistic.
Mate is a major part of Argentine culture and it's best shared.
I'll never forget when an older man on a public boat in the Tigre Delta offered his mate to my friend and me, two strangers.
We took it and it wasn't long before everyone on the boat felt like old friends.
Want to learn more about yerba mate and where to try mate in Buenos Aires?
This post is for you, so put the kettle on and keep reading.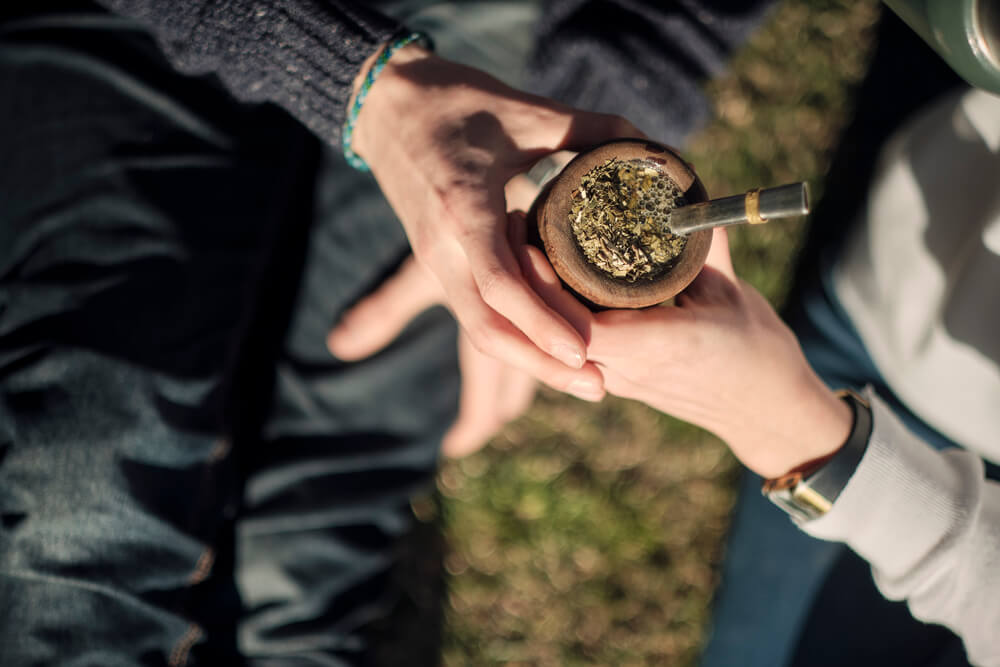 QUICK NOTE: This post contains affiliate links and Sol Salute may receive a commission for purchases made through these links, at no extra cost to you.
History of Yerba Mate
I first started to learn about the history of yerba mate when we went on a road trip through Misiones, in Argentina's northeastern jungle.
It dates back to the indigenous population, the guaraníes, the people who have always called this region home across Brazil, Paraguay, and Argentina.
They used the yerba leaves as a sacred drink, an object of worship, and even currency.
Unsurprisingly it caught the eyes of the Jesuit priests who noticed how it increased the guaraníes' energy after drinking it.
The Jesuits began to cultivate the tree on their missions and eventually it became known as Jesuit Tea, but we all know it never belonged to the Jesuits.
Nowadays you can visit Yerba Mate plantations in Misiones. We toured a small family-run farm but you can visit large production facilities from major names.
There's an official route you can follow, La Ruta de la Yerba Mate, to plan your own mate road trip.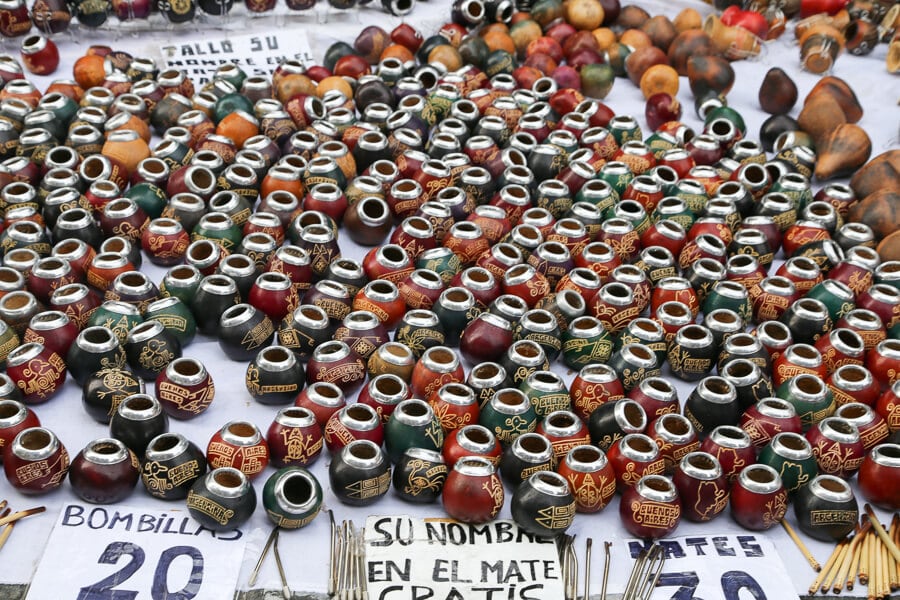 Yerba Mate Supplies & Vocabulary
First, what do you need to prepare your mate?
Yerba – The actual tea leaves, you can get my favorite unsmoked yerba or popular brands like Playadito on Amazon.
Mate – The tea
Mate – The cup itself is also called a "mate"
Bombilla – The metal filtered straw
Termo – Thermos of hot water
Cebar – The act of serving the mate
Cebador – The server/preparer of the mate
Lavado – When the yerba is losing its flavor at the end, lavado is literally "washed out"
Tereré – Cold mate (often with juice mixed in), typical in the Northeast and in Paraguay, not as common in Buenos Aires
How to Prepare Yerba Mate
There's more to just tossing the tea leaves into the cup, shoving a straw in, and steeping the tea.
Is this your first time making mate in your brand new gourd? Stop, first you need to cure it. The process depends on whether it's a gourd or made of wood. Click here for steps.
Now, it's mate time.
This is the strict step-by-step method on how to properly prepare your mate.
Fill your mate about 3/4 of the way with your yerba of choice
Cover the top with your hand and flip it over a few times to bring the dust and fine leaves to the top, this keeps your bombilla from clogging
Optionally, you can filter the yerba with a wire mesh sieve before adding it to your mate to eliminate the fine leaves and dust
With the yerba at a bit of an slanting 45 degree angle in the gourd, pour in a little bit of lukewarm water, let it sit for a couple of minutes for the dry herbs to soak in the water
TIP: The water should not be boiling like with tea or coffee, but just 70-80 degrees Celsius, give or take
Introduce the bombilla to the yerba and push it through until it makes contact with the bottom of the gourd
Now fill the rest of the cup with hot water, to the top of the mate leaves (some should remain dry, that's fine!)
The cebador (server) will sip out this first cup and prepare a new one with hot water before giving it to the first person in the circle.
Do not say "gracias" until you are done; if you've had enough before the round is finished, pass it back and say "gracias" and the cebador willl know not to include you in the next round.
PRO TIP: One must NEVER move the bombilla. The straw (bombilla) can only be touched so as to steady it as you sip. Never, I repeat NEVER use it to stir and never agitate the leaves. Once the bombilla is in place, leave it alone or risk making a major yerba faux paus.
The owner of the mate prepares the mate, always.
When he or she prepares the first cup, they'll pass it to the first person in the circle/group. That person will sip it in its entirety and then pass it back to the cebador.
The act of pouring the water into the mate is called "cebar" and the person who prepares it is the "cebador."
The cebador will pour another and pass it to the next person, and so it goes…
You can drink mate as it is, which is bitter, without adding any sugar. This is the most common.
If it's just too bitter, add some sugar to the top of the leaves before pouring the hot water to sweeten it.
You can also add mint leaves, orange peel or lemon peel to flavor it. In fact, the brand Cbse sells flavored yerba to cut out the need to add your own.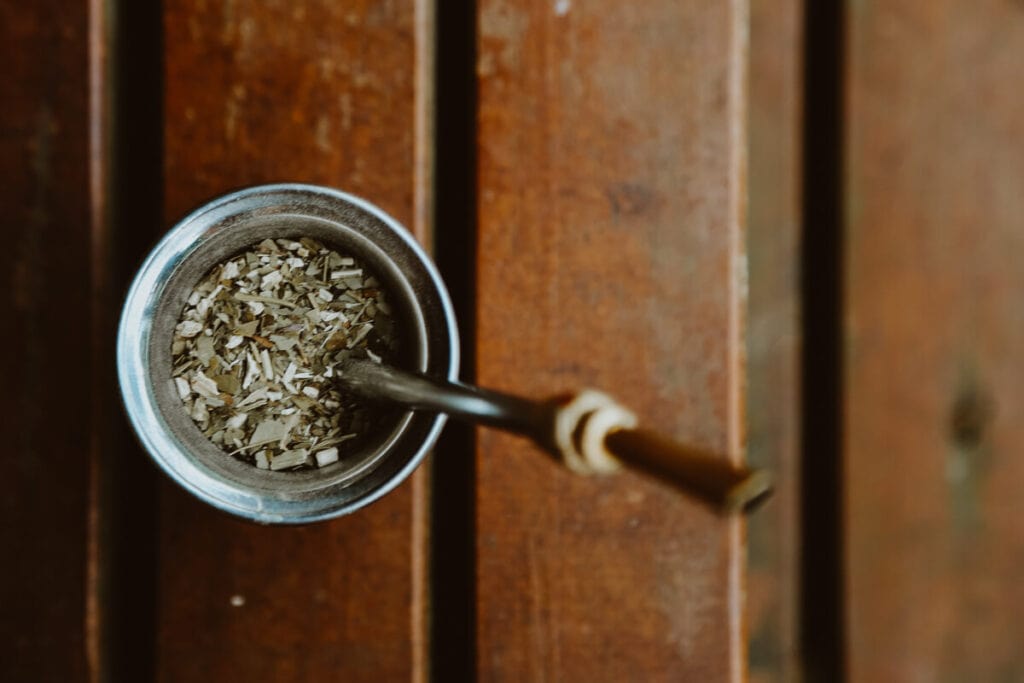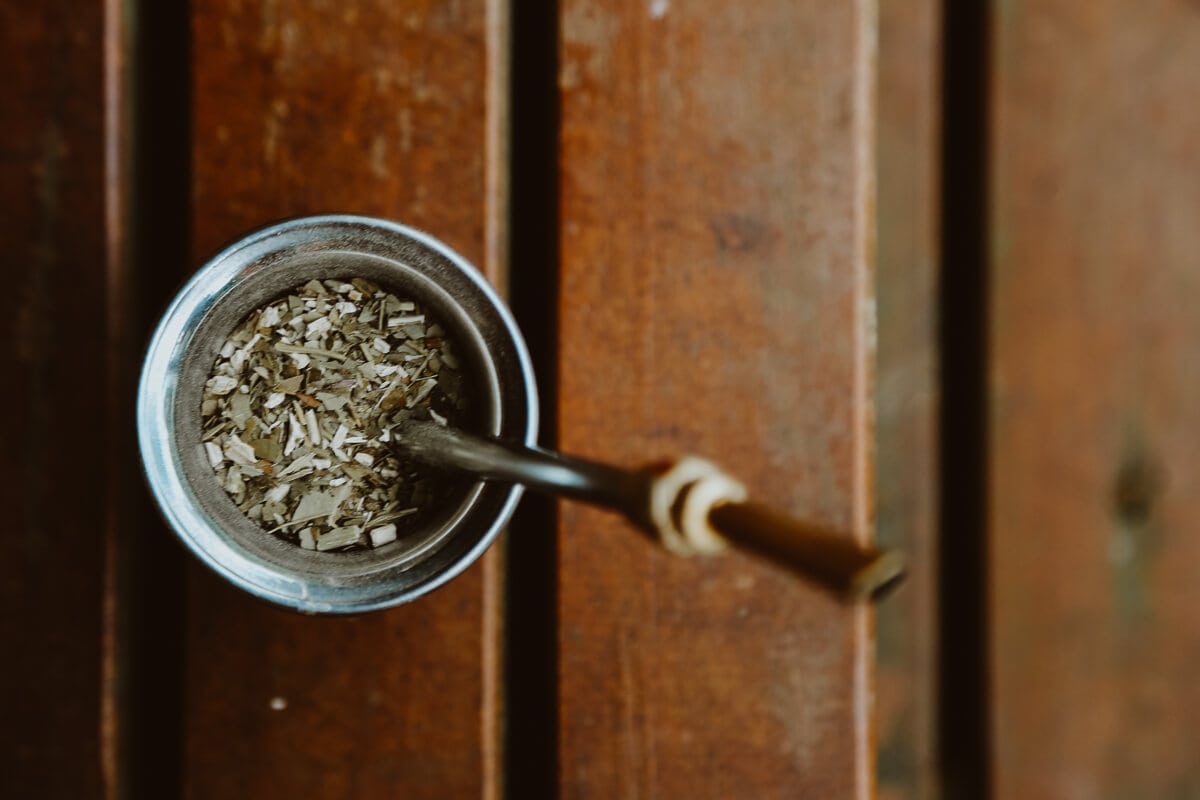 Where to try Yerba Mate in Buenos Aires
Mate is typically a make-it-yourself drink. It isn't typically offered on menus like coffee or tea.
That said, there are some restaurants that do offer a yerba mate service for tourists to give it a try.
Restaurants Offering Mate Service
Las Cabras | Fitz Roy 1795, Palermo
Las Cholas | Arce 306, Las Cañitas
Cumaná | Rodríguez Peña 1149, Recoleta
Raíces | Av. Crisólogo Larralde 3995, Saavedra
Candela Mate & Café | Blanco Encalada 4102, esquina Holmberg, Villa Urquiza
Matea | Calle 11 533, La Plata – This one isn't in Buenos Aires but in nearby La Plata, it's the first Mate bar in Latin America so it deserved a mention
Yerba Mate Tours/Experiences
If you're particularly interested in learning more about yerba mate in Buenos Aires, you can't go wrong with a food tour/experience.
This Yerba Mate Experience is a complete tasting experience and master class.
You'll learn more than you would at one of the restaurants listed above, where you'd only try it without the guide teaching you more, like how to prepare it or the history behind it.
Make Your Own at a Park
To drink mate like a local, make it yourself with friends at the park!
Heat up the water beforehand and fill your thermos.
You can also get hot water in most gas stations from vending machines that dispense hot water just for mate.
All of the beautiful parks in Buenos Aires are great for an afternoon mate with a friend.
Don't forget the pastries!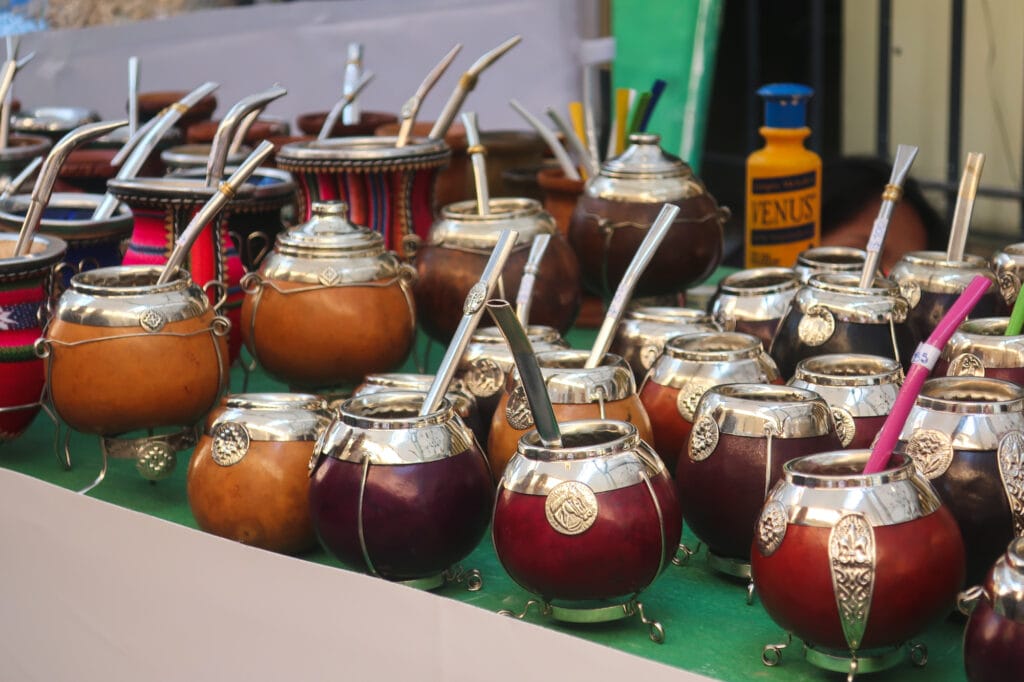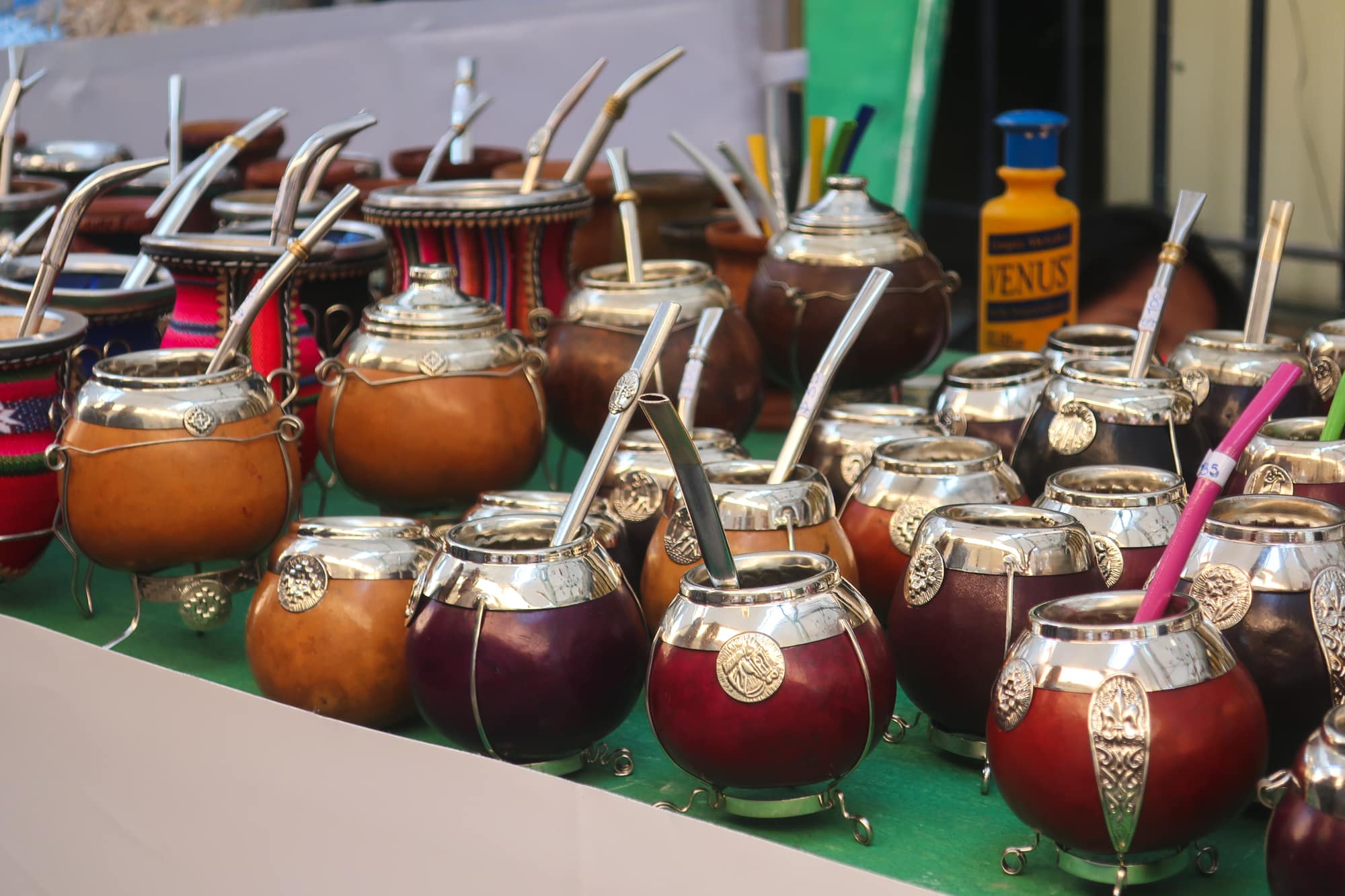 Where to Shop for Mate in Buenos Aires
To shop for yerba just head into any supermarket in town.
For organic yerba, dieticas often have a good selection like Kraus I mentioned earlier.
To pick up your own gourd/cup, these outdoor markets always have a good variety.
You can also go to a mate focused shop, like Todo Mates in Palermo.
You'll see modern mate cups in just about any décor shop or bazaar, including silicon, metal, and carved wooden versions.
If you're shopping from abroad, this starter kit on Amazon is great because it includes the cup, the thermos, and the bombilla.
Pin It For Later