Gone are the days of having to fill your suitcase to its weight limit with tubs of dulce de leche and Malbec
Thanks to the internet, you can get anything, anywhere, and have it at your door in 2 business days.
Leather goods and wine, nostalgic candy, and duce de leche everything…
If you have a loved one that has a special place in their heart for Argentina, get them one of these Argentina gifts.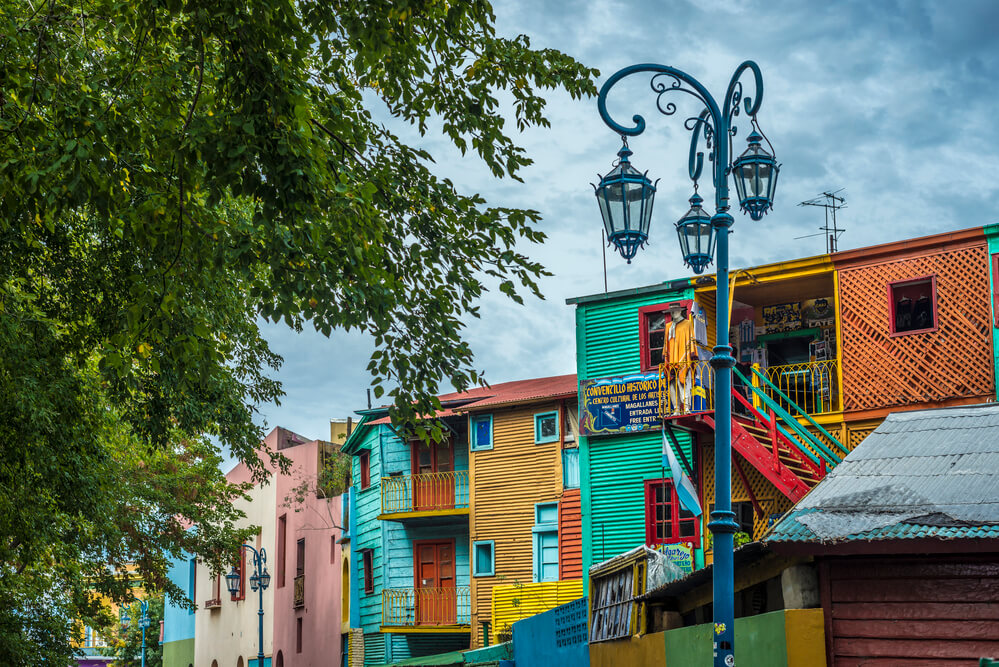 QUICK NOTE: This post contains affiliate links and Sol Salute may receive a commission for purchases made through these links, at no extra cost to you.
Argentina Gifts
Here are some authentic and unique Argentina gifts that will make any traveling friend or uprooted Argentine expat happy when they pull away the wrapping paper.
Related: If you're going to be in Argentina, check out these authentic Argentina souvenirs to pick up while your there!
Yerba Mate & Accessories
If you've been to Argentina you've seen how the locals treat their mate (pronounced mah-tay).
It's like an extension of themselves and they are never without their mate and thermos.
Give a mate novice this complete set if they're just starting out. It includes not only a modern cup but a bombilla (the straw), a straw cleaner, and the thermos.
The only thing missing is the mate tea itself, so get that as well to complete the yerba mate starter kit.
I love Kraus, personally, because it's organic, small and family owned, and lacks that classic smokey flavor.
But if you want a popular name, Playadito is a go-to mate for many.
And if you're looking for a good mate themed gift for an Argentine or seasoned mate lover, get them this classic Stanley thermos. Argentines love this thermos.
Leather Belt
Not just any leather belt, this embroidered leather belt in particular is a popular one in rural Argentina.
The design is the guarda pampa pattern and you'll see it on belts, ponchos, and more.
It's highly associated with gaucho culture.
They're also excellent quality and a well made Argentine leather belt will last a lifetime.
Dulce de Leche Everything
Get your Argentina lover the best Argentina gift by gifting them a dulce de leche themed care package.
Of course, start off with actual dulce de leche. Skip the plastic tubs and go for this Cachafaz jar, which is not only delicious, it's also beautiful to enhance the visuals of an already decadent gift.
Toss in some dulce de leche candies. I personally love these little chewy caramels but my husband seems to prefer these Vaquita tablets.
And you can't have a DDL care package without alfajores. In fact, I have to fill my carryon with them for friends every time I go back to the US for a visit.
Havanna is a classic, can't fail brand when it comes to alfajores.
Alpargatas
Alpargatas are traditional Argentine espadrille style shoes worn in the countryside.
In other words, gauchos have much more casual footwear than American cowboys.
And yes, they look just like Tom's because the alpargata was founder Blake Mycoskie's inspiration when founding the company.
He describes alpargatas perfectly when he says on his site, "From its origin in Spain, to its adoption in Argentina, the espadrille or the alpargata has always been a shoe of the people – designed to throw on and get after it."
But rather than American Tom's, gift your Argentina lover an authentically Argentine alpargata.
When in Argentina I love Arandu for a classic style. But these Paez alpargatas are also very popular here thanks to their colorful designs.
Seven Fires
There is no Argentine chef more important than Francis Mallmann.
If you have a grill lover, get them his cookbook, Seven Fires.
He is an innovator and is passionate about Argentine cuisine.
He really takes cooking over fire to another level.
This book starts with every tiny bit of minutia you could ever need to know about fire and by the end, you'll be cooking some of Mallmann's most signature dishes.
This isn't for the hobby cook, this is for the passionate grillman or foodie in your life.
Whether they want to cook these dishes or simply learn about Argentine cuisine from the best, this cookbook is a great gift.
Argentina Jersey
Football (or soccer for the Americans) is a way of life in Argentina.
Unfortunately, it's a way of life I personally haven't been able to get into. But if you do have a football fan in your life, get them an Argentina jersey.
And to round out the gift, toss in a copy of Angels With Dirty Faces.
This book is a complete history of football in Argentina, tying the sport in with major political and historical events.
Provoleta Skillet
This Argentina gift may be a bit niche, but I like it.
If you've been to Argentina, you've been to a parrilla (steakhouse).
And you hopefully tried provoleta, the magical invention that is a melty grilled cheese.
A disc of provolone cheese is grilled in a perfectly cheese shaped pan directly on the grill.
It melts to perfection and is my favorite start to any Argentine asado.
For a unique and niche and perfectly Argentine gift, give your loved one this provoleta skillet so they can melt their own cheese at home.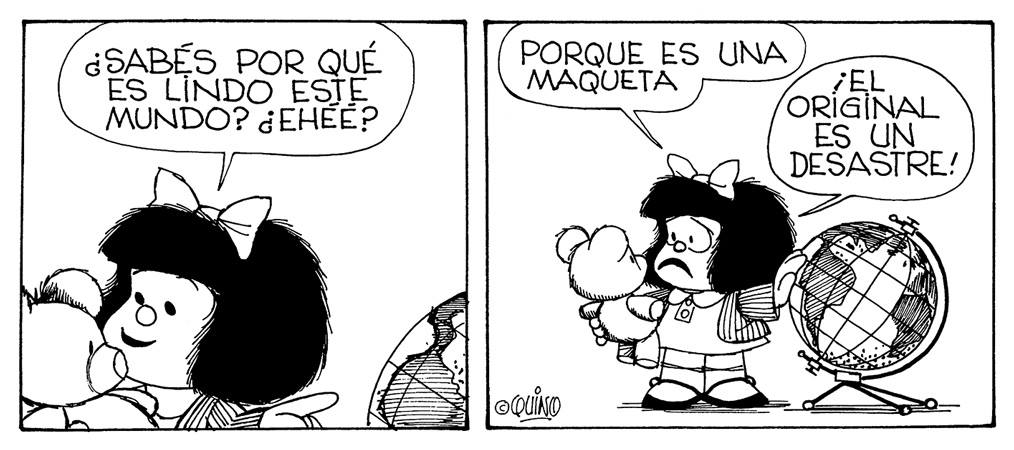 Mafalda Comics
Argentina has a particular sense of humor and thanks to that, they have excellent comics.
There's even a comic strip walk in San Telmo (a neighborhood in Buenos Aires) where you can walk and discover statues of iconic comic strip characters.
And of these characters Mafalda is the most iconic. This snarky young girl is full of commentary and comical perspective on Argentina and life in general.
Gift your Argentina comic lover this book filled with Mafalda for a daily reminder of Argentina's sense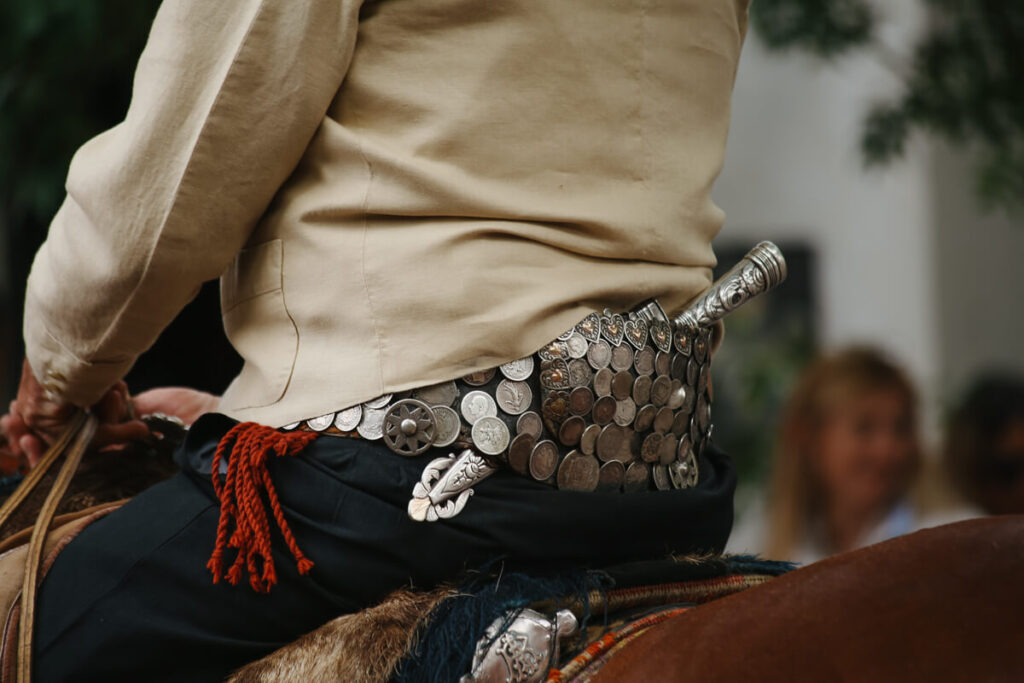 A Proper Knife
Any true gaucho will have a knife tucked into their belt at the small of their backs, this knife is called a facón.
You'll find interesting handles made of deer horns and armadillo tails as well more refined materials like intricately detailed silver handles.
Give the gaucho in your life a unique knife like this to use for their next asado.
A Leather Wine Carrier (& Wine, Of Course!)
The best gifts are things the receiver wouldn't buy for themselves, like this leather wine bag.
I will forgive the fact that this is Colombian leather and not Argentine, because I know the bag will always be filled with bottles of Argentine Malbec.
Give your wine loving friend this unique satchel to safely carry their prized bottles with them tot heir next dinner party.
And don't forget to give the bag filled with two bottles of the best Argentinian wine, pick up a couple bottles here.
Read More Gift Guides
Shopping for your travel loving friend? Here are a few more gift guides I've written themed conveniently to my interests.