One of the absolute top things to do in Buenos Aires is to explore its many outdoor markets.
Antiques, vintage clothing, souvenirs, handicrafts and more, you'll find it all here.
This post lists all the best Buenos Aires markets from San Telmo to San Isidro.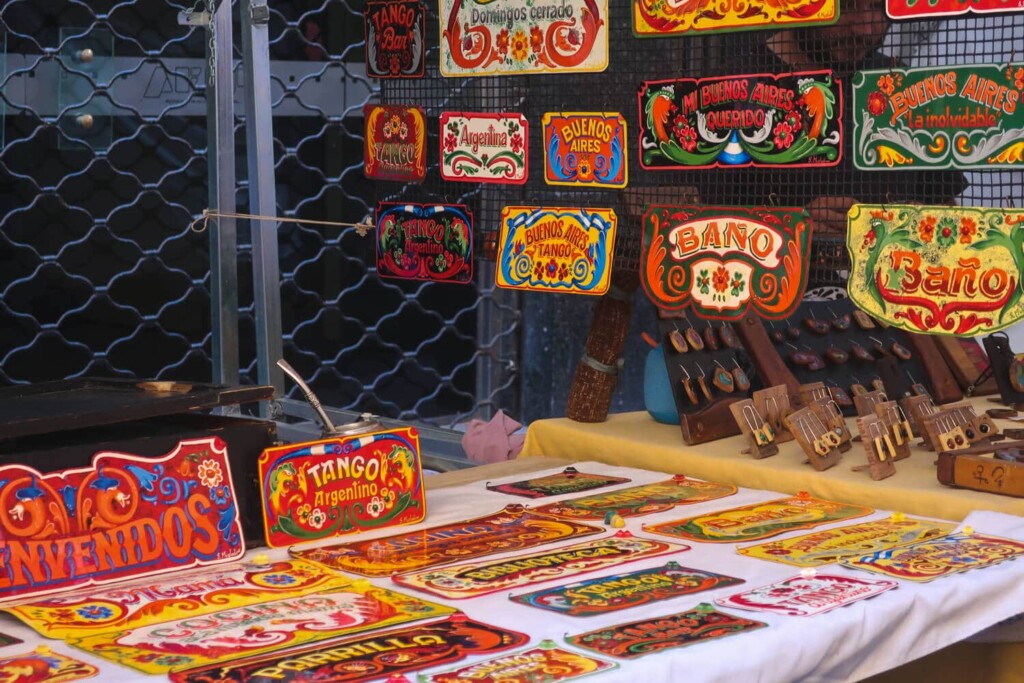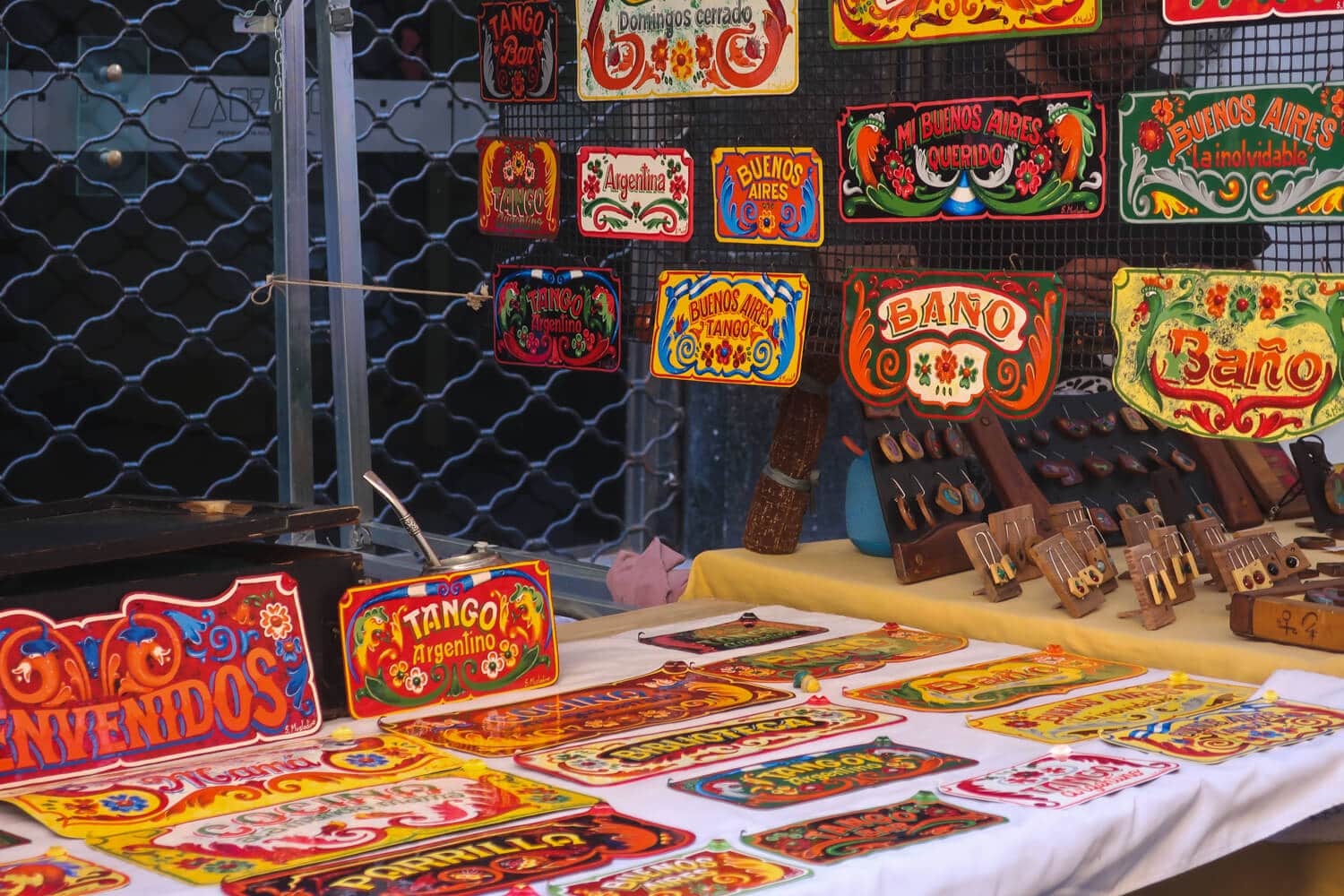 QUICK NOTE: This post contains affiliate links and Sol Salute may receive a commission for purchases made through these links, at no extra cost to you.
The 8 Best Markets in Buenos Aires
One of the first things I research when traveling to a new city is markets.
Do they have a unique street market or a traditional souk? If there are antiques, knick-knacks, or traditional handicrafts for sale, I am there for it.
If you're like me and planning to visit Buenos Aires, then you are in for a treat.
The Buenos Aires markets are excellent and worth planning your itinerary around. Schedule at least one full weekend into your Buenos Aires itinerary to be able to visit these markets.
This post details the 8 best markets in Buenos Aires, when and where to shop and what to expect.
Tips for Shopping the Best Markets in Buenos Aires:
Bring cash!
And make it pesos. I'm sure many vendors will be more than happy to unload you of your dollars but you'll likely get a bad exchange rate.
But do consider using dollars on big purchases and see if they'll offer you a better deal that way. Be sure of the day's exchange rate first so you know if you're actually being offered a better deal!
Haggling isn't the norm. You can see if they'll offer you a discount if you're purchasing multiple items but vendors will be offended if you try to drastically undercut their price tag.
Have fun and pick up something memorable! Great souvenirs will always remind you of great memories.
Check the map at the end of this post for the location of all these markets in Buenos Aires.
The List of the Best Buenos Aires markets
Without further ado, here are the coolest markets in Buenos Aires.
1. Feria de San Telmo
When | Sundays
Where | San Telmo
The Feria de San Telmo is the reigning king of the the outdoor markets in Buenos Aires.
This weekly market takes place every Sunday, dominating Calle Defensa in San Telmo.
The San Telmo Market has a little of everything. The stands that run length of Defensa sell handicrafts, vintage leather goods, tacky souvenirs, antiques and jewelry made from local Inca Rose stones.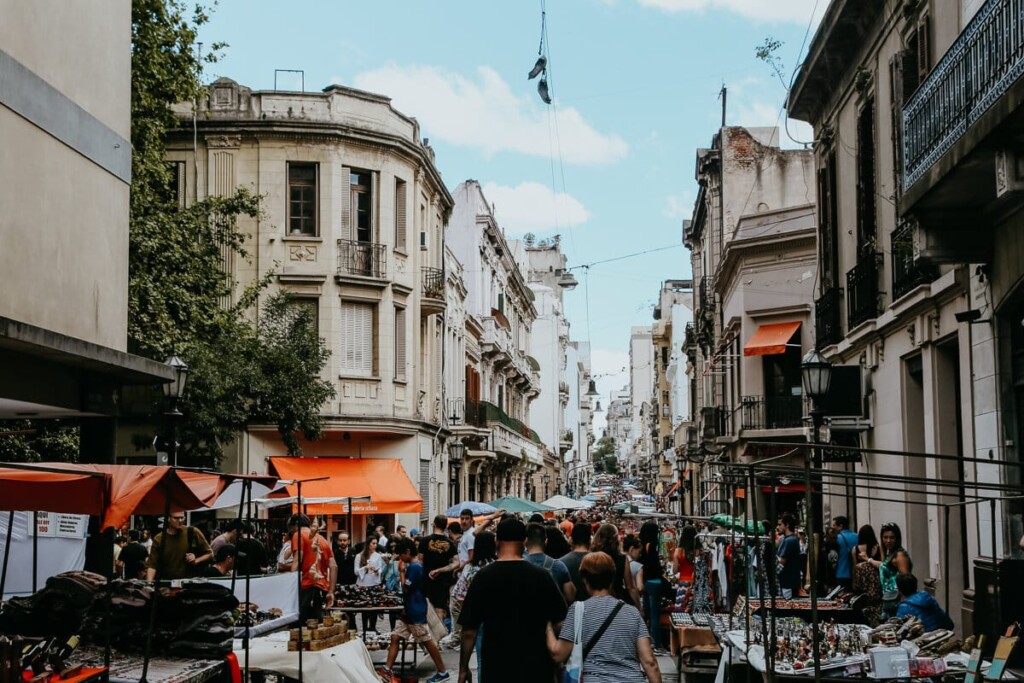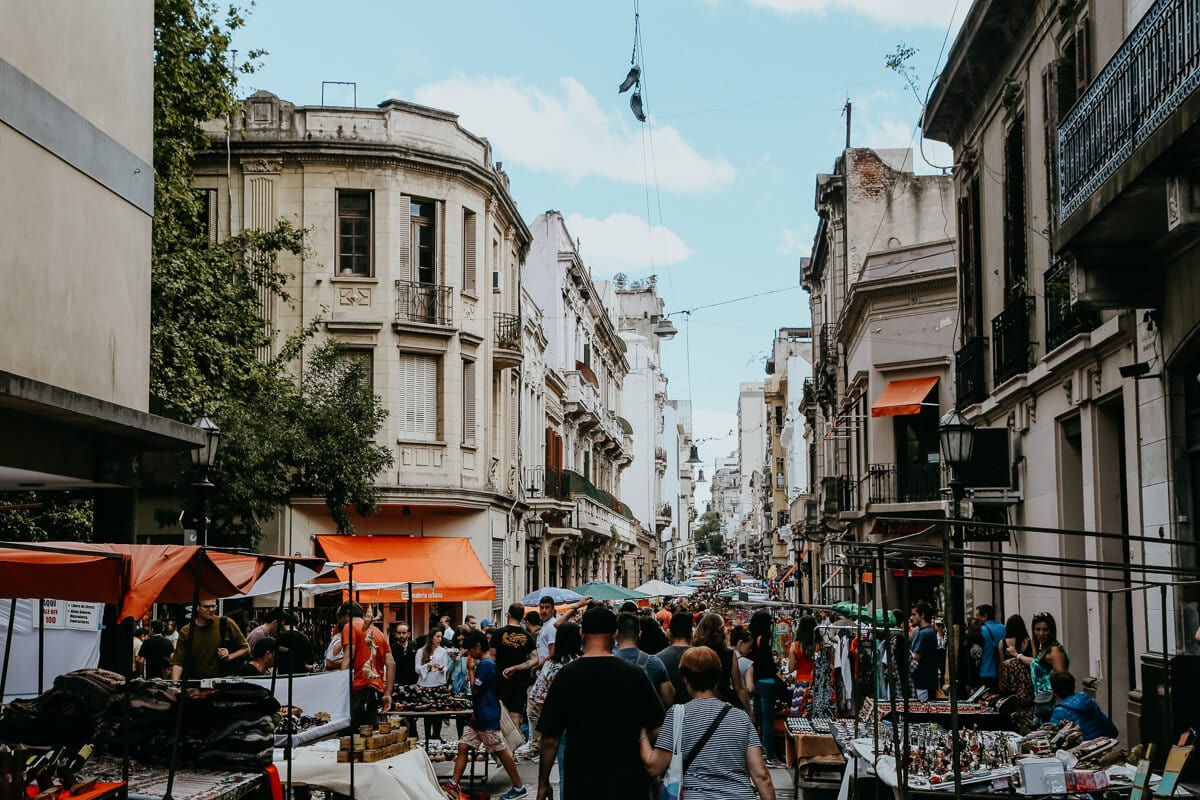 If you can think of it, you can probably find it here if you look hard enough.
More than 10,000 people visit the Feria de San Telmo every Sunday, ranking it among the biggest and best markets in Buenos Aires.
There's more to this neighborhood than its weekly feria, make sure to visit the permanent Mercado de San Telmo to search for vintage items and antiques.
This market is also becoming a gastro-hub with new, international restaurants taking over abandoned butcher and vegetable stands.
For everything to do in San Telmo, read my San Telmo neighborhood and market guide.
Read Next | A Complete Guide to Shopping Buenos Aires
2. Feria de Mataderos
When | Sundays
Where | Mataderos
While San Telmo may be the official king of Buenos Aires markets, my heart lies in Mataderos.
The weekly Feria de Mataderos is one of my absolute favorite things to do in Buenos Aires, located on the far western border of the city.
The neighborhood and market represent the joining of the urban sprawl with the rural countryside.
Therefore it only makes sense that this market features folkloric music and dance from rural, northern provinces and gaucho influences.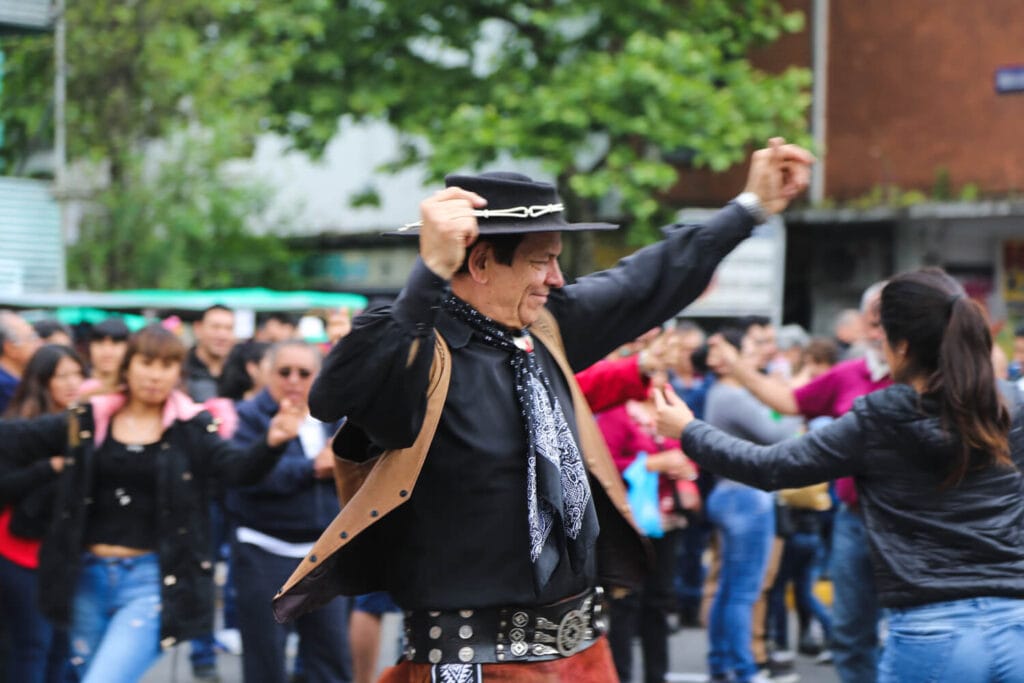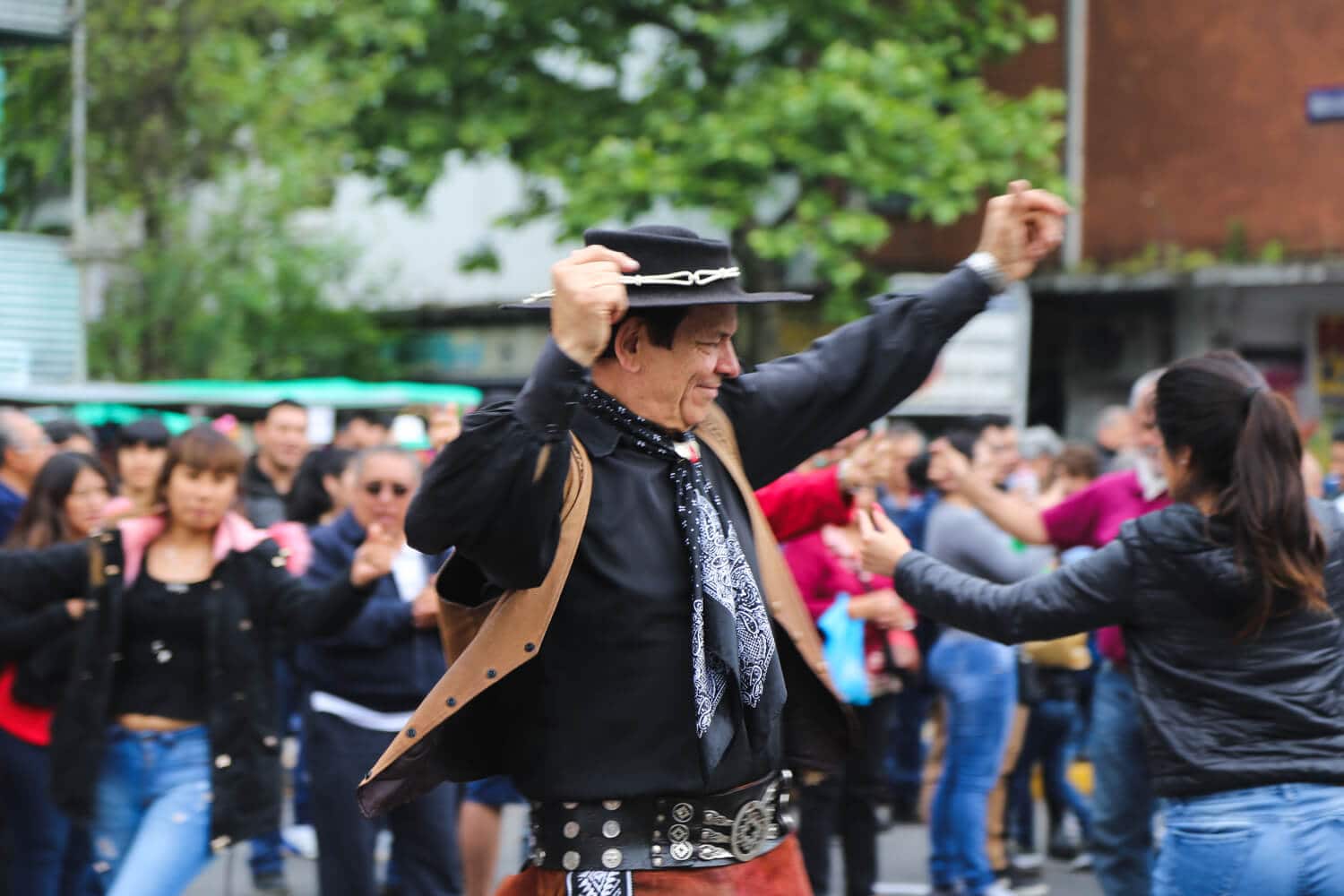 The Mataderos Feria centers around the main square.
Locals dress up in traditional clothing to dance to Chamame and Chacarera music from the north. It's a unique opportunity to see another side to Argentine music than the omnipresent Tango.
There is a small market selling traditional items like ponchos and gaucho knives as well as regional meats, cheeses and liqueurs.
Gauchos used to ride horses, playing the "corrida de la sortija" (where they run at full speed, trying to get a pencil sized stick through a ring hanging from an arch).
Unfortunately, this is no longer a weekly occurrence but if you're lucky maybe you'll get to see them.
For more information read my full guide to visiting the Mataderos Market.
3. Feria de Artesanos de Plaza Francia
When | Weekends
Where | Recoleta
This weekend outdoor Buenos Aires market takes place on both Saturday and Sunday each week.
It's located in the square in front of the famous Recoleta Cemetery.
If you're spending a weekend in Buenos Aires, I'd save your visit to Recoleta for Saturday to hit it all up at once. On Sunday you can visit one of the other Sunday-only markets.
Painters set up in front of the cemetery, clothes are next with beautiful handmade pieces. There are leather goods, mate gourds and more.
Speaking of mate, if you have it, bring it.
If you don't then buy one of the enormous fruit salads from the many vendors.
Snack or mate in hand, lounge on the grassy knoll, and watch the street performers sing, dance, or even perform capoeira.
Read next: 9 Cultural Argentine Souvenirs
4. Feria Plaza Belgrano
When | Weekends
Where | Belgrano
This smaller market takes place on weekends and holidays in Plaza Manuel Belgrano in the residential Belgrano neighborhood.
It's small, occupying only the plaza and bleeding onto Juramento for a block up to Cabildo Avenue.
This market is pure artisan, with locals selling very well made items ranging from crocheted tops to hand carved serving platters.
My favorite vendor here is Medio Limon Ceramics. She makes beautiful bowls, coffee cups and platters that are slowly filling my kitchen cabinet (and have been my Christmas gifts two years running!).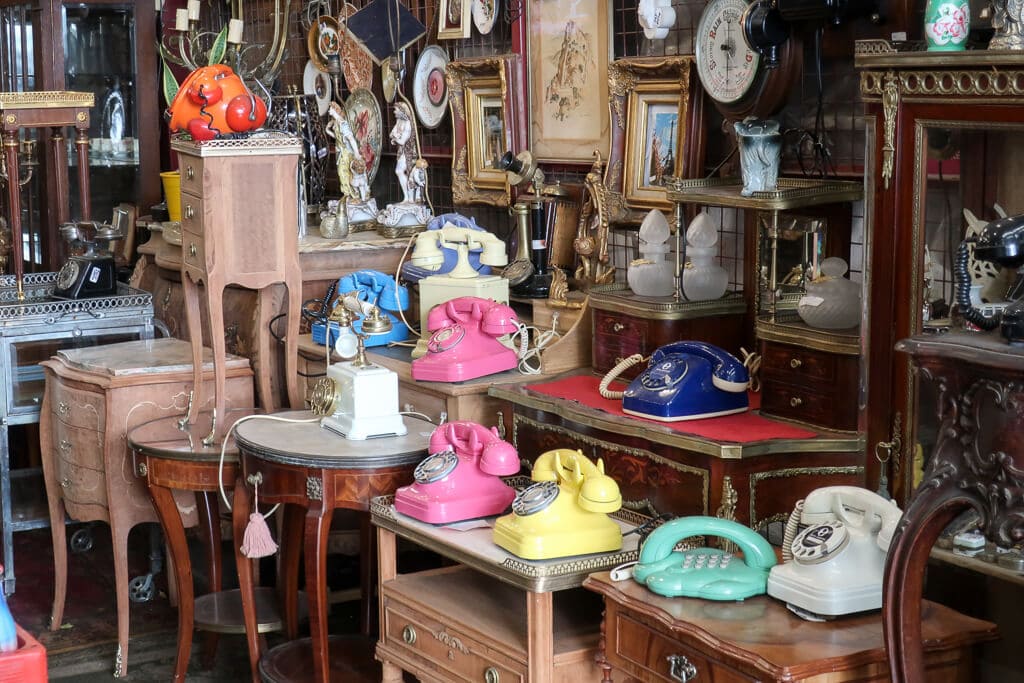 5. El Mercado de las Pulgas
When | All week, closed Mondays, 10 am – 7 pm
Where | Colegiales
This historic Buenos Aires flea market is different from the others on this list.
It is a permanent fixture, indoors and open all week (closed only on Mondays). It's on the outskirts of Palermo Hollywood in Colegiales.
I love the Mercado de las Pulgas (pulgas translating literally to fleas) and stocked my house with quite a few pieces we picked up here.
While it's ideal for homemakers looking for antique sofas and refurbished cabinets, there are still wonderful finds for the passing traveler.
Crystal champagne glasses, bronze dog statuettes, costume jewelry, the Buenos Aires Flea Market is perfect for treasure hunters.
6. Feria del Anticuario
When | Weekends
Where | San Isidro
If you're looking to escape the city for a day, hop on a train to the riverside suburb of Bajo San Isidro to the north of the city.
This area is paradise on a hot summer day, with restaurants and bars lining the riverfront offering kayak rentals and windsurfing.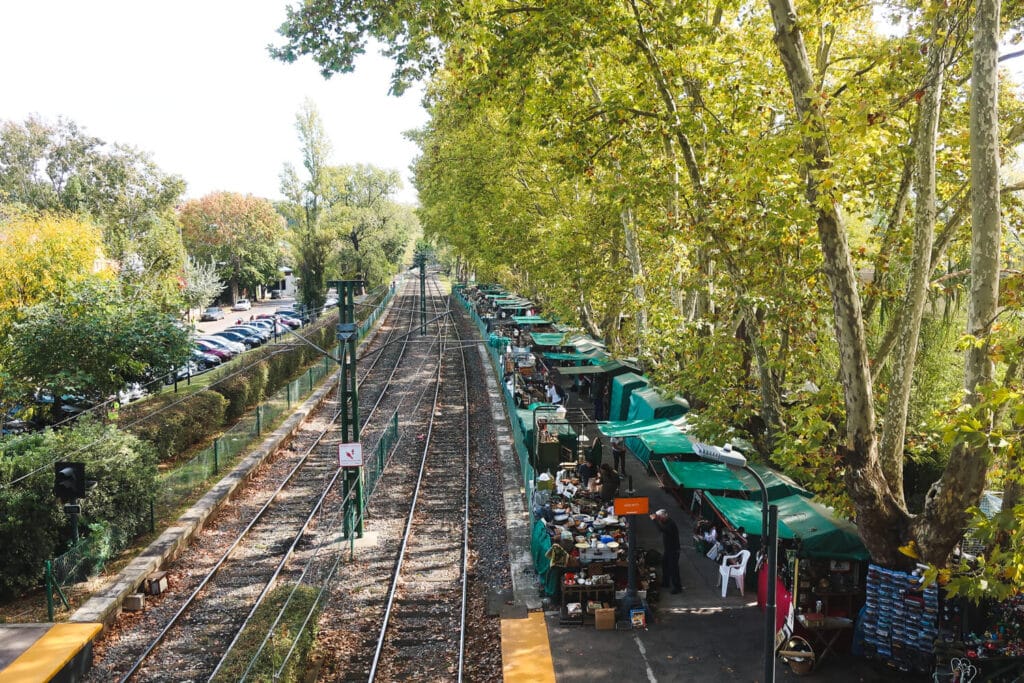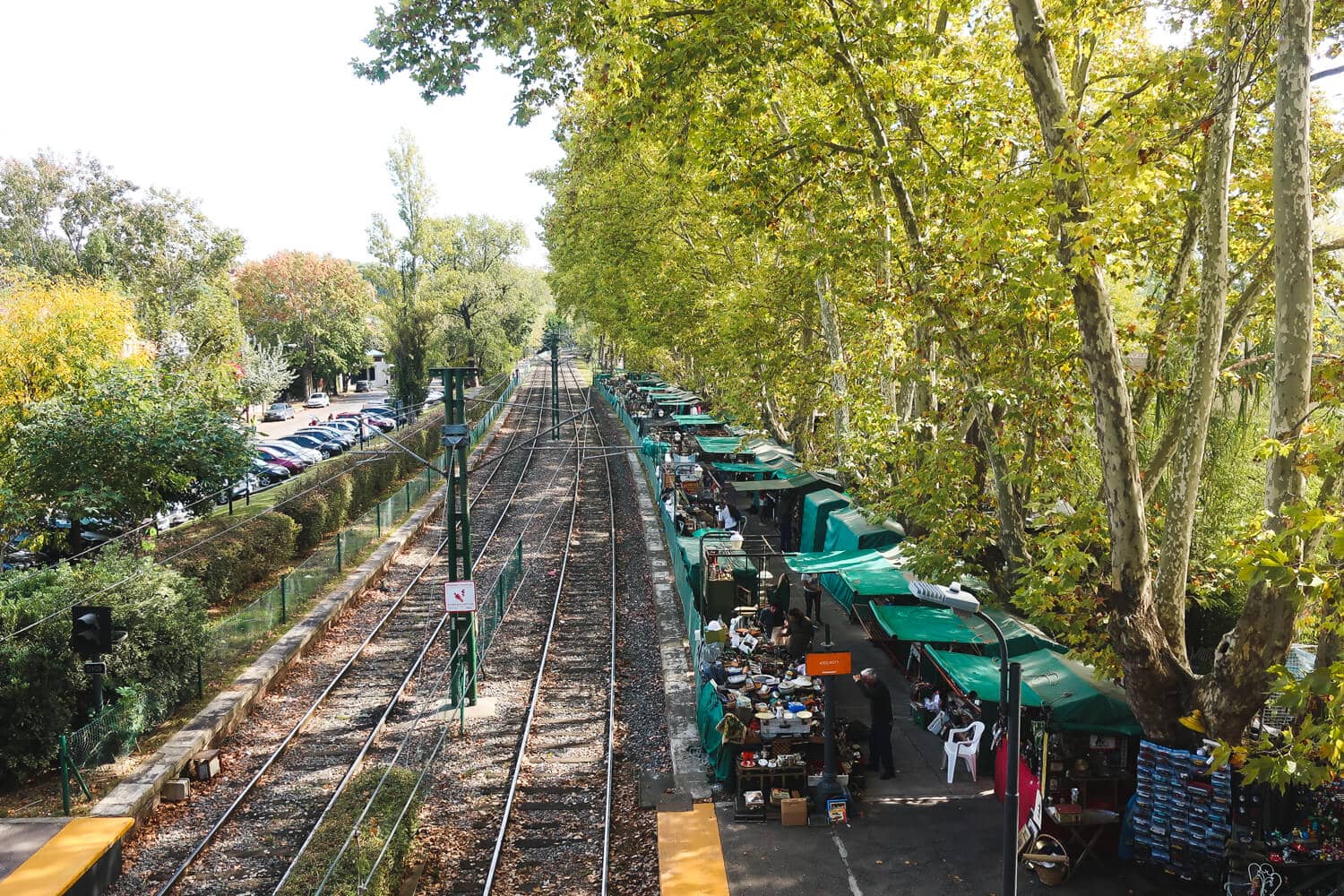 Take the Tren de la Costa to get here, disembarking at the Las Barrancas Station.
This station's northbound platform converts into an antique market every weekend.
You'll find some really beautiful pieces here and if you're an antique aficionado this market should absolutely be part of your Buenos Aires itinerary.
There's a little of everything here and you'll have to hunt with a discerning eye.
After perusing the antiques, treat yourself to a coffee at the Coffee & Bike cafe on the opposite platform or to a beer at Peru Beach across the street.
7. Feria Artesenal de Plaza Serrano
When | Weekends
Where | Palermo Soho
This quirky little market takes place each weekend in the heart of Palermo Soho.
It is purely an artisan market, with local artists selling their wares.
Don't come to this market (or the below Plaza Armenia market) in search of antiques or traditional Argentine items like ponchos, etc.
What you will find is handmade clothing, purses, jewelry, and the like. This market and its Plaza Armenia cousin lean more towards the hippy than the historic.
While here don't miss some of the best street art in Buenos Aires in the alleyways that surround Plaza Serrano.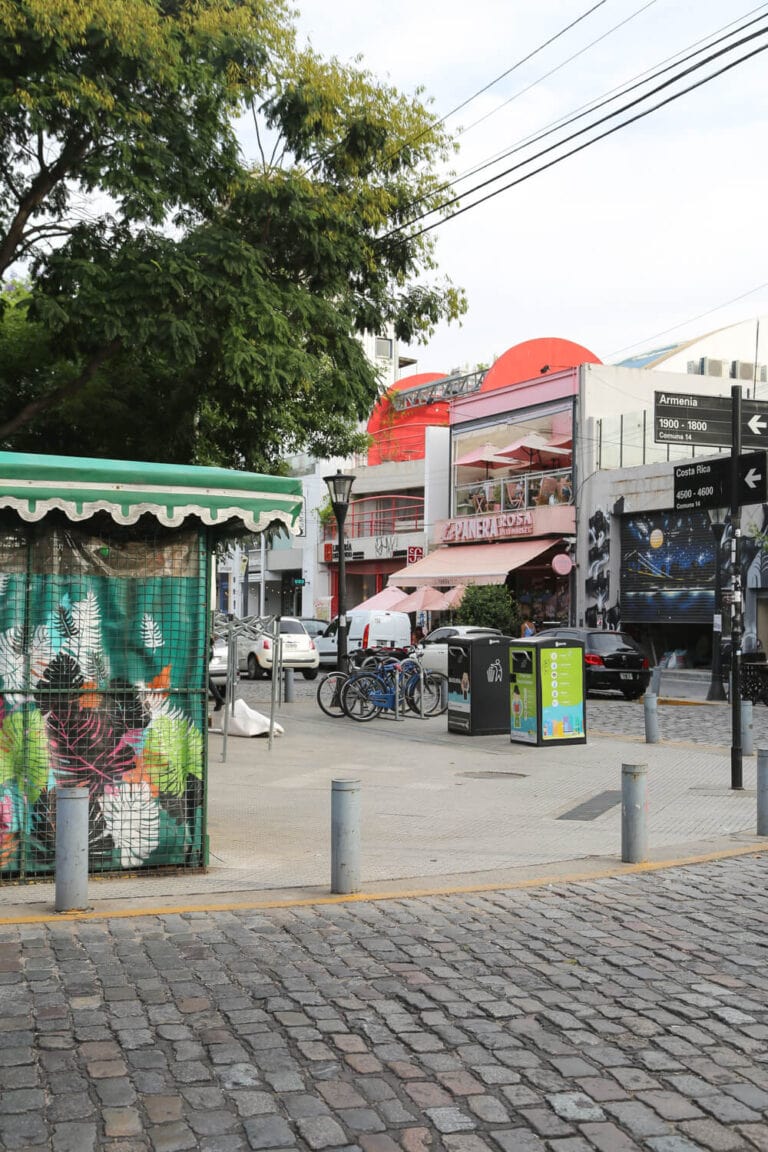 8. Feria Artesenal de Plaza Armenia
When | Weekends
Where | Palermo Soho
Every weekend, artisans set up stands to sell their wares surrounding Plaza Armenia.
If you find yourself in Palermo Soho on a weekend, and it really is a beautiful barrio to spend a sunny Saturday afternoon, then make an effort to peruse the stands here.
The items on offer are very similar to what's for sale in Plaza Serrano. You'll find mainly handmade items as well incense and more.
PLANNING TIP | While some markets like San Telmo, Recoleta, and Mataderos are full-day events worthy of planning your schedule around, I would only shop in these small Palermo Soho artisan markets if you happen to be in the area on a weekend. While you may find something interesting, they're hardly a full-day event worth canceling something else more memorable for.
Argentina Travel Resources
Map of the Top Buenos Aires Markets
PIN IT FOR LATER