It's no secret that Argentines eat a lot of steak.
And what comes along with a booming beef industry?
You got it, leather!
Jackets, belts, boots, and bags, Argentina does it all and does it well.
I highly recommend coming here with some extra space in your suitcase, you're going to want it.
This article will help you find the best leather goods in Buenos Aires created by authentic local artisans.
At the end of this post you'll find a map with all the Argentina leather stores mentioned pinned, to even further facilitate your shopping!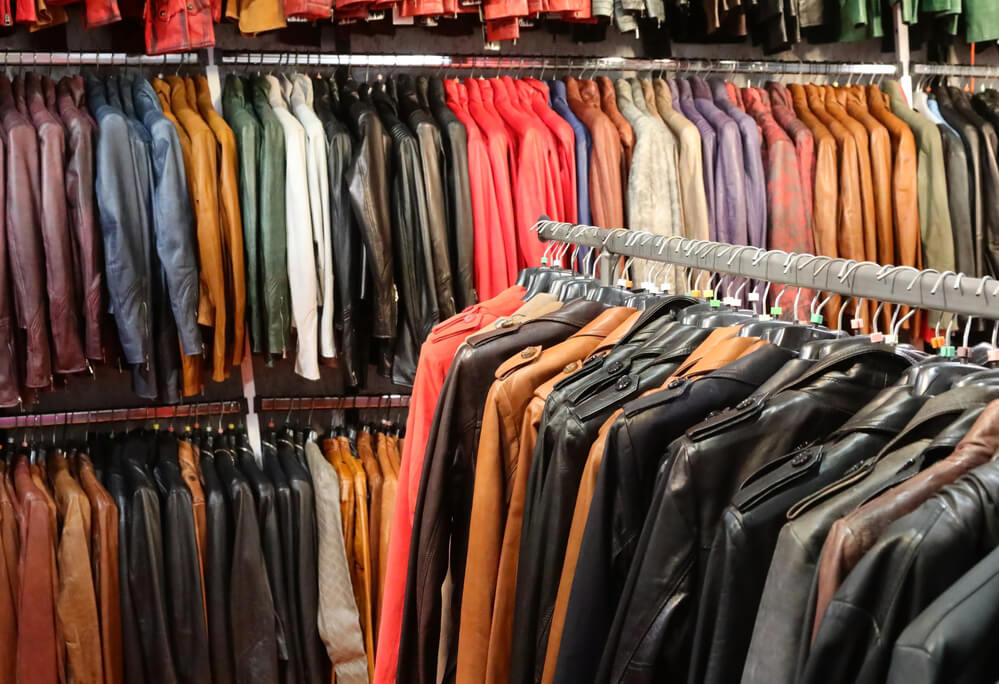 QUICK NOTE: This post contains affiliate links and Sol Salute may receive a commission for purchases made through these links, at no extra cost to you.
Where to shop for Leather Goods in Argentina
Buenos Aires is the center for everything in Argentina and leather is no different.
Estancias and their cattle populate the pampas and rolling hills that surround the city and with that naturally comes leather.
But where to find the best leather jacket in Buenos Aires.
Do you really want to shop 'til you drop? Book a curated, private shopping tour with Lunfarda Travel. They'll cater the day to your taste and interests. Use code SOLSALUTE for a 10% discount on all tours booked with them.
The Weekend Markets
Who is it for: The casual leather seeker who is flexible, looking for a unique piece, maybe vintage or second hand, maybe new, but most importantly they have the time to look.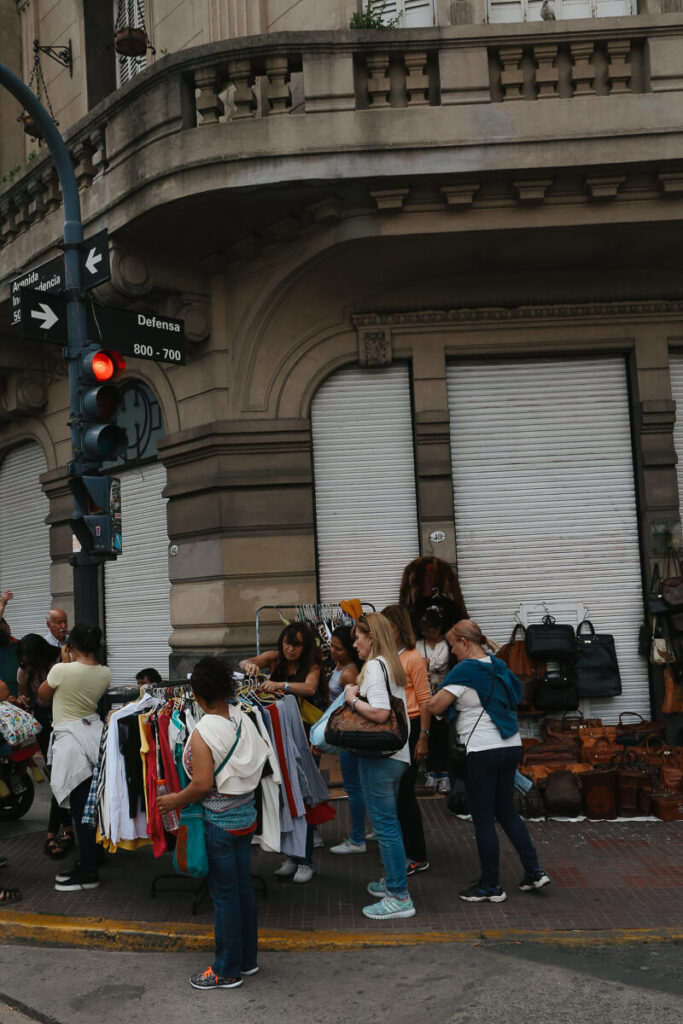 One of my favorite things to do in Buenos Aires is peruse the weekend markets throughout the city.
The most popular is (rightfully) the weekend antique market in San Telmo.
It runs the full length of Defensa street starting at Plaza de Mayo and culminating in Plaza Dorrego.
Plaza Dorrego and the indoor San Telmo Market house the most antiques.
The street, particularly the blocks closer to Plaza de Mayo can be hit or miss with a lot of knick knacks.
You'll have to take your time to look, it's worth the effort.
Keep an eye on the shops you pass as you walk.
Antique shops and ferias americanas (second hand stores) are plentiful and you'll find vintage clothes for a steal here (but here, too, you'll need to have patience to look for the gems).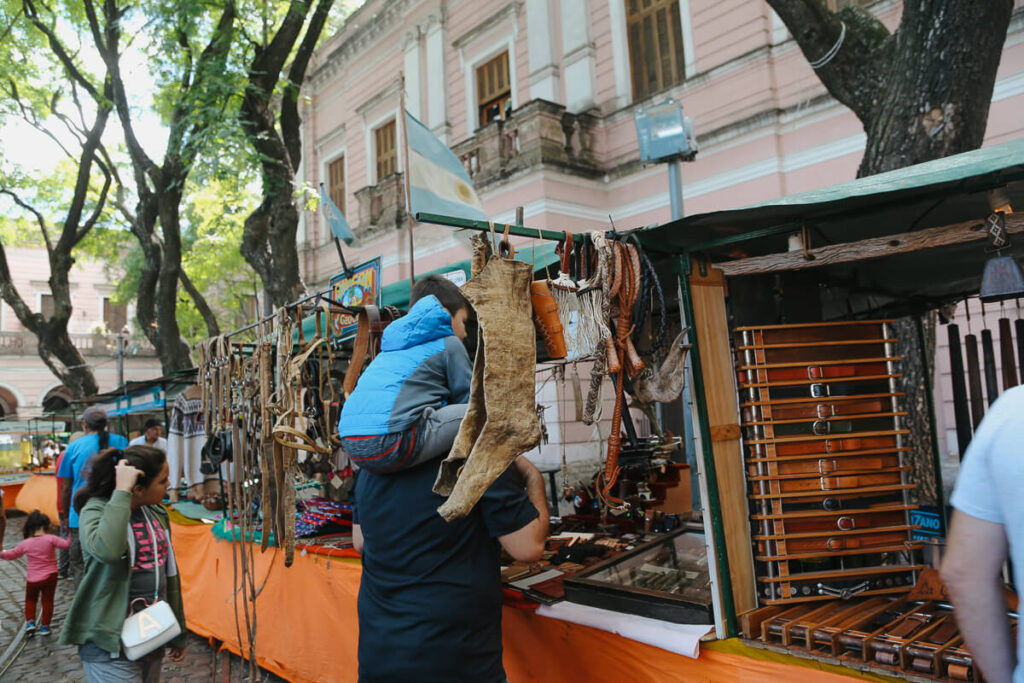 My favorite market is the Feria de Mataderos in the neighborhood of the same name.
This barrio is home to the slaughterhouses and its market focuses on rural tradition brought in by the gauchos who have always brought their cattle here from the countryside.
You'll find great leather jackets and belts here along with plenty of vendors selling cheeses and salami from the campo, knives, crafts, and more.
Other markets like Recoleta can have some good finds as well.
The weekend markets in Palermo Soho not as much, as they focus more on newer handicrafts.
Read more: The Best Outdoor Markets in Buenos Aires
Murillo Street, Villa Crespo
Who is it for? The shopper on a budget, they need a jacket and don't want to risk leaving without one. Someone looking for a one and done shopping experience.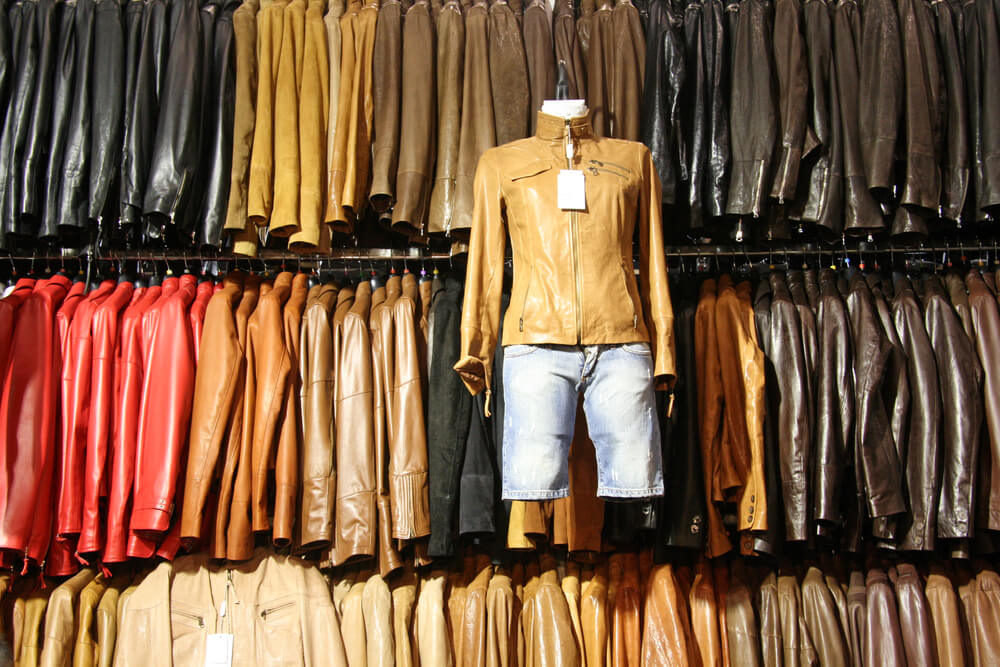 If you want to comparison shop, Villa Crespo is the spot.
There are two blocks chock full of leather shops, one right after the other.
Where? > Murillo Street between Acevedo and Scalabrini Ortiz.
You'll find countless leather jackets, belts, and bags in these shops.
Quality and taste levels will vary so come prepared with a critical eye.
Look in multiple shops before you make a commitment to make sure you find the best purchase.
Murillo 666 is the biggest name here.
They have the highest quality and variety, even selling leather upholstered sofas that definitely won't fit in your suitcase.
The Best Leather Shops in Buenos Aires
Who is it for? You want a jacket, you want it now and you want it to be stylish, you're looking for a classic piece that will stay in your wardrobe for life
Sylvia y Mario is a leather shop a few of my friends frequent for their leather jackets.
It's just around the corner from Plaza San Martin and Calle Florida at Marcelo T de Alvear 550.
Note: Florida street around the corner has a lot of leather shops as well, if you want to comparison shop, quality varies.
Sylvia y Mario have been creating fine leather goods in Buenos Aires since 1978.
The kicker? You can get measured for a custom leather jacket and have it in your hands in 24 hours.
They must be good, one friend walked away with three just for herself (picture in the embedded Instagram shot above!).
Rossi & Caruso was founded in 1868 and has been one of the finest shops for leather goods in Argentina ever since.
You can shop in their main location at Posadas 1387 in the heart of posh Recoleta.
For the youthful among us, Las Pepas might be a better fit.
Las Pepas is a local brand found in most malls as well as shopping districts like Palermo Soho at Gurruchaga 1580.
Along with timeless silhouettes, they also sell unique designs and unexpected colors or leathers.
Argentine Leather Bags
At most of the shops listed above you can also find great bags, particularly at the upscale shops like Rossi & Caruso.
Looking for just a bag (or 2 or 5)?
My go to brand is Nimes in Villa Crespo (just two blocks from Palermo Soho) at Gurruchaga 1142.
I own no less than 4 of their bags, so far.
They are simple designs that will last season after season, all done in top quality Argentine leather.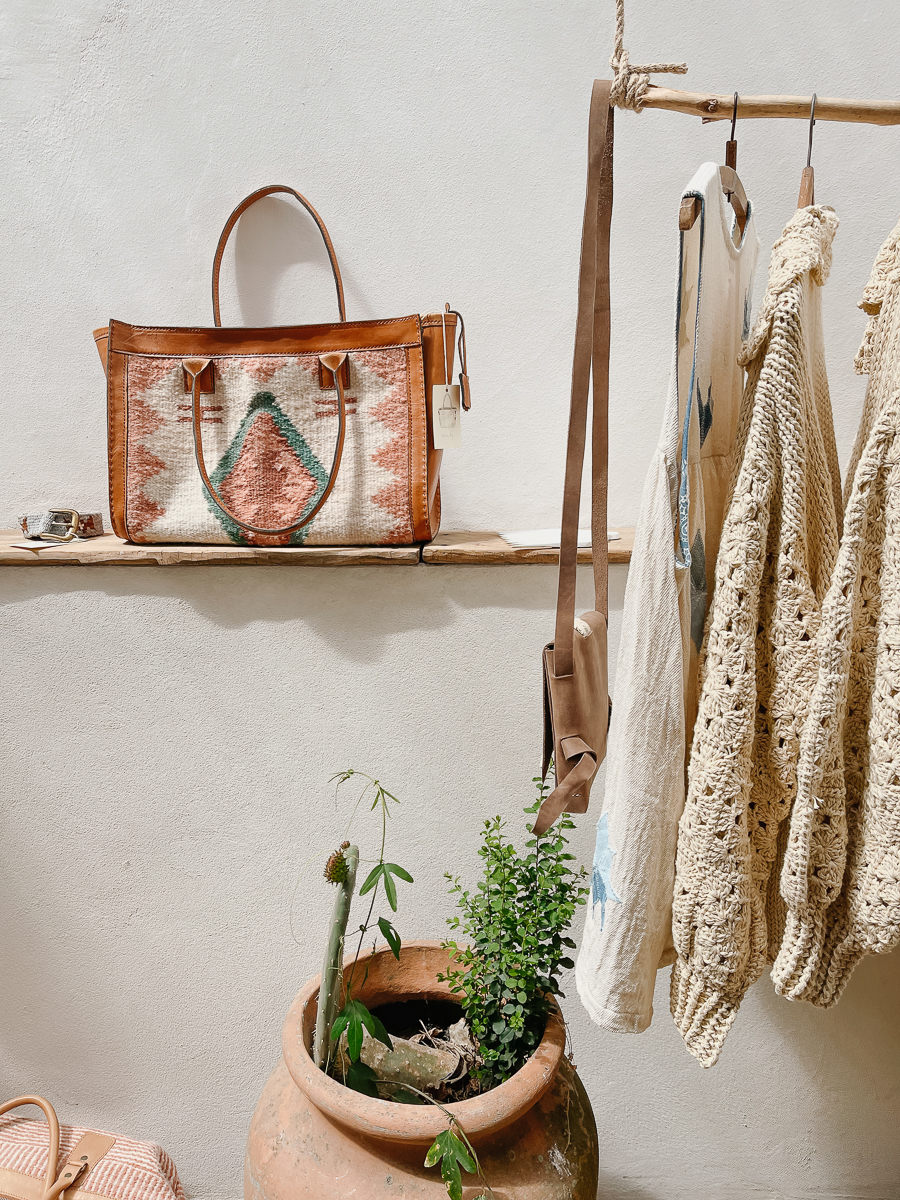 Carolita Home is an independent designer that I love and shop from religiously.
Her roots are in weaving tapestries, which she incorporates into stunning leather bags (some woven by her and some by artisans in the north).
Stock varies so if you see a bag you love, don't sleep on it.
Along with Carolita, there is no shortage of small designers producing beautiful pieces.
A few to look at are: Kaktus Argentina, Mila Bags, and Jesusa Accesorios.
Prune is a chain brand that you're going to see everywhere. While you can find some beautiful bags here, you can find better quality elsewhere.
Jackie Smith is the expensive handbag brand that Argentine women can't get enough of.
Custom Argentine Leather Shoes & Boots
Want a one of a kind souvenir? How does custom leather footwear sound?
Get fitted for custom riding and polo boots at La Casa de Las Botas in Palermo.
They have been creating boots in Argentina since 1970.
For menswear, Calzados Correa is a can't miss.
It was founded in 1955 by Felix Correa and they produce fine, handmade shoes for men.
They also have a separate womenswear line.
For unbelievably stylish sandals and boots created by a female designer, Zou Xou Shoes is self-described slow fashion footwear.
You'll want every model they make.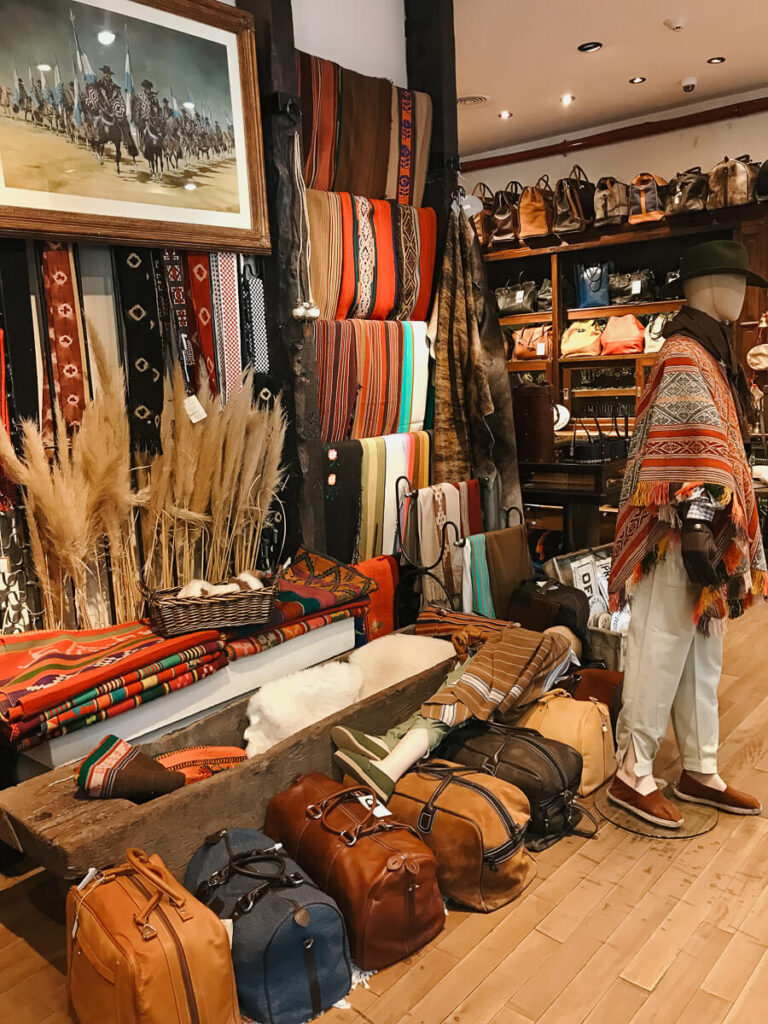 Talabaterías – Saddle Shops with Leather Accessories
Being from Texas, I'm no stranger to a good saddle shop.
I regularly shop at the no frills saddle shop in my hometown.
The second I walk in, I'm immediately hit by that aroma of leather goods.
It's no different at the Argentine version: the tabalartería.
Tabalarterías sell gear for the campo and for polo.
There are practical items like saddles, polo boots, and equestrian equipment.
Along with that, you also have clothing that rivals Ralph Lauren in casual, polo elegance, leather bags and weekenders, woven ponchos, knives, leather bound mate gourds, keychains, and more.
My favorite talabartería is Arandu Tabalartería, their Ayacucho 1924 location to be exact (one block from the Recoleta cemetery).
Another excellent option is El Boyero, one block from Plaza San Martin on Calle Florida.
Cardon is a chain that you'll see around town.
The Buenos Aires Leather Map
Pin It For Later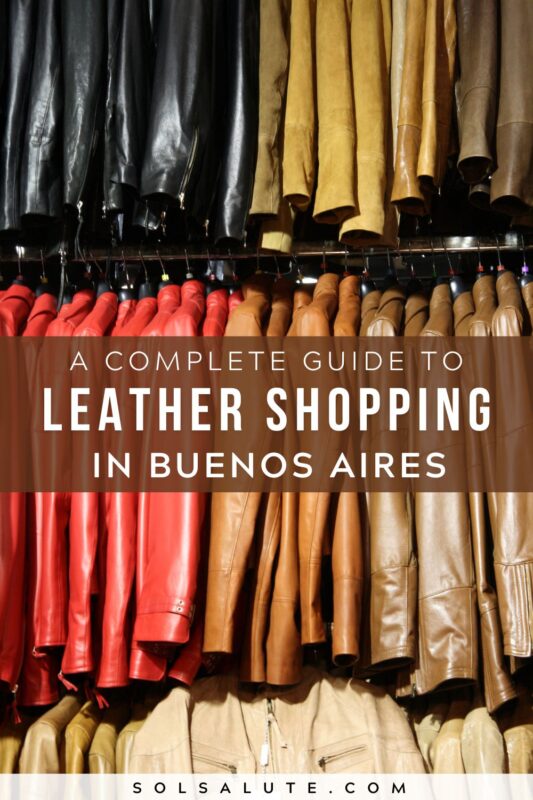 Argentina Travel Resources