Buenos Aires may be an exciting city but the time will come where you'll be ready for some fresh air and room to stretch your legs.
An easy (and cheap) way to get out of town for the day is by taking the Tren de la Costa from Buenos Aires to Tigre (or one of the many relaxing stops along the way).
This small train hugs the river's coastline and features antique stations, markets, hip open-air restaurants, and outdoor activities like kayaking and windsurfing.
Keep reading to find out all of the best stops and how to manage this scenic train for one of the best do it yourself day trips from Buenos Aires.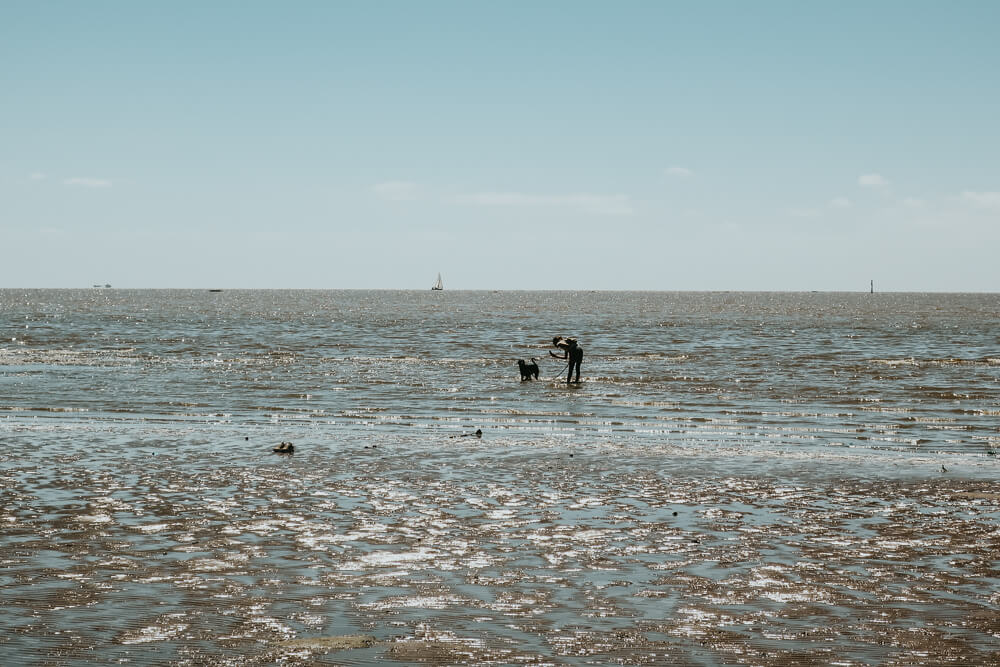 QUICK NOTE: This post contains affiliate links and Sol Salute may receive a commission for purchases made through these links, at no extra cost to you.
Tren de la Costa: Top Stations From Buenos Aires to Tigre
The Tren de la Costa is one of two trains you can take to Tigre from Buenos Aires.
The first is going to Retiro's Mitre line and getting the Tigre train. This is cheap and easy if your goal is to get to Tigre's dock quick.
Second and most scenic and easiest to make a day of is the Tren de la Costa. This train requires a connection so it's SLIGHTLY (slightly) more complicated but is still cheap and easy.
While the Tigre line stops at a station near the boat terminal, the Tren de la Costa's terminal ends by Tigre's Puerto de Frutos market.
Here are all the beautiful stations you can choose to visit on the way, whether it's a quick hop on and off to look around or as a destination apart.
Read Next: How to Get Around Argentina from Planes to Trains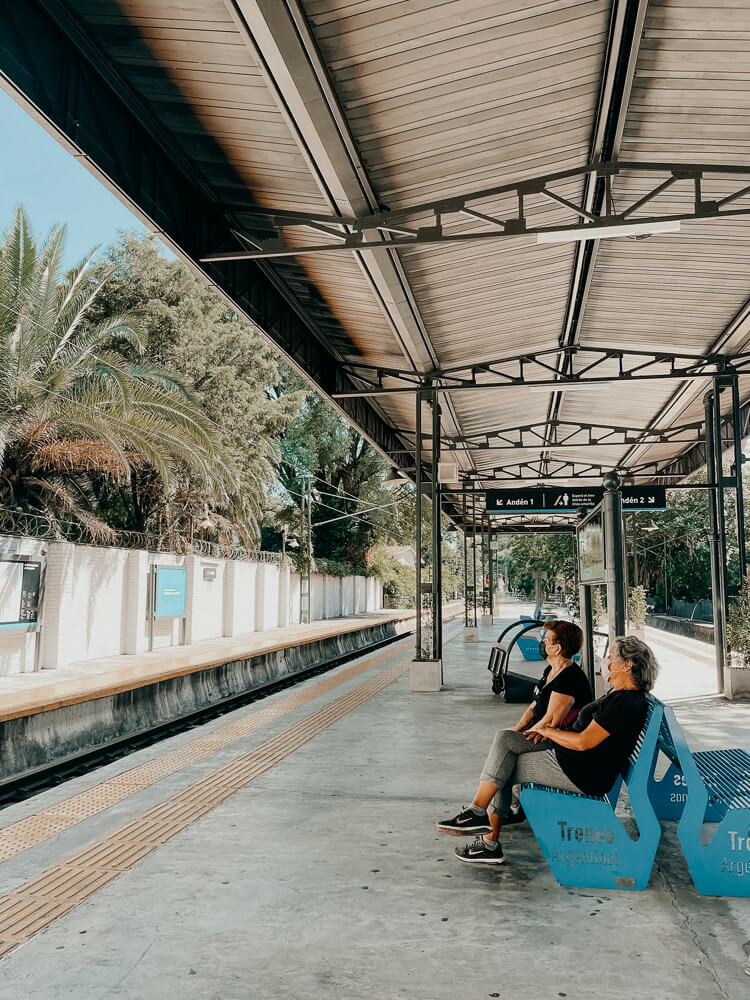 Maipu
Maipu is the first station in the city, one terminal for the Tren de las Costa.
There used to be a unique (and oddly placed) antique market in the pedestrian pathway that crosses Maipu Avenue (that connects the two train lines).
It's gone now which is an improvement in that the station feels much cleaner and professional.
Before you could easily wonder, am I really in the right place? Do I need an antique mirror and 4 new dining chairs or do I want to go to the river? (Honest thoughts of mine).
But now it's straight to the point, this is a train station, not a market. I miss the market.
You can purchase your ticket at the ticket windows or if you have a SUBE card you can pay on the train itself (scanners are on each car by the doors).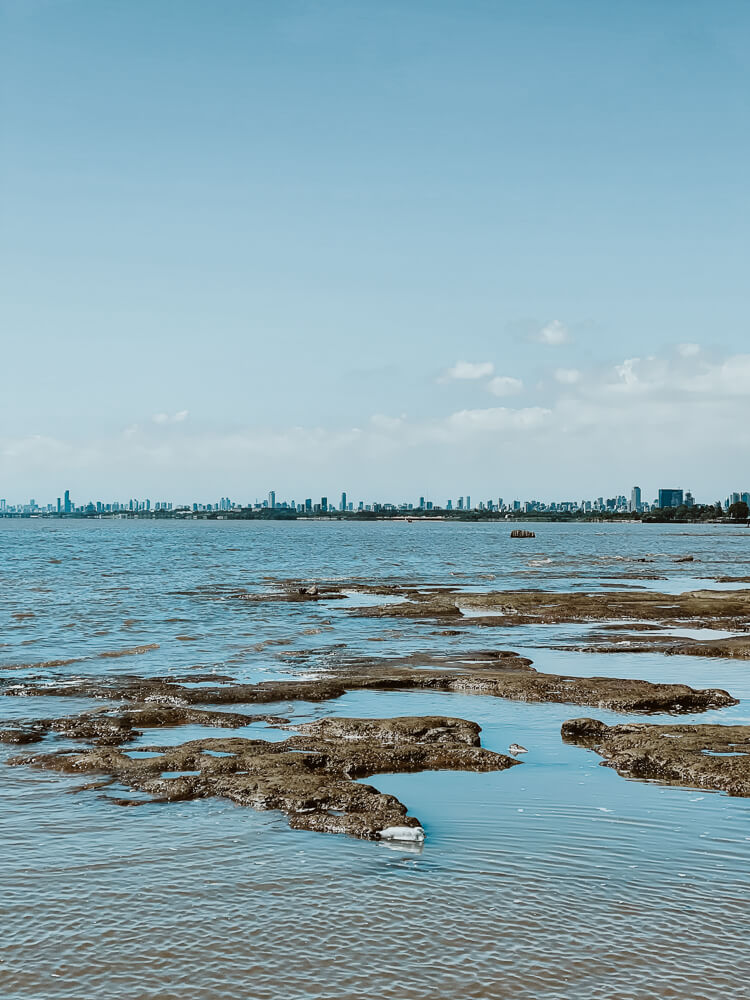 Borges – Olivos
Borges Station, being the first station, is so close that it begs the question do you even need to take the train or can I handle walking the four blocks from Maipu?
Regardless, the station itself has been beautifully restored and the cobblestone tree-canopied square that surrounds it so pretty it's worth a visit.
Bike & Coffee is a boutique coffee shop chain and they've opened yet another beautiful storefront in the station itself. If you're taking the train early enough you could time it to have breakfast here to start the day trip off right.
Definitely walk a block to Plaza Vicente Lopez y Planes. This pretty plaza is home to one of my favorite churches in town, completely covered in ivy.
You'll also only be a short walk (a few blocks) from Puerto de Olivos with plenty of dining options. Mostrador Santa Teresita is one of the most popular options here with gorgeous views of the water and excellent food and drink.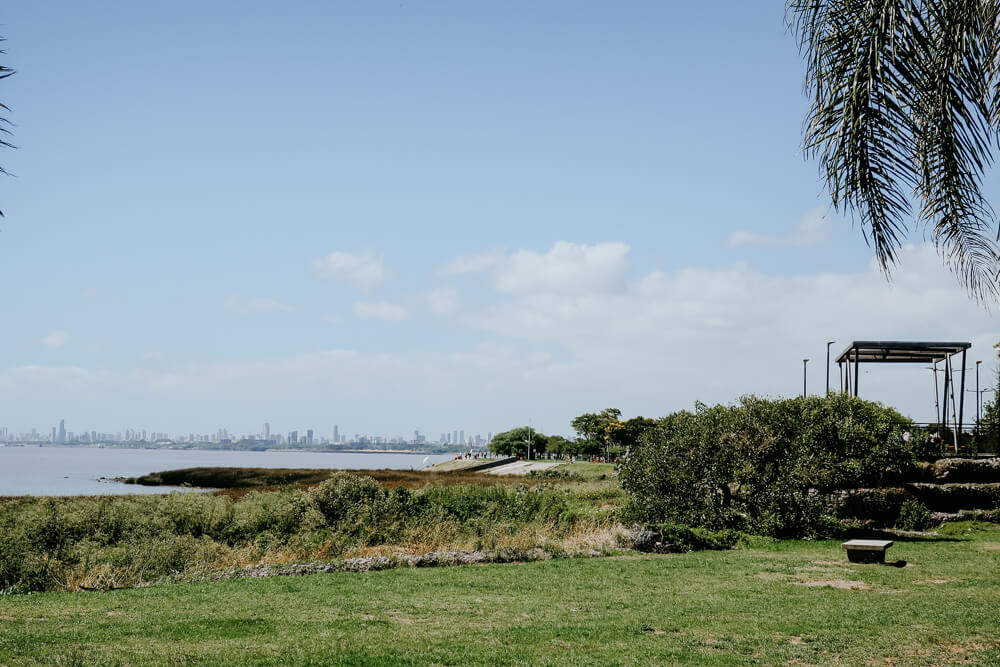 Anchorena – Martinez
Anchorena is a favorite of mine when I want to spend a day on the river. The station is steps from the water so it's incredibly easy.
The station itself is beautiful and also houses its own restaurant, Tribu San Isidro.
There's a playground immediately as you exit the station so if you're traveling with kids this is a good stop for expending any of that extra energy.
Activities here are minimal, which is why I like it. There's a walking path to walk along the shoreline and watch the fishermen guarding their lines.
For lunch, I always like to visit Dulce Maria. This beachy restaurant is right by a dock on the water with tables set up right by that dock. During the week they have a competitive 2 and 3 course lunch special that can't be beat.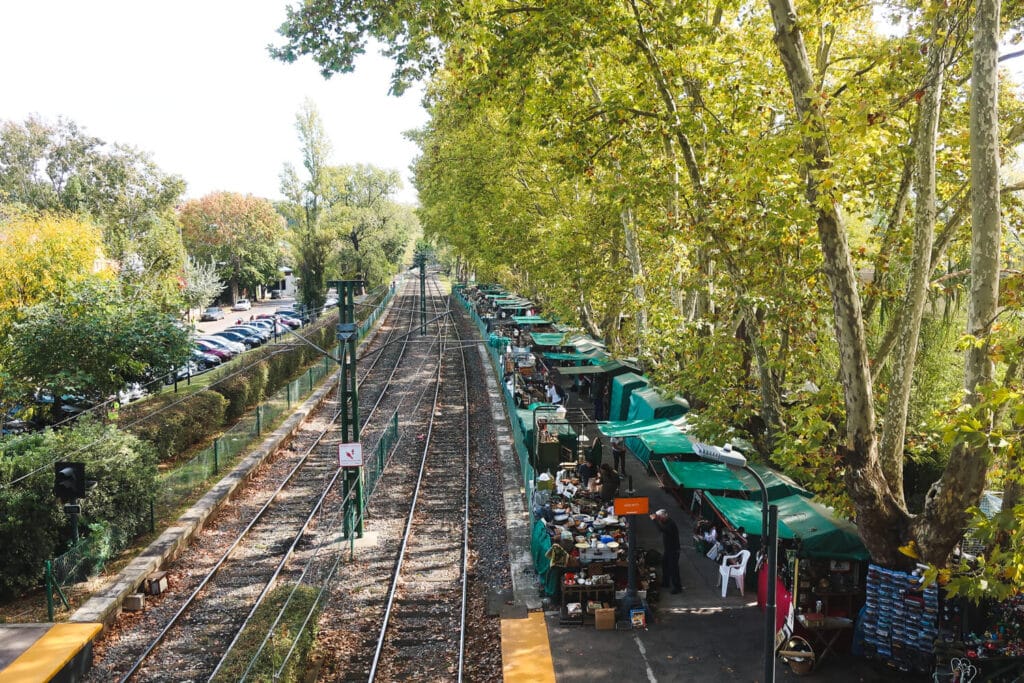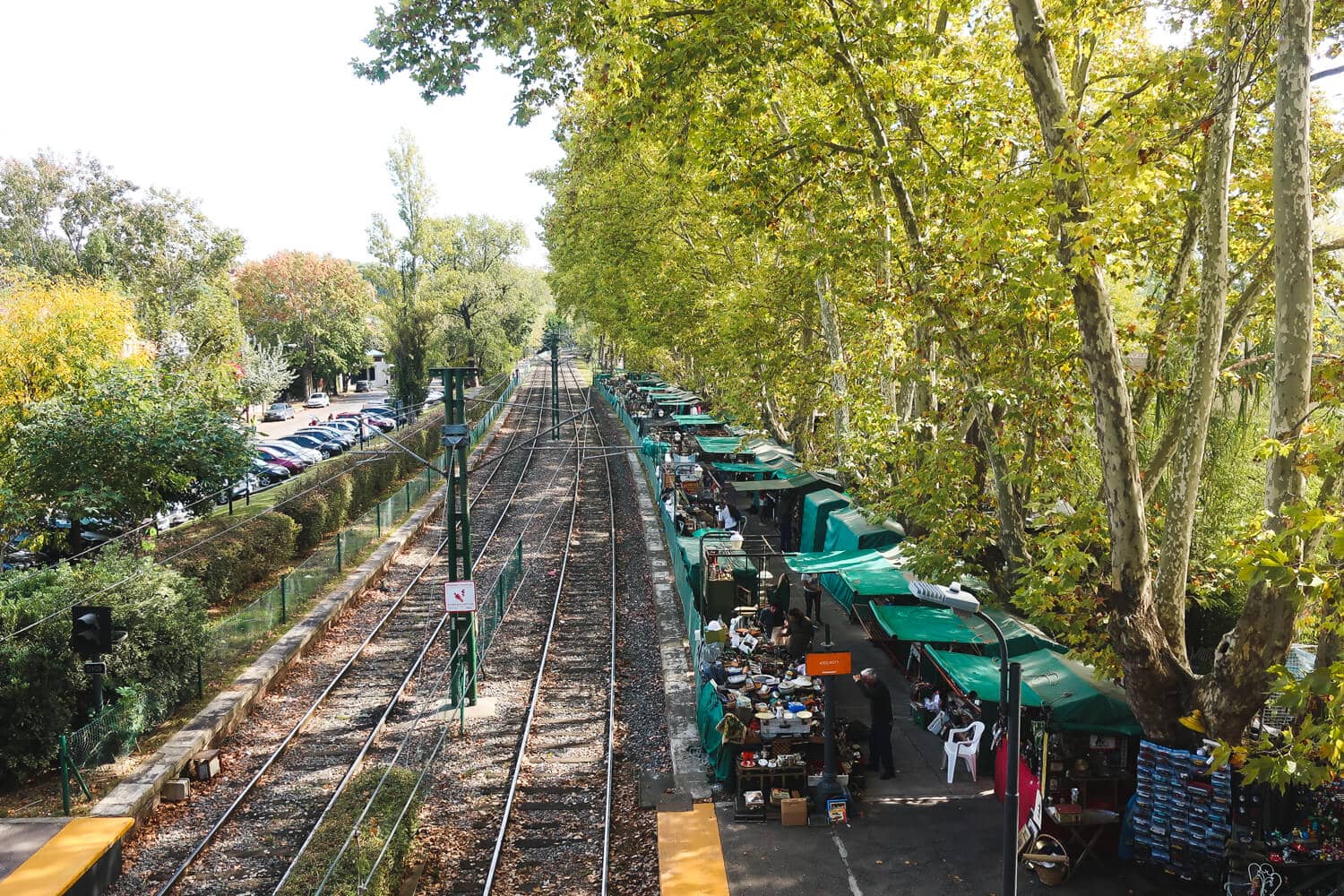 Barrancas – San Isidro
Barrancas is a station that has it all. Walking around this area, Bajo San Isidro, can become a full day on its own.
To start, the station itself is the most beautiful on the Tren de la Costa. There's another Bike & Coffee in this station as well.
On weekends the train platform converts into an antique market (one of the most unique Buenos Aires markets). You can find some real gems if you have the time.
When you cross the street you'll see Peru Beach, one of my favorite spots outside of the city. This restaurant and bar is the best spot to get a drink (their clericot is great!) and lounge on the grass.
If you're in Buenos Aires long term you could even learn to windsurf, kitesurf, or rent kayaks and stand up paddle boards at Peru Beach, Puerto Tablas, or El Molino.
El Ñandú is a classic lunch spot but if you walk the blocks between Las Barrancas and San Isidro stations there are a ton of new restaurants and cafes opening up.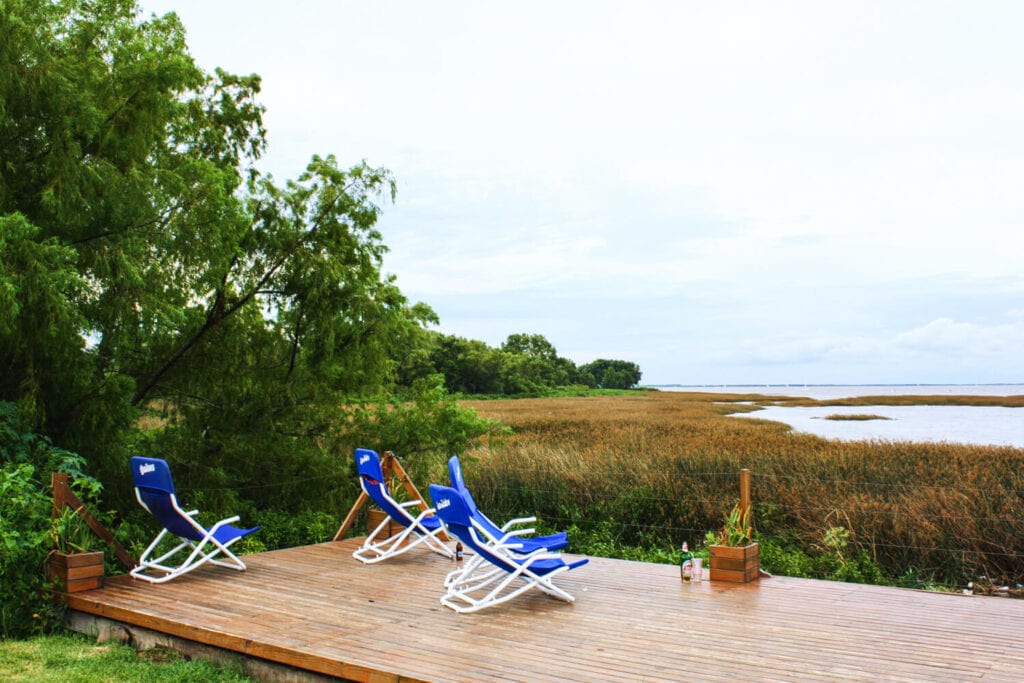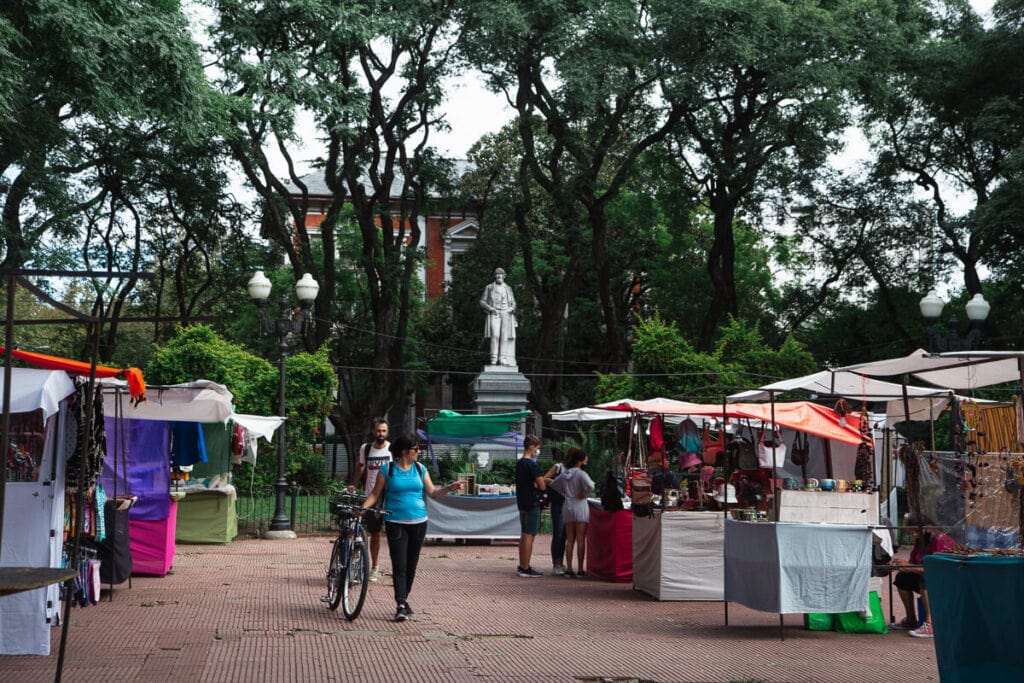 San Isidro
The station for San Isidro itself isn't beautiful. It's a defunct mall with mostly empty storefronts, but the area itself is full of things to see.
Keep in mind that it's within short walking distance of Las Barrancas so I recommend getting off at Las Barrancas to see the station and market and you can always just walk the few blocks to San Isidro. Exploring both stations and their surroundings can be an entire day out.
Just across the street from the station is Plaza Mitre. Head up the stairs to this tree lined square to see San Isidro's Cathedral and posh downtown.
There is also an artisan market here on the weekends. The few blocks behind the cathedral are historic and were originally the homes of this regions aristocrats in the 1800's.
If you explore the blocks on the opposite side of the tracks (towards the water) there are great restaurants. I love Bar Seddon and Lowell's Biergarten (for burgers) but there are a lot to choose from.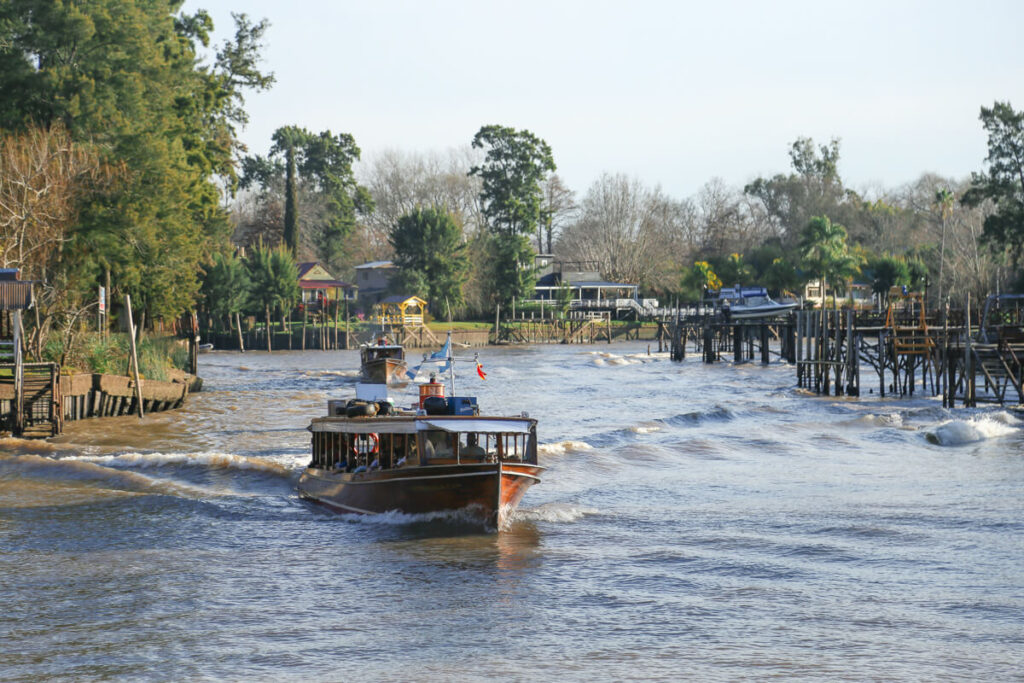 Delta – Tigre
The final terminal, Delta, is right by the Puerto de Frutos Market.
This market is famous for its mimbre (whicker) and wooden furniture. It's not quite what it once was but there are some great little home goods shops and you can still get baskets and whicker galore, just try to weed out the shops selling mass produced nonsense imported in.
You can hire boat tours of the Delta right here in the market or walk to the Estacion Fluvial for other options.
Read more in my Tigre Guide here.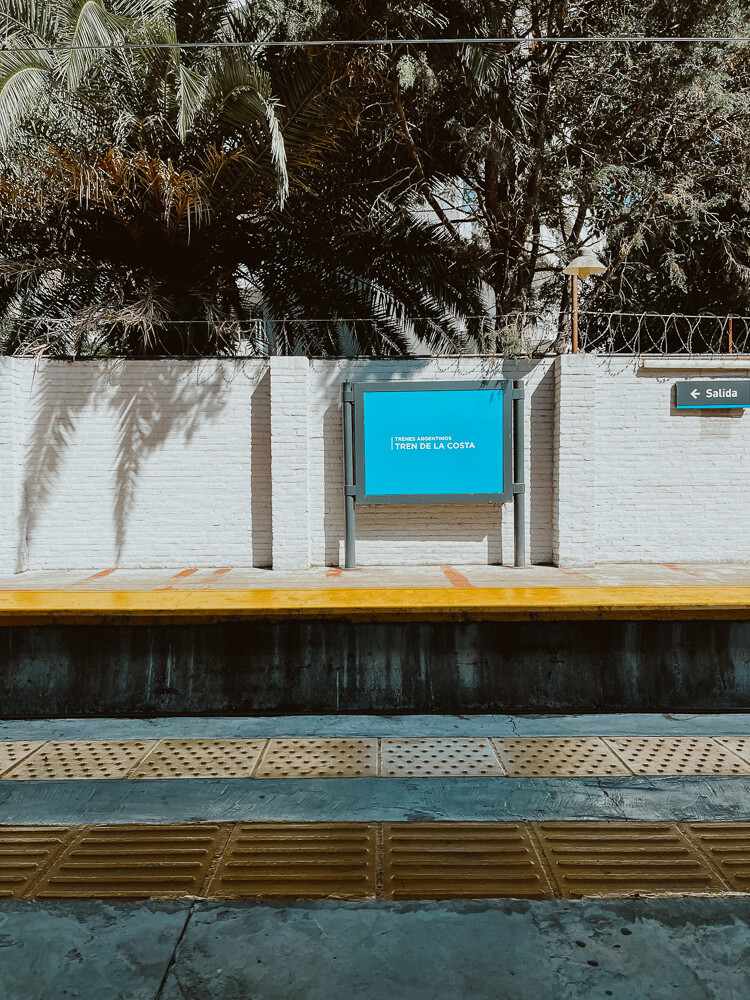 Important: How to Get There
Here is the step-by-step guide on how to get to the Tren de la Costa.
Get to Estacion Retiro-Mitre and use your SUBE to take the Mitre Line to the very end (Estacion Maipu)
IMPORTANT NOTE: As of Jan 2023, the Mitre Line is being repaired and only operates from the Belgrano R station to Terminal Mitre. If this is a hassle or you're already on the north side of town, you can always take the bus 152 or a taxi to Maipu.
When you exit the turnstiles, take the stairs/escalators to your immediate right to take the pedestrian bridge and connect to Tren de la Costa's Maipu station.
You don't need a SUBE (local transport card), you can purchase tickets at the ticket booths but they're more expensive (barely), at the time of writing the difference is 37 pesos vs 15 pesos.
If you can afford it, taxis or Cabify (for more info read about apps to download for Argentina) are a great option to reach the Maipu Station and avoid the connection
Keep Reading: A Complete Guide to Rail Travel & Trains in Argentina
When to go on the Tren de la Costa
If you're here on a weekend keep in mind that the train gets very crowded on the way back in the evenings. Prepare for a crowd and have patience.
A weekday will give you a ton of space with no crowds on the train. You'd only sacrifice the markets in San Isidro and Las Barrancas.
Argentina Travel Resources
Read More About Buenos Aires Day Trips