I believe that Buenos Aires is best seen by bike.
The pulse of the city lies in its neighborhoods.
The Parisian charm of Recoleta, the grit of La Boca, the colonial history of San Telmo, and the upscale modernity of Puerto Madero…
Each barrio is wildly different from the next and yet all somehow completely represent the essence of Buenos Aires.
Hop on one of these Buenos Aires bike tours to explore the city from La Boca to Palermo and see them all with an informative, fun guide!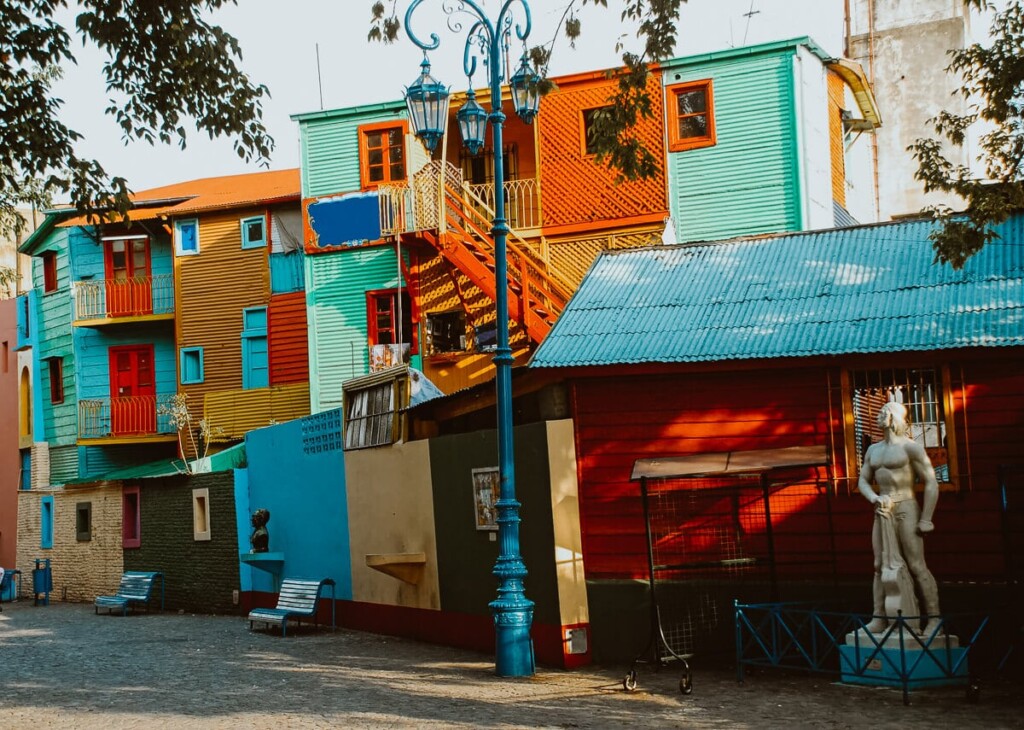 QUICK NOTE: This post contains affiliate links and Sol Salute may receive a commission for purchases made through these links, at no extra cost to you.
Discover Buenos Aires by Bike
After years of schlepping through traffic jams on the bus my life drastically changed for the better when I got a bike.
This city is huge and traffic is real. If you want to cover a lot of ground, a bike tour of Buenos Aires is your best (and most affordable) option.
It's also fun! We take our bikes out every weekend to explore the city.
Add an upbeat, informative guide to the mix (and maybe a yerba mate tutorial or traditional Asado lunch break) and you have the perfect equation for a great day in Buenos Aires!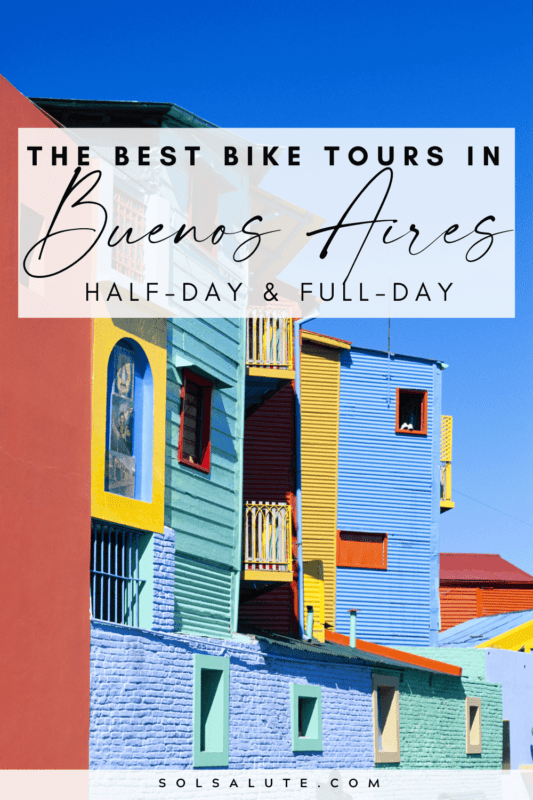 The 5 Best Buenos Aires Bike Tours
Buenos Aires bike tours are either 4-hour half-day tours that cover either a northern or southern circuit or more complete full-day tours.
The southern circuit on the half-day tour will likely include La Boca, San Telmo, and highlights like Plaza de Mayo.
The half-day northern circuit covers Recoleta and Palermo.
Also, Buenos Aires is fairly flat and biking here is easy. You don't need to be an Iron Man athlete to conquer a full-day Buenos Aires bike tour!
Here are the best Buenos Aires bike tours to choose from.
More Buenos Aires Resources:
These posts will be helpful while you're planning your trip to Buenos Aires. Note, these posts will open in a new tab so you can keep reading about the bike tours!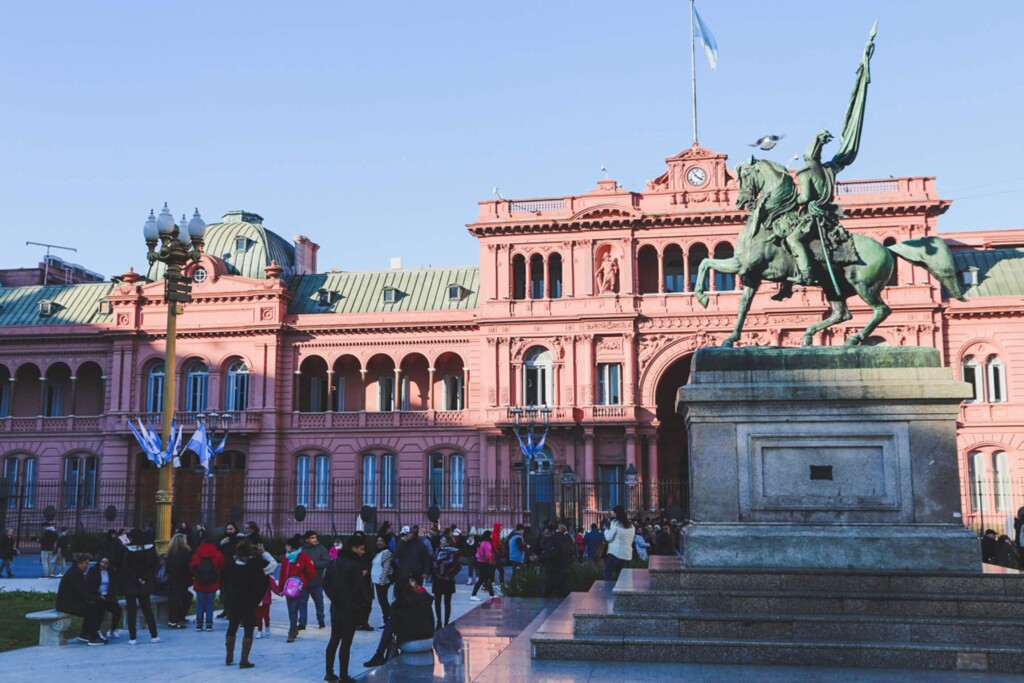 1. Full-Day Buenos Aires Bike Tour
If you have the energy and the time my top recommendation would be this full-day Buenos Aires bike tour.
You'll see everything from La Boca to Recoleta's infamous cemetery.
It even includes a visit to the city's beautiful ecological reserve behind Puerto Madero, a spot rarely visited by tourists but loved by locals.
This Buenos Aires bike tour is also one of the highest-rated tours of the city overall.
The guides are excellent and tours are offered in Spanish and English.
A lunch break is included with I always enjoy on group tours like this. You get to know your guide and fellow tour mates and exchange tips on the city while experiencing an authentic local meal.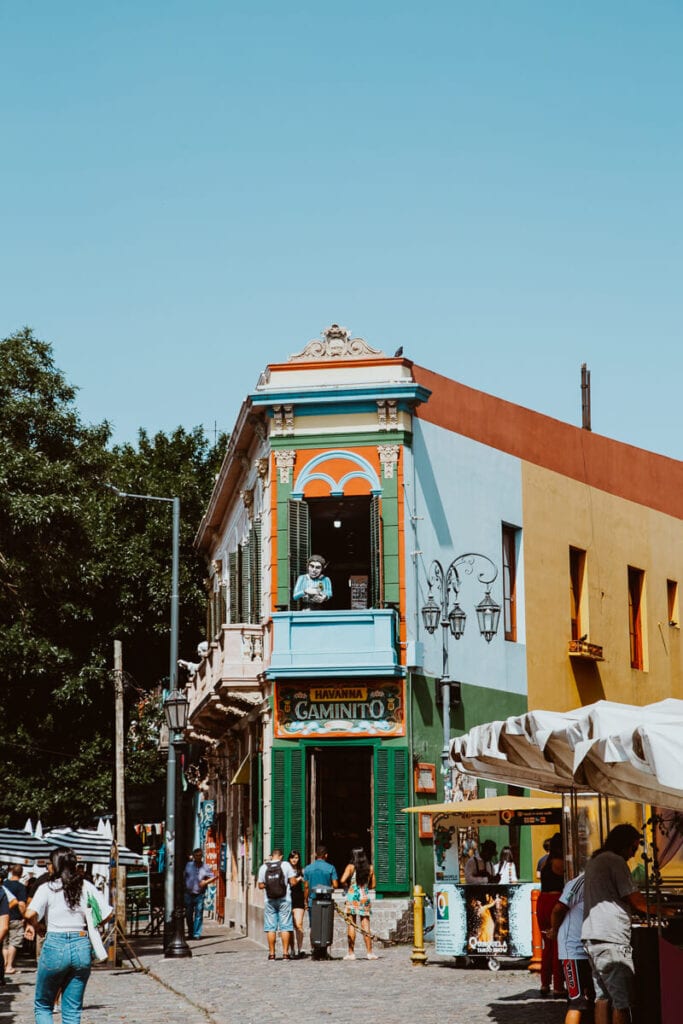 2. Half-Day Southern Circuit: La Boca/San Telmo
Discover Buenos Aires' most iconic landmarks by going on this southern circuit 4-hour Buenos Aires bike tour.
Utilizing mainly dedicated bike lanes, your guide will show you the Casa Rosada in Plaza de Mayo, colonial San Telmo, and Caminito in La Boca.
You'll see street art, historic buildings, cobblestone streets, colorful Caminito (the cover of every single Buenos Aires guidebook), and a grittier side of Buenos Aires.
I really recommend this tour because La Boca is far from the central sites like San Telmo. You'd need to take a taxi or bus to get there and frankly, biking is more fun and avoids rush hour traffic.
La Boca is also a neighborhood where you don't want to venture off the main tourist streets. Going with a guide removes the risk of you wandering off down the wrong streets in a sketchier area of town while still getting to see the heart of the neighborhood (and it's REALLY worth seeing).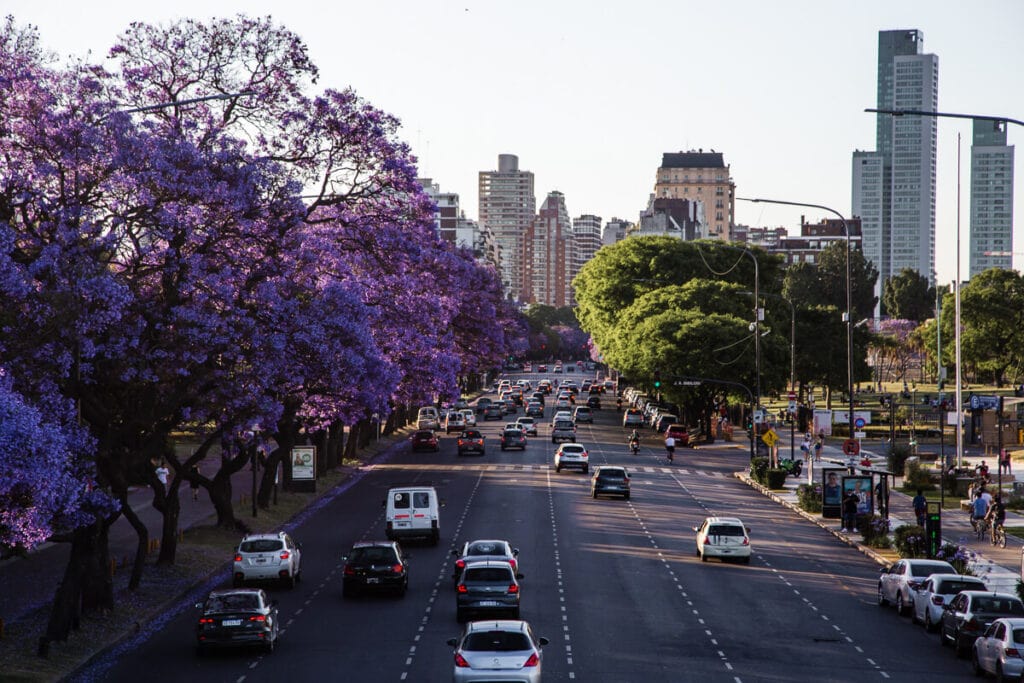 3. Half-Day Northern Circuit: Palermo/Recoleta
Go further north to posh Recoleta and the green, expansive parks of Palermo with this northern 3.5-hour Buenos Aires bike tour.
You'll see the world-famous Recoleta cemetery, decadent European-style apartments and homes, and young, modern Puerto Madero.
This tour offers a look into a more residential side of Buenos Aires along with culture and history.
If you're anxious about riding a bike in a congested city then this tour is the best option as many of the streets on this side of town are wider.
<div data-vi-partner-id=P00057134 data-vi-language=en data-vi-currency=USD data-vi-partner-type="AFFILIATE" data-vi-url="8751P3,5674RPBIKE,5674BABIKE" data-vi-campaign="buenos-aires-bikes"></div> <script async src="https://www.viator.com/orion/partner/widget.js"></script>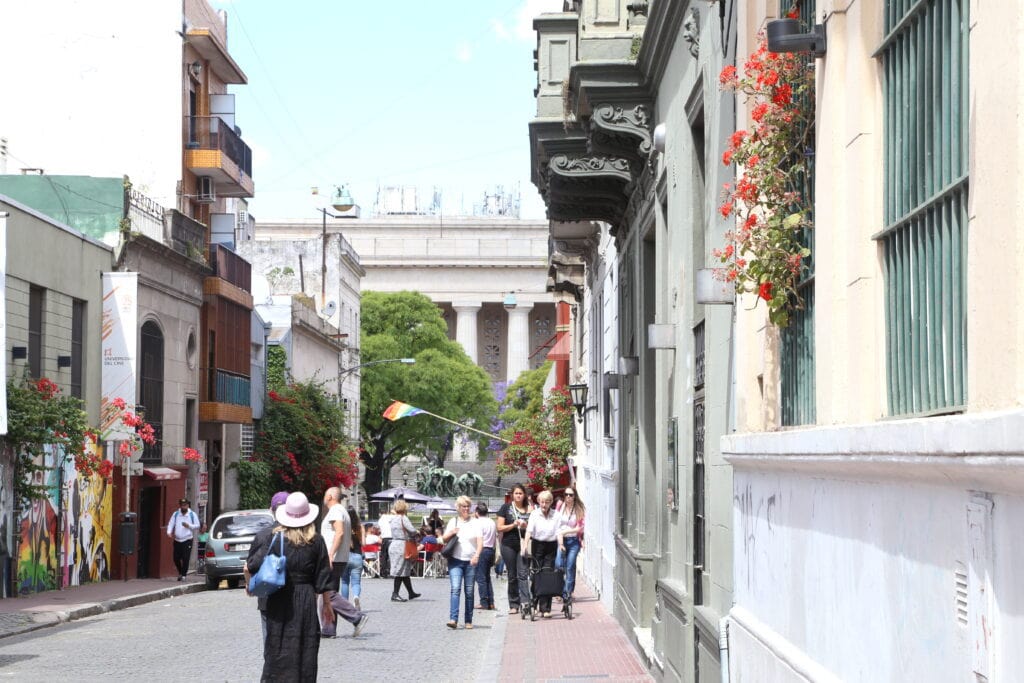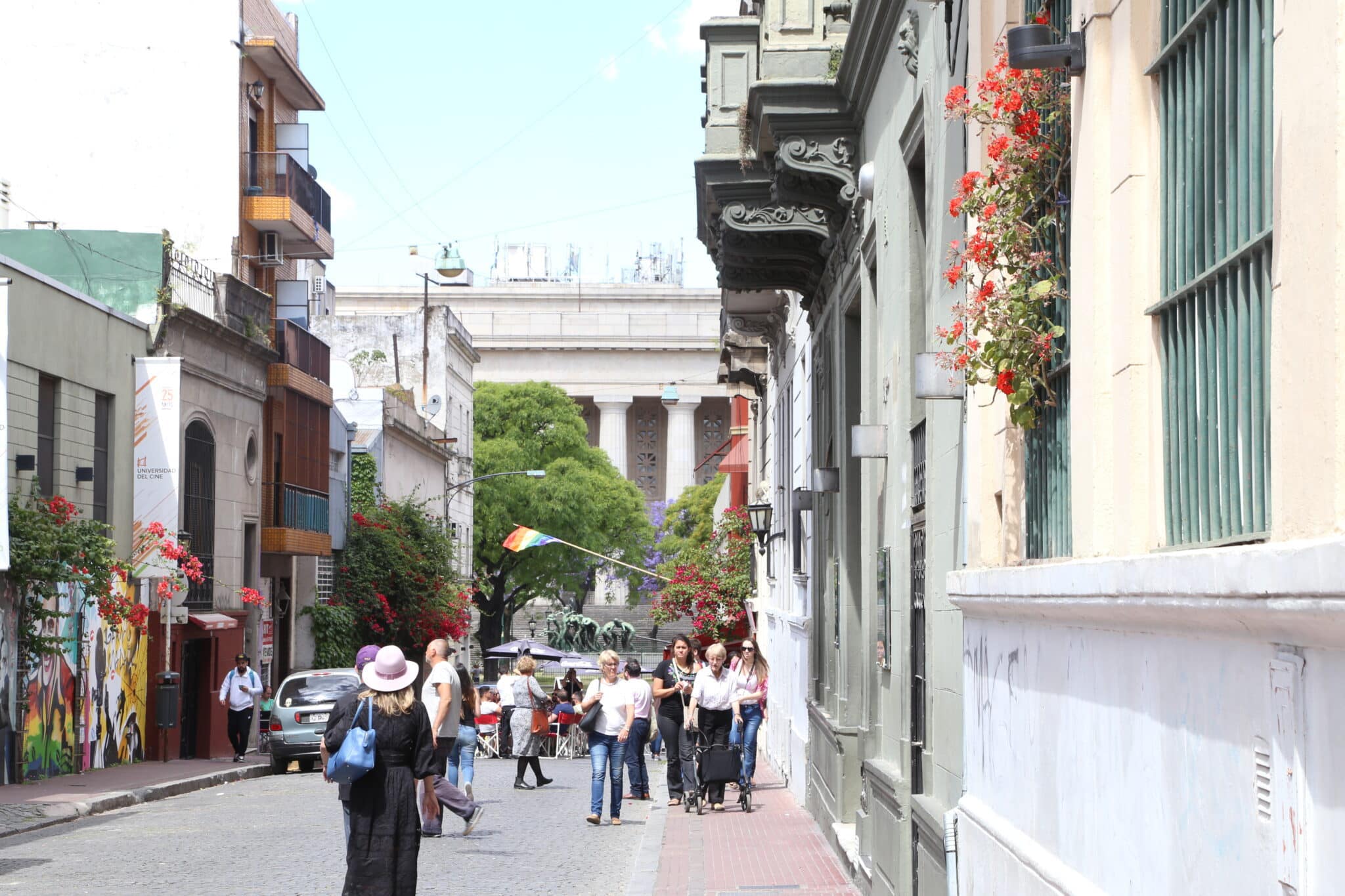 4. Tigre & San Isidro Day Trip by Bike
If you want to get out of town for the day then go on this day trip bike tour to Tigre and San Isidro.
San Isidro is a suburb north of the city. It is upscale and the historic downtown is beautiful with buildings dating back to the original European settlements, a weekend craft market, and a stunning cathedral.
Tigre is even further north. Bike to the tropical river delta, an ecosystem unlike anything else you've seen in Buenos Aires.
To reach San Isidro and Tigre, your guide will bring you and the bikes on the train like a local.
Taking your bike on the train to explore the northern suburbs is such a typical way to spend a beautiful weekend (I, personally, do it all the time!).
5. Rent a Bike
If you'd rather rent your own bike (or loved your tour so much you want to keep going!) you can rent a bike here.
Rentals include locks, helmets, and even child seats.
They are the best place to rent a bike in Buenos Aires. It's also the same company offering the tours I recommend above.
When you rent a bike they don't leave you hanging. They will help you build a route and give you recommendations on where to eat along the way.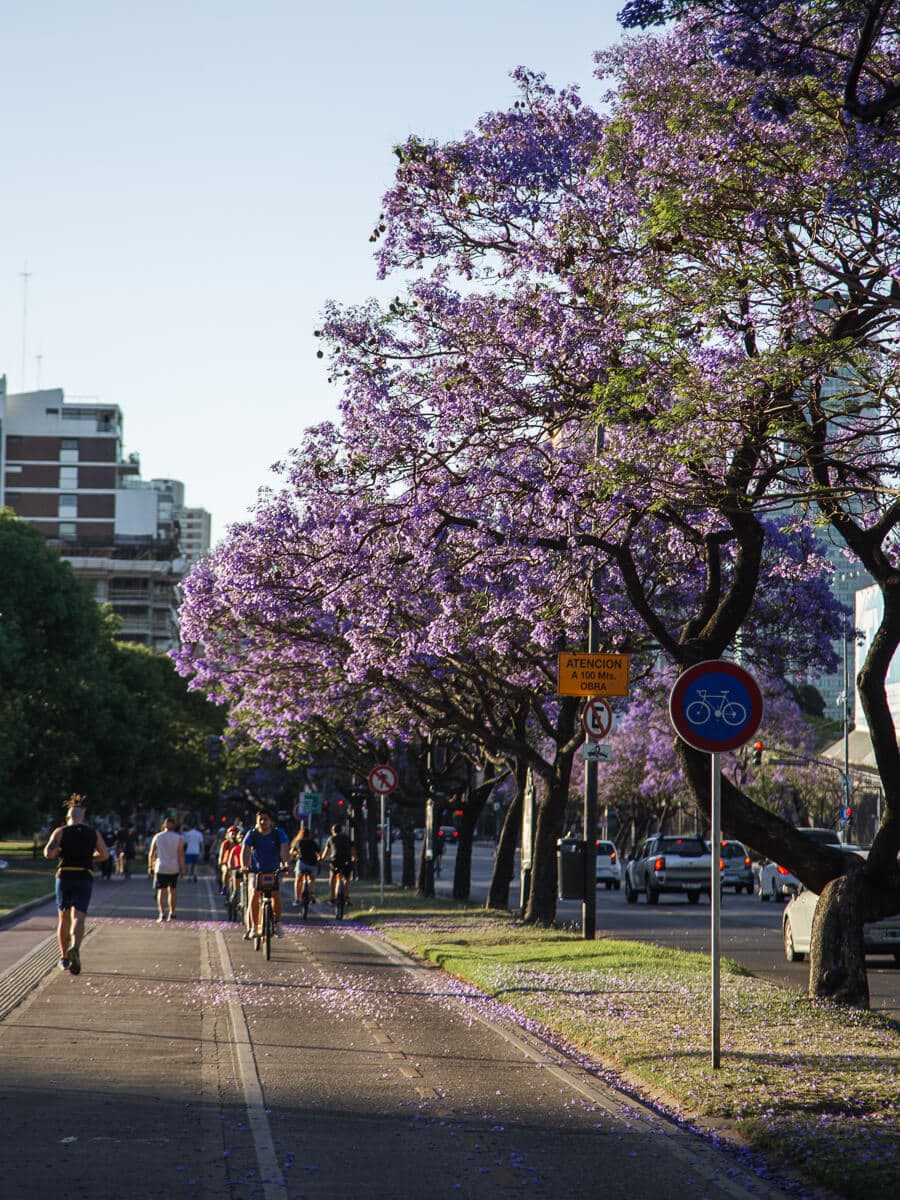 Safety of a Bike Tour in Buenos Aires?
Buenos Aires is as safe as any other large, metropolitan city.
Petty theft can and does happen here so be aware of your surroundings and when in doubt (particularly in La Boca) be discreet.
For more information, read my post about Buenos Aires safety tips.
And since it's recommendable for being on a bike tour anyway, pack light.
And do bring your camera and phone, just put them away after your down taking your photos.
Concerning streets, there is a well-established (and constantly improving) system of bike lanes here. Tours use them whenever possible.
Otherwise, drivers ARE used to bikers in the street. Locals and delivery apps all use bikes and drivers are accustomed to them.
Just be respectful and mindful when not in a bike lane, also never use the sidewalk (don't be that guy).
Buenos Aires Eco-Bicis
There are free bikes with docking stations throughout the city.
These are the orange Eco-bicis, you can read more about how to use them on my post about the best apps to use in Argentina.
Personally, I don't recommend them for tourists wanting to explore the city. They're not well maintained. The last few I used were rickety and hard to pedal.
And with time limits and the resposiblity of finding an empty spot to dock it when you're done, I don't think its" worth it.
If you want a bike of your own, I recommend rending one as mentioned above.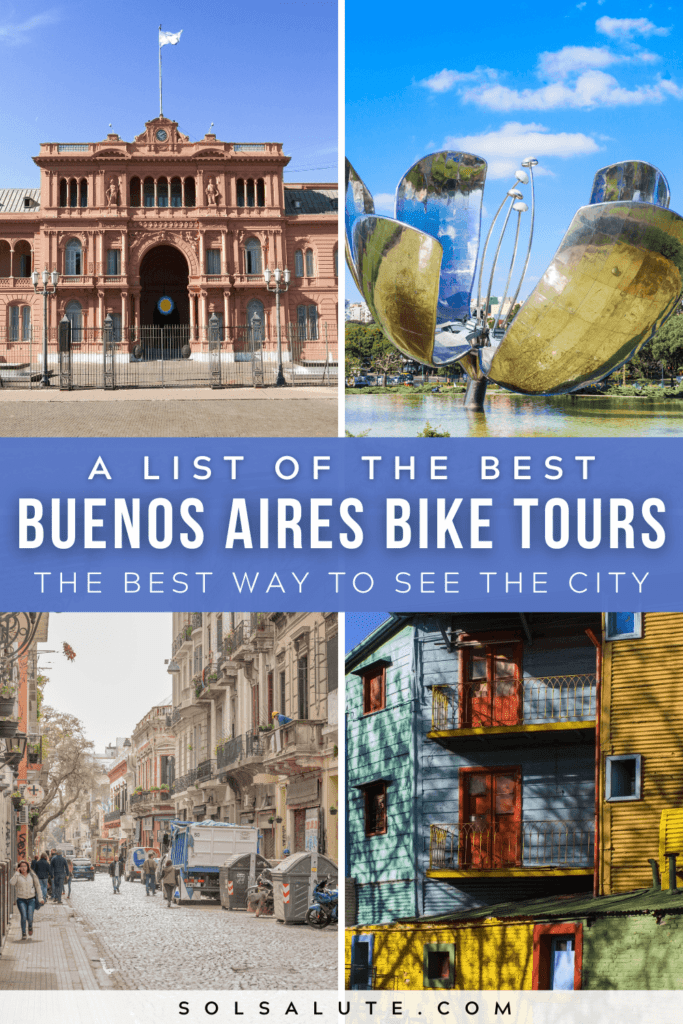 Go on a Buenos Aires Bike Tour!
That's it, go forth and explore!
I hope you enjoy biking through the exciting streets of Buenos Aires as much as I do.
If you have any questions at all, ask me in the comments. I always respond.
Argentina Travel Resources