I like to think of Argentina as just one big series of scenic drives.
The beauty here lies in the landscapes, not in the cities.
It's in your interest to rent a car and explore, and there is no place where this is more true than in Northern Patagonia.
This region is made up of a series of towns at the foot of the Andes.
Starting in San Martin de los Andes in the north, these cities pepper the Ruta 40 highway moving south, weaving through lakes, forests, and valleys.
This particular scenic drive, the Ruta de los 7 Lagos, is made up of the stretch of Ruta 40 between the two mountain towns of Villa la Angostura and San Martín de los Andes.
This post is a comprehensive guide to exploring Argentina's 7 Lakes Route including the itinerary we followed, tour options, and logistical tips.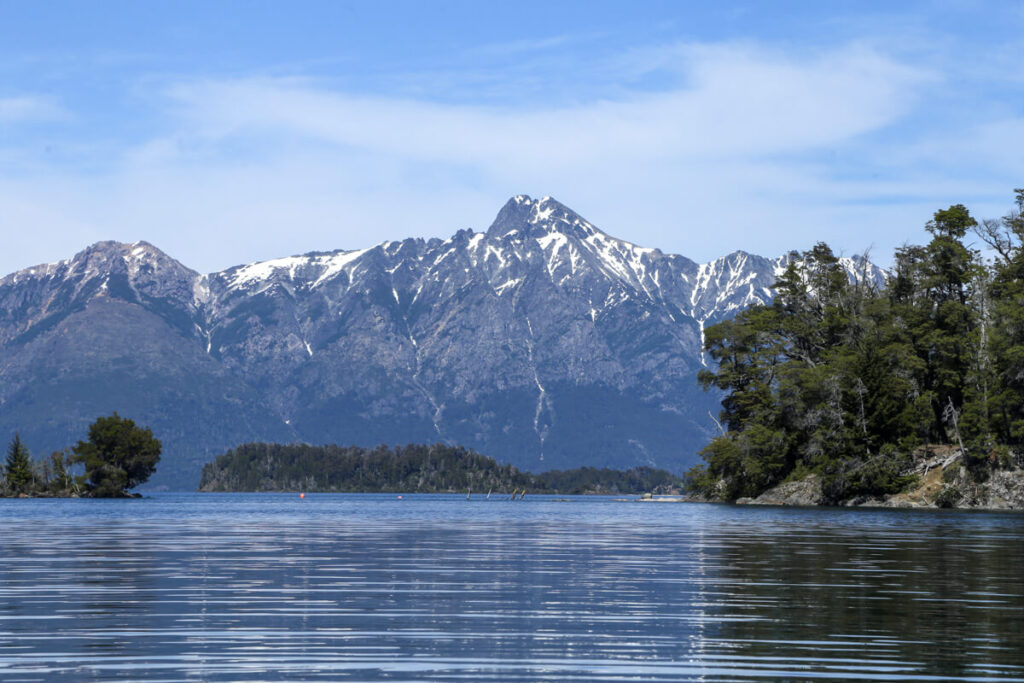 QUICK NOTE: This post contains affiliate links and Sol Salute may receive a commission for purchases made through these links, at no extra cost to you.
The Ultimate Guide Guide to Argentina's Ruta de 7 Lagos
This region of Northern Patagonia is much different than what you may imagine when you think of Patagonia.
El Calafate's glaciers and El Chalten's hikes into towering peaks may be iconic but there is something special about Bariloche and its surroundings.
The largest towns in Patagonia's Lake District head up the start an finish lines of this scenic route.
They are Bariloche and Villa La Angostura to the south and San Martin de los Andes to the north.
Is the 7 Lake Route doable in one day?
Yes, 100%.
We did this drive round-trip in one day from San Martin de los Andes to Villa La Angostura.
It was a long day so I recommend starting as early as possible to make full use of daylight hours.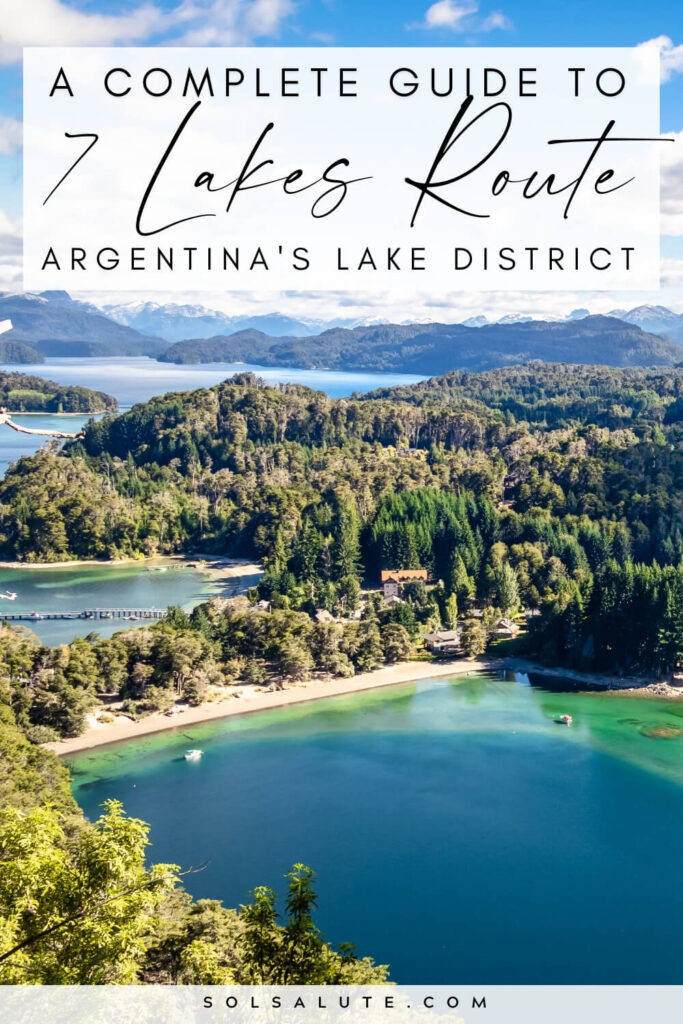 7 Lakes Drive from Bariloche
From Bariloche the route is even longer as the drive between VLA and Bariloche is 1 hour and 15 minutes (even longer if you're staying at a hotel near the Circuito Chico and need to cross the entire city to start the route).
That adds nearly 3 hours on the road. As an alternative route you could drive the Circuito Grande or simply not do the entire drive if you decide to turn back sooner.
There is plenty to see along the way, regardless of how far you actually go!
Use any of these three towns as your base, or move your way through the region on an epic road trip.
You can't go wrong.
All that said, Bariloche is the major power house city in this area and this is a popular (and doable) day trip there.
If you don't have a car, this organized tour does the 7 lakes route from Bariloche.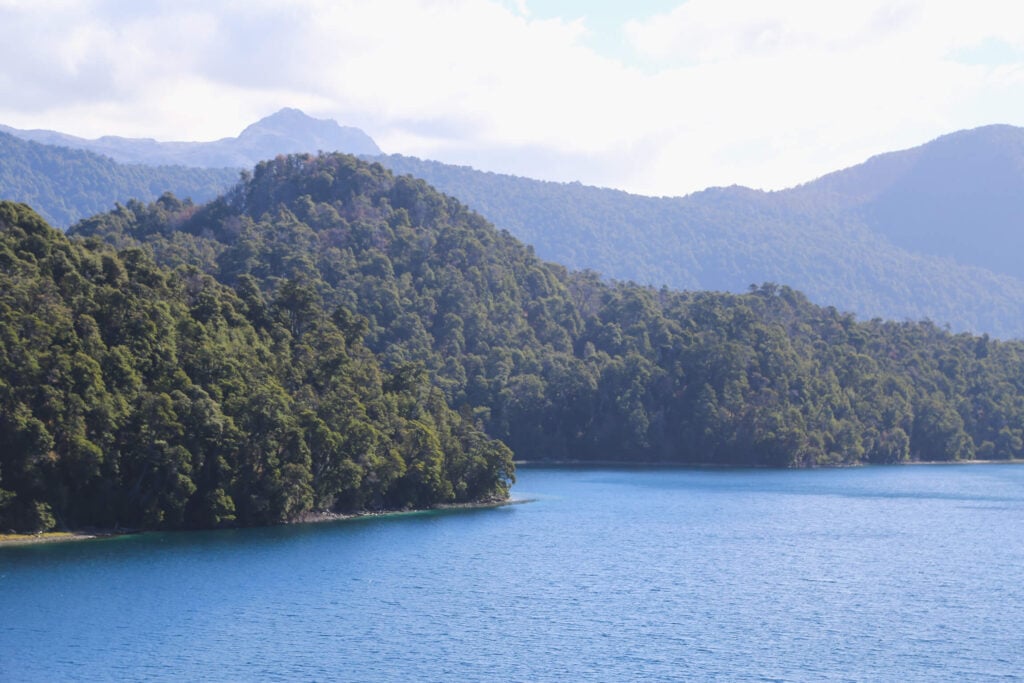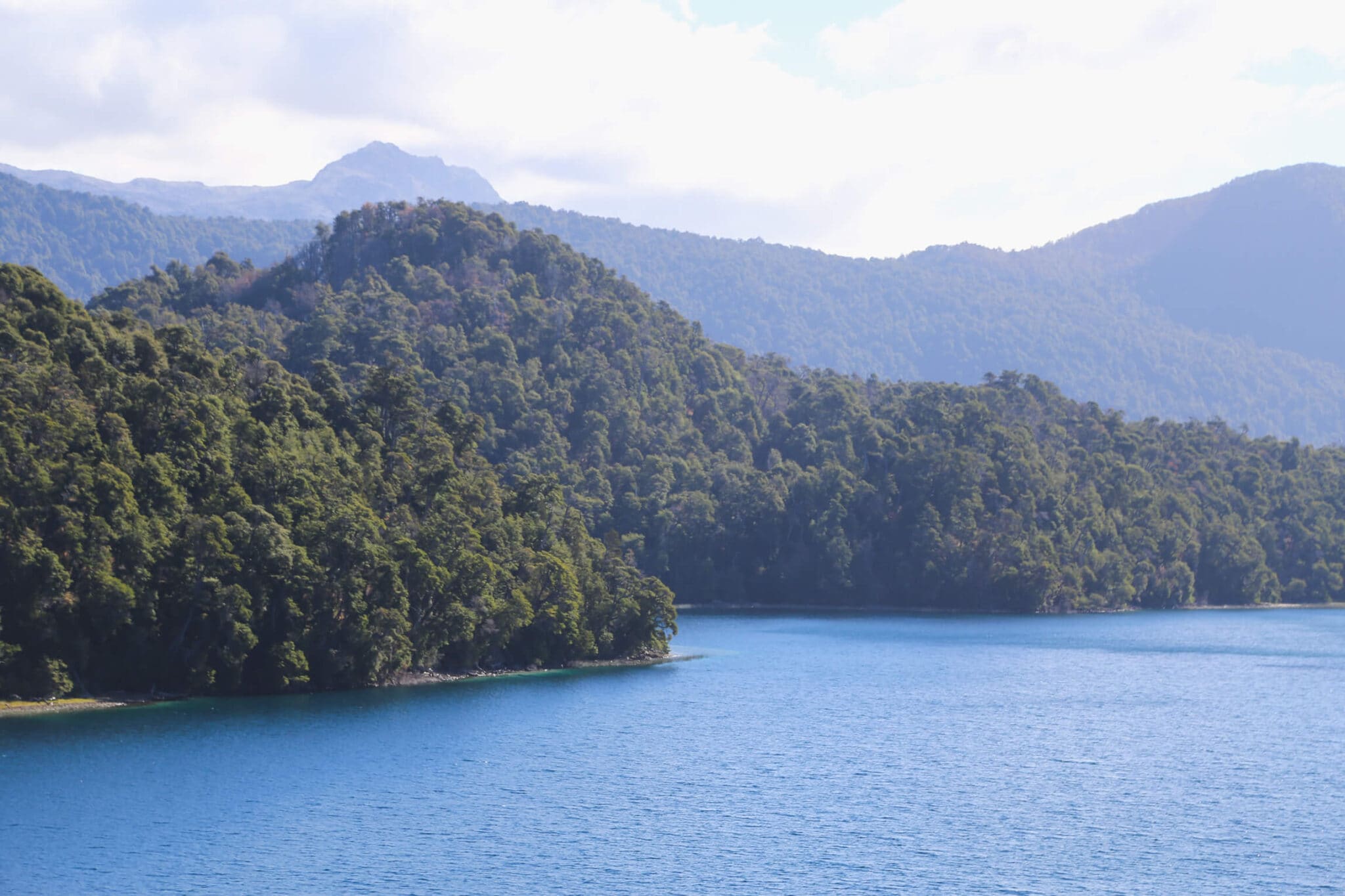 Truth: There are more than 7 Lakes on the 7 Lakes Route
While there is an official list of 7 lakes that you can tick off as you see them, there are far more to explore.
In fact, the unofficial lakes we visited were my favorites on the entire 7 Lakes Route.
Here's a breakdown of lakes, official and beautiful add-ons.
Official 7 Lakes, Argentina:
The "official" list of the lakes that make up the Ruta de los Siete Lagos differs depending on the source.
This is the list I saw the most and it's the one I'll use in this post as the official seven lakes.
They are listed here from north to south, starting in San Martin de los Andes and ending in Villa la Angostura.
Lago Machónico
Lago Falkner
Lago Villarino
Lago Escondido
Lago Espejo
Lago Correntoso
Lago Nahuel Huapi
Unofficial Lakes:
There are even more lakes than this, but these are the ones we visited and that are mentioned in this post.
These four lakes are also coincidentally my favorites!
Lago Lácar: San Martin de los Andes is built around this large lake but it somehow did not make the cut)
Lago Hermoso: Very short detour from the main road, do it.
Lago Traful: This is a longer 30 minute drive detour but is well worth the time if you have it.
Lago Espejo Chico: Very short 2 km detour, do it.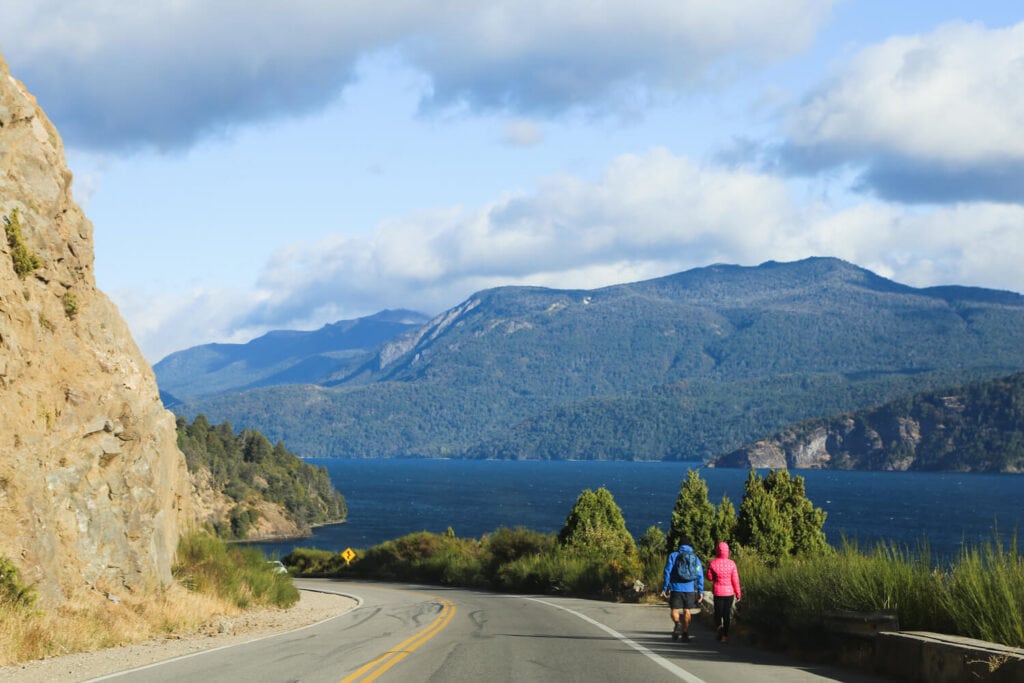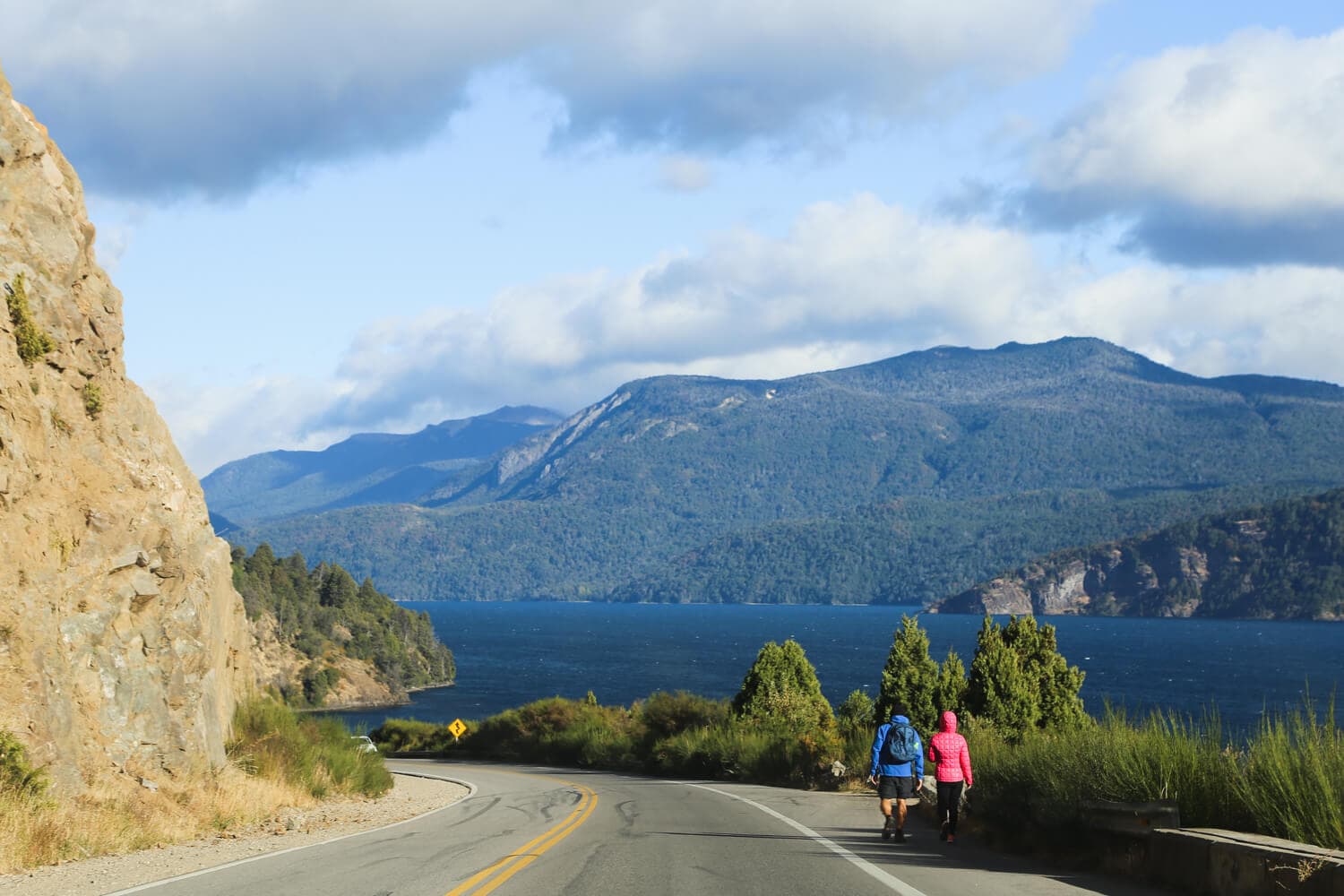 Map of the Ruta de los Siete Lagos
Below is a map of all of the lakes we stopped at, 11 in total.
The other pin points mark the viewpoints but don't stress too much about missing them.
They are very well marked on the road.
You'll see them all.
You'll see a detour off of the main road to the right/east.
This is Villa Traful and is optional but recommended if you have the time.
How to See the Ruta de los 7 Lagos
Self Drive Day Trip | Rent a car and drive the route as a day trip, round trip. This is what we did. Just know that leaving from Bariloche will be an hour and a half longer each way than from VLA and SMdlA. Rental cars here can sell out in busy season so don't procrastinate.
Self Drive Road Trip | Rent a car and do a multi-day drive of the area, what we didn't do but what I would recommend if you have the time! This area deserves it. Ideal if you love camping as there are a number of sites by the lakes.
Guided Tour | Don't want to drive? Take this tour departing Bariloche or this one departing San Marin de los Andes.
TIP: Renting a car and want to do a longer road trip vs a day trip? Check with your rental car agency about the fee for returning the car in a different city than where you picked it up. Sometimes the fee is reasonable (around 100 USD).
Self-Drive the 7 Lakes Route: Our Experience
We always rent a car in this area, we did in San Martin de los Andes and again recently in Bariloche.
I highly recommend it, even if just for this day trip.
We found the most beautiful spots to be slightly off the beaten path or unexpected, and being able to stop when we wanted was priceless.
While car rentals in Patagonia are far from cheap, having the freedom to move is worth every penny.
You can rent your car in any of the cities near the 7 lakes: Bariloche, Villa la Angostura, or San Martin de los Andes.
There is no need to rent a large truck or 4×4.
We had no issues with the tiniest and cheapest rental car category, this section of Ruta 40 is paved and in good condition.
I recommend reserving your car well in advance, especially for December through February (peak summer season).
They will sell out in high season but may very well run out of cars in shoulder season as well.
Because these days there is no true low season in Bariloche. It's popular year round with Argentines and foreign tourists alike.
Check rental car availability and rates here.
Tips For A Successful 7 Lakes Route Day Trip
The entire stretch of this portion the Ruta 40 is paved and in good condition
Detours to Lagos Espejo Chico, Hermoso, and Villa Traful are all unpaved but in good condition.
This route can easily be done in one day but start EARLY, plan on getting back late
If you have time to slow travel, you will not regret doing this over 2-3 days, camping or renting a cabin along the way.
If doing it in only one day, choose where you'll want to spend your non-driving time and budget that out accordingly. For lunch in Villa La Angostura or San Martin de los Andes? By visiting Villa Traful? Or just by plenty of slow, restful stops on the beaches of the lakes? This is possible in a day but you do have to make choices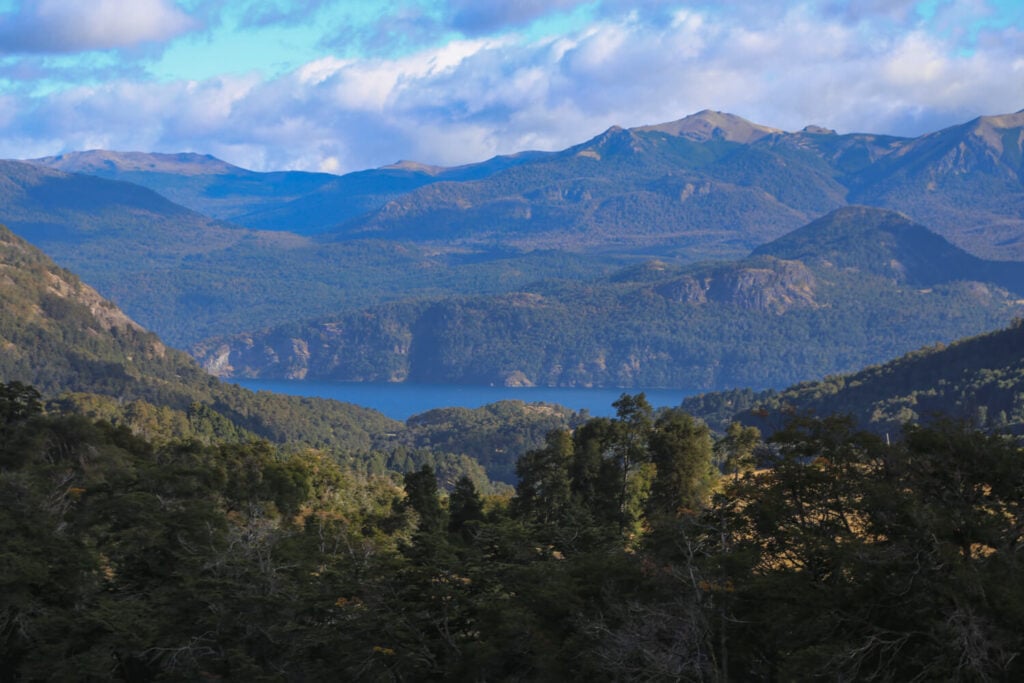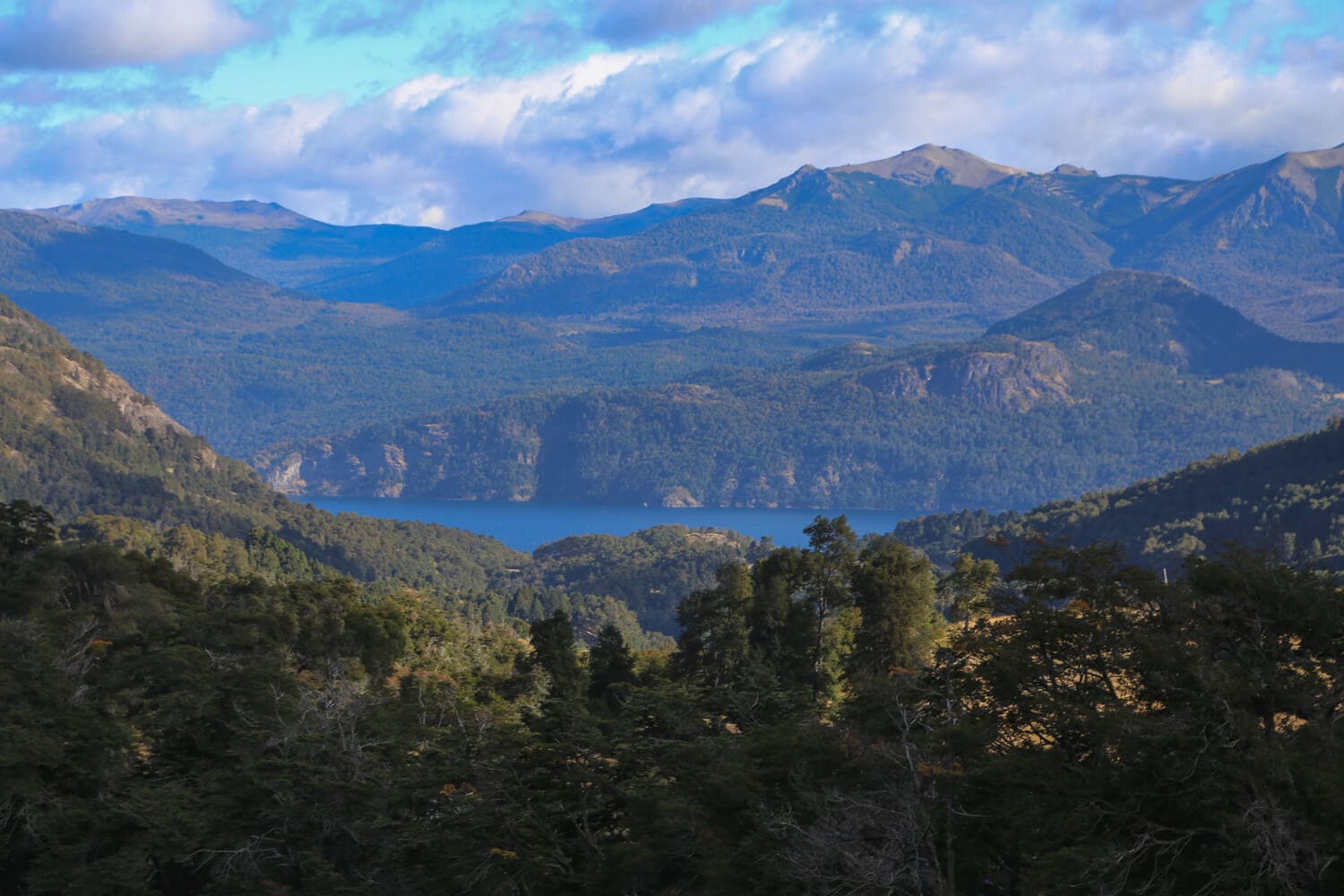 North to South: Our Seven Lakes Route Itinerary
The first time I drove the 7 Lakes Route we were staying in San Martin de los Andes, so we did it as a day trip there and back driving the lakes from north to south.
We drove to Villa la Angostura and back, with long stops at a few of the lakes and a lunch break in Villa Traful.
We had a leisurely start to our day, leaving at 10 am and got back to San Martin de los Andes just in time for sunset at 7 pm.
If you have time constraints, it can be done in a lot less time if you don't detour off the main highway.
It can also take longer with more stops.
Take our itinerary with a grain of salt because there are countless scenic stops. Surely you'll discover your own.
Leaving from Bariloche? Many will do this trip from Bariloche, the largest city in this region. If so, leave as early as possible as the drive is longer. Take our itinerary in reverse order (south to north).
Read Next: A Complete Guide to San Martin de los Andes
1. Lago Lácar & San Martin de los Andes
Lago Lácar isn't an official lake on the route but its beauty and accessibility should qualify it for the unofficial 8th lake.
San Martin de los Andes is built right on Lago Lacar's shores, so you can access the beach and pier directly from downtown.
There is even a parking lot behind the park that borders the beach.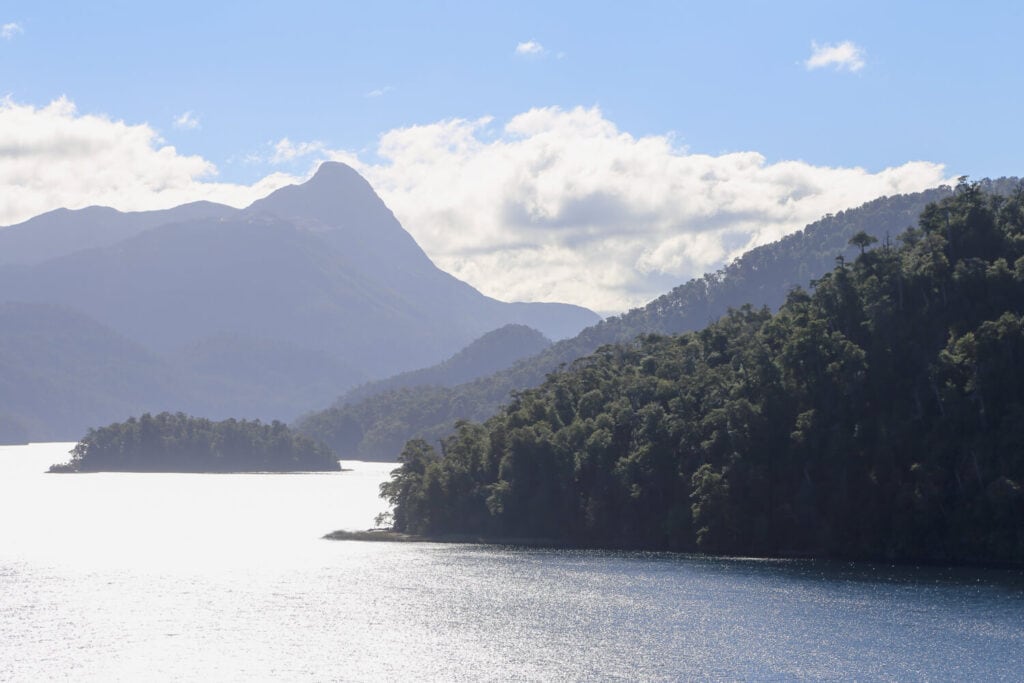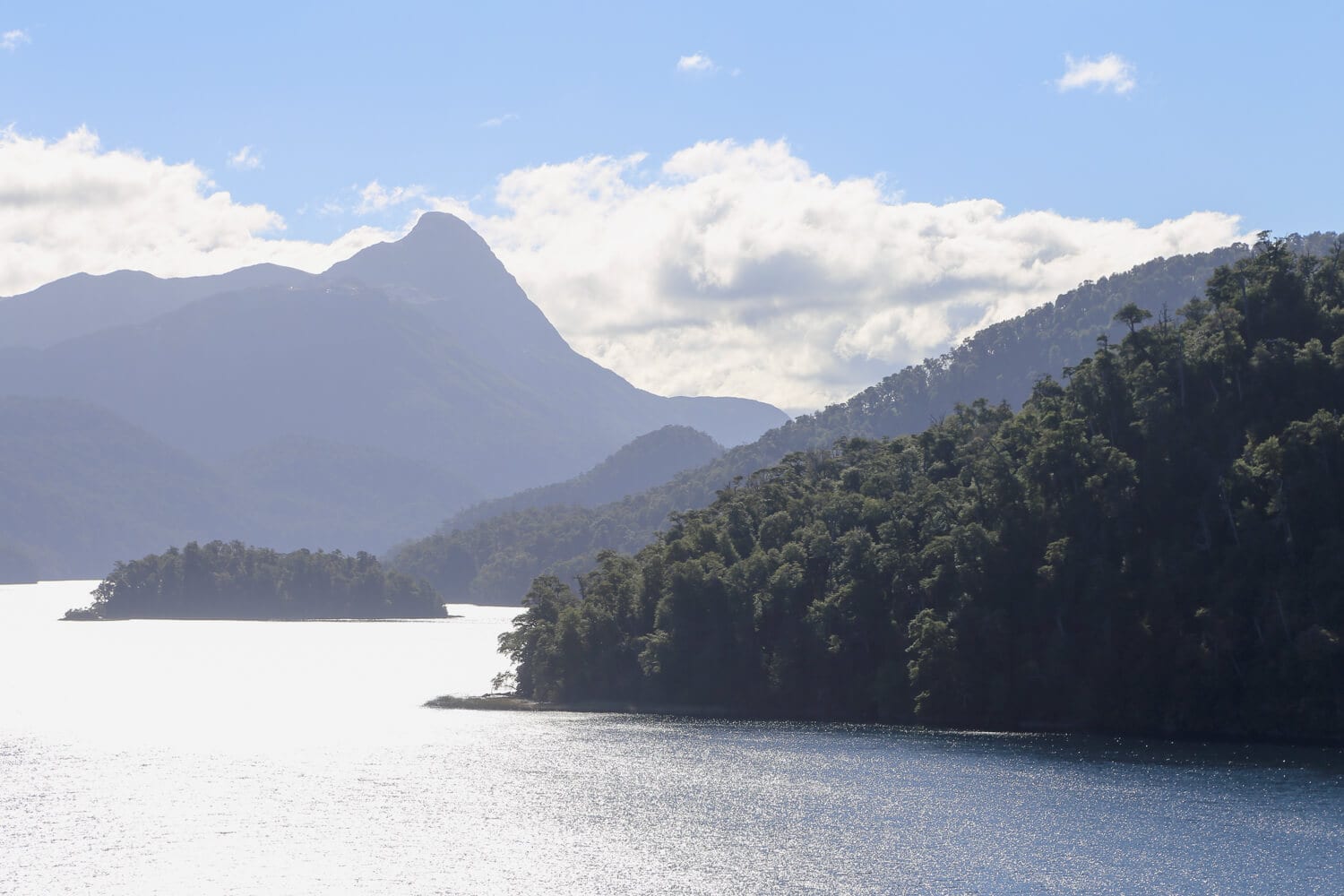 These first few kilometers of the 7 lakes road have great views of the lake and San Martin below.
These photo spots aren't marked or set up as official view points, but the shoulder is wider at a few points making it safe to pull over.
As you drive towards Lago Machónico, you'll pass the Mirador Pil Pil and Arroyo Partido viewpoints.
Like all the official viewpoints and photo stops, they are well marked 500 meters beforehand, giving you time to slow down.
2. lago Machónico
Before reaching the first official lake of the drive, Lago Machónico, you'll pass the small Laguna Fria.
The road then curves to the left before revealing a panoramic view of Lago Machónico.
There's only a viewpoint here, looking down at the lake below.
After stopping to stretch your legs and take in the view, continue south to Lago Hermoso.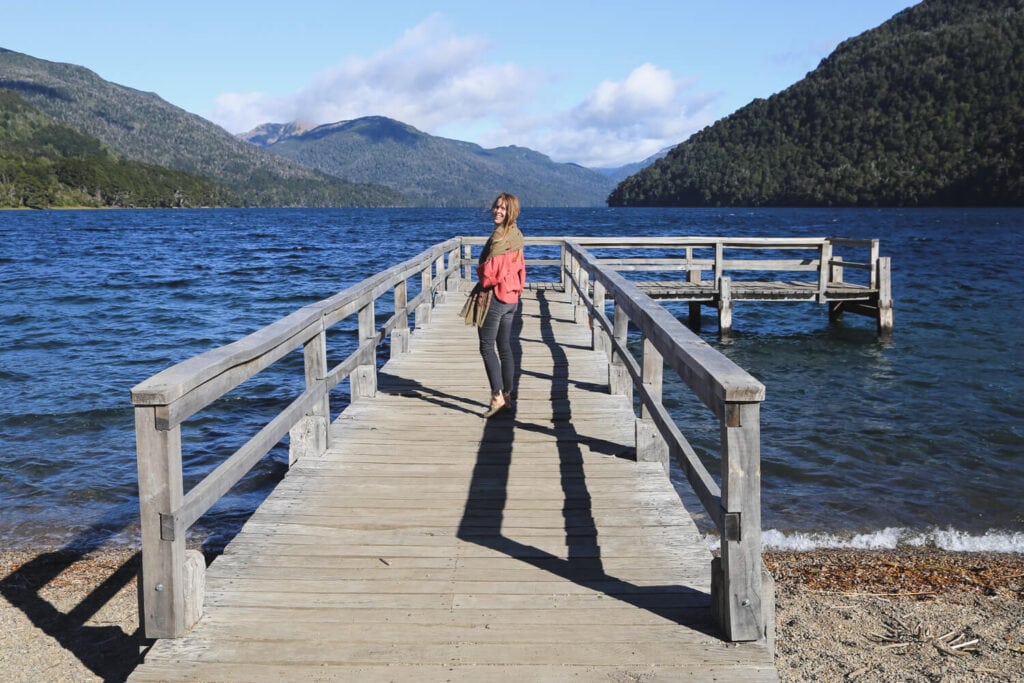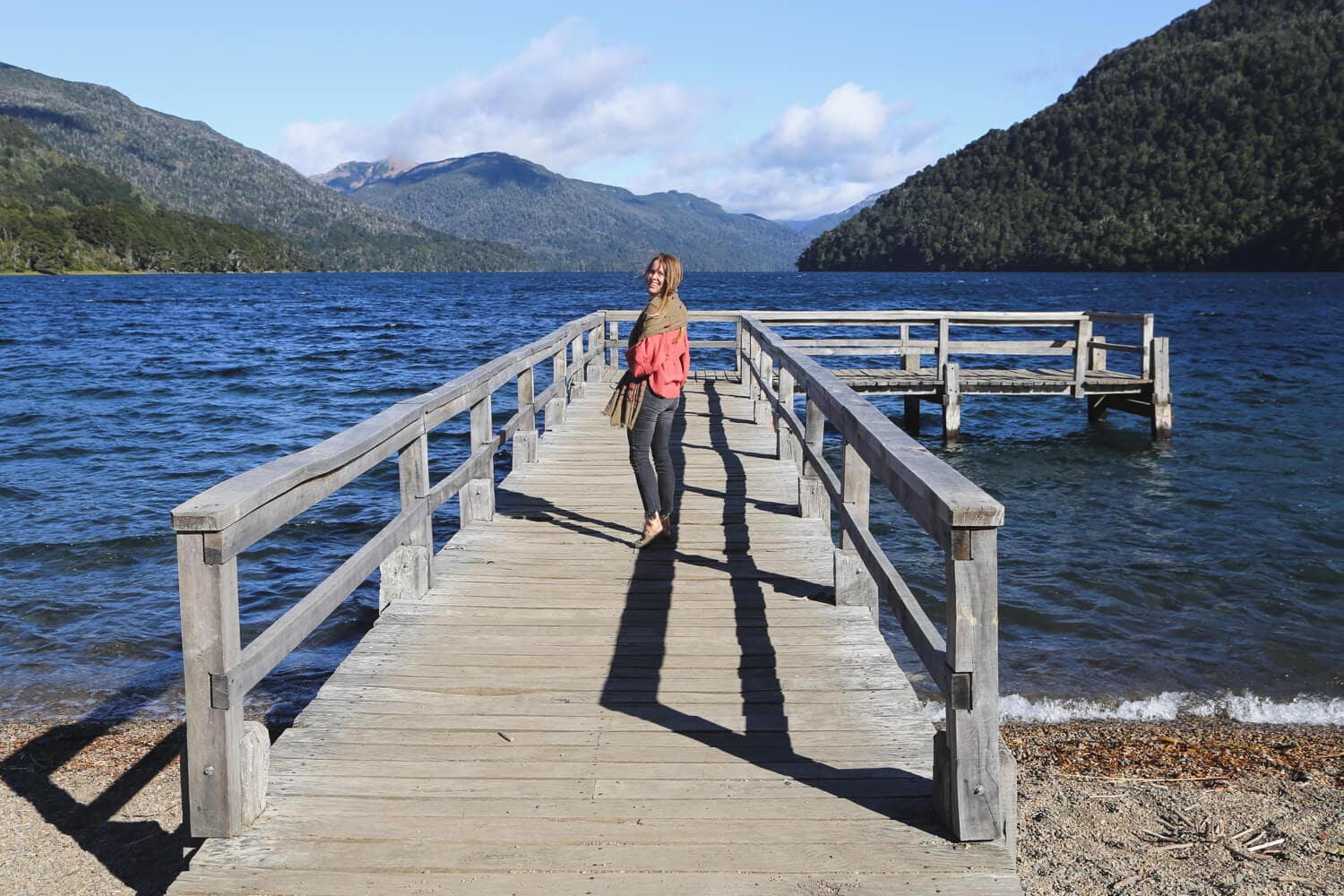 3. Lago Hermoso
All of my favorite lakes, like Lago Hermoso, weren't part of the official seven.
They all required a short detour off the main highway, which meant more space and less people.
The turn off to Lago Hermoso (coming from the north) is on the right, by the El Viejo Almacen restaurant. It's only 2 kilometers so there's no excuse not to make the effort.
There is another restaurant overlooking the beach that had killer views. It was closed when we were there.
I'm not sure if it was due to low season or because we were there too early in the day.
There are campgrounds and a shop for handicrafts sold by the indigenous Mapuche people.
4. Lago Falkner
Back on the main road, head south to Lago Falkner.
This was my favorite lake of the official 7 that line the main highway.
The road borders Lago Falkner at water level just meters from the beach.
There was a food truck and artisan beer stand right next to the water here.
Both were closed as these things tend to open in peak summer months (December to the beginning of March).
There are toilets and changing rooms here as well.
Further down from the facilities is a huge beach, right next to the shoulder of the highway.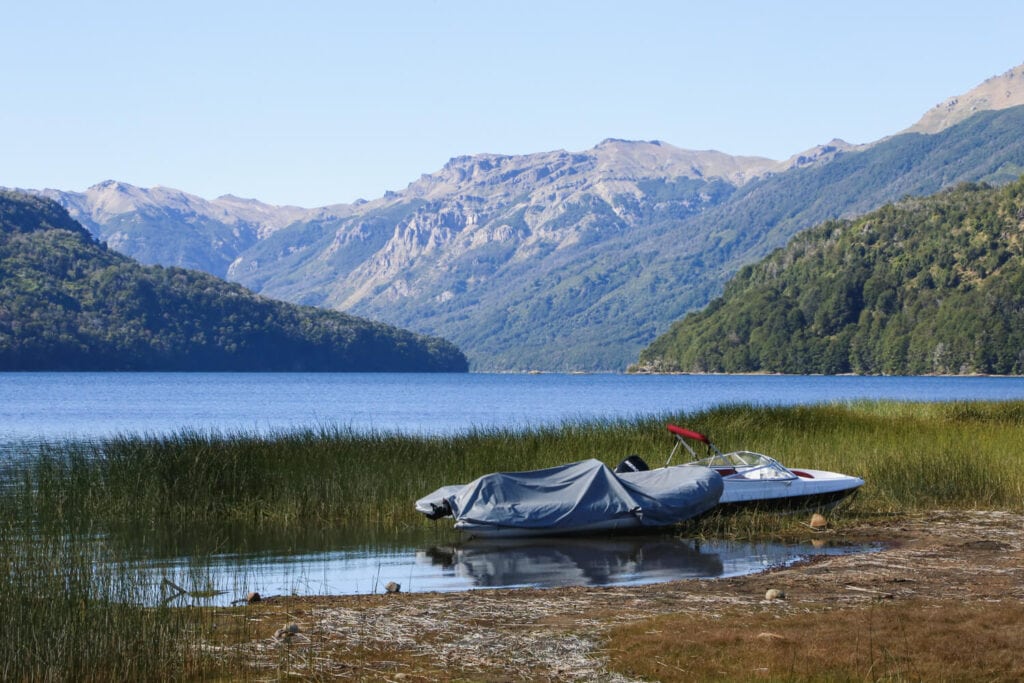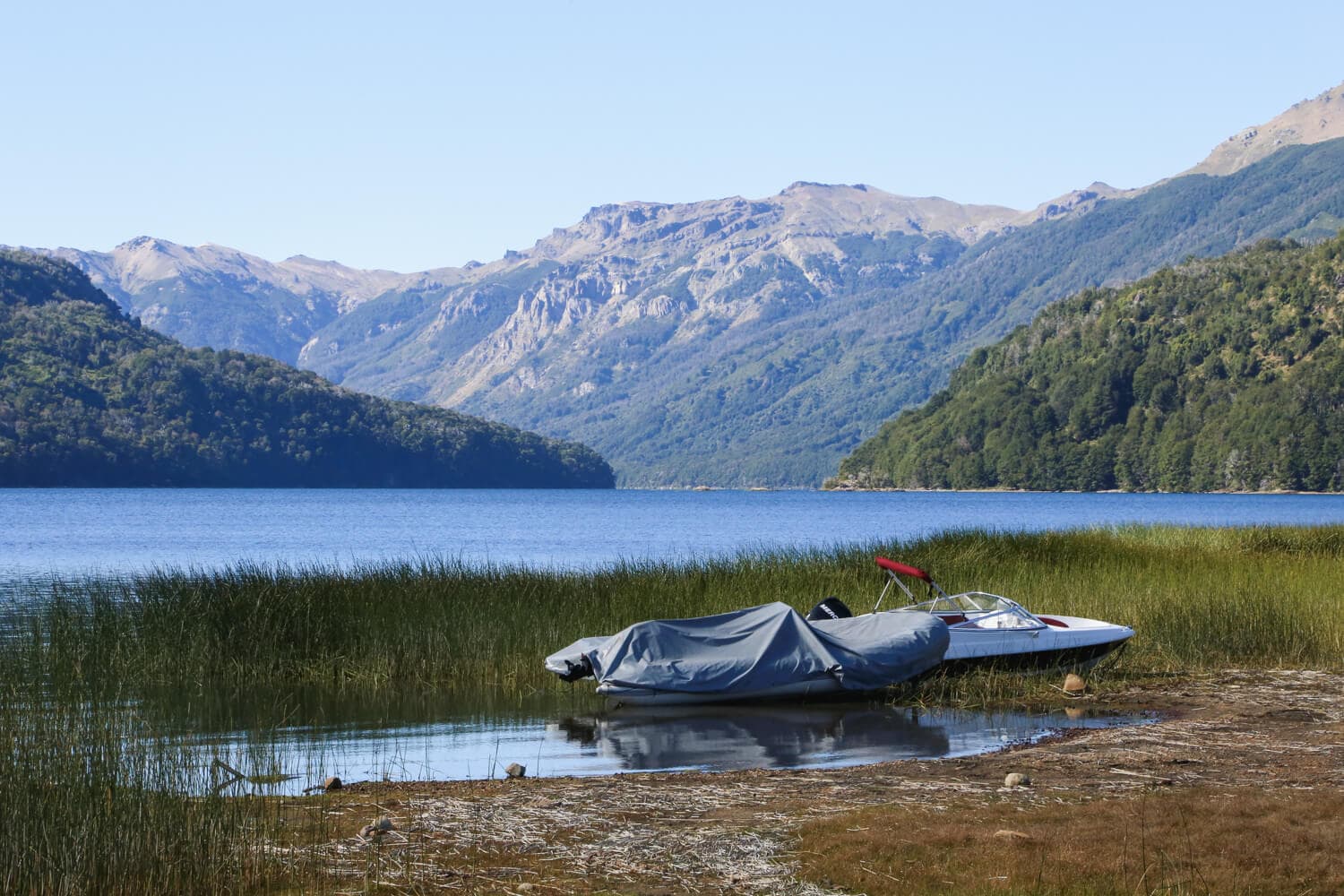 NOTE: The southern half of the Ruta de los Siete Lagos is in Nahuel Huapi National Park, one of The 7 Natural Wonders of Argentina.

The northern half, including SMdlA, is in Lanin National Park, which I find equally as beautiful! Read more about Argentina's national parks here.
5. Lago Villarino
The next lake, Lago Villarino, neighbors Lago Falkner.
The road passes right between the two, leading you up to the main viewpoint that looks down on the lake from above.
However, there's a dirt road that leads to the Villarino Campgrounds right on the beach.
It's easily missed so keep an eye for it on your left just as you leave Lago Falkner.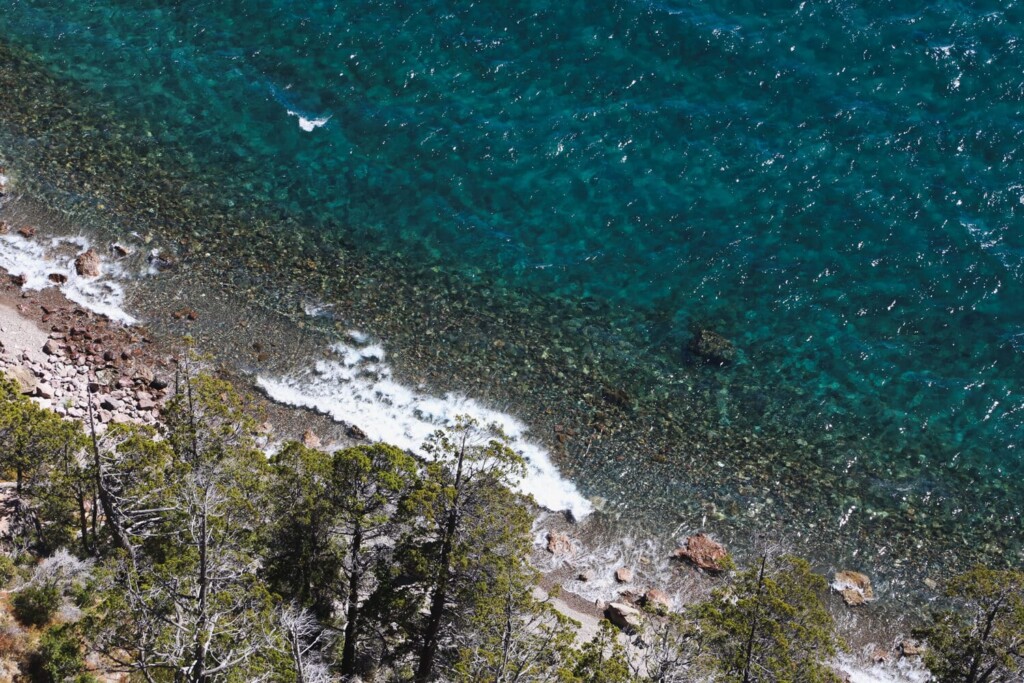 6. Lago Escondido
Lago Escondido is exactly as the name indicates, hidden.
There's a viewpoint right next to the lake, but you can only see glimpses of it between the trees (above).
Despite this, I still thought it was beautiful with its teal green water.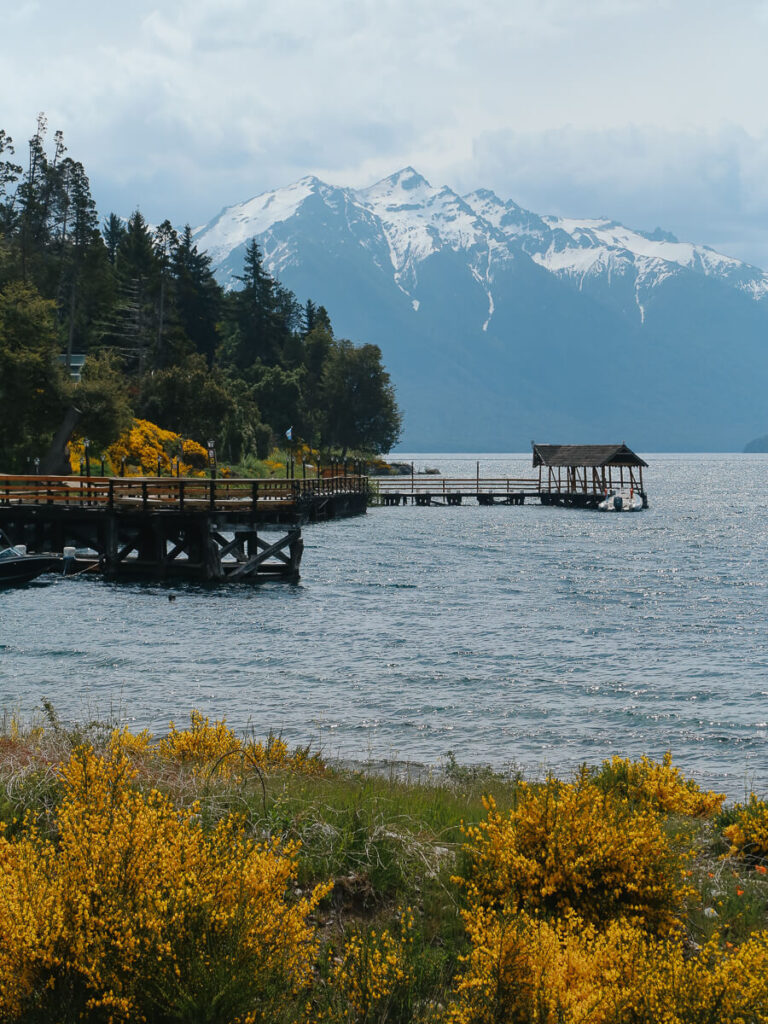 7. Lago Traful
This was the biggest detour of our day.
The turn off to the town of Villa Traful (above) and the lake of the same name is just before Lago Correntoso.
Provincial Road 65 is a dirt road through the forest and it's a 26 kilometer drive.
In total we spent a few hours in Villa Traful, having lunch and relaxing on the beach.
This was, without a doubt, my favorite part of the day. Lago Traful is gorgeous and the tiny town was sleepy in all the right ways.
There were a lot of adorable cabins, campgrounds, and restaurants along the water.
If you have the time, consider spending a night or two here.
Want more scenic drives? The Circuito Grande drive in Bariloche is another scenic route that includes Villa Traful, along with the Patagonia steppe and a turquoise river.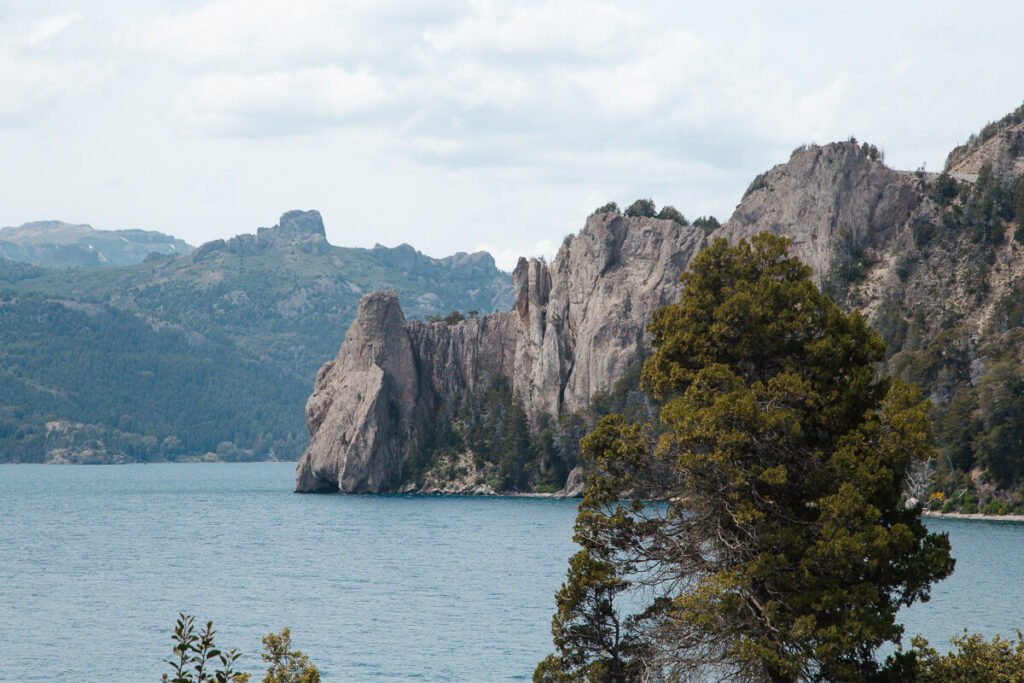 While in Villa Traful, you cannot miss the Mirador del Viento.
It's a few kilometers past the town, perched on a cliff looking down on the immensity of Lago Traful below.
It's aptly named as the Windy Viewpoint so hold on to your hat as you step up to the edge of the boardwalk.
Update 2022 – When we visited again in October 2022 the viewpoint was damaged and closed. It's possible it's been re-opened since! Regardless, you can still admire the view from the side of the road here.
After you've had your fill of Lago Traful, wind your way back down RN26 to the pavement of Ruta 40.
Pavement you never knew you loved so much until you spent 30 kilometers bouncing around on the dirt road to Villa Traful.
8. Lago Correntoso
Shortly after the turn off to Villa Traful, the highway bends sharply to the right.
Just after this bend there's a turn off to a campground on the shore of Lago Correntoso.
If you're looking for a picnic spot, this is an excellent choice.
Otherwise, keep driving to the two panoramic viewpoints further down.
9. Lago Espejo Chico
Another unofficial lake and unsurprisingly another favorite of mine.
You'll see the exit for Lago Espejo Chico just after the first mirador/view point for Lago Correntoso.
The drive is short, bordering the Ruca Malen River.
The river here is just as beautiful as the lake, if not more so.
People were laying on the shoreline and even fly fishing (fishing season is from Nov-April and you need a permit).
You can't miss the beach at Espejo Chico as the road leads you straight to it.
There are facilities here include a restaurant and campgrounds.
We sat on the beach for a while, listening to the water wash up against the rocks.
I loved Espejo Chico, don't miss it!
10. Lago Espejo Grande
Right after you pull back onto the highway from Espejo Chico, you'll see another viewpoint for Lago Correntoso.
From there, the road continues south, passing the small Lago Bailey Willis to the right before reaching Lago Espejo Grande.
There's a viewpoint looking down on the lake from above.
11. Lago Nahuel Huapi & Villa la Angostura
Shortly after Espejo Grande, the large Lago Nahuel Huapi comes into view, marking the end of the Seven Lakes Route.
There's one last panoramic viewpoint right as you're entering Villa la Angostura.
It's worth stopping, even if you're tired of all these stops.
Nahuel Huapi is enormous and the largest lake in the region.
Congratulations, you've conquered the Ruta de los 7 Lagos!
If time allows, relax with a coffee or drink in Villa la Angostura before continuing on with your day, you deserve it.
From here we turned back to drive home to our hotel in San Martin de los Andes.
If you're also driving the seven lakes road "there and back" as we did, don't worry about being bored on the return journey.
The drive was very quick without all of the stops.
The best part was seeing everything from a new angle.
It honestly felt like a completely different drive.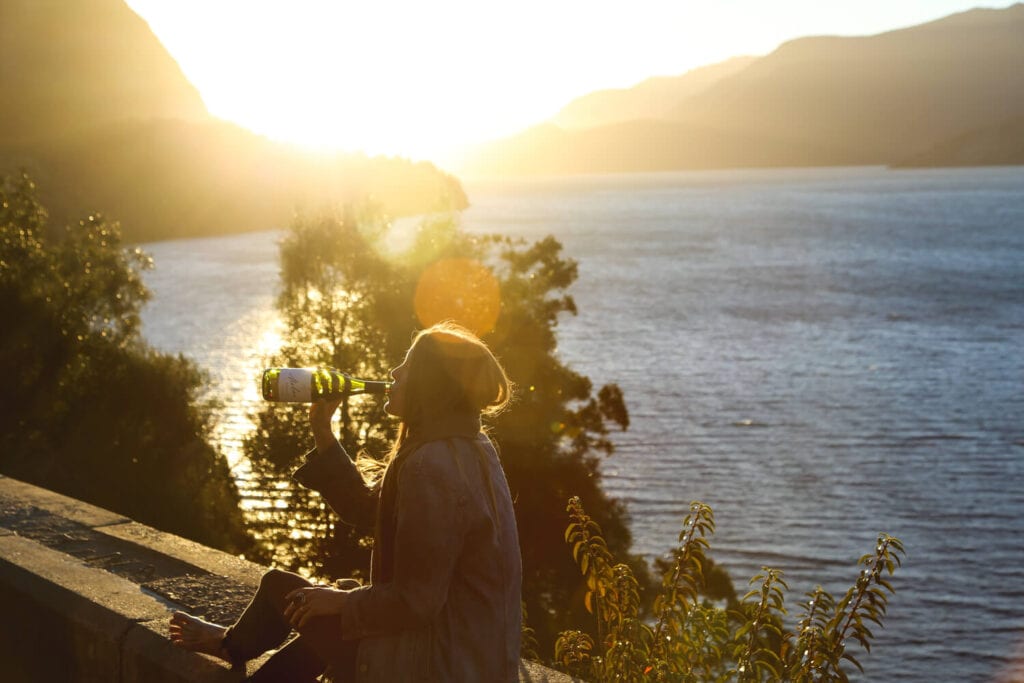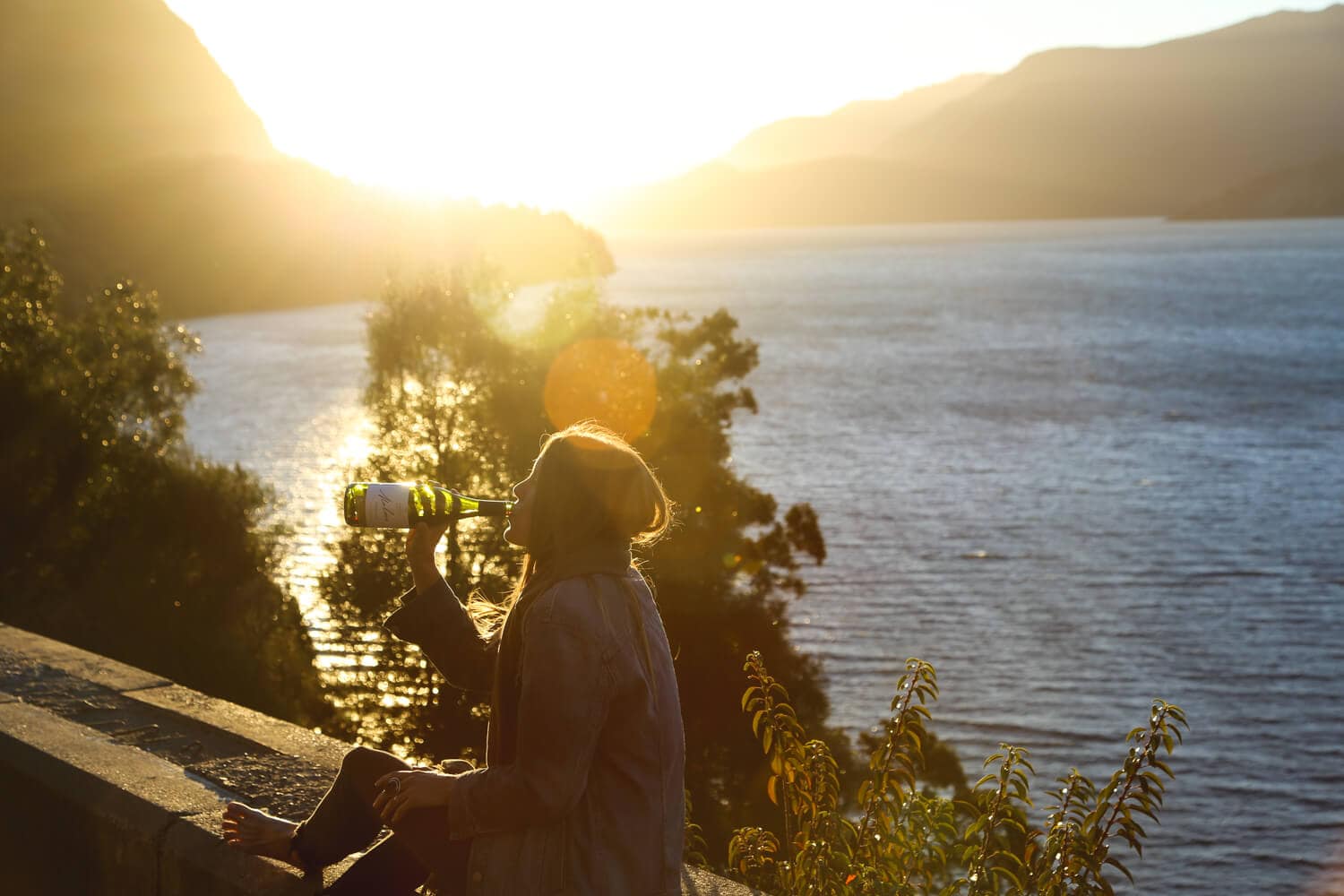 Bonus: Sunset Over Lago Lácar
We pulled off the road before reaching San Martin de los Andes to watch the sun dip behind the mountains.
The town itself is tucked away behind a hill in a way that puts it in darkness well before sunset.
To get the best sunset view, stop a few kilometers outside of town. The shoulder widens here and it's safe.
Plenty of people had the same idea, but we were the only ones drinking wine instead of mate.
I'll take wine over that much caffeine at night any day (but maybe that's how Argentines are awake for such late dinners?).
Cheers to an excellent day on the Ruta de los 7 Lagos.
I hope you enjoy it as much as we did.
Best Time to Visit the 7 Lakes Route
Spring through Fall are the best months to drive this route (and anywhere in Patagonia for that matter).
We just did part of this drive in spring and the yellow retama flowers that border the road were breathtaking.
Summer is high season with January in particular being the busiest month.
Locals take their holidays in January and crowds will be at their most hectic and prices at their highest.
If traveling in summer reserve your accommodation and rental car as far in advance as possible.
Winter can be tough with snow and ice making driving conditions more hazardous (especially if you grew up in Texas like me).
The road is maintained and should be safe, so check with locals just in case.
Ski season is from July through September, read more about winter in Bariloche.
Wondering what is the best time of day to drive the 7 lagos? If driving from the north leave early in the morning to have the sun at your back.
If driving from Bariloche or Villa La Angostura, leave later in the day to avoid the sun being directly in your eyes.
But also leaving late will cut your time at the lakes shorter so pick your poison here.
Where to Stay on the 7 Lakes Route
In San Martin de los Andes we stayed at Arrayan Hostería de Montaña y Casa de Té.
It's a 5 minute drive out of the city center so it's more comfortable with a car but so, so worth it.
The view of Lago Lacar was wonderful to wake up to each morning!
The breakfast is in a tower with that same view and a cozy fireplace. The on-site tea house is worth visiting even if you don't stay here.
Villa La Angostura is a lovely alternative to Bariloche at the southern end of the drive.
It's such a quaint, adorable town with all the beauty of Bariloche but none of the big city feel.
In Bariloche, we recently stayed at Villa Labrador, a complex of cabins right on a lake with beach access. Perfect for families.
Read More about Argentina:
Argentina Travel Resources
Pin It For Later