Over the years I've received a lot of emails and comments with questions on how to get around Argentina.
Surprisingly (for me), one of the most repeated questions I get is about trains in Argentina.
Truthfully, long distance train travel in Argentina isn't very popular. Long distance buses reign with 180 degree lay-flat seating and budget airlines like FlyBondi and Jetsmart make covering vast distances much more appetizing.
However, that doesn't mean there are no trains in Argentina. If you're a train enthusiast you'll absolutely have options to explore here!
In fact, in the city of Buenos Aires I prefer to take the train over any other form of transport (buses get bogged down in traffic and the subway has limited reach).
The train network within the city and to the outer suburbs and nearby towns is very expansive.
There are also a lot of tourist/historic trains throughout the country worth taking to see the epic views only they offer.
And, of course, you can travel long distance by train as well (even if the destinations are limited).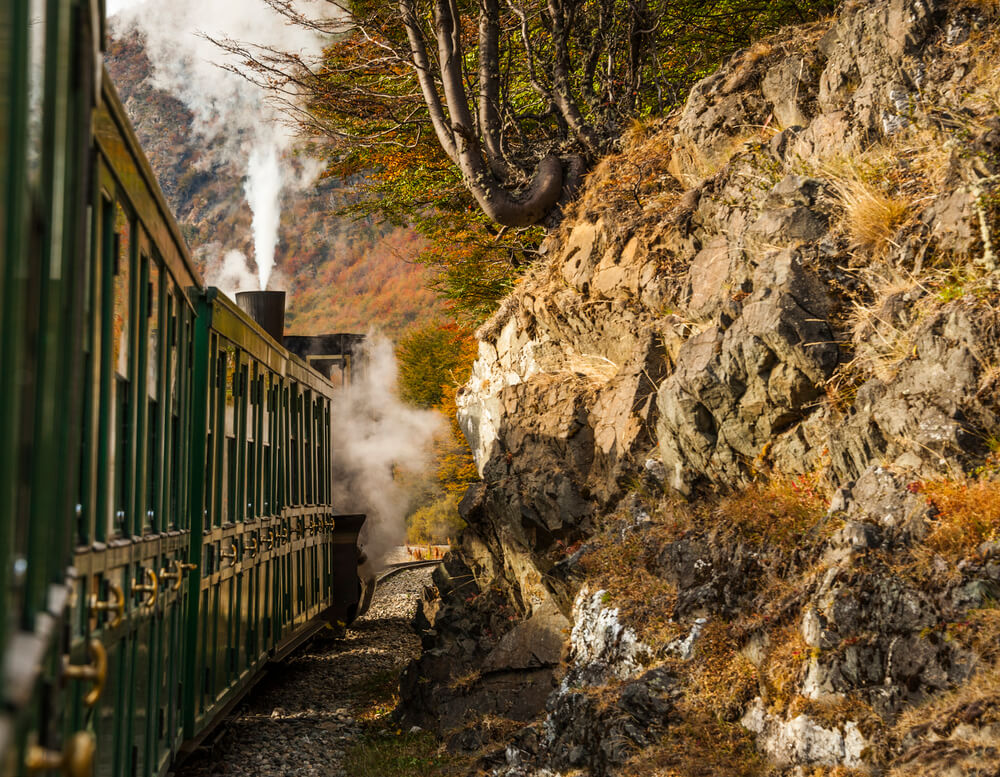 QUICK NOTE: This post contains affiliate links and Sol Salute may receive a commission for purchases made through these links, at no extra cost to you.
Scenic Tourist Trains in Argentina
While possible to travel via long distance trains in Argentina, the most popular (and famous) trains are these historic, scenic trains.
So I'll start this Argentina trains travel guide off with some short, scenic train rides that have become must-do experiences across the country.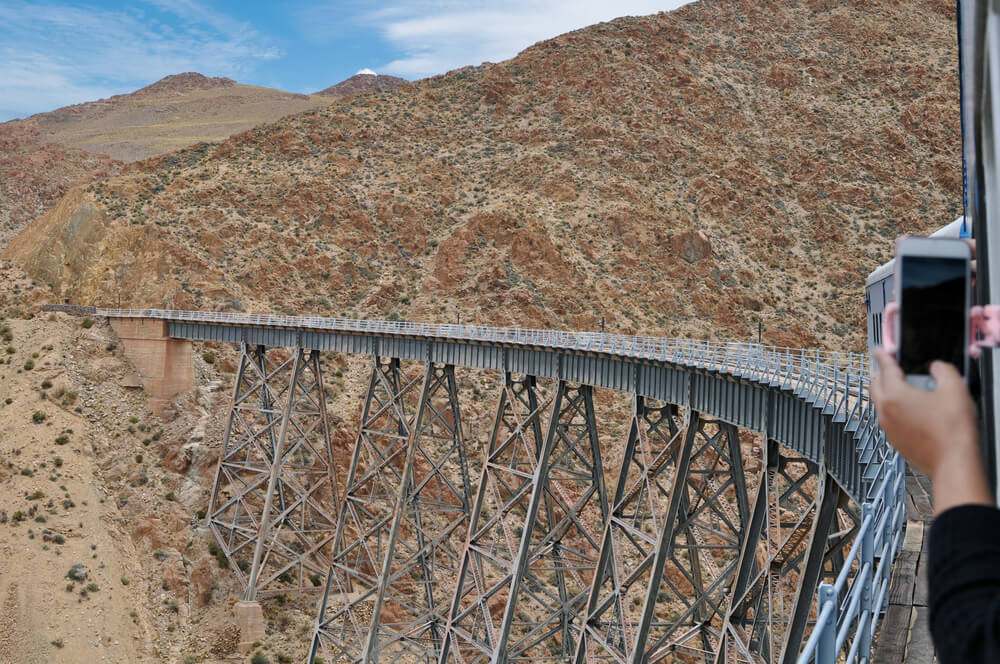 Tren de Las Nubes, Salta
One of the most popular tourist trains in Argentina is Salta's Tren a los Nubes.
This train line was originally built a century ago to connect Argentina's northwest to the border with Chile in the Andes.
Today it's a tourist attraction (and wildly popular one at that). The majority of the route is by bus, connecting passengers from the city of Salta to the village San Antonio de los Cobres.
In San Antonio, passengers board the train and enjoy epic views of the Puna and Quebrada del Toro until reaching the highlight, La Polvorilla Viaduct.
It's a full day excursion but if you won't have a car to do a Salta road trip, this is an excellent alternative to see some of the province's natural wonders.
Click here for more information on booking your train to the clouds.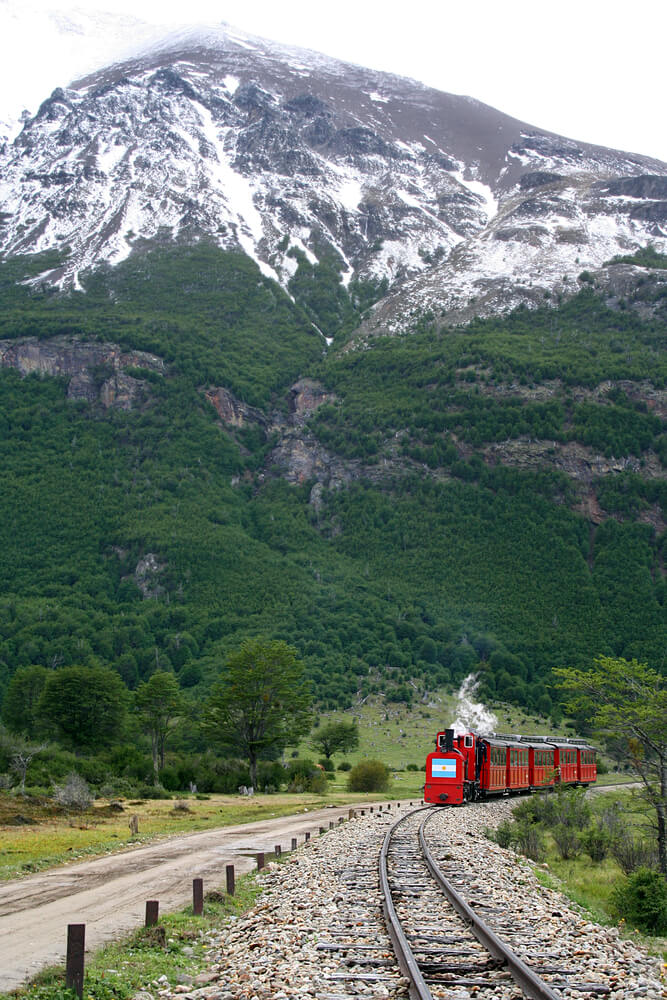 Tren del Fin Del Mundo
From the tippy top of the country all the way to the end of the world, the second-most popular tourist train in Argentina is in Ushuaia.
El Tren Del Find Del Mundo was originally built to serve the prison and transport timber.
Tierra del Fuego was originally settled as a penal colony and newly arrived prisoners were put to work constructing proper buildings.
To do so, a train was built to connect the prison camp to the lumber camp. Over the years it's been extended and improved and luckily, today Ushuaia no longer serves as a penal colony and the train no longer transports freezing, exhausted prisoners.
Instead, it transports freezing and well-rested tourists to the Tierra del Fuego National Park.
The excursion is a popular one and offers unique viewpoints of the mountains.
There are different classes you can choose from for more spacious seating and upgraded meal options.
For more information, click here to read about and reserve your Tren del Fin del Mundo experience.
Keep Reading: The Best Things to do in Ushuaia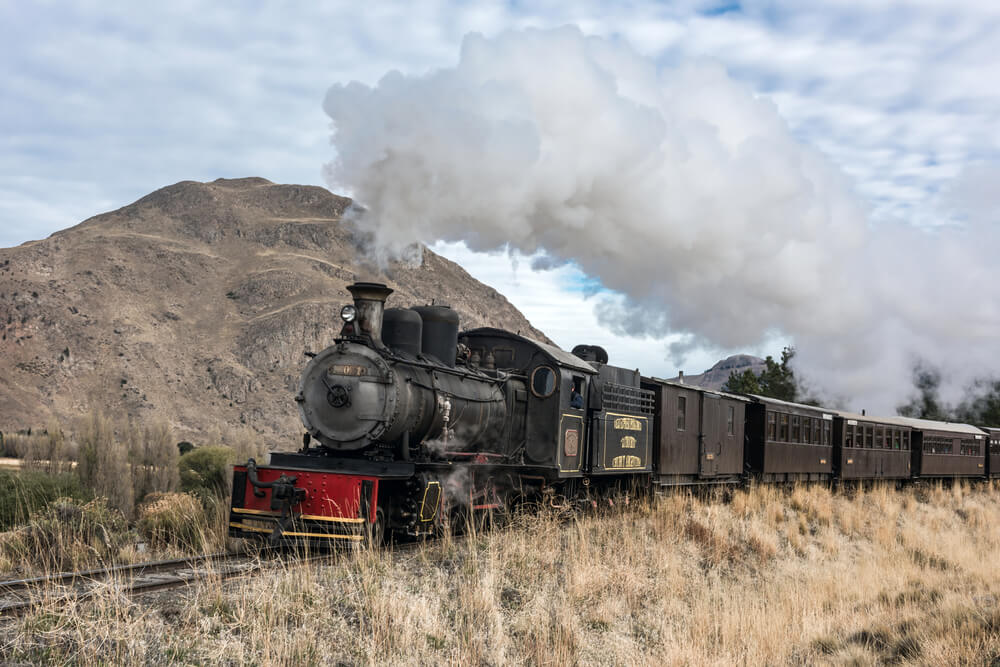 La Trochita (A.K.A. Old Patagonian Express)
La Trochita, which literally translates to Little Gauge, is a 750 mm narrow gauge railway.
The train originally formed part of Ferrocarriles Patagonicos, a network of rails across Patagonia.
It became largely famous in Paul Theroux's work The Old Patagonian Express, about his adventures across the trains in Argentina.
Today it operates as a heritage train and you can take it from either of the two terminals.
From Esquel, the ride covers 18 kilometers, ending in the Nahuel Pan station, a Mapuche community.
There's a 45 minute break here to enjoy while the train turns around for the return journey.
If you're in El Maiten, the ride lasts 2.5 hours total, ending the Apeadero Ingeniero Bruno Thomas before returning back to El Maiten.
Tren de la Costa, Buenos Aires
Looking for a scenic train in Buenos Aires?
The Tren de la Costa connects the city of Buenos Aires to the Tigre river delta.
It's an excellent Tigre day trip and a great way to experience Buenos Aires' river (as the city center itself logistically has turned its back to the riverfront).
The train departs from northern suburb Olivos at Maipu Station. You can either connect with the Mitre train line from Retiro downtown or simply take a taxi to remove any stress or logistics.
There are a number of beautiful stops along the way with historic stations, cafes, and paths to the riverfront.
Read my complete guide to the Tren de la Costa to plan your day.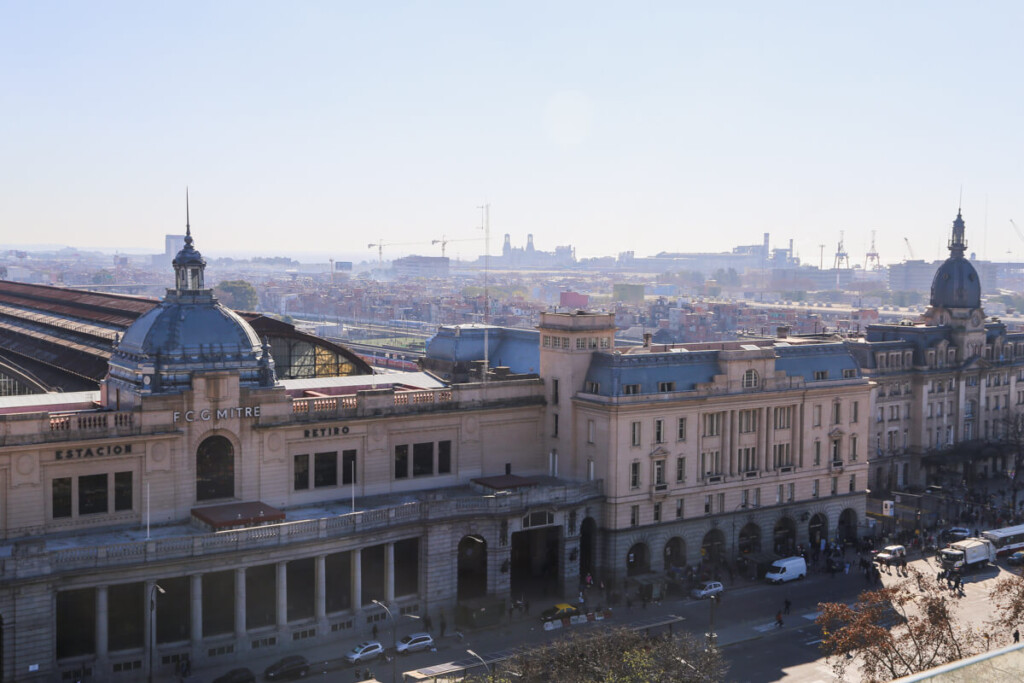 Trains in Buenos Aires: Public Transport At It's Finest
The trains in Buenos Aires are one of my favorite modes of transport.
And I'd know as I live one block from a station. It is a life saver.
How to take the trains in Buenos Aires
First you'll need a SUBE card, which is the card required for all public transportation in Buenos Aires.
Typically, you can get one easily in any Subte station for a small fee. Some kioskos (minimarkets) also sell them. Once you have money loaded onto them you're free to use them at all train turnstiles.
Scan your card on the way in and again on the way out as fees differ depending on how far you go.
Major Buenos Aires Train Stations & Tours
The two most important train stations are Retiro and Constitución and they are conveniently connected by the Linea C subte line.
Click here for a complete list of the metropolitan train lines in Buenos Aires.
Trains from Retiro (and there are a few different stations in Retiro) travel to the northern area of the city. The station most people are referring to when they say Estacion Retiro is the Mitre line.
Trains from Constitución travel to the southern suburbs and towns.
Both stations have guided tours (in Spanish) that are very interesting! You need to fill out this contact form to sign up.
The process (and language restrictions) can make it hard for the casual tourist but if you're a Spanish speaking train/history enthusiast I do recommend it.
Trains from Buenos Aires: Where To Go
Here are a few ideas on where you can take the train from to from Buenos Aires, if you're looking for a little inspiration.
Palermo/Belgrano | The Mitre line easily connects Retiro/Downtown to neighborhoods like Palermo and Belgrano.
Tigre | Taking the Tigre train to its end terminal from the Retiro station is an excellent (and cheap) day trip to the river delta. Read more about it on my Tigre guide here.
La Plata | From Constitución you can take the train to La Plata, a smaller city in the province with a stunning Cathedral. It's the capital city of the province and worth a day's visit.
Chascomus | You can also take the train from Constitución to beautiful Chascomus with a connection in Korn. This town is an ideal weekend getaway in the countryside.
For more ideas, follow @escapadasbuenosaires on Instagram, they always post affordable day trips via public transportation utilizing train and bus combinations.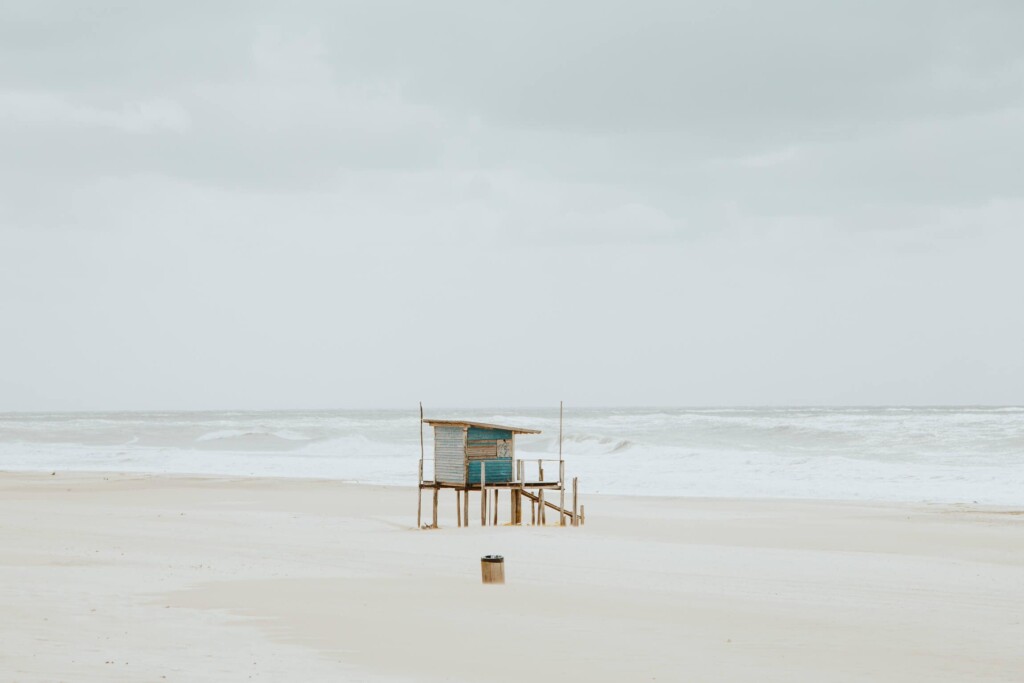 Long Distance Trains in Argentina
Finally, I'll end this Argentina trains guide with long distance travel.
While the list of destinations for long distance trains in Argentina is a bit limited, it IS possible to travel by rail if you're so inclined.
Click here for a complete list of all the long-distance and regional destinations. Below I'll list some popular tourist destinations you can reach by train from Buenos Aires:
Mar del Plata | Buenos Aires' most popular beachside resort town, this train ride is actually said to be very pleasant. In 2022 it costs $600 pesos (equivalent of a few dollars) and gets you there in an efficient 6 hours.
Pinamar | Another beach town and the train to take as the portal to the best beaches in Buenos Aires (province, not city).
Rosario
Cordoba
Tucuman | This train departs Buenos Aires at 21h30 (9:30 pm) and arrives in Tucuman at 5:30 am the following morning. In the past, I'd heard that this train could take upwards of 24-30 hours so this sounds like a major improvement.
For more, see the map below with all of the long distance lines from Buenos Aires, as well as regional lines (like trains within Salta or Neuquen).
COMFORT TIP: Camarote is the term for sleeper car. It's something you'll want to know when booking an overnight ticket to Tucuman, Bahia Blanca, or Cordoba.
Click here for more information on where you can buy your tickets (with in person ticket booths listed), but…
BUDGET TIP: If you purchase your ticket online, you'll receive a 10% discount.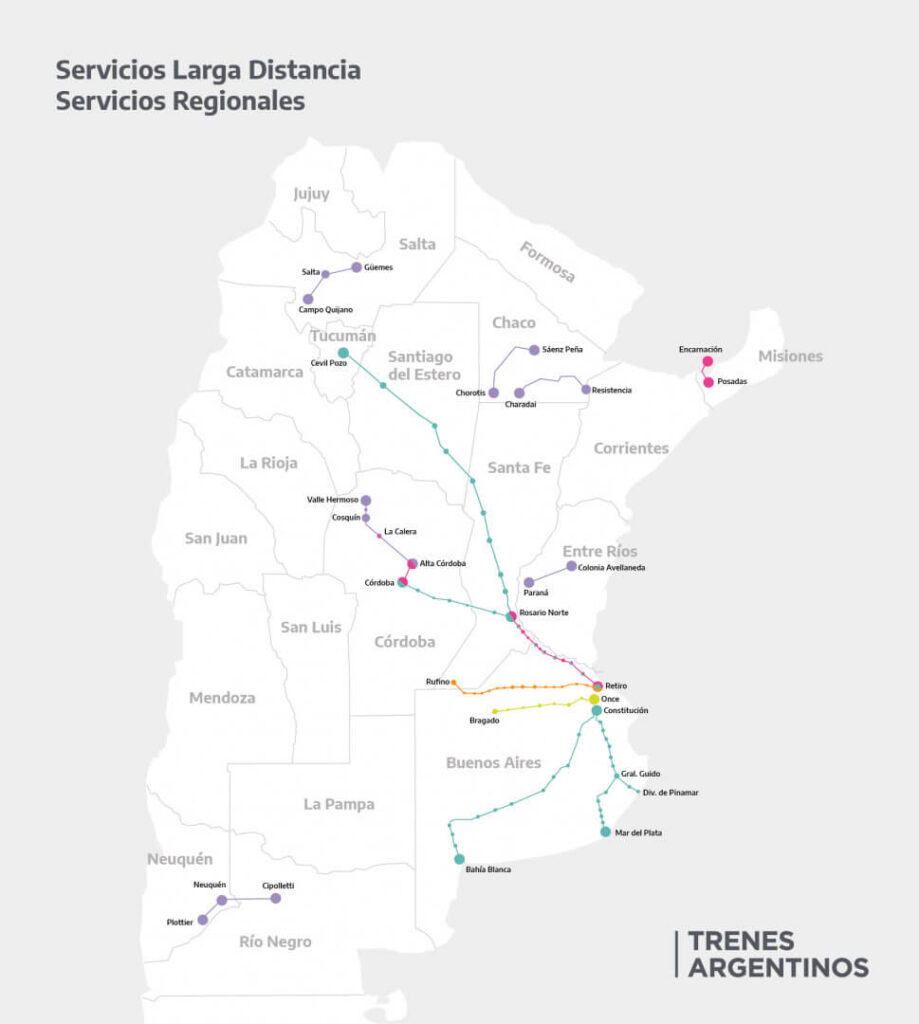 Tren Patagonico – Bariloche to Viedma
My husband and his family tell stories of loading their old Renault into a train car and riding down to Patagonia, where all sorts of family road trip adventures unfolded.
Unfortunately, in the 1990's the train from Buenos Aires to Patagonia ceased operations.
In 2014, a portion of this historic line was re-opened, starting in Bariloche in the Andes, crossing the Patagonia steppe to Viedma on the Atlantic coast.
It's an 18 hour journey with one weekly service each way.
On Friday evenings the train departs from Viedma, arriving just after midday on Saturday in Bariloche.
The return journey departs from Bariloche on Sunday evening, arriving just before midday in Viedma on Monday morning.
Click here for reservations, they release tickets three months at a time.
There are sleeper cars and even cars dedicated to carry your car, in case you want to do your own Patagonia road trip.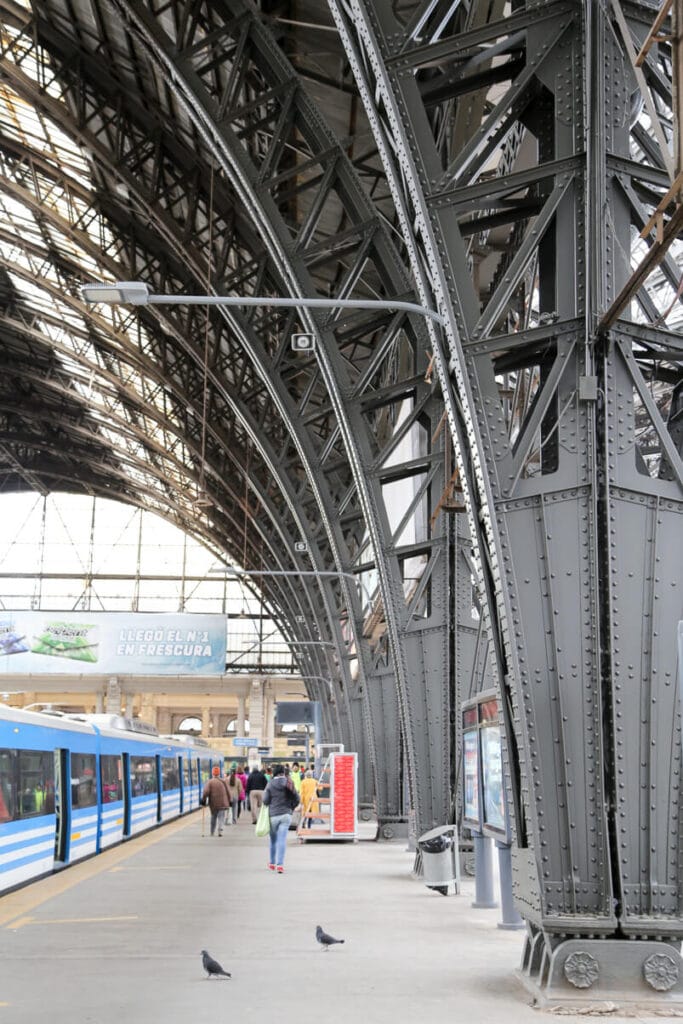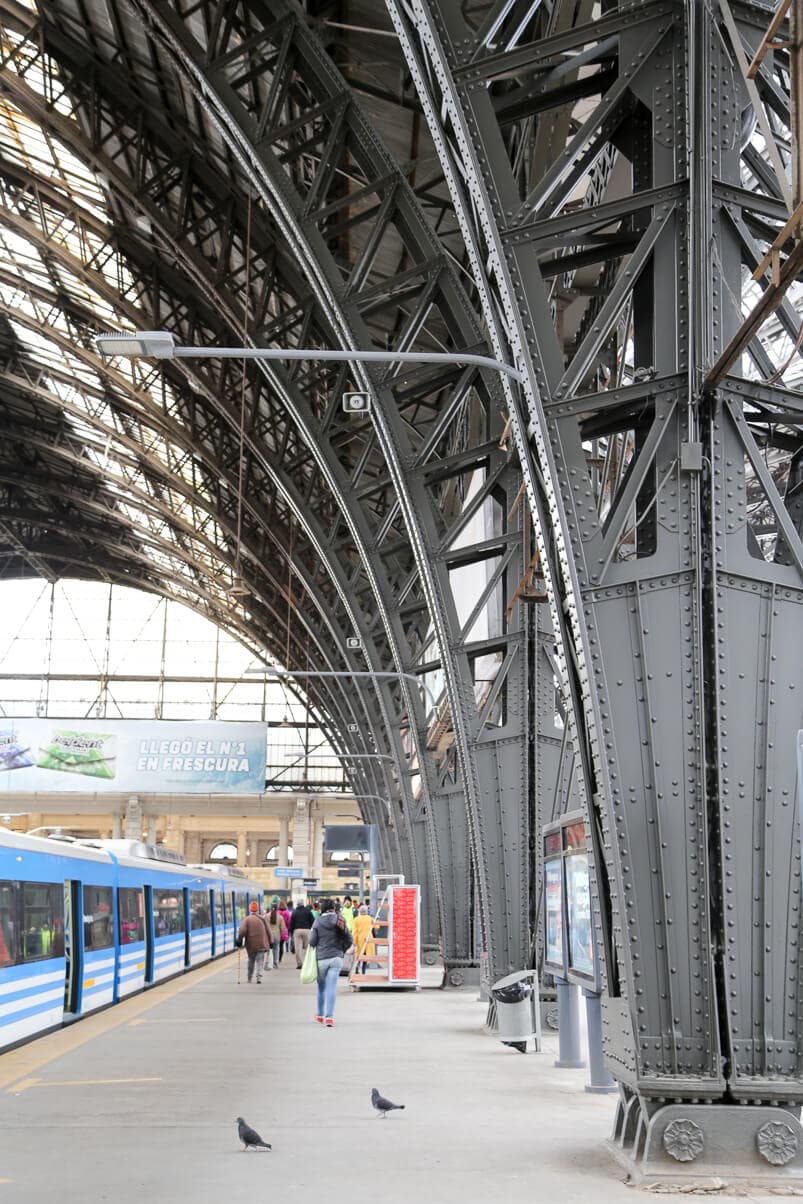 Argentina Train Travel: A Summary
While Argentina's rail system is a far cry from Europe, it is still a viable way to travel here.
If you're a train enthusiast, I hope that this article has helped you organize your travels.
If you're simply looking for how to get around, I hope this article has helped you figure out when a train is a good idea (getting around the city or for a cheap day trip!) and when it is not (that trip to Mendoza or Patagonia, for example).
If you've traveled by train in Argentina, please let me know in the comments! I'd love to hear your experience, or questions if you've got them, too.
Pin It For Later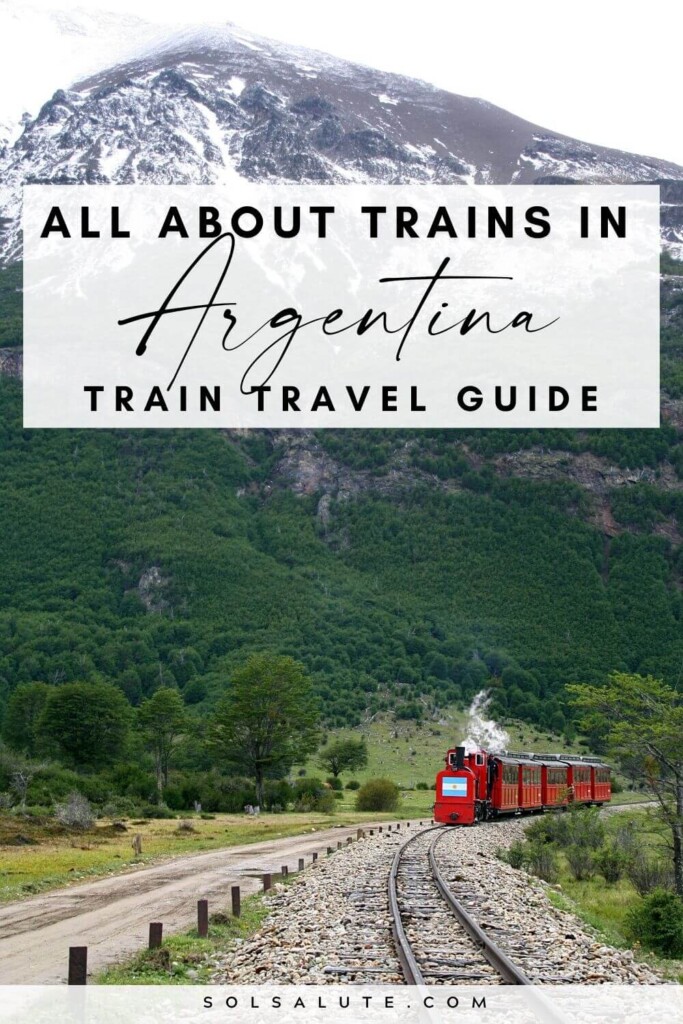 Argentina Travel Resources