As you drive down Salta's many scenic drives, you'll likely stare slack-jawed in awe of the beautiful mountains in the distance (at least, I did).
The red jagged cliffs and canyons shaped by centuries of wind and seismic shifts are some of the most beautiful things I have ever seen.
When I discovered that you can hike directly into that landscape and see it up close and personal at the Cuevas de Acsibi it was all I could think about.
I had to go.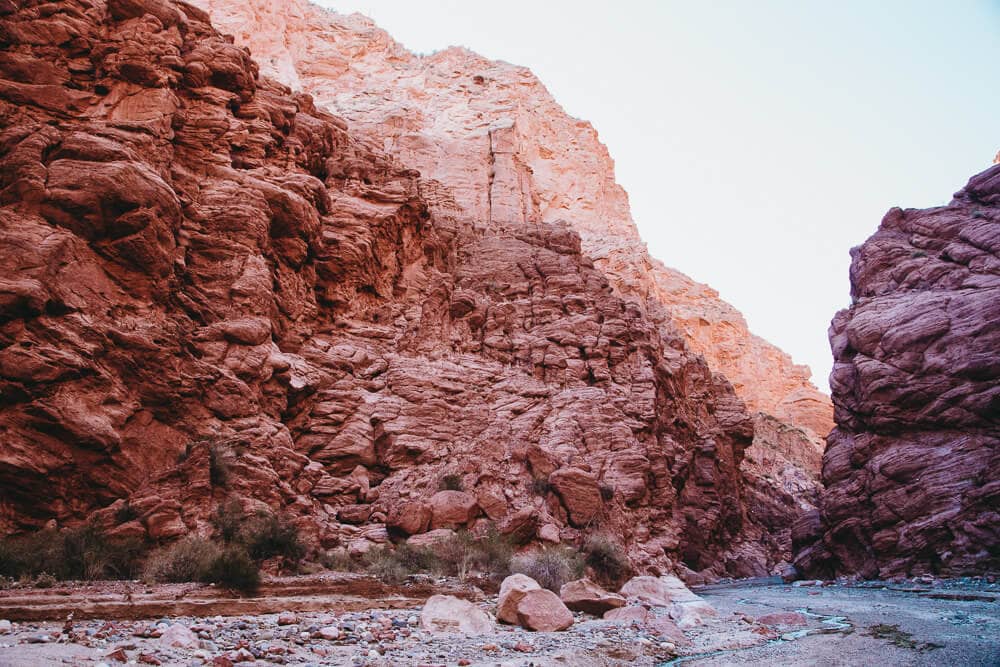 QUICK NOTE: This post contains affiliate links and Sol Salute may receive a commission for purchases made through these links, at no extra cost to you.
The Cuevas de Acsibi Excursion: Everything You Need to Know
Our day spent at the Cuevas de Acsibi was the highlight of our Salta road trip.
Forgive the cliche, but it is a truly off-the-beaten-path experience.
While tourist buses line up outside the highlights at the Quebrada de las Conchas, we were hiking alone with only our guide through similar formations, miles away from the crowds in an untouched landscape.
This post is a complete guide to the Cuevas de Acsibi excursion, our experience, and how to get there.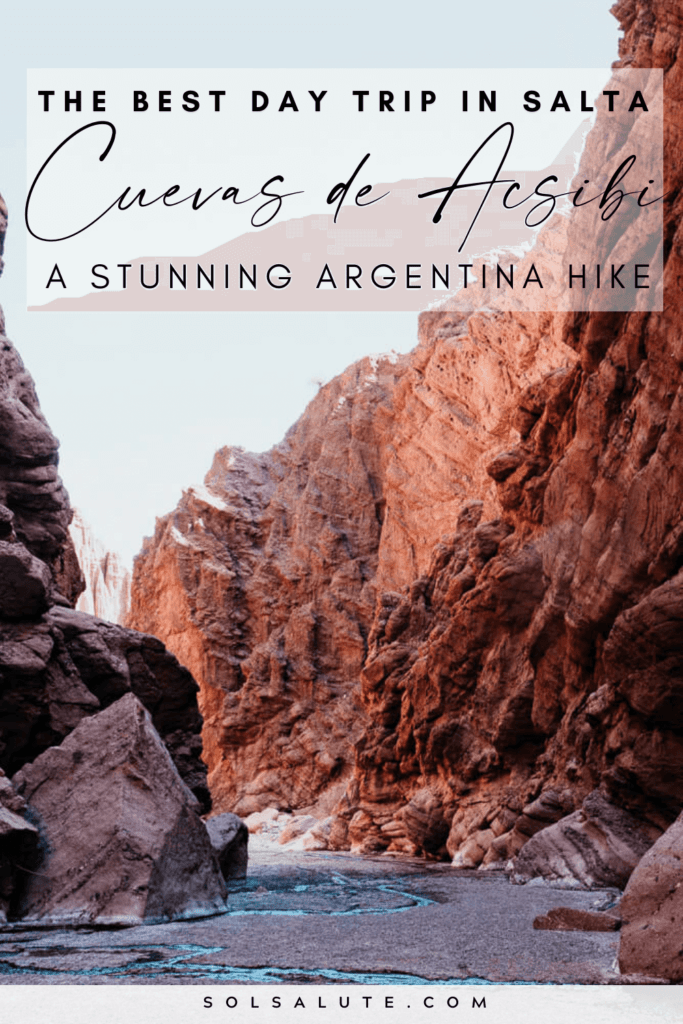 How to get to the Acsibi Caves
The Cuevas de Acsibi are on private property 4 kilometers outside the small town of Seclantas.
Finca Montenieva is a ranch with basic lodging.
They run tours to the caves and other sights.
Seclantas is on the Ruta 40 between Cachi and Cafayate.
It's closest to Cachi at 29 kilometers and just over an hour's drive. I know people do this as a day trip from Cafayate but the drive is four hours!
I definitely recommend using Cachi, or even better, Seclantas itself, as your base for this excursion.
We went on a day trip while staying in Cachi and after seeing Seclantas, I would love to return and spend at least 3-4 nights there.
The town itself is beautiful with well-maintained restored historic buildings and the Acsibi Caves are only one of the many excursions in the area.
To get to the caves and the hike itself, you have to contract a guided excursion…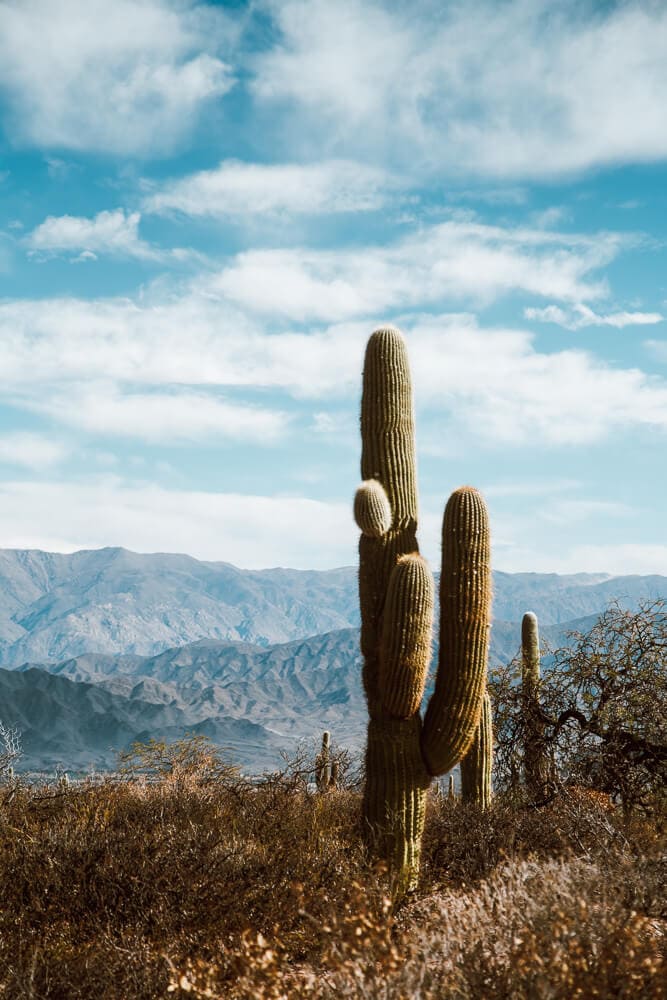 How to Book the Cuevas de Acsibi Excursion
To book our Acsibi Caves day trip, my hotel in Cachi gave me a WhatsApp number.
Very informal, very Argentina.
You can find our guide, Tony's information at his website: http://cuevasdeacsibi.com.ar/ (his email and phone number at the bottom of the page).
He was a great guide and we had such a wonderful day with him.
Along with Spanish he speaks English and French and is very, very knowledgeable and passionate about this land. You will learn a LOT with him.
Our Experience at the Acsibi Caves
We met Tony in Seclantas on the main square. To get there if you're staying in Cachi you'll need your own rental car or a transfer.
He showed up promptly at 9 a.m. as promised and scooped us into his 4×4 truck.
The caves are on private property owned by his family.
They run a small hotel, Finca Montenieve, that you can also use as your base for touring the caves and other sites in Seclantas.
To reach the starting point for the hike, we drove for an hour or so across their property. A 4×4 is 100% needed for this so we were grateful to be in his truck.
The drive itself was nearly as beautiful as the hike, weaving through more Cardon cactus than you'll see anywhere else, even in Los Cardones National Park!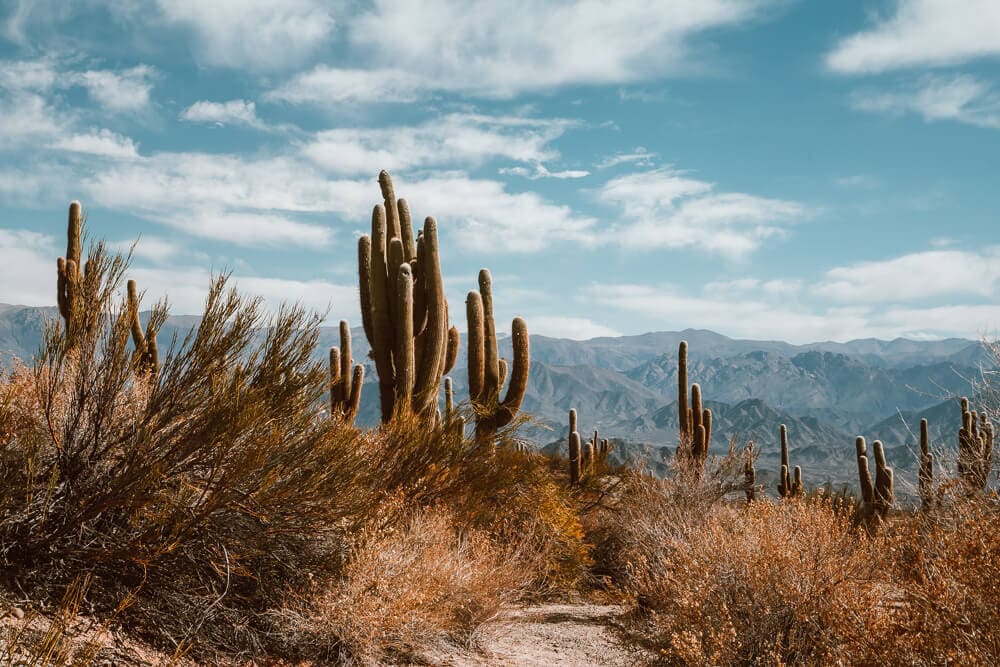 At one point we abruptly drove down an embankment and into another world.
Leaving behind the cactus and the expansive views, we were in the river bed surrounded by red sandstone cliffs.
We parked and left the truck behind us as we hiked into the Quebrada.
This is the sort of hike that honestly isn't about the destination.
Yes, the caves are gorgeous but the entire experience is gorgeous. Acsibi means Valley of Fire and that is exactly what it feels like you're walking through all morning.
A valley surrounded by a rainbow of red, ochre, and orange otherworldly formations.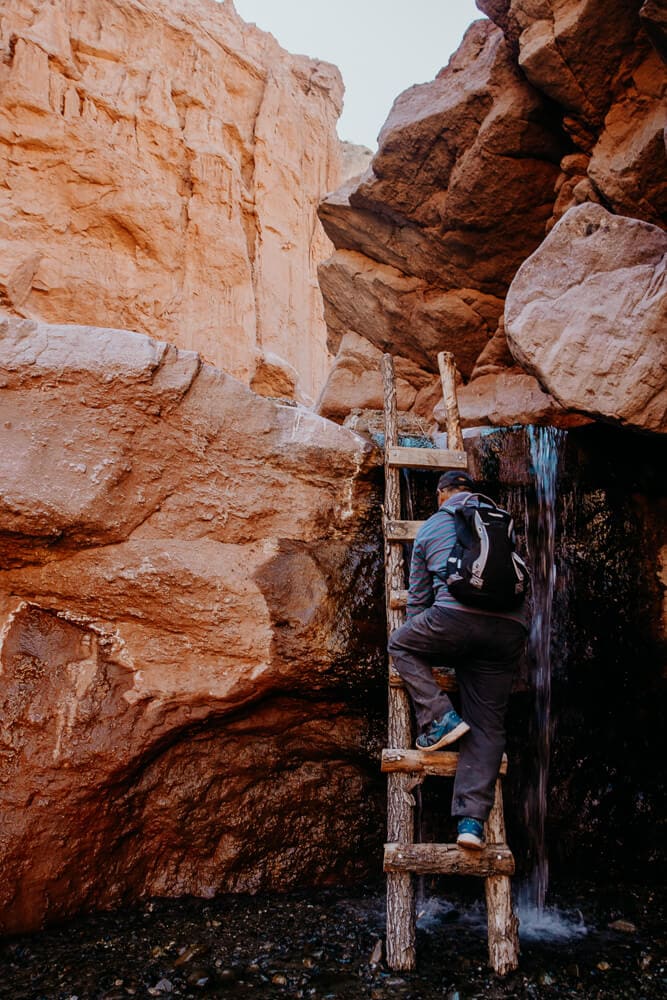 The Cuevas de Acsibi Trek: The Details
The hike itself was easy.
It takes four hours total, roughly two there and two back.
The elevation gain may be minor but you can definitely feel the ease of the hike back compared to the way there.
Tony had a few planned rest stops along the way for us to catch our breath.
Our only stop on the way back was for a picnic lunch and of course, countless photos.
TIP: Nights and mornings are cold here with hot afternoons. Wear your coats and layer up for the start of your hike. When you warm up and get into the sunnier half of the hike, you can simply leave your coats on the rocks to pick up on your way back.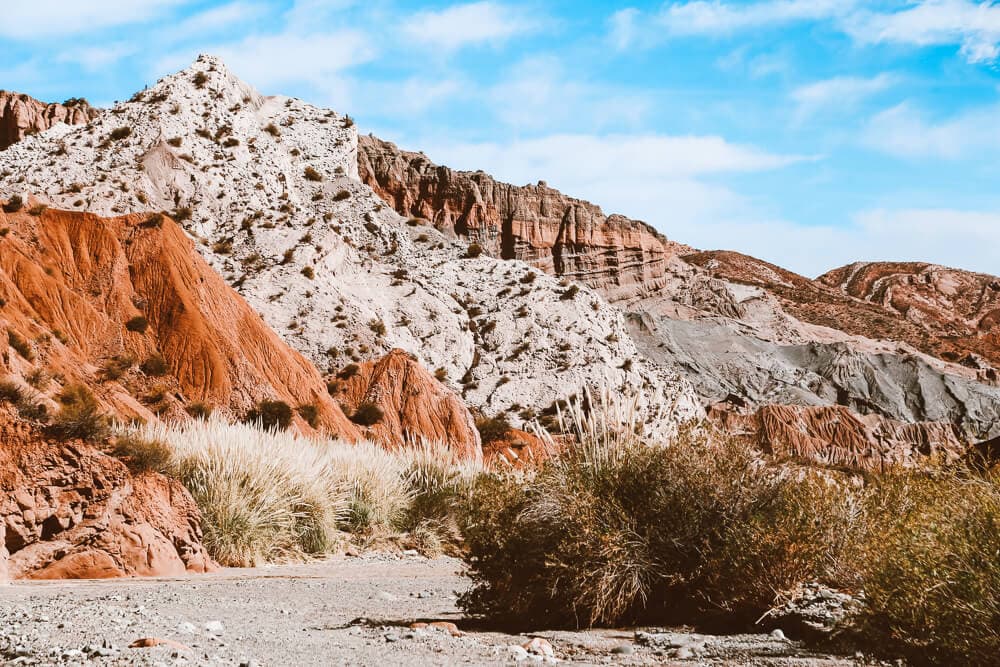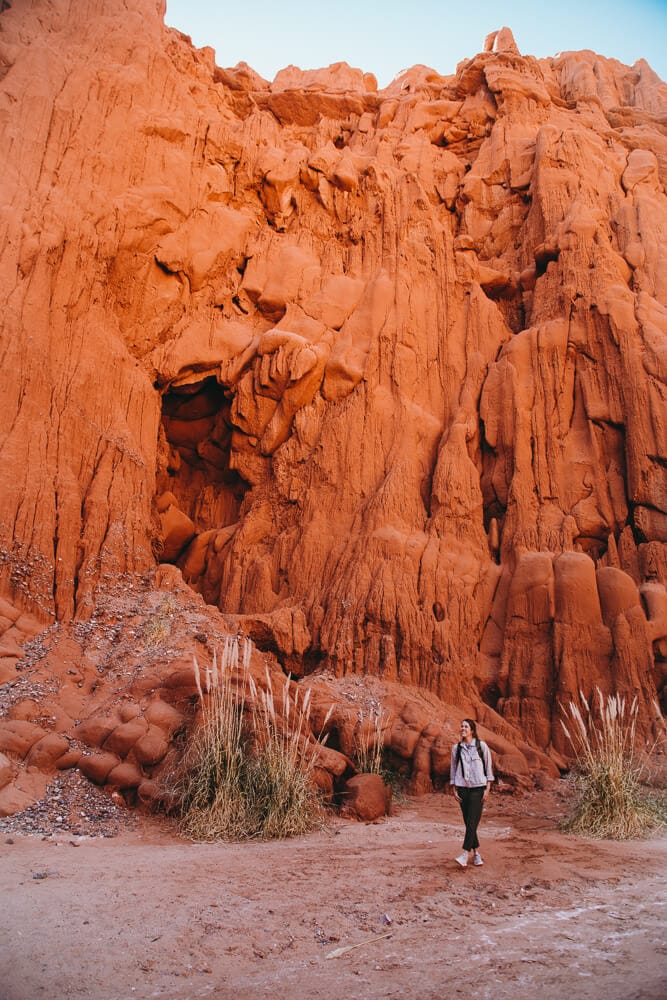 I know a number of tour operators offer excursions to the Cuevas de Acsibi, but I highly recommend booking directly with Tony.
He was very affordable (and proud of it), incredibly knowledgeable, and passionate about what he does.
This post isn't sponsored in anyway, we simply stumbled upon it, loved it and want to support it. I can't recomend Tony enough.
Again, visit his website to get his phone number or email address to schedule your hike.
He also offers excursions to other attractions in the area, like the Crater of the Condor (similar to Acsibi but you hike up above the formations and see it from another angle) and to the Laguna Brealito and its petroglyphs.