San Isiro, a small town just north of Buenos Aires, has it all with a historic center that is reminiscent of Argentina's European aristocratic past and an artistic, youthful, and outdoorsy riverfront.
It's just a short train ride from downtown Buenos Aires and the perfect day trip whether you want to brunch in a mansion or to kayak on the river!
Visit the outdoor antique and artisan markets, adorable cafes, or eat lunch at one of the wildly popular restaurants by the river. This post is all about how to spend a day in San Isidro.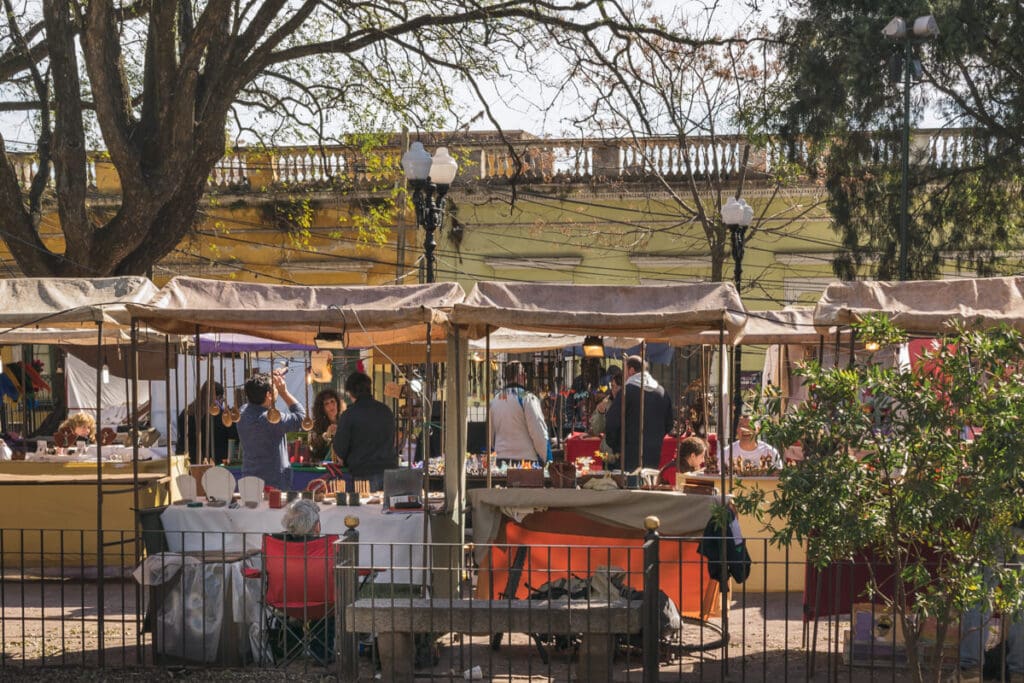 QUICK NOTE: This post contains affiliate links and Sol Salute may receive a commission for purchases made through these links, at no extra cost to you.
San Isidro, Buenos Aires
San Isidro is my favorite place to escape on a sunny spring or summer day.
The waterfront here is lined with bars and parks and makes me feel miles from the city.
If I'm feeling particularly energetic, we'll load up our bikes and cycle the entire way there. However, if it's too hot for that we take the (air-conditioned) train (full information on trains and transport can be found at the end of this post).
Once there, you can rent kayaks, take windsurfing lessons or as I prefer to do, order a jar of clericot sangria and lounge on the grass by the water.
There are also outdoor markets, cobblestone streets filled with history, a stunning cathedral, wealthy mansions, and a horse track that feels straight out of Paris.
You won't be bored with a day trip to San Isidro!
Things to do in San Isidro
This post is filled with all the best things to do in San Isidro to help you plan your day trip.
You can spend your entire day by the water relaxing, eat downtown, or get cultural in the museums.
El Bajo de San Isidro
El bajo is the area below the barranca by the water.
You'll notice a steep, steep hill that runs the length of San Isidro, with the historic center at the top. Once upon a time, that was the shoreline for the Rio de la Plata.
What lies below the hill (or barranca) is all reclaimed land.
It is like this all over Buenos Aires (the Barrancas de Belgrano park for example is a park built on a hill that exists for the very same reason).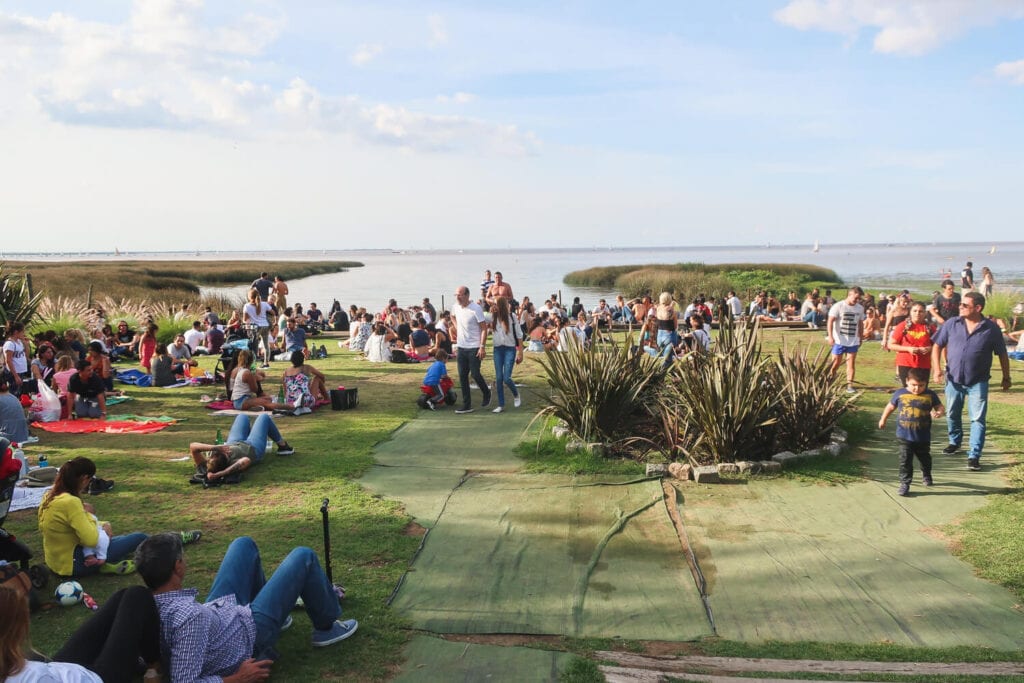 This reclaimed land is known as El Bajo de San Isidro.
There are windsurfing clubs, restaurants, and public parks lining the river.
The vibe is very young compared to the older and more affluent historic center in downtown San Isidro.
El Bajo de San Isidro is a younger, more hip area of San Isidro.
A lot of artists have their workshops here and water sports clubs line the coast.
Here's what to do and where to eat in this area:
Perú Beach | Of all the waterside restaurants in this area, Peru Beach is my favorite and it's the most popular. The restaurant is decent and the drinks are great. I recommend ordering a clericot and lounging on the grass (above). You can also rent a kayak or ask about windsurfing or kite surfing lessons.
Malloy's Bar de Costa |Malloy's is another popular restaurant by the water. What's great about it is the public space surrounding it. I've brought picnics and a beach towel and relaxed by the water here for hours.
The Antique Market | On the weekends, the train platform of the Barrancas Station is transformed into an antique market, it's one of my favorite Buenos Aires outdoor markets.
Bike & Coffee | This is an adorable coffee shop inside the historic station at the Barrancas stop (on the platform opposite the antique market). Great for a coffee, pastry, avocado toast and the sort.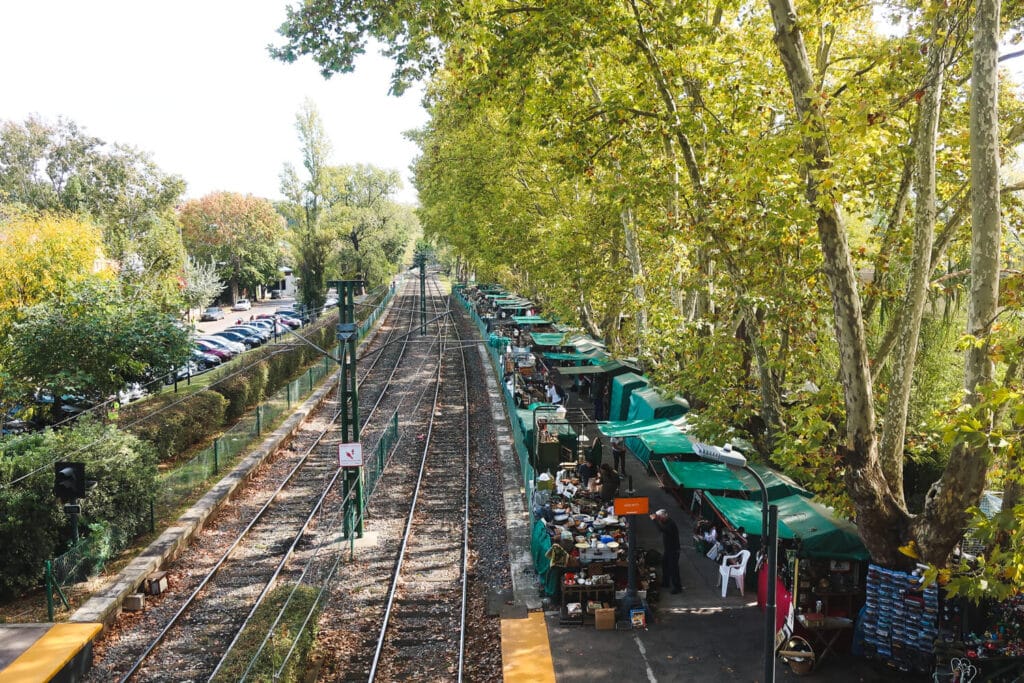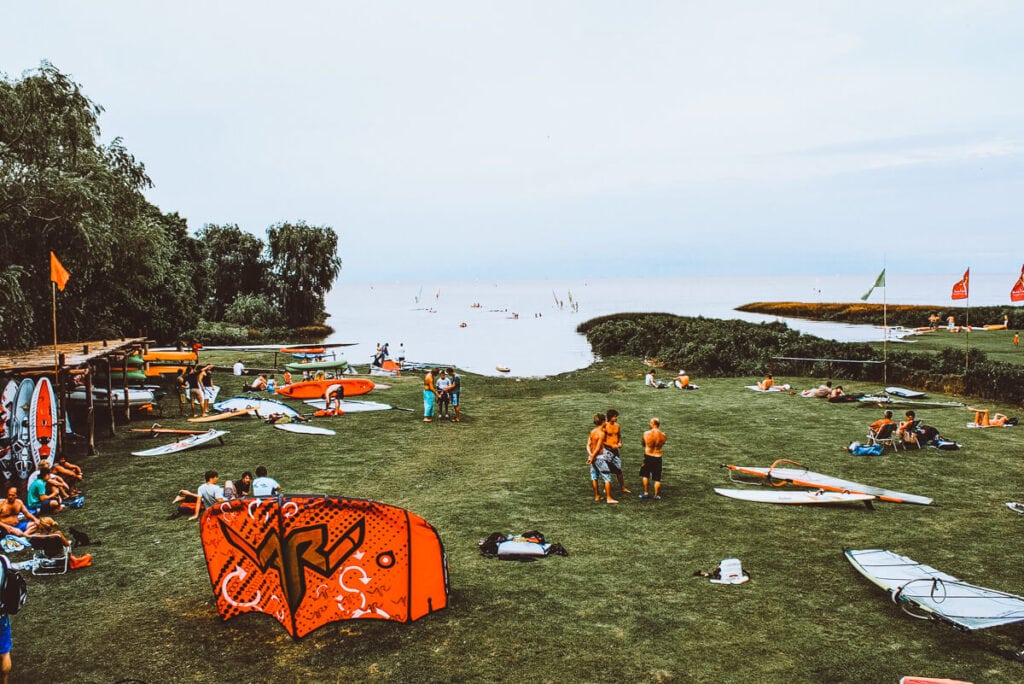 Puertas Abiertas Art Festival
Puertas Abiertas is a festival that takes place each November for two weekends.
The artists who live here open their workshops to visitors and you can not only see where they work but you can purchase some great artwork.
There is live music and the restaurants have special menus (Bocas abiertas).
Overall, it's a great weekend and really highlights the hip vibe of this neighborhood (something about saying hip vibe made me feel not so hip).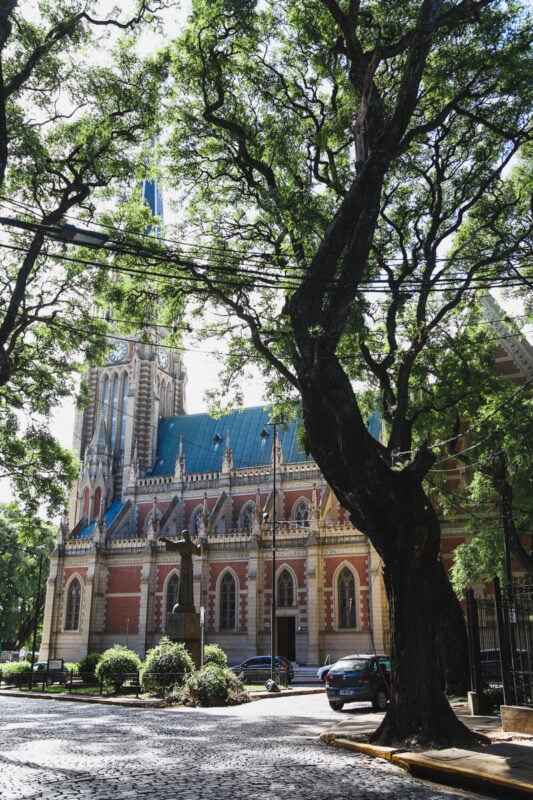 San Isidro Cathedral
This neo-gothic cathedral was built on the site of a 1706 chapel constructed by the city's founder, Captain Domingo de Acassuso.
It was designed by French architects and was completed in 1898.
In 2007 it underwent restoration and was polished back to its original beauty.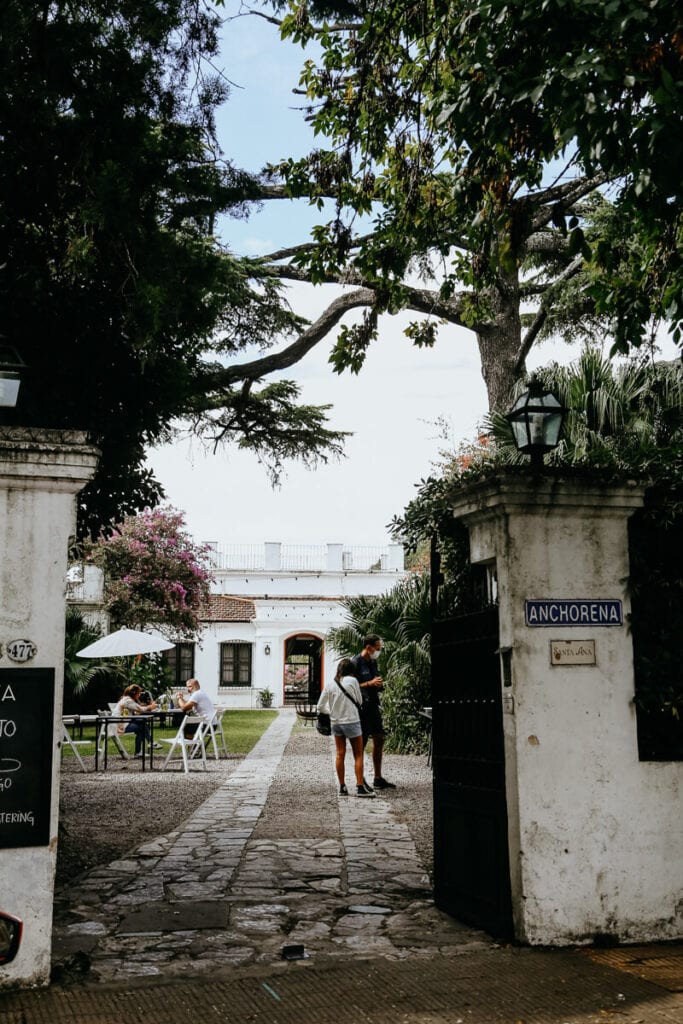 Get Brunch in a Historic Mansion
The Anchorena mansion is one of the original homes here in the historic center. It's directly across from the entrance to the Cathedral and the market in the square.
This home has always been closed to the public, open only for private events.
In a pandemic pivot, they opened a cafe and it is the most beautiful spot for a brunch or afternoon coffee on a beautiful weekend afternoon.
Sit in the front patio for a view of the cathedral on one side and the beautiful mansion on the other.
Check their Instagram page for up-to-date offerings and opening hours.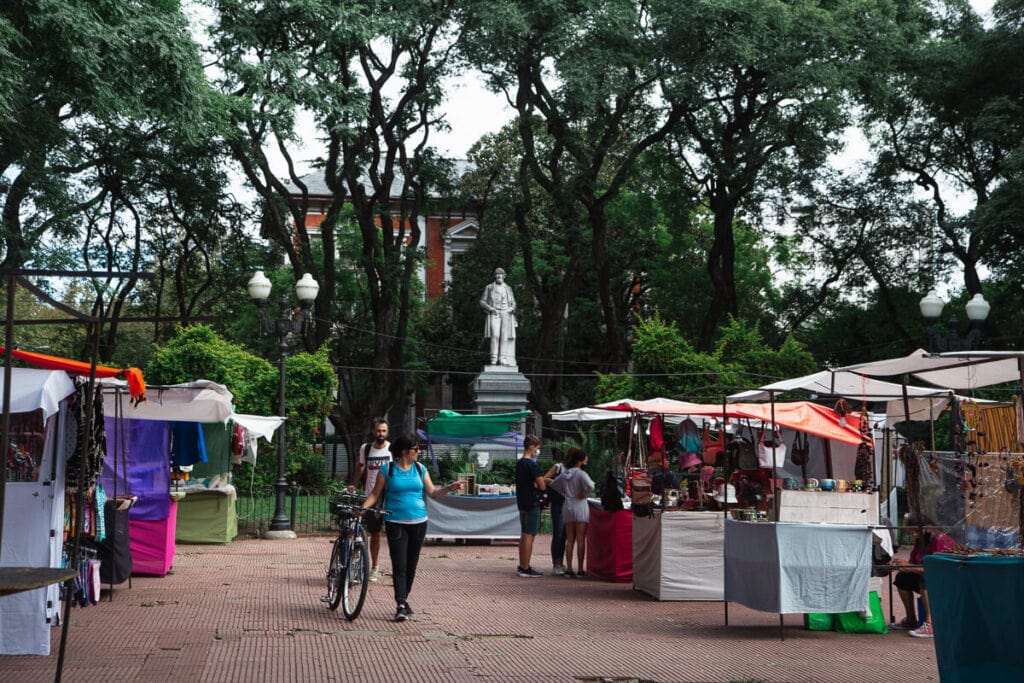 San Isidro Artisanal Market
Across the street from the cathedral in Plaza Mitre.
On Saturdays, Sundays, and major holidays you can visit one of the many stands selling leather goods, vintage clothing, organic olive oils, jewelry, etc.
You name it, it's probably for sale in one of the booths. Check their official page for more information.
Read more about the best markets in Buenos Aires.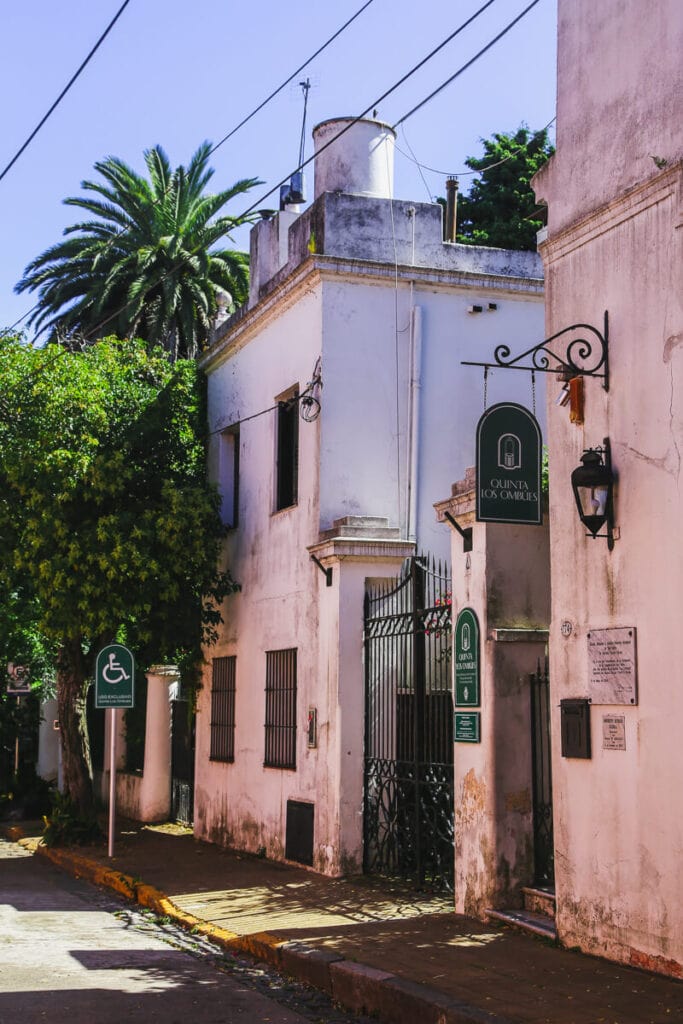 Quinta Los Ombúes
This 18th century home is located behind the cathedral. If you're facing the entrance to the cathedral, follow the road to the left until it makes a U-Turn about 2 blocks later and you'll be at the entrance to the Quinta Los Ombues on your left.
Entrance is free of charge but on the weekends you can make a voluntary donation of your choice which goes to charity.
For complete information regarding opening hours and the exhibitions, click here.
Quinta Los Ombues is a great museum to visit to learn the history of San Isidro.
This was the home of the Beccar Varela family, which played a huge role in San Isidro's development. His vision for the city is mostly what you see today.
Another major claim to fame for this mansion?
This is where the illustrious Mariquita Sánchez de Thompson was hidden away by her family.
She refused an arranged marriage to a man forty years her senior and was madly in love with her cousin, Martin Thompson.
Despite being hidden away, he would still find ways to visit her in disguise.
They both played major roles in Argentina's fight for independence and are remembered as patriots.
Visit the museum for the history but stay for the view from the backyard!
The yard ends at the edge of the steep barranca hill and has a panoramic view of El Bajo de San Isidro and the river below. We spent nearly half an hour relaxing on a bench, taking in the view.
Villa Ocampo
Villa Ocampo was the home of Victoria Ocampo from 1940 and hosted a number of distinguished visitors.
This mansion was also a major meeting point for Argentina's best-known writers, including Jorge Luis Borges.
Victoria Ocampo's father built this mansion in 1891. The massive home is surrounded by an equally massive garden.
Today the mansion is owned by UNESCO and was completely restored in 2003. It's open as a cultural center.
For information on hours, guided tours, and how to make a lunch reservation in the stunning bistro, click here.
Hipodromo de San Isidro
If you're into horse racing (which I, personally, very much am not), visit the Hipodromo de San Isidro.
It's one of the largest in the Americas and was founded in 1935. For information on races, visit their site.
How to Get to San Isidro
The best way to get to San Isidro from Buenos Aires is by train.
There are two options for you to choose from, depending on whether you're willing to change train lines or want just one direct line.
Both trains depart from the Mitre train station in Retiro, downtown Buenos Aires.
Línea Tigre
The most direct way is to take the Tigre line. If your goal is the riverfront (Peru Beach, etc), get off at the Acassuso station and walk down Peru Street (it will be about a 15-20 minute walk).
Stay on for one more stop, getting off at San Isidro, to be closer to the historic center.
Tren de la Costa
The most popular route is to take the Tren de la Costa, which requires a quick and easy connection.
Take the Mitre line all the way until the end.
At the last stop in Estacion Mitre, exit the station and cross the street through the run-down antique market to the terminal for the Tren de la Costa.
Check this site for the hours and prices for the Tren de la Costa.
This small train was built focused on tourism and runs along the riverfront.
Get off at Barrancas station to explore el Bajo de San Isidro, its antique market and Peru Beach.
Get off at the San Isidro stop (the following station) to be right by the cathedral and historic center.
Map of San Isidro
Everything mentioned in this post is pinned on the map below, including the train stations.
Read my post about the best apps to use in Argentina to download local transportation apps to coordinate your day in San Isidro.
What to do in San Isidro, Argentina
I hope this post inspired you to spend a sunny day in San Isidro!
Whether you're antique shopping, windsurfing, or lounging by the river I guarantee you'll be glad you chose to go off the beaten path for this Buenos Aires to San Isidro day trip.
Any questions? Let me know in the comments and I'll get back to you!!
Argentina Travel Resources
TRAVEL INSURANCE | While it's always been a good idea to travel insured, it is currently an entry requirement for Argentina. As of Jan 29, 2022, it is a requirement to provide proof of travel insurance that covers COVID with coverage for quarantine and hospital stays. SafetyWing is an affordable plan that meets the requirements of their digital nomad plan (great for tourists as well).
PHONE PLAN | These days, traveling with data is essential. Especially in Argentina where everything is managed on Instagram and WhatsApp. Purchasing a local SIM card can be tricky without a local ID, I recommend this E-SIM card, which has unlimited data. It's hassle-free and affordable. If you have an older phone that doesn't support E-SIM, check out DrimSim for a physical sim card alternative.
ACCOMMODATION IN ARGENTINA | booking.com is the most common hotel site used in Argentina and it's where you'll find the most options.
RENTAL CARS | I love to travel Argentina via road trip, check out RentalCars.com for the best rates for rental cars here.
VPN | If you'll be using a public WiFi connection and want to secure your data, I highly recommend using a VPN, I personally use and have had a good experience with ExpressVPN. I also use it to access Hulu and American Netflix from Argentina.
FLIGHTS | Always check Google Flights and Skyscanner for flights to and within Argentina. Aerolineas Argentina is the local airline with the most routes. FlyBondi and Jetsmart are two budget airlines with dirt-cheap prices (but expect to pay for every add-on like luggage)z
NEED HELP PLANNING? | I offer one-on-one travel consultations to help you plan your trip to Argentina. Pick my brain to get a local's insight. Click here for more information.