Palermo Soho is without a doubt the coolest neighborhood in Buenos Aires.
This small district, a small sub-section of the greater Palermo (a massive neighborhood that covers a lot of ground) is home to the best street art in Buenos Aires, cafes with masterfully brewed coffee, hip bars, and restaurants galore.
Many tourists choose to stay here and many an expat or young local live here.
Whether you choose to base yourself in Palermo Soho or elsewhere, you'll be sure to find yourself here multiple times throughout your stay in Buenos Aires.
The draw of the cobblestone streets with its countless cafes and tempting boutiques is too hard to fight.
This post is a guide to to help you navigate your next stroll through Soho like a local.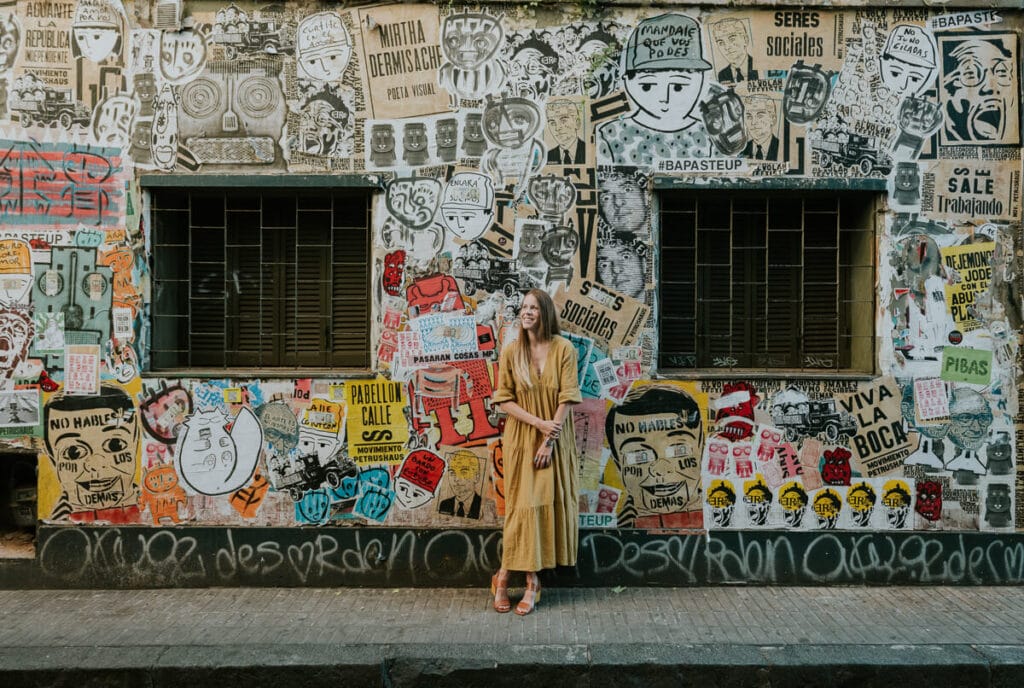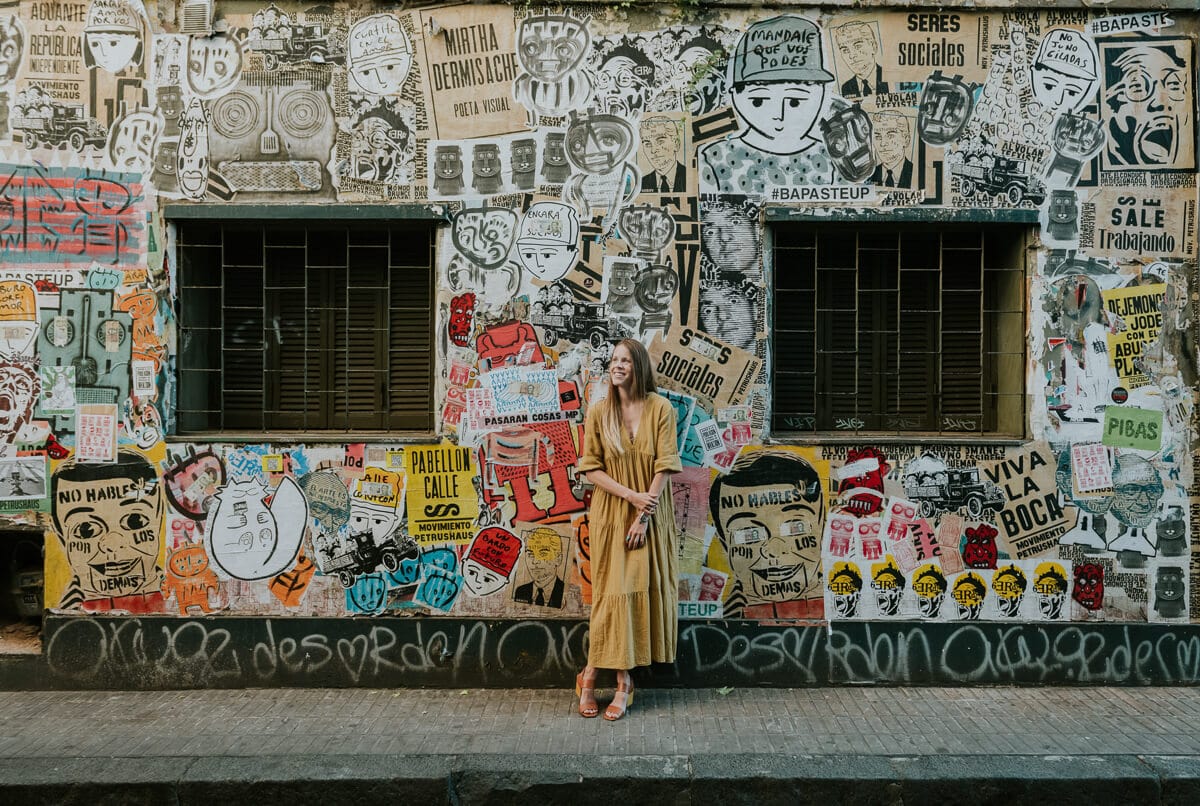 QUICK NOTE: This post contains affiliate links and Sol Salute may receive a commission for purchases made through these links, at no extra cost to you.
Palermo Soho: A Buenos Aires Neighborhood Guide
Welcome to Palermo Soho.
You'll hear a lot of English here as the barrio is a magnet for expats living in Argentina and backpackers alike, but never fear, Palermo Soho is just as popular with young locals.
Try to visit in the afternoon and in the evening, for two different experiences. Weekdays and weekends will also have completely different vibes (and crowd sizes…).
In the afternoon, wander cobblestone streets under the canopies of trees, sip on a coffee in a sidewalk café, and shop in trendy boutiques.
In the evening enjoy beers for happy hour, cocktails in stylish bars, and a nice dinner.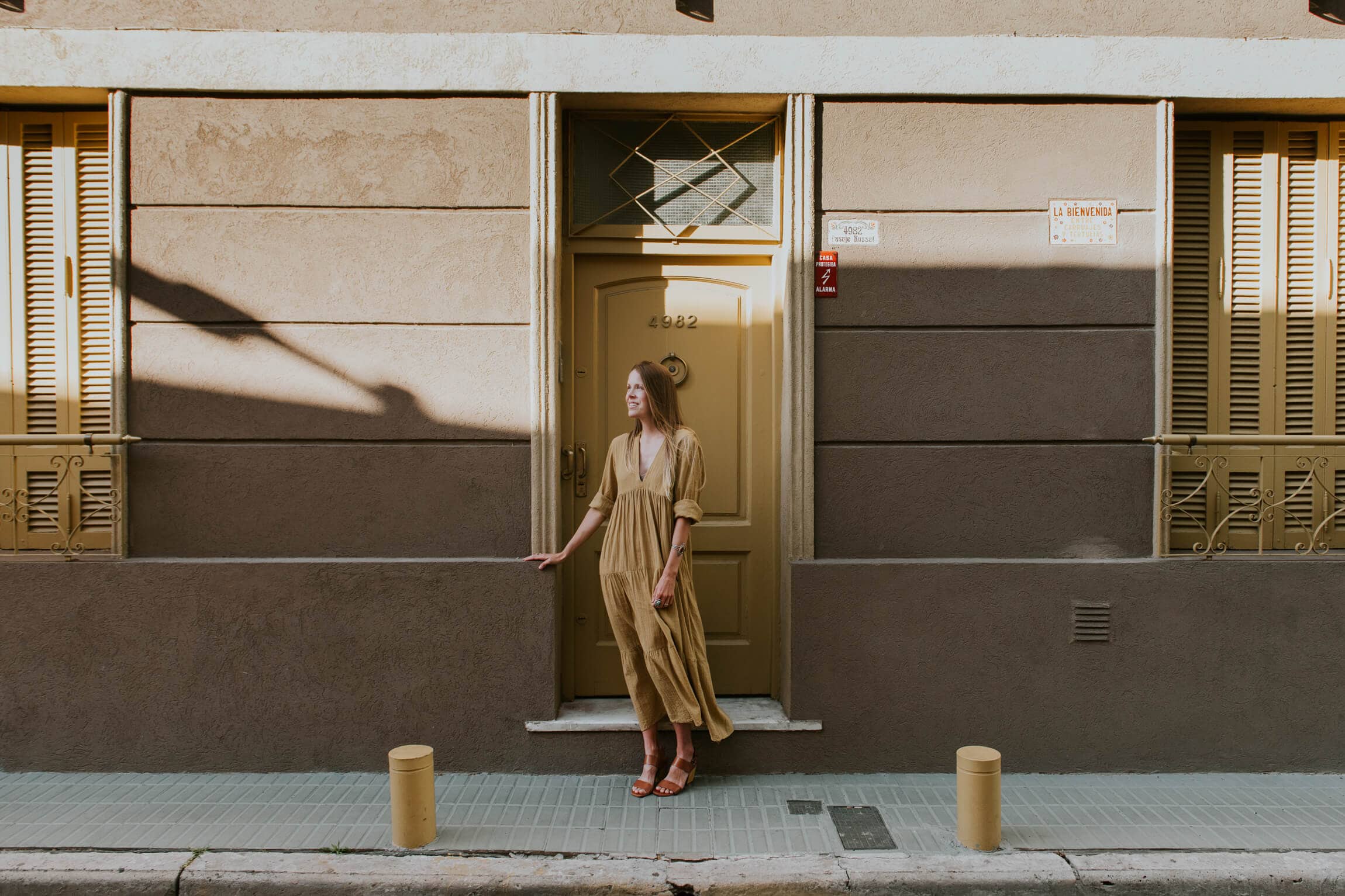 Things to do in Palermo Soho
Soho is the barrio to flock to if you want to relax. I usually recommend people coming on their arrival day or any day in their Buenos Aires itinerary where they need to rest.
This isn't the place for museums and history.
Palermo is for window shopping (and actual shopping) and relaxing in cafes.
Here are the best things to do and places to go in Palermo Soho.
Top Food & Wine Tours in Palermo Soho
While you definitely don't need a tour to enjoy an afternoon in Palermo Soho, and I actually recommend you enjoy at least one if not many a beautiful day there alone, wandering…
There are some excellent food and street art tours that will give you an incomparable expert and local perspective.
WINE TASTING | This is a great way to try the country's top wines with a local sommelier. It's a great pre-dinner activity before you go out to eat elsewhere in Soho.
PALERMO PARRILLA TOUR | This tour is excellent, I took my parents on their San Telmo version of the same tour and had a great time. They take you to a number of local eateries to try all the steps in a traditional meat heavy meal from empanadas to choripan to the best steak in town (and a refreshing ice cream to top it off).
PALERMO FOOD TOUR | This popular food tour goes to four different restaurants in Palermo. It's a small group of 10 people or less and includes 8 different foods and drinks to give a complete picture of Argentine cuisine.
STREET ART TOUR | You don't need a tour to find a ton of murals in Soho, but this tour is a great way to find hidden ones as well as the reasons/meaning behind them and even about the artists themselves.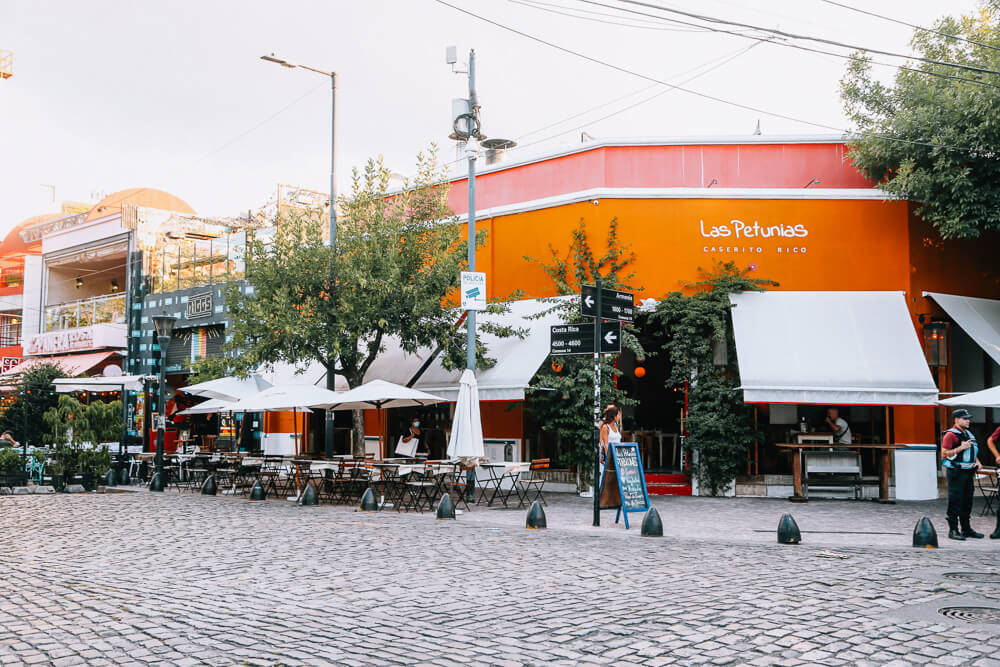 Plazas Armenia & Serrano
There are two main squares in Palermo Soho: Plaza Armenia and Plaza Serrano.
The streets branching off these squares are the most beautiful and where you'll find the most cafes, shops, and street art. Use them as a base to jump off from.
Plaza Armenia is lined with restaurants and has a playground if you have children.
Plaza Serrano is lined with bars and is perfect to grab a liter of cerveza to enjoy outside if the weather is nice. Although, there's a playground here as well!
Both plazas have sidewalk markets on the weekends with crafts and tchotchkes.
They used to be subpar compared to other Buenos Aires markets (in my, perhaps overcritical, opinion) but I recently walked around Plaza Serrano's market on a Saturday and the vendors were selling some really unique, beautiful pieces. It's worth a look! This was in January 2022.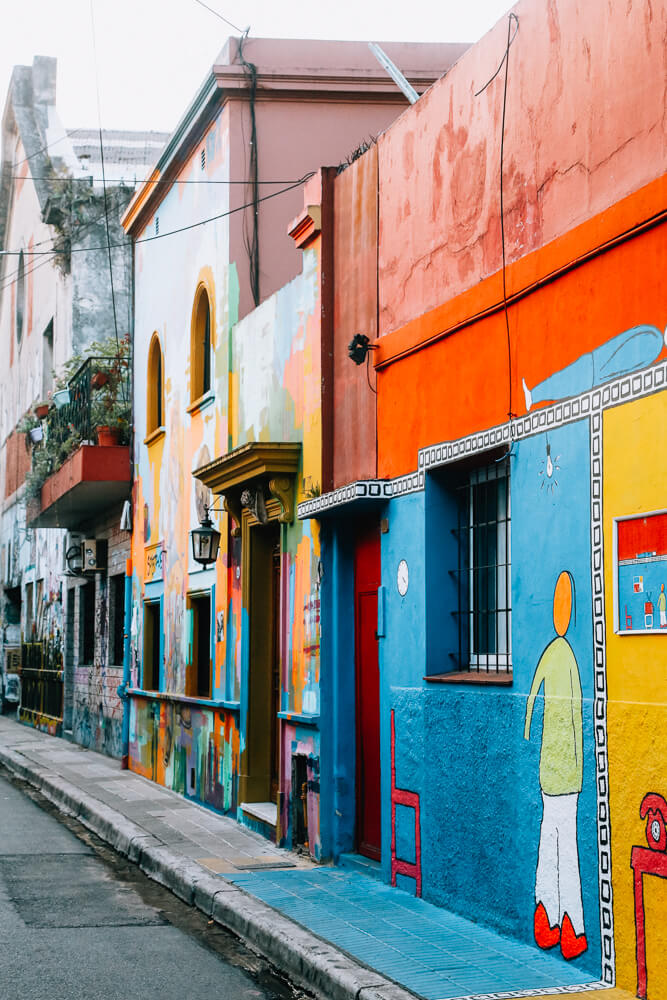 Wander the Pasajes
As I've mentioned, Palermo has some of the city's best street art.
You'll find the bulk of that decorating the neighborhood's many pasajes or alleyways. These narrow streets are cobblestone, picturesque, and always filled with photoshoots, influencers, and phone-wielding Instagrammers.
PRO-TIP: If you love street art, I highly recommend this Palermo Street Art Tour to learn the stories behind the murals and their artists.
Here are the top pasajes you don't want to miss (pinned on the map at the end of this article):
Pasaje Russel
Pasaje Sta. Rosa (actually titled as Pasaje de los Murales/Mural Alleyway on Google Maps!)
Pasaje Soria
Pasaje Coronel Cabrer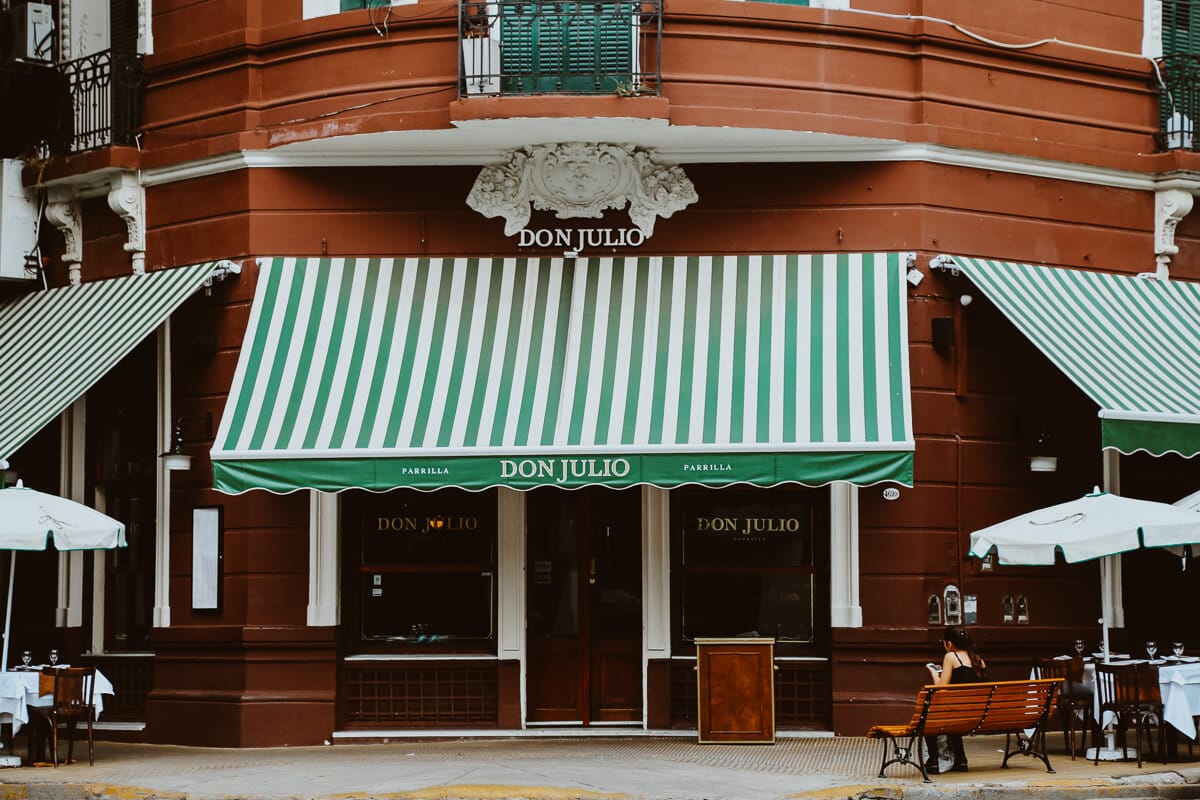 Eat Local Argentinian Fare
Going out to eat is the top thing to do here and why not do so like a local? Albeit, a fancy one.
You won't find any greasy spoons here but don't worry about it being snobby. I'd call dining out in Palermo a happy medium, traditional Argentine food done well but also without pretension.
DON JULIO | Consistently on the list of the World's 50 Best Restaurants, you cannot miss Don Julio, at Guatemala 4699. The perfectly matured grass-fed beef, organic fresh vegetables, and top of the line wine list combine with impeccable service for one of the city's best dining experiences. Some locals may love to hate on it (because, yes, it's pricier than the average parrilla on the corner) but you do get what you pay for here (and if we're honest, it's a fraction of what a steakhouse of this calibre costs in North America and Europe). Reserve ahead of time on their website.
LA CABRERA | La Cabrera is another excellent steak option in Soho. You can make a reservation on their website here. If you're on a budget, take advantage of their happy hour. Eat an early bird dinner between 6-8pm and get 40% off, reservation required. (This is great for us early bird Americans who haven't adjusted to Argentina's late dinners).
EL PREFERIDO DE PALERMO | This classic bodegon (greasy spoon) closed during the pandemic, to the horror of many. Then to our delight, it re-opened under new management (the same owner as Don Julio). She was re-modeled into a fancier version of her older self. The quality of the food is STELLAR. The milanesa is the best in the city. Make a reservation, it gets very busy.
CHORI | As seen on Netflix' Somebody Feed Phil, try one of Argentina's classic sandwiches at Chori. They serve up different versions of the classic chorizo/bread combo with modern, unexpected (in Argentina, anyway) toppings. Think hipster version of street food.
And Try the Not-So-Local Flavor
And, of course, you don't have to eat like a local.
Here's some more of the top restaurants in Palermo Soho.
BURGER JOINT | These days it feels like there's a burger restaurant on every corner of the city, but it wasn't always this way. Argentines used to view grinding good quality meat down for a burger as sacrilegious and it was impossible to find a good one ANYWHERE. Burger Joint was one of the first spots to start offering high quality burgers and they still do. Order La Mexicana for a spicy Guacamole covered burger and thank me later.
COSI MI PIACI | Craving Italian pizza after the thick crust, cheese-heavy Argentine version? Cosi Mi Piaci, near Plaza Armenia, serves crunchy, thin Roman-style pizza with a quiet patio. Want a doughier Neapolitan pie? Cross over to Hollywood to Siamo Nel Forno for the best Italian pizza in the city.
SHEIKOB'S BAGELS | This is the only place you'll get real-deal bagels in Buenos Aires (the number of times I've been served a hamburger bun cooked with a donut-like hole in it…).
NOLA | Not technically in Palermo Soho, but since it's only a block or two outside, and it's so damn good, I had to include NOLA here. Opened by expat chef Liza Puglia in 2012, they serve up the best fried chicken you'll find in Buenos Aires, along with fried sweetbread, gumbo, and beer on tap.
REBELION | A lovely corner cafe with wraps, salads, and tempting breakfasts, Rebelion has it all (including cocktails and pitchers of sangria).
CRIZIA | You won't find much in the way of seafood in Buenos Aires, but Crizia has been known for their oysters for as long as I've been in Argentina. It's high-end, fine dining and reservations are required.
This wasn't an exhaustive list and it should not be taken as such. Palermo Soho's repertoire of bars and restaurants is ever changing.
Things close and newer (often better) spots take their place all the time. It's hard to keep up (especially for a homebody like myself!).
Hit the streets, wander, and tuck into a place that looks good when hunger strikes! You probably won't be disappointed.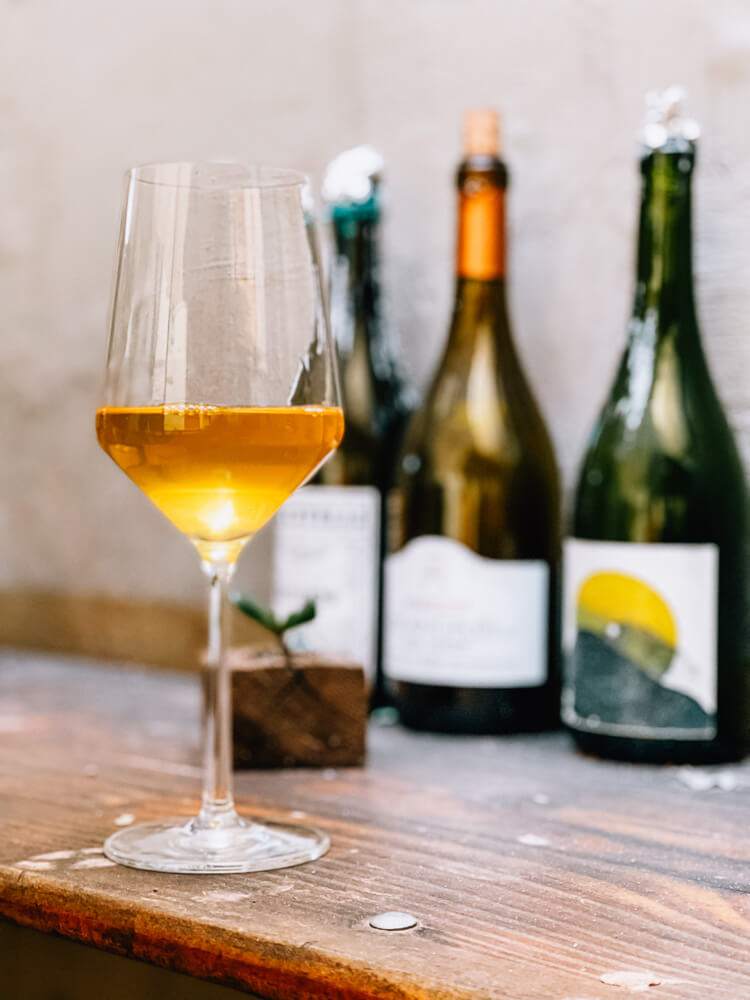 Try Argentina's Famous Wine
When I moved to Argentina, there wasn't much in the way of wine bars. Thankfully, in recent years they've been opening up in spades.
And Pain et Vin, in Palermo Soho on Gorriti, was the first onto the scene. It remains one of the best.
Eleanora, the in-house sommelier and owner, always has a wonderfully curated menu of wines and offers wine tastings, as well. Or you can simply order a glass or bottle with charcuterie and relax a while. Don't sleep on the house-made bread baked by her husband Ohad, the pain to her vin.
La Malbequería is another wine bar and is part of the also delicious parrilla Lo de Jesus.
Lo de Joaquin Alberdi is a wine shop that offers tastings and is quite popular.
For more options, cross over to Palermo Hollywood. Hache is always one of my favorite spots with incredible charcuterie and wines you'll never find on a supermarket shelf. Trova is another wine bar with more of a restaurant-feel if you're looking for dinner. And Vico Wine Bar (in Hollywood and Villa Crespo) has wine on tap that you serve yourself with a little debit-like card.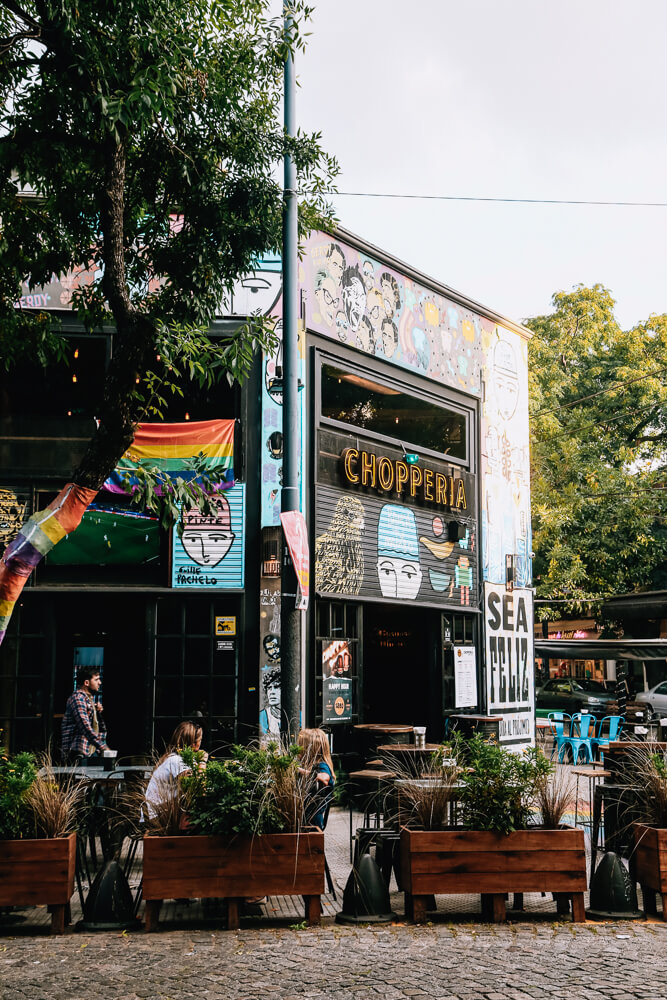 Try Craft Beer
I'm not even going to pretend to have great recommendations for you here. I hate beer and luckily, wine is excellent in Argentina so I don't even need to try.
While craft beer snobs from abroad (you know who you are) may look down on the beer here, you should know that it has come a LONG way over recent years.
In 2010, when I arrived, it was only Quilmes from the supermarket (basically the Bud Light of Argentina). Things have improved and now there are more cervercerias, growlers, and breweries than anyone knows what to do with.
You'll find a number of beer spots to pick from as you wander Soho. Temple Craft is one that I love purely on the beautiful facade.
For what it's worth, if you're looking for the best beer in town, I've heard that Strange Brewing in Colegiales is the best place to go.
Go for Cocktails
Full disclosure, Argentina isn't exactly known for its cocktails. But there are some interesting places to try here with beautiful spaces and unique speakeasies (which really took off here).
REY DE COPAS | Look no further than Rey de Copas for the best cocktails in the coolest setting. Owner by Sebastián Páez Vilaró, a Uruguayan artist (whose art you'll find throughout the bar), has created a cozy setting that transports you to Marrakesh with its dim lighting and low sofas. I love their yerba mate gin tonic.
LA FERNETERIA | Restaurant and bar serving up Italian cocktails and food. You can get unique cocktails made with Italy and Argentina's most bitter liquor, check their Instagram.
THE HOLE | Get cocktails in a (randomly) Alcatraz-themed bar, check their Instagram.
SORIA | Looking for a party? Try Soria with great cocktails and even greater space, this bar is quite large. With rooms, outdoor space, and a terrace to choose from. A great place to come for drinks before going dancing, or to come early and enjoy a drink with dinner from their kitchen.
Visit a Café
The cafes in Palermo are the star of the show, in my personal opinion.
I love Soho on a beautiful sunny afternoon and nothing beats grabbing a coffee at an outdoor table and people watching. Or, alternatively, cozying up on a dreary day with my laptop inside.
CUERVO | Cuervo serves masterfully brewed specialty coffee. They also have one of the best avocado toasts in the city.
PADRE COFFEE ROASTERS & BEER | Padre's coffee menu is huge with beans from all over the world. I really enjoy it here and if you're looking for a place to get some work done, this is a great place to come with your laptop and work remotely. They have a solid lunch menu and beer on tap for when you want to work through lunch or want trade your coffee for a happy hour.
LIBROS DEL PASAJE | Libros del Pasaje is a bookstore that will have you losing track of time while you peruse all of the books on display. In the back of the shop is a café with cozy sofas.
These are just a few of countless cafes to choose from. They're a few of my favorites, and I'd love to hear yours if there's one you love! Let me know in the comments at the end.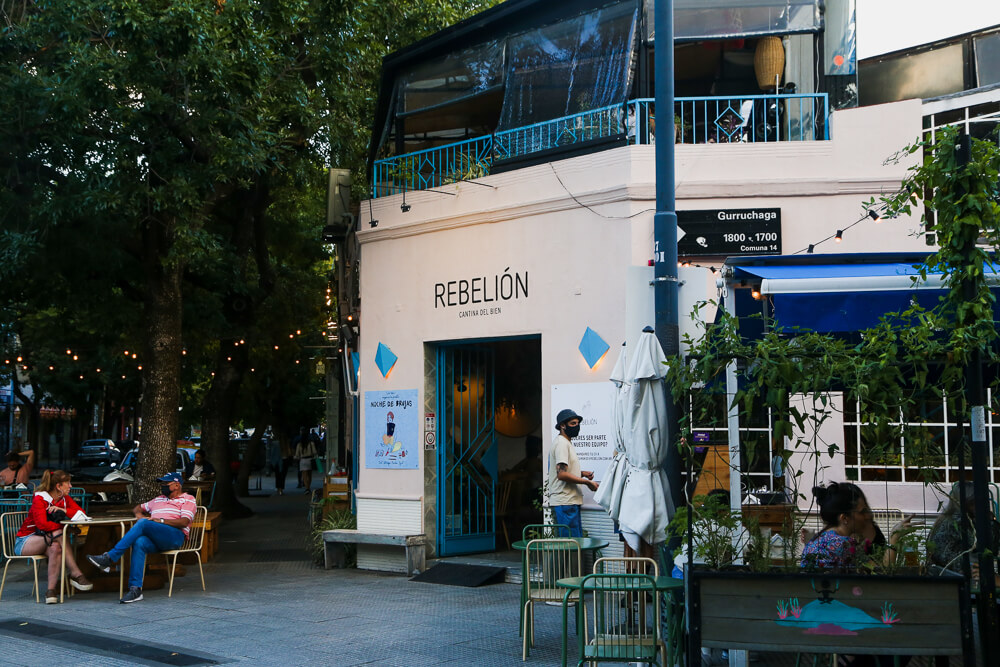 Shop til you Drop
Palermo Soho is filled with small boutiques and local brands.
The streets between Plazas Armenia and Soho are filled with shops to explore.
If you prefer handmade items, Plaza Serrano is lined with large spaces filled with booths stocked by individual designers. You're sure to find something unique here.
Libros del Pasaje is one of the city's coziest bookstores.
Stationary lovers have to visit Monoblock's shop at El Salvador 4833 for quirky planners, notebooks, and paper-goods.
For the best leather purses in town, cross Cordoba and go one block into Villa Crespo to Nimes. Their bags are classically stunning and will last a lifetime.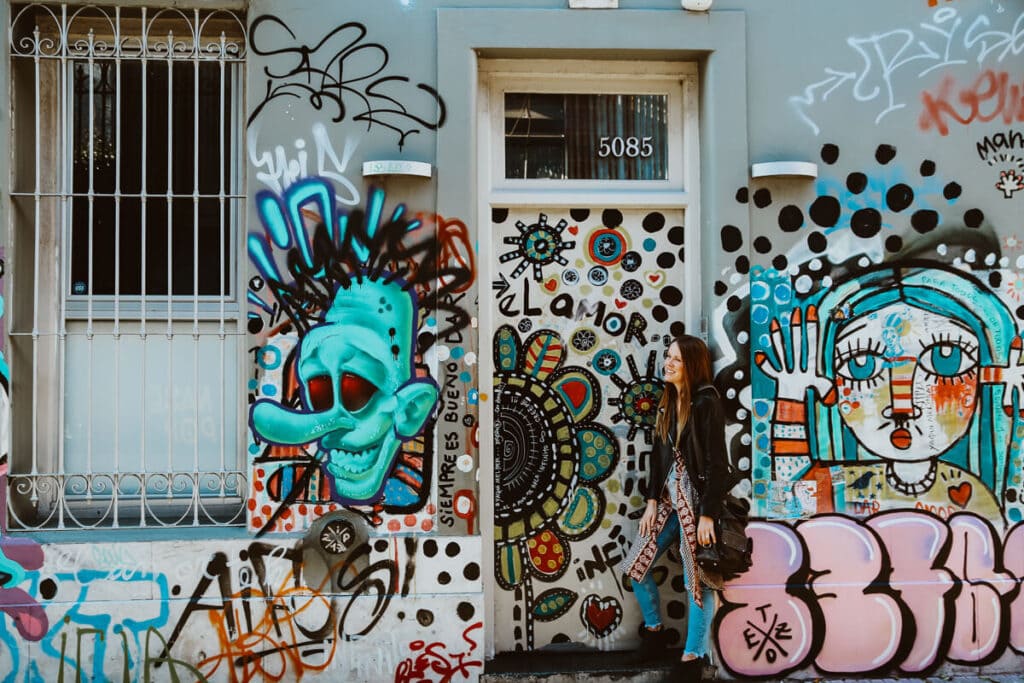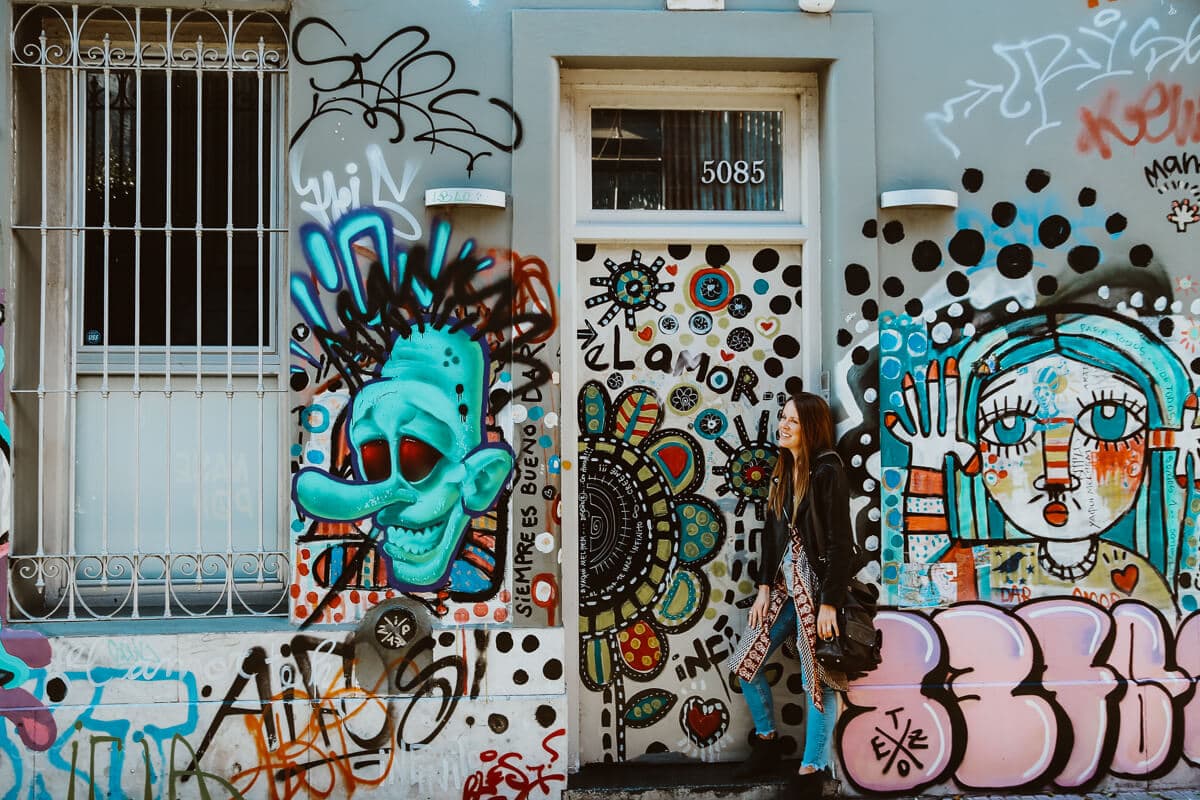 Palermo Soho Hotels
You can forget the chain hotels if you want to stay in Palermo Soho. Boutique hotels and VRBO/Airbnb are your best options here.
If it's summer, pick an apartment or house with a pool and a terrace to enjoy the hot nights.
For a boutique hotel in a beautifully restored historic home, check out Francis Ford Coppola's boutique hotel, Jardin Escondida.
Rental homes like Airbnb and VRBO (who I prefer to use due to far superior customer service and business practices) are the best option in Soho. This loft is stylish and also HUGE with tons of space to spread out at a fraction of the price of a nice hotel.
Wanting to stay in Soho? For a list of my favorite boutique hotels and Airbnb rentals in Palermo Soho, read my Buenos Aires Accommodation Guide.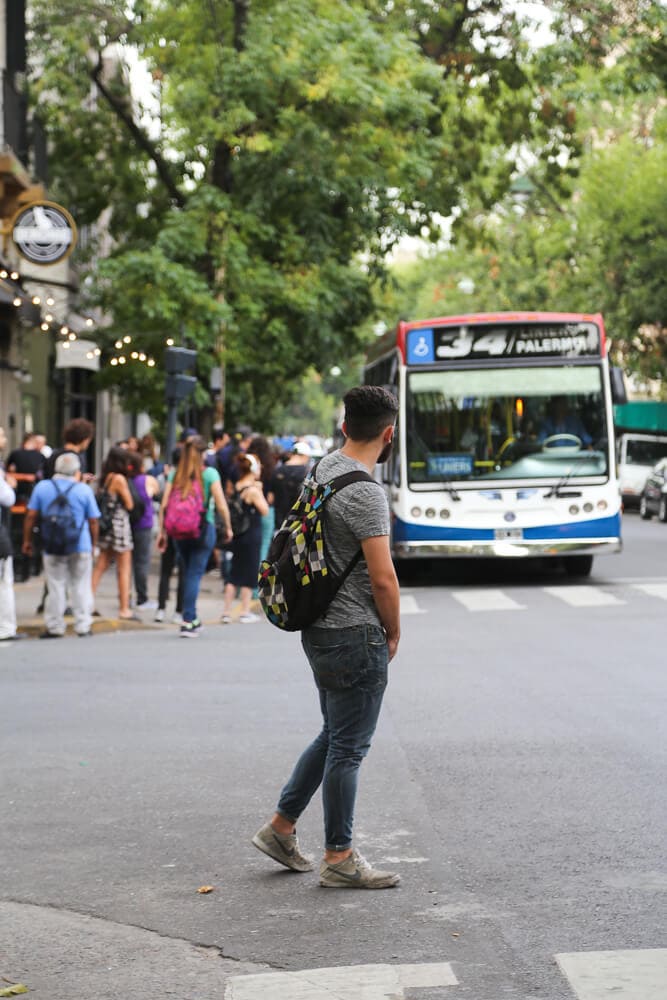 How to get to Palermo Soho
There aren't a lot of buses that cut through Soho, you can take the 34 or the 39.
But your best option is to take the Subte D line to the Scalabrini Ortiz or Plaza Italia stops and walk up from there. Plenty of buses, like the 152, that cover Av. Santa Fe are great options as well.
And of course, you can take a taxi or Cabify (a ridesharing app like Uber that's more available here). Use my code ERINM7 for credit on your first ride.
Palermo Soho Map
Everywhere I mentioned above, pinned conveniently on a Google Map. Color-coded: bars/wine in purple, coffee in yellow, restaurants in green, the plazas in blue. Enjoy!
The Many Faces of Palermo
Palermo, as a whole, is a massive neighborhood that covers a lot of ground in Buenos Aires.
It's been unofficially subdivided into mini-barrios within, each with its own personality.
Palermo Soho, named after the trendy New York neighborhood, is filled with sidewalk cafes, bars, boutique shopping and street art blanketed alleyways.
Next door (crossing Juan B Justo Avenue) you'll find yourself in Palermo Hollywood, which is similar to Soho but with more of a focus on bars and restaurants and less boutiques and cafes. (Basically, Hollywood is great after dark).
Next door in the other direction, across Scalabrini Ortiz, there's a much more residential vibe. This is Palermo Viejo, but don't be fooled, you'll find many a trendy restaurant here, as well.
This barrio is home to the best parks in Buenos Aires including the Botanical Garden, the Ecoparque, and the Bosques de Palermo.
Read More about Buenos Aires