Since living in Argentina, road trips have become my preferred mode of travel.
This country is built to be discovered by car.
Cities here are few and far between.
Buenos Aires is the largest city and the hub for literally everything. After that, there's Rosario, Cordoba, and Mendoza…
But in reality, the beauty of these destinations and all others throughout the country lies in the surroundings, the outskirts, and the far flung.
To really tap into all that Argentina has to offer, it's best to get a car and drive to the small towns and to the natural wonders you can't reach any other way.
This post is a guide on the best road trips in Argentina with route suggestions and tips to help you organize.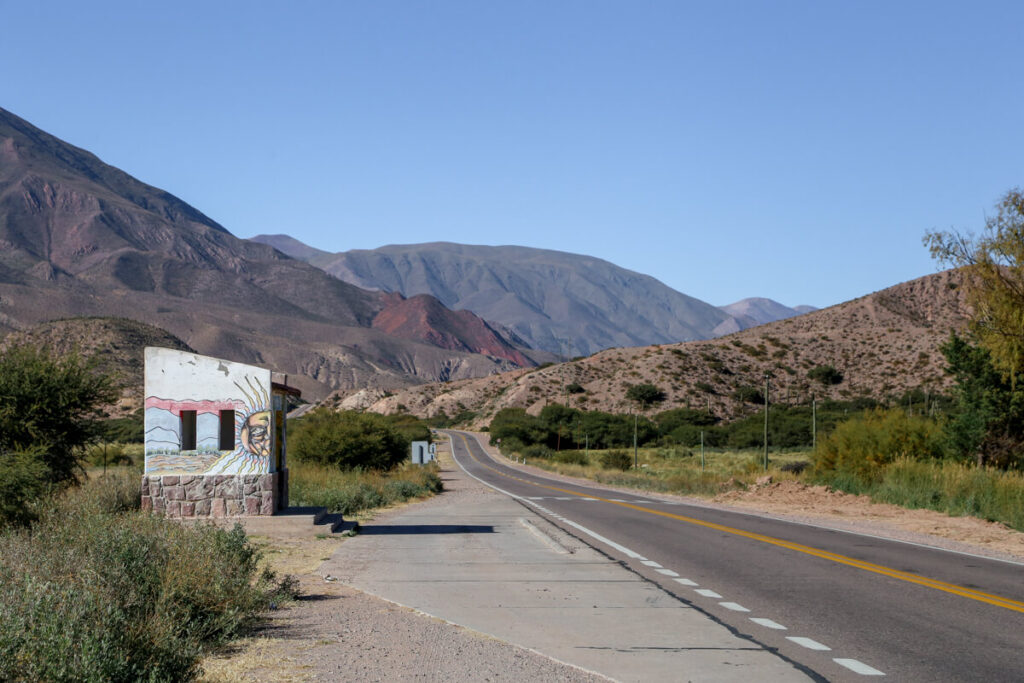 QUICK NOTE: This post contains affiliate links and Sol Salute may receive a commission for purchases made through these links, at no extra cost to you.
Argentina Road Trip Tips For Success
While road trips in Argentina are great, there are some things to know before you plan yours.
First, this country is massive and there is a lot of "dead space" – for lack of a better word – between major destinations.
Instead of trying to see the entire country, I recommend picking a destination and planning your road trip there.
For example, the drive from Buenos Aires to Patagonia is long and crosses las pampas with little to see except never ending fields and pastures. Instead, I always fly to Patagonia and rent a car there.
Rental Car Tips
Drive a loop rather than return in a different city to save money. Some agencies either can't pick the car up in a new city or charge a big surcharge to do it.
Learn how to drive a stick shift if you can't yet (I'm looking at you Americans). Rental car agencies won't have many, if any, automatics in their fleet. The ones they do have can cost double what you'd spend on a manual.
Before driving off the lot, check if your rental car agencies has any banned roads. Some destinations have roads in such horrible condition that you can't take your rental car down them at all or unless you rent a 4×4 (we encountered this at the Ibera Wetlands). This isn't usually a problem for major destinations.
Argentina Road Trip Routes
Here are the some of the best routes for Argentina road trips from epic trips to single-day scenic drives.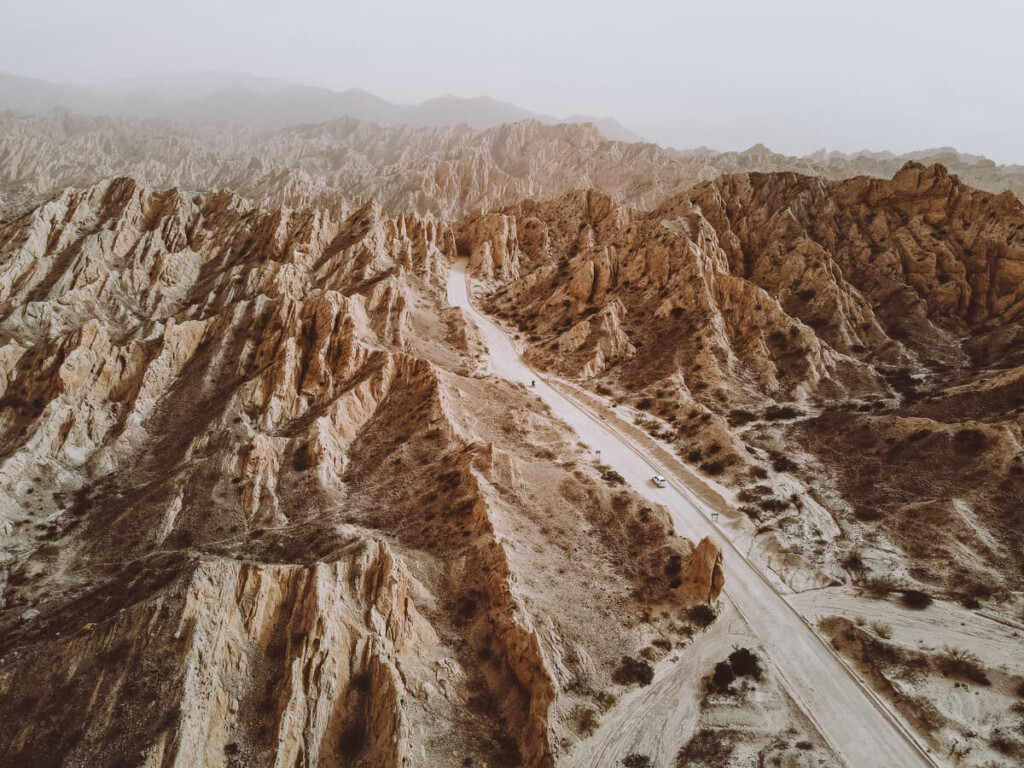 Ruta 40: Argentina from North to South
Argentina's Ruta 40 covers over 5,000 kilometers and 11 provinces from north to south. It carries the same importance as Route 66 in the US.
It starts in La Quiaca in the Northwestern extreme of the country on the Bolivian border. From here the highway snakes south through the desert canyons of the Calchaqui Valleys, along the Andes while crossing Mendoza's wine regions, and through Patagonia before ending in Rio Gallegos' Cabo Virgenes.
From here you can continue on to Ushuaia to have covered the entire country from head to toe.
There is no more ambitious route in Argentina. You'll need minimum a month to do this road trip but I'd recommend having many months to dedicate to it.
The destinations that you'll pass are far too beautiful to simply fly by. You'll be grateful for a few days in the vineyards, a week to hike in El Chalten, and days to relax in the places that call to you along the way.
While a lot of Ruta 40 is paved, a lot is not. To drive the entire route it's best to have a 4×4 for more remote stretches. Also, have a spare tire and know how to change it.
If you pop a tire you can always have it repaired in even the tiniest of towns. Find a gomeria (tire shop) and they'll patch it.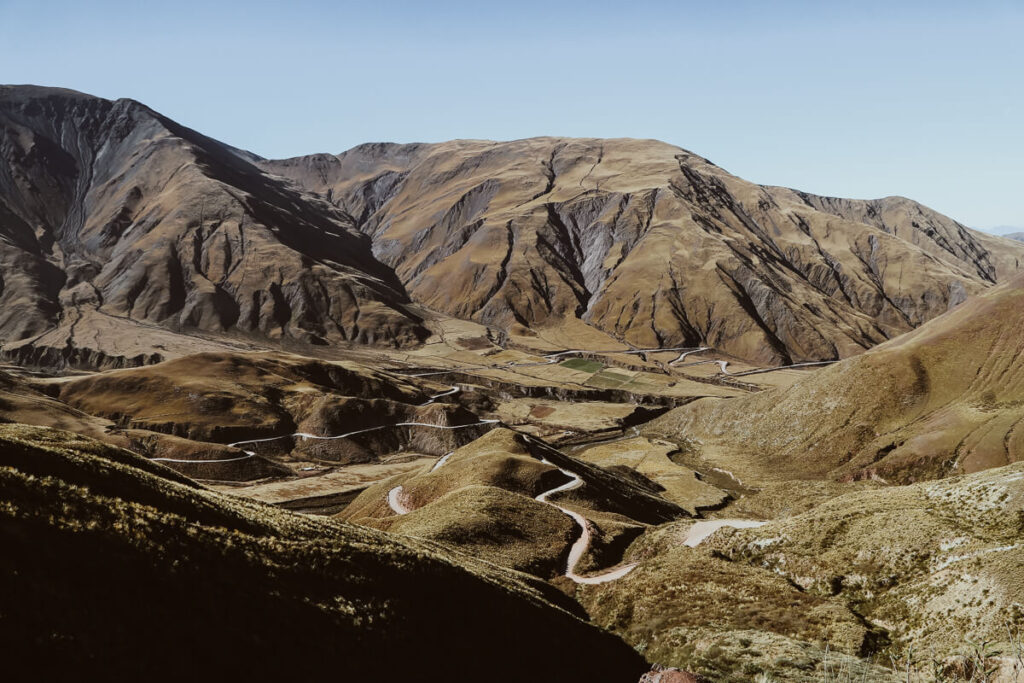 Argentina's Northwest: Salta & Jujuy
The provinces of Salta and Jujuy are the most beautiful in Argentina. There are many routes one can take for a road trip here.
On our first trip we did a loop that covered all the major highlights in both Salta and Jujuy. We flew into Salta and drove north through Jujuy, where we spent three days exploring.
From Jujuy, we took Ruta 40 south from the Salinas Grandes salt flats to Cafayate, crossing the route's highest point, 4,972 meters above sea level on the Abra del Acay.
This mountain pass took our breath away both due to the altitude and the heart stopping hairpin turns.
From Cafayate, the paved Ruta 68 winds through the Quebrada de las Conchas back to the city of Salta.
We spent a total of 9 days on this road trip and it was rushed. It would be much more comfortable with 2 full weeks.
On a second trip to Salta we spent 9 days on a Salta road trip, covering only Salta's main scenic drives: the Cuesta del Obispo, Ruta 40 and the Quebrada de las Flechas, and Ruta 68 and the Quebrada de las Conchas. I'd do this route with a bare minimum of 5-6 days to enjoy the destinations along the way.
Both of these routes are excellent loops to see these two province's major highlights, click the links below to see our full itineraries:
Quebrada de las Conchas – This scenic drive connects Cafayate and the city of Salta and is one of the county's most beautiful scenic drives. If you don't have time for a long road trip this one day trip is a great option!
When to drive Salta & Jujuy? The best months are during winter, from May through August. December through February is this region's rainy season. A major storm could make a dirt road impassable without a 4×4, so if going off the beaten paved path, ask a local before starting your drive to be safe!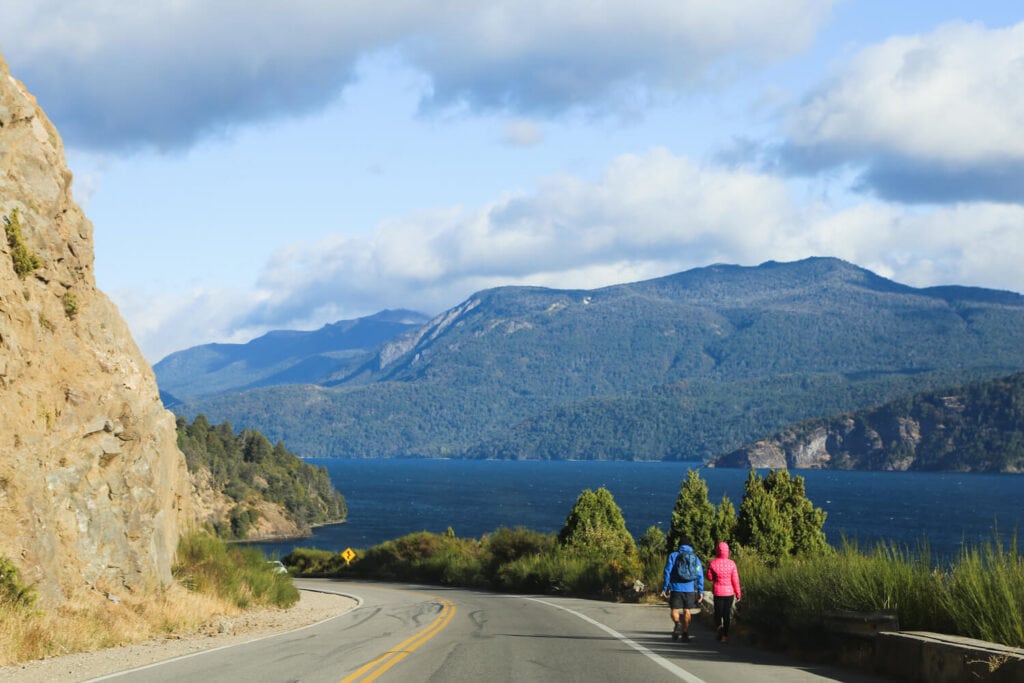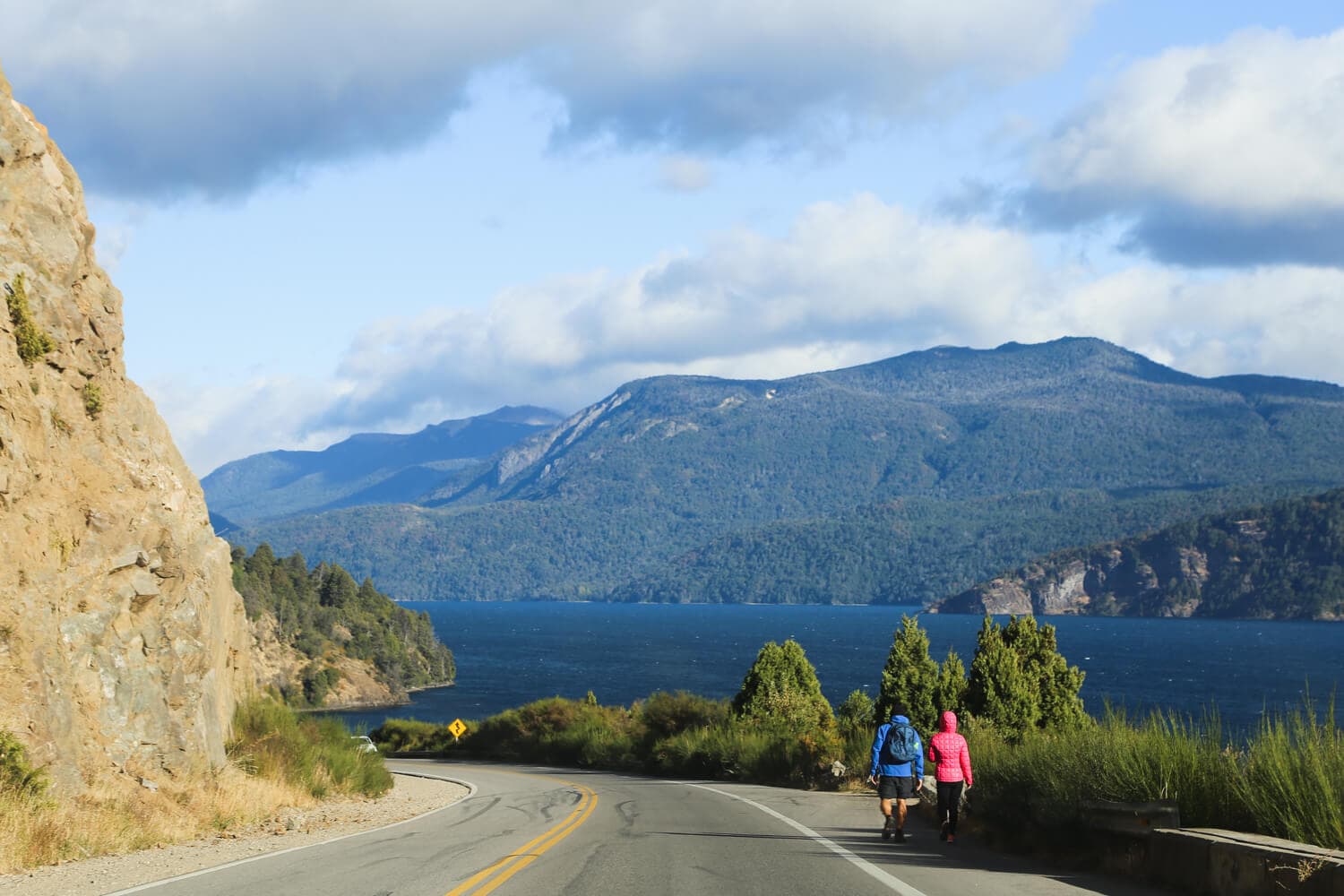 Patagonia's Lake District
Northern Patagonia is unsurprisingly one of the country's most popular destination for both locals and foreign visitors.
The main city here is Bariloche. There are multiple flights a day connecting it with Buenos Aires making it an easy base for a Patagonia road trip.
From here you can spend a week or two exploring the outskirts of Bariloche and the surrounding mountain villages.
Drive north along Ruta 40 to San Martin de los Andes and you'll drive by lake after lake after lake.
This scenic drive is called Ruta de los 7 Lagos but there are a lot more than seven lakes here.
If you drive this route you can spend time in Villa La Angostura, Villa Traful, and San Martin de los Andes. You'll have your pick of both luxury hotels and lakeside campgrounds.
Drive south from Bariloche and after two hours you'll first hit El Bolson.
This hippie mountain town is a lot more pristine than big city Bariloche. Disconnect here and in neighboring Lago Puelo and bring your hiking boots!
Keep driving 2 more hours to reach Esquel and Trevelin. These two mountain towns are rapidly growing in popularity among locals but remain off the radar for more foreign tourists.
There is a beautiful national park here (Los Alerces), excellent trout fishing (season starts in November), and even a tulip field!
To see it all, from Trevelin to San Martin de los Andes, I recommend 2 weeks. With less time, try seeing the stretch of Trevelin/Esquel to Bariloche OR Bariloche to San Martin de los Andes.
When to drive in north Patagonia? Spring through Fall months (October through April) are the best months, with longer days and warm temperatures. Also, most notably, winter months obviously bring a lot of snow.
RENTAL CARS IN/AROUND BARILOCHE | Cars here can sell out in busy season, do not wait to reserve yours! Some agencies charge a within reason fee to pick up your car in Bariloche if rented elsewhere, do your research. We're paying just $100 US to have our car picked up in Bariloche instead of returning it in Esquel. It's not cheap but it makes our itinerary much more doable so we consider it well worth it.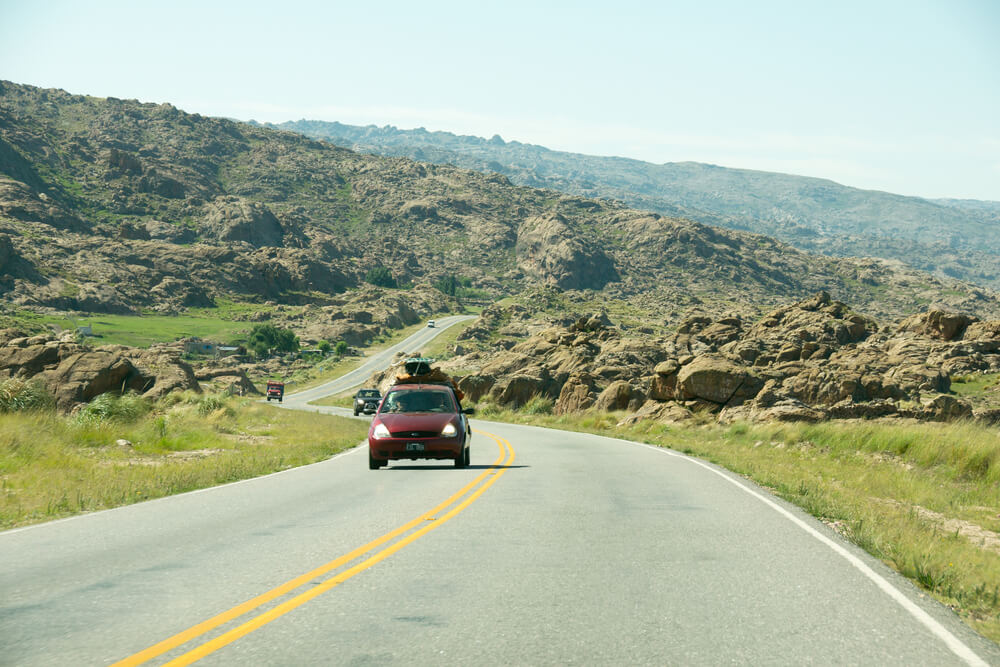 Las Sierras in Cordoba
Ask nearly any Argentina where they like to holiday here and you'll almost always hear Cordoba.
Cordoba both a city and province in the very center of the country geographically. The city is the second largest in the country and is a student city.
There's plenty of life here and it is a great alternative for city lovers in Argentina who want something slightly slower paced than Buenos Aires.
The sierras and small towns that lie in the hills surrounding the city of Cordoba are built for a road trip.
There are wineries, national parks, excellent hiking, and cultural villages to discover.
I've only been to Cordoba once, to the small village of La Cumbrecita, so discovering more of this province is one of the biggest destinations I'm missing on this blog. But I know one thing, when I go I'll go on a road trip.
The province's official tourism website lists these scenic routes. Build your road trip itinerary around them.
Wine lover (like me)? Keep these wineries and wine routes in mind for your Cordoba road trip.
There are a few national parks including Parque Nacional Ansenuza, the country's newest park. This is a birdwatching lover's paradise.
When to visit Cordoba? The benefit of Cordoba as a destination is it's mild climate. In summer, the heat is dry and even in winter afternoons can be warm and sunny with cold nights. Cordoba is a wonderful destination year round!
CORDOBA TIP | While flights are easily accessible to Cordoba, this is one of the few areas I do recommend visiting by long distance bus. It is a 10 hour bus from Buenos Aires, overnight. Buses with lie flat seating are very comfortable and you save the money on a hotel and the hassle of going to the airport and back. You'll get a good night's sleep and wake up ready to explore!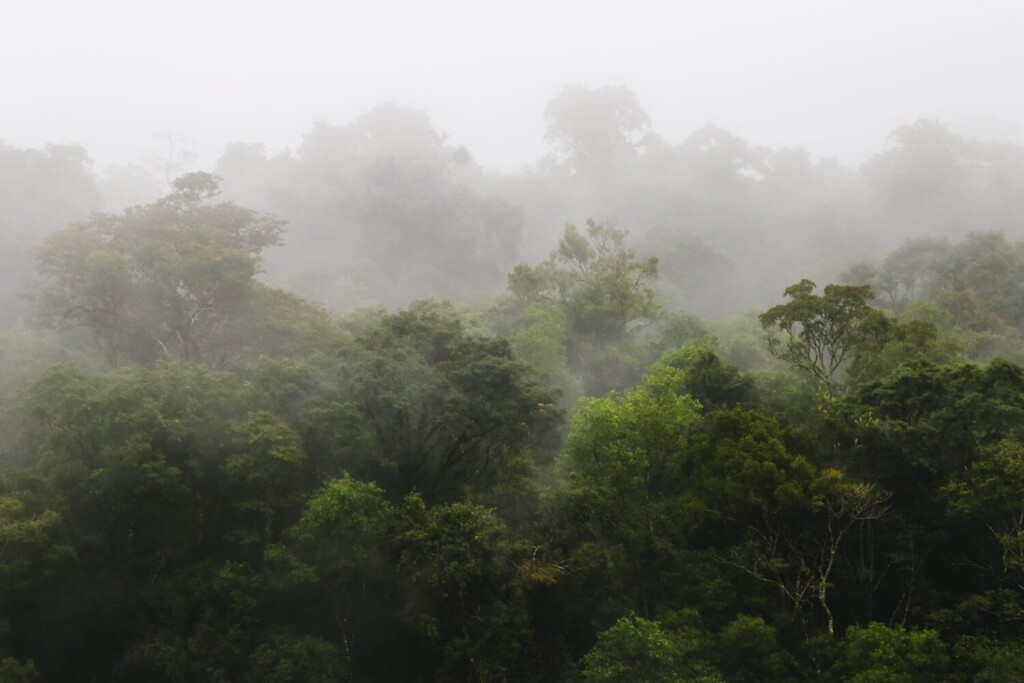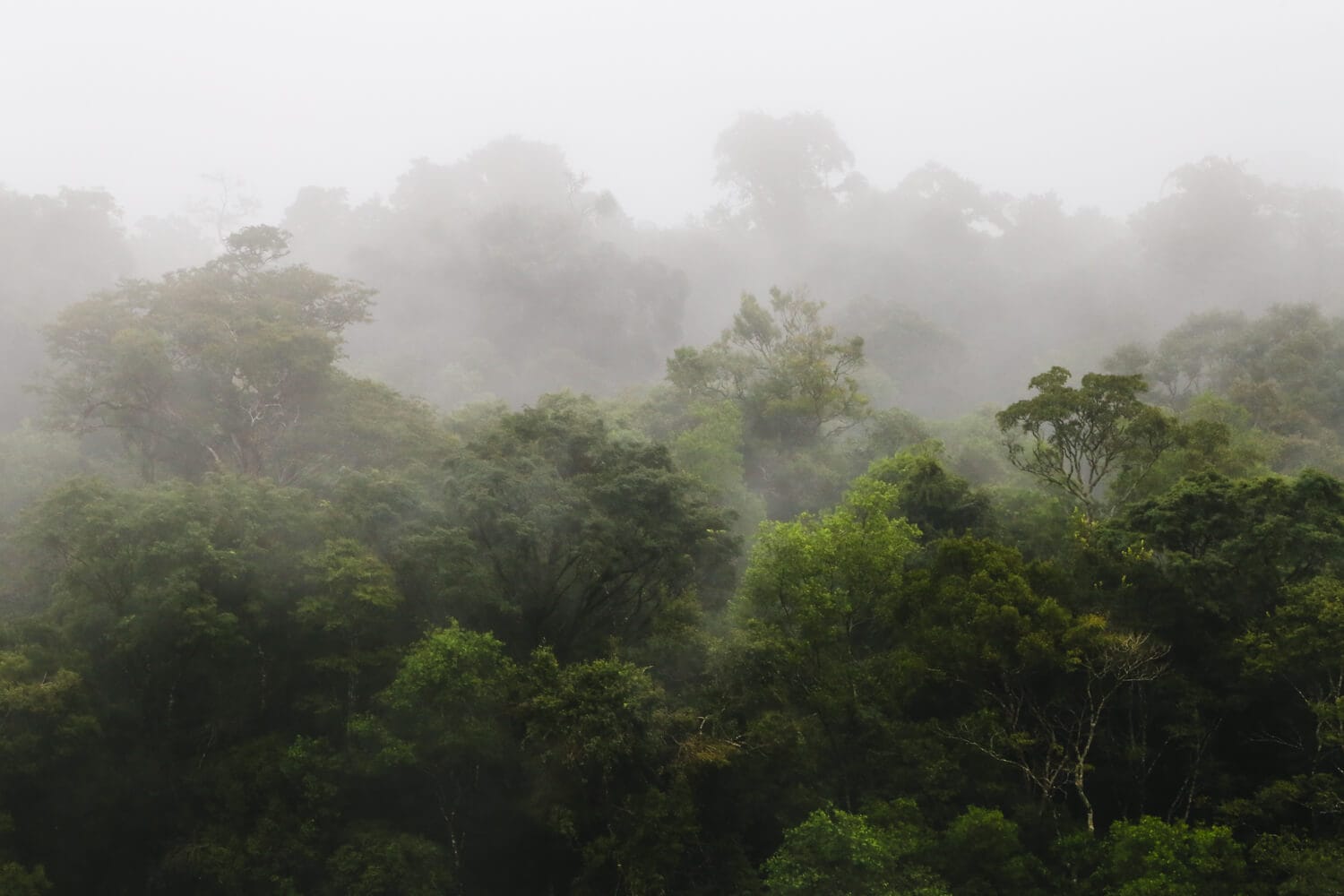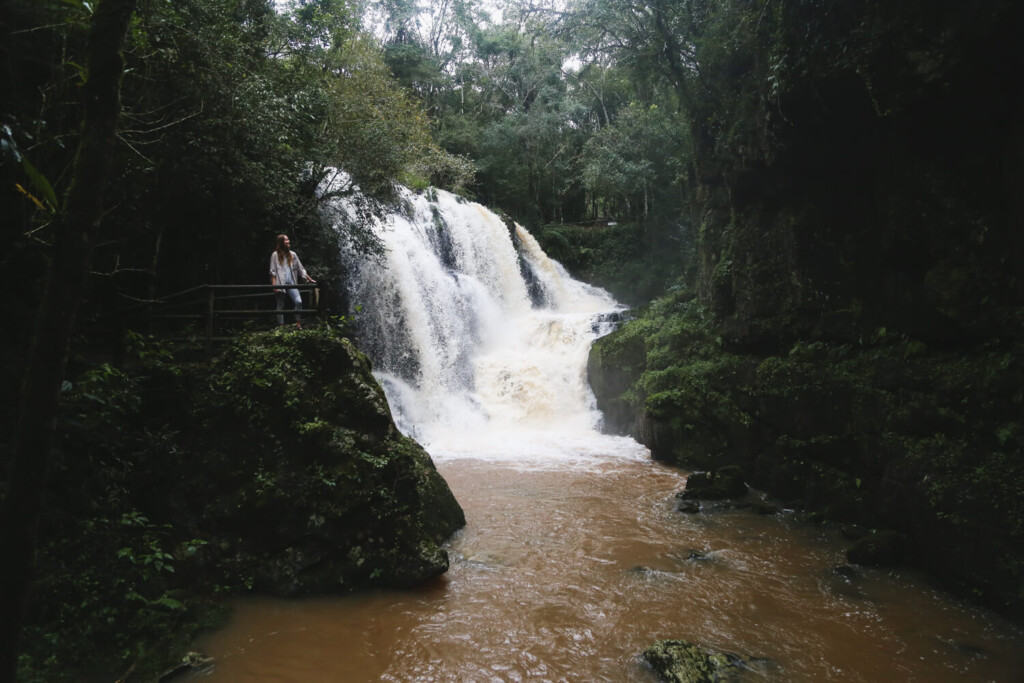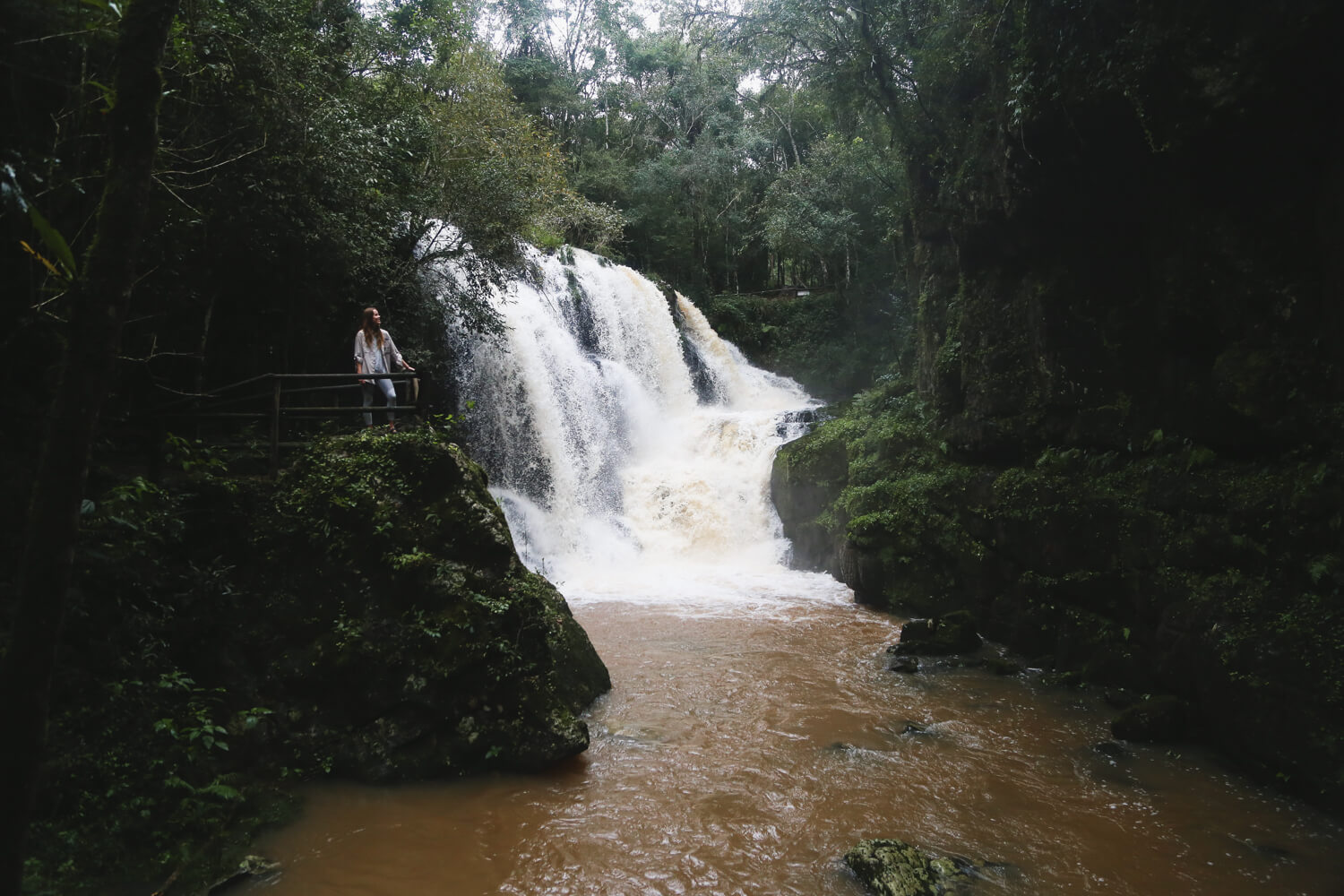 The Jungle: Iguazu to the Wetlands
The northeastern province Misiones doesn't get enough attention outside of its superstar Iguazu Falls, but the entire province is worthy of exploring.
It's ideal for road trips because the province itself is very small.
You can cover a lot of ground in little time and avoid spending hours and hours in the car.
I found the highways to be all paved and in decent condition.
A great itinerary to see two of the country's most epic destinations would be to start in Iguazu Falls and drive along Route 12.
There is a series of Jesuit ruins along this route to stop at as you go. The most popular due to being the most preserved is San Ignacio Mini.
San Ignacio as a town has a lot to offer for hostels and activities if you want to overnight here.
Next you'll encounter the larger city of Posadas (which also receives daily flights from Buenos Aires and is another option to start a road trip in the region).
You can find a lodge near here (like Puerto Valle) to access the wetlands or head south down Route 41 to reach the hub (an barely there village) Colonia Carlos Pellegrini.
This is where the bulk of the lodges are along with the national and provincial parks.
NOTE: and this is important, when it rains this section of road between Posadas and Carlos Pellegrini is IMPOSSIBLE. Rental agencies forbid you from taking a car that is not a 4×4 to Colonia Carlos Pellegrini from Posadas and leverage massive fines if you do it. It's better to hire a ride, access the village from the south via Mercedes, or simply stay at a lodge near Posadas.
Read more in my complete guide to the Esteros de Ibera wetlands.
You could do this route rather quickly, in less than a week. But I recommend going to more places and spending more time. (I always recommend this).
Misiones has a lot more than just Iguazu and the missions that gave it its name.
If you venture further into the province than just Ruta 12, you'll find yerba mate plantations, tea plantations, countless waterfalls, and more.
Mocona Falls is another epic system of waterfalls worth visiting, just outside the tiny speck of a town Soberbio.
For our Misiones road trip we started and ended in Posadas and did a loop with Mocona Falls as our highlight.
Read more about our trip on this Misiones road trip itinerary. However, we skipped Iguazu AND the wetlands on that road trip since we'd been.
You can and should easily adjust the route we took to include at least Iguazu Falls, if not also the Esteros de Ibera Wetlands.
Argentina's Best Scenic Drives
If you don't have time or the budget for a long road trip, consider renting a car for just a day or two to explore one of the many beautiful scenic drives in Argentina.
Some of these scenic Argentina road trips are portions of the longer road trips mentioned above.
In full disclosure, this isn't a comprehensive list.
I don't think I could make one.
There are simply too many beautiful scenic highways in Argentina!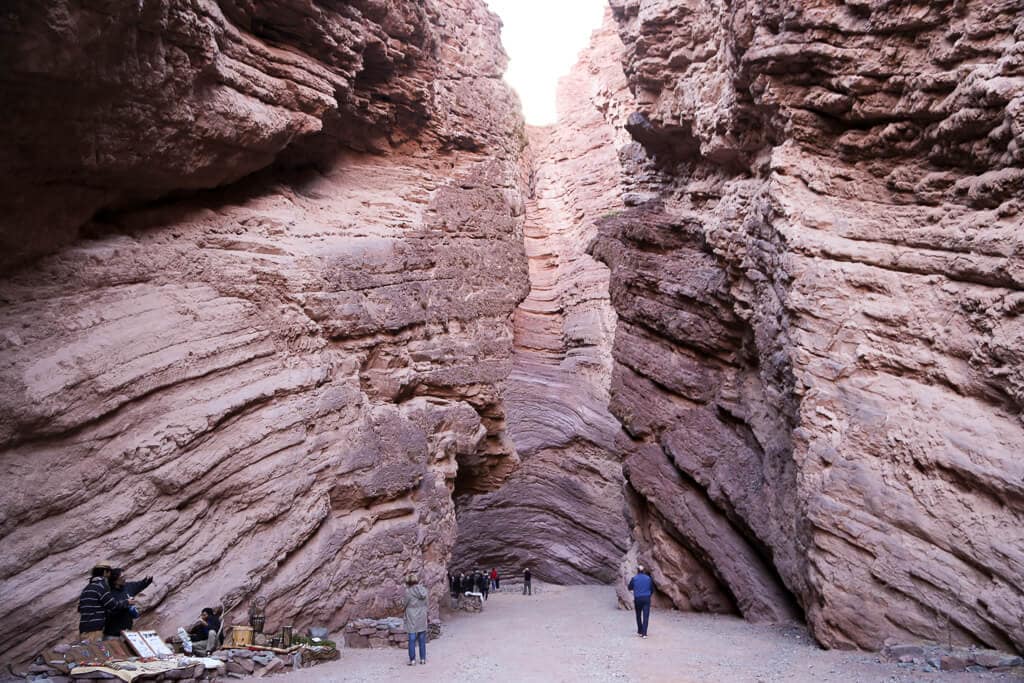 Quebrada de las Conchas, Salta
Quebrada de las Conchas in Salta is one of the most beautiful scenic routes in Argentina.
Found along the route 68 between Cafayate and the city of Salta, it features rugged red earth formations and canyons.
It's directly outside of Cafayate, so it's best seen when based there. I recommend waking up early and going directly after breakfast to beat the tour bus crowd that rolls in mid-morning from the city. You'll also get the best light for photos then.
It's a short drive and if going from Cafayate you can do it in just a few hours including stops, far less if driving straight through (which I highly discourage).
Don't have your own car? This organized day trip includes stops in the Quebrada and visits to Cafayate's wineries.
Read my guide to the Quebrada de las Conchas for a full list of stops.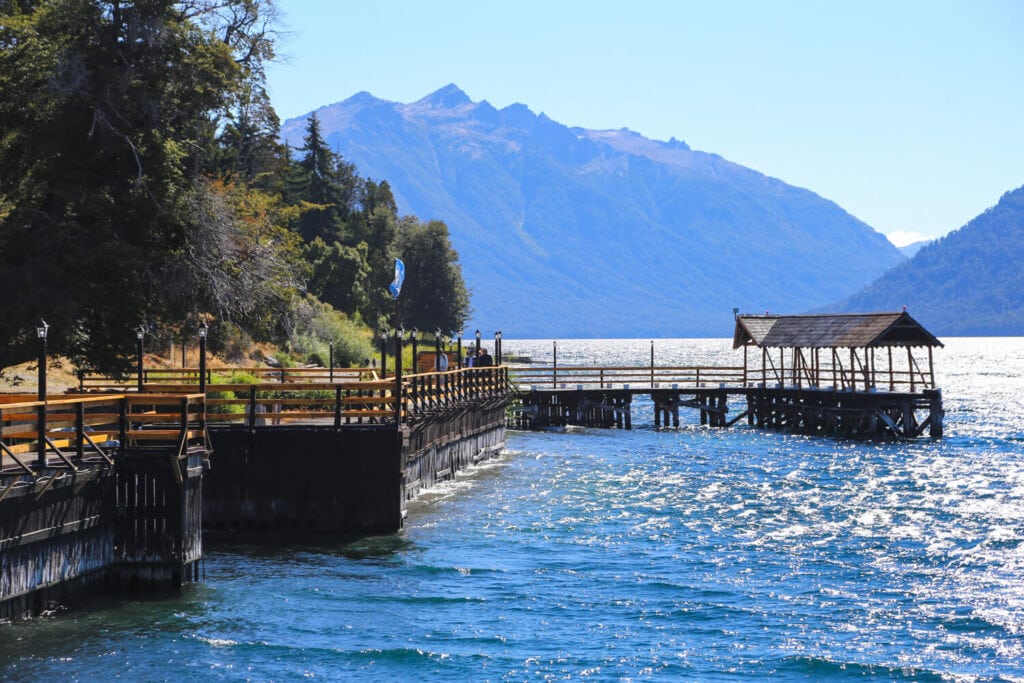 Ruta de los 7 Lagos, Bariloche
The 7 Lakes Route is the stretch of Ruta 40 that connects San Martin de los Andes to Bariloche/Villa La Angostura.
This is Argentina's lake district so fittingly this route is chock full of them. Despite officially being called the 7 lakes route, you'll see a lot more than that on this scenic drive.
This highway is part of the Patagonia road trip detailed above, but you can do this scenic drive in just one day when limited on time.
We did this drive when staying in San Martin de los Andes. It took us an entire day from 9 am til sunset. With less stops and by skipping the detour we took to Villa Traful it can take even less time.
If you leave early enough you can have lunch in the destination city, like this organized day tour that departs Bariloche and includes lunch in San Martin de los Andes.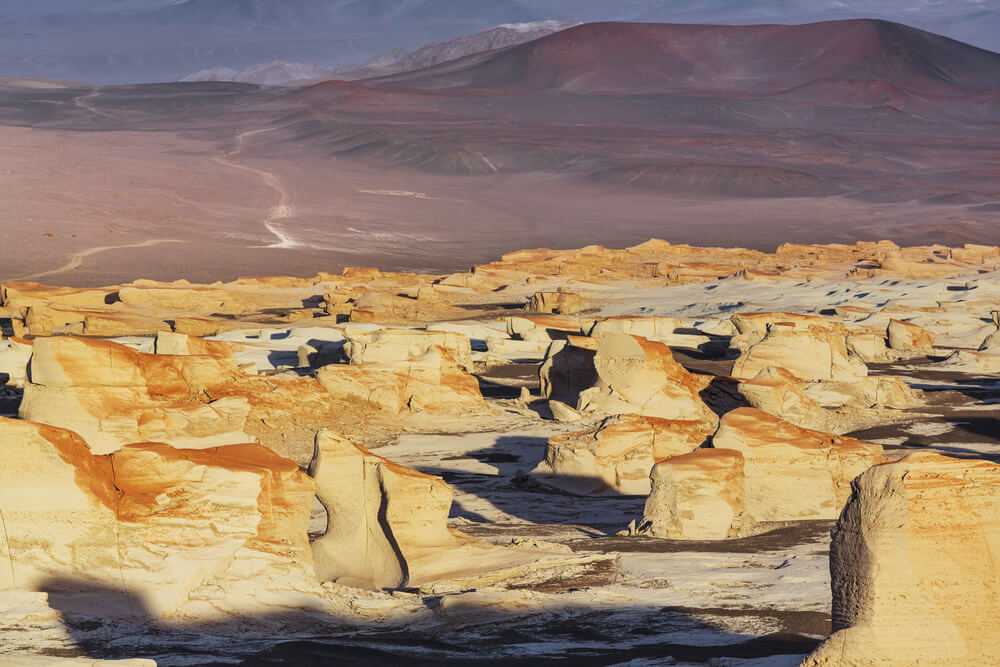 Ruta de los Seismiles, Catamarca
Catamarca is a rugged province in the Northwest that's largely undiscovered by international tourism and barely on the radar of most locals.
I still have yet to make it there but it's very, very high on my list.
They market a number of scenic drives through desert villages and otherworldly landscapes with tempting names (for me) like the wine route, Ruta de los Seismiles or Ruta del Adobe.
Ruta de los Seismiles is the most beautiful (if there is one) of them.
It is the stretch of Ruta 60 from Fiambalá to El Paso de San Francisco.
Parts of this route reach 6,000 meters above sea level, second in altitude only to the Himalayas.
Tip from me to you, chew all of the coca leaves and drink all of the coca tea.
Argentina Travel Resources
Pin It For Later