Steak and wine, that's what most people associate as the typical food in Buenos Aires.
And while they're not wrong, there are so many other foods to try here!
Pastries and ice cream represent a mean sweet tooth.
Massive waves of immigration from Italy brought delicious pizza.
Vermouth happy hours and pastries over coffee, Buenos Aires food culture is something to experience with gusto.
This post is filled with my favorite Buenos Aires food experiences.
I hope your hungry.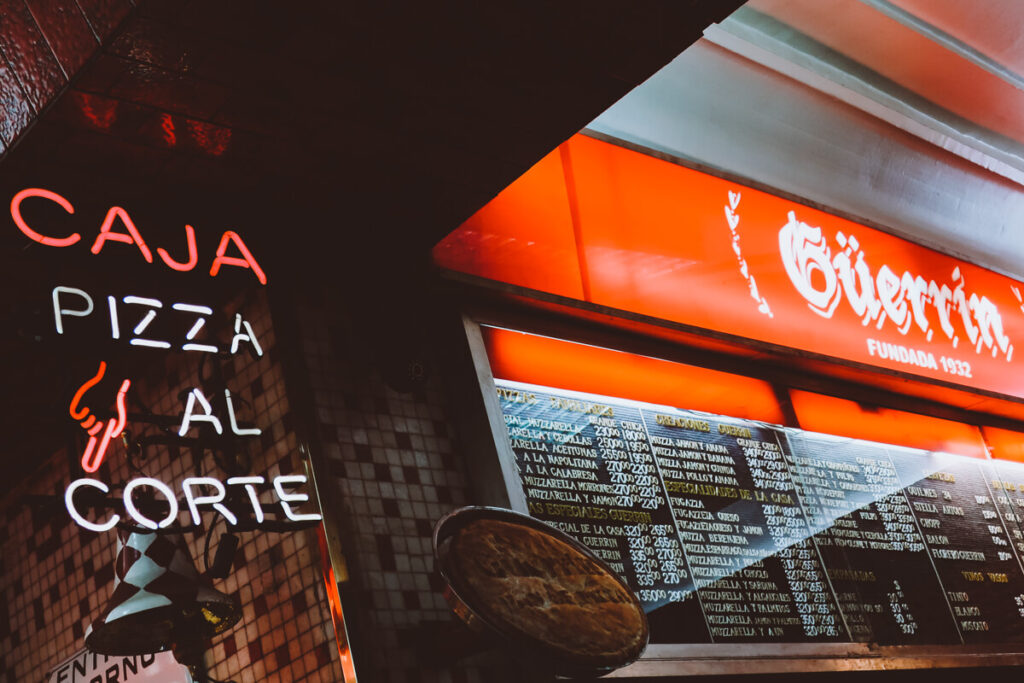 QUICK NOTE: This post contains affiliate links and Sol Salute may receive a commission for purchases made through these links, at no extra cost to you.
Buenos Aires Food Culture
Buenos Aires was built by immigrants and they had a huge impact on the city's cuisine.
You'll find decadent cheesy pizza and fresh pasta sharing a menu with all that steak.
Ice cream shops are open into the wee hours of the morning and every conversation and meeting must happen over coffee and pastries.
Families get together every week for a lengthy asado (traditional barbecue).
Food is central to life in Buenos Aires!
Here are the best food experiences to have next time you're in Argentina's bustling capital city.
If you're looking for a comprehensive list of what to eat in Argentina, then read my post all about the best traditional Argentina foods.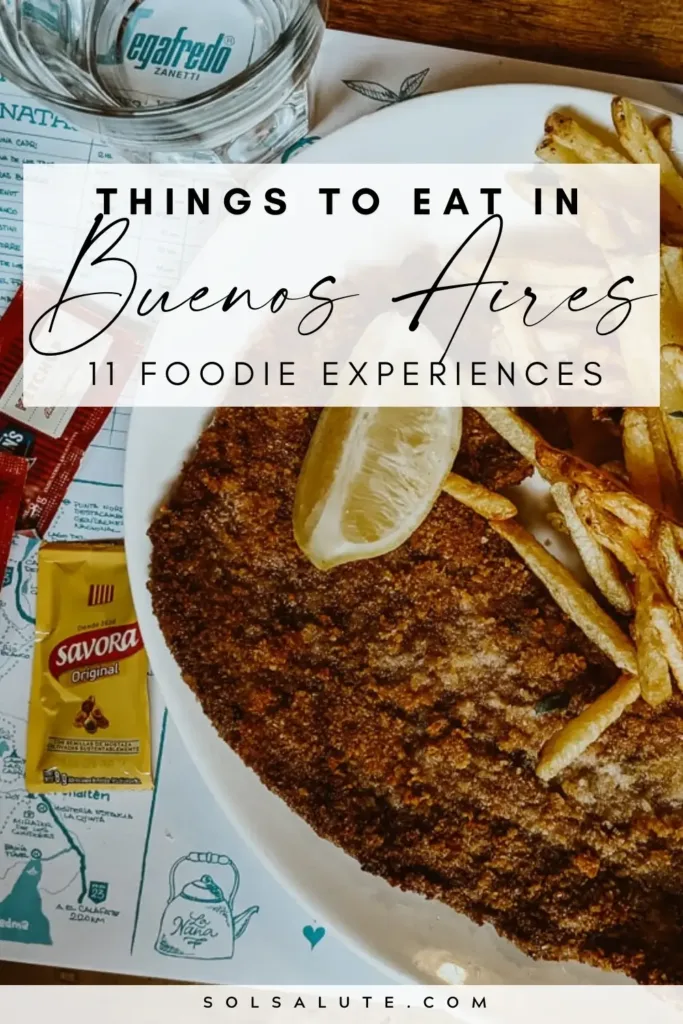 11 Buenos Aires Food Experiences You Can't Miss
Here are ten of the most incredible things to eat in Buenos Aires from red meat to historic cafes.
Asado & Parillas
Let's start with the obvious, steak. It's what you expected. It might even be why you got on the plane.
Beef is everything and it is everywhere.
For a classic steak dinner visit one of the countless parrillas in the city.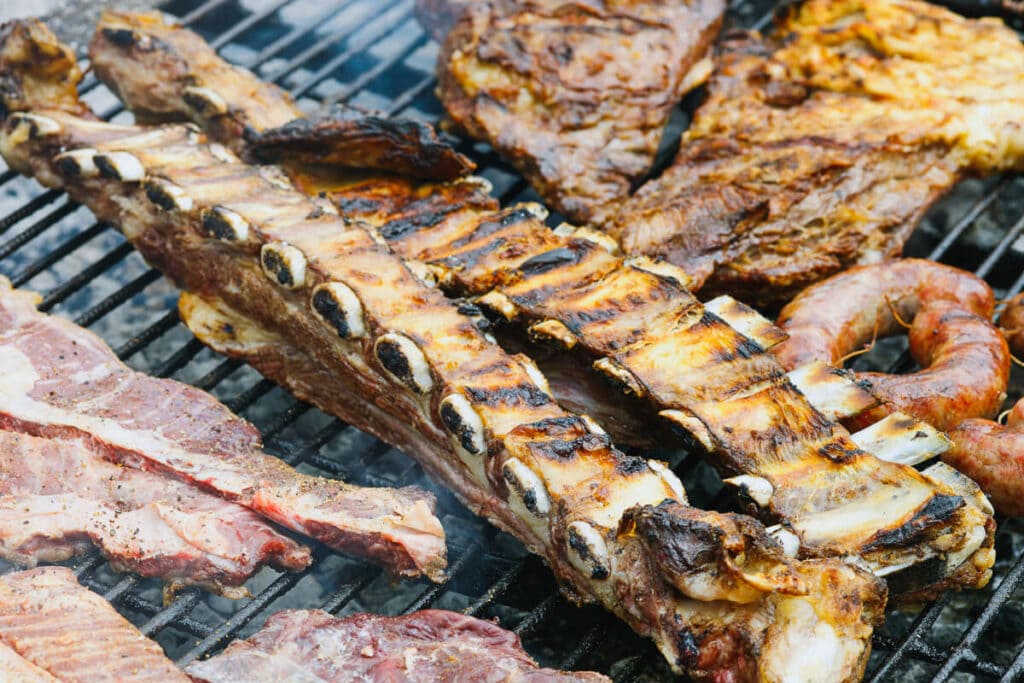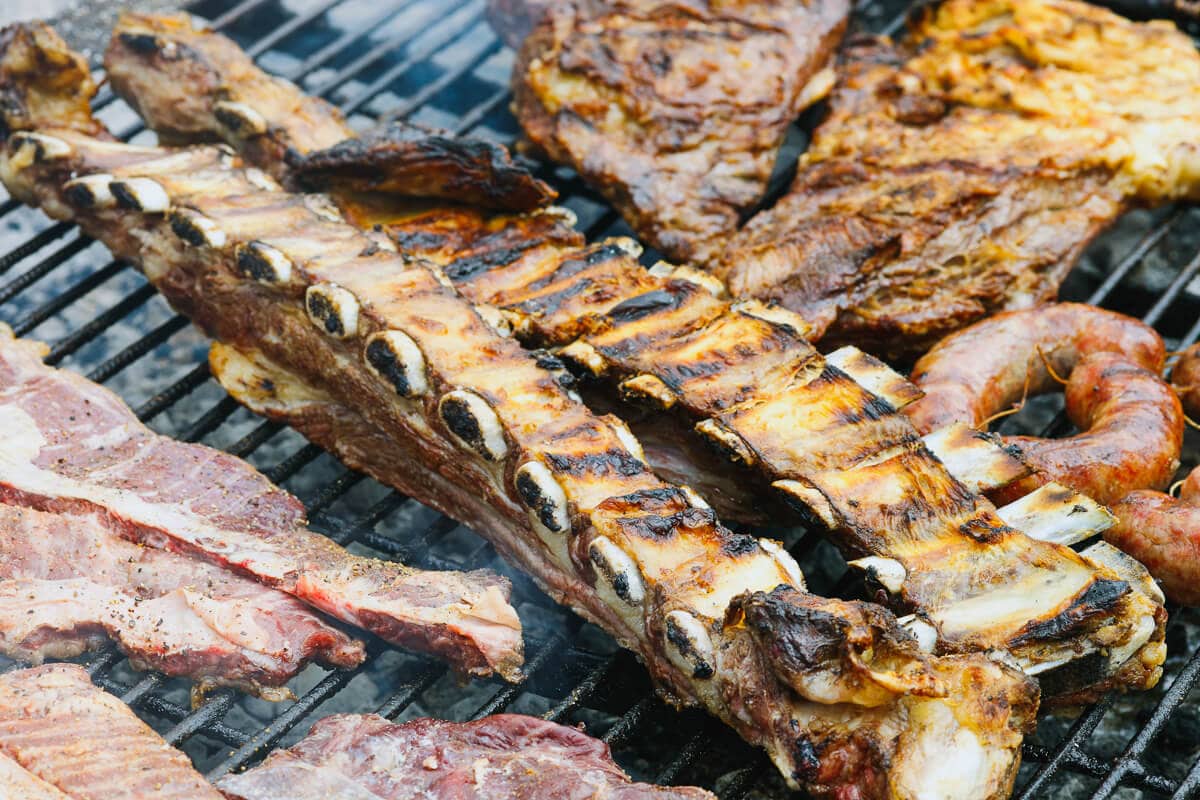 Don Julio is popular and for good reason, they are my favorite place to go for steak. I highly recommend making a reservation for dinner. Sometimes you can swing just dropping in for lunch.
Read my beefy guide to eating steak in Buenos Aires for a complete menu breakdown and my 8 favorite steakhouses in town.
For a traditional grill experience in Buenos Aires you can't do any better than an asado.
These at home barbecues are full day affairs with multiple cuts of meat coming off the grill in courses with simple salads, cheese, and free-flowing Malbec.
If you don't have an Argentine buddy who can invite you to their Sunday afternoon asado, reserve the Asado Experience, because a real Argentine asado is a truly a once-in-a-lifetime foodie experience you can't miss.
Pizza by the slice on Avenida Corrientes
Buenos Aires may have been settled largely by Italian immigrants, but the pizza tastes nothing like a thin Neapolitan pie and probably offends most native Italians at first glance.
If you want to try proper Porteño pizza, skip the takeout and head to Avenida Corrientes.
The best of the best pizza is at Guerrin, but you can try them all in one night in an epic Buenos Aires pizza crawl.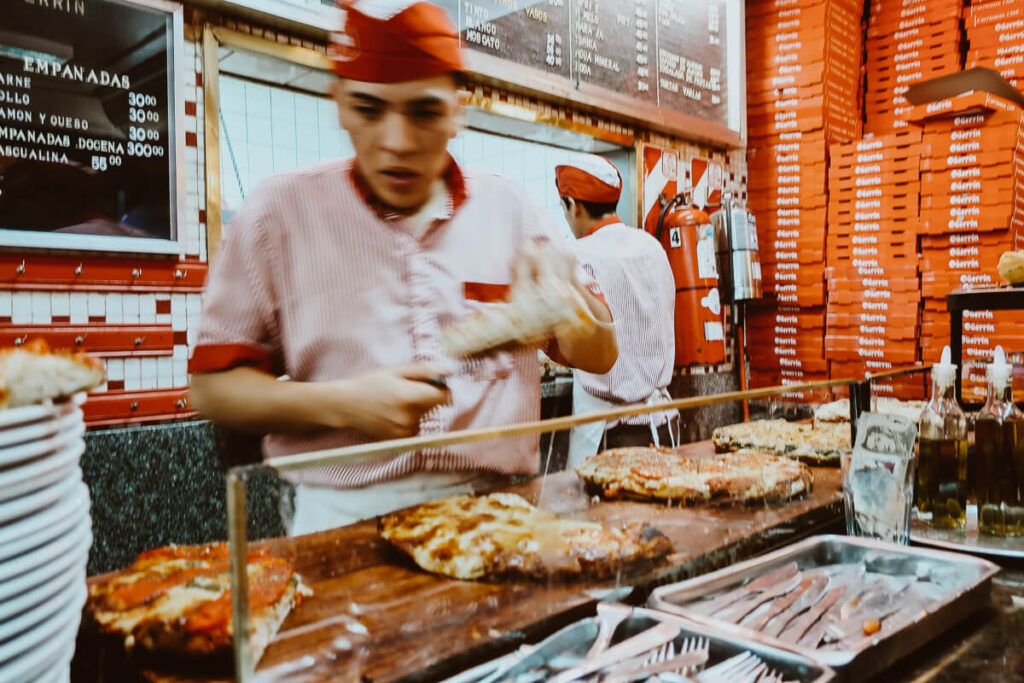 The street comes to life at night. It's reminiscent of New York's Times Square, lined with theaters and neon lights.
The pizzerias here are institutions, dishing up thick "al molde" style pizza.
The crust is thick, the sauce is barely there and the cheese is abundant.
You can sit at a table and order a whole pie or order a slice to eat standing at the bar.
If you really want to sound like a local, order a slice of fainâ to go with it, a chickpea flatbread placed on top of the pizza, another gift from Argentina's Italian immigrants.
Merienda: Pastries & Coffee
With dinner in Argentina being so late, you're going to need a boost of energy to get through the afternoon.
I present to you the "merienda," the perfect break for that long stretch of time between midday lunch and 9 pm dinner.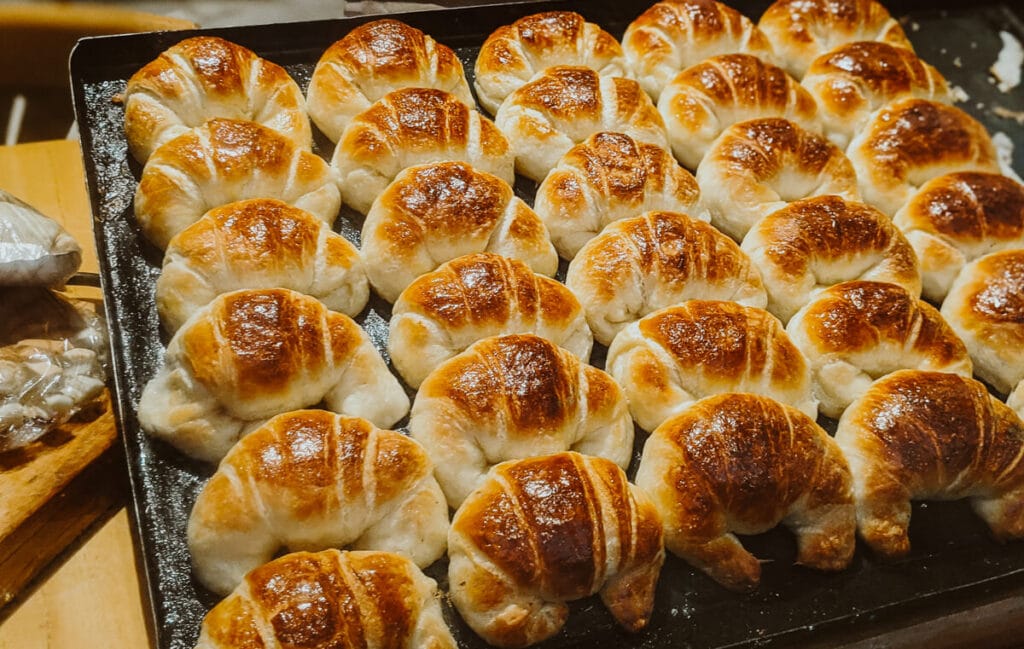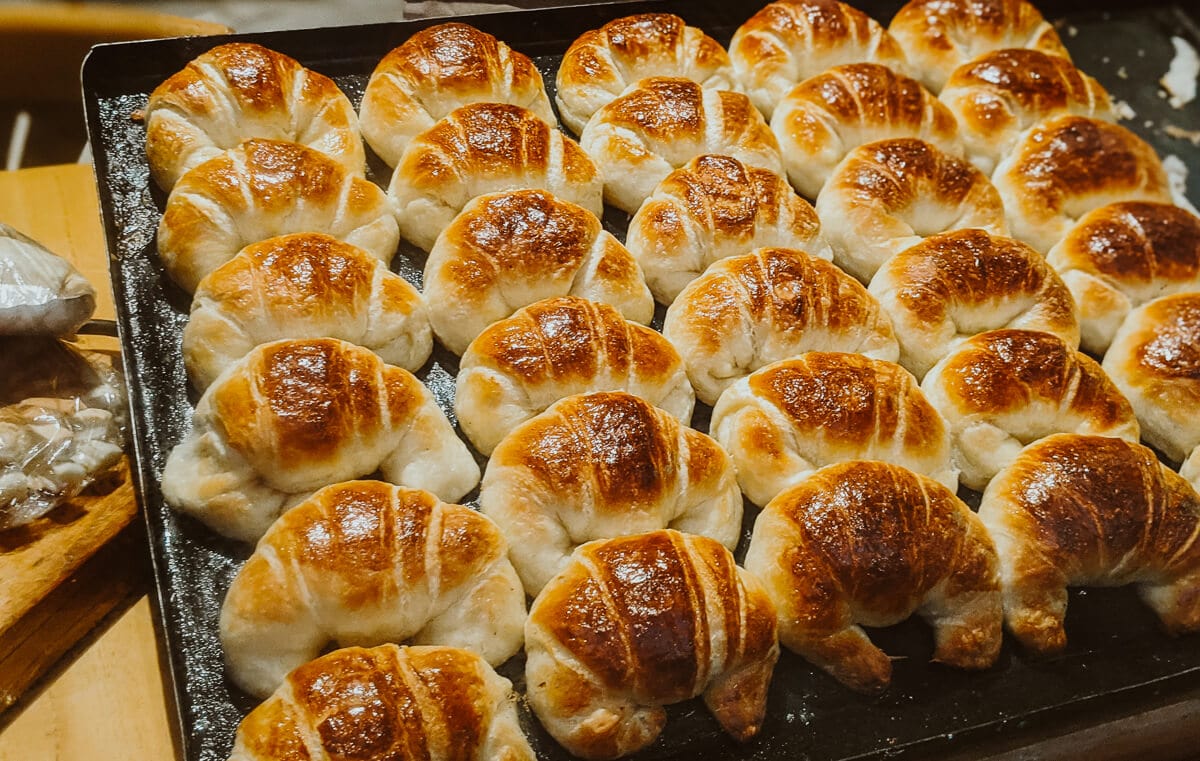 At around 5-6 pm, it's time for coffee and pastries, called "facturas."
The end all be all of facturas is the medialuna, Argentina's denser, gooier take on the croissant.
If you're used to early American dinners, stop at any cafe for a merienda to help you get through the afternoon slump.
Fun fact! Argentine bakers were largely immigrants fleeing persecution in Europe. They were anarchists and revolutionaries and named their baked goods to mock the clergy and the military. Fun Argentine pastry names include, but are not limited to: bola de fraile (friar's balls), suspiro de monja (nun's sigh), and vigilante (guard).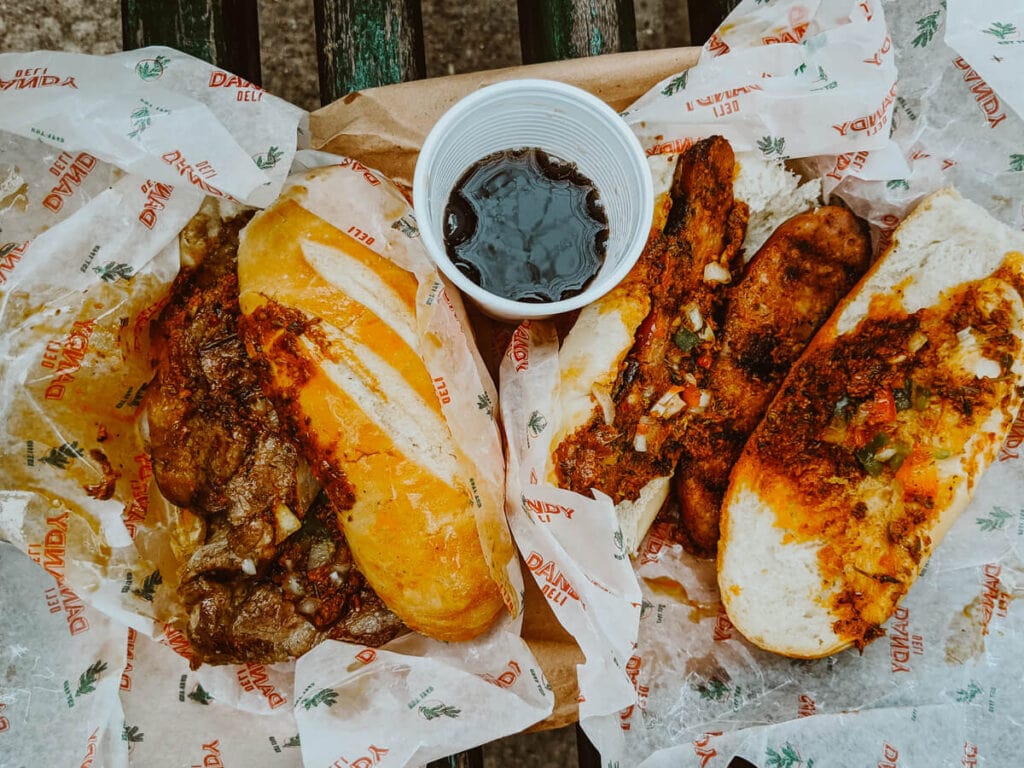 Street Meat on the Costanera
Buenos Aires is poor in the way of street food. Locals don't typically eat on the go here.
But one food truck reigns supreme here, offering the only true street food in Buenos Aires: the street carts in the Palermo parks and along the Costanera by the river that dish up chorizo and steak sandwiches!
The best place to go is in front of the Aeroparque Airport in Palermo.
Just across the street you'll see cart after cart offering choripan (chorizo sandwiches), lomitos (steak sandwiches), and bondiola (pork sandwiches).
Add on a coke and a cardboard cone full of fries and you're good to go!
Copetín
Copetín is what we would now call happy hour but it's also so much more than that.
It reached its peak in the 80's and 90's when people still frequented their neighborhood bar. On the way home from work you could stop in and have a quick drink to unwind from the day, chat with the neighbors and your local bartender.
The copetín is typically a vermouth with a siphon of soda accompanied with a plate of cheeses and salami, peanuts, or some other salty snack.
It may not sound much different than your average after work happy hour but the copetín is a classic Buenos Aires tradition.
You can still partake in older cafes and the many "bares notables" in town…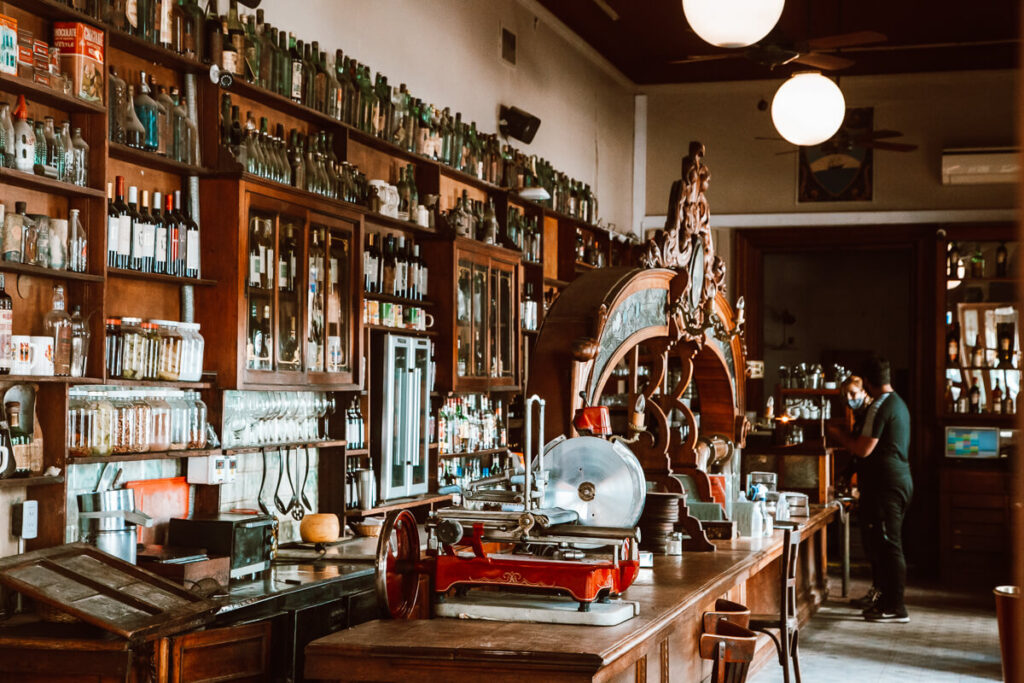 Visit A Bar Notable
While researching things to do in Buenos Aires, you surely came across Café Tortoni, the oldest café in the city.
However, that is only one of many historic bars worth visiting.
You can find a complete list of the official historic cafes here.
My favorites are in San Telmo. The bar in El Federal is stunning and worth a visit all on its own. La Poesía and Bar Británico are two other San Telmo historic bars frozen in time.
In a world where Starbucks is dominating the classic café, I urge you to make an effort to sip on your morning coffees (or evening vermouths) in a historic café instead.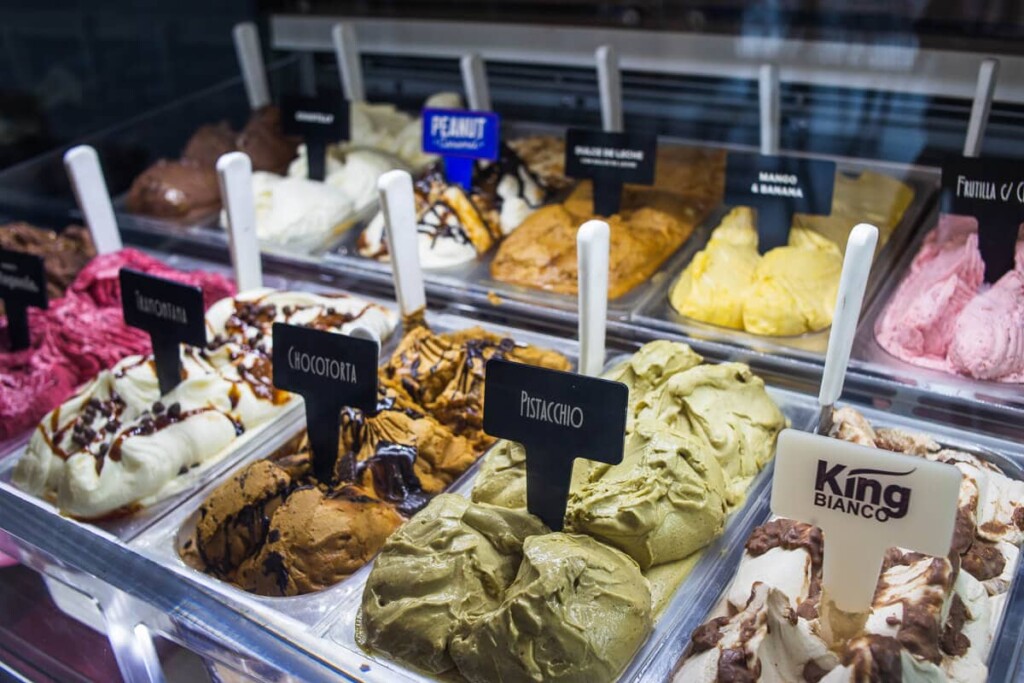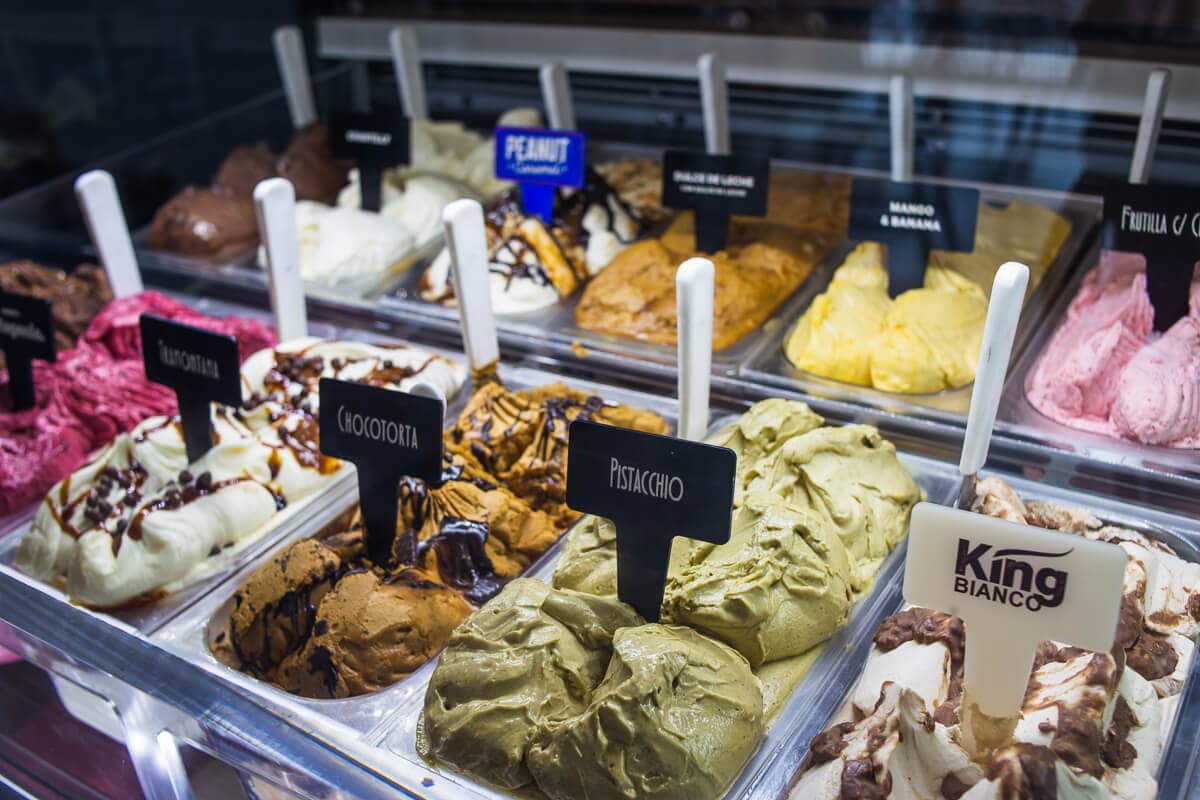 Ice Cream By The Kilo
Once again we have the Italian immigrants to thank for a Buenos Aires culinary staple.
Ice cream in Argentina is spectacular, much more reminiscent of Italian gelato than factory-made American ice cream.
The best heladerías in Buenos Aires take pride in using natural ingredients and traditional methods to make their artisanal helado.
You can get a cone (cucurucho) piled high with dulce de leche and Patagonian chocolate or order it by the kilo to take back to your Airbnb for the week. Either way, you can't go wrong!
Don't be surprised when you leave the bars and see the ice cream shops still open! They stay open to the wee hours of the morning for dessert after those late night dinners.
Read my complete guide to Argentina ice cream for tips on the best flavors and my favorite ice cream shops all over the country!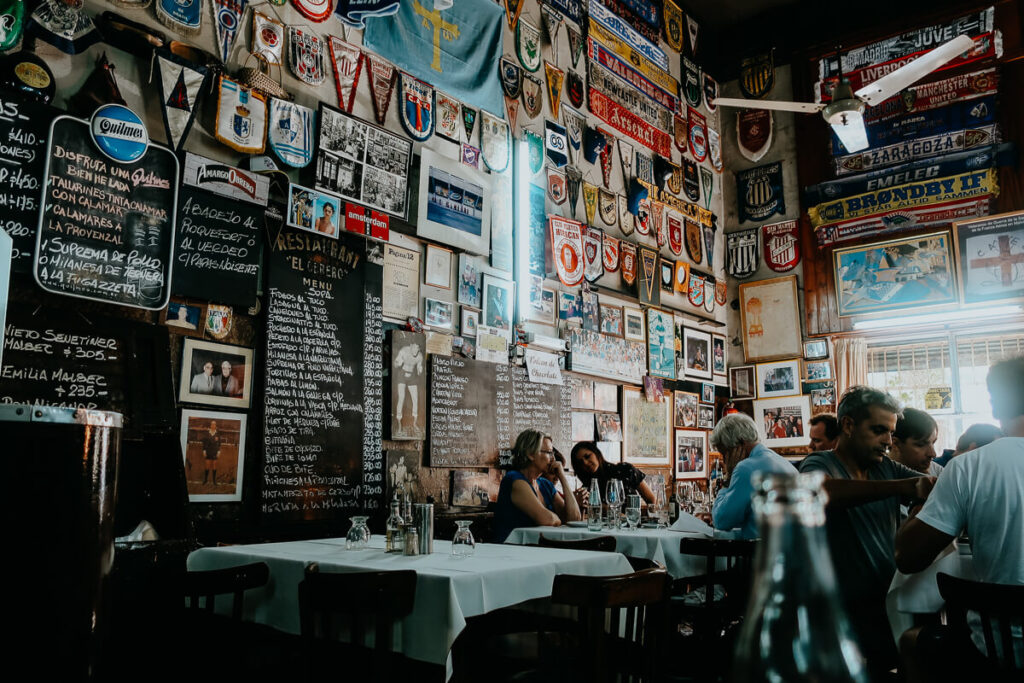 Have a Greasy Lunch at a Bodegón
Another classic Buenos Aires restaurant is the bodegón. Eating at one is, as we would say in Argentina, INFALTABLE (unmissable!).
Think of it as a greasy spoon sort of restaurant. The walls will be covered in football memorabilia and family photos.
The menu will have milanesa, stews, tortilla with chorizo, and rabas (fried calamari). Wine is best cheap and poured out of a tradicional penguin pitcher.
And any self-respecting bodegón diner will have traditional flan mixto or panqueques con dulce de leche (crepes with dulce de leche), the most traditional Argentine desserts, to round out the meal.
Bogegónes will give you a look into the traditional Argentine way of life, different than what you'll find at the polished for tourists steakhouses.
And if you can't tell, I love bodegónes.
My favorite is El Obrero in La Boca. Unfortunately, as a byproduct of the pandemic it's closed indefinitely, but I pray every day it reopens!
Bellagamba is another classic, just a few blocks from Plaza Congreso.
For a modern take, you can't miss El Preferido de Palermo. When original owners sold El Preferido everyone, myself included, protested the closure of yet another institution. Luckily, it's been re-modeled into an even better version of itself with the traditional bodegon menu remaining, made with high quality ingredients.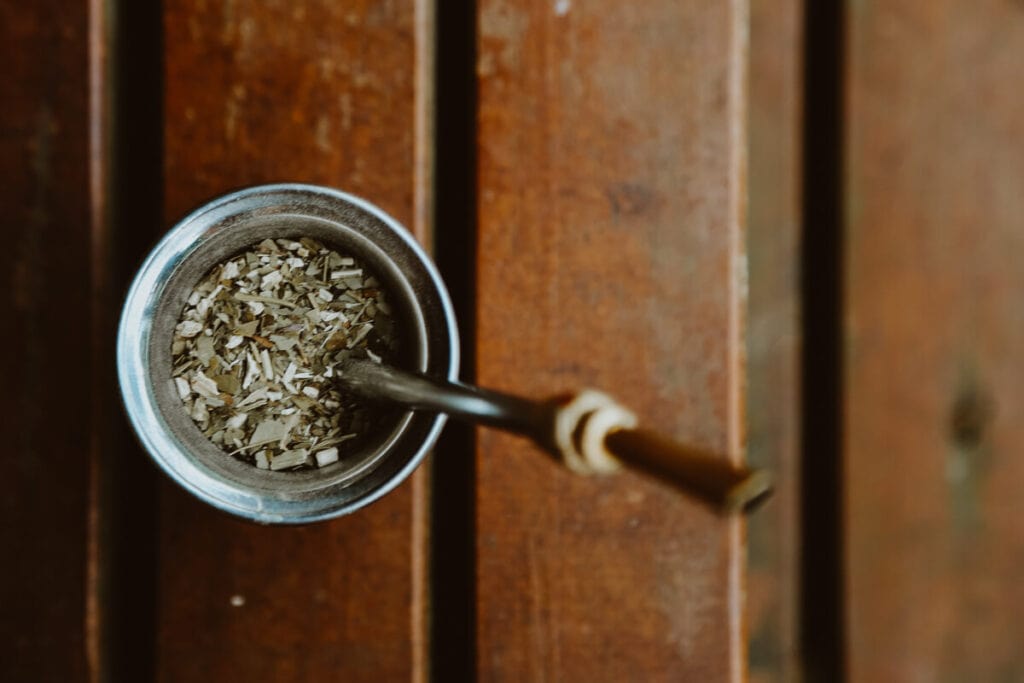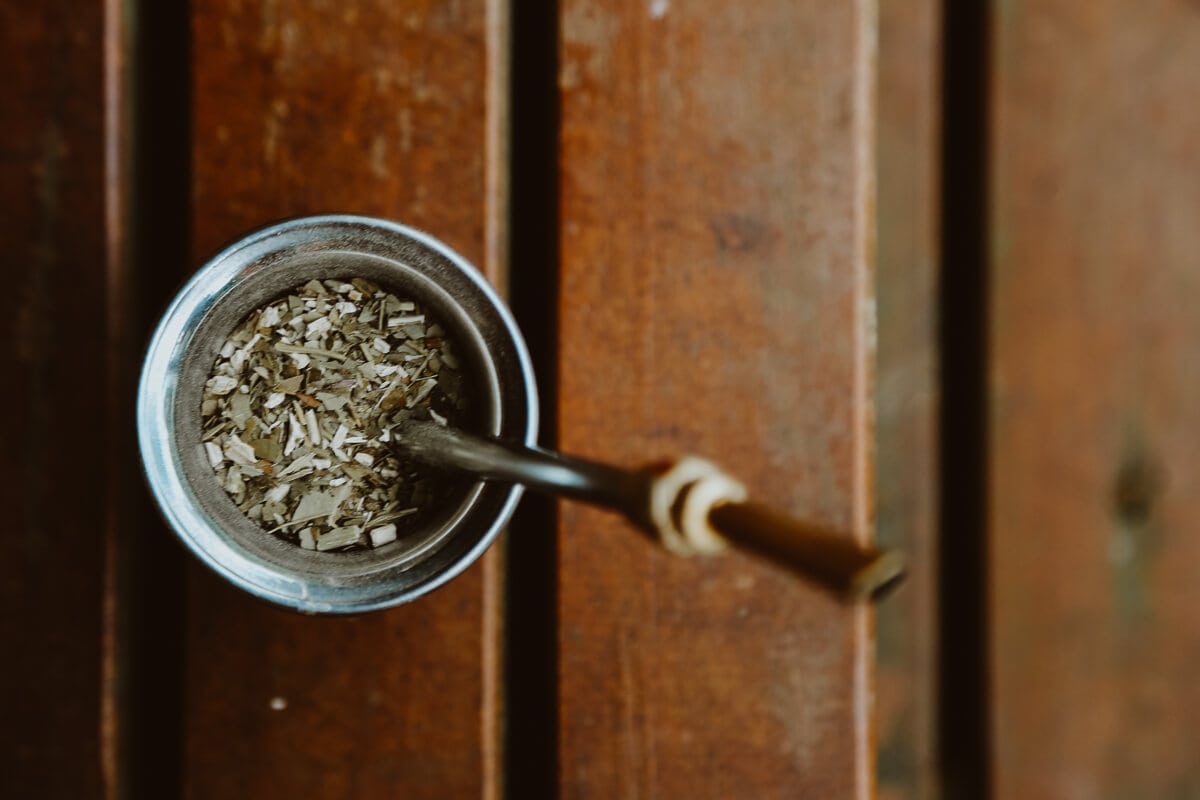 Yerba Mate
There is nothing more iconic to Buenos Aires food culture than yerba mate.
This bitter tea originally comes from Argentina's northeast region, where the yerba mate plants grow.
It's been a part of culture there (and in neighboring countries like Brazil and Paraguay) for centuries.
Wondering how to prepare yerba mate? The dried leaves (yerba) are drank out of a gourd (the mate) with a bombilla (metal straw with a filter).
The owner of the mate preps everything and serves each mate out of their thermos of hot water.
Typically it's a shared beverage, each person sipping the tea until empty, then passing it back to the owner who pours another for the next person.
It's not easy to find a place to try yerba mate like a local.
This isn't a drink served up in cafes but there are a few options that offer mate service for curious travelers.
Las Cabras in Palermo Hollywood, La Cholita in Recoleta, and Las Cholas in Las Canitas all offer a mate serve from around 4-6 pm.
You can also book this yerba mate experience to learn more about the history of yerba mate. It's a more complete experience than what you'll have in a restaurant.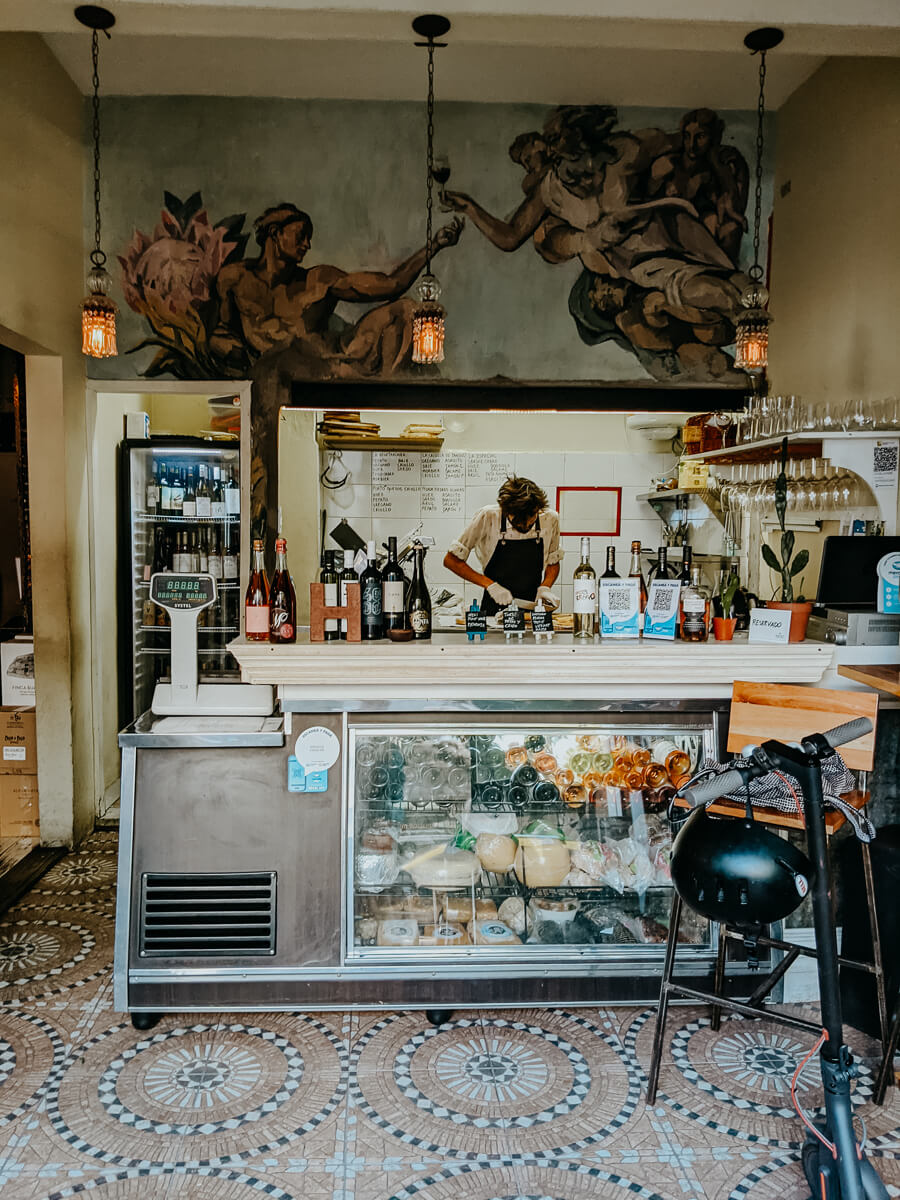 Go Out For Beer & Wine
Wine is Argentina's national beverage. Technically, it shares that honor with yerba mate but in my head, it's all wine.
In the past 5 years there has been a surge of wine bars in the city.
And if you visit the land of Malbec you must visit Buenos Aires' wine bars to taste the best of the best.
Pain et Vin was the first on the scene, on Gorriti in Palermo Soho. Eleonora is the sommelier (the vin) and her husband is the baker (pain). Eleonora always stocks her shelves with incredible wines that you won't find anywhere else. You can schedule a proper tasting, stop in for a glass, or buy a few bottles to take home.
Hache is another favorite of mine in Palermo. They also always have interesting bottles on offer and excellent picadas with salamis and cheeses sourced from Tandil (in the province).
And if you're really interested in wine, visit one of these wineries in Buenos Aires.
Read Next: Where To Go Wine Tasting in Buenos Aires
If you're more of a beer fan than a wine fan then you're also in luck. Over the past few years a mind-boggling number of cervecerias have opened up.
I, personally, don't like beer so I can't offer an honest opinion. Friends who do love beer offer mixed reactions but I can promise you this, the beer scene is infinitely better than it was when I moved here and all you could get was Quilmes (the Bud Light of Argentina).
For the best beers on tap visit Strange Brewing in Colegiales.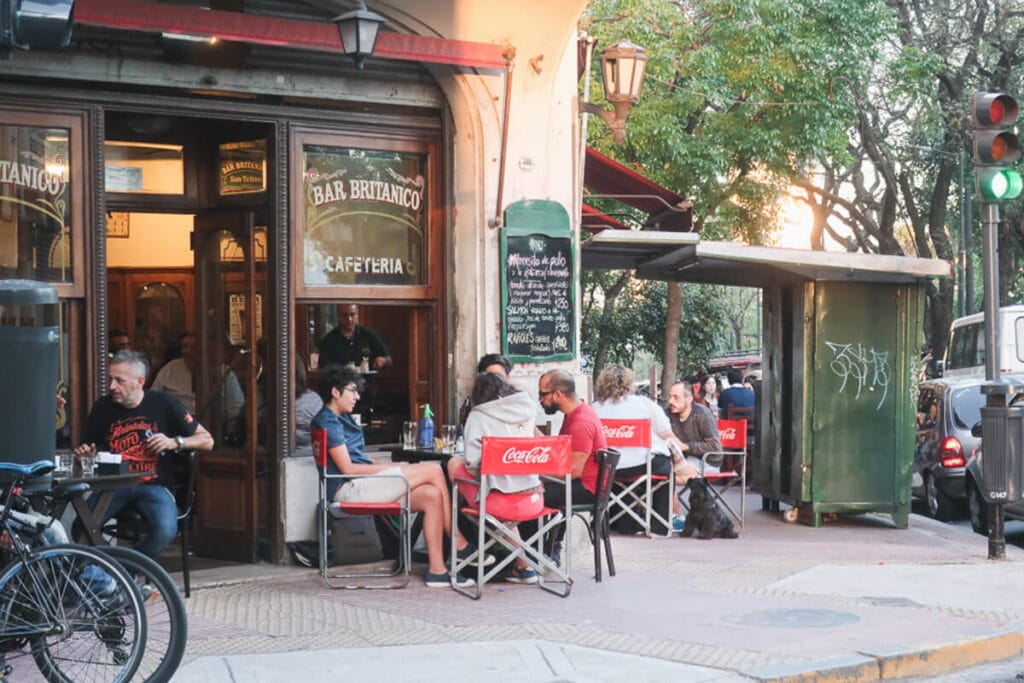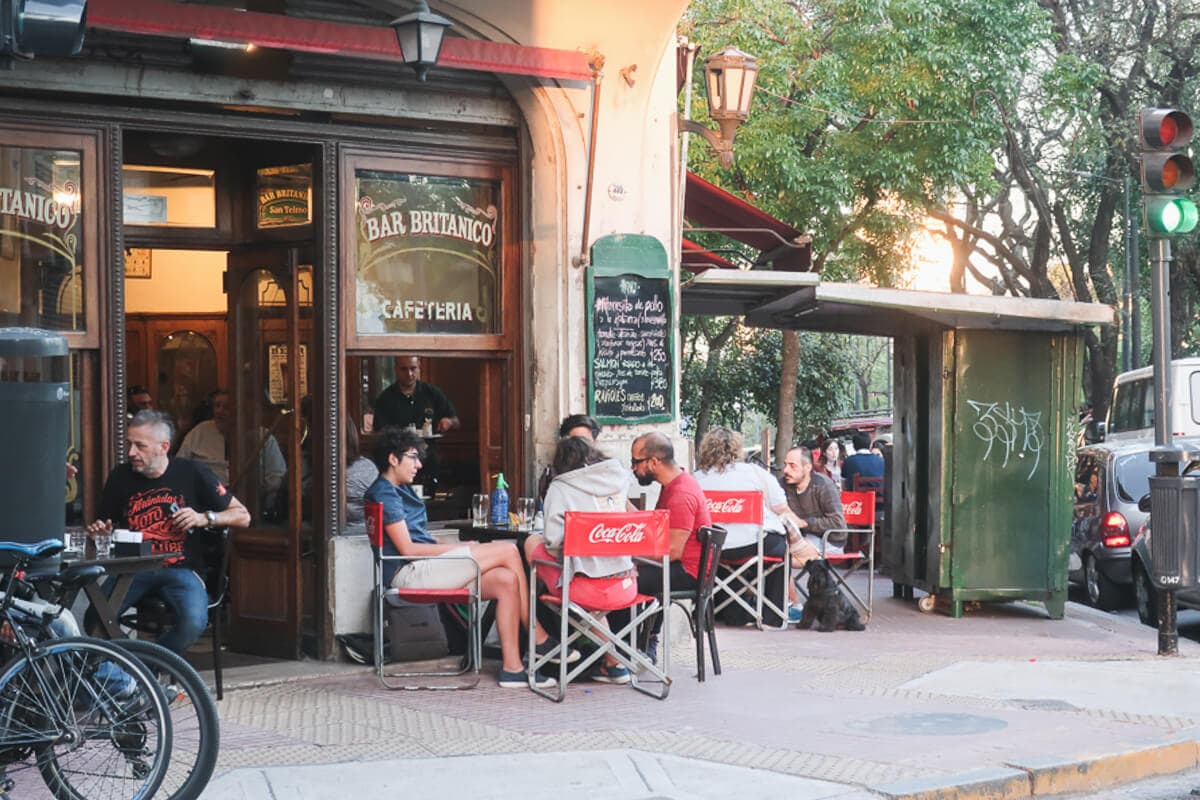 Sobremesa
Sobremesa is that time you spend sitting at the table after the meal is finished.
It is such a vital part of Buenos Aires food culture.
Meals are times to spend with your loved ones.
Family lunches for holidays and special occasions go on for hours, think a Thanksgiving time commitment for every birthday or minor celebration.
Relationships matter and families are important here.
That time sitting at the table sipping on coffee is special.
No one is rushing off to the next thing they have on their busy schedule that day, this is their schedule for the day, and I love it.
[Disclaimer: Sobremesa is a concept in many countries and isn't Argentina specific, but I feel like it so represents Argentine food culture that it had to be included]
What to Eat in Buenos Aires
And that's that, those are my top 10 things to eat in Buenos Aires, the absolute best food experiences for the most die-hard of foodies to enjoy!
If you have any questions or want even more restaurant recommendations, just ask away in the comments! I always respond.
Read More about Argentina Food & Drink:
Argentina Travel Resources
Pin it for later