People get very passionate about their pizza, Chicago vs. New York, deep dish vs. thin crust. When I first moved to Buenos Aires I was met with that same passion.
Argentinians were very proud of their pizza, but I every slice I tried was underwhelming. Where was this amazing Argentine pizza?
It took me way too long to discover the actual drool-worthy pizza on Avenida Corrientes downtown, home to the best pizza in Buenos Aires. I'm now a convert, a true fan of Argentine pizza!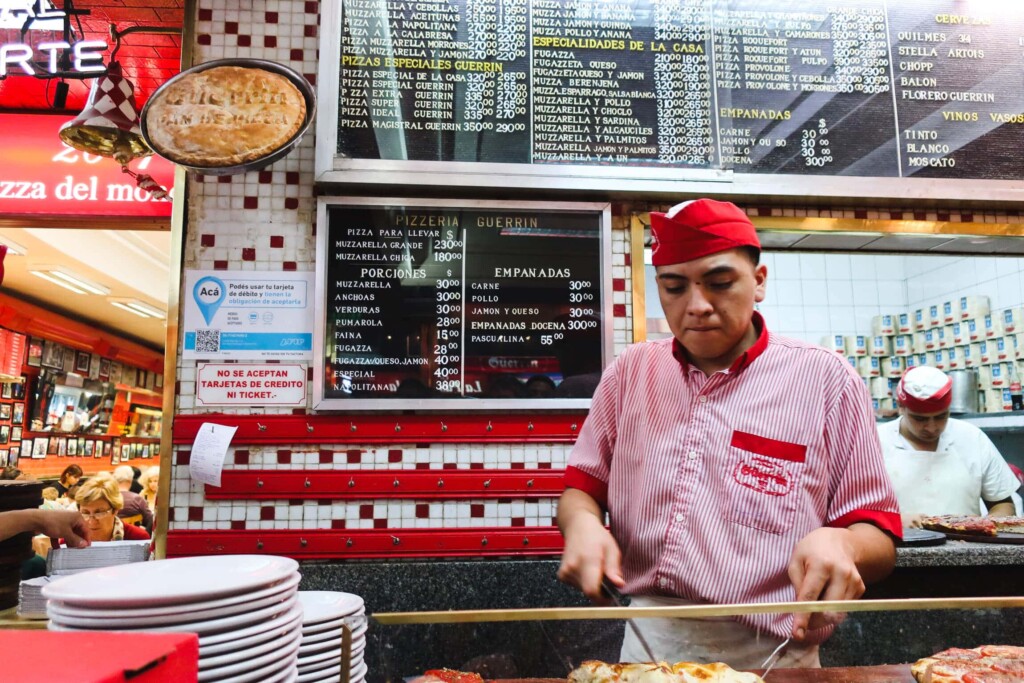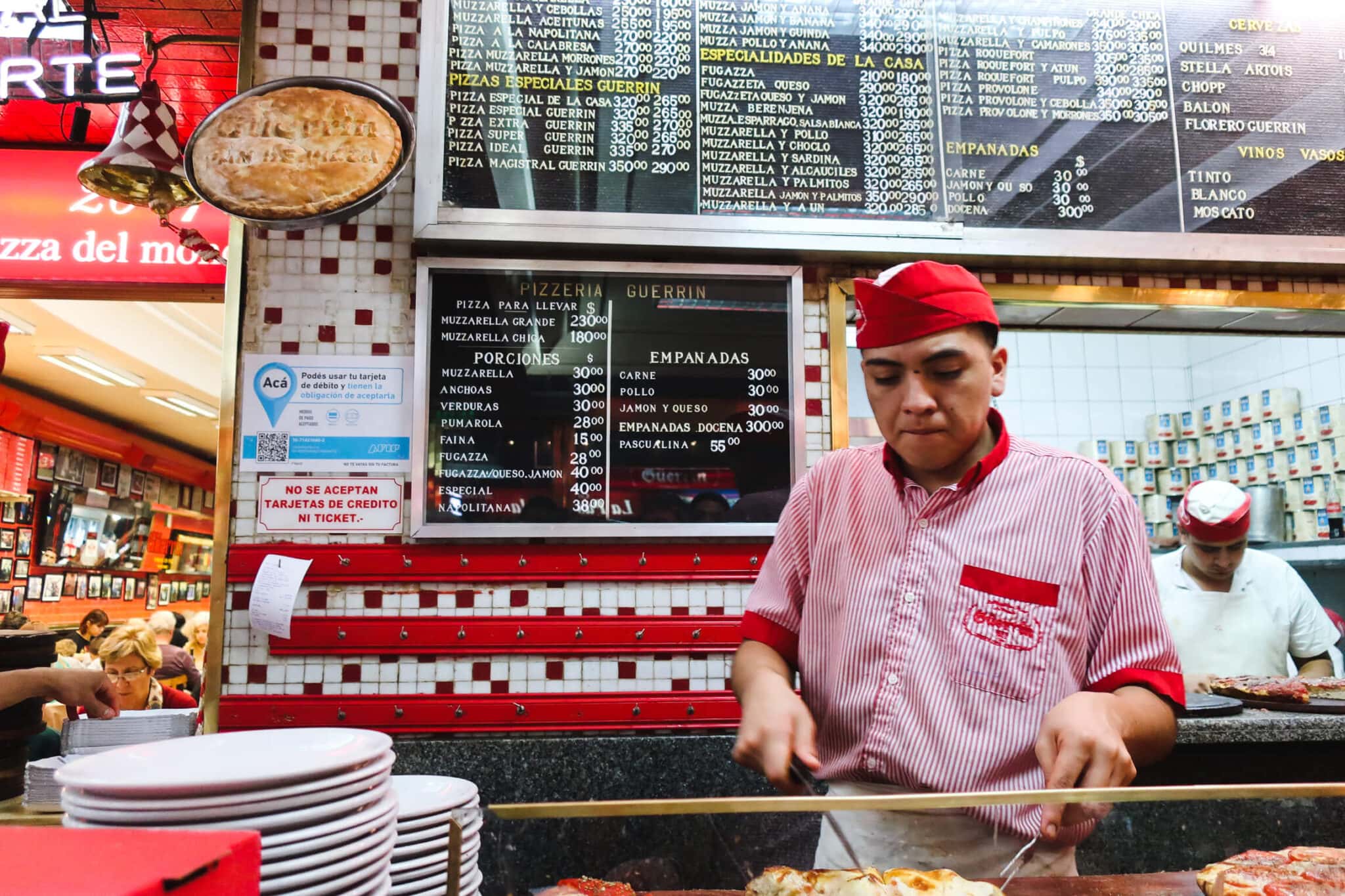 QUICK NOTE: This post contains affiliate links and Sol Salute may receive a commission for purchases made through these links, at no extra cost to you.
The Best Pizza in Buenos Aires
Avenida Corrientes is filled with theaters and neon lights, like a Latin American Times Square.
Also dotting the massive avenue, overlooking the infamous obelisk, are a number of delicious pizzerias.
Most have been open and dishing up cheesy pizza by the slice since the 1930's.
They've been feeding theater goers by night, suit-clad office workers by day for nearly 100 years.
These pizzerias are where to get the best Buenos Aires pizza, whether you order a slice and eat on the go at the counter or sit in the dining room to demolish an entire pie.
Buenos Aires Best Pizza: Heavy on the Cheese
The classic Argentine pizza here on Corrientes has a thicker crust, is heavy on the cheese and light on the sauce and is so, so good.
If you're looking for an affordable dinner in Buenos Aires, go on a pizza crawl down Avenida Corrientes! Each slice will run you only $1.50 US.
Order a slice with a glass of beer or red wine and saddle up to the counters to eat standing, like a local.
Turn it into a crawl by ordering a slice and a drink in each pizzeria, but come hungry. These heavy slices aren't for the faint of heart.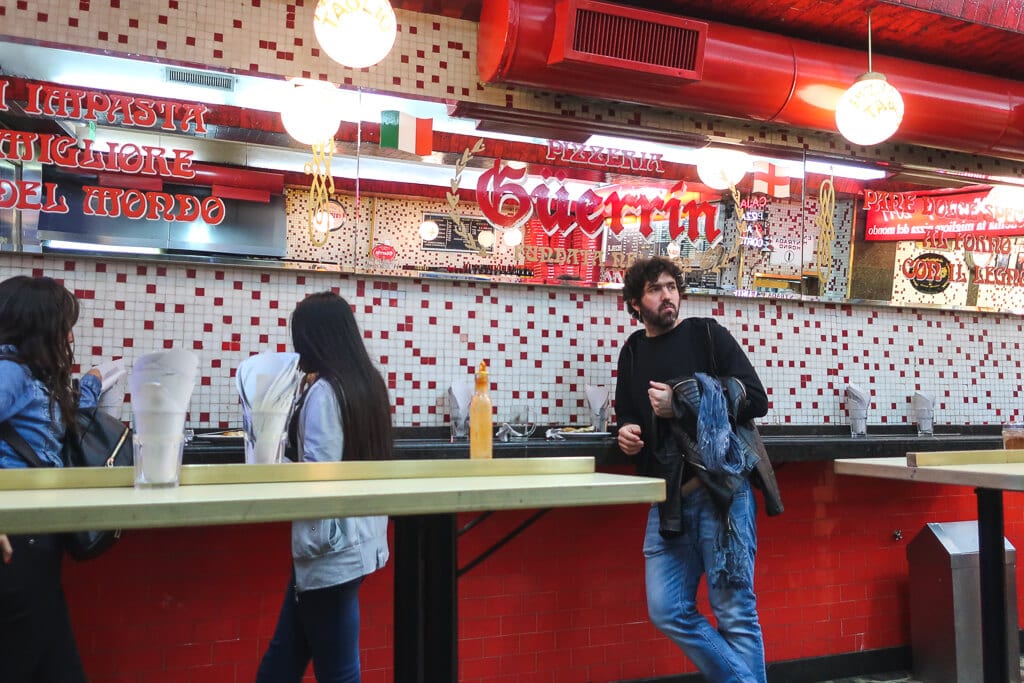 What to Know about PIzza in Buenos Aires
Here's a little insider info to help you navigate the best pizzerias in Buenos Aires.
Pizza al molde
The pizza served at these restaurants is referred to as pizza al molde, simply meaning a thick, not crispy, crust.
Don't forget the fainá!
Faina is a flat, unleavened pancake made out of chickpea flour (see photo above). It's known as "farinata" in most of Italy.
Fainá comes from the Genovese dialect (most Italian immigrants in Buenos Aires were from Genoa). To really eat like a local, order a slice of fainá to go with your pizza.
How to order:
If you want to eat on the go, order a slice from the counter.
Take your ticket/receipt to the guys slicing up the pizza and they'll give you your plate and silverware.
If you're ordering by the slice the tables you see aren't for you, stand at the bar.
If you want to sit, you can sit at a table and order from the menu with a waiter.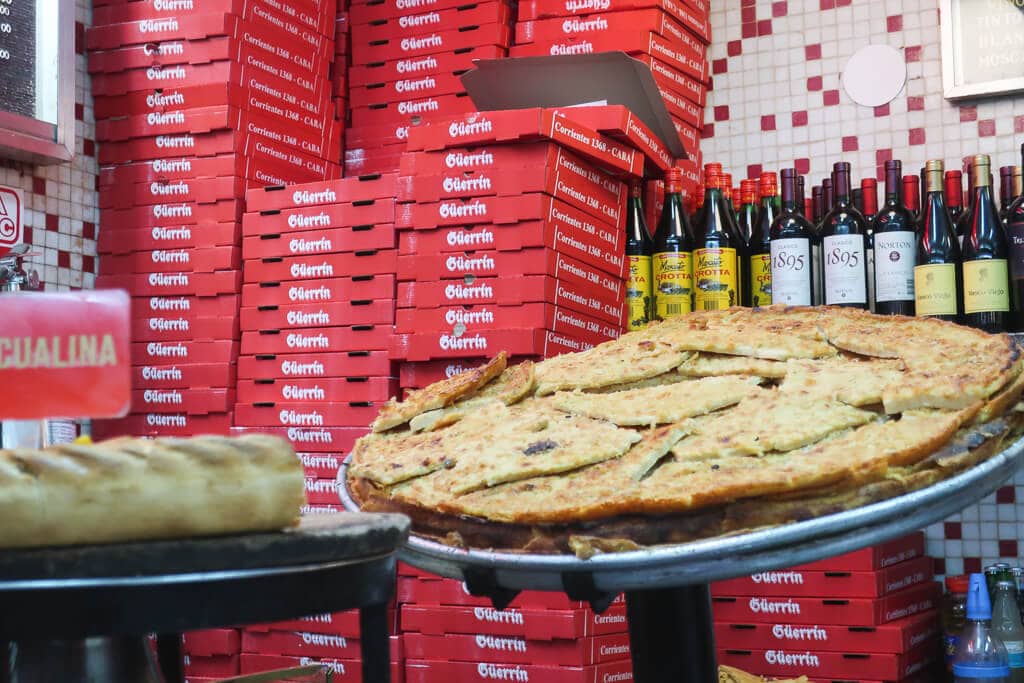 Where to Eat The Best Pizza in Buenos Aires
Now that you know how to order, let's get going on that pizza crawl! Here are the best pizza restaurants in Buenos Aires. Ready, set, eat!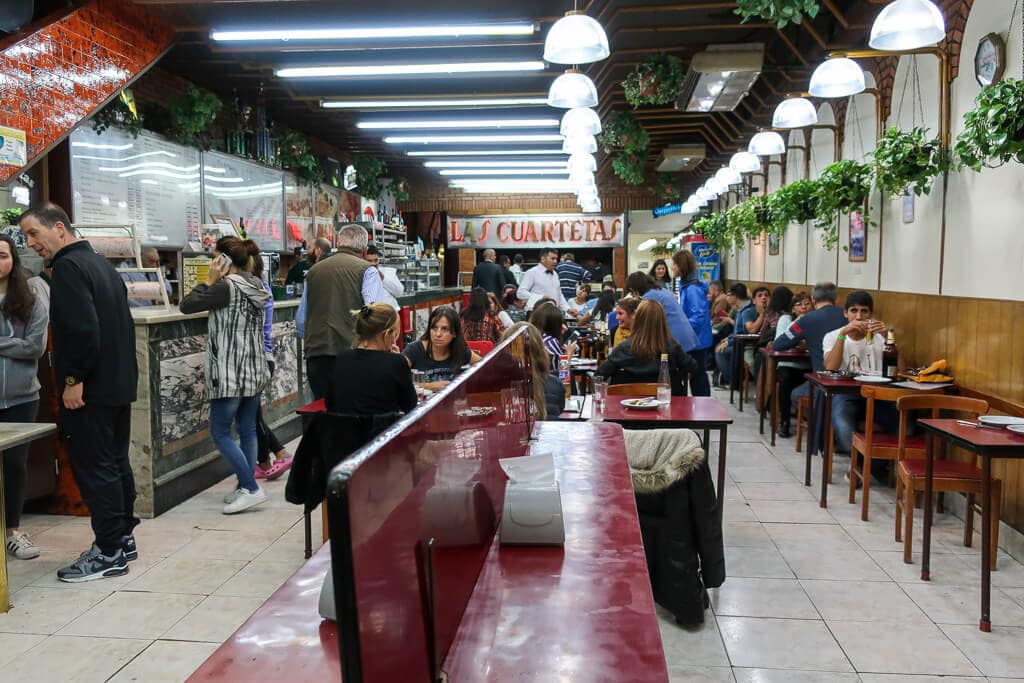 1. Las Cuartetas
After eating nothing all day but oatmeal and a light salad, my appetite was ready for pizza! We started at Las Cuartetas at Avenida Corrientes 838.
It was founded in the 1930's by a Basque and a Catalan. The origin of the name is a bit of an urban legend.
Legend has it that one of the original guests that frequented the bar was the tango poet Alberto Vacarezza, who would sit and write his "cuartetas" (or "stanzas").
Clients began to refer to the restaurant as the house of the "cuartetas" and the name stuck.
The Pizza at Las Cuartetas
The pizza at Las Cuartetas was my husband's favorite of the night. The cheese was overflowing off the bread, burnt to perfection at the crust and had a lot of flavorful sauce for Argentine standards.
I ordered a glass of wine that was filled to the brim. If you order anything other than generic "red wine" at these restaurants, you're doing it wrong.
This isn't the place to get fancy. I score it a 10 out of 10 (spoiler alert: I loved them all, they were all "10 puntos!").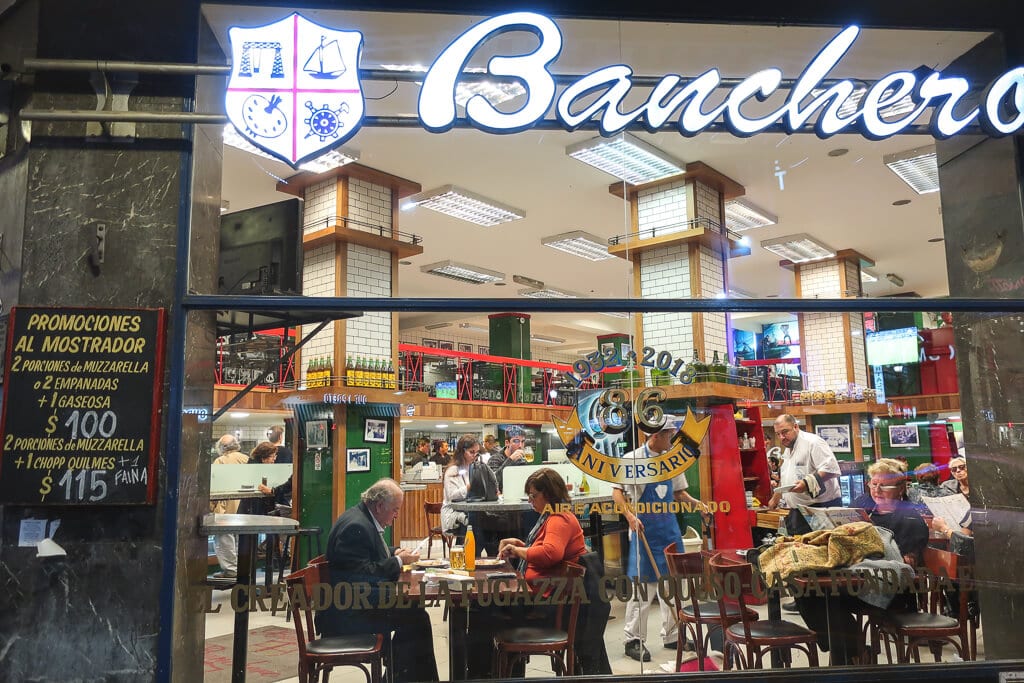 2. Banchero
Next up, Banchero at the corner of Corrientes & Talcahuano. The original location was opened in 1932 in La Boca.
But the history of Banchero dates back to 1893 when a Genovese immigrant, Agustín Banchero, arrived in La Boca and like many Italian immigrants at the time, he settled in the neighborhood.
Soon he opened a bakery named Riachuelo, after the river nearby.
In 1932 he opened the current restaurant with his two sons.
The original location still stands and has been given official historical and cultural importance by the city.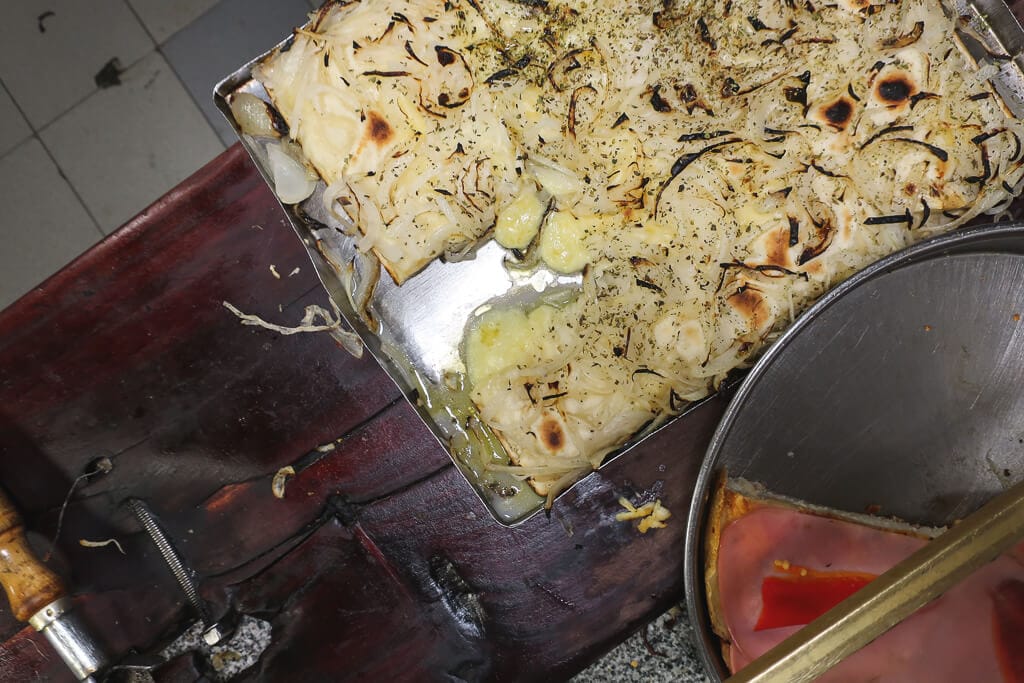 Banchero: Home of the Original Fugazzeta
Fugazzeta… such a boring pizza made up of just the crust, raw onion, and cheese. I've never been a fan (where's the sauce?). But locals love it, my husband LOVES it.
Banchero claims to be home to the original Fugazzeta. The founder's son, Juan Banchero, invented it one day by adding mozzarella to the fugazza (crust and onion) pizza so it wouldn't be as dry.
(Know what else would make it less dry? SAUCE.) It's been a hit ever since, if you want to give it a try, definitely visit Banchero!
The Pizza at Banchero
We skipped the fugazzeta and got a slice of cheese pizza, or as they call it here, a slice of muzza, so we could compare the restaurants more easily.
And because I like cheese. Banchero has always been one of my favorites. They have ground red pepper flakes and oregano to sprinkle on top that just really pushes it over the edge for me.
And the cheese was perfection. What's better than burnt cheese? Nothing. 10 puntos.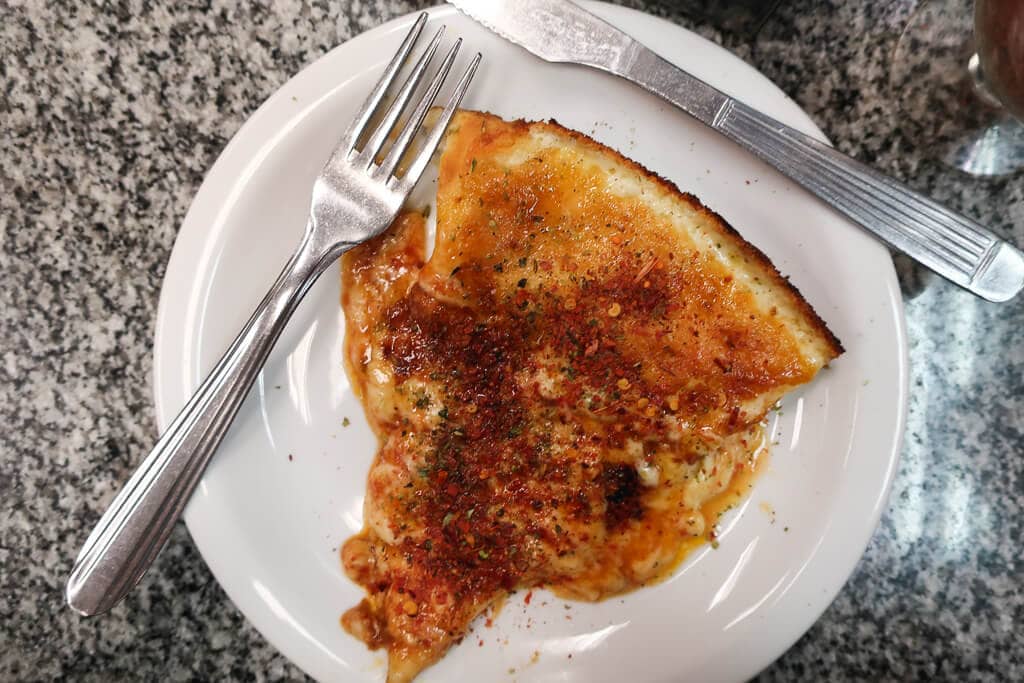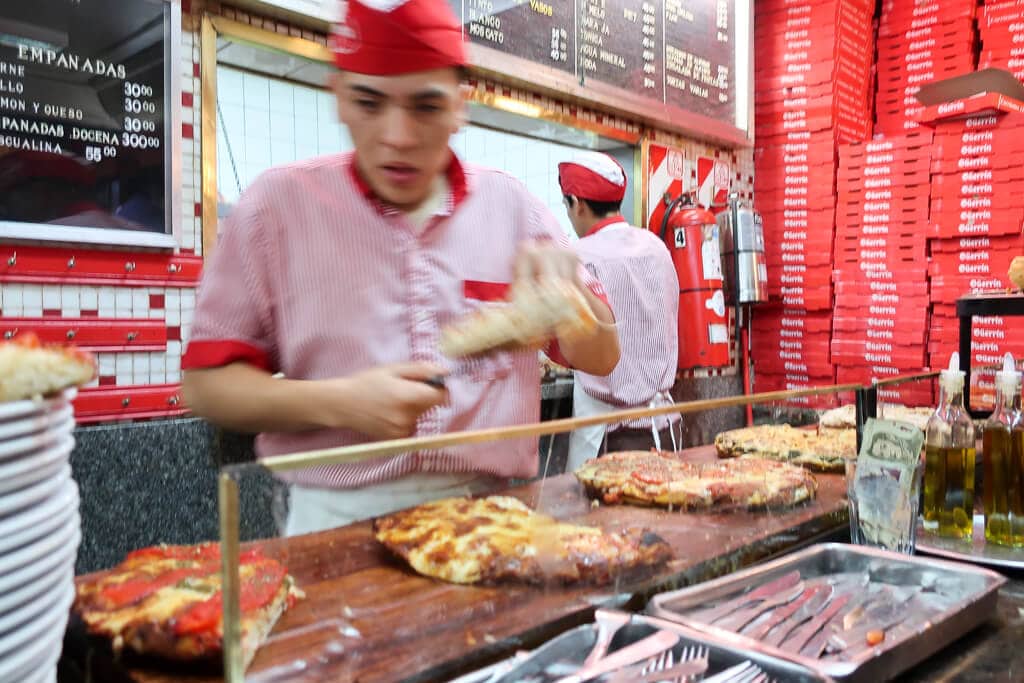 3. Güerrín
Güerrín, at Corrientes 1368, was founded in 1932 by Italian Franco Malvezzi.
After arriving in Argentina in 1927 he wanted to open a pizzeria, and that he did.
Güerrín has always been at this location, for nearly 90 years.
It's famous for its quality and it's my absolute favorite pizza in Buenos Aires.
The Pizza at Güerrín
Look at all that cheese! They really load it on and I am here for it. There's not much sauce but I don't feel the need, it tastes fantastic as is.
They comically have bottles of hot sauce labeled "Ass Burner Sauce" floating around for you to add to your pizza. But spoiler alert, it's not spicy and it's definitely not burning any asses.
Argentinians can't handle the heat.
They're also famous for their homemade desserts, but who has room for that after the pizza?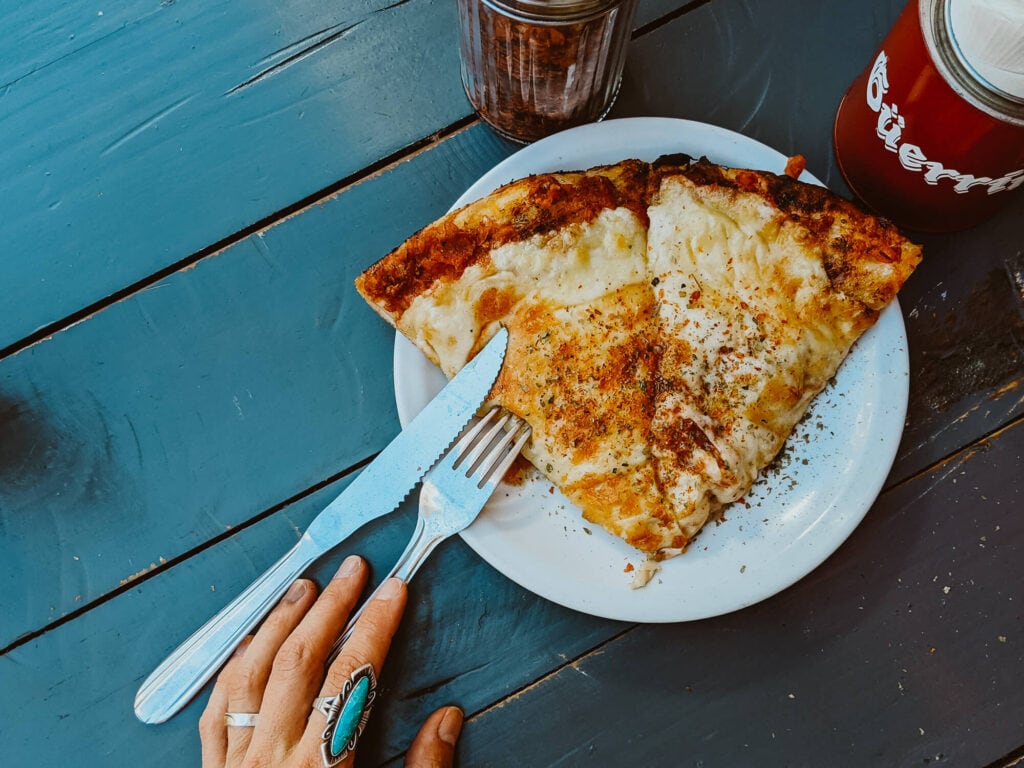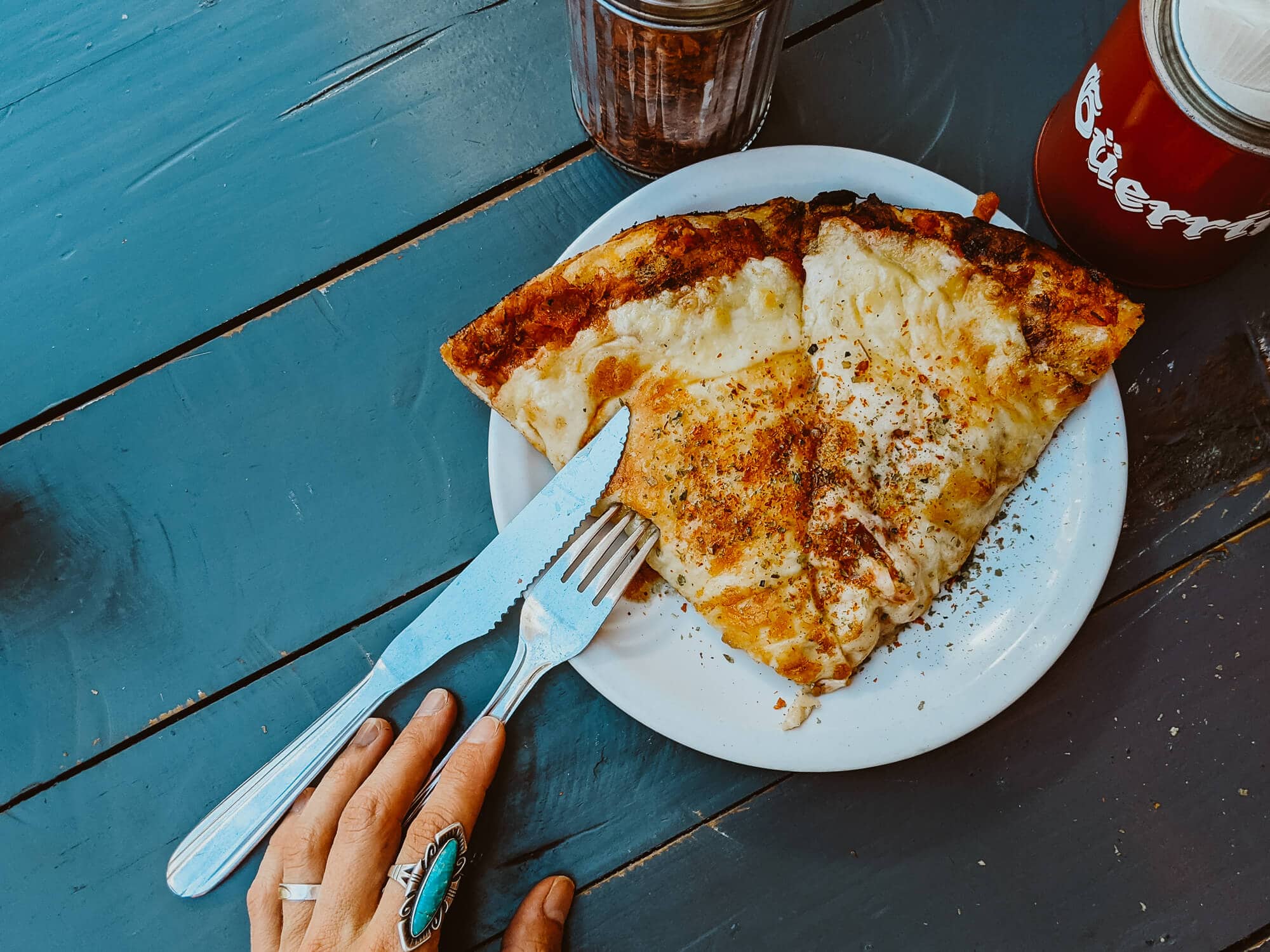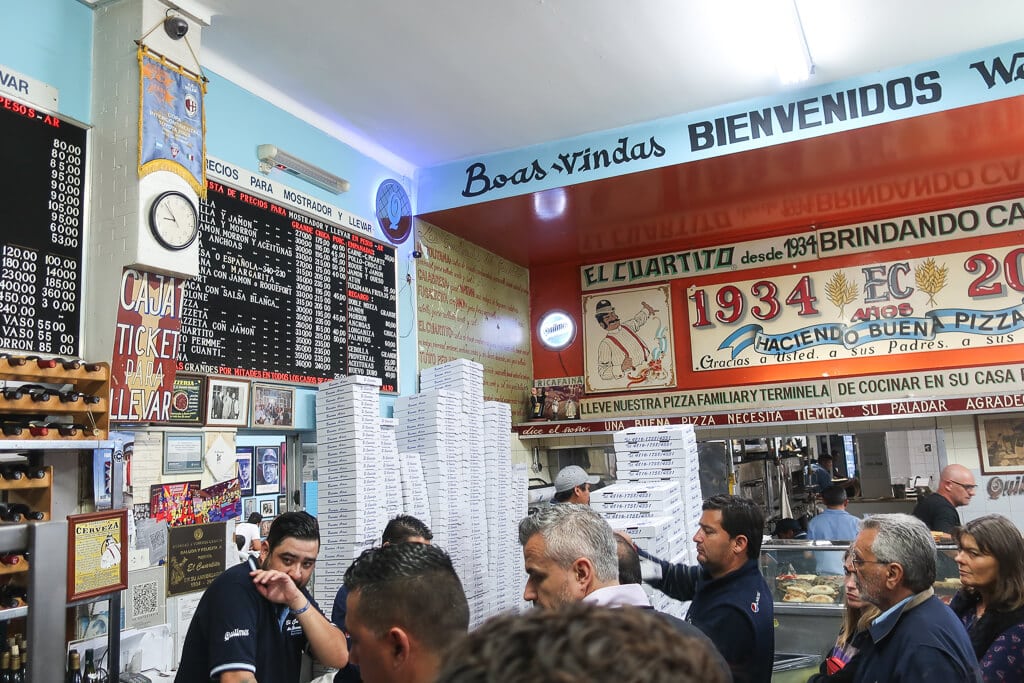 4. El Cuartito
We tried to end our night at El Cuartito, 6 blocks from Corrientes at Talcahuano 937, but the line was out the door!
We had to pass on this one, but I've had their pizza before and I can promise you, it's good.
El Cuartito was opened in 1934 in a literal "cuartito", tiny room, with a window to the street where they served up pizza by the slice.
Slowly it grew into what it is today, with walls covered in autographed photos signed by the famous tango musicians and others that frequented El Cuartito.
Aníbal Troilo, the famous tango musician and composer, often ate at El Cuartito, in the "sanctuary."
He loved to eat anchovy pizza and drink whiskey with friends, but when he came with his wife she'd try to make him eat healthier.
The waiters took care of him though, reserving a large glass of whiskey for him to drink in peace, in the bathroom! These pizzerias are all loaded with history.
I like to imagine the famous tango musicians, politicians, athletes and others eating here, with a slice at the bar.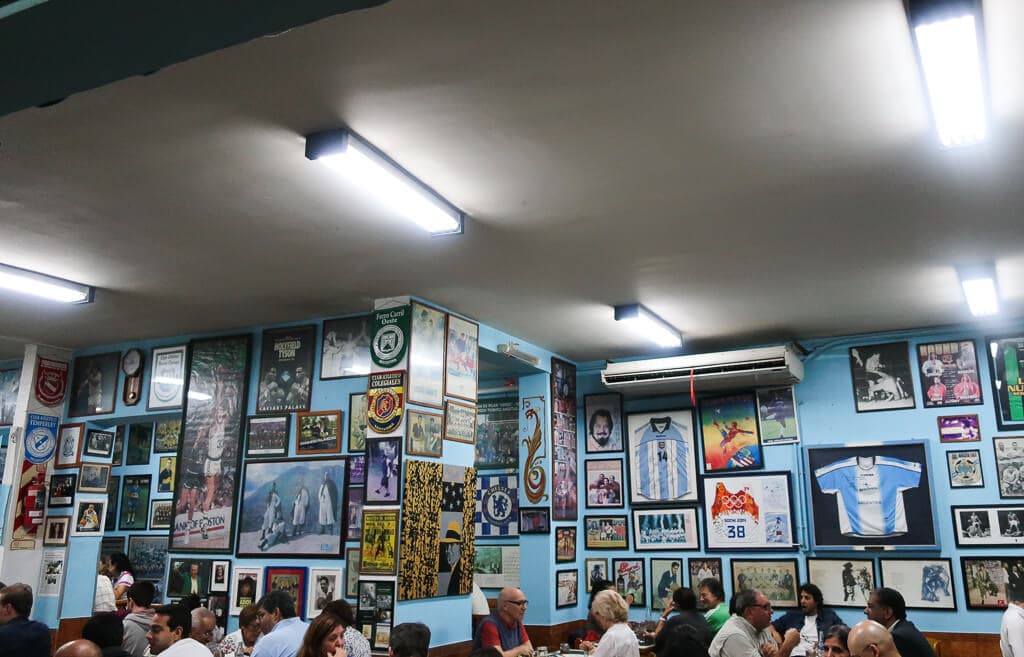 Buenos Aires Best Pizza
After this crawl, I was STUFFED. I can usually eat only 2 slices of these cheesy monsters, MAX.
But I made the effort for y'all tonight and scarfed down 3 (almost 4) so I could show you the best of the best.
It was quite the sacrifice.
You're welcome.
I can't wait to do it again..
READ MORE ABOUT FOOD IN ARGENTINA:
SHARE A SLICE, PIN THIS FOR LATER