Traveling for food has become the norm (hell, I'd fly to Mexico City tomorrow just for some chilaquiles), but what about drinks?
Sure, Argentina's steak alone is worth the flight, but don't ignore the drinks that come alongside it.
Delicious wines, the ritual of yerba mate, and a long history with aperitifs, I hope you're thirsty.
Here are all of the traditional Argentine drinks you have to try in Buenos Aires and beyond.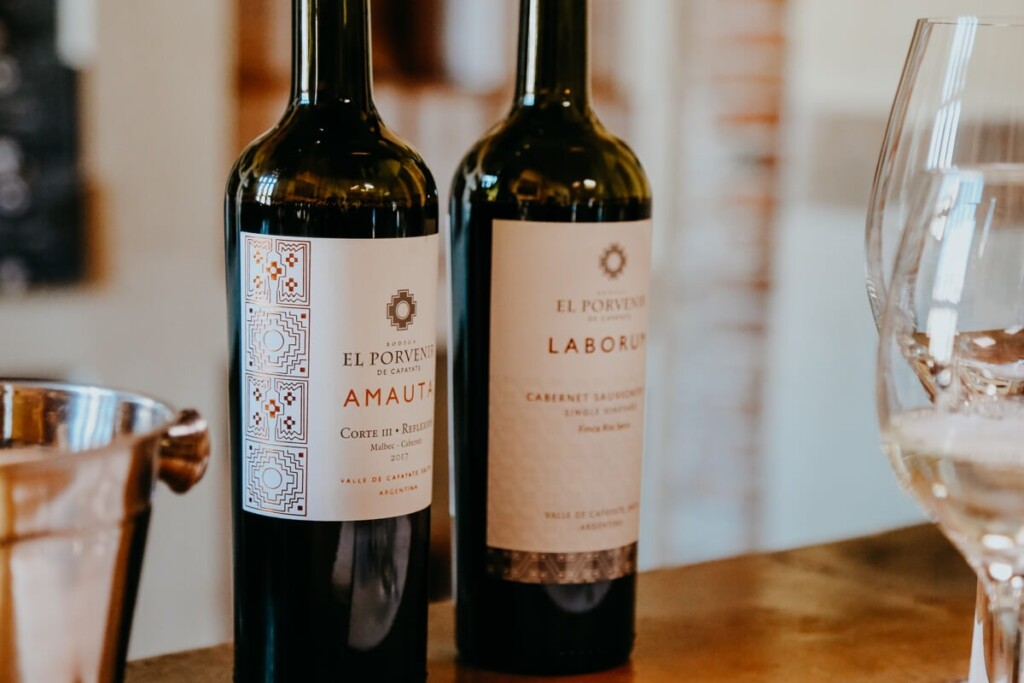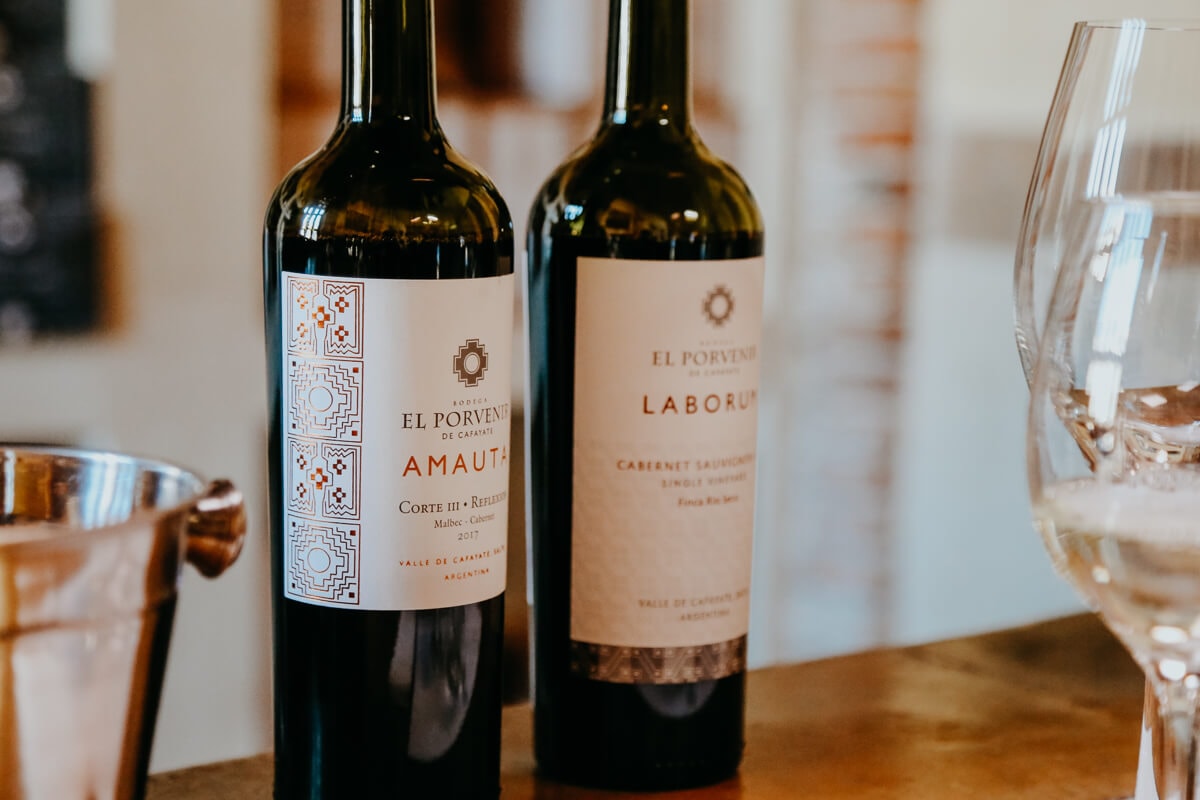 QUICK NOTE: This post contains affiliate links and Sol Salute may receive a commission for purchases made through these links, at no extra cost to you.
Traditional Argentinian Drinks
Cocktails, wine, coffee and tea drive culture and social gatherings worldwide.
Whether you're celebrating with champagne or commiserating over a cup of tea, drinks are often in the background of every major or minor life event.
Of course, it's no different in Argentina. Mate is the epitome of local culture and no Argentine barbeque is complete without a bottle of Malbec.
This post breaks down all the traditional Argentine drinks you have to try.
Some (like mate) are native grown, others (like coffee) may be international but are consumed with a bit of local flare.
Malbec
When I think of must-consume beverages in Argentina, the first thing I think of is wine. Malbec, specifically.
Despite being originally a French varietal, Malbec is best known as a quintessential Argentine wine.
It was too sensitive to France's wet cold and was nearly completely wiped out from the frost.
In the 1800's Sarmiento, the governor of Mendoza hired a French agronomist to bring grapevine cuttings to Argentina.
Malbec thrived in the arid conditions of Mendoza and the rest is proverbial history.
Today Malbec is the most widely planted grape in Argentina and is synonymous with Argentinian wine.
Try it at the source at the best wineries in Mendoza or schedule a wine tasting in Buenos Aires.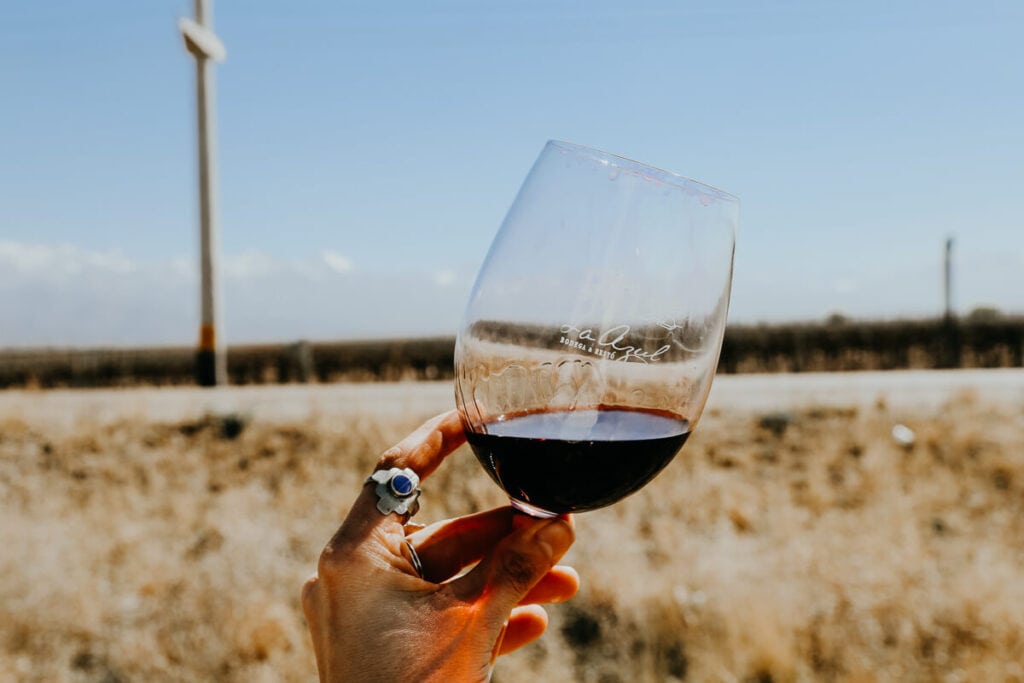 Torrontés
Malbec may get all the love but Torrontés is the unsung hero of Argentine wine.
This crisp, sweet white wine is the only varietal that's 100% native to Argentina.
The northwestern provinces of La Rioja and Cafayate in Salta are best known for their Torrontés (sorry Mendoza).
It's also commonly produced as a sweet dessert wine, referred to as Cosecha Tardía (or late harvest), referring to the later harvest when the grapes' sugar content is at its highest.
Whether you want a glass of crisp and light wine on a hot summer day (my personal preference) or a syrupy sweet dessert wine to top off a decadent meal, there's no more truly Argentine choice than Torrontés.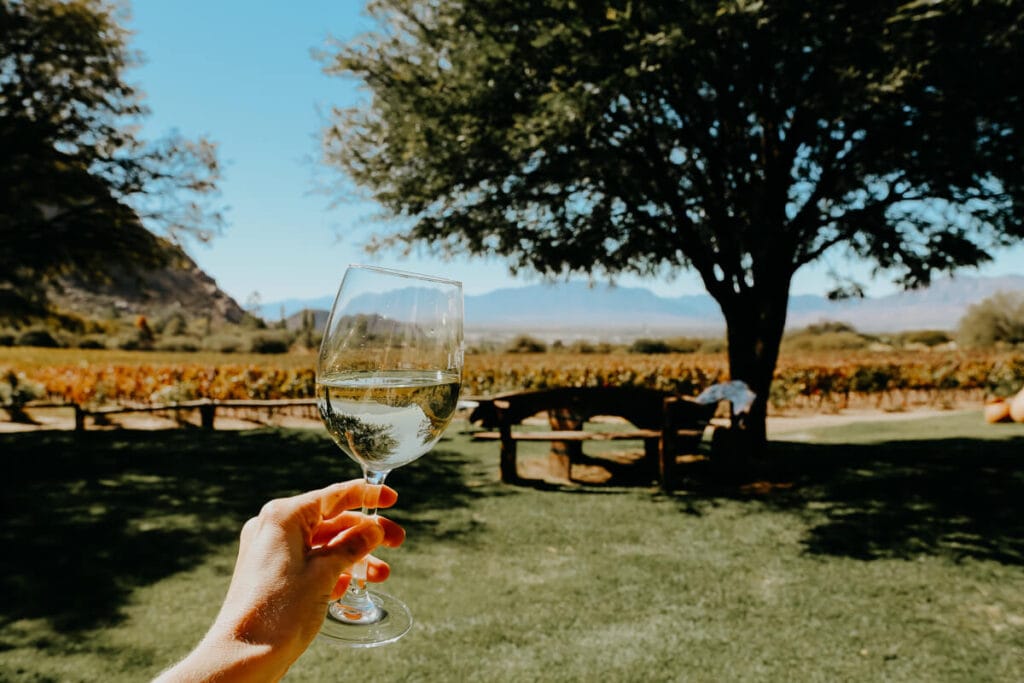 Fernet (& Coke)
There are a lot official Argentinian drinks. There's wine (obviously) and yerba mate (a clear front runner).
But Fernet, an aromatic and bitter Italian spirit, is the people's drink, the unofficial beverage of Argentina.
Despite being originally Italian, 75% of the world's Fernet is consumed in Argentina, where it's traditionally mixed with Coca-Cola (to the horror of many an Italian).
The city of Córdoba is the true capital of Fernet. It downs an impressive 3 million liters of the stuff every year!
Legend has it the horrifying but surprisingly tasty mixture of Fernet and Coke got i's start in this university town.
A group of students cut open a 2-liter bottle of coke and unceremoniously poured in a bottle of Fernet to form one massive communal cocktail.
So, if you want to drink with the locals order a Fernando, Fernandito, or simply a Fernet con coca (but maybe skip the 2-liter bottle).
Yerba Mate
A gift from the gods, that's how highly the Guaraní people revere yerba mate.
The Guaraní are from the Northeast of Argentina and surrounding countries like Paraguay, Uruguay, and Brazil, all countries that still drink their own version of mate (pronounced mah-tay).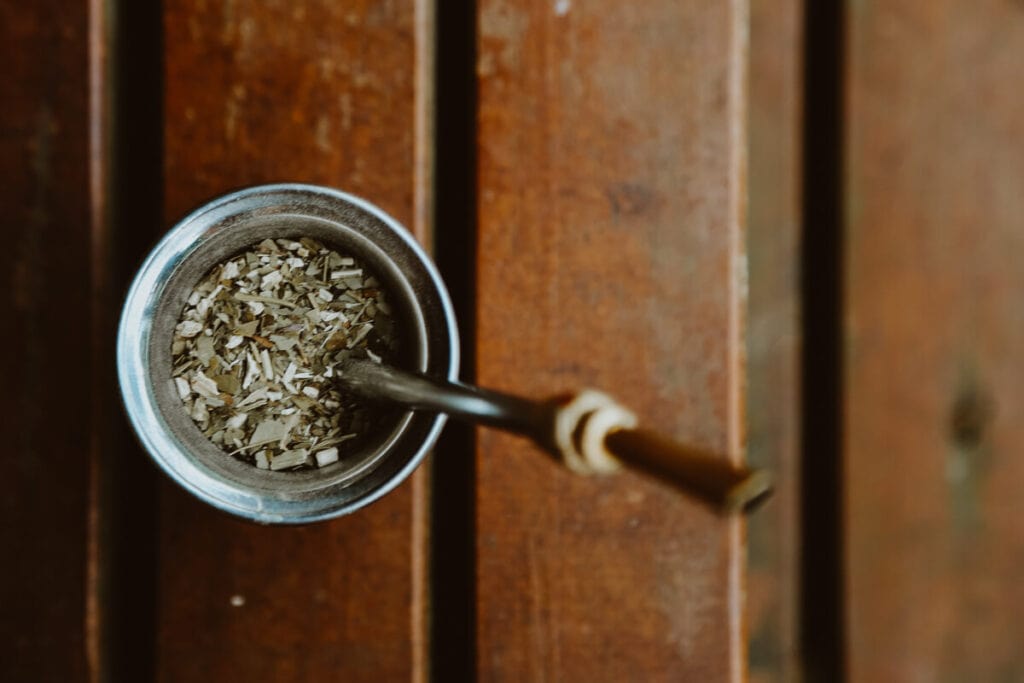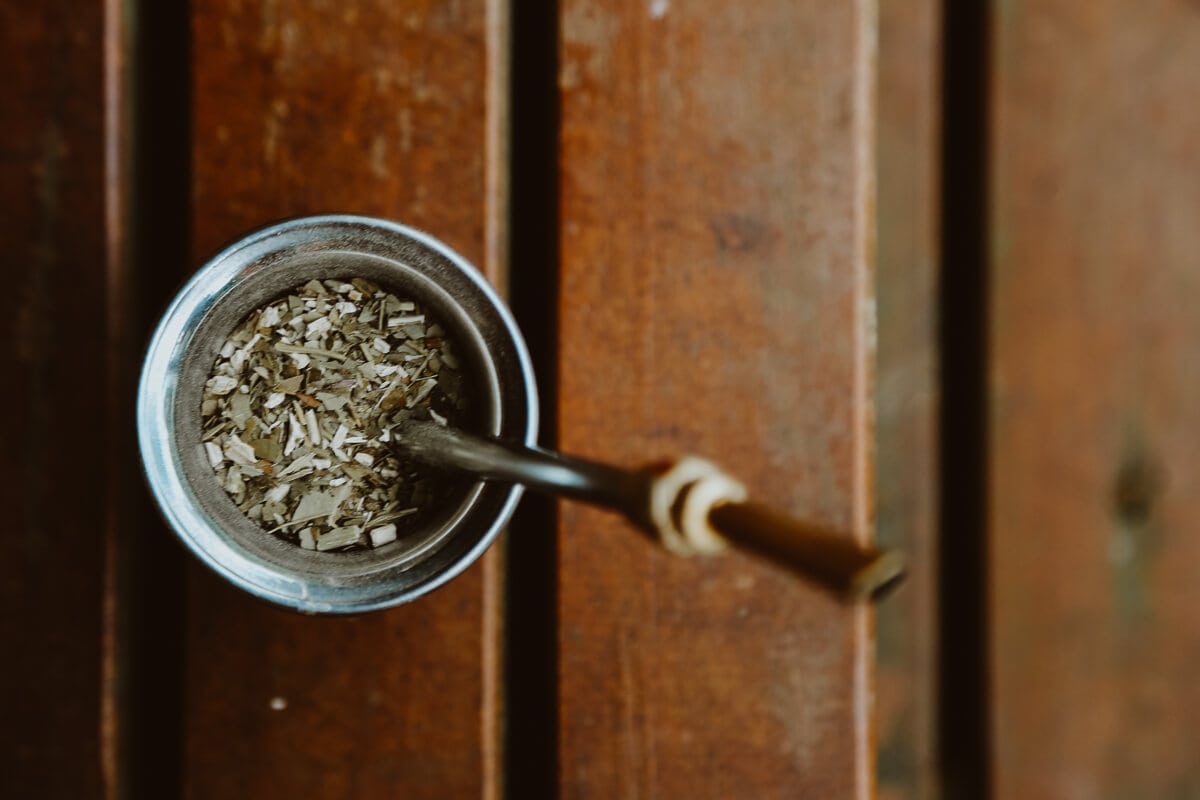 The gods gifted us mate and to this day it remains more than just a traditional Argentinian drink. It's fundamental to local culture.
Drinking mate is communal and a ritual.
Read this Yerba Mate in Argentina guide for a complete article on the history and how to prepare your own.
One person prepares the mate, passing it around the circle.
Everyone drinks from the same gourd and bombilla (the name for the straw used). It's a shared experience.
That doesn't mean you can drink it solo. It's high in caffeine and an appetite suppressant, which helps many a bored office worker get through the day.
Bonus: Yerba Mate Infused Gin
Why stop at traditional yerba mate when it can enhance just about anything?
For example, Principe de los Apóstoles is a local artisanal distillery making gin with fresh yerba mate leaves, grapefruit peel, eucalyptus, and mint.
It makes for an incredibly fresh gin tonic.
Order it in a bar or pick up a bottle to take home.
Aperitivos & Copetín
Argentina has a strong tradition of drinking aperitivos.
These apertifs are the liquors and liqueurs you've probably seen collecting dust in your grandparents' liquor cabinet.
Hesperidina, Cynar, Campari are all big here. In fact, Argentines have been drinking Aperol before it was cool.
And the best time to drink your Cynar or Campari is with copetín, a traditional Argentine twist on happy hour.
The copetín is yet another remnant of the massive wave of Italian immigration and its influence on Argentine culture at the turn of the 20th century.
It originates from the Genovese cuppetin.
In the late afternoon hours, order up a glass of red wine, vermouth or apertif.
Heavily dilute it with soda water served up from a siphon. Enjoy with a snack of some sort, likely peanuts, cheese or salami.
That's Copetín. For maximum ambience, consume it in one of Buenos Aires' historic bares notables (like El Banderín in Almagro).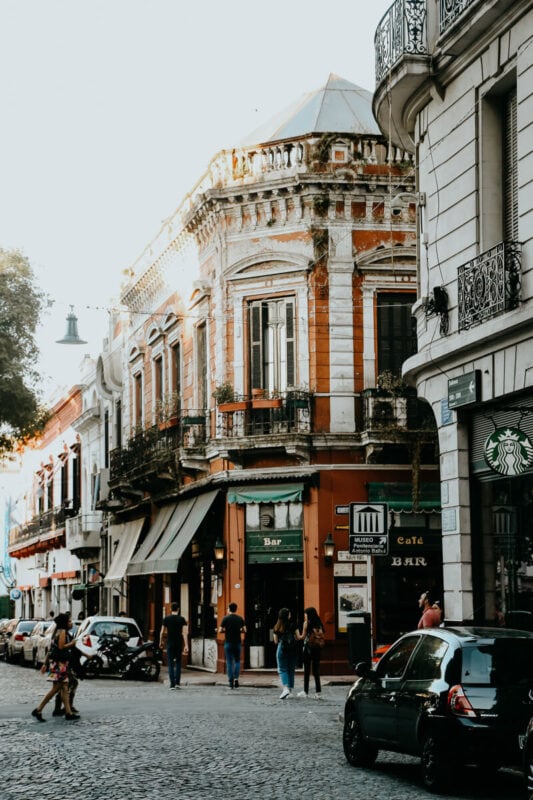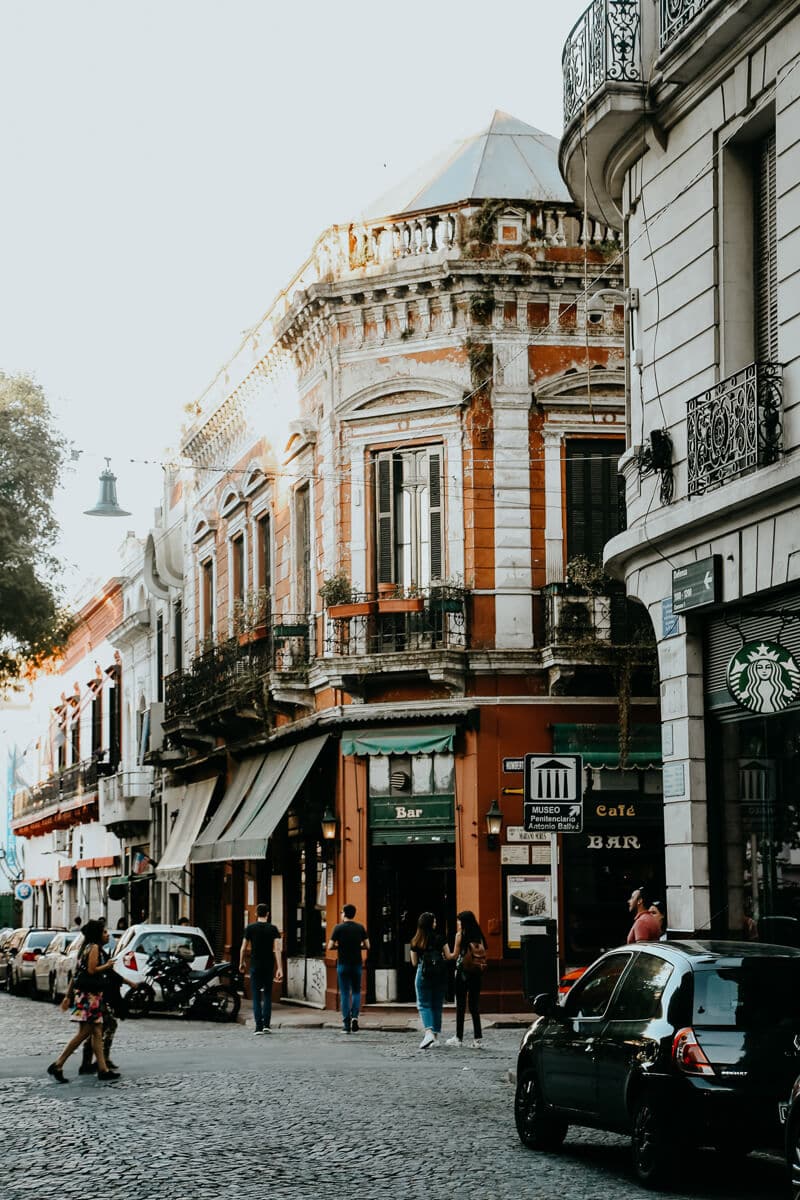 Coffee
Much like the European countries that heavily influenced her, Argentina has a strong cafe culture.
There are history filled bares notables (like Cafe Tortoni or Bar Dorrego) serving up simple cafes con leche as well as countless new hipster coffee shops opening up every day.
If it's your first time in Buenos Aires, I recommend the former.
Sit at a table in an old bar, read the newspaper, order a coffee with a medialuna and enjoy.
Here's what to order;
Un cafecito: coffee will be just a tiny, black coffee like an espresso. No watered-down massive American coffees here.
Cafe con leche: 50% coffee, 50% milk
Cortado: mostly coffee with a dash of milk
Lagrima: mostly milk with a dash of coffee
Submarino
Hot chocolate may not be an inherintly Argentine drink, but the submarino definitely is.
Submarinos are fun DIY hot chocolates and are great for kids (and us kids at heart).
Order one and you'll be brought a small glass of hot milk, a chocolate bar and a spoon.
Dunk your chocolate bar, the submarino (submarine), into the milk and stir until it melts into a tasty hot chocolate. It's perfect for a cold winter's day.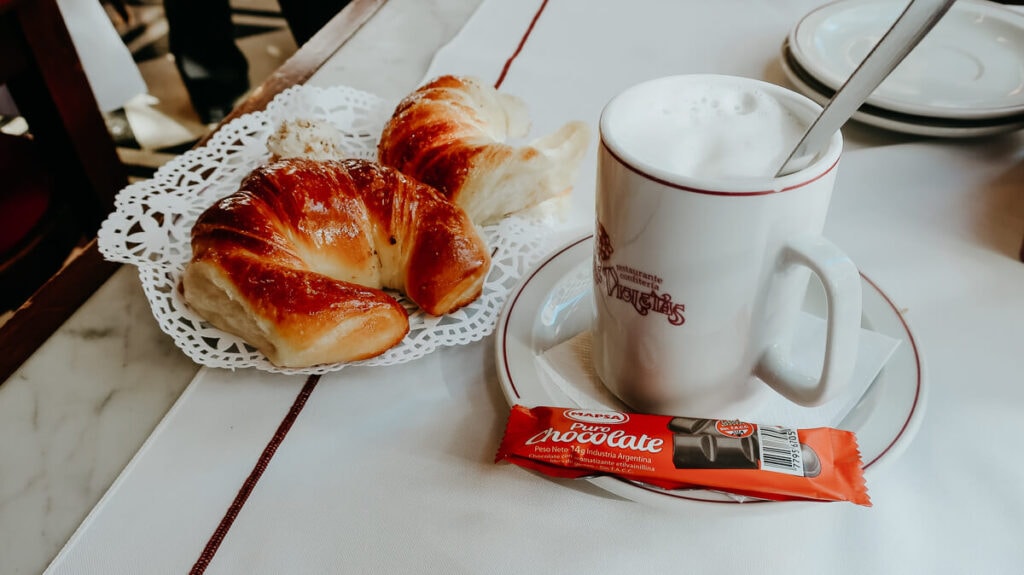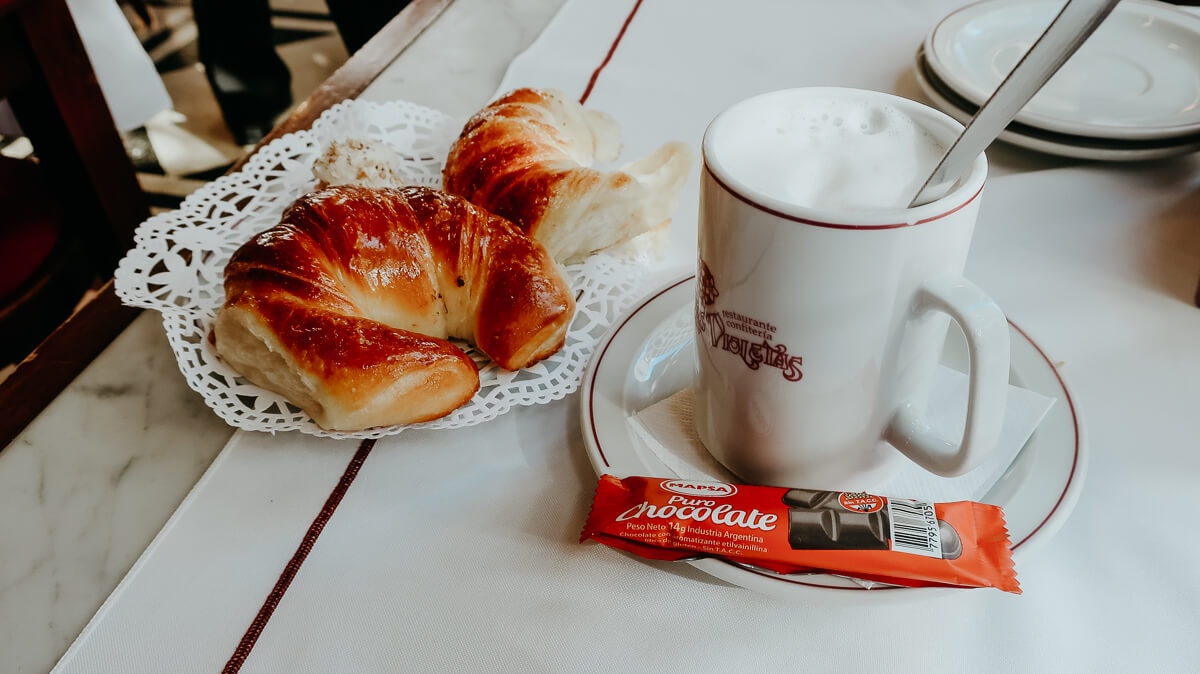 Dulce de Leche Liqueur
I've never seen this available on any bar menus but I always see bottles for sale in the many outdoor markets in Buenos Aires.
It may not actually be one of the most common beverages in Argentina, however, there's nothing more Argentinian than dulce de leche, and what better way to consume your DDL than in liqueur form?
I highly recommend picking up a bottle (or two). It's the perfect Argentina souvenir and my preferred method of consumption for dulce de leche.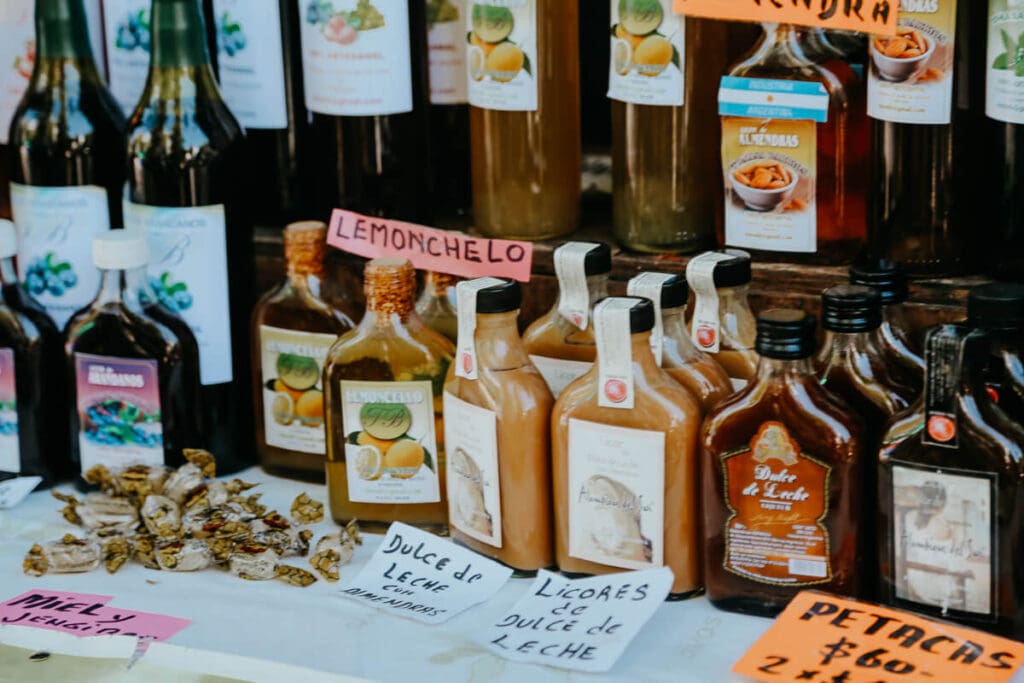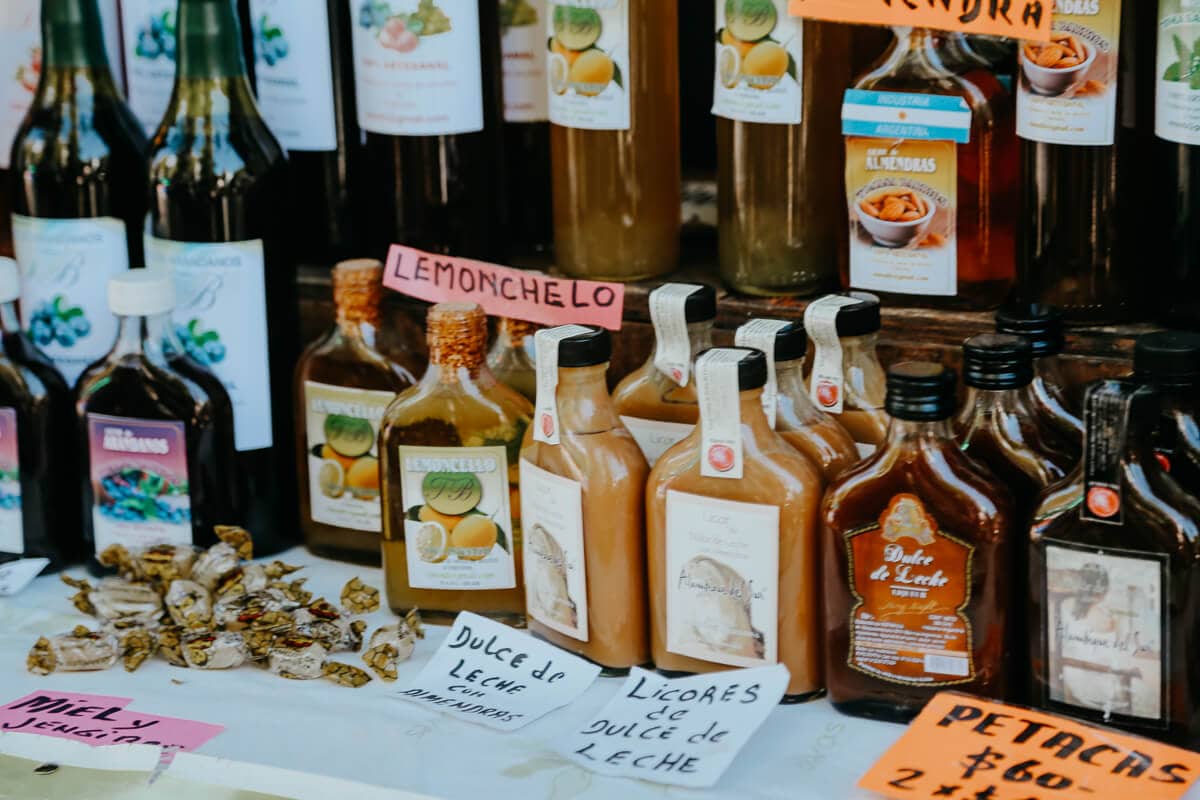 Drinks from Argentina: Al Fondo Blanco!
I hope you enjoy these drinks from Argentina. Drink them on vacation in Buenos Aires to feel like a local.
Mix up a Fernet and Coke to cure nostalgia when you're back home.
Whatever you do, enjoy (and fill your suitcase with a bottle or two). Cheers!
Keep Reading about Argentine Food & Drink:
PIN IT FOR LATER