If you're coming to Argentina, it's likely you'll be visiting Buenos Aires.
Whether the city is your main destination or you're merely using it as a jumping-off point to the wineries of Mendoza or the glaciers in Patagonia, it's impossible to avoid this gargantuan metropolis.
Buenos is full of life.
There's impressive street art, tango, steak (everywhere), and wine (free-flowing).
The people are friendly and beautiful and the nights are long and filled with dancing.
So, with all this wine and late-night tango, is Buenos Aires safe for tourists?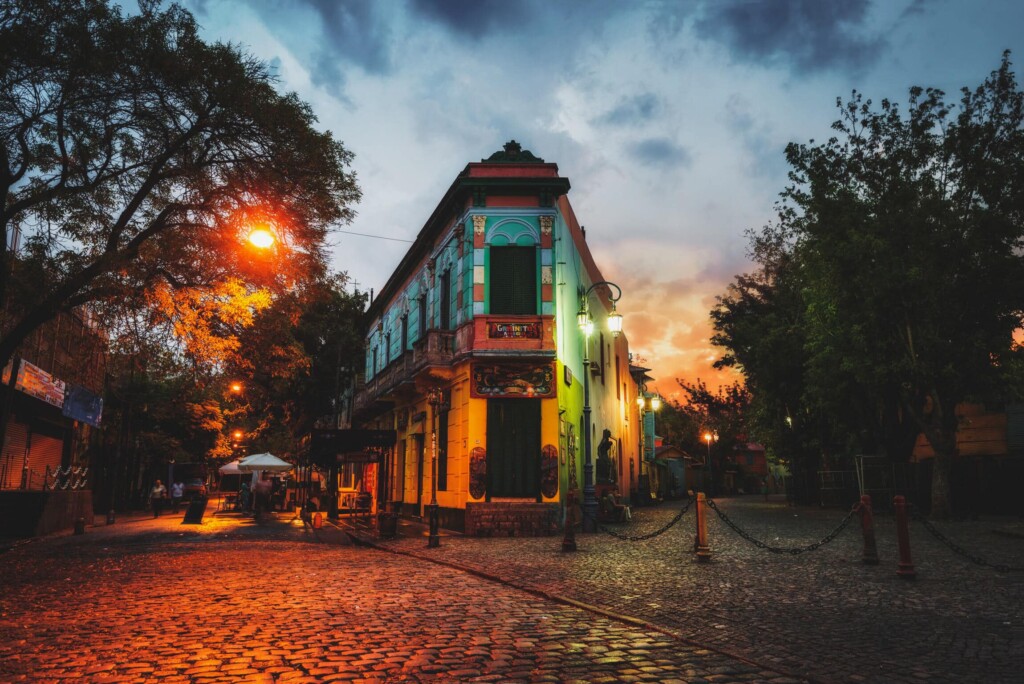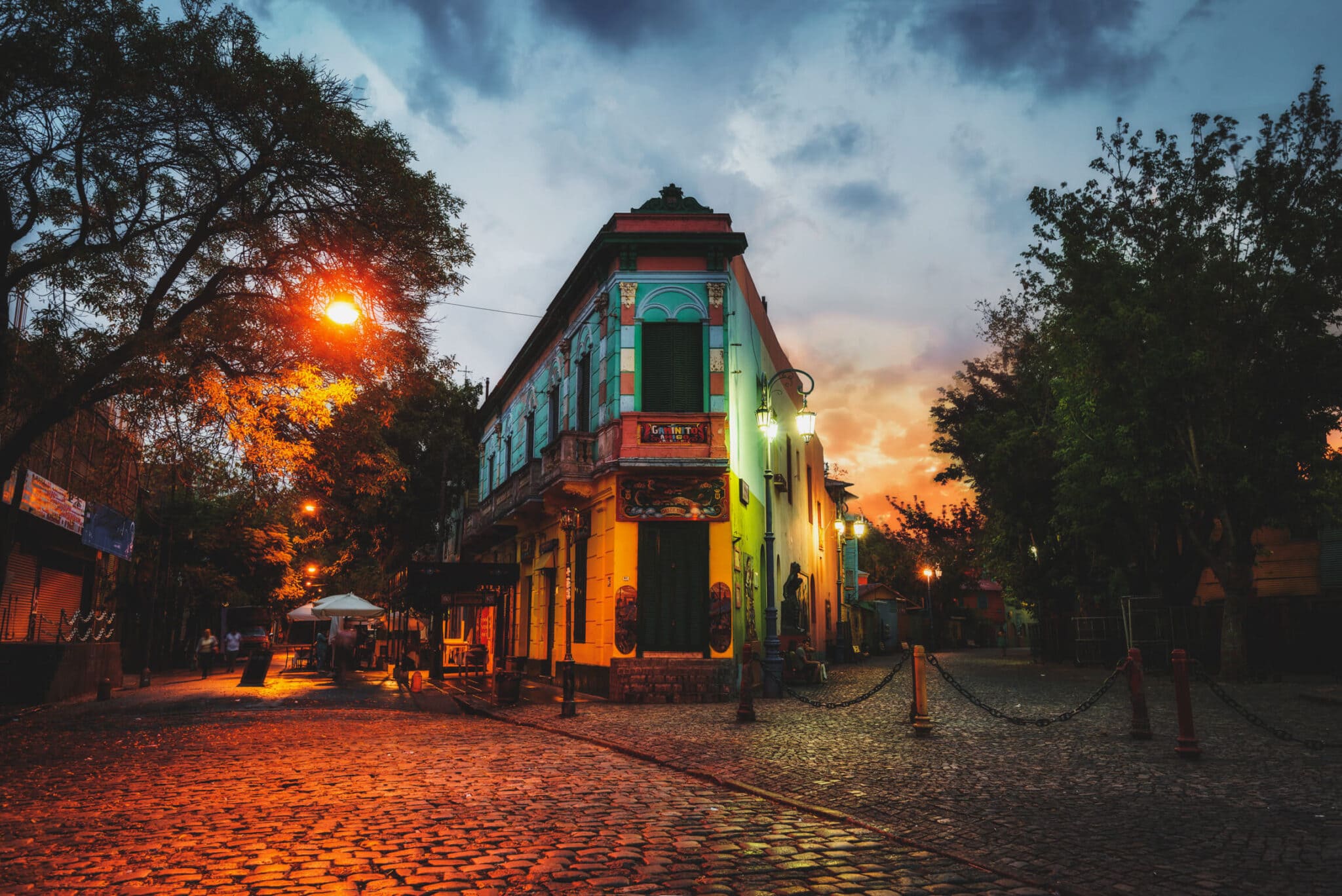 QUICK NOTE: This post contains affiliate links and Sol Salute may receive a commission for purchases made through these links, at no extra cost to you.
Why You Should Feel Safe In Argentina: The Numbers
First, to put your mind at ease here are the rankings and statistics that should put your mind at ease if you're wondering about your safety in Argentina.
The US State Department ranks Argentina as Level 1, travel with normal precautions.
The Global Peace Index ranks Argentina as one of the safest countries in South America, ranking just behind neighbors Uruguay and Chile. It ranks MUCH higher than the United States. (Based on a report on the most peaceful countries int he world, published annually by the Institute for Economics and Peace).
Is Buenos Aires Safe for Tourists?
Along with the myriad of tourist attractions in Buenos Aires, it also has a well known reputation for political turmoil and economic crises.
With this overall instability, you may be asking yourself "is Buenos Aires safe for tourists?"
My answer is a resounding yes! And the 2.7 million tourists that visited in 2018 alone prove that you shouldn't let fear stop you from visiting us here.
Argentina, overall, is one of South America's safest countries.
Buenos Aires Safety Tips
First, are some general Buenos Aires safety tips to keep in mind while you're here.
In fact, these are great things to keep in mind in most big cities, especially those that you're unfamiliar with.
Don't be flashy. There's no need to wear your diamonds here, people are more minimal by nature here and there's no need to call attention to yourself.
Keep your back pockets empty.
Never carry all your cash and credit cards on you at once.
Leave your passport in a safe, never take it with you into the city. Keep a scan on your phone if you need it.
On crowded streets or trains/buses always keep your backpacks and bags in front of you or use anti-theft travel bags.
Avoid using your phone on public transportation or on the edge of the sidewalks. I stay near the buildings on in a doorway.
Top Tip: Get Travel Insurance
The best tip for travel in Argentina (and anywhere for that matter) is to get travel insurance to cover medical emergencies, belongings, and travel delays (among many other things).
Click here for my favorite travel insurance, it's affordable and a must for any unforeseen emergencies or for more information read my guide to travel insurance in Argentina.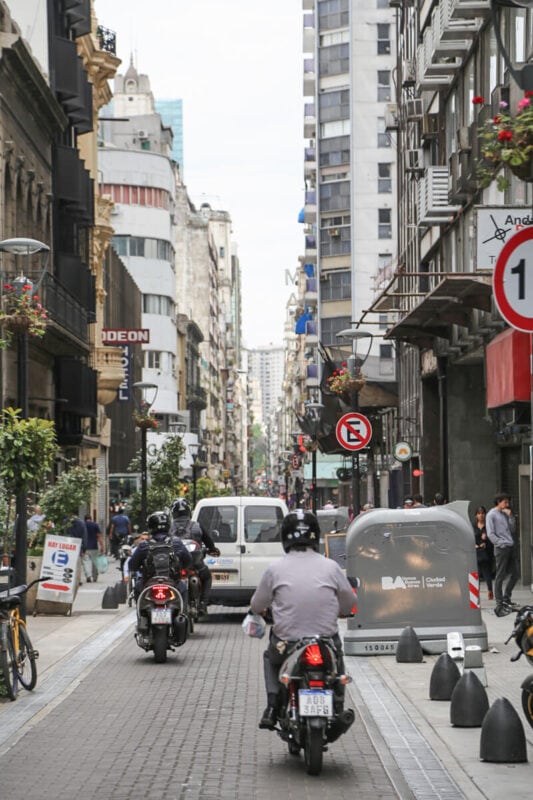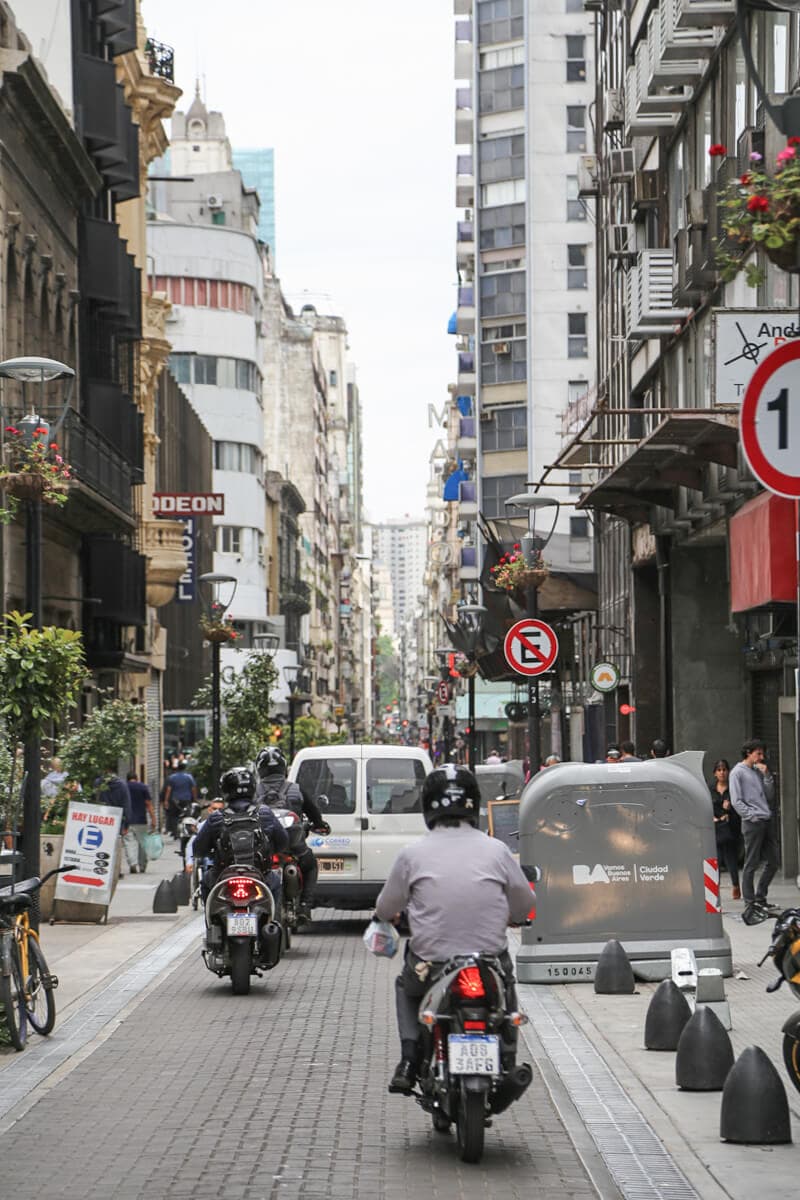 Petty Crime & The Motochorro
Most crime in Buenos Aires is of the petty variety. No one is after your life, they're after your money, camera, bag, etc. The most common culprit of petty crime in Argentina is the motochorro.
Chorro is Argentinian slang for thief.
A motochorro is a thief on a moto, easy as that.
They will snatch your bag off your shoulder or phone out of your hand and be gone before you realize what happened.
Be careful of them by staying away from the curb, especially while texting.
Keep your purse on the opposite shoulder from the curb. Overall, don't be flashy. Be discreet when out on the street with your camera and phone.
Avoid Villas
Villas (pronounced vishas) are the local version of shanty towns and are areas you should avoid to stay safe in Buenos Aires.
Villa 31 in Retiro is the villa you will most likely be near as a tourist in Buenos Aires. It's located directly behind the main train station that you'll use to visit Tigre.
Pickpockets and motochorros can be me active in Retiro (near Plaza San Martin) because they can quickly disappear into the villa.
When you're in this area just keep your bags closed and close to your body and you should be fine. Be extra cautious after dark.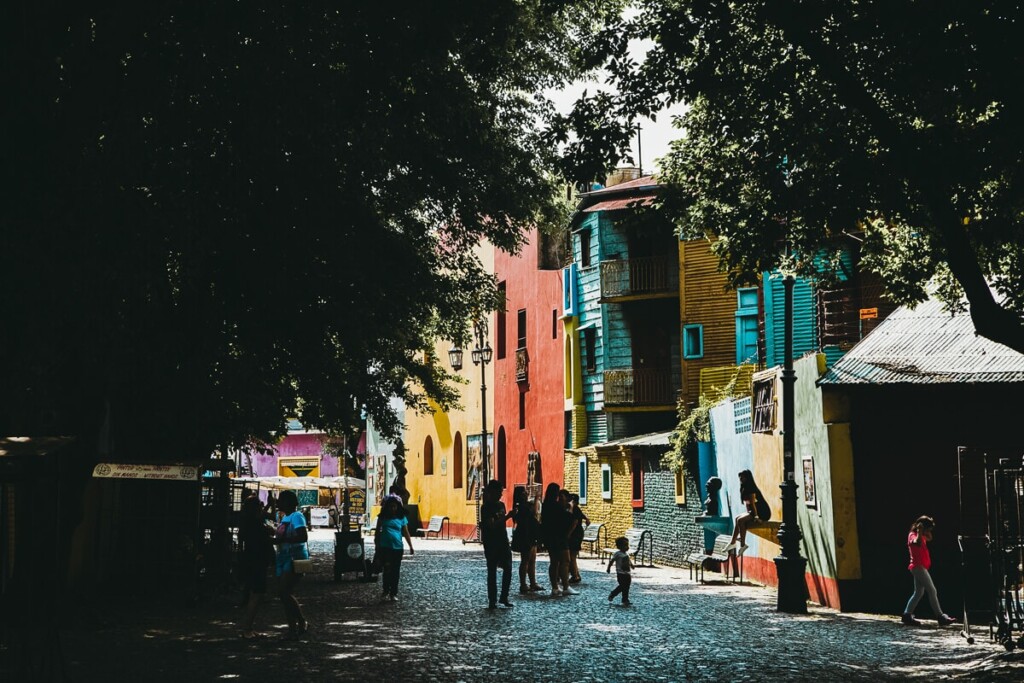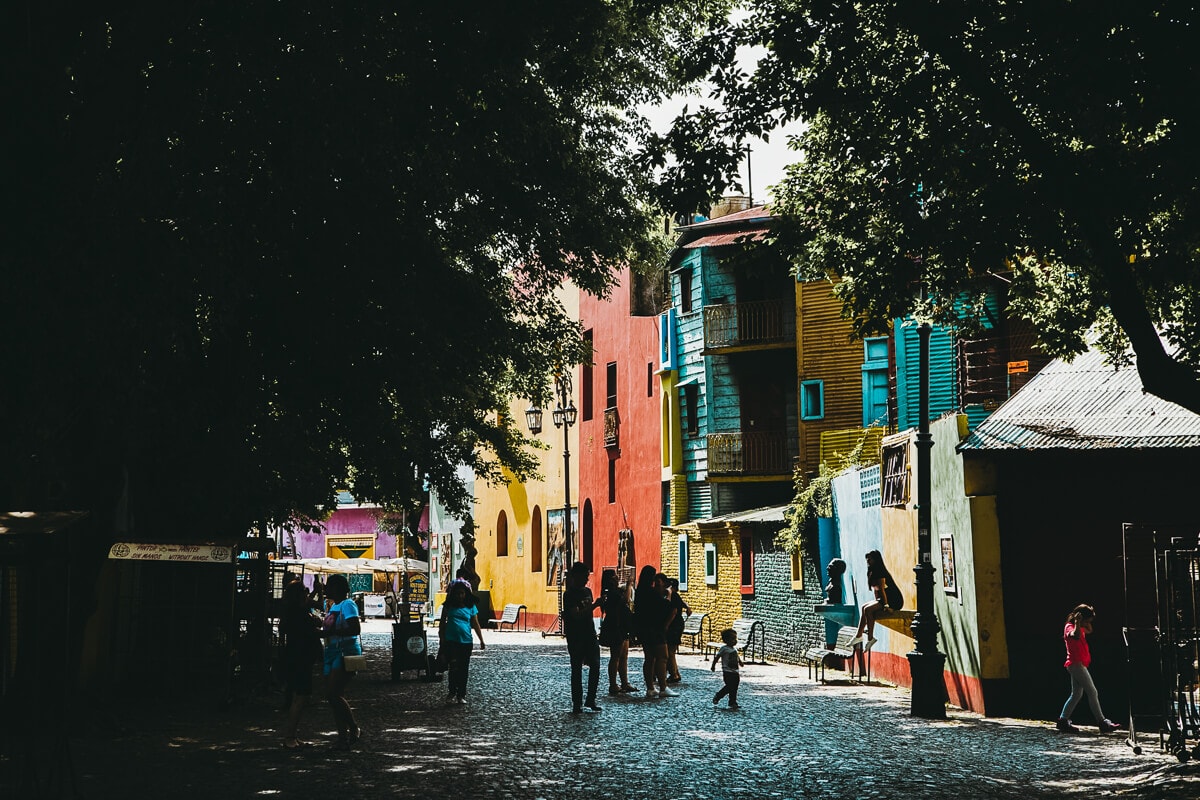 Is La Boca Safe?
Caminito, the outdoor museum in La Boca, is one of the most popular things to see in Buenos Aires, but is it safe?
During the day it is 100% safe to visit La Boca but I recommend taking a taxi or the hop-on-hop-off bus to get there.
Stay on the few blocks that make up and surround the colorful Caminito and the Boca Juniors stadium. Don't wander too far off the beaten path in this neighborhood.
Also, do not stay after dark in La Boca. Plan your visit for the morning or lunch with enough time to get a taxi home.
Buenos Aires Neighborhoods to Avoid
As far as safety in Buenos Aires for tourists is concerned, there aren't many neighborhoods you need to avoid during the day.
La Boca at night, as I mentioned above, and its surrounding neighborhoods in the south I would definitely avoid as a tourist after dark.
You should exercise extra caution everywhere after dark.
San Telmo and Recoleta, in particular. Recoleta has the juxtaposition of being one of the wealthiest neighborhoods but it borders the city's largest slum (Villa 31).
Be aware of your surroundings in Palermo after dark, as well. This is where the most foreigners tend to congregate and also the nightlife hub of the city. Pickpockets and petty crime (like phone snatchings) can be common here at night.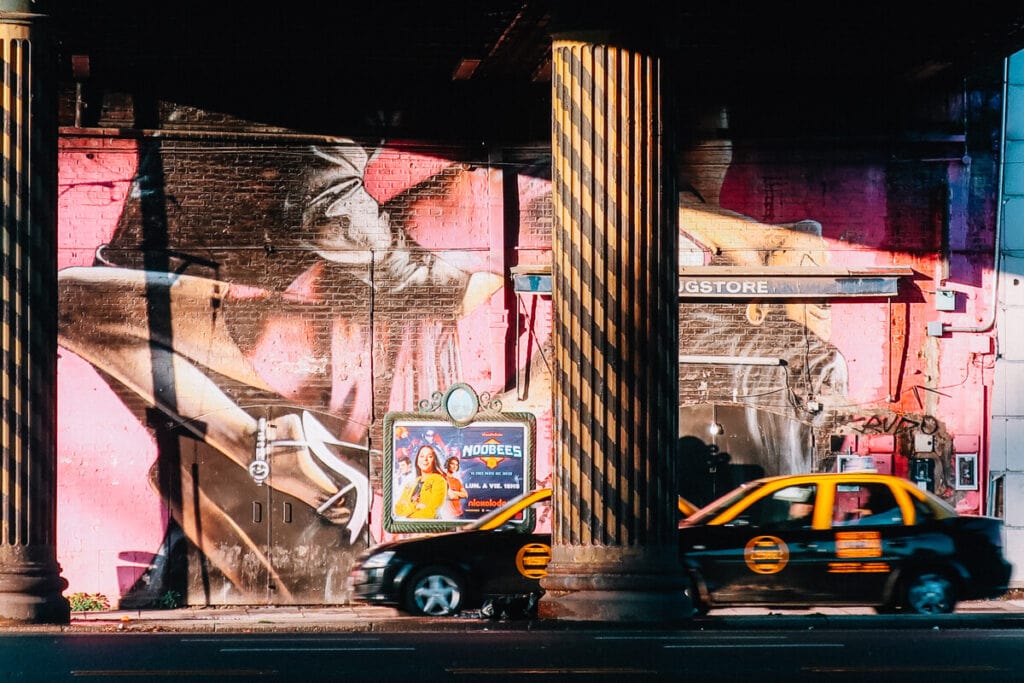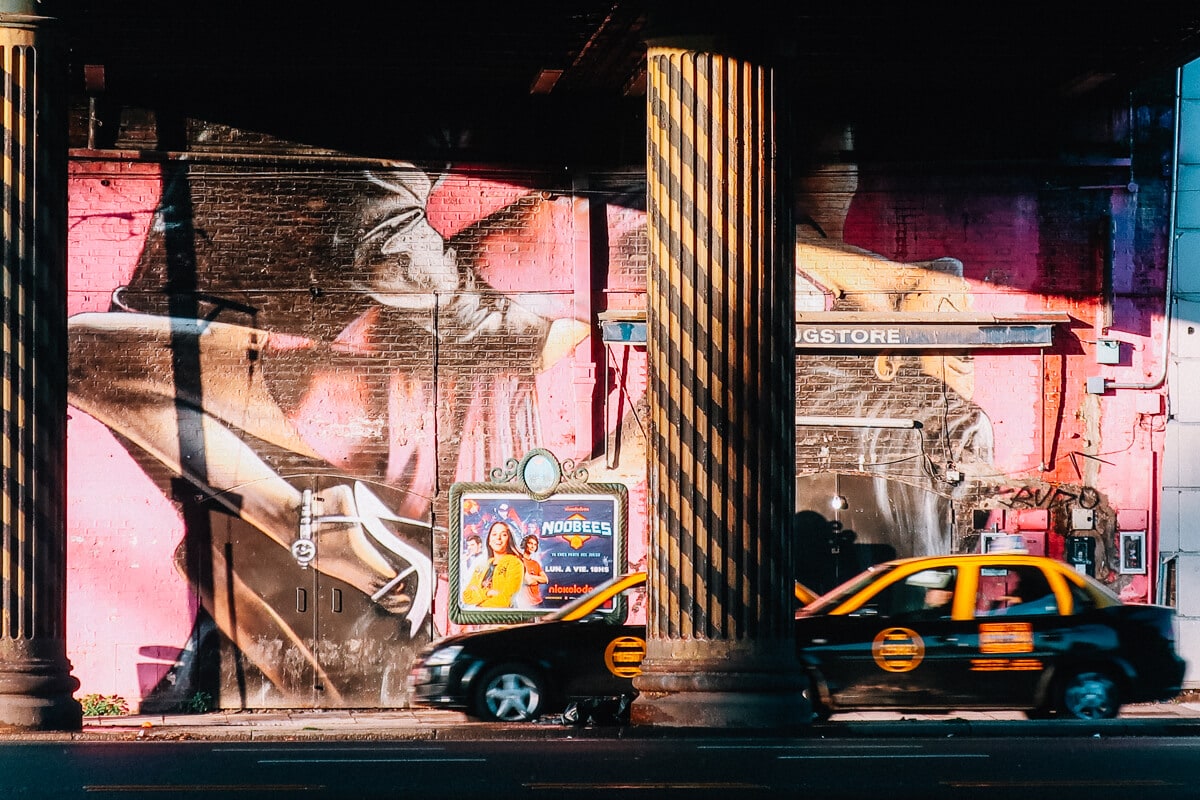 Are Taxis Safe in Buenos Aires?
Yes, generally taxis are safe. You can safely flag down the black and yellow cabs you see on the streets.
But, like in many cities around the world, when they hear a foreign accent they may take the "long route."
Taxi Scams with Counterfeit Bills
There have also been issues with counterfeit money from taxi drivers in the past. It's a good idea to always watch them make your change.
There are a couple common scams you're susceptible to if you're distracted in conversation:
SCENARIO 1: You hand your driver a $100 peso note. When you're not watching he swaps it for a fake $100 and returns it to you, cursing the bad luck you had in getting a fake note (how kind and sympathetic of him!). You end up paying twice with two very real $100 (or $500 or $1,000 peso bills).
SCENARIO 2: You hand your driver a $100 peso note. When you're distracted he swaps it for a smaller denomination and claims you only gave him $10 or $20. He kindly returns the 10 pesos and you pay again.
Taxi Alternatives
We live in a sharing economy that has given us great alternatives to taxis. If you're worried about any taxi issues or would rather pay by card, they exist here too.
UBER is in a legal/not legal limbo. Sometimes it gets taken offline but it doesn't usually stay down long.
CABIFY: Cabify is a much better alternative. It's basically UBER but legal. Download their app for iOS here and from the Google Play store here. Use my code ERINM7 for a discount on your first ride.
BA TAXI APP: Taxis finally got themselves organized and created an app. If you'd rather stay loyal to hard-working taxi drivers, download the BA Taxi app. You can pay by card and estimate the cost of your ride ahead of time.
Download these useful apps to use in Argentina to have a smooth trip.
Safety of Taxis from the Airport
For the safest taxi into the city from the international airport, don't get a taxi outside.
These are unofficial and will charge you whatever they think you'll pay.
Contract one of the safe taxis (also known as remis, like a towncar) from one of the booths in the tiny room you enter immediately after existing customs.
For more information about the local airports, read my complete guide on transport from Ezeiza into the city.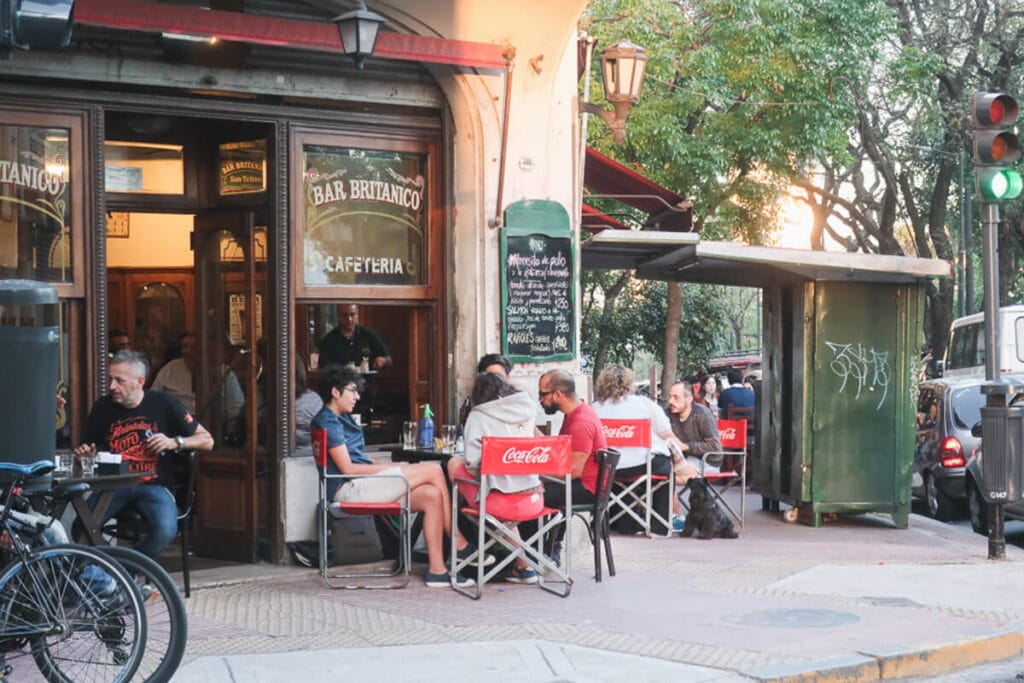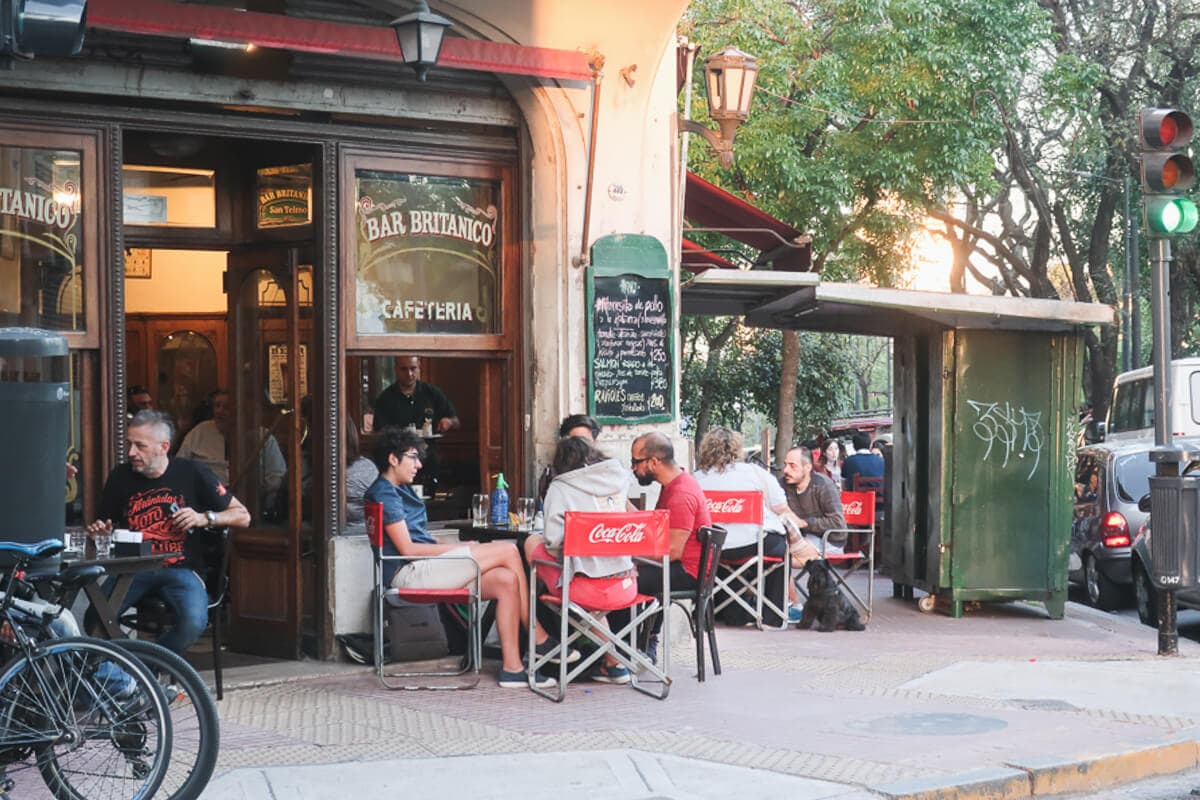 Digital Nomad Safety in Argentina
If you want to get some work done while you're in Buenos Aires, safety with your laptop may be your main concern.
Good news! It's very safe, and common, to bring your laptop to the many coffee shops to work.
Argentine coffee shops have great wifi, good coffee, and the waiters will leave you alone for hours.
Read about my favorite coffee shops for digital nomads in Buenos Aires.
But to keep your laptop safe, never work outside on the sidewalk tables. If you want to enjoy the sunny weather, find a cafe or restaurant with a rooftop terrace instead.
It's also a good idea to pick a table away from the main entrance to avoid anyone running in and back out with your laptop faster than you can say "cafe con leche."
Protests & Social Unrest
Unfortunately, it's not all red meat and Malbec, Buenos Aires is also infamous for its political instability.
It's very common to see a protest (manifestacion) in Plaza de Mayo.
So, is Argentina a safe country to visit with all of this unrest?
As jarring as these protests can be to those of us not used to them, more often than not they're harmless.
For example, at the protest in the photo below, I was walking around with my large DSLR camera and listening to a podcast.
There were food trucks set up slinging choripans and beef sandwiches. It was almost festive and I didn't feel afraid at all. I used to live in San Telmo and often came to check out these smaller protests.
Being from rural Texas, to say these social scenes were a change of pace for me would be an understatement and I enjoyed checking them out.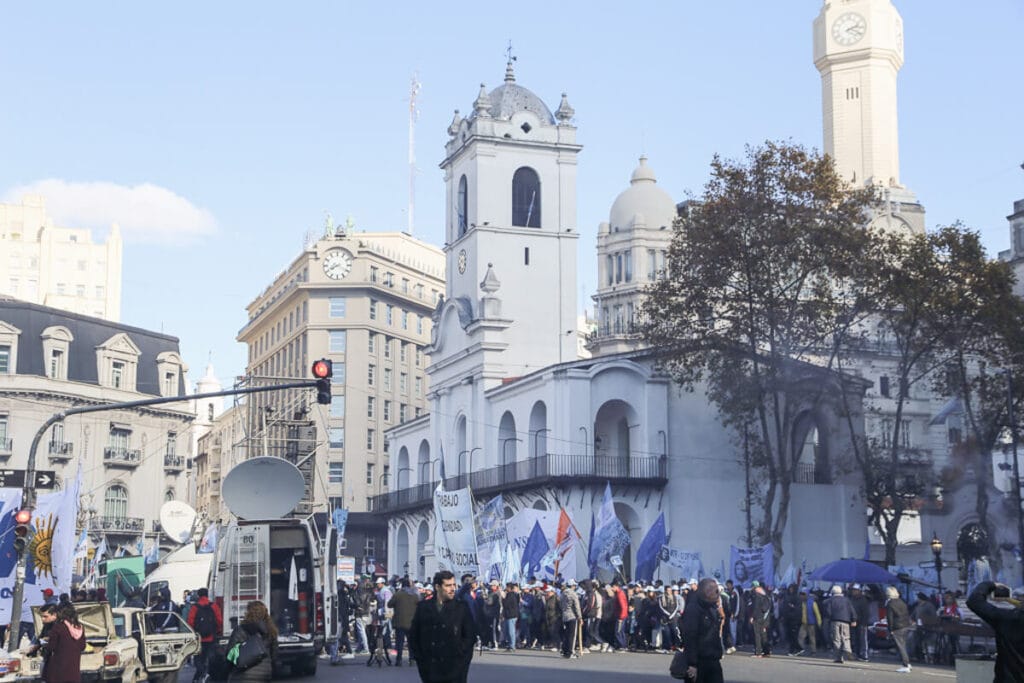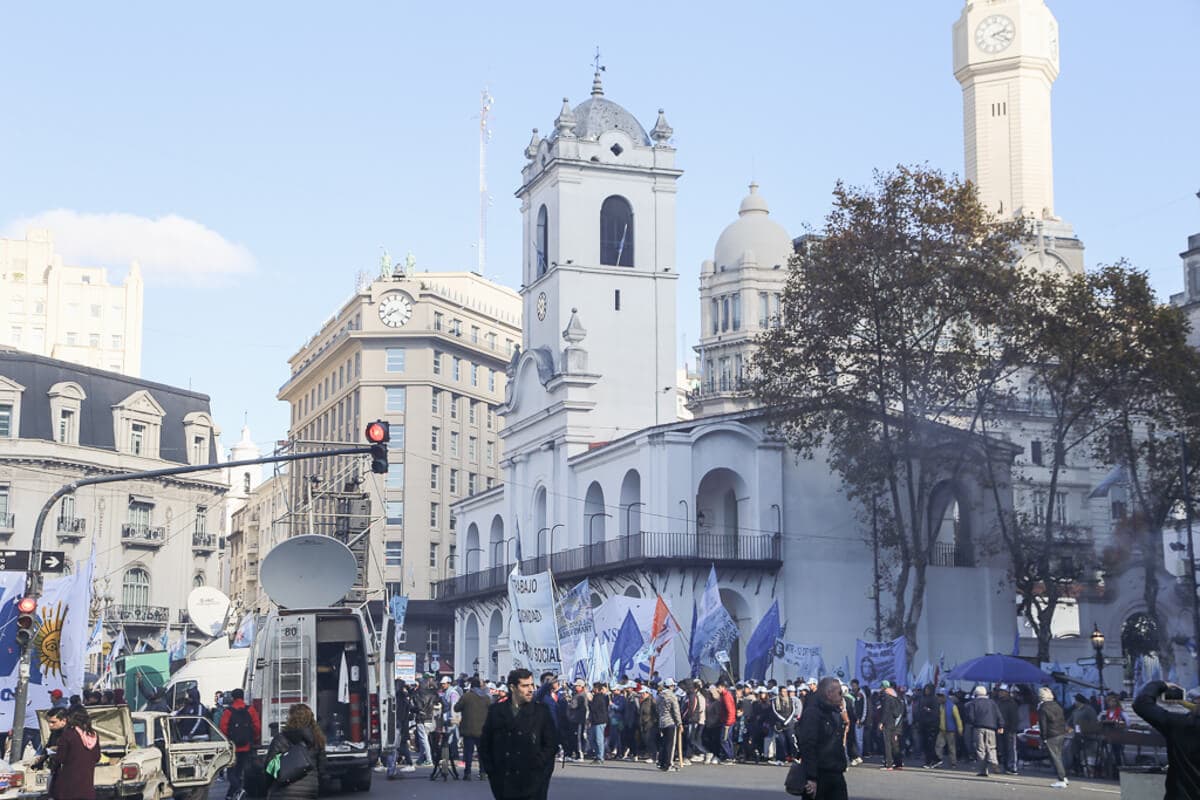 Buenos Aires Safety at Protests
But are all protests in Buenos Aires safe? No. They're not. Especially when they are politically charged. When in doubt, stay away.
But don't be too afraid. They are generally small and won't escalate to any violence.
Marches and protests happen with such regularity that nearly every time I talk to one of you readers visiting Buenos Aires and get asked about that "big protest" they saw, I have no idea what they're talking about.
December 12th
This is very specific on when to visit Buenos Aires, but if you're in Buenos Aires on 12/12 avoid 9 de Julio.
The famous futbol team, Boca, follows the 12th man tradition (just like my university back in Texas, Gig'em!).
The fans are the 12th player and December 12th is their day.
The rowdy hooligans that make up the 12th man celebrate by wreaking havoc downtown. It gets chaotic quickly.
So, aim to get your snapshot in front of the obelisk on the 11th or 13th instead.
---
More Buenos Aires Resources:
---
Is Buenos Aires safe for Solo Female Travelers
Yes, if you're a solo female traveler exploring South America, come on down to Buenos Aires!
Operate with the same safety principles you would anywhere else.
I do recommend being more cautious at night. Avoid walking alone down dark streets, instead spend a few extra dollars for a taxi or Cabify back to your hostel.
If you want to check out the city's famous nightlife, get a group together.
Skip going to the telo (by the hour hotels) with the seemingly charming Argentine at the club and get a taxi back to the hostel with the others (mom moment over!).
Also, don't drink the local brand alcohol. This is safety related, but also just a friendly word of wisdom.
That stuff will make your head spin (you might as well drink prison vodka like Orange is the New Black!).
Splurge on the labels you recognize and you'll keep your wits about you much longer. You're welcome.
Is the Water Safe to Drink in Buenos Aires
Tap water is potable in Buenos Aires.
It's what I drink at home. Whether it tastes good or not is whole other debate.
If your Airbnb is in a very old building, ask the owner first. Most likely, the plumbing has been renovated and the water is potable.
However, in old buildings there is always the possibility of lead pipes, so ask just in case.
Final Tip: Don't be a Hero
In regards to petty theft, don't be a hero.
If someone tries to snatch your bag or aggressively demands you hand over your belongings, just do it. Nothing is worth losing your life over.
And while I said no one is after your life, and that is true as a rule, there are always exceptions.
There is a drug problem in Buenos Aires and if people are high on paco (a local drug made from coca paste), they will act erratically.
There was a horrible incident where a Swiss tourist lost his life when he refused to hand over his DSLR camera in Retiro.
He fought back but the thief was high and stabbed him. I'm not telling you this to scare you. It's incredibly rare.
But it can happen, so don't try to be a hero.
In summary, yes! Argentina is Safe to Visit for Tourists!
I've been living here for 12 years now and have never felt afraid.
Yes, this city has its problems and you should exercise caution, but you shouldn't be afraid.
Buenos Aires is safe for tourists to visit and millions of visitors every year agree with me.
Come, eat all the steak, drink all the wine, and enjoy yourself!
If you still have any concerns or questions about safety in Argentina or just planning your trip in general, let me know in the comments. I'll get back to you as soon as I can!
Argentina Travel Resources