Last Updated: October 5, 2021
If you close your eyes and imagine Argentina, gauchos, cattle, and horses likely come to mind.
Discovering the rural culture of Argentina is one of my favorite things about living in Buenos Aires and the best way to do that is by visiting the best estancias near Buenos Aires.
These working ranches feature unique tourism opportunities that you won't find anywhere else in the world.
Eat bottomless steak, ride horses with gauchos, and watch the sunset over the rolling hills of Buenos Aires pampas.
Whether you choose an estancia day trip or an overnight stay, there is no better way to disconnect from the chaos of big city Buenos Aires.
This post is a complete guide to the best Buenos Aires estancias to find the right one for you.
QUICK NOTE: This post contains affiliate links and Sol Salute may receive a commission for purchases made through these links, at no extra cost to you.
The Best Estancias Near Buenos Aires
There are plenty of Buenos Aires estancias to choose from. They're all very similar yet have different strengths and reasons to visit them.
All of these ranches are nearby Buenos Aires, making them an excellent option for a rural day trip. Most will include a transfer from your hotel if you don't have access to a car and in only an hour and a half you'll be eating empanadas with gauchos.
If you have the time in your itinerary, I highly recommend staying overnight at an estancia. Most are luxury, boutique bed and breakfasts and waking up to the birdsong of the countryside is the perfect way to end to any Buenos Aires itinerary.
Here are the 5 best estancias near Buenos Aires for day trips or overnight stays. Keep reading at the end of this post for tips on making the most out of your day!
1. Estancia El Ombu de Areco: Best Dia de Campo
Estancia El Ombu de Areco in San Antonio del Areco is one of the most popular ranches near Buenos Aires.
The property is stunning and they offer a day in the countryside you'll never forget. It's even how I chose to celebrate my most recent birthday!
If you want to truly experience Argentina rural culture, El Ombu has your back.
They offer all the traditional meals, welcoming you with homemade empanadas, cooking up a complete asado (barbecue) for lunch, and ending the day with traditional pastries and a chance to try mate like a local.
For activities you can go horseback riding or ride in an antique horse-drawn carriage.
My favorite part of the entire day was the Doma India display right after lunch. Seeing these traditional gaucho horse whisperers is a once in a lifetime experience you don't want to miss.
If you want to be a gaucho for a day at El Ombu, click here to reserve your day in the countryside.
If you'd like to stay overnight in their boutique hotel (excellent choice), click here to check rates and availability.
2. La Bandada: Best Luxury Buenos Aires Estancia
We were invited to spend a night at La Bandada and I quickly immediately fell in love with the property. It's the ideal luxury escape from the hustle and bustle of Buenos Aires.
it's easy to see why La Bandada is considered one of the best luxury estancias near Buenos Aires.
While most coming up later in this list are in San Antonio de Areco, La Bandada is just outside the quaint and lesser-visited San Miguel del Monte.
The location is more strategic if you want to go directly to or from the airport. I highly recommend staying a night or two here at the end of your itinerary to end your trip in the most relaxing way possible, then you'll have an easy drive to the airport without having to deal with Buenos Aires city traffic.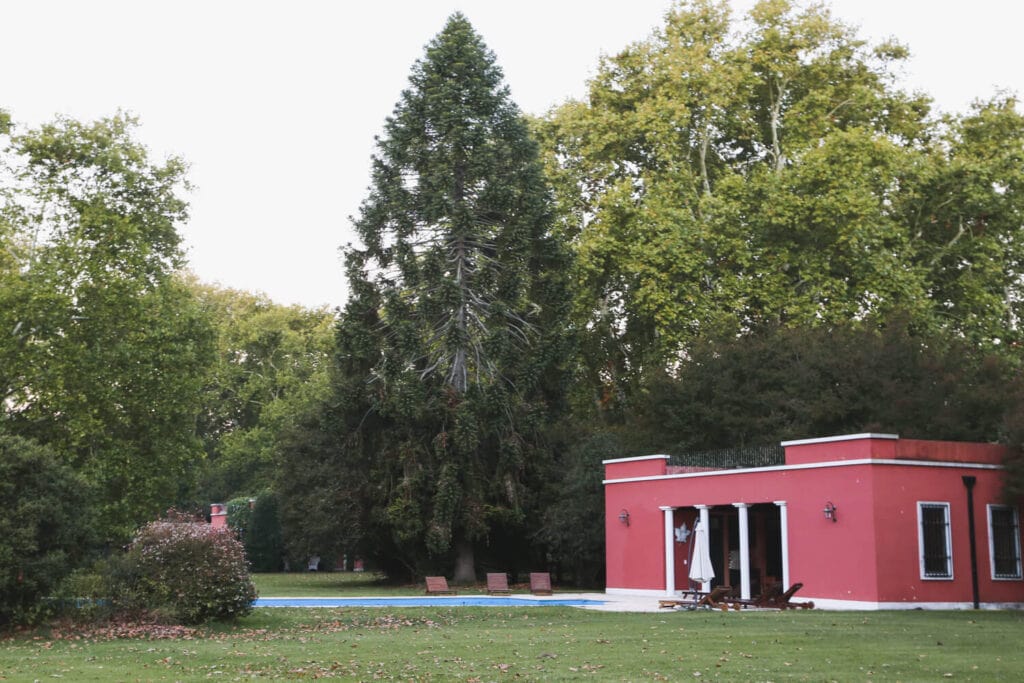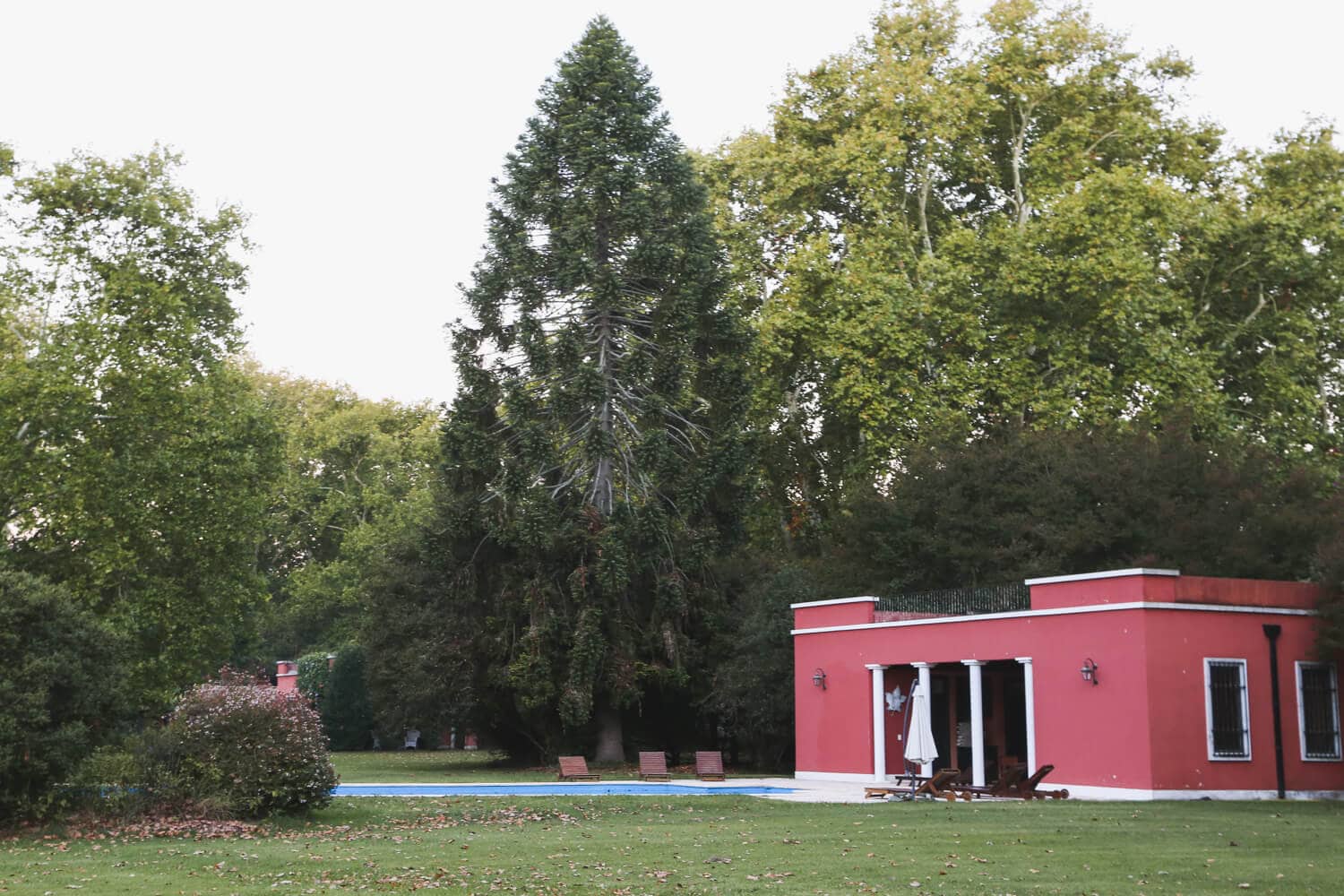 La Bandada will organize anything from horseback rides across their expansive property, bird watching excursions and even polo lessons.
The real highlight here, though, is the food. Along with the traditional asado, we were served fresh pasta made in-house with vegetables from the garden. Our breakfast came with homemade jams and pastries.
If you like to travel for culinary experiences you will love being spoiled at La Bandada.
Click here to reserve a dia de campo excursion or check rates and availability to reserve your stay in San Miguel del Monte.
3. Polo Elite: Learn Polo at an Exclusive Polo Club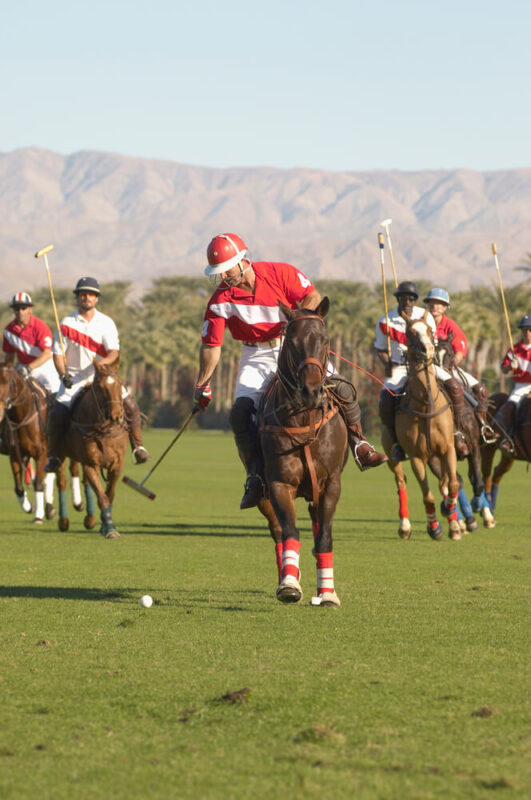 While the other Buenos Aires estancias on this list focus on a gaucho experience, Polo Elite offers something completely different.
They are one of the most exclusive polo clubs near Buenos Aires offering lessons where you can learn to play polo regardless of previous riding experience.
This day trip to the nearby town of Cañuelas includes a complete polo lesson and if time permits you'll even be able to watch the pros play a match.
The day, of course, wouldn't be complete without a three course asado lunch and free time to spend at their pool or ride bikes across the beautiful property.
Click here to learn polo at an estancia like Puesto Viejo.
This is something that is so high on my bucket list that it hurts!
4. La Florita: Best Budget Estancia
This is my little secret. La Florita is where I take visitors. It's more of an estancia where locals go instead of tourists. And best yet, it's incredibly affordable.
But, you have to speak Spanish and you'll need to find a way to get yourself there. This isn't the complete tourist package like with El Ombu.
La Florita is a small property and family run, not far from downtown San Antonio de Areco. This isn't a massive, historic estate like El Ombu or La Bandada.
But they still offer a complete itinerary just like the larger Buenos Aires estancias on this list.
On arrival, you'll be greeted with empanadas and wine (because it's never too early for Malbec). While the asador prepares your epic asado lunch, you're guided on a short horseback ride across the property.
The highlight of the day (for me) are the gaucho games and horse taming display.
This is followed by the owner picking up his guitar and serenading the crowd with traditional music while a yerba mate gourd is passed back and forth. It's the perfect ending to a perfect day.
If you speak Spanish and want to visit La Florita, message them via their Facebook page to organize your dia de campo reservation.
5. Estancia La Candelaria: sleep in A French Castle
All of the estancias on this list feature colonial architecture, beautiful traditional buildings that you'll find on nearly all of Argentina's ranches.
Estancia La Candelaria however… they aimed big. The main house on this ranch is a French castle and the grounds were designed by Carlos Thays, the genius responsible for nearly all of Buenos Aires' beautiful parks and landscape architecture.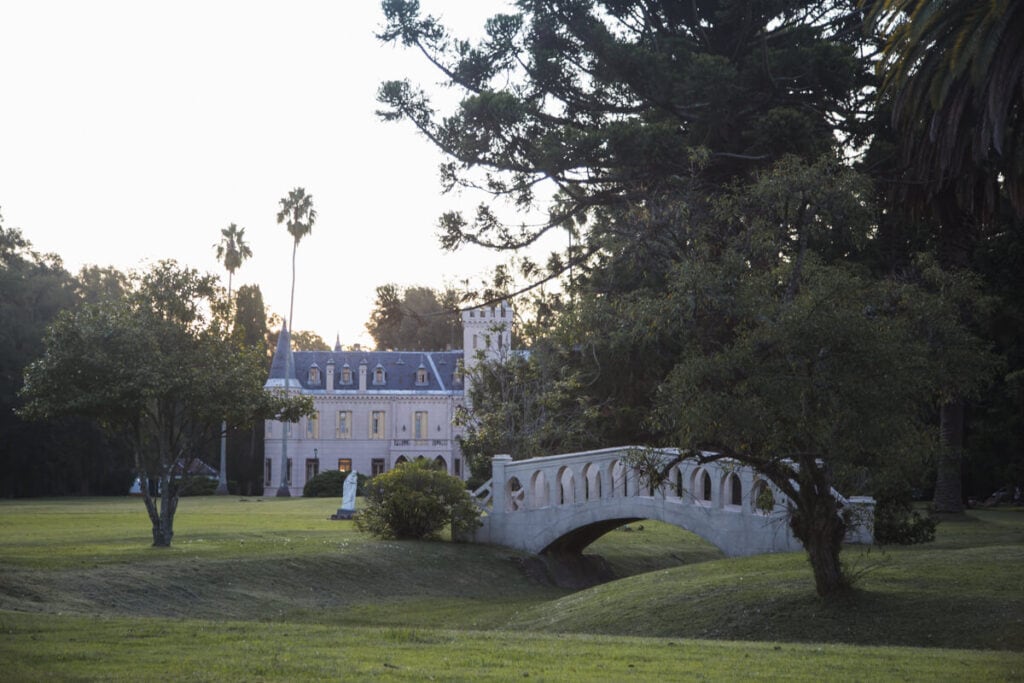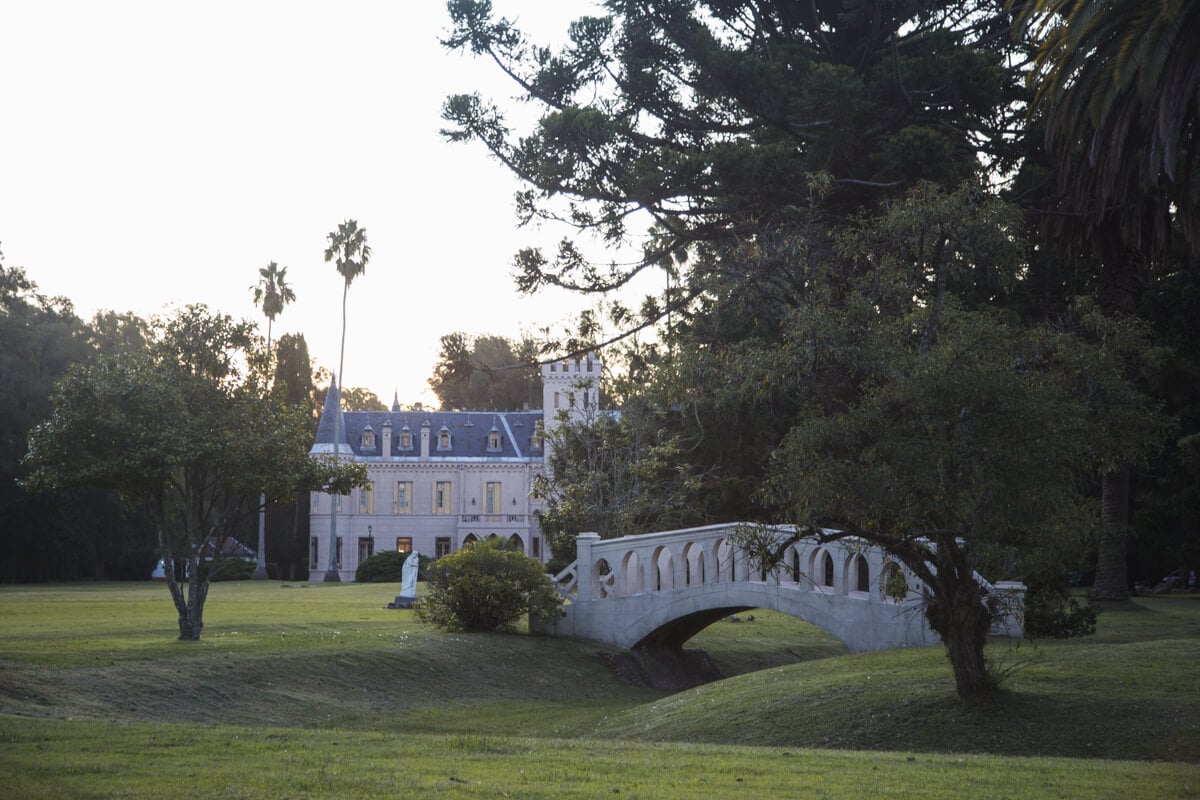 La Candelaria offers an estancia day trip that's similar to the rest of this list, but in a very royal setting.
If you want to combine the rustic aspects of the countryside with utmost luxury, this is it.
You can click here to reserve a dia de campo at La Candelaria.
TIP: Combine your day at La Candelaria with a visit to nearby historic Uribelarrea for a full day in the countryside.
What to Expect From an Estancia Day Trip
The most popular way to organize a Buenos Aires estancia day trip is by going to a día de campo, literally a day in the countryside.
Nearly all estancias offer these itineraries.
They involve a complete day's worth of activities on a ranch near Buenos Aires.
Generally, they'll include a transfer from your hotel.
Once you arrive at the estancia just before midday, you'll be greeted with a snack and tea (likely some homemade empanadas or pastries).
What follows will depend on each estancia and their specific offerings but a día de campo typically includes: horseback rides, a traditional asado barbeque, folkloric music, and a merienda (tea time) with traditional pastries to end the day.
Some include extras like a folkloric dancing show, a display of traditional horse taming (legitimate horse whisperers), or traditional gaucho games.
These final extras really make the best gaucho experience Buenos Aires has to offer.
Read More: The 8 Best Day Trips from Buenos Aires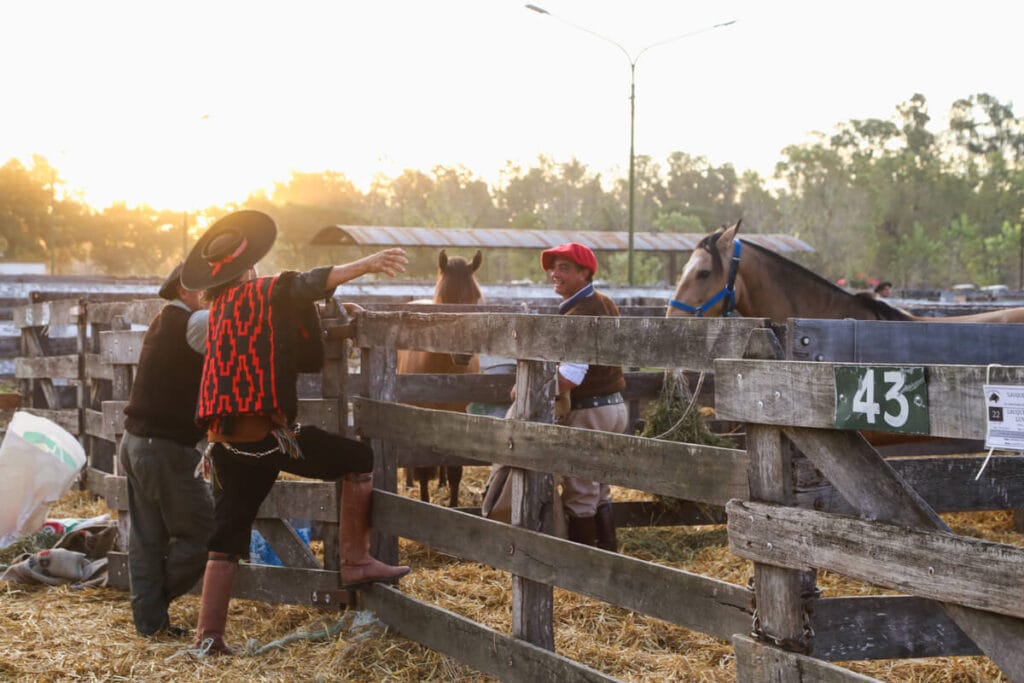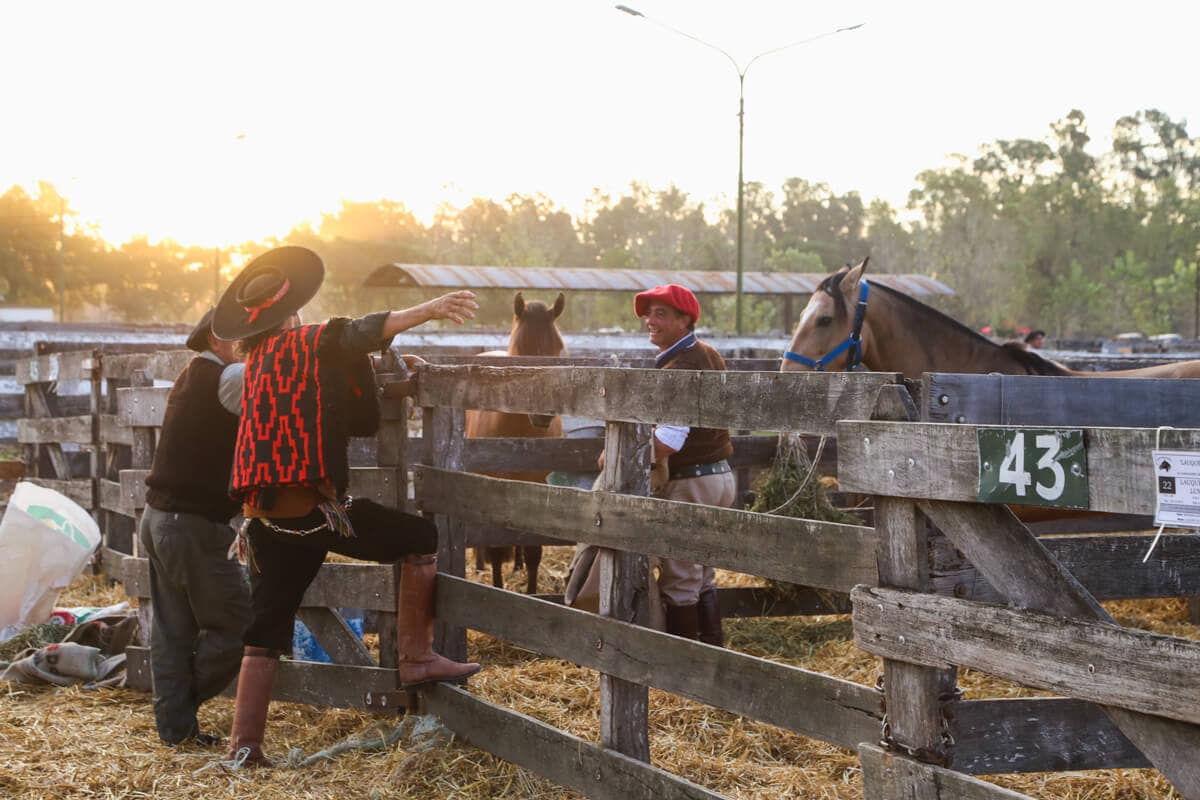 Quick Tips & Packing Advice For Your estancia Day Trip
You won't need to bring too much for your day at the ranch as nearly everything you could need is provided. But there are a few things that will make your estancia day trip from Buenos Aires the best it possibly can be.
Your camera! You'll want to bring all your memories home with you. I lost all the photos I took at La Florita somehow and I'm still upset about it. Don't be like me, come prepared. Read my post here to find out what photography equipment I use.
Sunscreen, you'll need it as you'll be outside all day. If you remember, bring it from home as it's more expensive in Argentina. I use this SPF 70 sunscreen (because I'm extremely pale).
A hat, for the same reason as the sunscreen. Protect your face from the sun on that relaxing horseback ride or while you lounge by the pool. Whether you pack a baseball cap or
this adorable floppy hat, your skin will thank you.
No food. I'm serious, you will be served so much food during your dia de campo, you don't need to bring snacks…
Unless you're vegetarian, then it might be a good idea to pack a few snack bars just in case. Definitely let the estancia know ahead of time if you have dietary restrictions.
Dress comfortably. This isn't a fashion show, it's a ranch. Wear comfortable footwear (ditch the heels) and pants you'll be comfortable riding horseback in.
Swimsuit. If it's hot out and your estancia has a pool, you can use the afternoon's free time to go for a swim.
Stay Overnight at the Best Buenos Aires Estancias
If you have the budget (both financially and the time), I recommend reserving a night or two at an estancia.
This is an excellent experience that I've only been lucky enough to do once.
You could participate in the complete día del campo activities then enjoy the peace and quiet of the ranch once the rest of the visitors depart.
Having the estancia all to yourself (along with the few other guestrooms as they are typically very small boutique hotels), is incredibly relaxing.
Also, if you've already spent some time exploring the city center of Buenos Aires, the slow pace of life on an estancia will be the ideal way to end your Argentina vacation.
Argentina estancias: The Ultimate Gaucho Experience
I hope you're completely prepared for your upcoming gaucho Buenos Aires experience. The estancias near Buenos Aires a truly stunning, you're in for a good time.
If you have any other questions, let me know in the comments and I'll get back to you!
And don't forget, there are stunning estancias all over Argentina like Nibepo Aike in El Calafate. They're even one of the best things to do in Uruguay!
Read More About Rural Buenos Aires:
Here are more posts about day trips and weekend getaways from Buenos Aires:
Pin This For Later to Visit the Best Buenos Aires Estancias