The region of North Patagonia is the Argentina Lake District.
San Carlos de Bariloche is the largest and most well-known city in northern Patagonia, but it's far from the only charming mountain town that should be on your radar.
Each town is ideal for a long weekend city escape but the region overall is begging for a road trip.
This article is a list of all the best places to visit in the Argentinian Lake District from north to south.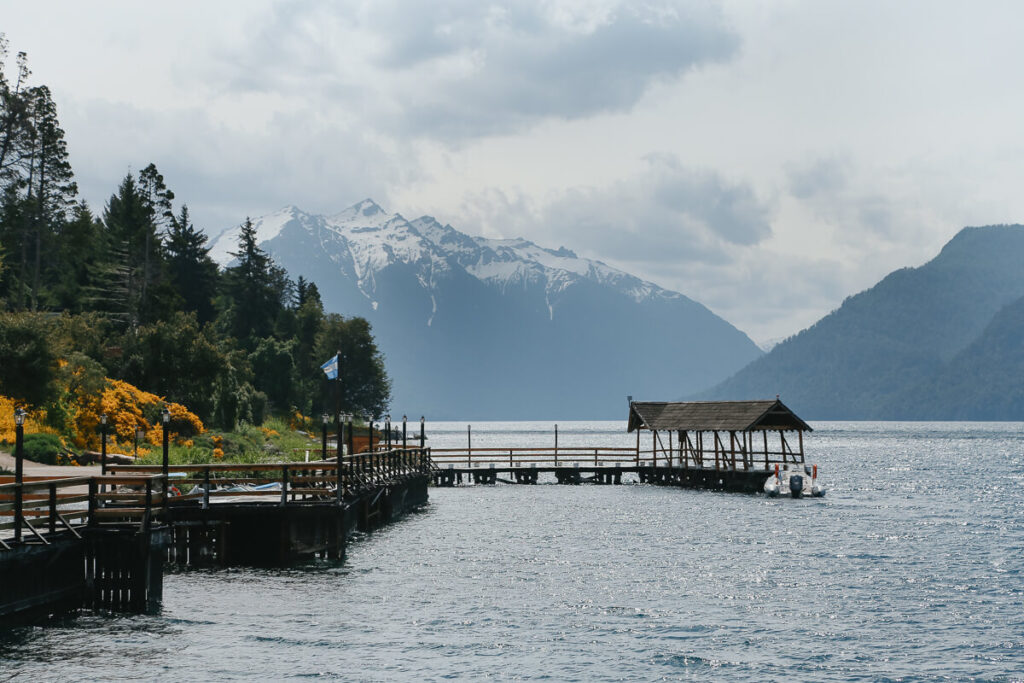 QUICK NOTE: This post contains affiliate links and Sol Salute may receive a commission for purchases made through these links, at no extra cost to you.
When to visit the Argentine lake district?
This region is popular year-round.
There is no true low season anymore but slightly less busy.
The busiest time is always summer (the holidays through February) when Argentines take their vacations.
Spring (October-early December) is my favorite time of the year with warm weather, cool nights, and wildflowers.
Fall is another great shoulder season option.
Winter is a great time to take advantage of the ski resorts and hearty food here, but not ideal for hiking.
But I recommend avoiding the final half of July when Buenos Aires' school system (city and province) has its winter holidays.
The area explodes, it will be busy and at its most expensive.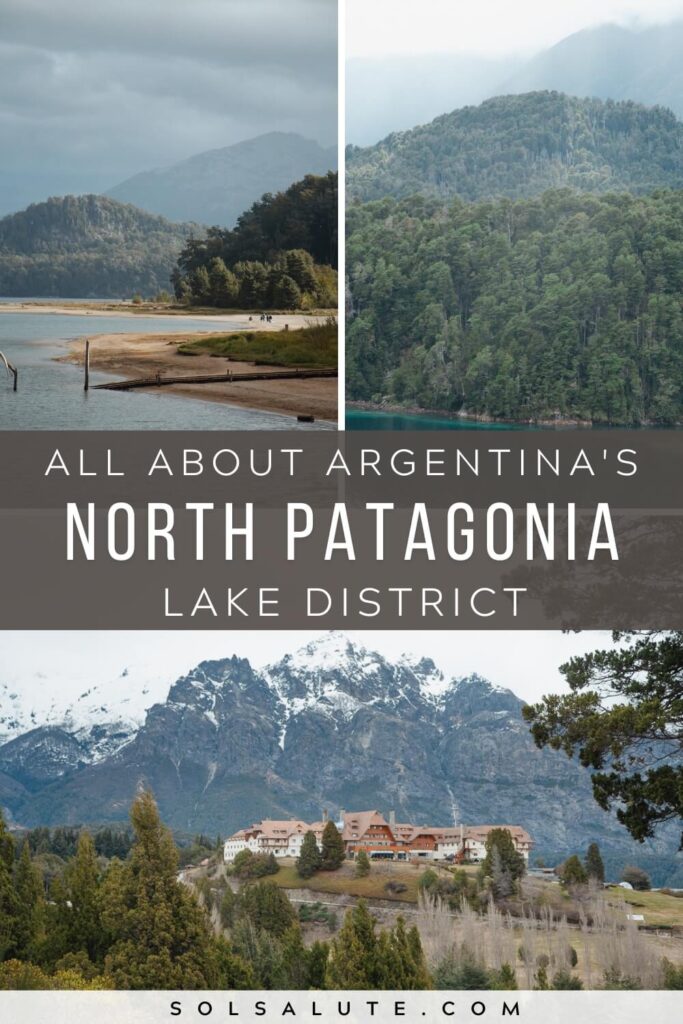 Destinations in The Argentinian Lake District
Below are the best destinations to visit in Northern Patagonia, but first here are some quick tips to keep in mind as you plan:
There are two airports | BRC in San Carlos de Bariloche is the largest with multiple airlines and domestic flights daily. CPC in San Martin de los Andes is smaller with daily Aerolineas flights from Buenos Aires.
Rent a car | I always recommend having your car here. Check rates here.
Pick one town for a long weekend escape or multiple cities for a road trip, this area is amazing for road trips!
How to get around? | No car, no problem. Bariloche has public transportation, use your SUBE card. Taxis or Remis' are also available. You can take the bus from town to town. Hitchhiking is common but expect long waits and be smart.,
San Martin de los Andes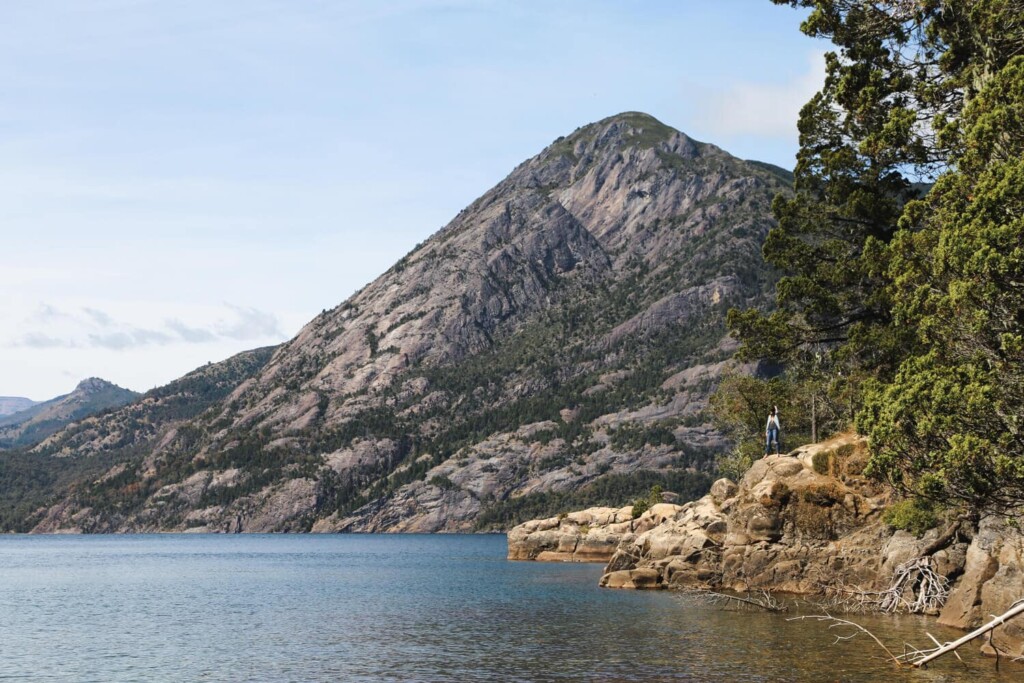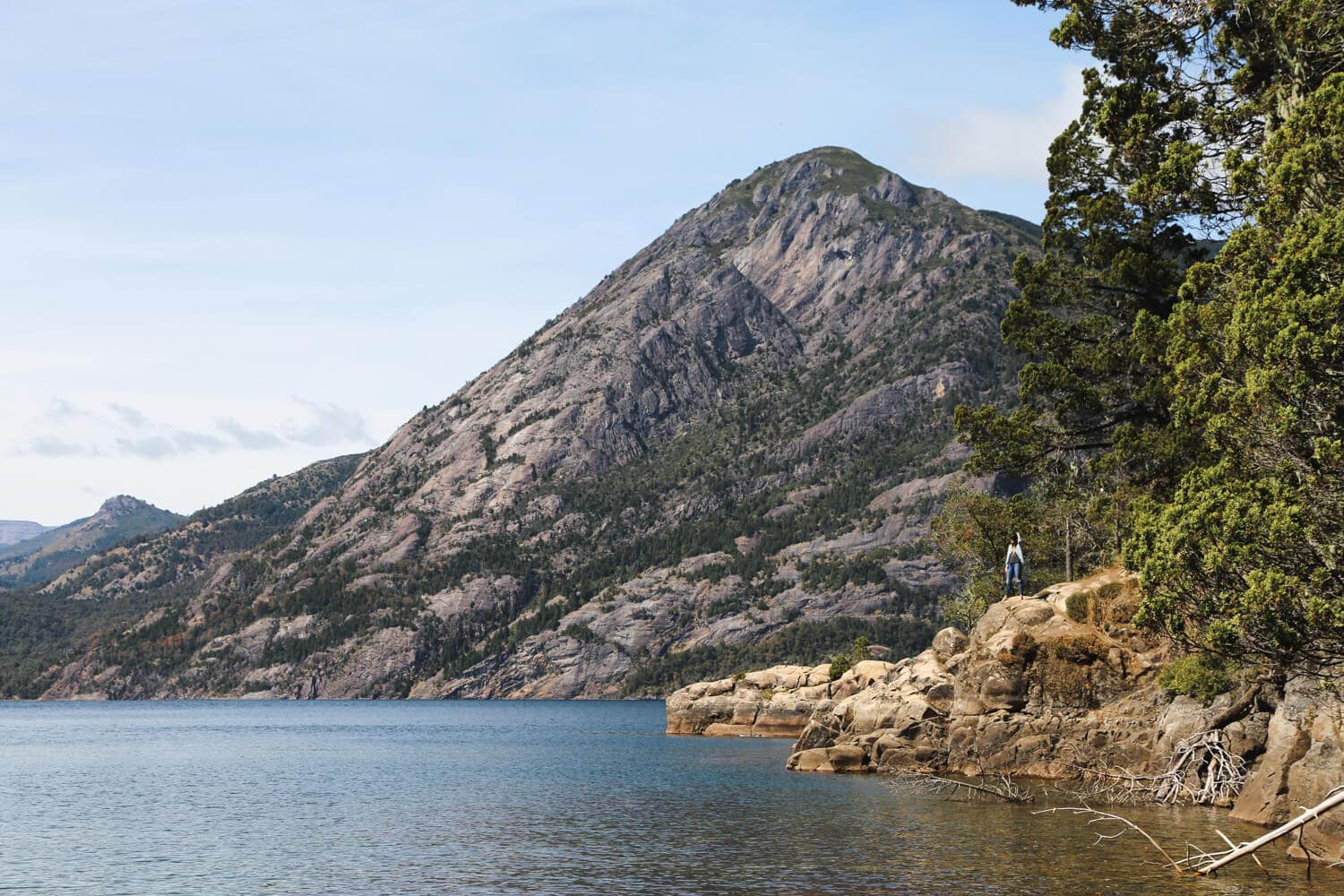 San Martin de los Andes is a small city at the northern end of the Lake District in Argentina.
It's most Argentines favorite destination in the region, which is easy to see why once you visit.
San Martin de los Andes is large enough to have all that you'd need from a city but small enough to still have the charm of a small mountain town.
The town itself is built on the shores of Lago Lacar and serves as the gateway to Parque Nacional Lanin and the northern edge of the Ruta de los 7 Lagos scenic drive.
For the adventurous among us, there are a number of hikes in the national park.
For the lazy (relaxed) among us, there are plenty of beaches like Quila Quina, Playa Yuco and Hua Hum to take in some sun or swim in the summer.
San Martin de los Andes Logistics:
How long: I'd spend at least 3 days, for more hikes and excursions I'd be happier with 5
Where to stay: We stayed at the Arrayan Mountain View Lodge and loved it, great views of the lake and a short drive from downtown, it's easiest with a car but other guests took taxis.
Tips: This is the only town with an airport besides Bariloche
Check rental car availability right here in SMdlA
San Martin de los Andes is at the northern end of the Ruta de los 7 Lagos scenic drive, use it as a day trip or as a road trip route south
Villa Traful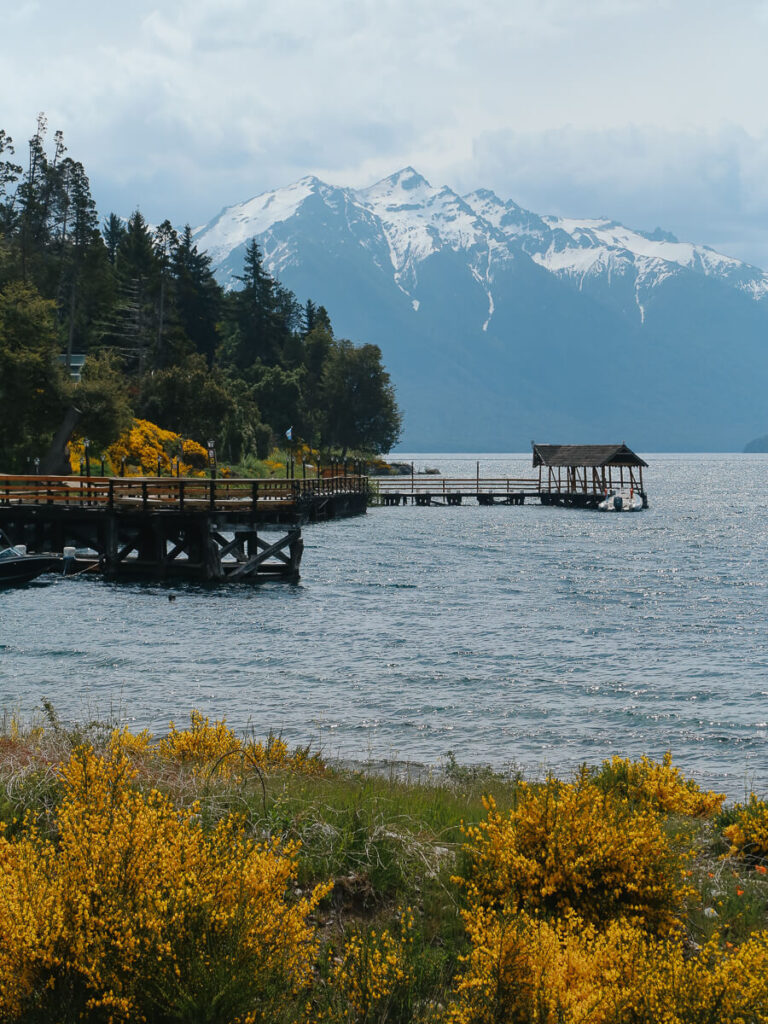 Villa Traful is a tiny town off of the Ruta 40.
It's a small detour off the 7 Lakes Drive but home to quite a massive lake of its own, Lago Traful.
This small village is your ideal destination if you want to disconnect with nature or practice extreme sports.
There's not a lot to do here but in the best of ways.
Villa Traful is home to hiking trails, a submerged forest you can scuba dive through, kitesurfing and windsurfing when the weather is right, fly fishing, and more.
Recent years have brought a lot of growth to Villa Traful and with it, more hotels beyond the usual campsites and cabins, but it still remains a bit sleepy compared to big brother Bariloche.
Villa Traful Logistics:
How long: You could get by with 2-3 days here but if flying in, it's a town I'd use as part of a road trip to other destinations in the area. If you're based in SMdlA or Bariloche, it's a great weekend getaway.
Where to stay: For a larger hotel stay at Hotel Alto Traful, that said, Villa Traful is best experienced with your own cabin like this one.
Tips: Fly into Bariloche, rent a car there and drive up to Villa Traful
Along with the 7 lakes route, Villa Traful is also part of the Circuito Grande scenic route, so there is a lot to see in the surrounding areas.
Villa La Angostura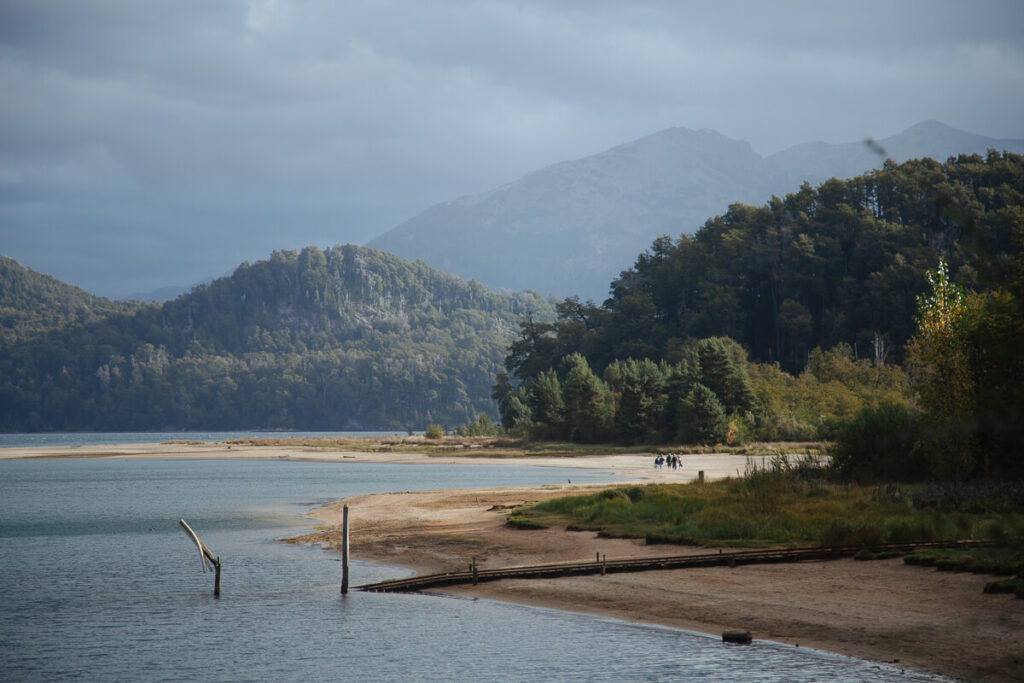 Villa La Angostura is my personal favorite (but just saying that feels a bit like picking a favorite child).
It's a smaller village that in every way feels like a village and not a city.
At just an hour from Bariloche, it's close to the region's largest airport and my favorite alternative to its big city neighbor.
Villa La Angostura has all of the same activities you'll find in Bariloche from lake kayak excursions and hikes to its own ski resort, Cerro Bayo.
It has a much cleaner feel than Bariloche with an adorable downtown and pristine beaches on Lago Nahuel Huapi.
Luxury resorts like Las Balsas (a Relais & Chateaux) property will spoil you here but there are options for all budgets like this cabin.
In Situ Viajes is a Patagonia specialty travel agency based in Villa La Angostura, tell them you heard about them here and they'll book the best excursions and stay for you.
Villa La Angostura Logistics
San Carlos de Bariloche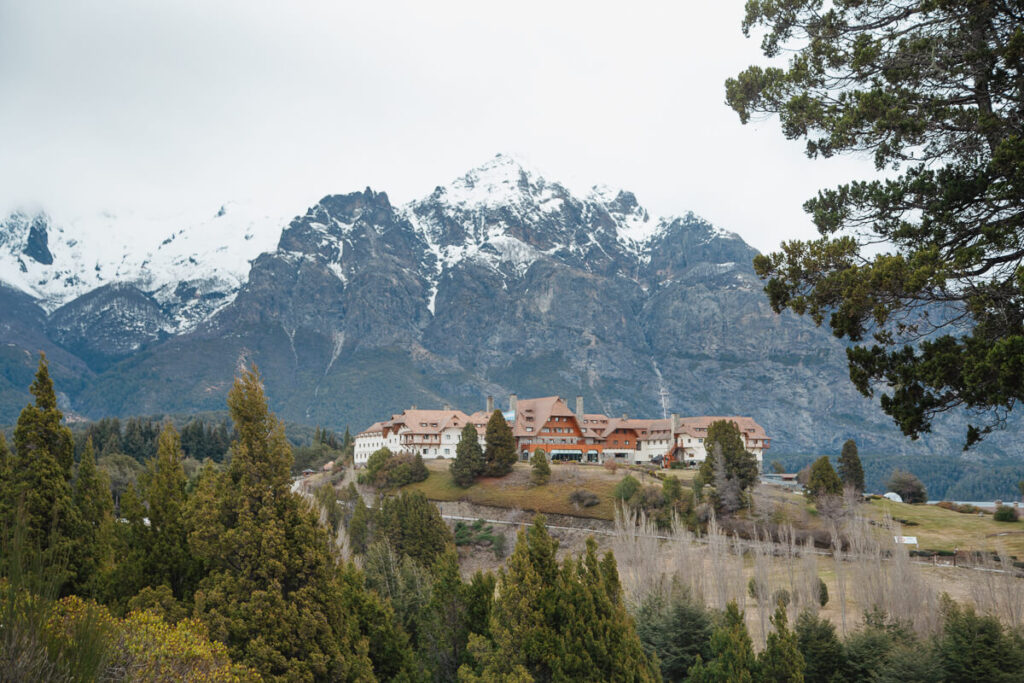 Bariloche, the powerhouse of the Argentinian lake district.
It is a major city in Patagonia and far from the old mountain village of yester-year.
Being home to the region's largest airport means it is the easiest to access. There are flights just about every hour from multiple airlines.
This is likely where your trip to the lake district in Argentina will begin.
If you love hiking, visit in the warmer months to take advantage of the unique mountain hut system (refugios).
Kayak, mountain bike, or just eat fondue and chocolates, there is an endless number of activities to choose from here.
It's also a major winter destination, Cerro Catedral is the largest ski resort in South America, read all about winter in Bariloche.
Cerro Otto and Piedras Blancas are also great for families, with sledding and snow shoeing.
I highly recommend spending at least a week here if this is your only destination.
If you want to do a road trip, spend a few days here then choose to go north to Villa La Angostura, Villa Traful and San Martin de los Andes OR head south to El Bolson and Trevelin.
San Carlos de Bariloche Logistics
How long: I'd stay 4 days minimum and also visit other towns, if only doing Bariloche you won't be bored with at least a week here. More if you want to hike.
Where to stay: This is the best hostel with incredible views, for luxury stay at Charming (each room has its own spa). Families should look at the cabins at Villa Labrador, we loved our week there!
Tips: Rent a car to really enjoy the region, check rates here. But Bariloche does have a great bus system and you can use your SUBE for it, lately buses are slow to come so expect a wait, hitchhiking is also common but expect waits to get picked up.
Read more: Things to do in Bariloche
El Bolson (& Lago Puelo)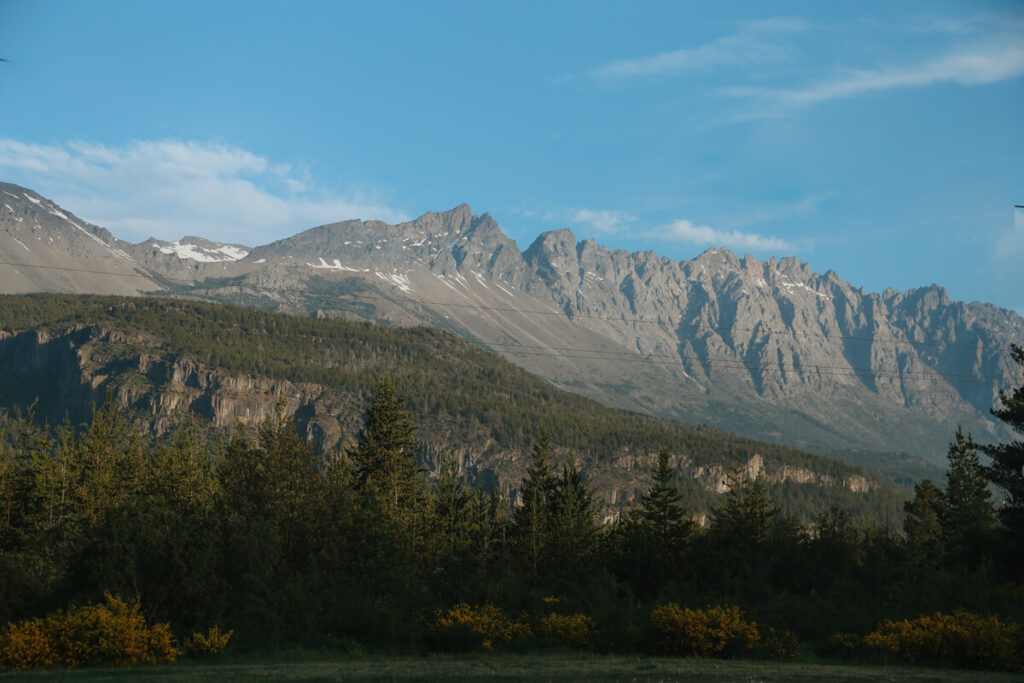 El Bolson is Patagonia's hippie paradise, ask an Argentine their thoughts and it is love or hate and nothing in between.
Me? I love El Bolson.
It's 2 hours south from Bariloche and the natural beauty here is epic.
El Bolson is in a valley rather than right on the lakes like the towns mentioned above.
It was founded in the 1960's by hippies, giving way to the reputation that remains today.
There's an artisan market three days a week and you can pick up some really unique things there from tie dye shirts (are you surprised?) to international food trucks.
The hiking here rivals – if not beats – Bariloche, with the largest system of mountain huts/refugios in Argentina.
Visit neighboring Lago Puelo and Lago Epuyen if the weather is warm for kayaking or just to rest by the water.
El Bolson is ideal for backpackers but any families or outdoors lovers looking to get off the beaten path will love it here.
Caveat that in peak months like January there is no such thing as off the beaten path, and El Bolson is very much on Argentines' radars, even if it's not on as many North Americans' or Europeans' itineraries.
El Bolson Logistics
Trevelin (& Esquel)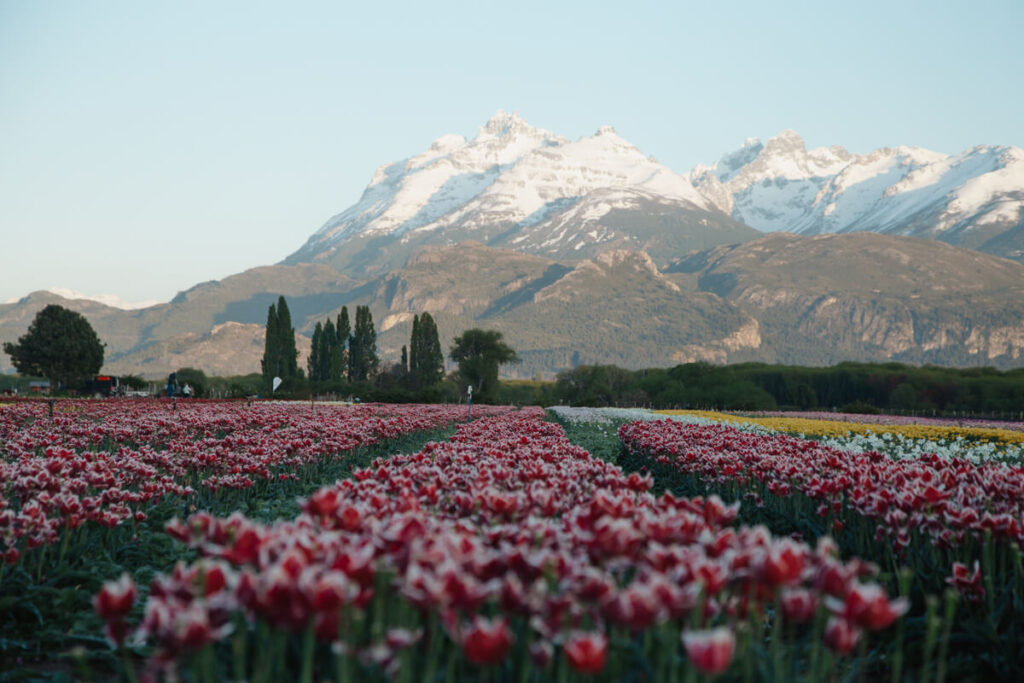 Trevelin is the furthest south and the town is booming.
Tourism here has exploded in recent years among Argentines and I can only imagine it will soon be on everyone's radars.
The town's picturesque tulip field put the area on the map.
If you want to see the tulips, you have to go in October and book well in advance because everyone wants to see the tulips.
Read more: A Complete Guide to Trevelin
The area is also a haven for fly fisherman, with luxury lodges like this. Season begins in November and I also recommend planning in advance.
Trevelin also has three wineries making GREAT wine, Casa Yague was my favorite, don't miss it.
History lovers will also be happy, this Welsh settlement has a few museums paying homage to the original founders' way of life.
There are also cherry and raspberry farms, hikes, a stunning national park, and more to fill your days.
Listen to me when I'm telling you that Trevelin is a destination you don't want to sleep on.
Trevelin Logistics
How long: Minimum 4 days, one in the Alerces National Park, one at the tulips and surrounding area, one at wineries, another for La Trochita in Esquel or museums. For more hikes, fishing and meals, stay a week.
Where to stay: We loved our stay at these cabins, they were 5 minutes from downtown and right by the entrance to Alerces National Park. Fishermen will be in heaven in this lodge.
How to get there: Fly into Esquel, the number of flights depends on the season (with more in high season down to 2-3 a week in low season). Rent a car there.
Road trip tip: For a one way itinerary, see about returning your car in Bariloche. We did this and the fee was only 90 dollars, worth it to be able to drive further. We saw Trevelin, El Bolson, and Bariloche that trip.
Read More About Patagonia
Want to see even more of Patagonia, check out these destinations:
Argentina Travel Resources