Updated: February 1, 2022
If you've done even only the minimal amount of research into Buenos Aires, you'll have heard the nickname Paris of South America.
Once you're on the ground, though, you may be scratching your head a bit. dddd
What part of this city is Paris?
To see this European, wealthy side of the city its Recoleta you want to explore.
This neighborhood guide is a list of the best things to do in Recoleta and my favorite places to eat here.
At the end of the post you'll find a bit of interesting history and a map with all the must-see sites pinned for you.
Use it to plan a Recoleta walking tour!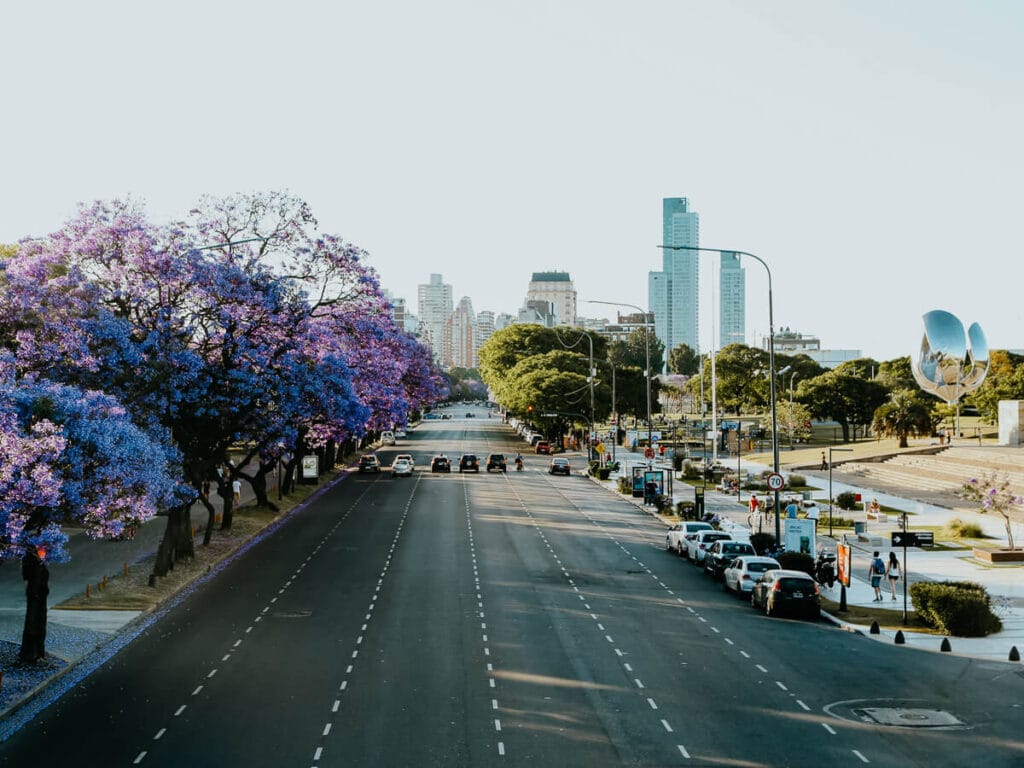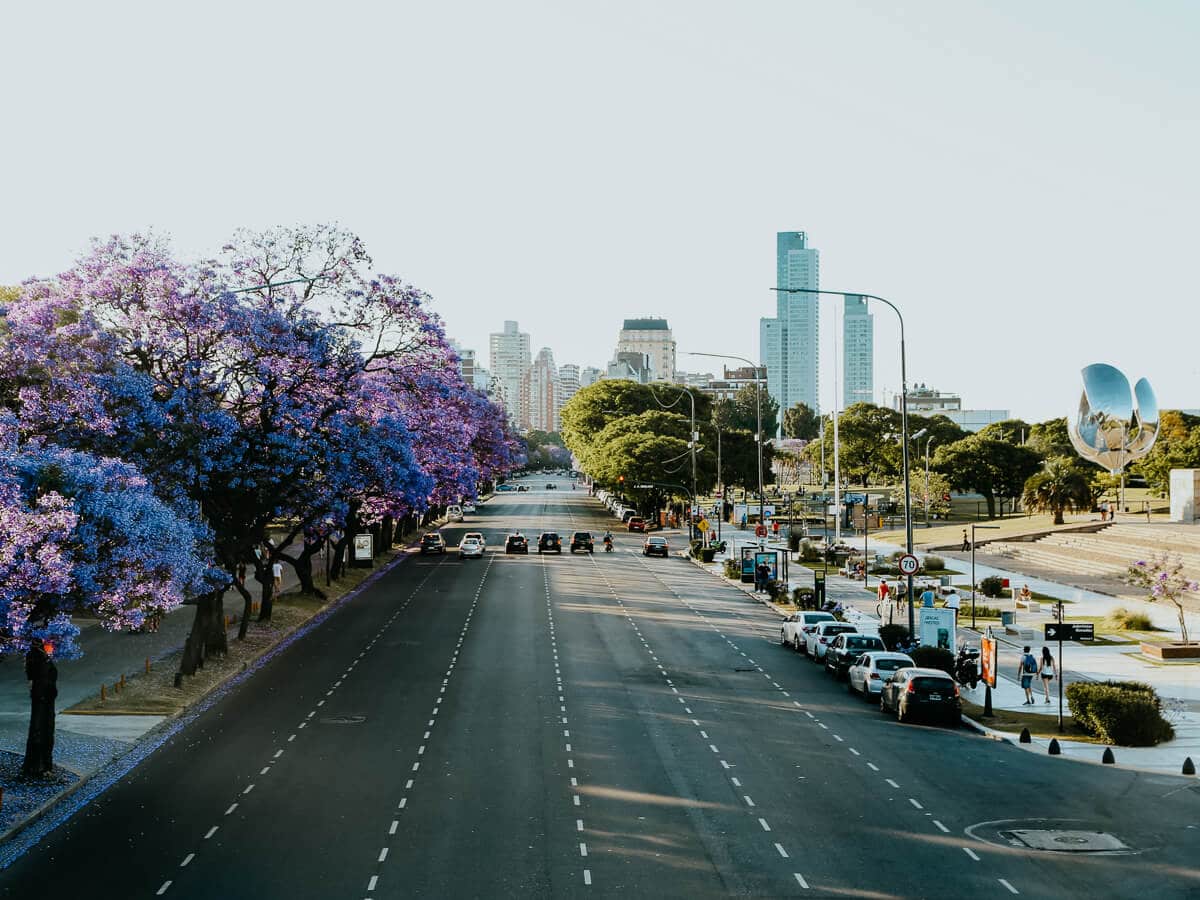 QUICK NOTE: This post contains affiliate links and Sol Salute may receive a commission for purchases made through these links, at no extra cost to you.
Neighborhood Guide to Recoleta
Recoleta holds a special place in my expat heart (I could probably find a reason to say that about any neighborhood).
When I first visited in 2009, I stayed with my best friend who was living in the heart of Recoleta.
Me and my husband's second date (the date that I planned) was a day at the weekend market here.
And when my parents came to visit me in Buenos Aires, this is where he met my parents.
Things to do in Recoleta
I'll write about all of the highlights you can't miss in this post, there's a lot!
Don't miss the list of my favorite restaurants and bars at the end.
Also at the end of this post is a Google Map marking all of the stops and the walking route, so you can plan your own self-guided walking tour of the area.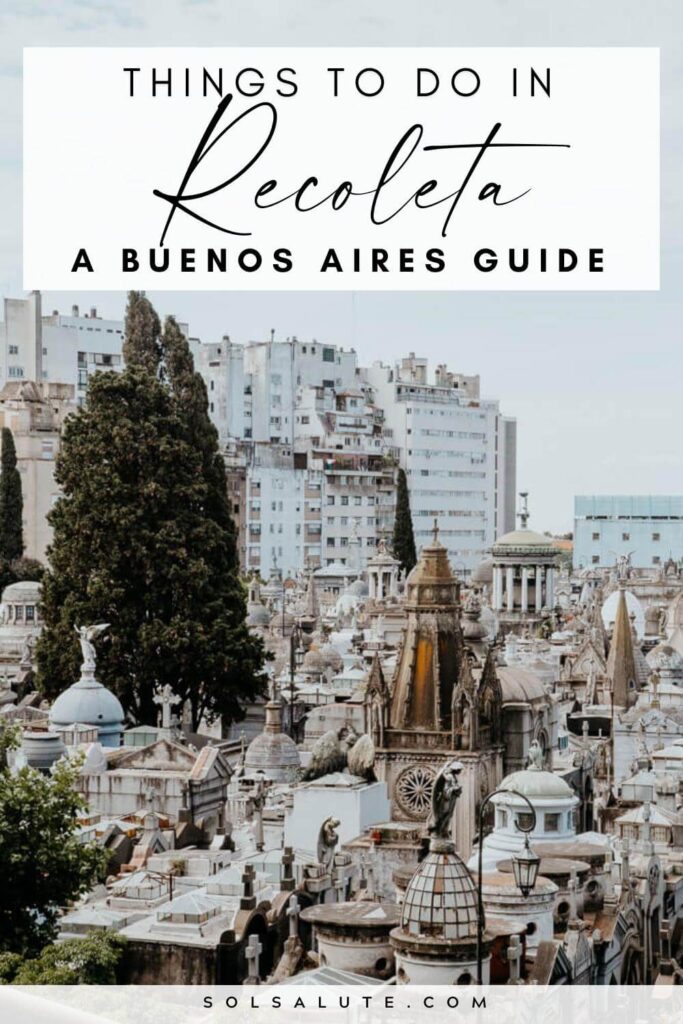 La Isla
La Isla (or the Island) is sort of a mini-neighborhood within Recoleta, an uber-elite area within an already elite neighborhood.
All of the territory that makes up La Isla was originally owned by one family, the Hale-Pearsons.
At the beginning of the 20th century, the land passed hands to a British firm who decided to turn it into a subdivision.
It was successful and large mansions were built surrounded by parks and plazas.
Only one of the original homes remains and houses the British embassy (Dr. Luis Agote 2412).
Read next: The Perfect Itinerary: 3 days in Buenos Aires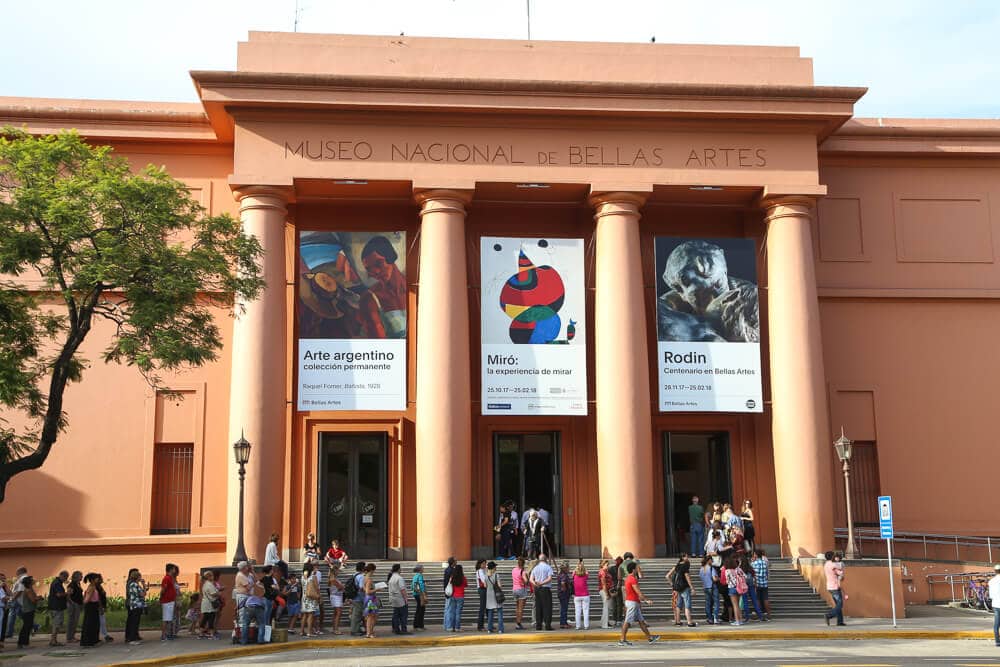 Museo Nacional de Bellas Artes
The National Museum of Fine Art is open from Wednesday through Sunday (closed Mondays and Tuesdays) from 11 am to 7 pm.
Entry is free of charge, but confirm current hours and requirements on their site here.
If you want to see Argentine art, you'll be happy with this museum's permanent collection and 24 exhibit halls.
Floralis Genérica
This enormous aluminum and steel flower was a gift to the city from Argentine architect Eduard Catalano.
The petals are designed to open and close, opening at 8 am and closing at sunset.
The name refers to the architect's desire that the flower represents all of the flowers in the world (generic flora…).
Catalano is quoted saying that the Floralis Generica "is a synthesis of all the flowers and, at the same time, a hope reborn every day at opening."
Facultad de Derecho & Plaza Brasil
Leaving the Plaza de las Naciones Unidos and its enormous metal flower behind, it's impossible to miss the gigantic, columned Law School.
Walk along the base of the steps towards the bridge crossing Libertador Avenue.
Past the law school, just behind the bridge, you can rest your feet in the Plaza Republica Federativa del Brasil (that's a mouthful!).
There's still a lot of construction in the area, but this new park adds 55,000 square meters of green space and public park in Buenos Aires.
Enjoy the views from the bridge
Take your time when you cross the pedestrian bridge over Av. Figueroa Alcorta.
If the bridge hasn't been power washed in some time you'll probably be walking over politically-charged graffiti (what more could you expect by a law school with motivated students?).
The view down Libertador towards the Floralis Generica is stunning.
If you're visiting in November when the jacarandas are in bloom then you're in luck. This is the most iconic viewpoint with jacarandas blooming down the avenue below the bridge.
And November or not, this is a great spot during sunset if you happen to be here towards the end of the day.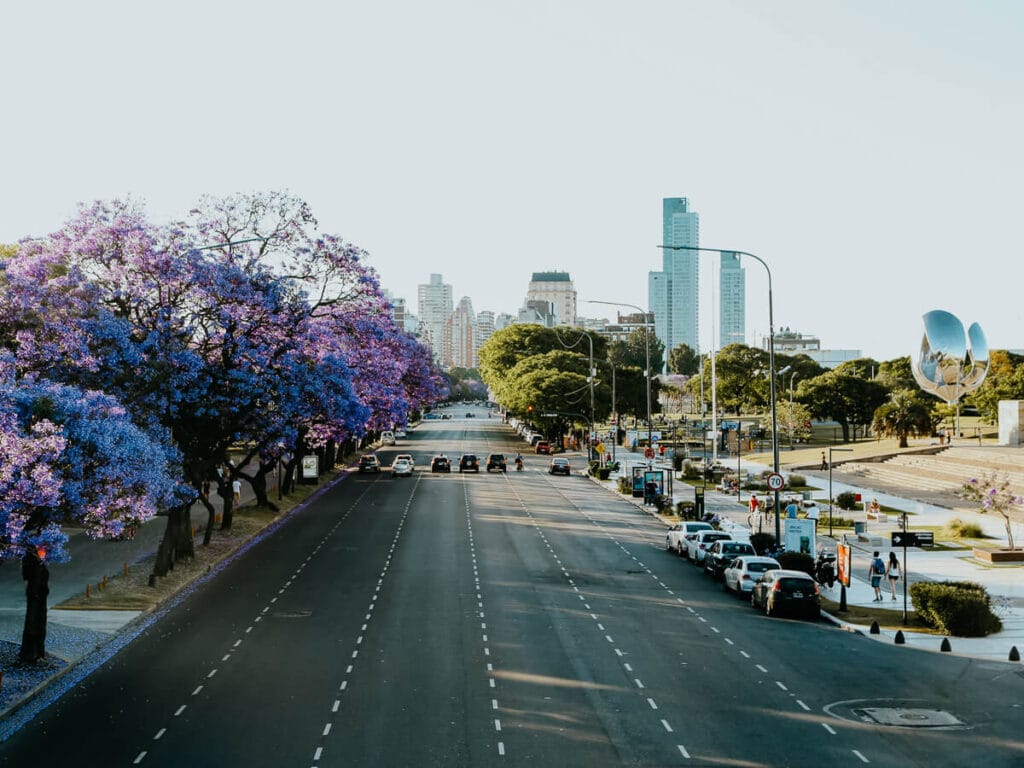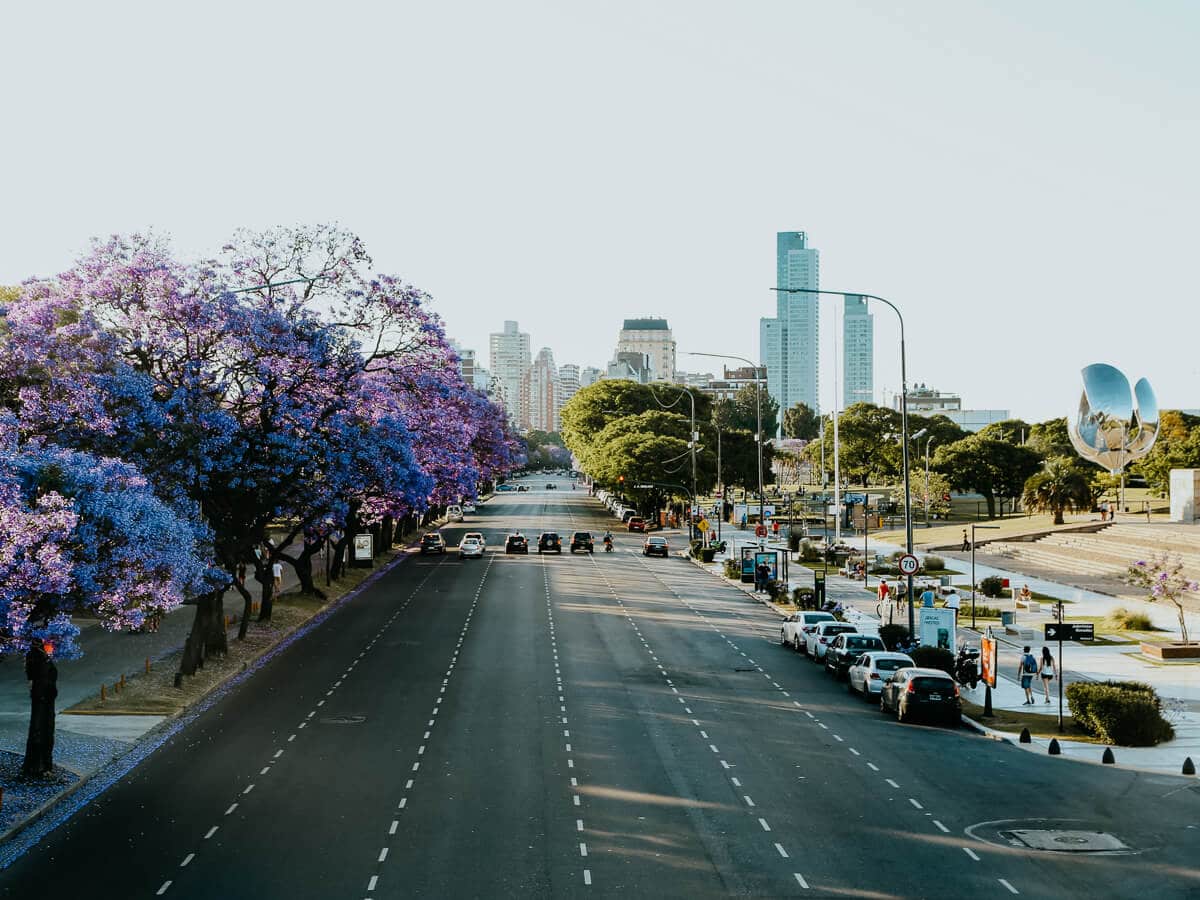 Artisinal Market in Plaza Francia
The Feria de Artesanos de Plaza Francia, a handicraft market, takes place in Plaza Francia every Saturday and Sunday from around midday to sunset.
It's one of the many great outdoor markets in Buenos Aires.
I highly recommend being in Recoleta on a weekend for the market. The plaza really comes to life.
Tourists and backpackers come to shop for leather goods and handmade souvenirs.
Locals also descend on the plazas and parks with groups of friends to drink mate and enjoy the fresh air.
La Iglesia de Nuestra Señora del Pilar
This church, dedicated to Our Lady of the Pillar, was built in 1732 by Franciscan monks.
This is the second oldest church in the city, just behind the Iglesia de San Ignacio in San Telmo.
Read more: The Ultimate Buenos Aires City Guide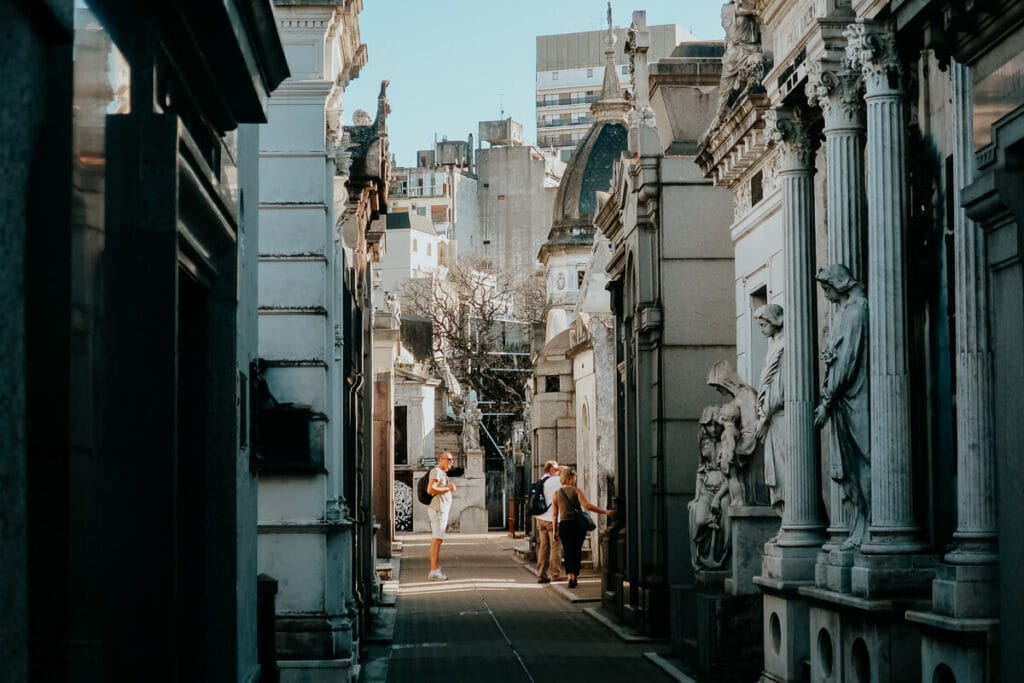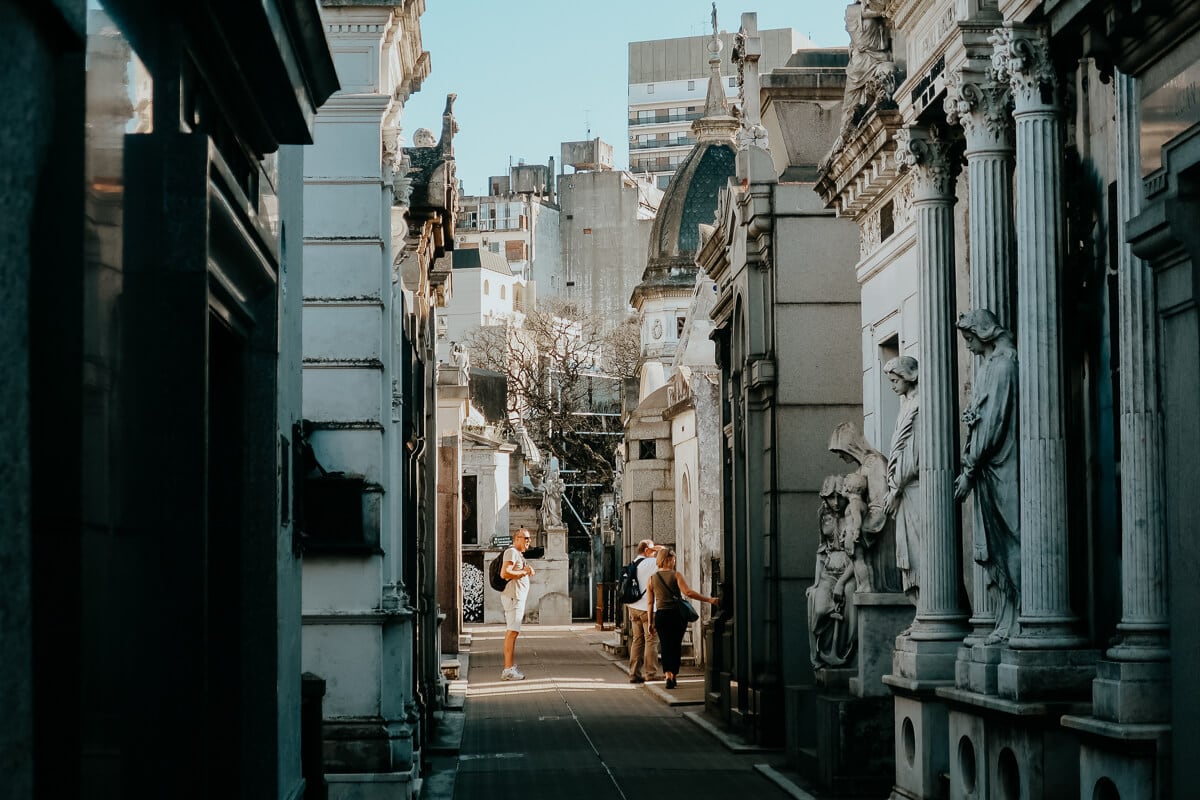 La Recoleta Cemetary
The most famous attraction in Buenos Aires is without a doubt the Recoleta Cemetary.
Also built by the Franciscan monks, it was attached to the church next door.
The cemetery is a veritable who's who of Buenos Aires political history, with past generals and presidents as well as Nobel Prize winners and writers.
While, yes, that Evita is buried here. But fight the temptation to just find Evita's grave and leave.
Allow yourself ample time to wander and get lost here.
The cemetery is open every day from 8 am – 5 pm. There are free guided tours in English at 11 am on Tuesdays & Thursdays.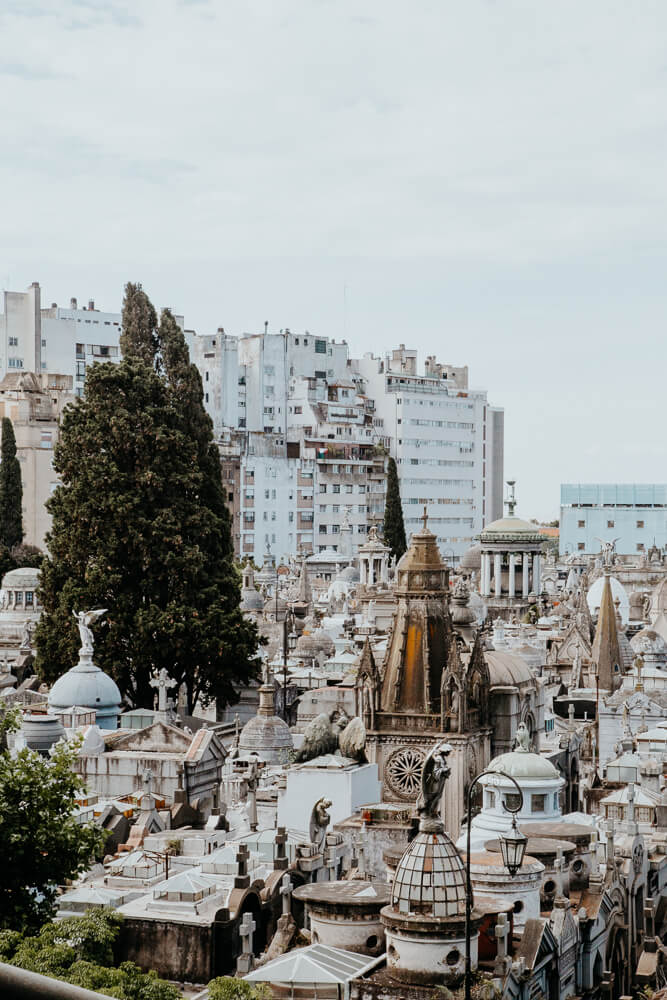 Pro-tip: Head around the corner to the Recoleta Shopping Mall, go to the top floor food court. The Mostaza burger restaurant has a balcony with a birds-eye view of the cemetery. You can also get a great view while enjoying a pint at the bars with terraces on Junin (like Buller Brewing, for example).
La Biela
Stop for a coffee break in Cafe La Biela, just across the plaza from the cemetery.
The cafe has been around since 1850, originally called La Viridita.
Grab a table outside under the shade of a huge rubber tree, said to be the oldest tree in the city.
Many branches need to be sustained to avoid them breaking from their own weight. There's a statue of Atlas holding up one of the largest branches, made mostly from metal recycled from cars.
Don't forget to take photos in the randomly placed English red phone booths put here by President Menem.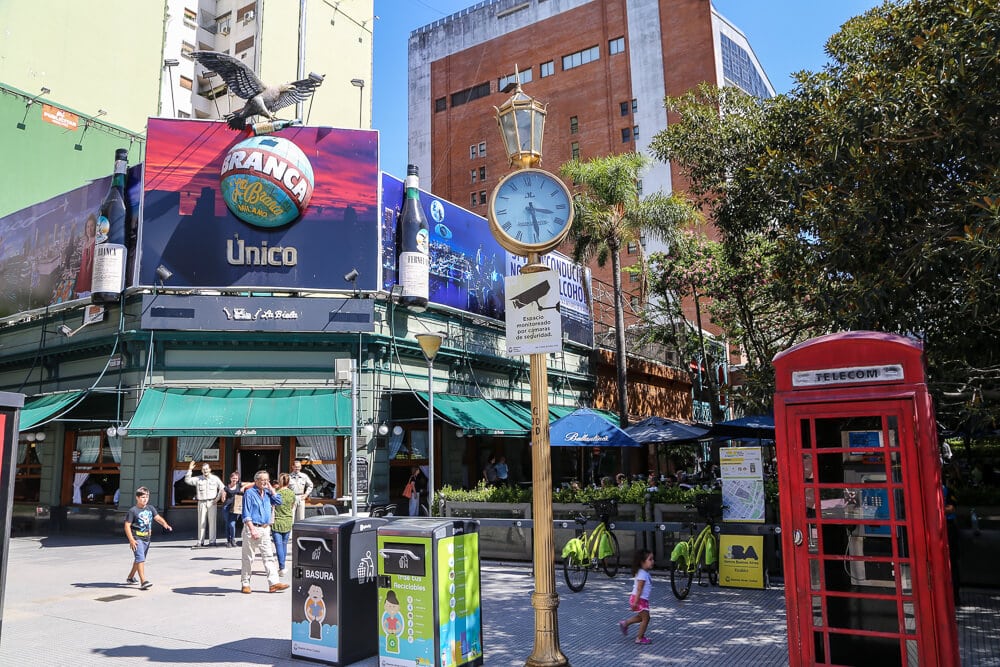 Walk down Avenida Alvear
Make your way to Avenida Alvear to see prime examples of Recoleta's wealth.
One block down Alvear, take a left onto Ayacucho Street and head to Arandu to pick up authentic Argentine souvenirs. This shop has excellent leather goods and traditional clothing.
Back on Avenida Alvear you'll see some of the city's most impressive mansions.
Make your way to the Hyatt Palacio Duhau. If you have a more flexible budget reserve brunch here.
Next door is the Vatican Embassy.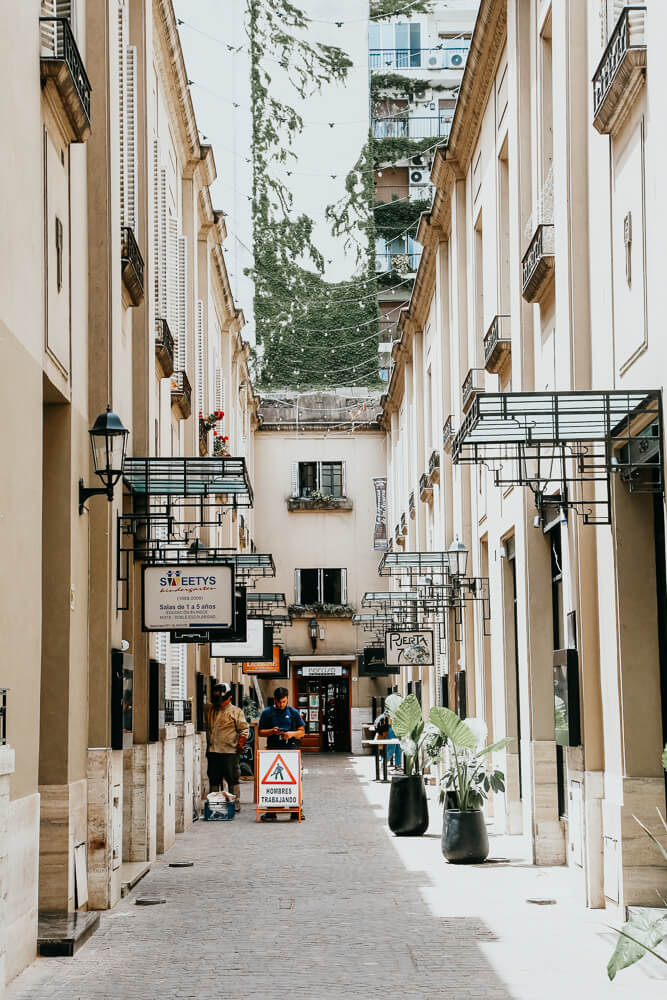 Explore the Beautiful Pasajes (Alleys) of Recoleta
Alley may sound off putting, but the pasajes in Buenos Aires are some of the most beautiful streets you'll find (and also home to some of the best street art in Buenos Aires).
There are 4 must-see pasajes in Recoleta.
My favorite is Pasaje Suizo (also known as Pasaje del Correo). It's only a few blocks from the cemetery on Vicente López (between Montevideo and Rodriguez Peña).
It was built in 1920 but an Italian family and is very European in design. There are cafes and restaurants (Bis and Aramburu being two of the city's best).
Pasaje Russel is residential pasaje. It's two blocks long (connecting Pacheco de Melo and French Streets), one block over from Calle Austria.
Neighbors recuperated the street and returned it to its original splendor, returning cobblestones to the street and painting their facades in vivid colors. Visit La Dama de Bollini for a drink to follow in the footsteps of legendary writer, Borges.
For a European clash of styles, visit neighboring alleyways Pasaje Libertad (entrance on Libertad Street between Arenales and Juncal) and Rue de Artisans (entrance on Arenales between Libertad and Talcahuano).
These two alleys were once one large L-shaped pasaje but a family feud divided it into two.
Rue de Artisans will transport you to Paris while Pasaje Libertad is reminiscent of Italy. Both house offices, design shops, and a boutique or two.
Where to Eat in Recoleta
If you've been exploring the city all afternoon, your bound to have worked up an appetite!
Here's where I like to go for dinner in Recoleta.
CAMPING | Av. Pueyrredón 2501: Camping is located just off Plaza Francia and is a good respite from the crowds of the market. Picnic tables under strings of lights, it's got ambience. Rest your feet with a beer and a snack.
EL SANJUANINO | Posadas 1515: Best empanadas in Recoleta. Ya'll, these empanadas. They're damn good.
PONYLINE or ELENA @ THE FOUR SEASONS | Posadas 1086 | Ponyline is the bar at the Four Seasons. It's very hip, and is famous for its burger. Elena is their more upscale restaurant, reservations recommended. I'm not one for the fancy eating, but Elena is one of the best restaurants I've ever been to. You can't beat the quality of their food with the high level Four Seasons service.
LA CHOLITA | Rodríguez Peña 1165: La Cholita is very affordable. It's a parilla and serves great meat at great prices. Order a pinguino of house wine and enjoy!
CUMANA | Rodríguez Peña 1149: Next door to La Cholita is Cumana, if the line is too long at one, try the other! Cumana serves traditional food from the north of Argentina. Order a cazuela (or stew), like locro, or a tamale or humita, to try something different from all that steak.
Bars in Recoleta
Prado y Neptuno | Ayacucho 2134 | Have a seat in the mid-century furniture and order a negroni here. If you're into cigars, you're in luck with their walk-in humidor.
Milion | Paraná 1048 | I think this bar is a MUST for any visitor in Buenos Aires. The stunning mansion is worth the visit alone, the cocktails and beautiful patio are just a bonus.
Where to Stay in Recoleta
Recoleta is home to the city's most luxurious five star hotels.
The Four Seasons and the Palacio Duhau are where to stay if you want to be pampered.
For a complete guide on the best hotels and Airbnb's in Recoleta, read my post on where to stay in Buenos Aires.
Recoleta's Yellow Fever History
Recoleta is a residential neighborhood and is markedly wealthy.
If you were looking for the Paris of South America, this is it.
More affluent families fled the popular southern neighborhoods, like La Boca and San Telmo, in the late 1800's when a yellow fever outbreak pushed families out.
Northern neighborhoods (that were largely used as weekend homes before) were populated by these aristocratic families seeking haven from the pandemic.
Recoleta especially prospered due to its geography.
Its higher terrain prevented the insects that spread the disease.
The underprivileged and impoverished remained in the southern neighborhoods while the north side of the city became more prosperous.
The city remains divided this way to this day.
What does Recoleta Mean?
The Monastery of the Recollect Fathers (members of a Franciscan Order), made this area their home at the beginning of the 18th century.
They founded the church dedicated to Nuestra Señora del Pilar and its adjoining cemetery (one of Buenos Aires' most famous landmarks).
Recoleta Walking Tour Map
Argentina Travel Resources