La Plata is a small city about an hour from Buenos Aires that flies a bit under the radar.
The city of Buenos Aires is actually its own federal district.
You may see it referred to as Capital Federal or CABA.
It doesn't form part of the province of Buenos Aires and La Plata is the capital of the province.
Residents of the northern suburbs often have to head to La Plata for bureaucratical matters like birth certificates and the like.
In fact, that's why I first went, to accompany a friend who needed to go pick up a document.
But after a second, more recent visit, I have to say that there's a lot to do in La Plata that make it a proper destination for a Buenos Aires day trip or weekend getaway.
This is a guide to help you visit one of Argentina's more undervalued cities.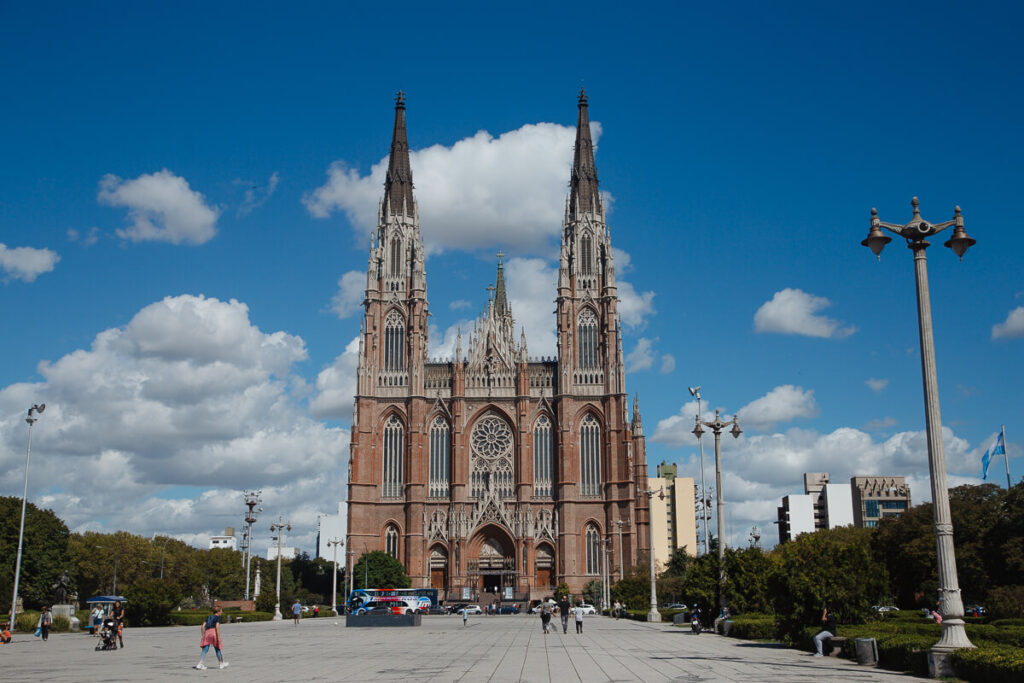 QUICK NOTE: This post contains affiliate links and Sol Salute may receive a commission for purchases made through these links, at no extra cost to you.
How to get to La Plata, Argentina
This is one of the few day trips from Buenos Aires that's very easy to manage with public transport. It's also a rare one in that it is to another city.
BUS | When it comes to the bus, there are different lines of each bus line called ramales, some are express and that's the one you want to take to La Plata to avoid a TON of stops. The 129 takes you to La Plata and you want the ramales Q or R that are express. It stops at the Retiro train station or along the 9 de Julio Metrobus line, see more here.
TRAIN | A train leaves every 30 minutes from Constitución, it's a bit slower than the express bus, somehow but is very cheap. Rush hour will be busy but at off-peak times you can travel very comfortably.
REMIS/TAXI | Hire a private remis to go on your own. Getting a rideshare to accept the ride is unlikely but not impossible, but for these longer rides I recommend finding a remis company in your neighborhood to book a private taxi. It should come out to about 20-30 dollars.
CAR | If you're renting a car or have your own, this is always the easiest option. It's 45 minutes from Buenos Aires to La Plata, calculate more time if you have to cross the city from northern barrios (La Plata is to the south).
ORGANIZED DAY TRIPS | If you want someone to take care of everything for you, this day trip to La Plata will do just that.
Things to do in La Plata, Argentina
I recommend La Plata as either a day trip or for a weekend getaway, especially for families with little kids.
Here are the best La Plata Argentina attractions;
The Cathedral
If you see only one thing in La Plata, let it be the massive Cathedral located in the geographic center of the city.
The Gothic Revival Cathedral was inspired by those in Amains, France and Cologne, Germany.
Construction began with the laying of a cornerstone in 1884 and it was finally inaugurated in 1932.
Visit the Cathedral's museum and take the elevator to the viewpoint from the towers to see the best panoramic view of the city.
Check their Instagram for hours but as of writing the museum is open all week from 10 am to 6:30 pm (with an extra hour on Saturdays, Sundays, and holidays closing at 7:30 pm).
Go on a guided visit on weekends (1, 3, and 5 pm) and holidays (12, 2, 4, and 6 pm), no reservation required.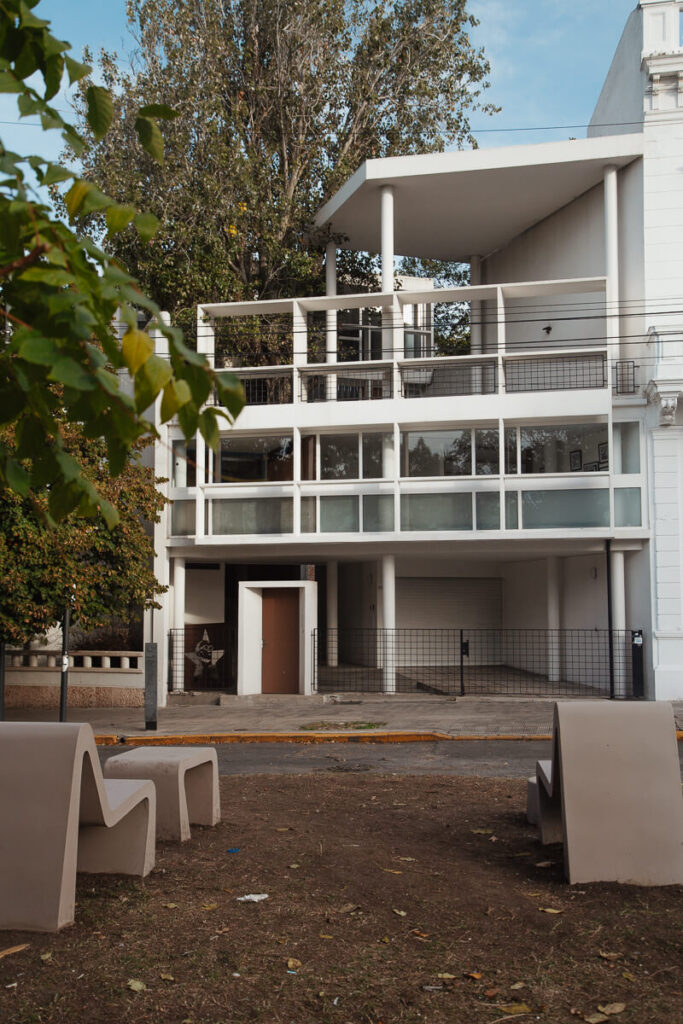 Le Corbusier's Casa Curutchet
This is the only Le Corbusier work in the entirety of Argentina, so don't miss it.
Pedro Domingo Curutchet was a surgeon and inventor who commissioned this single family home.
You can visit his office in the front and home to the back.
Museum volunteers give regular talks explaining the history and architectural importance of the home.
I recommend making a reservation to visit, just in case. To make my reservation they were quick to respond to private messages via their Facebook page.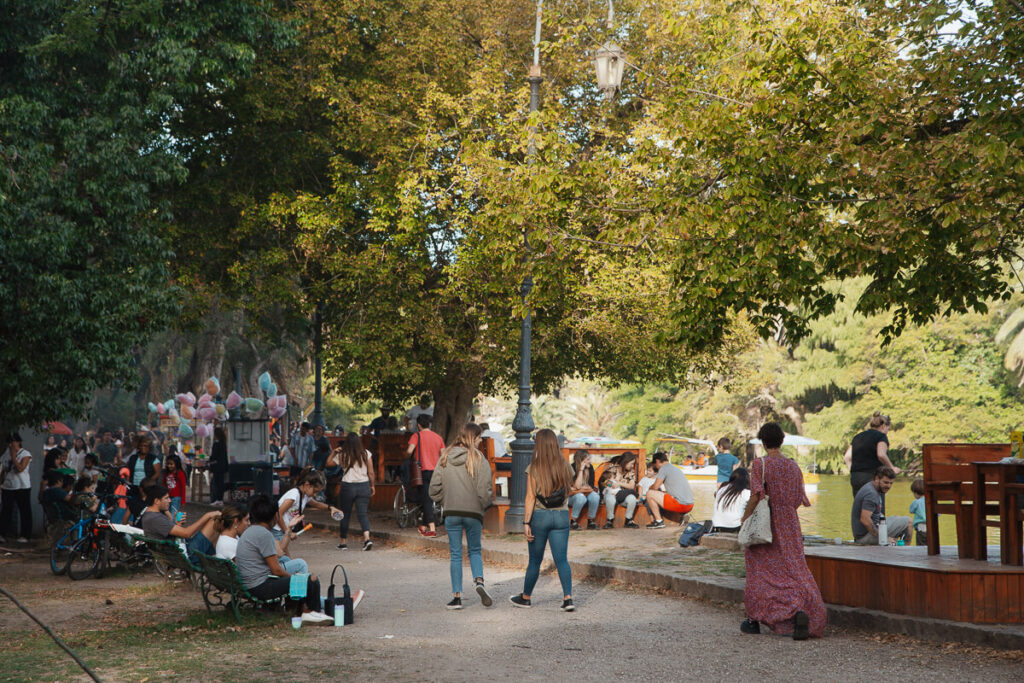 Paseo del Bosque
The Paseo del Bosque is a massive park.
60 hectares house varied native trees, a lake not unlike that of Buenos Aires' Rosedal, a stone grotto, a football stadium, an observatory, and even a natural science museum (more on that later).
The land originally formed part of a private estancia, belonging to Martín Iraola, but it was expropriated to create this park.
We were there on a Saturday and the park was bustling.
People rented paddle boats on the tiny lake, buskers played live music, there were inflatable games and mini carnival rides for children, and just about all of La Plata was there drinking mate.
You could easily spend the whole afternoon here.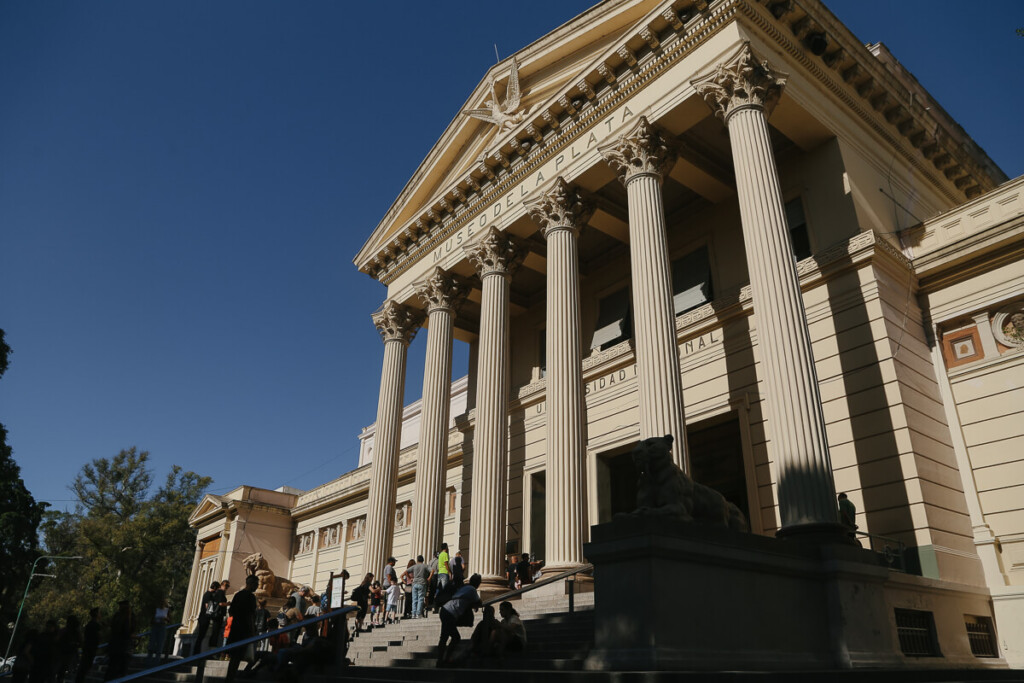 Museo de La Plata
Visit the official website for up to date hours and prices.
As of writing (May 2023), the museum is open Wednesday-Sunday & Holidays from 10 am to 6 pm.
No cash option for paying, you'll need to use a card (Visa or Mastercard) or transferencia if you're local and can do that
It's slightly cheaper if you pay online in advance but it was only payable by bank transfer when I did it (I used MercadoPago) so it wouldn't be possible for everyone.
Museo de La Plata is a natural science museum located in the heart of the Paseo del Bosque park mentioned above.
The museum was founded in 1884 by the infamous explorer Francisco Pascasio Moreno (a.k.a. Perito Moreno).
The collection houses 3.5 million pieces that belong to the areas of geology, botany, zoology, paleontology, and anthropology.
Being loaded down with two strollers and two tired babies we stuck the bottom floor only but there are three floors filled to the brim with exhibitions.
The museum is in the shape of an oval so it's easy to tour, just head to the right and wander until you find yourself back where you started.
Prepare yourself for a lot of bones, a LOT of dinosaur skeletons and a room filled with so more zoology samples than you'd ever expect to see in such a tight space.
It sounds grotesque but I was a fan.
In the center of the room there were skeletons of an elephant, rhino, and the like, above us hung whales and lining the display cases along the walls were coatis, bats, you name it.
Go see for yourself.
República de los Niños
Visit the official site to confirm current hours and fees
Open every day from 7 am to 10 pm
República de los Niños is a children's theme park in Gonnet, outside of downtown La Plata.
This is the largest theme park in Latin America and claims to be the first of the Americas and inspiration for other parks (a wink at Disneyland).
The park was inaugurated by Peron in 1951, four years before Disneyland (giving Argentina the legend that Walt was inspired here).
While it's no Disneyland, it is pretty big.
Imagine an entire community built to the scale of your average 10 year old.
You'll see miniaturized hotels, restaurants, a church, parliament, and even an airport.
We weren't able to visit on our last trip and heard mixed reviews on exactly how much fun it is.
But anything this kitschy has got my attention so I hope to get there someday so my kids and visit the tiny customs office, why not.
History of La Plata: Diagonals & Free Masons
Plans began for La Plata when Buenos Aires was federalized in 1880 (it remains a federal district and capital of the nation).
Governor Governor Dardo Rocha was in charge of creating the city and he employed urban planner Pedro Benoit. Both men were Free Masons.
The city was planned as a grid. The square grid is intersected by two main diagonals but there are many smaller diagonals criss crossing the map, giving rise to the obvious nickname la ciudad de los diagonales or City of the Diagonals.
If you know where to look you'll find Free Mason symbols throughout the city.
The diagonals themselves even form the famous Square and Compass, photo above.
You can read more in this La Nacion article with the help of Google Translate.
La Plata Ciudad Oculta offers guided tours of La Plata's more hidden history.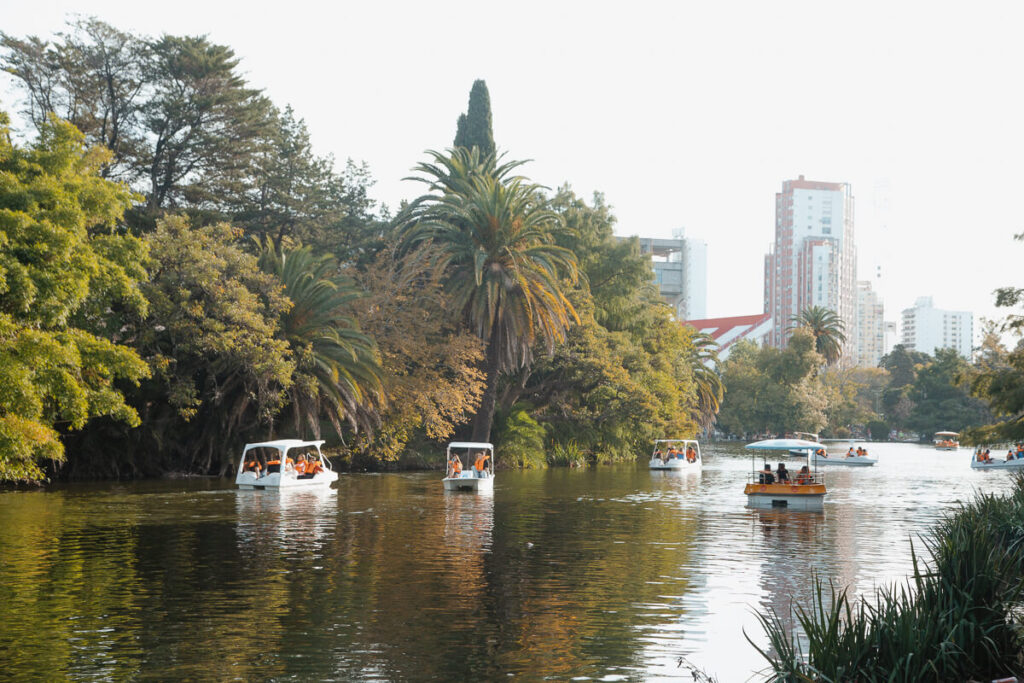 Where to stay in La Plata
Want to stay longer than just a day?
Here are the best places to stay in La Plata, Argentina:
Grand Brizo La Plata – This is the best hotel in town, with modern, comfortable rooms and suites, a fitness center and a great breakfast buffet. The highlight is the roof bar with views of the Cathedral.
Hotel City Bell – For a bit more charm and the feel of a small Bed & Breakfast, this hotel is the best choice but keep in mind that it's not in the center of La Plata but neighboring suburb, City Bell.
Apartments – There are a lot of great apartments like this one that even has a parking spot in the garage that are good for all budgets and a bit more comfort.
Pin It For Later
Argentina Travel Resources