South Africa is one of my husband and I's favorite destinations.
After two trips and weeks upon weeks of safari parks and endless beaches, we're in love.
When it comes to international destinations, South Africa is our absolute favorite destination.
We've driven from Kruger to Cape Town and spent many, many days discovering the country's best wineries, beaches, and game parks.
This post details my complete South Africa packing list, with everything we brought and needed on our trips (and the things I wish we had).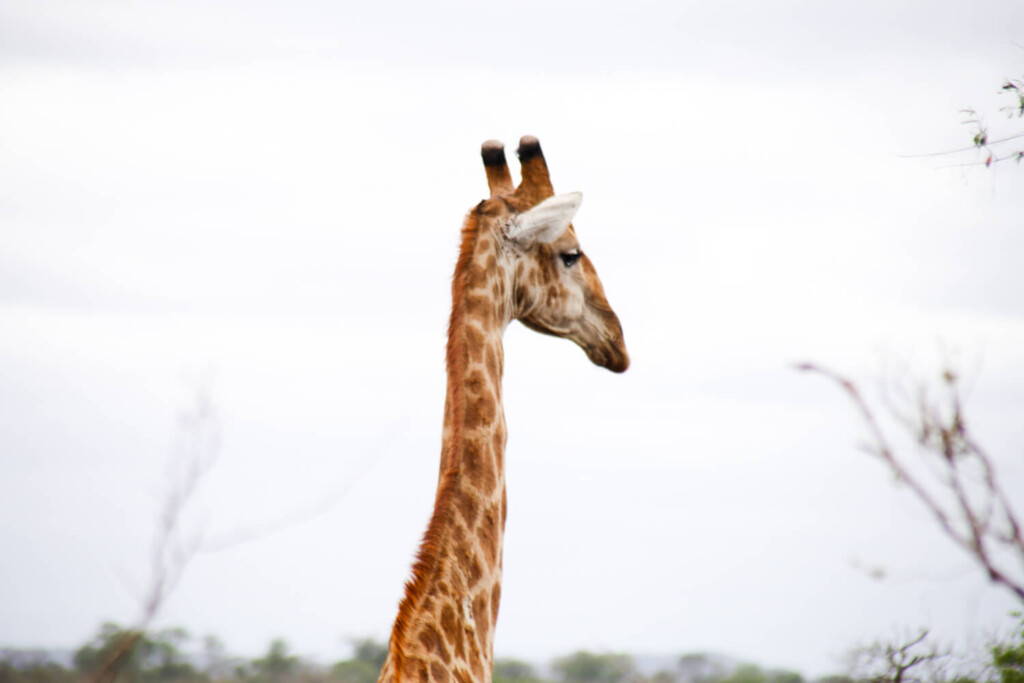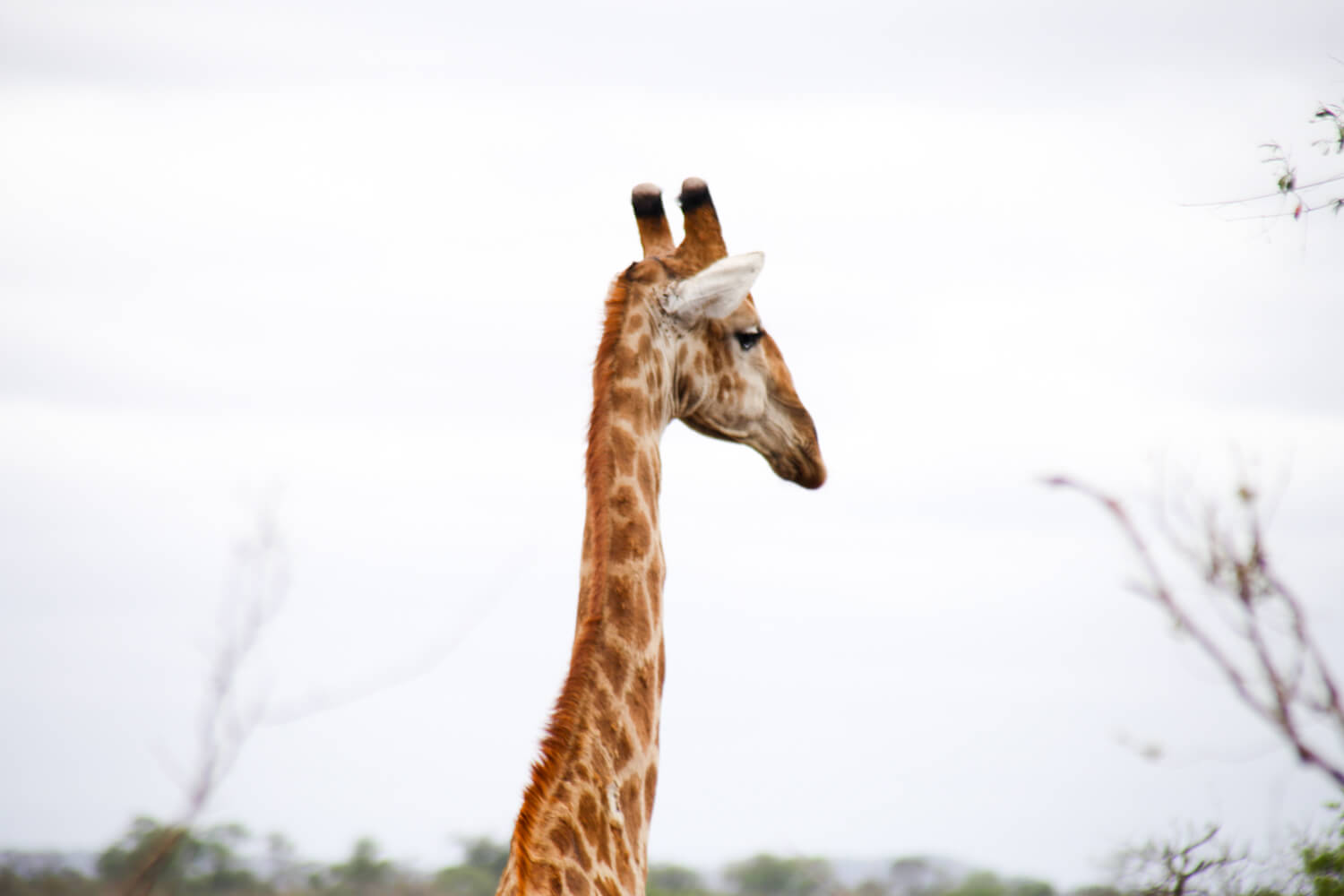 QUICK NOTE: This post contains affiliate links and Sol Salute may receive a commission for purchases made through these links, at no extra cost to you.
Start Here: the Essentials For Any South Africa Packing List
First and foremost, make sure you have all your paperwork in order when packing for South Africa.
Organize your documents and keep them together throughout your trip.
I use a large money pouch and keep all of my documents and paperwork in it for every trip, separate from everything else.
PASSPORT | Make sure your passport is up to date and that it will have at least six months before the expiration date when you arrive in South Africa and a photocopy or scan in your phone.
INSURANCE | Don't visit a country like South Africa without travel insurance. I love SafetyWing because it's so affordable and covers everything from lost luggage to medical emergencies. If you'll be doing anything adventurous, it's highly recommended to travel insured.
VISA | Does your country require a visa to visit South Africa? United States citizens do not require a visa, for a complete list of exempt countries check here.
YELLOW FEVER VACCINATION | You are required to have a yellow fever vaccination for South Africa if you've visited at-risk areas (mainly African and South American countries). The mosquito that can carry yellow fever is present in South Africa, so this is a preventative measure to keep the disease out. If you're from or have visited any of the countries on this list, you need the yellow fever vaccine and proof of vaccination to be allowed onto your flight to South Africa.
OTHER VACCINES/MALARIA | We didn't get any other vaccines for South Africa. It's a low-risk country for Malaria, so we decided to skip any preventative medications. This is something that you should consult with your own medical doctor about (which we did). It will depend on where you're going and your own personal health situation.
INTERNATIONAL DRIVING PERMIT IF APPLICABLE | If you're driver's license is in any language other than English, get an international license at home before your trip. My US license was fine but my Argentine husband had to get an international license (via the ACA here).
PRINT OUT HOTEL INFORMATION | You may find yourself in areas with little to no internet, depending on how rustic you travel. In that case, it's good to have all of your hotel names, addresses, and directions printed out. Having this information printed saved me more than once.
DOWNLOAD A MAP | Data plans in South Africa are extremely expensive and eat up data faster than you'd expect, so it's best to have the map already downloaded onto your phone so you can always look up directions, no matter where you are. I use maps.me (download it here) and make sure to download the regions I'll be visiting at home, before leaving.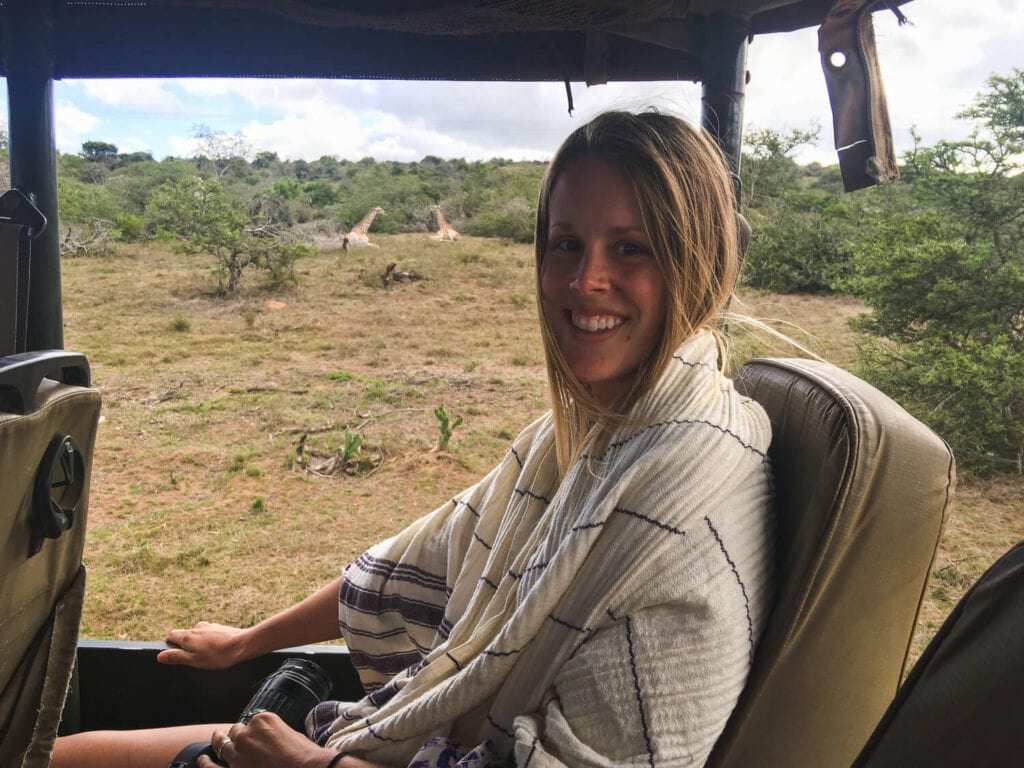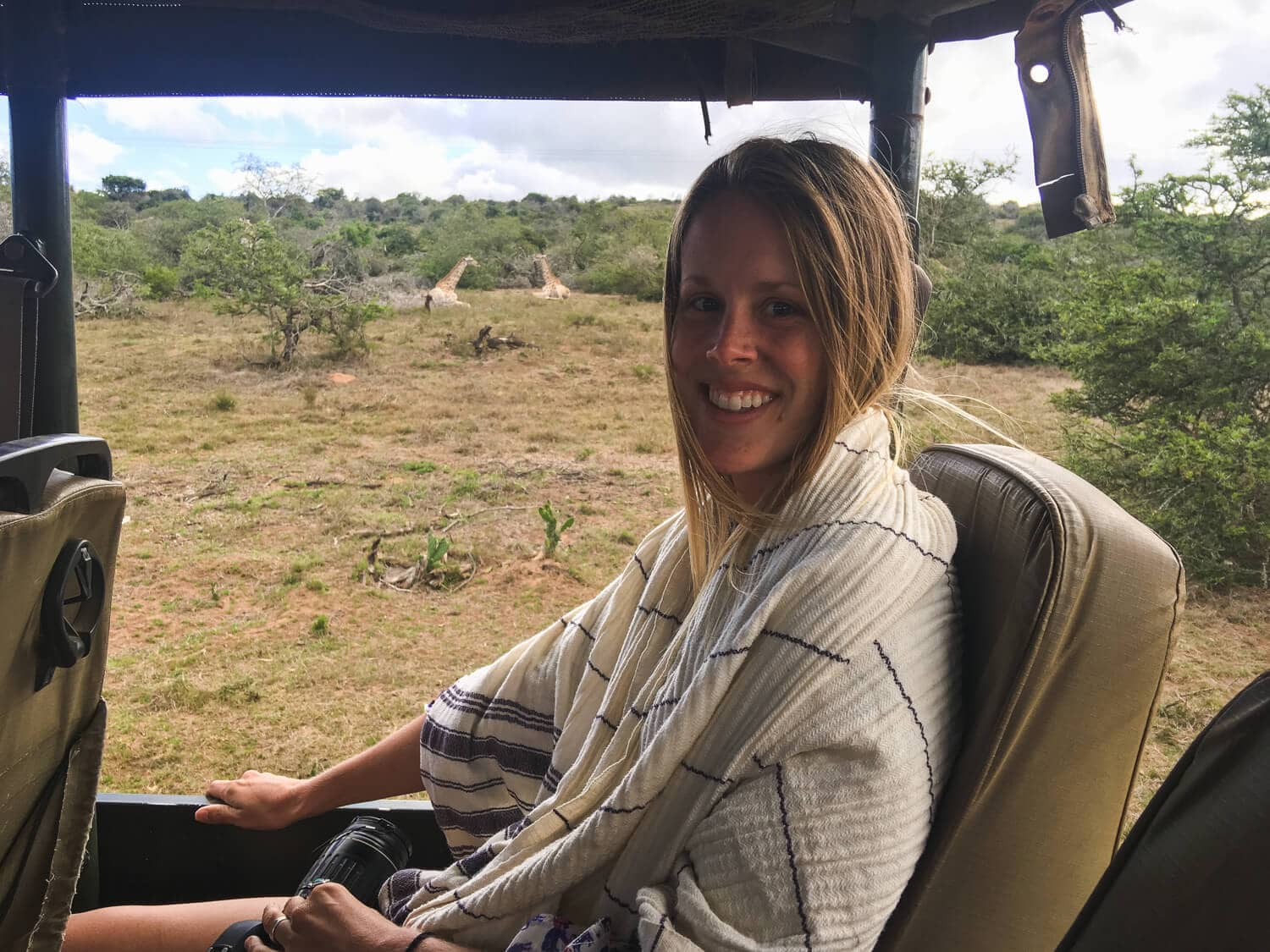 What to Pack for South Africa
Here are the things that I included in my South Africa packing list that made our trips there go smoothly.
These are the things you should be sure not to forget.
1. South Africa Power Adapter
I never remember to pack an adapter and South Africa was no different.
I had to buy one on the ground in Durban, but this one on Amazon is much better than the cheap one I picked up on the street.
It has room for a plug, of course, but also two USB outlets. With just one wall outlet you can charge your camera battery and two phones. Check prices here.
QUICK NOTE ABOUT HAIR DRYERS & ADAPTERS | An adapter is not a power converter. An adapter will work fine for your phone, laptop, and camera batteries. However, if you're using a hair dryer from the US (120v), it will most likely burn out and die plugged into a 220v outlet. Most hotels provide hairdryers, so play it safe and use theirs. But if you really want to use your dryer/straightener from home, use a power converter like this one.
2. Portable Charger
I don't even leave my house for a day in the city without my small portable power bank anymore, so I definitely don't recommend running off to spend a week in the South African bush without one.
Getting a larger one like this one can keep your devices charged for days until you get back to an outlet.
3. Binoculars
We never, ever, ever leave for a nature-focused trip without our binoculars.
If a safari is part of your itinerary, then you absolutely cannot leave binoculars off of your packing list for South Africa!
You may get close to the animals but you cannot beat the detail you'll see with binoculars. We also used them to scan the horizon and spot many a sleeping lion in the bush.
I have a complete shopping guide to help you navigate the best travel binoculars, but if you just want a link to my favorite pair, this is the one to get.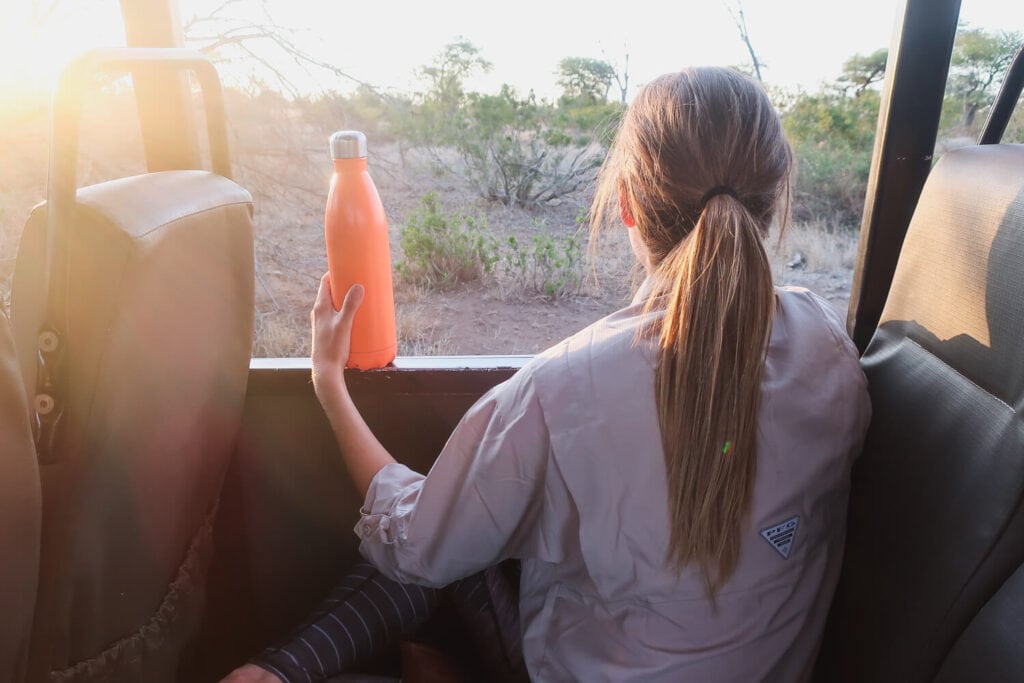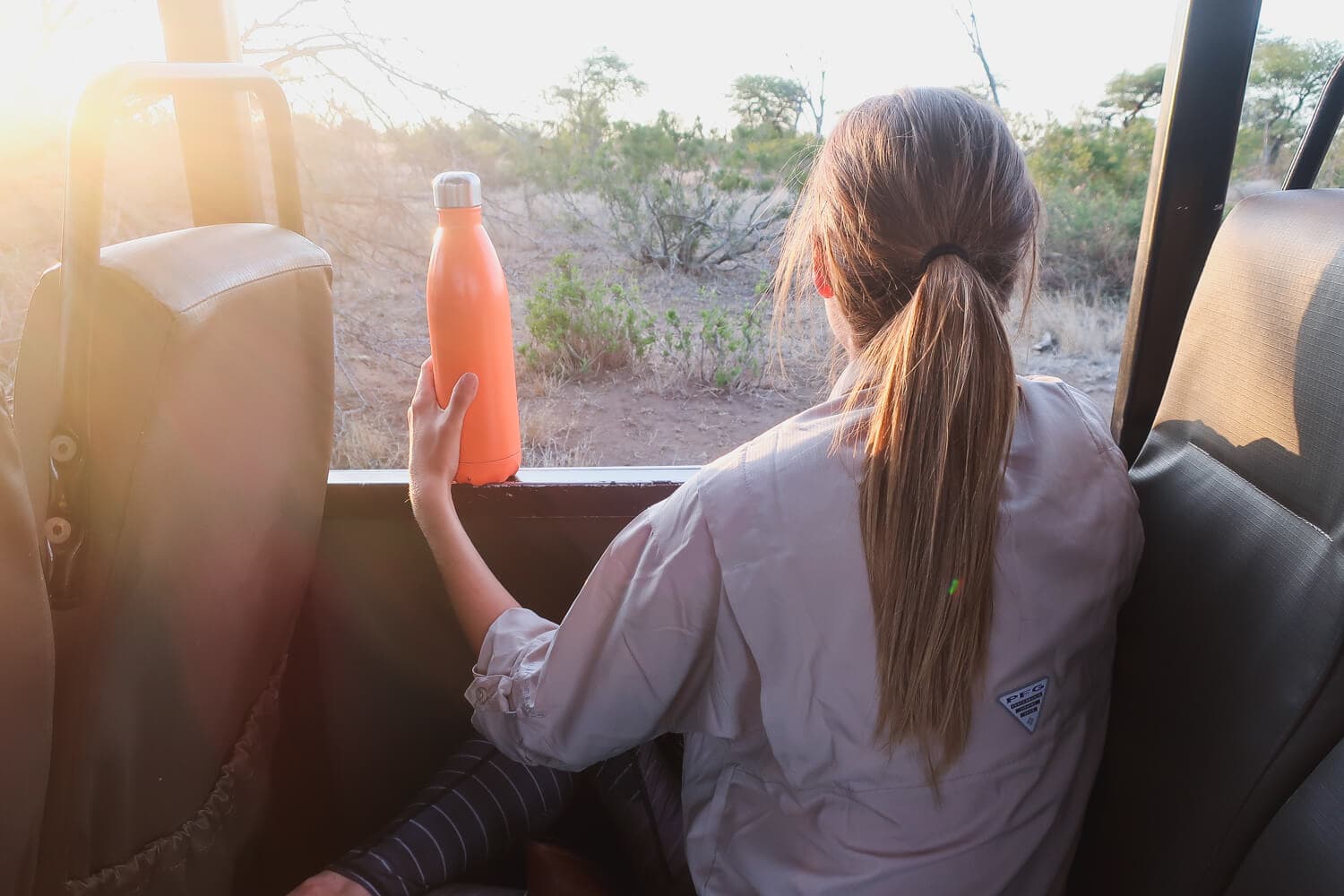 4. Insulated Water Bottle
Reduce plastic use (and save money) by bringing a reusable water bottle. I bring this 25 oz S'Well bottle everywhere with me.
We spent hours in the car in South Africa, many of those hours were spent cooped up on a self-drive safari in a game park nowhere near a shop.
It's important to bring lots of water with you on these drives!
Also, equally important, the 32-ounce size fits an entire bottle of wine and will keep it chilled for 24 hours. This made many a sunset more enjoyable. Check prices here.
5. Baggu Tote
I always bring one of these Baggu bags with me everywhere I go (at home and on vacation).
We packed most of our lunches for safari days and days on the road, so we used this a lot in the supermarkets and to load our packed lunches into the car every day.
It was also useful in the markets while shopping for souvenirs.
We changed hotels and cities a lot in South Africa and often ended up using it to avoid completely re-packing by just tossing toiletries or shoes into it and throwing it in the car for the next stop.
These bags are heavy duty and can lug anything! Seriously, they can carry up to 50 pounds. That's the same as a checked bag at the airport.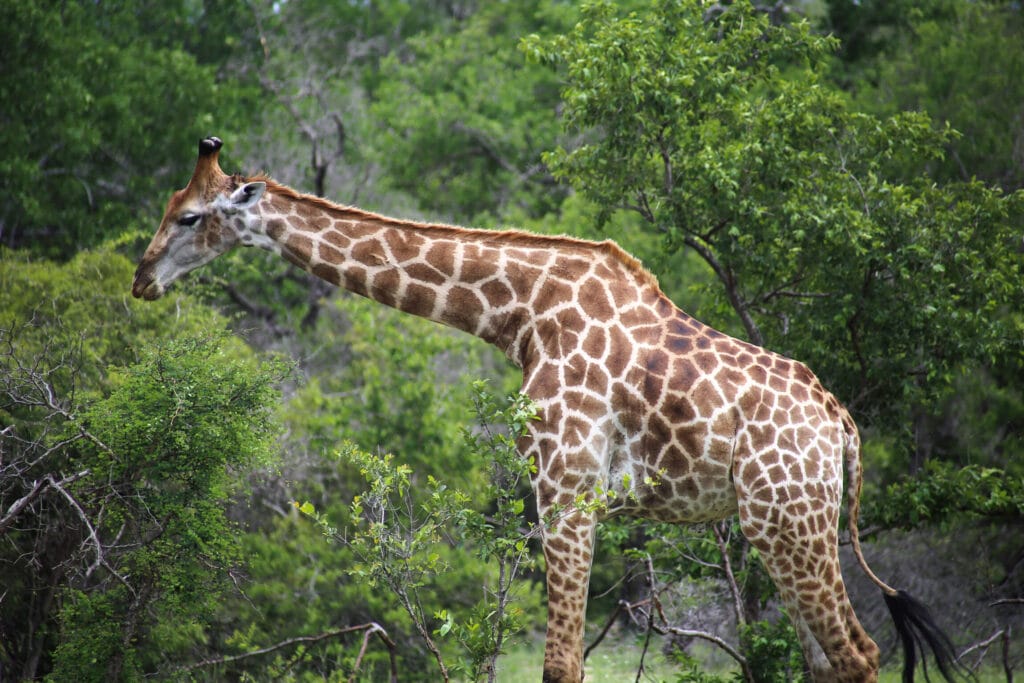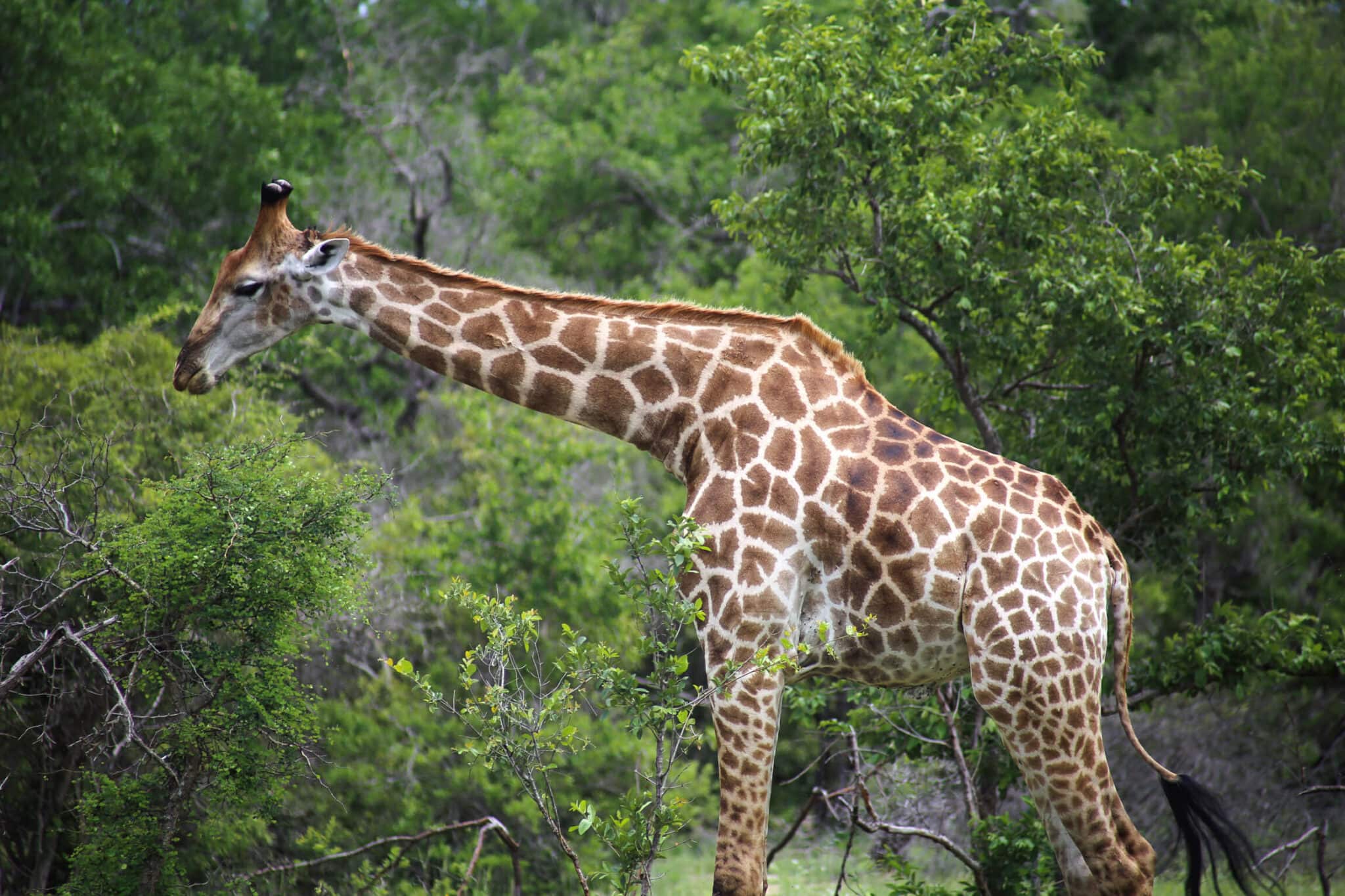 6. A Bandana
This may be the Texan in me, but I always travel with a bandana like this one.
I keep it tied to my backpack and always end up needing it.
I've used it as a napkin, a rag, and I've soaked it in water and tied it around my neck to keep cool on unexpectedly hot hikes.
For only a few bucks it's served a lot of purposes for me, get a few bandanas here .
7. Bug Spray with DEET
South Africa is low risk for Malaria and only in certain areas of the country. But if you'll be on a safari or outdoors, it's always a good idea to protect yourself against mosquitoes.
We brought this Off Deep Woods, with nearly 100% DEET. (Using this much DEET at home on a regular basis isn't a good idea, but is worthwhile in areas with any risk of malaria).
I also packed a few of these repellent coils to light in our room.
8. Sunscreen
Sunscreen is often cheaper at home so be sure to bring it with you to save a few bucks.
Use it every day, everywhere (not just for those days on the beach). One day, I didn't think to put it on my legs since we'd be in the car all day. Bad decision, the tops of my thighs were lobster red for days.
Also, I recommend chapstick with SPF like this one. My lips always sunburn if I'm in the sun too long and result in painful blisters.
9. Medication, Band-aids, & Dramamine
I always need band aids when I pack. It doesn't seem to matter how often I've worn a pair of shoes and how broken in they are, they WILL give me a blister on vacation.
Yes, you can get things like bandages and ibuprofen anywhere in the world, but it's always a relief to have it on hand when you need it.
No one wants to spend precious holiday time looking for a pharmacy, especially in the middle of nowhere on a safari.
Medication I always bring when I travel is: tylenol, pepto bismol and/or imodium, band aids, and an antibiotic ointment.
I also highly recommend bringing something for motion sickness, like dramamine (make sure you get NON drowsy). If you're prone to motion sickness, invest in a sea band to wear when on rocky safari trucks, boat tours, and on those windy mountain passes.
When went shark diving in Gansbaai, my husband (and 90% of the boat) got extremely motion sickness but the tour operators couldn't legally give anyone medicine.
If we had thought to bring our own it would have made my husband's day infinitely better!
Now that I have kids, I'll also NEVER travel without a thermometer and an appropriately dosed fever reducer like baby tylenol.
Read More: What I Always Pack for Travel with a Baby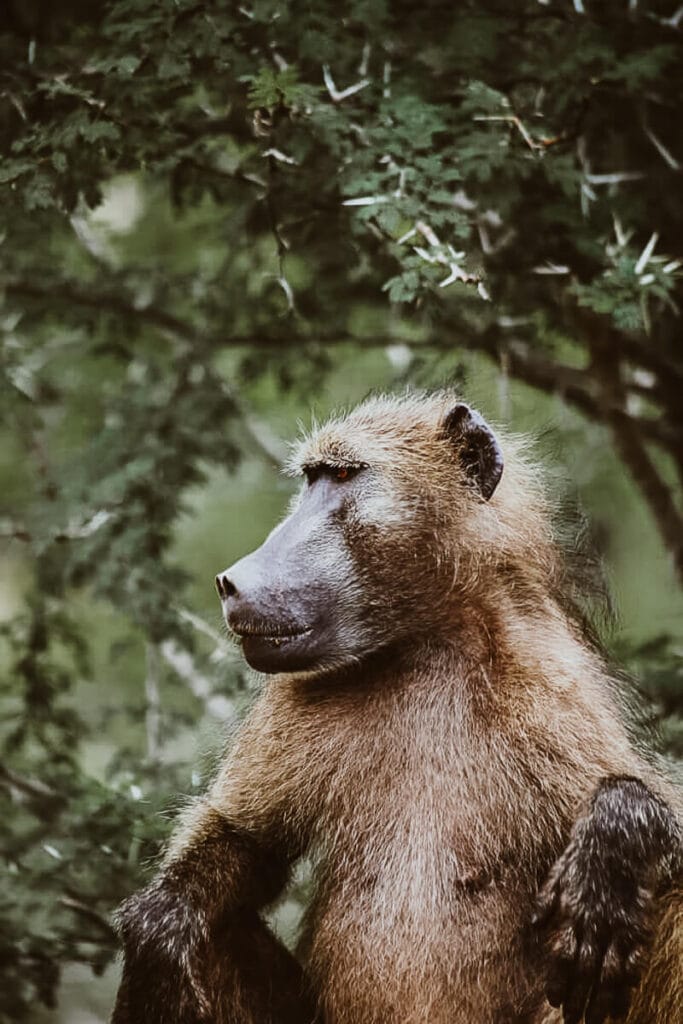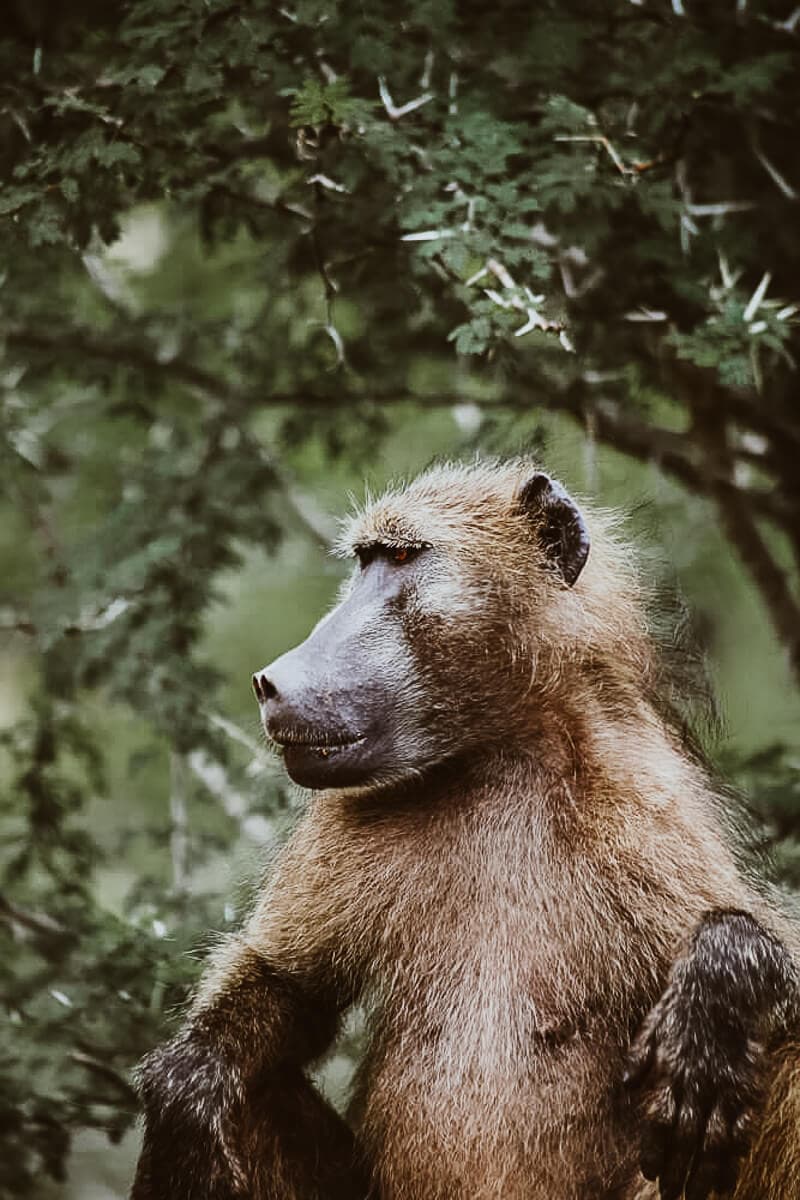 Photography Gear I recommend Packing for South Africa
This is the time to invest in a good camera and zoom lens. A smart phone can get great photos these days but on a safari you're going to be grateful for a proper zoom and professional equipment.
For lenses, you don't need to spend a lot to get excellent photos. The kit lens is typically enough for landscape.
What you want to focus on if you'll be going on a safari is zoom. I've gotten incredible photos (see my photo diary from Kruger for proof) with my under-$300 70-300mm lens.
If you want to go even bigger, there are rental companies operating out of the big cities where you can rent any zoom lens your heart desires. I considered this for our second trip but the logistics were too complicated (we wouldn't be returning to Johannesburg).
PHOTOGRAPHY ACCESSORIES NOT TO FORGET:
Extra SD Cards – You never want to run out of room on your memory cards when you travel to such a photogenic country. Bring more memory than you think you need. I store my memory cards in this case so I don't lose them.
Tripod – If you'll be staying in one spot (like a game viewing blind) or wanting to do photography after dark, you'll definitely need a tripod.
Remote Control – One of the best things I purchased (for very little money) was this Canon remote control. I can just press the button to take all of the selfies or family pictures I want without having to sprint into the frame for the 10 second timer.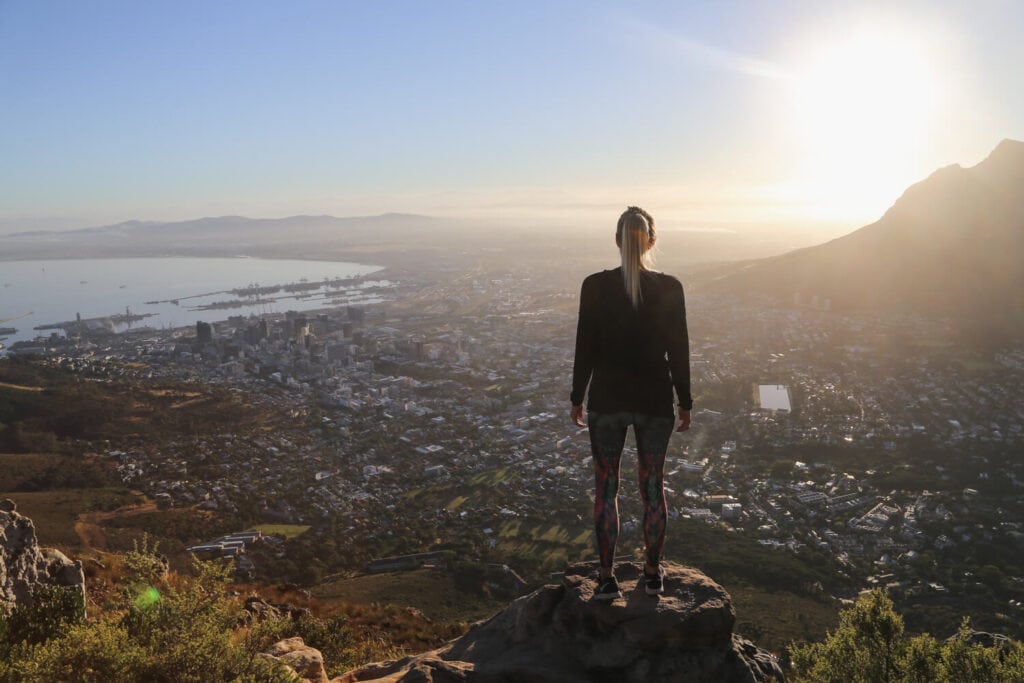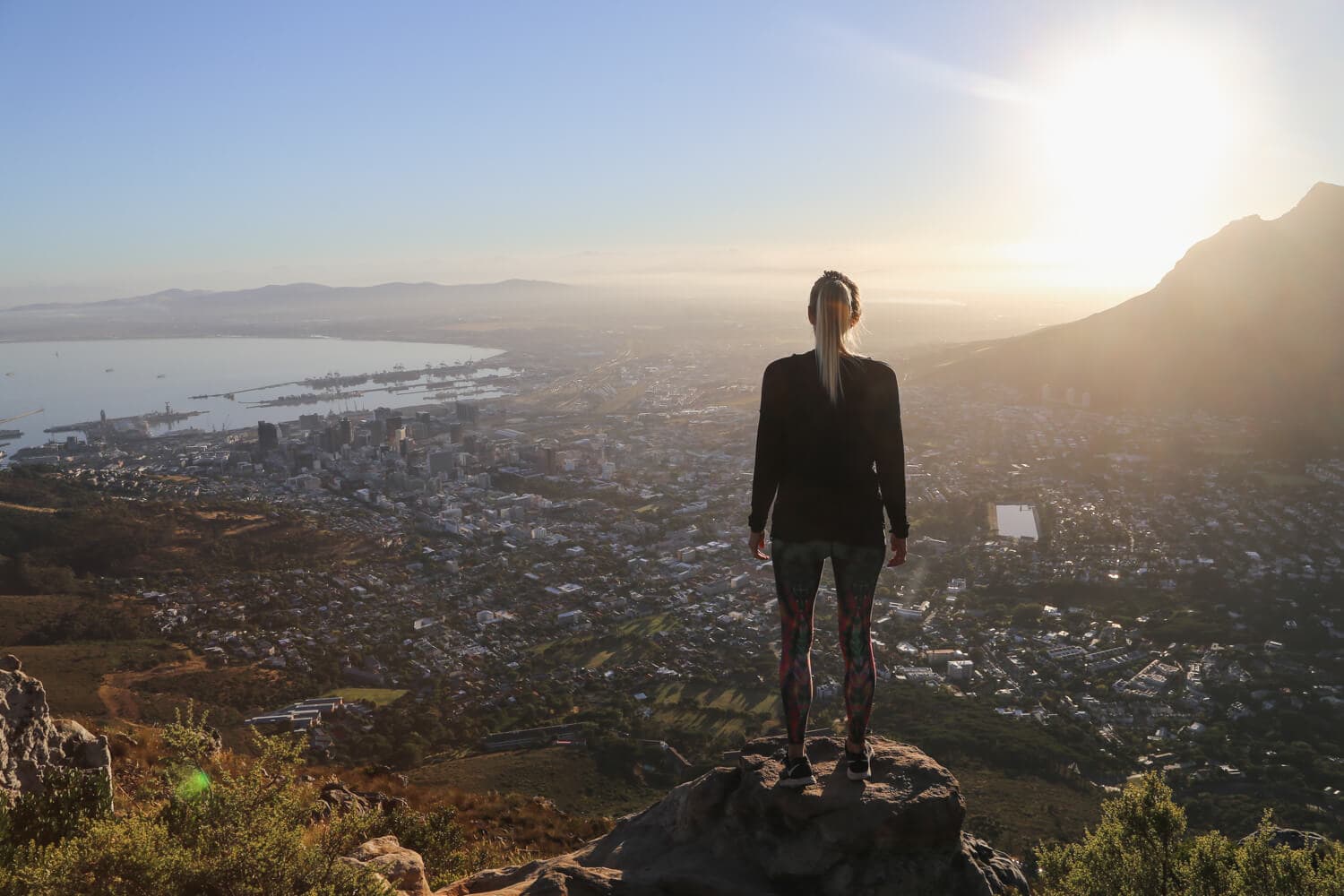 What to Wear in South Africa
What to wear in South Africa will greatly depend on where you're going.
The outfit you wear wine tasting in Stellenbosch won't be the same thing you wear traipsing along the beach on the Wild Coast.
Also, keep in mind the different climates. You can lounge on the beach in St. Lucia then freeze in the mountains in the Drakensburg. Then sometimes, the mountains AREN'T cold. We suffered an unexpected (by us) heat in the Eswatini mountains in early summer at Shewula Mountain Camp.
All that to say, it will serve you well to research the specific destinations you'll be going. What will the weather be like? Then take into account your activities, will you be at the beach or hiking? Safari or dining out in Cape Town?
With all that in mind, here are some guidelines and tips to help you decide what to take to South Africa.
FOCUS ON COMFORT | What you don't think of while planning that epic safari is how you'll be spending the entire day sitting in the truck on a game drive. Be sure to pack clothes you'll be comfortable sitting in all day (think about what you'd wear on a long-haul flight). I live in these pants when I travel (they're made for hiking but look good enough for the city).
LAYER UP | Even in the hot summer months, nights and mornings are very chilly in South Africa (especially on an open-air safari truck). Pack layers so you can peel off as the sun comes out.
LIGHT JACKET | When layering, don't forget a light jacket. In summer a jean jacket at night saved me.
APPROPRIATE SHOES | Bring shoes that will be comfortable for lots of walking and outdoor activities. For South Africa, I usually only pack my favorite Birkenstocks and a pair of running shoes for hikes. I only bring cute shoes if we'll be in Cape Town, opting for a wedge heel that is more sturdy on grass and the steep hills. I have a post listing all of my favorite comfortable travel shoes.
KIMONOS | I always bring a kimono to turn the tired tank tops I wore all over South Africa into a fancy outfit for a night out in Cape Town or Johannesburg. Pieces like this kimono, help recycle the same basics over and over so you can avoid over-packing.
PACK A SCARF | My favorite scarf is actually a peshtamel, a Turkish towel, like this one. They are a perfect size and pretty enough to be a cute scarf for South Africa's cooler mornings. They also double as an impromptu beach blanket or towel.
PRO-TIP, JUST DO LAUNDRY: Of course, the best way to reduce overpacking is to do laundry on the road and re-wear. Here in Argentina, most lodges will do your laundry for you and I often take advantage of that. I also sometimes use a Scrubba bag to soak and handwash clothes on my own in the bath. Alternatively, look for laundromats or use laundry delivery services like this in big cities.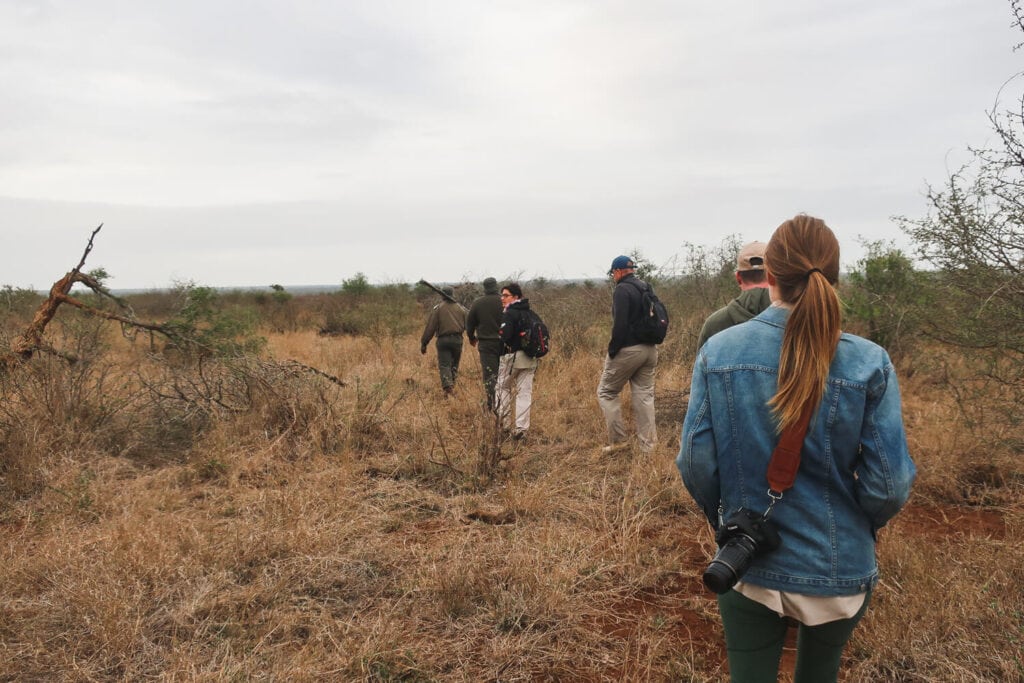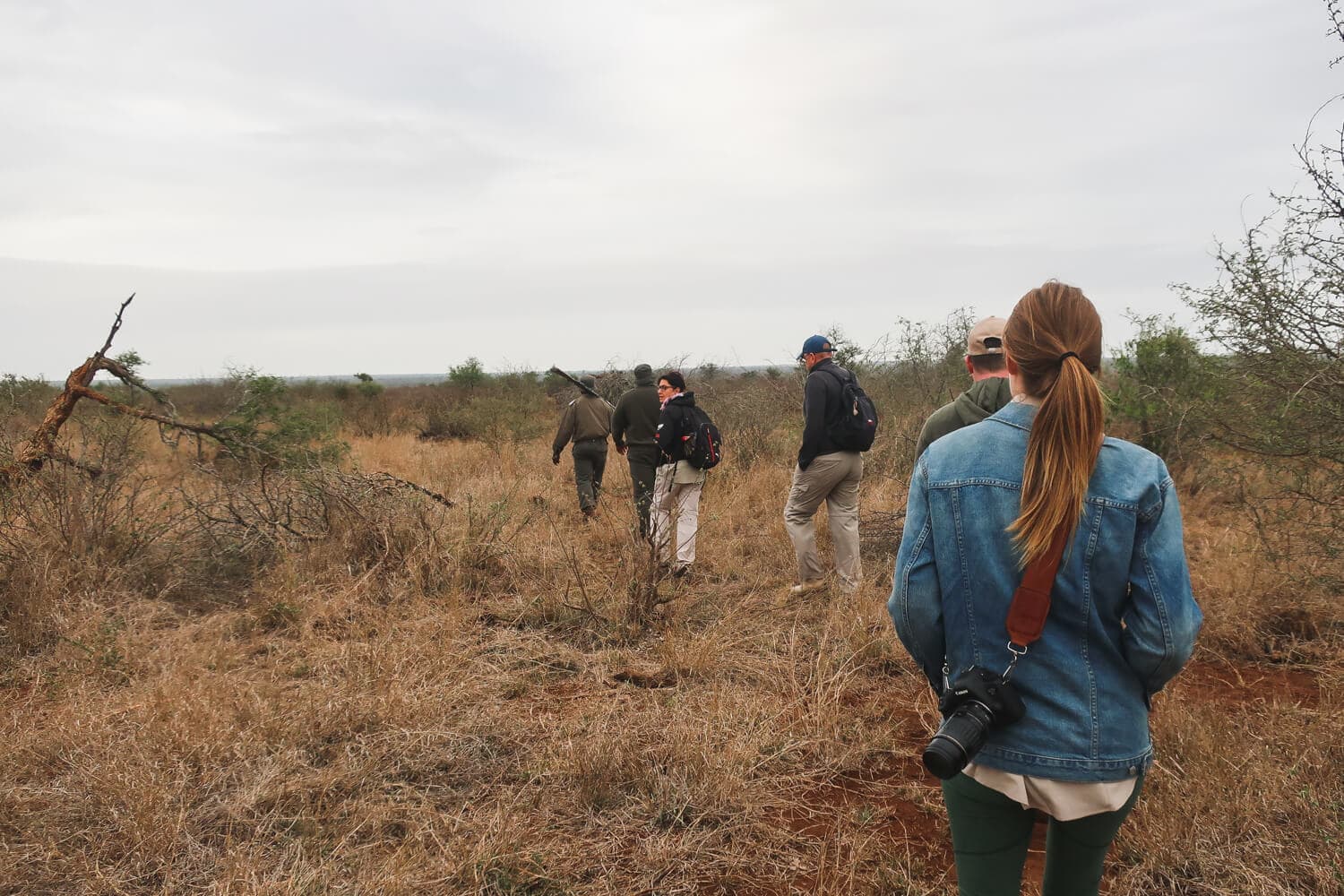 What to Pack for a Safari in South Africa
Ok, let's talk about what to pack for a safari in South Africa, specifically.
Going on a safari is a once in a lifetime experience, so you want to make sure you pack appropriately.
It can sound stressful but if I'm being honest, it's not as difficult as you think in to pack for a safari in South Africa.
Duffel, Backpack or Suitcase?
I know for a lot of African countries, you may be taking a tiny jumper flight deep into the bush and this requires strategically packing light for safari in a tiny carry-on or smaller wheeled backpack.
But in South Africa, you're probably going to find yourself in one of two situations: doing self-drive safaris in a rental car or in a comfortable suite on a luxury private reserve.
Both of these situations allow for a larger suitcase.
So feel free to pack whichever size bag you need (unless you're on a special tour that tells you otherwise).
Read More | A Logistical Guide to Visiting Kruger National Park
Safari Essentials for your South Africa Packing List
Ok, now that you've chosen your bag, here's what to put in it.
WHEN YOU DON'T NEED NEUTRALS | Contrary to popular belief, you don't have to wear neutrals on safari in South Africa. If you'll be in your car or in a truck with a guide, the animals will view your vehicle as one unit (like one big scary, metal animal). They won't see you inside in your hot pink tank top. So, go crazy. Pack whatever you want.
WHEN YOU DO | Some parks, like Kruger, offer morning or night bush walks. On these sorts of safari walks, you're exposed and animals will see you for what you are (a tiny human, a.k.a. a tasty snack). It's required to wear neutral tones for these walks. For that, I love these men's fishing shirts. There are women's versions but I like the roominess and pocket size of the men's shirt.
BINOCULARS | I can't say this enough, pack binoculars. Squinting will only get you so far, you need binoculars to see the wildlife well. Even when the animal is right next to the road, using binoculars allows you to see every tiny detail of the fur, their scars, their claws. read my post of comparing the best safari binoculars (or skip it and get this pair).
LONG SLEEVE/PANTS | Even in summer, long sleeves and pants are recommended to avoid mosquito bites. I remember getting eaten alive in the Caribbean at sunset so cover up! Wear loose fitting clothes for the heat like these fishing shirts.
The Ultimate South Africa Packing List
I hope after reading this you know what to pack for South Africa.
If I haven't fully answered your questions and you're still left wondering whether you should pack this or that, just ask away in the comments, I always respond.
Keep Reading about South Africa
Pin This South Africa Packing List for Later