I originally wrote this article shortly after having my first baby in 2020. We had travelled a little bit at the time.
Since then, I've traveled with my son to the desert of Salta and hiked the mountains of Patagonia with him on my back.
We've also had our second baby, a little girl, who is putting all the gear on this list to work, yet again.
I've since re-written this post with the new and improved opinions that come only from the experience of doing it right… and wrong, and learning from those mistakes.
If you want to travel with the bare minimum (of both stuff and stress), keep reading for the best baby travel gear that I always travel with.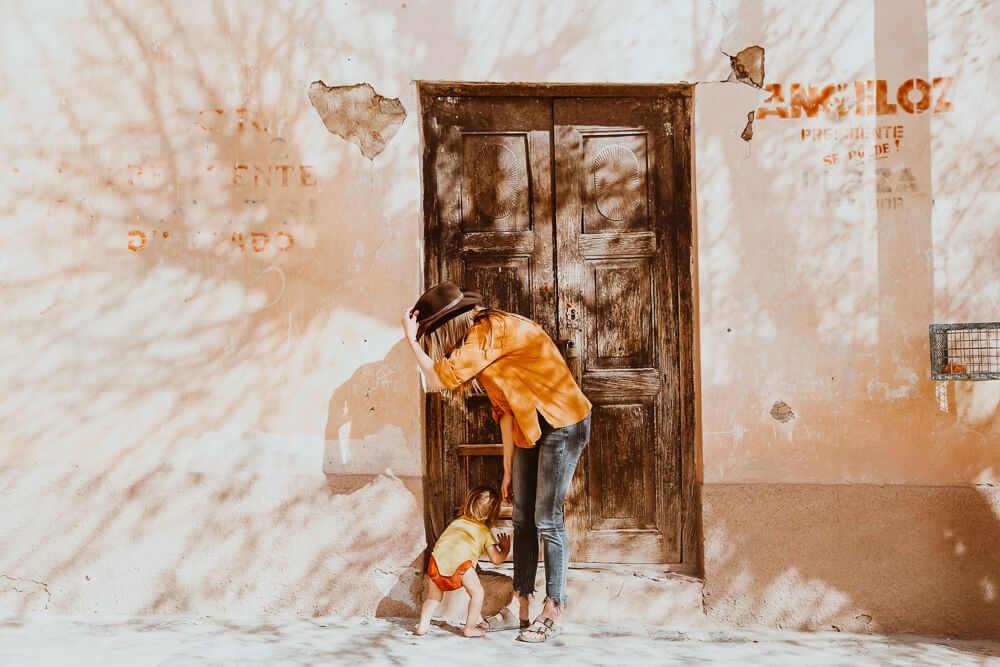 QUICK NOTE: This post contains affiliate links and Sol Salute may receive a commission for purchases made through these links, at no extra cost to you.
12 Must Have Items for Traveling with a Baby
For me, travel is life.
That didn't change after having babies.
Instead of wanting to avoid travel (as so many friends told me would happen), I've wanted to travel more.
I want to take them with me and show them the world.
Because how else will they learn to love travel if they don't travel?
These are the essential baby travel items that make my life easier when we travel without overpacking…most of the time.
1. Stroller #1: Doona Infant Car Seat & Stroller
I'm currently on round 2 with our Doona, using it with my second baby. It remains my favorite piece of travel baby gear that we use every single day.
The Doona is technically a car seat that converts into a stroller, but for my first baby it was our only stroller for his entire first year.
It is a major life saver if you live in a city or travel a lot.
Whenever I take taxis I can know she's in a safe car seat rather than sitting on my lap (which is actually the norm here in Buenos Aires for taxi rides with kids).
And when she takes a nap in it, I can move her into and out of the car without waking her (this is gold).
AND it's narrow enough to pass through old doors and fit into the historic and beautiful (but tiny) elevators here in Argentina.
The Doona comes with a base, which we keep in our main car. When we travel we just use the seatbelt to lock it into place.
Negatives to the Doona?
There's an obvious lack of storage.
The folding nature of it means there can be no basket below it to store bags or shopping. It's also not possible to hang shopping bags from the handle or it will topple over.
I've gotten greedy and tried to hang a lightweight bag or two anyway and the bag just slides down to the base of the handle and drags on the ground.
This hasn't been a major issue for me. I can fit everything I need in my backpack.
Some people also complain that it's a bit low, so if you're tall you may have to hunch over a bit to push it. I'm 5'8″ and don't have any problems.
DOONA AT A GLANCE:
Stroller and car seat in one
For babies up to 35 pounds
Airline approved
Easy to guide, I often push it with one hand
Unbeatable for road trips and cities where you need taxis.
2. Stroller #2: A Foldable Lightweight Stroller
When my first baby outgrew the Doona at 14 months (your mileage will vary, he was on the small side), we got the Pockit All City travel stroller.
TRAVEL TIP | A major benefit to the Pockit that it folds down so compactly that it can be stored in the airplane's overhead bin. Otherwise you'd have to gate check your stroller.

Why is that a problem?

Sometimes items that are gate checked are returned on the baggage claim carousel, meaning you have to carry your child to baggage claim along with your hand luggage.
I've used my Pockit every day for a year and a half and counting.
The regular Pockit is a bit more compact and weights a couple pounds less. If I were going to use it exclusively for travel, I'd get that one.
Since I knew we'd use it for EVERYTHING, EVERY DAY, I got the All City so my son would be a little more comfortable thanks to the larger canopy.
Will a travel stroller last?
I put it through its paces here in Buenos Aires. It has been dragged through the dirt in the desert and in Patagonia. It's been tossed into taxi trunks and into the overhead bin of many a plane.
After all that it's holding up surprisingly well. I wouldn't say it's in PERFECT shape. It definitely isn't meant to be used quite so hard and lord knows I put well over the recommended weight into the basket on a regular basis.
One wheel might squeak now and it takes a little oomph to push the buttons now to fold it, but I'd say that's MY fault, not the stroller's failure.
If you want a great stroller for travel and occasional use, it will stay in perfect shape. If you want to abuse it, it still seems to hold up pretty good!
My only complaint is I do wish it reclined a bit more for naps (since my kid would naps nearly exclusively in strollers).
POCKIT ALTERNATIVES
The Babyzen Yoyo stroller is the most popular alternative to the Pockit (at least in Buenos Aires, everyone seems to have one!).
It does look a bit more stylish, I love the colors. It has more storage with a larger basket and a convenient pocket behind the canopy (ideal for your phone and keys).
It also reclines more than the Pockit and overall looks a bit more comfortable.
If I could go back in time I might choose the Babyzen Yoyo over the Pockit, that is if budget allowed. It does cost twice as much but you get what you pay for.
THE POCKIT STROLLER AT A GLANCE:
This is the world's smallest folding stroller. It folds in two easy movements.
No having to gate check your stroller! It weighs only 10.5 pounds and once folded can be put in the overhead compartment or under the seat in front of you.
Good for babies 6 months and older up to 55 pounds.
Can carry 11 pounds of more travel baby gear in the storage basket.
You can push it with one hand (I do all the time)
3. WAYB Pico Travel Car Seat
When I first wrote this article I was a new mom. I still oohed and awed over all the stuff. I wrote about the WAYB Pico Travel Car Seat (photo below).
I recommended it and said I would DEFINITELY be getting it for travel.
That did not happen and I no longer want it. At this point, three years into buying stuff for babies I don't want to buy anything else if I don't have to.
When we rent cars in Argentina we just use the car seats they provide. They either haven't charged extra or the fee was minimal.
When I'm home visiting family in Texas, I've used our own car seat that we ended up bringing back to Argentina to use here. But for our next trip to Texas, I'll just by this cheap Cosco car seat.
It does the job. It's comfortable and the price is right.
SAFETY | Another reason you should go cheap when it comes to a travel car seat? If you check it, it might get treated in a way that voids the warranty or damages the seat. So leave the big one at home and get this lighter weight, affordable car seat for the road.
TRAVEL CAR SEATS: TO BUY OR TO RENT?
Logic says it is best to just rent the car seat with the car. And to reduce luggage, this is always easiest.
In fact, if you want to check your car seat, it's free to do so. Airlines don't typically charge extra for baby gear (think travel cribs or car seats).
You'll have to decide what's best for you.
TRAVEL WITH KIDS TIP | If you check a car seat get this car seat bag to protect it, then stuff said bag with diapers. We travel with cloth diapers and this saves us a TON of space in checked bags. If you use disposable it saves you the hassle and cost of finding them while on vacation.
If you rarely rent cars and have a car seat you love already, then I recommend simply renting a car seat with your rental car.
While Argentina's fees were cheap or non-existent, most rental agencies in the US do charge $10-15 dollars a day for car seat rentals, often capping it at around $70 per rental. This adds up quickly.
For that price you could have purchased the Cosco car seat. Do that a few times and you could have purchased the fancy Wayb Pico travel car seat.
4. Travel Crib or Pack & Play
This is what I resisted the most. Oh, we can just co-sleep if our rental doesn't have a crib!
But once my babies each turned three months old they started moving, kicking, and smacking me in the face if I cuddled them in bed.
And now my toddler prefers his own crib. He NEEDS his space.
So, I caved and purchased a travel crib.
I found this BabyBjorn travel crib used online in my neighborhood and love it. This option is similar and a bit more affordable and what I'd get if I bought it new.
I have a cheaper Graco pack n' play at my parents which is comfortable. However, it's heavier than my BabyBjorn and not as big. My tall toddler won't fit in it now but he does fit in the BabyBjorn.
I honestly don't fly with our travel crib and always use the Airbnb or hotel's crib whenever possible. But it has been a lifesaver when we go on road trips or stay with family.
It compacts small enough that tossing it in the trunk of our car has been easy.
5. White Noise
We use white noise for both our babies when they sleep. A happy side effect I noticed was that this made sleep when we traveled easy for our son.
Even when we were in a new space, it sounded the same as home. It cued his little brain for sleep and made him feel safe and at home.
At home we use the Hatch sound machine but when we travel we use either this portable sound machine or an app on my phone.
Each has its pros and cons. The only real downside to the portable sound machine is that it could run out of battery if you leave it unplugged. Also check that the sound is the same as to what your baby is used to at home.
This Rohm White Noise Machine is only 3.5 inches in diameter and weighs less than 4 ounces. You can also hang it from your baby's stroller for an on-the-go nap.
Most of the time, though, we use a white noise app on our phone plus a portable Bluetooth speaker.
The main downside for this was I couldn't use any audio on my phone while my baby slept because of the speaker in his room.
6. Packing Cubes for Containing Tiny Clothes
Despite their popularity, I never really got into packing cubes.
But now that there are tiny socks and bibs floating around in the mix, I need something to contain them or I will lose my mind.
This set of compression cubes will compress your babies clothes and blankets to save precious luggage space.
Separate your baby's clothes before leaving into cubes that will help you stay organized on the go.
I keep socks, bibs, and the like in the smallest cube. Things for overnight (pajamas, sleep sack, etc) go in their own cube… etc.
7. Inflatable Foot Rest/Child Plane Bed
If you have a long flight, train ride, or drive ahead of you then your child being able to lay flat and get proper rest is priceless.
For just $20 you can inflate this bad boy and turn your child's airplane seat into a lay flat bed (much cheaper than first-class).
We regularly fly from Argentina to the US on 11 hour overnight flights.
This will be a game changer now that my toddler is over 2 and needs his own seat to make that journey.
NOTE: Before you buy your inflatable bed, check that your airline allows these "beds". While most airlines allow them, not all do. Double check with your flight crew when you board before you inflate it. Having them see the sleepy child in person may illicit a big more sympathy because let's be honest, no one wants a tired crying kid on the plane.
8. Diaper Backpack
If you don't already use a backpack version of a diaper bag, like this stylish leather diaper backpack, get one now.
Your hands will be filled with baby, luggage, passports, and your wits. So put the diaper bag on your back and forget about it.
I use a leather bag similar to this one in Buenos Aires because it doesn't look like a diaper bag at all. It's the perfect travel diaper bag for city travel.
However, when I travel to Patagonia (and similar outdoorsy destinations) I prefer to use my regular backpack.
It simply has more room and when I travel and I need more things for myself alongside the baby's diapers and toys.
My Northface fits my camera gear, wallet, and more alongside my usual travel baby gear.
9. Wet bags
I use cloth diapers so I cannot live without wet bags. But when traveling you need them no matter how you diaper your child.
Always keep one or two in your diaper bag and suitcase.
Dirty wet clothes after lunch? Toss them in one of these wet bags.
Wet swimsuits? Dirty diaper but no trash can in sight? Soiled napkins?
Your wetbag will contain the mess and keep everything else in your bag clean and dry.
10. Diaper Changing Pad
I've lost count of the number of diapers I've changed on the floor. A portable diaper changing pad is an absolute must!
Whether you're on the floor of the airport or a questionably dirty diaper changing station in a restaurant, this will keep your baby off the dirty surface as you change diapers on the go.
I know registries gift you freebies by diaper brands and I use them too, but they don't last.
This Lil Fox pad is the best because it has built in pockets to stash a diaper or two and a package of wipes.
You can just pack it with everything you'll need for the next change and bring just that with you to the tiny airplane lavatory or airport bathroom, rather than lug the WHOLE bag.
11. Baby First Aid Kit
Check with your pediatrician before any trip to see if they have any recommendations on what to bring.
Keep their number handy when traveling in case your baby gets sick while away. In Argentina pediatricians often give out their WhatsApp numbers, I know in the US it's more common to have an emergency line. Whatever your number is, save it before you travel.
Pack this pre-made baby first aid kid or in a separate pouch pack just what you need. The below is really all I bring:
Again, check with your pediatrician before giving your baby any over the counter medication.
12. Ergobaby Omni 360 Baby Carrier
This is the carrier we use and I can't imagine life without it.
My son would actually light up when he'd see it (similar to my dog when he would see his leash but it's probably not smiled upon to compare your baby to a puppy).
I tried ALL the carriers but this is the only one I felt comfortable in.
It has great shoulder and back support. I can carry the baby for long walks and not feel any back pain at the end of the day (priceless).
I recommend getting this Cool Air Mesh version to keep baby cool on hot days.
A baby carrier on vacation is a non-negotiable. Your baby will only be content in his stroller for so long.
Also, in some sitations a stroller simply isn't a feasible.
Long walks or hikes, crowded markets, and cobblestoned old streets are all situations you'll need a carrier over a stroller.
ERGOBABY AT A GLANCE:
There are a lot of carriers out there, here is why I kept the Ergobaby and got rid of the rest.
It's usable from 0-48 months, adjusting as baby grows.
It can be worn by both my me and my husband since it is easily adjustable.
Can be uesd forward facing, backward facing (a must for the first few months), hip carry, or back carry.
All of my mom friends swore by it. And who knows better than other moms?? They were right, we love it.
I love their colors!
Optional Baby Travel Accessories
Above are the 12 must haves in my book. That is how we travel with our kids and keep things to the bare minimum.
In all honesty, you really don't need a lot. Babies are easy.
There are so many baby travel products on the market but to be completely honest, you don't NEED most of it.
In fact, that could easily be said for most baby products in general. Do you really need a specific baby travel thermos for his food? No.
If you can reduce what you pack, you'll reduce your stress. This I promise you.
Pack the essential travel baby products above and some of these baby travel accessories below (depending on your vacation destination and your personal needs) and you'll be fine!
Baby Travel Products for the Beach/Pool/Sun/Summer Holiday
Baby Travel Gear for Feeding On The Go
Baby's gotta eat, so try to be strategic about the accessories you pack.
Do they clean easily?
Are they compact and easy to pack?
Silicone Squeeze Feeding Spoon – If you feed your baby purees, back this spoon and prep it before you leave for the day. It's an easy all in one feeding tool.
Reusable Silicone Placemat – To avoid disposable, use one of these silicone mats. After the meal wipe it down and roll it up to store. But full disclosure, I can't be bothered to lug this (or disposable) around. You can also just use a disinfectant wipe and clean the table or high chair for them to eat there.
Silicone Roll Up Bib – If you need a pocket bib, pack one that rolls up to easily store in your bag when not in use.
What Baby Travel Products NOT to Pack
1. Diapers/Wipes/Disposable anything.
Pack the number of diapers you need for the travel day and for when you arrive. Bring one package of wipes. Don't overdo it.
If you DO want to bring diapers, stash them in your car seat or travel crib that you're checking. Those travel for free as it is, so make full use of that space!
Just don't forget, babies and supermarkets exist everywhere.
You can pick up more diapers, wipes, tissues, zip lock baggies, etc when you arrive.
2. Car Seat or Pack & Play if you can avoid it.
If your rental car company has an affordable car seat rental, go for it!
If you want to pack your own, pack the foldable one I recommend at the beginning of this article.
Don't bring your travel crib on any trip that involves air travel if you can avoid it.
Look for hotels and Airbnbs with cribs (confirm beforehand they really do have it!).
On road trips, bring it all, who cares. That's what trunks are for.
3. Not enough onesies.
Babies are MESSY. Onesies are tiny. Pack what you think you need, then toss in a few more.
My first didn't spit up much so we could get by with little. But my second spits up so much and with such gusto that we call her the volcano. We have to pack 2-3 outfits a day for her.
4. Huge Toiletries
Pack travel sized or, better yet, solid toiletries. I am obsessed with these Ethique Shampoo and Conditioner Bars.
They're the only shampoo bar that make my hair feel as silky as with regular shampoo.
They also have this Tip-to-Tot bar for babies and kids for baby shampoo and body wash all in one tiny bar.
TOP TIP: Register for your Travel Baby Gear
I had my baby registry on Amazon as well as Target and Bed, Bath, and Beyond.
People ONLY bought off my Amazon registry.
With Amazon Prime it's simply the easiest way for your loved ones to shop for you, so make it easy on them.
The best travel items for traveling with your little oneRegister for everything you need, especially the big-ticket must-have items for traveling with a baby like your stroller or car seat, where friends and family can contribute a portion of the cost (rather than have to purchase the entire item if expensive).
This will ensure you get all the baby travel gear you need!
Letting people be able to just pay for part of my Doona made that a possibility for me.
And even better, you get a 15% completion discount that you can use towards any items remaining on your registry as well, which we put to good use!
Pin it for later