I am a new mom and a long time travel addict.
And if I'm being honest, my biggest anxiety about having a baby was how it would affect my travels.
Will I have to slow down (verdict, yes and no). Will it be fun (verdict, so much fun!).
And, will I have to pack a ton of baby travel accessories?
Verdict? Some, yes.
A ton? Not if you're selective, strategic, and minimalist.
This post is all of my must have items for traveling with a baby to make your family travels easier and more fun!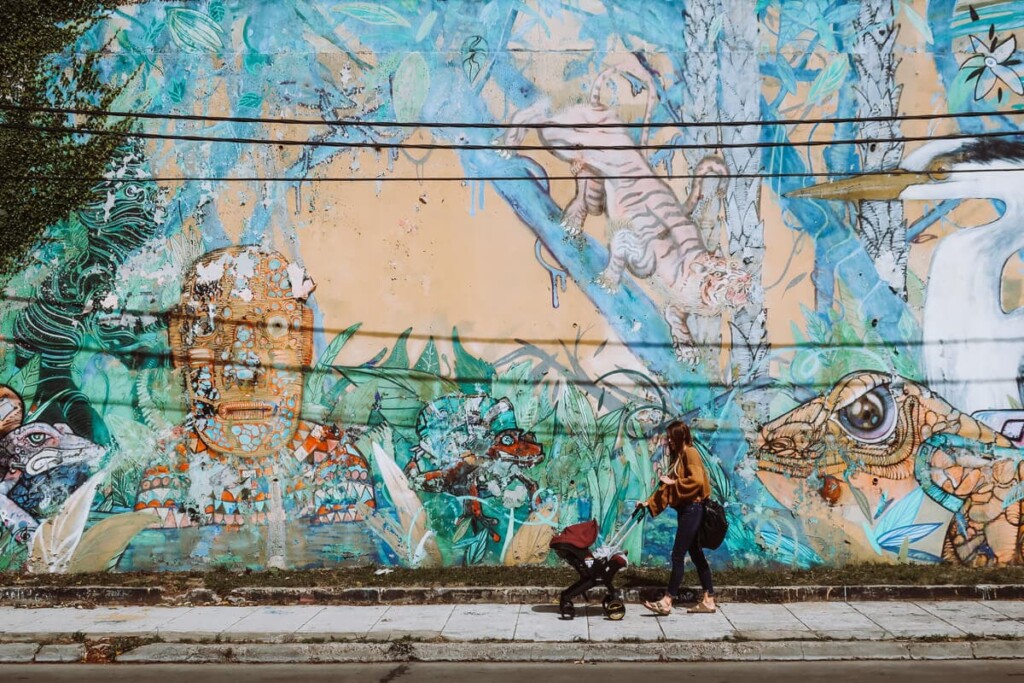 QUICK NOTE: This post contains affiliate links and Sol Salute may receive a commission for purchases made through these links, at no extra cost to you.
13 Must Have Items for Traveling with a Baby
Before having my son, I knew nothing about babies.
Nothing.
I am an only child, I never babysat, and to be honest, I just preferred pets.
So when it was time to build my baby registry I had no idea what to ask for. Besides diapers and a crib my mind drew a blank.
But there was one thing I knew for certain, I'd want to continue to travel with our little one.
When outfitting our nursery, I searched for the best travel baby products.
Whatever we used at home should be minimalist and easy to use at the airport, in a new city, hotels, and rental cars.
So here we are, I hope this post helps you.
These are my must have essentials for traveling with baby in tow.
1. Stroller #1: Doona Infant Car Seat & Stroller
So many strollers claim to fold down easily. What they leave out? You need two hands to do it.
If you have to take the baby out, then use both hands to collapse it… you already need more than the two hands you have.
The Doona, however, REALLY is easily collapsible.
And the best part: it is a car seat/stroller super combo.
We've been using ours for a year and my baby is about to outgrow it. I'm already upset about it because I LOVE it and don't want to have to let it go.
Without having to remove the baby from the stroller (which is crucial if he's fallen asleep), you simply push a button and lower the seat down. The wheels lock into place behind the seat.
The Doona comes with a base, which we keep in our main car. Easily lock the Doona into the base and go! Nap uninterrupted, hands still free, no one is crying (not even mom).
Without the base, you can use the seat belt to lock it into place. Making it easy to travel with baby in a taxi or Uber.
I'm obsessed with our Doona (and get countless compliments on it here in Argentina from envious moms!).
Negatives to the Doona?
The lack of storage. You can't hang bags from it and there are no storage compartments (because of the folding). I find it an easy sacrifice to make, everything I need fits in my diaper bag backpack.
Some people also complain that it's a bit low, so if you're tall you may hunch a bit to push it. I'm 5'8″ and don't have any problems.
DOONA AT A GLANCE:
Stroller and Car Seat in one
For babies up to 35 pounds
Airline approved
Easy to guide, I often push it with one hand
Great for road trips, cities where you need taxis, etc.
2. Stroller #2: Pockit Lightweight Stroller
Once my baby outgrows the Doona, I will be purchasing the Pockit Lightweight Stroller.
In fact, at my baby shower two fellow traveling moms had theirs and couldn't stop talking about it.
One of the dads proudly folded it up in one easy move, clearly proud of his compact, easy stroller (oh, the things that make us proud as parents, how life changes).
The Pockit stroller is advertised as a travel stroller, but I actually use it as my everyday stroller.
I ended up getting the Pockit All City instead of the basic Pockit since we use it so often (mainly for the larger shade canopy). If I was only going to use it on vacation I'd get the tinier basic Pockit.
I switch between this and the Doona now that my baby is a bit bigger. I like this one so he can face forward and have a bit more space to move.
THE POCKIT STROLLER AT A GLANCE:
This is the world's smallest folding stroller. It folds in two easy movements.
No having to gate check your stroller! It weighs only 9.5 pounds and once folded can be put in the overhead compartment or under the seat in front of you.
Good for babies 6 months and older up to 55 pounds.
Can carry 11 pounds of more travel baby gear in the storage basket.
You can push it with one hand
3. WAYB Pico Travel Car Seat
Car seats are always a hassle. They're bulky, heavy, and expensive. But they're absolutely necessary.
Thankfully, the WAYB Pico Travel Car Seat is none of those things! It is lightweight (8 pounds) and folds up into a compact, easy to carry size.
It is approved for safety by both the National Highway Traffic Safety Administration and the Federal Aviation Administration: road trip and air travel safe.
TRAVEL CAR SEATS: TO BUY OR TO RENT?
Logic says it is best to just rent the car seat with the car. And to reduce luggage, this is likely easiest.
You'll have to decide what's best for you.
If you rarely rent cars and have a car seat you love already, then I recommend simply renting a car seat with your rental car.
If you rent a lot of cars (like we do) and don't even have a car seat yet then investing in this travel car seat is a good idea.
I, personally, will be investing in this as my main car seat that I also travel with.
Most rental agencies charge $10-15 dollars a day for car seat rentals, often capping it at around $70 per rental.
For me and my many car rentals, that adds up. In just 4 trips I could have purchased the WAYB travel car seat and then all future uses would be free.
WAYB PICO TRAVEL CAR SEAT AT A GLANCE:
Weighs only 8 pounts
Slim design allows 3 to fit on most back seats, great for families with multiple little ones.
Approved for air travel
Folds easily, stow it in the overhead bin
Mesh backing is cool and comfortable for hot climates
4. Travel Crib or Pack & Play
This is what I resisted the most. Oh, we can just co-sleep if our rental doesn't have a crib!
Then my baby grew and I realized I like sleep too much for that.
(This isn't a pro or anti co-sleeping statement, just a statement that it does not work for me. And I love sleep.)
So, I quickly caved and purchased a travel crib.
I found this BabyBjorn travel crib used online in my neighborhood and love it. This option is similar and a bit more affordable.
To avoid flying with too much luggage, I'll still avoid bringing this on long distance vacations. Instead, I'll look for Airbnbs with cribs available. It restricts my options a bit but it's worth it.
But for road trips from home, I will 100% use this travel crib every time.
It compacts small enough that tossing it in the trunk of our car will be easy. It will go unnoticed… until it helps us all get a full night's sleep when it will be deeply loved.
5. Rohm Portable White Noise Machine
My baby needs white noise to sleep. Science says it reminds them of the loud sounds they heard in the womb.
I also find it helps cue his brain for sleep.
It will drown out the loud bar downstairs or party next door.
Also, no matter where we are, at home or in a cabin in Patagonia, the familiar white noise sounds just like home.
This Rohm White Noise Machine is only 3.5 inches in diameter and weighs less than 4 ounces.
You can also hang it from your baby's stroller for an on-the-go nap.
6. Packing Cubes for Containing Tiny Clothes
Despite their popularity, I never really got into packing cubes.
But now that there are tiny socks and bibs floating around in the mix, I need something to contain them or I will lose my mind.
This set of compression cubes will compress your babies clothes and blankets to save precious luggage space.
Separate your baby's clothes before leaving into cubes that will help you stay organized on the go.
Onesies, socks, and bibs we'll use for the day are good together.
Perhaps keep pajamas, the sleep sack, muslins, etc in another.
Pack an empty one flattened away at the bottom to transition the dirty clothes into as you go.
7. Inflatable Foot Rest/Child Plane Bed
If you have a long flight, train ride, or drive ahead of you then your child being able to lay flat and get proper rest is priceless.
For under $20 you can inflate this bad boy and turn your child's airplane seat into a lay flat bed (much cheaper than first-class).
We regularly fly from Argentina to the US on 11 hour overnight flights. While my baby is still sleeping in my arms, as soon as he's in his own seat I will be investing in this footrest for both his and my sake.
8. Diaper Backpack
If you don't already use a backpack version of a diaper bag, like this popular Fawn Design bag, get one now.
Your hands will be filled with baby, luggage, passports, and your wits. So put the diaper bag on your back and forget about it.
I use a leather bag similar the Fawn Design bag above in Buenos Aires because it doesn't look like a diaper bag at all.
In fact, I'll keep it as my go-to bag even after the baby. It fits seamlessly into a stylish city.
However, when I travel (especially to more nature-oriented destinations) I prefer to use my Northface Recon backpack.
It simply has more room and when I travel and I need more things for myself alongside the baby's diapers and toys.
My Northface fits my camera gear, wallet, and more alongside my usual travel baby gear.
9. Wet bags
I use cloth diapers so I cannot live without wet bags. But when traveling you need them no matter how you diaper your child.
Always keep one or two in your diaper bag and suitcase.
Dirty wet clothes after lunch? Toss them in one of these wet bags.
Wet swimsuits? Dirty diaper but no trash can in sight? Soiled napkins?
Your wetbag will contain the mess and keep everything else in your bag clean and dry.
10. Diaper Changing Pad
I've lost count of the number of diapers I've changed on the floor. A portable diaper changing pad is an absolute must!
Whether you're on the floor of the airport or a questionably dirty diaper changing station in a restaurant, this will keep your baby off the dirty surface as you change diapers on the go.
I know registries gift you freebies by diaper brands and I've used them too. But they don't last! Get yourself a better quality one for the long haul.
This Lil Fox pad is the best because it has built in pockets to stash a diaper or two and a package of wipes. This way you're not rummaging through your diaper bag while wrangling a squirmy baby. Bonus points that it's also cute.
Honorable Mention: This SnoofyBee Mat is another popular choice because it contains wandering hands and keeps them clean.
Personally, giving my baby a teething toy distracts him enough to keep his hands above the waist.
But you know your baby best and if she's particularly playful and active, this mat will keep her hands contained and clean on the dirtiest of floors.
11. Baby First Aid Kit
Check with your pediatrician before any trip to see if they have any recommendations on what to bring. Keep their number handy when traveling in case your baby gets sick while away.
Pack this pre-made baby first aid kid or in a separate pouch pack the essential first aid and toiletries for baby, such as:
Again, check with your pediatrician before giving your baby any over the counter medication.
12. Ergobaby Omni 360 Baby Carrier
We have this carrier and I can't imagine life without. My baby actually lights up when he sees it (similar to my dog when he would see his leash but it's probably not smiled upon to compare your baby to a puppy).
This carrier has amazing shoulder and lumbar support. I can carry the baby for long walks and not feel any back pain at the end of the day (priceless).
I recommend getting this Cool Air Mesh version to keep baby cool on hot days.
A baby carrier on vacation is a non-negotiable. Your baby will only be content in his stroller for so long.
Also, in some sitations a stroller simply isn't a feasible.
Long walks or hikes, crowded markets, and cobblestoned old streets are all situations you'll need a carrier over a stroller.
ERGOBABY AT A GLANCE:
There are a lot of carriers out there, here is why I chose Ergobaby.
It's usable from 0-48 months, adjusting as baby grows.
It can be worn by both my me and my husband since it is easily adjustable.
Can be uesd forward facing, backward facing (a must for the first few months), hip carry, or back carry.
All of my mom friends swore by it. And who knows better than other moms?? They were right, we love it.
I love their colors!
13. A Ring Sling Carrier
A ring sling is a great compliment to a more bulky carrier like the Ergobaby.
When we take the baby out on long excursions in his stroller, I like to pack my ring sling just like one in the diaper bag just in case.
If he gets fussy and wants out of his stroller out and about (or in the airport), I can easily pop him in the sling. A softer sling or wrap will slip unnoticed into your carry on or diaper bag.
Which type of carrier you choose is very personal. I recommend trying them out before you travel to make sure you feel comfortable with it as they each have a learning curve.
Also, what one friend swears by you may not feel comfortable with. I swear by the ring sling but another friend preferred her K'Tan Carrier.
RING SLING PROS, CONS & TIPS:
PROS: Easier learning curve, can use from birth through toddlerhood, easy up and down, and easiest carrier to breastfeed in, can be worn by both mom or dad (no sizing necessary)
CON: It isn't as comfortable for LONG walks. It's not for that hour-long trek, but for a walk around the neighborhood or museum, I love it.
GET LINEN OR SILK: This one in linen is excellent for taking on vacation, other materials like silk or bamboo are also good. These materials will breathe easily for hot days and be more comfortable for both baby and you.
Optional Baby Travel Accessories
Those are the 13 MUST have must have items for traveling with a baby.
There are so many baby travel products on the market but to be completely honest, you don't NEED most of it. In fact, that could easily be said for most baby products in general. Do you really need a specific baby travel thermos for his food?
If you can reduce what you pack, you'll reduce your stress. This I promise you.
Pack the essential travel baby products above and some of these baby travel accessories below (depending on your vacation destination and your personal needs) and you'll be fine!
Baby Travel Products for the Beach/Pool/Sun/Summer Holiday
Baby Travel Gear for Feeding On The Go
Baby's gotta eat. Be strategic about the accessories you pack. Do they clean easily? Are they compact and easy to pack?
Silicone Squeeze Feeding Spoon – If you feed your baby purees, back this spoon and prep it before you leave for the day. It's an easy all in one feeding tool.
Reusable Silicone Placemat – To avoid disposable, use one of these silicone mats. After the meal wipe it down and roll it up to store.
Silicone Roll Up Bib – If you need a pocket bib, pack one that rolls up to easily store in your bag when not in use.
What Baby Travel Products NOT to Pack
1. Diapers/Wipes/Disposable anything.
Pack the number of diapers you need for the travel day and for when you arrive. Bring one package of wipes. Don't overdo it.
Don't forget, babies and supermarkets exist everywhere. Pick up more diapers, wipes, tissues, zip lock baggies, etc when you arrive.
2. Car Seat or Pack & Play if you can avoid it.
If your rental car company has an affordable car seat rental, go for it! If you want to pack your own, pack the foldable one I recommend at the beginning of this article.
Don't bring your travel crib on any trip that involves air travel if you can avoid it. Look for hotels and Airbnbs with cribs (confirm beforehand they really do have it!).
On road trips, bring it all, who cares. That's what trunks are for.
3. Not enough onesies.
Babies are MESSY. Onesies are tiny. Pack what you think you need, then toss in a few more.
4. Huge Toiletries
Pack travel sized or, better yet, solid toiletries. I am obsessed with these Ethique Shampoo and Conditioner Bars.
They're the only shampoo bar that make my hair feel as silky as with regular shampoo.
They also have this Tip-to-Tot bar for babies and kids for baby shampoo and body wash all in one tiny bar.
Register for your Travel Baby Gear
I had my baby registry on Amazon as well as Target and Bed, Bath, and Beyond. People ONLY bought off my Amazon registry.
With Amazon Prime it's simply the easiest way for your loved ones to shop for you, so make it easy on them.
The best travel items for traveling with your little oneRegister for everything you need, especially the big-ticket must-have items for traveling with a baby like your stroller or car seat, where friends and family can contribute a portion of the cost (rather than have to purchase the entire item if expensive).
This will ensure you get all the baby travel gear you need!
You get a 15% completion discount that you can use towards any items remaining on your registry as well, which we put to good use!