When my husband and I plan a trip we always spiral out of control. 2 weeks should be plenty, becomes at LEAST 3 weeks, to MAYBE we can squeeze in MOST of what we want to see into a month.
When one of my best friends decided to get married in Stellenbosch, I planned an epic road trip to spend one month in South Africa.
Most of my friends planned to spend 2 weeks in South Africa, but I wanted more time!
I dedicated 30 days in South Africa to the most epic road trip of our lives.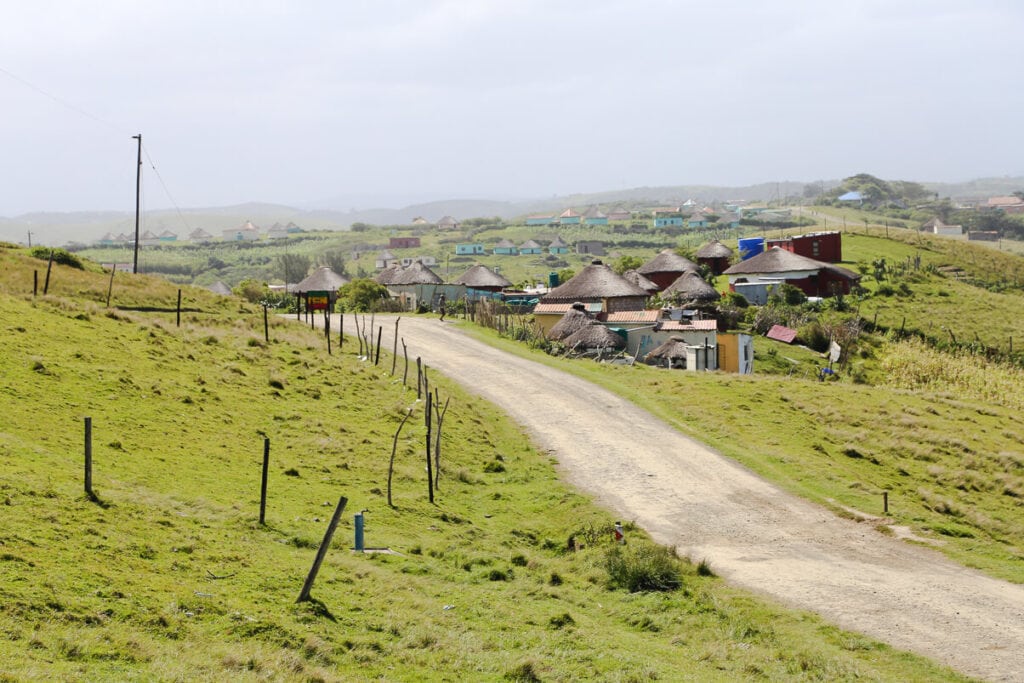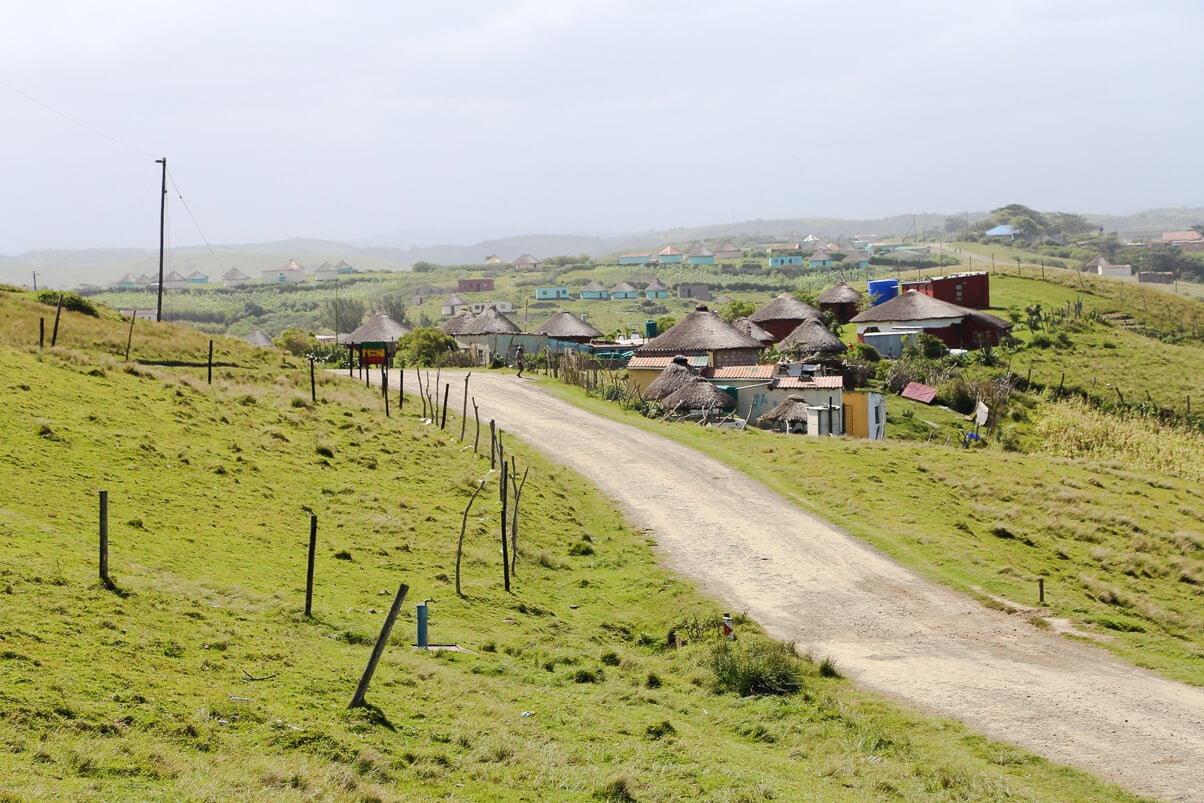 QUICK NOTE: This post contains affiliate links and Sol Salute may receive a commission for purchases made through these links, at no extra cost to you.
30 Days in South Africa: An Epic Road Trip Itinerary
I did manage to squeeze most of what I wanted to see into our 30 days in South Africa.
But truth be told, we fell hard for this country.
We were left with so much we wanted to explore further.
It's a country that should be added to everyone's bucket list: beautiful landscape, incredible food, good wine, very affordable prices for any budget.
Come for the wine, the beaches and obviously the wildlife, and great the wine (did I say that already?).
Map of our South African Road Trip Route
Below I've mapped out all of our stops. The blue pins are the towns/hotels where we slept.
I also marked highlights and pitstops in yellow. The red pins are restaurants and wineries I just can't stop thinking about.
Books about South Africa
I enjoy reading up on the history of wherever I'm visiting. It really helps me appreciate where I am.
South Africa has a very complicated history and I recommend reading up a bit before or during your visit if you're so inclined.
While we were there I read Diamonds, Gold, and War: The British, the Boers, and the Making of South Africa. I couldn't put it down.
It's long but it's written less like a history textbook and more like an engaging novel (while still being very fact-filled and informative).
After our trip, I read Nelson Mandela's memoir, which needs no explanation. Conveniently, Long Walk to Freedom picks up right at the time period where Diamonds, Gold, and War ends.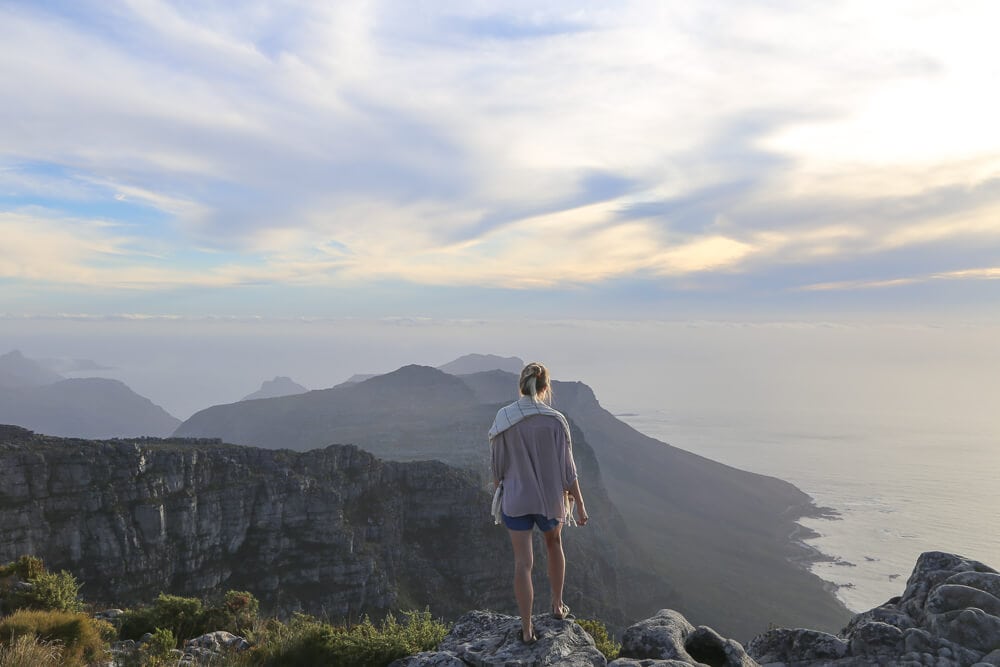 Our month in South Africa Itinerary
We flew into Johannesburg but decided to skip the city and go straight to Kruger.
We picked up our rental car and went straight to our lodge outside of the park, ready for our safari to begin.
But a trip to Johannesburg is a great option for starting your South African road trip, as most international flights land here.
Kruger National Park – 4 Nights
I decided to start our trip with the most rustic and the earliest of mornings so we could end the trip with the nicer hotels and lounge on the beach.
We spent our first 4 nights on safari in Kruger Park.
We stayed outside the park in a beautiful lodge, the Sabie River Bush Lodge, that was only 20 minutes from Kruger Gate.
Read More | A Logistical Guide to Visiting Kruger National Park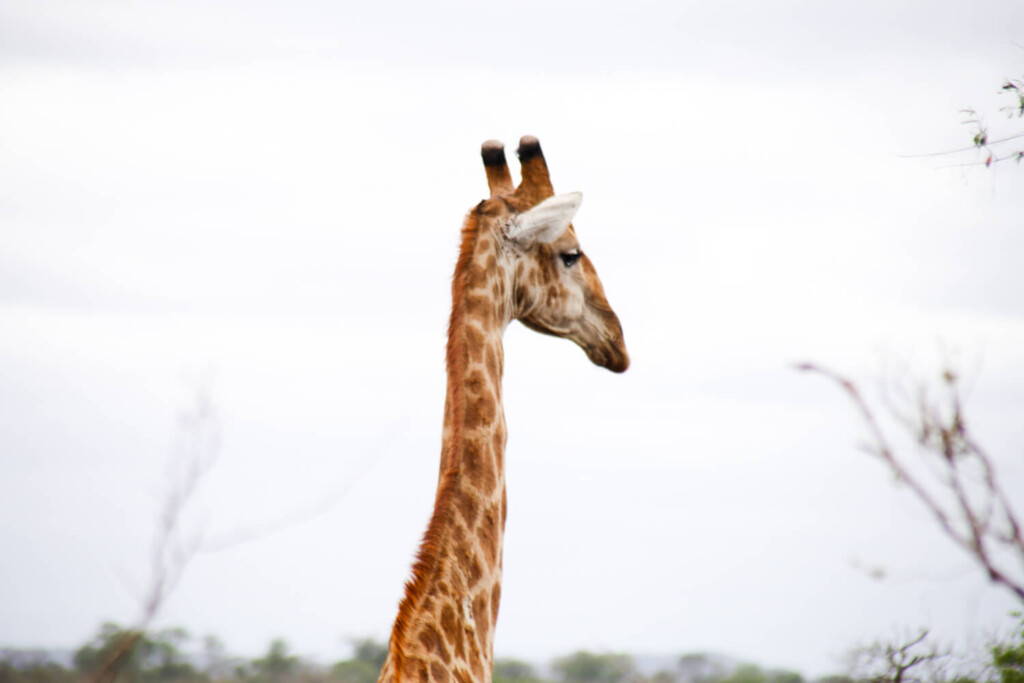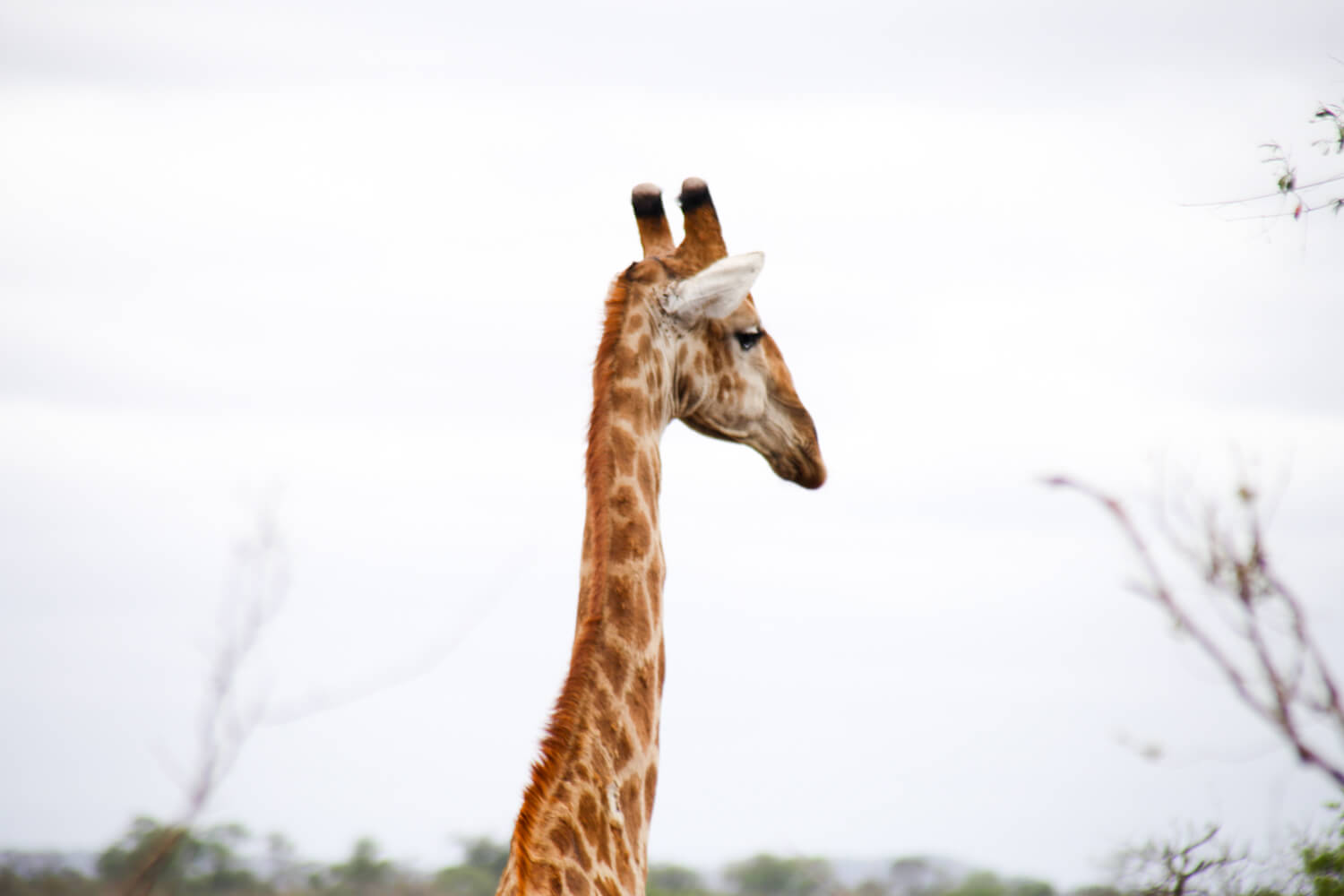 Where to stay in Kruger
In hindsight, I wish we had stayed inside the park itself.
The campsites and cabins seemed just as nice as where we were staying outside the park (minus the nice pool and deck for sundowners).
Inside the park, we could have done guided night drives and had easier access to the park for those early 5 am starts.
UPDATE: On our second trip to South Africa we spent 5 nights in Kruger in November and stayed in the park's rest camps. I highly recommend it.
But I can't complain. Our hotel was incredible.
Breakfast and Dinner were included in the rate and were delicious, the views of the Sabie River were beautiful, and it was very nice to have that pool to cool down in after a long drive in the park.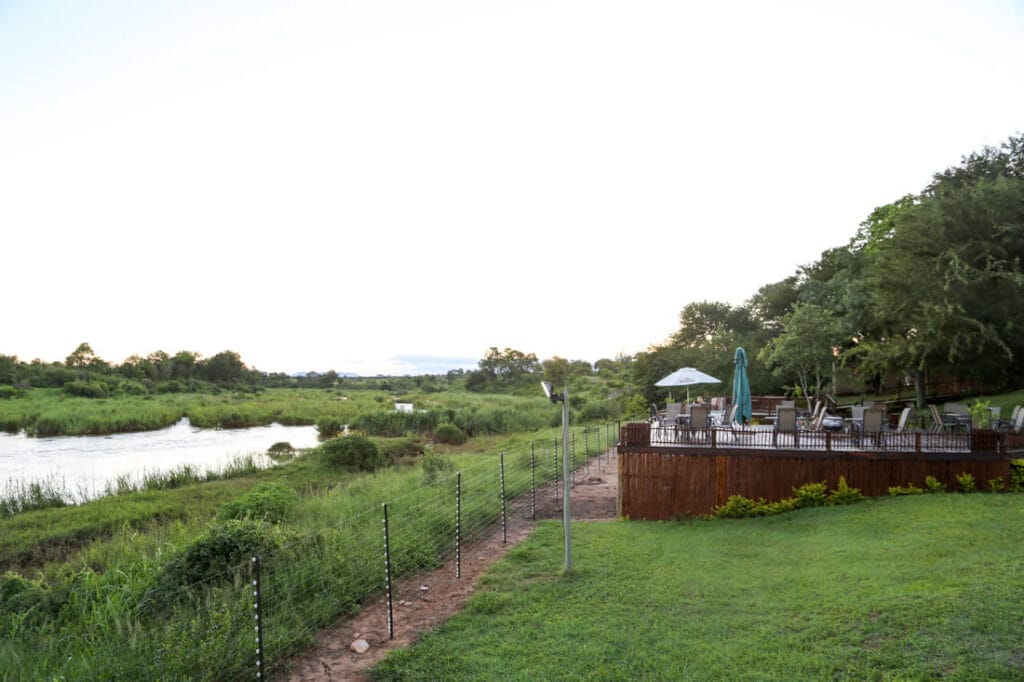 On our last day, we got into the park right when they opened at 5:30. We drove southward through the park to exit and head to Swaziland for the night.
Read more about our four days in Kruger here.
Swaziland – 1 Night
The drive from the southern Malelane Gate to our hotel in Swaziland was an easy one, taking only about 3-4 hours.
We stayed at the Mantenga Lodge in the Ezulwini Valley.
We only had time to spend one night here, which I regret. It was a beautiful country with a lot to offer.
We'll be back, Swaziland.
Read our full itinerary for our one day in Swaziland here.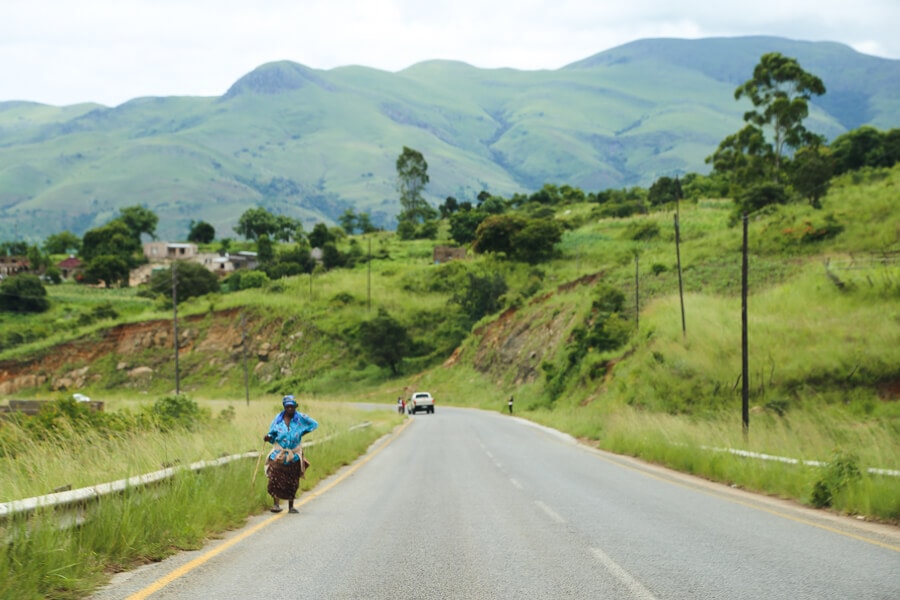 Hippo Cruise in St. Lucia – 1 Night
Waking up in Swaziland, we got as early a start as we could, but we still ended up rushing the whole day regardless. We needed to get to St. Lucia in time for a Hippo & Croc Cruise that afternoon.
Nothing could have prepared us for the pockmarked road on the South African side of the border leaving Swaziland.
Potholes slowed us to a solid 10 KM/H and ate up the entire morning.
At one point a young boy popped out of the bushes with his hand out and a shovel, as if he'd been single-handedly filling in all the potholes, clever kid, I see you.
Finally, back on solid concrete, we had our first out of necessity fast food while I nursed my pothole induced headache.
After a quick burger, we hauled ass, getting to the dock just in time!
Just in time for the captain to say we weren't on the list (the money taken out of my bank account said otherwise). He graciously let us on the boat anyway, stress over, exhale.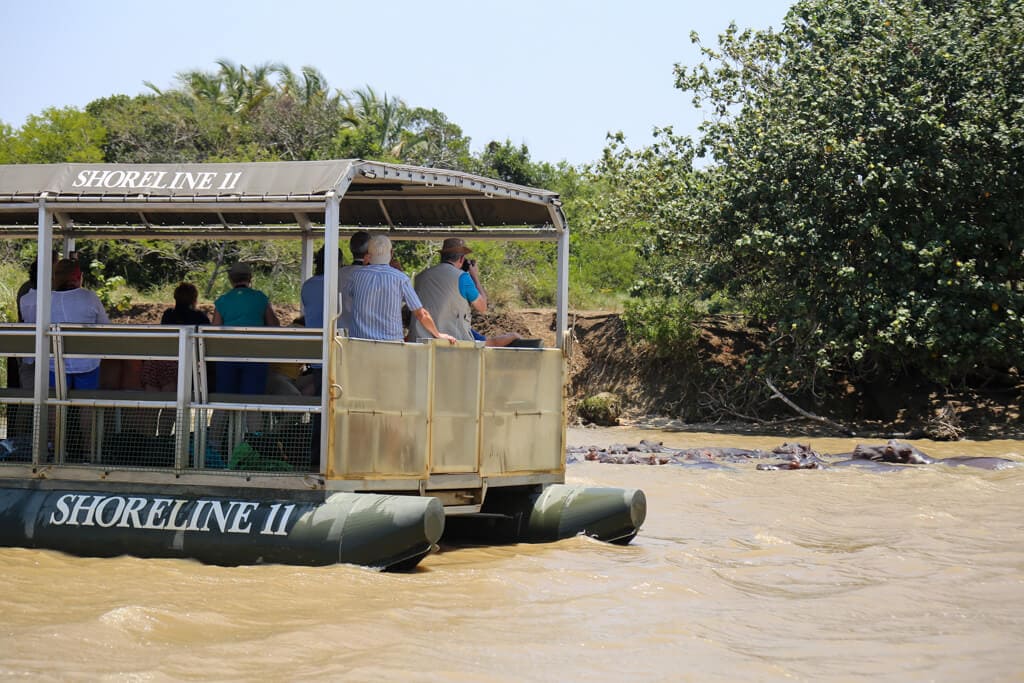 The boat was small (like the one above). I've seen enough I Survived on the Discovery Channel to know what a hippo can do to such a boat.
However, the guide explained they've been working with these pods of hippos for twenty years and they're accustomed to the boats.
Every now and then they'd grunt at us to move along but nothing menacing. Hippos are nocturnal and around sunset, they slowly start to wake up (so the last tour of the day is ideal for hippo watching).
Baby hippos standing on their mama's backs were the stars of the night. I loved seeing how they all sleep in groups, each resting their head on the back of another.
We didn't see but one crocodile because it was too cloudy and they stayed underwater, but that's OK, I was there for the water elephants.
Reserve your hippo cruise here.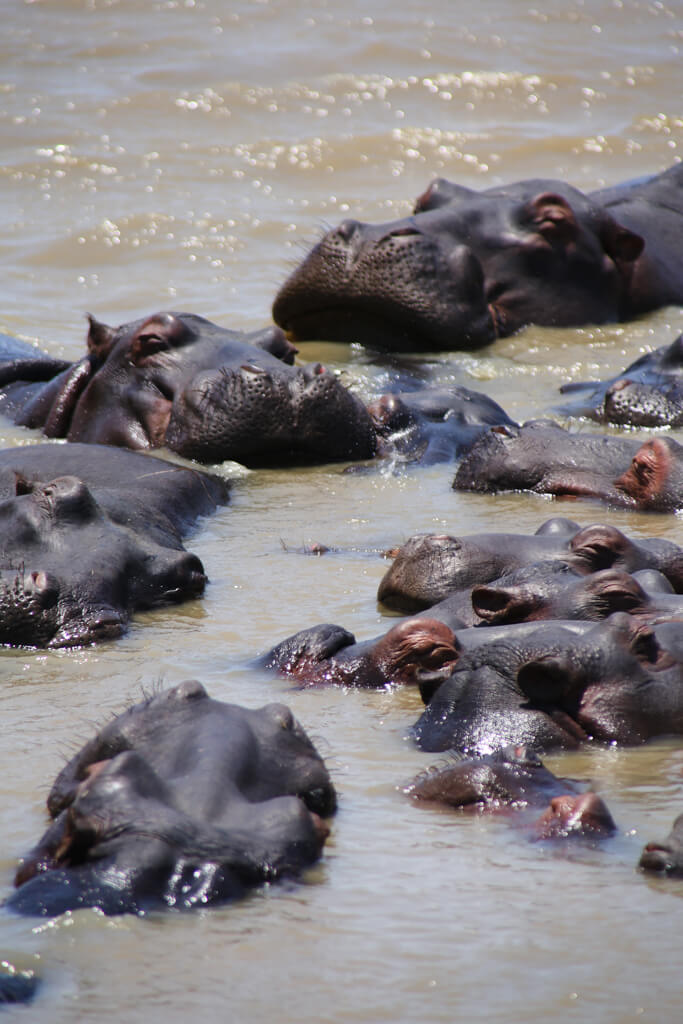 After the tour, we got back into the car and followed the Garmin into the darkness, for about half an hour in the wrong direction. The hotel was 2 minutes to the left, we turned right.
This was the first big fail of the trip. You win some, you lose some.
After my little detour, we finally made it to our hotel, Monzi Safari Backpackers. It was only $29 US for the night and very comfortable.
It was definitely a budget option, with a shared bathroom. But it was very clean and we had a private room, I'd stay there again!
UPDATE: We returned to St. Lucia on a subsequent trip and spent three nights. It was much better having at least 3 days there. We also stayed at Monzi again! Read about things to do in St. Lucia here.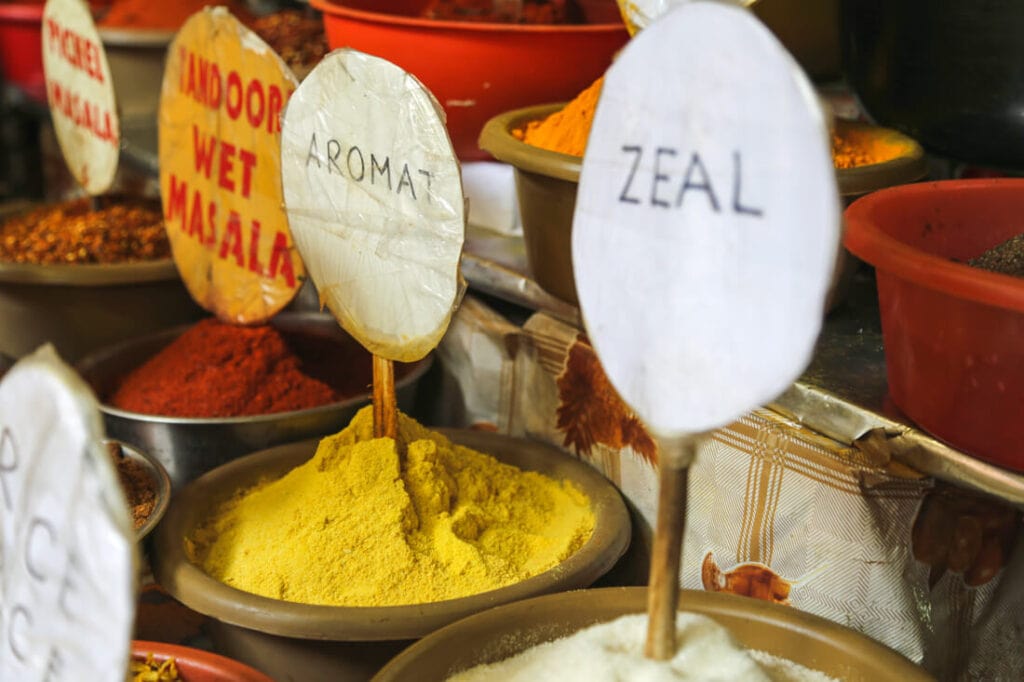 Durban – 1 Night
The next day we had a short drive, only 2 hours to Durban. We planned on spending the day on the beach on the Dolphin Coast but rain forced us to go straight into the city.
I can't say I really enjoyed Durban and it was the only place out of our entire trip that I felt unsafe.
We didn't do much, we were pretty worn down from the past few days. We only made one outing to the Victoria Market.  
The market was very touristy and full of the usual trinkets.
But we did meet one very interesting man who sold us a lot of spices and gave us all his favorite recipes and secrets to making a good curry.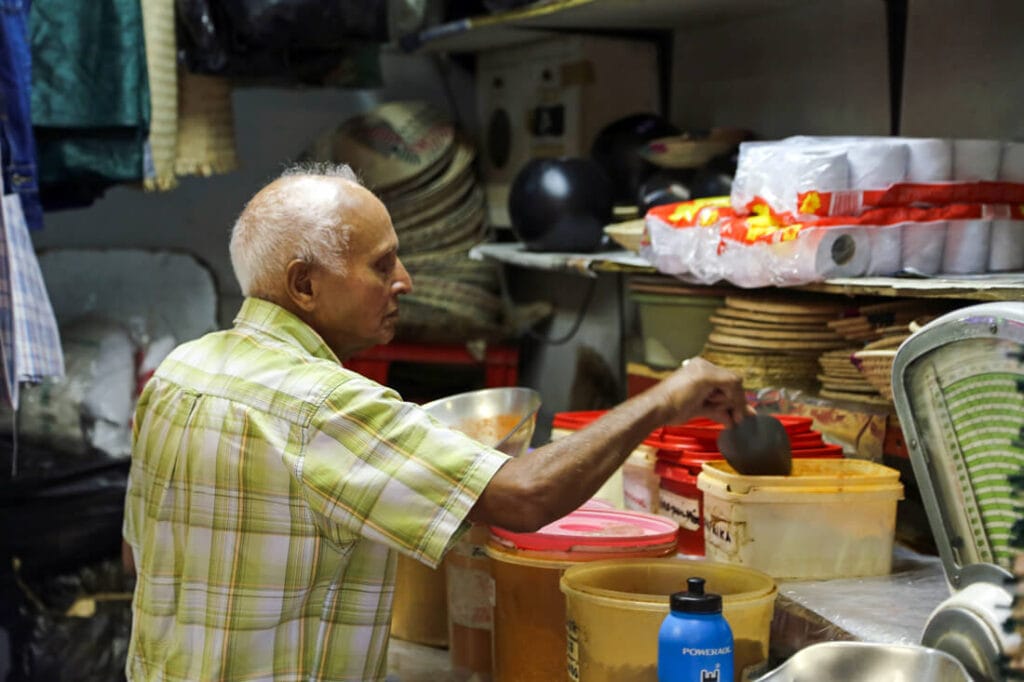 After the market, we tried to walk along the beach but we kept being followed and harassed.
We ended up spending the entire afternoon getting some much-needed rest at our beautiful bed & breakfast.
I'd honestly go back to Durban just to stay here and not leave the property for a few days, we stayed at the Goble Palms. Look at how gorgeous it is below.
We got Bunny Chow for dinner, a local curry dish with dark origins in the apartheid.
We were the only non-Indians in the restaurant: a good sign, I smugly thought to myself.
We took the food to go and ate it on the hotel patio.
I spice-cried my way through the meal. It was delicious and I was grateful for the pint of milk I bought at the 7-11 on the way home, good foresight on my part.
The Wild Coast, Mdumbi Backpackers – 3 Nights
After a 6 am breakfast we hit the road. This was the longest drive of the trip with 10 hours to go to the next stop.
Ten hours is a long way to drive in one day, so it's a good thing I took us down the wrong road for an hour (fail #2).
We were heading into the Transkei to the South Africa Wild Coast. It was arguably the most beautiful place I've ever been to!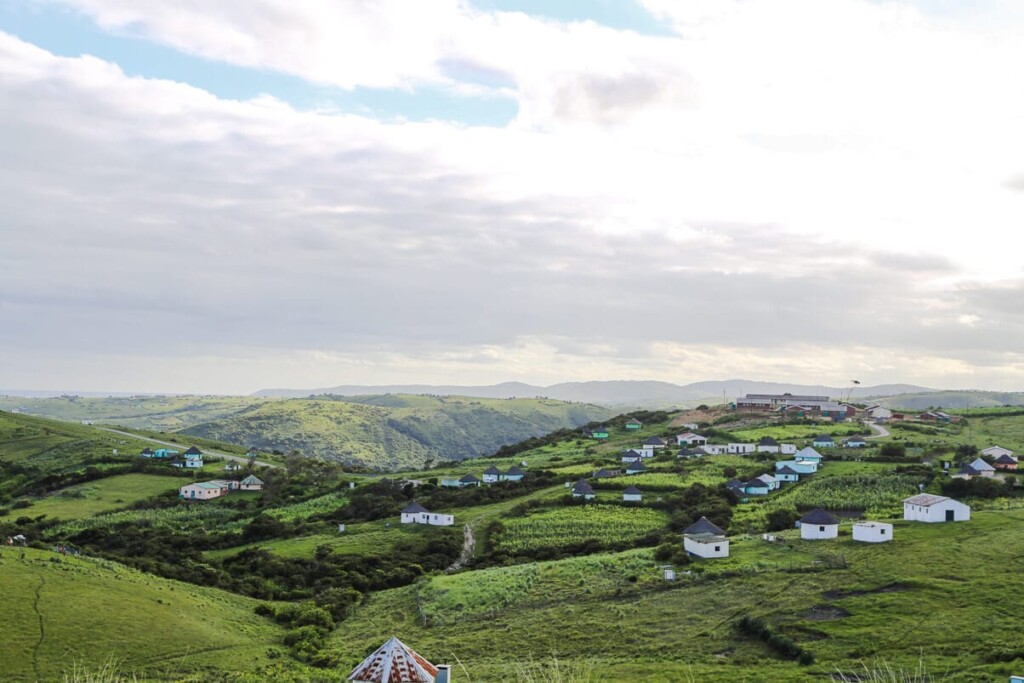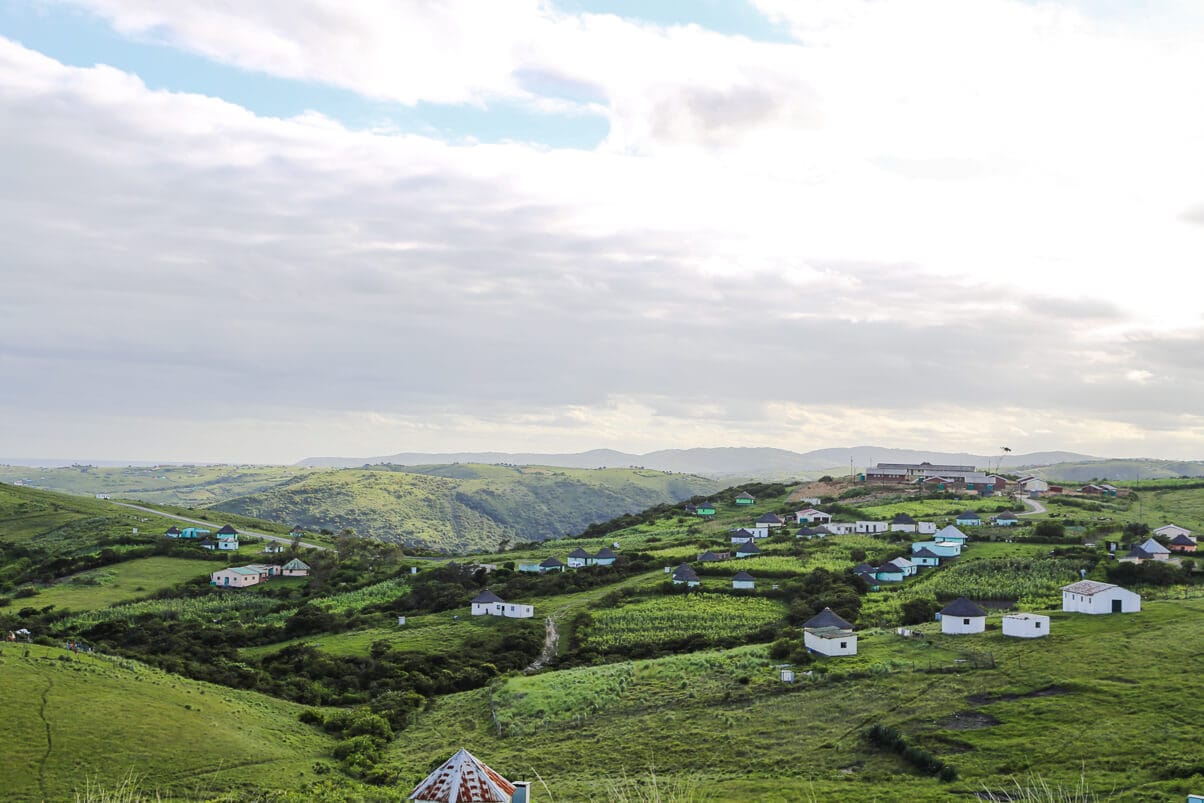 We stopped for our second out of necessity fast food meal at a McDonald's in Nelson Mandela's hometown (so it was cultural, right?).
I know, McDonald's, but we were in a rush and we needed the WiFi to get us back on track after my lovely detour, so sue me.
We were anxious to get to the hostel before sunset since we'd been warned about rough roads and the Transkei Big 5 (from what I gathered were: cows, pigs, goats, horses, and sheep) blocking the roads.
After you turn off the N2, the roads aren't lit, so you're going to want to drive here during daylight.
This was our first opportunity to really relax and we took advantage. We did nothing but lounge and walk the beach and sleep in the hostel's hammocks for most of our time there.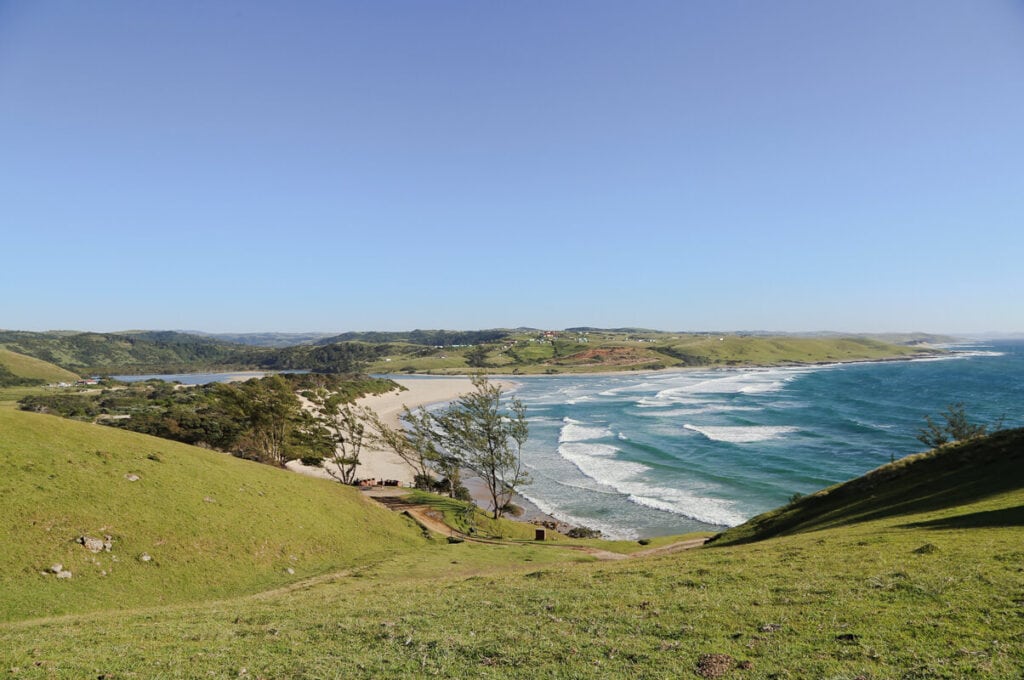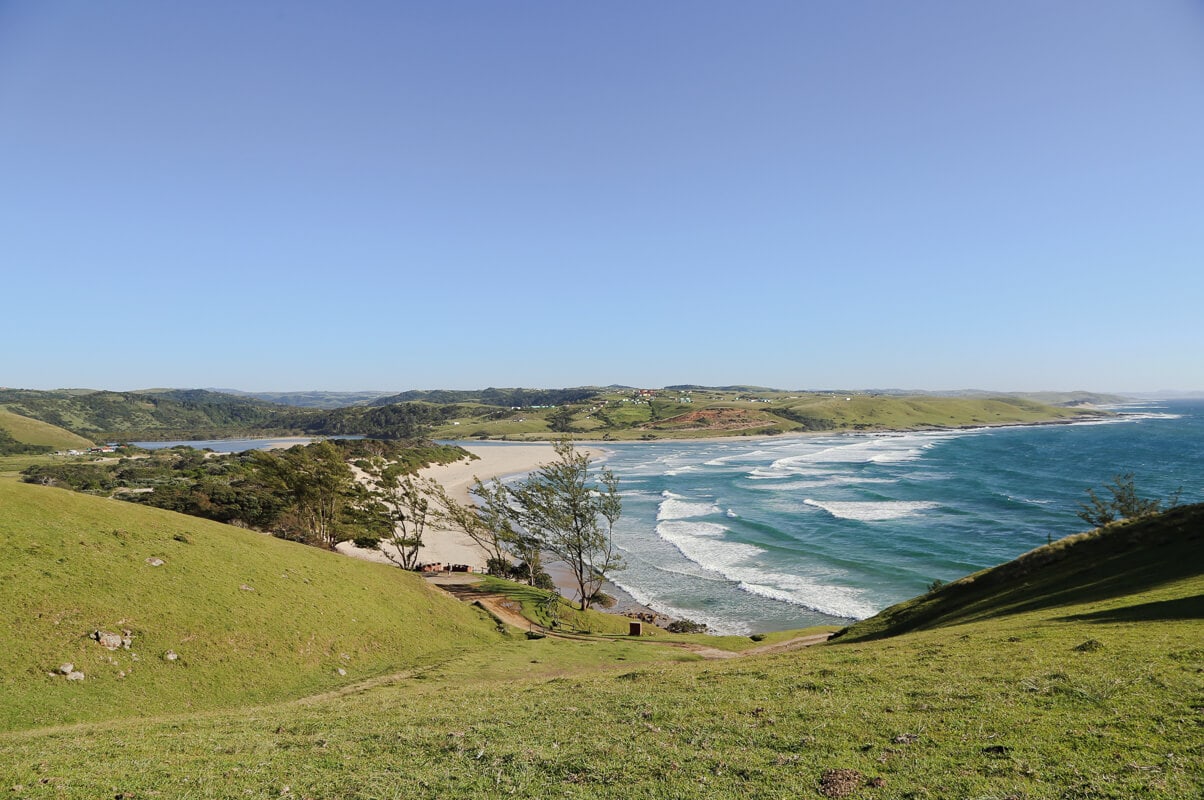 Chintsa East – 2 Nights
I would have loved to stay a couple of nights more at Mdumbi but it was booked, so we headed further down the coast to Chintsa East.
Chintsa East, not Chintsa West, to the horror of everyone we told at Mdumbi.
There's a great party hostel in Chintsa West we were told over and over, ha, they did not know who they were talking to. I don't have a lot to share about Chintsa.
I was too busy being lazy on the beach to take pictures.
Addo Elephant National Park – 2 Nights
Next stop: a safari in Addo Elephant National Park. This time we stayed inside the park at the Addo Main Rest Camp.
The smaller rondavels were all booked so we rented a forest cabin.
The housing was very nice and comfortable. I can't imagine any hotel being any better.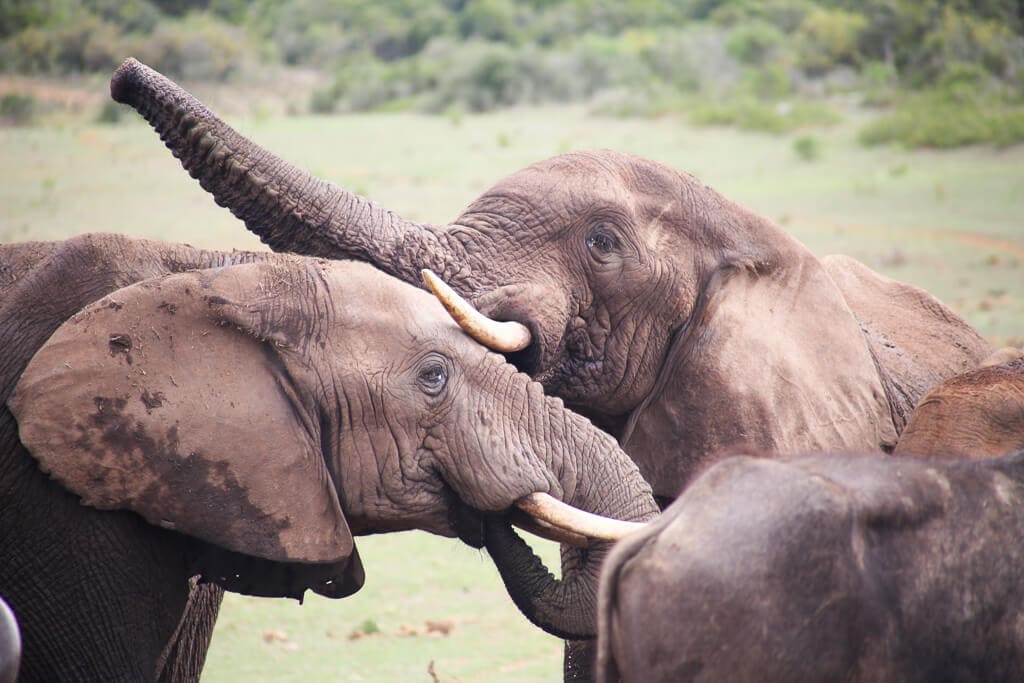 I really enjoyed our time in Addo. The park has watering holes along the road at different points, really bringing the animals closer to the road for your viewing enjoyment.
The whole park was greener overall than Kruger, with a lot of brush (perfect for elephants).
The variety of animals we saw was much different from Kruger.
There were a lot of black-backed jackals and an insane amount of warthogs everywhere.
We saw a lot of buffalo and zebra, but the star of the show is in the name.
Greater Addo – 2 Nights
These two nights are my only real regret.
I had picked a hotel that I thought was close to Addo but seemed a bit fancier, a nice place to disconnect (which was my plan).
But it was a long drive, an hour out of the way to the northeast of Addo, meaning to get to the Karoo after for our next stop we'd have to backtrack quite a bit.
The hotel (Addo Bush Palace) really was very nice.
However, I wish I had saved this time for the Karoo, which was much more beautiful than I could have imagined. But we all make mistakes and it WAS nice to disconnect.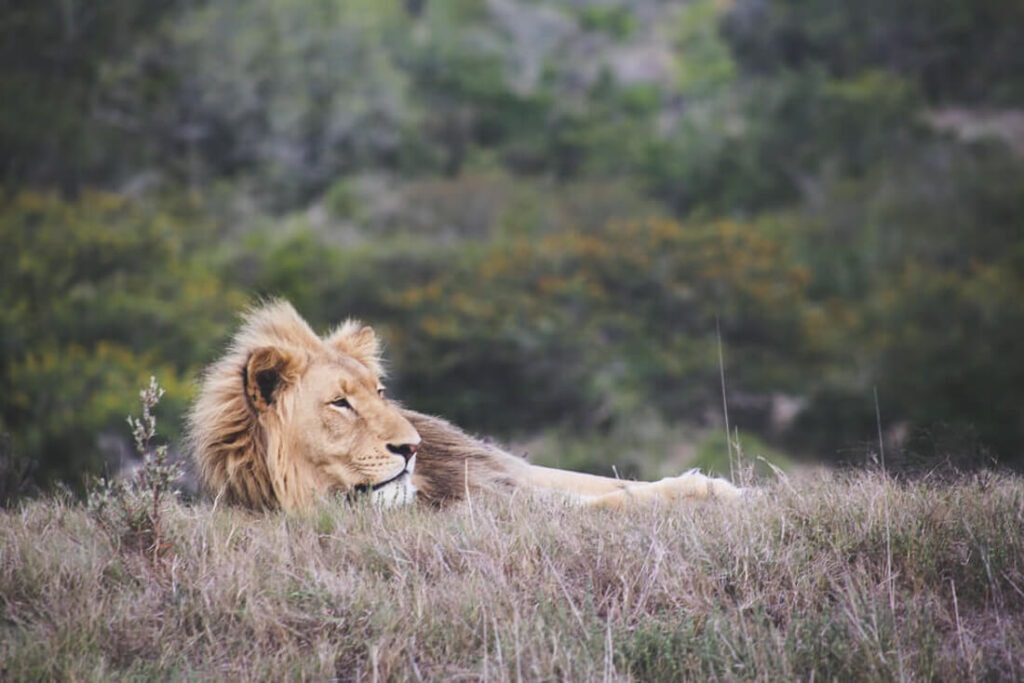 We booked a safari game drive with a private game reserve for one of our afternoons here, through Schotia Safaris.
It was a fun experience, very different than our self-drives in the public parks.
You're guaranteed a lion sighting, which is why I did it if I'm honest. I wanted these money shots of lions, mission accomplished.
The Schotia drive was great, they bring you much closer to the animals than is allowed in public parks (for obvious reasons).
The drive ends with a braai (barbecue), a campfire and some of that delicious wine before driving back out after dark to look for nocturnal animals.
Read More | Self Drive Safari or Guided Game Drive: Which Is Best for You?
Oudtshoorn, Little Karoo – 1 Night
This is where the Addo regret hit hard, we had a lot longer drive than I had expected to Outdshoorn.
It was nearly 5 hours and we wanted to see the Cango Caves.
The last tour starts at three so we needed to hurry.
This meant we had no time for the Cheetah reserve I wanted to see on the way (a moment of silence for this tragedy).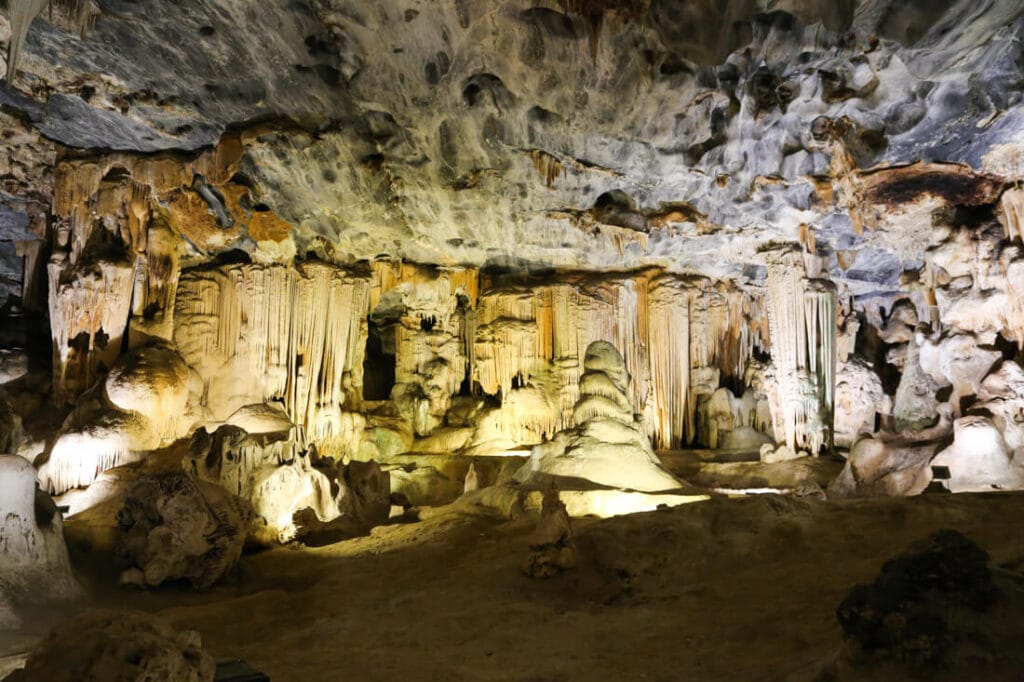 We did the Adventure Tour at the Cango Caves, which is the standard tour + an addition of squeezing, climbing and waddling through narrow passageways.
This is NOT for the claustrophobic. I had to leave my backpack behind because you're seriously squeezing through the tiniest of spaces.
After the caves, we went to our hotel, the De Zeekoe Guest Lodge, for some sundowners, dinner, and an early bedtime. The hotel was beautiful and I'd love to go back with more time to enjoy it.
We each tried ostrich for dinner (thanks to the plethora of local ostrich farms).
Martin has an ostrich steak, and I had ostrich bobotie (a South African dish of spiced minced meat and an egg topping).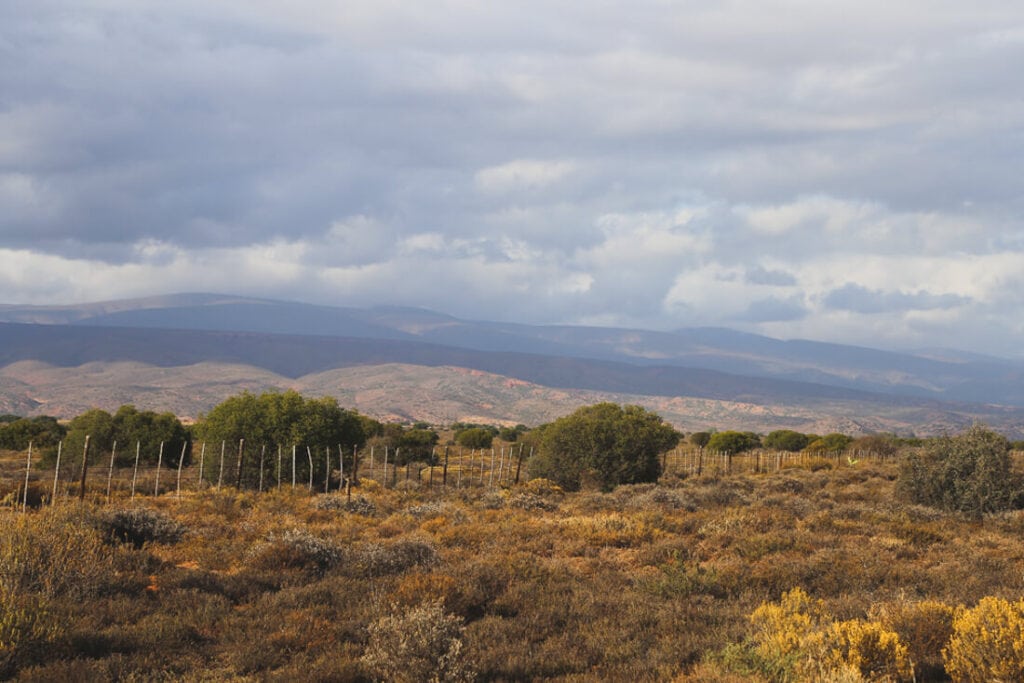 Outdshoorn to Gansbaai
This was our busiest day and also my favorite day on the road. We did SO much without feeling rushed.
The day started with a 4:45 a.m. alarm for a MEERKAT ADVENTURE.
Oh my god ya'll, MEERKATS!
Since meerkats spend their day on the move, the only way to observe them is to watch them wake up and warm their little bellies in the sun.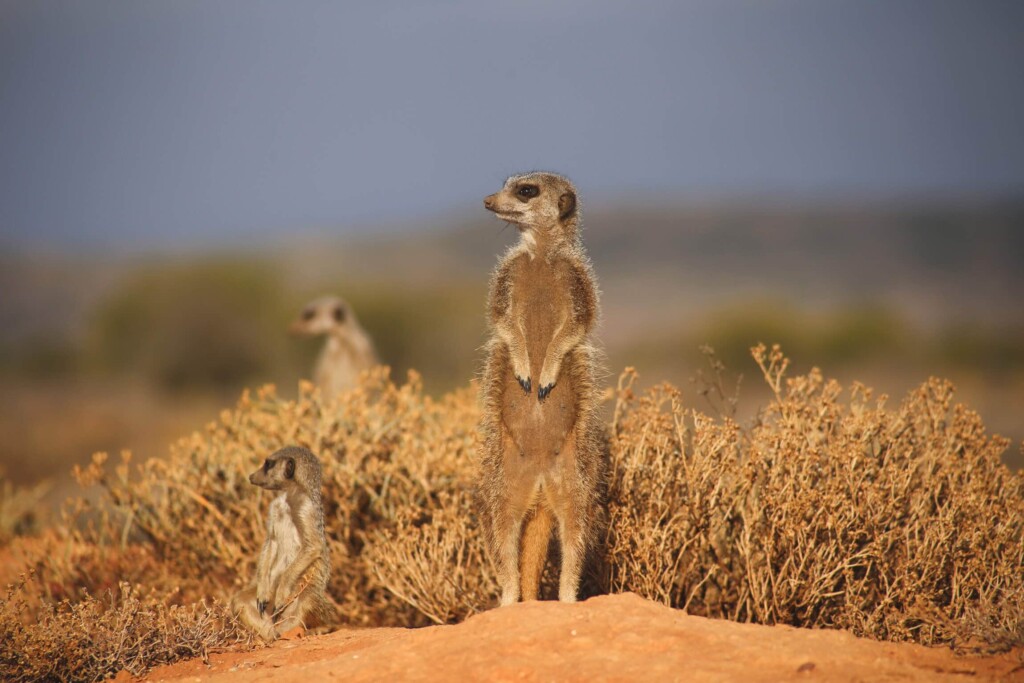 The meerkat adventure was over around 7 so we went back to the hotel for breakfast and freshen up for the day.
We were out again by 8:30 on our way south to Gansbaai. It rained all day, stopping conveniently every time we wanted to stop along the way, the fates were with us.
We drove through some beautiful desert and mountain landscapes before stopping at Ronnie's Sex Shop, an absolute must pit stop.
Ronnie himself (above) was super friendly and seemed to love talking to everyone who stops by.
I asked him about the name and he said it was a prank by some friend's that ended up bringing in the tourists guilty) so he went with it. It's a fun little restaurant/bar to break up the drive.
I got a delicious chocolate milkshake at 10 am because when you wake up at 4:45, 10 am is practically mid-afternoon and a milkshake is completely appropriate.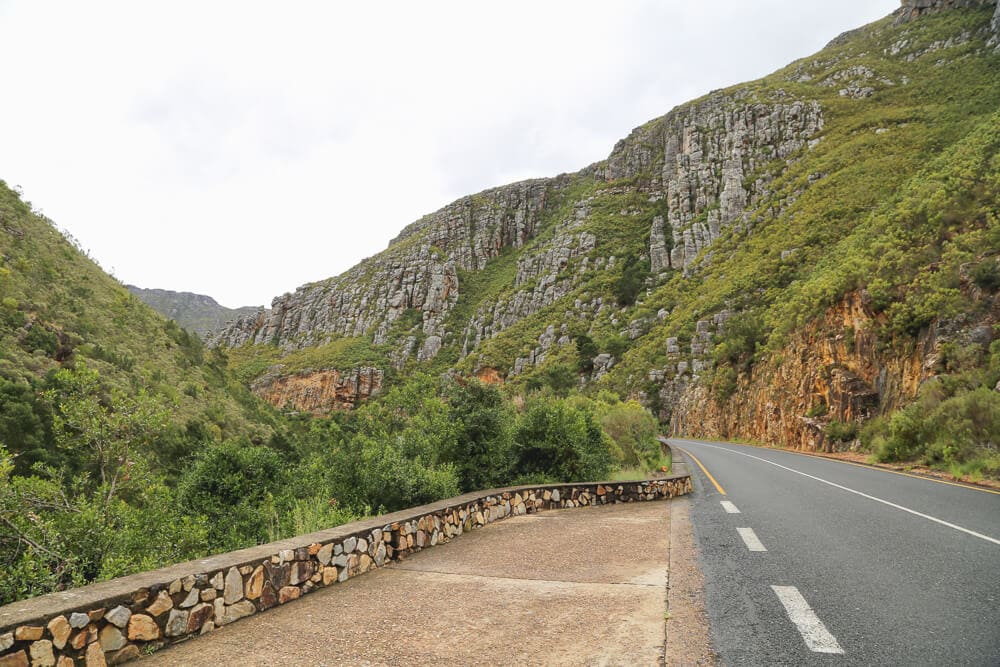 Tradouw Pass
After Ronnie's, we drove through the cute desert town Barrydale, before crossing the green, mountainous Tradouw Pass.
The change of landscape from the desert was extreme and seemed to happen suddenly.
We stopped for some photos and watched a large troupe of baboons scramble across the rocks above us.
Cape Agulhas: Where the Oceans Meet
After the Tradouw Pass, we stopped for a stroll through sleepy Swellendam. Unfortunately, we didn't have much time to spend here. But if you do have time to explore, check out these things to do in Swellendam.
Then headed south to Cape Agulhas: the southernmost point of Africa and where the Indian and Atlantic Oceans meet.
Along the way, I looked for a farmstall on the GPS and settled on the Napier Farm Stall.
I was after meat pies and we were well rewarded for our short 15-minute detour off-route to the farmstall.
After a short break for a Chicken Curry Meat Pie, we soldiered onwards.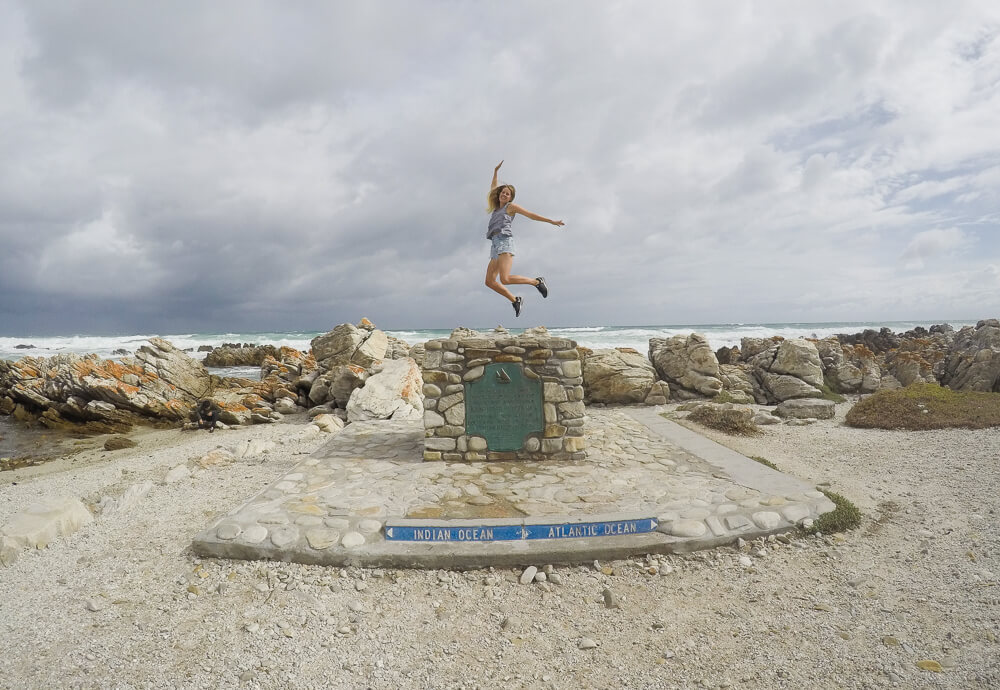 We were racing storm clouds to L'Agulhas and made it just in time, just after getting back in the car it poured.
This was the end of a FULL day, we drove one last hour and a half to our hotel in Gansbaai.
We stayed at the Oom Piet, it was simple but comfortable, all we needed to rest up for the next day.
Shark Diving in Gansbaai – January 28
Finally, shark diving day!
We woke up to sunny skies after a stormy day the day before, "how lucky" I thought to myself!
But yesterday's storms left us with choppy waters.
Nearly the entire boat got seasick and there was low visibility (underwater we could only see a meter in front of us).
I went into the cage with the third group. The first two groups had gotten a lot of shark action in a short span of time. What I loved about this company is that they don't limit you to a set time frame.
They aim to make sure everyone gets an equal viewing experience.
This also means if you don't see as many sharks at first, you may be in that cold water for a lot longer than anticipated.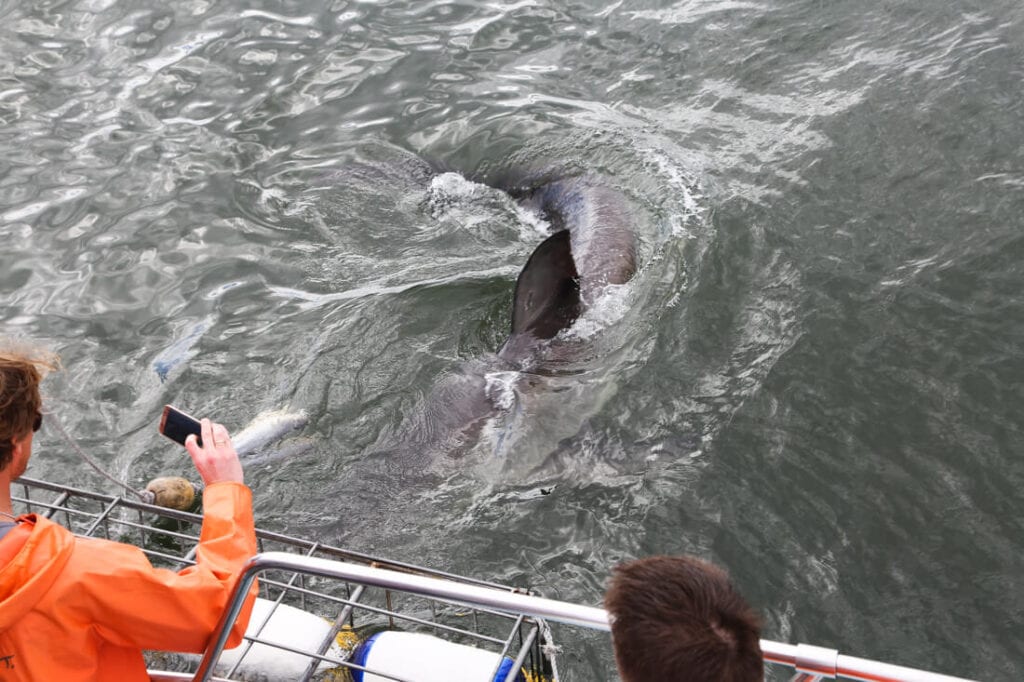 We saw a huge shark right off the bat, then there was a long gap. So long that they took pity on us freezing in the water and let us sit on the edge of the cage, ready to hop in at a moment's notice.
We did get one more sighting but after that, I couldn't take it anymore. The weight belt they tie to your waist (to help you stay underwater) was really tugging at my stomach while out of the water.
It was starting to make me feel queasy.
I had to give up and get back in the boat. Murphy's Law is real and ten minutes later my cage group got a good viewing.
They let you get back in the cage as many times as you want and don't go back to shore until everyone has had their fill.
However, I couldn't stomach the idea of putting that weight belt back on, so I settled for watching the huge sharks swim by from above.
The whole experience was amazing and I would absolutely do it again.
Hermanus & On to Cape Town
After getting our land legs back we headed to Hermanus for lunch at Bientang's Cave.
Hermanus was beautiful and had a very Mediterranean feel.
It was very different from the rest of South Africa we'd seen until now.
After lunch, we had a wine tasting at Benguela Cove.
Cape Town – 6 Nights – January 28-February 3
For brevity's sake, I've chosen not to elaborate on Cape Town here.
Read our detailed 5 days in Cape Town itinerary here.
Read Next | The Best Cape Town Day Trips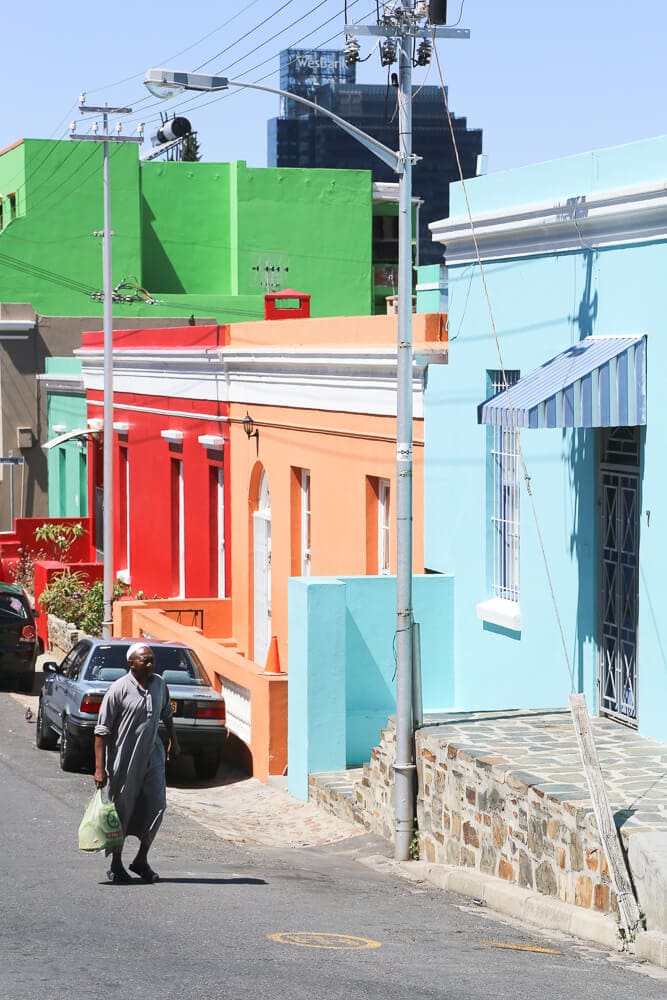 Stellenbosch – 2 Nights
It was time for the main event, we did plan this trip for a wedding after all!
On Friday we drove to Stellenbosch to check in to the Zorgvliet Wine Estate along with 87 other guests who had flown in from all over the world.
That afternoon the grooms had scheduled a lunch and wine tasting in Franschhoek at Haute Cabrière.
The food was great, the company was greater, and the wine was free flowing.
On Saturday a group of us went for a wine tasting at Delaire Graff.
For 50 rand (under U$4) we tasted three wines(!) and the estate itself is easy on the eyes.
After the tasting, we went for lunch at Cosecha on the Noble Hill wine estate.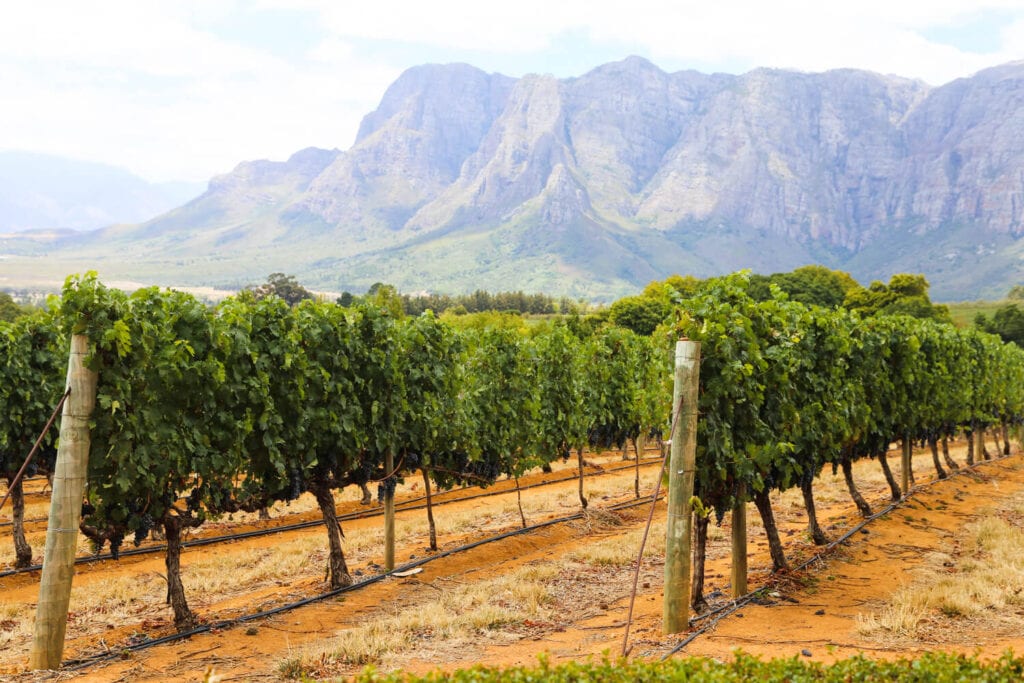 Paternoster
After a month of early mornings and a week full of parties and wine, we were ready for some rest.
For our last two nights, we went to Paternoster (two hours west of Cape Town).
Paternoster is a quiet, quaint little fishing village on the Western Cape.
Where to Stay in Paternoster
We rented a cute little cottage. It felt pulled right out of a magazine like it would fit in more on the cliffs of Santorini than a quiet beach town in South Africa.
We stayed in a cottage like this one (our specific cottage doesn't seem to be for rent anymore but this one is so similar!).
The entire village was filled with cute places to rent. We enjoyed walks on the beach for our last 2 days in South Africa.
Where to eat in Paternoster
We ate both our dinners at Voorstrandt, reservations required. You should make dinner reservations for your first night before you arrive in Paternoster, the restaurants do fill up.
We had to take our first meal to go but made a reservation for the following night.
We also got crawfish tails from the woman we rented our cottage from. Martin cooked them up for sundowners with a bottle of champagne gifted to us by the grooms.
We were told not to buy any crawfish or seafood from the men you see selling it around town.
They keep their catch in plastic grocery bags and there's no telling how long they have had those same lobsters and crawfish. It is cruel to the animal and unsanitary.
This was the perfect ending to the trip. We'll definitely be back to South Africa one day in the (hopefully near) future!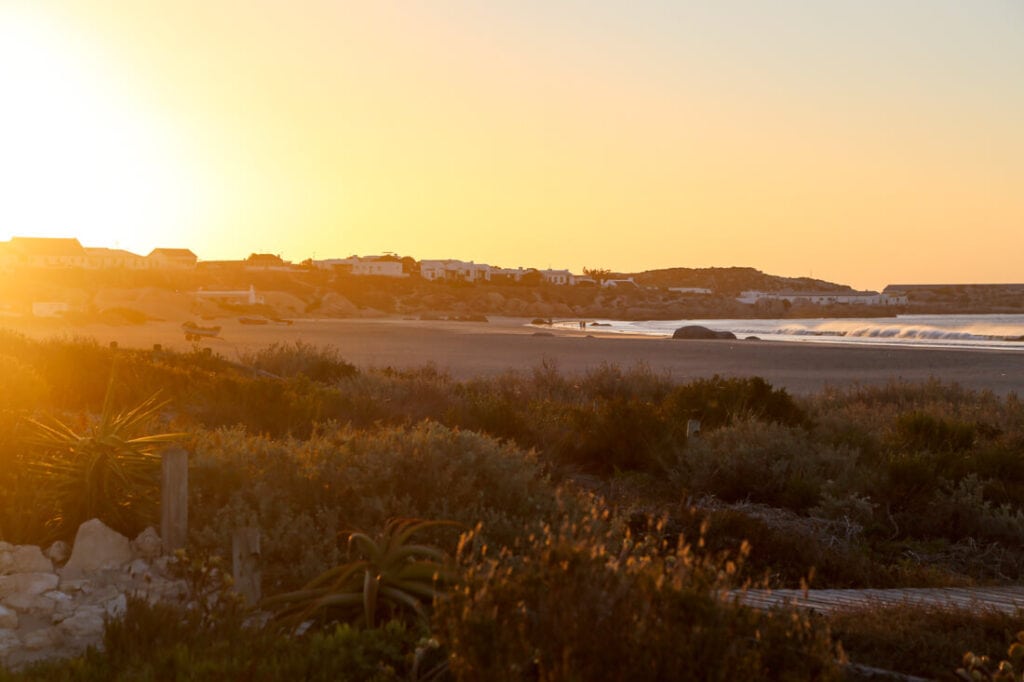 PIN IT FOR LATER