Two years ago, we zipped through St. Lucia on a one-month road trip across South Africa. We didn't give it the time of day (literally, we were there for one night).
We arrived for a hippo cruise through the estuary before promptly passing out, only to leave under the cover of darkness early the following day.
What a waste. There are so many things to do in St. Lucia, South Africa and it deserved more.
So on our next trip, a two week South African road trip, we dedicated three nights to St. Lucia.
This post includes all my favorite things to do in St. Lucia, South Africa, from hippos to cheetahs to gorgeous beaches.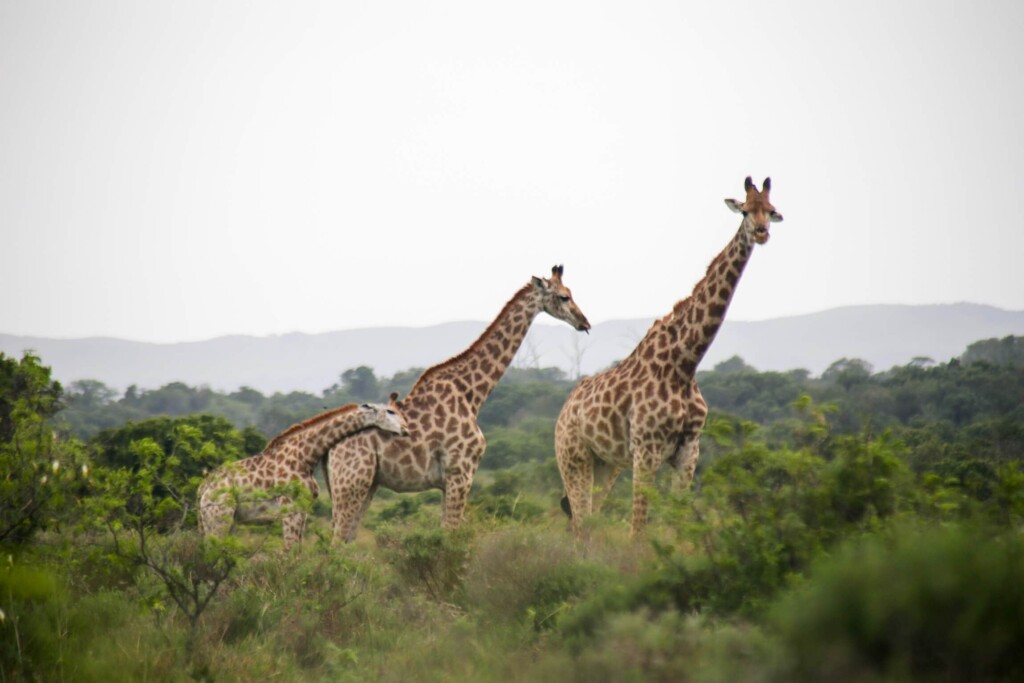 QUICK NOTE: This post contains affiliate links and Sol Salute may receive a commission for purchases made through these links, at no extra cost to you.
Things to do in St. Lucia, South Africa
During our three days in St. Lucia, there was no shortage of adventurous activities or excursions to keep us busy.
The national park here houses hippos, safaris, and expansive beaches.
Whether you're looking for adventure or relaxation, you'll find it here.
So without further ado, here's a breakdown on the best things to do in Isimangaliso and beyond.
Note: Heritage Tours & Safaris and Bhangazi Horse Safaris graciously hosted us on tours. And while I agreed to share my experience here in exchange for these tours opinions are 100% my own. 
Organized Tour Option – St. Lucia + Hluhluwe-Imfolozi
For an organized tour, this 4-day option is the most popular. It departs and ends in Durban, spending two nights in Hluhluwe-Imfolozi and a night in St. Lucia. You'll see all of this region's game reserves and it includes everything from boat tours to game drives and accommodations. If you want someone to take care of logistics, then click here to learn more.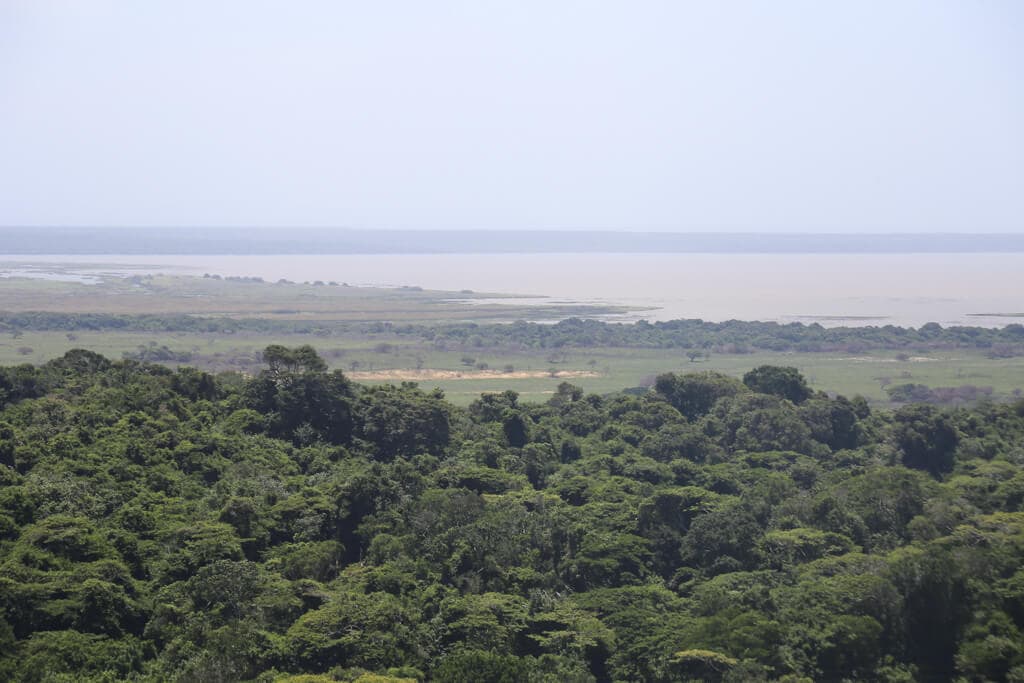 1. Visit iSimangaliso Wetland Park
In Zulu, iSimangaliso means "a miracle" or "something wondrous," and the beauty here really is something of a miracle.
This national park offers game drives in the savanna, expansive wetlands, and beaches on the Indian Ocean. 
iSimangaliso is divided into two sections: Western Shores and Eastern Shores.
You can plan your trip by dividing time in this way. Spending either the morning in one and the afternoon in the other or dedicate a day to each.
iSimangaliso Eastern Shores versus Western Shores
The two sections of iSimangaliso Wetland Park are divided by the St. Lucia Lake. The Eastern and Western Shores offer different attractions, as well as separate gates and entrance fees, etc.
The Eastern Shores is bordered by the St. Lucia Lake to the west and the Indian Ocean to the east and is incredibly diverse. Snorkel the coral reefs, lounge on the vast beach at Cape Vidal, and search for game in the bush, vegetative dunes, and wetlands. You could spend an entire day here (or even days, plural!).

The Western Shores is mainly savanna and offers better game viewing than its Eastern counterpart. It's small (in comparison to nearby Hluhluwe-Imfolozi) and we drove the loops in three hours. There are also walking trails and excellent bird watching on the lakeshore at Charters Creek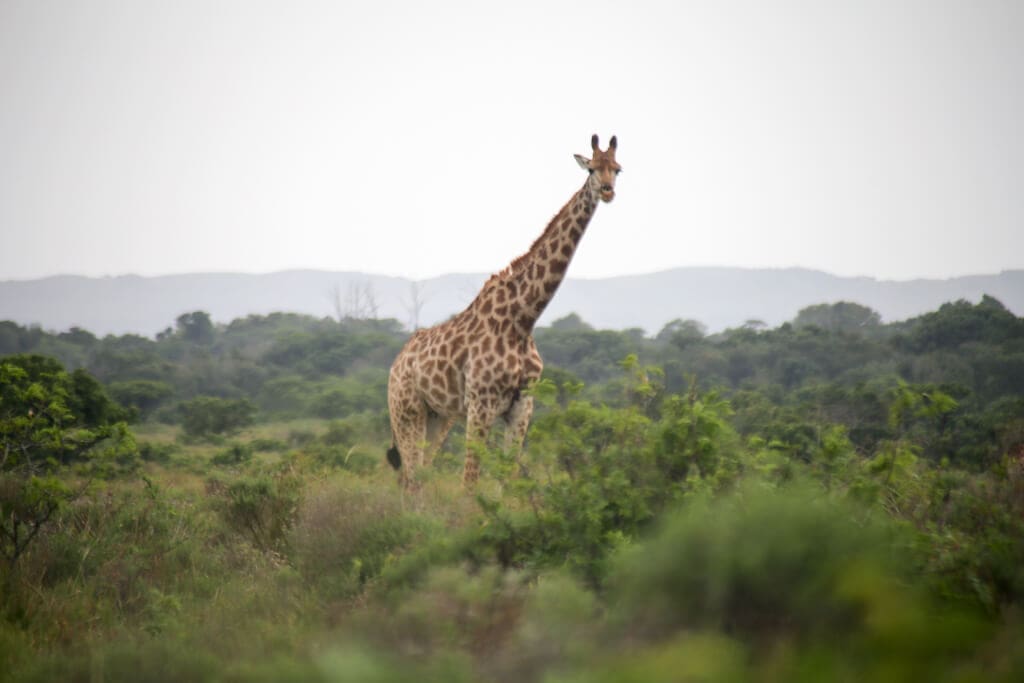 Isimangaliso entrance gates
Access the Eastern Shores via the Bhangazi Gate in St. Lucia.
There are two gates to enter the Western Shores: the Dukuduku Gate just outside St. Lucia or the Nhlozi Gate on the N2.
It would be very easy to drive the Western Shores on your way out of St. Lucia by entering through the Dukuduku Gate and exiting via Nhlozi onto the N2 (or vice versa).
Check the official site here for opening hours and entrance fees for each.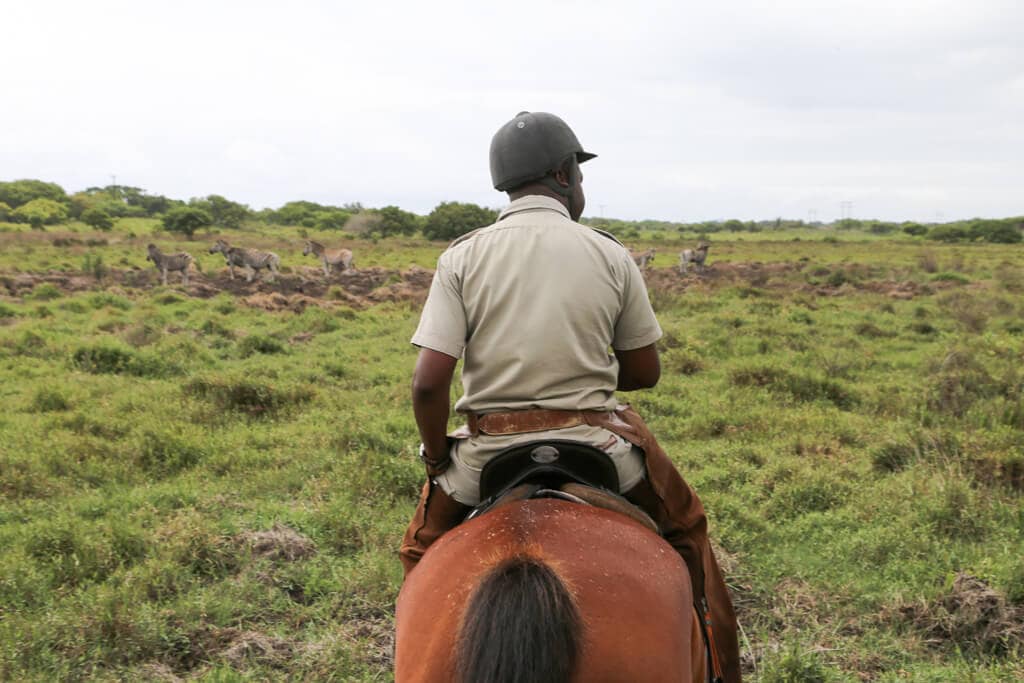 2. Go on a Bush & Beach Horse Ride
We started our three days in iSimangaliso with a Beach and Bush horse ride with Bhangazi Horse Safaris.
The ride lasted two and a half hours in total and was timed perfectly for the low tide for the beach portion of the ride.
However, if you're short on time, they do offer shorter rides that feature only a beach ride or game viewing in the bush.
But I have to say, the combination of riding through the lush green grass, mere meters from zebra and wildebeest then galloping down a vast, empty beach is unbeatable.
If you're lucky you may even see dolphin or whales just off the shore!
I wholeheartedly recommend the combo ride. Our guide, Lucas, was excellent and answered all of my (many) questions. He and everyone at Bhangazi clearly love what they do (and who can blame them?).
Going on a horse safari with Bhangazi Horse Safaris is a very unique way to safari in iSimangaliso, check rates here.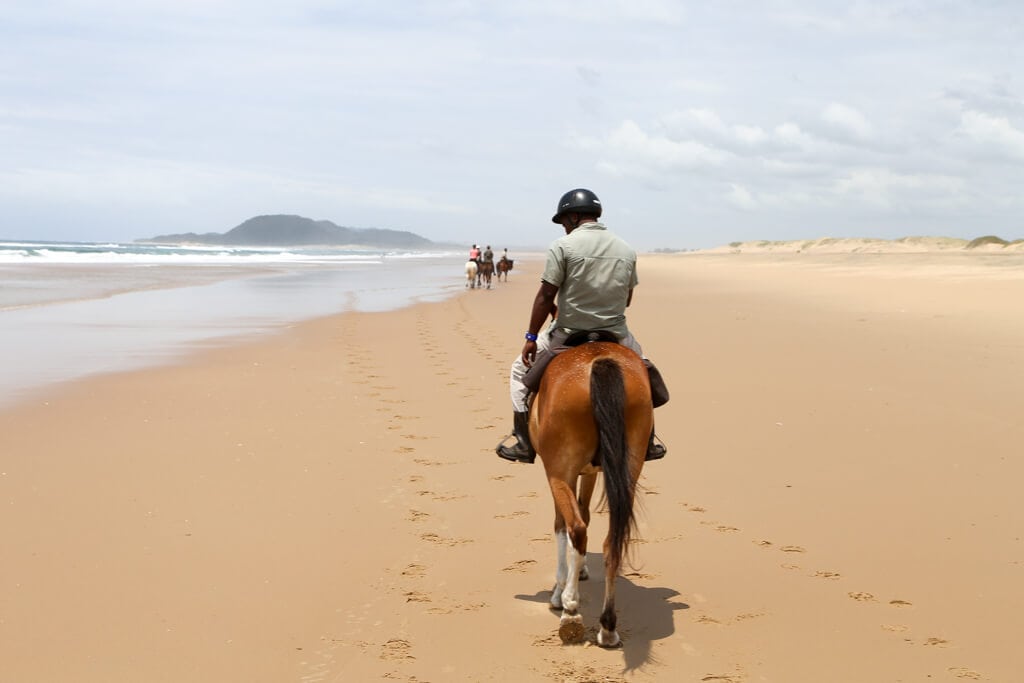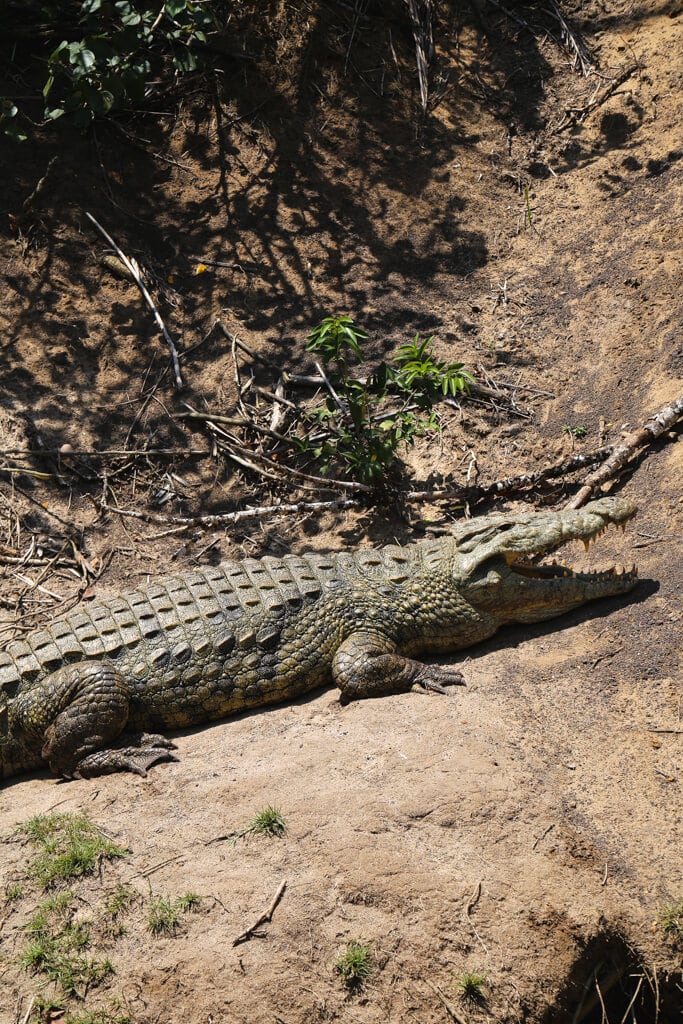 3. See Hippos & Crocs Up Close
This is what we came to St. Lucia for the first time and we repeated it again this time around!
Both times we went with Heritage Tours and Safaris, for more information and reservations click here.
You'll see a lot of tour companies operating these cruises on the lake but this Shoreline tour truly stands out.
They only take small groups (max 15 people) in a smaller boat. Everyone gets a good view and equally close (just check out the photo below!), as close as one can and should get to a three-meter croc!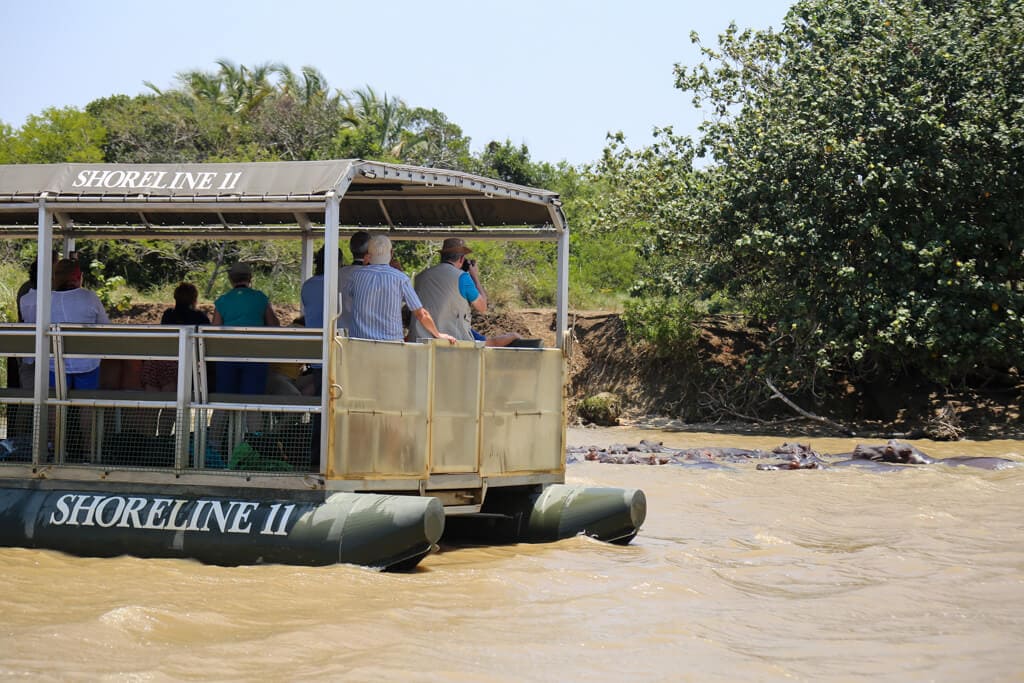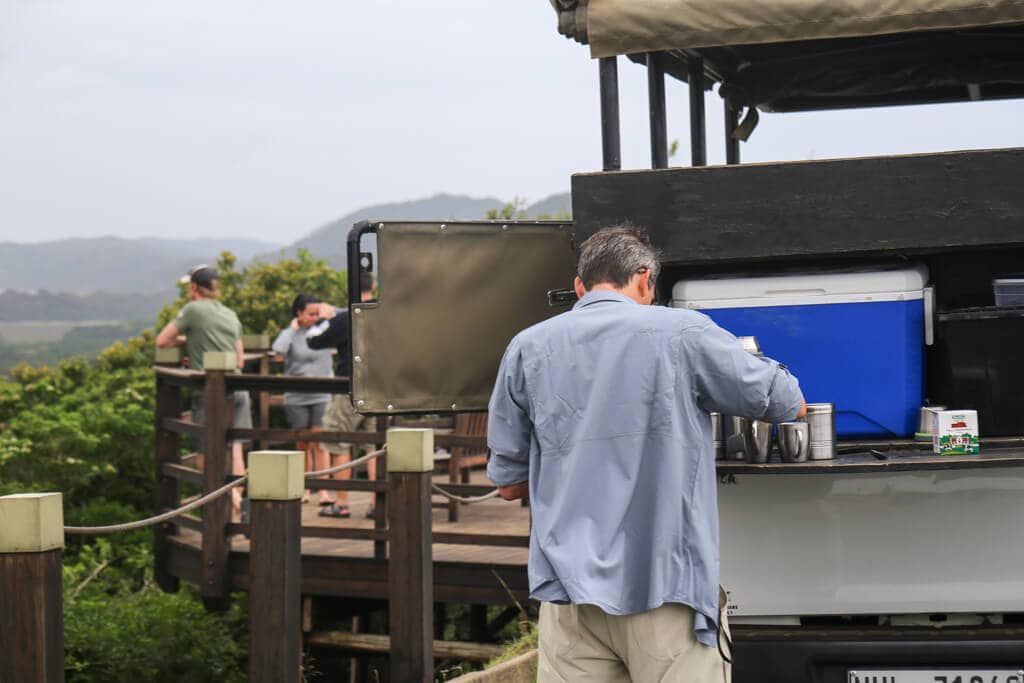 4. Tour Isimangaliso with Heritage Tours & Safaris
Heritage also invited us on this Eastern Shores safari.
The highlight of the tour and the Eastern Shores, in general, was Cape Vidal.
This beach, bordered by vegetative sand dunes, is spectacular.
The tour provided an hour for us to relax here, but I really could have spent the entire day at Cape Vidal. If you can budget the time, dedicate at least one full day to the Eastern Shores and Cape Vidal.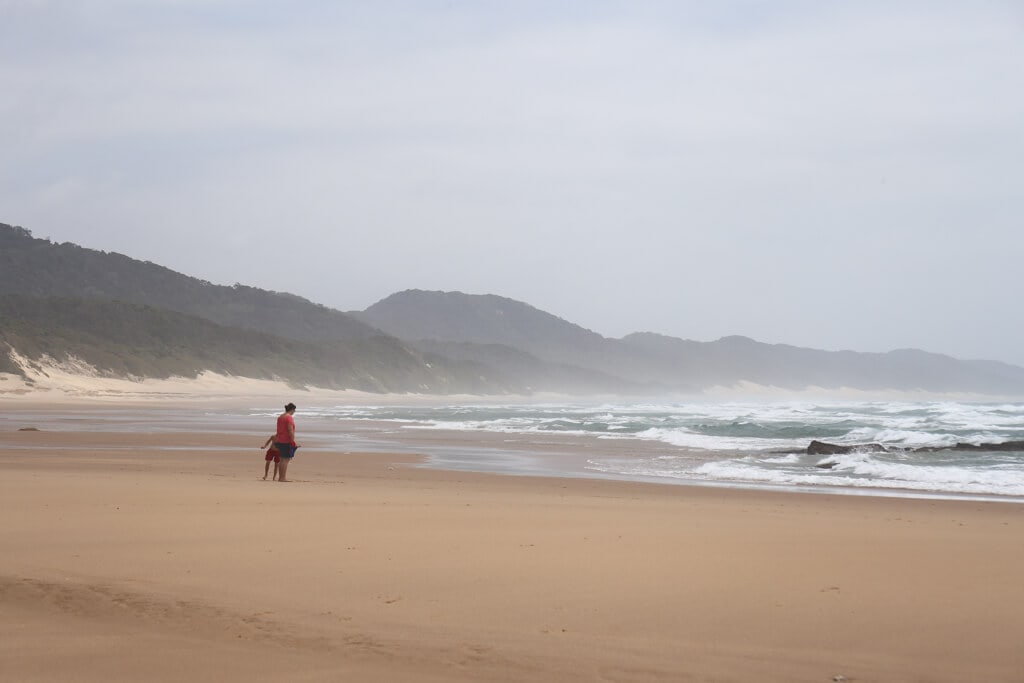 The experience provided by Heritage was well organized and I learned a lot from our guide, Jason.
Our tour started with coffee and tea at a viewpoint of the wetlands, followed by a game drive through the park, an hour to relax at the beach and a delicious picnic to the end the morning.
Notable, this park is the best place to see leopards in South Africa. So keep your eyes on the trees!
Visit Heritage's site here to see a full list of their many tours.
They also offer half and full-day tours to Hluhluwe-Imfolozi, hippo cruises, sea turtle tours, and night drives to name a few.
Reserve your Eastern Shores tour here.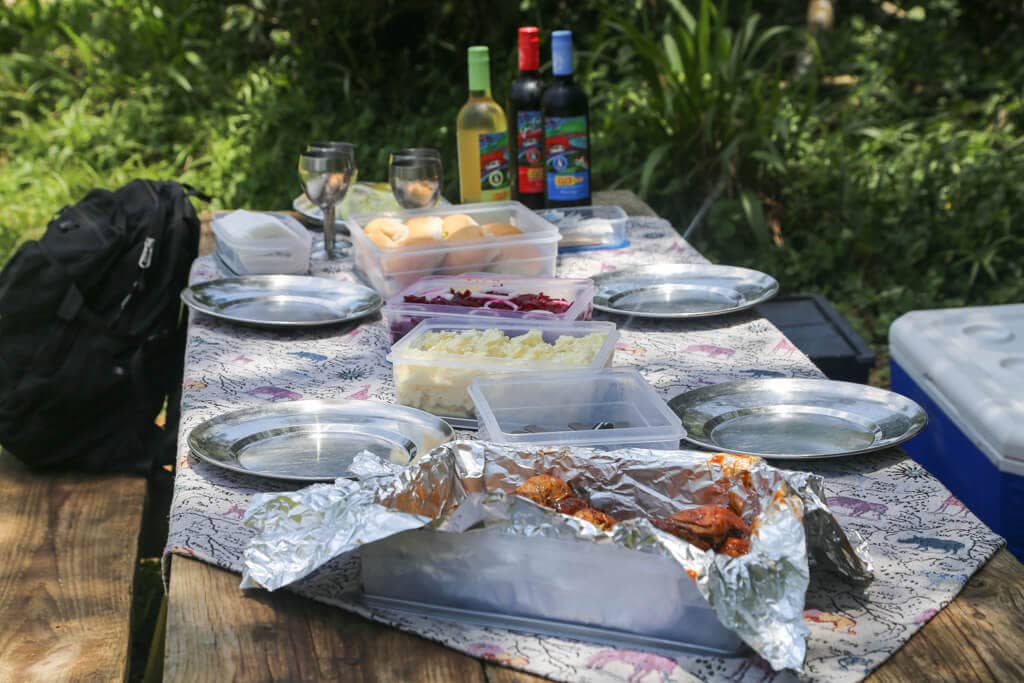 Read Next | A Complete Travel Guide to Visiting Kruger National Park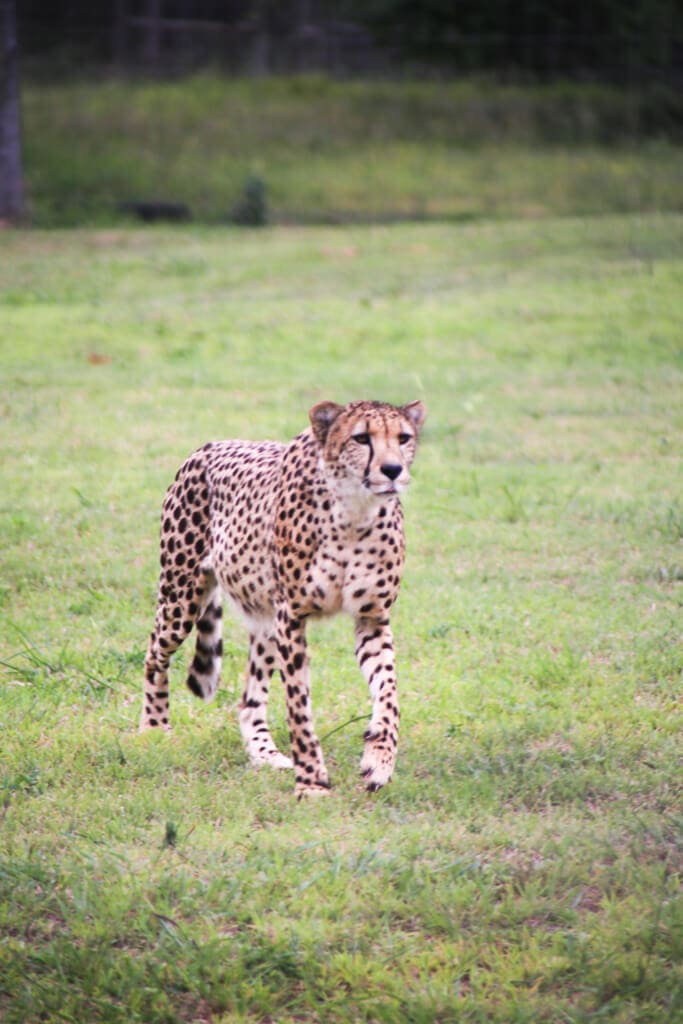 5. Visit the Endoneni Cheetah Project
Since seeing a cheetah in the wild is nearly impossible, for tragically obvious reasons, so I decided to suck it up and see one in captivity… ethical captivity that is. 
Endoneni offers tours twice daily, featuring their "ambassador" rescue animals that cannot be released back into the wild.
See four cats that you won't see on your average safari: caracals, servals, African wildcats, and cheetah.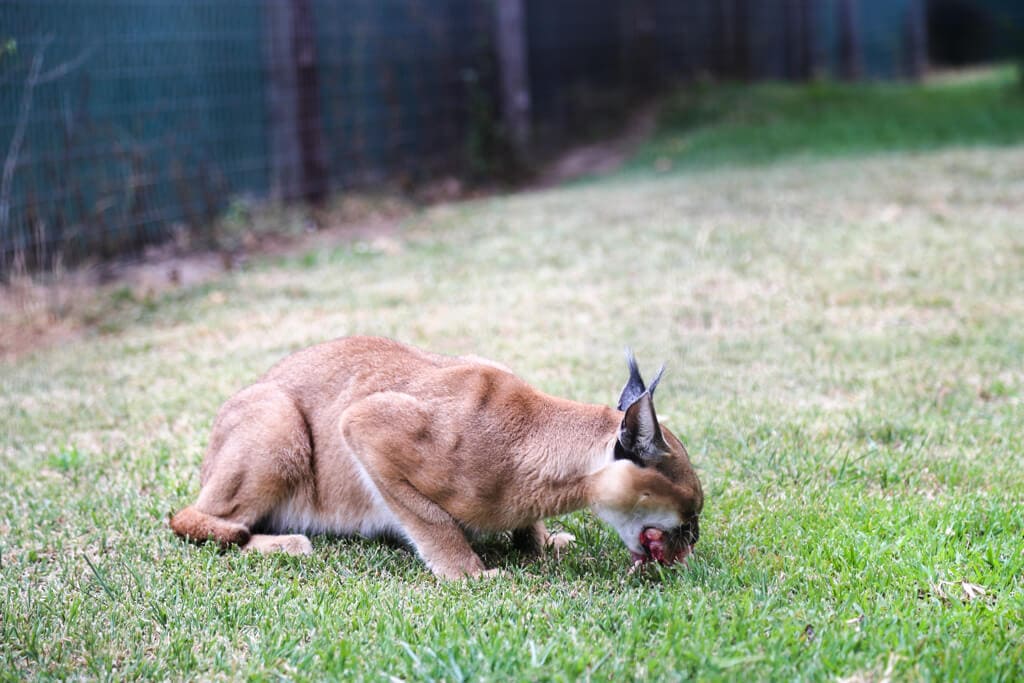 Obviously, it's not ideal to see a cheetah behind a fence, but due to human actions, these particular cats wouldn't survive in the wild.
The Endoneni Cheetah Project fights to prevent extinction by raising awareness and introducing as many of their young as possible into the wild.
Support Endoneni by visiting them in the town of Hluhluwe, an hours drive east from St. Lucia on the N2. For more information check their site.
If you'd rather not drive, there are guided tours such as this full-day excursion to Endoneni with a game drive in the famous Hluhluwe-Imfolozi National Park, book yours here.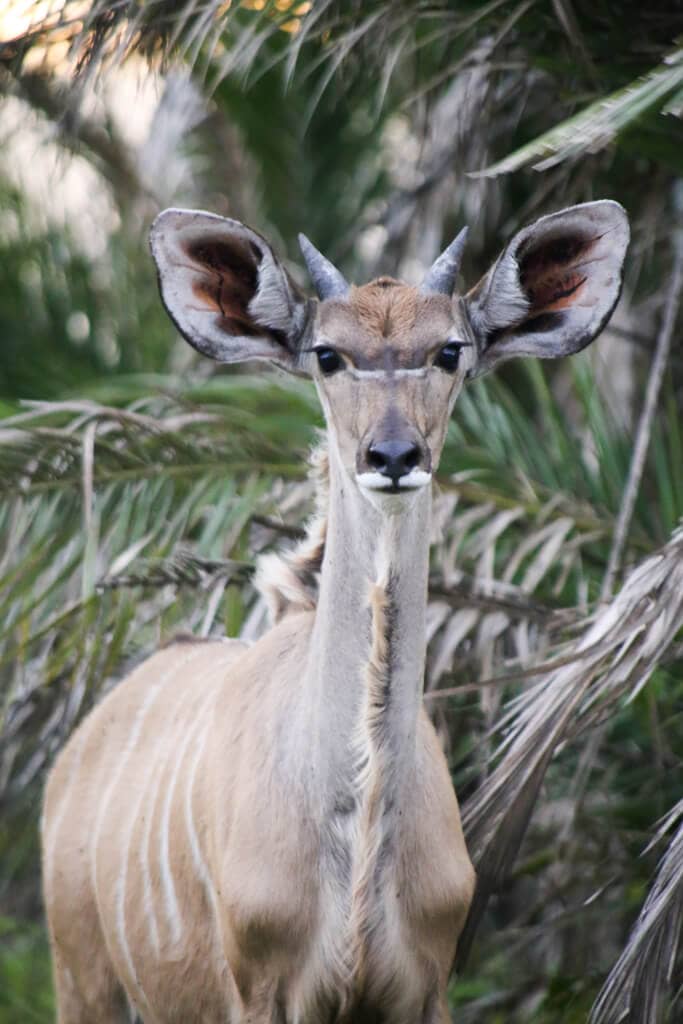 6. Safari Day Trip to Hluhluwe-Imfolozi
While you can go on a game drive in neighboring iSimangaliso, the game viewing in Hluhluwe is far superior and worth the hour drive from St. Lucia.
This is the oldest national park in South Africa and is a must-see!
We went to both parks. I speak from experience.
Go to Hluhluwe.
Hluhluwe has the greatest density of rhinos in South Africa and is home to thousands of Cape Buffalo, as well as lions, leopards and elephant to complete the Big 5.
There are a number of guided game drives departing St. Lucia every morning for Hluhluwe, such as this highly-rated half-day Hluhluwe game drive.
Read More: A Complete Guide to Hluhluwe-Imfolozi
7. Go Whale & Dolphin Watching
After whale watching in Argentina this year, I wish we had had time to do this in St. Lucia as well. Unfortunately, we ran out of time for this trip.
Whale watching season is from June to December while they're off the coast of South Africa on their migratory route.
Reserve this whale-watching excursion to see humpback whales in their natural habitat.
While you can occasionally view them from the beach, the odds are low and you should go on a whale-watching boat tour if you really want to see them.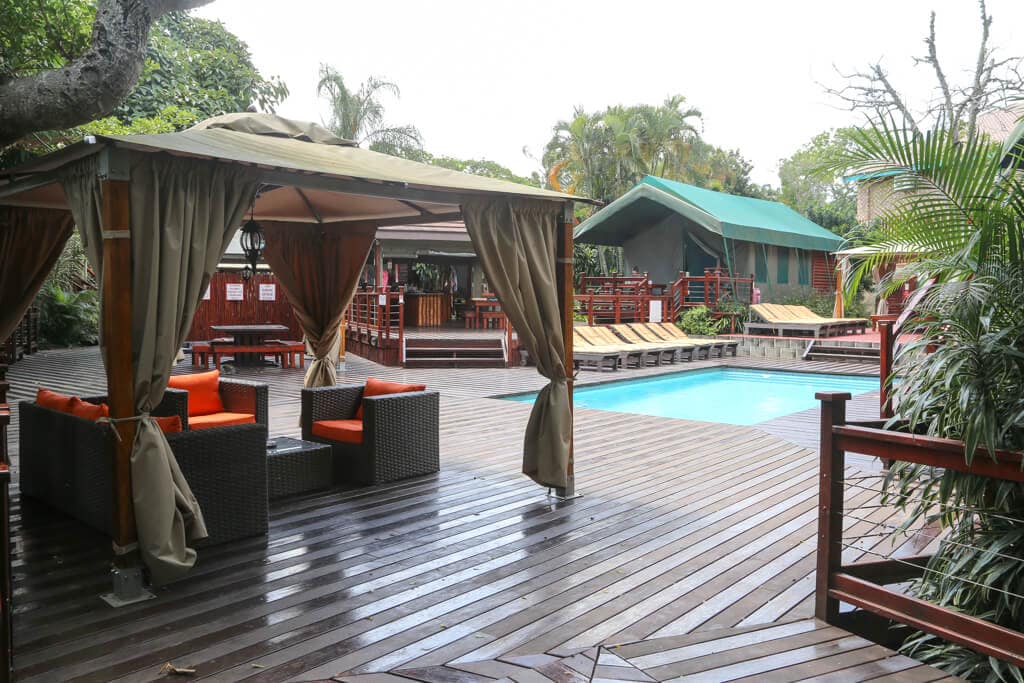 St. Lucia South Africa Accommodation
We always stay at Monzi Tented Camp in St. Lucia.
The old adage is right: location, location, location! Monzi is centrally located on the main street and is only within walking distance to restaurants and supermarkets.
They offer a variety of accommodation options from camping tents and hostel style private rooms to luxury tents for couples or families. We stayed in a luxury tent.
Each tent has a private bathroom, mini-fridge, and outdoor seating area. The outdoor table in front of our tent was the best restaurant in town!
Eat out? Why bother when you have a full kitchen at your disposal and this awesome setting?
It may be in the center of town, but there are so many trees and plants that we felt like we were in the middle of the jungle.
Check rates and availability here.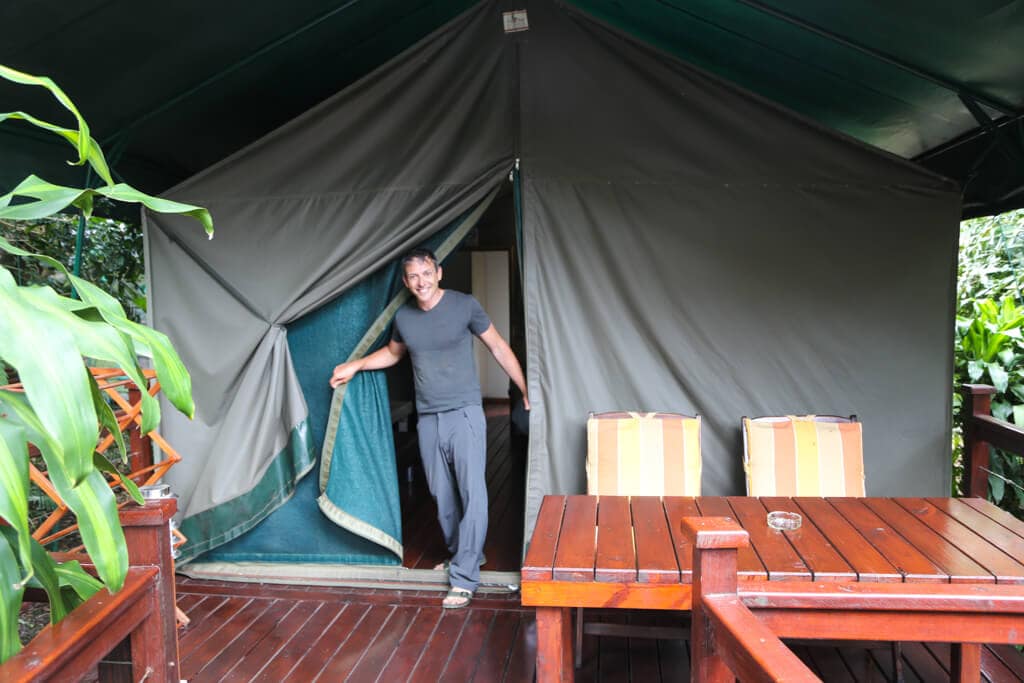 read more about south africa
PIN IT FOR LATER