There is so much to see in South Africa that you could easily spend months there. Unfortunately, real life doesn't give us months on end to galavant across Africa.
But don't fret! You can still cover a lot of ground with only two weeks in South Africa.
I recommend choosing one area of the country you want to see and see that area well.
You may want to see Kruger, Cape Town, wine country, and drive the entire Garden Route but you'll be hard pressed to give each destination the time it really deserves.
This post is our personal 2 weeks South Africa itinerary.
We focused on safari in Kruger and Kwa-Zulu Natal. If you love wildlife, you will love this road trip itinerary.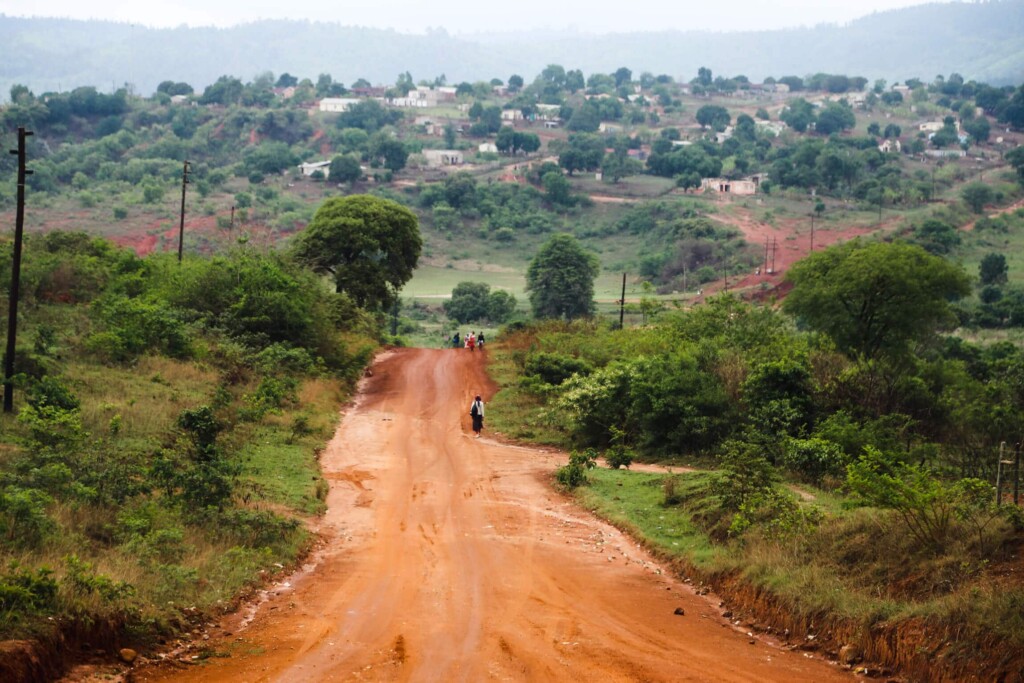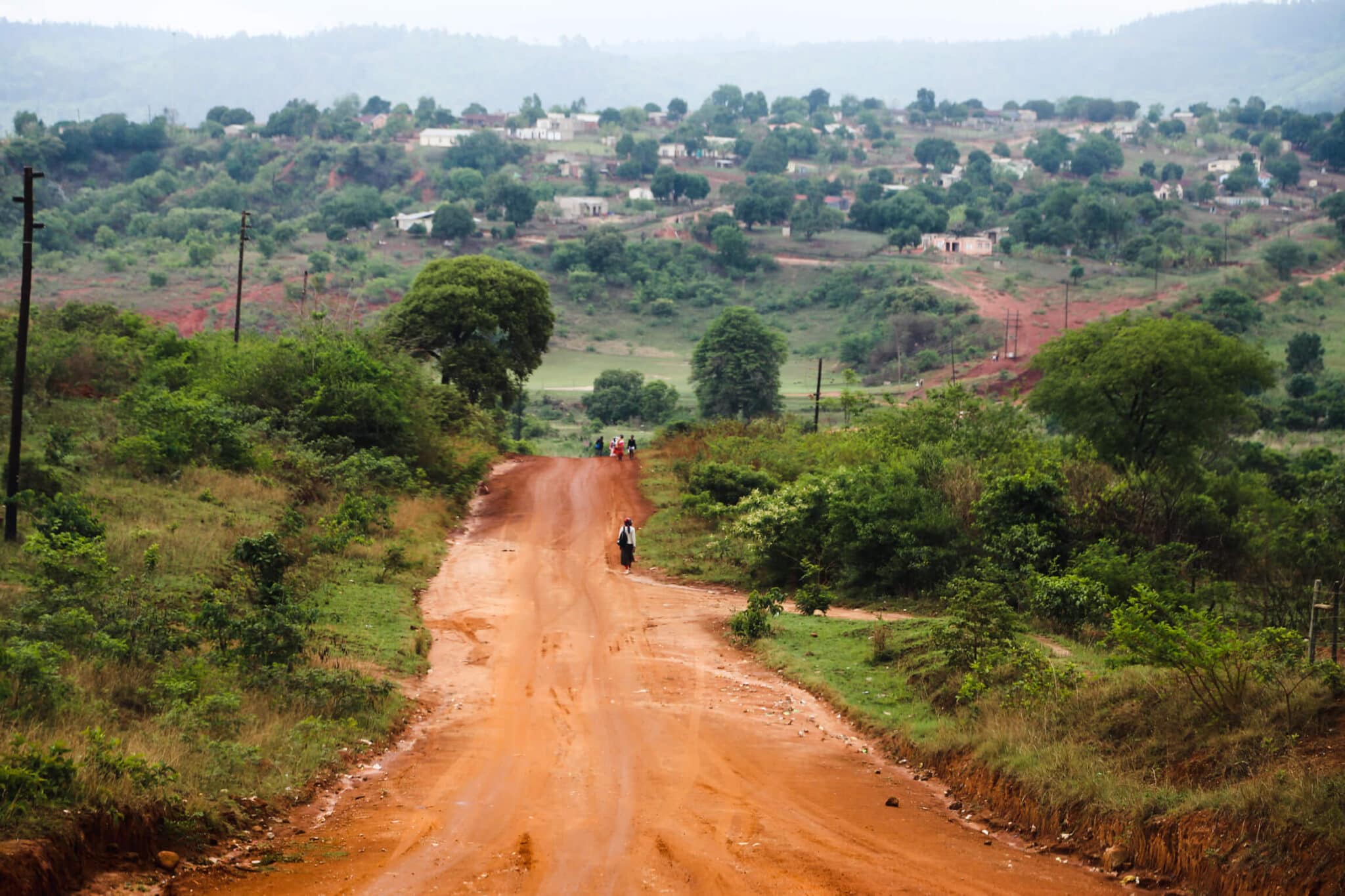 QUICK NOTE: This post contains affiliate links and Sol Salute may receive a commission for purchases made through these links, at no extra cost to you.
The Best 2 Weeks South Africa Itinerary for Wildlife & Nature Lovers
Focusing on what area is exactly how I built this 2 weeks South Africa itinerary.
We focused on Kwa-Zulu Natal and Kruger National Park, with a pit stop in Swaziland along the way.
We visited three national parks and spent most of our days on game drives or wildlife viewing, when not lounging on the beach or mountains. It was an epic nature focused itinerary.
Want to see the Big 5, gorgeous beaches, and a super off-the-beaten-path mountain getaway?
Then this is the South Africa road trip for you!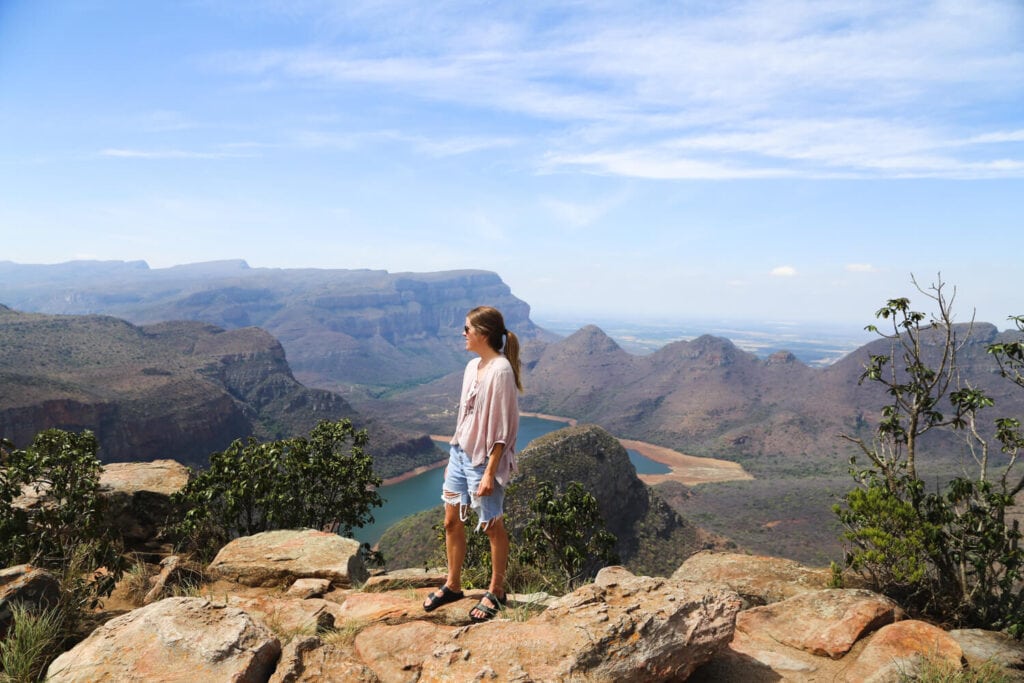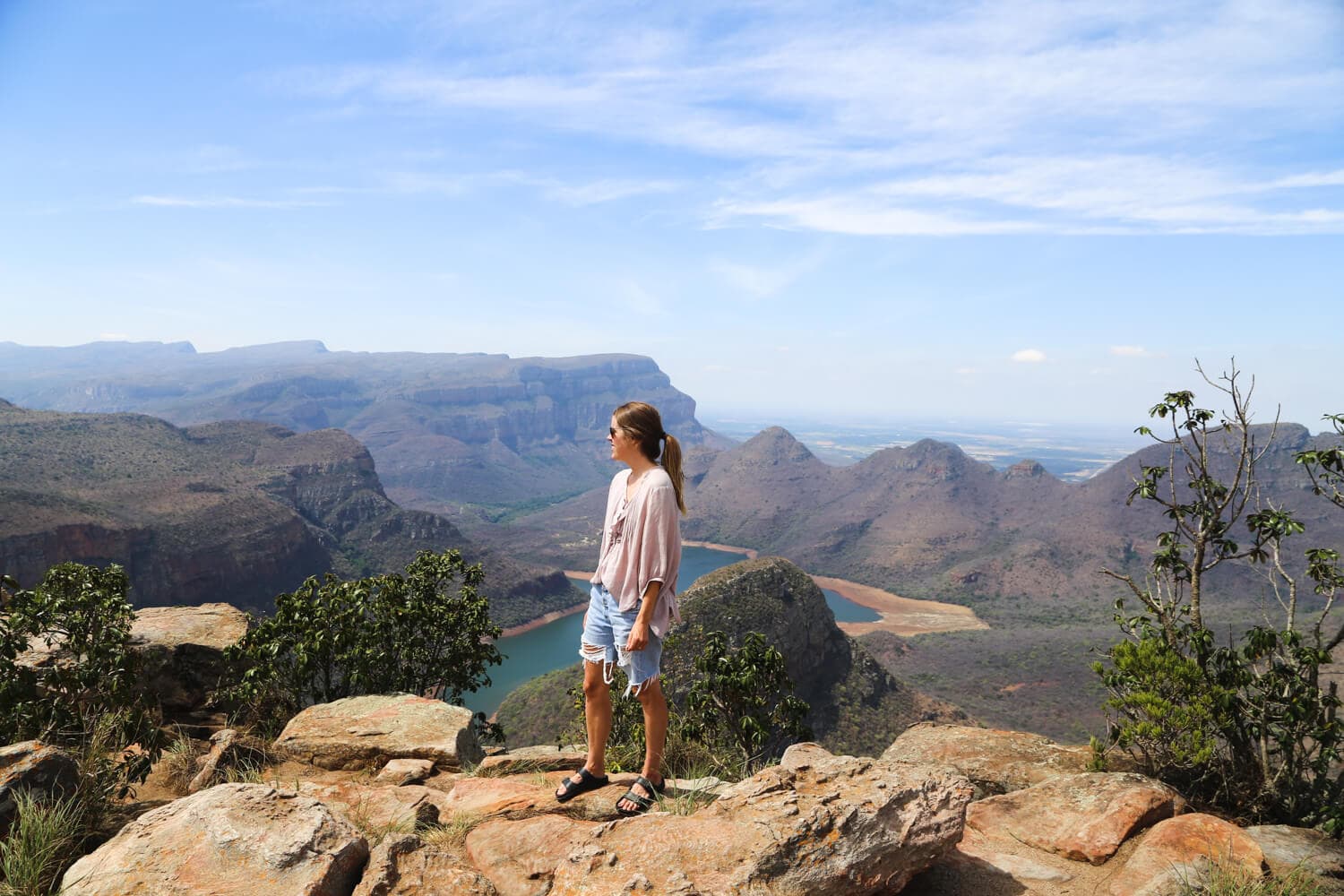 The Best 2 Weeks South Africa Itinerary for Wildlife & Nature Lovers
When the bargain of the century popped up in my inbox, I couldn't resist.
A $500 US round-trip flight from Buenos Aires (where we live) to Johannesburg! A year before we'd spent more than twice that for the same ticket.
Within half an hour the tickets were booked for two weeks in South Africa.
For this trip, I focused on Kwa-Zulu Natal, Swaziland and Kruger.
I wanted to re-visit places I had blown through quickly on our previous 30-day South Africa trip.
This trip would focus on safari.
We visited three national parks, spent two nights in the mountains of Swaziland, and lounged on the beach in St. Lucia.
Rental Cars in South Africa
Rental car rates in South Africa are very affordable, especially if you can drive a manual transmission. We rented a car for 30 days for just $400 US and for under $200 for this two-week road trip.
Combining the affordable rates with the popularity of self-drive safaris and ease of navigating the country, a road trip in South Africa is really an ideal way to see the country.
Click here to check rental car rates for your dates in South Africa.
We always opt to rent cars and make a road trip out of it, and this trip was no different. However, backpacking South Africa is also a great option for the budget traveler!
Map of our 2 Weeks South Africa Itinerary
Read Next: What to Pack for South Africa
Day 1: Johannesburg
Our 2 weeks in South Africa was actually 16 days. We spent the two extra days in Johannesburg.
Choosing to stay one night each at the beginning and end of our trip helped us rest for our long haul flights.
When we landed after thirty hours of travel (cheap flights tend to have that sort of catch involved), we were too exhausted to immediately hit the road.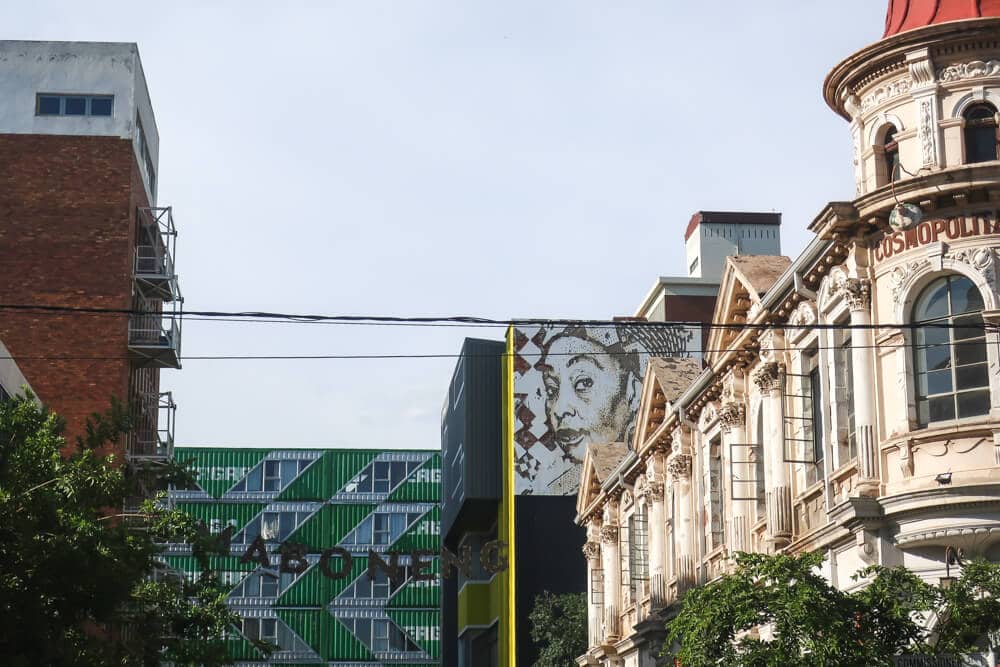 With only a short amount of time in Jozi, I still feel like we saw a lot!
We visited the Apartheid Museum on our first day.
If you only have time for one thing in Johannesburg, this is it. To say it's an impactful experience would be an understatement.
We were able to explore more on our final day before our flight home.
Read our entire one day in Johannesburg itinerary.
Where to Stay in Johannesburg
We stayed with a friend in Johannesburg so I don't have any first-hand recommendations.
However, we did go on tours with two different hostels and had excellent experiences.
We went on a bike tour with Lebo's Soweto Backpackers in the township of Soweto. The location felt very safe and they offer a LOT of activities. It's a great way to see a different side of the city.
We also went on a walking tour with Curiocity Backpackers in Maboneng. If you'd rather stay in the city center (Soweto is far), I highly recommend Curiocity.
Everyone was incredibly friendly and went out of their way for us. The Maboneng District is beyond cool and filled with great restaurants.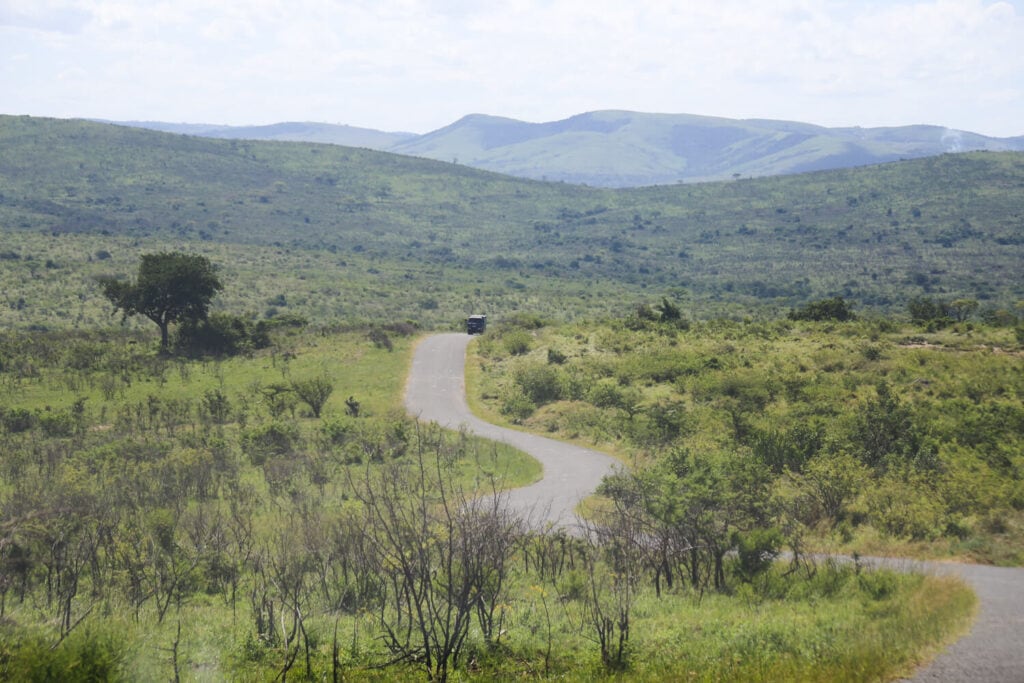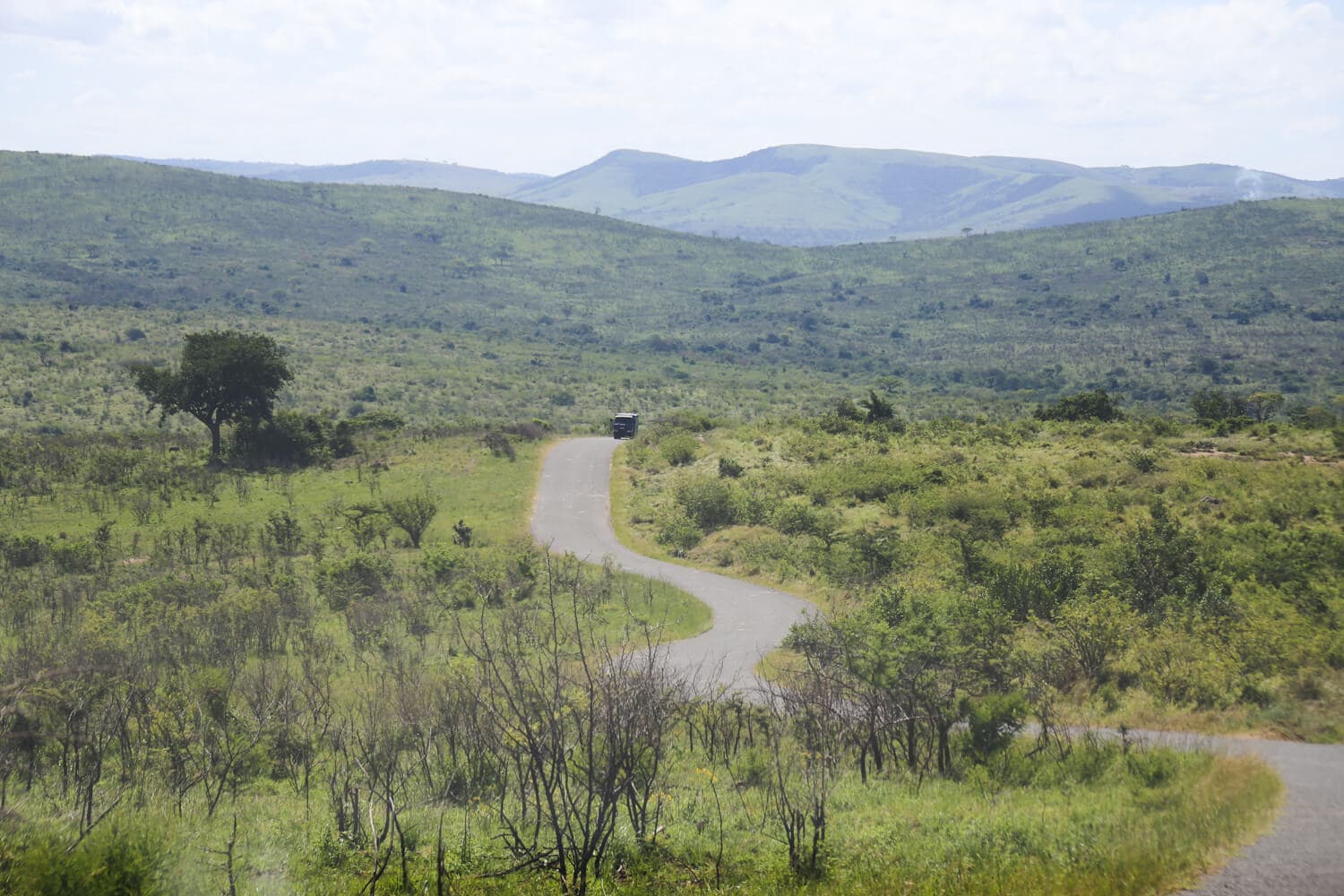 Days 2-3: Hluhluwe-Imfolozi Park
Driving from Johannesburg to Hluhluwe-Imofozi Park was our longest drive.
It took us around 7 hours and while it wasn't an overly scenic drive, it was easy on a well-maintained highway from start to finish.
I was willing to spend an entire day in the car if need be, Hluhluwe-Imfolozi was high on my list of things to see.
This is the oldest nature reserve in South Africa and should be part of any wildlife enthusiast's South Africa trip.
We stayed inside the park at the Mpila Camp in a safari tent for one night.
My only regret is spending only one night here. If you can swing it, stay here for two nights.
With more time you can dedicate one full day to each side of the park.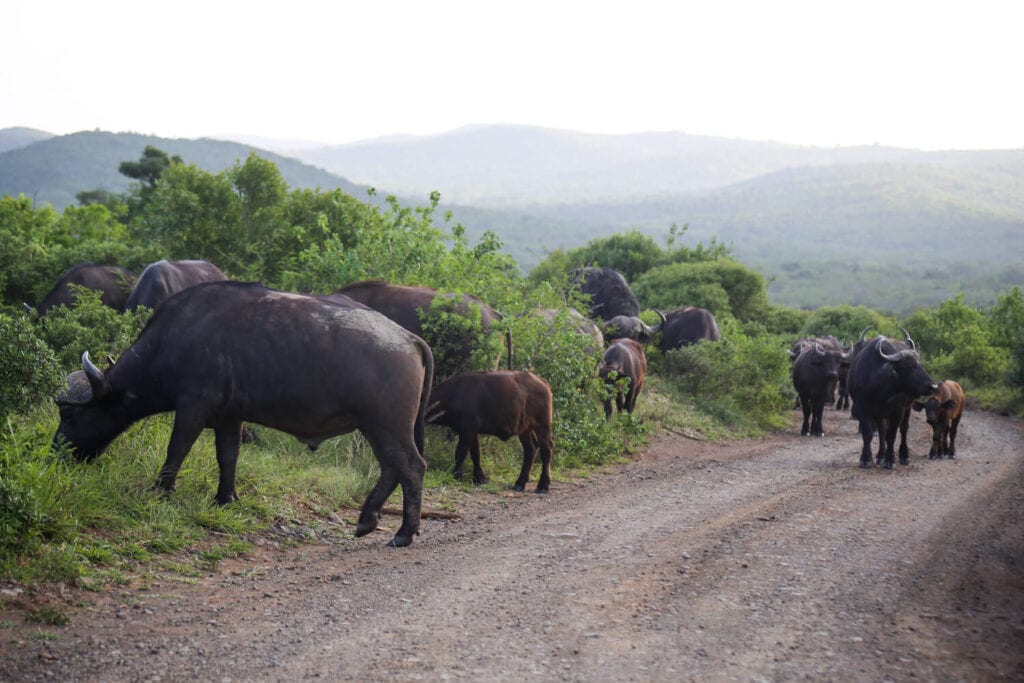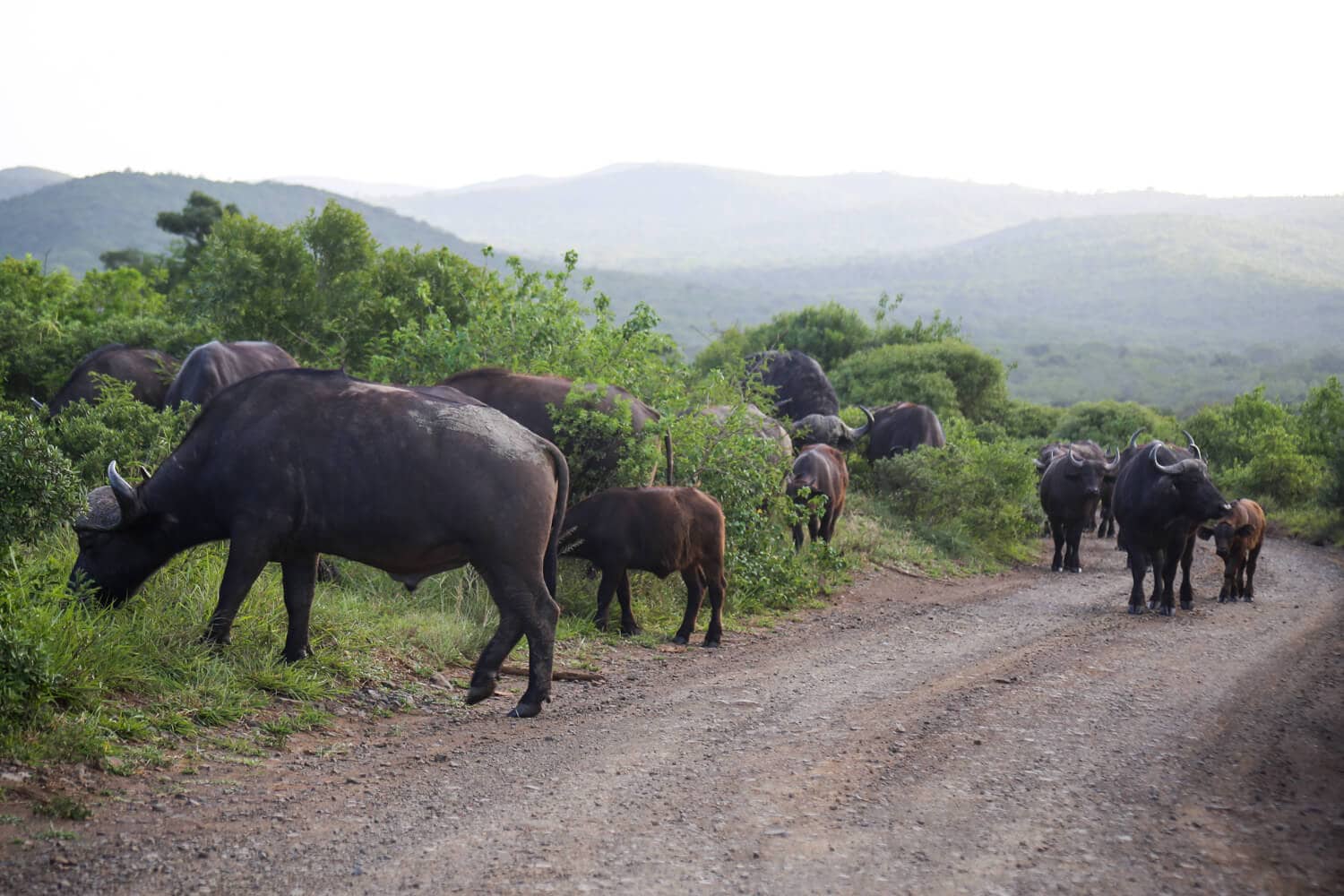 Highlights of Hluhluwe-Imfolozi include its rhino conservation program and you'll see more rhinos than you know what to do with.
There is also a massive population of cape buffalo and of course, antelope.
My favorite experience was watching a family of three take a mud bath just one hundred meters from our car! We weren't lucky enough to see any big cats but they're there.
If you visit in the heat of summer you may even get lucky enough to see lions sleeping in the trees (trying to escape that humid KZN heat)!
ROAD TRIP TIP | Go grocery shopping in Johannesburg. Buy everything you could possibly need if you will be making picnic lunches or self-catering. We bought plenty for our two days in Hluhluwe but I wish we'd gotten more. Quality and variety were vastly better in Johannesburg than in St. Lucia and Kruger.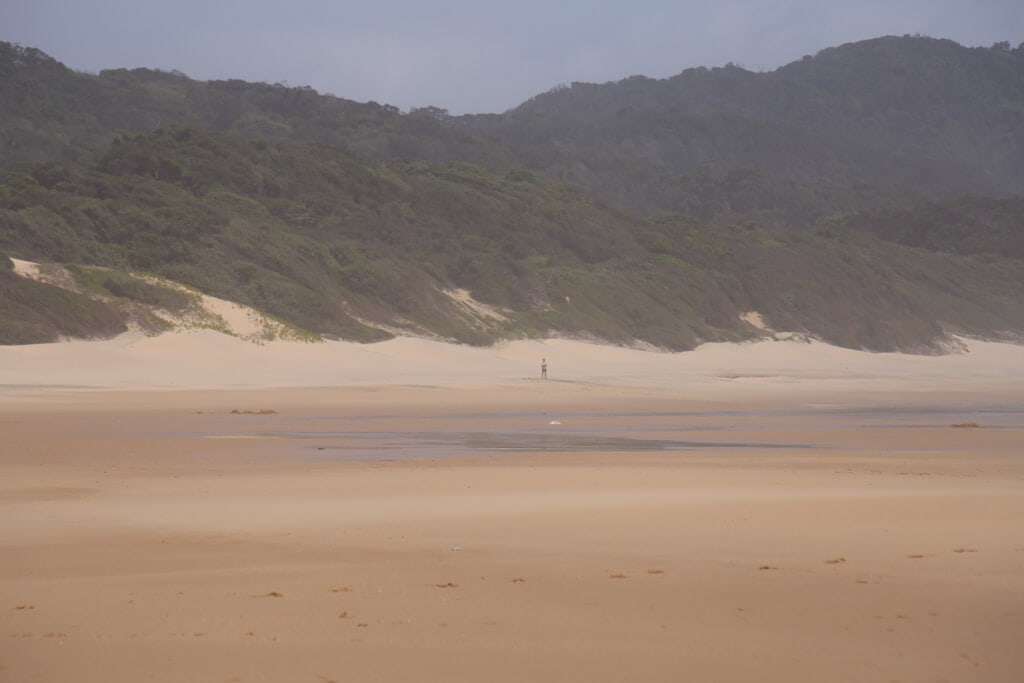 Days 4-6: St. Lucia
Our next destination was only an hour south. The town of St. Lucia a very popular destination for locals in South Africa but should be on everyone's radar.
This tiny town packs a lot of punch, being home to the iSimangaliso Wetland Park, stunning beaches, whale watching, and more.
What to do in St. Lucia
The biggest draw to St. Lucia is the iSimangaliso Wetlands. You can easily spend a few days exploring this small but abundant national park.
Our highlight was a horseback safari, riding among zebras and wildebeest followed by a ride down the beach.
Spend a sunny day lounging on the beach at Cape Vidal and take a guided game drive to look for leopards (this is the best place in South Africa to spot leopards!).
If you're water inclined, take a hippo and crocodile cruise in the estuary or a whale-watching excursion to see humpbacks and dolphins in the Indian Ocean.
Read More: Things to do in St. Lucia, South Africa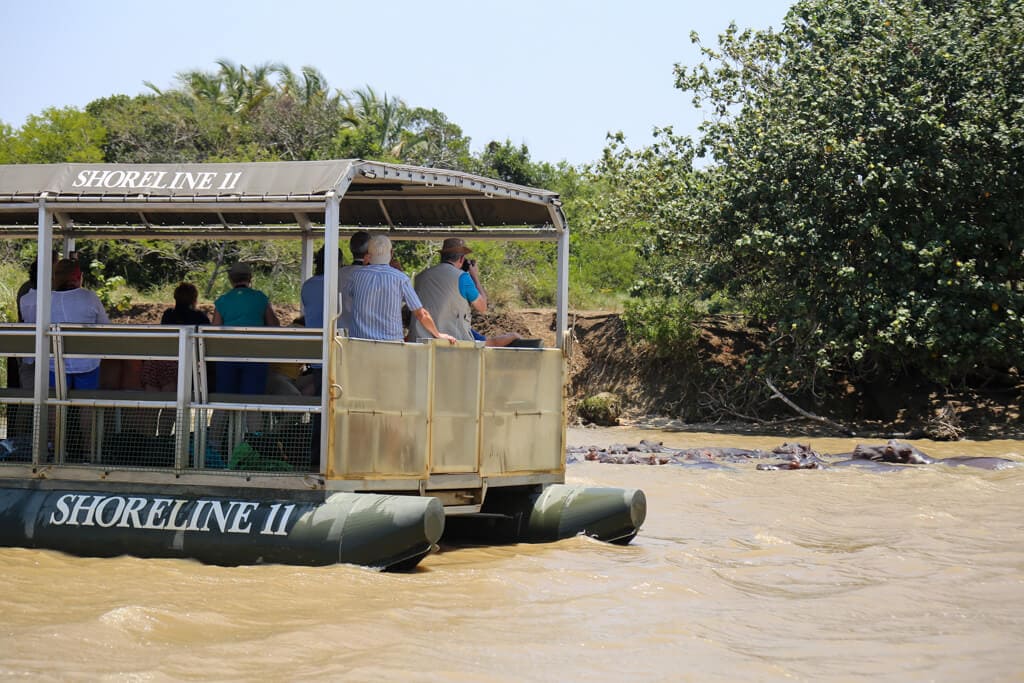 Where to Stay in St. Lucia
On both of our visits to St. Lucia we stayed at Monzi's Backpackers.
I would also stay there a third time! This is really two hotels in one, ranging from budget to moderate.
The Monzi Safaris Tented Camp is made up of safari tents (the original glamping).
The luxury tents were so comfortable! With a kitchenette and private bathroom inside. There is a pool and larger communal kitchen.
It's on the main street next to the shops and restaurants. It really can't be beat. Check availability here.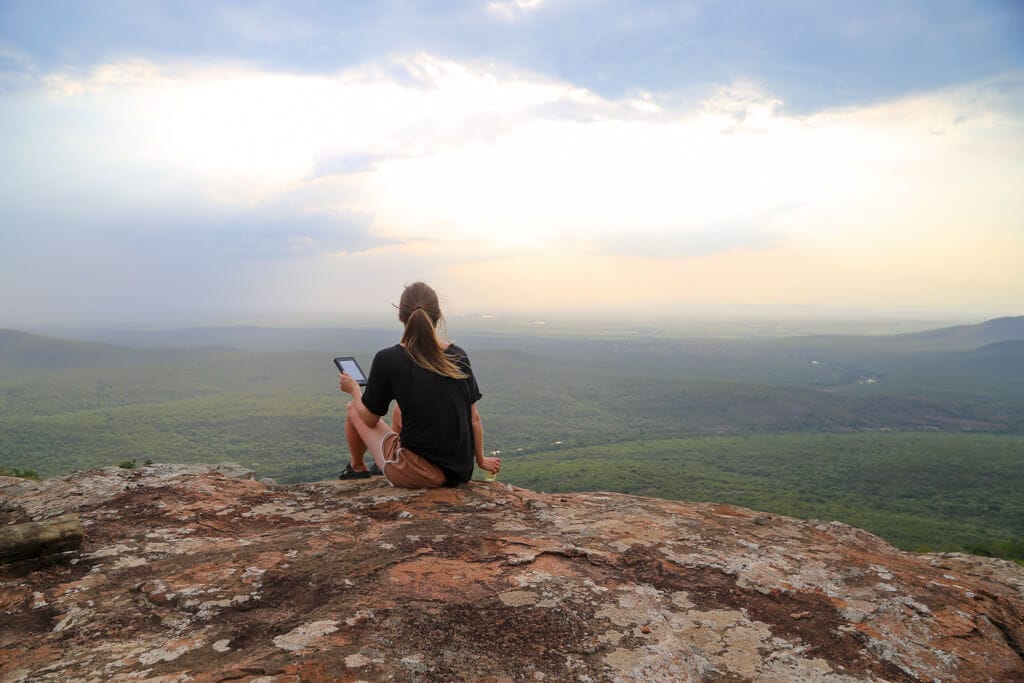 Days 7-8: Swaziland
The most convenient route to Kruger National Park from Kwa-Zulu Natal takes you through Swaziland.
While you're here you might as well stop for a couple days, at least.
We've been twice, visiting two vastly different regions.
Either one would make an excellent stop on your way to Kruger, I'll present both options below.
The Shewula Mountain Camp (West Swaziland)
On our most recent trip, we spent two nights at the Shewula Mountain Camp.
It's in the Lebombo Mountains on the northwestern border with Mozambique. This small camp is run completely by the local Shewula community.
It's not exploitative tourism, by staying here you really are giving your money to a good place.
The rondavel huts are very comfortable, with three having outdoor showers overlooking the valley below.
This region is very hot in the summer months. This is something we learned the hard way!
It's best to visit during the cooler winter months so if you're visiting between June-August, you should absolutely visit Shewula.
The Ezulwini valley (East Swaziland)
On our first trip we spent one day in Swaziland in the Ezulwini Valley.
This region was very different from Shewula. The mountains and valley were a lush green.
It was gorgeous and there's a reason it's one of the most popular places to visit here.
We stayed at the Mantenga Lodge. It was a beautiful hotel with the perfect location to visit the Mantenga Cultural Village, the waterfalls, and all the great hikes and outdoor activities in the region. Bonus: it also had the best food of our entire trip!
Days 9-13: Kruger National Park
Yes, we spent 5 days in Kruger National Park, read about our best Kruger in November sightings.
We spent the bulk of this 2 weeks South Africa itinerary on safari in national parks. A few friends thought it was excessive but I feel like we could have spent even more time there.
We chose to spend such a large chunk of our trip in Kruger because we flat out love Kruger, that's it.
It's a gorgeous park. It's huge and the amount of wildlife you can see here is unbeatable.
Where to Stay in Kruger
We divided our time between two different rest camps inside the park.
There are countless ways to spend your time in Kruger, ranging from rustic camping to five-star luxury.
Where you stay will likely dictate what you do and how you experience Kruger.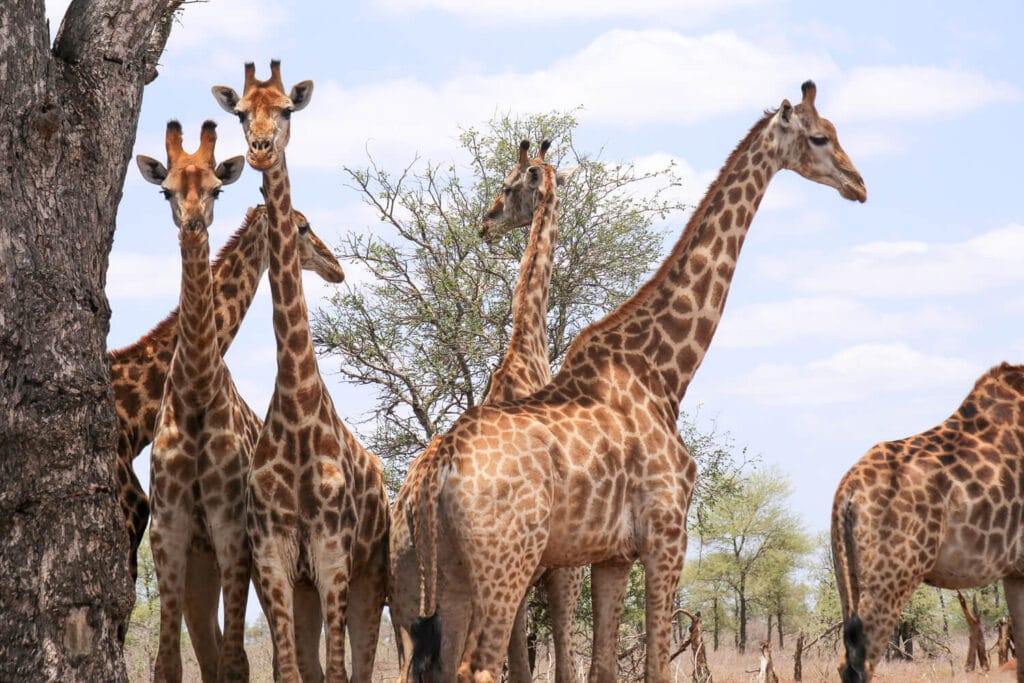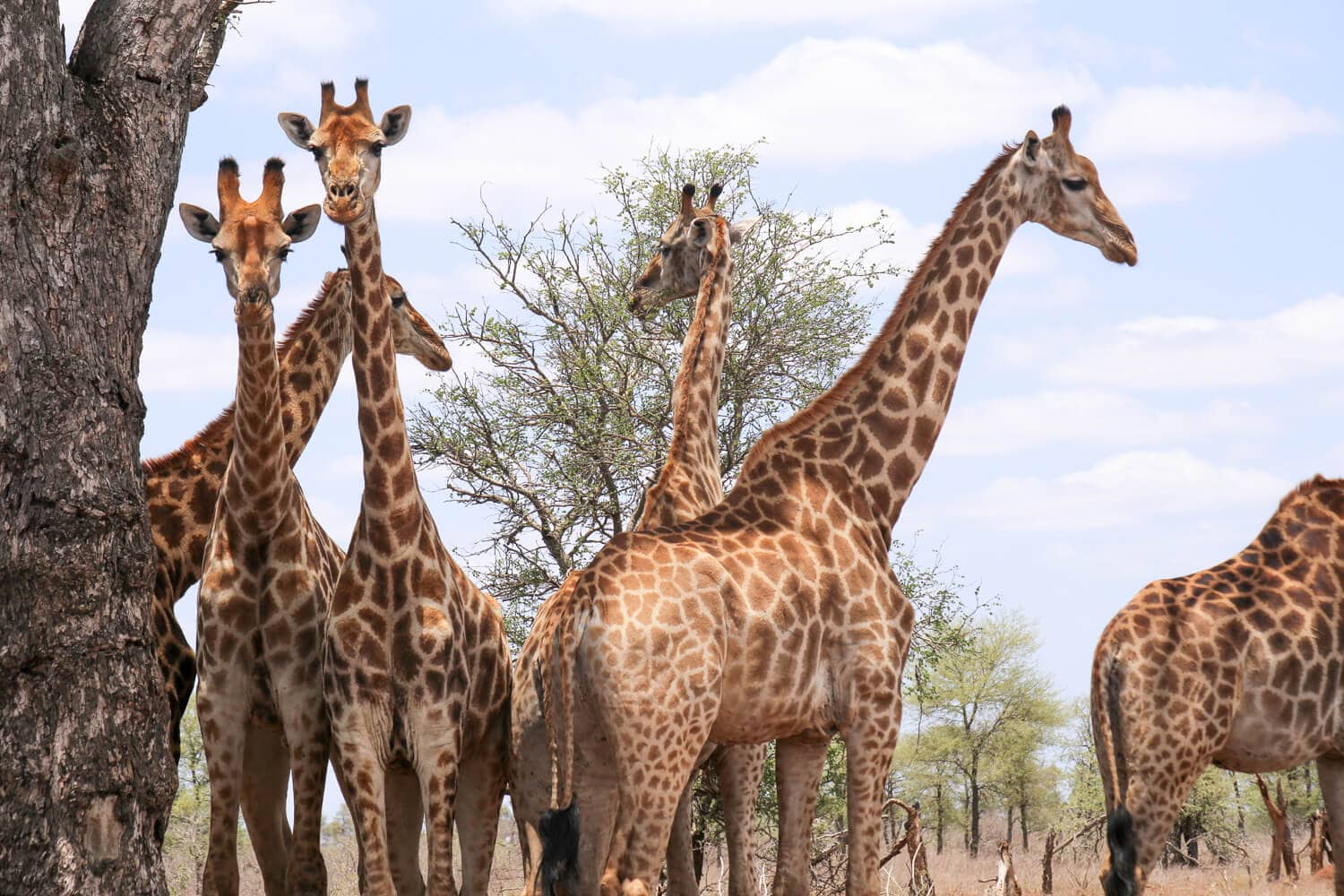 If you stay at a luxury lodge, you'll be going on guided game drives included your package.
Staying inside the park presents a variety of guided game drives or more independent self-drive safaris.
And when we stayed outside the park (on our previous stay) we spent less time on game drives but did enjoy some extra time lounging by the pool.
Read my complete guide to visiting Kruger National Park to learn all your options.
ITINERARY ALTERNATIVES | While I'm ready to defend our five nights in Kruger, I understand if 5 nights sounds like a lot. If you'd rather not spend so much time here, I'd recommend adding an extra night to Hluhluwe-Imfolozi (one night was not enough) or to St. Lucia (this was the location with the most activities). However, I do recommend you spending than three nights in Kruger.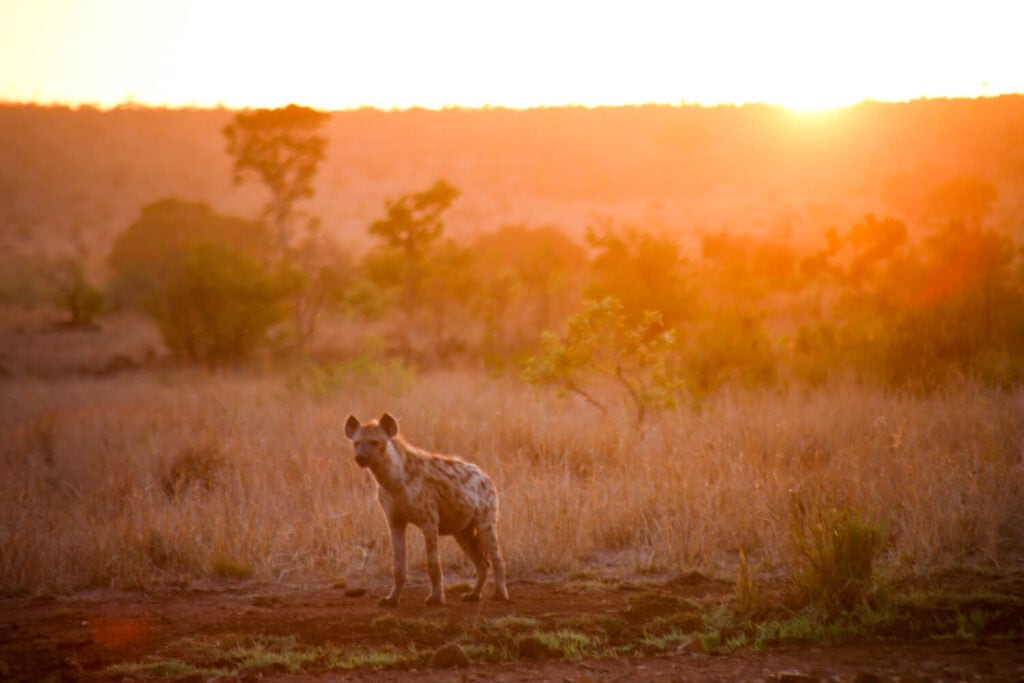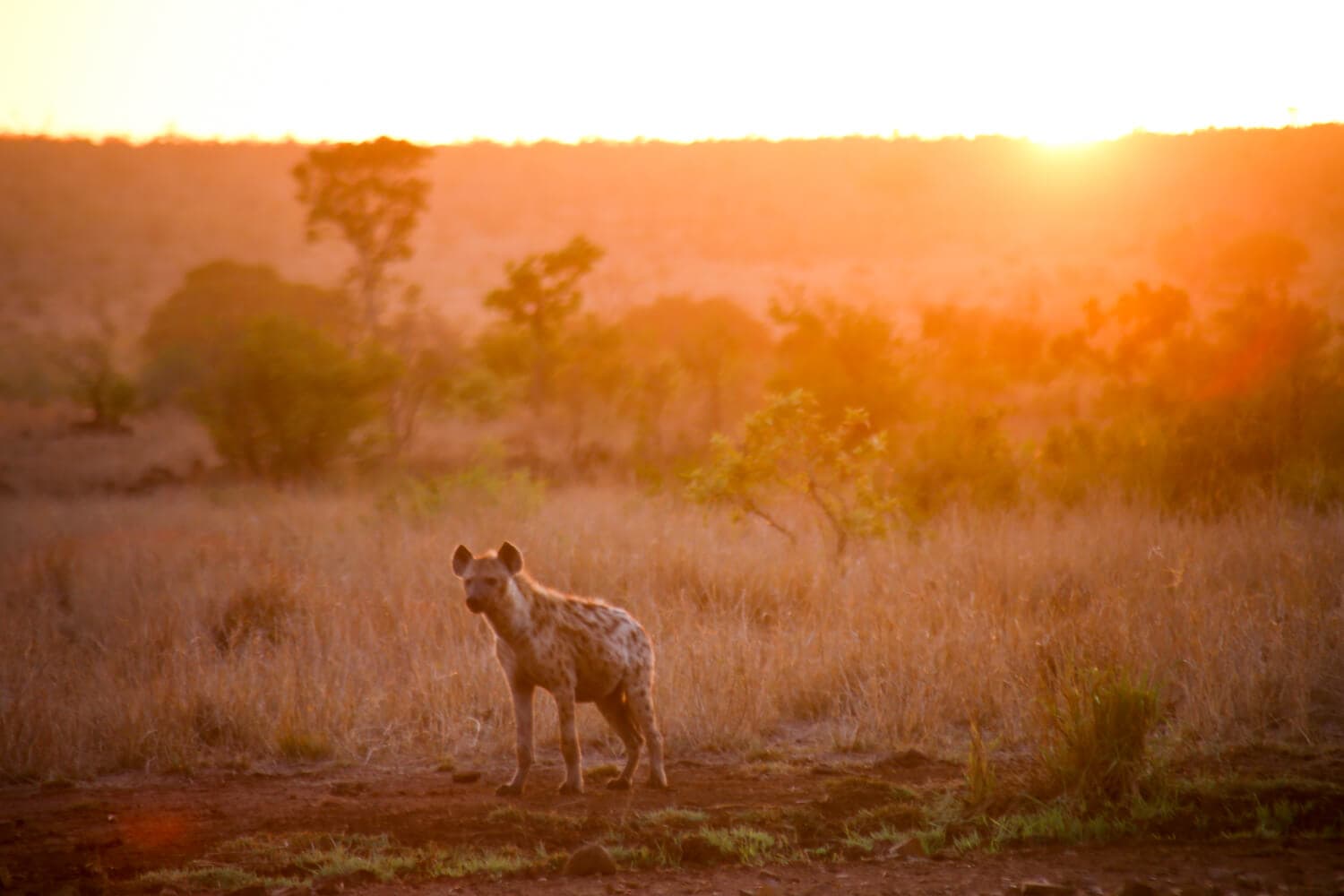 Day 14: The Panorama Route
From Kruger, we reluctantly returned to Johannesburg for our flight back to Buenos Aires to end our 2 weeks in South Africa.
👉🏻 Read my full guide to The Panorama Route for more
We started our morning early, at 4 am (just like we had every morning in Kruger).
Rather than drive straight to Johannesburg we decided to drive the famous Panorama Route on our way.
It is possible to do this scenic drive while en route from Kruger to Johannesburg.
The route itself is very short and you could easily stop at all the viewpoints and continue onward to the city all in one day.
But we decided to take it slow and stay for one night in Graskop, the closest town and easiest base for the Panorama Route's beautiful viewpoints.
We spent one afternoon driving the route, relaxing at each viewpoint from the Three Rondavels to God's Window. I'm glad we decided to stay for the night.
We were drained and exhausted from six 4 am alarms in a row! The night's rest in sleepy Graskop did us well as the drive was much easier having rested properly the night before.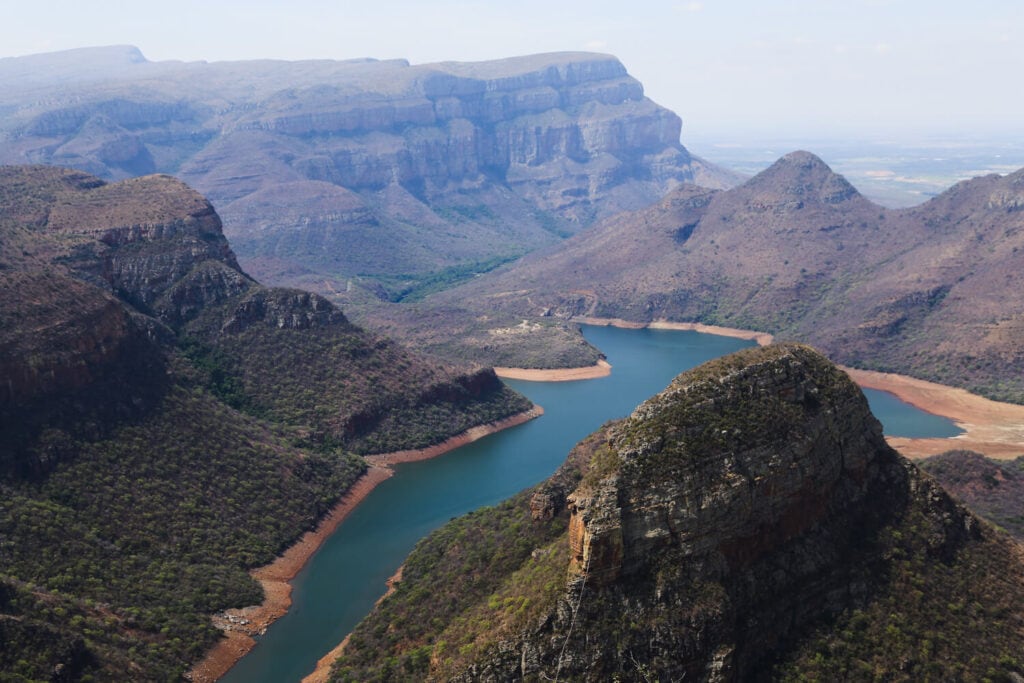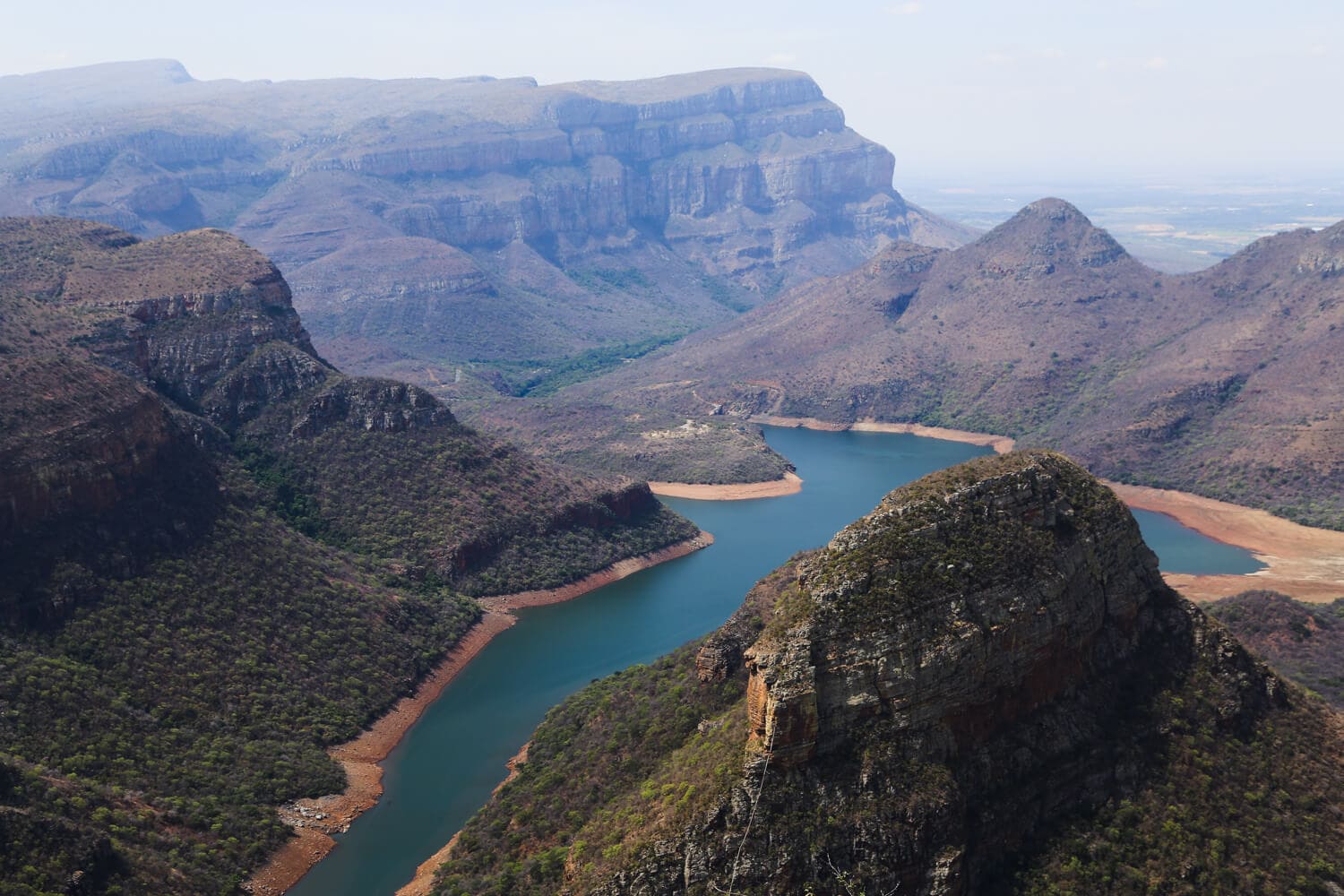 Where to Stay in Graskop
For our one night in Graskop we stayed at Lush. It's a small, family-run property just a few blocks from the main street. The rooms are very cozy and the bed was heaven after sleeping in camp lodging inside Kruger for a week.
I liked being so close to town. We walked to dinner just a few blocks away and it felt great to leave the car behind after putting in so many hours on the road.
Even though we weren't there for long, we really liked our room at Lush. Check availability here.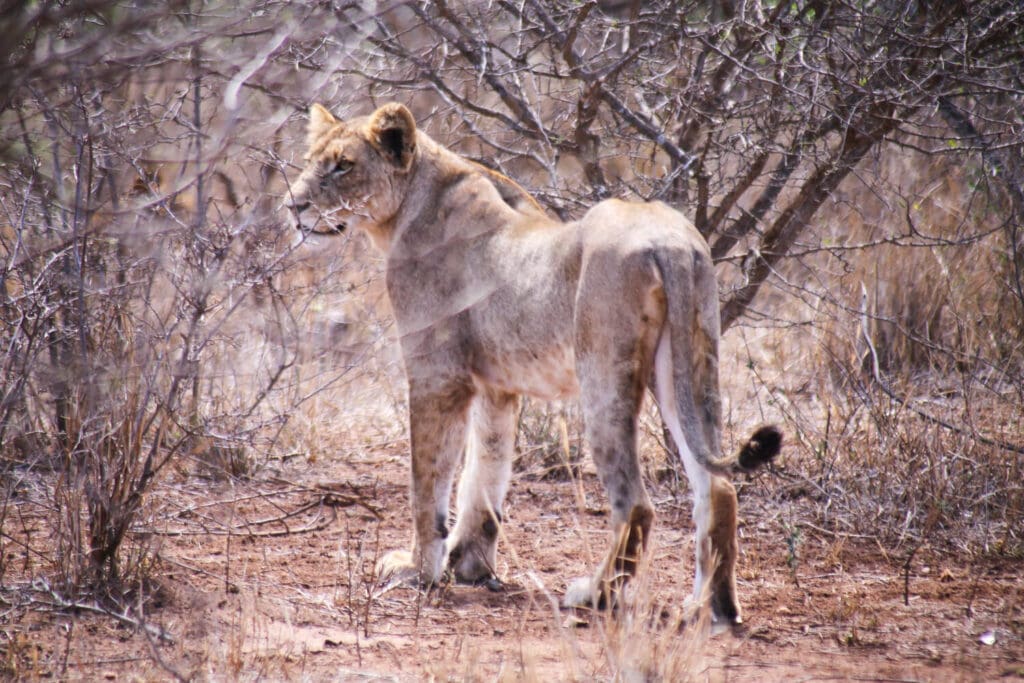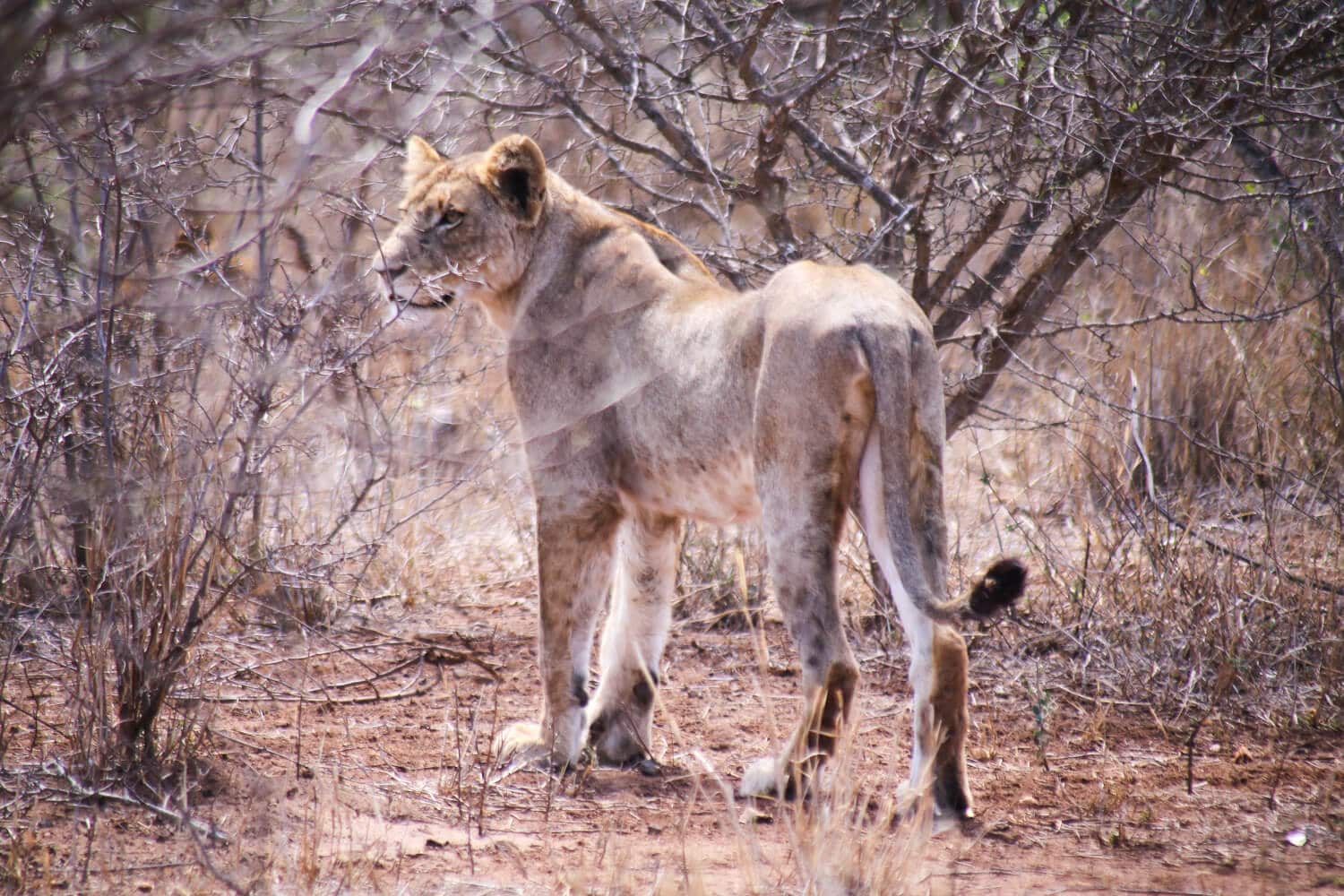 My Wildlife & Nature focused 2 Weeks South Africa Itinerary
We dragged our feet to the O.R. Tambo International Airport and reluctantly checked our bags.
I've fallen quite hard for South Africa in the past two years and I never want the trip to end.
Returning to the chaos of big city life after spending weeks in the wilderness of South Africa's national parks is a shock to the system.
The only consolation is knowing that the next time a bargain basement flight deal lands in my inbox, I'll be just one click away from my next South African adventure.
Read More of my South Africa Resources:
PIN IT FOR LATER