South Africa's Mother City is the most beautiful city I have ever seen.
Rugged, iconic mountains that tower overhead, colorful neighborhoods, friendly people, delicious food, world class wine, and rich, complicated history, it's hard to beat.
Some of the best things to see in Cape Town are actually on the outskirts of town or a short drive away.
This post is a complete guide to the best day trips from Cape Town to discover everything the city has to offer including wine regions, beaches, shark diving, and national parks.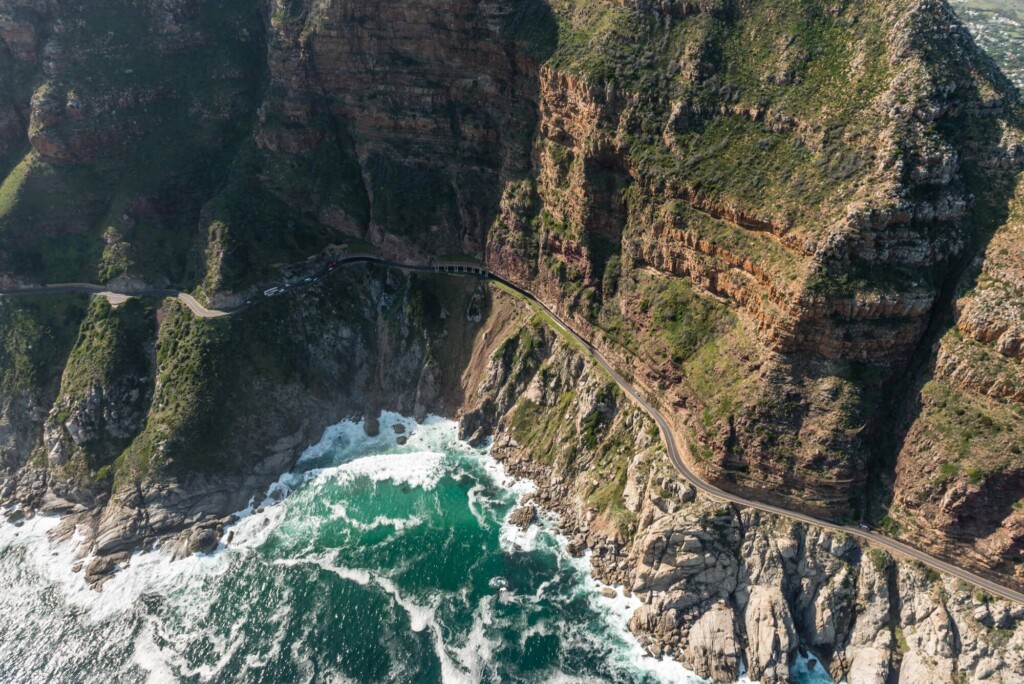 QUICK NOTE: This post contains affiliate links and Sol Salute may receive a commission for purchases made through these links, at no extra cost to you.
The Best Day Trips from Cape Town
I've been to South Africa twice and am quite smitten.
We spent a week in Cape Town on our first road trip there and fell hard and fast for the city.
But since this blog was still brand new in 2017, I wasn't disciplined at keeping track of the details of our trips…
We went on so many of the best Cape Town day trips described in this post but I struggle to remember the details. It's all a bit of a blur.
That's why I turned to the experts for a little help.
This post is a collaborative effort of fellow travel bloggers who love South Africa as much as I do.
These are the absolute best day trips from Cape Town, according to the those who know!
But First: Self-Drive vs. Guided Tour
We had a rental car for both of our trips to South Africa. I can't recommend it enough.
The country is very easy to drive, rentals are insanely affordable, and you have complete freedom over your itinerary.
A lot of these day trips are so much easier with your own car.
You can spend more time at the destinations and take all of the pit stops you'd like.
Check rental car rates here and reserve your car for Cape Town. You won't regret it.
On the other hand, if you'd really rather not tackle driving on the left side of the road, there are tons of excellent guided tours.
When available, I'll mention the best guided Cape Town day tours throughout this post.
If you simply hate driving (or want to fully and responsibly enjoy the winelands without a designated driver), take a guided tour!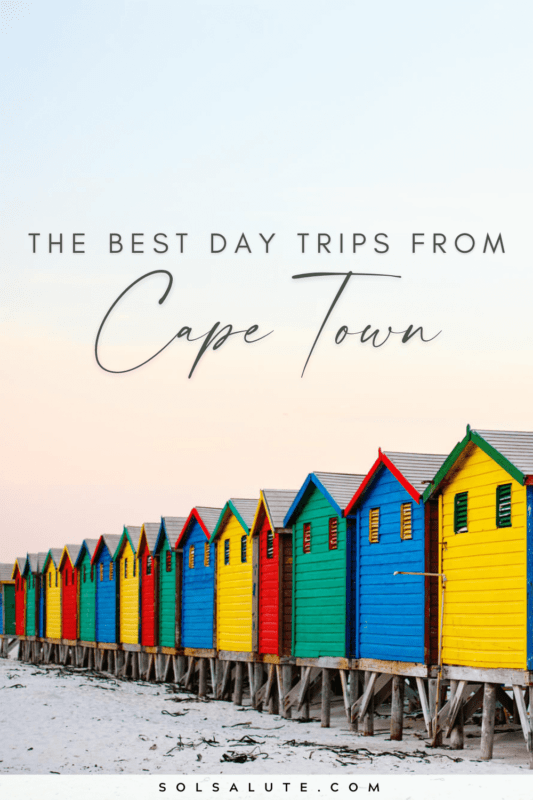 The 13 Top Cape Town Day Tours
Without further ado, here are the best day trips from Cape Town.
Keep an eye for guided tour options throughout if desired and let me know in the comments at the end if you have any questions whatsoever!
TIP: If you have your own car you have more freedom to combine some of these day trips into one. For example, we went to Muizenberg and Simon's Town (to see the penguins) in one day.
There is a map at the end of this post with all the destinations pinned.
Use it to build your own itinerary!
1. Chapman's Peak Drive
Submitted by Paul Healy of Anywhere We Roam
Chapman's Peak Drive is one of the most spectacular day trips from Cape Town. 
Starting 15 kilometers south of the city, the road clings to the red rock boulders of the South African coast as it hairpins around dramatic coastal scenery.
Between the beautiful Noordhoek Beach and Hout Bay, experience some of the best road trip country anywhere in the world.  
The drive climaxes at Chapman's Peak – the highest point on the road – with incredible views of the Atlantic Ocean crashing against the huge rocky outcrops of the coast.  
At Hout Bay, stroll the traditional fishing harbor and enjoy one of the many no-frills but excellent seafood restaurants.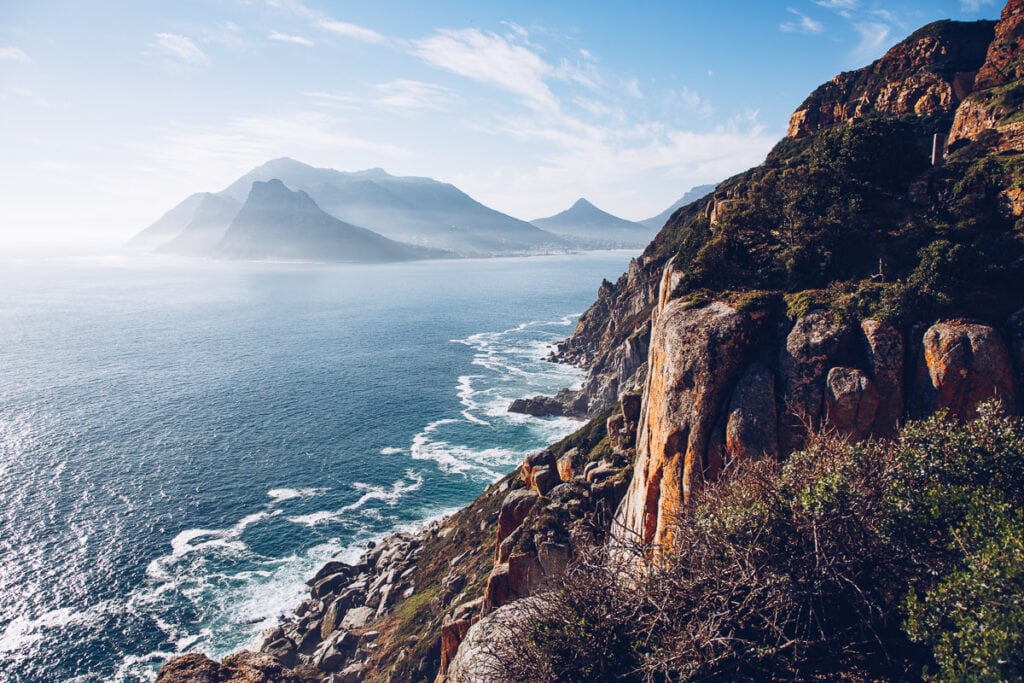 Before the drive back, take a snorkeling tour to see the Cape Fur seals – one of the many wonderful things to do in Cape Town.
There is a small charge for driving Chapman's Peak (R50 for an individual trip) and the speed limit is 40 km/h.
The actual drive takes around 35 minutes, however you'll no doubt want to stop for photo opportunities along the way.
It's best done in your own car so you can go at your own pace, however for more adventure, you can join a motorcycle tour or this cycling tour for a nail-biting cruise down the coast.
2. Simon's Town & the Penguins of Boulders Beach
Submitted by Nicholas of Rambling Feet
African penguins are usually the main reason for spending the day in Simon's Town. Visit nearby Boulders Beach to see the famous penguin colony.
It costs 60 Rand for a ticket to the viewing point and the beach at the southern end, but you can also see them among the bushes along the path that connects the two.
Many Cape Peninsula tours stop here on their way to Cape Point. Reserve a tour like this one to see Simon's Town, the penguins, and Cape Point together in one day.
If you self-drive, try visiting in the morning to avoid the tour groups and crowds.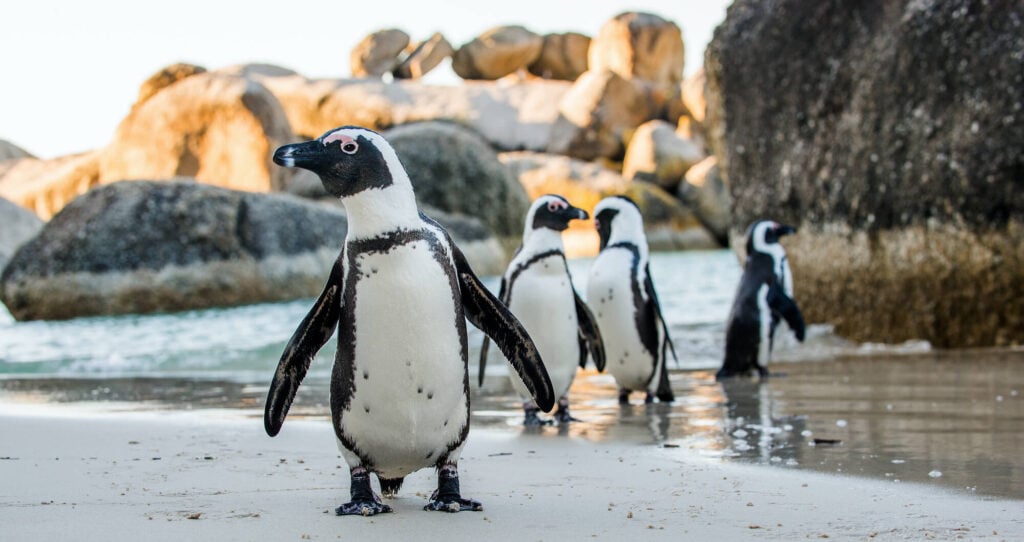 You can also take public transport if you don't have a car. Take the metro one hour from Cape Town.
From there, you can walk 30 minutes to get to Boulders Beach or take a Rikki taxi. You can also take an Uber if you have the budget.
Importantly, Simon's Town is worth more than just a whirlwind stop to see the penguins
Those who take the time to explore Simon's Town will be rewarded.
The Naval Museum (free) and the Heritage Museum (5 rand) offer eye-opening insight into its history.
Between the two, there's tasty fish and chips from The Salty Sea Dog, where you even may get to talk to the occasional sailor who stops by for lunch.
3. Cape Point
Submitted by Christine Rogador from Romantic Places Insider
The Cape Point Nature Reserve is a panoramic reserve located in the Southeastern part of the Cape Peninsula.
It is part of the Table Mountain National Park and it is known for its historic lighthouse, rugged landscapes, and amazing natural beauty and wildlife.
It is also often considered as one of the most romantic destinations in Africa due to its beautiful landscapes. 
Often mistaken as the southern tip of Africa and the meeting point of the Atlantic and Indian Oceans, this nature reserve is actually just the most southwestern point. The previous titles actually belong to Cape Agulhas. 
Visitors normally just visit the lighthouse, which is a 20 minutes hike from the parking area and the Cape of Good Hope.
As a former ex-pat in Cape Town, I recommend going to the old lighthouse instead as I find the view on the hike there to be more beautiful. It is also quieter as only a few tourists visit that area.
If you decide to go to the new lighthouse, hike instead of taking the funicular to fully enjoy the view.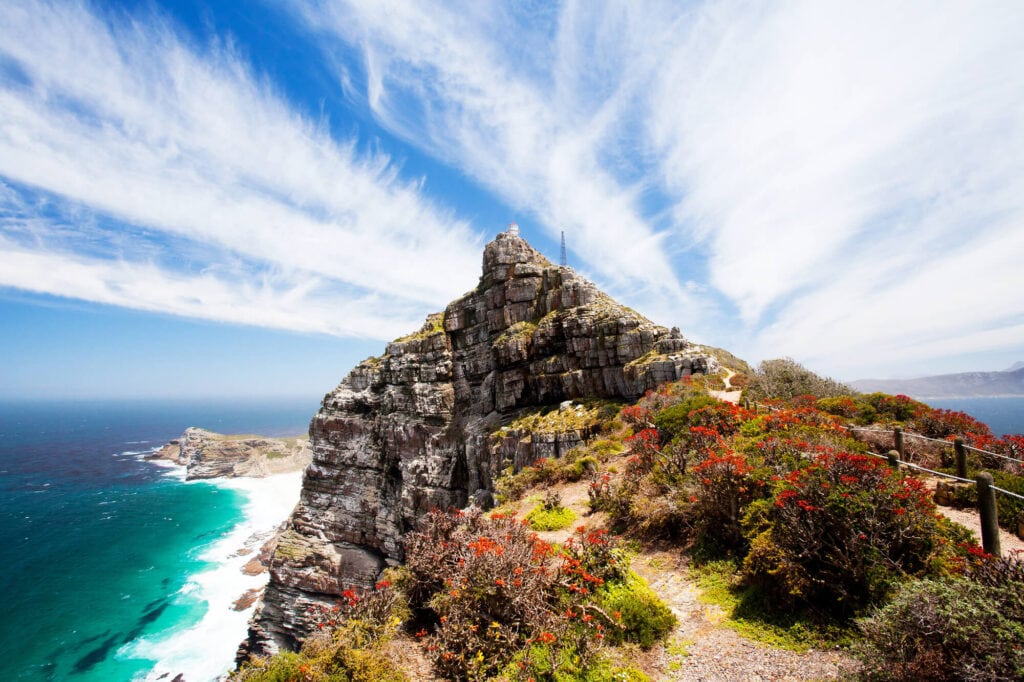 I recommend not spending too much time at Cape of Good Hope. There are more interesting places in the nature reserve to explore.
For example, on the way out of the nature reserve, there's a place called Buffels Bay Beach. If you're lucky, you might get to see more baboons and birds there. It also has beautiful views of the nearby mountains.
Cape Point is one of the most popular days trip from Cape Town due to its proximity, scenic location, and scenic drive along the way.
The entrance fee is 320 rand (around $20). You may have to pay 30 rand ($2) per car, confirm current rates here.
How to get to Cape Point: Drive or Tour?
It's only one hour and a half drive from the city center. There's no public transport that goes here.
You can strike a deal with Uber drivers, Uber can cost between $30-40 each way.
I recommend renting a car. It is more economical and you can control your itinerary. Car rentals are just between $10-30 a day.
Private Tour of Cape Point: This is one of the most popular guided Cape Town day tours, so I recommend avoiding group tours (which can get massive and make it impossible to enjoy). So if you'd like a tour, I recommend this private tour. It's affordable and will be much more enjoyable.
4. Muizenberg
Submitted by sustainable travel bloggers Oksana & Max from Drink Tea & Travel
Located just half an hour from Cape Town, Muizenberg is one of the best beach day trips from Cape Town.
It is most well known for its long white sand beach and the colorful beach cabins which adorn it. The beach cabins have actually become an iconic attraction near Cape Town and are something of an Instagram dream.
If you don't have your own wheels you can take the bus from Cape Town to Muizenberg.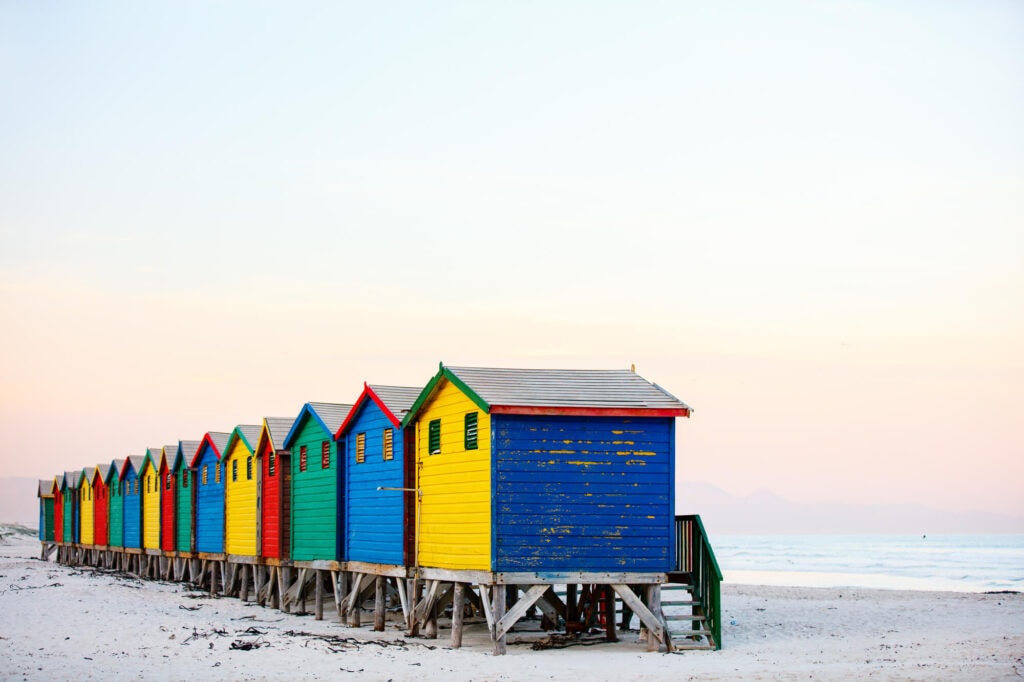 Swimming and surfing are popular activities at Muizenberg. Surfer's Corner is the surfing hotspot but more suited to intermediate and advanced surfers.
If you are new to the sport, surf schools from Muizenberg can show you the ropes.
There are showers, toilets and other great facilities which make this a perfect spot for a comfortable beach day.
In the town center, Blue Bird Garage market takes place every Thursday and Friday evening. Inside you can find lots of tasty food and drinks, local artisans and specialty shops. It is a must-do!
For great views and to stretch your legs, Zandvlei Estuary Nature Reserve is worth a visit.
Bird lovers will delight in the multitude of birds which visit the nature park and there are lots of picnic areas complete with braais.
There are lookout spots, swimming areas and places to SUP or kayak as well.
5. West Coast National Park
Submitted by Roxanne Reid of Africa Addict
Imagine clear turquoise water, white beaches, wetlands and wild flowers in spring; imagine whales and flamingoes, a feast of hiking and mountain biking.
You've just pictured the West Coast National Park. Just 100km north of Cape Town along the R27, it's perfect for a day trip.
The best – but also the busiest – time to visit is when spring flowers blanket the fields in August and September.
See zebras and eland grazing among the multi-colored carpets of blooms in the Postberg section of the park, which only opens to the public during these two months.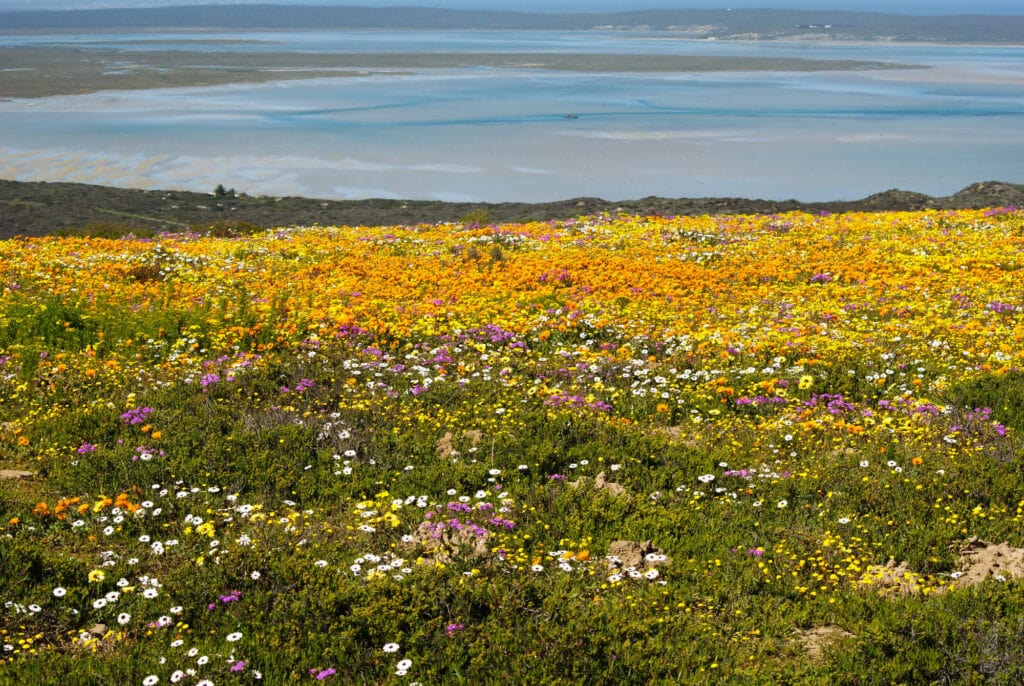 Another huge draw card is the Langebaan Lagoon, which is a Ramsar Wetland of International Importance.
Find flocks of flamingoes, pelicans and other water birds – some 250 species in all. There are four bird hides in the park.
Visit the Seeberg information centre for wonderful views of the lagoon and insight into the park's history and people.
Go for a game drive to see animals like springbok, steenbok, red hartebeest and mountain zebra.
Look for passing whales and dolphins along the Atlantic coast. Laze on white beaches at Tsaarsbank, Preekstoel and Kraalbaai.
Pop into the Geelbek Visitor Centre to see a replica of Eve's footprints that are 117,000 years old.
Hike one of the day-trails or go mountain biking among the Strandveld fynbos. Enjoy fishing or water sports like kite surfing or kayaking only in Zone A of the Marine Protected Area.
You can easily self-drive in the park; most roads are tarred and even a 2×4 vehicle can handle the few gravel roads.
When you arrive at the entrance gate, you will get a map of the park to help you get around.
6. Franschhoek
Submitted by Mariza from Hoponworld
Tucked away in the Franschhoek Wine Valley and surrounded by towering mountains and exquisite natural scenery, you'll find one of South Africa's most beautiful places to visit – Franschhoek. 
With centuries-old vineyards, a fascinating history, and plenty to keep you busy, it's not surprising that Franschhoek is one of the most popular Cape Town day tours. 
While most visitors flock to Franschhoek to explore the gorgeous wine farms and dine at some of South Africa's top fine dining restaurants, there are a few other points of interest that should not be overlooked.
Along Lambrechts Road (the main road), explore the countless galleries, rustic artisan shops, and take in all the incredible Cape Dutch architecture dating back to the 17th century.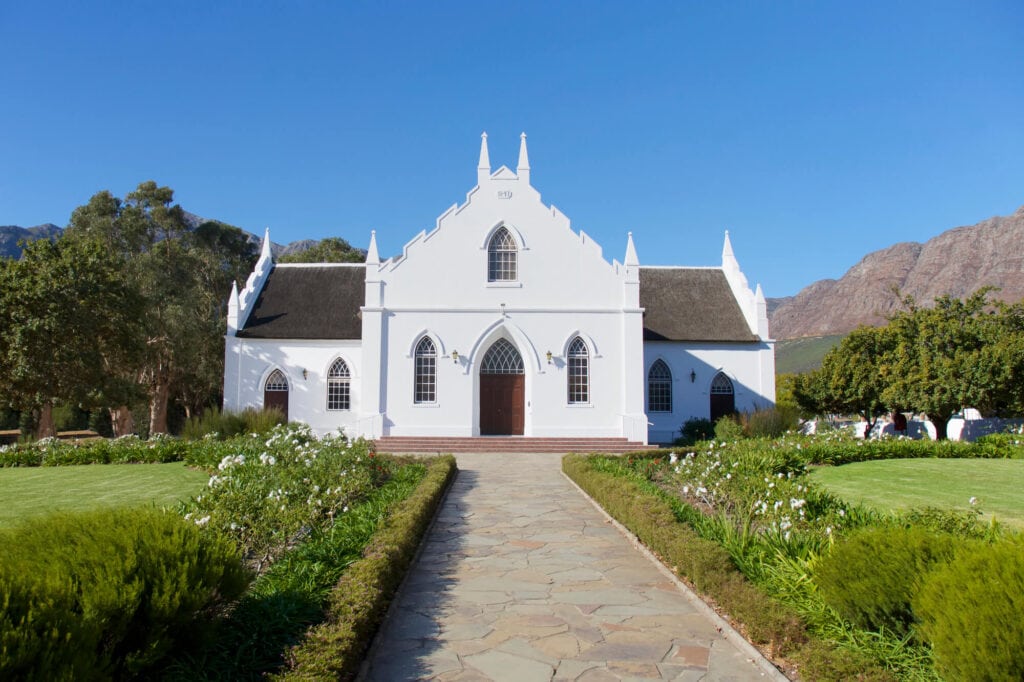 Further afield, stop by the Huguenot Monument and the Huguenot Memorial Museum to explore the lush gardens and learn more about the first settlers' intricate history and culture.
More adventurous travelers shouldn't miss taking a ride on the delightful hop-on-hop-off tram or exploring all the beautiful hiking trails of the nearby Mont Rochelle Nature Reserve.
Franschhoek is located less than an hour's drive from Cape Town. It's best to self-drive as the scenery along the way is simply impeccable.
Alternatively, consider joining a group tour from Cape Town if that is not an option for you.
Franschhoek Tours | If you want to go wine tasting in Franschhoek and not drive (smart choice), take this guided tour that also includes Stellenbosch for a complete winelands experience!
7. Stellenbosch
Submitted by Ella from Many More Maps
Just 50 kilometers from Cape Town, the university town of Stellenbosch is one of the best Cape Town day trips for wine lovers!
The main reason visitors flock to this region is for its world-class wineries and delicious wine tasting opportunities.
Favorites such as Lanzerac, Waterford Simonsig all welcome visitors, usually offering tours of the estate, tastings, or even overnight accommodation!
Although you can explore Stellenbosch's surroundings in your own car, public transport between wineries is nonexistent, so it's better to book onto a Stellenbosch wine tour if you're planning to do some tasting.
Love wine? Book this full day wine tour in Stellenbosch. It's a small group (max 9 participants) and visits FIVE wine estates.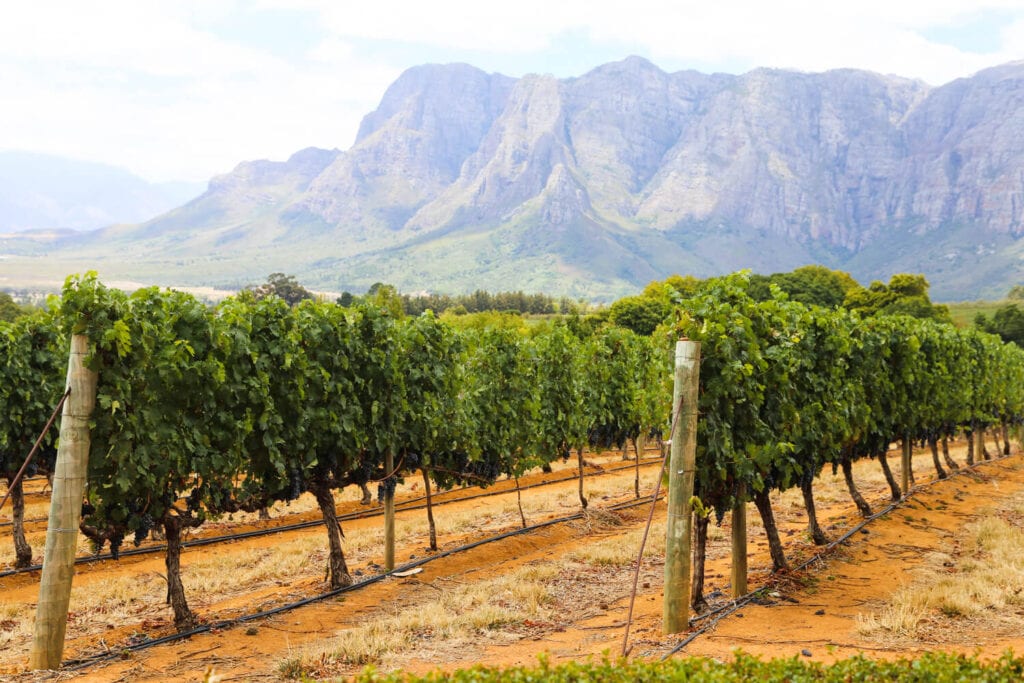 For those not interested in wine, there are still many great things to do in Stellenbosch – the main thing being admiring its gorgeous natural surroundings.
Head to the Jonkershoek Nature Reserve for great hiking and horseback riding, and the Stellenbosch University Botanical Garden for a bit of peace and quiet away from its busy surroundings.
You can also go on this guided walking tour to get a feel for the history of this beautiful small town.
To get to Stellenbosch from Cape Town, you can either drive, which will take around 45 minutes and is the most convenient option, take an organized day tour or take the bus or train.
Visitors opting to use the bus or train should travel during daylight hours for safety, ideally travel with others, and arrange a private transfer from the bus or train station of Stellenbosch into the town center.
8. Hermanus
Submitted by Mariza from Hoponworld
Located just over an hour and a half's drive from Cape Town is the beautiful seaside town of Hermanus. 
Like Paternoster, another ancient fishing village along the Western Cape coast, Hermanus boasts a colorful history and plenty to keep you busy on one of the best seaside day trips from Cape Town. 
Hermanus is an incredibly charming town and home to some of the best seafood eateries in South Africa.
There are countless monuments, museums, and gorgeous beaches. Also don't miss the superb hiking trails of the Frenkloof Nature Reserve!
But even along with all of that, the most notable thing to do in Hermanus is to spot whales frolicking near the shore!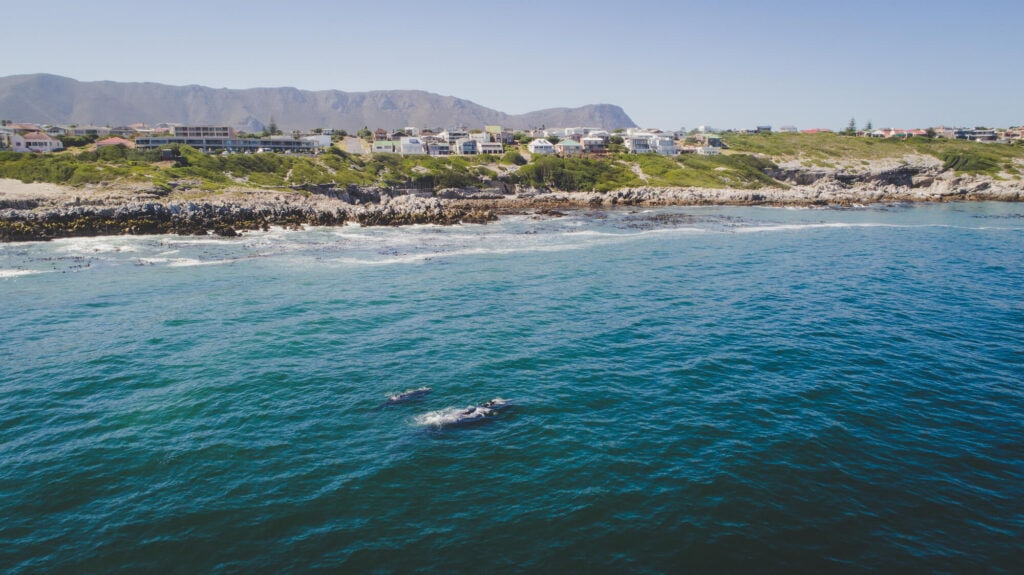 Hermanus is arguably the best whale-watching site in South Africa.
For the best chance to see whales, visit between July to December.
During these months, you'll find the town brimming with tourists, so remember to book restaurants, tours, and accommodation well in advance.
The best whale sighting spots include Voëlklip Beach, Grotto Beach, Walker Bay, or simply along any of the scenic coastal walkways. You can also go on this boat tour to get up close and personal.
Pro-tip: Listen out for the whale crier who blows his kelp horn to signal whale sightings!
Since there is no direct transport to Hermanus from Cape Town, it's best to self-drive. If your schedule is flexible, it's worth spending a few days here to really get a taste of what the town has to offer.
Hermanus Tours | If you'd rather not drive, there are some great guided Cape Town day tours to Hermanus. This tour is a full day to Hermanus, including whale watching and wine tasting (and with a penguin colony visit on certain days).
If you'll self-drive to Hermanus but want to go whale watching while there, reserve this boat tour to get right next to the whales out on the water!
9. Robben Island
Submitted by Dymphe of Dymabroad
Robben Island is an island off the coast of Cape Town that served as a prison from the 17th century until 1996.
Robben Island imprisoned Nelson Mandela for 18 years alongside countless other freedom fighters. Currently, it's a UNESCO World Heritage Site and an absolute must visit destination to learn about Cape Town's complicated history.
You cannot visit Robben Island without an organized tour. Purchase tickets and depart from the Nelson Mandela Gateway at the V&A Waterfront in Cape Town.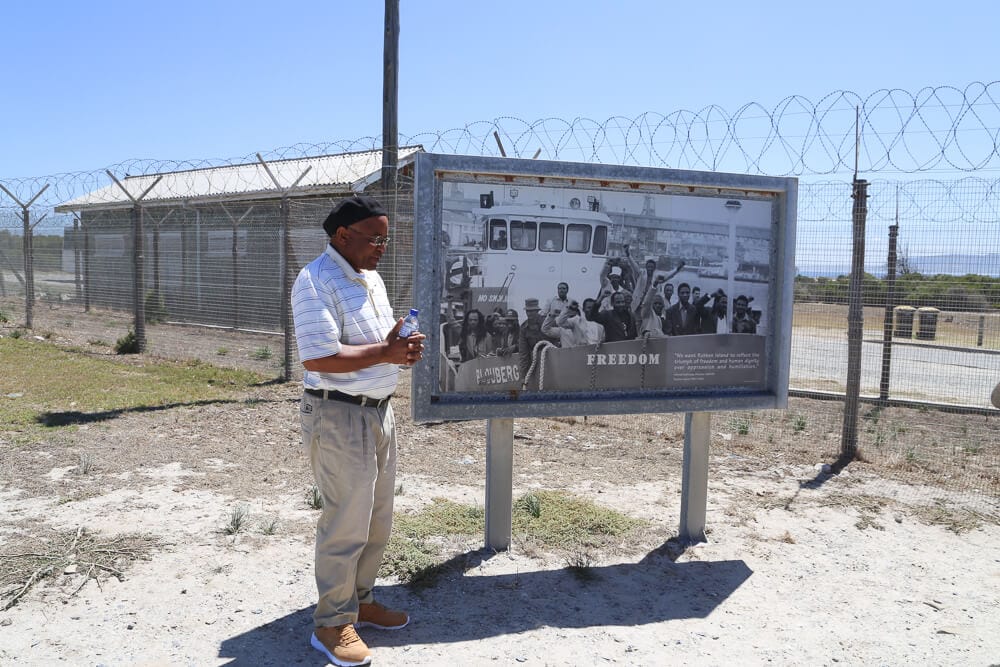 I recommend reserving your tickets on the official site here ahead of time as they can sell out.
It is also very common to purchase a combination tour like this one that also visits a township and District 6. This full day tour will give a comprehensive picture of the history of apartheid in Cape Town.
During the tour, your guide and a bus take you to important sites around the island. Once at the prison itself, a former prisoner greets you and serves as your guide.
When the tour is finished, a boat takes you back to the Nelson Mandela Gateway. In total, the tour takes about 3.5 hours.
Take photos in the photo frames in the many photo spots in Cape Town as well as one on Robben Island that frames the city in the background.
10. The Elgin Valley
Submitted by Rachel at The Tipsy Gypsy
Elgin is only an hour's drive from Cape Town along the N2 (68km). You'll find plenty to do here from wine tasting to mountain bike tracks, picnic places and pies! 
In addition to delicious farmstall fare, The Houw Hoek Farmstall has a tranquil picnic spot by a dam that is open daily for picnics at no extra cost (you must buy your picnic goodies from the farmstall).
From breakfasts to smoked ribs, The Hickory Shack is Elgin's own traditional BBQ smokehouse, while Old Mac Daddy makes for a fine pizza stop along with the opportunity of a unique overnight stay in one of their airstream trailers.. 
Highlands Road Estate is the perfect escape on a summer's day to enjoy a dip in their dam and do a wine-tasting.
Tuck into country cuisine at Oak Valley, where mountain bike enthusiasts can take on one of the longest single-track rides in the country.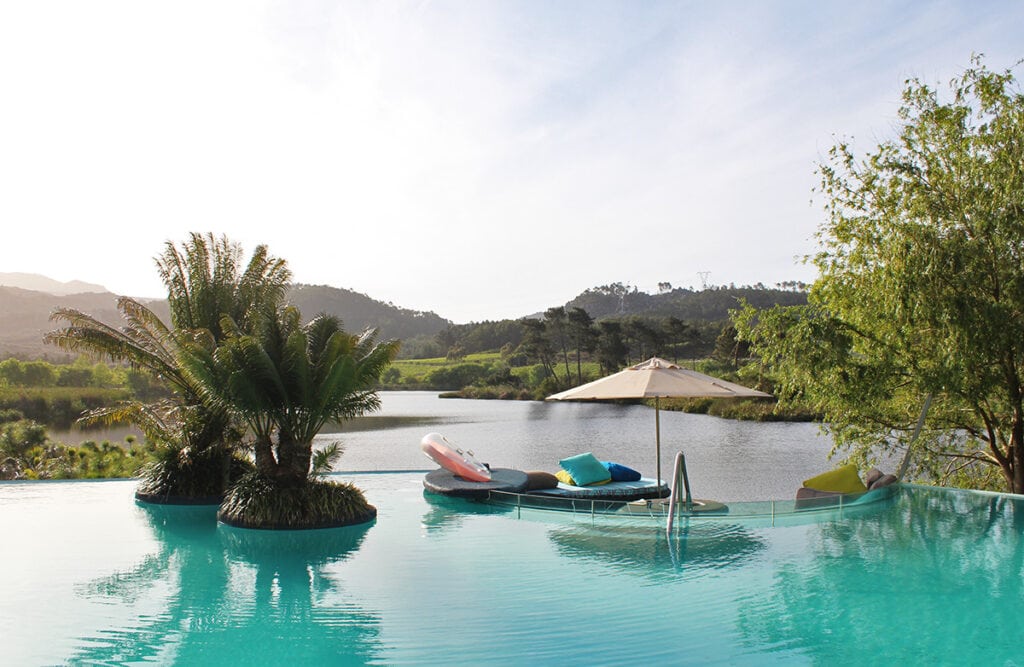 Art lovers should visit South Hill Vineyards to enjoy a bistro-style lunch while perusing a variety of local artworks.
If you crave a glass of bubbly, pop into Charles Fox where the views from their tasting room make for a magnificent Cap Classique pairing!
For a truly opulent experience, book a wine tasting by the rim flow pool at Lothian Vineyards.
The Elgin Railway Market is open every Saturday and Sunday, offering an eclectic mix of market wares, accompanied by live entertainment in a steampunk-refurbished apple barn.
No trip to Elgin is complete without a visit to Peregrine Farm Stall!
Their venison pies are legendary, but they also offer a range of vegetarian and vegan options.
While you are there take some time to browse through artisanal goods and remember to take home a few local Everson's Ciders.
11. Panthera Africa: An Ethical Sanctuary
Submitted by Stuart of Just Traveling Through
One of the highlights of visiting South Africa is the wildlife. Whether it's enormous elephants, nimble cheetahs or surprisingly noisy rhinos.
Just two hours from Cape Town is Panthera Africa, a big cat sanctuary home to 27 different animals.
All have been rescued, some of them from horrendous past lives, and are now living in spacious, green enclosures.
Residents of the sanctuary include lions, tigers, caracals, leopards, jackals and a cheetah.
Unfortunately, you won't be able to see Pema (the cheetah) as she spends her twilight years closer to the staff house.
Educational visits are twice a day (except Tuesdays) and last for around two hours.
Admission is R340 ($20) for adults with discounts for seniors and children under 13.
It's important to book in advance for the tour, but other than that you just need to get yourself there.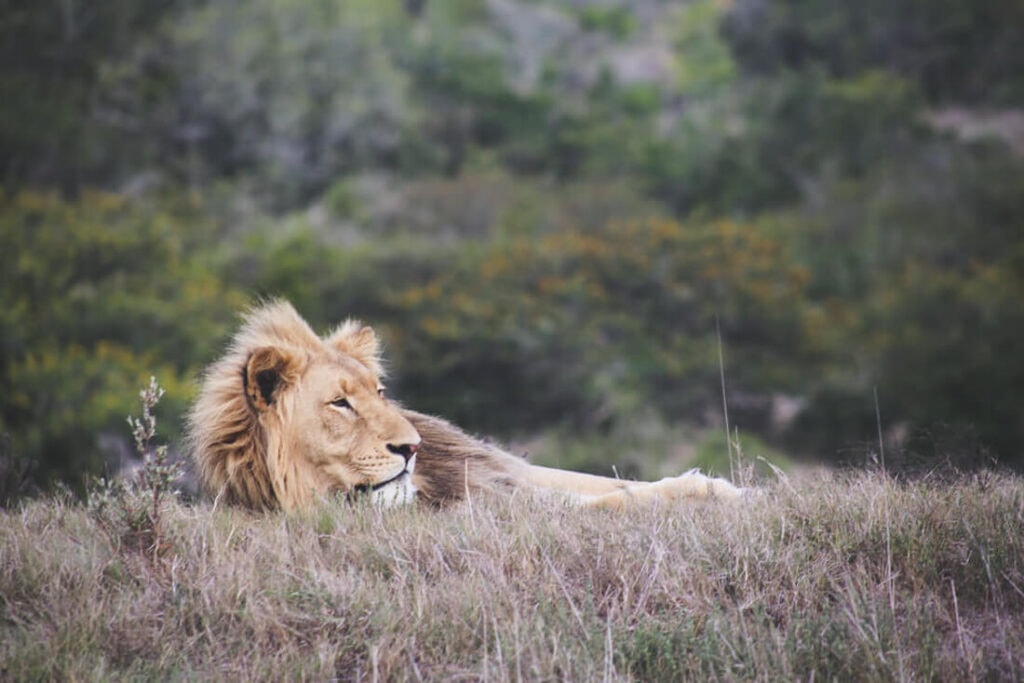 During the visit you'll learn all about the animals, their personal stories, how they arrived at Panthera and the origins of the sanctuary.
The afternoon sunset tours are the best time to go.
This is when the lions begin their daily roaring competition and standing at the intersection between the enclosures you can really feel their power.
Neptune, the king of the Panthera pride, is generally the loudest. Although he can get a run for his money from the deadly female duo Jade and Zakara.
Other highlights of the visit are Max, the playful caracal, and Rays, a powerful 300 kilo tiger, except when he's feeling lazy.
Unlike many other sanctuaries there is no interaction with the animals and they are not involved in any breeding programs.
If you have more time available and want to do your bit for the animals you can volunteer at Panthera Africa. Costs include two meals each day plus accommodation.
12. Cage Diving with Great White Sharks
Submitted by Auston of Two Bad Tourists
Cage diving with great white sharks is a major bucket list item for many visitors to South Africa.
And just off the southern coast is one of the best places in the world to do this exhilarating activity.
In fact, South Africa is considered the great white shark capital of the world, so you can't pass up the opportunity to see the magnificent creatures in person.
To go on the most adventurous of Cape Town day trips you need to head southeast from Cape Town by car to "shark alley" near the small town called Gansbaai.
Making the trek takes a bit of time, but the effort is 100% worth it.
There are several different tour companies in the area, and they offer optional transportation services to and from Cape Town.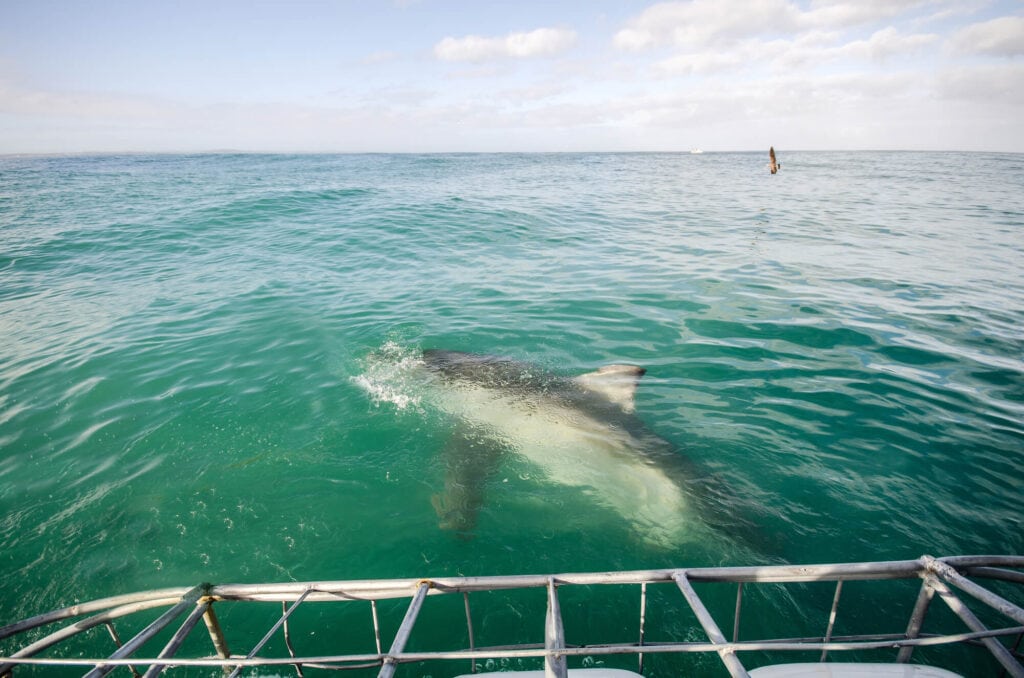 The pickup from Cape Town is very early around 6 am and after a two-hour drive, you're dropped off at the company's visitor center.
Some operators include a nice breakfast as well as part of the check-in and orientation.
After orientation, you'll board a boat with roughly 10-15 people and head out about 30 minutes before arriving at the designated viewing spot.
After throwing in buckets of chum into the water (mix of fish guts, bones and blood), the sharks begin to approach with curiosity. Surprisingly, they are rarely aggressive.
During the excursion, you have the amazing opportunity to spot them up close from both the deck as well as submerged in the cage itself.
Whether you join the activity with a group or even go as a solo traveler, it's an experience of a lifetime that you can only do in a few places in the world.
Reserve this Eco-Certified Shark Diving Experience | There are a lot of shark diving companies to choose from, but
this tour is eco-certified and includes a visit a rehabilitation center and important information on conservation efforts.
13. Hout Bay
Submitted by Rai of A Rai of Light
Hout Bay, found in a valley on the Atlantic seaboard of the Cape Peninsula, is well known for its appealing scenery, fresh fish, interesting residents, and grand harbor.
Affectionately referred to as the Republic of Hout Bay by locals, it lies around 20 kilometers away from the city center, making this little harbor village a great option as a Cape Town day trip.
Hout Bay's unique mix and scenery makes it a popular tourist attraction among both local and international visitors.
To this day, it remains a working fishing village with some of the best seafood in the region.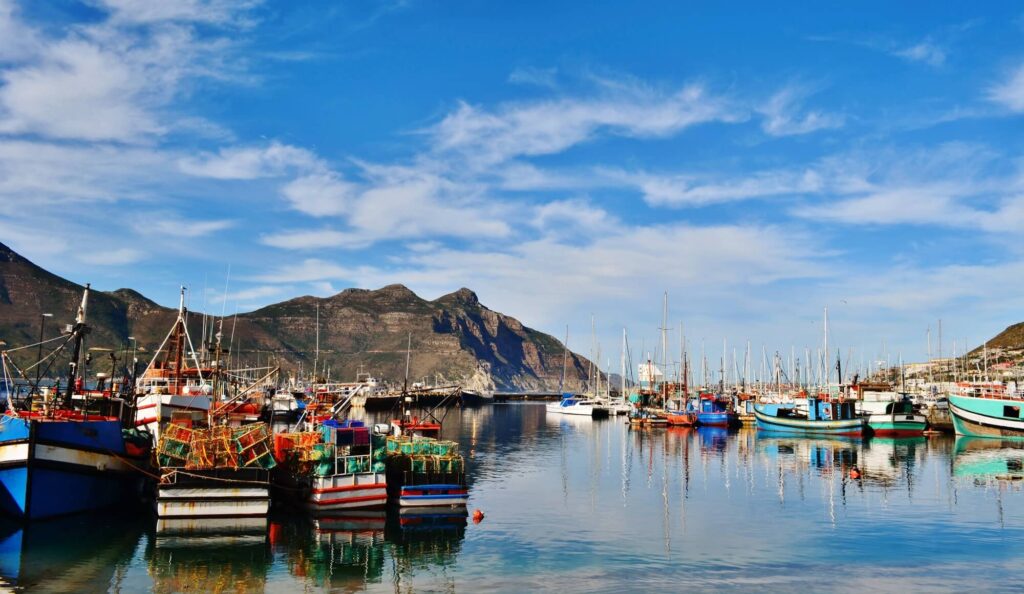 The harbor itself, full of lively fishing boats, is the main attraction.
Other activities include a visit to the Hout Bay Museum, World of Birds and a boat cruise.
The Bay harbor market is the place to be on weekends with live entertainment and various arts and crafts on sale from local traders.
The best option to get here is by car, via a dramatic road trip along the west coast of the Peninsula. You can also reach Hout Bay from the east side of the Peninsula and the Cape of Good Hope.
The Best Day Trips from Cape Town
I hope this post has inspired you to go on as many of these Cape Town day tours as your itinerary will allow!
Whether you choose the winelands, the wildlife, or a nature reserve, I know you won't be disappointed.
If you have any questions ask in the comments!
Cape Town Day Trips Map:
If you have your own car you have the freedom to build your own Cape Town day trip itinerary.
Use the below map to help you plan.
For example, we visited Hermanus after an early morning shark diving tour in Gansbaai. You can also combine Muizenberg with Simon's Town!
Read More about Cape Town: