South Africa's Mother City is one of the most beautiful cities in the world.
Mountains stand on the horizon, the sea borders the south, and colorful buildings and friendly people all come together to make one of the best cities you'll ever visit.
We spent 5 days in Cape Town and ever since I've been dreaming of returning.
Cape Town in 5 days is enough time for an introductory visit, to see the highlights and see them well.
This post is exactly how we spent our week in Cape Town, step by step, plus alternative options to make your stay in the Mother City as great as mine was.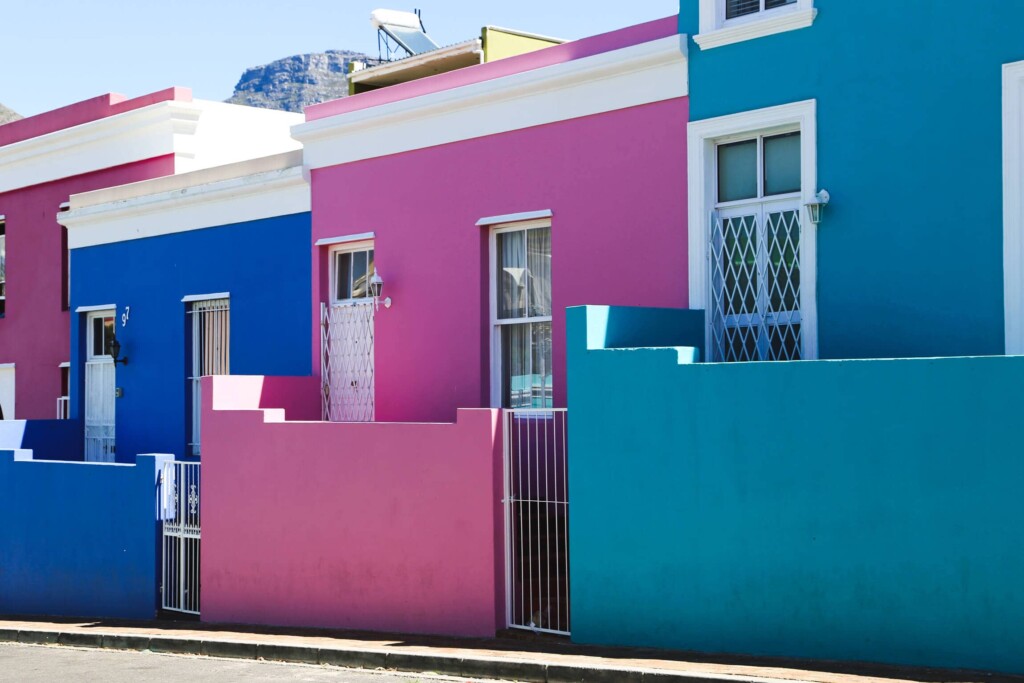 QUICK NOTE: This post contains affiliate links and Sol Salute may receive a commission for purchases made through these links, at no extra cost to you.
How we spent 5 days in Cape Town
We got to Cape Town after 3 weeks on the road exploring South Africa.
We'd safaried in Kruger National Park, we'd lounged on the beach on The Wild Coast, we'd driven a few thousand kilometers, and even swam with sharks.
After all that, I honestly didn't think the city could possibly be as great as all the countryside we'd seen.
But Cape Town rose to met the challenge.
She did not disappoint.
Read about our previous 3 weeks in South Africa: Our 30 day Road Trip across South Africa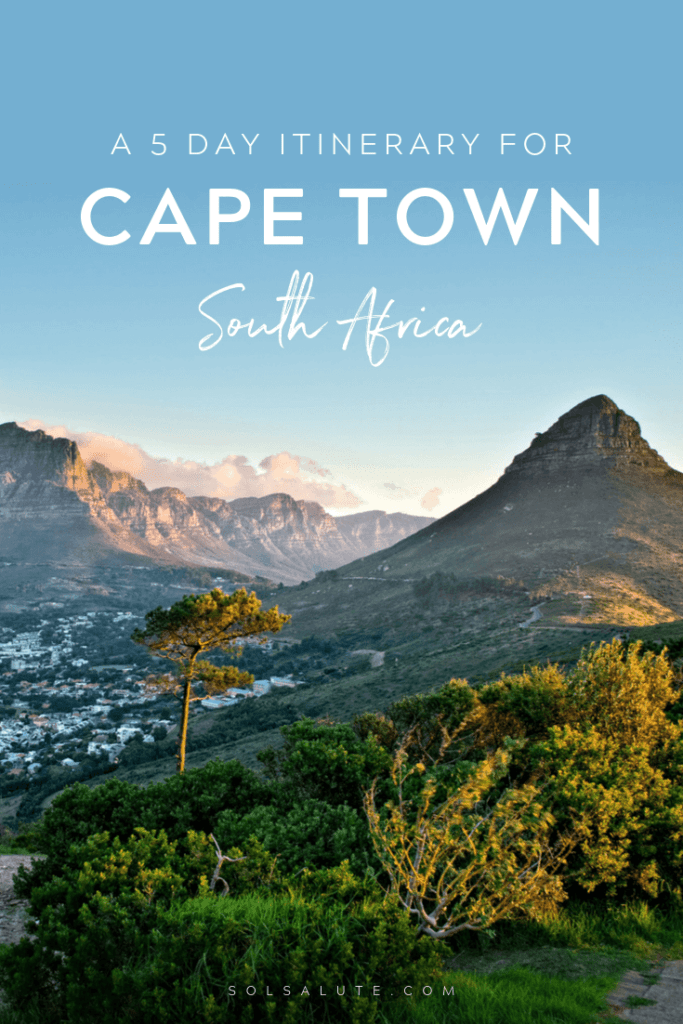 Where to stay in Cape Town
We drove into town exhausted from a long day of shark diving and wine tasting.
We arrived at our stunning Cape Town boutique hotel and just wanted to eat and pass out and so, that's exactly what we did.
We stayed at the Three Boutique Hotel.
It was wonderful to wake up fully rested in such a beautiful property.
The Three is located in an old colonial style mansion and the service was incredible.
I chose the location because I wanted to be centrally located.
We were a short drive or Uber ride from all of the main spots on this itinerary.
I really loved our stay in The Three. After roughing it on safari and on the road for three weeks, I was ready for the level of pampering only a hotel can provide.
For The Three Boutique Hotel, check rates and availability here.
Apartments in Cape Town
While on this particular stay I was ready for a hotel, I normally stay in an apartment or house when I spend this much time in a city.
In fact, most of my friends chose to rent apartments near the beach in Sea Point or Camps Bay.
For example, this house in Camps Bay is stunning and you'd have a lot more room than a hotel.
Being walking distance from that neighborhood's stunning beach would be an excellent bonus.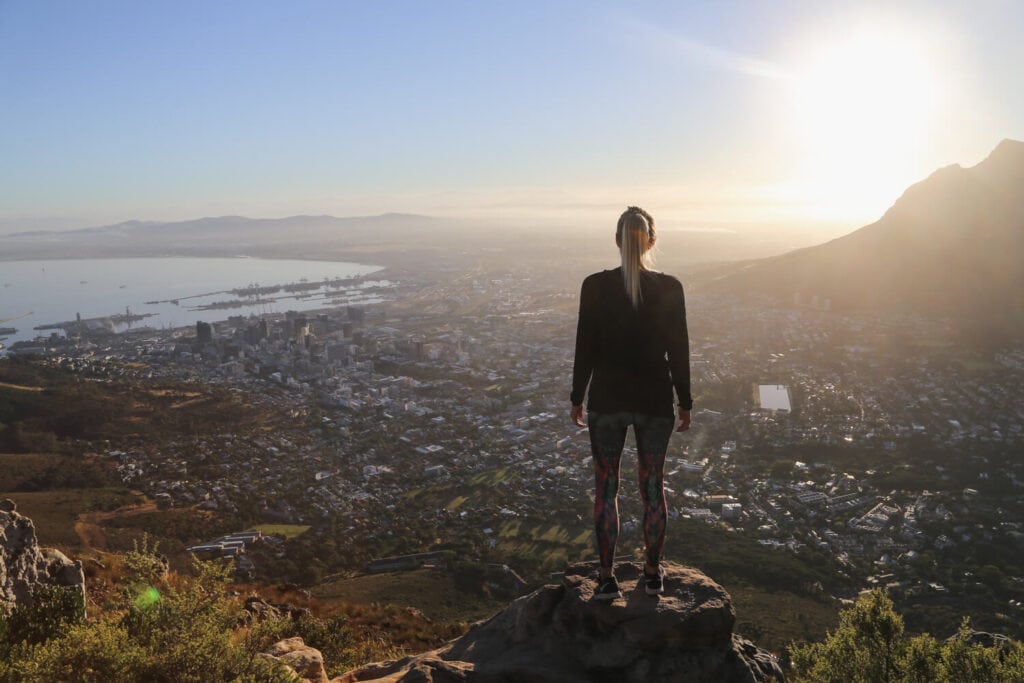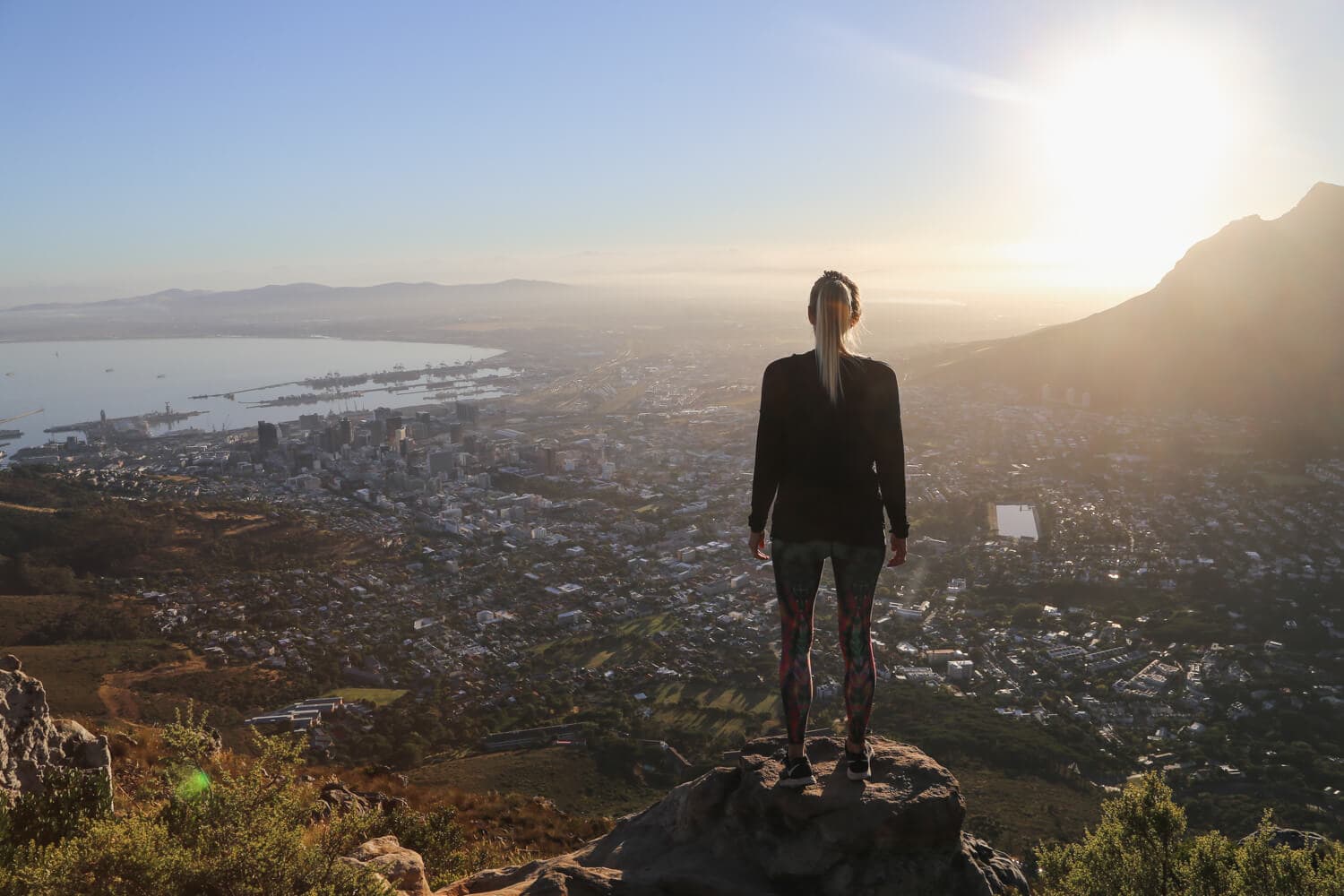 How to get around Cape Town
From rental cars to taxis, how to get around town.
Do you need a car in Cape Town?
Cape Town is not a pedestrian city.
Everything is very spread out and you do need a car to get around.
We had a rental car and used it every single day, all day.
Luckily, renting cars in South Africa is incredibly affordable!
We spent under $400 US for 30 days.
Renting a manual transmission brings costs way down, do expect to pay more if you need an automatic.
Rent a car for your Cape Town trip.
Uber in Cape Town
If you really don't want to drive, Uber is very, very cheap in Cape Town.
We used it at night so we could enjoy our dinners (read: with wine) to the fullest and some rides cost as little as $3 US.
While I recommend a car because you'll have so much more freedom for the longer Cape Town day trips like Cape Point and Boulder's Beach, it's definitely possible to do everything with Uber, the City Pass explained below, and even guided tours.
Is the Cape Town Official City Pass worth it?
We didn't purchase the Cape Town City Pass because I didn't even know it existed when we were there.
Looking at everything it includes, I'd say it is worth getting if you plan your week in Cape Town right.
It includes free entry to over 35 sights, including most of this itinerary, like Robben Island, Table Mountain, Kirstenbosch, and walking tours.
If you splurge on the premium pass it covers things like a Helicopter Tour or Shark Diving.
It also includes free transport on the hop-on-hop-off bus (and I think those buses are a lot more fun/useful than they get credit for).
Cape Town can be hard to navigate without a car and this bus would solve that if you're not renting one.
Use it for a few days and it will pay for itself.
our Cape Town in 5 Days Itinerary
Ok, without further ado, here's how we spent our five days in Cape Town.
We did a lot and had a couple really early mornings!
What follows is a narrative of how we spent our 5 days in Cape Town, but feel free to change it and make it your own!
On our fifth and final day, we repeated ourselves, returning to the places we enjoyed the most.
At the end of this post, I list out a few alternatives (like wine tasting or shark diving) that you could do on your final day instead.
Day 1 – Robben Island & Bo-Kaap
Robben Island
We started our first full day with a tour of Robben Island at 9 am.
I reserved our tickets before the trip and I recommend that; when we were there all the tours of the day were fully booked except for a few spaces in the final one of the day.
The tour starts with a bus ride around the island with a very informative guide explaining the history of the island and the prison.
There's a quick stop for snacks and a photo op in one of the innumerable frames that dot Cape Town's streets and surroundings.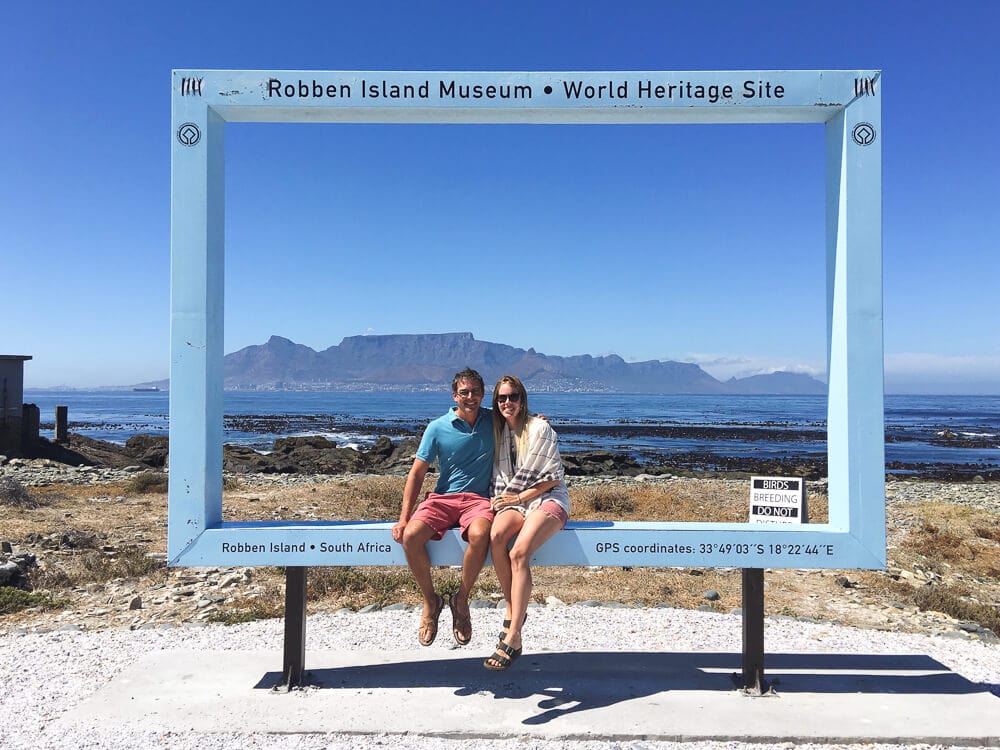 After the brief break, we were driven to the prison to meet our guide, an ex-political prisoner, who told us a blend of personal anecdote and general history of the prison.
When enjoying Cape Town it's easy to forget how recent the apartheid really was so I definitely recommend including a bit of history into the trip.
ROBBEN ISLAND TOUR | Reserve your tour of Robben Island ahead of time, especially if you need to go at a specific time, as it can sell out. You can reserve on their official site, or book a more complete tour like this one that also includes a Township Tour.
Free Walking Tour of Bo-Kaap
After Robben Island, we booked it to Green Market Square to meet a free walking tour of the Bo-Kaap.
A free walking tour is the best way to familiarize yourself with a new city and this one was perfect.
From the Green Market Square meeting point, we walked the short distance to the Bo-Kaap.
We saw the city's first mosque, learned about Tuan Guru and the Malaysian and Muslim immigrants while strolling through the most colorful neighborhood I've ever seen.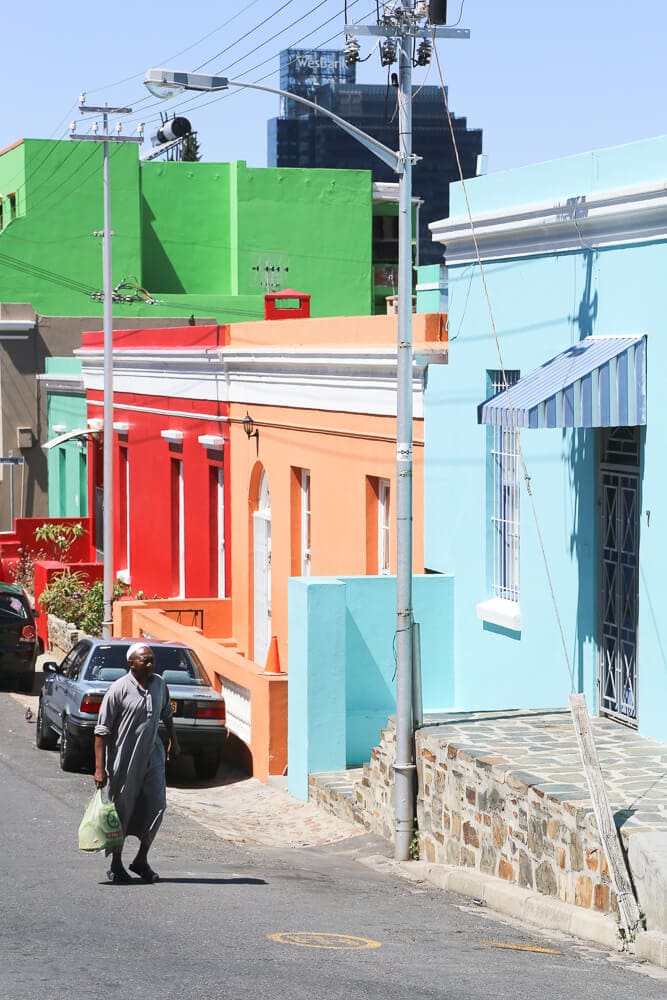 I LOVED Bo-Kaap, it's still one of my favorite things to do in Cape Town today.
I wanted to stay for dinner but we had dinner plans already (spoiler alert, we went back again for that Cape Malay food).
After a long day, we freshened up for an early dinner with friends at Codfather in Camps Bay.
A must for fish lovers, too bad I hate fish.
However, it's good to be pushed out of your comfort zone because I tried Dorado and I actually enjoyed it, so, jokes on me, the former fish hater.
Day 2 – District 6 Museum, Botanical Gardens & Table Mountain
District 6 Museum
We had plans for this afternoon to meet friends for lunch in Kirstenbosch Botanical Gardens so we had the morning free to kill.
We spent it in the District 6 Museum.
District 6 was a neighborhood that was stolen during the apartheid, with its non-white residents forcefully removed and sent to live in the Cape Flats outside the city.
The buildings were even bulldozed as they were emptied to prevent residents from returning.
This area is still mostly empty today since everything was demolished except for churches.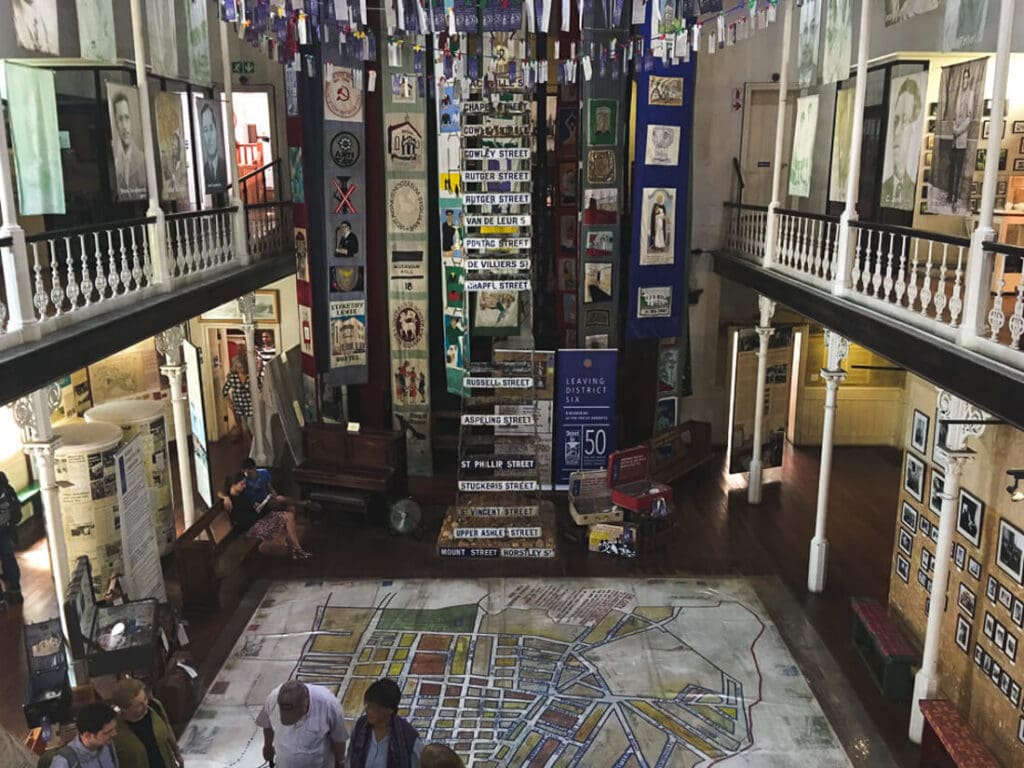 This museum was set up inside the Methodist Church as people hung up photos and memories of the lives they had lived in District 6.
The items were never taken down but grew naturally into this museum.
Our tour guide had grown up in District 6 and her story was heartbreaking.
There is a bit of hope in that their family was given a home in District 6 once again, as restitution from the government.
Her sister lives there and the home is the meeting point for the entire family.
District 6 & Street Art Tour | You don't need a tour to visit the museum, visiting with one of their guides is excellent and all you need. But the area surrounding the museum is home to some of the best Cape Town Street Art. If I were in Cape Town again I would definitely go on a Street Art Tour like this one, because we missed most of it!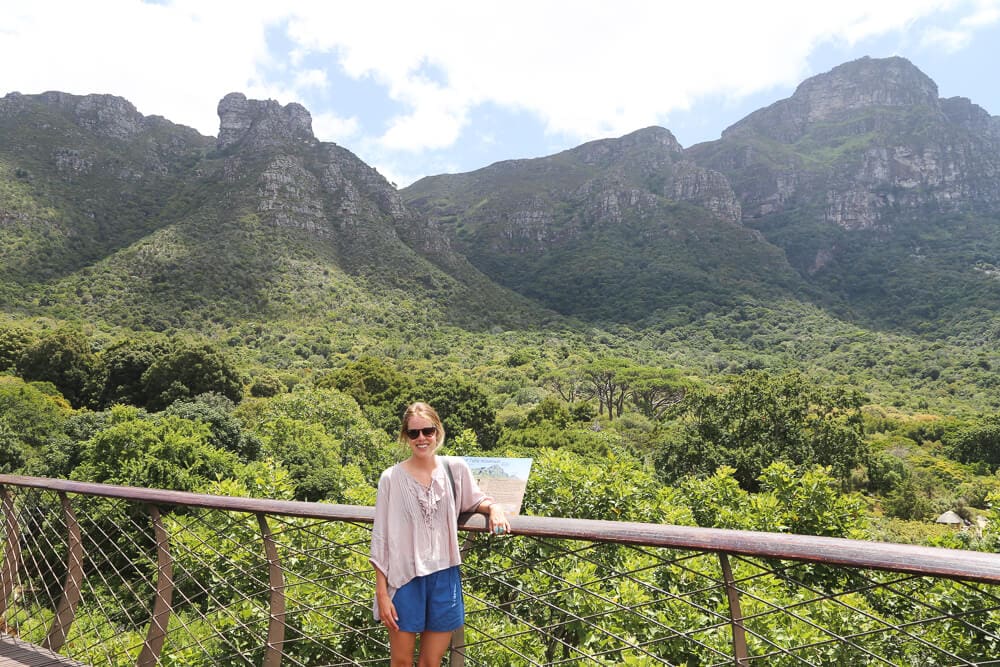 Read Next: The Best Day Trips from Cape Town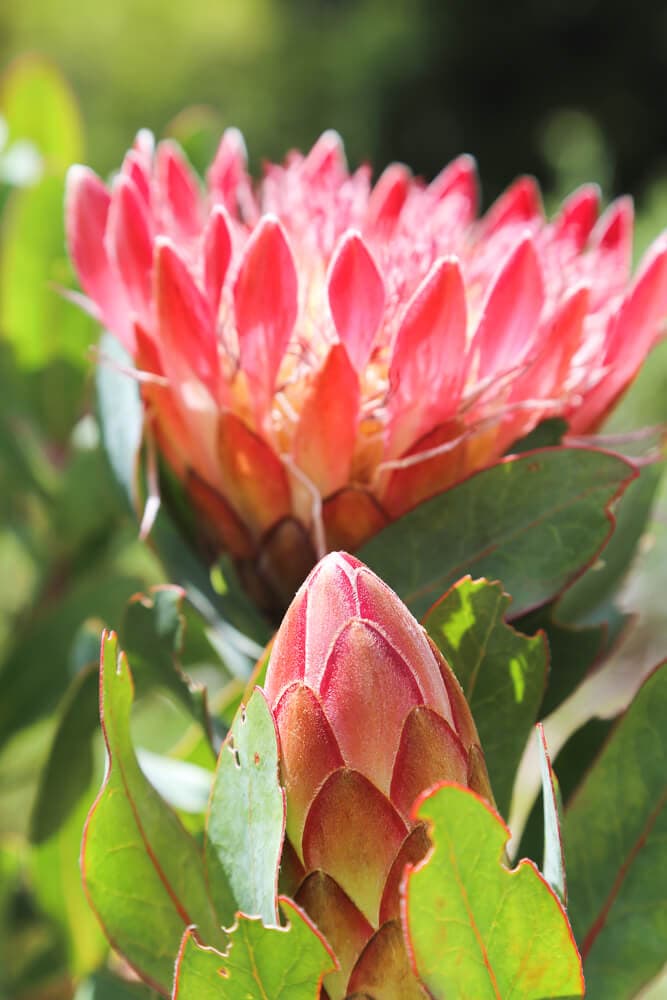 Kirstenbosch Botanical Gardens & Lunch at Moyo
Afterward, we spent the afternoon in Kirstenbosch Botanical Gardens.
It was gorgeous and seemed to go on forever, laid out at the foot of Table Mountain. I loved the protea, South Africa's national flower.
We had lunch at Moyo inside Kirstenbosch with friends. They serve African cuisine from all over the continent, not just South Africa, and the setting in the gardens is unbeatable.
We tried a lot of different things and if I learned anything it's this: never order worms.
Their version of Bunny Chow (curry served in a loaf of bread) however was delicious.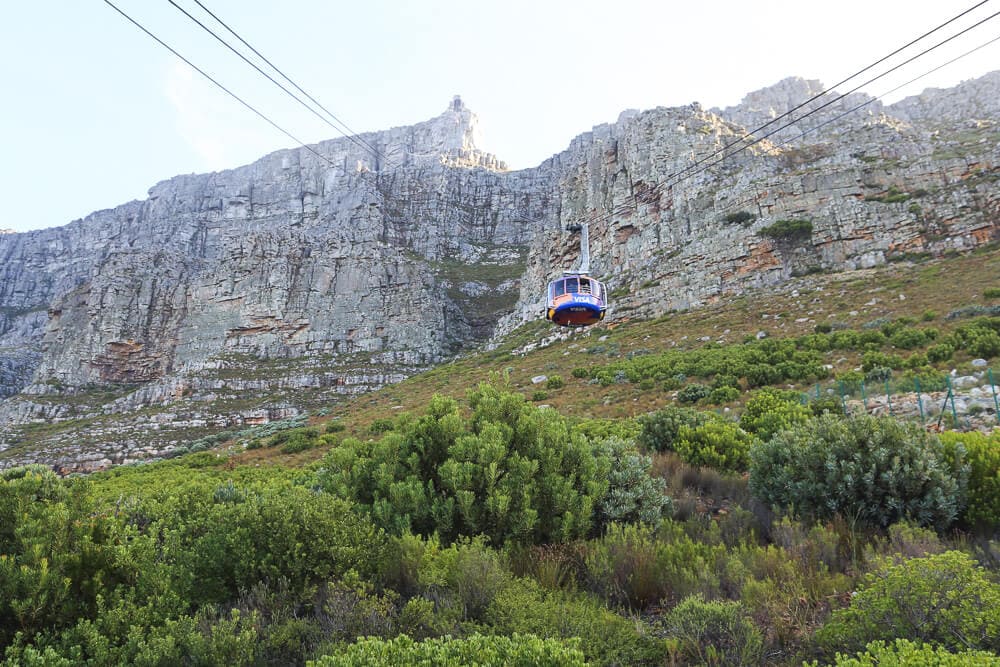 Sunset on Table Mountain
Next up was Table Mountain for sunset.
But first, a quick run to the supermarket for a bottle of Rose.
You can and should bring wine and snacks up to the top to enjoy while you savor the views.
Reserving ahead was a HUGE time saver, the lines were no joke for those that hadn't planned ahead.
Read More: What to Pack for South Africa
We spent most of our time wandering around the endless trails sipping on our wine.
There was a large group from the wedding party we were part of also at the top so after a bit of wandering and a bit more wine we joined them until a blaring siren subtly informed us it was time to make our descent.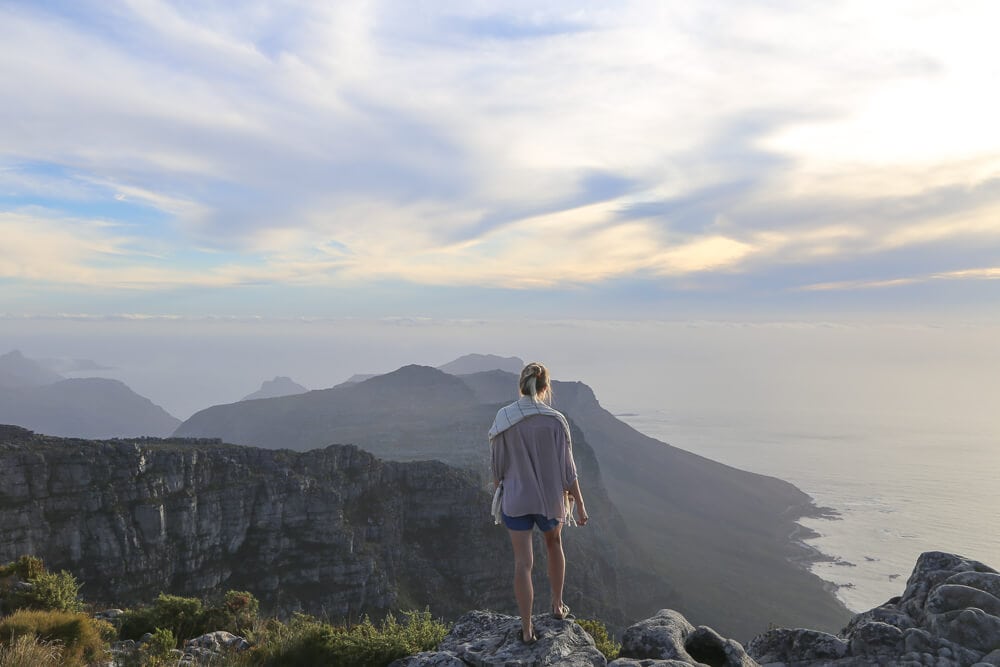 Day 3: Simon's Town, Penguins, Cape Point & Muizenberg
We did a LOT on day 3.
If you don't have a car, there are guided tours like this one that include just about everything we did (minus our quick stop at Muizenberg).
Penguins at Boulder's Beach
We started the day with an early drive to Boulder's Beach in Simon's Town to see PENGUINS!
You can stroll along a boardwalk above the beach and observe them from afar, or you can pay a nominal fee to waddle among them.
Obviously, we dished out and climbed over and under boulders to get up close and personal with the huge colony of penguins.
We went early because I heard there can be crowds in the afternoon and I hate a crowd.
Most of the penguins were sunning themselves on the rocks and grooming each other.
There weren't many walking about.
If you want to see the penguins being more active, I recommend going in the afternoon.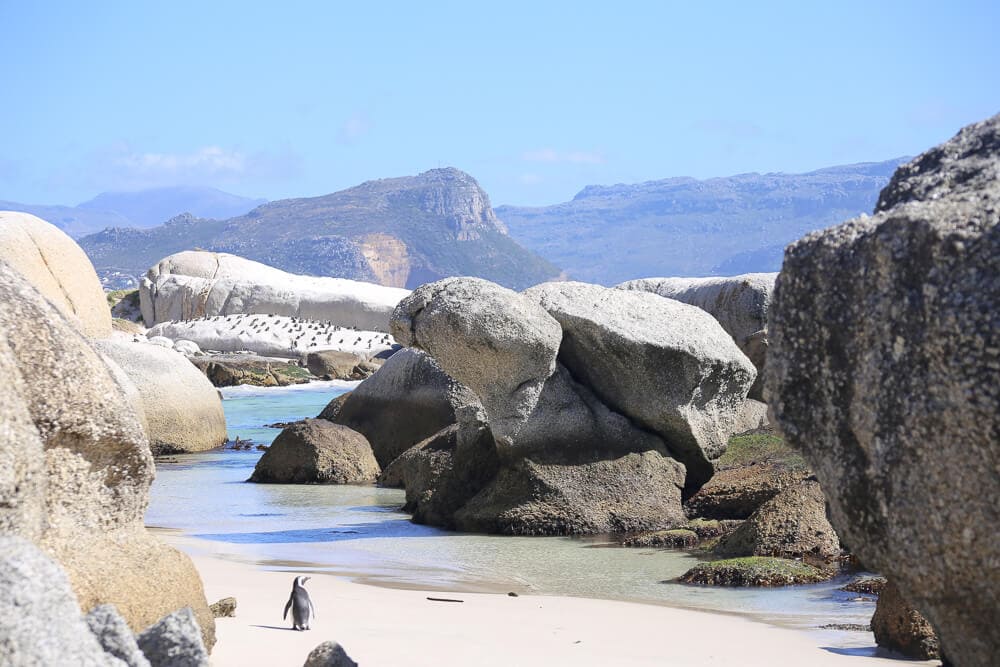 How to get to Boulder's Beach
We had a rental car while we were in Cape Town since we were in the midst of an epic road trip, so we drove ourselves to Boulder's Beach.
It took us an hour and a half and it was an easy drive.
I enjoyed the freedom of having our own car (check rates here).
But if you don't have a car, there are great day tours out to see the Penguins.
This private full-day trip includes a visit to the Penguins, Cape of Good Hope and Cape Point, and Chapman's Peak Drive (everything you could want to see on this side of Cape Town).
It's very affordable if you're visiting with a family or group of friends.
With this private tour, you get the benefits of a tour and a guide without having to share the experience with a bunch of strangers.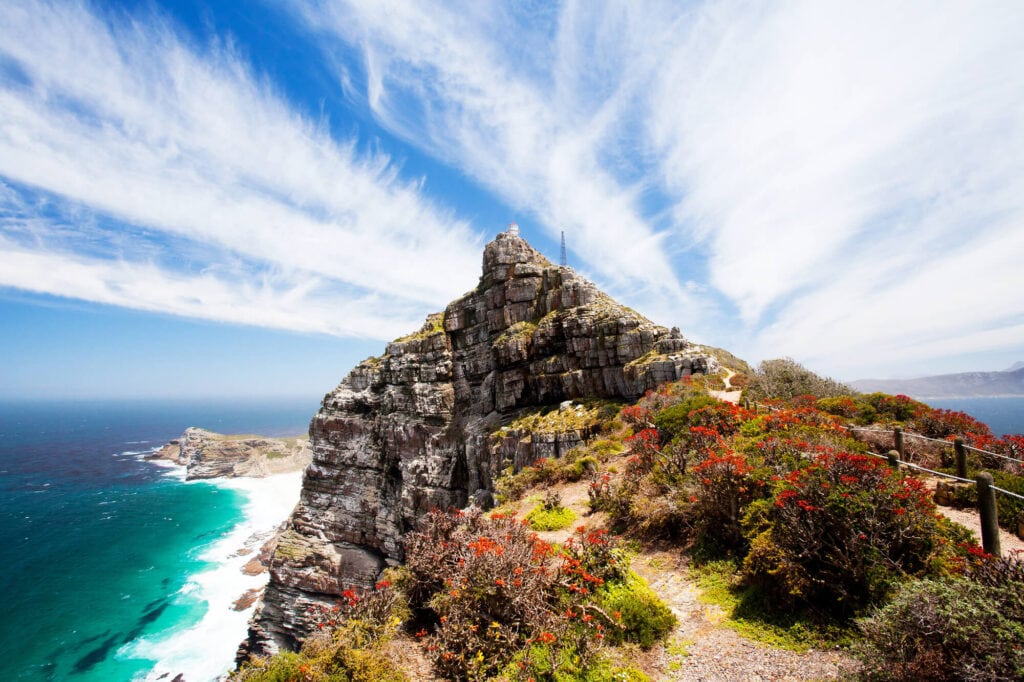 Cape Point
After we had our fill of penguin cuteness we kept driving down to Cape Point. The vistas are stunning both along the way and inside the park.
We made a long pit-stop on our way with some street-side vendors and bought masks and elephant statues and assorted touristy trinkets.
We spent a couple of hours in the park, walking up to the top of the lighthouse and driving down to the sign that everyone takes pictures of.
The sign that proudly proclaims this point to be the Most Southwestern Point of Africa, seems a bit of a reach.
There were also too many people there and being averse to crowds, we made our way out of the park back to Simon's Town for lunch.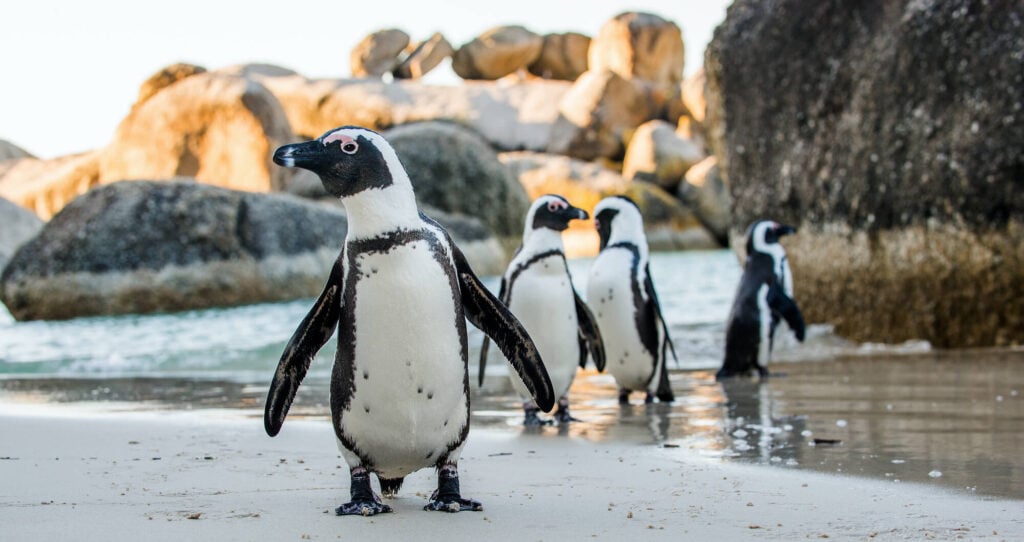 Lunch in Simon's Town
We stopped for a very enjoyable lunch at Bertha's, it's right on the harbor and I recommend it for anyone looking to rest their bones and eat some affordable seafood while you're at it.
After a bit of a rest, we left for one last stop: Muizenberg Beach.
Muizenberg Beach
We ended our long day walking up and down Muisenberg Beach taking pictures of the colorful beach huts before driving back into Cape Town.
We had an early wake-up call the next day so we just got pizza to eat on the hotel's terrace.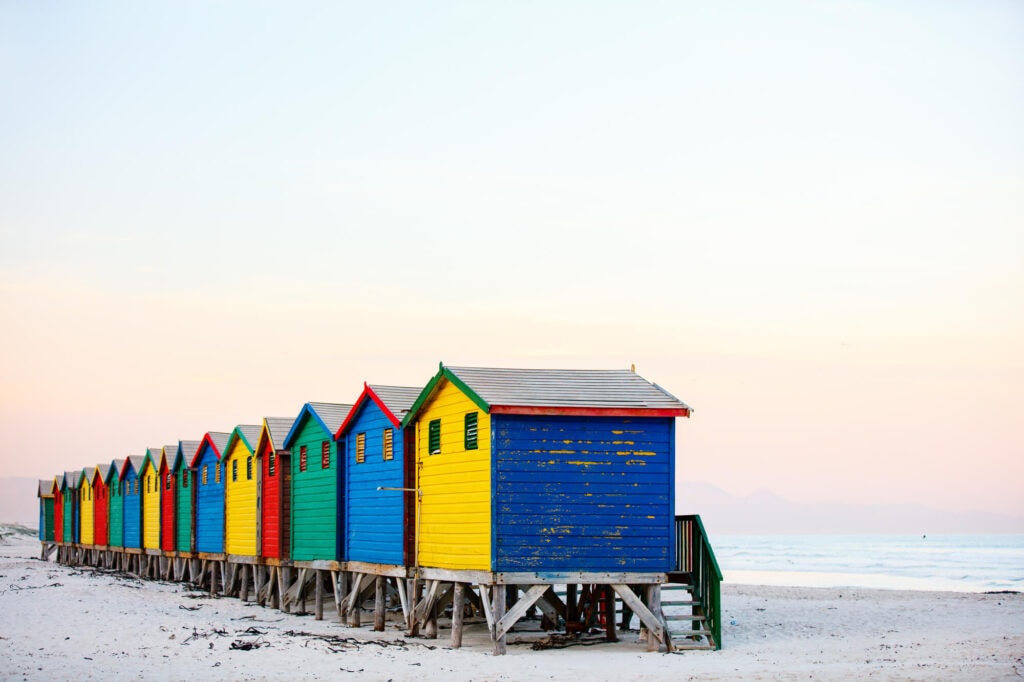 Day 4 – Sunrise on Lion's Head & Sundowners in Camps Bay
Sunrise Hike at Lion's Head
I had gotten it into my head that I wanted to hike Lion's Head to watch the sunrise.
The sun rises at around 5:30 am.
So, we set our alarm at 4:30 and we were there by 5.
I swear it is worth the early wake-up.
The crowds were minimal, we didn't really come across too many people along the way and we got to avoid that midday heat.
And also, those views…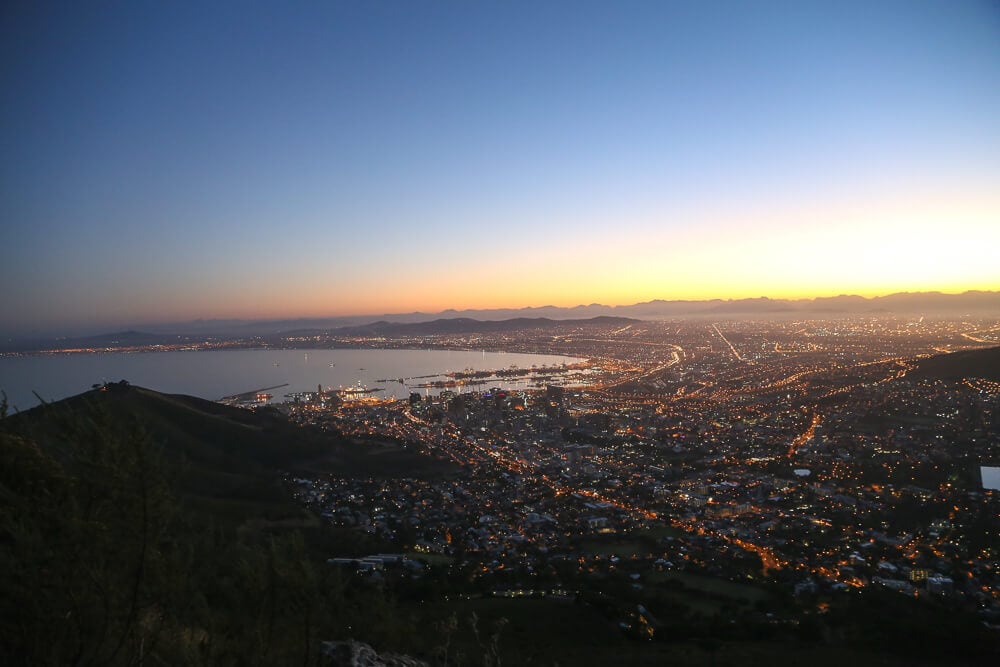 The hike itself wasn't bad at all, but it's not for the acrophobic.
It took us about 45 minutes to get to the top.
The first half you just walk along a dirt path that winds around the mountain.
Then you reach a fork in the road where you can continue an easier route or take the quicker route that involves chains and ladders.
We chose the ladder (HA), and it didn't feel too harrowing, everything is very secure.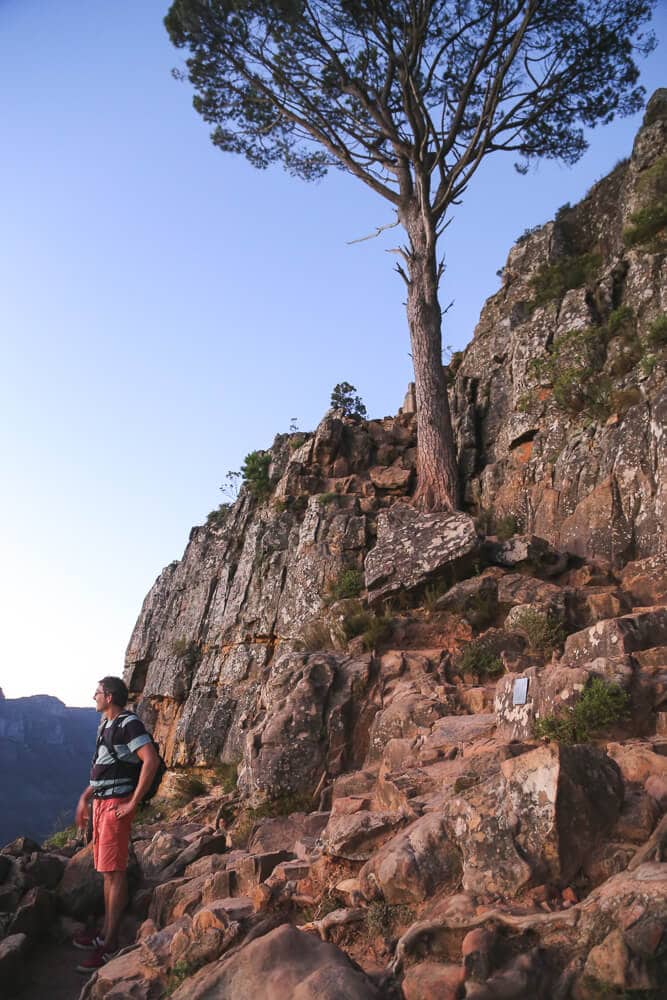 The sun was rising as we were climbing so we were a bit late to the party.
But since we weren't pros nor did we have flashlights beside our iPhone's I think it was for the best.
It hadn't fully risen when we got up there so we could still sit and watch it rise from behind Table Mountain.
This was my favorite thing that we did in Cape Town and well worth the sweat.
After we made our way down, a bit quicker than we had made our way up, we went back to the hotel for breakfast.
This was the first trip I've ever had to go back to a hotel for breakfast AFTER an activity on vacation and it happened more than once.
South Africa is definitely designed for morning people.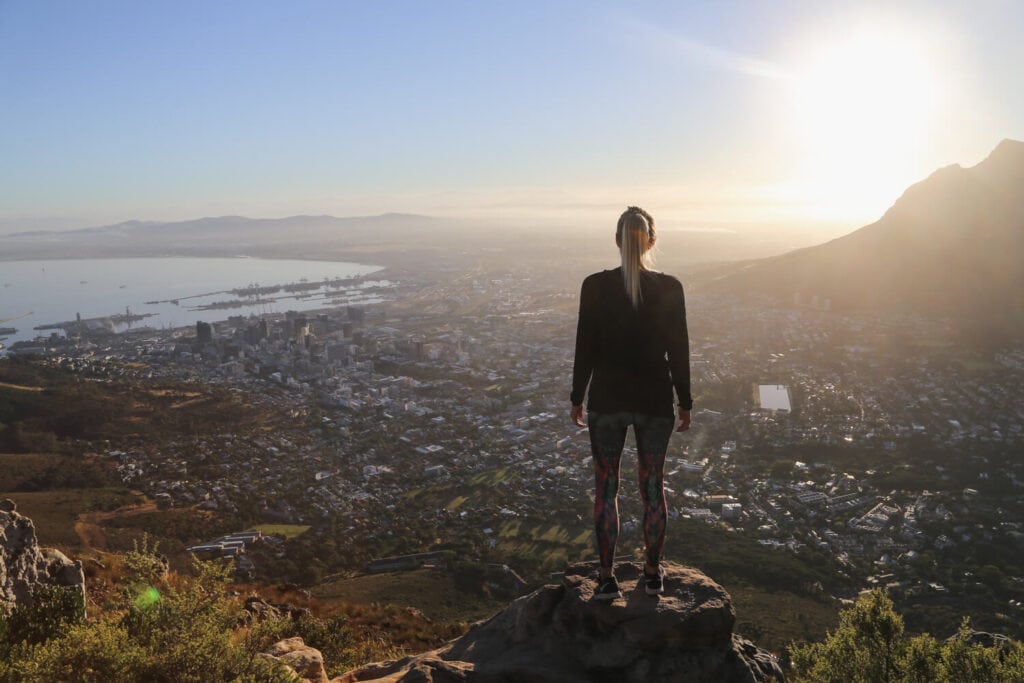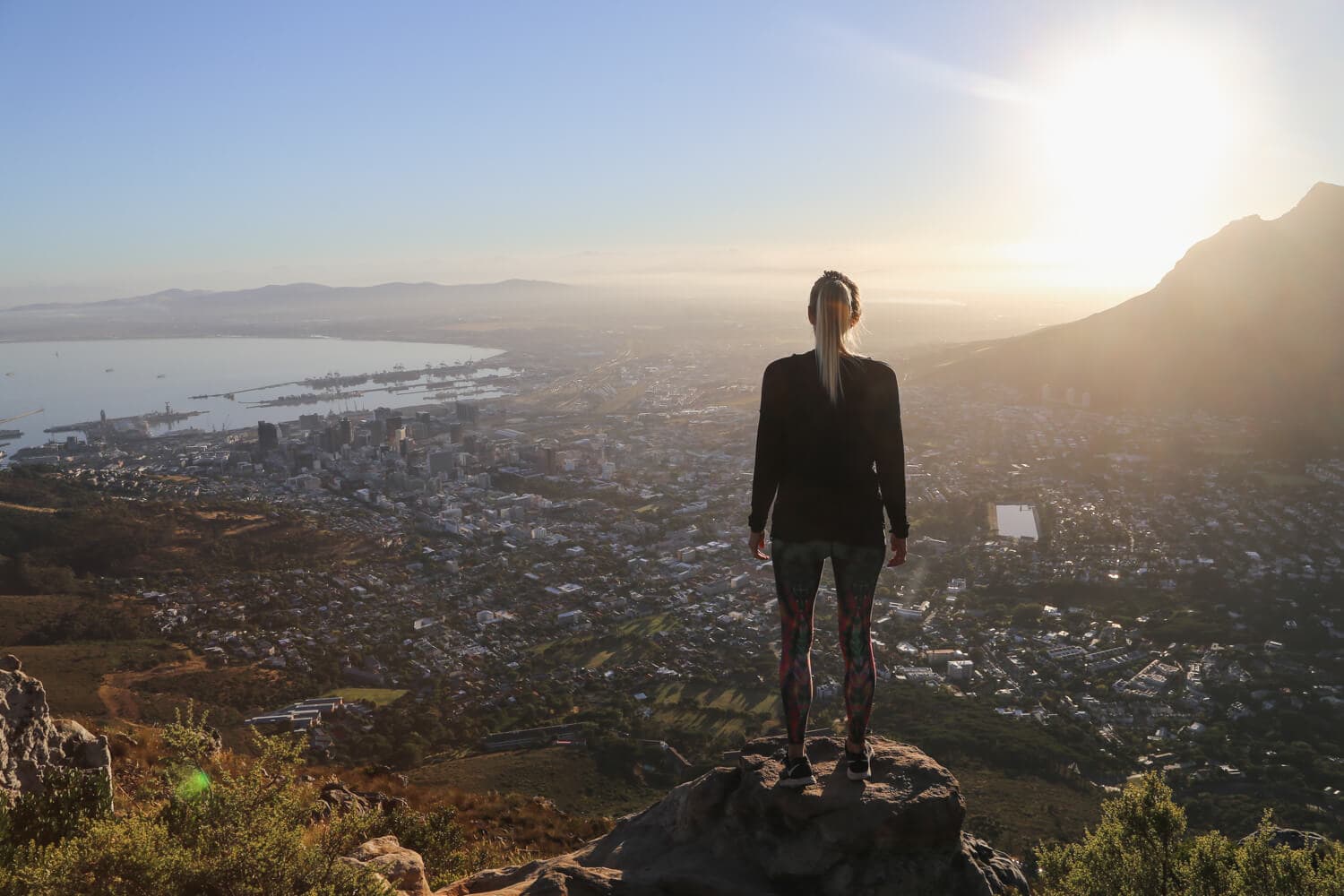 Sundowners at the Roundhouse
We had a Happy Hour, or as the South Africans call it, Sundowner event for the wedding scheduled early that evening so we just enjoyed the rest of the morning being lazy on the beach in Camps Bay.
We had earned it.
I also squeezed in a mani-pedi, which I had also definitely earned.
Sundowners were on the lawn at The Roundhouse in Camps Bay, with a stunning view of the 12 Apostles.
It was the first official wedding event for the 89 guests that had flown in from literally every continent (discounting Antarctica).
The wine flowed freely and the company was unbeatable.
Day 5: Historical City Tour & Lots of Eating
All morning over breakfast we went back and forth over how to spend our final day: wine tasting in Franschhoek or just take it easy in the city.
I always prefer to have at least one day in my itineraries without a strict list of things to see, where we can wander along with lots of food and drink pit-stops.
So that's what we decided to do.
We started the day on another free walking tour (the same company we went with for Bo-Kaap): a history tour of the city center.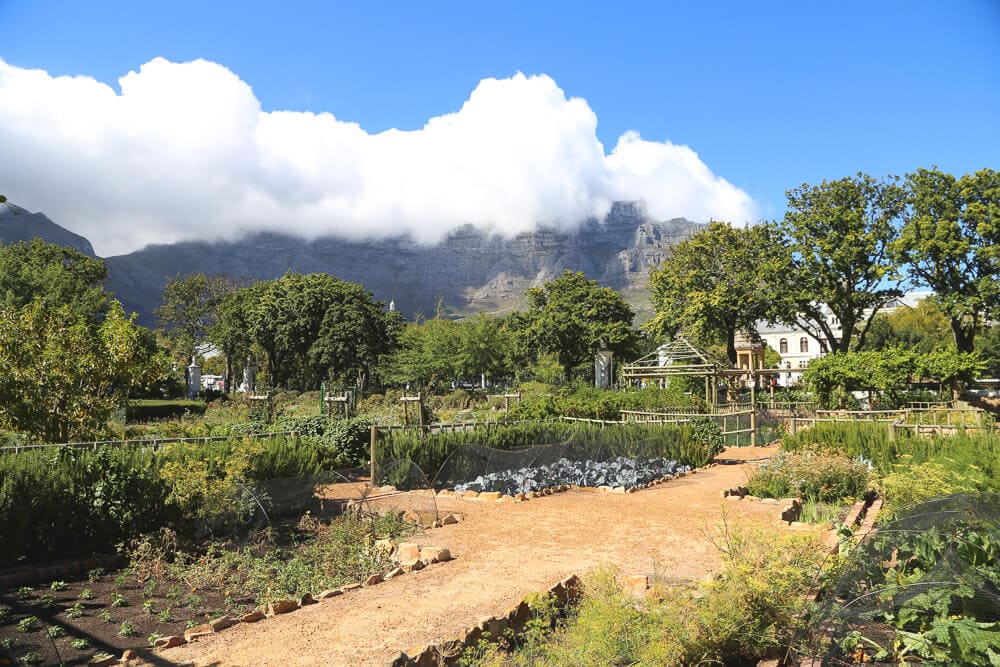 We started with the Company Gardens, Cape Town was founded as a glorified garden for the Dutch to use as a halfway point en route to Asia.
It helped avoid scurvy and also set into motion those beautiful vineyards that still flourish today.
The garden is still there albeit with different crops.
We also saw where Nelson Mandela made his first speech as a free man.
Our guide Rico explained so much about the history of the apartheid and posed for this picture, something that would have gotten him arrested only 26 years ago.
After the tour, we went back to Bo-Kaap for that Cape Malay food I had been dying to try all week.
We shared samoosas (how it's spelled in South Africa, not a typo), chicken curry, and bobotie at Biesmiellah, our guide had told us it was one of the best and I think she was right.
After lunch, we went to the Atlas Trading Company, also in Bo-Kaap, and stocked up on some serious spices at a seriously cheap price point.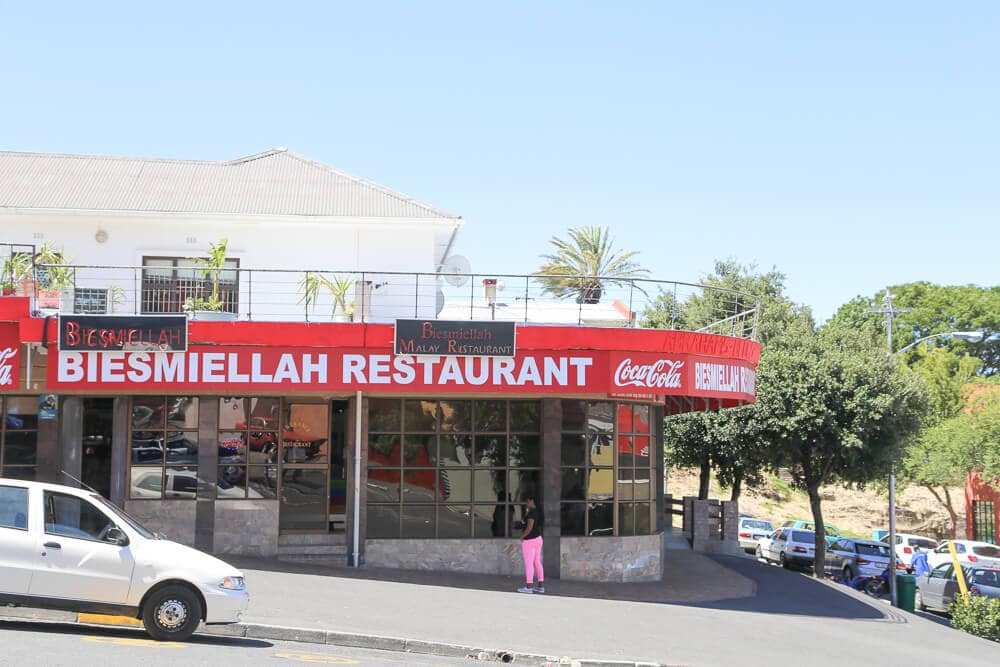 From here it just kind of snowballed, we ate and drank and ate and had coffee. We stopped for a gluttonous dessert at Honest Chocolate, AKA Heaven.
Then we strolled on back towards the Green Market Square area where we shared a bottle of Chenin Blanc, South Africa's specialty.
From here we walked back towards the District 6 area to Truth Coffee, AKA Hipster Mecca; all along the way snacking on samoosas I had bought that morning for 5 rand a pop at a street market because heaven forbid my sugar levels drop to a healthy level.
The hipster vibe at Honest Coffee was strong but the coffee was fantastic.
Martin got a coffee/orange juice "cocktail" served in a martini glass, it was a surprisingly tasty flavor combination.
This was an absolutely perfect day filled with so much amazing food and we were able to see most of Cape Town one last time.
It was our last day in the city and Cape Town by far exceeded my expectations.
5 Days in Cape Town Alternatives
Our the last day in Cape Town, we repeated ourselves by going back to Bo-Kaap. We also spent an entire afternoon lounging on the beach in Camp's Bay.
We would be spending a few days in wine country after Cape Town for the wedding so we could afford to be repeat offenders.
There is so much to do in Cape Town and if you'd rather not waste a day on the beach or return to a neighborhood you already visited, here are some great choices:
Wine Tasting in Stellenbosch
We actually spent 2 nights in Stellenbosch for a wedding after our week in Cape Town, and that's the only reason it isn't included in this itinerary (because I love my wine).
If you don't have time to spend a night or two in the wine country, then I recommend taking a day trip to Stellenbosch or Franschoek.
They are breathtakingly beautiful and the wine is excellent. And importantly, the tastings are affordable (we did one tasting for the equivalent of $3 US).
Wineries are best visited with a private driver, like this drive through the Cape Winelands.
Tasting South Africa's best Pinotage at four wineries tends to leave one unable to drive themselves back to the hotel at the end of the day.
Let a local pick the best vineyards and handle the driving to ensure the best day possible.
Reserve your Winelands day trip here.
Shark Diving from Cape Town
We went on this shark diving excursion in Gansbaai as part of our road trip before arriving to Cape Town but it's very common to go shark diving as a day trip from Cape Town.
I loved our shark diving experience! We learned a lot about the sharks and other marine life from our excellent guides.
We saw a lot of big sharks both from inside the cage as well as from the deck of the boat. It was a thrill to be so close to such a beautiful shark.
Visit a Township
We didn't visit a township on our first trip to South Africa and it was something I regretted, so when we planned our second trip to South Africa I booked a cycle tour of Soweto in Johannesburg. It was a wonderful experience.
It was educational and we met so many people.
Touring a township is an opportunity to see all aspects of South African life.
South Africa has a dark and turbulent history and I think it's important to do our best as visitors to learn the history of the country that has welcomed us so warmly.
Reserve a Cape Town township tour here.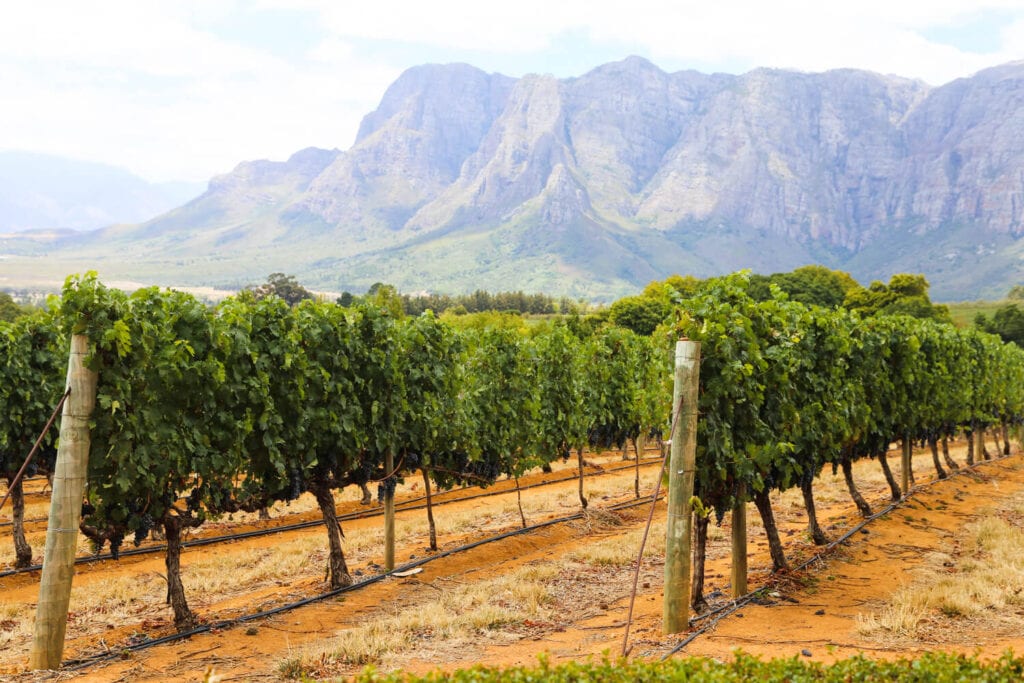 Keep Reading About South Africa:
Pin It For Later