Shewula Mountain Camp clings to the cliff's edge of the Lebombo Mountains in Eswatini.
Sleep in a rondavel and shower under the stars.
Disconnect from it all.
This post is a review of our stay at the mountain lodge in the eSwatini mountains.
QUICK NOTE: This post contains affiliate links and Sol Salute may receive a commission for purchases made through these links, at no extra cost to you.
2 Days in Swaziland at the Shewula Mountain Camp
In 2017 we flew through this tiny country, spending only one day in Swaziland.
It was a brief introduction, I fell in love with it and was left wanting to see more of Swaziland.
So when I was planning our second road trip across South Africa I budgeted for 2 nights in Swaziland, this time escaping into the Lebombo Mountains at the Shewula Mountain Camp.
This mountain camp in Eastern eSwatini (formerly Swaziland) is entirely managed by the local Shewula community.
When I heard of this small camp I knew we had to go, it even reminded me a bit of our stay at Mdumbi Backpackers on the South African Wild Coast.
If you're looking for an ethical stay in Eswatini, you've come to the right place.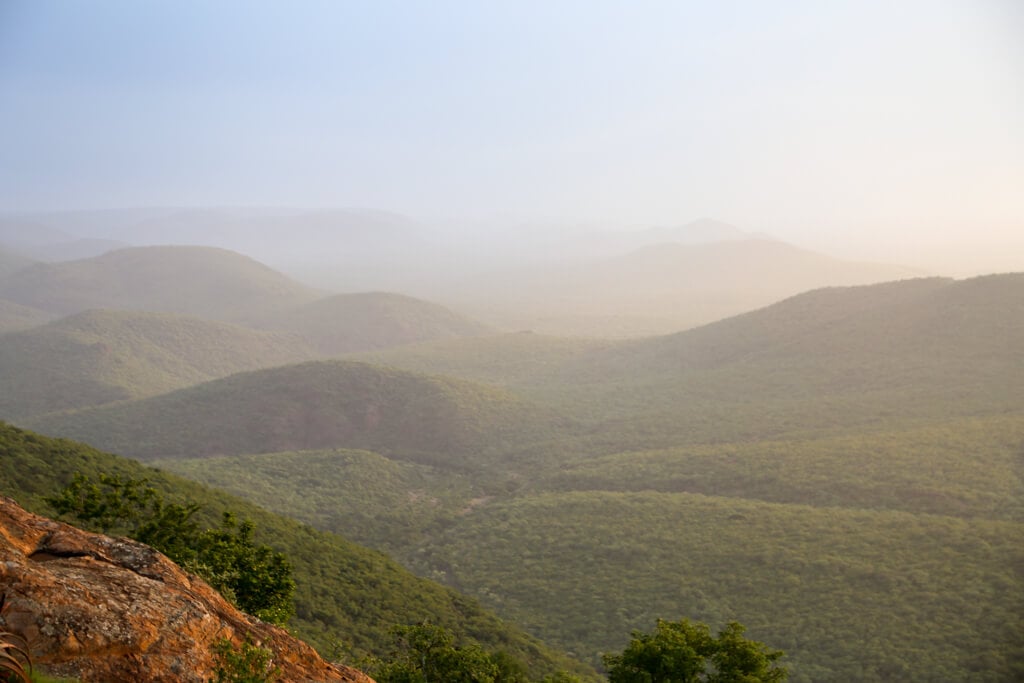 Where is Shewula Mountain Camp
Shewula is in eastern eSwatini in the Lebombo Mountains. While spending 14 days in Southern Africa, we drove up from St. Lucia to the south.
Most of the drive was very easy and quick on well-paved roads. But after passing Big Bend, we turned right onto the road from hell.
This road was covered with so many immense potholes that driving in a straight line or over 10 kilometers an hour was impossible. We slowly weaved back and forth, at times even dodging cattle.
Was it a difficult drive?
Yes.
But you're in Africa. Any road trip in southern Africa that takes you off the national highways will inevitably take you down a road that is more pothole than pavement.
We laughed our way through it, enjoying the absurdity of the fact that they were basically building a new road out of the shoulder rather than repair what already existed.
Once past Pothole Lane, it's pavement again and smooth riding.
Even the dirt road up into the mountains to the camp is in excellent condition. And once we got to Shewula and got a glance of the mountains in the distance, we knew every pothole had been worth it.
Read More | How we spent 2 weeks in South Africa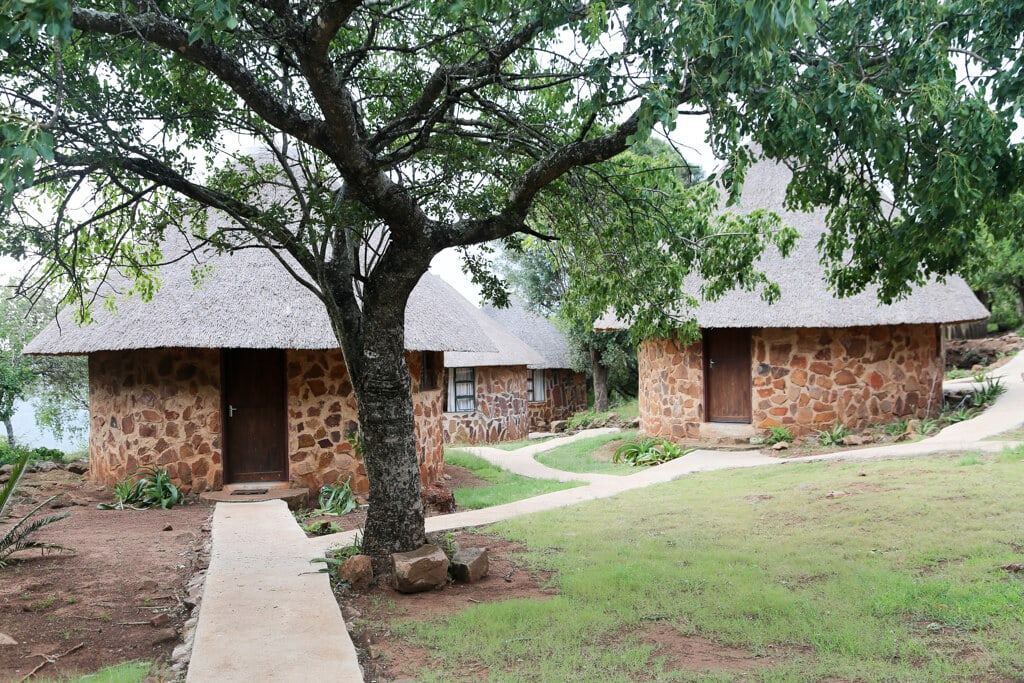 Swaziland accommodation at Shewula
We reserved a rondavel with an en suite bathroom.
There are three of these and I highly recommend trying to get one of these en suites. Our private outdoor shower had a view of the mountains!
The other rondavels share the communal bathrooms. The rooms were simple but comfortable.
There are also campsites for those with their own tents and supplies (but I'm no camper, I'm more of an en suite bathroom sort of girl).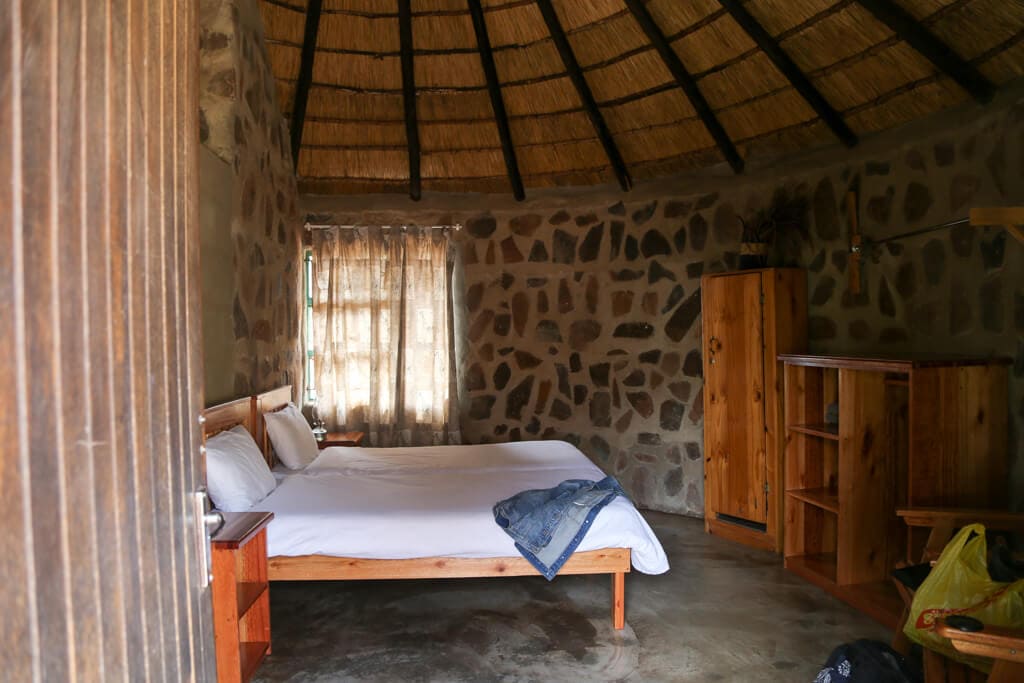 Meals at SHewula
You can self-cater here or eat what they're offering for dinner and breakfast.
We preferred not to cook or stand behind any hot stove after the sweltering afternoons we had.
Dinners were a little pricey around the equivalent of $10 US but they were easily the best meals we ate during our entire two-week trip.
The women cooked traditional Swazi recipes like chicken in a peanut sauce, spinach, butternut squash, and pap.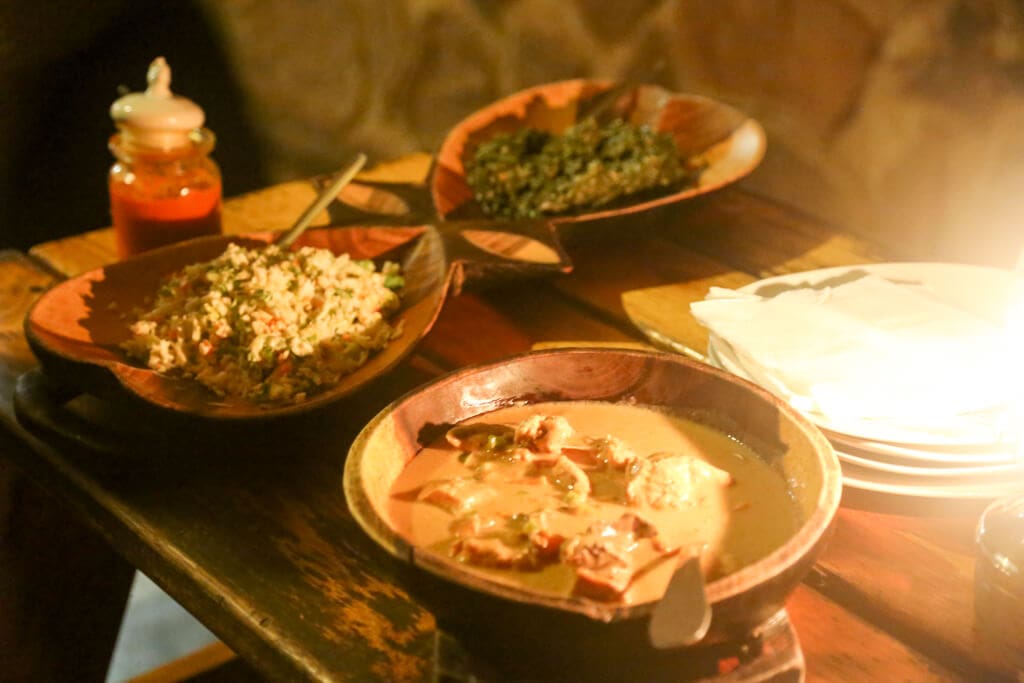 There's no electricity at Shewula but I didn't miss it.
There was something romantic about eating by the lantern's light. After dinner, they gave us solar-powered lamps so we could find our way back to the room, where we had two more lanterns waiting.
No electricity was really a non-issue. We started our days so early that after dinner we were ready to pass out.
But if you want to read in bed, the lanterns provide plenty of light (but maybe pack a backlit Kindle just in case).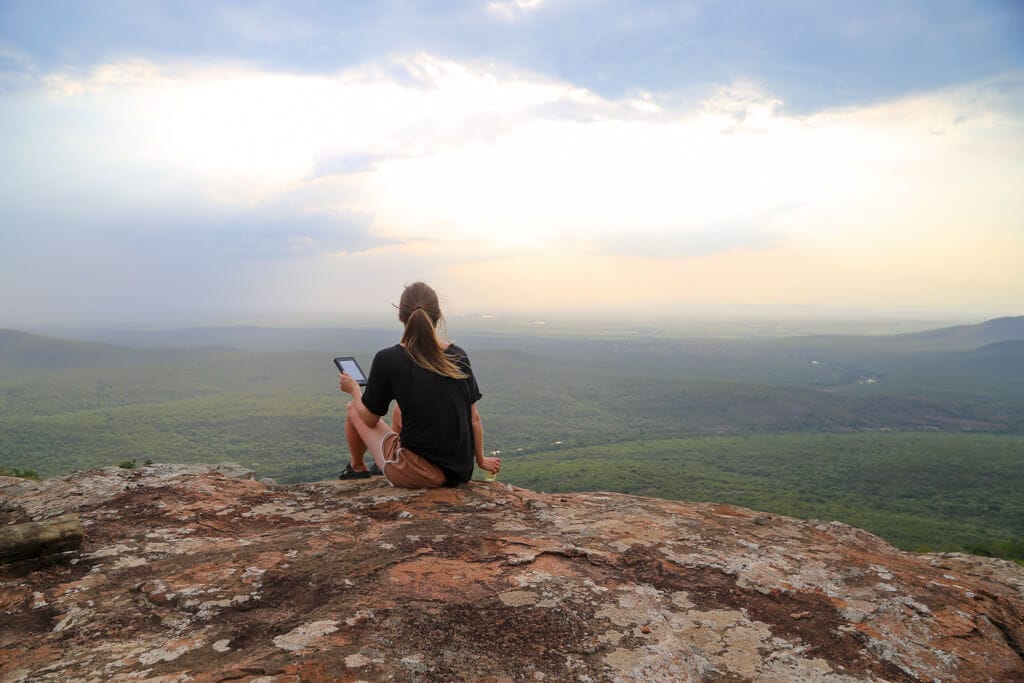 When to Visit Shewula
Y'all, summers in these mountains are no joke. This area of Swaziland is sweltering in the summer.
It's best to visit in the winter months of June or July.
We stayed for two nights in late November and literally melted. It was hot and very humid.
We clearly were the only ones not to realize this small but important fact, because there was only one other French couple in the camp while we were there.
I want to say it's still worth going in summer, because once the sun began to set and the temperatures lowered to comfortable levels it was stunning and I'm glad we went.
But if you have a choice, do yourself a favor and go in winter.
There isn't really anything to do in the middle of the day to escape the hot sun. There are no hammocks or pools (it is in the mountains after all) to find relief.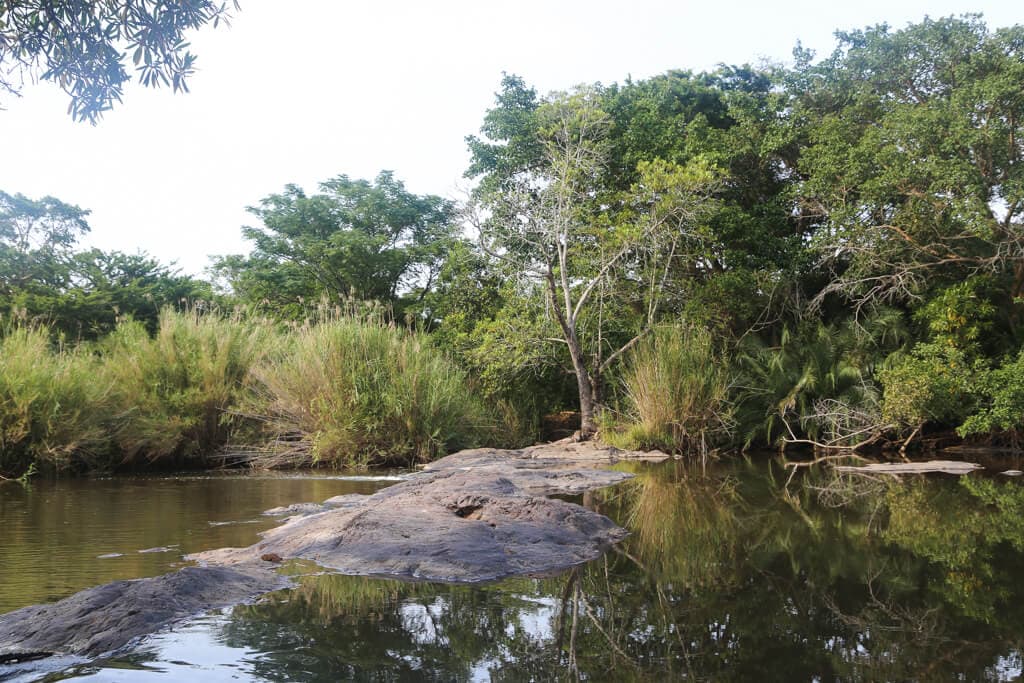 Activities in Shewula
During our two days in Swaziland this time, we managed to do quite a lot.
We hiked down to the valley, toured the village and were treated to a traditional dance.
1. Hike to the River
We planned to hike down to the river after breakfast, but when it's muggy and the sun rises at 5 am, I rise with it.
I was wide awake by 5:30 and there was no way I was going to just relax in that hot bed for three hours until breakfast. Also, starting the hike after 9 am seemed like a bad idea.
The temperatures were already intense before 6 am, what would it be like at noon? No thanks.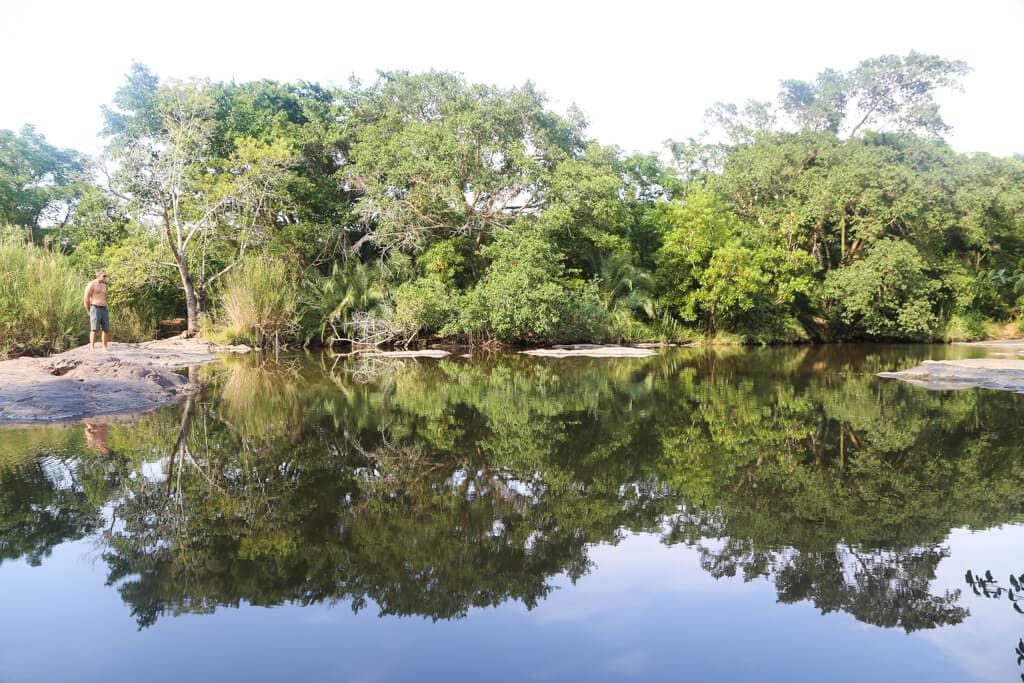 The hike isn't difficult skill-wise. The only challenge was the heat (did I already mention it was warm?).
Up at the camp we had a breeze since it's located on the edge of the escarpment. But once we started to walk downhill amidst the trees, we lost that breeze.
It was like a hot sauna.
Luckily, it was also very beautiful. I think it took us about an hour to get down and the same to scurry back up, but not before a well-earned rest by the water.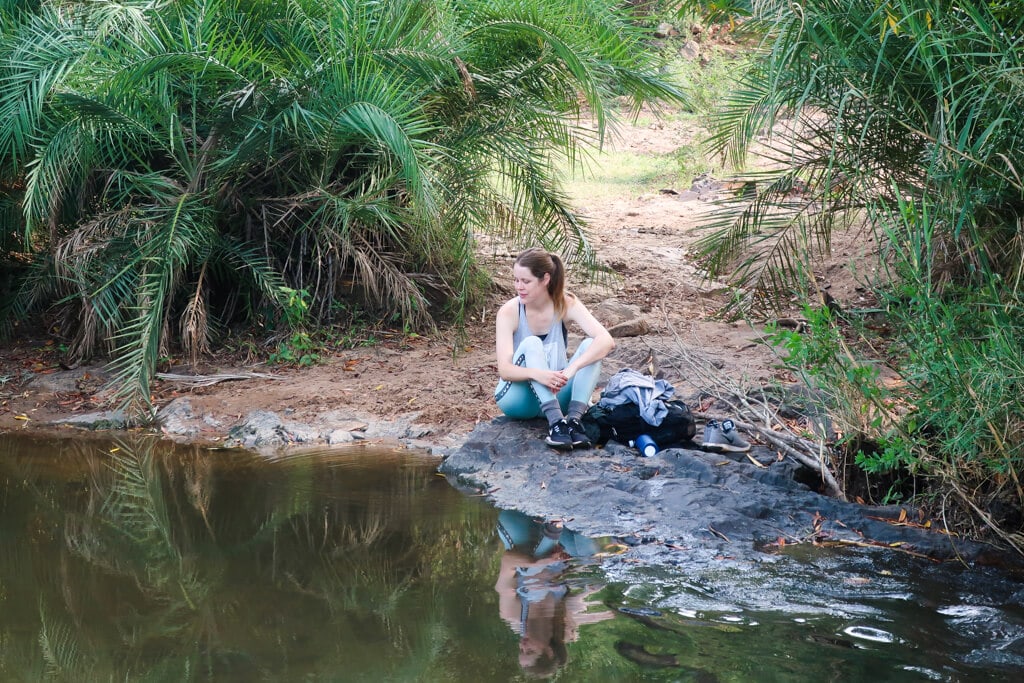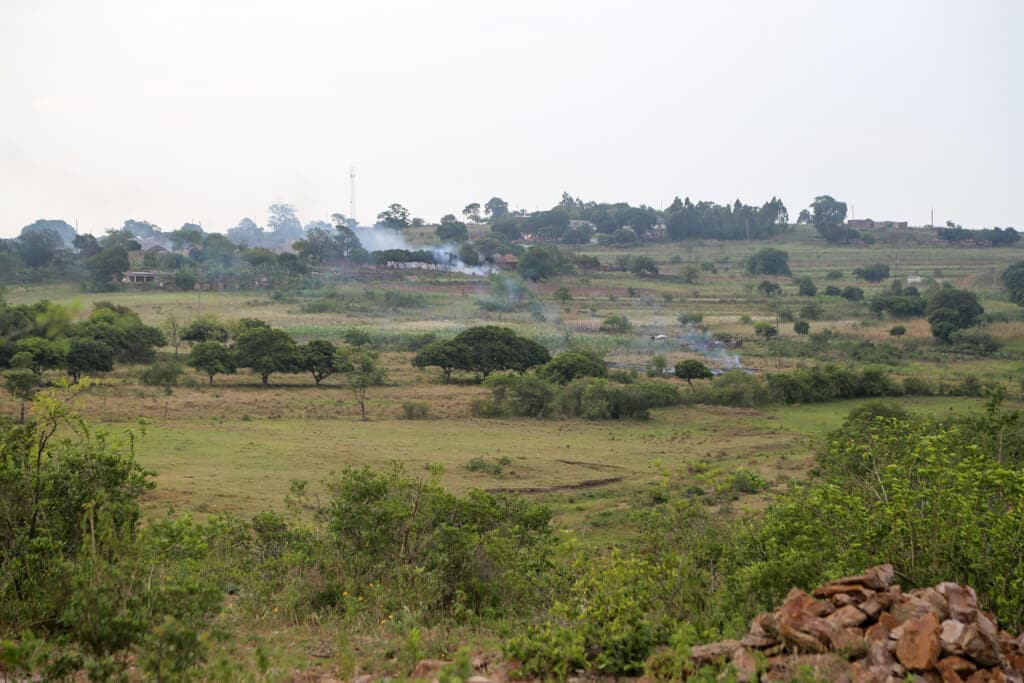 2. Village Tour
At 3 in the afternoon we met up with our guide to tour the village.
This isn't like the touristy cultural villages, not that there is anything wrong with those.
We visited the Mantenga Cultural Village two years ago and loved it, read about that here.
But this is a living village.
The Shewula community is a large, agricultural community and we explored a small part of it over two hours.
We started our tour by visiting a homestead. This woman was weaving a straw mat that will take her two weeks to complete.
She encouraged me to take photos and taught me how to weave and I think I slowed her down by a week.
I guess won't quit my day job since when I asked her if I was any good she only laughed.
She was very kind and loved hearing about our lives in Argentina just as much as we enjoyed hearing about hers here in Shewula.
We spent the next hour or so walking the paths through the village.
This area of the country is really beautiful. It's off the more heavily beaten tourist path to the west but should be on everyone's Swaziland itinerary.
We learned a lot about the culture and the Shewula people, staying in the mountain camp and touring the village was an experience I'll never forget.
3. Traditional Dance
When we got back from our village tour, a troupe of dancers was waiting for us.
The camp's management had arranged for the local dance group to perform for us and the other couple that was staying at the camp.
They were excellent dancers and the music was beautiful. It was the perfect ending to an already great day.
Stay at Shewula Mountain Camp
If you're planning your trip to Swaziland, I can't recommend the Shewula Mountain Camp enough. It is a beautiful community and they run this camp perfectly.
PIN IT FOR LATER