A lot of friends that are unfamiliar with Argentina ask me how I'm enjoying the beaches in Buenos Aires.
They imagine me sipping on a caipirinha or margarita on bright white sand in front of crystal clear waters.
Unfortunately, that's a hybrid of Mexico and Brazil and a figment of their imaginations.
The beaches of Buenos Aires are actually far less tropical, located on the Atlantic Ocean's cold, rough waters.
But wait, that doesn't mean they aren't beautiful!
We recently spent two weeks relaxing on Argentina's Atlantic Coast. If you're looking for the best beaches in Buenos Aires, keep reading.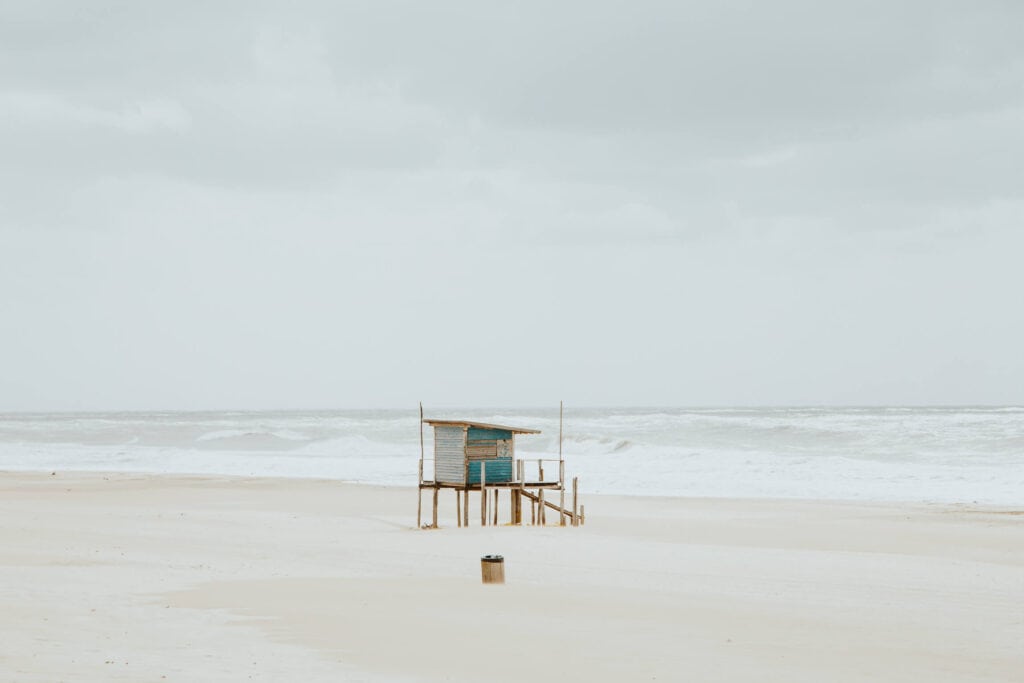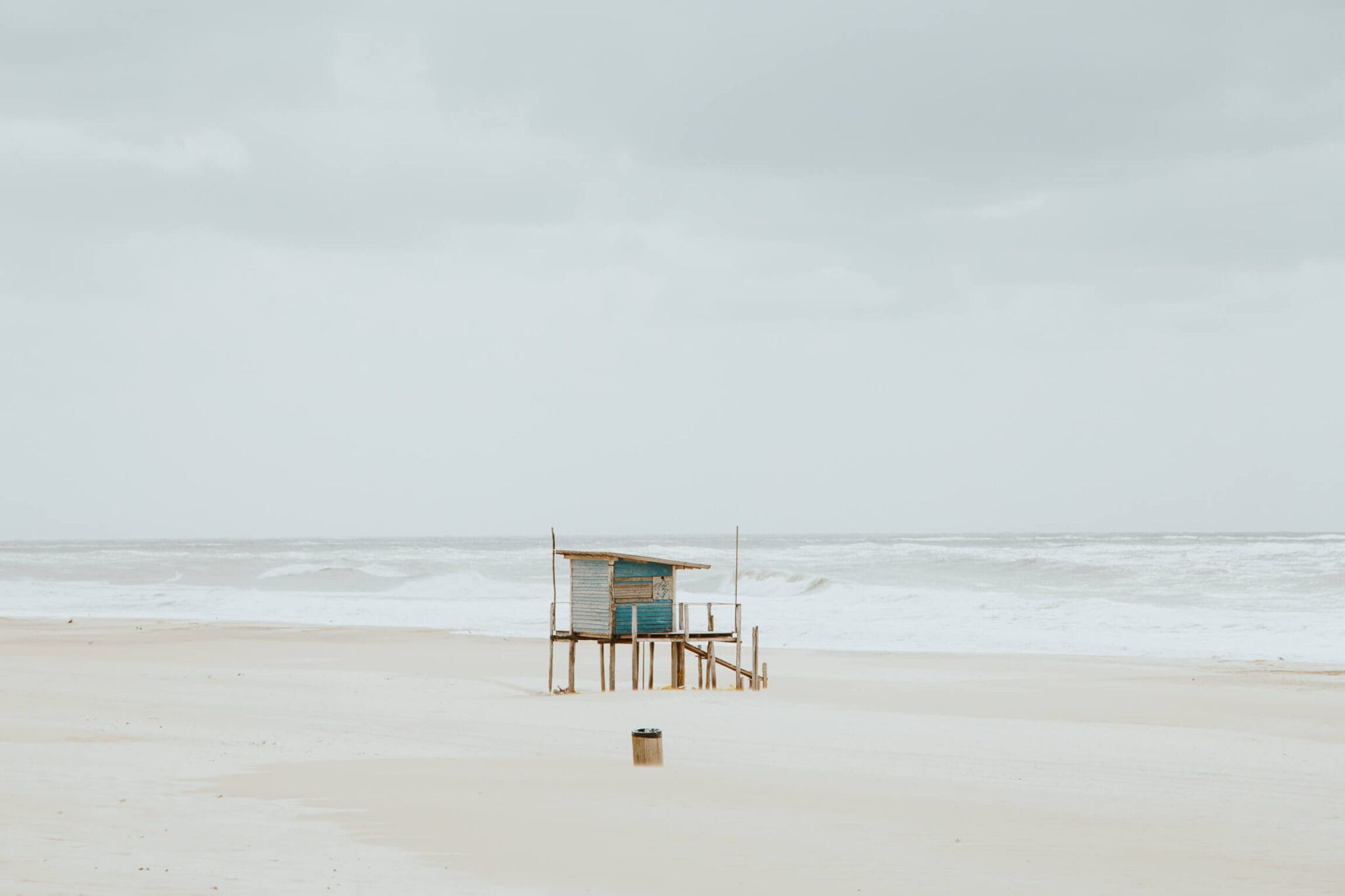 QUICK NOTE: This post contains affiliate links and Sol Salute may receive a commission for purchases made through these links, at no extra cost to you.
All About The Best Beaches in Buenos Aires
If you're in Buenos Aires and looking to do a little sun-worshiping, you may find yourself a bit lost.
Where are the beaches in this city!?
Well… they're not here.
The city of Buenos Aires is as urban as they get, and being located on a river, the Rio de la Plata, the beaches are actually hours away in the province of Buenos Aires on the Atlantic.
This post is a complete guide to help you navigate your Argentine beach holiday: where to go with a comparison of all the best beach towns, when to visit, how to get there, and what to pack!
Where are the best beaches near Buenos Aires?
If you're looking for a beach-like day trip near the city, there are riverside destinations just a short train ride away.
The small city of San Isidro to the north of Buenos Aires is the best place to enjoy the city's river.
There are restaurants with grassy knolls to enjoy picnics, windsurfing, kitesurfing, and kayaking. Peru Beach is the best place to go (warning, it's not actually a beach).
Check out these day trips from Buenos Aires for more rural escapes.
The best beaches near Buenos Aires that are actually beaches are 4-5 hours south.
NOTE | At the end of this post you'll find logistical tips like how to get there, when to go, and what to pack! So stick around until the end.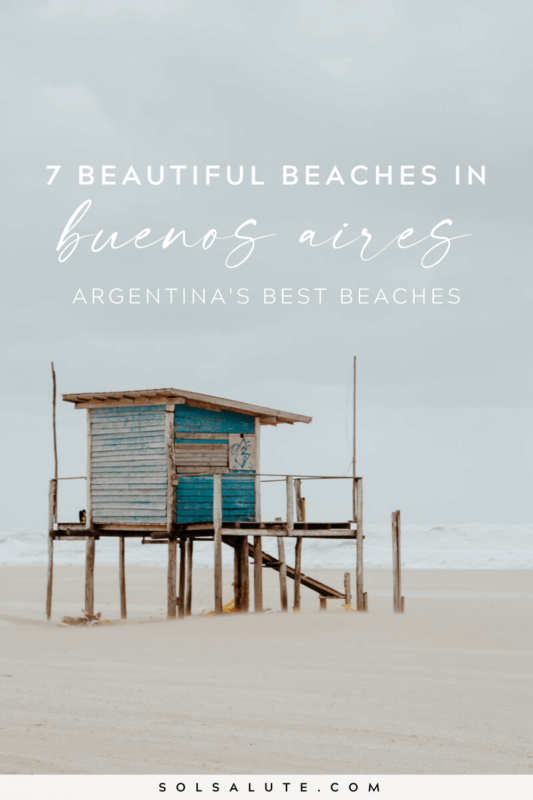 The 7 Best Beaches in Buenos Aires: Pinamar to Mar Azul
The beaches of the Buenos Aires province start about 4 hours south of the city.
There a number of small towns and larger cities that run back to back. While similar, they each have their own vibe.
These are the main beach towns, called balneários, in order from north to south.
1. Pinamar
Pinamar is one of the most popular beaches in Buenos Aires.
It's one of the larger, more upscale towns. The main strip is more like a small city with large apartment towers.
The residential streets feel a bit like a North American suburb, with manicured lawns and large, brick homes mainly built in the 80's.
Pinamar has the most paradores.
These beachside restaurants are social hubs that also rent out tents, umbrellas, and lounge chairs.
This makes Pinamar ideal for groups of friends think a 20's crowd, and young adults.
But, like all towns on this list, it's still family friendly. The entire coast is the perfect family holiday destination.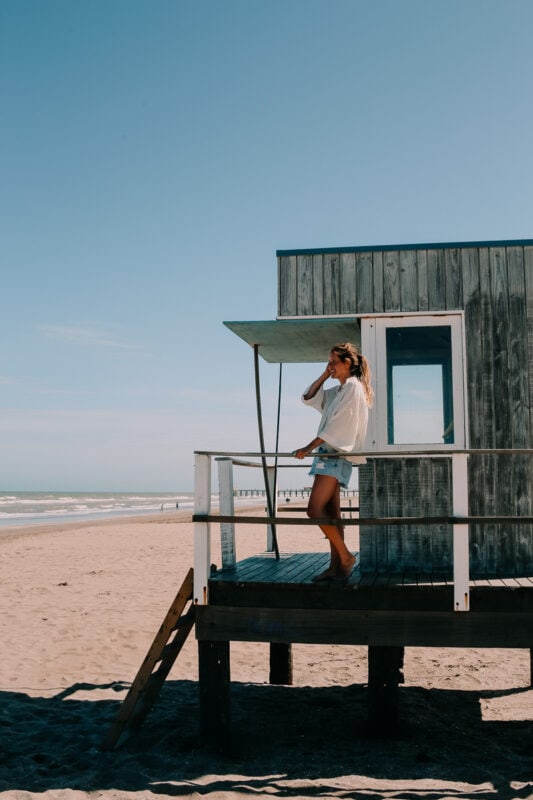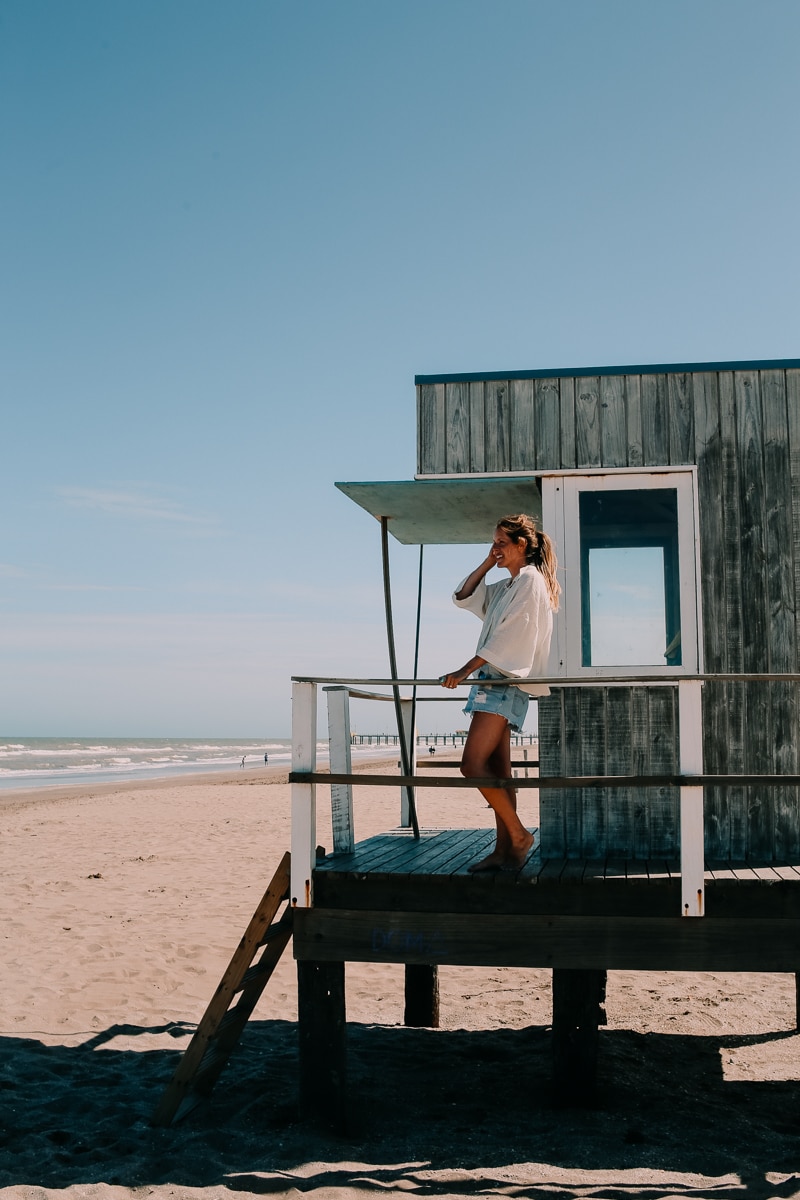 Things to do in Pinamar
Punto UFO is one of the most popular paradores and a good spot to use as a base on the beach.
For lunch, we got the lunch menu at La Gamba, it was great seafood for the price considering it was right on the beach.
Don't miss churros for dessert at El Topo or medialunas from La Girafa!
Where to stay in Pinamar
There are a lot of places to choose from in big Pinamar.
If you'd like a hotel, Hotel Reviens is excellent thanks to its close proximity to the beach and great pool.
I recommend, though, skipping the hotels and renting a house or apartment instead. Having laundry, a kitchen, and more amenities is a game-changer.
These apartments are new and modern and stunningly beautiful. They have laundry, a pool, a sauna, a gym, and basically anything you could think of.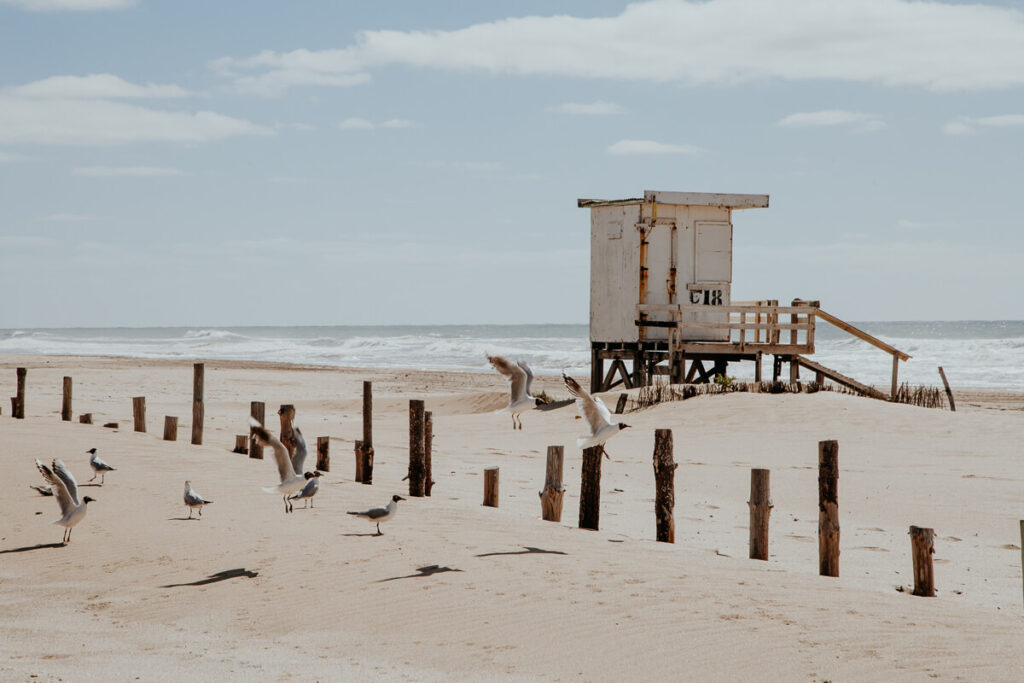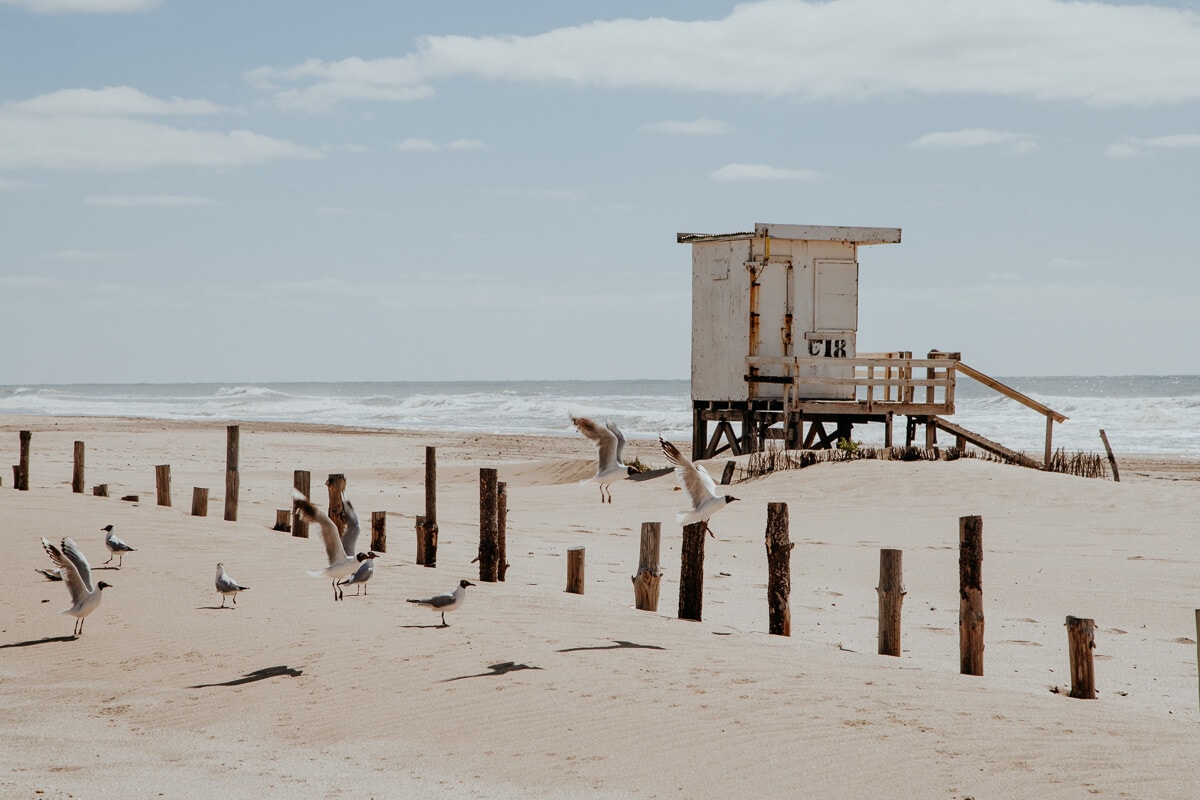 2. Cariló
Like Pinamar, Cariló is exclusive and upscale.
The tall pines tower in a canopy over the roads here, offering not only beauty but relief from the harsh sun.
Cariló's bosque is arguably the most beautiful forest out of all the beach towns on the coast.
The commercial center has plenty of restaurants and shops to keep you entertained but there are no apartment towers, just low single story shopping complexes and single family homes.
Things to do in Cariló
Parador Hemingway is one of the most popular.
You can rent a tent with lounge chairs for your family and friends. During season they even have a concierge service.
We just stopped by for lunch at the restaurant (choosing to enjoy more isolated, quiet areas of beach on the edge of town).
I recommend the seafood platter, catch of the day, and the clericot (similar to sangria)!
Parador Neruda Cariló is another option with similar offerings.
Where to stay in Cariló
Piedras Blancas is a small complex of apartments geared towards tourists.
It has a great location in the heart of the beautiful Carilo forest while still being close to the beach and downtown. They're comfortable with a living room and kitchen to feel like home in.
Another great option I love is Carilo Hills. It has that dated but fancy 80's vibe that is so very Carilo (with brick chalet-style walls).
It's just 300 meters from the beach and by the best restaurants. The common spaces are very nice, even with a parilla to grill like a local.
3. Villa Gesell
Villa Gesell is the largest city and is quite huge actually (on beach-adjusted terms).
It isn't particularly beautiful (to be generous) and gets very crowded.
The benefits are that it is the most affordable.
The bus terminal is also here. If you're traveling by bus from Buenos Aires, this will be your first stop.
Villa Gesell a popular destination with students and groups of friends on a tight budget.
This is my least favorite town along the coast and of all these Buenos Aires beach towns it is the one I recommend the least.
It's just too urban and city (and dated city at that) for my personal taste.
Where to stay in Villa Gesell
I know I haven't particularly sold Villa Gesell well, but it's a classic beach destination in Buenos Aires and whether or not it is my own personal cup of tea doesn't really matter.
If you want to base yourself in Villa Gesell, I recommend getting a room at Hotel Barracuda.
Full disclosure, this is a family business! But we visited said family there recently and I really did love this patch of beach. The hotel is vintagy, so if you want a modern, luxury stay this isn't for you.
But if you want to stay at a friendly, family-run property steps from the beach then Hotel Barracuda is perfect. It's a Villa Gesell classic.
You can smell the sea air from your room and have sand between your toes the second you step outside.
4. Mar de las Pampas
The three towns south of Villa Gesell are often grouped together: Mar de las Pampas, Las Gaviotas, and Mar Azul.
They border each other and if you don't know where one ends and the next begins, you might not even realize you've left one and entered the next.
Mar de las Pampas is the largest of these small balnearios.
The homes are beautiful and more modern, having been developed more recently (compared to Pinamar's 1980's vibe).
The commercial center of Mar de las Pampas is my favorite on the coast.
The shops and restaurants are tucked away among the tall pines. It is picturesque and a pleasure to be there!
Mar de las Pampas is great for couples and families. But since there are plenty of restaurants and bars, groups of friends who don't need the major social scene of Pinamar will love it as well.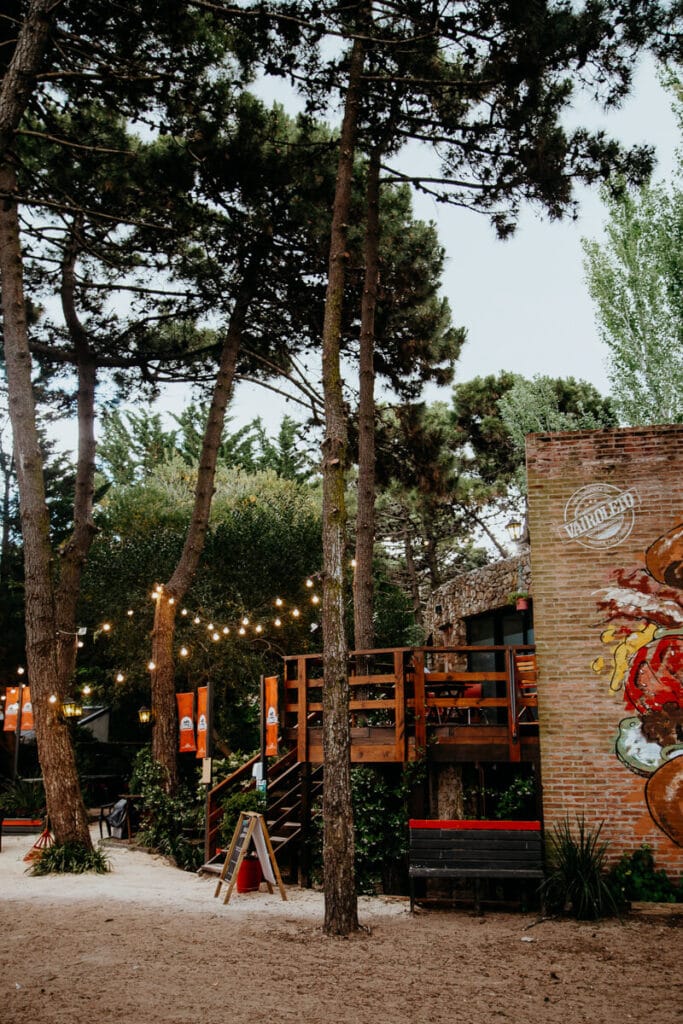 Things to do in Mar de las Pampas
On the beach there is one Balneario restaurant similar to the other town's paradores.
However, I recommend lounging on the beach on your own. The lifeguards here also set up and rent out beach umbrellas with lounge chairs.
In town, El Nido Bistro offers the best upscale dining experience in town.
We had burgers at Vairoleto for lunch and the entire area around it was my favorite.
With a lot of restaurants up on a hill under the trees it felt miles from the main road rather than just steps away.
Where to stay in Mar de las Pampas
I love Mar de las Pampas! The best option here is to definitely rent an entire cabin.
This cabin is perfect. It has the log cabin feel that is oddly right at home on the beach here thanks to the forests. It's just steps from the beach and downtown, you don't even need a car.
It's cozy and sleeps up to 6 so you can bring friends or the whole family. Rent the cabin here.
Another option is this group of cabins that a bit more modern (and share the grounds, a little less privacy).
If you'd like more infrastructure like a swimming pool, these vacation apartments are great (and have more of a hotel vibe).
5. Las Gaviotas
There's not much to say about Las Gaviotas. It consists of a few blocks sandwiched in between Mar de las Pampas and Mar Azul.
However, I am including it so that you can have it in mind when looking for accommodation.
The options here are mainly small apartment complexes. There also isn't as much forest here (so not a ton of shade on the roads/yards).
But it's a good place to consider for accommodation if you can't find anything available or within your budget in Mar de las Pampas or Mar Azul.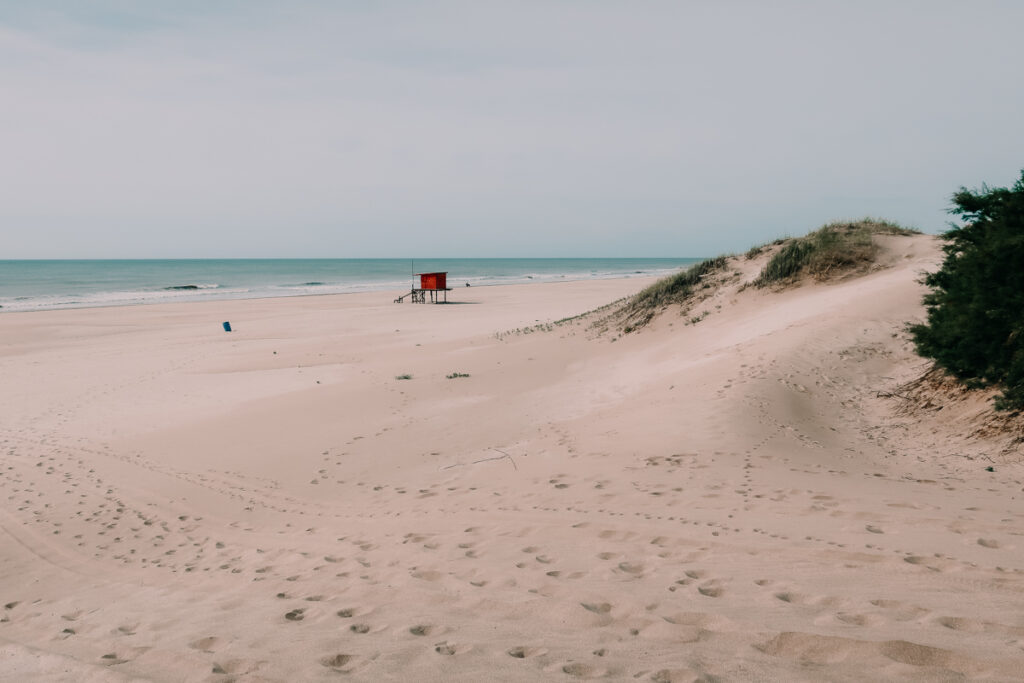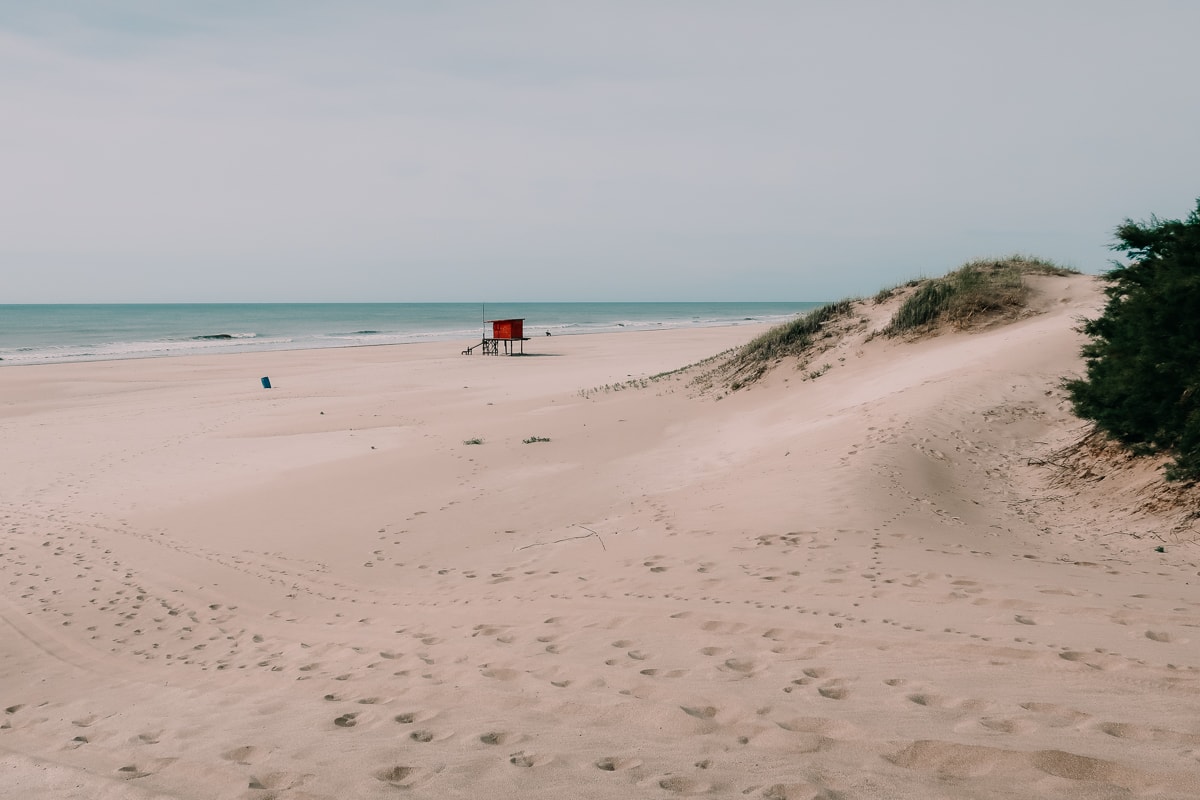 6. Mar Azul
Last but definitely not least, Mar Azul is my personal favorite. This quiet town at the end of it all to the south is the most rustic.
It's laid out in a grid pattern of sandy streets so calm that resident dogs take naps in the sand. There are no paradores on the beach, no upscale bars, and zero pretension.
Mar Azul is a breath of fresh air, figuratively and literally.
It's ideal for families and couples looking for peace and quiet. It's not ideal if you're looking to party.
The beaches are the widest, with massive sand dunes to climb up and over to reach them. If you can't tell, I fell in love with Mar Azul.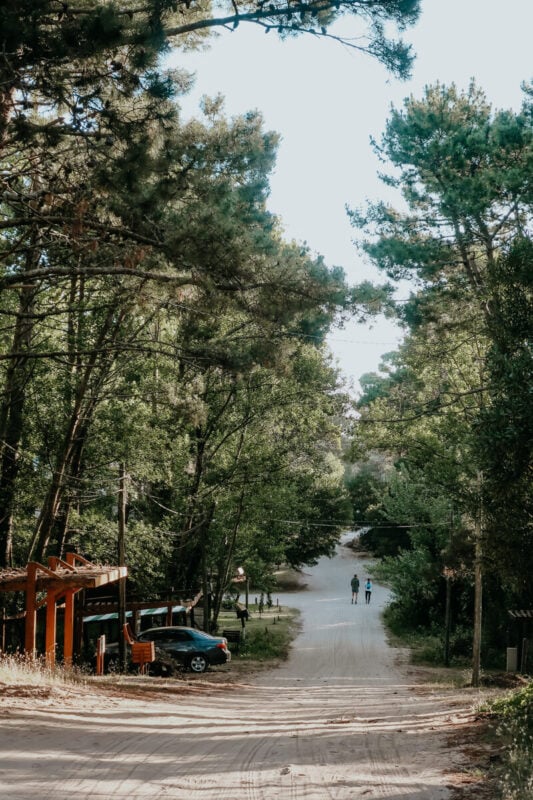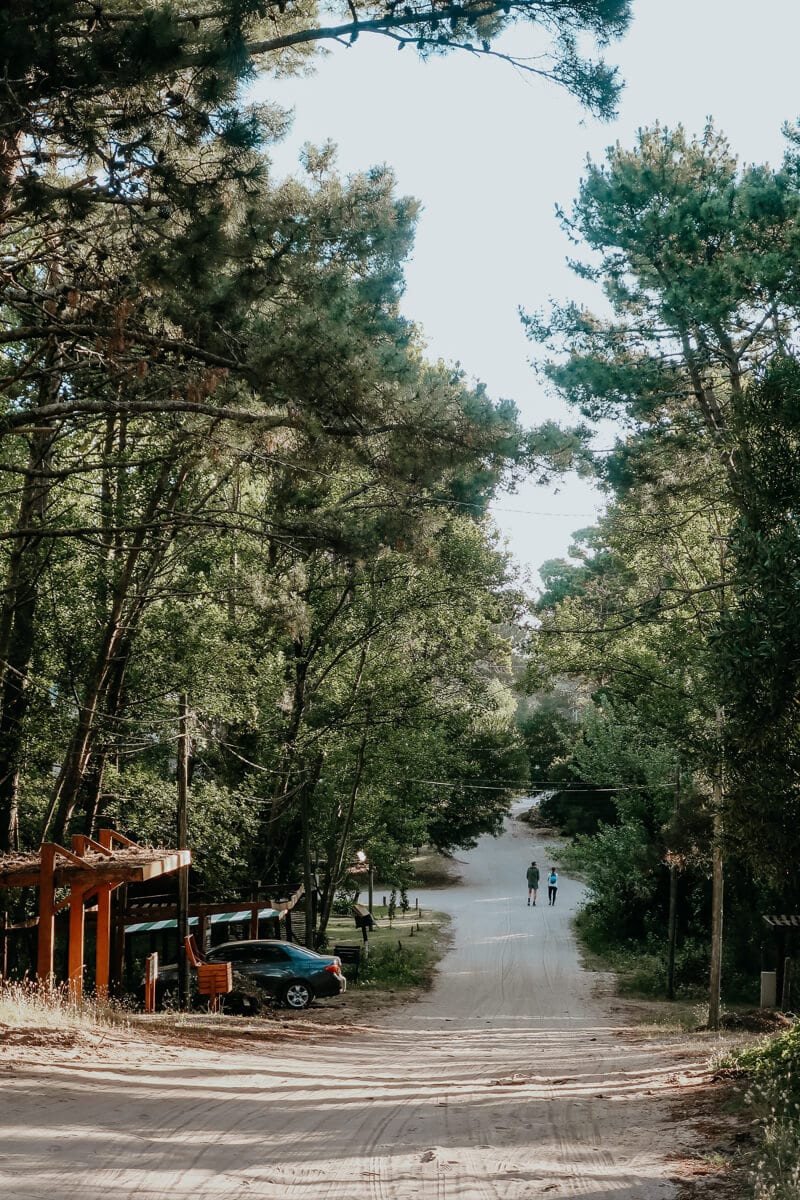 Where to go in Mar Azul
There are no beach bars here, pack your own beach chair and umbrella and pick a spot in the sand.
For lunch, enjoy huge portions of hearty homecooked food at La Silvana, with everything from classic milanesa to seafood filled tortilla.
For merienda/tea time or happy hour, go to La Zorra. They have pastry and cake for the sweet tooth inclined as well as excellent wines and cheeses for the wine lover among us (me).
El Topo Churros is a must-visit all along the coast and the Mar Azul location is no different. Get a dozen churros stuffed with dulce de leche! Peak hour will have lines, it's worth the wait.
For pasta, make a dinner reservation at Noi Due Resto, set in a charming cabin in the woods. They also have tea, cakes, and pastries in the late afternoon.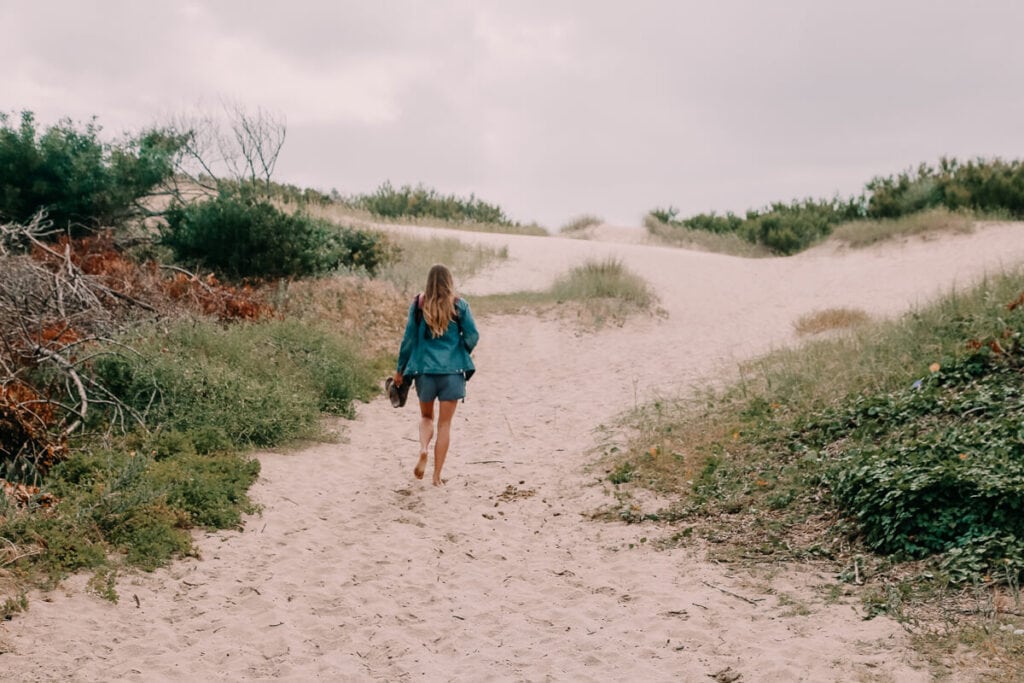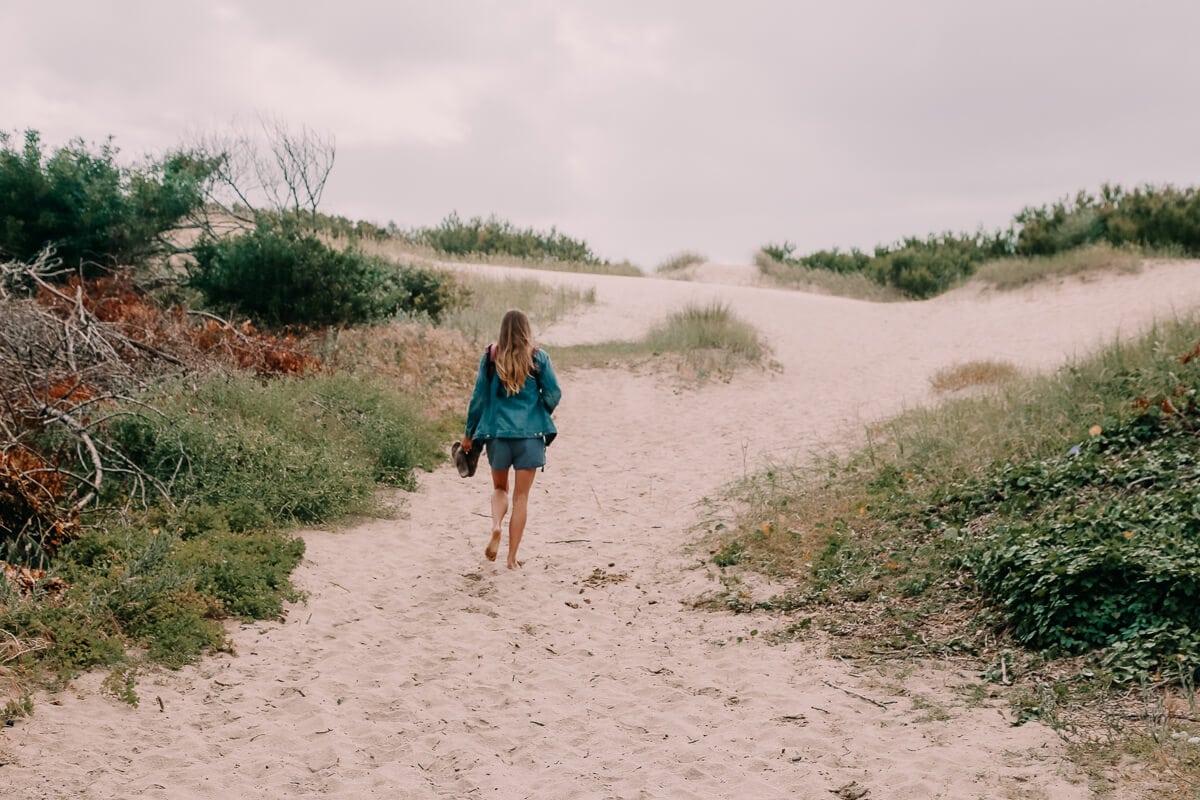 Where to stay in Mar Azul
My husband is an architect and we both love to walk so we walked down nearly every street in Mar Azul admiring (and maybe judging…) the houses there! There is a varied mix of mountain-like cabins, modern exposed concrete homes, and budget duplexes.
The southern half of town had the most tree cover which added not only ambience but also shade and comfort (compared to the blocks closer to Las Gaviotas).
I was very excited to find this house available online because we walked by it and admired it every single day. It's a modern 2-bedroom with walls of exposed concrete.
Another option are these apartments right on the beach. They're very isolated (at least a kilometer or two from town down the beach) so you absolutely need a car.
They're a unique option because you'd be very far from the crowds here due to its location but still have amenities like a pool and sauna.
Note: I'm not linking to the house we rented simply because it's not as easily rentable if you're not local due to language and logistical reasons. It's available for two weeks at a time with a formal contract you sign in person, if you're a local and want the contact email or comment below and I'd be happy to forward it on!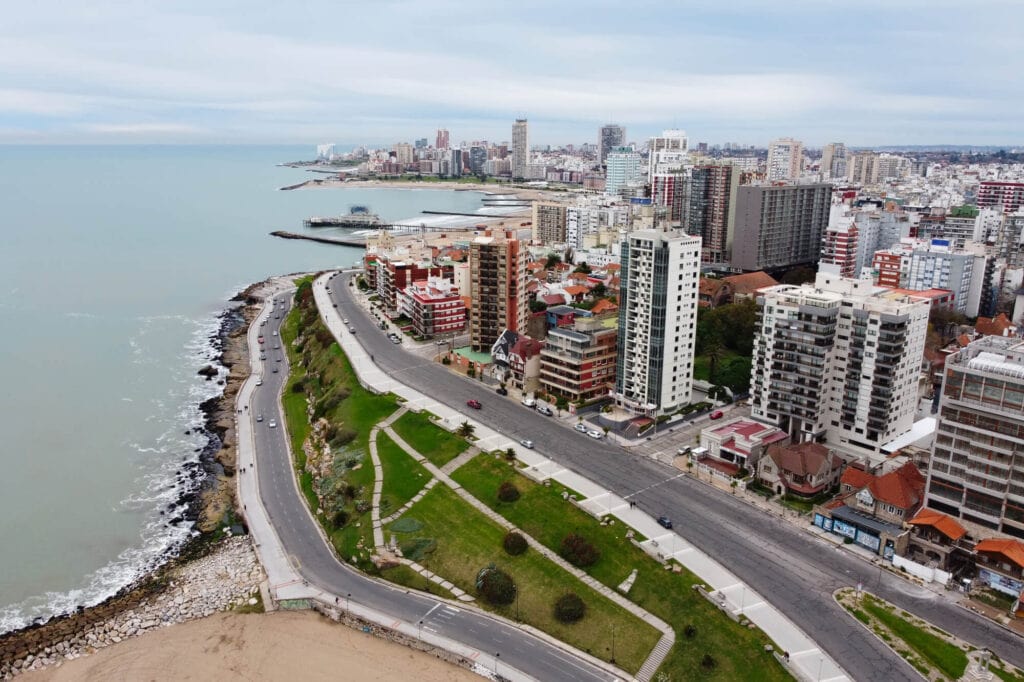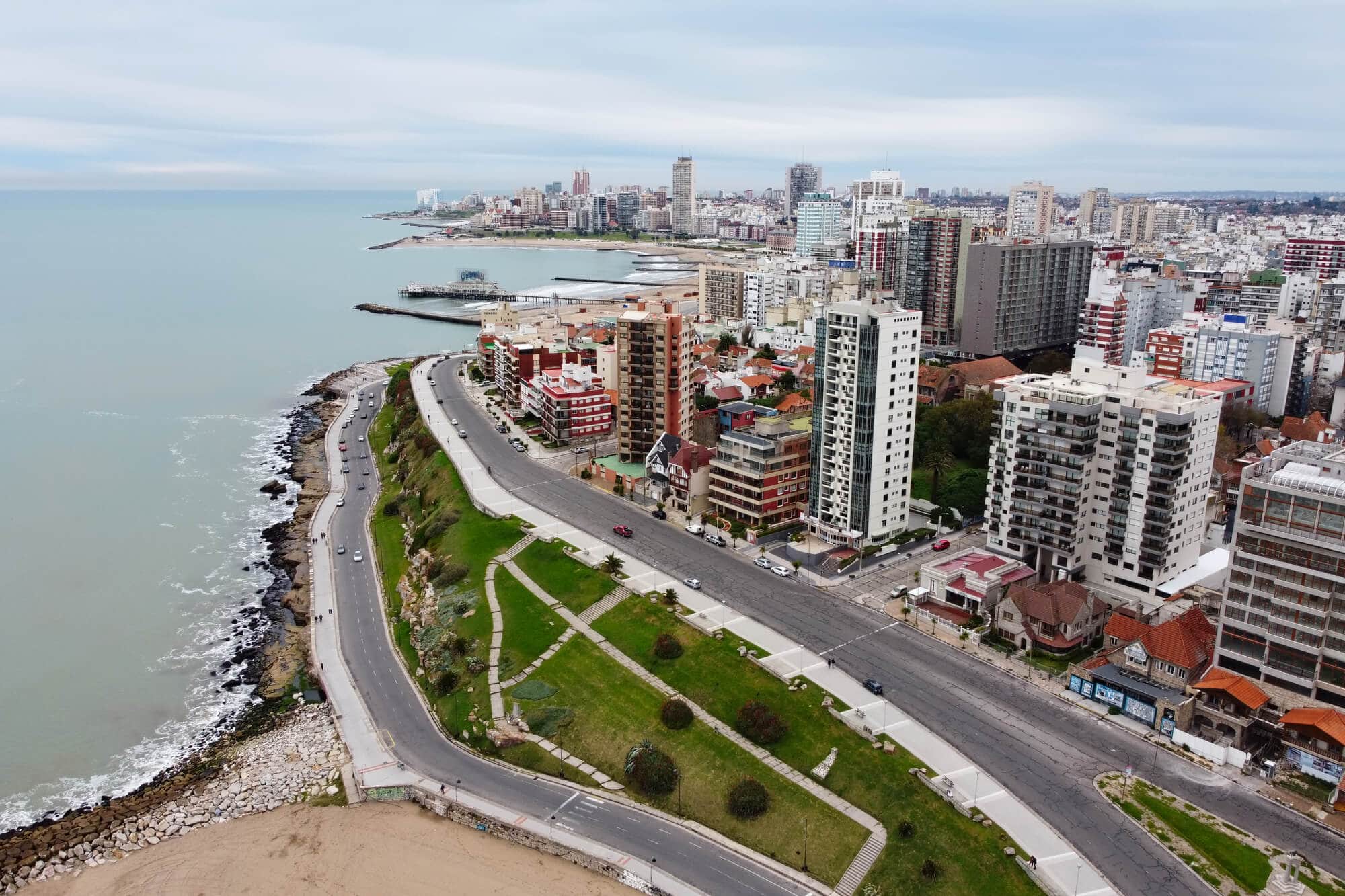 7. Mar del Plata
No list of beaches near Buenos Aires would be complete without Mar del Plata.
Mardel is the country's original beachside resort, founded in the late 1800's and booming into development when Peron built union hotels here.
Mar del Plata is a 4.5 hour drive from Buenos Aires and an hour and a half drive from Villa Gesell and the neighboring beach towns listed above.
It is a major tourism destination in the summer with huge hotels and beaches that crowd in sun bathers with towels edge to edge.
If you enjoy personal space and actually seeing sand and the horizon when on the beach, avoid Mar del Plata during high season.
As an established city there is a lot more to do here including museums, a casino, and cafes.
A sea lion colony calls Mar del Plata home as well, don't miss the live wildlife as well as the massive sea lion monument by the beach.
Where to Stay in Mar del Plata
Mar del Plata is the largest city with mostly big hotels, click here to see the best hotels in Mar del Plata.
Having not yet been to the infamous Mardel I don't have any personal recommendations to make but there is no shortage of choice in this resort town.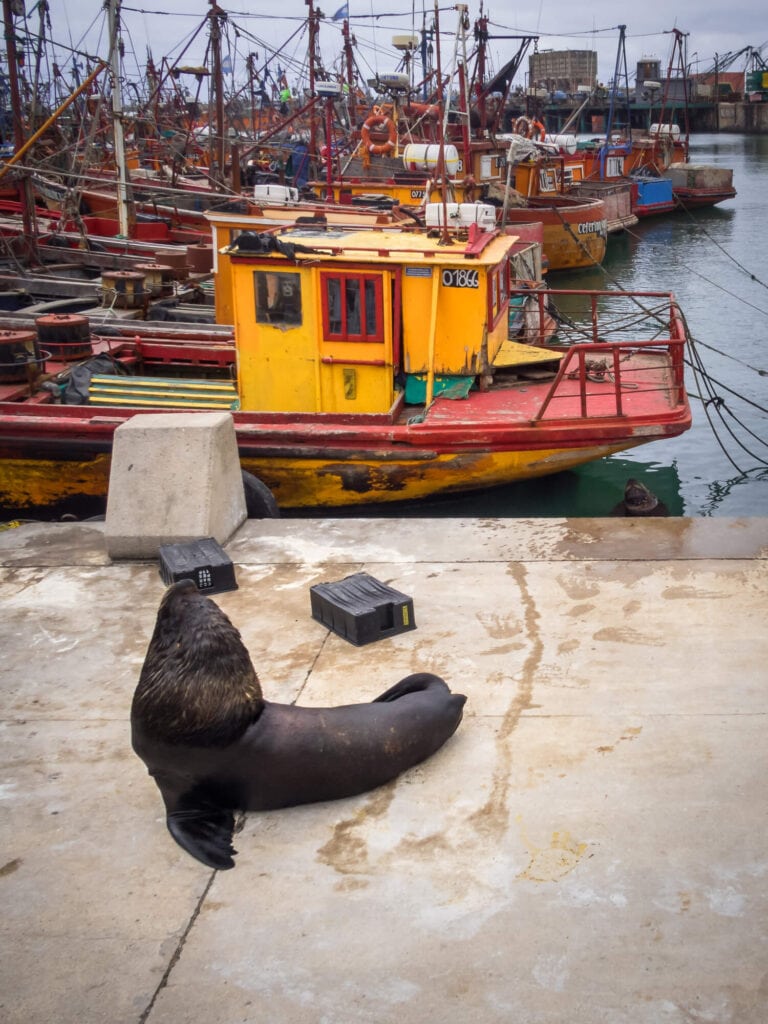 8. Other beaches south of Mar del Plata
As you move further south along the coast, you'll find more beaches to lounge your lazy bones on. Necochea is a big city, followed by peaceful Claromecó and then Monte Hermoso.
The drive is a bit longer as you have to first reach then cross the city of Mar del Plata.
In 2022, we spent a week in Chapadmalal, which is the first beach town south of Mar del Plata.
It's famous for its surfing and its rugged, gorgeous cliffs that border the beaches. We absolutely loved it!
Read More: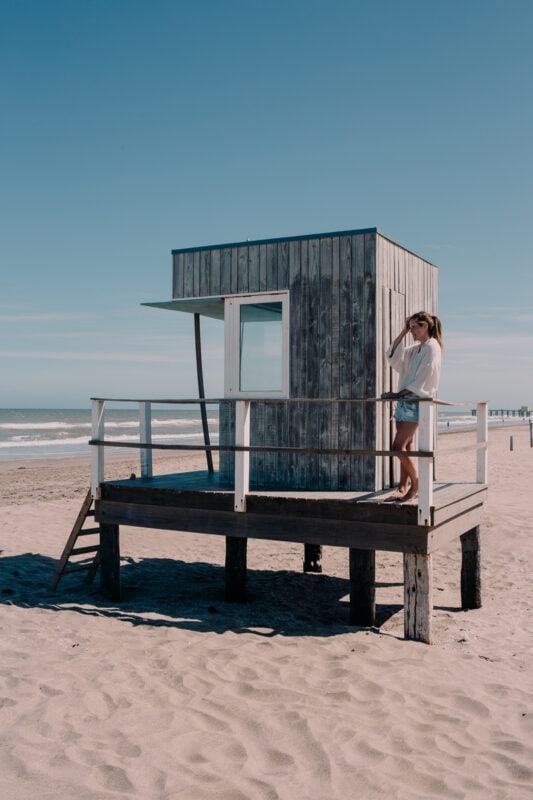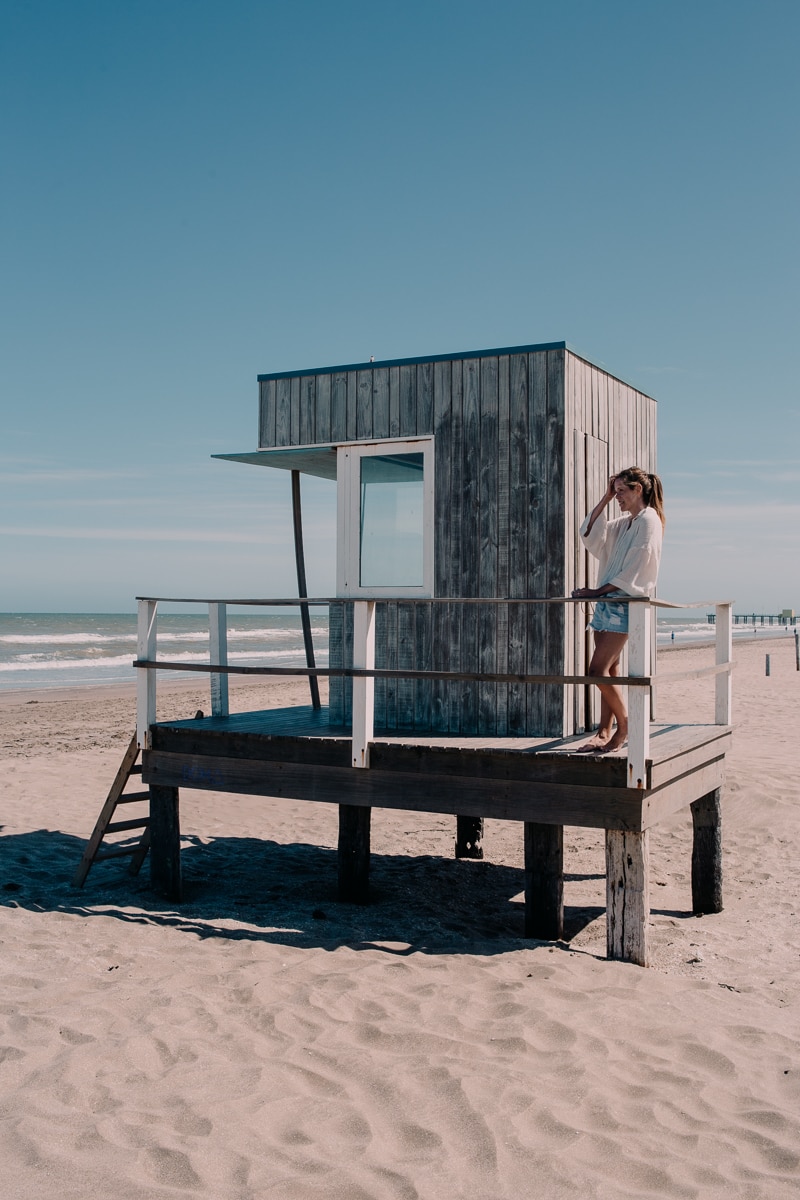 How to visit the Beaches in Buenos Aires
Hopefully now you know where you want to go, now what?
Keep reading for all the logistical information including how to get there, when to visit, and what to pack.
How to get to Buenos Aires' Beach Towns
You can reach Buenos Aires' beaches by bus or car.
Bus to the Coast
Long-distance buses are very common in Argentina and the 4.5 hour to the coast is one of the country's shortest and easiest rides.
Check the schedule, prices and reserve your bus tickets here at Plataform 10.
The departure terminal in Buenos Aires is Retiro, the destination is likely Villa Gesell (keep reading this post for more information) where you can take a remis (like a taxi) to your hotel or beach town of choice nearby.
Train to Pinamar/Mar del Plata
You can also take the train from Estación Constitución in Buenos Aires to either Pinamar or Mar del Plata.
The ride is 6 hours and it's very, very affordable.
Click here for more information or read my guide to traveling by train in Argentina.
Road Trip to the coast
Nothing beats a road trip and the freedom of having your own car once you're on the coast.
If you don't have your own vehicle, click here to compare rates and reserve a rental car.
While there is a public bus that connects the beach towns, it's much easier and more enjoyable to have your own car if you plan on exploring.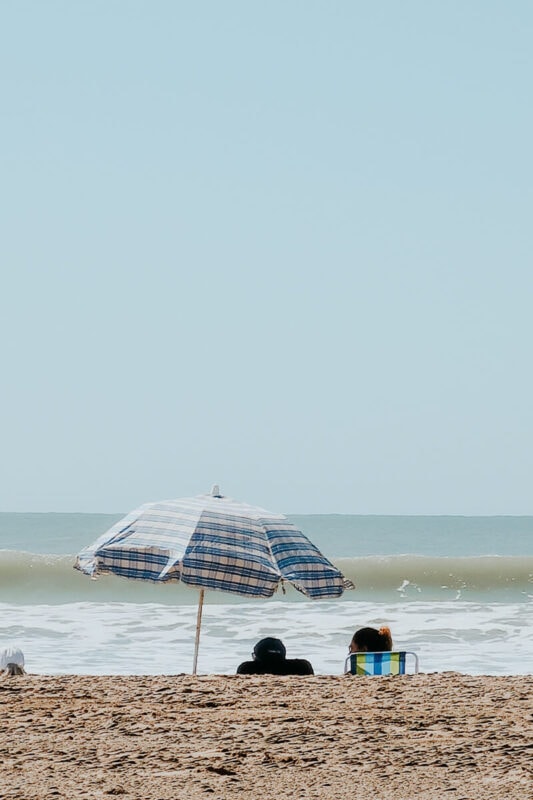 When to visit the beaches of Buenos Aires
Summer is the obvious answer, which is from December to February.
For the best summer experience without the crowds, late November through the first half of December is the absolute best time.
The weather is warming up, you'll get a tan and have the beach to yourself for very affordable hotel and dining rates.
March is another great option, with the weather still warm and the throngs of tourists having returned to the city.
Also, don't discount winter! While you won't get a tan, the coast is still a wonderful place to disconnect and relax in the cold months of June-August.
When NOT to visit the beaches in Buenos Aires
Avoid January and February at all costs.
Nearly all of the citizenry of Buenos Aires all take their holidays in the month of January. The vast majority choose to go to the coast.
The previously deserted beaches explode with tourists.
Unless you like spending a small fortune for a few square meters of crowded beach where you can smell your neighbors' yerba mate and cigarette smoke wafting over from a few inches away…. AVOID JANUARY.
That goes for February as well, which isn't as insane as January but is very close.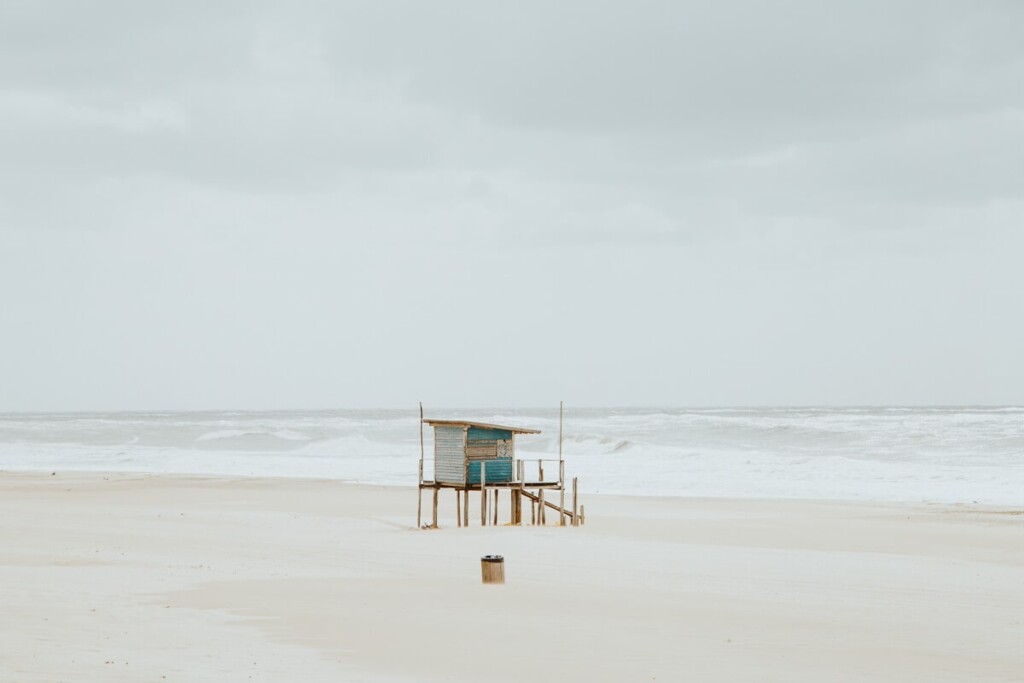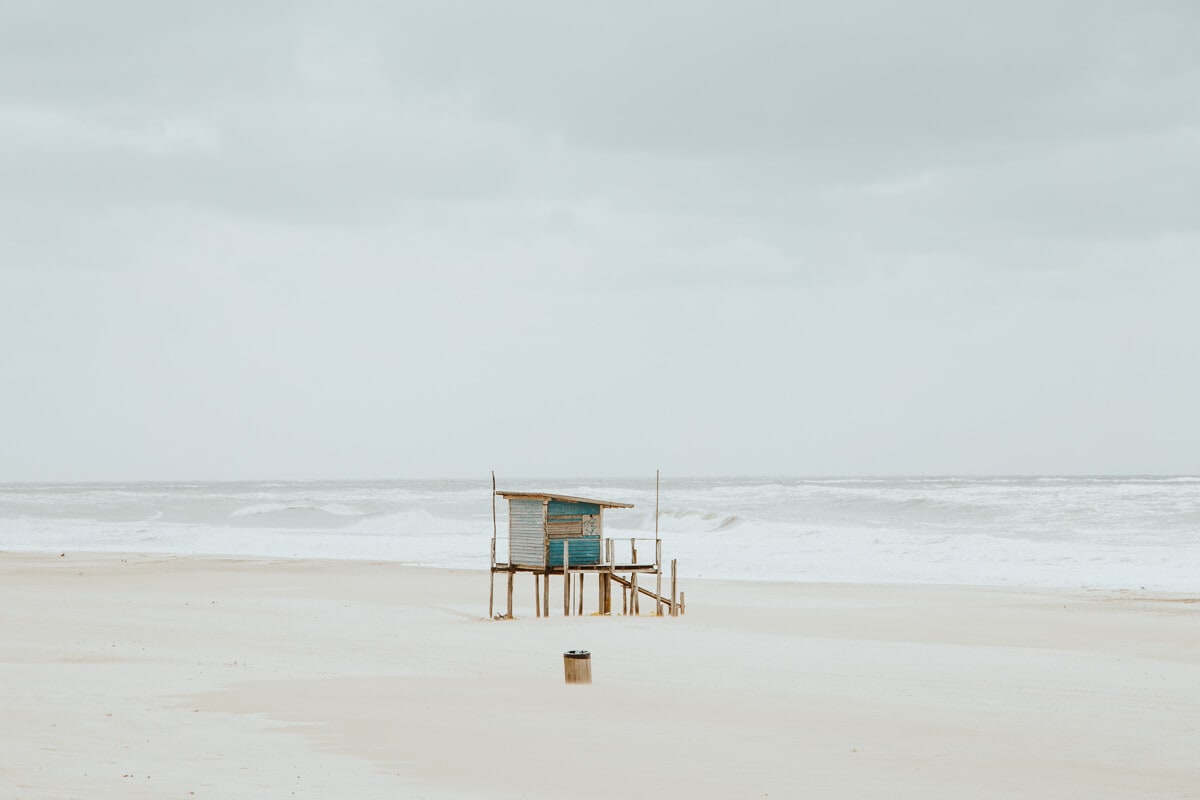 What to Pack for the Playas of Buenos Aires
Since beach holidays are fairly similar worldwide and packing for an Argentine beach vacation isn't exactly reinventing the wheel.
Bring sunscreen, a bathing suit, and a book and you'll be good to go.
But here are a few packing tips that will make your Buenos Aires beach vacay more comfortable:
It's Windy
The wind here is no joke. Mornings are typically calmer with the wind picking up as the day goes on.
If you have a beach umbrella or tent, pack it. We even saw people with camping tents set up.
The most common were beach umbrellas set sideways to block the wind.
BUT, don't worry, If you don't have one, there are shops in all the beach towns selling beach chairs, umbrellas, and beach toys for the littles ones.
Does your rental home provide linen?
Traditionally, most rental homes in Argentina don't provide sheets or towels.
Renting on Airbnb usually always requires these things but always confirm just in case.
It's a hassle but we had to pack our sheets and towels (blankets and pillows were provided).
WiFi can be spotty
In a bigger city like Pinamar or in homes closer to the action you're probably fine with WiFi, but our house was pretty isolated in the woods in Mar Azul and the WiFi NEVER worked.
We had data on our phones and were fine with that but if you need WiFi, check with your rental home about the internet situation.
Cafes in town are a good backup or pack a travel hotspot like this.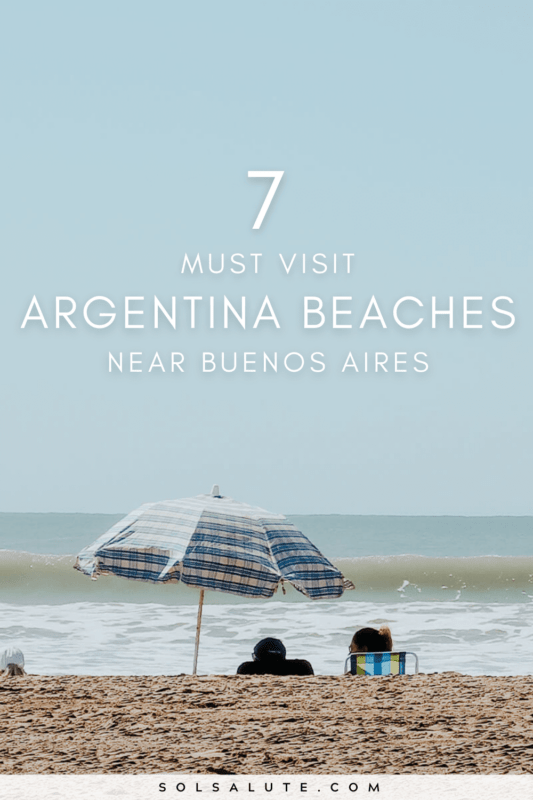 A Buenos Aires Beach Getaway
I hope that you feel ready to create you holiday getaway to the best beaches in Buenos Aires.
Argentina's Atlantic Coast is wildly popular with locals but remains a bit off the beaten path for international visitors.
But if you're looking to disconnect and relax a stone's throw from Buenos Aires, you won't regret a weekend in Pinamar or Mar Azul (or anywhere in between).
Have you been to the coast? What is your favorite beach? Or if you're going, where will you choose to stay? Let me know in the comments!
Argentina Travel Resources