Uruguay is a tiny little country wedged between its much bigger brothers, Argentina to the south and Brazil to the north.
Uruguay flies a bit under the radar but it deserves so much more attention than it gets.
I've lost count of the number of times I've been there over my many years living just across the river in Buenos Aires.
I've jetted across the Rio de la Plata to nearby Colonia, Carmelo, and Montevideo more times than I can count.
But there are so many other epic things to do in Uruguay I still haven't done.
The Uruguay tourist attractions at the top of my to-do list include a coastline that ranges from the lap of luxury to boho hippie chic, a rural culture that rivals Argentina's own gauchos, and its own wine region (I'm coming for you Tannat)!
If you're wondering what to do in Uruguay, this is the post for you!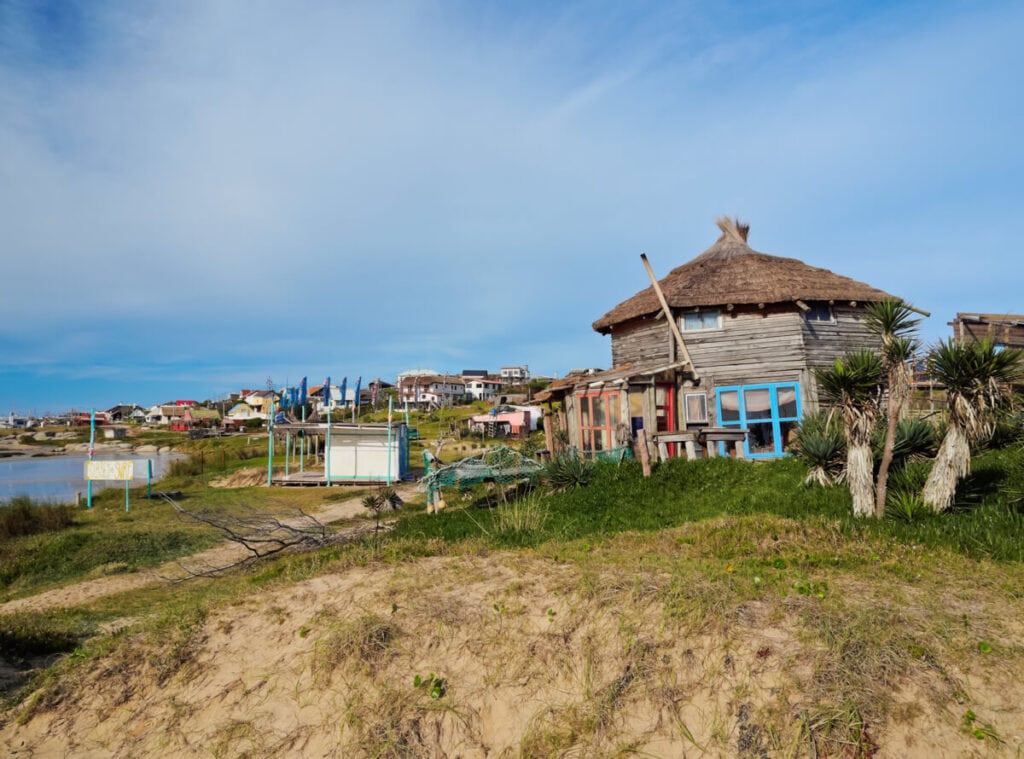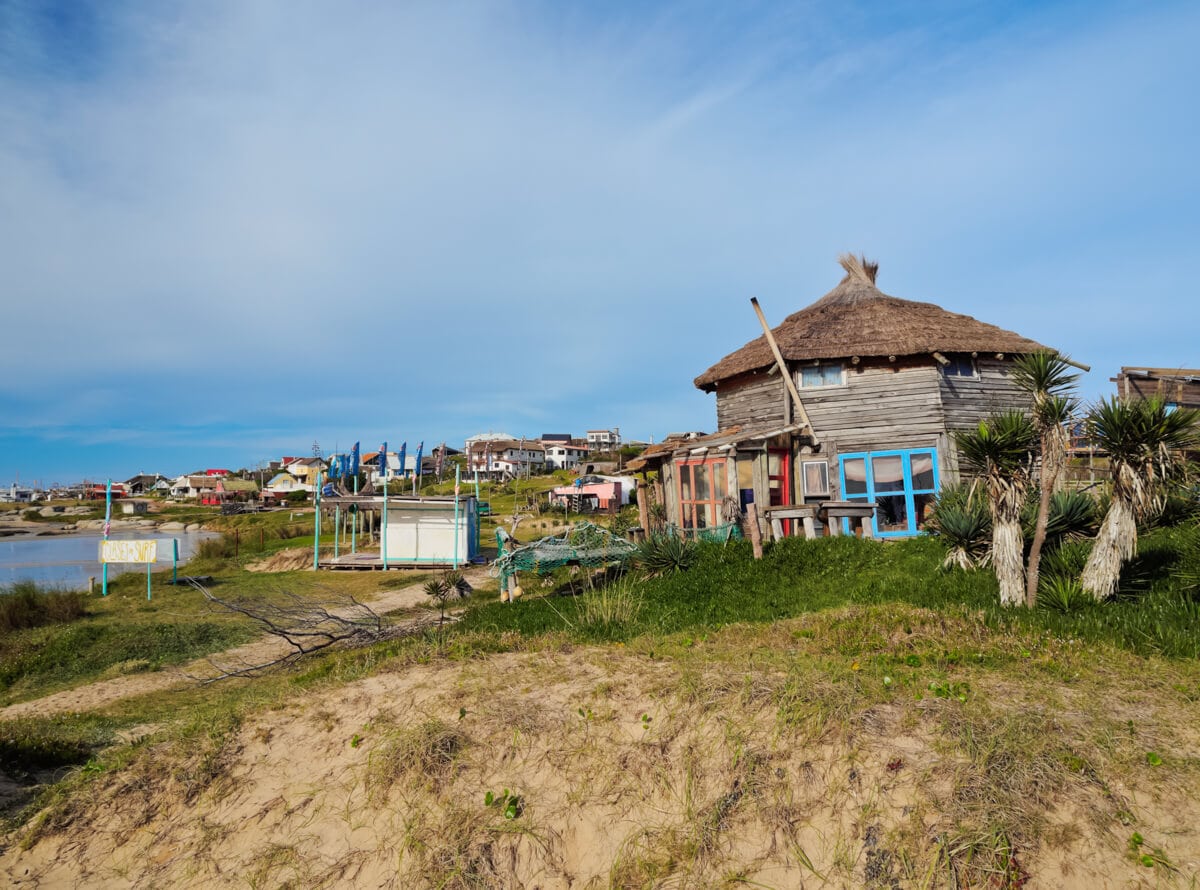 QUICK NOTE: This post contains affiliate links and Sol Salute may receive a commission for purchases made through these links, at no extra cost to you.
What to do in Uruguay
I'm desperate to dedicate more time to exploring my friendly neighbor to the north.
Ideally, with a road trip from my home here in Argentina all the way northwards along the Uruguayan coast (river and ocean).
So to hold us over until that epic road trip materializes, I've turned to some of my fellow travel bloggers to find out their favorite Uruguay points of interest.
If you're wondering what to do in Uruguay, this post is for you, with the best tips straight from the pros.
They've definitely added to my Uruguayan wanderlust.
Quick Tips For Traveling Uruguay Tourist Attractions:
Rent a car! Uruguay is a small country, ideal for a road trip! Pick up a rental car in Montevideo or Colonia del Sacramento and cruise up the coast.
Go off the beaten track into the rural interior. You can't go wrong and you won't be spending hours traversing long distances in a country of this size. Check rental car rates for Uruguay here.
Try the local food: Chivito (meat-heavy sandwiches), Pamplona, Yerba Mate (they love it even more than Argentines!) and Tannat red wine.
When to visit Uruguay? The busiest season is the summer. Punta del Este is one of South America's top New Year's Eve party cities and in all of January the beach cities come to life.
Make reservations well in advance if traveling then. Get excellent weather and fewer crowds by visiting in the shoulder season (November/Early December and late February/March).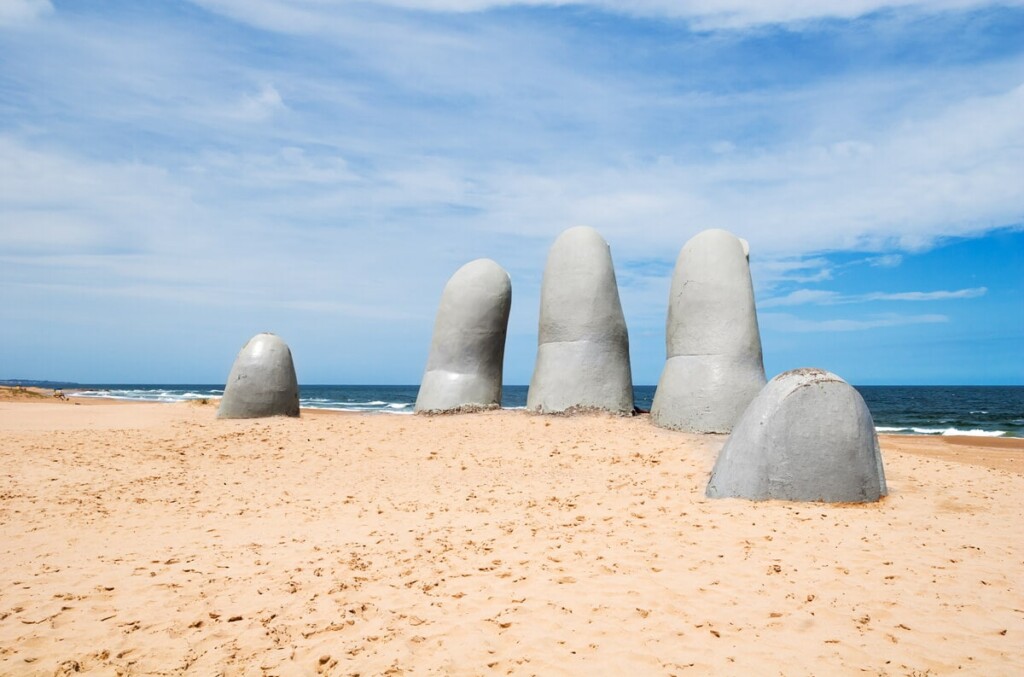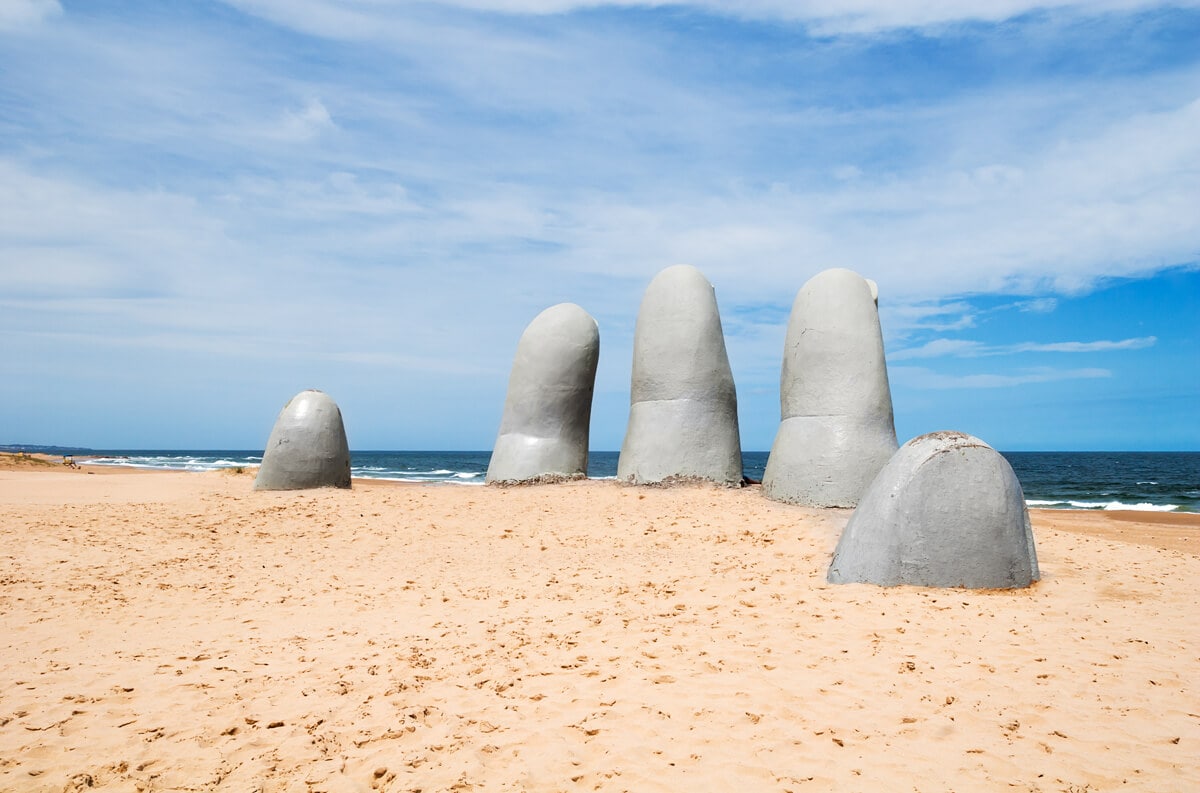 The Best Things to do in Uruguay
Beach, ranches, wineries, colonial towns and more, here are the best things to do in Uruguay.
Relax in Colonia del Sacramento
The tiny historic center of Colonia del Sacramento is one of the most popular day trips from Buenos Aires.
It was settled by the Portuguese in the 1600s and the vibe couldn't be any more different than the hectic mess that is Buenos Aires.
Spend the day in Colonia by taking the ferry over, the three main companies offer day trip excursions designed to help you maximize your day in Uruguay.
It is compact enough to see everything in a day at a very leisurely pace.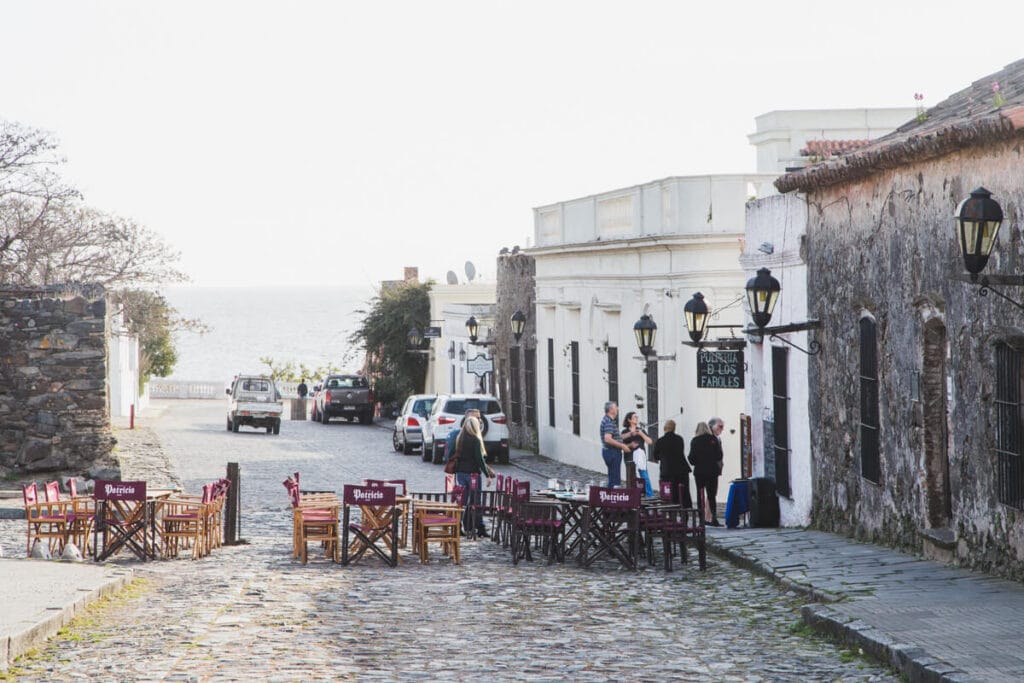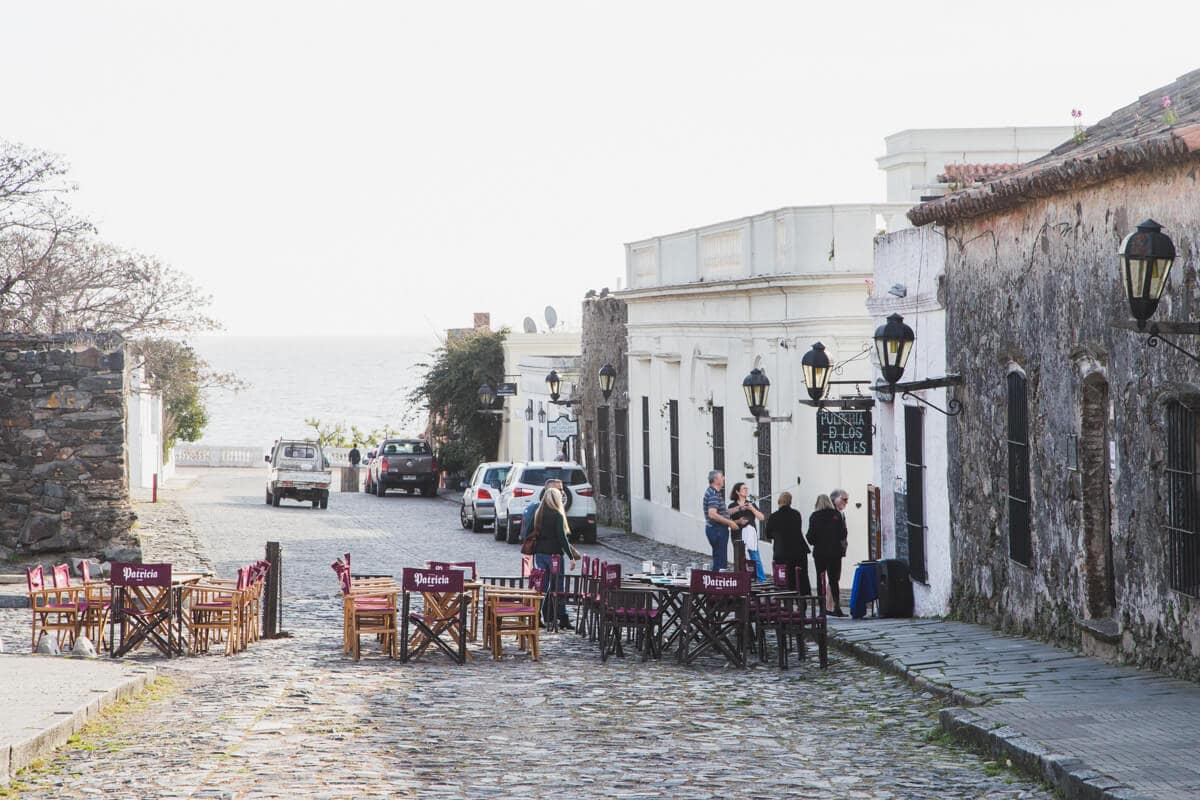 Climb to the top of the lighthouse for a panoramic view of the town and river below. For lunch, make sure to order a chivito, a classic Uruguayan sandwich (for meat lovers), and a glass of Uruguayan Tannat wine.
Otherwise, the best things to do in Colonia is really nothing.
Amble the cobblestone streets, relax on a bench on the pier or find a beach for a nap.
When I can't take the big city life anymore, an afternoon of fresh air and relaxation in this small town always sets me right.
If you have more time, I recommend spending a full weekend in Colonia.
Cute bed and breakfasts in the historic center are waiting to pamper you.
For more information read my Complete Guide to a Colonia del Sacramento Day Trip to plan your day there!
Go Wine Tasting in Carmelo
Submitted by Rebecca Arnold at Rebecca and the World
Uruguay's next-door neighbor, Argentina, may get all the attention as South America's top wine producer, but it's clear that people are now clueing in to the fact that Uruguay can produce some pretty tasty drops as well.
Uruguay's specialty is the Tannat grape, which produces a deep, full-bodied, heady red wine.
One of the country's wine hubs is Carmelo, an enchanting town just an hour north of Colonia del Sacramento.
It's a great town to add to a Uruguay road trip – who doesn't want to start a road trip (safely) exploring local wineries?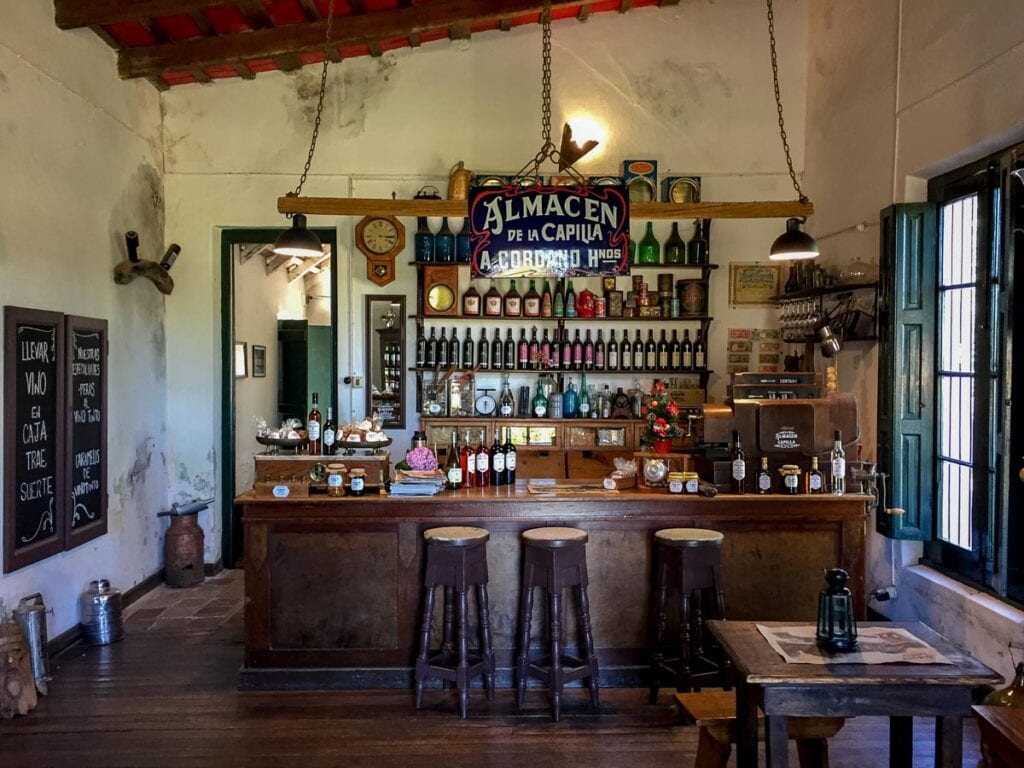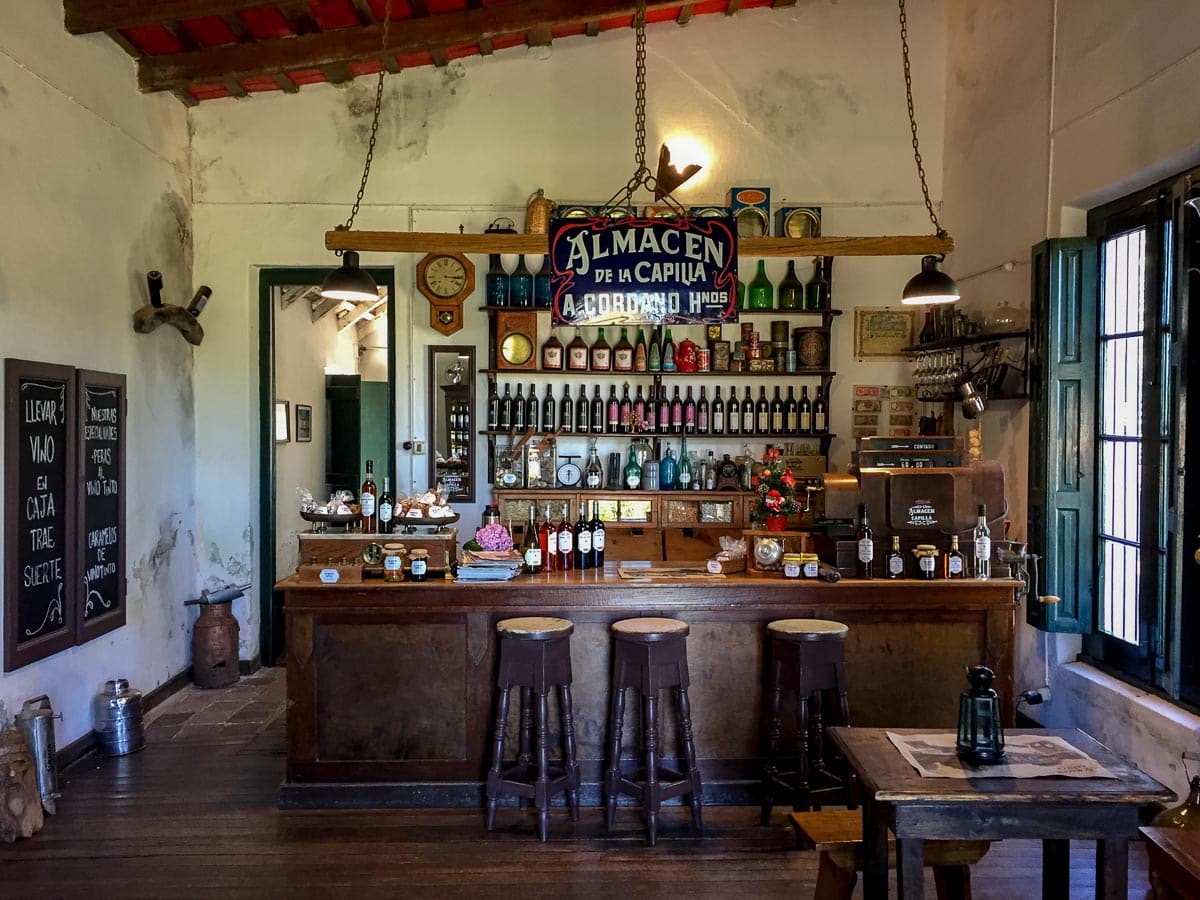 Three wineries in the area to try are Almacen de la Capilla, Bodega Irurtia and El Llegado.
Each offers tours and tastings. You'll often find the wineries' owners leading the tastings, and pours are usually quite generous!
Make sure to make a reservation in advance for lunch or dinner at Finca Narbona.
This lovely cottage is set on gorgeous grounds, and you can take your meal inside the historic farmhouse or in the gardens.
When you're not sipping wine, there's plenty to do: walking along the riverbank, riding horses through the countryside or even some fishing.
Where to stay in Carmelo? Stay the night after visiting Rebecca's great winery recommendations by treating yourself at the Hyatt Unbound Collection Resort.
I was lucky to spend two nights here when it was owned by the Four Seasons and it's an incredible property.
See Tango, the Beach & The Market in Montevideo
Submitted by Gigi & Nico at Beach Addicted
If you are visiting Uruguay it is very likely that you will find yourself in Montevideo.
Especially if you are visiting Buenos Aires, from which it is quite easy to reach Uruguay's capital.
We took a ferry from Buenos Aires in just over two hours.
Montevideo is not a large city yet there plenty of things to do. That is why we recommend spending at least two days in order to see the most exciting and essential attractions.
Most notably, make sure to explore Independence Square and the historic center.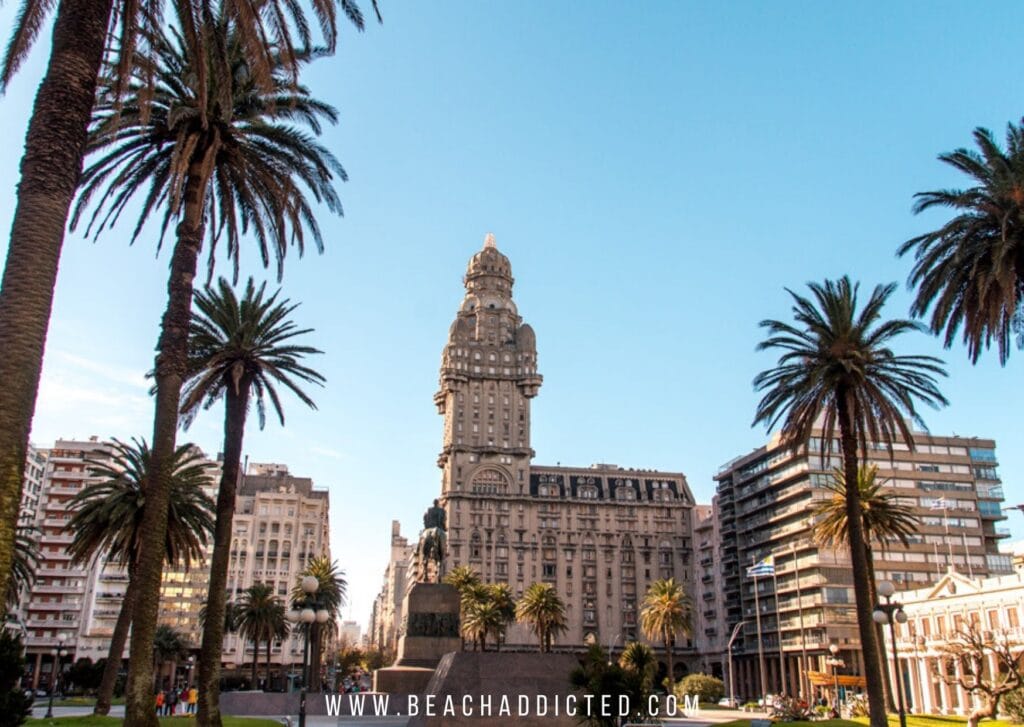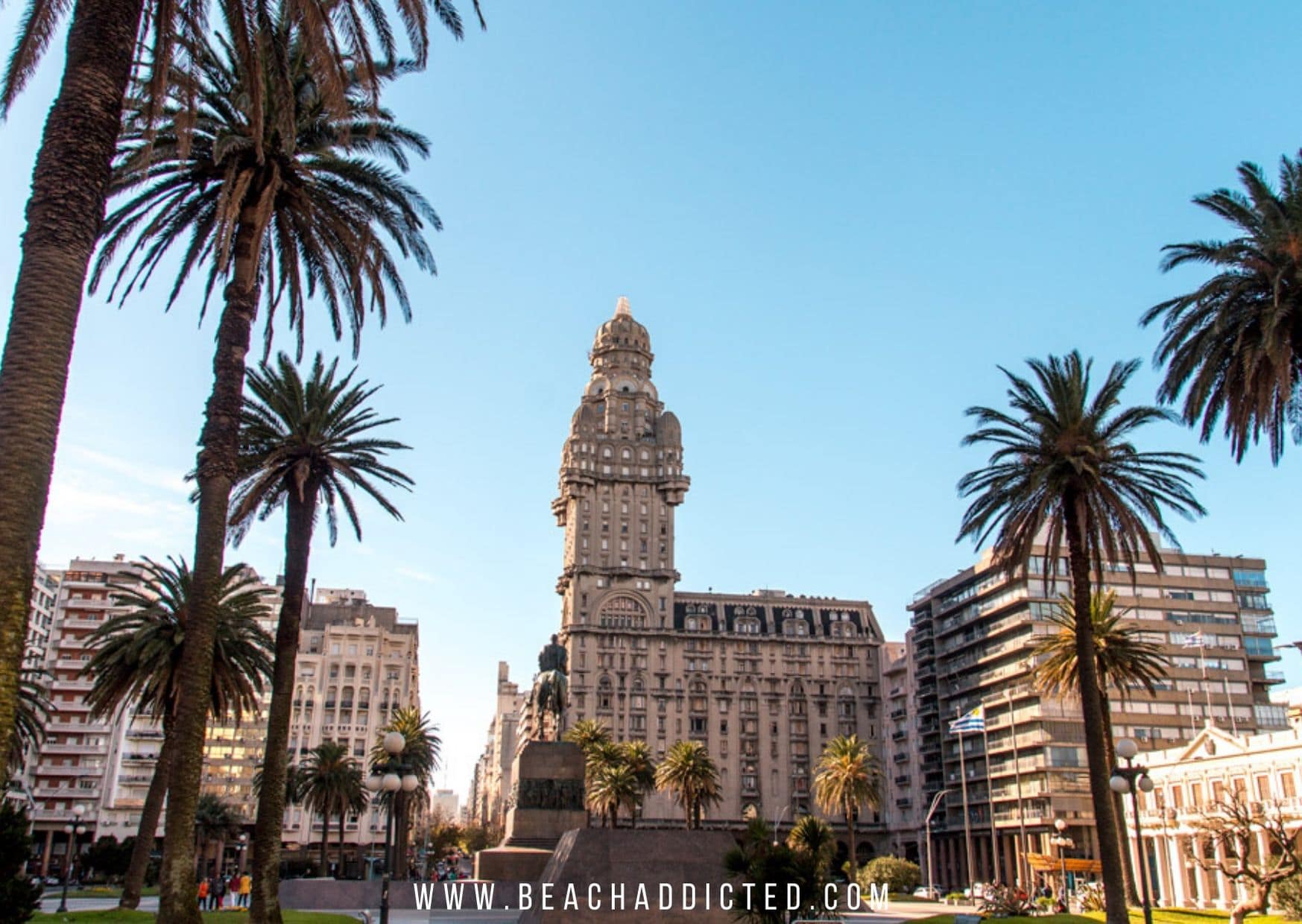 Montevideo is located on the river, creating a beautiful coastline with a lovely promenade.
We were surprised by Montevideo's beautiful beaches, such as Playa Malvín.
If you're hungry, make sure to walk to the Mercado del Puerto, and grab a tasty meat-heavy lunch at one of the many parillas (grills).
Don't forget to order traditional drinks like Grappa Miel or Yerba Maté.
In the evening we went for a fantastic tango performance in the city center. Seeing a tango is an absolute must in Montevideo.
We were surprised that we didn't understand the type of Spanish the locals speak in Montevideo.
Porteňos (people from the port cities Buenos Aires and Montevideo) speak slightly different Spanish and pronounces words differently, so come to Montevideo with open ears (and an open mind).
Can't Miss Montevideo Tours & Activities
Tango & Camdombe Dinner Show | Tango isn't just in Buenos Aires, it's also excellent here in Montevideo. Watch a Tango performance along with Uruguay's own Candombe (a style of music and dance brought to Uruguay with its African slaves).
Private Tour with a Local | There is no better way to see a new city than with the expertise of a local. This tour is just that and is 100% customizable to your interests!
Take in Luxury, Beaches and Art in Punta del Este
Submitted by Disha Smith at Disha Discovers
Uruguay is a beautiful country with so much to see.
One of the many gorgeous places that are worth exploring is Punta del Este, with its Miami-type vibe.
It's a coastal city that is buzzing with resorts, ritzy parties, and impressive beaches. You can easily get there from Montevideo. The distance is 140 kilometers, an ideal start to a road trip up Uruguay's Atlantic coast.
You can either see Punta del Este as a day trip or spend a few days there.
I recommend spending two or three nights to fully experience this slice of paradise, one of the best Uruguay attractions on the beach.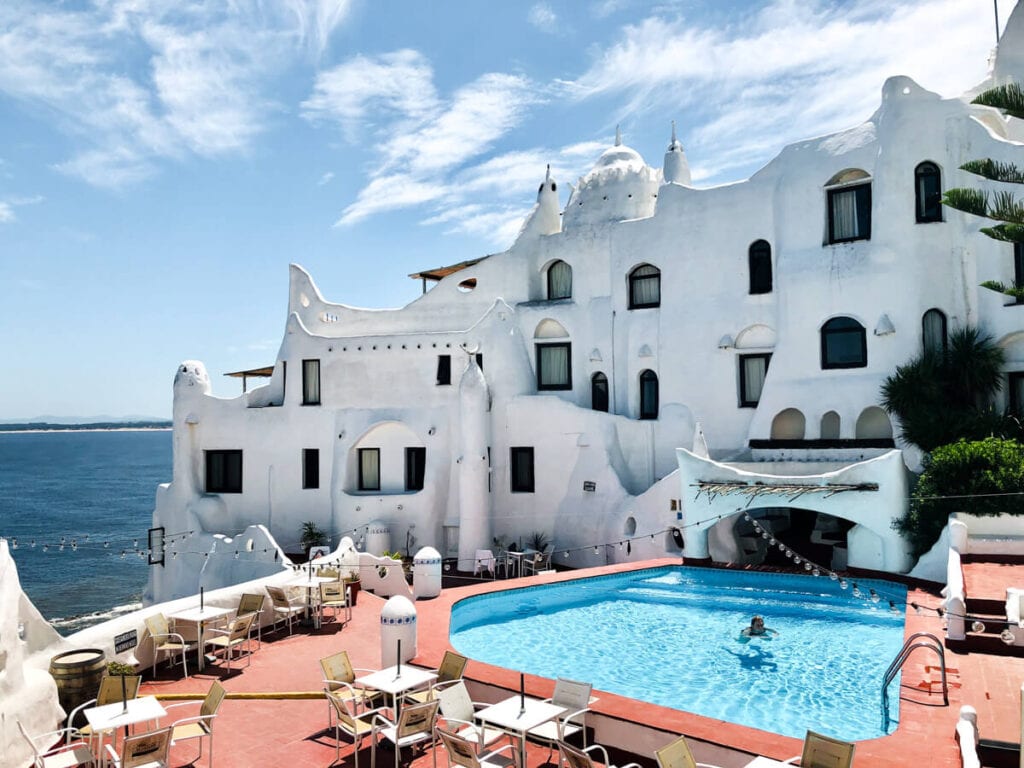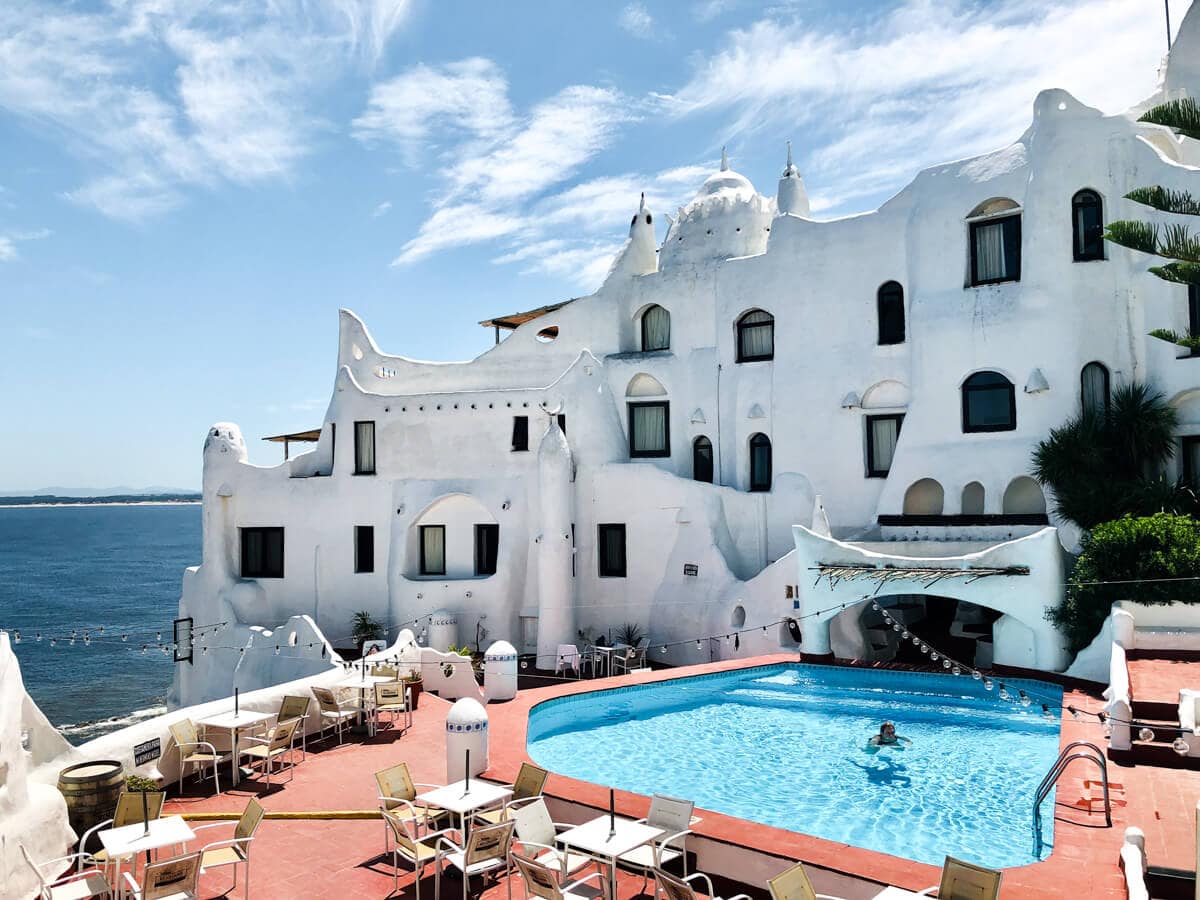 Punta del Este has several museums with Casapueblo being one of the most iconic.
Casapueblo was designed by famous Uruguayan artist Páez Vilaró. It's also a hotel, click here to check rates and spend the night in this emblematic Punta del Este property.
While lounging on Punta's kilometers of beautiful beaches don't miss La Mano statue by Chilean artist Mario Irarrázabal.
Five fingers emerge from the sand at Parada 1 at Brava Beach and it's a must see!
Also, the food scene is incredible. You can find food from all over the world, but be sure to try a few typical Uruguayan dishes too.
The night hours come alive in Punta del Este. There are heaps of bars where you can grab a cocktail and enjoy the evening.
If you're a shopping lover, you're going to love this town.
Go to Calle 20 and shop at one of the many designer stores.
Finally, it's safe and laid back. What more could you want from an Uruguayan getaway?
Surf in La Paloma
Submitted by Trijit Mallick from BudgetTravelBuff
La Paloma is a popular seaside tourist destination on Uruguay's southeast coast located 240 kilometers away from Montevideo.
It is also one of the most beautiful places in Uruguay.
If you are looking for steady surf then La Paloma will be an excellent choice.
To reach this seaside town you have to take the Ruta Interbalnearia road up to its junction with Route 9 and then continue up to Route 15 that reaches La Paloma.
The average temperature is agreeable for most of the year in La Paloma except for some cold weeks in winter.
However, the peak season to travel La Paloma is the month of December to February when the temperature is at its best.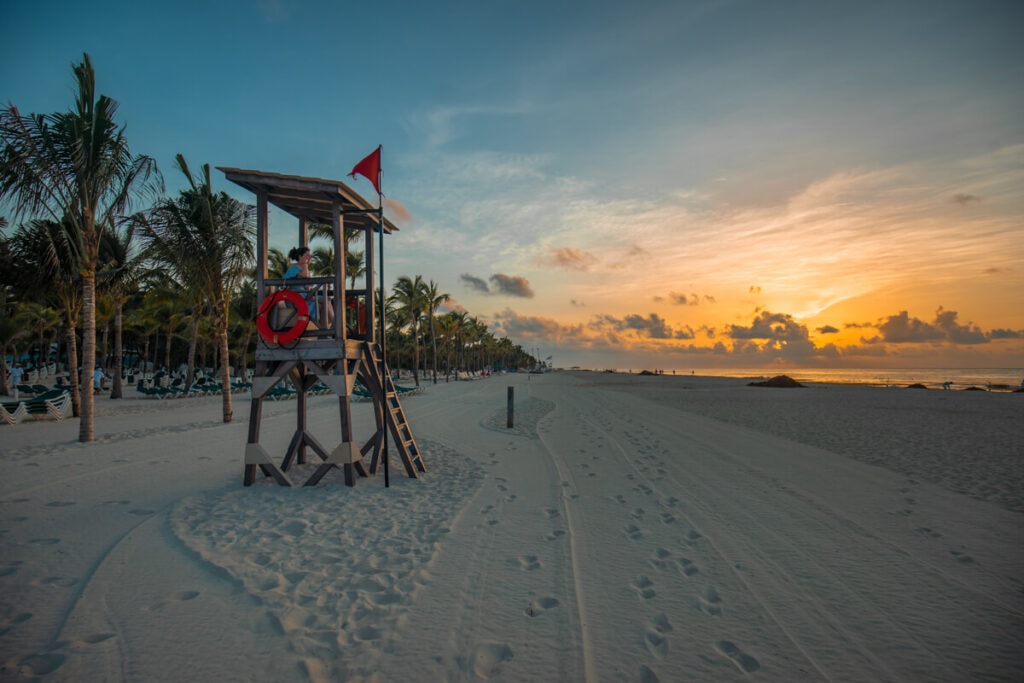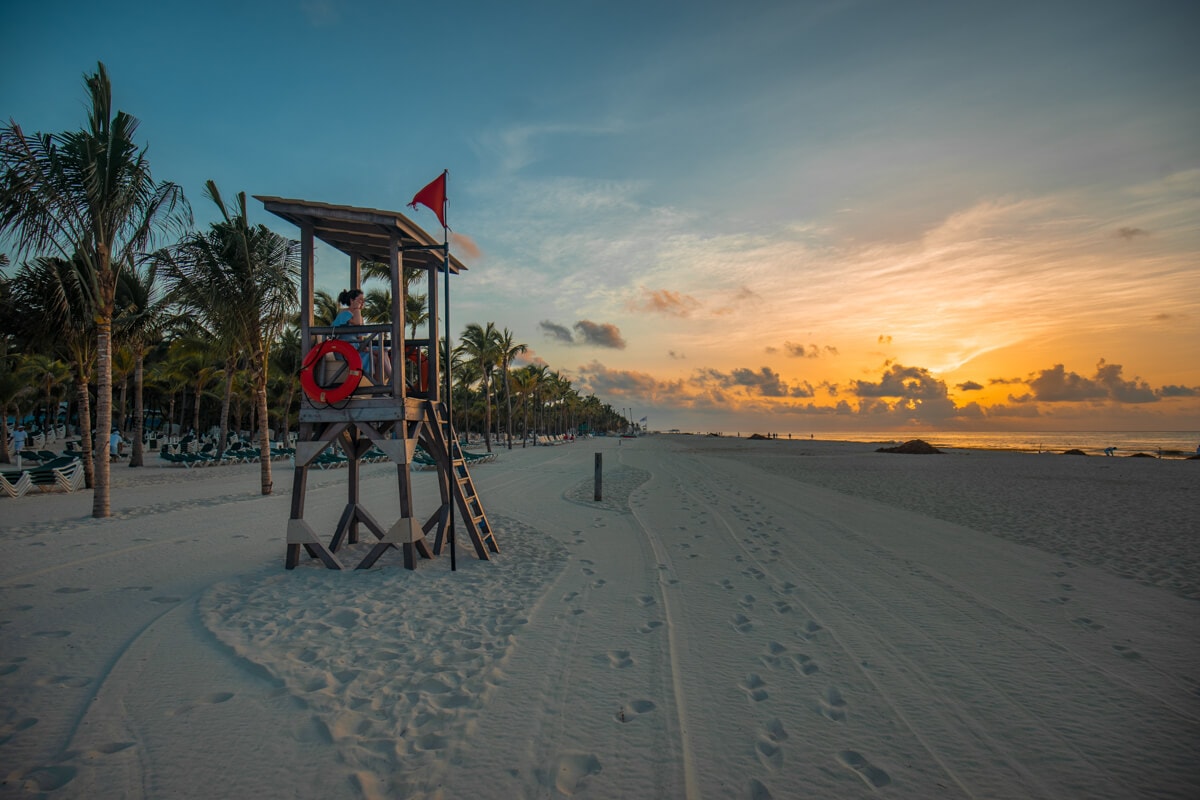 One of the best things to do in La Paloma is surf. It's the most popular activity among both locals and tourists.
Visit Los Botes and Anaconda beaches to discover consistent waves of up to 6 feet.
You can rent surfboards from the rental shop located in La Paloma's main street.
Go for swimming and sunbathing in Playa Balconda beach.
Enjoy a relaxing sunbath on the beach or swim in the clean and calm water of La Balconda. You must not miss the mesmerizing sunset from La Balconda.
For the active travelers, you can also go kayaking in Bahia Chica and paddle out to the beautiful island Isla de la Tuna.
If you have limited time then rent a bike and explore this small town as much as possible.
Strolling around the quiet streets and pass through the calm beaches can be a very enjoyable thing to do in La Paloma.
Enjoy Uruguay's Beaches in Jose Ignacio
Submitted by Lola Méndez from Miss Filatelista
Visiting Jose Ignacio is one of the best things to do while exploring my beautiful home, Uruguay!
The coastal city is located just 30-minutes from Punta del Este and about 3 hours from the capital city of Montevideo.
Jose Ignacio comes to life in the summertime between mid-December and mid-January with globetrotters visiting from around the world.
The destination is often compared to Montauk, New York due to the elite crowd and expensive prices.
La Huella, one of the top 50 restaurants in South America, recently opened a new outpost in Montauk officially linking the two chic beach towns together.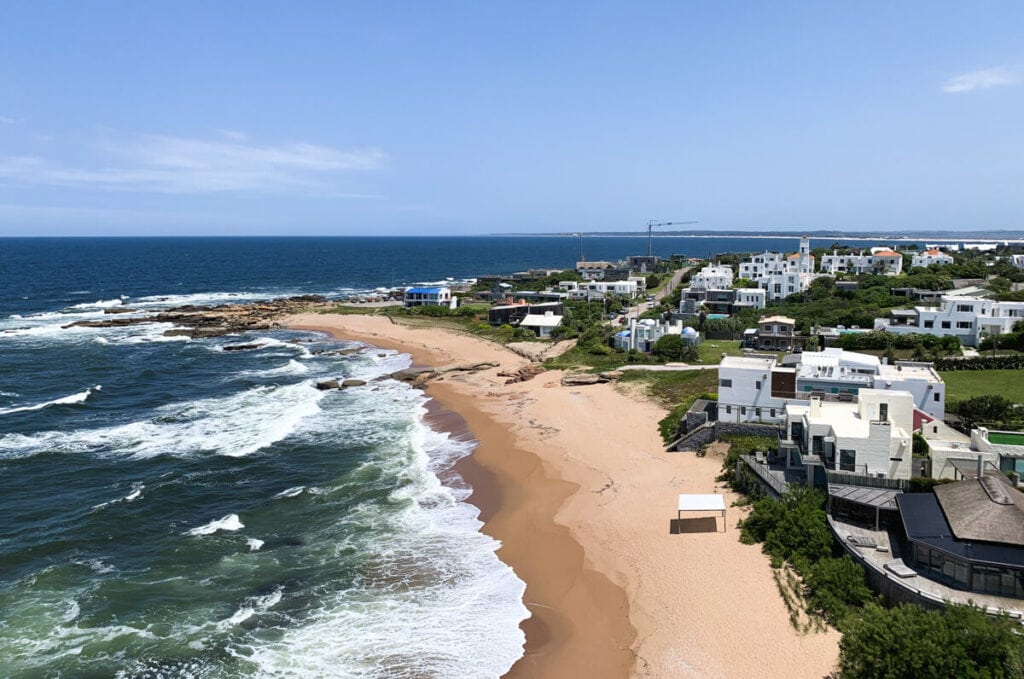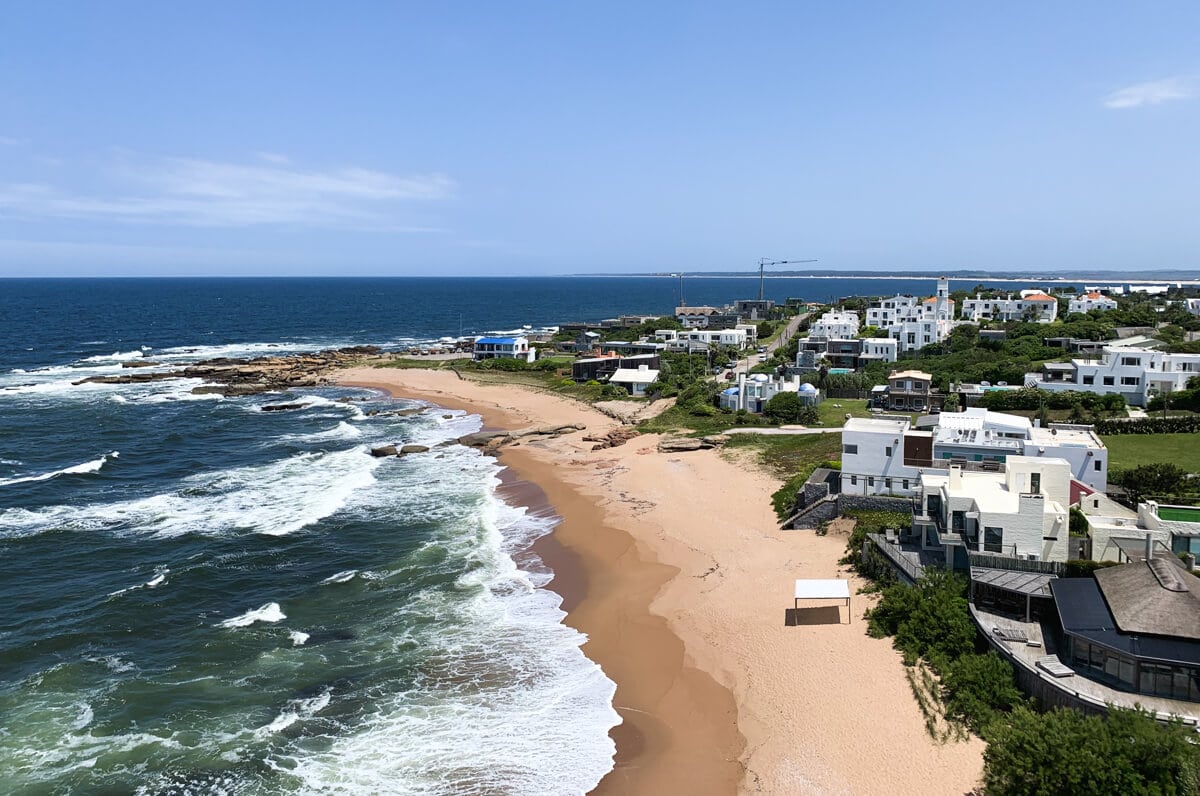 During the off season, Jose Ignacio is a sleepy fishing village.
Beyond luxurious hotels and award-winning restaurants, you can expect to spend lazy days at the beach before taking in Uruguay's memorable sunsets.
Take a break from being a beach bunny by climbing to the top of the lighthouse and shop at the artisan market place located beside it.
Pop into the newly opened Museo de la Imagen y la Memoria Centro de Interpretación Cultural José Ignacio to learn more about the area's history.
Disconnect in Cabo Polonio
Submited by Ivan at Mind The Travel
Cabo Polonio is a tiny fishing village located in a picturesque national park on the northeast coast of Uruguay, near the border with Brazil.
Due to its idyllic setting, Cabo Polonio is rapidly becoming a popular summer destination among those looking to escape the hustle and bustle of big cities and reconnect with nature.
The road-free settlement of Cabo Polonio lies only a few hours from the capital city of Montevideo, which makes it a perfect getaway for anyone looking for incredible sunsets, unspoiled night sky vistas and the sound of waves crashing at night.
The hippie beach side village consists of colorful ramshackle houses with very basic facilities.
The permanent population of about 50-100 residents don't rely on the national power grid for their electricity supply and live without running water.
Locals utilize small wind turbines and solar panels to power their homes and access fresh water through rainwater harvesting in tanks along with filtration of groundwater using plants.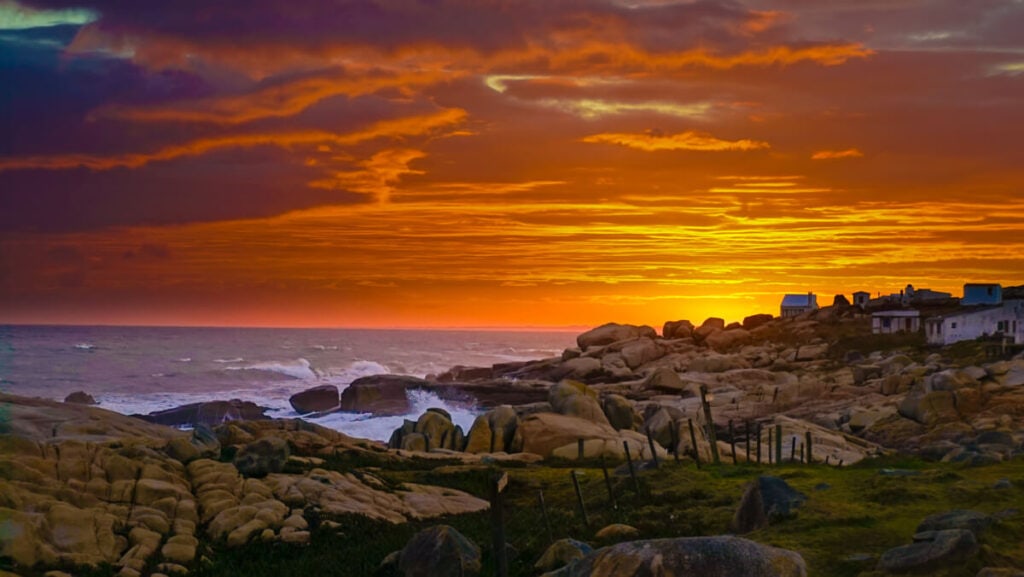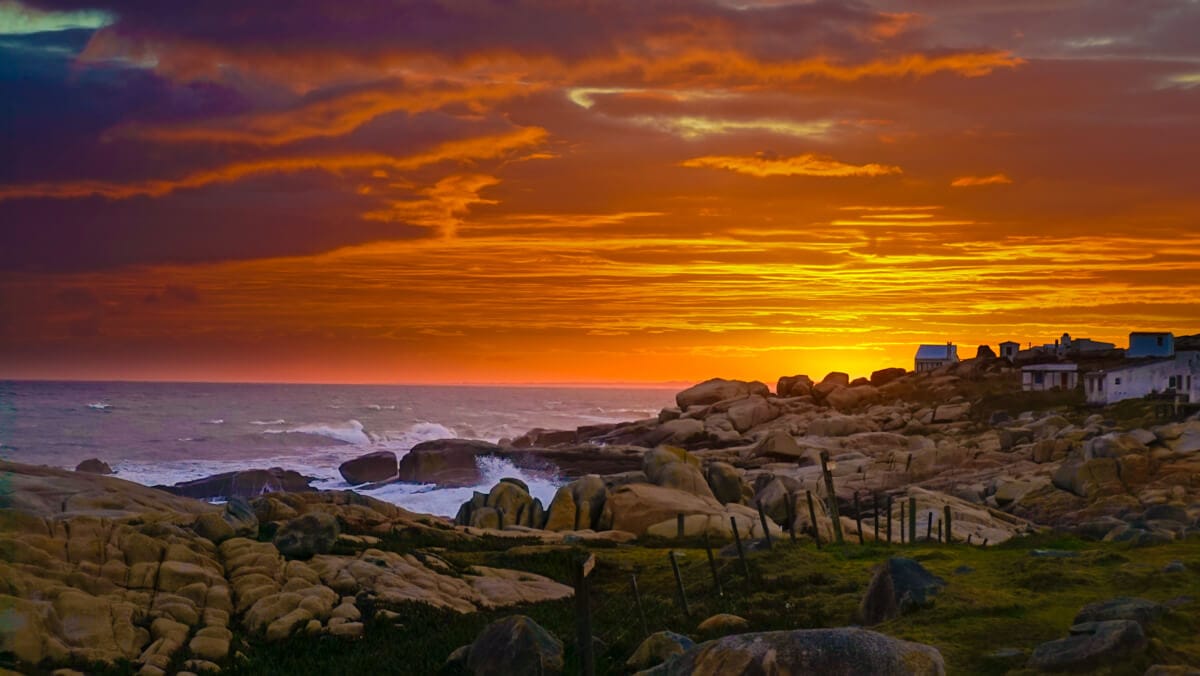 January is one of the nicest times of the year to visit Cabo Polonio.
Arguably, during the first month of the year, it becomes very crowded with crowds arriving from Montevideo, Argentina, and Brazil.
However, even during the busiest months, Cabo Polonio doesn't feel overcrowded.
The shoulder season offers good (albeit changeable) weather and lower accommodation costs. You could even show up without prior reservations.
The national park may seem light on activities, but you would be remiss to only allocate a night or two here. Cabo Polonio is all about a laid-back relaxing atmosphere.
With two seemingly endless beaches, a lighthouse and a sea lion colony, visitors can do as little or as much as they want here.
During the busy summer months, the nights can get a bit crazy.
However, during the rest of the year, Cabo Polonio is a very chilled out place with a few fellow travelers in the hostel to share a beer, bottle of wine, and a few stories.
Punta del Diablo
Submitted by Kimmie Conner at Adventures & Sunsets
Punta Del Diablo is widely known as the northernmost bustling beach town along the Uruguayan coast, surrounded by colorful houses and blue sea.
Year round, you can catch quiet fishermen seeking their day's catch or locals walking along the beach.
However, when summer rolls around, Punta del Diablo rises exponentially in population. It's a famous party town during the summer months, with colorful beach bars offering different kinds of music and drink specials.
The main road along the water is brimming with venues, bursting with people seeking a good time in the warm sun.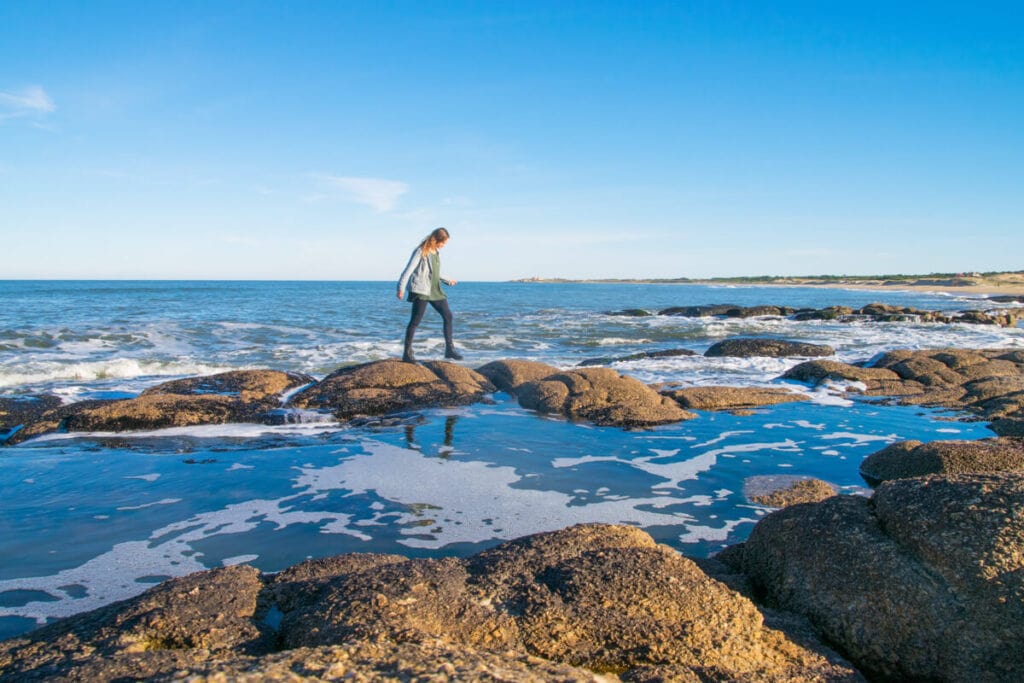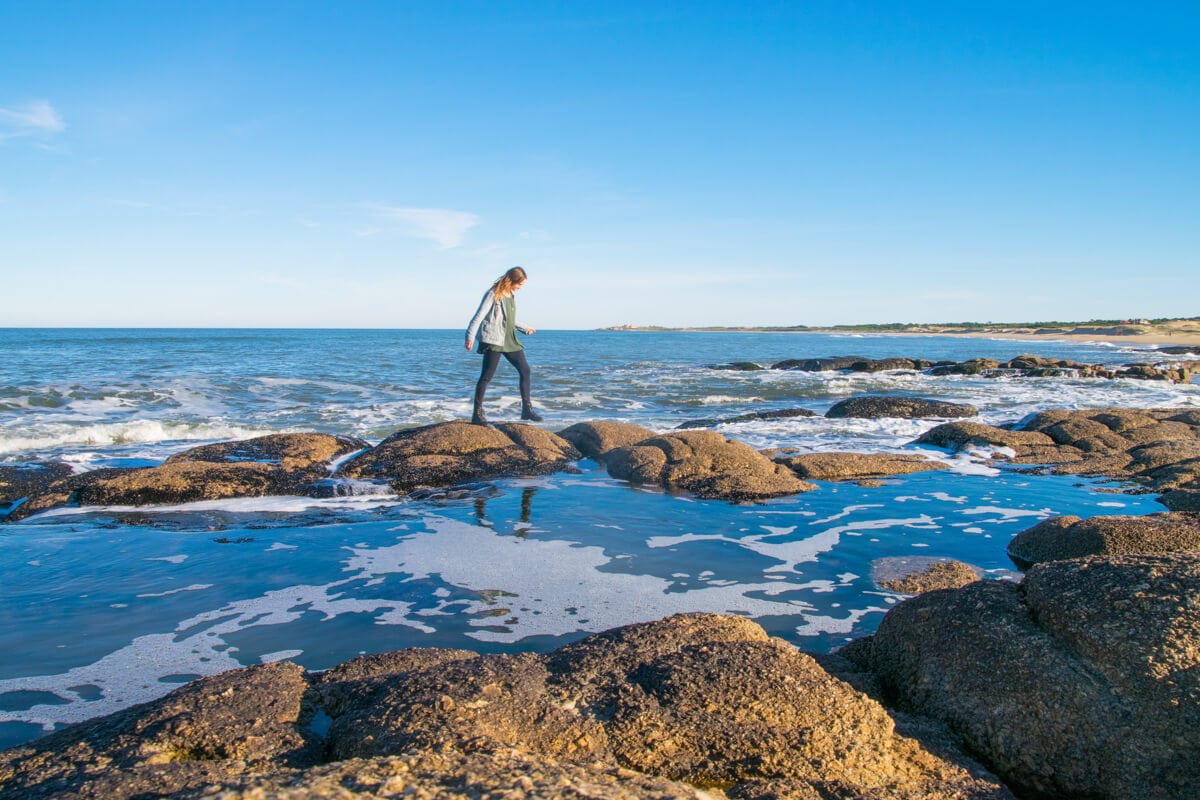 You can do surfing lessons, swim, and sunbathe on the beach, or view the beautiful countryside around town.
Just make sure to take a stroll down the main road and immerse yourself into the Punta del Diablo scene!
Make sure to visit in the summer, and book early because accommodation will fill up!
You can take a bus to Punta del Diablo from Punta del Este, but if you ask me, the best way to get there is at the farthest point of an Uruguay road trip.
You can easily rent a car in Colonia del Sacramento, Montevideo, or Punta del Este that you can drive all over the country.
There are lots of amazing beachside towns to stop at on the way to Punta, but you'll definitely want to spend most of your time there! 
The Annual Gaucho Fiesta in Tacuarembo
Submitted by Jürgen Klein at dare2go
The free spirit of the "Gaucho" is an integral part of the cultural heritage in Argentina, Uruguay and southern Brazil. These skilled horsemen are the cowboys of South America, revered to this day.
Never mind that many Gauchos lead a life outside the law, hunting stray horses and cattle across the Pampa for their valuable hides.
Once a year the rural town of Tacuarembó celebrates the Gaucho tradition with a huge festival, drawing participants from as far as Brazil.
The "Patria Grande" attracts visitors from all over the country, but hardly any tourists.
A lot of preparation and work goes into this festival.
Most participating groups set up large temporary compounds with small stone dwellings purpose-built for the festivities, horse corrals, large fireplaces for the obligatory barbecue (Asado), and even some small chapels or workshops.
Everybody dresses up in their finest Gaucho paraphernalia to look their best when they participate in the events in the horse riding arena.
The arena is the social center for the daytime, where participants show off their skills on horseback – from little kids to experienced horsemen and -women.
At night, performances on the central stage go into the wee hours of the morning.
The highlight of the festival is the procession on Sunday morning, when thousands of colourfully dressed riders and horse-driven carts parade along the streets of Tacuarembo. A really photogenic event!
The Gaucho Festival in Tacuarembo is held every year in early March. Due to its popularity, you need to book accommodation well in advance (or stay outside the town).
If you can't go to Tacuarembo, don't despair: during Semana Criolla (the week before Easter) there's a smaller, less authentic festival in Montevideo to give you a taste.
Visit Fray Bentos
Submitted by Sarah Carter at A Social Nomad
You really have to want to visit Fray Bentos. And we did. It's a famous brand in the UK, to those above a certain age, famous for meat pies delivered in tin cans as well as tinned corned beef.
Today it's a sleepy riverside town, with little remaining here of the brand which started in 1863.
What is left, though, was enlisted into the UNESCO World Heritage site list in 2015.
The huge crumbling factory complex, just on the outskirts of the town was the first place in Uruguay to get electricity and was responsible for feeding both sides in both World Wars.
Outside of the factory, you'll find very little information on Fray Bentos, but a 3-hour tour – in Spanish – soon sets you up for understanding a whole lot more.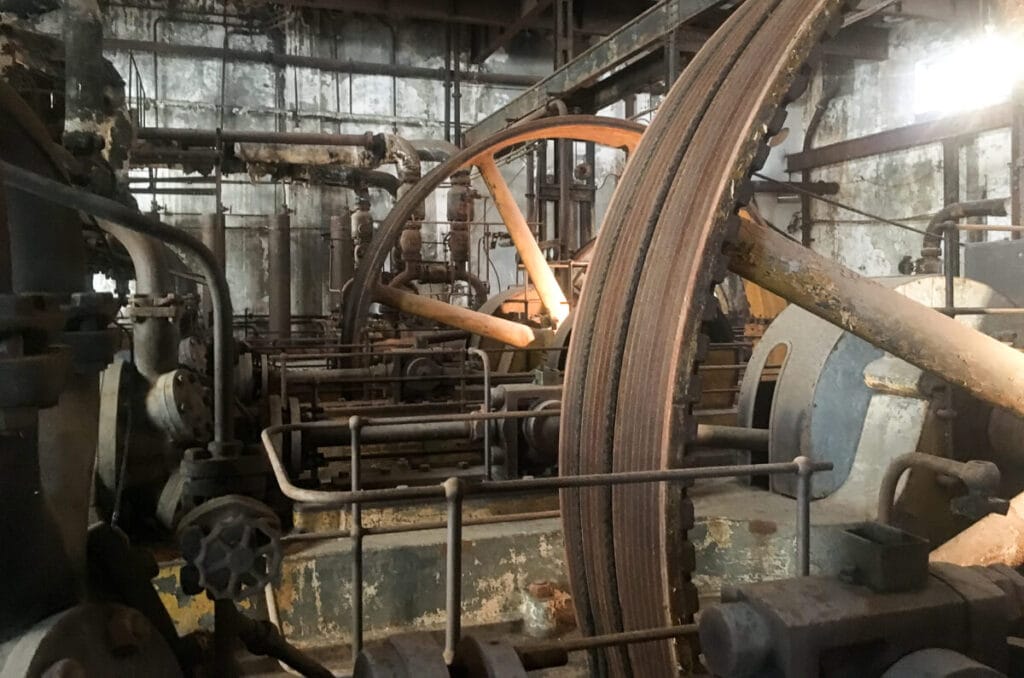 The machinery is still in place, you can walk through, with your guide, the old slaughter sheds and see how meat was refrigerated.
Those of a weaker disposition or vegetarians might want to take a shorter tour, the animal husbandry here was basic, to say the least.
But it's an incredible history (the museum is old but super) that touched many people across the world.
Stay in the town of Fray Bentos – pay with an international credit card to take advantage of a 22% discount for foreign travelers.
The museum entry is $50 pesos, with a guided tour for $120 pesos (they're sometimes available in English), but visit on Tuesdays and they're all free.
The Best Uruguay Attractions
After all of these pro tips from some of the best travel bloggers out there, I hope you're ready to explore Uruguay.
This tiny South American country is filled with unexpected destinations waiting for you to discover them. I, for one, am itching to drive that beautiful coast line!
Have you been there before? What were your favorite things to do in Uruguay? Let me know in the comments!
Keep Reading: The Most Beautiful Places to Visit in Argentina
PIN IT FOR LATER