On a recent trip to Patagonia, we were lucky to spend a night at Estancia Nibepo Aike on the outskirts of El Calafate.
This post is a complete review of our time at one of the most beautiful estancias near El Calafate.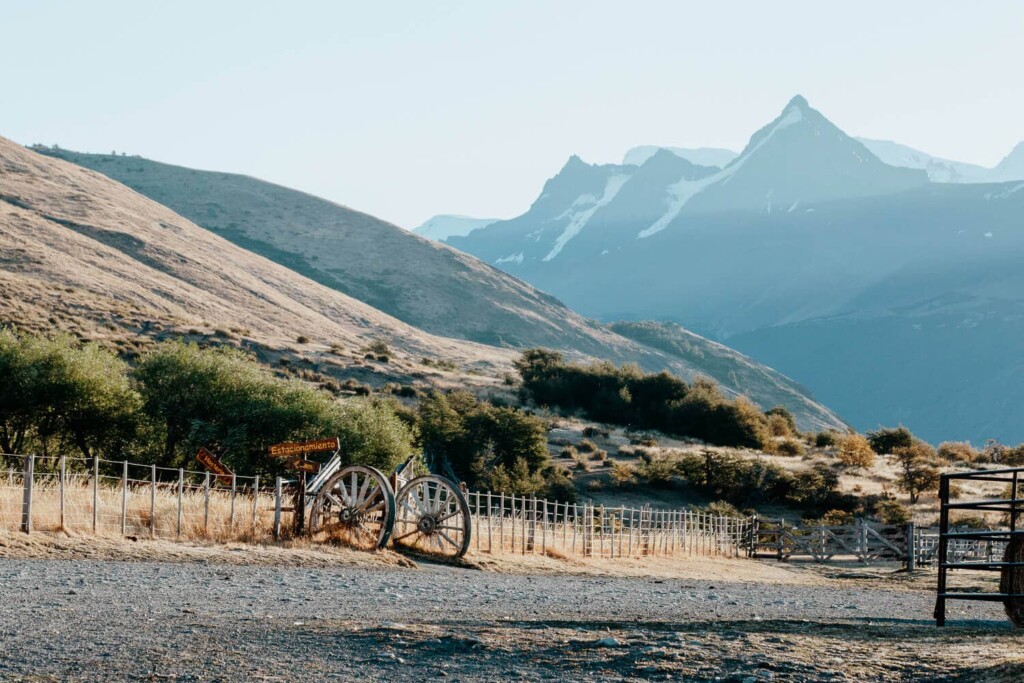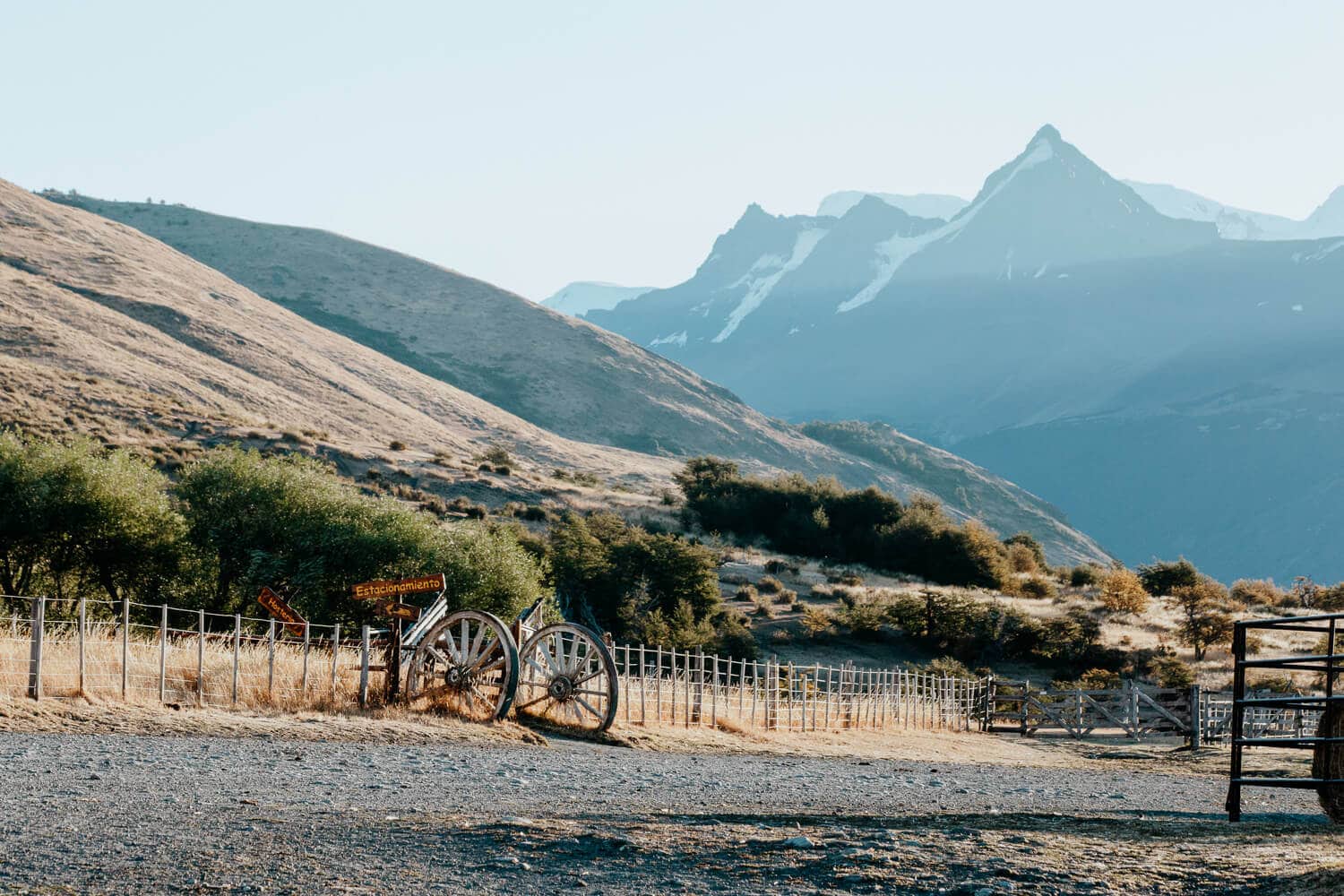 Quick note: This post is sponsored content in exchange for a gifted experience with Solo Patagonia. As always, all opinions expressed here are 100% my own. Also, this post may contain affiliate links to products & services. Sol Salute may receive a commission for purchases made through these links, at no extra cost to you.
Estancia Nibepo Aike
My first step in trip planning is always to open my map, zoom in and scan for my personal points of interest.
In Argentina, I always search for wineries, regional empanadas, national or provincial parks, and of course, estancias.
Gauchos, asados, horseback rides through epic scenery…
Estancias are unbeatable.
When I was planning our trip to Patagonia and began to scan the map I saw a lot of estancias near El Calafate, but one name stuck out.
Nibepo Aike.
I had come here a decade ago on my very first trip to Patagonia.
My friends and I spent a day horseback riding across the ranch to see the glaciers and eat steak sandwiches in the middle of beautiful nowhere.
This time I knew we had to spend more time enjoying the property. We stayed one night and spent a little over 24 too-short hours at Nibepo Aike.
This post details our experience and everything you need to know to visit the most beautiful of the estancias near El Calafate.
How to Visit Nibepo Aike
Nibepo Aike is located inside Argentina's Glacier National Park, an hour and a half outside of El Calafate.
We only stayed here for one night and spent the rest of our weekend based in El Calafate proper.
However, I recommend not doing that. Instead, spend 3-4 nights at the estancia and use it as your base for El Calafate.
Nibepo Aike's location in the national park makes it easy to visit Perito Moreno (there is a boat dock for excursions inside the estancia), Spegazzini, and Upsala, and there are plenty of hikes and activities to enjoy on the ranch.
You'll never need to leave.
Note: We drove ourselves, but If you don't have your own rental car in El Calafate you can arrange a transfer from town with Nibepo Aike.
Our Experience at Nibepo Aike
Our car rattled over the dirt road of Ruta 15.
My husband drove and our baby slept in the backseat while I scanned the horizon for guanaco and mara (a hare-like animal native to Patagonia's steppe).
There is a paved highway you can take (Ruta 11) but we preferred the scenic route.
We may have not seen any mara (only one armadillo scurrying back into the underbrush), but the breathtaking views were worth the bumps in the road.
In reality, while a bit louder the dirt road is very well maintained and I 100% recommend taking that route to Nibepo Aike if you can.
We drove towards the mountains past estancia after estancia, feeling ourselves relax as we neared our destination.
Certain places have that effect, welcoming relaxation and disconnect.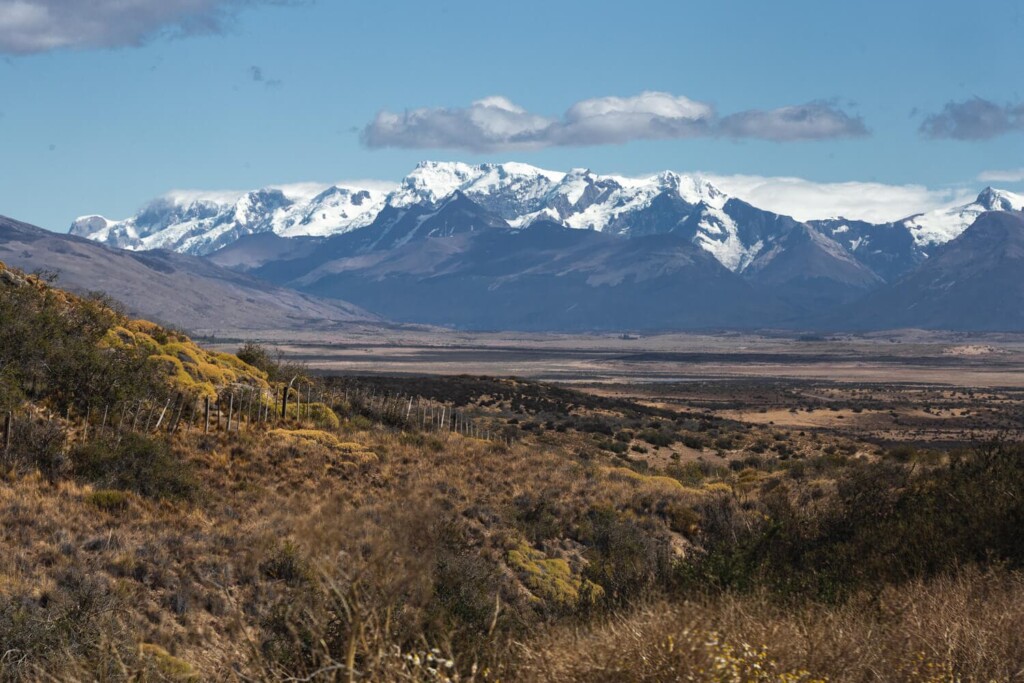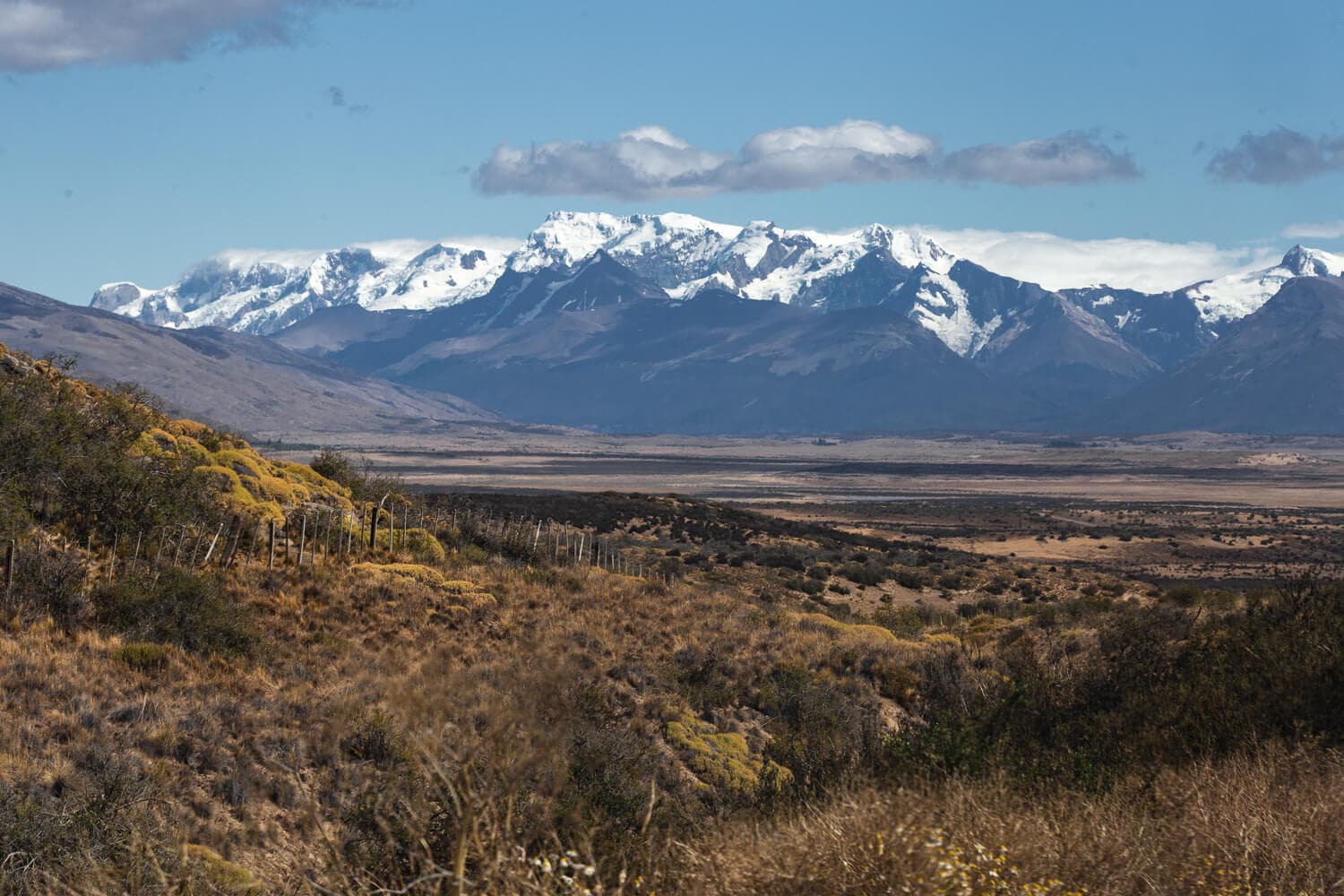 Arrival
We spent 3 days in El Calafate and chose to spend our final night at the estancia.
Always end your trip with the best, most relaxing experience.
Check-in was mid-afternoon and we would be able to stay until after lunch the following day. We took advantage of every minute.
We unloaded our bags into our room (oohing and awing at the antique crib our son would sleep in that night!) then took off to hike.
There are a few trails on the ranch to explore and we chose to go down to the lake to practice for our upcoming week of trekking in El Chalten.
We left and immediately blew past the trailhead and marched off in the wrong direction. It didn't really matter though, the views were still gorgeous.
After walking far enough to be sure we had missed the trail (which we had, about a kilometer ago), we turned around to go back.
It was tea time!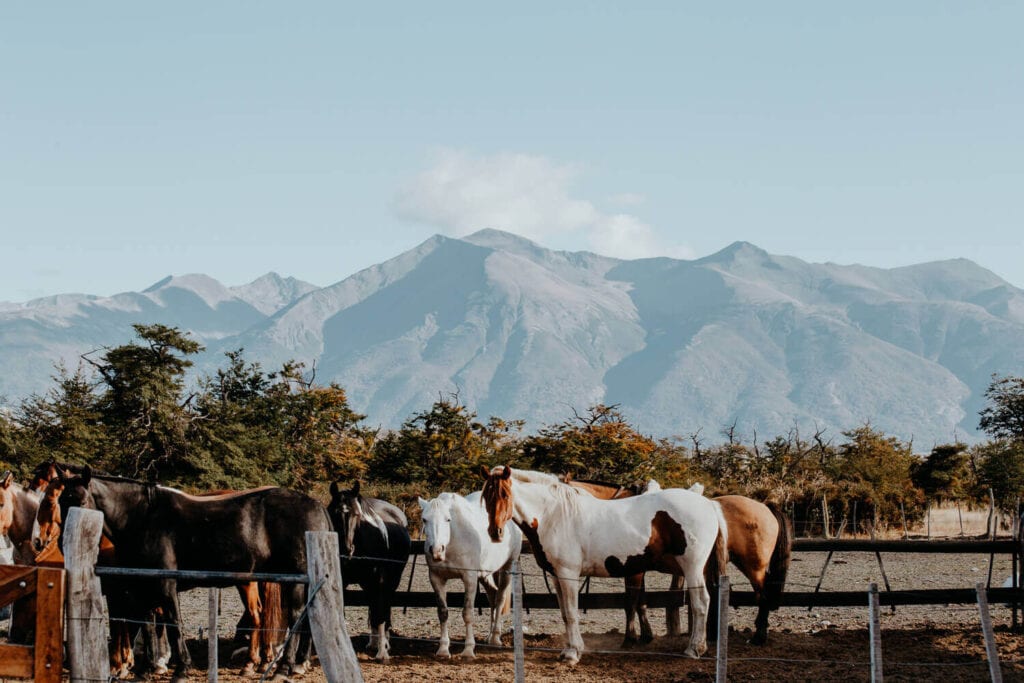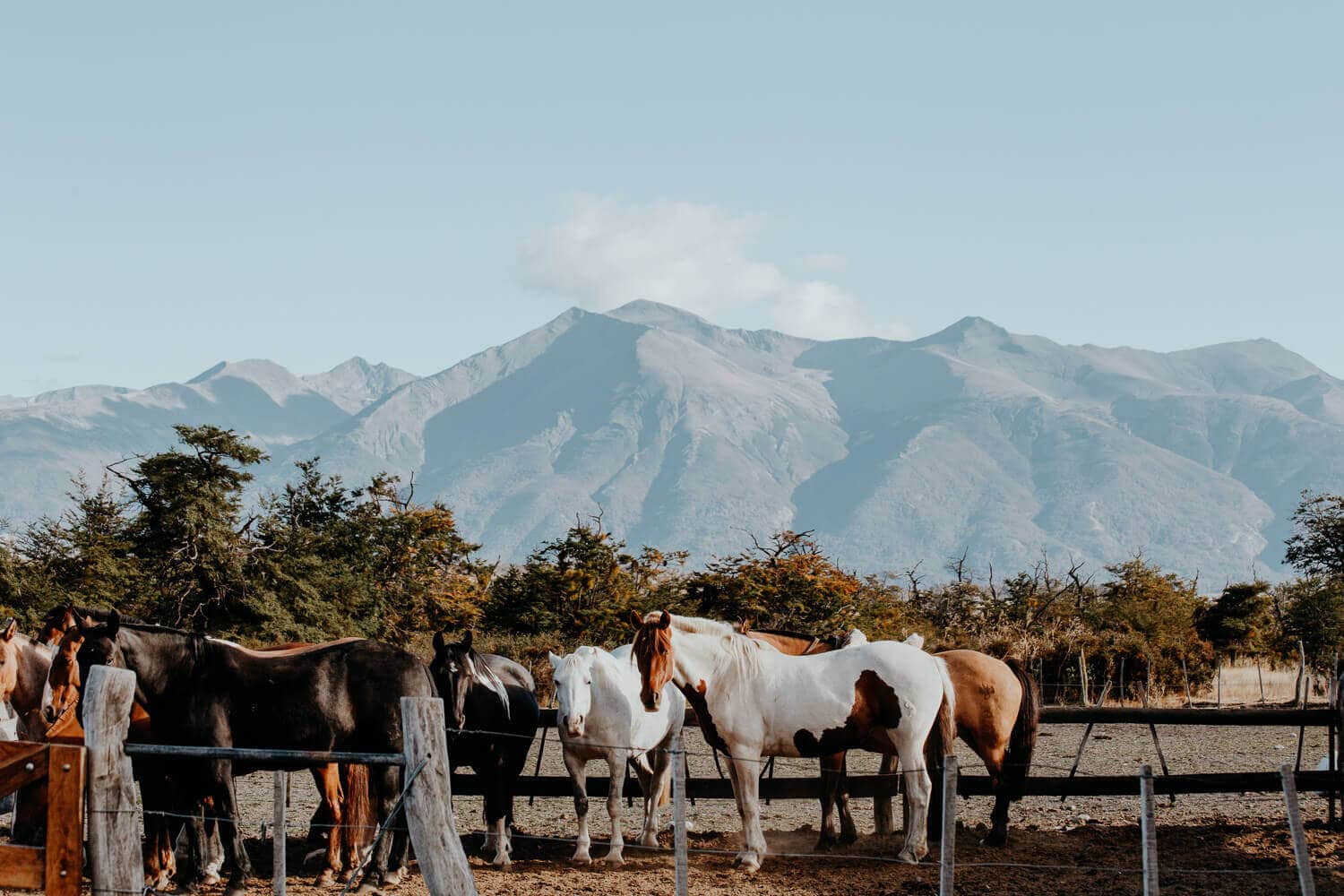 Merienda & Dinner
We got back from our walk just in time for a traditional merienda of tea, coffee, and pastries.
There was a variety of housemade traditional Argentine sweets like pastafrola and alfajores. I promptly filled my plate, then went back for seconds.
Nibepo Aike is full-board so all of our meals were included.
The hosteria (hotel) is located inside the original family home. It was very cozy with a fireplace and cushy sofas just by the dining area. Rooms were just a few steps away down a short hallway.
With notorious winds and cold nights here in Patagonia, having everything located inside one (I repeat, very cozy) building was ideal.
After merienda, we were free until dinner. And there's more free time than you'd expect between a late 6 pm snack and 9 pm dinner.
The sunsets very late this far south so I went for a walk to take photos while the other guests went on a very ambitious run across the property.
We put the baby to bed in his adorable antique crib and sneaked back out to dinner down the hall. It felt like being in our own home and not having to worry about the baby during dinner made it the best night of our trip!
Dia de Campo at Nibepo Aike
The most common thing to do at an Argentine estancia is a Dia de Campo or a day in the country.
These organized day trips have set itineraries of activities.
They are a great way to spend the day and if you don't have the budget to stay at Nibepo Aike (or any estancia for that matter) it is an excellent alternative.
Nibepo Aike's country day itinerary typically includes a three-hour horseback ride across the property, an exquisite lunch of Patagonian lamb, and an esquila (sheep shearing) exhibition.
However, you can spend your day however you'd like. There are bikes you can use to explore the estancia. You can go hiking, on a walk, or simply relax.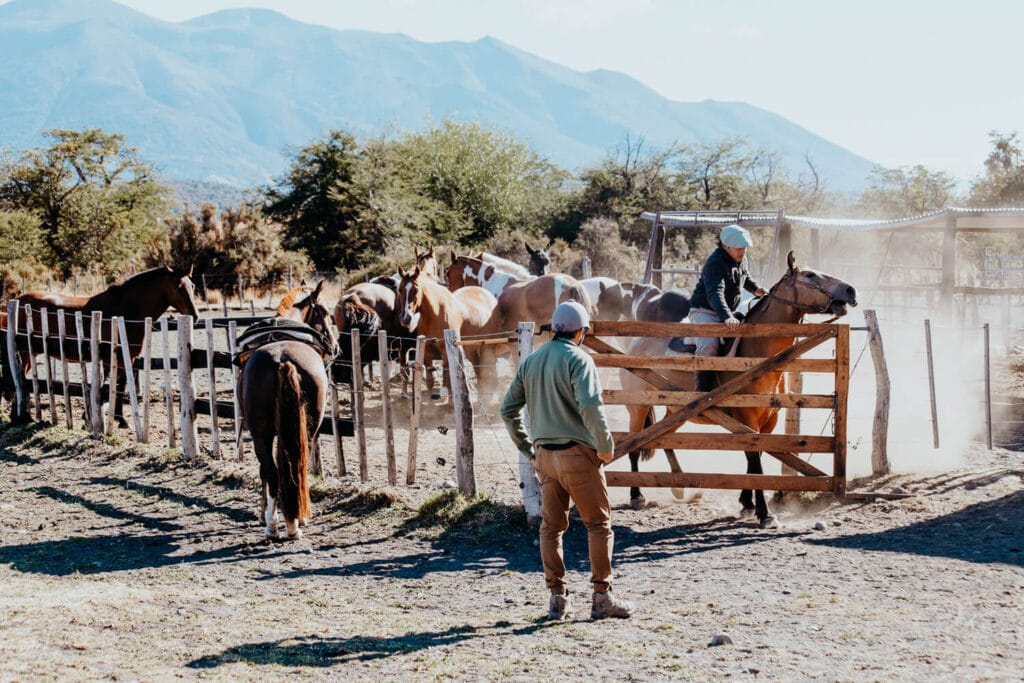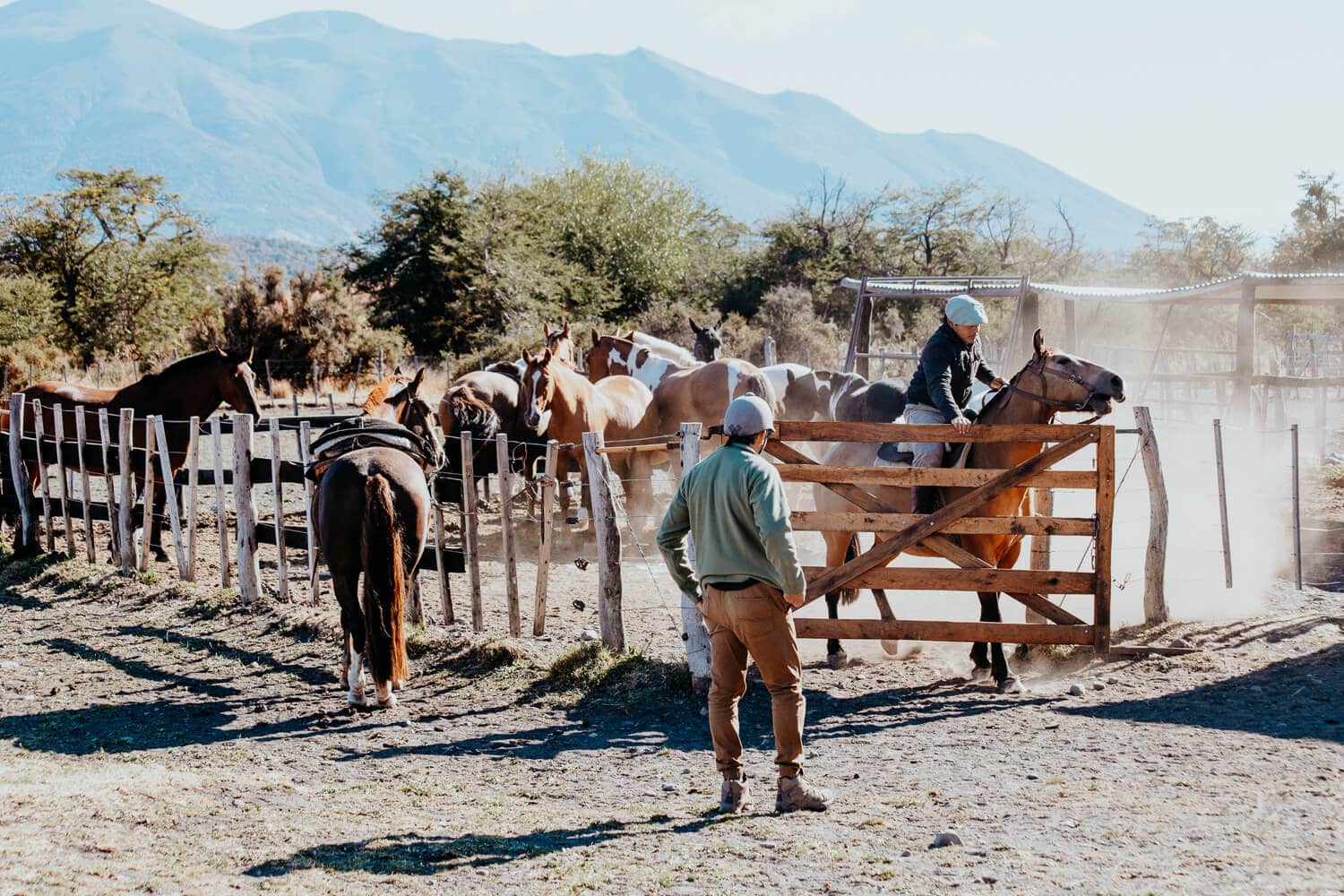 Horseback Rides
Since we were on the estancia with our baby, we took turns for our horseback rides. We each went on a shorter one-hour ride rather than the more epic 3-hour outing.
I can't wait to go back one day and have the little guy on his own horse.
Until then, it was a beautiful ride down by the lake with a view of the mountains.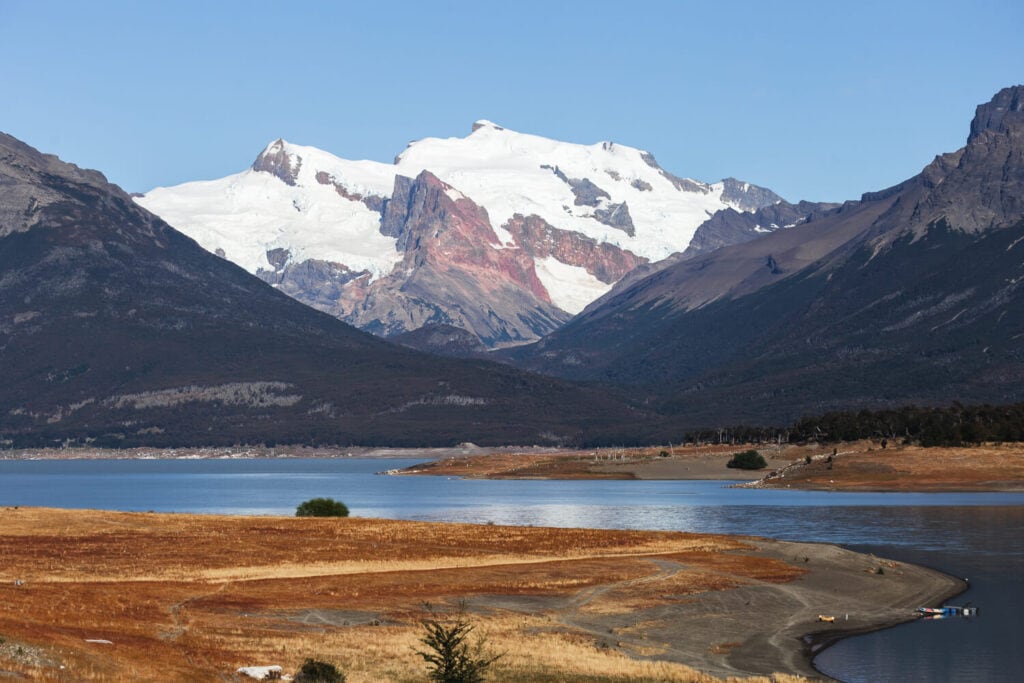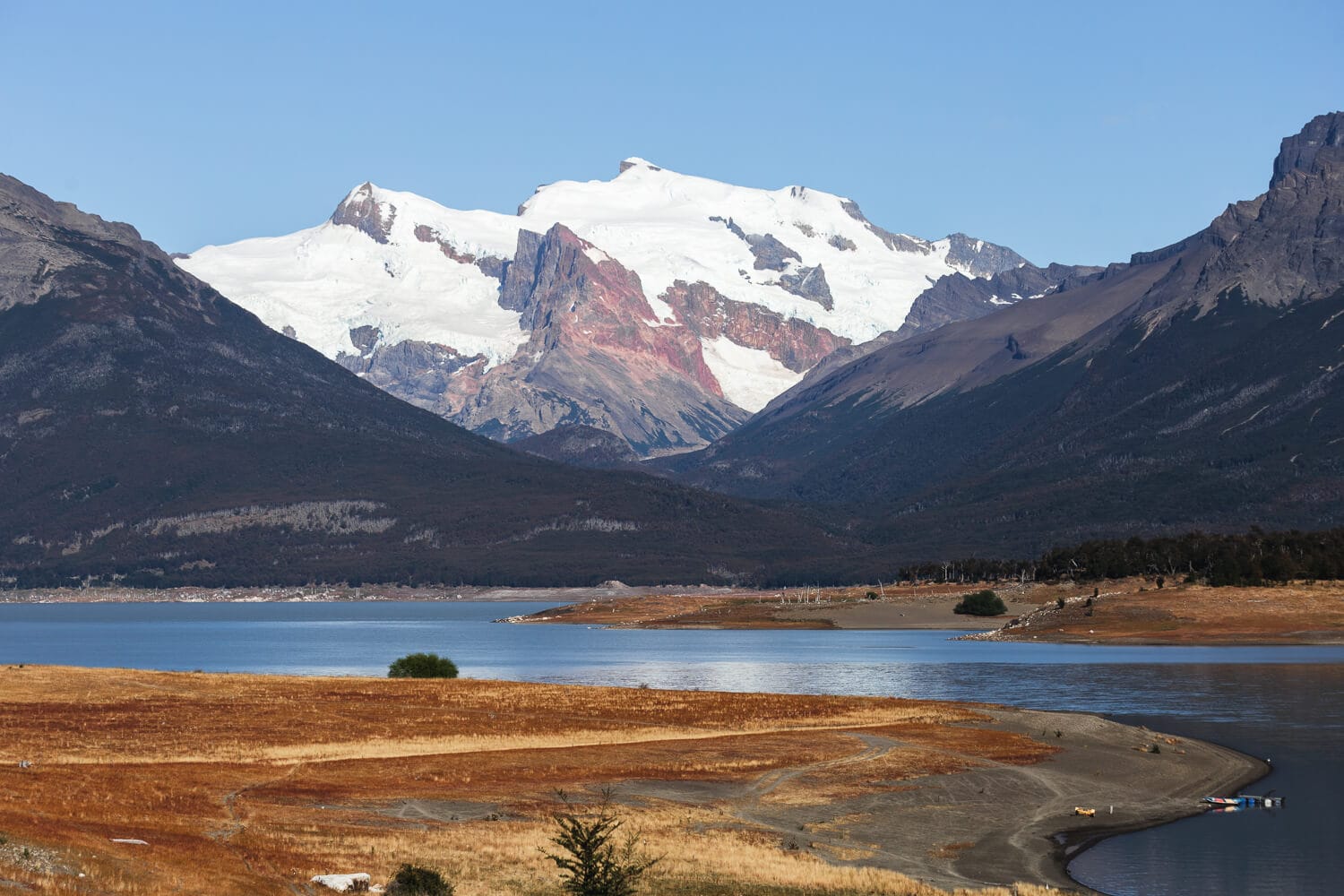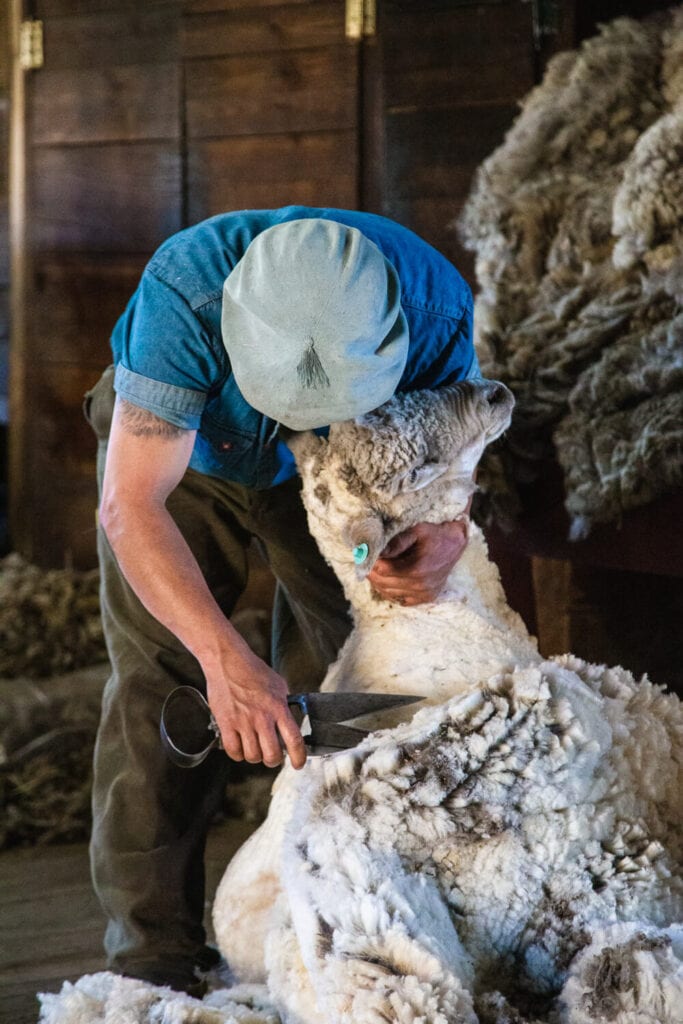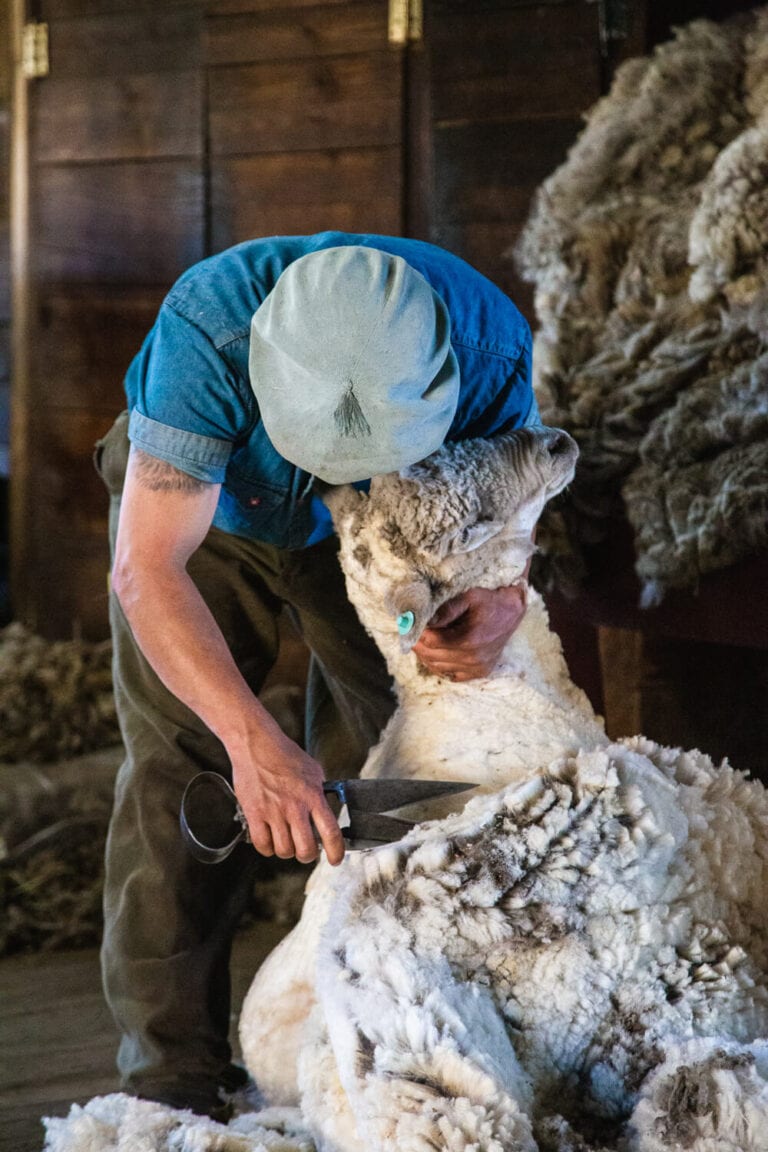 Sheep Shearing
After our rides, Eduardo and Carlos invited us to see a traditional esquila or sheep shearing.
While cattle rule the estancias of Buenos Aires, Patagonia focuses on sheep farms.
They adapt well to the harsh Patagonian winters and dryer grass of the desert landscapes.
We walked into the barn to see Carlos standing over a very subdued sheep laying prostrate on the floor.
I admit I was nervous about watching the esquila.
I worried it would be stressful for the animal. So it was a relief to see the sheep relaxed as if waiting for a massage.
Carlos wielded a large pair of metal shears and expertly clipped away at kilos of fluffy wool.
The sheep himself was not bothered in the slightest and was about to be a lot happier without the 8-10 kilos of extra wool weighing him down.
The whole process only took Carlos about 15 minutes.
The newly made-over sheep hopped up and scurried back out to join his mates.
The esquila is an estancia experience unique to Patagonia and I'm glad we were able to see it.
Patagonian Lamb
Argentina can tout beef all it wants but in Patagonia, it's all about lamb.
Our El Calafate dia de campo ended with a proper asado of cordero Patagonico.
Typically, I am no fan of lamb. I find it a bit gamey and I've never grown to love it. So I asked to have a steak and Eduardo happily obliged.
But when the asador walked by and insisted that I must try their lamb and give it a chance, I begrudgingly agreed.
He was right. I loved it! This grass-fed Patagonian lamb was the best lamb I have ever had (and unlike any lamb I have ever tried).
It was juicy, tender, and fell apart on the fork. No knife needed. And also, no gamey flavor.
There was no better way to end our time in Nibepo Aike than with this iconic Patagonian meal.
Afterwards, we brought our dessert outside to savor with the fresh mountain air.
Flan, red wine, and the Andes.
We left Nibepo Aike with full bellies and good memories.
How to Reserve Your Visit to Nibepo Aike
Click here for more information about packages, activities, and to reserve your stay at Nibepo Aike.
Follow them on Instagram and Facebook.
Thank you to Nibepo Aike for a discounted stay. As always, all opinions expressed are 100% my own.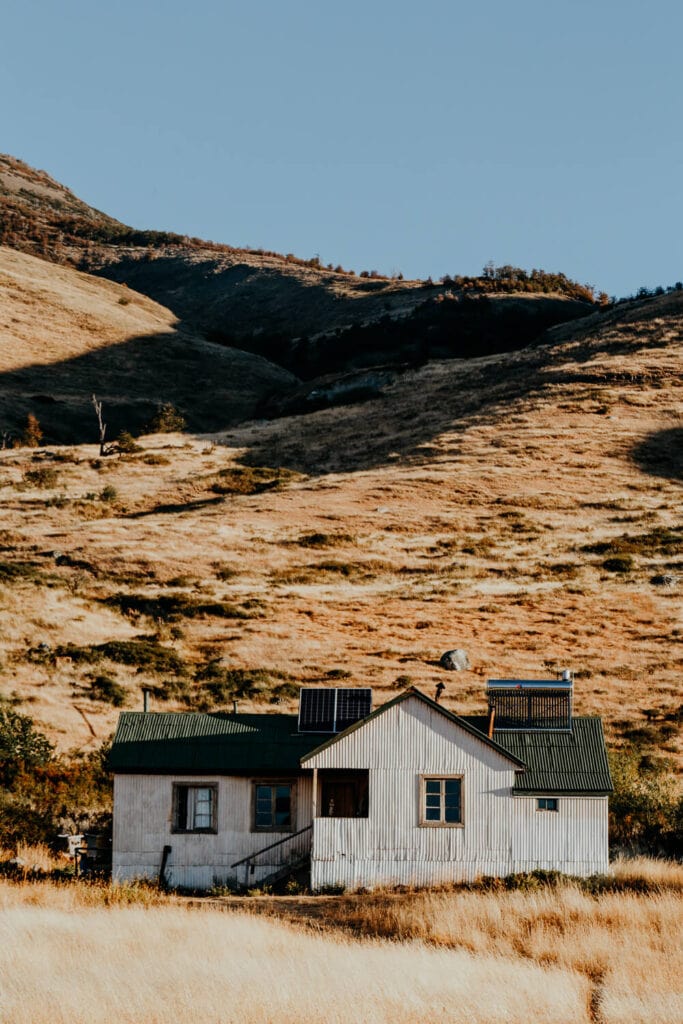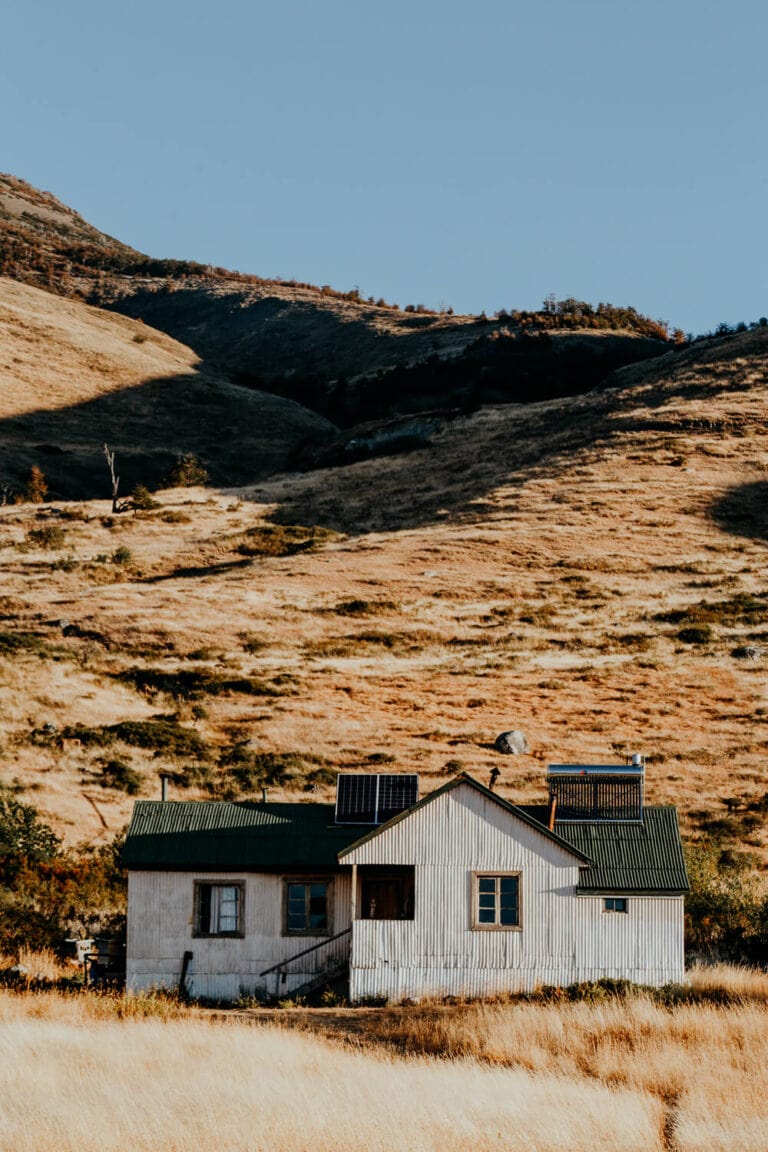 History of Nibepo Aike & The Estancias near El Calafate
At the beginning of the 20th Century, the Argentine government was parceling this land out to anyone and everyone who could get there to lay claim and stay to work it.
European immigrants looking for a better life rushed to settle Argentina's deep south.
Santiago Peso, a Croatian immigrant, was no different.
By the time he made it here, there weren't many plots left. But the final ranch at the end of the road was still available.
It must have been hard being at the end of the road 100 years ago, so far from everything.
Today it is the most beautiful estancia near El Calafate.
The name Nibepo is a compilation of his daughters' nicknames: Nini, Bebe, and Porota.
Read More about Patagonia