Empanadas may not exist ONLY in Argentina, but the best empanadas definitely do.
Empanadas are tiny but great.
These little dough filled pockets of juicy Argentine beef and spices can be found all over the country, but where can you find the best empanadas in Buenos Aires?
Not all empanadas were created equal, and this post is a list of the best empanada houses in the city.
You'll also find tips on eating empanadas in Argentina from north to south and regional flavors to expect.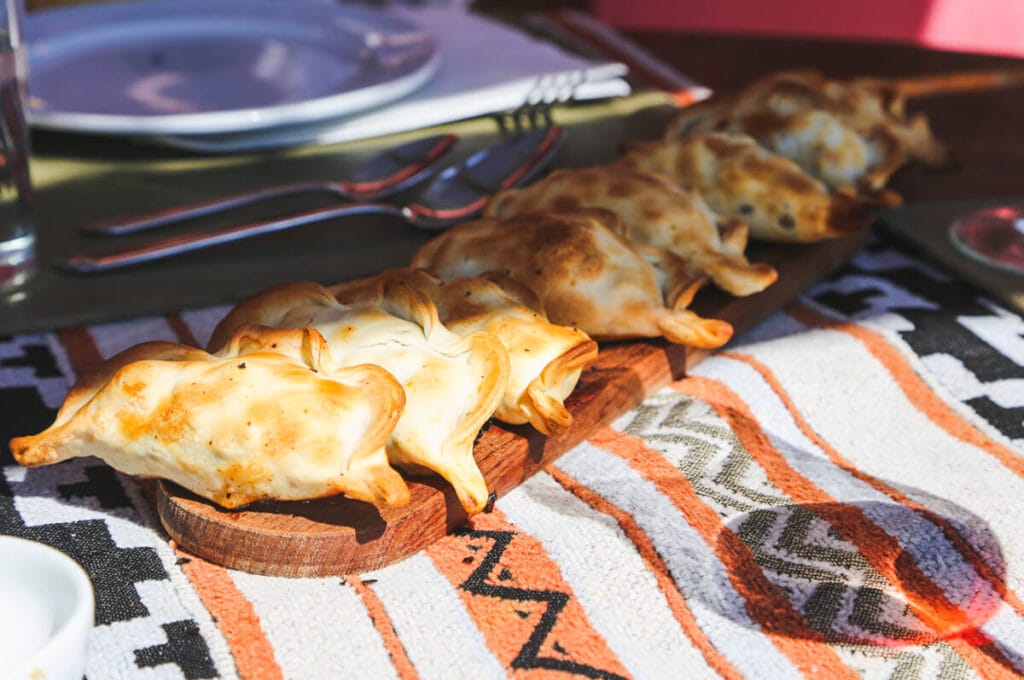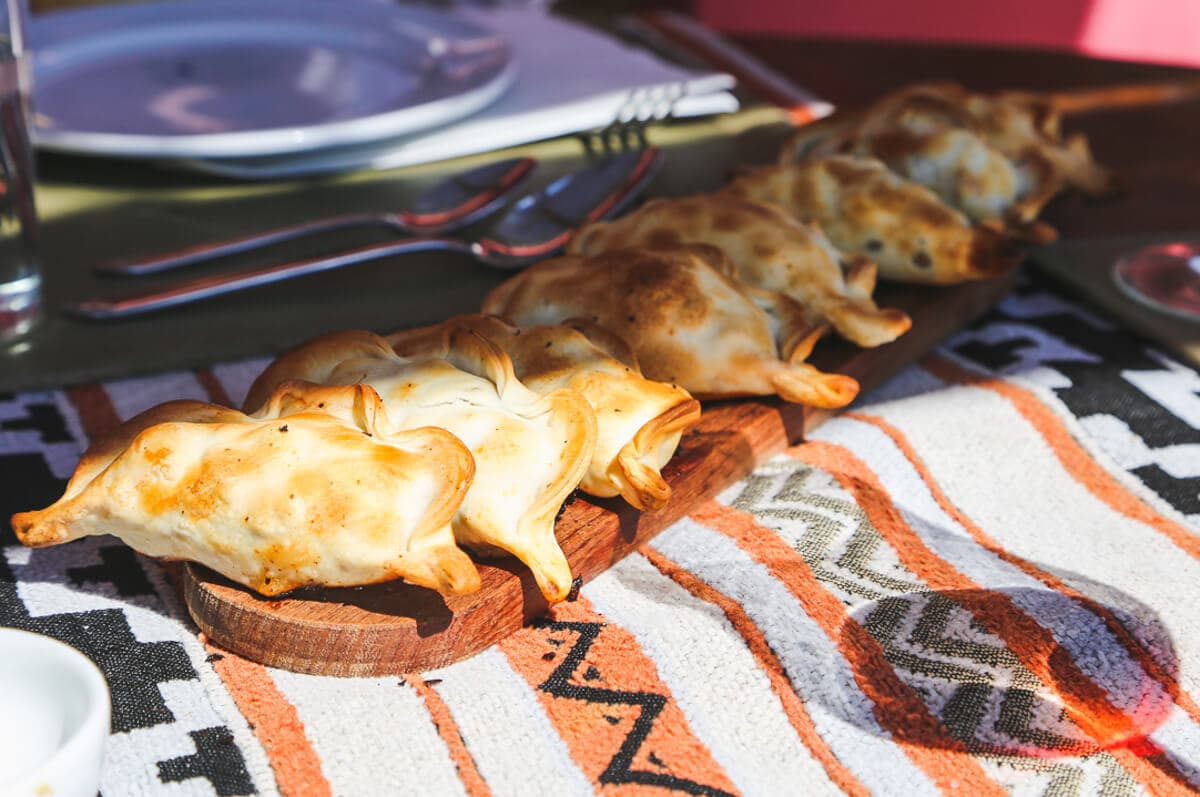 QUICK NOTE: This post contains affiliate links and Sol Salute may receive a commission for purchases made through these links, at no extra cost to you.
Argentina Empanadas: A Foodie Guide
Empanadas are ubiquitous when it comes to popular Argentina foods.
Order them by the dozen for delivery with your friends on Friday night, try a couple to whet your appetite before steak at a parrilla, or visit empanada houses to try the best of the best.
They're everywhere.
Empanadas in Argentina: What to Know
Here's a few tips and terms to keep in mind when eating empanadas in Argentina.
Repulgue – The official term for the folding to close the empanada. Each flavor has its own repulgue style and shape. That's how you identify which is which when you order a variety
They're usually served fried or baked, pick your poison.
Carne Cortada a Cuchillo – If you see this version of meat on the menu, get it! It's a proper steak cut by hand versus ground meat
Carne/Pollo Picante – Keep in mind that empanadas in Buenos Aires are rarely spicey, despite the name.
If they come too steaming hot to eat, bite off an opening and let the steam waft out to cool for a bit
Flavors typically depend on the region they hail from, but in general, the best empanadas are from the northwest: Salta, Tucuman, San Juan, La Rioja, and Catamarca. The bulk of the empanada houses in the list below are region specific!
Classic Empanada Flavors
Carne – Obviously! You'll find versions made with ground meat and steak cut by hand (cortada a cuchillo).
Pollo – Chicken
Suave vs. Picante – You'll often see both spicy and mild options of meat and chicken empanadas, but be prepared that picante is rarely actually spicy.
Ham & Cheese – For the picky eaters among us, there's always a good ham and cheese on the menu.
Humita – Creamed corn and cheese, typical from the north
Queso & Cebolla – Onion and cheese may sound bland at first but when done well it can be pretty great.
When in Patagonia, you'll find flavors like trout, deer, wild boar, and lamb.
The 10 Best Empanadas in Buenos Aires
Without further ado, here are the best empanadas in Buenos Aires.
I tried to make this list cover a variety of options including all the northern provinces and different styles, like parrillas, pizzerias, etc.
With that in mind, know that while this list can't include EVERY incredible empanada in town (there are simply too many), it does have the best of the best and if you try them all, you'll be trying a little of everything.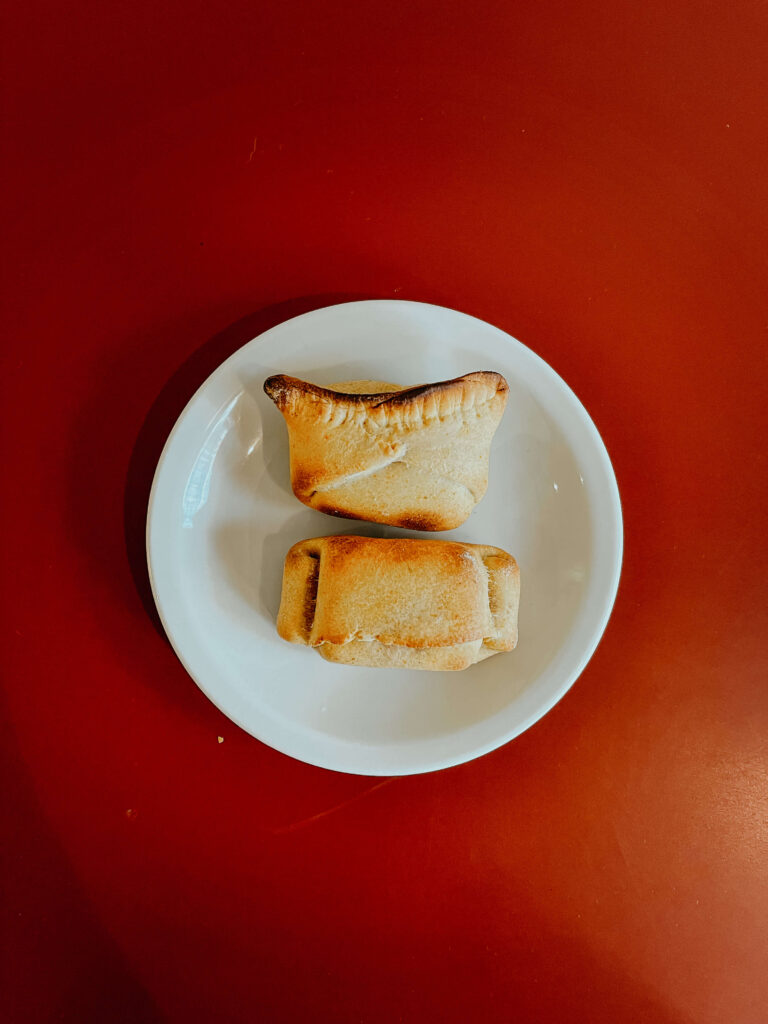 1. La Paceña
La Paceña, Echeverria 2570, Belgrano
What to get: Puka kapa, spicy cheese & onion
These empanadas are typical Salteñas from Bolivia (not Salta, as the name would suggest).
The dough is from corn meal and is a bit sweeter than traditional Argentine empanada dough. The empanadas are baked and service is slow but worth the wait!
The spicy empanadas here are actually spicy so try the carne picante, pollo picante, and the puka kapa (spicy cheese and onion, my favorite!).
Also, for a cold winter day, try their cazuelas or locro. These traditional hearty stews will stick to your ribs and warm you right up.
For dessert, order the paceñitos, tiny sweet empanadas filled with sweet potato or quince paste.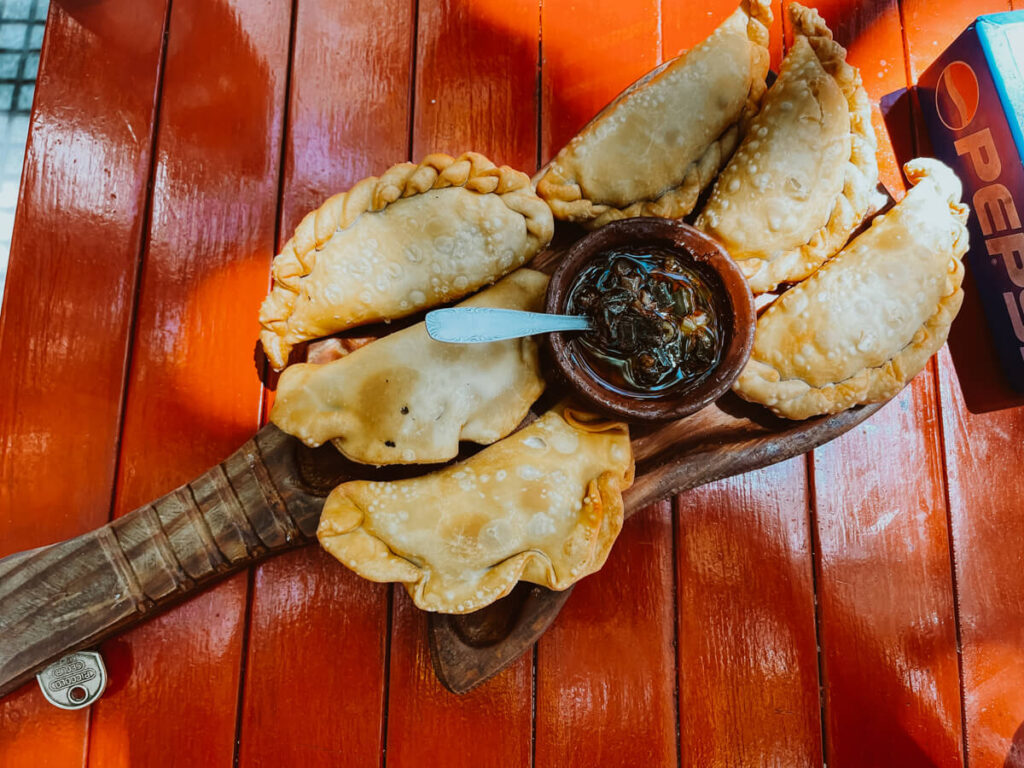 2. El Gauchito – Empanadas Riojanas
El Gauchito, Av. Independencia 414, San Telmo
What to get: Carne cortada a cuchillo, fried
This tiny hole-in-the-wall dishes up my favorite meat empanadas in Buenos Aires, if not the country.
It's on Avenida Independencia, just steps from Calle Defensa and the weekly San Telmo market.
Stop by and grab some empanadas to go. I recommend taking them to Plaza Dorrego during the week or on Saturdays to watch the tango dancers perform while you eat your treat.
Get the fried carne cortada a cuchillo! I've tried the chicken as well which was also excellent.
They serve their empanadas with an oil based sauce similar to chimichurri. It's a secret family recipe!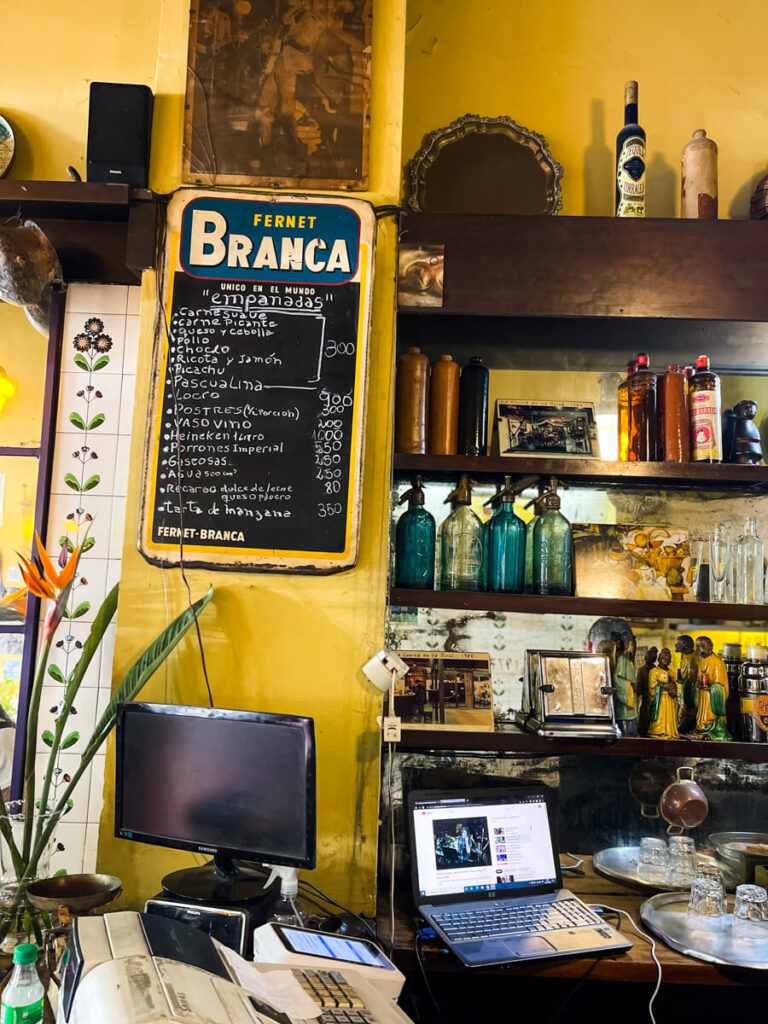 3. La Cocina
La Cocina, Pueyrredón 1508, Recoleta & Florida 142 #61, Centro
What to get: Pikachu
When locals tout their favorite empanadas in Buenos Aires they nearly always mention La Cocina, which specializes in empanadas from Catamarca.
The main location is a hole in the wall that oozes charm on Av. Pueyrredón in Recoleta.
The second location opens for lunch on weekdays in an underground shopping gallery downtown.
Both dish out delicious baked empanadas with a slightly sweet dough.
The meat was good but the best empanada is their pikachu, a spicy sweet cheese and onion empanada.
Service is quick. Thanks to their popularity they have a high turnover and I got my empanadas immediately after ordering them.
4. Fortín Salteño
Fortín Salteño, Cabildo 4702, Núñez
What to get: Empanada salteña
This is a little piece of Salta tucked away in the northern residential barrio of Saavedra. They have two other locations in Las Canitas and Florida (northern suburb), as well.
All the meat and vegetables are cut by hand for top quality and the empanadas are all baked.
They also have a wide variety of cazuelas (stews) on the menu as well as classic desserts.
Try quesillo with cayote for a traditional northern take on the traditional queso y dulce.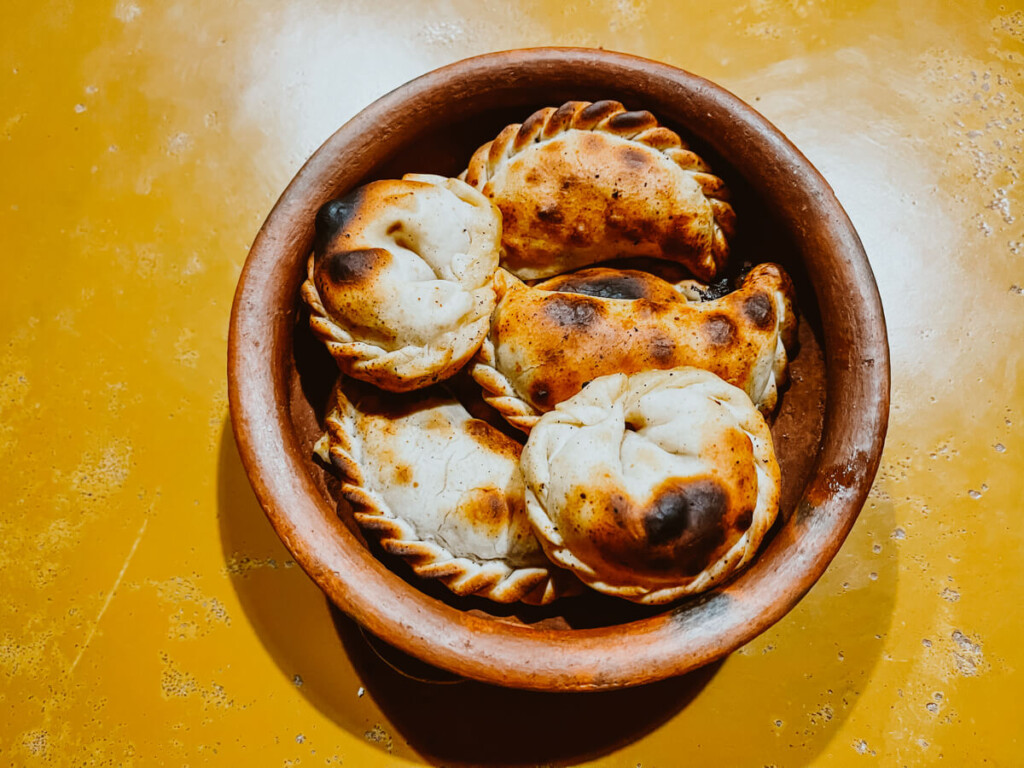 5. El Sanjuanino
El Sanjuanino, Posadas 1515, Recoleta
What to get: Carne, frita
I love this little traditional empanada house in the heart of posh Recoleta pumping out traditional food from the province of San Juan.
It's a great empanada and locro spot if you're in the area for the weekend market by the cemetery, but it does get crowded.
If there is a wait for a table, I prefer to order some empanadas to go (fried is faster than baked) and take them to the park by the Floralis Generica for a picnic.
They also have other traditional dishes on the menu including lentil stew, locro, mondongo, and tamales.
6. Cocina Regional 1810
Cocina Regional 1810, Julián Alvarez 1998, Palermo
What to get: Empanadas Tucumanas
1810 regularly pops up when people discuss their favorite Buenos Aires empanadas.
Their best empanada is the tucamana, a juicy beef empanada. They have a complete menu though with a lot of regional dishes to try.
They have other locations in the city as well, in Belgrano and downtown.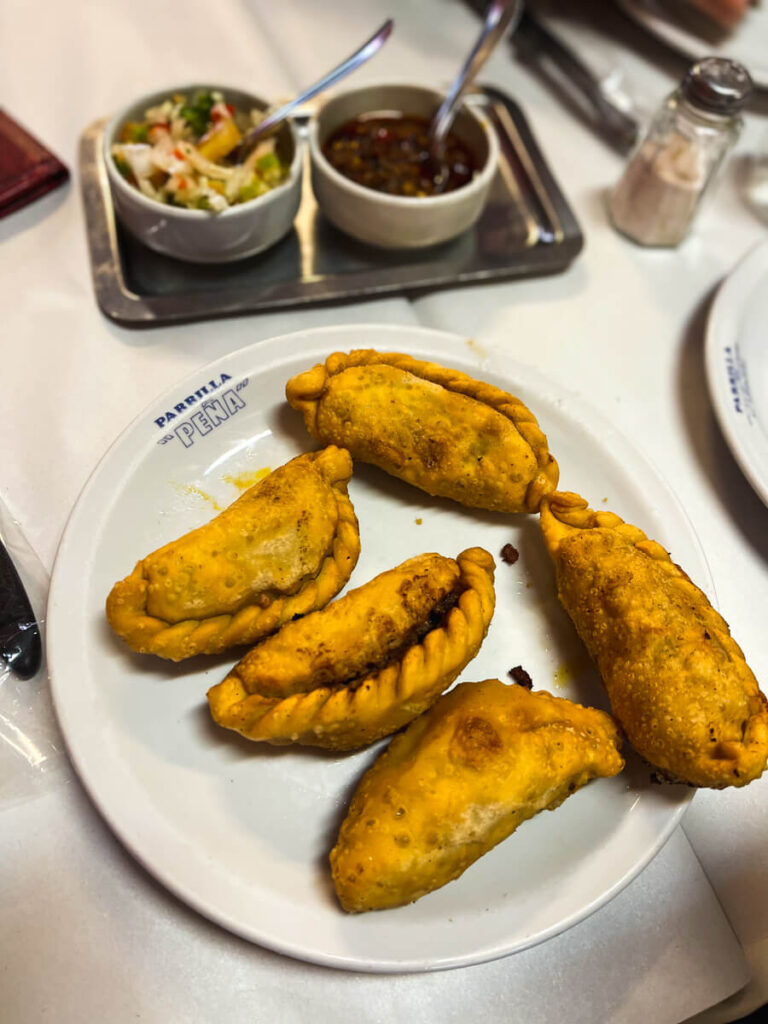 7. Desnivel & Parrilla Empanadas
Ordering an empanada or two at a parrilla is a great way to kick off the meal.
If you go to Parilla Peña they even give you a free empanada right after you sit down.
But when it comes to parrilla empanadas, my absolute favorites are from Desnivel.
They have three flavors: carne, pollo, and ham and cheese.
Trust me, you want the beef.
They're big, deep fried and incredibly juicy. Lean over your plate before you take a bite!
When I used to live just a few blocks I was a regular here, picking up a few empanadas for dinner when I couldn't be bothered to make dinner.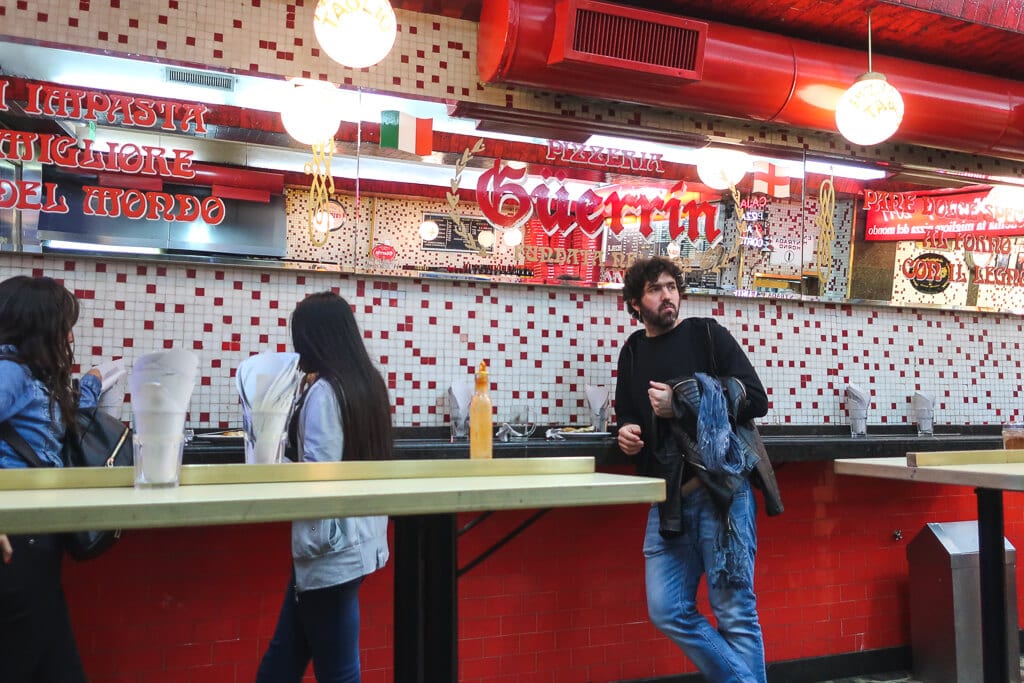 8. Pizzería Güerrín & Pizzería Empanadas
Buenos Aires has a number of classic pizzerias downtown dishing up decadently cheesy pizza by the slice to theater-goers and businessmen on Avenida Corrientes.
The best of these is without a doubt Pizzería Güerrín and along with great pizza, they also serve up great deep fried empanadas.
I recommend going for a slice of muzza (cheese pizza) and an empanada.
Get a glass of cheap wine to round out the meal.
You won't regret it.
9. El Perón Perón & El Santa Evita
Want flavorful juicy empanadas and a heavy helping of political fervor?
These two Buenos Aires restaurants will give you a taste of both!
El Perón Perón in Palermo Hollywood was featured on Netflix's Somebody Feed Phil and the empandas do not disappoint.
Get the ossobuco (oxtail). It's not a purely empanada restaurant so make a reservation for a full dinner.
El Santa Evita pays homage to the country's most infamous political figure but I'm here for the empanadas.
Try their empanadas salteñas, served complete with the hot sauce typical to Salta.
10. The Stand Empanadas
The Stand, Soler 4492, Palermo Soho
Empanadas in Argentina never stray too far from the classics: meat, ham, chicken, cheese…
The Stand finally taps into the vast potential the empanada holds, offering unique flavors you won't find anywhere else.
Think curry, cajun, bacon, pulled pork…
The options are endless.
If you're looking for something different, which can admittedly be hard to find here, go to The Stand.
Read More about Eating in Argentina
Pin It For Later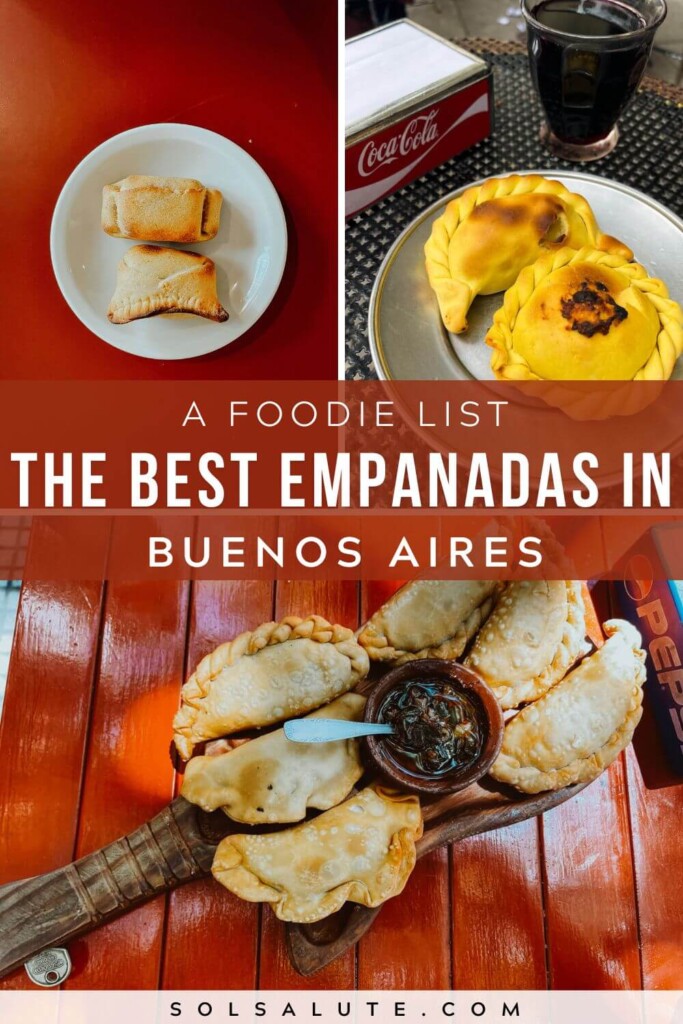 Argentina Travel Resources