Schulenberg advertises itself as "halfway to everywhere," making it an easy day trip from Austin or Houston.
This tiny town has a lot to offer.
There's a historic (and haunted) dance hall, rolling hills, and a beautiful downtown.
But the star of Schulenberg are the beautiful churches that dot the countryside around it.
Out of the twenty painted churches of Texas, Schulenberg is home to 6 of the most famous and beautiful.
This post is a complete guide to visiting the painted churches in Schulenberg.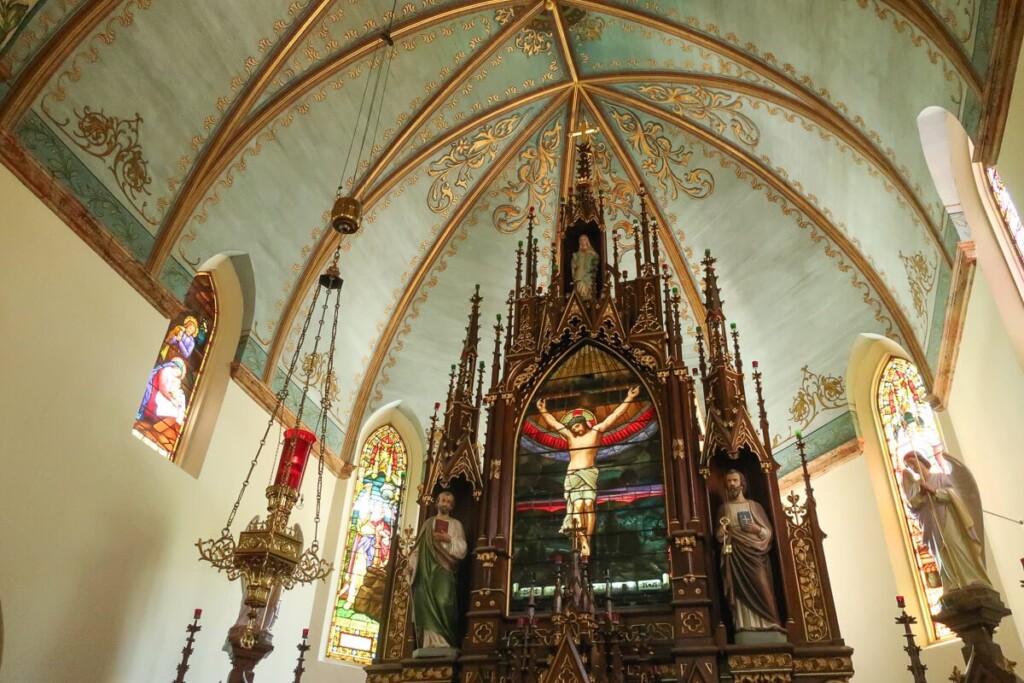 QUICK NOTE: This post contains affiliate links and Sol Salute may receive a commission for purchases made through these links, at no extra cost to you.
Touring The Painted Churches of Texas
I may live 5,000 miles away from the Lone Star State these days, but I'm a born and raised Texan.
Whenever I visit home I set out to explore and discovering the hidden jewels in its beautiful small towns is one of my favorite things to do in Texas!
Recently my dad and I spent the day in driving across Fayette County on a self-guided tour of the Schulenburg painted churches.
The churches and the rolling hills that surround them made for a great daytrip that I wholeheartedly recommend.
In fact, having done it I would go so far as to recommend staying the night!
Stay the Night in Schulenberg
There is a lot to do here! Wineries, live music at Schengelmann Hall, and tempting restaurants all had me wishing we could stay through the night.
In fact, I'll probably return one day with my husband to do just that.
The hotels in Schulenberg are mainly just budget chain hotels like Best Western and Holiday Inn. You can compare the prices and availability for those by clicking here.
For a more charming stay, check out this historic Victorian home.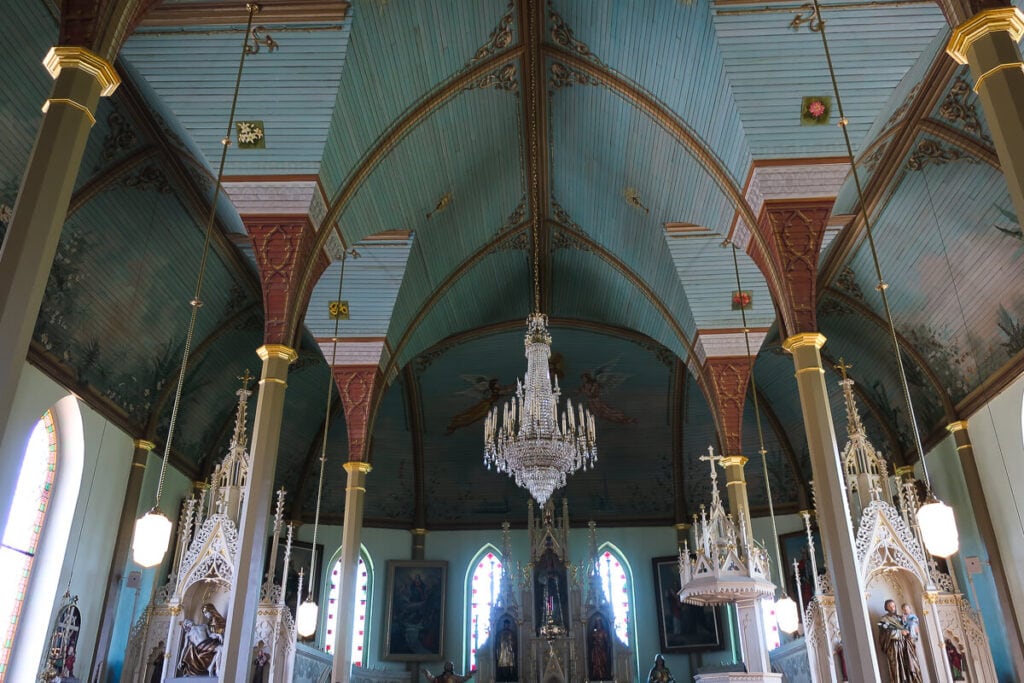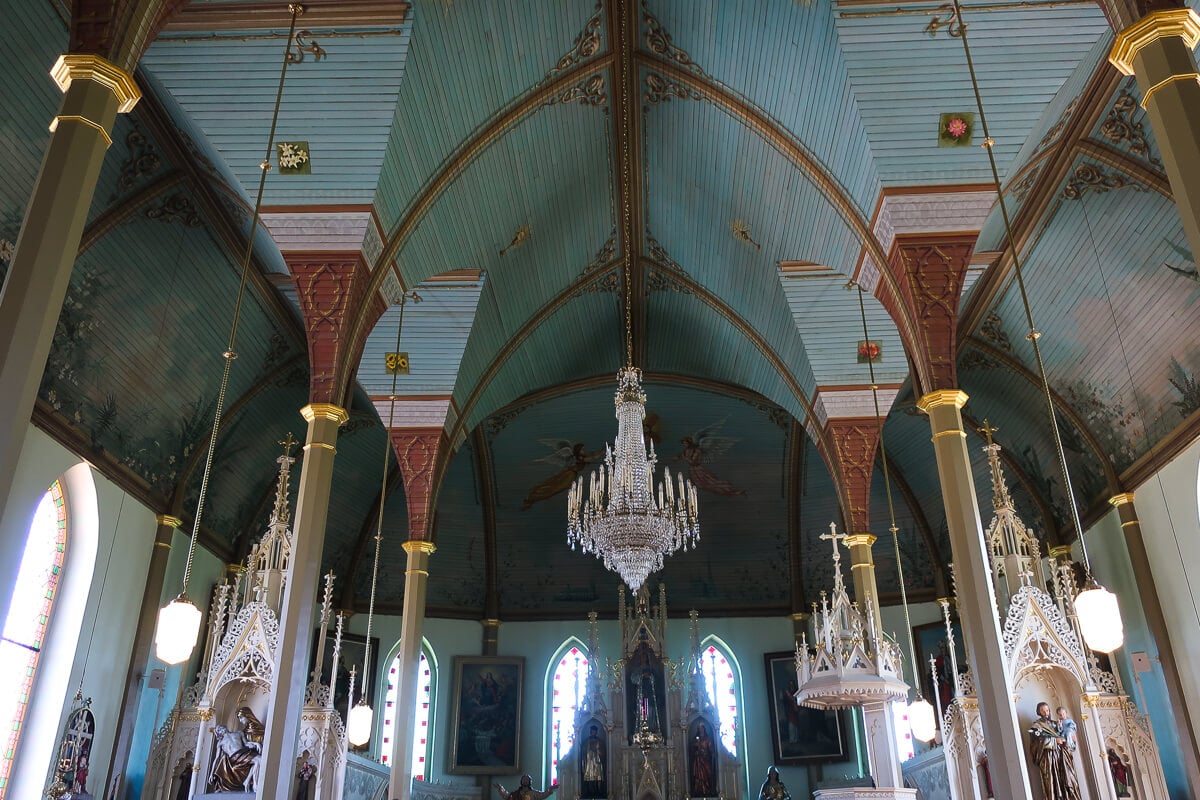 Self-Guided Tour of the Painted Churches
We chose to go on a self-guided tour.
Considering we'd be carting around my one-year-old, I didn't want to be tied to a schedule with a guide.
Going at our own pace allowed us to spend extra time at each church for him to crawl about and tire himself out, which was priceless.
We also packed a picnic to enjoy instead of eating at a restaurant. All of the churches have restrooms and picnic tables.
To see the churches on your own, visit the Chamber of Commerce downtown to purchase a map for $5.
They will help you design a route according to your needs.
For example, at the end of our day we'd need to head north on Highway 77 to go home to Brenham.
Knowing this, they told us the best order to see the churches to end the day closest to home.
The map made it very easy to find the churches and was filled with historical information about each one.
Self-Guided Tour at a Glance:
You can see four churches on your own: Praha, High Hill, Ammannsville, and Dubina.
You won't be able to fully enter Dubina without a guide, only view it from the entry hall behind a gate. It is the smallest of the four, though, and I feel we could see it well from there.
Get a map at the Chamber of Commerce for $5
There are other historic (aka non-painted) churches in the area, marked in the map in a different color. If you have the time, you can extend your day visiting these sites.
I'll go into detail on these four churches and our itinerary below.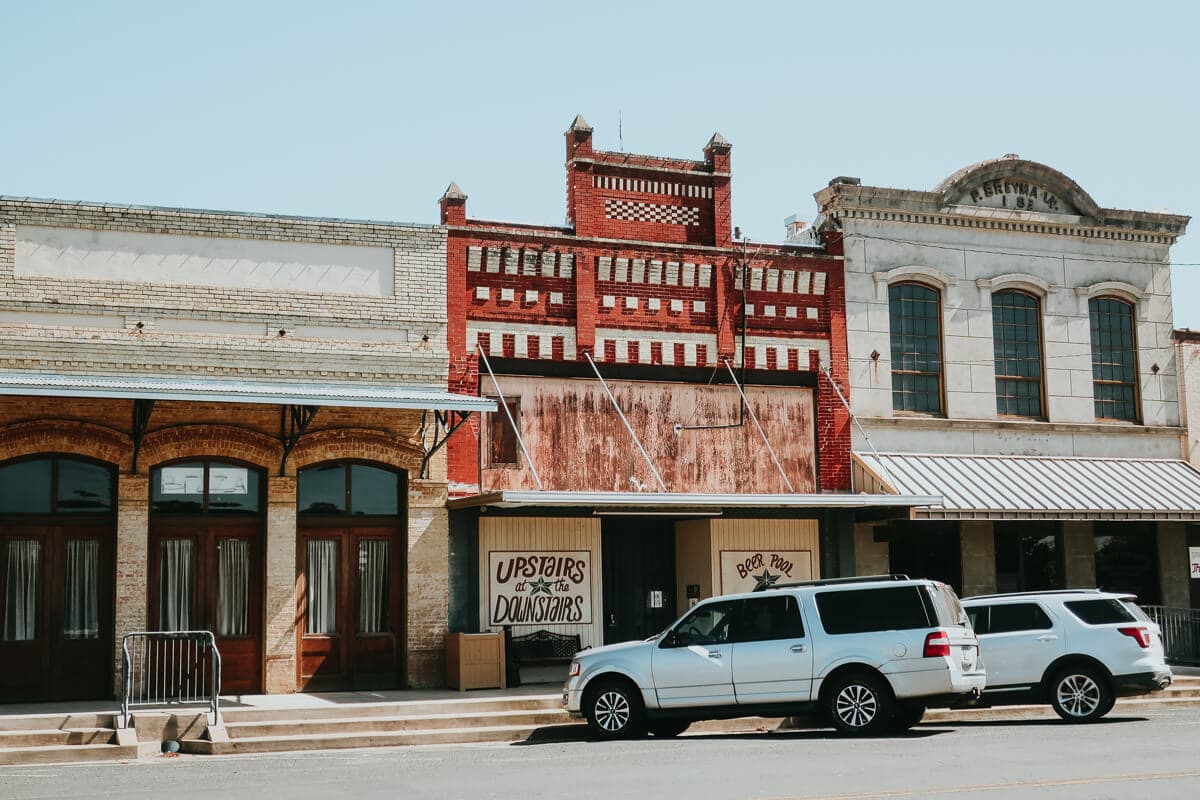 Guided Tours of Schulenberg's Churches
The Schulenberg Chamber of Commerce offers guided tours of the churches.
If you're interesting in the history this is an excellent option to get more out of your day.
Painted Churches of Texas Guided Tour at a Glance:
You must reserve well in advance and pay a $50 deposit.
There are two options: $12 per person to visit the four main churches or $18 per person to visit six churches, adding on two churches that are impossible to see without a guided tour.
The tour includes a lunch stop at one of the region's restaurants, they will help you with reservations.
Click here for more information on reserving your guided tour.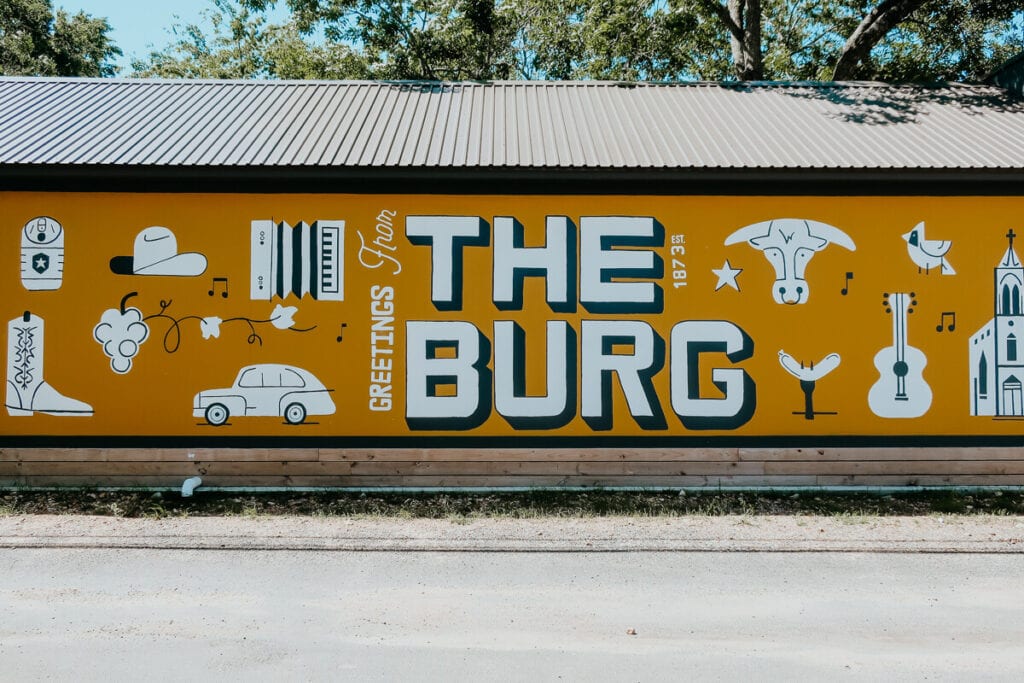 The 4 Beautiful Painted Churches of Schulenberg
This region of Texas was settled by German and Czech immigrants looking for a better life, many fleeing from religious persecution.
These painted churches are located in the communities of Dubina, High Hill, Praha, and Ammannsville.
There are two more in Moravia and St. John that you must go on the guided tour to be able to enter.
Along with the painted churches, there are historic churches highlighted on the map, not painted but still beautiful. You can choose to include these on our itinerary if you have time. We did not have the time.
All surround Schulenberg and may not be much to see today but at one point each was a bustling town in their own right.
Here are the four Texas painted churches we visited, in the order that we visited them.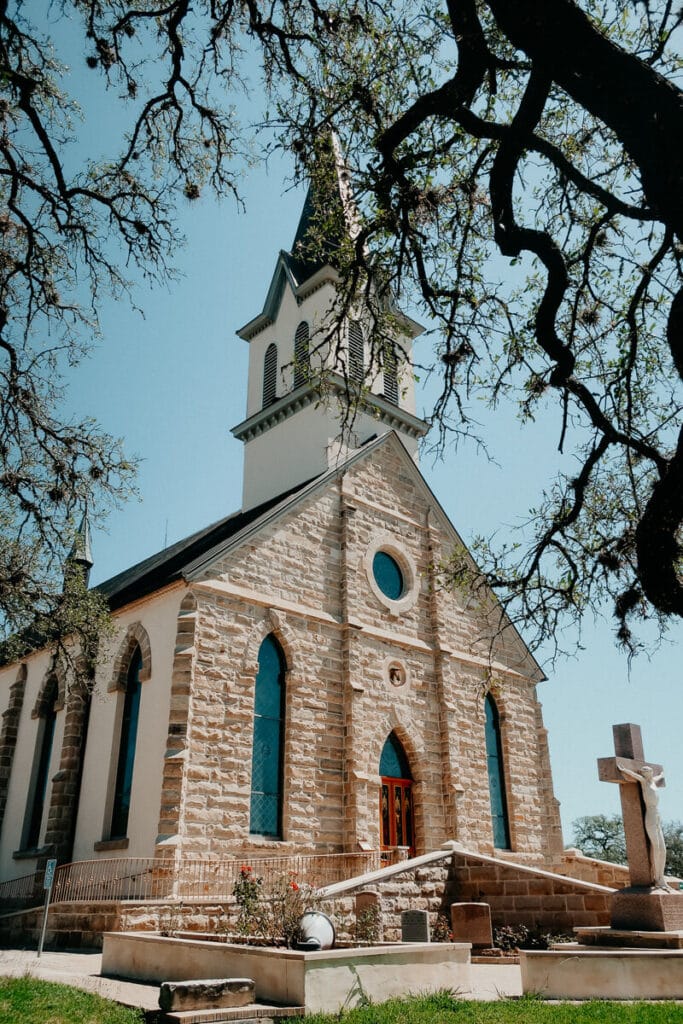 St. Mary's at Praha
We started our tour at St. Mary's Czech in Praha. This ended up being my painted church of the day!
I found it beautiful but humble. For a quiet country church, it is extravagant. But also, it somehow feels right at home here with its stone exterior and muted tones.
This area was settled by Czech immigrants. It was originally named Mulberry after Mulberry Creek but was later changed to Praha (Prague in Czech).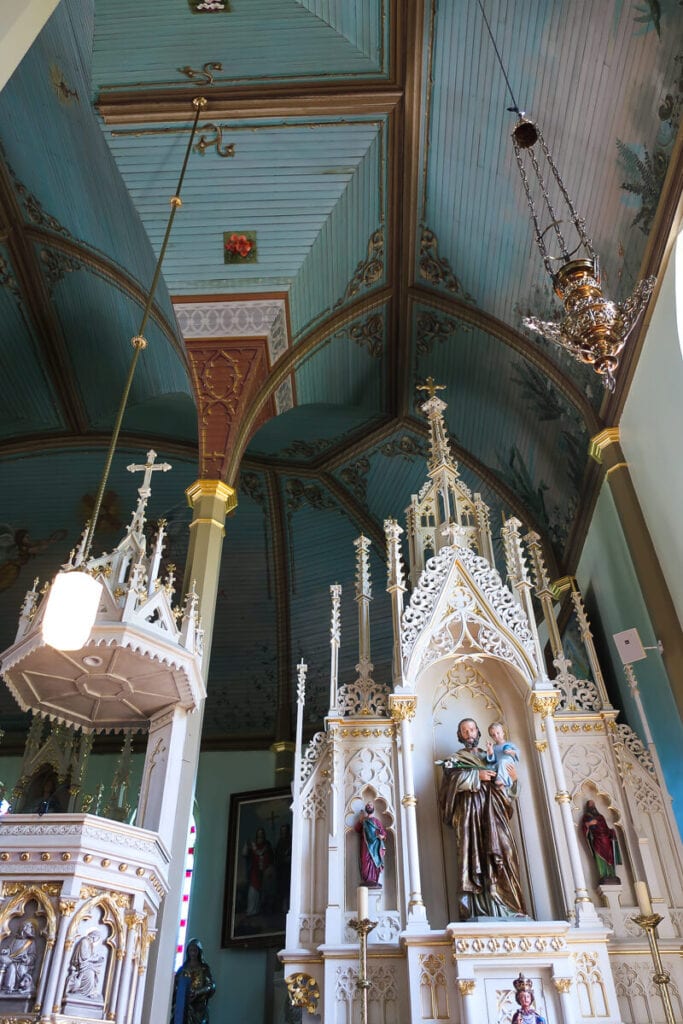 St. Mary's Paris was established in 1855 but the stone church you see today was built in 1895.
The painted interior was done by a well-known Swiss artist and is original, never having been repainted.
While here, don't miss the cemetery and three memorials that surround the church dedicated to the 9 local men who gave their lives in World War II.
I loved the interior of this church and the Czech signs above the cemetery.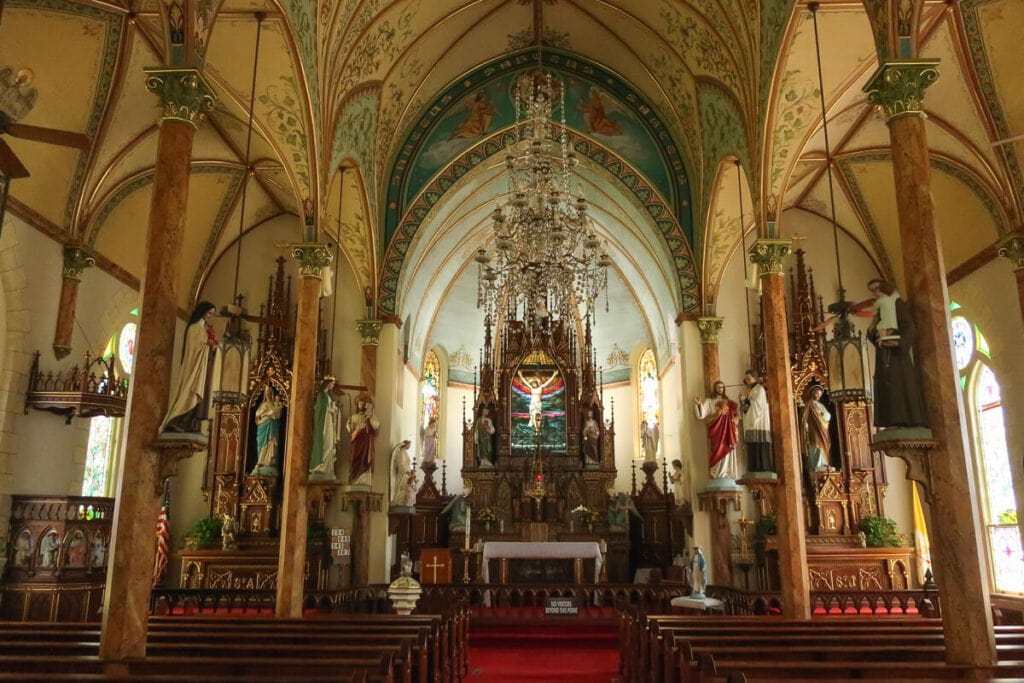 St. Mary's at High Hill
Our second stop was at the most renowned of Texas' painted churches, St. Mary's in High Hill.
The exterior immediately struck me after visiting Praha. High Hill's church is made of red brick and feels somehow modern as seen from the street.
Once inside, however, we were sent straight to 19th Century Europe. High Hill's church is ornate, pure Gothic Revival.
It is so beautiful that it is known as the Queen of the Painted Churches is even on the National Registry of Historic Places.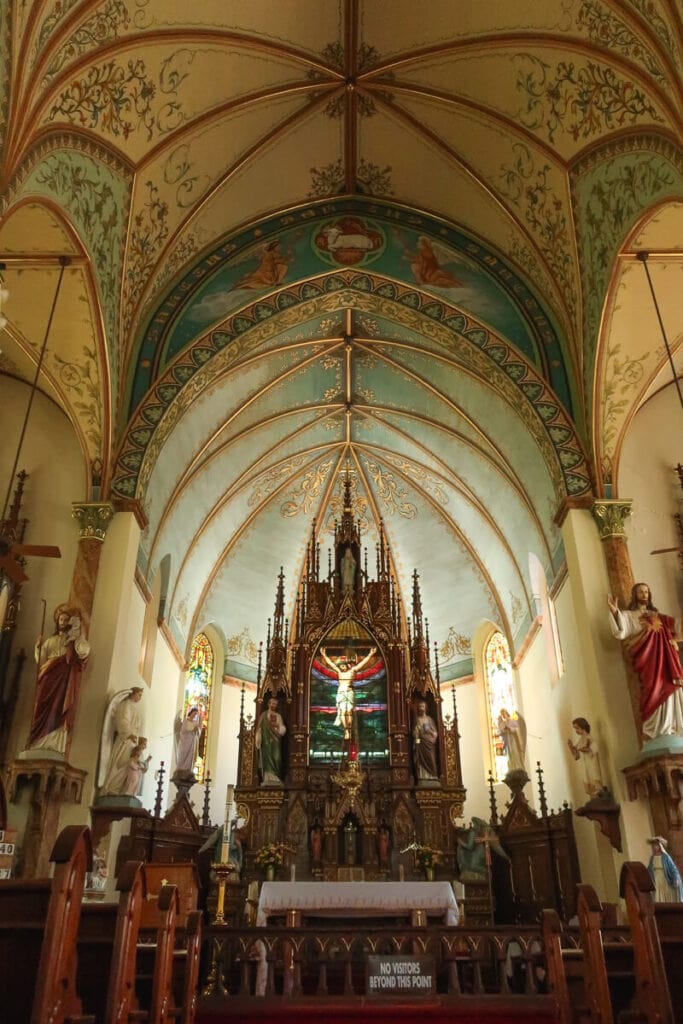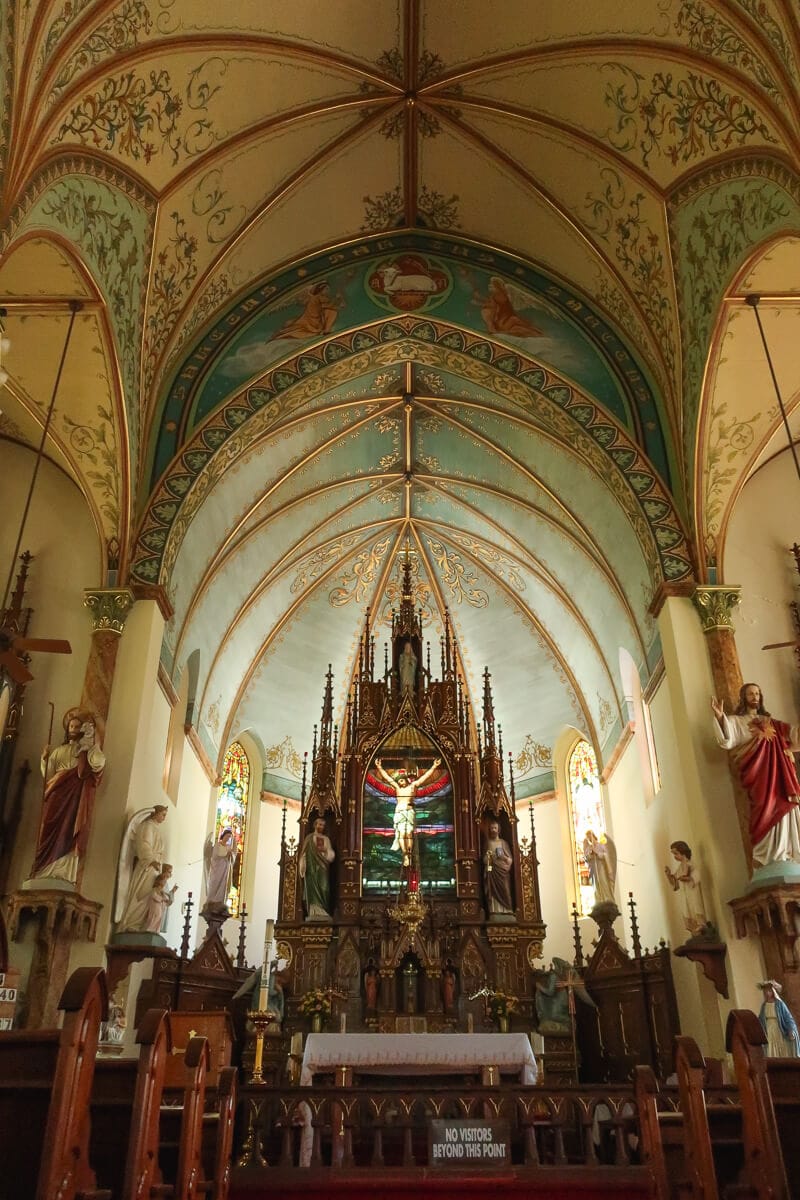 High Hill was settled originally by several families emigrating from Austria and Germany. The name is suspected to reference the mountains they missed back home.
The first church was built in 1869. It was replaced with a larger building in 1876 that was also used as a school. Local parishioners donated stained glass windows to the newer church.
The brick building you see today was built in 1906 and painted in 1912, which does explain why it feels much more modern than her country companions.
Take note of the 18 stained glass windows. They are the original windows from the 1876 church.
PICNIC TIP | All of the churches have outdoor picnic tables under metal roofs (used for social events and festivals). So you can easily bring a picnic lunch to enjoy at any of the churches.

I think High Hill is the best option for a picnic. The tables are next to the church and parking lot and the bathrooms were very clean.

(It may be important to keep in mind that the bathrooms at Dubina are outhouses).
Old High Hill Cemetery
The Old High Hill Cemetery is one mile south of the church on FM 2672.
It's worth a stop before or after the church. Find the oldest headstone from April 6, 1861 (of August Wolters).
The two fathers of Schulenberg are buried here: Louis Schulenberg (the town's namesake) and Christian Baumgarten, the "Father of Schulenberg."
Pit Stop for Pecans
Since our day in Schulenberg would end north of town in Ammannsville, we decided to stop in town one last time on our way to Dubina from High Hill.
Our route on I-10 took us right by the last thing I wanted to see in town, the Potter Country Store, a.k.a. pecan paradise.
We picked up some pecan toffee and enough fudge to last us the week!
If you want to have lunch in town, I recommend the Oakridge Smokehouse, next door to Potter Country Store.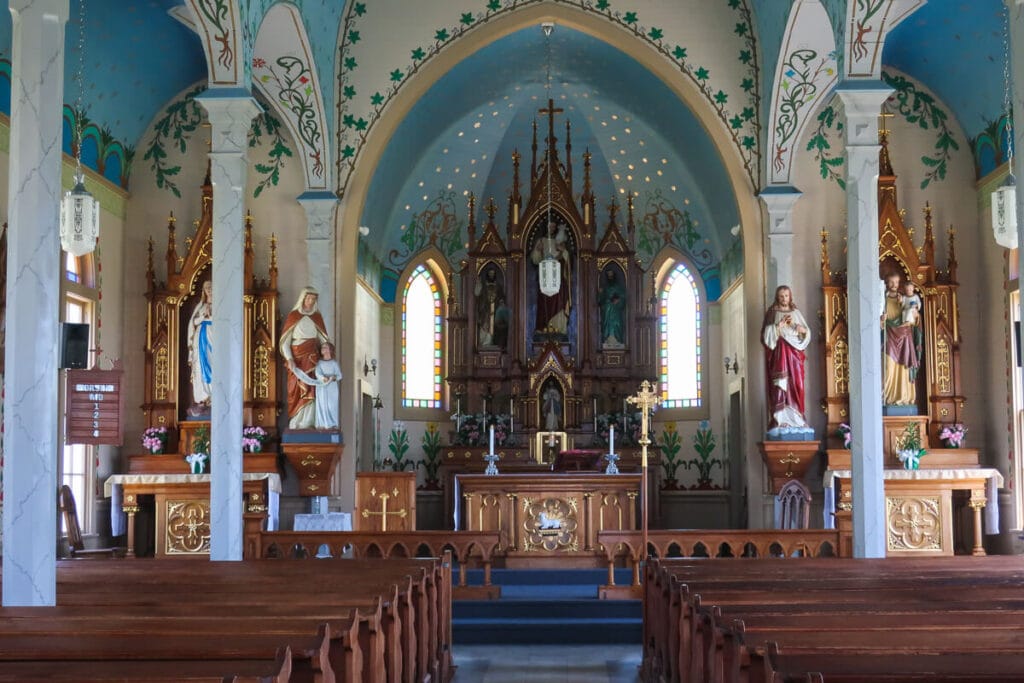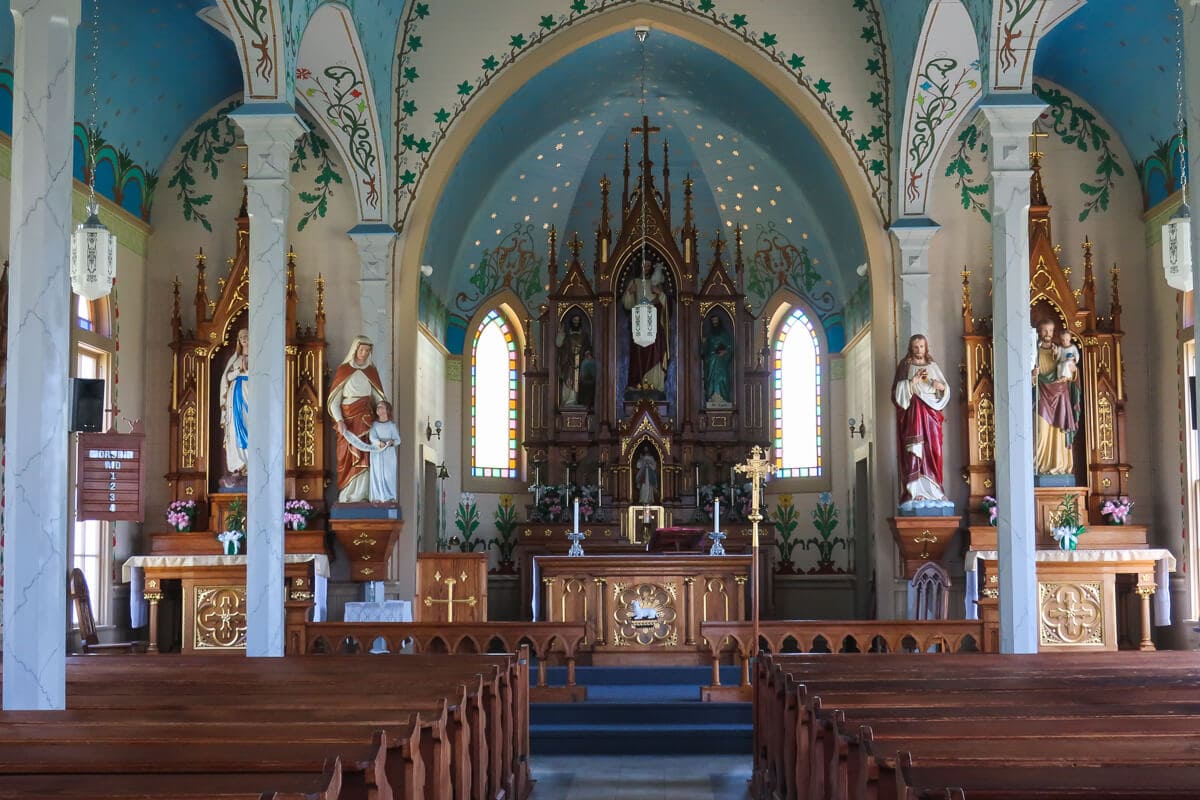 St. Cyril and Methodius Church, Dubina
You can only enter Dubina's church on a guided tour but all is not lost, if you visit on your own you can see the interior from the entry way via an iron gate.
The church, in comparison to her sisters on the tour, is rather small you can see it quite well from the gate.
Dubina was founded in 1856 by Czech immigrants. In fact, this is the first community to be founded completely by Czech-Moravians.
The name pays tribute to the regions oak trees, "dub" is the Czech word for oak tree.
This tiny white church you see today was built in 1912 but the history goes back much further.
Founding families originally held services in a log cabin before the first church was built in 1877. It was enlarged in 1890 to accommodate what was becoming a bustling community (growing upwards to a population of 3,000).
Unfortunately, in 1909 a tropical storm destroyed the original church. Construction began immediately on a replacement.
Unfortunately (again), the original paintings were covered in 1952.
Later, parishioners recovered the original paintings and you can see them in all their glory today. It may be tiny but it's beauty is big.
Don't miss the cemetery (likely to originally have been an Indian burial ground).
I also particularly liked the outhouses marked in Czech, they felt frozen in time.
Piano Bridge to Ammannsville
To get to Ammannsville from Dubina we decided to take the back roads in order to cross the historic Piano Bridge.
This old iron bridge was built in 1855 by King Bridge Company of Cleveland, Ohio. The name comes from the sound that came from the original piano-wire truss design.
You won't hear anything when you drive across these days now that the bridge has been modernized but it's still a beautiful sight to see.
It's easy to find, you'll see the sign for Piano Bridge from the Dubina church parking lot. The road (FM 615) leaves the parking lot by the cemetery.
Keep on FM 615 then take a right on Mensick Road which will take you Ammannsville.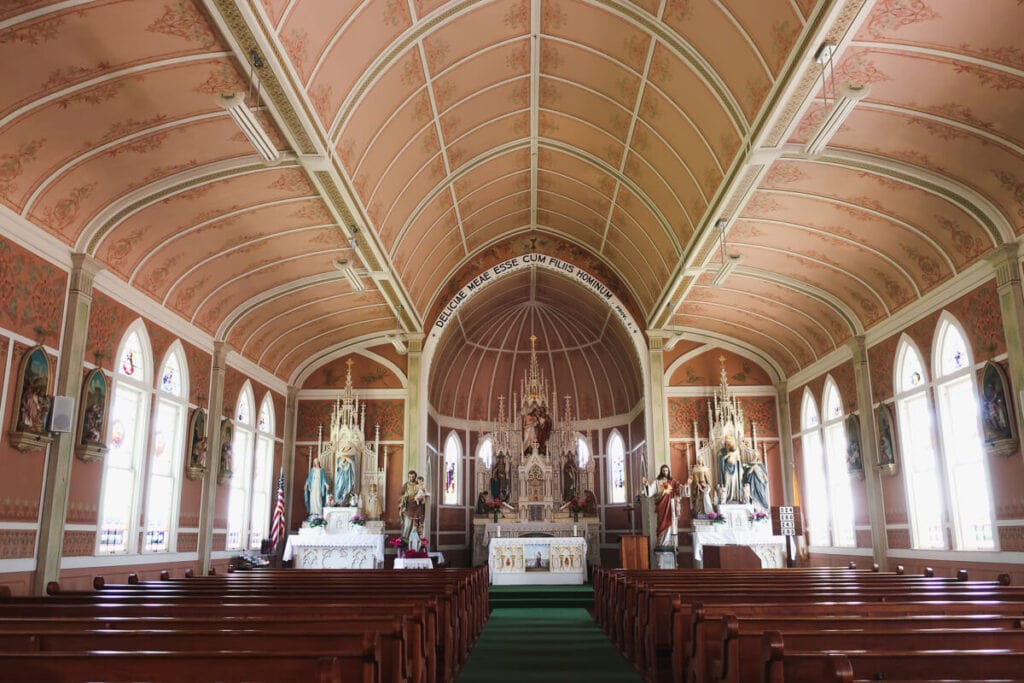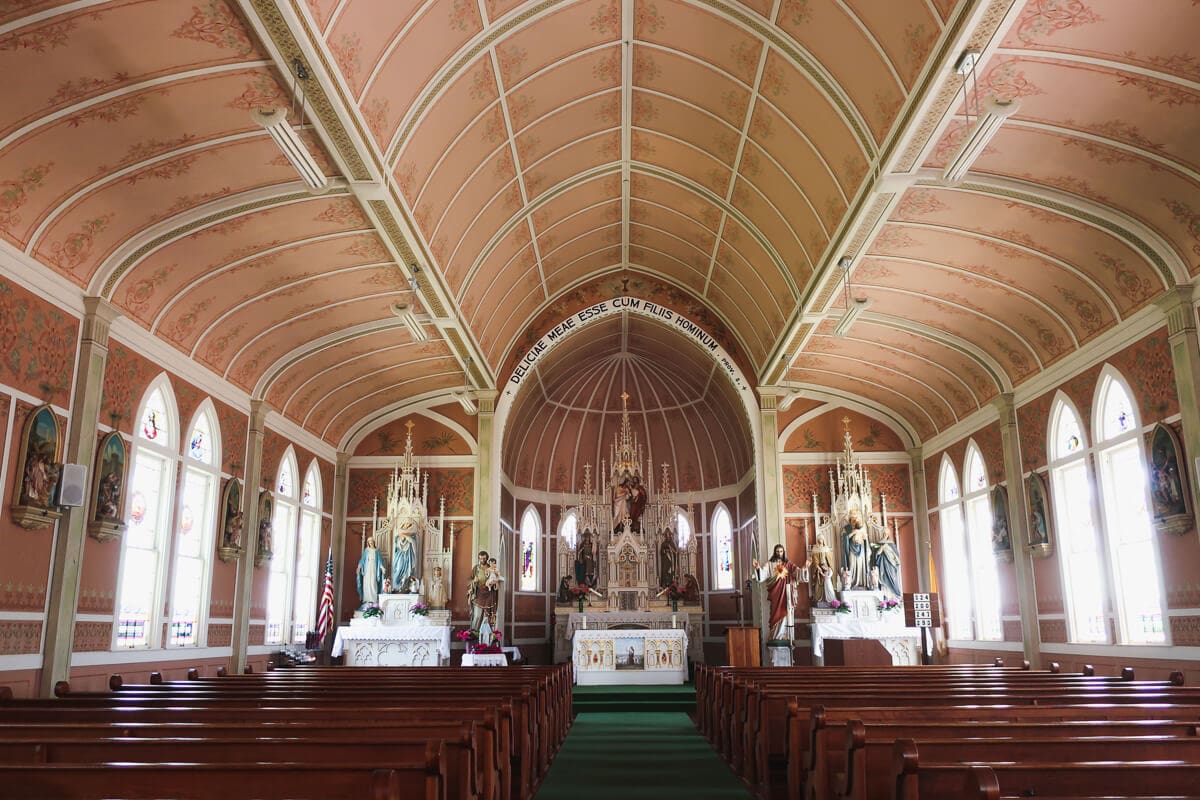 St. John the Baptist, Ammannsville
Ammannsville was our final painted church in Schulenberg and it was a beautiful way to end our day.
This time, instead of the name paying homage to the home they left (Praha) or the new home (Dubina's oak trees), Ammannsville is named after the original settler and farmer here, Andrew Ammann.
The dusty rose interior was light and airy, combined with the wide building it felt spacious and inviting.
This is the third church built here on this site, finished in 1917. The first was destroyed in a storm. The second burned down in a fire (some statues you see are original and were saved by brave parishioners).
Texas' Painted Churches in Schulenberg
Having grown up in Texas, I was surprised that these stunning churches were only a stone's throw from where I grew up.
Sometimes you don't need to travel far to see something beautiful.
I hope this post helps you discover Schulenberg's beautiful painted churches.
If you have any questions at all, drop me a line in the comments below and I'll get back to you as soon as possible.
Explore More of the Area