I feel so incredibly lucky to be from such a beautiful place as Brenham and I hope you fall in love with it too.
This post is a complete guide to my hometown, including the 20 best things to do in Brenham. At the end of the post I include my favorite places to stay and favorite way to spend a night out!
After reading this post you'll be prepared for the perfect day or weekend in Brenham.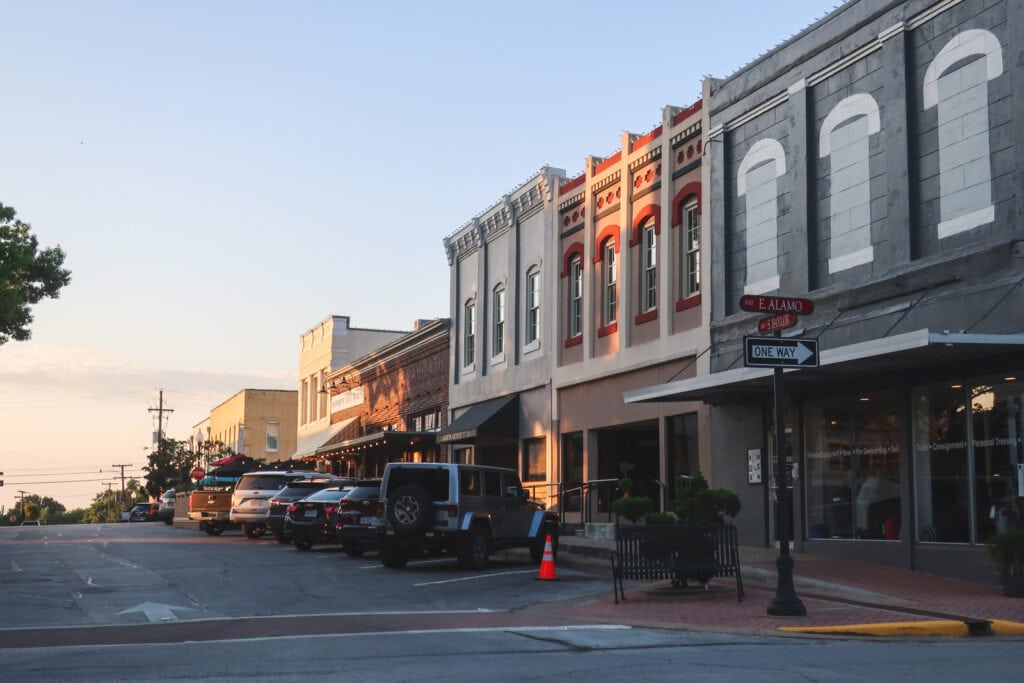 Quick note: This post contains affiliate links to products & services. Sol Salute may receive a commission for purchases made through these links, at no extra cost to you.
Brenham at a Glance
Brenham is quintessential small town Texas, with a beautifully restored historic downtown and green rolling hills in the surrounding countryside.
Recent years have seen the opening of new restaurants and bars that even a big city hipster would enjoy showing off on their Instagram feeds.
Visit the home of Blue Bell Ice Cream and the birthplace of Texas here. Antique shops downtown, biergartens, live music venues, and natural beauty, there is so much to do in Brenham.
How to get to Brenham
Brenham is smack dab in the middle of Houston and Austin on Highway 290. If you're driving from one to the other, you will drive through Brenham.
It is the perfect stop on a road trip through this region of Texas whether you stay for a few days or just as a pitstop to cut the long drive from Houston to Austin.
Brenham is an excellent day trip from Houston for those craving some time in the country. For the other weekends where you can't get out of town, here's a list of the best Houston outdoor activities for a quick breath of fresh air.
The Best Time to Visit Brenham
The best time to visit Brenham is definitely in the spring months to see the wildflowers bloom. Bluebonnets begin to bloom starting in mid to late March and peaking throughout April.
You'll also see red Indian paintbrushes, pale pink buttercups, and deep red wine cups dotting the fields surrounding Brenham throughout Washington Country.
Summer is a great time to take advantage of the outdoor music venues downtown. Time it right for outdoor events like Hot Nights Cool Tunes to catch a concert on the main square.
Other months have their benefits, like the county fair in September or Christmas decorations and events like the Christmas Stroll in December.
Day trip or stay for the weekend? Brenham may be an easy day trip from Houston but I recommend staying overnight if you can! Downtown Brenham comes to life at night with music venues and outdoor patios. Brenham is a great weekend getaway. At the end of this post, I list my favorite bars and venues and the best places to stay in Brenham.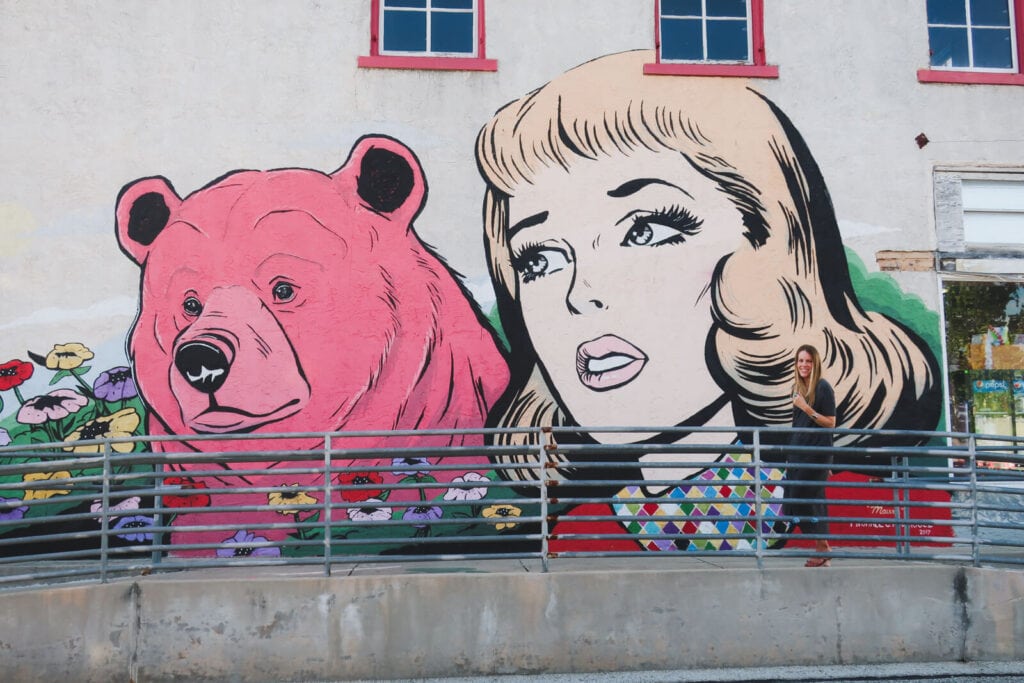 Things to do in Brenham
I may have spent over twenty years growing up in Brenham but it took moving abroad to really appreciate how beautiful my small hometown really is.
Our historic downtown is charming and straight out of a movie set. Visit the birthplace of Texas, tour Victorian homes from the 1850's, and taste the best ice cream in Texas at Brenham's 100 year old creamery.
Whether you come for a day or a weekend, with friends or your family, I guarantee you'll fall in love with Brenham and all its charms.
Let's get going, here are all the best things to do in Brenham!
1. The Barnhill Center at Historic Simon Theatre
Visit this historic theater in downtown Brenham. It was constructed in 1925 in the Beaux-Arts Classical Revival style. Click here for their schedule to see if there are any events going on while you're in town.
I mention the Simon Theatre first because it also houses the visitor center…
2. The Visitor Center Downtown
As part of the recent remodeling that brought the Simon Theatre back to it's maximum splendor, a visitor center was created in the same building at 115 W. Main Street.
Stop by and pay them a visit to get your bearings. You can pick up brochures and get first hand tips on any events happening that week.
They're open 7 days a week from 10-5 (but for reduced hours on the weekend, closing at 3).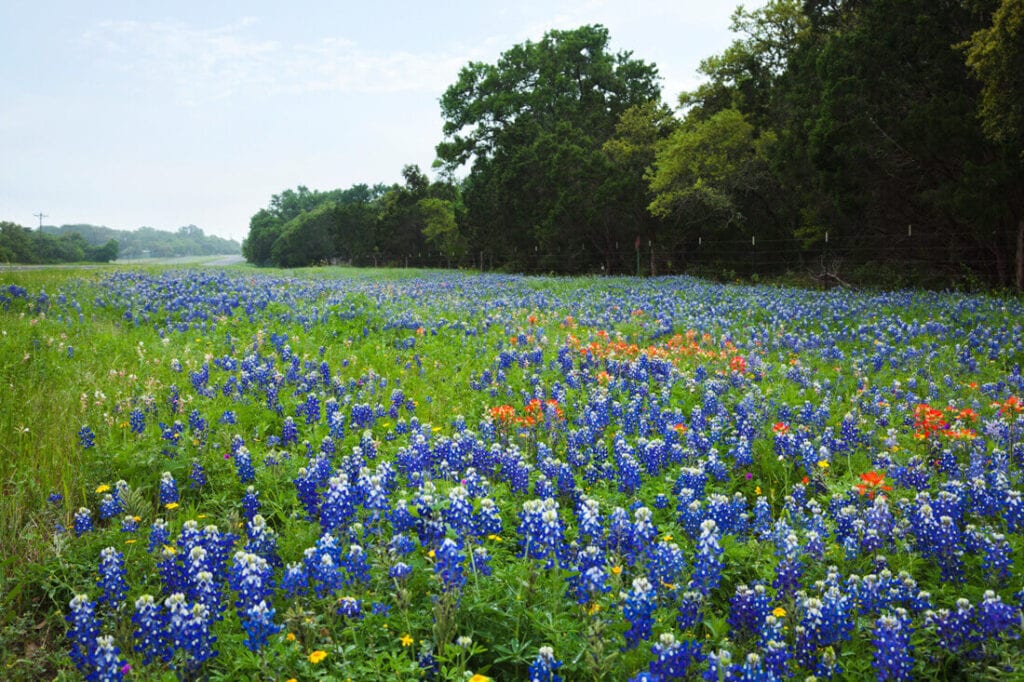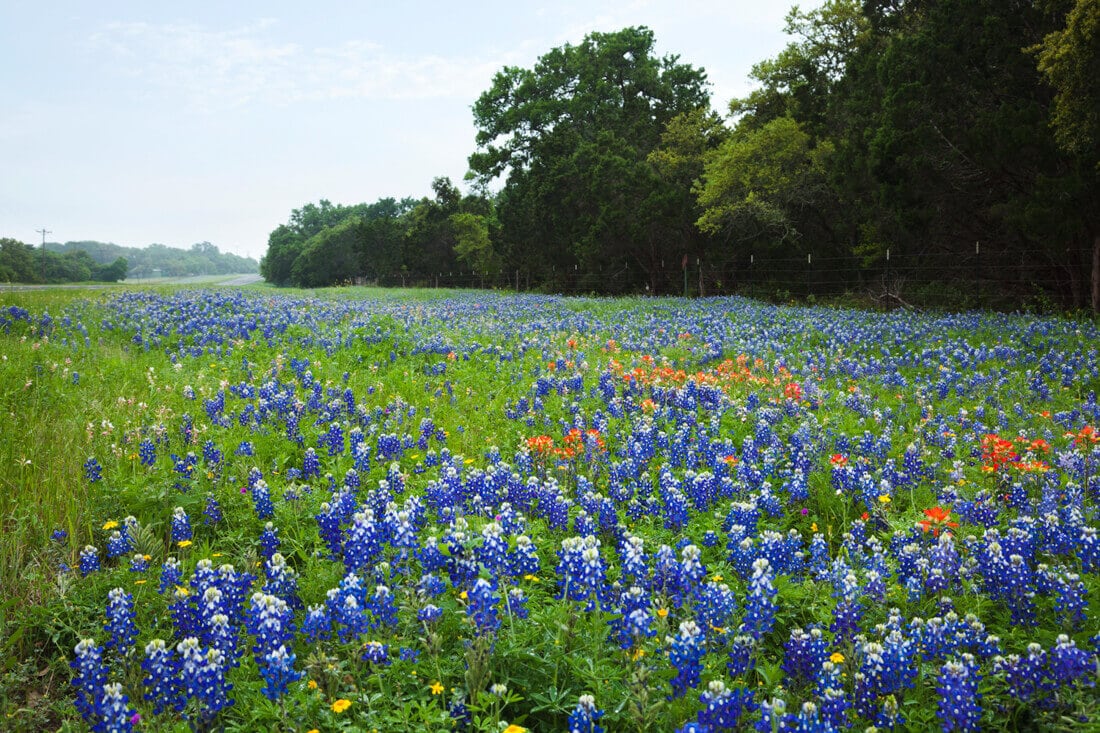 3. Washington County: The Best Place to see Bluebonnets
Texas' official state flower blooms in full force each spring in Washington County, making Brenham the best place to see bluebonnets.
You don't even need to have insider knowledge or a special map to find them, they bloom right in town in the fields off of Highway 290. There are big fields behind the Home Depot, Wal-Mart and the Las Fuentes restaurant.
Bring your camera, a cute quilt and your human or fur baby to get the epitome of Texas photos. Please be respectful and never trespass for a photo and never pick the flowers.
April is the best time of year to see the bluebonnets in Brenham but depending on the weather they may bloom as early as March or hang around into May.
Brenham is near Houston but if you're in Dallas, plan on visiting the Ennis Bluebonnet Trail.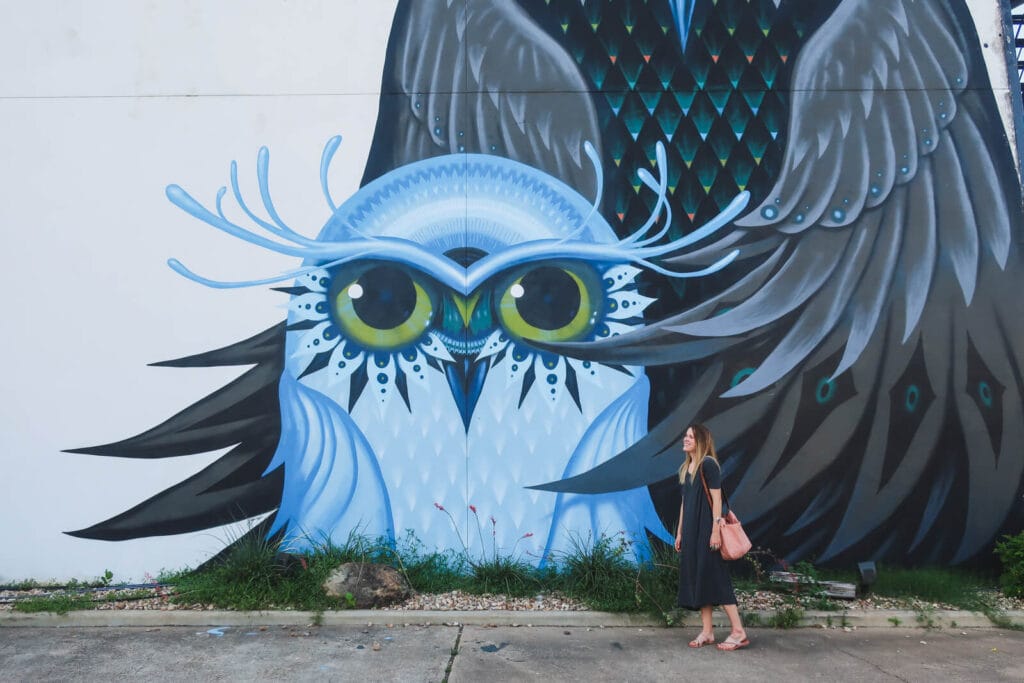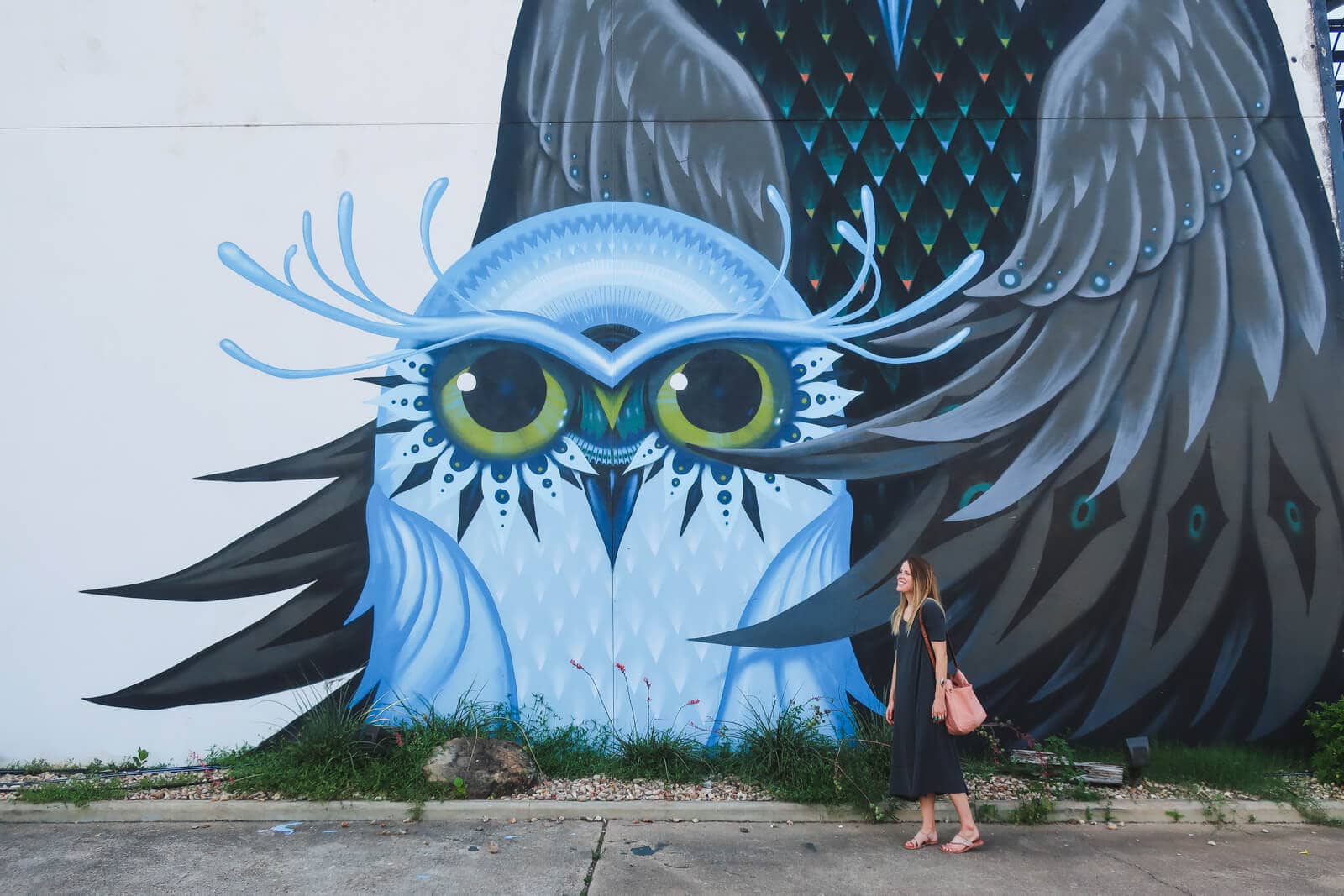 4. Hunt Out the Street Art Downtown
The Texas Arts & Music Festival takes place every October. Aside from the live music and film screenings, it also features artists painting some gorgeous murals and street art throughout downtown.
Keep an eye out for the street art when you're downtown Brenham and choose your favorite!
Ask in the shops downtown (or in the tourist information, also downtown) for the brochure that has the map of all of the murals.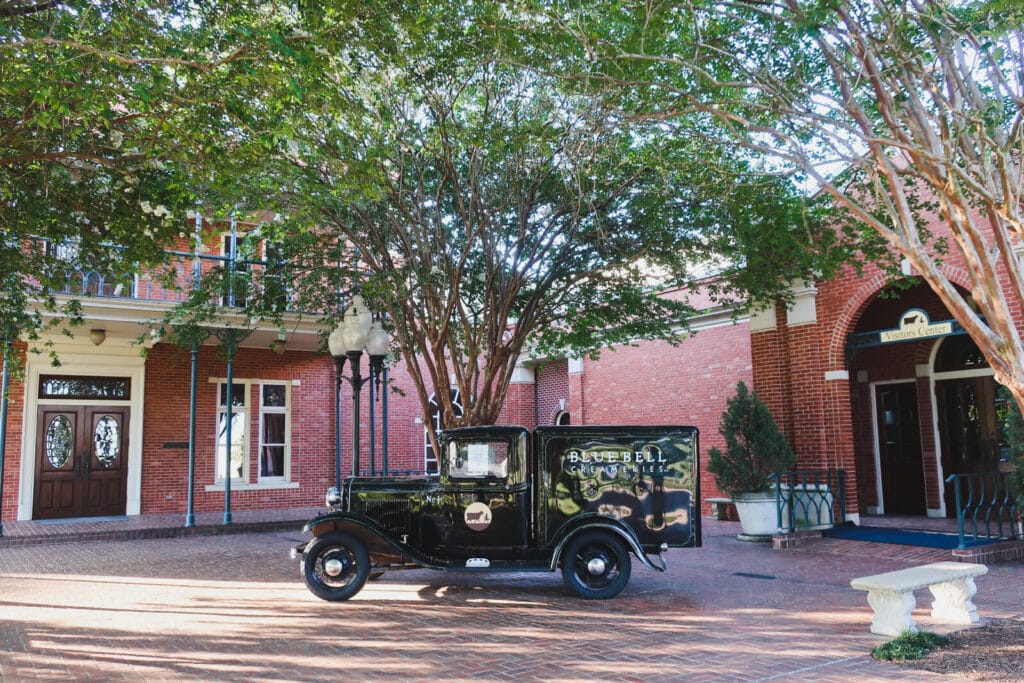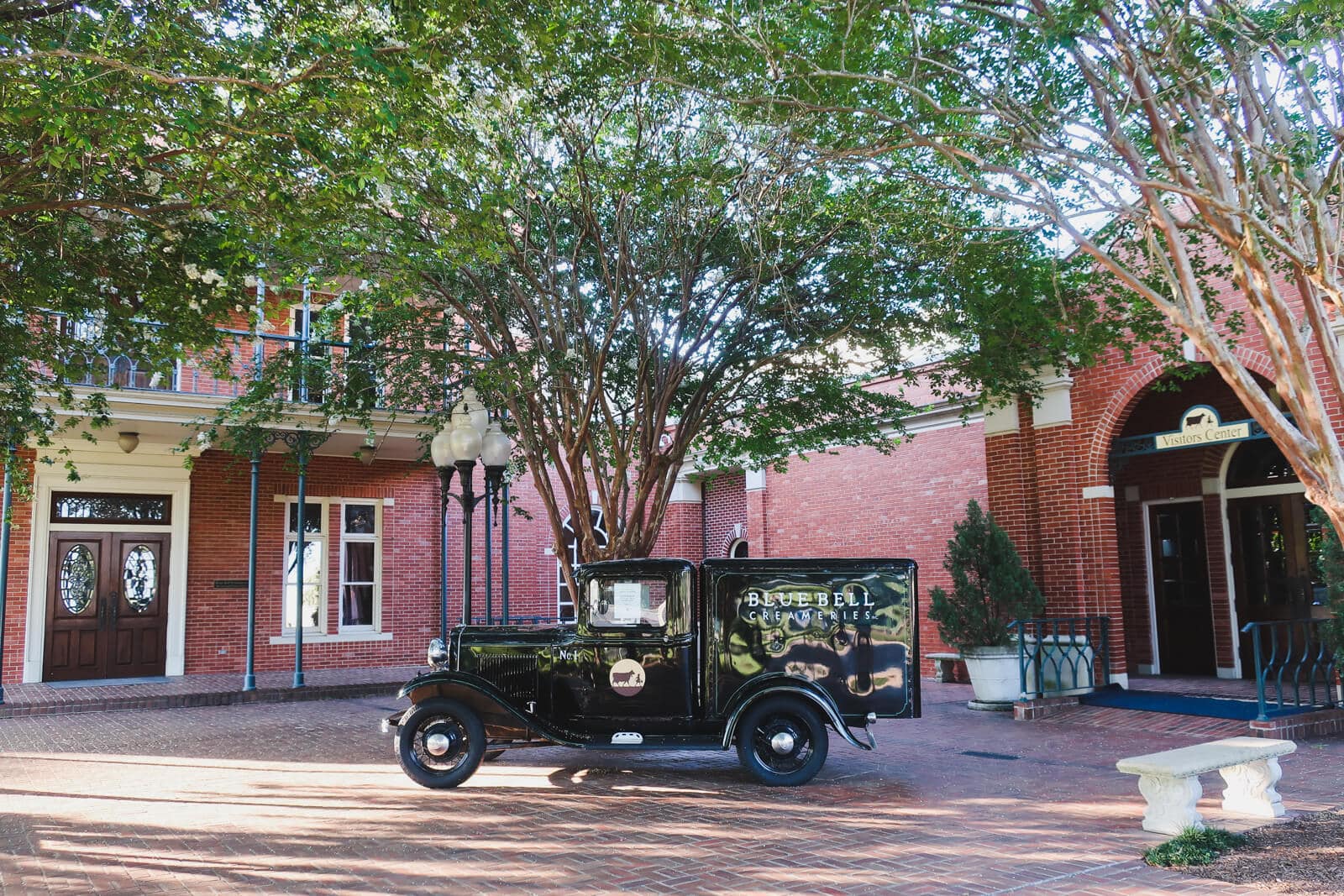 5. Visit the Blue Bell Factory
The Blue Bell factory is the most family friendly thing to do in Brenham, but it's just as fun for us big kids as it is for the littles.
The Ice Cream Parlor, Visitor Center and tours are only open during business hours, Monday-Friday, when the factory is actually in production.
You can see the ice cream get made and then eat all you can before they sell the rest in the tasting room.
If you'll only be in town on the weekend you can try Blue Bell downtown at Must Be Heaven (more on that further down).
6. The Oldest County Fair in Texas
The Washington County Fair is the oldest fair in the entire state. It takes place towards the end of September every year.
It is a must-do for a unique small-town Texas experience. For a fun small town feel there are baking competitions, a livestock show, quilting competitions, and all the fried food you can handle.
Watch calf roping and bucking broncos at the rodeo then put on your dancing shoes and catch big name Texas musicians performing live on Friday and Saturday nights.
The carnival is great for kids with all the classic rides and games.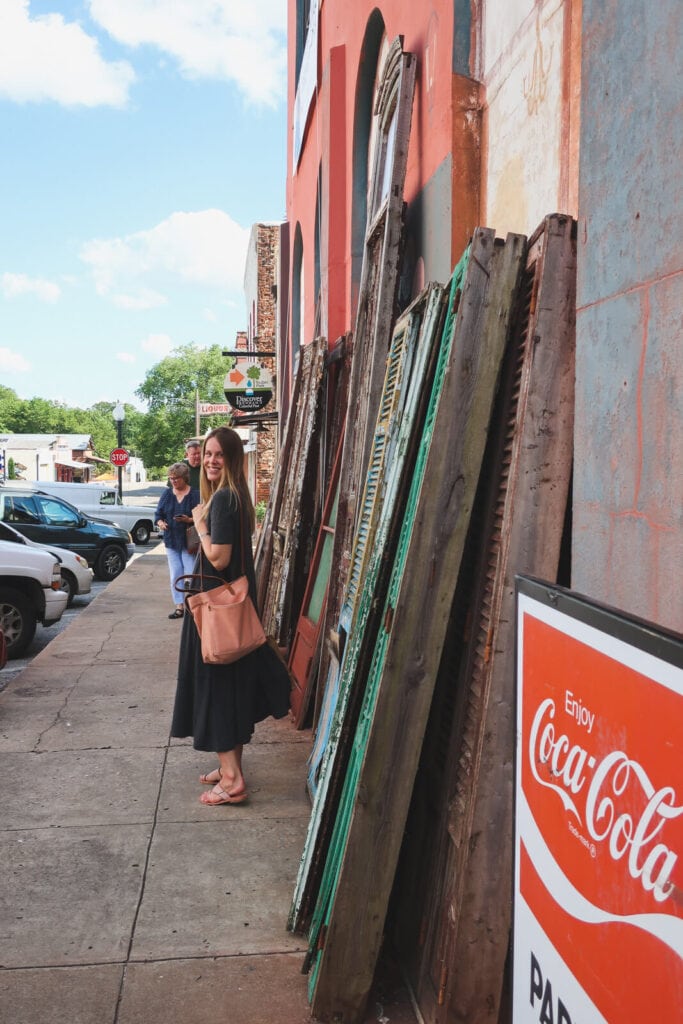 7. Go Shopping Downtown
For decades, people have been driving from Houston to Brenham in search of antiques, and downtown is still home to great antique shops today.
In Brenham's historic downtown you'll find shops selling antiques as well as cute boutiques and cafes.
My favorite shops for treasure hunting are Today and Yesterday, Jim's Wims and Hermann Furniture. For gift shopping and home décor hit up The Pomegranate.
8. Ride the Flying Horses at the Antique Carousel
Brenham's antique carousel in Fireman's Park is just a short drive from Main Street downtown.
It is one of only eight that remain in all of Texas and was built before 1910. 
The carousel open on weekends from March 1 to October 31. On Monday to Friday it's available on a reservation only basis. For more information click here.
Fun story, when I was a toddler my next-door neighbor re-painted the horses and brought them back to life!
We have baby photos of me perched on these antique horses in our front yard and now our children can continue to enjoy these beautiful pieces of history in downtown Brenham. 
20. The Barrington Plantation Living History Farm
While at Washington-on-the-Brazos, make sure to also visit the Barrington Plantation located on site. In 1850 this was the home of Dr. Anson Jones, the final president of the Republic of Texas.
This farm is still active today, maintained by living history interpreters dressed in period costumes and working the plantation with 19th century practices. They plant, cultivate, and even work with livestock.
They're friendly and ready to teach you all about life during the 1800's. Last time we went I even got an easy recipe for bread that works equally as well in 2020 as it did in 1850!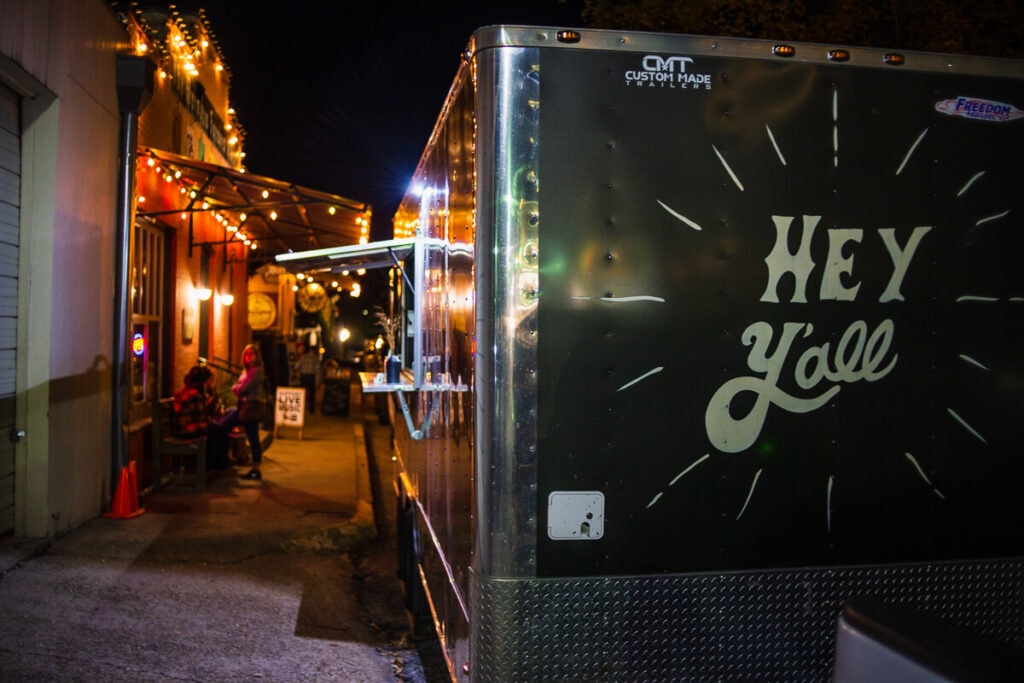 Brenham after Sundown
If you're staying overnight for a weekend in Brenham here's how to spend your night! Where to have dinner in Brenham and the best bars for drinks and a show.
Where to Have Dinner in Brenham
From a classic steakhouse to exotic Latin cuisine, here's my favorite restaurants in Brenham. They're all located downtown.
96 West | 96 West is located just across the street from the courthouse. I love going for tapas and a glass (or three) of wine on their outdoor patio. They also have a killer brunch on the weekends!
BT Longhorn Steakhouse | Come here for dinner if you have a hankering for a steak (sirloin or chicken fried). If you're not hungry, at least come for a drink to see the massive, antique bar. It's stunning.
Las Americas Latin Cuisine | Las Americas serves cuisine from across Latin America from tacos to pupusas. All of my friends have told me I have to go, so on a recent trip home I went but was nervous it wouldn't live up to the hype. Fortunately, it 100% did. The food (particularly the cilantro heavy chicken arepas) was excellent!
JAX Food Truck | You can often find JAX outside Home Sweet Farm to grab dinner with your beer on their patio. Check their website for their current location and menu.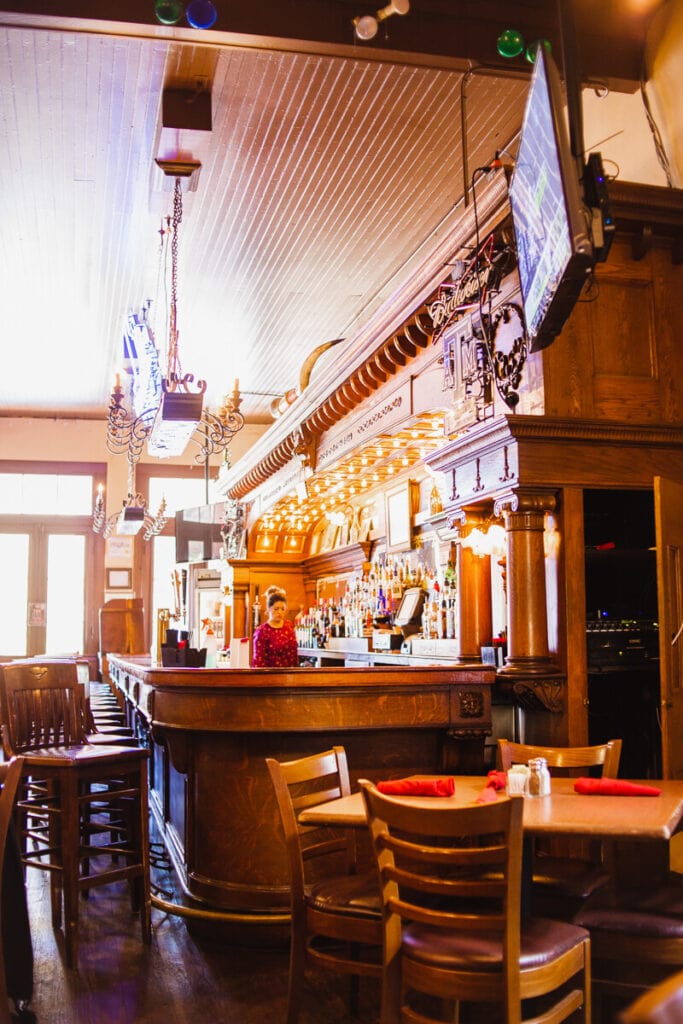 The Brenham Nightlife Scene
When I was a bored 16 year old growing up in Brenham I never would have imagined how vibrant Brenham's nightlife scene has become.
There are bars with outdoor patios, live music venues, and even music festivals.
Here's how to spend your night in Brenham:
Home Sweet Farm | This is my favorite addition to the downtown scene. It's a farmers market selling local produce. They have a great wine list and beer on tap. Check their site for a schedule of live music performances.
Four Star Concert Hall | This new concert venue downtown hosts big-name artists and local favorites. Check their schedule to catch a show.
Longhorn Saloon | The intricate bar (pictured below) is stunning and the old-fashioned saloon-style bar will have you feeling like you stepped off the street into a spaghetti western.
Hot Nights Cool Tunes | During the hot summer months, you can catch live music outside on the main square in downtown Brenham. Click here to check the schedule.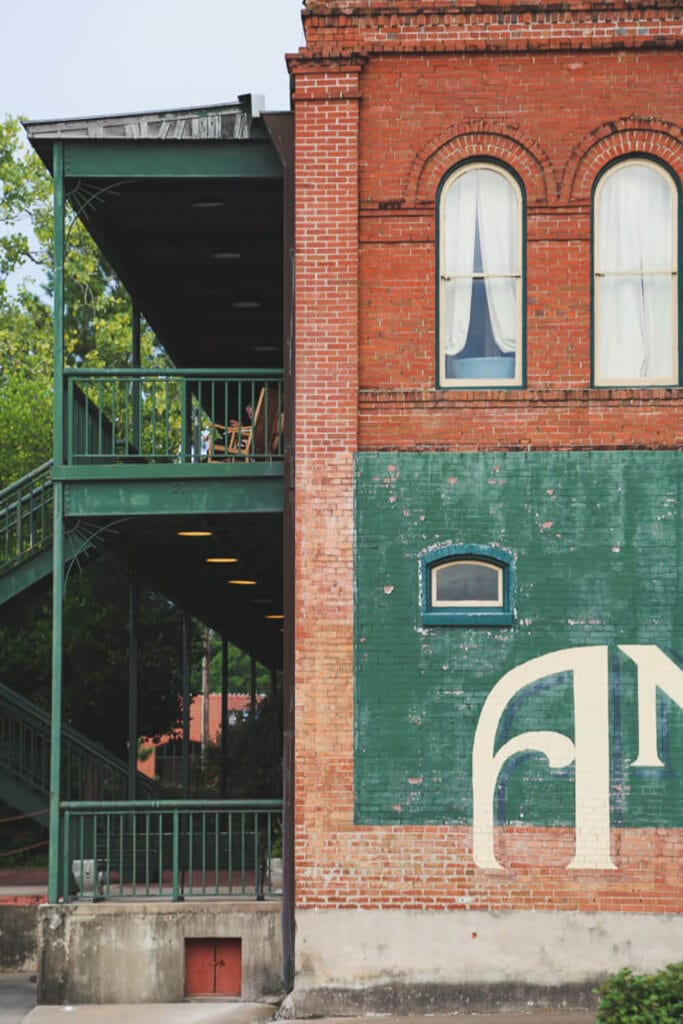 Where to Stay in Brenham
Now that there are so many things to do in Brenham at night from bars to live music venues it's really a good idea to stay the night (or two!).
Here are the best places to stay in Brenham:
The Best Bed & Breakfast in Brenham
Ant Street Inn is the BEST place to stay in Brenham.
Admittedly, I may be a bit biased because I had my wedding at Ant Street Inn, but I would only have my wedding there if it were truly great, right?
This historic building, perfectly located downtown, was originally a general store. The store has become a reception hall and the offices upstairs are now guestrooms, decorated to the brim with gorgeous antiques.
It's merely a bonus that the freezer in the communal kitchen is stocked with complimentary Blue Bell Ice Cream.  
A Brenham Getaway
I hope you enjoy your time in Brenham, whether it's a quick day trip or a weekend getaway.
If you have any questions whatsoever, ask away in the comments! I love my hometown and want you to love it too and will be happy to answer you as soon as I can.
PIN IT FOR LATER