I'm not from Austin, but that's not for a lack of dreaming!
I'm from Brenham, a small town just a little over an hour away and grew up with my eyes on the big city.
Austin has always been my place in the world. I spend as much time there as I can and have a few go-to places I never miss when in town.
This post includes all my favorite things to do there and hen I am short on time, this is how I spend one day in Austin.
QUICK NOTE: This post contains affiliate links and Sol Salute may receive a commission for purchases made through these links, at no extra cost to you.
My Favorite Ways to Spend 1 Day in Austin
I may live in Argentina at the moment but I was born and raised in Texas.
I try to spend as much time there as possible whenever I'm in the Lone Star State.
And while I make an effort to try new things, it's inevitable that I do basically the same things every time I visit. I am a creature of habit.
Here is my favorite way to spend one day in Austin, Texas with my favorite things to do and eat in my favorite city.
A Morning Yoga Class
My favorite yoga studios are in Austin so I never go without going to a class or two.
I like to start my day with a good sweat so I look up the early morning classes at my two favorite studios: Black Swan Yoga and Practice Austin.
I'm partial to Black Swan Yoga because I did my teacher training with them. They offer hot vinyasa classes and have four locations (and counting).
My other favorite studio in town is Practice Yoga in East Austin.
Both studios are donation based so you can give whatever you can, judgement free.
At Practice you can swipe a card and type your donation into an iPad, no one will know what you gave.
Teachers at both studios are friendly and welcoming, so don't feel intimidated!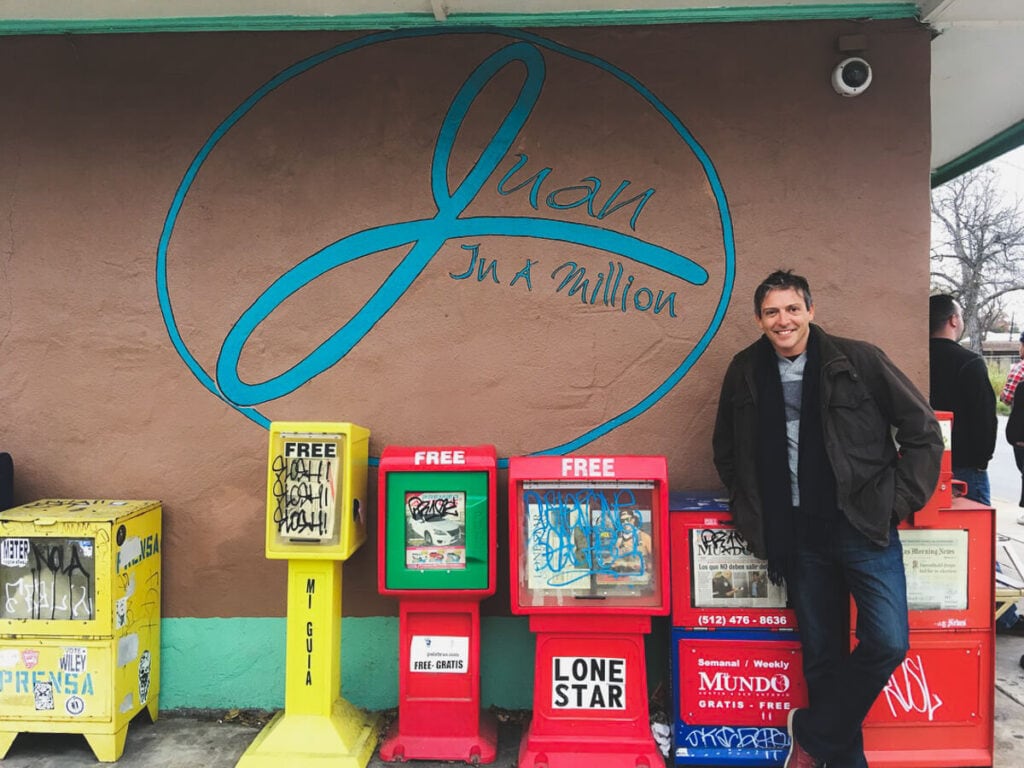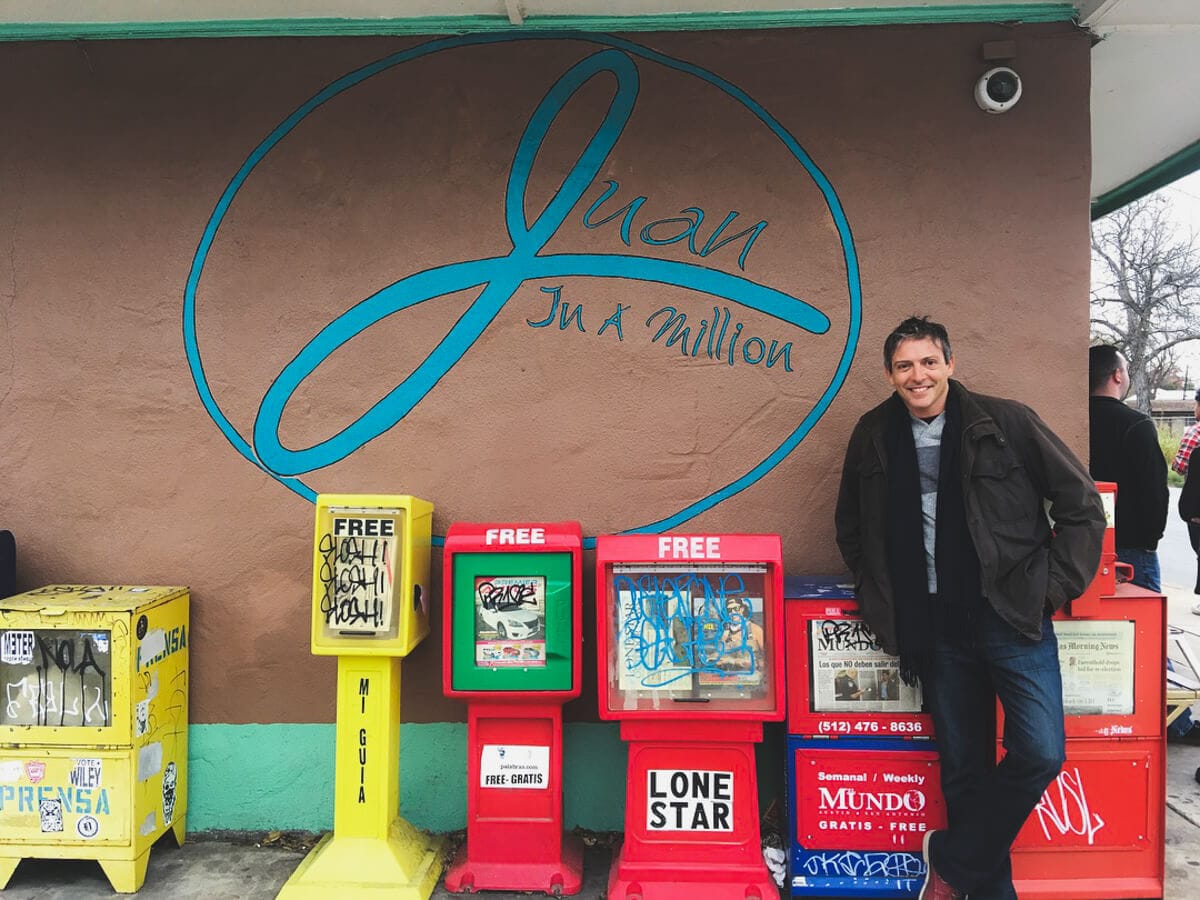 Breakfast Tacos At Tamale House East
Go straight from yoga to brunch in East Austin. Go to Tamale House East at 1707 E 6th Street.
Order breakfast tacos and/or tamales and don't forget the queso!
If you're there on a weekend there will probably be live music in the main dining room.
Juan in a Million is another excellent and wildly popular breakfast taco spot in East Austin.
I love them too (I just love Tamale House East a little bit more), if you have more than 1 day in Austin try both!
Barton Springs
I didn't bother mention freshening up after yoga because I'm lazy but also because you'll freshen up with a swim in Barton Springs. Beat the afternoon crowd by going straight from brunch.
Lounge on the grass or take a swim.
The water is a constant 72 degrees year round which will feel perfect on a hot Summer day!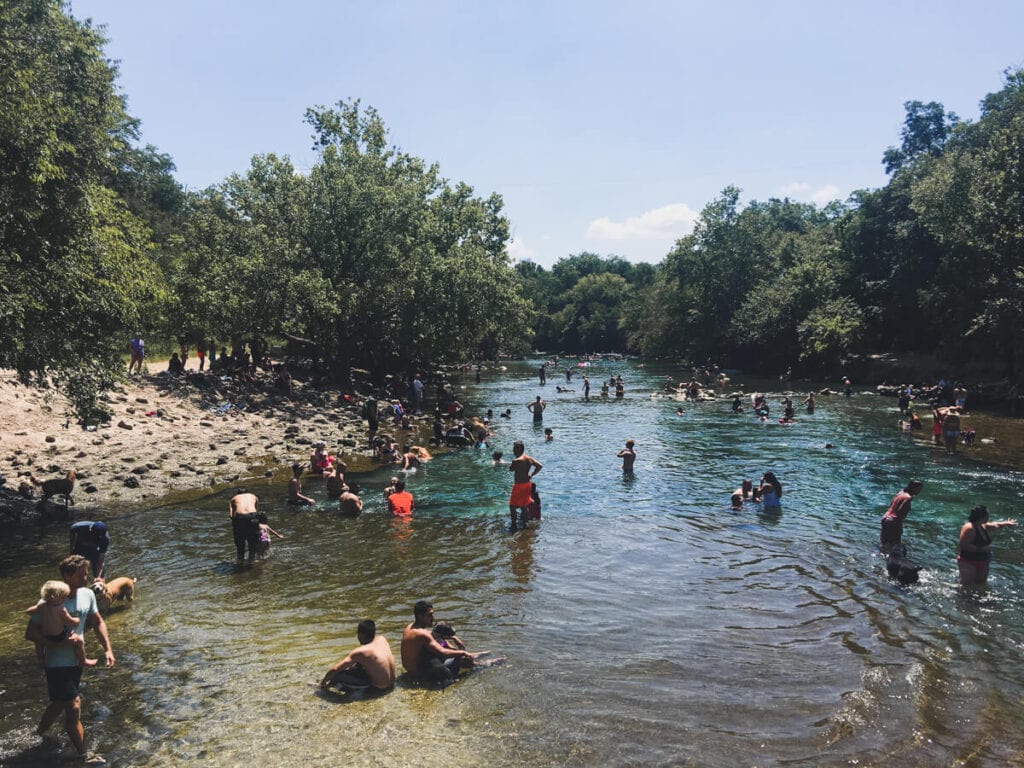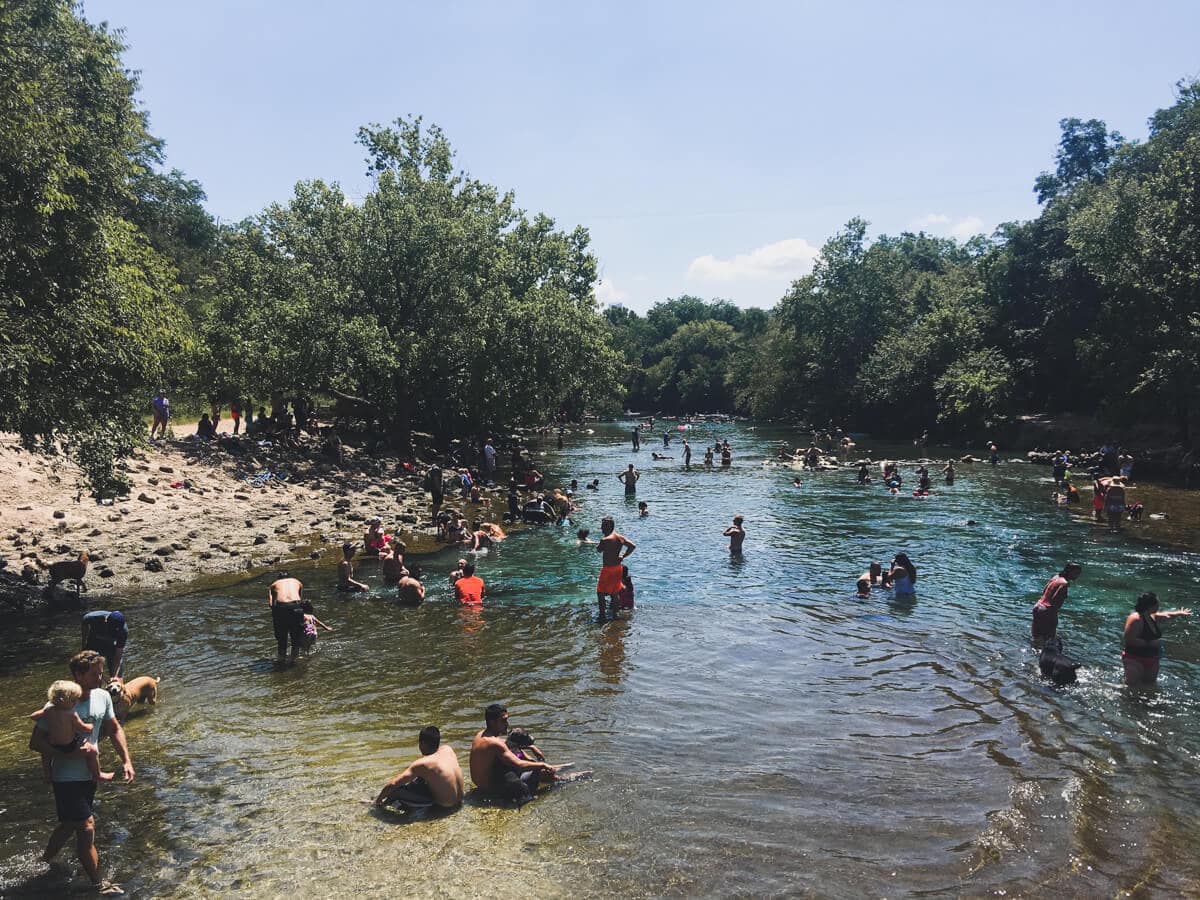 Oops, is it winter?
Maybe skip the swim and go for a walk on the Lady Bird Lake Trail. Or freshen up and hit up one of the museums, enjoy the view from the top floor of Austin's beautiful library or visit one of the quirky Austin sites listed further down.
Ok, back to our regularly scheduled programming…
When I have more energy to burn, I like to rent a stand up paddle board.
There's an affordable rental spot right next to Barton Springs (use the same parking lot).
To find it type in Zilker Park Boat Rentals into your GPS/Google Map.
You can rent a SUP or canoe and paddle up Barton Creek to Lady Bird Lake.
Ok, Now Go Shower
Yoga, a swim, and SUP means it's definitely time to go back to your hotel for a shower.
Once freshened up, go to South Congress for…
Read More: The Best Day Trips from Austin
Lunch on Güero's Patio
South Congress is a little crazier each time I go.
As Austin has gotten more popular, SoCo has gotten a little (lot) overcrowded.
But I love it, always have, and always will. There's a reason everyone goes there.
The outdoor patio at Güero's Taco Bar on a hot summer afternoon is hard to beat.
Enjoy live music with a taco and a margarita at a picnic table under the oak trees.
Welcome to my happy place. If it's raining or cold out, you can eat inside.
For a non-Mexican Food option (if you insist), grab a burger at Hopdoddy's or pizza at Home Slice.
Just be aware that the line for both of these places can border on ridiculous.
Go early or late to not waste the whole afternoon languishing in line.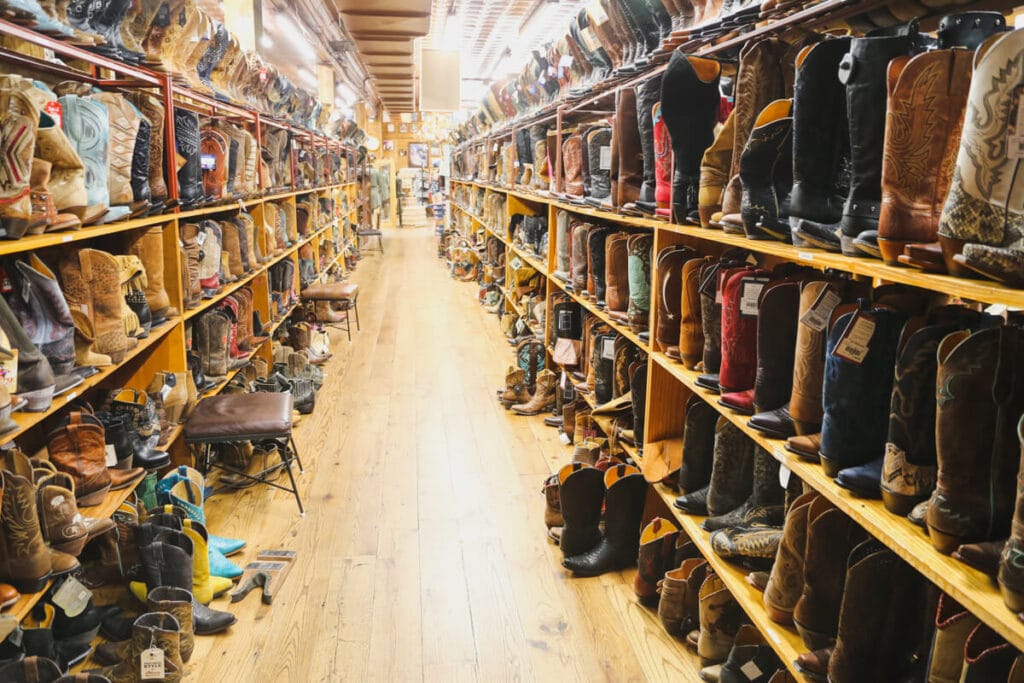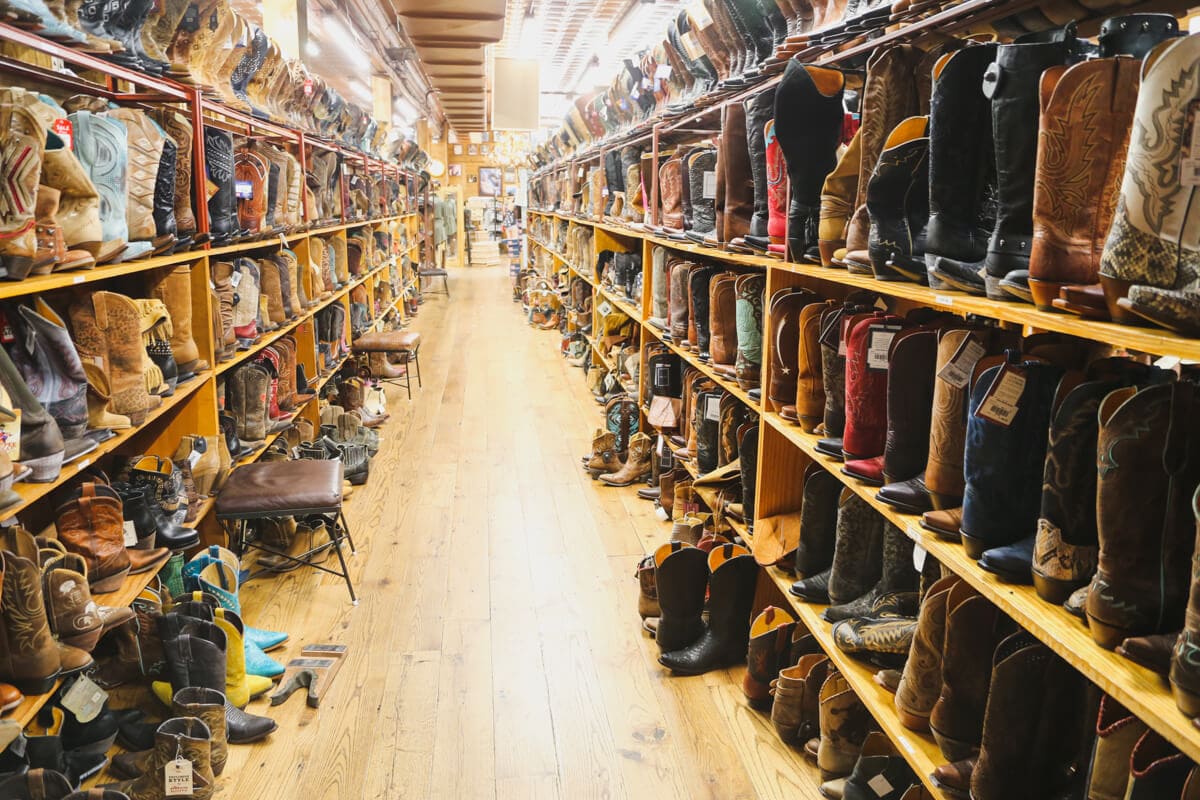 Go Shopping on South Congress
I live for wandering in and out of the shops here. They're so uniquely Austin and weird in all the right ways.
Here's where to go treasure hunting.
Tesoro's Trading Company: They have the coolest handicrafts and folk art imported from all over the world! I never leave empty-handed.
Lucy in Disguise with Diamonds: This epic costume store can't be missed! You can rent any costume imaginable or spend a bit (lot) more to purchase.
Triple Z Threadz: They embroider cool designs on vintage shirts. I got a purple pearl snap with two grey cats with laser beams shooting out of their eyes embroidered on the chest pockets. It's still the coolest item of clothing in my closet.
Allen's Boots: This boot store (seen above) is massive and will convert even the most skeptical hipster into a cowboy.
RIP Turquoise Door: My favorite shop in all of Austin was the Turquoise Door, selling imported folk art from Mexico and beautiful turquoise jewelry. It's permanently closed its doors. This is a reminder of the effects our mass tourism has on smaller shops when demand makes rent skyrocket. So please skip the chain stores you see popping up and visit the classic, mom and pop shops that made this area what it is. This is what Keep Austin Weird means.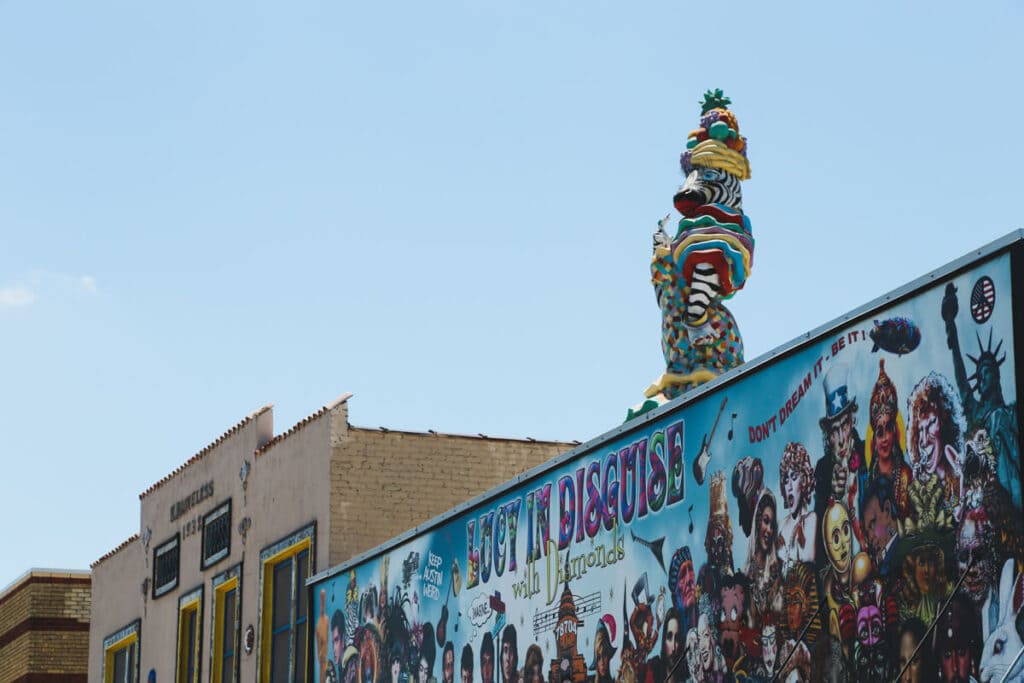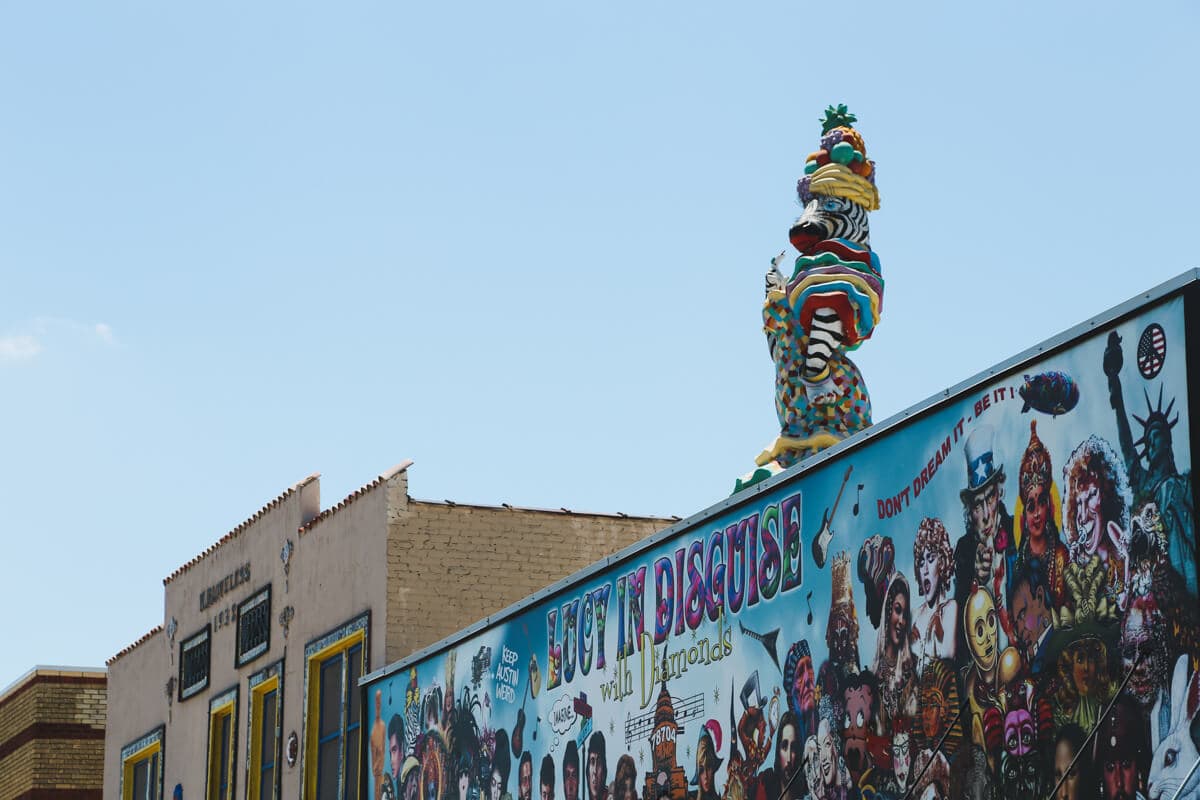 I love these Tours of Austin:
Get out with a local to discover a hidden side of Austin on a bike or to see the haunted side of downtown.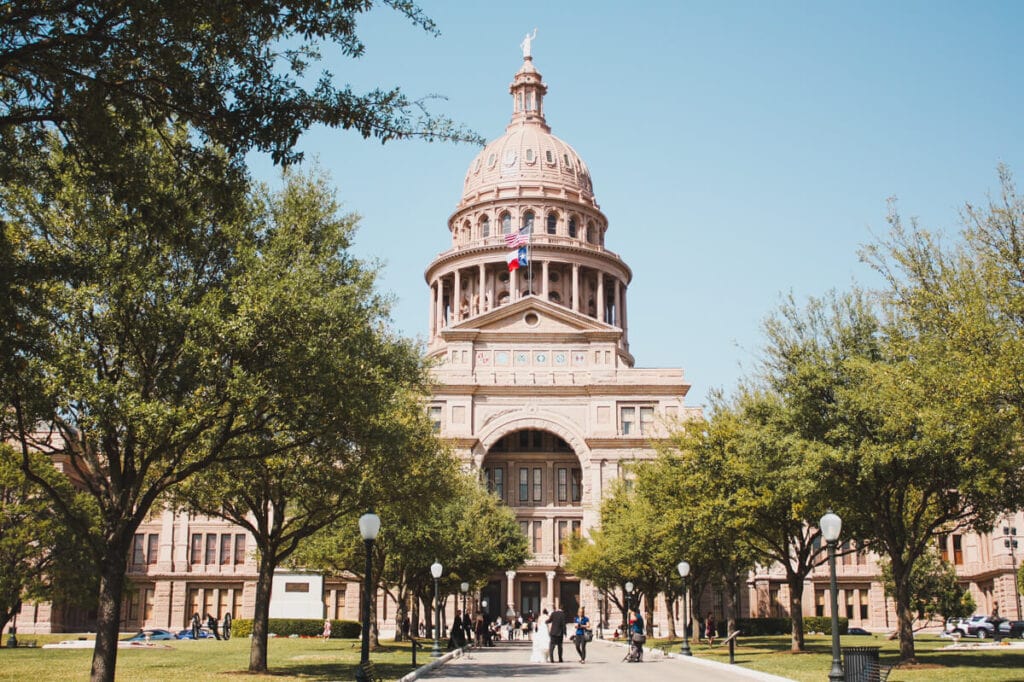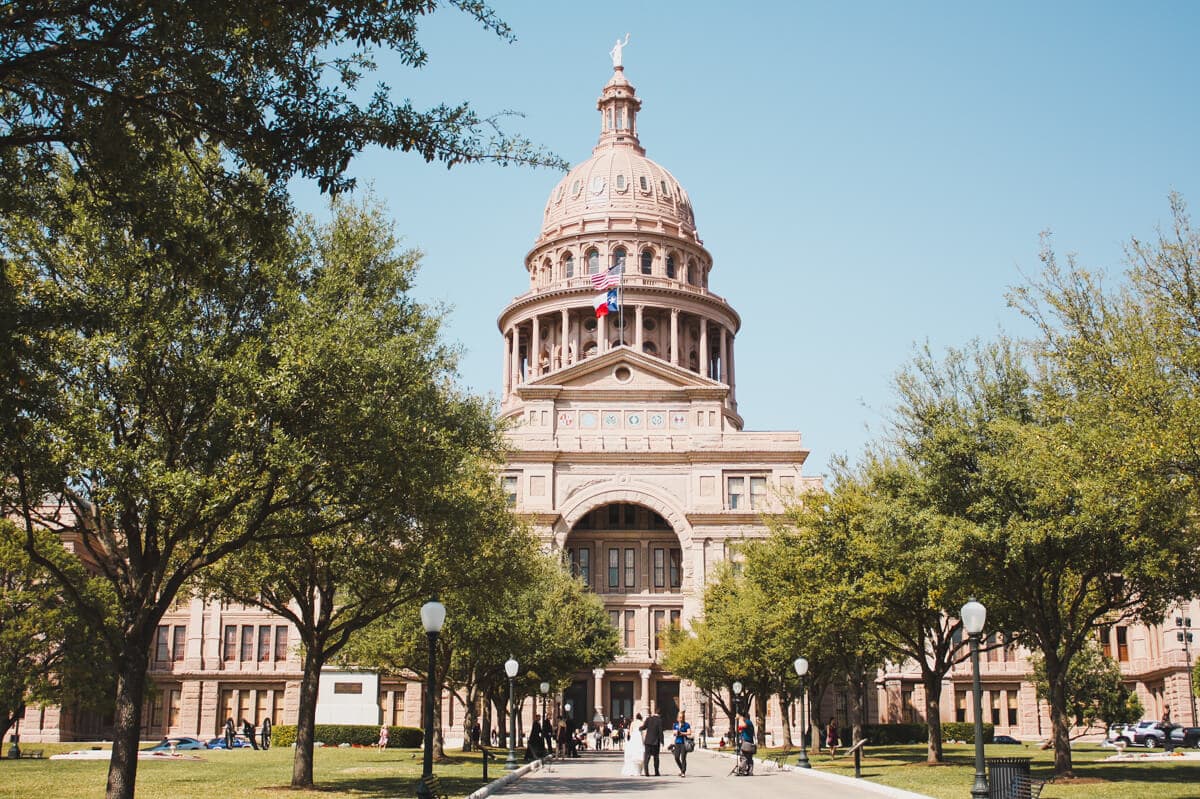 Be a Tourist
Spend what remains of your afternoon being a tourist!
Choose one of my three favorite tourist activities below (I couldn't pick just one!):
Tour the Capitol | If I'm in town with a friend from abroad/out-of-state I always take them on a tour of the Capitol. Austin is the state capital and the Capitol building is beautiful. The guided tours are very interesting and best of all, they're free. Check hours here.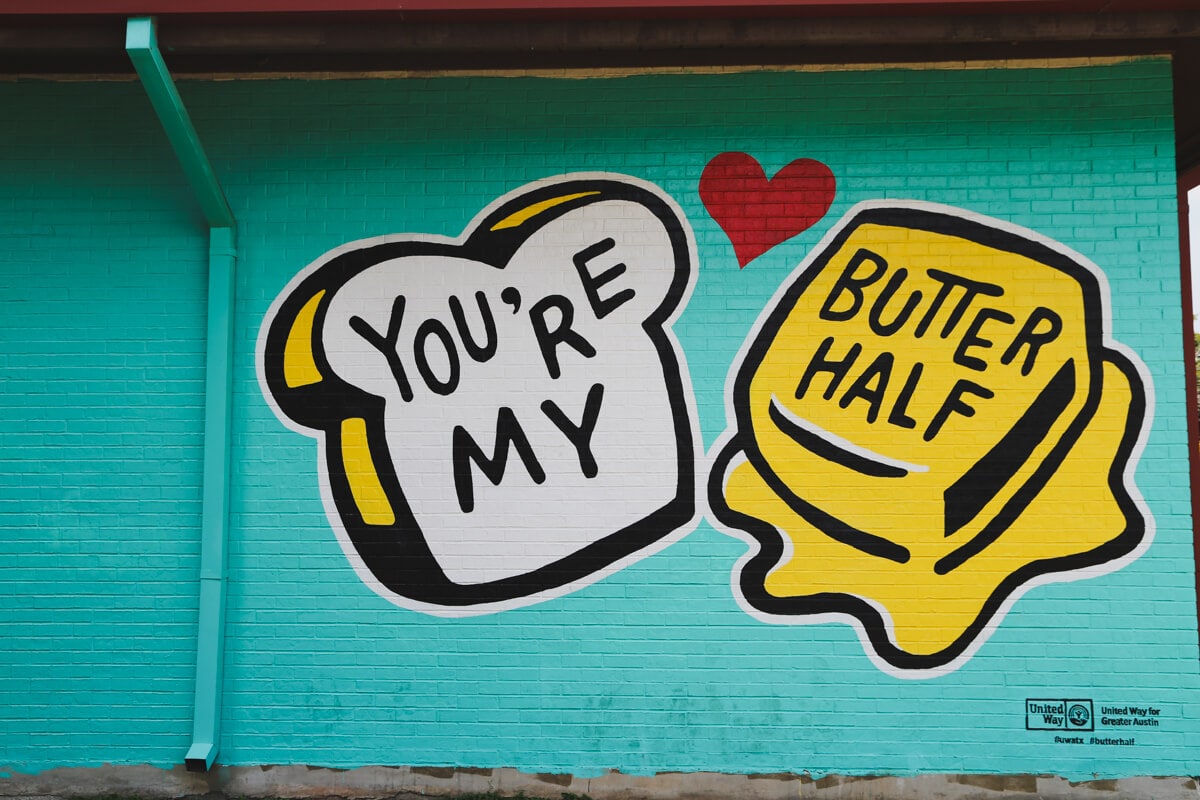 Find Austin's Best Murals | Take pictures in front of some of the city's famous murals. My favorite is the Butter Half mural in East Austin above.

Cathedral of Junk | In the backyard of a nondescript house in a residential neighborhood is hidden away a literal Cathedral of Junk. Vince Hannemann built it and it's a work of art, unlike anything you've ever seen. It's free to visit but don't be stingy, make a donation!
Drinks at the Driskill
Start your night in Austin with drinks at The Driskill on the corner of Congress and 6th.
This is the oldest hotel in Austin and was built by Jess Driskill, a wealthy cattle baron, in 1884.
The Driskill's bar is one of my favorite places in town. It's cozy and luxurious without pretension.
Order a Batini, Austin's official cocktail inspired by the city's famous bat population.
Dinner back on South Congress
After happy hour drinks, take an Uber back across the river to South Congress.
For a casual dinner I love Café No Se (also good for brunch, lunch, or absolutely anything).
I'm partial to their grain bowl for something healthy when I've eaten to many tacos or burgers! It's in the stylish, new to the scene South Congress Hotel.
After dinner, you can take the party into the hotel bar for cocktails. If you want something a little nicer, go for seafood at Perla's.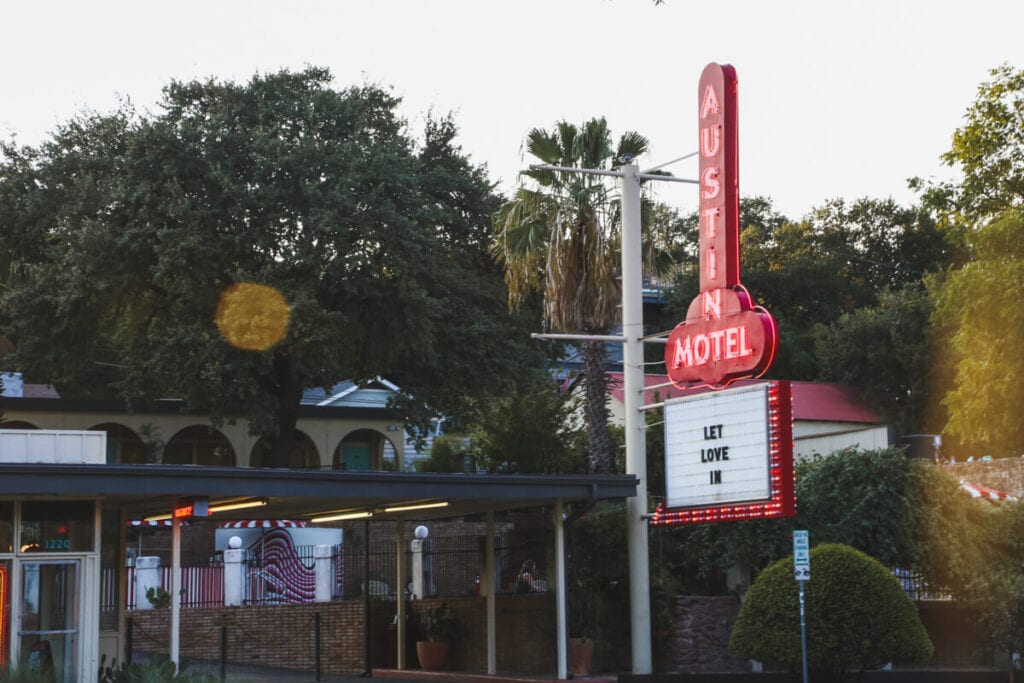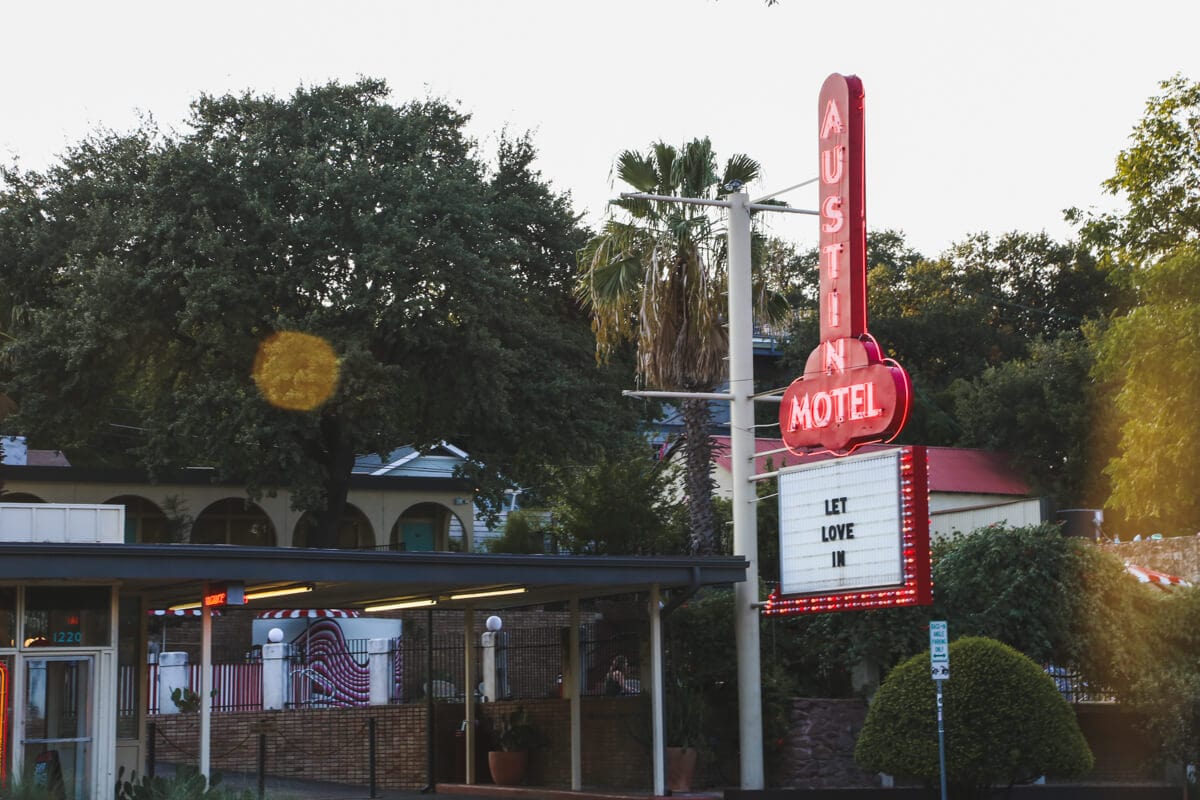 End the night with Live Music
You can't be in the Live Music Capital of the World and not catch a show.
Near the restaurants mentioned above is the iconic Continental Club.
If you're willing to cross the city one last time, I personally love The White Horse on 500 Comal St in East Austin.
This old school Honky Tonk has music every night of the week, great whiskey, tacos on site, pool tables and decent back patio.
This is where my night typically ends, but if you want to party late into the night join the college kids on Dirty 6th (6th Street between I-35 and Congress) or go to West 6th to drink with the 30 something professionals.
Explore More of Texas:
PIN IT FOR LATER