The Lone Star State is bigger than most countries so it should be no surprise that there is a LOT to see here.
Piney woods, desert, canyons, caverns, and fields of wildflowers…
This post is filled with all of the 59 most beautiful places in Texas.
I break it down into easy to organize sections like wildflowers and hikes so you can pick and choose from this Texas bucket list and design your own epic road trip.
Whether you want to fish in the gulf or hike in the desert, you'll definitely find something for you.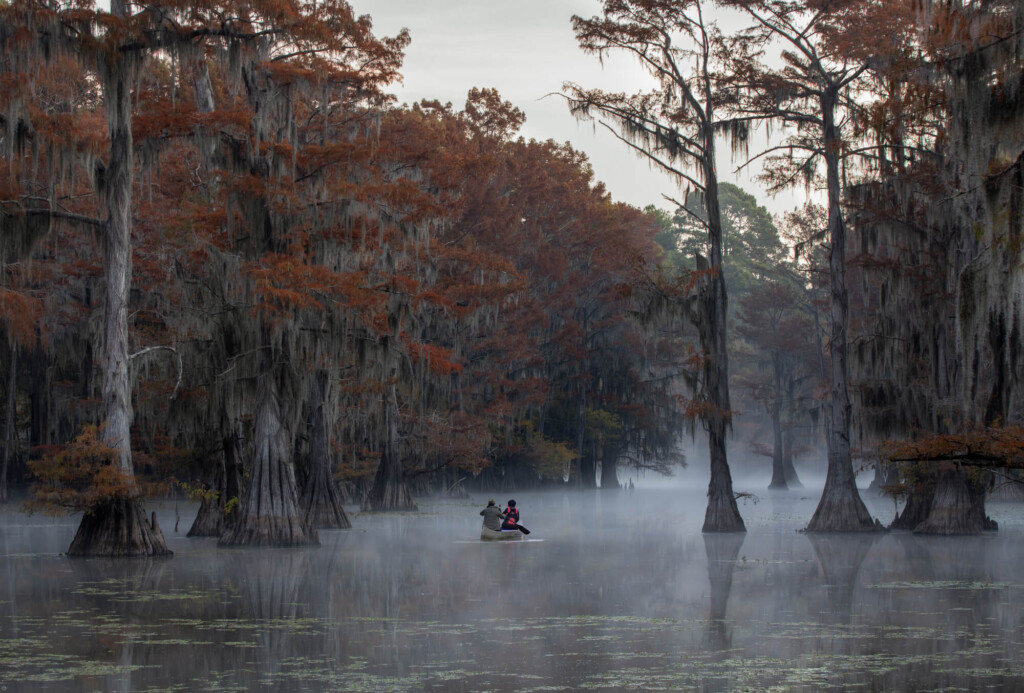 QUICK NOTE: This post contains affiliate links and Sol Salute may receive a commission for purchases made through these links, at no extra cost to you.
A Texan's Texas Bucket List
I was born and raised in the birthplace of Texas, steeped in history and natural beauty. I was spoiled in Texas beauty.
Life led me further afield and I may now call Argentina home but Texas will always be where my heart is.
So whenever I am able to visit home I make it count.
It has become my personal mission to explore all of the pretty scenery in Texas, to discover its beauty, and make up for lost time.
This post is a complete guide to the most beautiful places in Texas.
Some I have visited, others I will as soon as I can.
In fact, writing this post was a little self-serving. I will use it as my personal Texas Bucket List to help me organize my trips home in the future! I hope it helps you as well.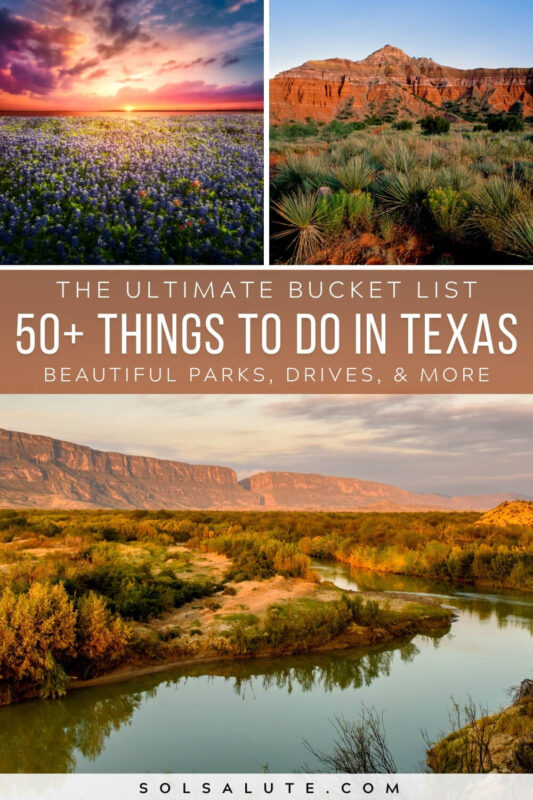 Map of the Most Beautiful Places in Texas
I love to use maps like this when planning a trip.
Plot out everything that could interest you ahead of time, then when you're in a new area open the map and see what is nearby!
Use this map to plan your trip ahead of time and then reference back when you're actually on the road exporing the beautiful scenery in Texas.
National & State Parks
You can't talk about the most beautiful places to visit in Texas without mentioning the diverse national and state parks!
There are only 2 national parks in Texas but the state parks and nature reserves are abundant!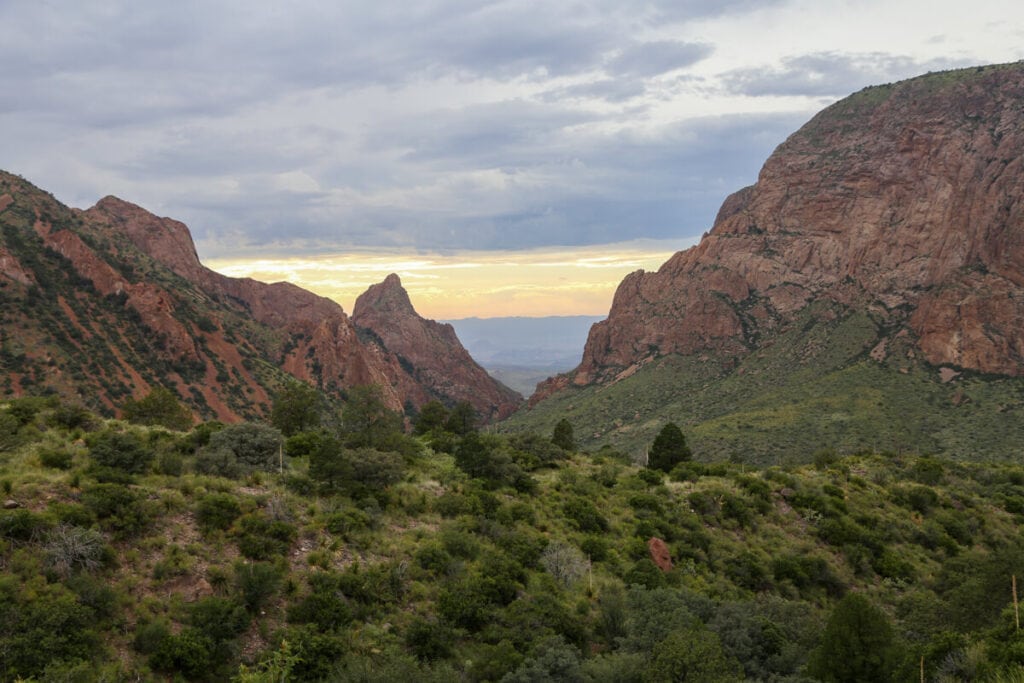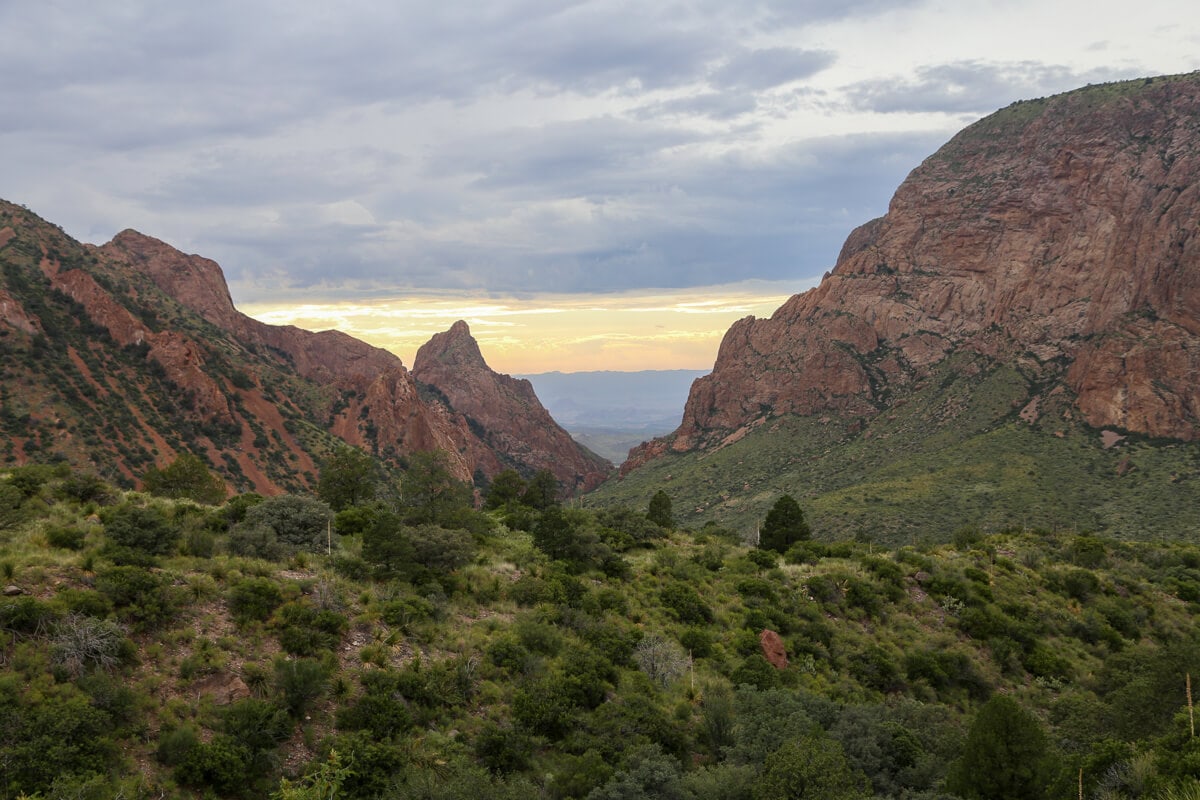 1. Big Bend National Park
Big Bend National Park is nestled into the Rio Grande deep in the heart of West Texas.
Outdoor activities abound here with 150 miles of hiking trails, canoe trips down the Rio Grande, hot springs, camping, and more.
There are three major geographic regions of the park: mountains (the entire Chisos range lies completely within the park borders), river, and of course, the desert.
Give yourself at least 3 days to explore all 3 regions of the park and to cross the border into Mexico.
Save some time to explore the nearby Terlingua ghost town, Marfa, and Big Bend State Ranch Park just next door.
For more information about Big Bend, read my guides: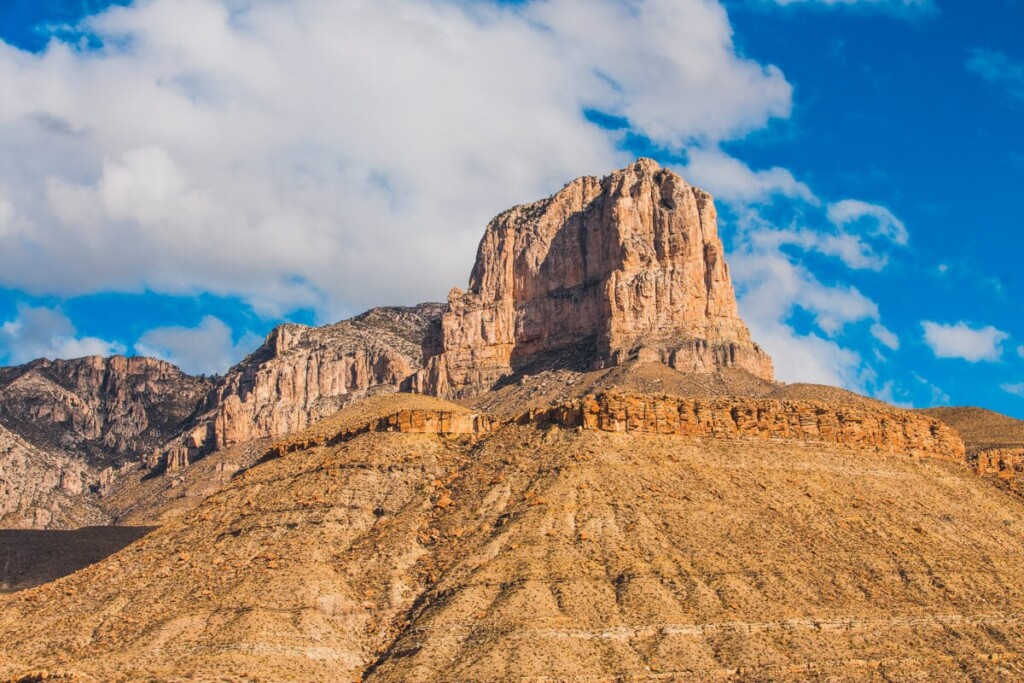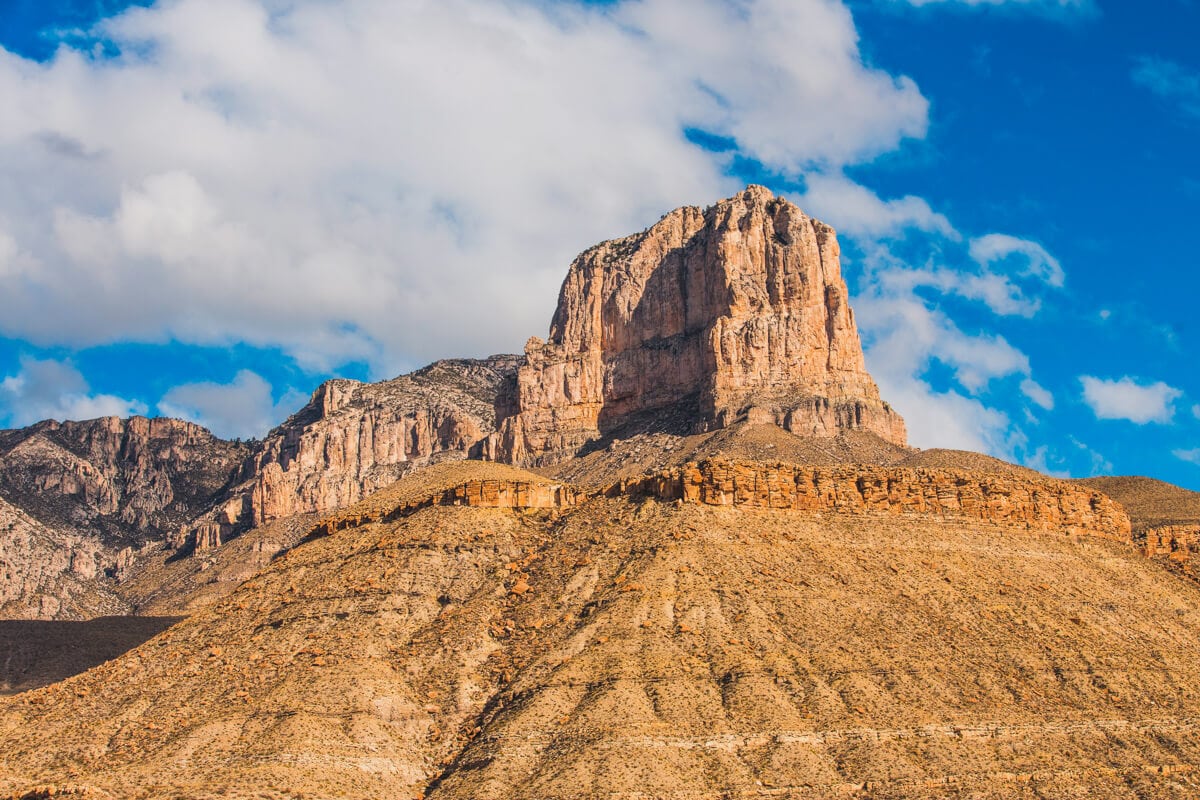 2. Guadalupe National Park
Guadalupe Mountains National Park is just east of El Paso and is Texas' second and final national park.
It's a hiker's dream, housing all four of Texas' highest peaks.
El Capitan is the most iconic in the park but Guadalupe Peak is the highest point at 8,749 feet.
If you're looking to get away from it all, this is the place to go. It is one of the country's least-visited parks.
Compared to the millions that visit parks like Yellowstone every year, less than 230,000 people visited Guadalupe Mountains in 2017!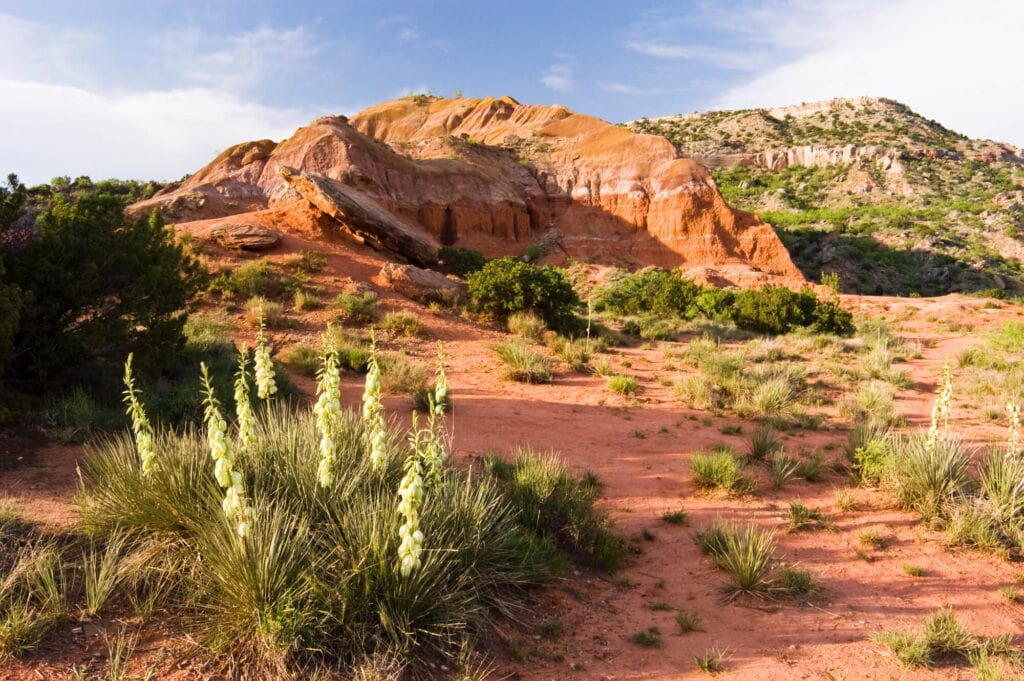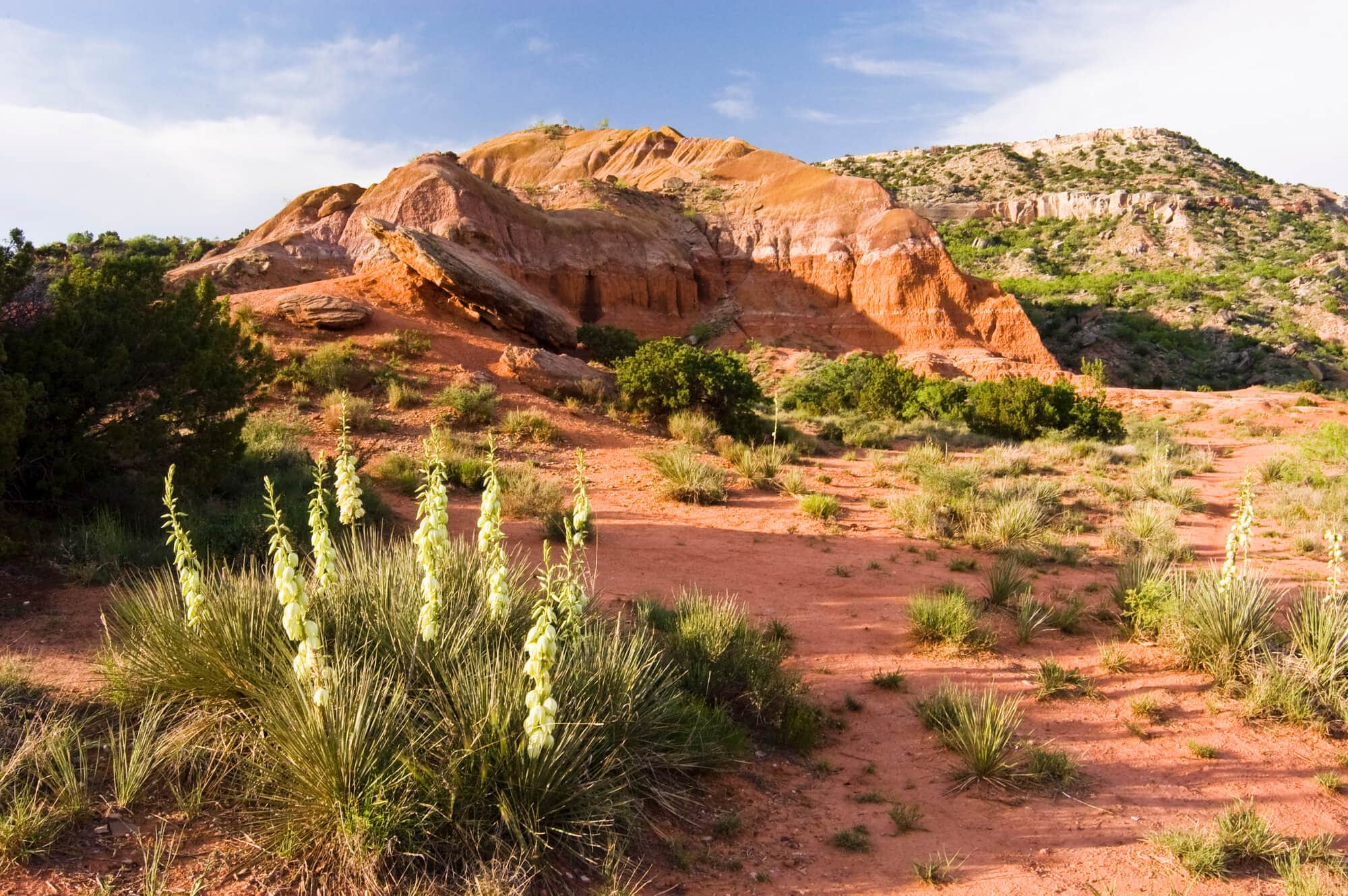 3. Palo Duro Canyon State Park
The Panhandle and its famous canyon are at the very top of my personal Texas bucket list!
Palo Duro Canyon State Park is the second-largest canyon in the entire country.
It is one of the most beautiful places to see in Texas that people outside of Texas don't seem to know about, yet.
There are miles and miles of hiking trails, bike trails, horseback rides, historical markers, and picnic sites.
For accommodation, there are cabins located right on the canyon's rim!
If they're booked up, check nearby in the aptly named small town Canyon (like this beautiful house!) or big city Amarillo.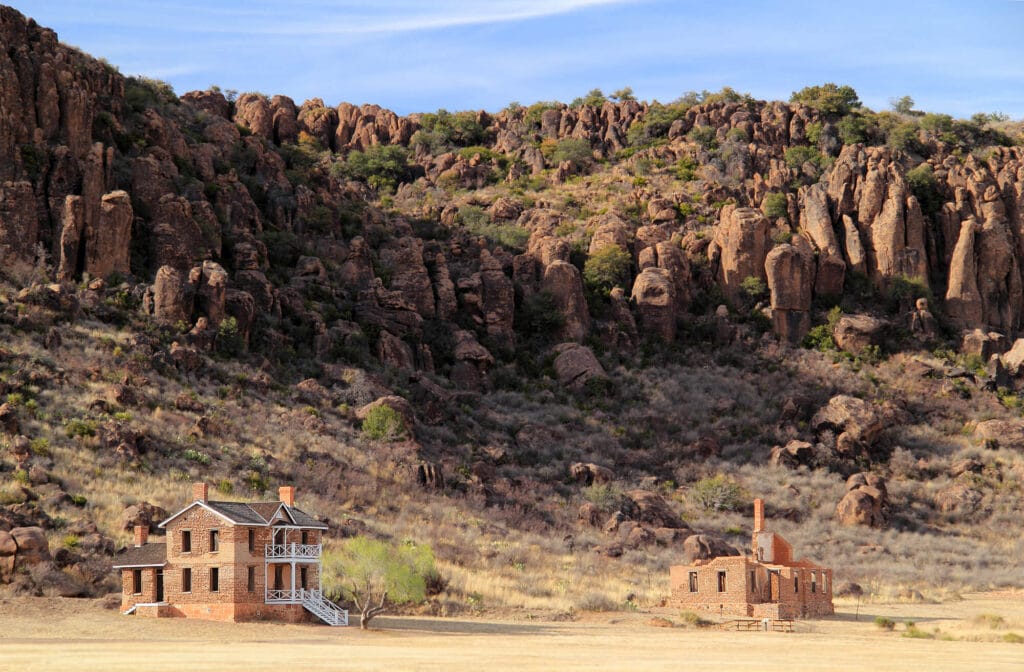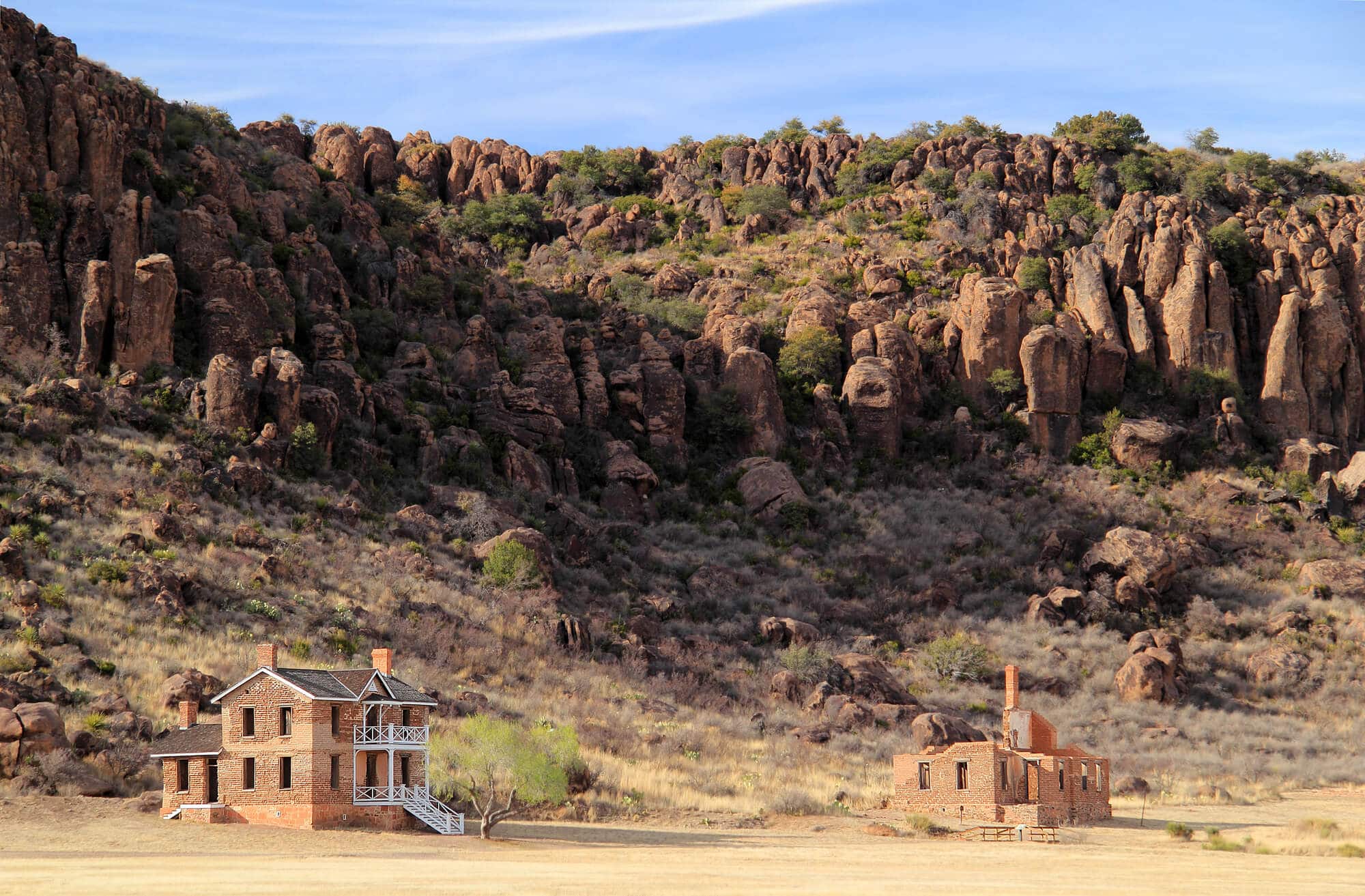 4. Davis Mountains State Park
Davis Mountains State Park is one of the most remote scenic places in Texas.
Isolated and off the beaten path, come here to appreciate the beauty of the desert in peace and quiet.
Nearby activities include the McDonald Observatory, Fort Davis National Historic Site (pictured above),
The Chihuahuan Desert Nature Center, and a 75-mile scenic drive that ends at Fort Davis.
There are also miles of hiking trails and even the best bird blind in the U.S. so be sure to pack your compact travel binoculars.
Camping is popular here but if like me, you prefer a little comfort, the park's Indian Lodge is historic and beautiful.
There are 39 rooms and a very welcome swimming pool.
4. Hueco Tanks
Hueco Tanks State Park is just outside of El Paso.
History buffs and rock climbers (a unique blend of interests!) will both be particularly thrilled with its special attractions.
There are pictographs and petroglyphs on the rocks visible on a self-guided tour.
Only 70 people are allowed on the self-guided path at a time so make sure to reserve ahead of time.
However, I recommend going with a tour guide to learn more about the region's history and to see parts of the park otherwise closed to visitors.
You need to request a tour well in advance to make sure you get a guide so don't procrastinate!
There are a lot of places for rock climbing throughout the park so bring your own gear if that's your thing. And like the petroglyph tours, there are both self-guided and guided climbs to choose from.
You can also go camping, hiking, and birdwatching in the park.
5. Caprock Canyon State Park
Like Palo Duro, Caprock Canyon State Park is in the Panhandle.
It is 100 miles south of Amarillo and the two can easily be combined for a super-panhandle-canyon-experience.
And if you're wondering why you should make an effort to see a second desert canyon?
BISON.
You can see protected bison in Caprock Canyon!
Other activities, if gazing at bison isn't enough for you include 90 miles of trails for both hiking and mountain biking.
Horseback riding is also available but only for those with experience due to cliffs and steep climbs. For a family-friendly ride stick to nearby Palo Duro Canyon.
6. Seminole Canyon State Park
Seminole Canyon is near Del Rio on the Rio Grande.
Like other parks, there are hikes, campsites, as well as guided backcountry hikes to reach more remote areas and rock art sites (reserve in advance).
The highlight is the ancient cave paintings and art. Tours are available for only $8 to learn the history of this canyon's original inhabitants.
Nearby, cool off at the Amistad National Recreation Center. It's hot here in the summer but the watersports here are the best way to cool off!
PRO-TIP FOR DEL RIO: My favorite thing to do in the Del Rio area is the Judge Roy Bean Visitor Center in Langtry.
We went on our road trip to Big Bend and it is a legitimate remnant of the wild, wild west!
For a teaser: there's a lawless judge, a saloon, an "opera house" and a pet bear.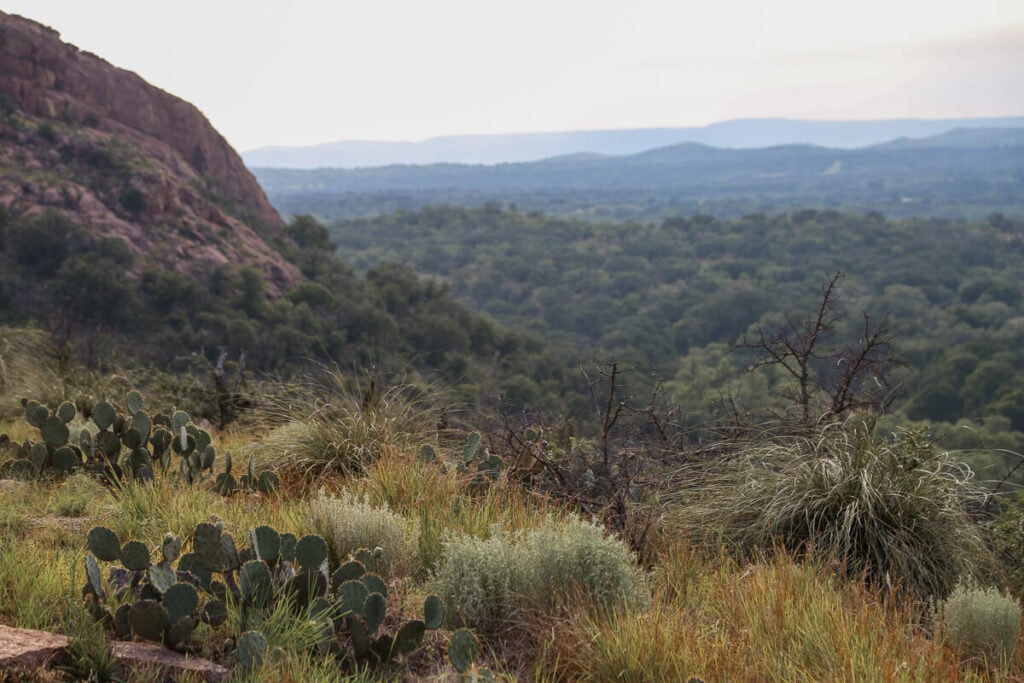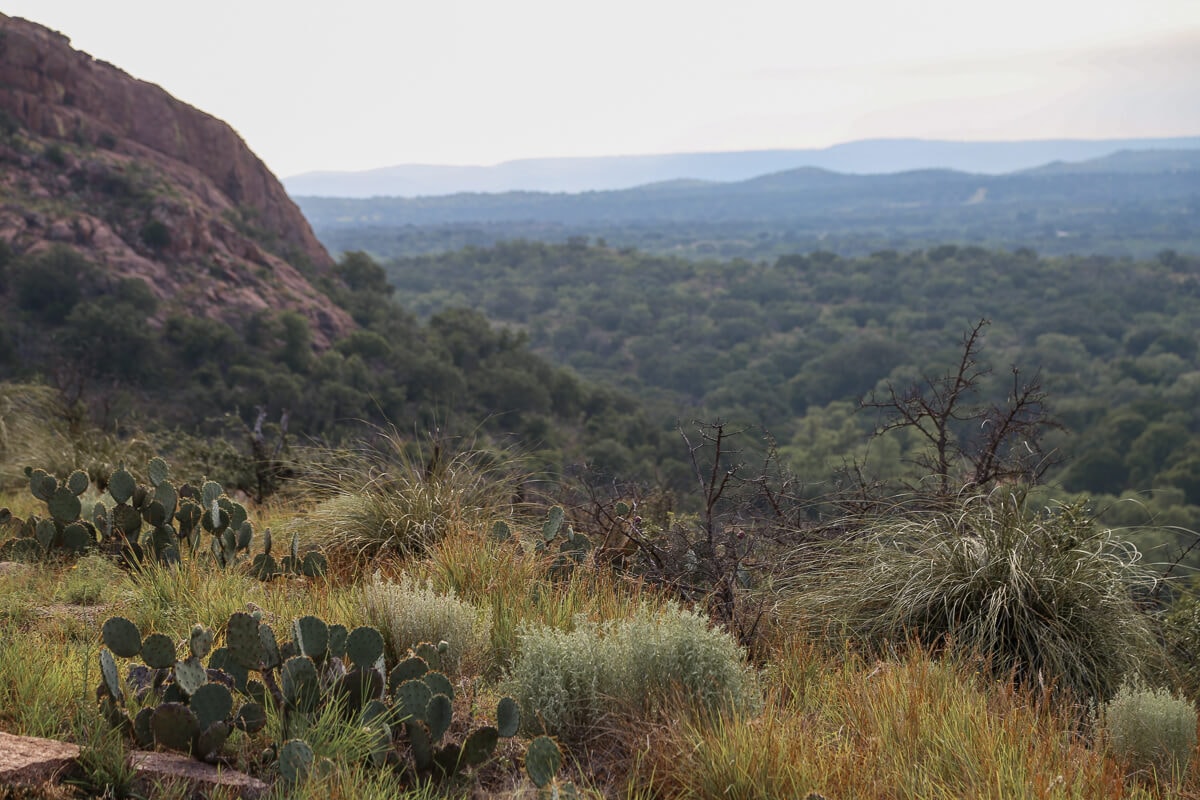 7. The Texas Hill Country
The Texas Hill Country is by far one of the prettiest parts of Texas.
Its rugged, rolling hills start west of Austin and continue south towards San Antonio.
There are rivers, historic dancehalls, wineries, distilleries, wildflowers in the spring, and multiple state parks to discover.
For a taste of nature and the most pristine and preserved patch of Hill Country, visit the Hill Country State Natural Area near Bandera.
While there visit a dude ranch, Bandera is considered the Cowboy Capital of the World!
For some "city" life, there are a number of small towns to use as your base.
Fredericksburg is one of the most popular with a rich German heritage and Texas' wine region.
For live music hit up Gruene and Luckenbach and their historic dancehalls. And definitely don't miss the best BBQ in Lockhart, arguably the best in the state.
For more, read my guide to the best things to do in the Texas Hill Country.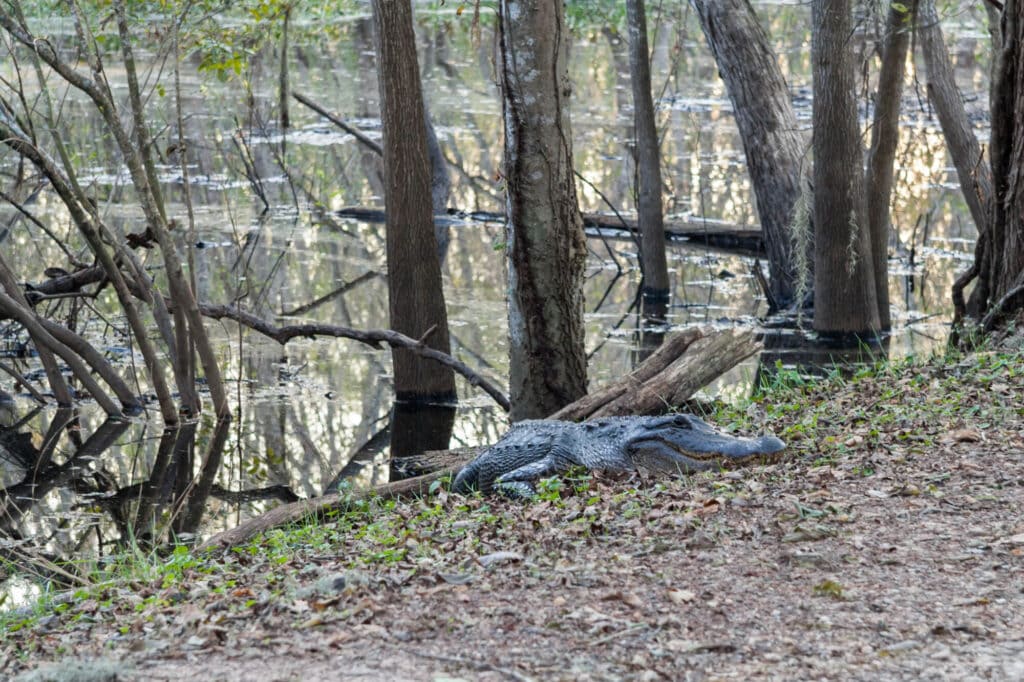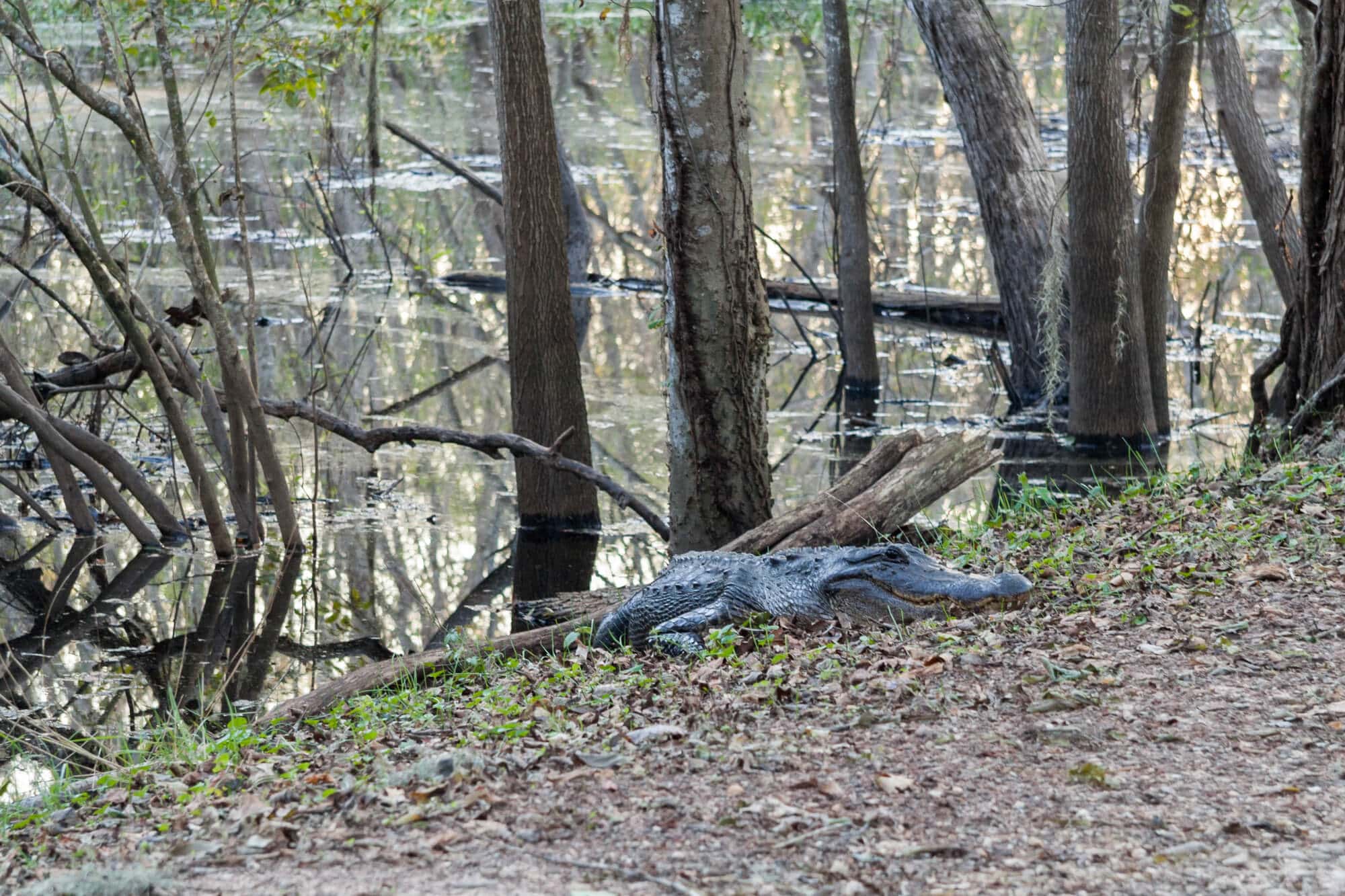 8. Brazos Bend State Park
Brazos Bend is one of the best day trips from Houston and proof you don't have to travel far to find some of the best scenery in Texas.
Despite being only 45 minutes from downtown, Brazos Bend State Park is wild.
Bring comfortable shoes, a picnic, and binoculars for birdwatching.
There are 37 miles of trails for hiking, walking, and biking (some are wheelchair friendly, check ahead to plan).
The stars of the show here are the park's resident alligators. Watch your step and respect their space!
If you stay late enough, visit the George Observatory inside the park to see the stars.
9. Monahans Sandhills State Park
This is one of the very few places on this list that I didn't know existed until I started researching.
Sandhills and dunes in Texas?!
I did not know it was there but now I absolutely must go as soon as possible.
Monahans Sandhills State Park is just southwest of Midland. It's not easy to get to but the just under 4,000 acres of sand dunes make it worth the effort.
Sand disks are available for rent to surf the dunes and as you can expect, there are no marked trails. Just wander at will!
The sunsets are supposed to be particularly marvelous so plan to stay the night nearby to take full advantage.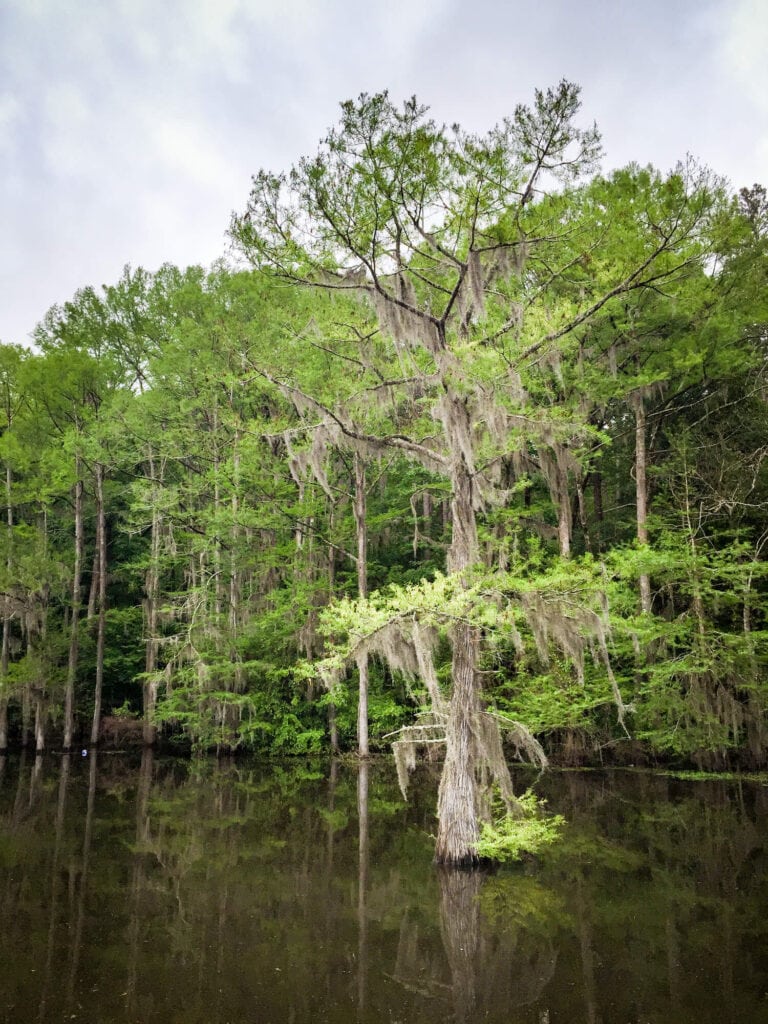 10. Caddo Lake State Park
Just like the sand dunes, Caddo Lake is one of those pretty places in Texas that I cannot believe is really in Texas.
Imagine lakes and bayous filled with ancient cypress trees.
Spanish moss hangs from the branches. You're in a kayak or a canoe paddling through the peaceful waters.
Sign me up.
Caddo Lake is in East Texas on the border with Louisiana. Activities are obvious: canoe, kayak, or fish.
Rent a cabin nearby and disconnect from it all.
Jefferson is the closest city and a great base for Caddo Lake with plenty of cabins located right on the water.
The Most Beautiful Hikes in Texas
This next batch of beautiful places in Texas goes hand in hand with the parks…
The best hikes in Texas! There is no better way to get out of your head and into nature than on a hike.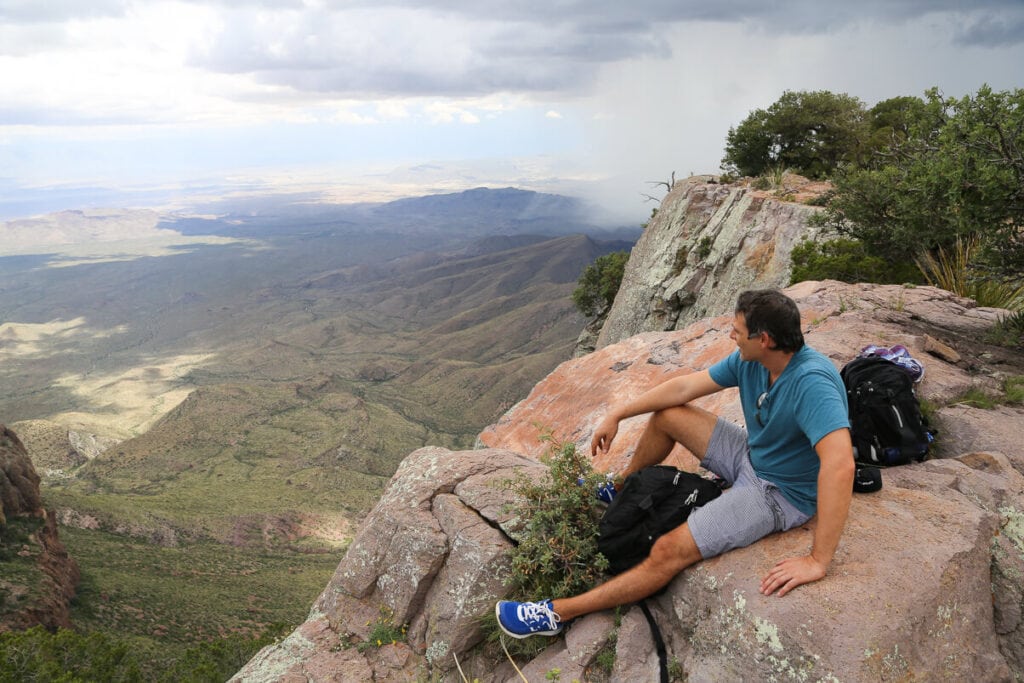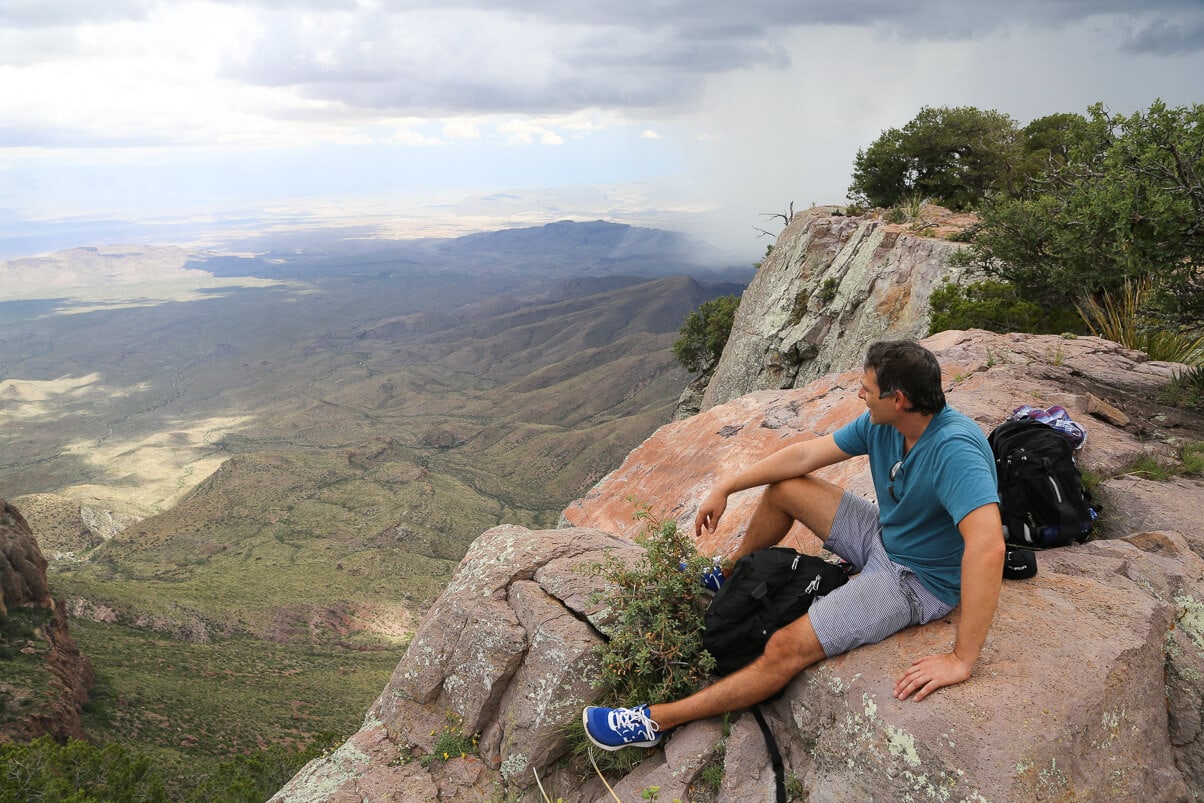 11. The South Rim in Big Bend
This is my favorite hike in Texas, full stop. It is a strenuous, full-day trek in Big Bend National Park.
It's a 12-mile loop trail. Start the day as early as possible to be able to get back before sunset.
The trailhead is in the Chisos Basin near the lodge.
If you have the energy and time, add in the optional Emory Peak Trail to see the highest point in the park.
Do it at the beginning of your hike by starting with the Pinnacles Trail (you'll see the Emory Peak trailhead at the top of the Pinnacles).
TIP: Save your lunch to eat as a picnic from the South Rim.
The expansive view of Mexico below is one of the most beautiful sights in Texas!
Read all about my personal experience hiking The South Rim.
12. Lone Star Hiking Trail
The Lone Star Hiking Trail is 96 miles long (!) and unsurprisingly the longest continual trail in the state.
It's in the Sam Houston National Forest about 45 minutes north of Houston.
It's a mainly dedicated hiking path but there are portions of the trail that are on country roads and highways.
This is the best trail for hikers looking for a long-distance, multi-day hike.
But you can also break up the trail into the many day hikes and loops for a smaller, more manageable challenge.
Plan ahead and see the individual trailheads here.
13. Rock Garden Trail
The Rock Garden Trail is one of the most popular hikes in Palo Duro Canyon.
It's 8 kilometers out and back to one of the prettiest places in Texas.
This is a moderate trail with beautiful wildflowers dotting the desert and canyon landscape.
The trail gets a lot of traffic so try to visit outside of the busy season and the holidays to have the place to yourself. I
t's also a rare trail that allows dogs so feel free to bring your four-legged buddy (on a leash).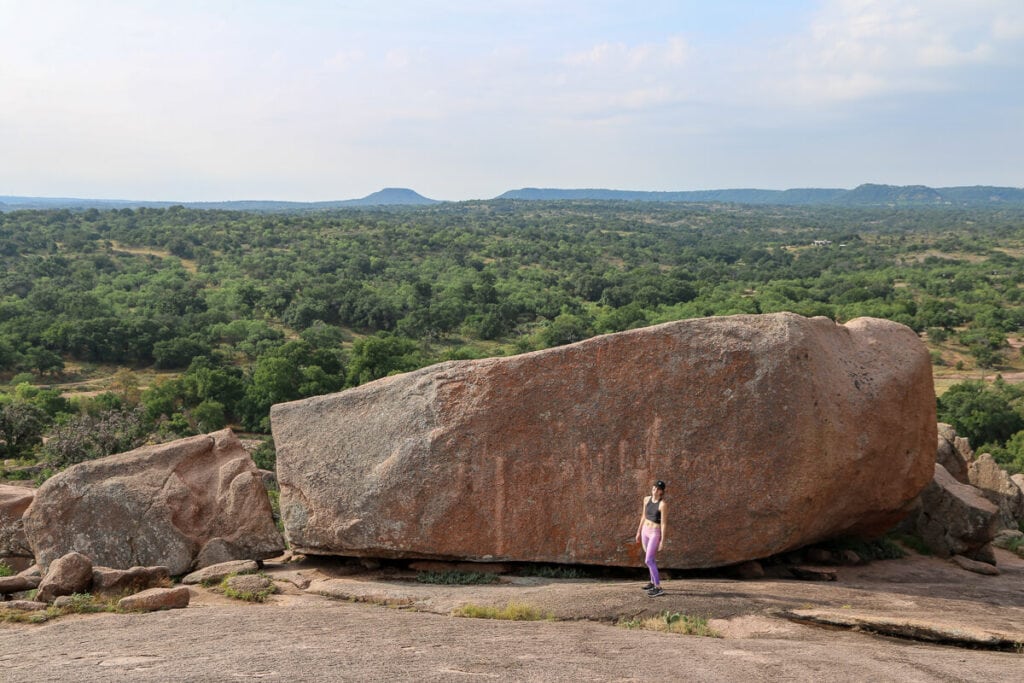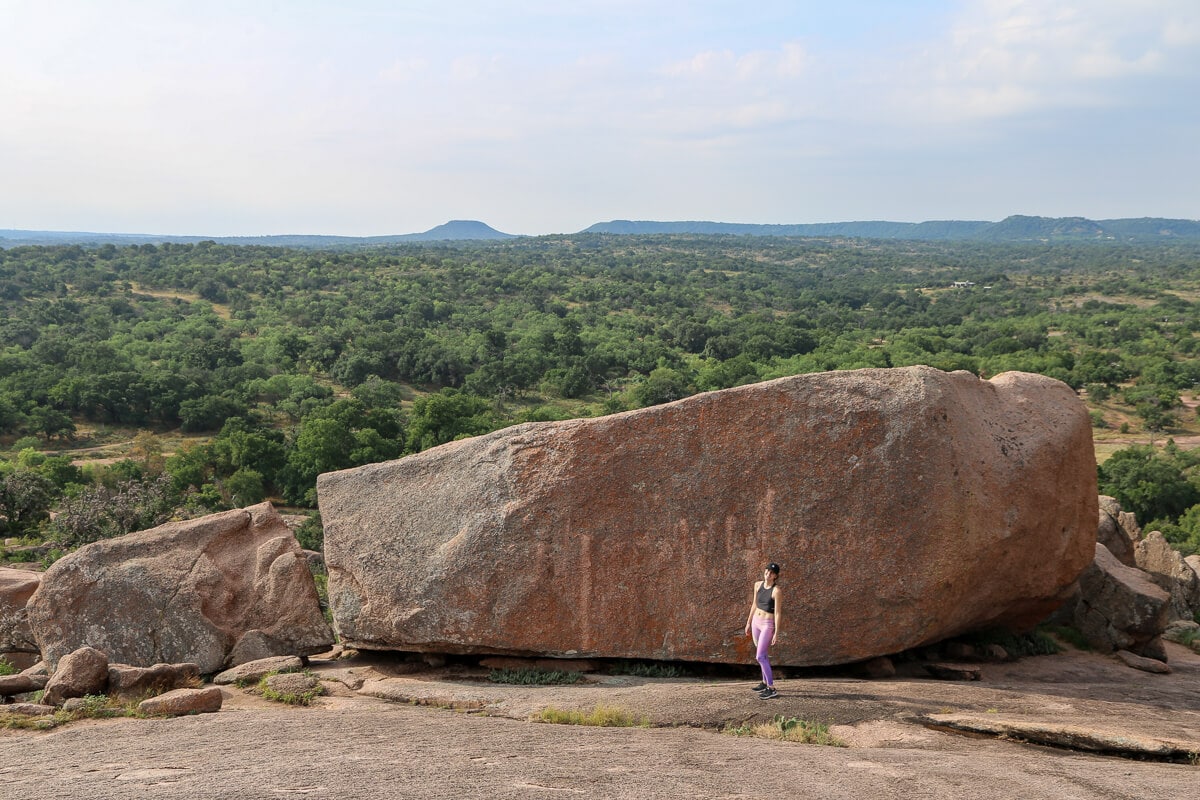 14. Enchanted Rock
Hiking Enchanted Rock in Fredericksburg is one of those iconic Texas experiences.
The rock itself is a gigantic granite dome jutting out of the Texas Hill Country outside of Fredericksburg.
The "hike" is an easy 45-minute walk up the granite to the top.
You may run out of breath but it's a family-friendly hike for all ages.
Rivers & Swimming holes
Summer in Texas is HOT. Good thing there are swimming holes and rivers to make it not only bearable but enjoyable!
Here are some of the best places to swim in Texas.
15. Pedernales Falls State Park
The Pedernales River is only 30 miles west of Austin and a great day trip to cool off in the summer.
Some of the swimming holes on this list are overly popular and require time slots and reservations. Not Pedernales Falls, feel free to spend the entire day swimming here!
The falls are formed by massive limestone slabs. The area around the falls themselves can be turbulent so swimming is only allowed in the quieter areas of the river.
Bring the family, a picnic, and swim in all afternoon. There are also hiking trails and campsites for the more adventurous of us.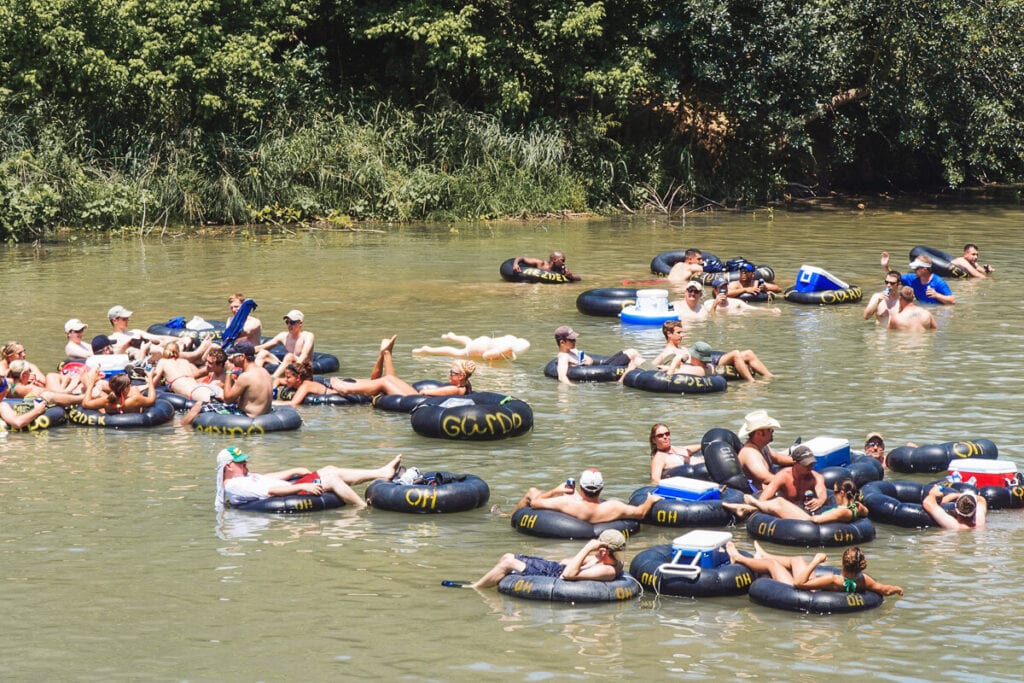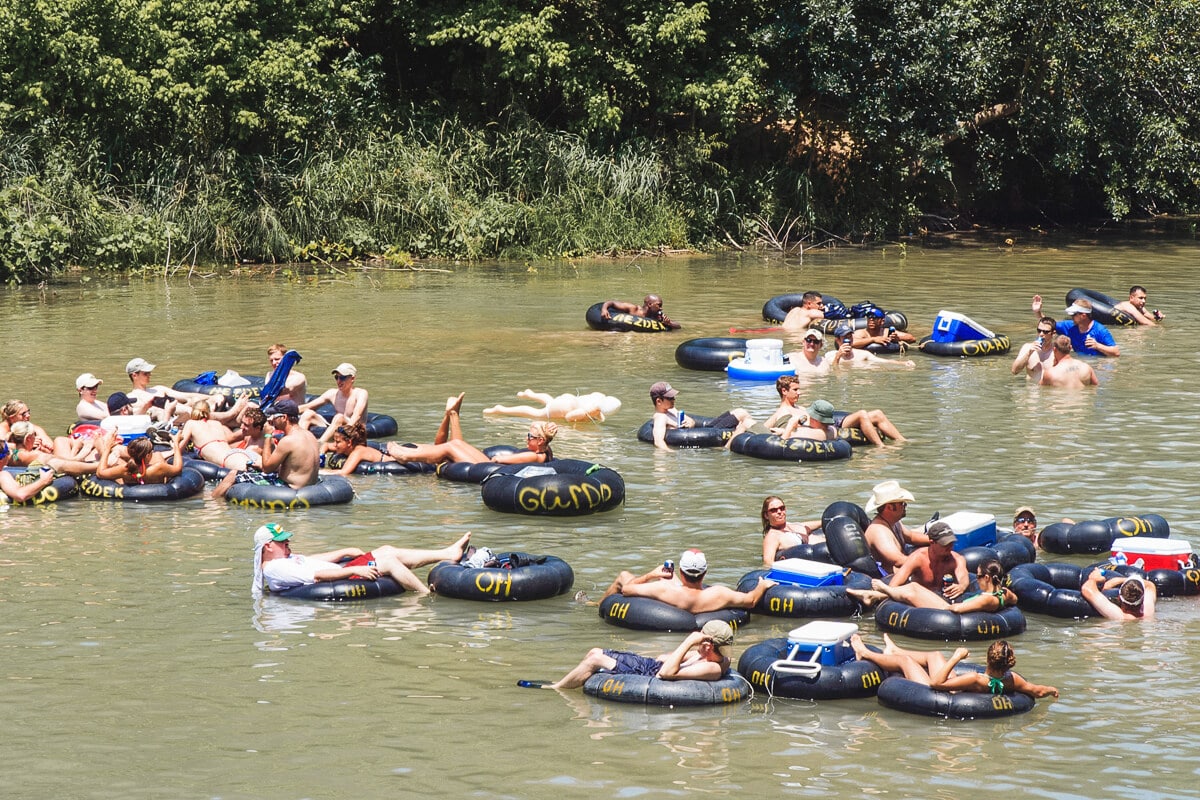 16. Float The Guadalupe & Comal Rivers
One of the best ways to cool off on a hot Texas summer day is by renting a tube in New Braunfels and floating Comal and Guadalupe Rivers.
Wondering whether to tube the Comal or the Guadalupe?
The Comal tends to have an older crowd and is very family-friendly.
The water is deeper so you don't have to worry about bumping the bottom. There is a cement tube shoot that is a big hit as well.
The Guadalupe is a bit shallower and slower moving, you may bump your bum against the riverbed.
It draws the younger crowd (the one that tends to have a designated tube for a cooler full of beer).
The Guadalupe also has more beautiful views (less of the condos and "city" that the Comal has).
17. Barton Springs
Barton Springs is a spring-fed pool in the heart of Austin. If you want a taste of nature but can't get out of the city, Barton Springs is it.
The water is always a crisp 72 degrees. Swim your heart out.
It gets very crowded in the summer so I recommend going during the week to avoid the crowds.
Make a day of it by renting a stand-up paddleboard or canoe at Zilker Park Boat Rentals just downstream of the springs. Paddle onto Lady Bird Lake and see the city from below.
For more, read my favorite itinerary for one day in Austin.
18. Balmorhea State Park
Balmorhea is similar to Barton Springs but in the heart of the West Texas desert.
This pool is fed by the San Solomon Springs and it is the world's largest spring-fed pool!
The temperature stays between 72-76 degrees which is a welcome respite during the desert's sweltering heat.
The park is open daily with a small entrance fee and no lifeguard on duty.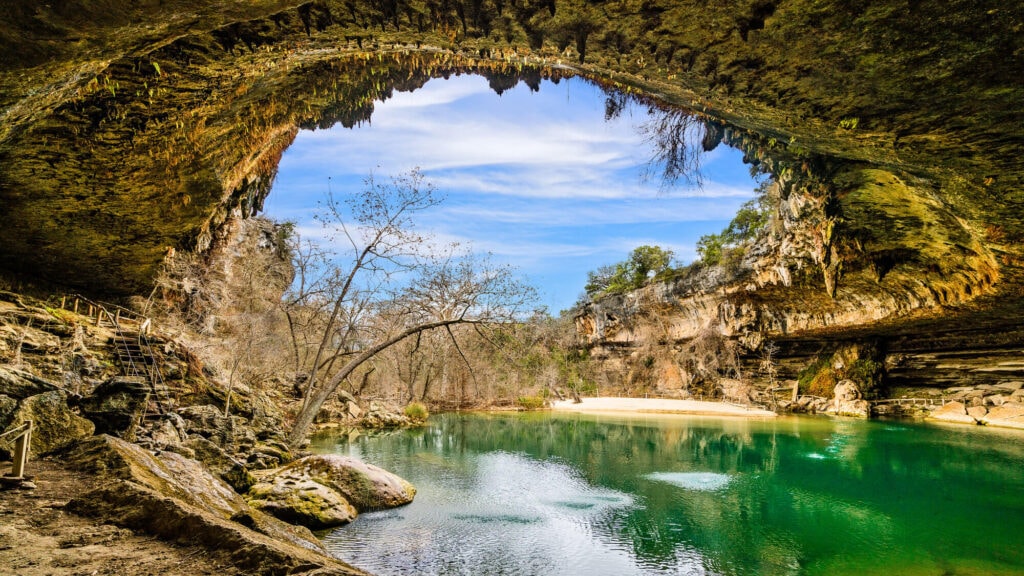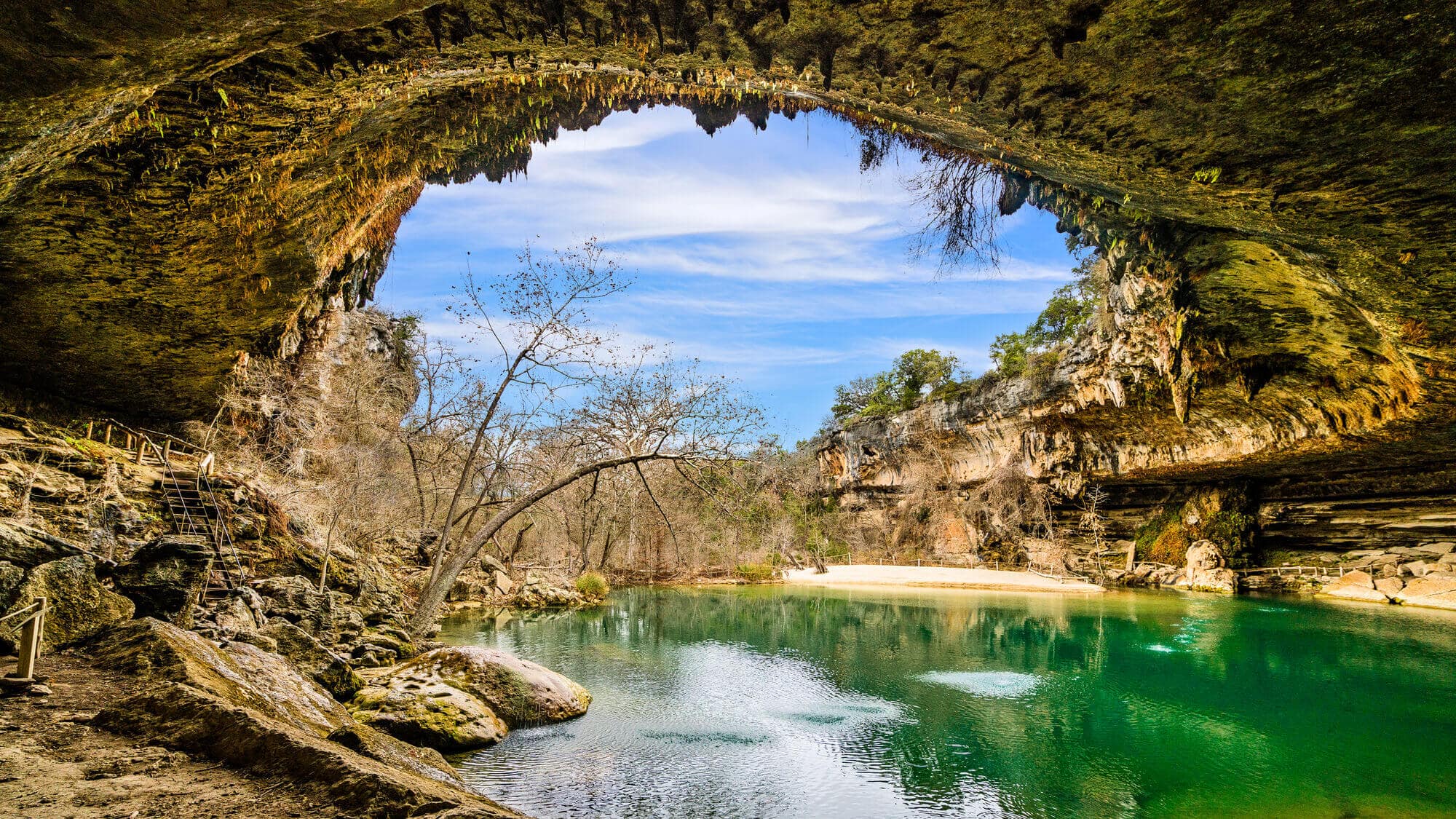 19. Hamilton Pool
Hamilton Pool is one of the best day trips from Austin and one of the most beautiful places to visit in Texas so it is no wonder that it has become very, very busy.
Reservations are now required to take a swim in this famous Texas swimming hole. Make sure to reserve well in advance to assure your spot.
Also, take note that there is a short hike to reach the pool and it's not 100% accessible for wheelchairs.
While in Dripping Springs, visit the many wineries, distilleries, and breweries to round out your day.
20. Jacob's Well
Like nearly all of these swimming holes, Jcaob's Well is in the Hill Country in Wimberley.
Jacob's Well is a 12-foot wide cave that descends 30 feet downwards into Cypress Creek.
The depth gives it a deep blue color. It's gorgeous.
Swimming is only allowed from May 1 through September 30 and by reservation only. They recommend you reserving several weeks in advance.
Hiking is allowed year-round and you can see the beautiful blue well from above.
21. Blanco State Park
Blanco is one hour from both Austin and San Antonio in the heart of the Texas Hill Country.
Blanco State Park contains one mile of river for swimming, fishing, and boating.
You can swim anywhere in the river but the area surrounding the Falls Dam is shallow and ideal for families with small kids.
Tubes are available for rent from the park store from 9 a.m to 2 p.m. if, like me, you're a sucker for a good river float on a hot day.
While in Blanco don't miss the Blanco Bowling Club, a local institution.
The German-style of 9-pin bowling only exists here in Texas!
Flowers & Foliage
One cannot discuss the beautiful scenery in Texas without discussing fields of wildflowers.
Bluebonnets, Indian paintbrushes, deep red wine cups, and pale pink buttercups… it's a veritable rainbow.
Here are some of the best places to see flowers (and even fall foliage) in Texas.
PRO-TIP: Before planning your trip, check out the Texas Wildflowers Report to see how the flowers are blooming this year. Also, please be mindful of private property. Don't hop fences, and don't crush the flowers.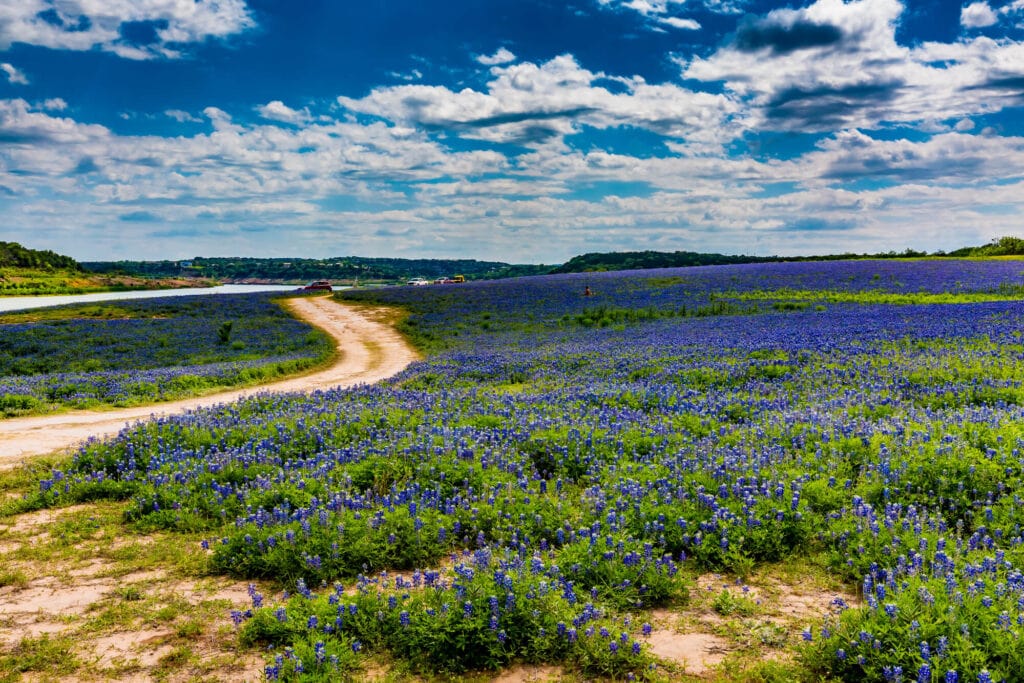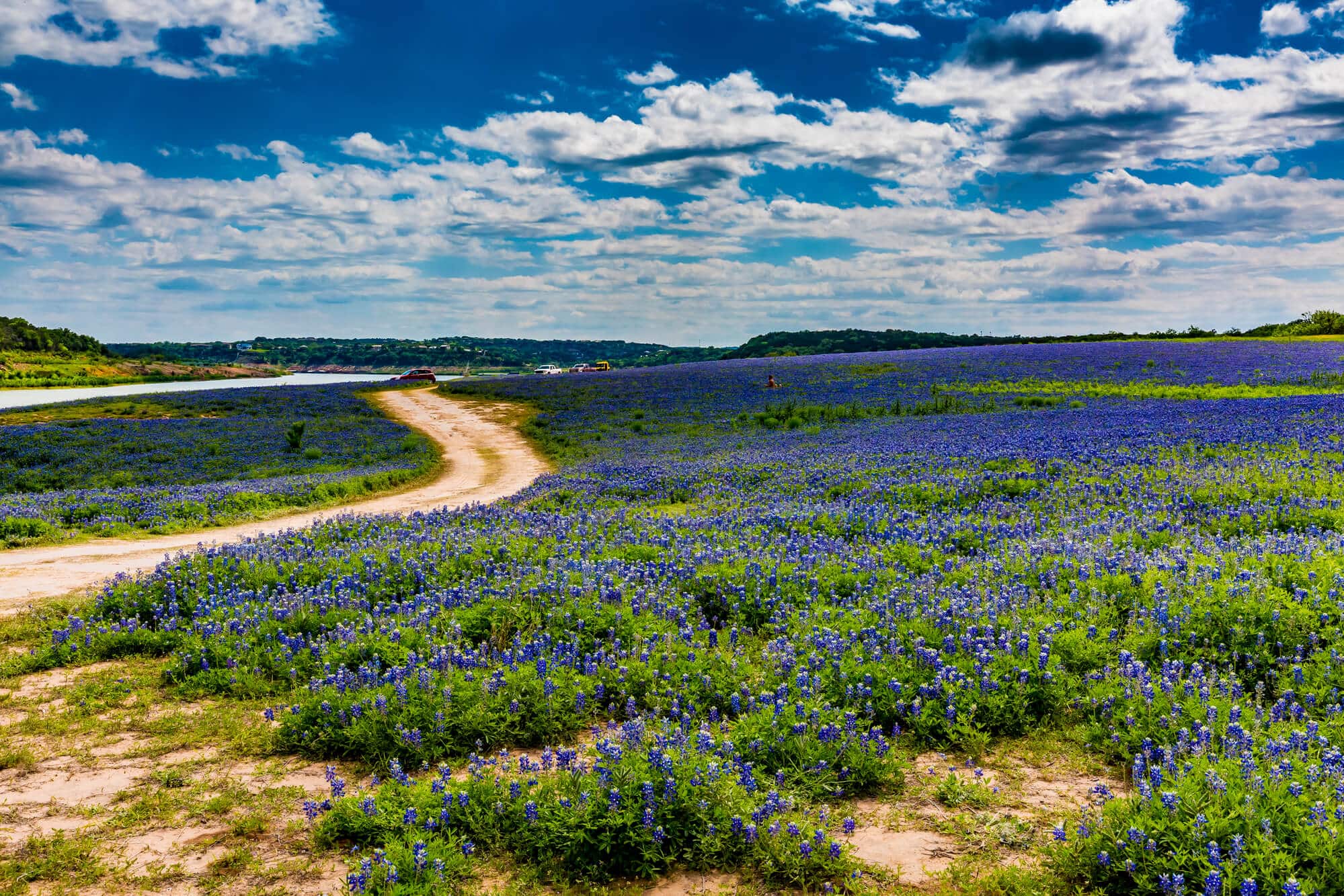 22. Bluebonnets in Washington County
The fields surrounding Brenham in Washington County are some of the best for bluebonnets.
This small town is right in the middle of Houston and Austin on Hwy 290, making it an easy day trip from either.
There are a lot of things to do in Brenham. (My hometown!)
Visit the Blue Bell Ice Cream factory, shop in the adorable downtown, and experience Texas history at Washington-on-the-Brazos.
If visiting in April or May, take photos with the bluebonnets. You don't have to look hard to find them.
The fields that line Hwy 290 leading into town are blanketed in blue every spring. You'll see them as you drive into town.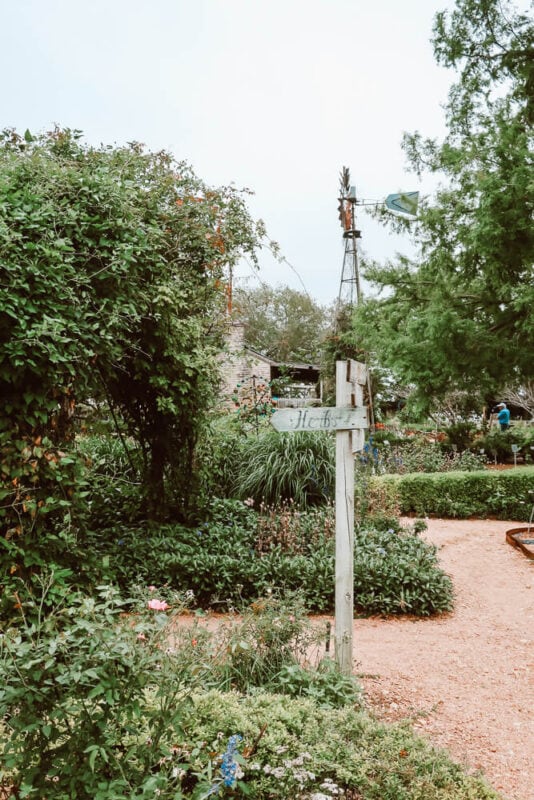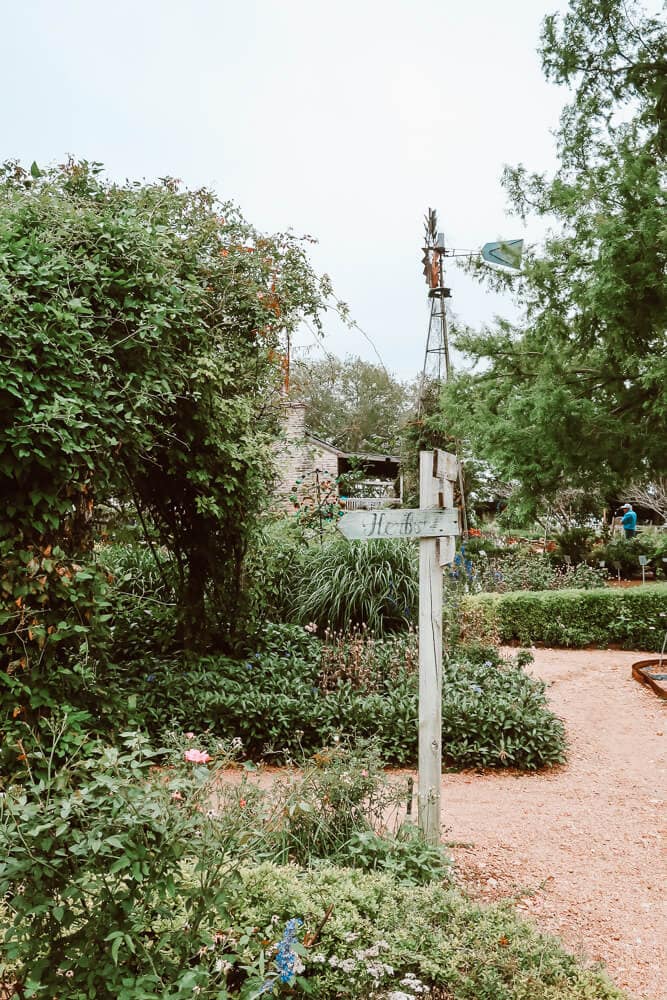 23. Antique Rose Emporium in Brenham
While in Washington County, head 15 minutes outside of Brenham to the Antique Rose Emporium.
This local favorite has been blessing us Brenhamites with roses for 30 years.
They have beautifully landscaped gardens of antique rose varietals, perennials, and even succulents to explore and photograph.
Shop in the gift shop to bring a few roses home with you.
24. Chappell Hill Lavender Farm
The Chappell Hill Lavender Farm grows 3-4 acres of lavender on its 23-acres of rolling hills just an hour outside of Houston.
Chappell Hill is right outside of Brenham. I recommend visiting both in one countryside wildflower day trip.
Entrance is free and picnics are welcome. Check their website for events like outdoor yoga.
They grow two types of lavender so there are two blooming and harvest seasons.
In fact, during cutting season you can stroll through the fields and cut your own bouquet.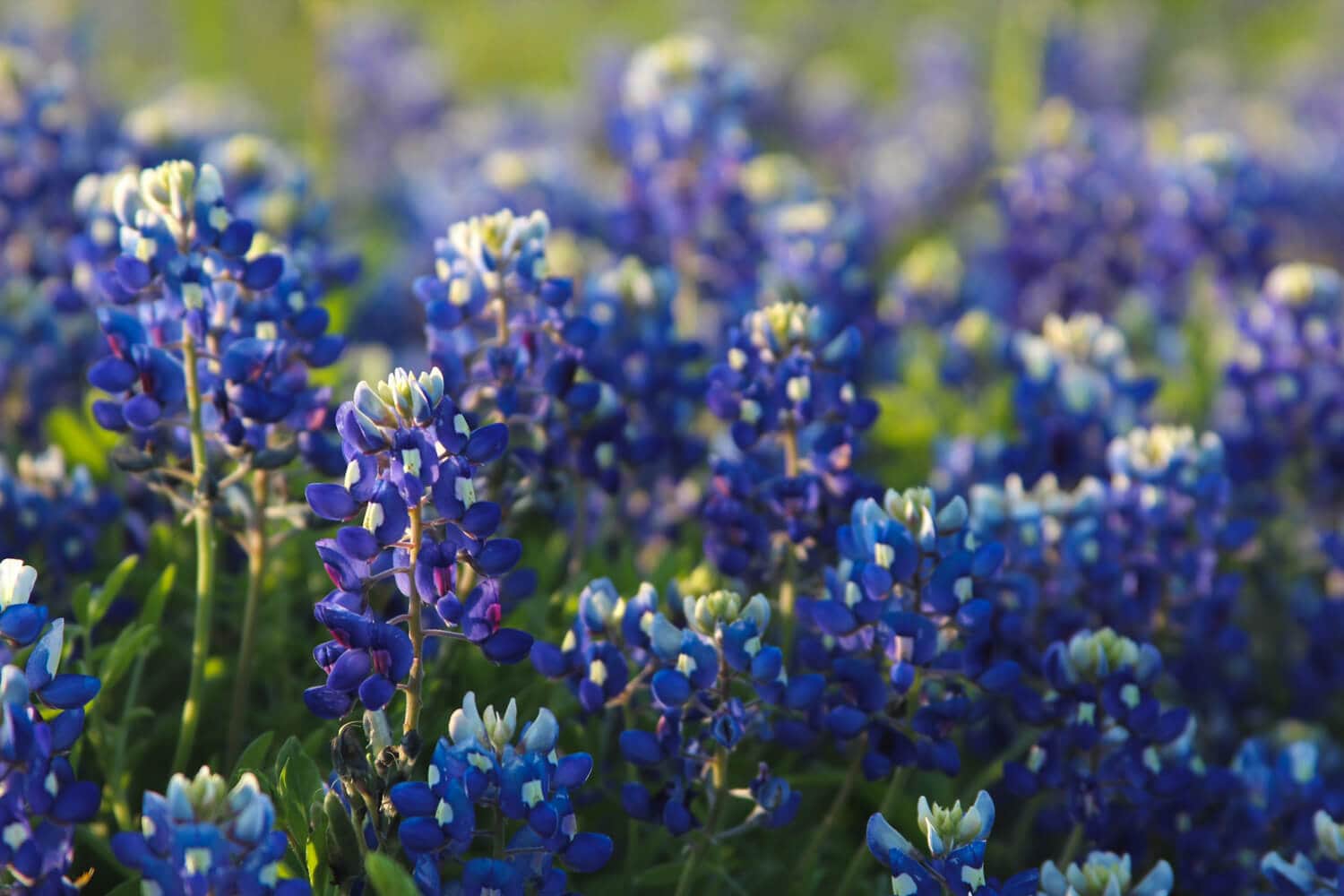 25. Highland Lakes Bluebonnet Trail
The Highland Lakes Bluebonnet Trail is a scenic drive in the heart of the Hill Country.
The fields of bluebonnets here seem to never end as they trail off over the horizon.
THE ROUTE: Drive north from Kerrville to Llano on Hwy 16, then take a right on Hwy 29 to Burnet.
Then take another right on Hwy 281 south to Johnson City. To complete the loop, go back to Fredericksburg on Hwy 290.
This route will give you countless views of wildflowers so take it slow.
26. Muleshoe Bend Recreation Area
The Muleshoe Bend Recreation Area is less than an hour outside of Austin in Spicewood.
It is 654 acres of hiking trails, campgrounds, and picnic tables.
There are just under 10 miles of trails in the park for hiking or biking.
The trails are easy for all ages and weave you in among the fields of bluebonnets for a unique opportunity to hike through, rather than drive up to, the flowers.
27. Becker Vineyards Lavender Fields
Becker Vineyards in Stonewall (just outside Fredericksburg) grow lavender alongside their Hill Country vineyard.
The lavender blooms from April through May, conveniently also when bluebonnets bloom, wildflower road trip anyone?
Becker produces my favorite Texas wine. I fill my fridge with bottles with their Viognier every time I'm home so it makes me happy to learn that their love for Viognier is the reason for the lavender.
When in France researching the white wine varietal, they fell in love with the fields of lavender they saw there.
Today, they have 500 plants growing alongside the pavilion outside their tasting room. Buy a bottle of Viognier and bring a picnic to enjoy with a view of the flowers.
28. Sunflowers & berries in Sadler
In 2016, the Wild Berry Farm north of Dallas planted sunflowers to protect the topsoil.
When they saw how beautiful the flowers were they decided to keep them around and Instagrammers everywhere rejoiced.
The farm allows you to pick your own bouquet to take home.
Bring your own scissors or hand clippers (but there are a few available for rent) and your own jar or vase.
The sunflowers bloom in mid-June, check their website here to see what is in season (they also have pick-your-own berries!).
29. Sunflowers & Pumpkins in Temple
The Robinson Family Farm in between Austin and Waco also plants pick-your-own sunflowers.
The sunflowers bloom in the summer but they have attractions all year. In winter they sell Christmas trees, in spring the Easter Bunny visits, and in the fall they have a pumpkin patch and corn maze.
Year-round fun for both families and Instagrammers alike!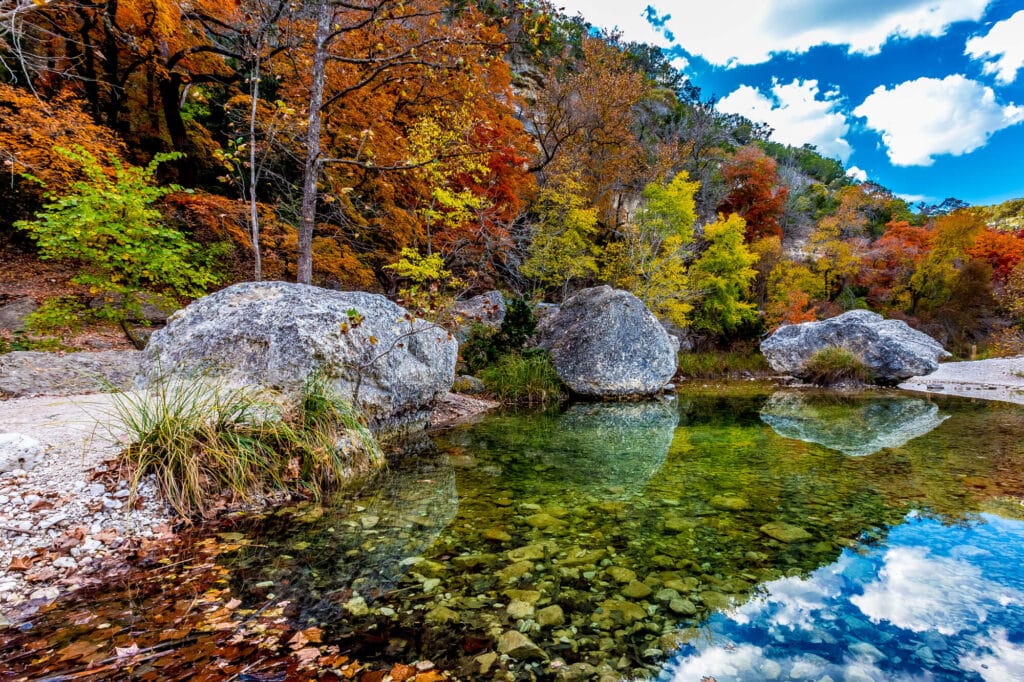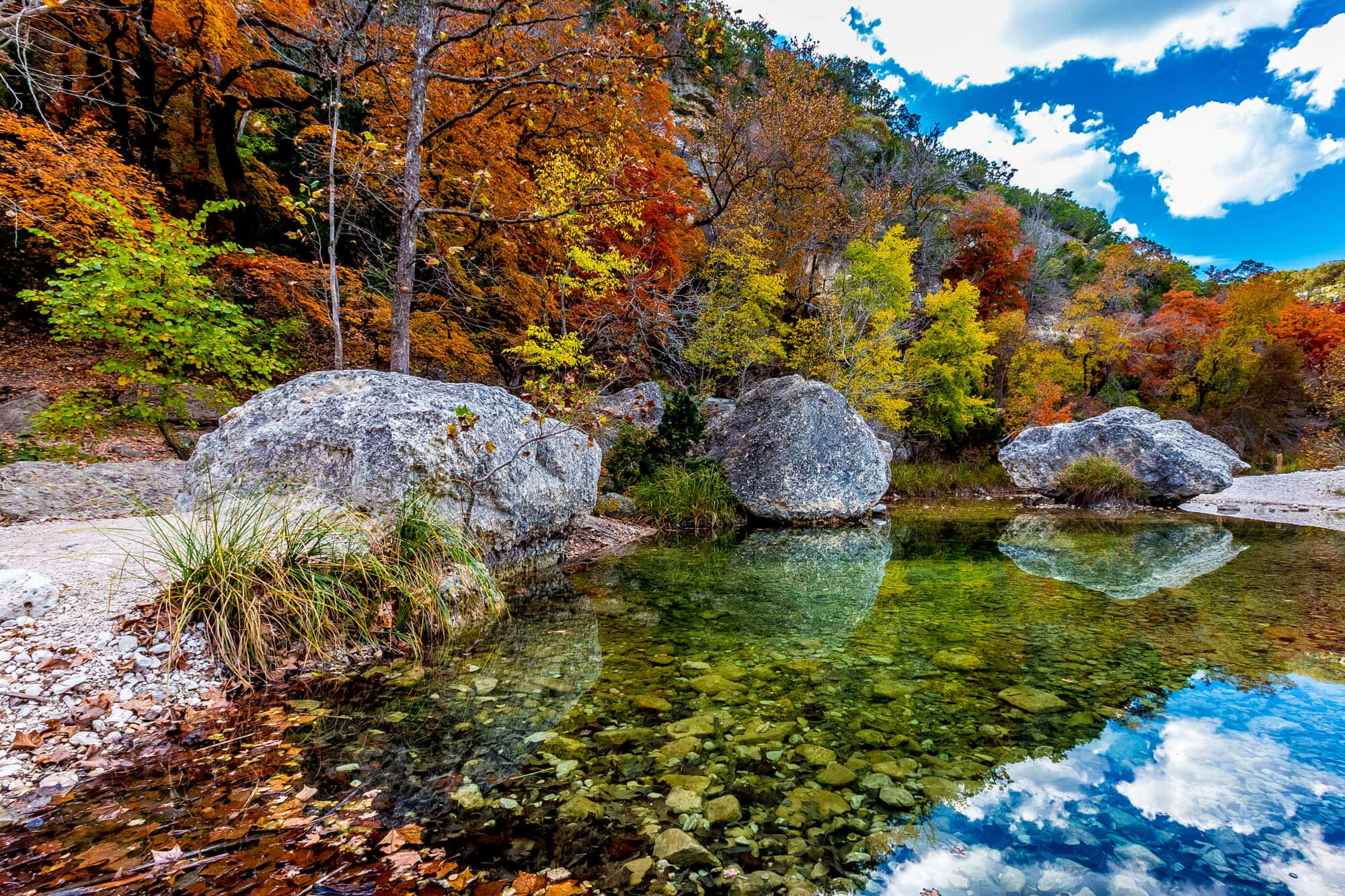 30. Fall Foliage, Lost Maples
Lost Maples State Natural Area is the best – if not only – place to see fall foliage in Texas.
Lost Maples is 2 hours northwest of San Antonio.
In a state that is better known for its live oaks and evergreens than golden fall foliage, this is a rarity!
The Uvalde bigtooth maples that the park protects turn into a rainbow of yellows and oranges in the fall.
Check their foliage reports before going, which are updated regularly every year beginning in October.
There are hiking trails, campsites, and a river to enjoy to make an entire day of it.
Forests & Woods
The beautiful places in Texas are varied and unexpected, like the green piney woods of East Texas.
Here are the best forests to explore in Texas:
31. The Lost Pines
The Lost Pines are 45 minutes from Austin, more than 100 miles from their closest relatives in the Piney Woods region of East Texas.
This tiny forest really is lost, just as the name suggests.
Perhaps hundreds of years ago the two forests were one. But the result is an unexpected forest bordering the bare Texas Hill Country near Austin.
Bastrop State Park and Buescher State Park protect and preserve the lost pines from logging.
There are rustic and drive up campsites in the park as well as 14 historic cabins.
For activities, there are hiking and bike trails, a swimming pool, and a lake for fishing.
For more comfort, my friends usually stay at the Hyatt Regency Lost Pines Resort (both with the kids or as a couples-only trip). It's gorgeous and has more amenitnies like a spa, golf course, and even a water park.
32. Sam Houston National forest
There are four national forests in Texas. Sam Houston National Forest is the easiest to visit 50 miles north of Houston.
The other 3 are in East Texas that take longer to reach and deserve more time once there.
They are destinations in themselves whereas Sam Houston National Forest can be an easy day trip from Houston.
The 128-mile Lone Star Trail mentioned earlier is located here. Pick a portion to explore in a day.
There are a few different recreation areas so I recommend choosing a trail near one of those to combine it with a picnic.
Winter and Spring are the busiest season since Summer and early-Fall in this area gets very hot and muggy.
SAFETY TIP: Deer hunting is big here! If you hike here during deer season (November & December) wear bright, reflective clothing.
33. Davy Crockett National Forest
The Davy Crockett National Forest is huge, covering 160,000 acres of East Texas Piney Woods.
The Ratcliff Lake Recreation Area surrounds a 45-acre lake and has the most amenities and activities.
There are picnic tables, camping, a beach for swimming with a bathhouse, a forest trail, a concession stand, and even an amphitheater.
Hikers can enjoy the forest's best views on the 20-mile Four C National Recreation Trail. It starts at the Ratcliff Lake Recreation Area and ends at the Neches Bluff Overlook, following abandoned tramways of the mining company that gave the trail its name.
34. Big Thicket National Preserve
The Big Thicket is one of the most ecologically diverse places not only in Texas but in America.
The preserve is north of Beaumont in Southeast Texas.
There are at least NINE different ecosystems here!
Understandably, it's called the Biological Crossroads of North America and was even recognized as a biosphere reserve by UNESCO.
You can explore the different ecosystems here by foot in the pine forests or on the water in the cypress-lined bayous.
35. Sabine National Forest
The final East Texas Piney Woods Forest, Sabine National Forest is on the Texas border with Louisiana.
It is huge, covering 5 counties and including the fifth biggest man-made reservoir in the U.S.
There is a lot to do here if you're looking to get into nature, such as boating, fishing, hunting, and hikes (trails are also open to bikes and horseback riding).
The camping here is excellent but they also have more comfortable cabins and lodges in the park.
Beautiful Scenic Drives in Texas
My favorite way to discover a new place is by hitting the road. Road trips let you really dive into a destination by seeing the countryside, small towns, and meeting people along the way!
Here are the best drives for discovering the best scenic places in Texas: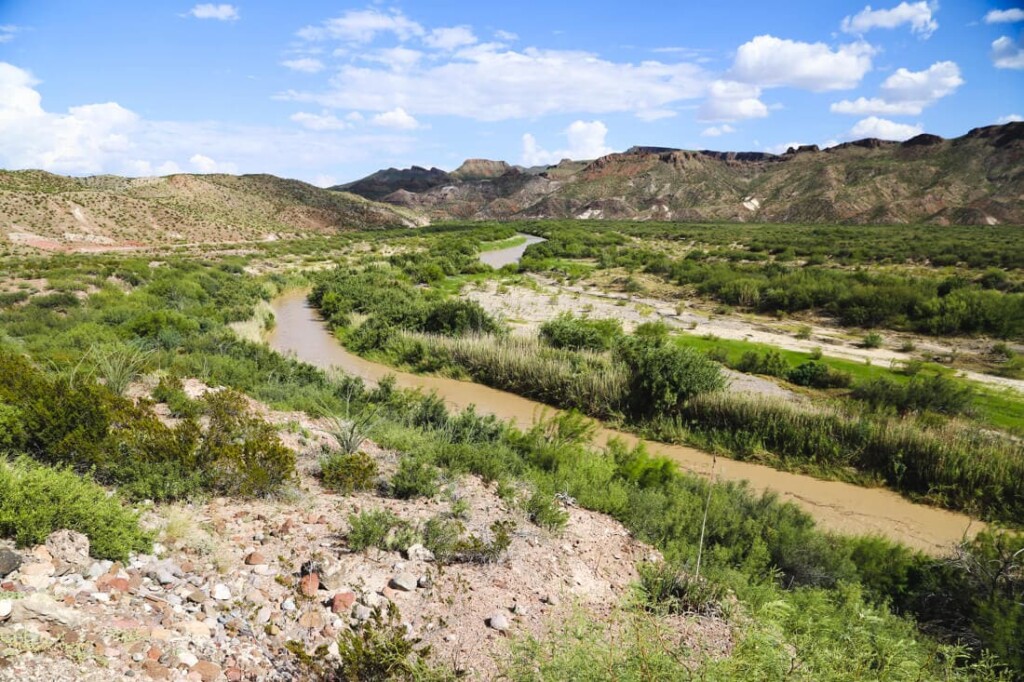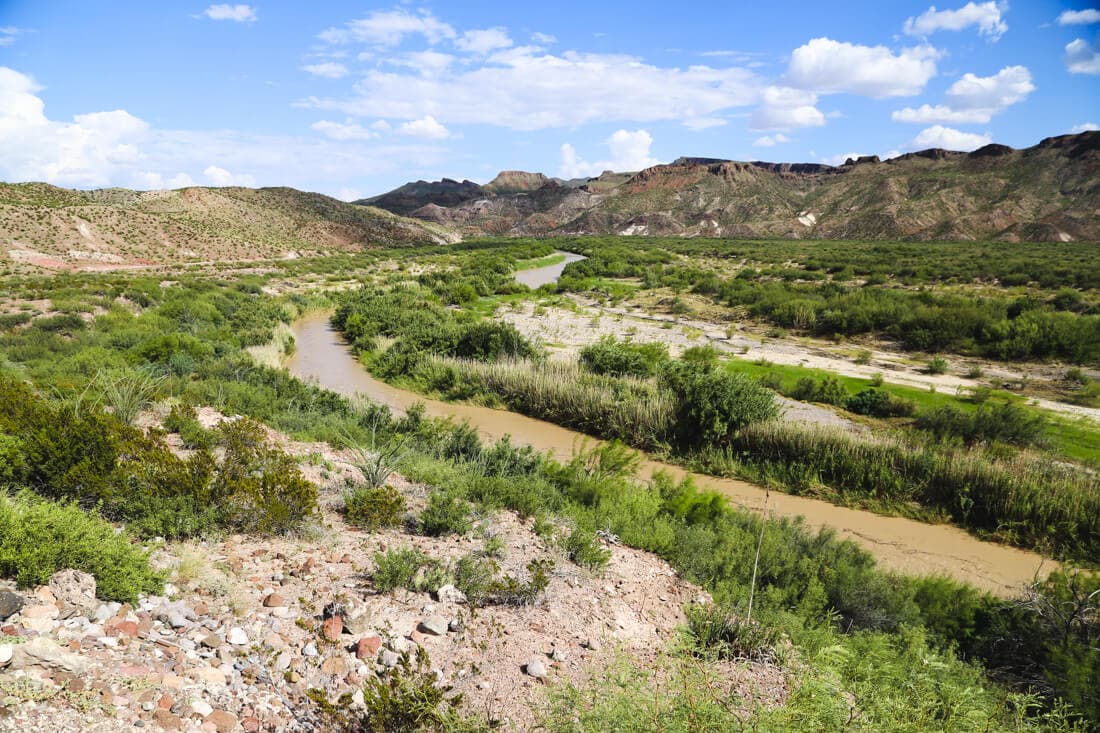 36. The River Road, West Texas
The River Road connects the Big Bend region to Presidio. It's the stretch of FM 170 that cuts through Big Bend Ranch State Park.
If you're going to Marfa or El Paso from Big Bend National Park (or vice versa) this is the route I recommend you take!
The road is well-maintained and paved. It hugs the Rio Grande with beautiful green views to one side, and arid red desert views on the other.
There are a few picnic sites and trailheads along the way, plan ahead if you want to hike or picnic.
Bring everything you need. It's a short drive but there are no convenience stores or gas stations once you enter the park.
Read all about my experience on the River Road here.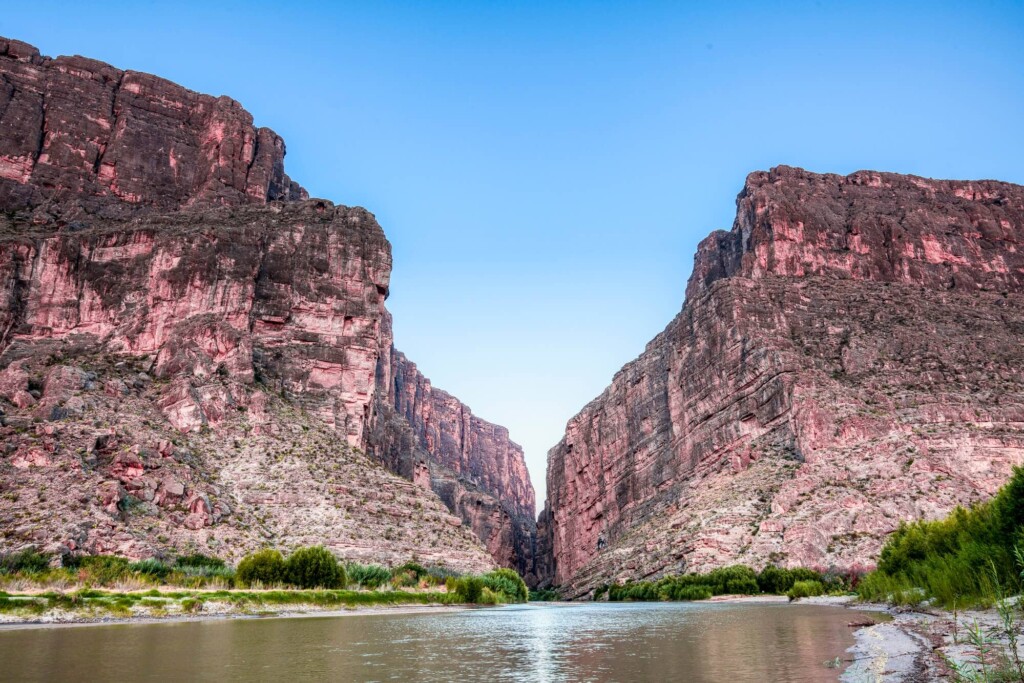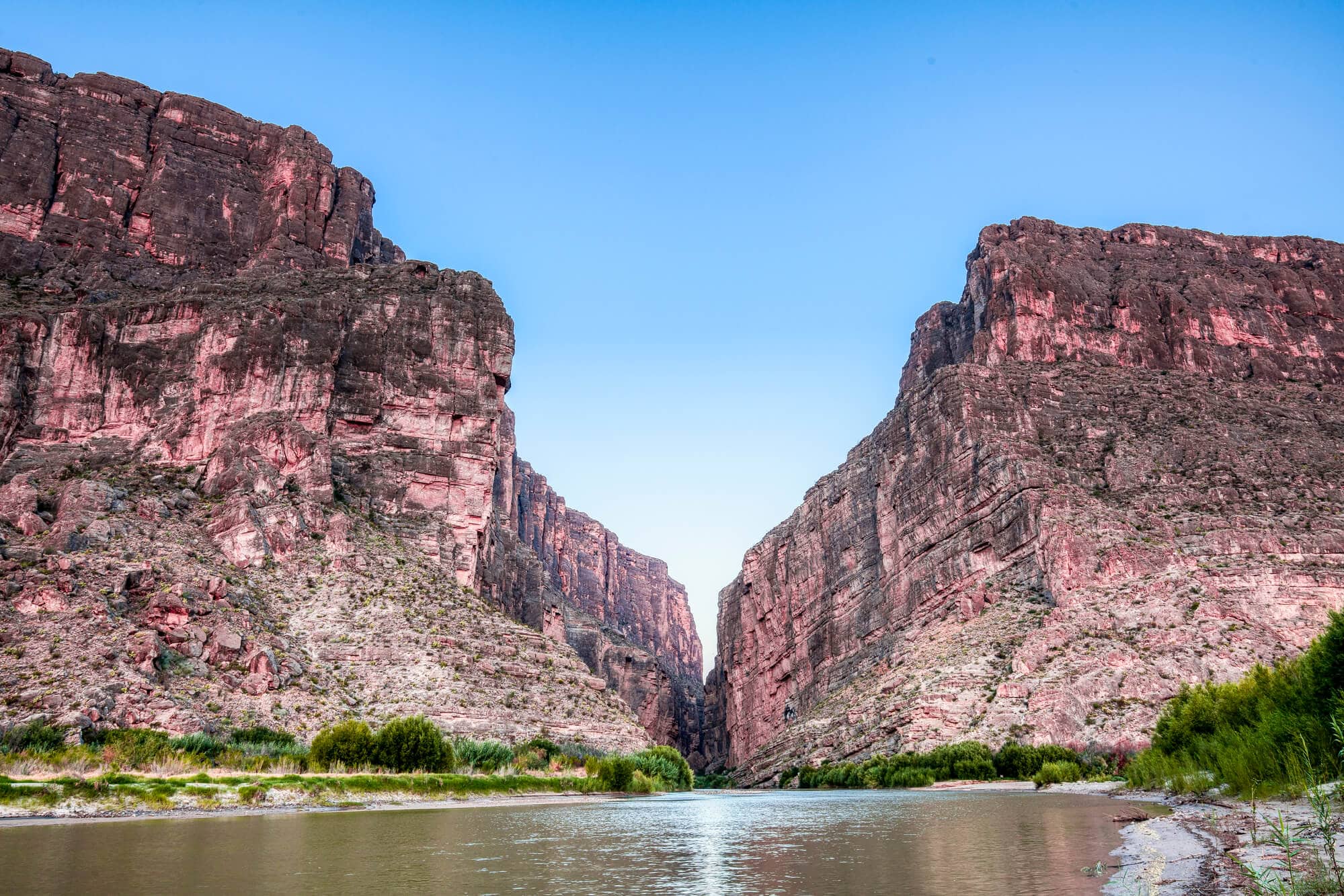 37. Ross Maxwell Drive, West Texas
The Ross Maxwell Drive is a 30-mile drive in Big Bend National Park.
It takes you from the main highway in the park to the Castolon Historic District and Santa Elena Canyon.
Along the way you'll see some of the most beautiful parts of Texas.
Stop at the Sotol Vista Overlook for photos and to stretch your legs.
There are a few desert trailheads here as well. The Lower Burro Mesa Pouroff is a short half-mile trail that we did.
The 2-mile Mule Ears Viewpoint is one of the best trails here if the weather isn't too hot (for us in August it was a no-go).
Otherwise, continue onwards until the end and hike into Santa Elena Canyon.
There is a convenience store in the Castolon Historic District if you need to refill your water bottles or get snacks.
38. Devil's Backbone, Hill Country
The Devil's Backbone features rolling hills, limestone cliffs, and ranches. Drive slow, roll down your window, and blast country music.
Why the ominous name for such a gorgeous drive?
One rancher has reported seeing the ghosts of Confederate soldiers running across his fields. The horse hooves pounding shook the foundation of his home!
THE ROUTE: Start in Johnson City and take Hwy 281 south, you'll drive through Blanco and three miles later turn left onto FM 32. Drive about 25 minutes to the Devil's Backbone Overlook.
From here you can backtrack a few miles and turn left onto FM 306 towards Oblate Dr. to continue on to Canyon Lake.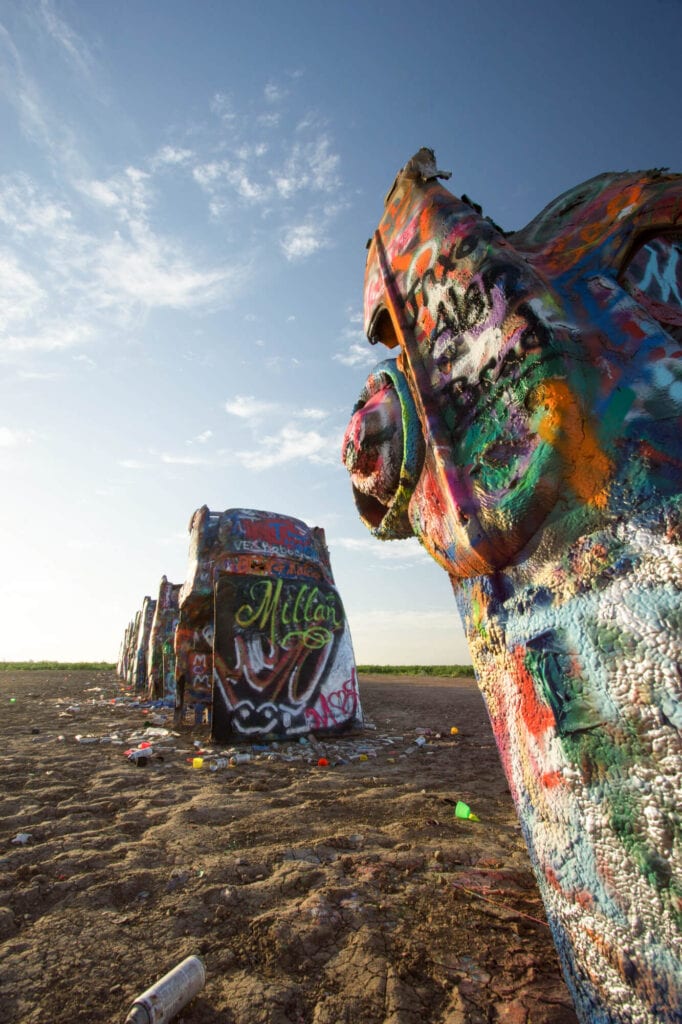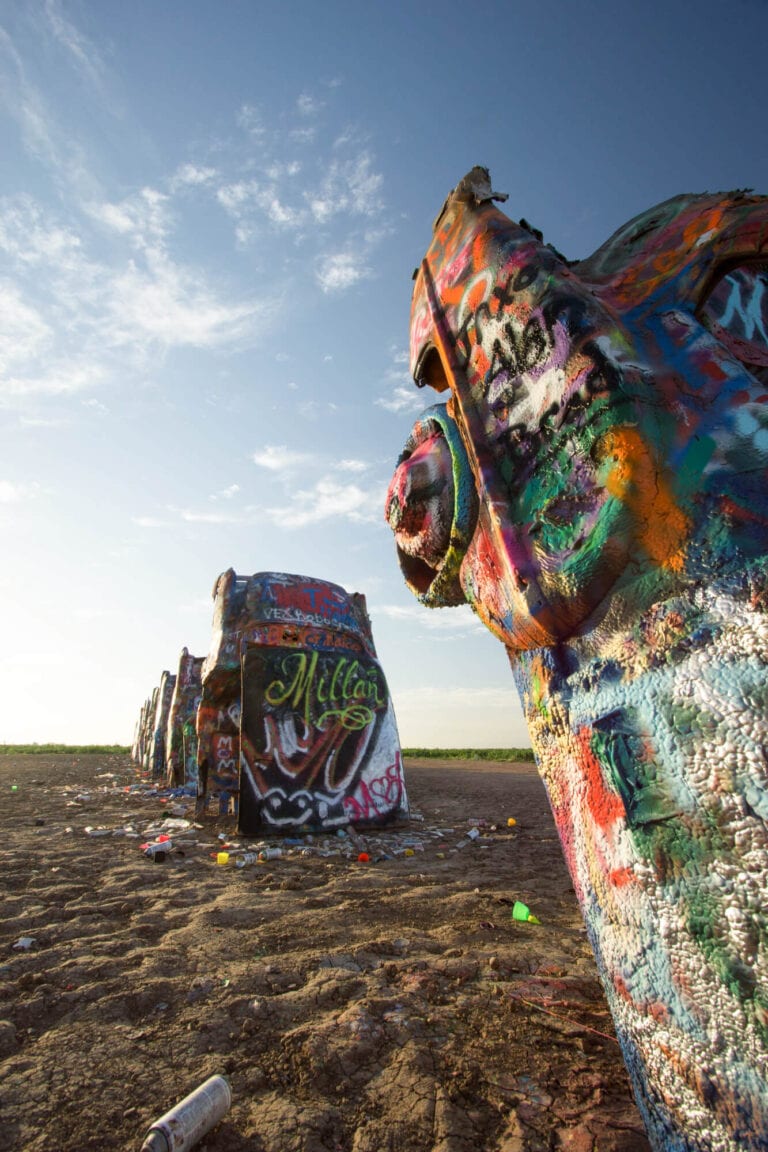 39. Route 66, Panhandle
The most famous highway in the United States cuts right across the Texas Panhandle.
Amarillo is the biggest city on the drive. Stop here to see the Cadillac Ranch and have a larger than life steak at the Big Texan Steak Ranch.
Seriously, if you can stomach all 72-ounces of steak it's on the house.
The Cadillac Ranch isn't ON Route 66 but on Exit 66 of I-40.
Check out the graffitied cars buried up to their windshields (at the same angle as the Great Pyramids of Giza!).
Now that you're in the Panhandle I recommend visiting Palo Duro Canyon State Park and continuing your road trip on the next scenic drive on the list…
40. The Canyon Sweep, Panhandle
The Canyon Sweep is a scenic drive that connects Caprock Canyons State Park to Palo Duro Canyon State Park.
The entire route is 2 and a half hours and 119 miles of red rock mountains and cliffs, canyons, and rolling Texas plains.
If you've already managed to make it to this far-flung corner of Texas, it's well worth taking the time to drive slowly down this scenic drive's FM roads rather than fly by the beauty on the interstate.
There are hikes and viewpoints all along the way so make sure your camera is charged and your memory card has room!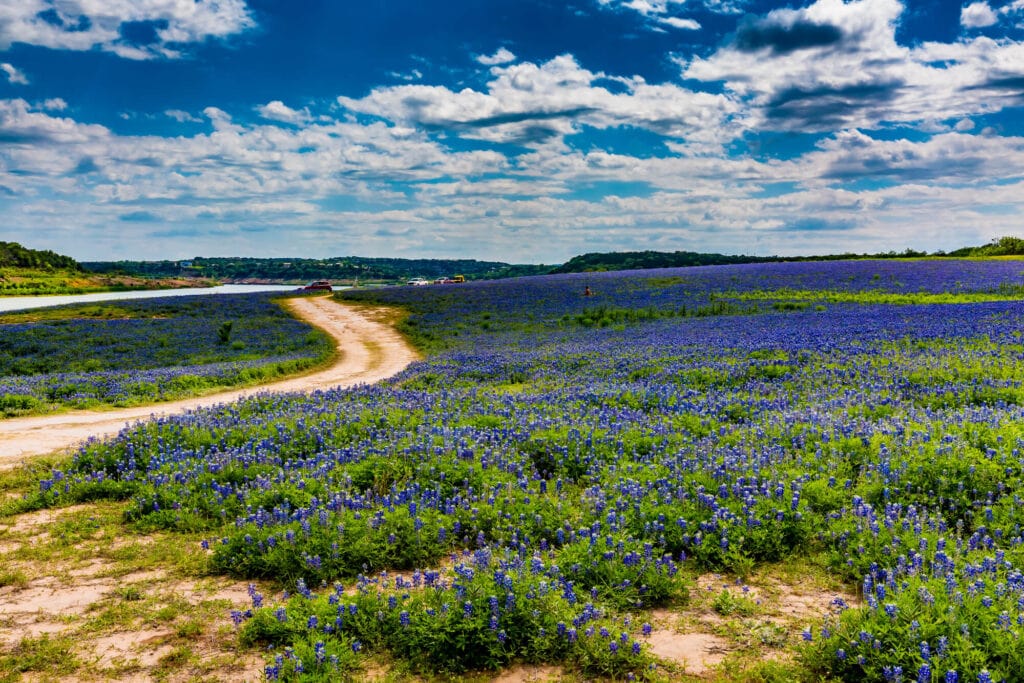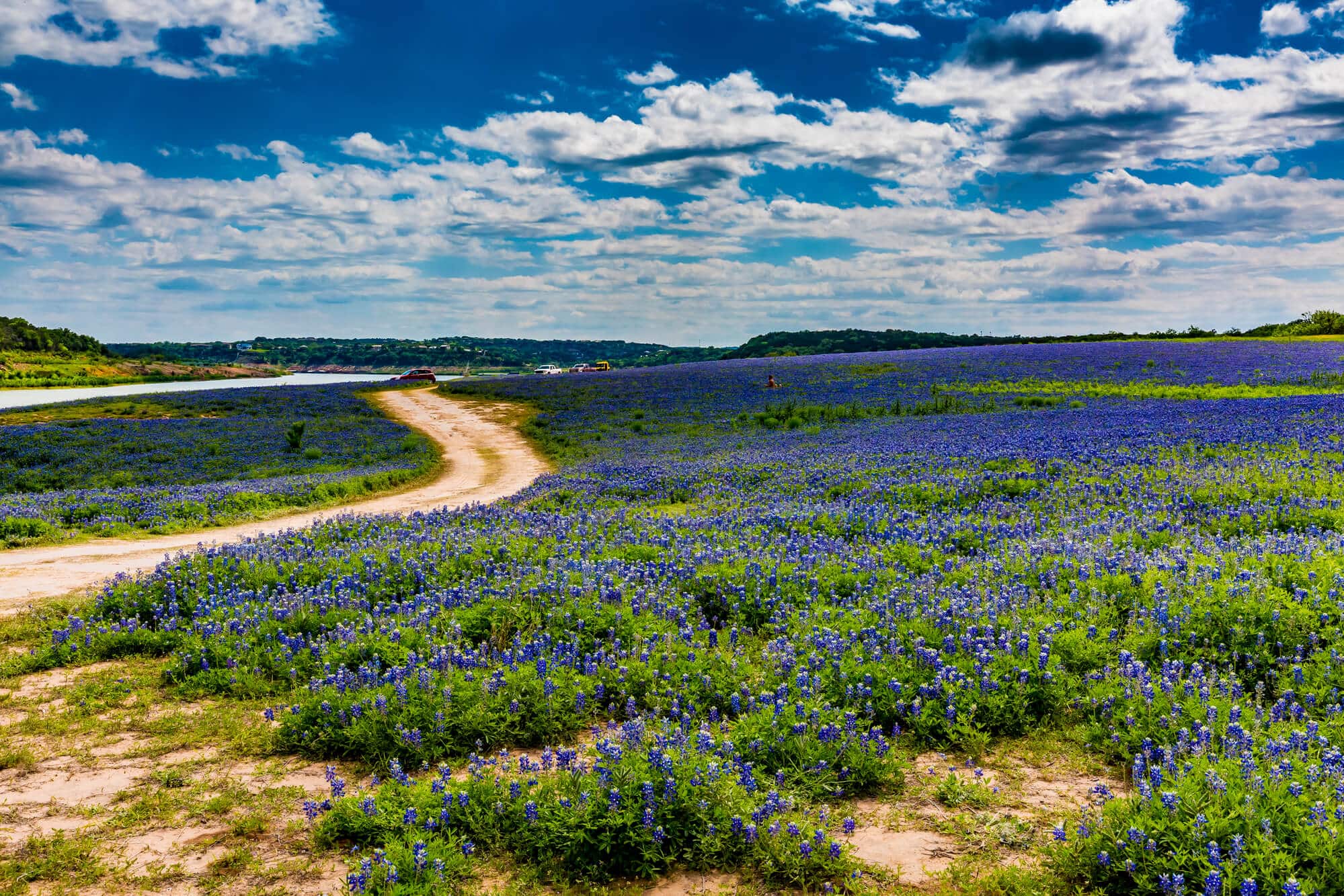 41. Willow City Loop, Hill Country
Along with the other wildflower destinations mentioned earlier, the Willow City Loop is one of the most beautiful wildflower drives in Texas.
It's a 13-mile drive featuring rolling meadows, creeks, and fields of wildflowers.
THE ROUTE: From Fredericksburg, head north on State Route 16 for about 13 miles to Willow City, then go east on Ranch Road 1323 for almost 3 miles, then turn left onto Willow City Loop.
This is a short drive so it's a great addition to any day in Fredericksburg itinerary. Ideally, go from March to May to see the wildflowers in full bloom.
Beautiful Beaches in Texas
Here are the most beautiful beaches in Texas:
42. Galveston Island
Of all the beaches in Texas, Galveston Island is one of the most popular due to its close proximity to Houston.
There are 32 miles of sandy beach but the more beautiful part is inside Galveston Island State Park.
You can swim, fish, paddle, and watch wildlife in the 2,000-acre park.
If you want Texas beach beauty with the benefits of a city, Galveston is your best bet.
There are historic buildings downtown, amusement parks, and festivals throughout the year to enjoy, such as an annual sandcastle building competition!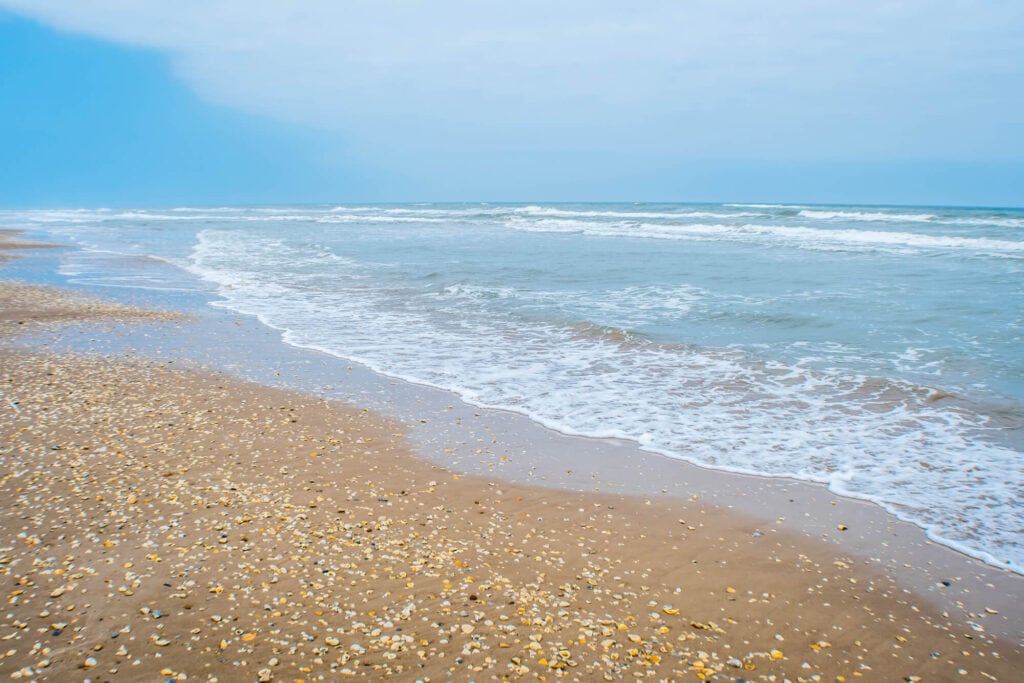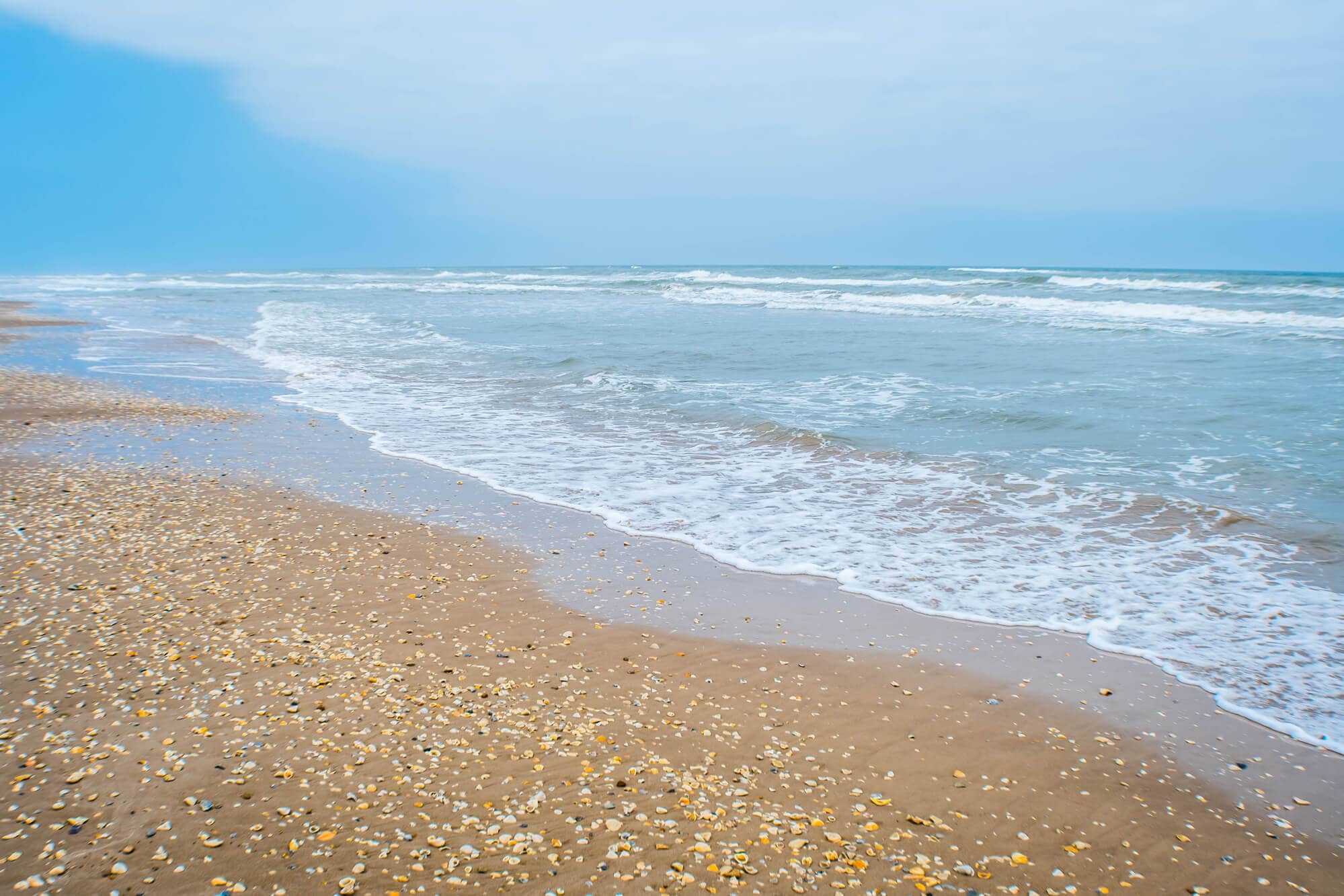 43. Padre Island National Seashore
Not to be confused with South Padre Island (which is actually 3 hours away), Padre Island National Seashore is on North Padre Island and home to possibly the most beautiful beach in Texas.
This national seashore has 70-miles of protected coastline, dunes, prairies, and wind tidal flats.
The most beautiful beach is Malaquite Beach where there is no car traffic allowed on the beach. It is pristine, quiet, and safe for the kids to run around.
44. South Padre Island
It may get a bad rap but South Padre Island really is home to some beautiful Texas scenery and even dolphins.
Skip the entire month of March to avoid Spring Break when college students flood into South Padre and rob everyone of their peace and sanity (I'm officially old).
Make sure to visit Port Isabel next door, a small town dating back to Spanish explorers landing on its shores in 1519!
45. Matagorda Bay Nature Park
Matagorda Bay is an estuary. The park makes up 1,333 acres where the Colorado River pours into the Gulf of Mexico on the Matagorda Bay Peninsula.
Go birdwatching in the coastal marshland, paddling in the wetlands, or enjoy the beaches.
There is a welcome center and gift shop with necessities.
46. Mustang Island State Park
Like Padre Island and Galveston Island, Mustang Island is a barrier island in the gulf.
However, unlike those two popular islands, Mustang Island is rustic and pristine.
Gone are the amusement parks and hotel chains that line the boardwalk.
The 5 miles of beaches on Mustang Island are made for those that appreciate the simple things.
Camp on the beach to listen to the waves roll in all night. Sit around the campfire before turning in.
Paddle along the 20-mile paddling trail while you watch the coastal birds fly overhead.
Of all these beaches, Mustang Island is the one I'm dying to visit the most!
47. Rockport Beach
Rockport Beach is the cleanest beach in the state and was officially the first official Blue Wave Beach in Texas.
The long beaches are immaculate and litter-free, as well as handicap accessible and swimmable!
The waters near the shoreline are shallow and great for little ones.
Rockport is also a great fishing destination with bait shops lining the shores and piers all along the beach to toss your line in from.
48. San Jose Island
San Jose, or St. Jo, is a local favorite. The entire island is private property, a ranch owned by the heirs of oil tycoon Sid Richardson.
The 21 miles of sandy beaches and grassy dunes, however, are open to the public.
Only a fraction of the throngs of tourists that swarm Port Aransas drift on to San Jose so you will be assured peace and quiet.
To get to St. Jo, take the Jetty Boat ferry from Fisherman's Wharf in Port Aransas.
Tickets are $18/person and there are usually around 10 trips per day between 6 am to 6 pm.
Caves & Caverns: Underground Beauty in Texas
Pun alert, in Texas there is more than meets the eye. These amazing places to visit in Texas are all below ground!
TIP: When touring any cave, wear a rubber-soled shoe like a sneaker or stylish Teva sandal. The floors are slippery and if you're going on an adventure tour you'll want to be in appropriate sportswear.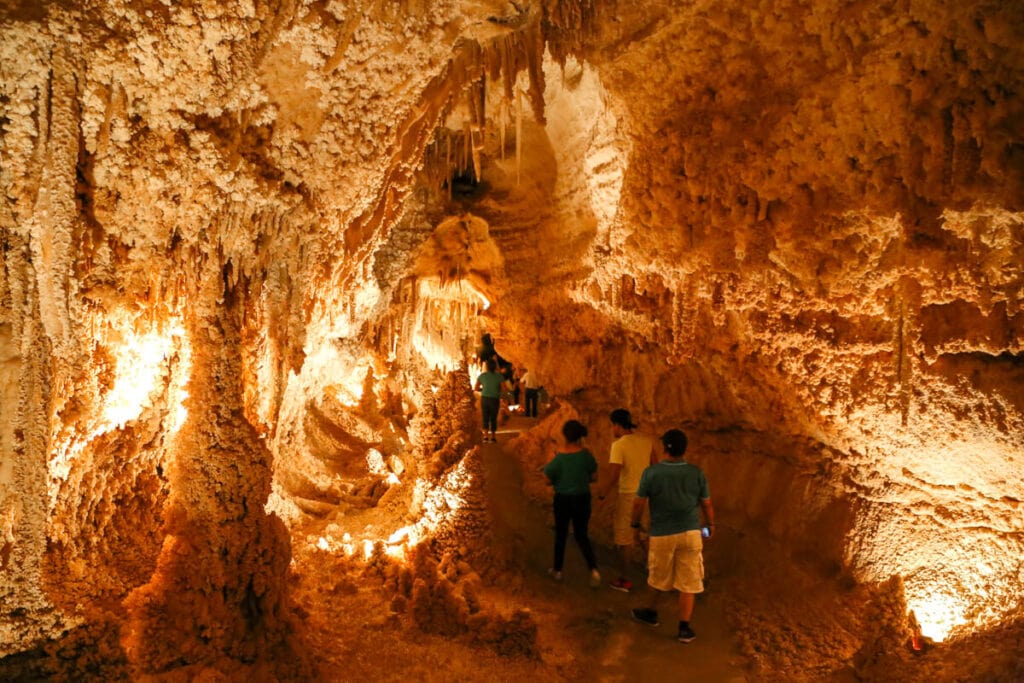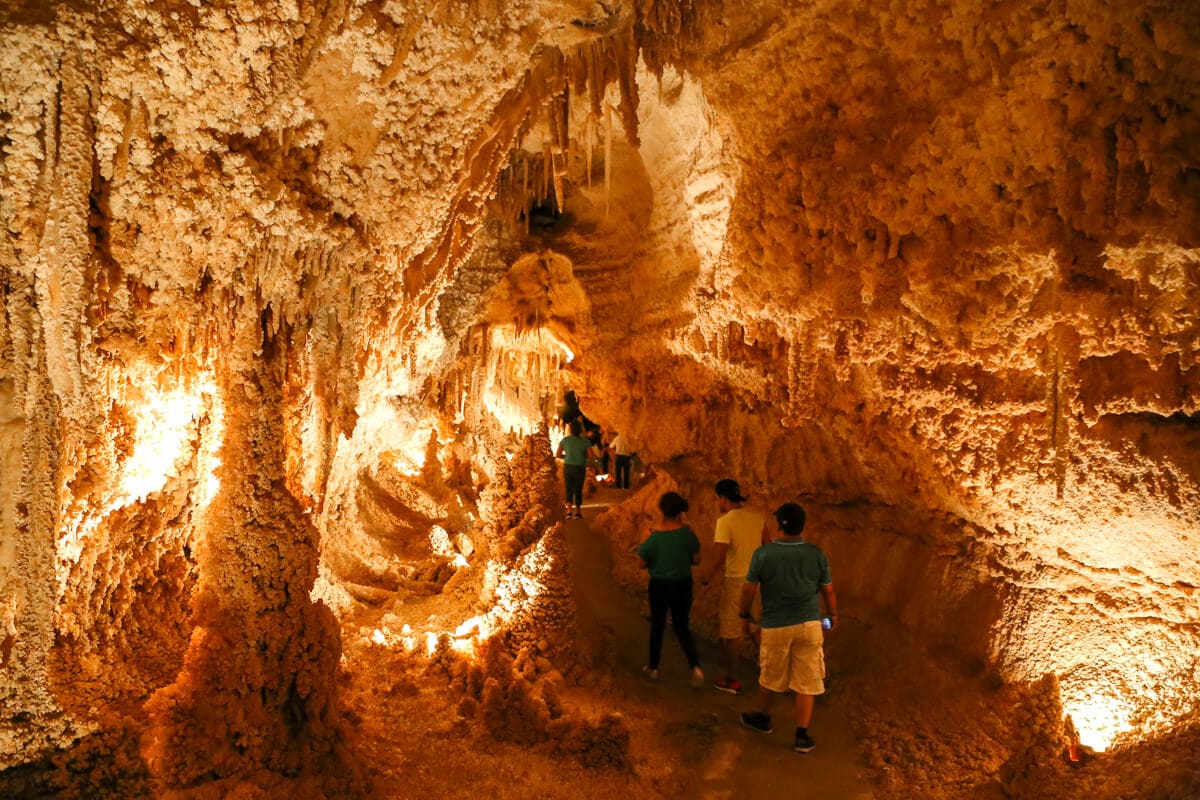 49. Caverns of Sonora
The Caverns of Sonora are half-way between San Antonio and Big Bend National Park on I-10.
It's the perfect pit-stop to cut the drive in half, which is exactly what we did!
This is a formation rich cave and the formations actually hang very low overhead! The caverns are really worth the stop if you're in the area.
The guided Crystal Palace Tour is just under 2 hours long.
Keep in mind that there are a lot of steps and walking, but if you're in the middle of a 7 hour drive you'll be glad to stretch your legs.
50. Natural Bridge Caverns
Natural Bridge Caverns are the most well-known caverns in Texas. They're just outside of San Antonio and very accessible.
Since it's so well-known and developed, they offer a variety of tours so there is really something for everyone.
The Adventure Tour will have you crawling on your hands and knees through tight spots. It's great for the adventurous but I admit can be nerve wracking! We did a similar tour in South Africa and it can bring out the claustrophobia in anyone!
51. The Cave Without A Name
The Cave Without a Name is what happens when you let the general public name things. But the contest entry wasn't made with snarkiness in mind, a young boy decided the cave was simply too beautiful to have a name.
The unnamed cave has a colored history, from prehistoric remains found inside that date back thousands of years all the way through prohibition when a moonshine distillery operated in one of the upper caverns.
I, personally, am curious if it really is too beautiful to be named and am also intrigued by the mention of moonshine.
The cave is in Boerne, north of San Antonio, in the Hill Country and open 7 days a week
52. Devil's Sinkhole State National Area
For a real once in a lifetime Texas experience, watch 3 million bats emerge from the deep pit that is the Devil's Sinkhole!
The cave is home to one of Texas' largest communities of Mexican free-tailed bats.
Visitors aren't allowed in the cave and that is fine with me. Watching the bats from outside is as close to bats as I need to be.
You can view the bats from late Spring to early Fall.
If you're not sure whether you're a fan of bats, be comforted in the fact that they likely eat up to 30 tons of beetles and moths every night. Good riddance beetles.
53. Longhorn Caverns State Park
Longhorn Caverns is about an hour and a half outside of Austin in the Hill Country.
It's called the National Cave of Texas, which is a lofty claim so they must be truly beautiful.
Its history is colored and a bit wild, having housed Native Americans, Confederate soldiers, and even outlaws.
Take one of their guided tours, then explore the grounds.
Hike on the Backbone Ridge trails and see a panoramic view of the Hill Country from the observation tower.
54. Inner Space Cavern
Water passing through the Edwards limestone formed the Inner Space Cavern in Georgetown.
The cave was hidden for 10,000 years and is one of the best preserved caves in the state.
It's open year round and does not flood with the rain, is a constant 80 degree real-feel, and is home to stunning formations.
Inner Space Cavern is open every day with a variety of tours for all ages and abilities.
Beautiful Texas City Parks
You don't need to leave the city to see some of the most pretty places to visit in Texas.
Here are some beautiful city parks for when you can't get out of town.
55. Austin's Barton Creek Greenbelt
One of my favorite things about Austin is you don't need to go far to feel like you're in the middle of nature.
The Barton Creek Greenbelt is on the south side of the city. Without even leaving the city limits you can go hiking, biking, rock-climbing, bouldering, swimming, or sunbathe by the water.
There are 12 miles of trails and plenty of water to cool off in on a hot summer day.
Austin is an outdoorsy city overall and the Greenbelt is the best place to experience the outdoors here.
Other beautiful parks in Austin include St. Edward's Park (pictured above), Zilker Park, and all the trails along Lady Bird Lake.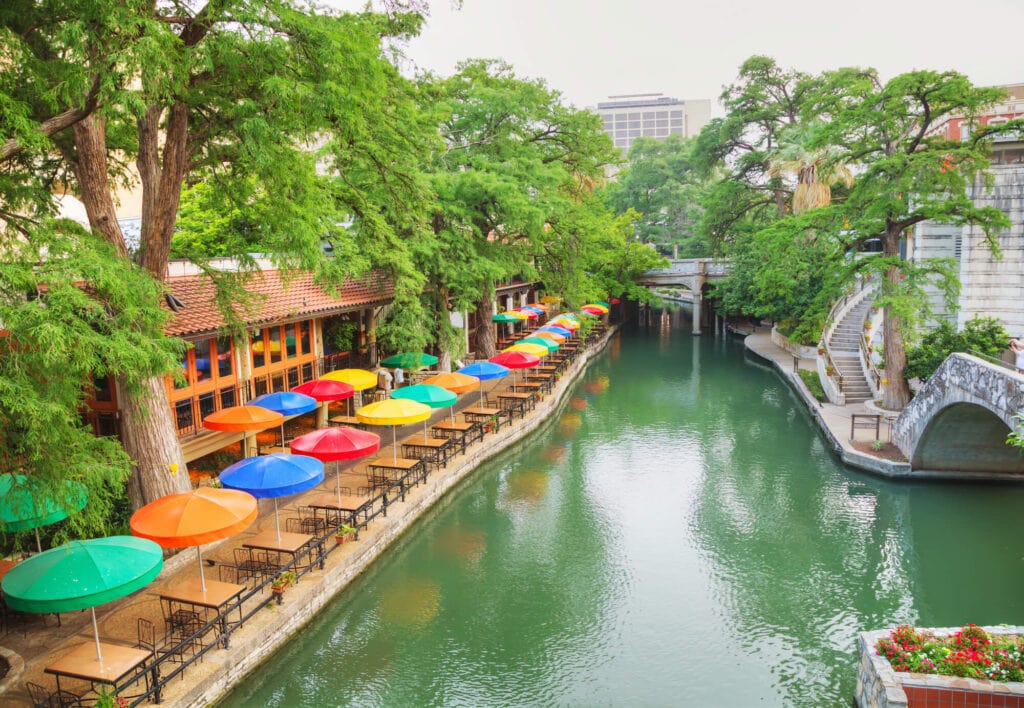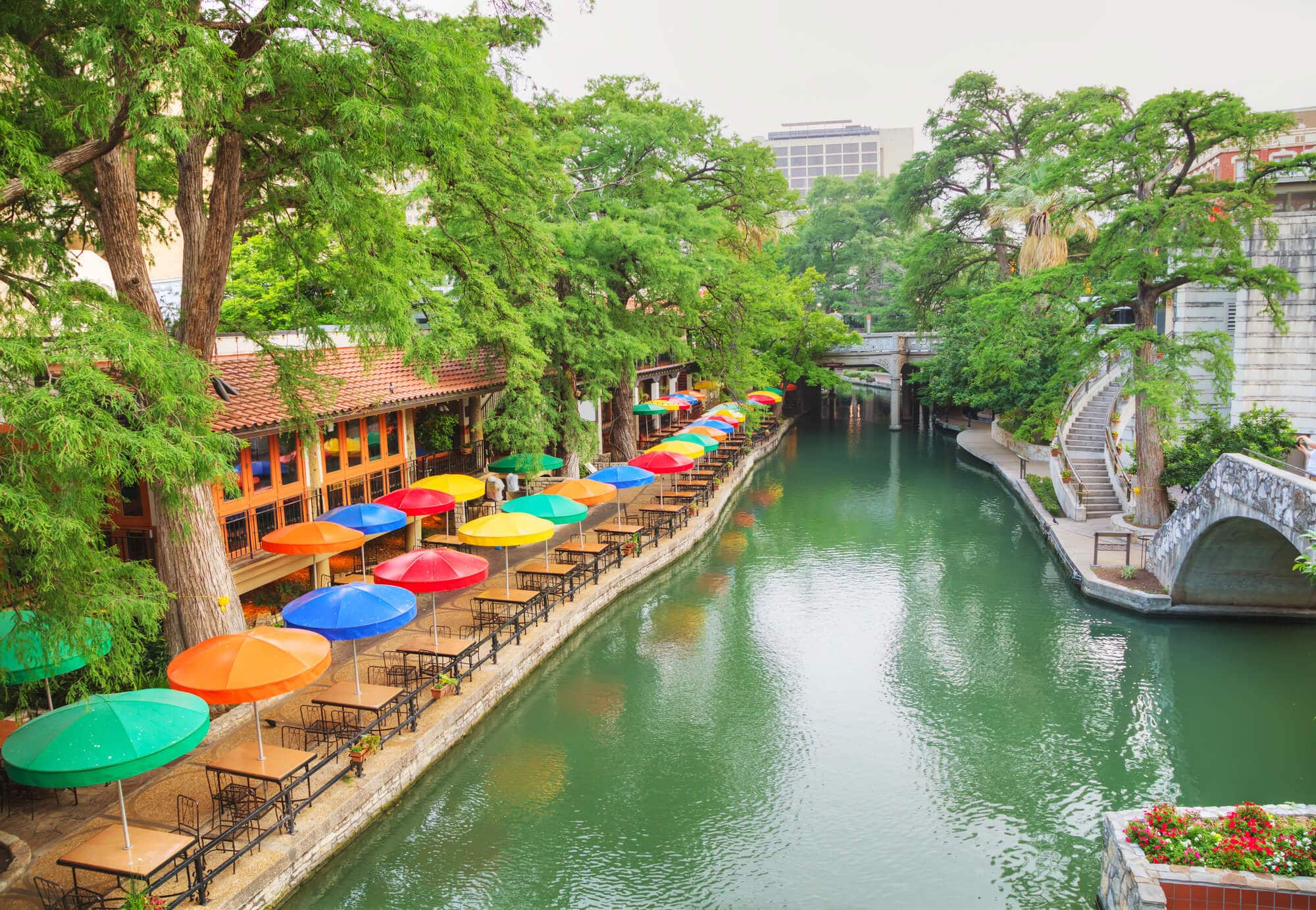 56. San Antonio River walk
San Antonio's River Walk is the number one attraction in Texas. It's more than just a city park.
It is a network of beautifully landscaped pathways along the San Antonio River, set one story below street level.
What to do here? My favorite thing is to eat some of San Antonio's best Mexican food.
Nothing beats a margarita on the River Walk.
Except a margarita on the River Walk with chips and queso. Try the prickly pear margarita at Boudro's!
There are also boat tours that ride up and down the river, shopping, and more.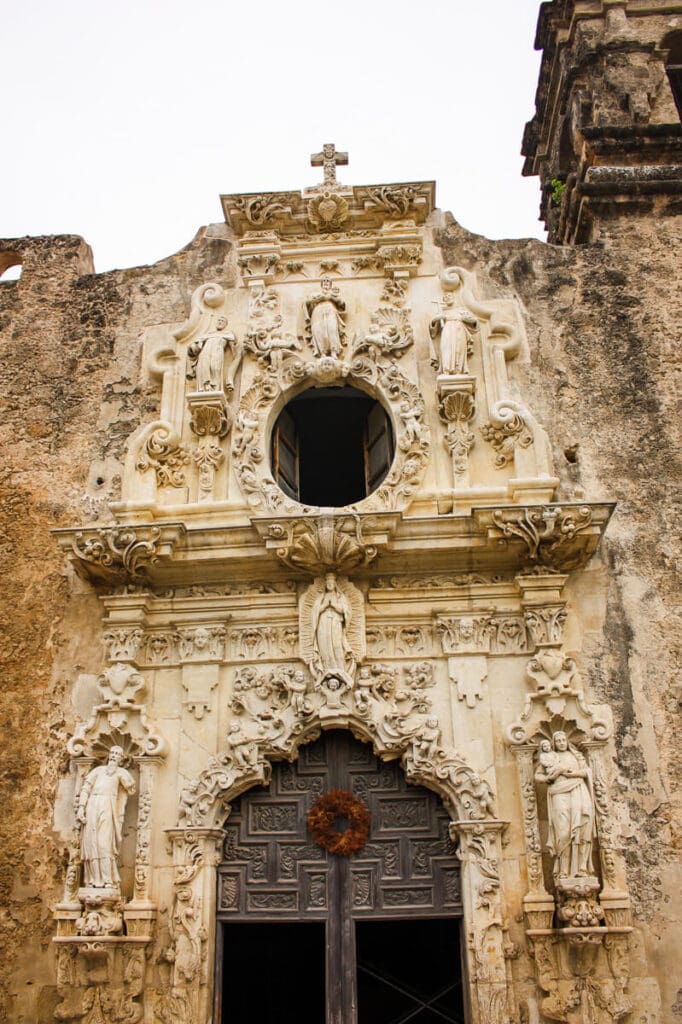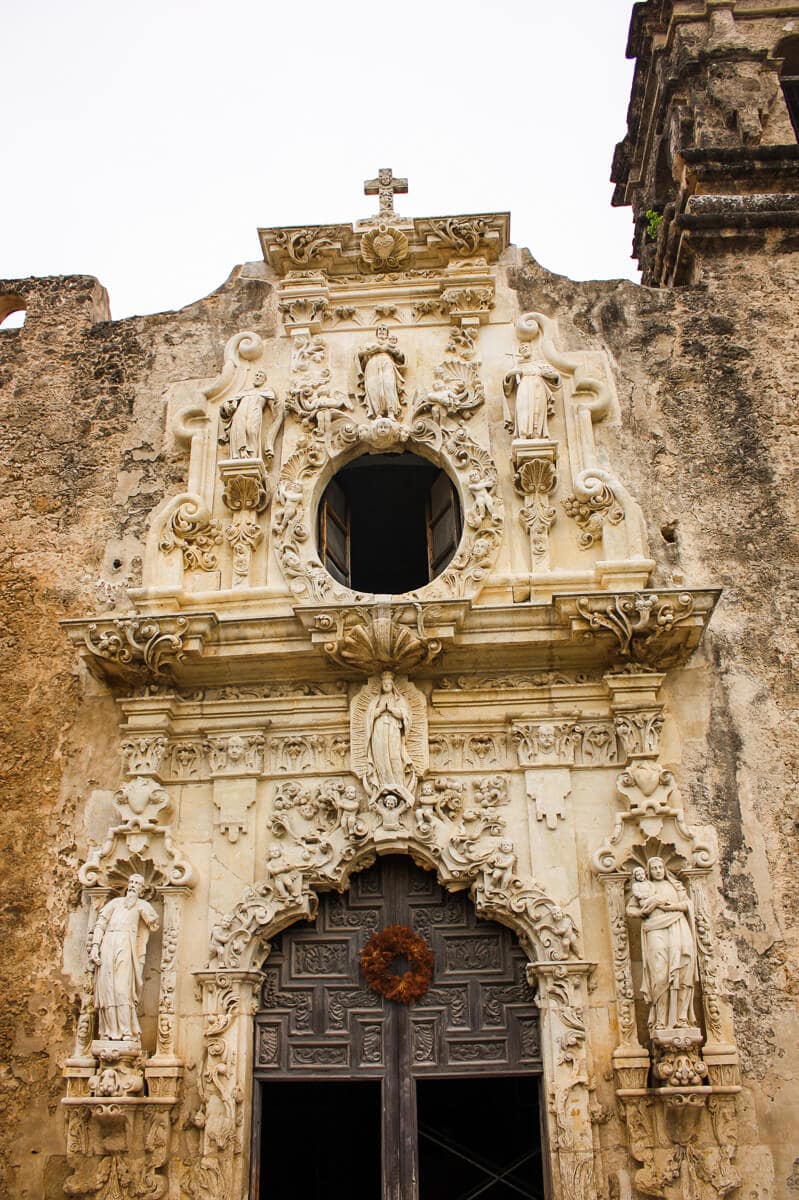 57. San Antonio Missions
Everyone remembers The Alamo, but there are actually five Spanish missions in San Antonio.
Four are grouped together as a UNESCO World Heritage Site (sorry, The Alamo is not included).
There is a Hike & Bike Trail that connects the missions which are each about 2.5 miles apart.
The hike is long and one-way. Once at the end, you can take a city bus or Uber back into town.
All of the missions are beautiful and very different from each other.
Whether you hike, bike, or drive in an air conditioned SUV, it's definitely worth seeing all five.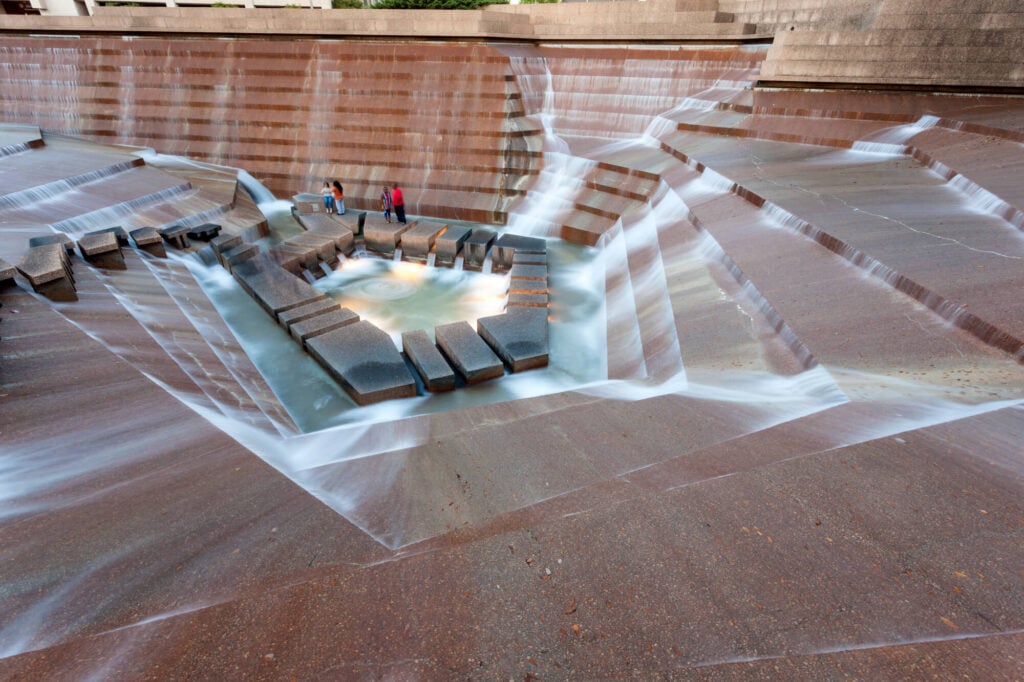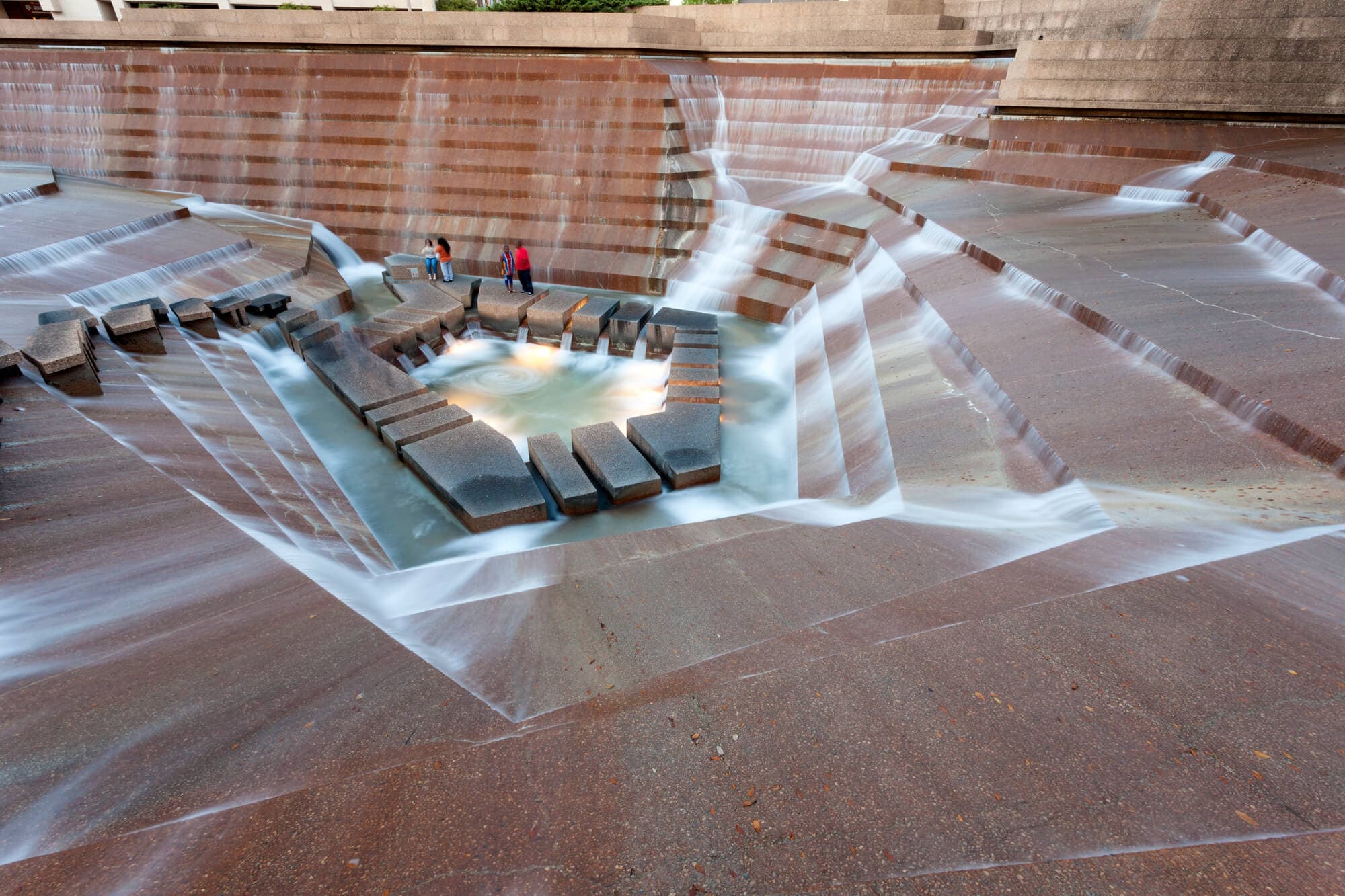 58. Fort Worth Water Gardens
The Fort Worth Water Gardens are an urban waterfall, with water cascading down the terraced layers of this urban park next to the Fort Worth Convention Center.
It's Instagram-friendly to be sure, but the soothing sound of the water is particularly relaxing. Entrance is free.
The Water Gardens are beautiful year-round but the mist of the water and the gentle rain-like soundtrack is particularly relaxing on a hot summer day.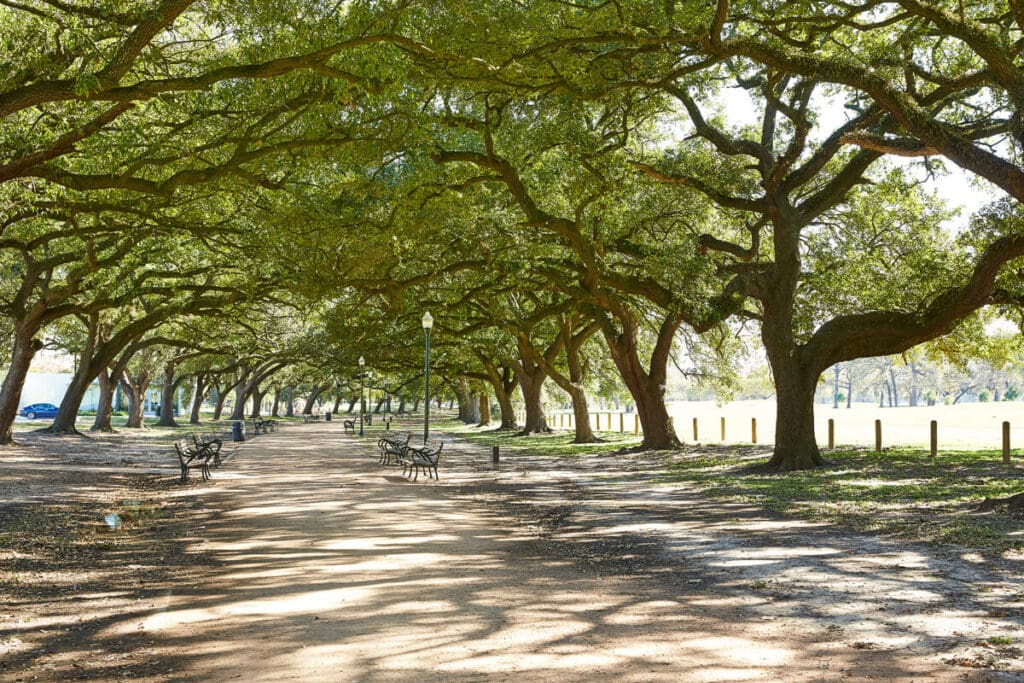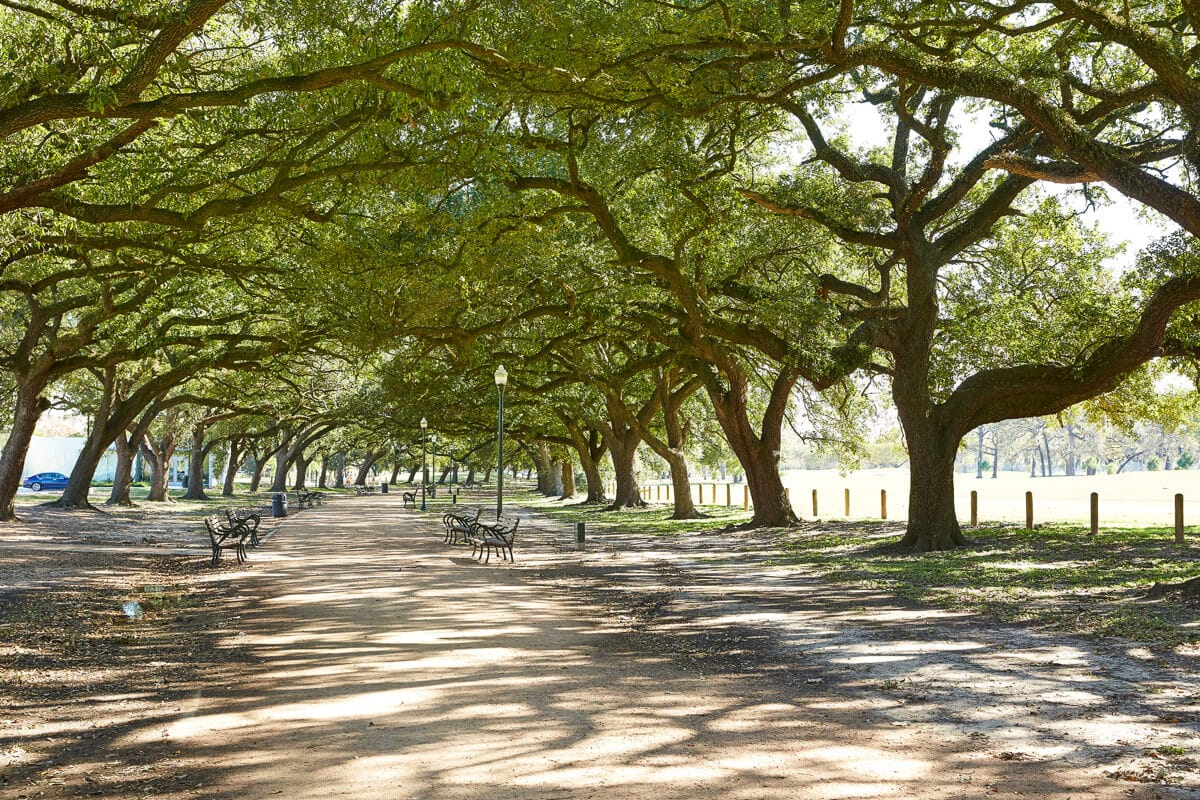 59. Hermann Park, Houston
Hermann Park and its surrounding attractions is one of the best things to do in Houston.
And there really is a LOT to do here.
The park is 445-acres big. There's a golf course, a zoo, the Japanese Garden, McGovern Lake (and its paddle boats), a 2-mile mini-train, and the Miller Outdoor Theater!
The neighboring attractions add to the beauty and can really fill out a day (or two) in Houston.
Houston's Museum District borders Hermann Park. The Natural Science Museum is my personal favorite, with its butterfly exhibit, but there are plenty more to choose from.
Houston is the literal definition of a concrete jungle.
If you're in need of green space and fresh air I recommend heading to Hermann Park.
Beautiful Places in Texas: A summary
That was a long list and if you made it to the end, I commend you and I thank you.
I hope you're as inspired as I am to explore our beautiful Lone Star State.
This list only scratches the surface so I promise to continue to update it as I discover more scenic places in Texas.
Did I miss your favorite beautiful Texas destination? Let me know in the comments!!
Pin It For Later