Argentina has so much to offer the intrepid traveler. Iguazu, the Perito Moreno Glacier… people flock to these destinations in droves (and it's easy to see why, they're epic!).
But some of Argentina's most stunning natural beauty lies (very) far off the beaten path.
The Esteros del Iberá wetlands is one of Argentina's underappreciated natural wonders.
Despite being well known with the locals, it's virtually undiscovered by international tourism.
I have been dying to visit Iberá since the second I heard about these wetlands in Argentina. It took me a while, but finally, way too many years later, my husband and I were able to spend a long weekend exploring this Argentine marsh.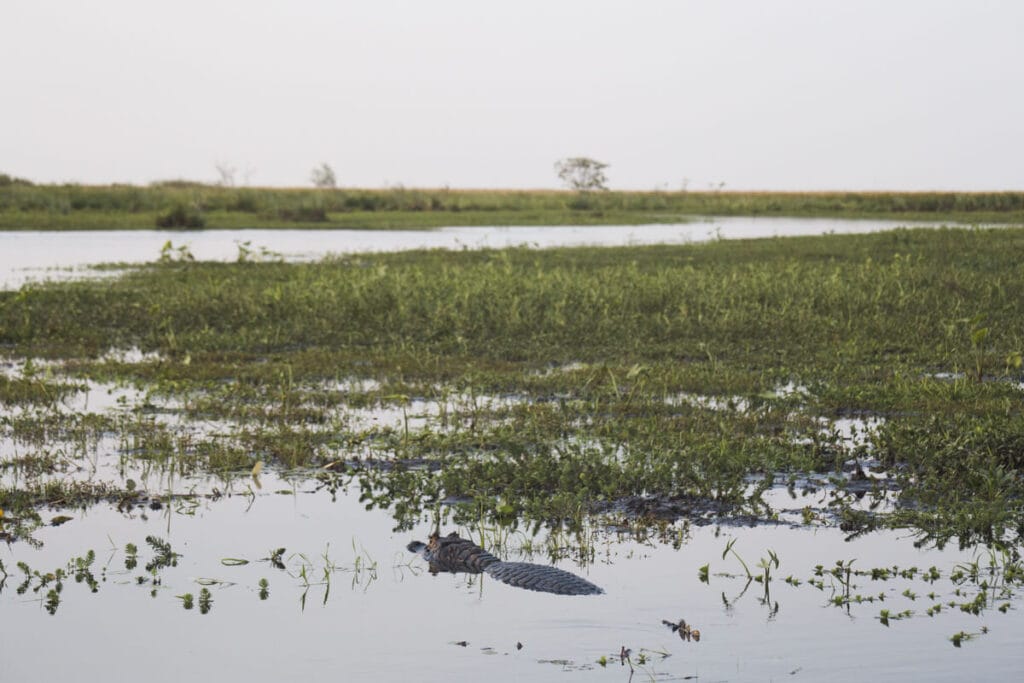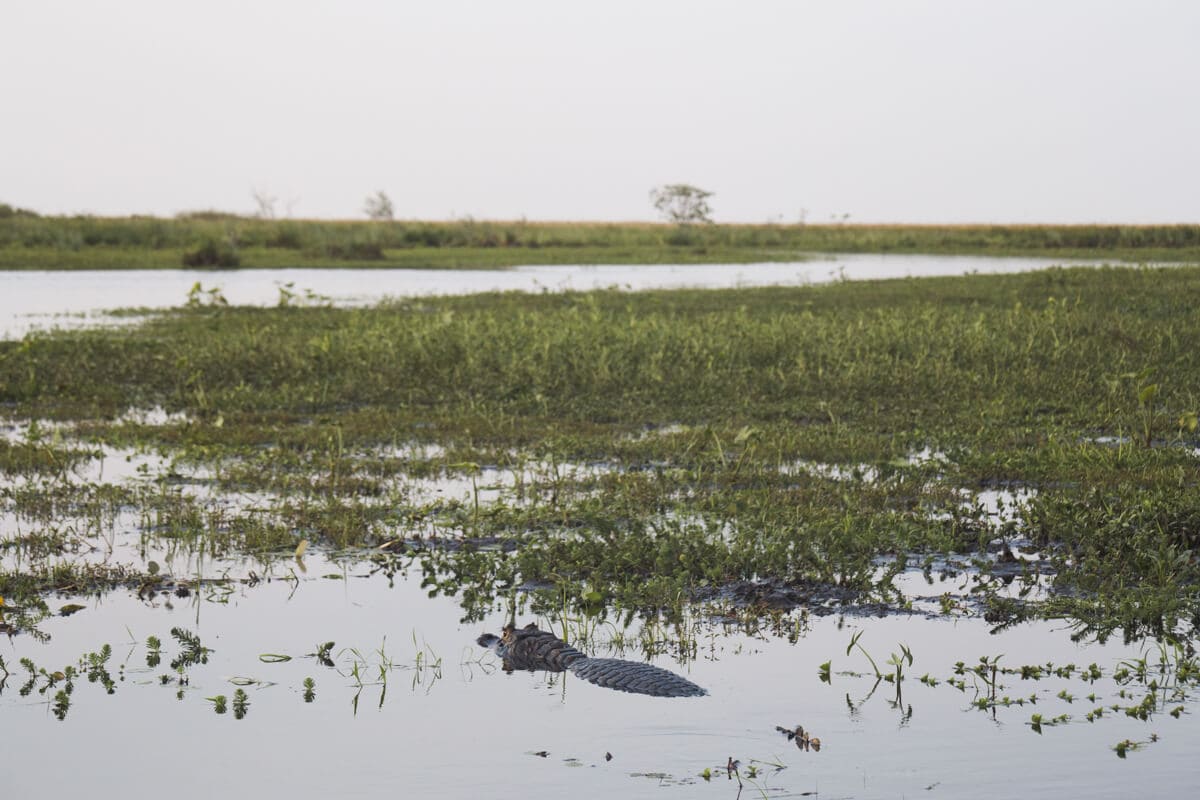 QUICK NOTE: This post contains affiliate links and Sol Salute may receive a commission for purchases made through these links, at no extra cost to you.
The Esteros del Ibera Wetlands in Argentina: A Practical Guide
It's hard to find practical information on how to visit Argentina's wetlands, and to be honest, it's because they're a little difficult to get to.
This post is filled with everything you need to know to visit Iberá. How to get there (the most difficult hurdle), where to stay, and how to see the amazing wildlife!
About Los Esteros del Ibera 
Despite being off of most people's radars, Argentina's wetlands are the second largest in the world.
They're only surpassed by the Pantanal in Brazil (which is SO high on my bucket list it hurts). 
Iberá, just like most of Argentina's northeast and Paraguay, was originally populated by the indigenous Guaraní people.
They named the wetlands after the shining waters of the main lagoon (in present day Colonia Carlos Pellegrini). 
In Guaraní, ý berá translates to bright water.
The "i" meaning water, in both Iberá and Iguazu (Iguazu meaning big water). It's easy to see how it earned its name if you stand on the bridge for sunset or sunrise over the lagoon.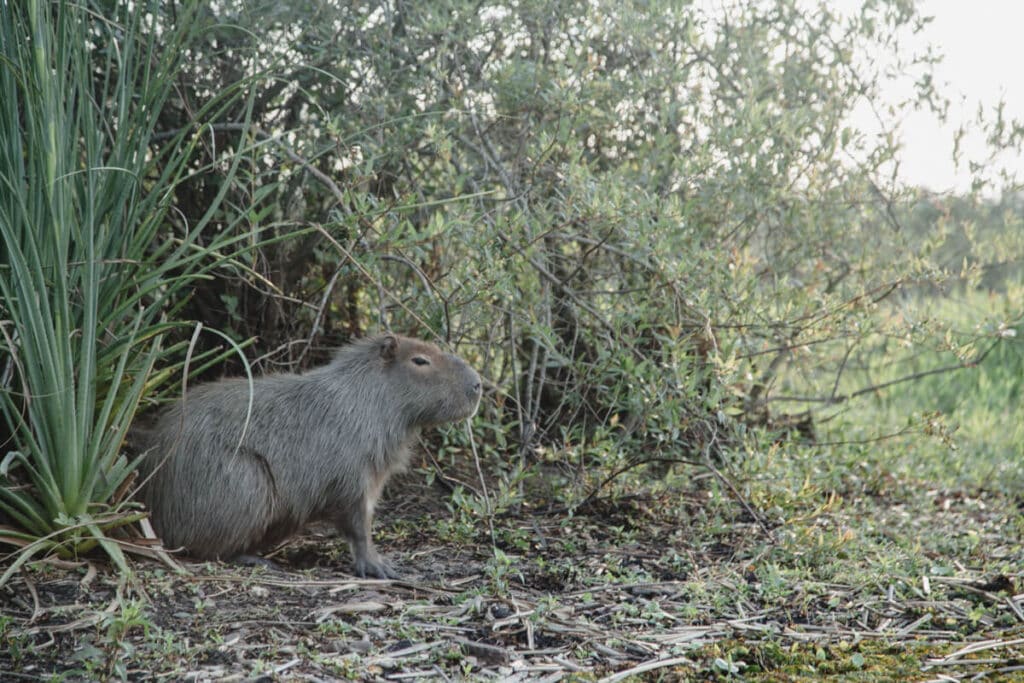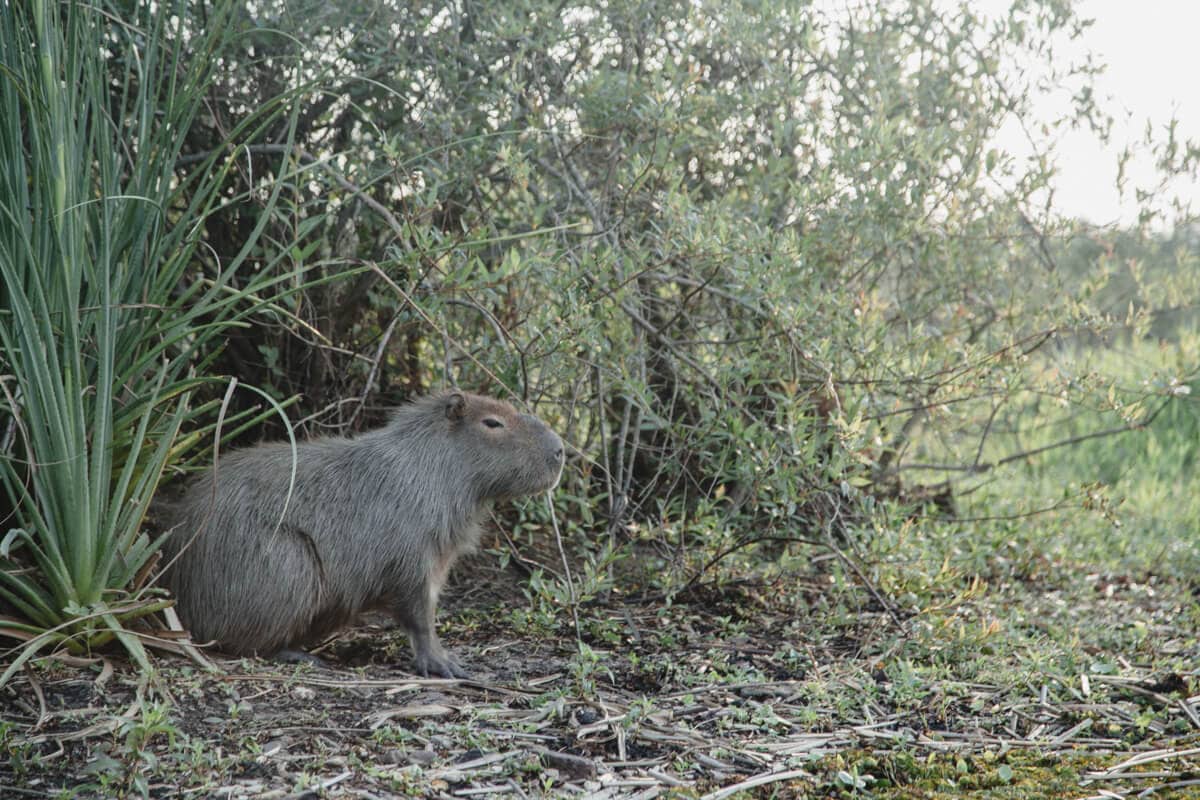 how to Get to The Ibera Wetlands
The biggest hurdle in planning this trip is how to get to the Esteros del Iberá. It's not particularly straight forward, but I promise it's worth the effort.
The wetlands may be vast but there's really only one town to use as a base: Colonia Carlos Pellegrini.
You have two options when it comes to reaching this tiny 10 block by 10 block village: take the bus to Mercedes or fly into Posadas.
Option 1: Take the Bus to Mercedes, Corrientes
While an overnight bus may not sound as easy as a "quick" flight, I promise you that this is the easiest way to get to the Ibera Wetlands.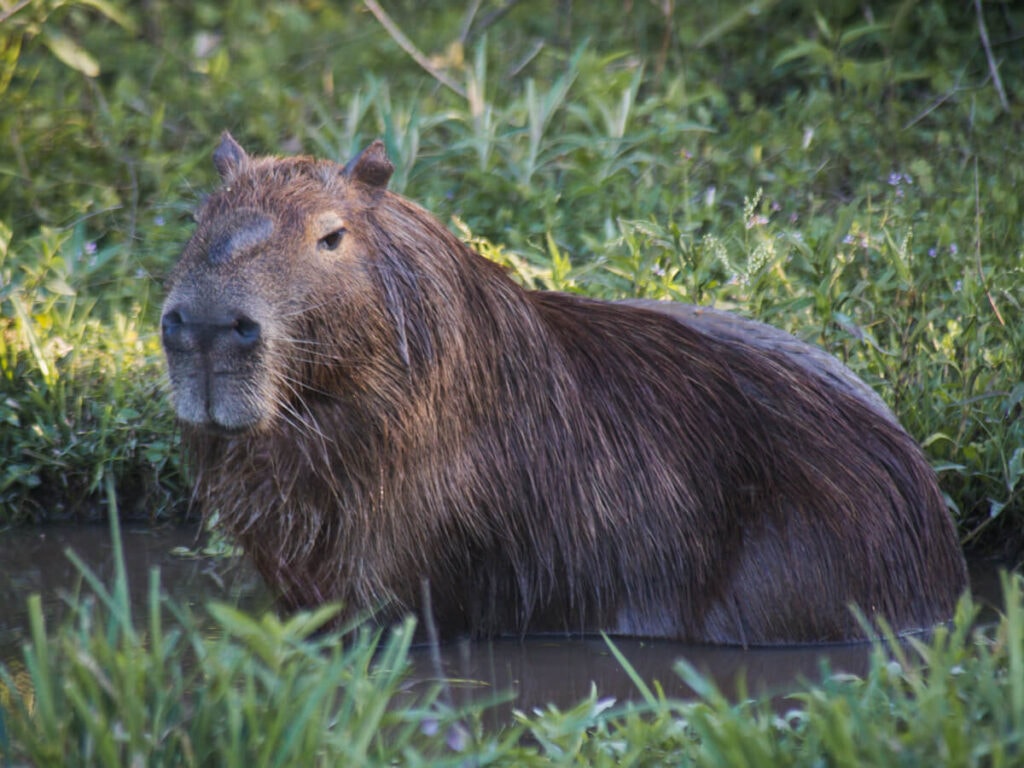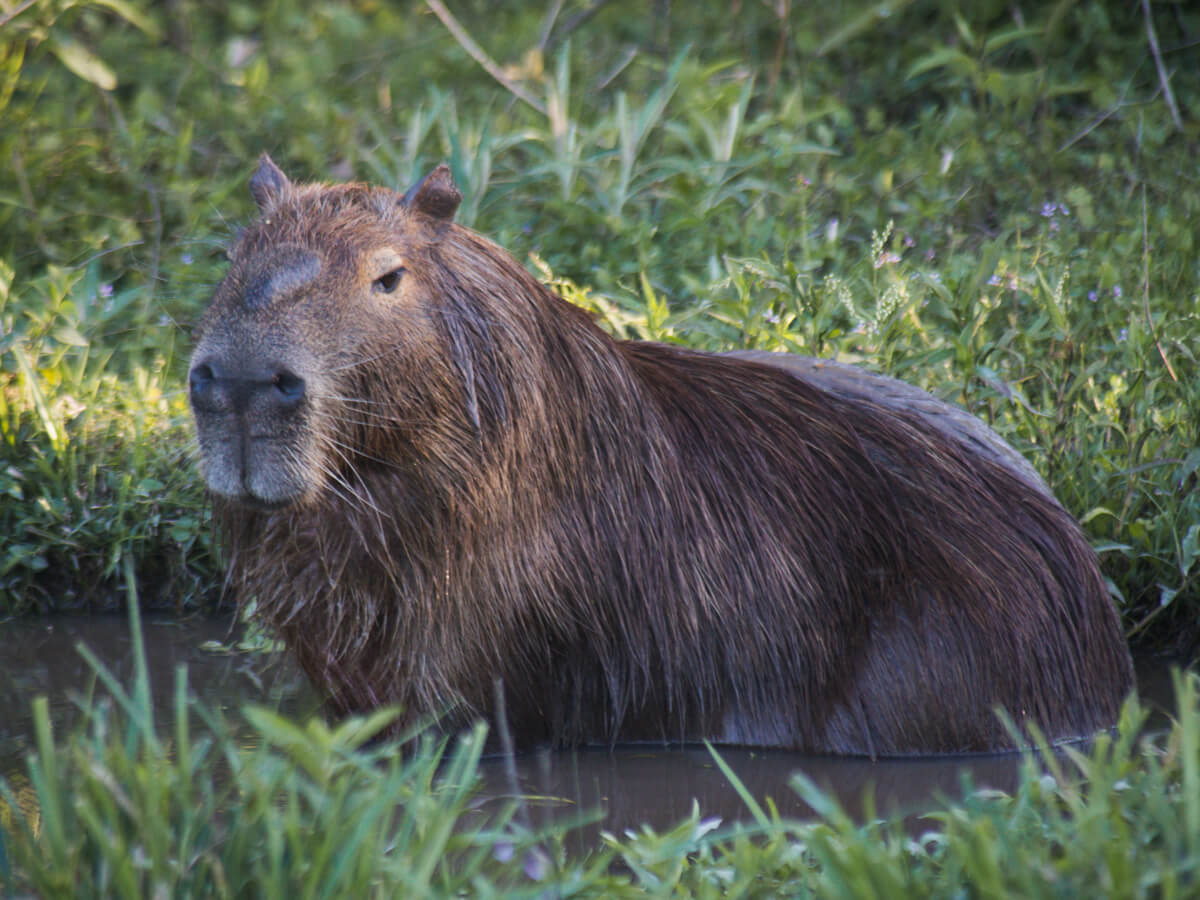 This option starts with an overnight bus from Retiro (Buenos Aires) to the city of Mercedes in Corrientes.
From Mercedes you'll probably take a private transfer (likely arranged via your accommodation).
You can also take a shared truck or combi (small bus) if you're patient.
The long distance buses in Argentina are surprisingly comfortable.
Make sure to book a cama suite/cama completa/platinum option. These lay-flat seats are worth their weight in gold.
Book your bus tickets on Plataforma 10.
Origin is Retiro (if you're leaving from Buenos Aires). For destination, be very careful to select "Mercedes (Mercedes, Corrientes)."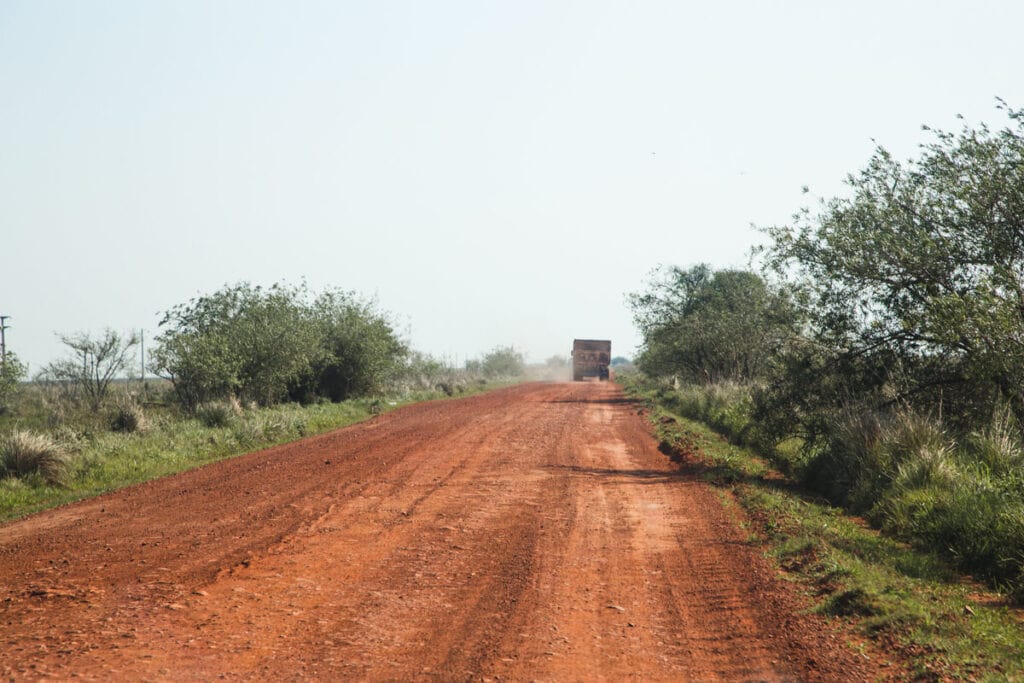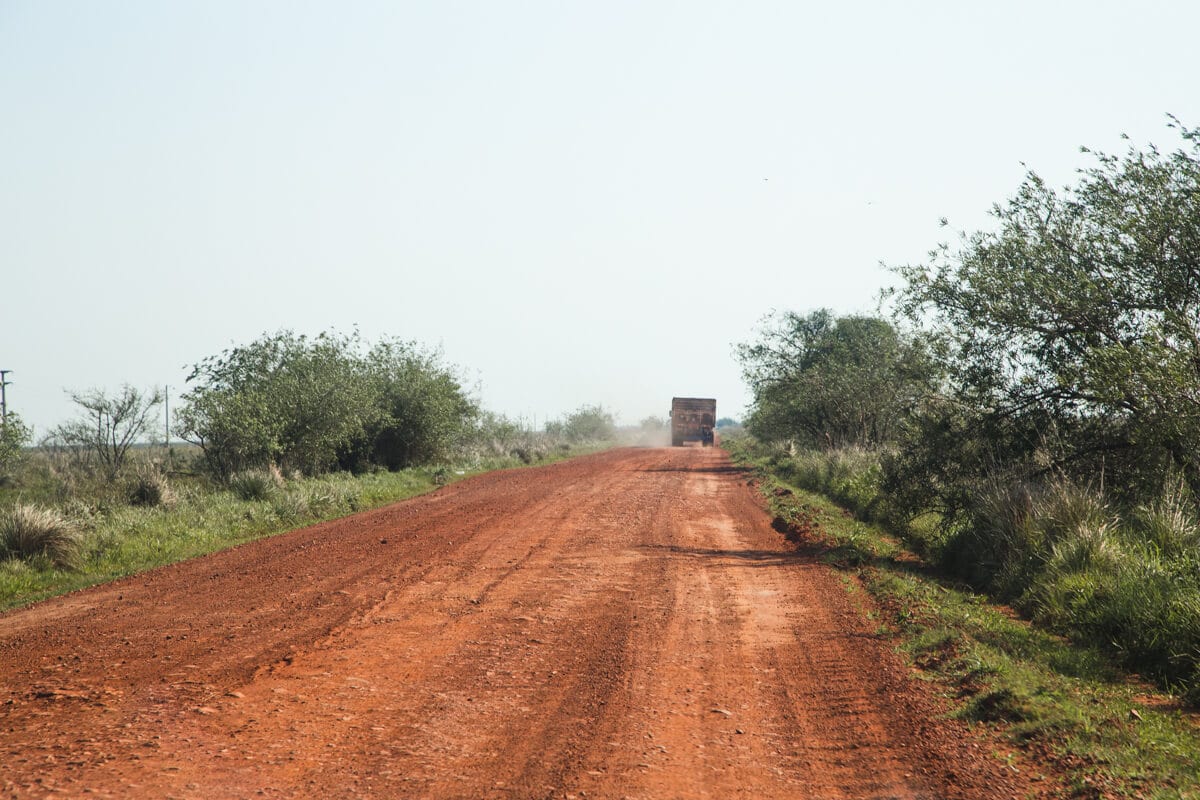 Once in Mercedes, the best option is to have already arranged a private transfer via your hotel in Pellegrini.
This way, your driver will be waiting for you when you arrive bright and early at 5 am.
There is a company, run by a man named Ortiz (you'll see his booth at the bus station), that runs a small bus called a combi.
This leaves at around 7 am and the combi only leaves if there are at least 6 people.
I had reserved a spot with him in advance, but in the end we were the only 2 going so there was no combi.
We were provided instead with a smaller truck (that we would have shared with two other travelers had there been any).
We took a private transfer back to Mercedes, the minor savings with the combi wasn't worth the hassle in my opinion. But if you're a solo traveler on a tight budget, the combi is likely your best option.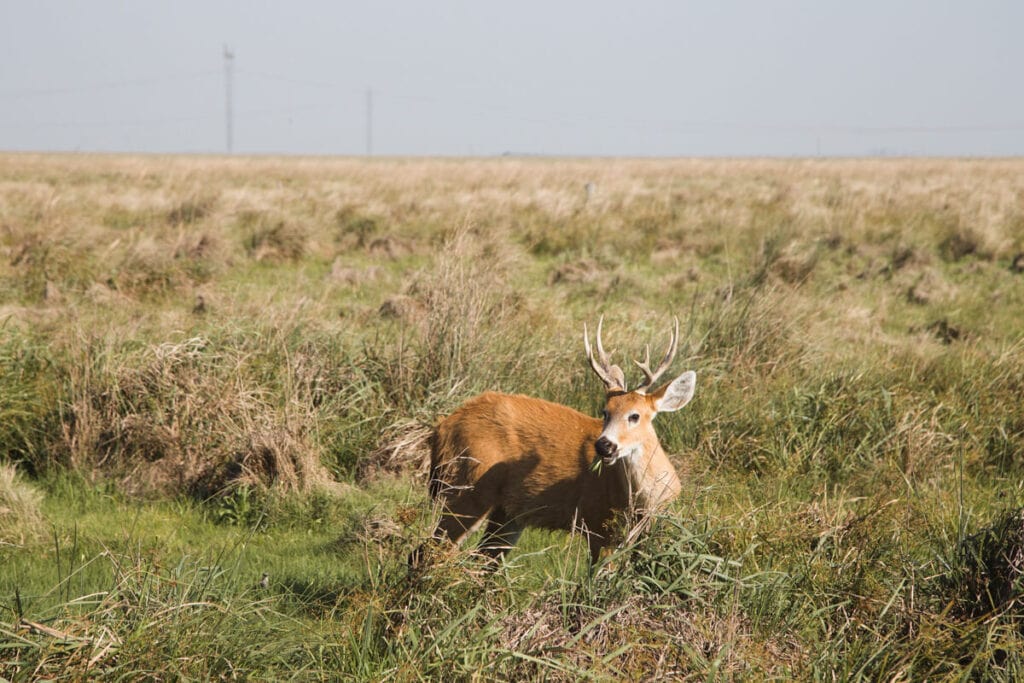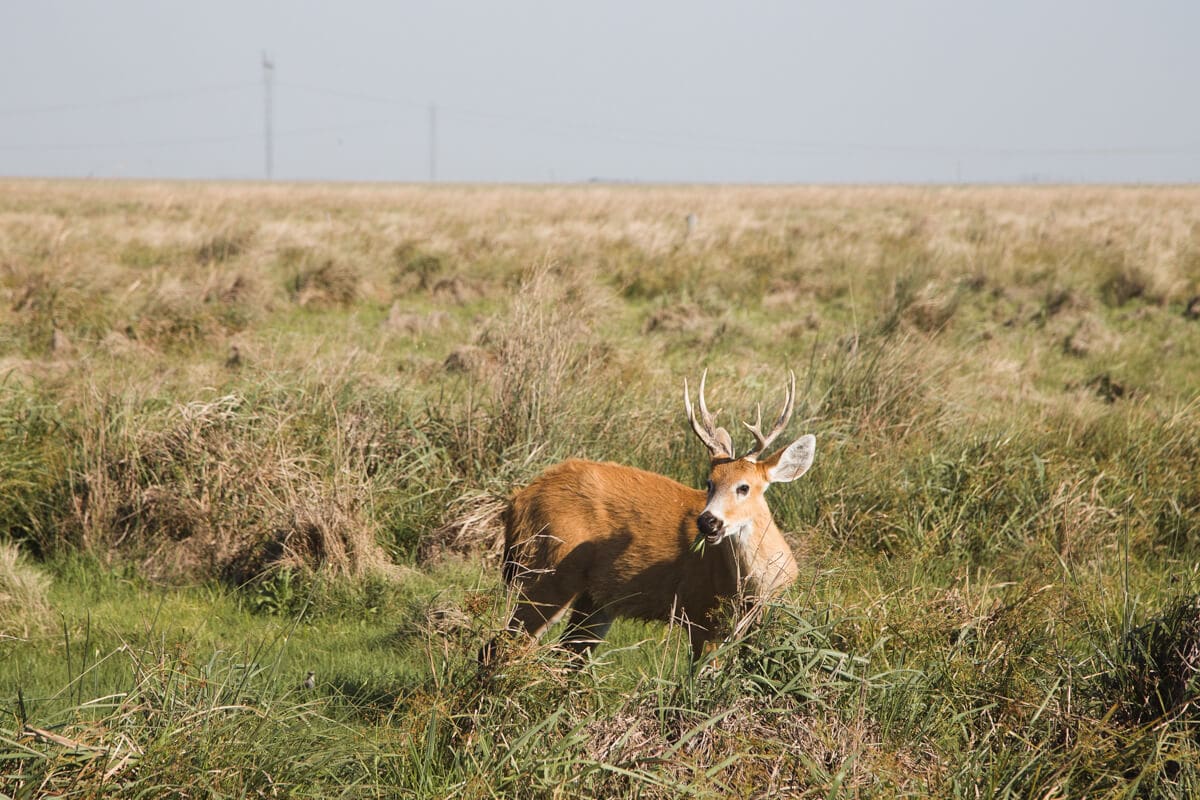 Option 2: Fly into Posadas, Misiones
The other option is to get a flight from Buenos Aires to the city of Posadas in Misiones.
Where Mercedes is to the south, Posadas is to the north of Colonia Carlos Pelligrini.
The flight may be more tempting than the bus, but be warned that the road from Posadas to Pellegrini is much longer and in worse condition. You'll have an easy start but a rough end of it.
Another thing to note is you'll have to pay for a much more expensive private transfer from Posadas or rent a 4×4 vehicle (which is very costly).
Due to bad road conditions, rental car companies in Posadas do not allow you to take non-4×4 rentals to the wetlands.
If they catch you doing so, they threaten a fine of $5,000 US (you read that right).
In Summary: Take the Bus
The bus isn't much longer than the flight in the long run.
It's much more relaxing to stroll up to your bus 5 minutes before departure, find your seat, take a sleeping pill, and wake up 9 hours later, fully rested, at your destination.
In contrast, with a flight you have to deal with airport security, getting there early, waiting for your bags, etc.
There is more hassle, less sleep. Add the rough ride from Posadas to the wetlands on top of that…
My verdict is please, take the bus.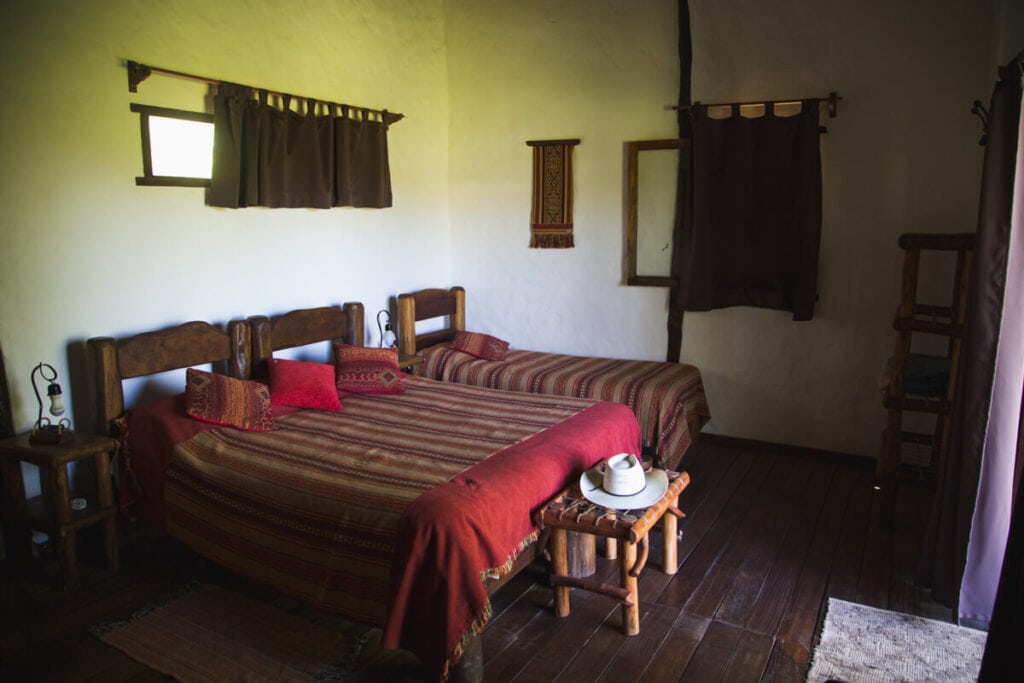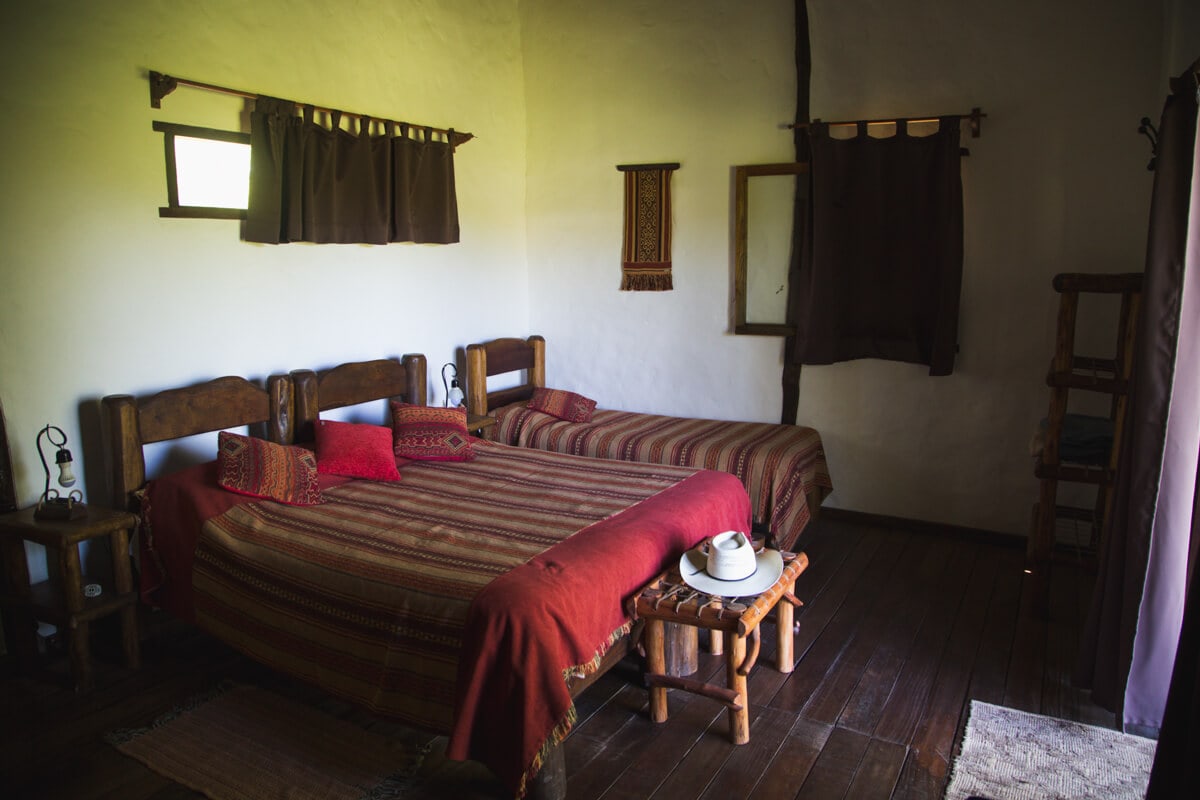 When to Visit Los Esteros del Ibera
Spring is the ideal time to visit the wetlands in Argentina. This includes the months of September through November.
Temperatures are mild in the spring and there is very little rainfall.
If you want to drive yourself in a low, non-4×4 vehicle this is the best time to access the wetlands.
Winter also sees very little rain, with cool temperatures and cold nights.
It rains the most in fall (March-May) which will hinder your excursions and make road access very difficult.
If you're visiting in these months, definitely make arrangements for a 4×4 vehicle (rental or transfer).
Summer months (December-February) are extremely hot and humid.
If you're visiting in these months definitely find a hotel with a pool, stay hydrated, and dress appropriately.
For more information about visiting Argentina read my complete guide: When to Visit Argentina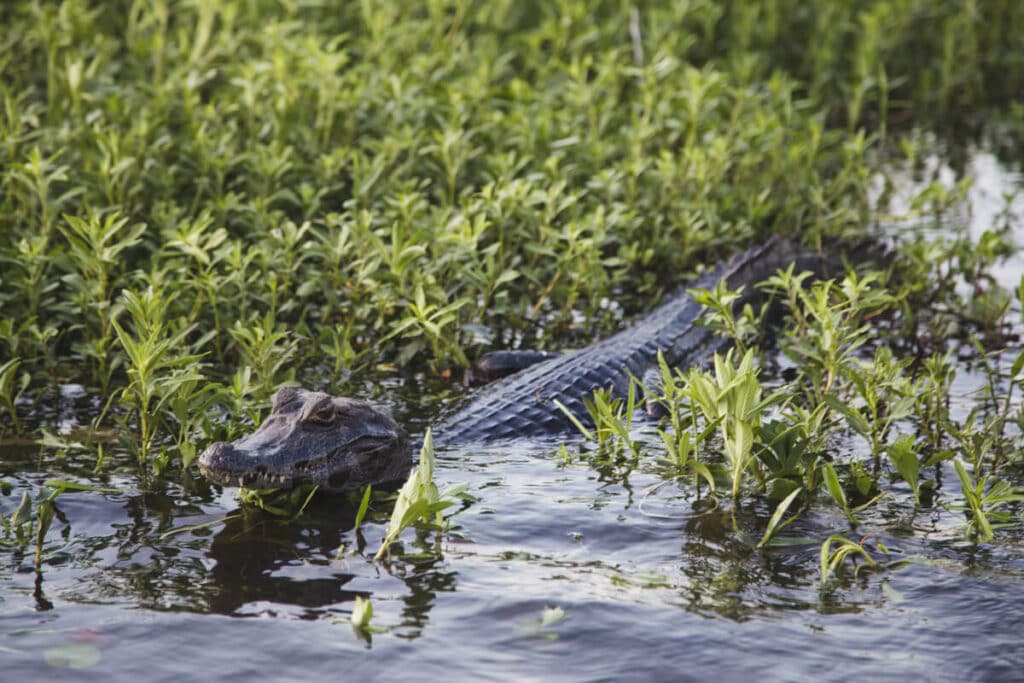 Where to Stay in the Ibera Wetlands
There are accommodation options for all budgets in Colonia Carlos Pellegrini.
Ideally, look for a lodge that includes full board and some excursions.
You'll likely be doing two excursions per day, one in the morning and one before sunset.
This leaves a lot of dead time in the middle of the day
This dead time is the reason I recommend looking for somewhere comfortable. You'll want a swimming pool and somewhere to relax and enjoy your entire day.
Read Next | National Parks in Argentina You Have to Visit
Ecoposada: The Best Lodge for the Esteros del Ibera
We stayed at the Ecoposada and I think it's the best option for Esteros del Ibera accommodation.
Other luxury properties are located far from town, nearly an hour's drive away.
Ecoposada is conveniently located in town, near all the excursions you'll want.
They focus on protecting the local environment and sustainable tourism.
Full disclosure: We were invited as guests of the Ecoposada. As always, all opinions expressed here are 100% my own.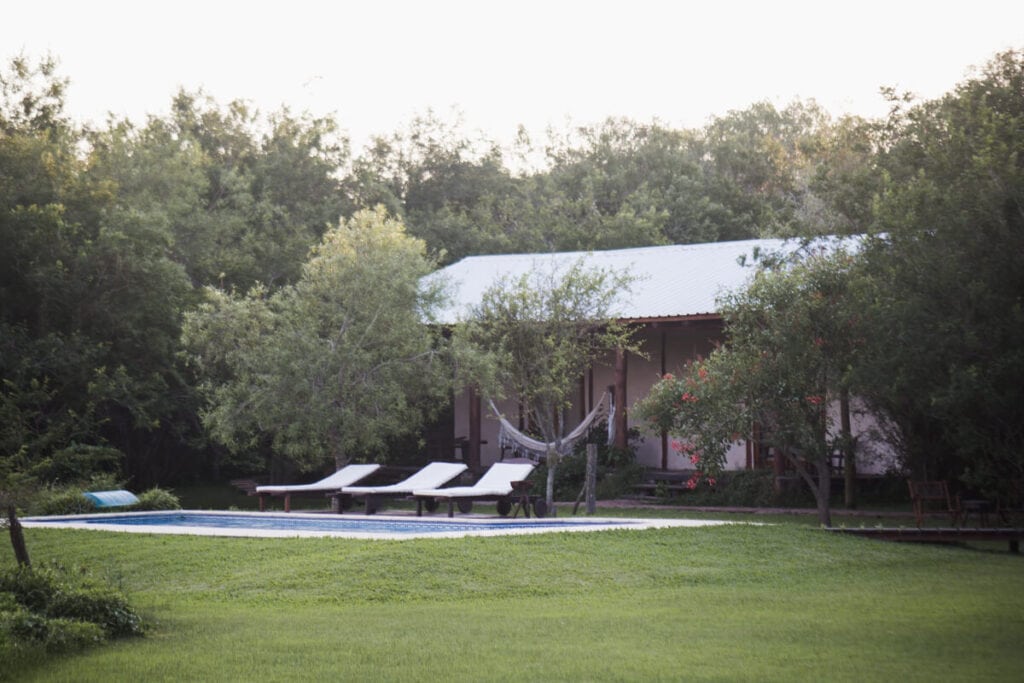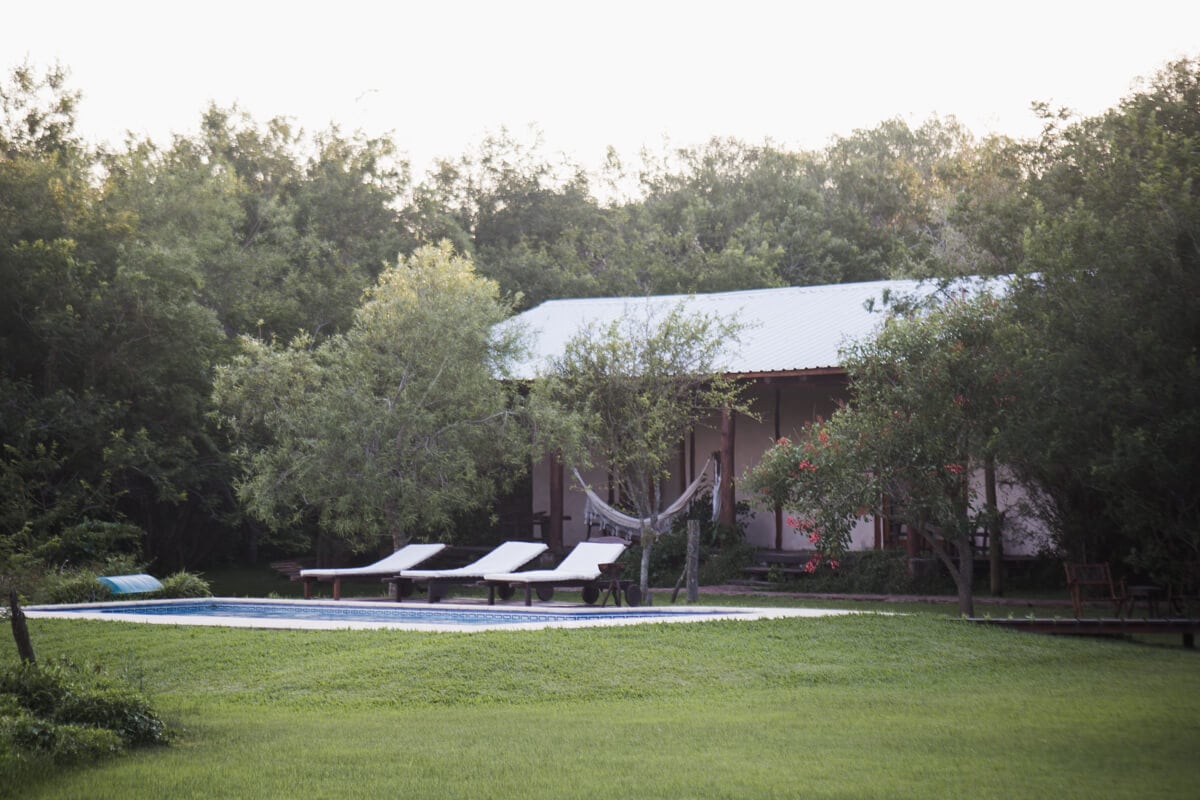 However, it has the best real estate in town on the outskirts. It is literally IN the wetlands.
You can gaze off over the tall grass in search of marsh deer from the comfort of your balcony's private hammock or from the pool (where I spent every free minute!).
It is a small property with only 6 rooms.
Rates include full board, three meals and afternoon tea, and a set number of excursions. All guests go together on the excursions so you'll be in a small group.
Me best advice is to get an idea of when you're going to go on each excursion from the start.
Then fill in any free mornings/evenings with private ones to enjoy the best of both group and private tours.
We enjoyed our group tours a LOT but I did prefer being on my own. That's just my personal travel style.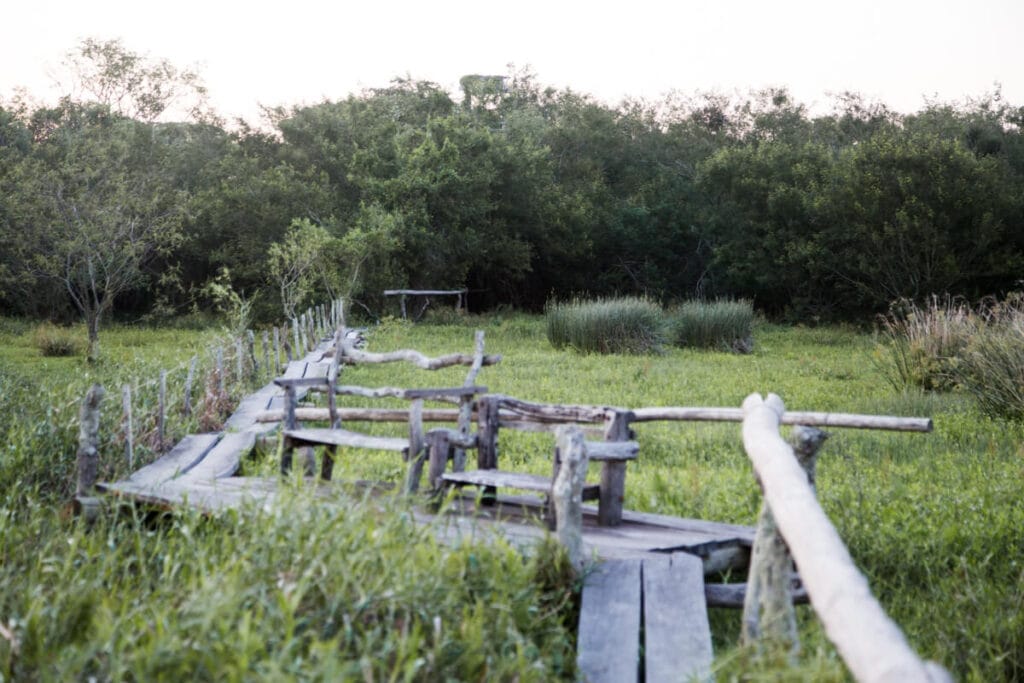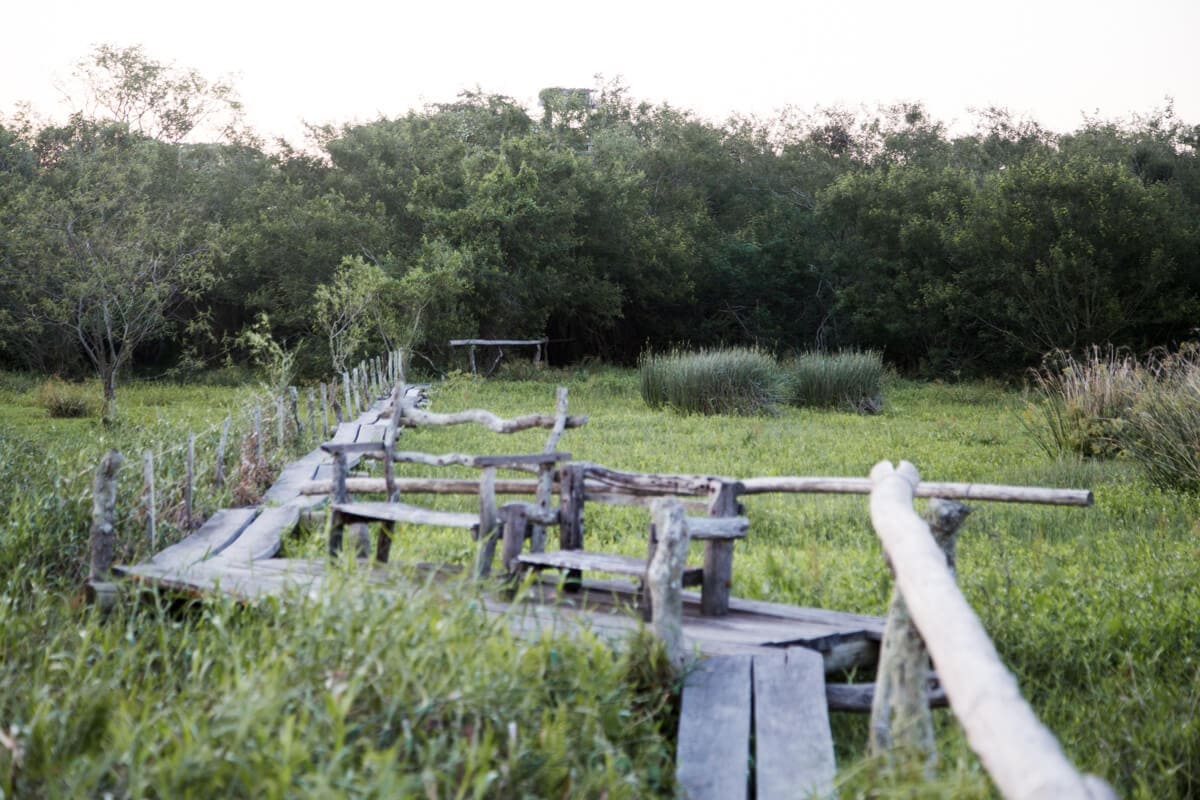 One of the best features of the Ecoposada (besides the pool, did I mention I loved the pool?), is their catwalk like pathway over the wetlands.
They've constructed two platforms offering panoramic views of the marsh.
You can go whenever you'd like but I recommend bringing some wine and binoculars at sunset to watch for wildlife as the sun dips below the horizon.
I can't say enough about our stay at the Ecoposada. It is an excellent property with a truly special location.
Everyone who works there is very passionate about the rare ecosystem they're lucky to live in and this shines through in what the property has to offer.
For more information or to book your room visit their official site or visit their instagram account.
If you prefer booking.com, you can also check for Esteros de Ibera accommodation there, but the hotel isn't always consistent with updating availability on third-party sites. If it shows no availability, check with the hotel directly via their site above.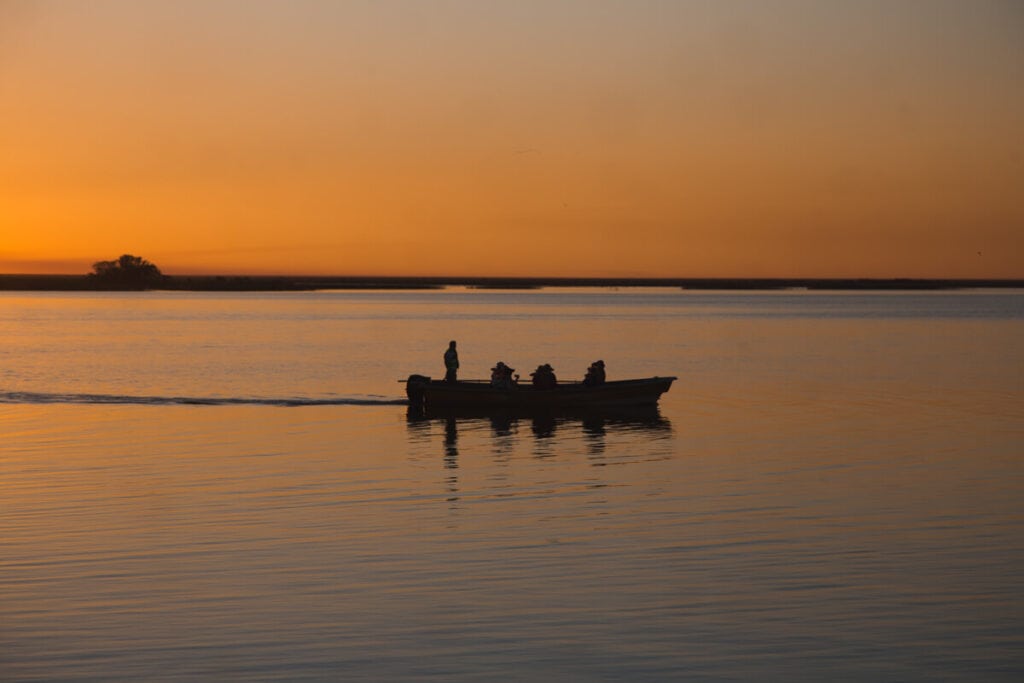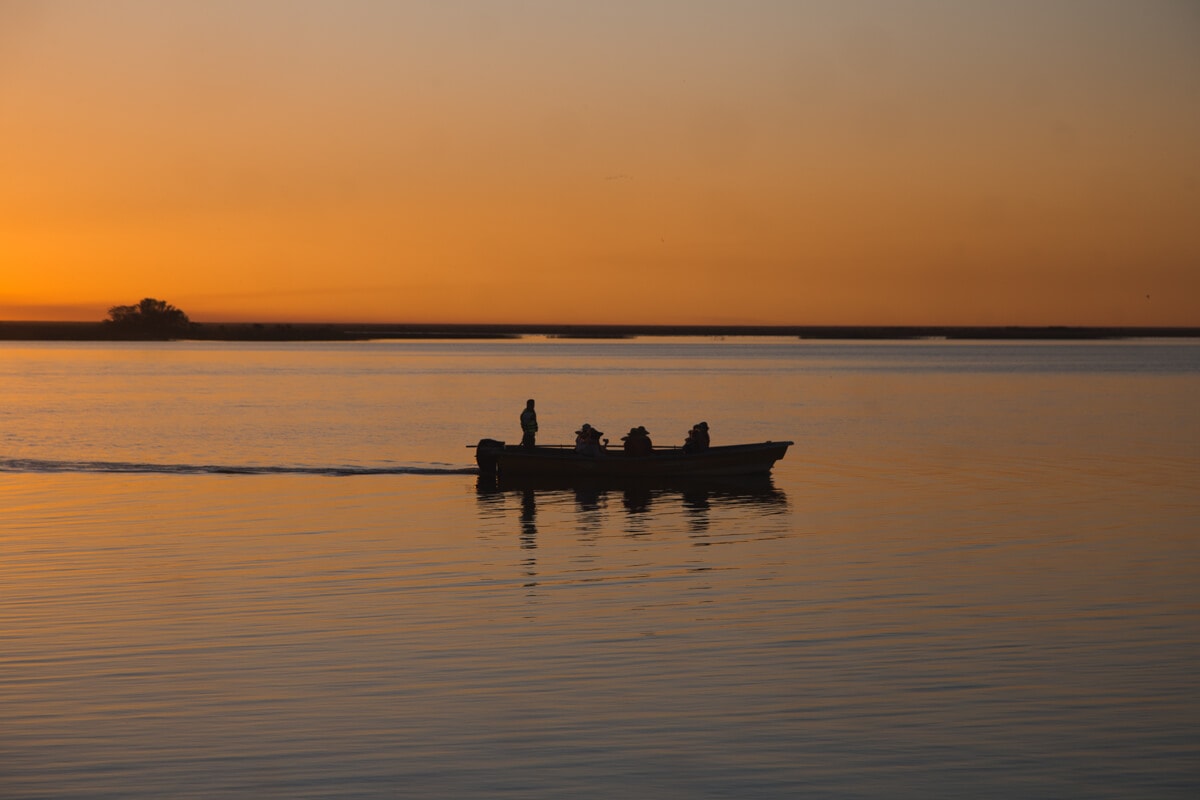 Activities in The Argentina Wetlands
Here's a quick description of the different sorts of excursions offered in Colonia Carlos Pellegrini.
Most are offered by your lodges within your room rate (like ours with Ecoposada).
Las Lanchas/Boat Excursions
The best way to experience the wetlands in Argentina is by boat.
These small lancha (boat) tours last around 1.5-2 hours and you'll see SO much wildlife in that time.
I was surprised by how close we were able to get to the animals without them being stressed in any way.
Even if all you have is your smart phone, you'll be able to take quality photos!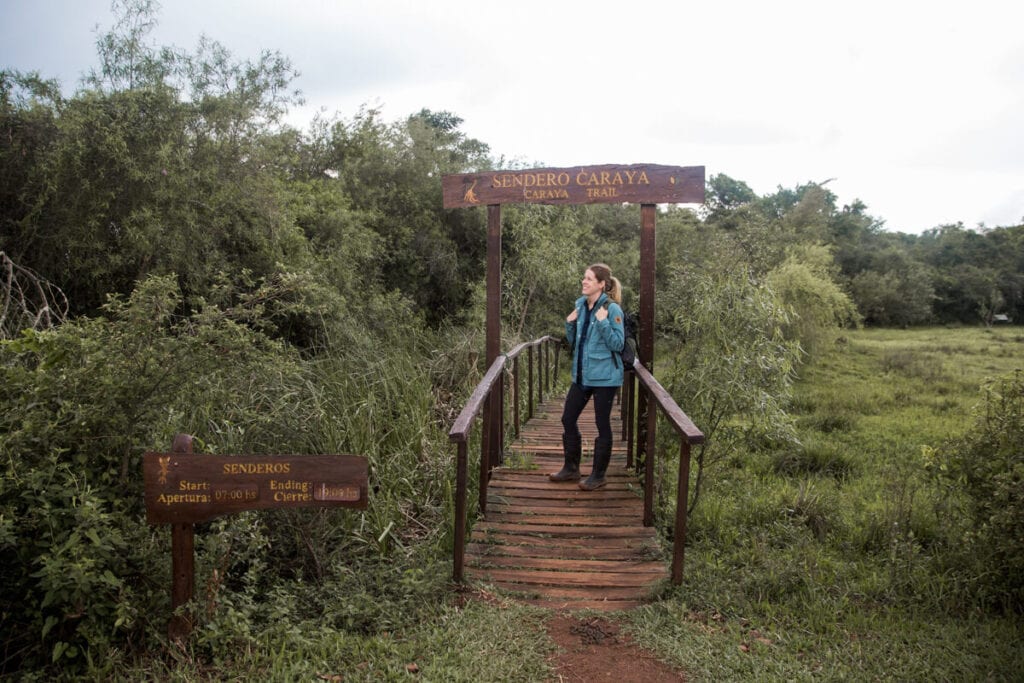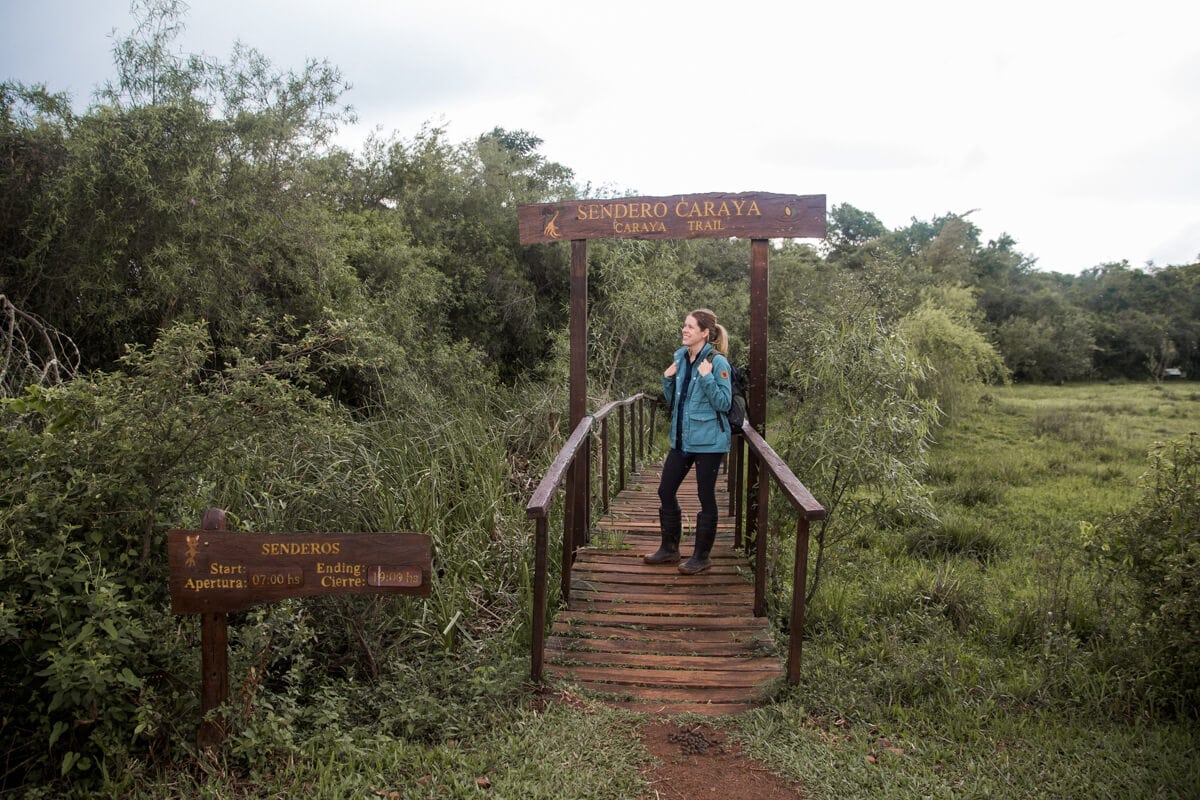 Guided Walks
We went on two guided walks with the Ecoposada, one of the national reserve and the other of the provincial.
You need a guide and a car to experience the national park. It's far from town and it's not possible to walk through the reserve without a guide.
However, I enjoyed exploring the Provincial Reserve on our own more than with the guide.
The trails here are self-guided so you can enter alone. Without the noise of the group, we were able to see a lot more wildlife than when we went with the group.
Our hotel also took the guests out on a nocturnal walk, which would be an excellent way to see animals you'd miss during the day.
Unfortunately, we weren't taken on that one.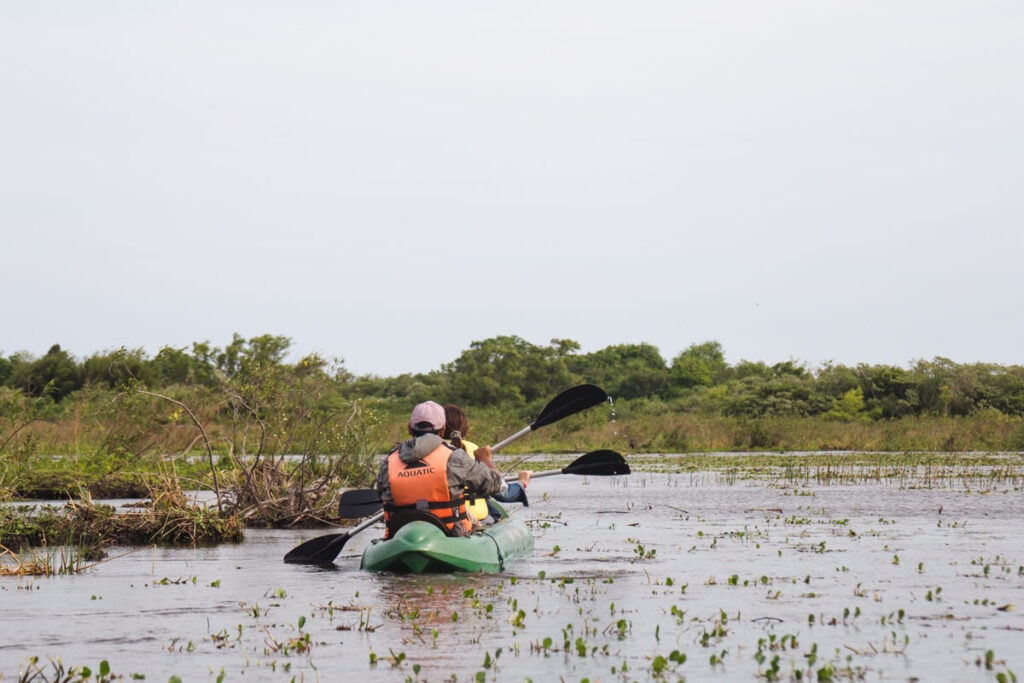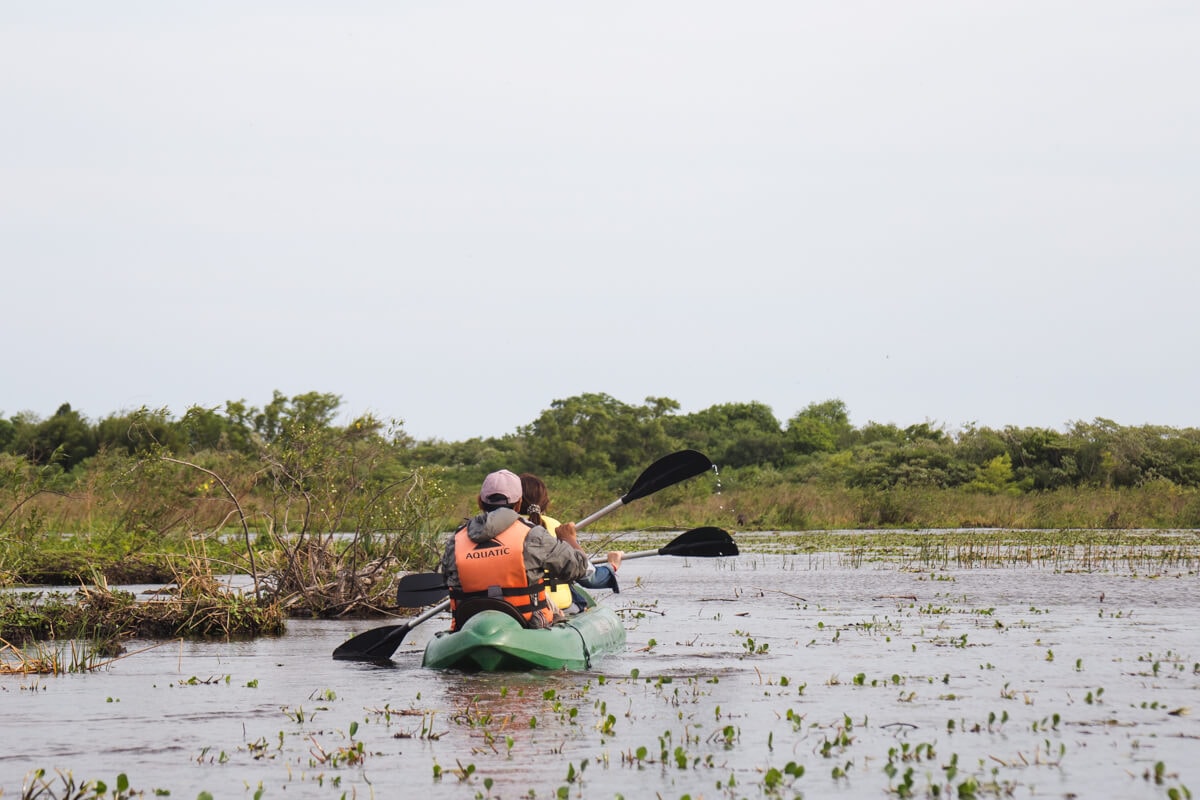 Kayak in The Esteros
You can rent kayaks and be accompanied by a guide as you paddle through the shallow wetland waters.
I was very, very excited for this. But when we were lowered into the water, I discovered I'm not as brave as I thought.
For starters, it was far too windy that day (go on a quiet day!), but really I was afraid of being eye level with the caimans.
What if we hit one in the nose with our paddle (and we nearly did)?!
If you're less of a wuss than me, it's the closest you'll get to the animals. A capybara jumped into the water just a couple meters from our kayak!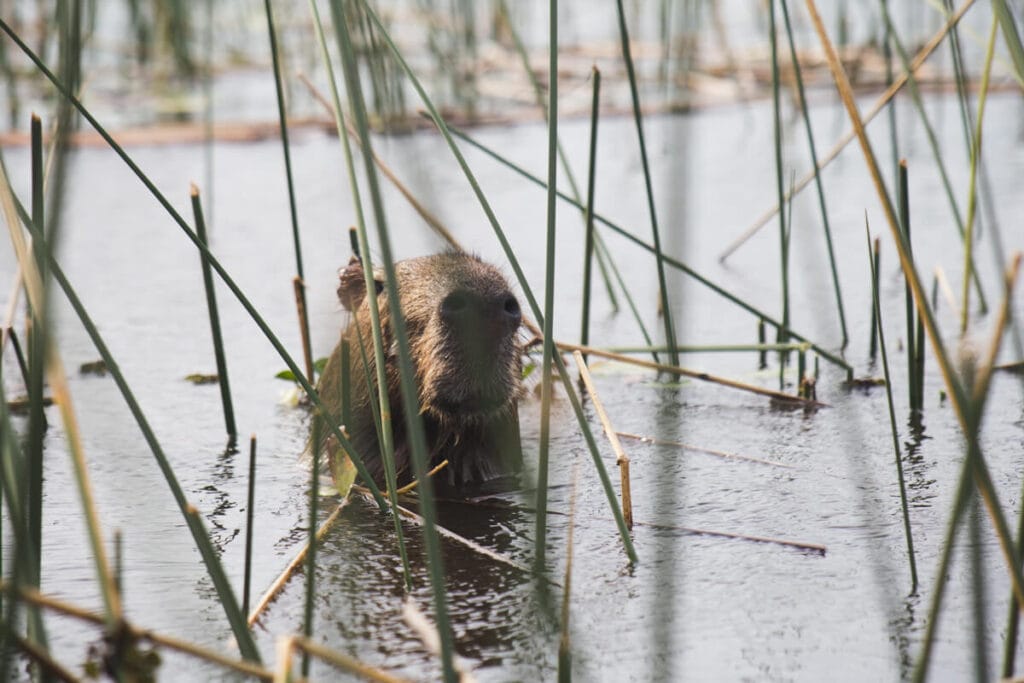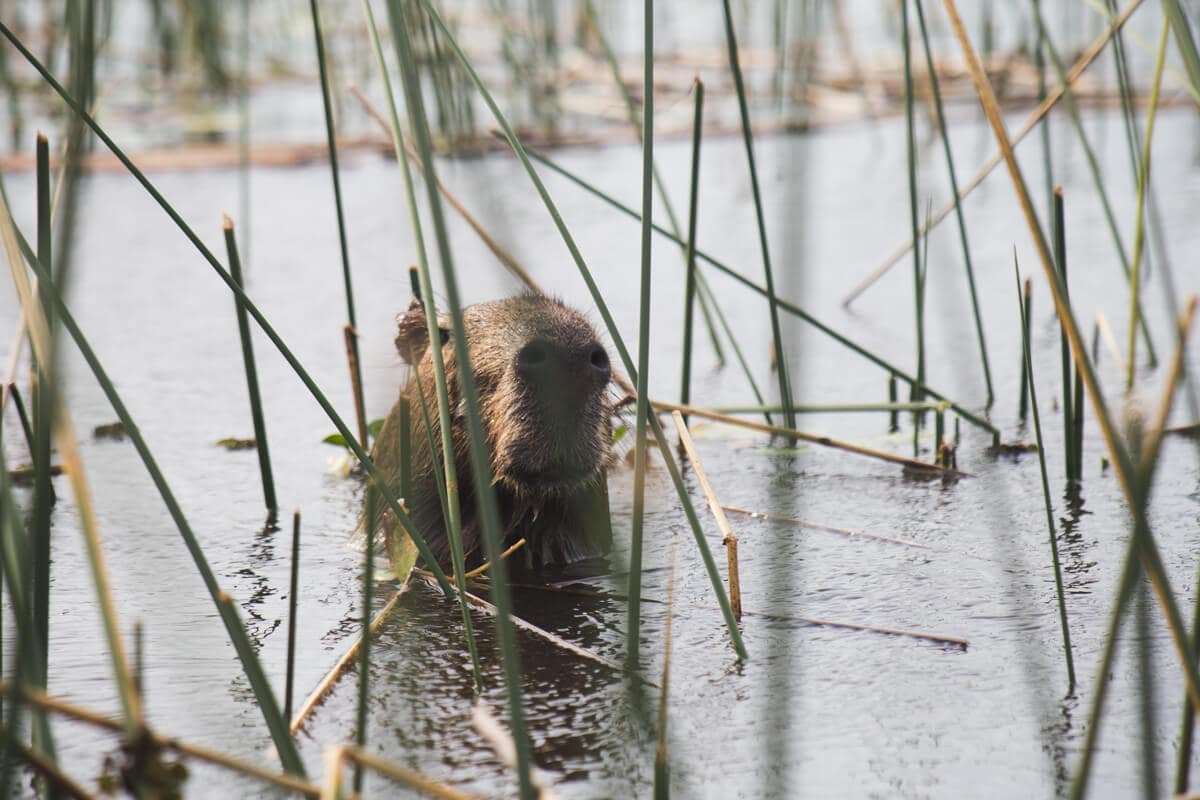 Horseback Ride in The Esteros del Ibera
While not included in the Ecoposada's package tours, it's possible (and popular) to organize a horseback ride through the wetlands.
For health reasons I had to pass, but it's something I really wanted to do.
Go horseback riding in the wetlands at sunset and tell me how it was! I'd love to live vicariously.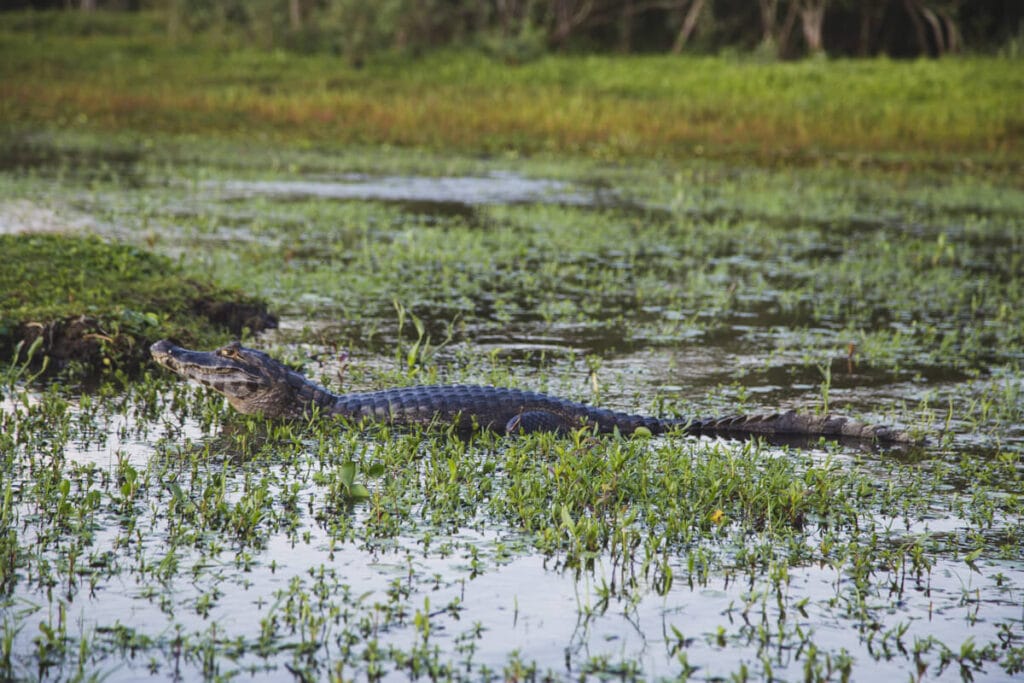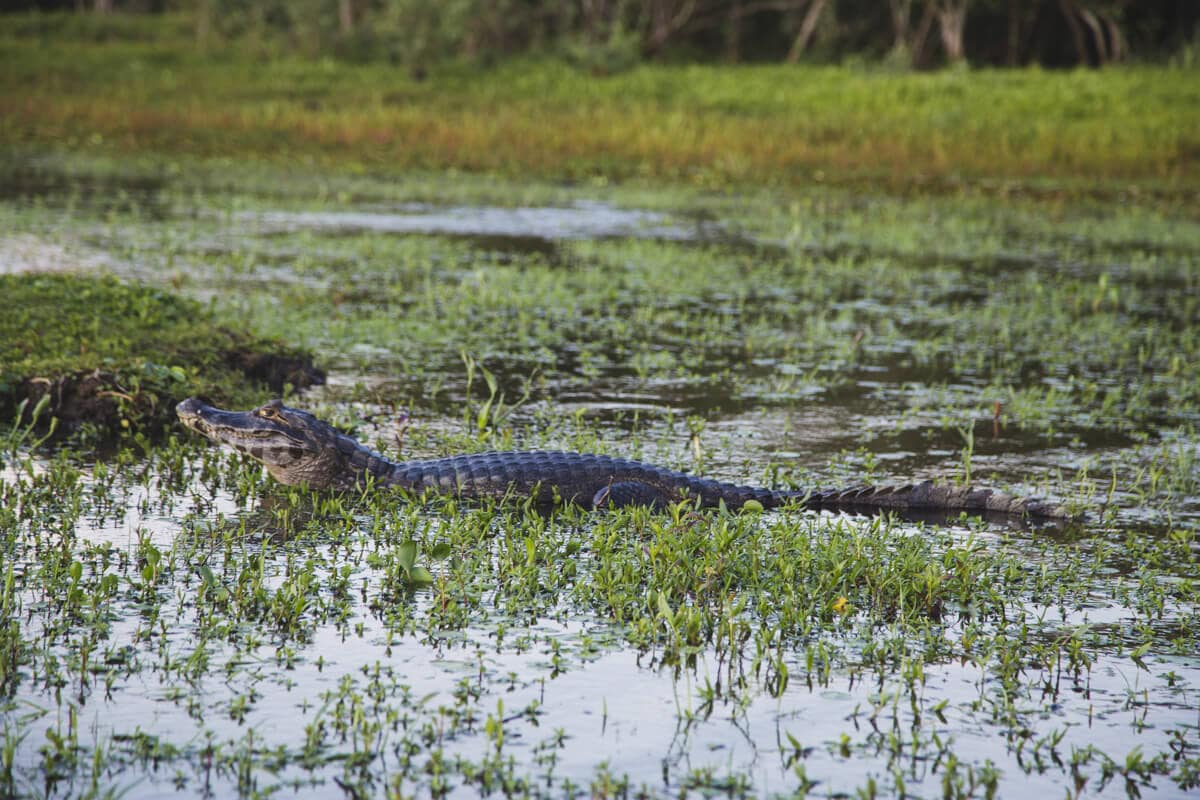 My Wetlands Tip: Organize Private Excursions
If, like me, you yearn to break free from the loud groups and enjoy a more private setting, it's possible to arrange private tours as well. If you don't speak Spanish, however, this will be difficult.
We set up a private early morning boat tour at the Ibera Campgrounds located just after you enter the town.
We had a private guide for two hours for the equivalent of just $35 US (the price is per person so it will depend on your group).
I LOVED it, these two hours were the best two hours of our entire trip. Hotel's usually organize tours later in the morning after breakfast.
This had us leaving at 10 am and returning at noon, in the heat of the midday sun (hardly ideal!).
Argentine's aren't exactly early risers, which is a pity since the light is infinitely better for photos at sunrise and the animals are more active.
If you arrange a private tour, I recommend going out on a boat at 7 am before breakfast. You won't regret it.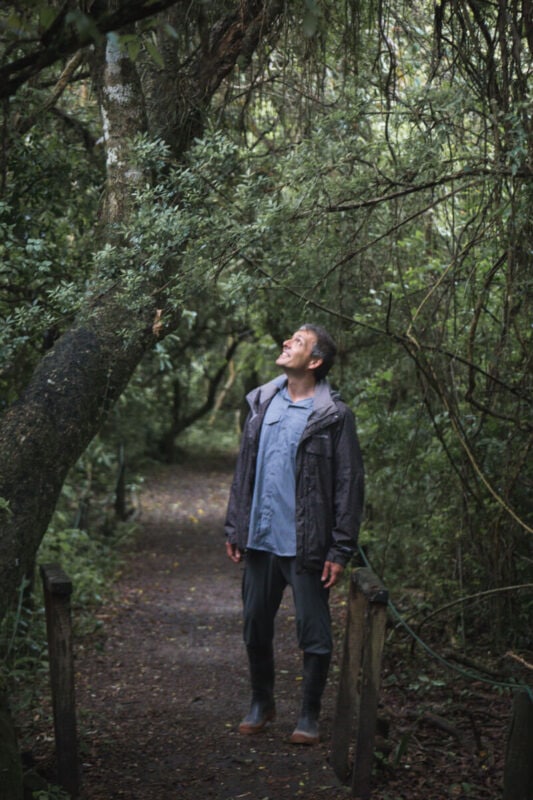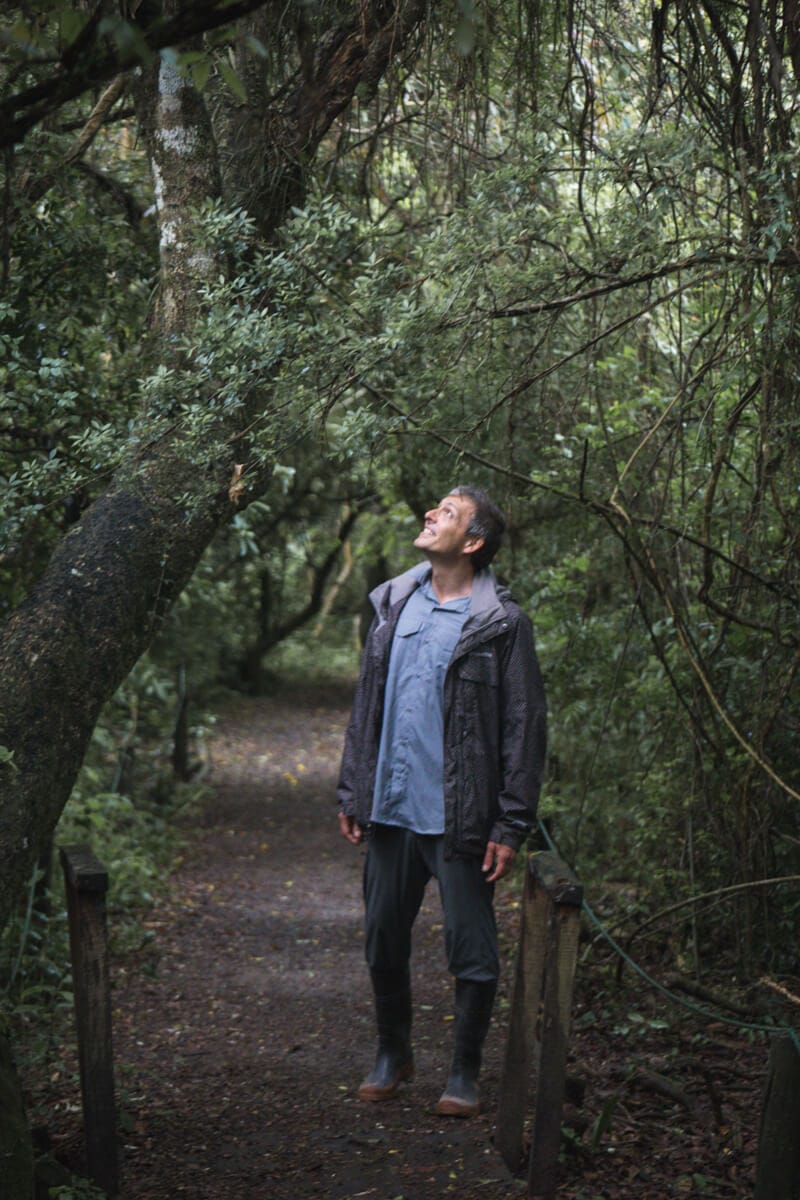 What to Pack: Must Have Items
Here's a quick list of a few must have items that will make your weekend in wetlands go smoothly.
Colonia Carlos Pellegrini is very, very tiny. There isn't much in the way of stores (nearly nothing!).
It's best to go prepared because you probably won't find that sunblock or bug spray once you're there.
Sunscreen | Definitely pack a strong SPF sunscreen. You'll spend a lot of time in the hot sun, protect your skin. I always carry this over the top, very high SPF by Neutrogena for my face. I'm very fair-skinned and it works wonders.
Insect Repellent | If you remember one thing, let it be a good insect repellent like this one. There are a lot of mosquitos here and dengue is present in Argentina.
Hat & Sunglasses | In line with sunscreen, don't forget a proper hat and sunglasses to protect yourself from the sun. I brought a simple baseball cap like this one and was fine.
Comfortable footwear | This isn't a place for fashion, pack what's most comfortable. Bring at least one pair of sneakers for walking in the reserves and a pair of sandals. Remember that if it rains, roads will get very muddy (Ecoposada will lend you rain boots if needed, we needed them).
BINOCULARS | In all caps because they're so important! Bring binoculars to see the wildlife. Even when they're close, it's helpful to see details. And if you love bird watching, you'll definitely need binoculars. These binoculars are my favorite, but you can read my review here of the 6 best travel binoculars.
Camera gear | You're going to want to bring the best of the best camera equipment that you own on a trip like this. Read this post to see everything I used to take the photos in this post.
Esteros de Ibera Wildlife & Conservation
The wetlands are one of the best places to view wildlife in Argentina.
These shallow waters are teeming with life! You'll see more capybara (carpinchos) and caiman (yacare) than you'll know what to do with.
There are also three species of deer in the region but you'll most likely see quite a few marsh deer (ciervo del pantano).
Rarer sightings include the Aguara Guazu (large fox in guarani), the anaconda, and countless species of birds!
Definitely bring your binoculars, choose from my list of the best compact binoculars for safari to best spot the wildlife.
Read Next: The 6 Best Places to See Wildlife in Argentina
Conservation & Reintroduction of Extinct Species
There has been a massive effort at recuperating previously extinct flora and fauna to this ecosystem.
The most notable is the work towards reintroducing the yaguareté (jaguar).
Deep in the Esteros, two yaguaretés are being bred.
The first generation of their young was born recently and everyone you speak to sounds very excited and optimistic about the return of this giant cat to its original home.
It will take at least three generations before they're ready to be reintroduced fully into the wild.
Understandably, it's not possible to visit the facility to see them in person as the goal is for them to become fully wild and unaccustomed to humans.
For more information and a map of where animals have been reintroduced, see this page on the Proyecto Ibera's site.
Follow Rewilding Argentina (seen above) on Instagram to stay up to date on wildlife recovery in Argentina.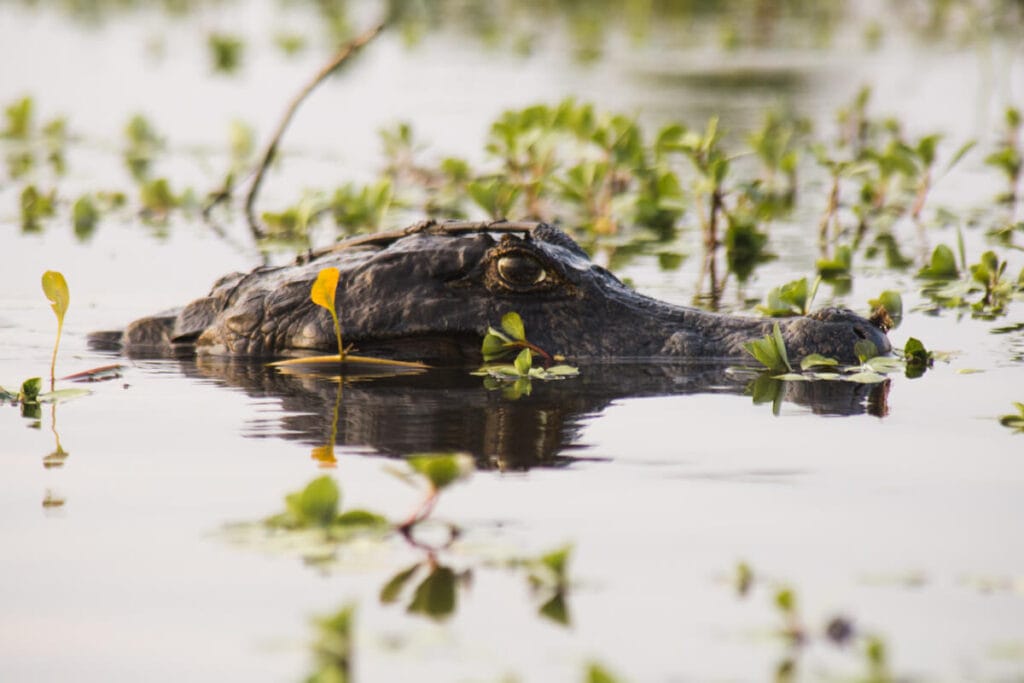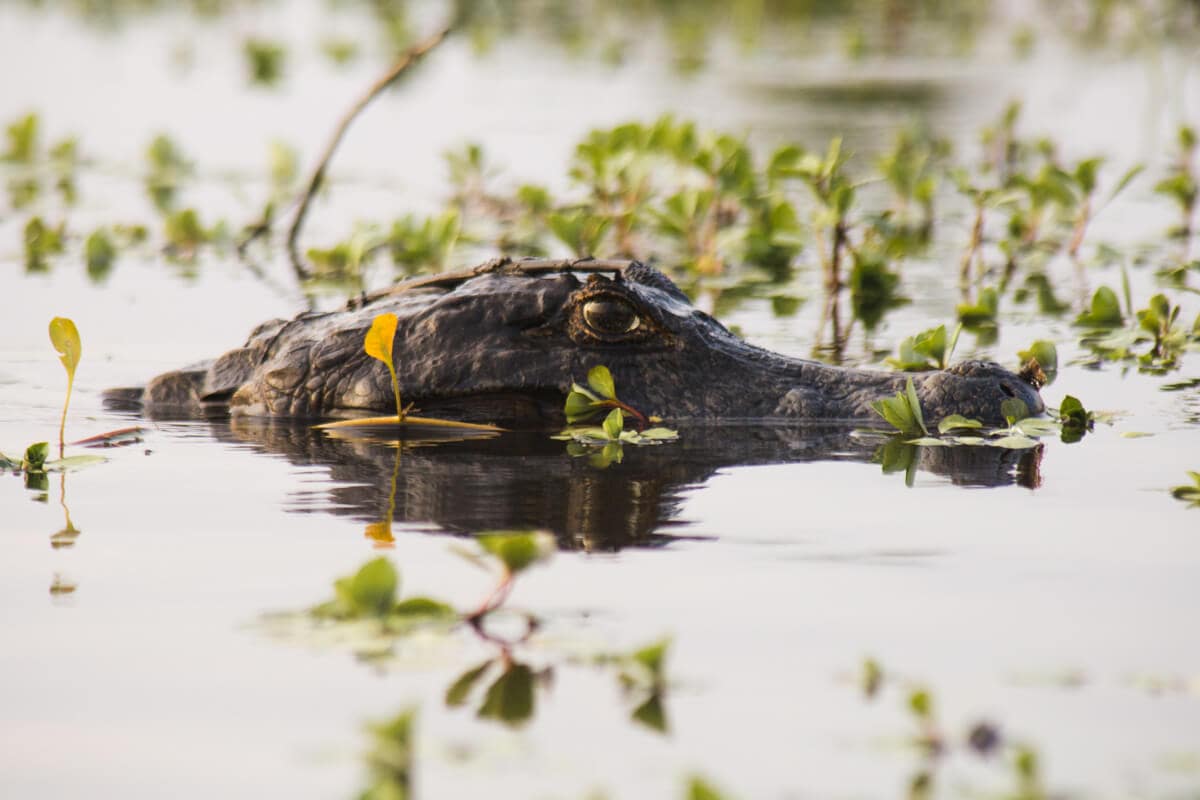 The Legacy of Douglas Tomkins 
It's impossible to speak with anyone in Pellegrini without hearing the name Douglas Tomkins. The founder of Northface made a major impact here. 
From 1990 until his untimely death in 2017, Tomkins worked hard for land and wildlife conservation and environmental activism in Chile and Argentina. In Corrientes, he acquired 150,000 hectares of old cattle ranches that bordered the already existing reserve. 
In December of 2015, Tomkins donated this land to Argentina's national government. His dream was for this new land to be added to the existing reserve. The Corrientes province would cede its land (that was and still is a provincial park) as well and it would all form one large national park. 
This hasn't come to fruition and I doubt it ever will. And personally, I'm not so sure that's a bad thing.
The provincial park seems to be much more developed than the national park next door.
During our visit, they were finishing construction on a brand-new visitor's center and there are multiple trails for visitors to view wildlife from safely.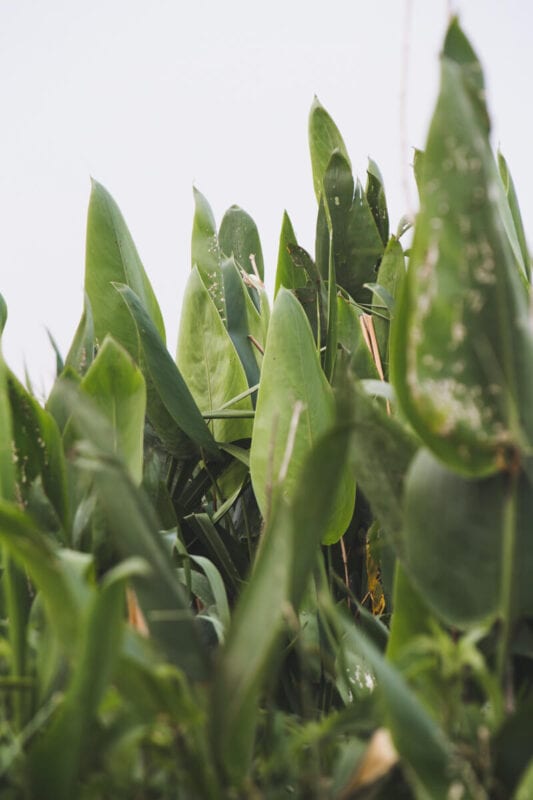 And to me it seems as if it will only continue to improve and develop.
Which makes sense, who could possibly care more about this natural treasure than its own people? 
The national park, by contrast, didn't seem to have much to offer in the way of infrastructure. However, it is possible to visit with a guide or tour.
With all that in mind, you should see both the national and provincial reserves for yourself. They both offer a wealth of flora and fauna to discover!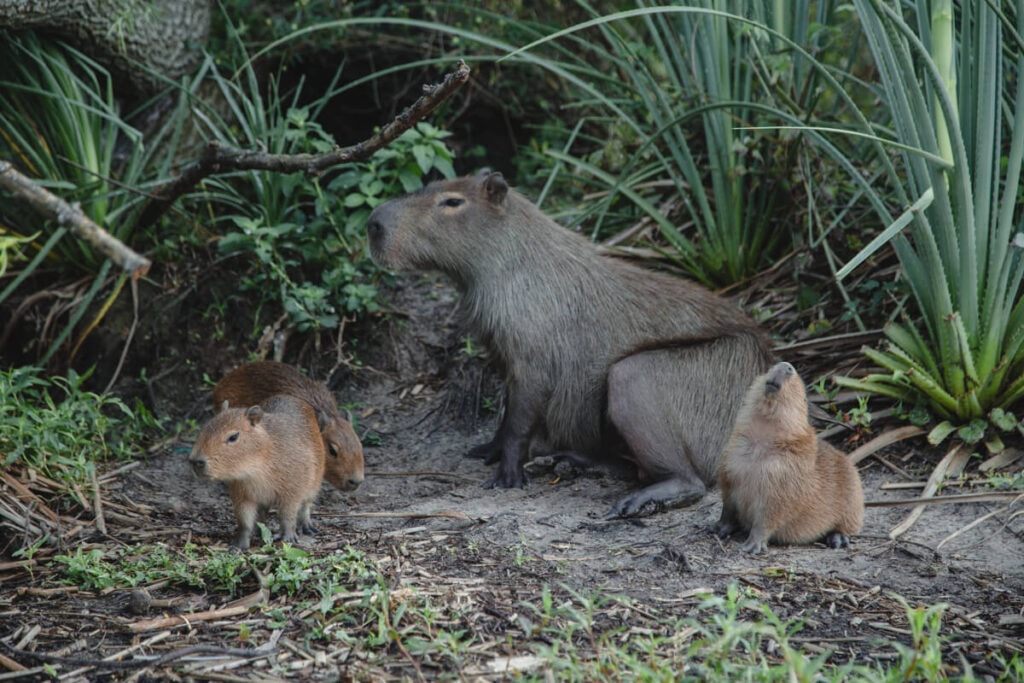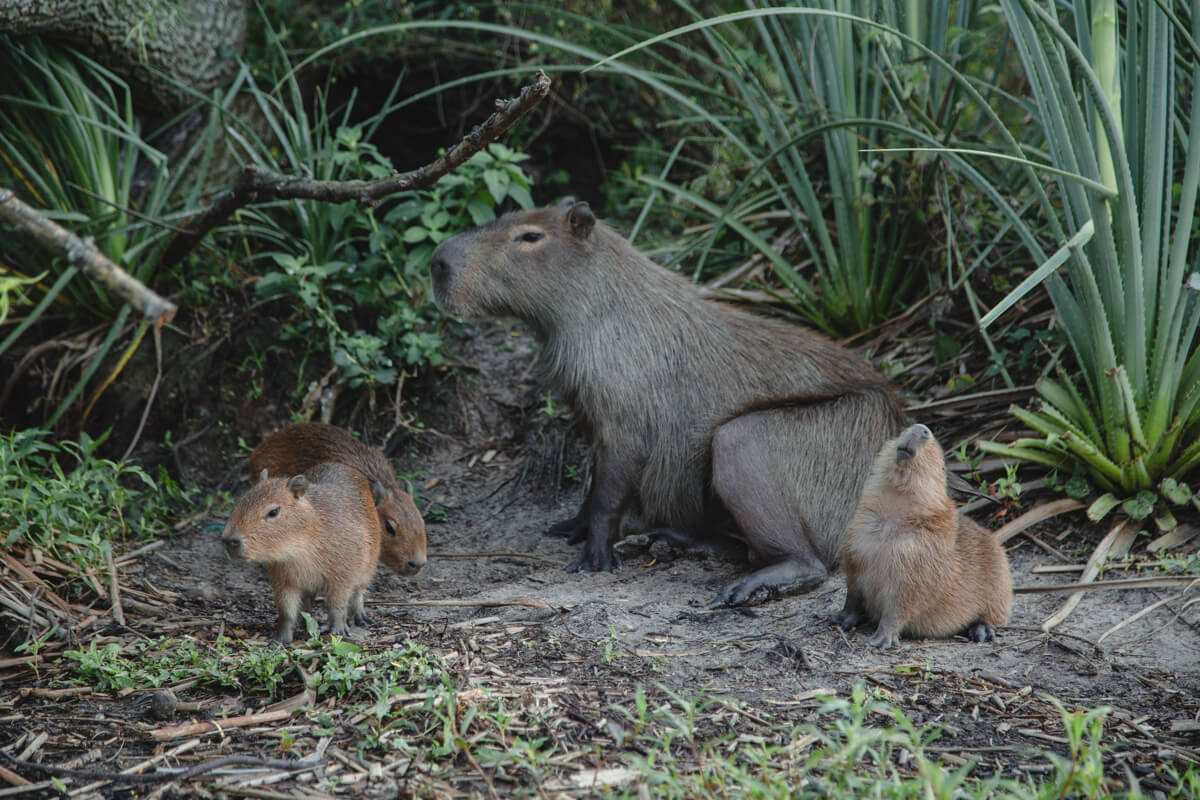 Los Esteros del Ibera: The Trip of a Lifetime
I had been dreaming about visiting Argentina's wetlands for years and they did not disappoint.
If you love nature, you have to visit.
It's very hard to find an undiscovered destination these days. Nearly everywhere you go is overcrowded, filled with rule-breaking tourists and Instagrammers blocking your view.
But you'll find none of that here. It's pristine and the local government is actively working to return this ecosystem to its original state.
It may be hard to get to and it may be difficult if you don't speak the language, but it's worth the effort.
If you still have any doubts about going or have any questions at all, please let me know in the comments. I'll get back to you as soon as I can!
Argentina Travel Resources
Read More About Argentina:
Pin It For Later