Argentina's tiny northeastern province of Misiones is filled with jungle, waterfalls, and Jesuit missions.
You've heard of it because it's home to Iguazu.
But there is so much to discover here!
This post is our 5-day Misiones road trip itinerary. I hope it helps you discover the lush, green corner of Argentina.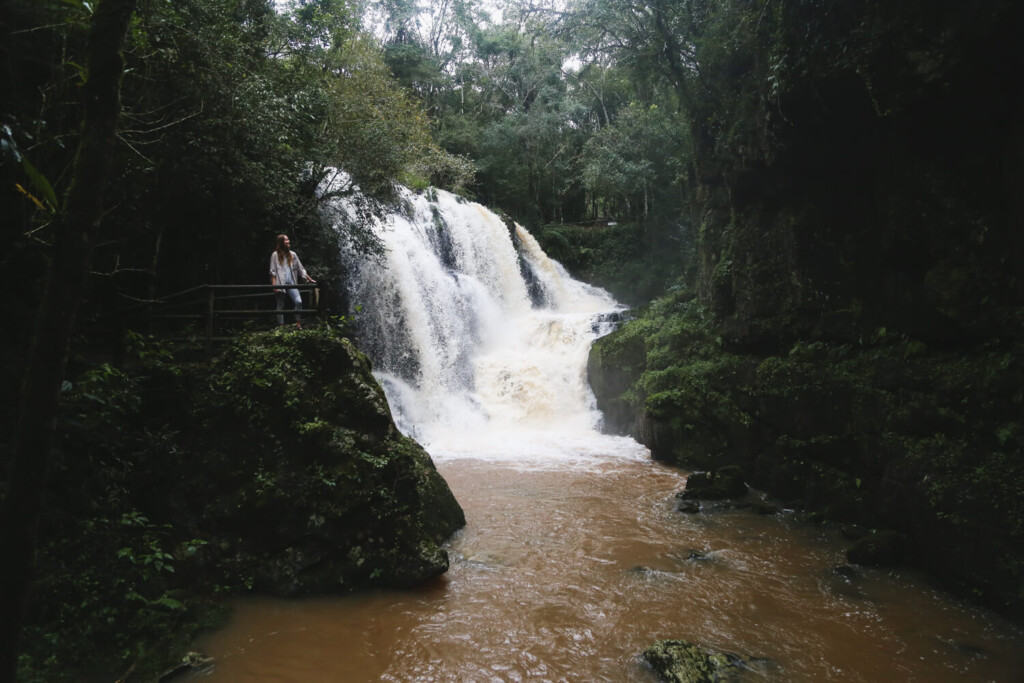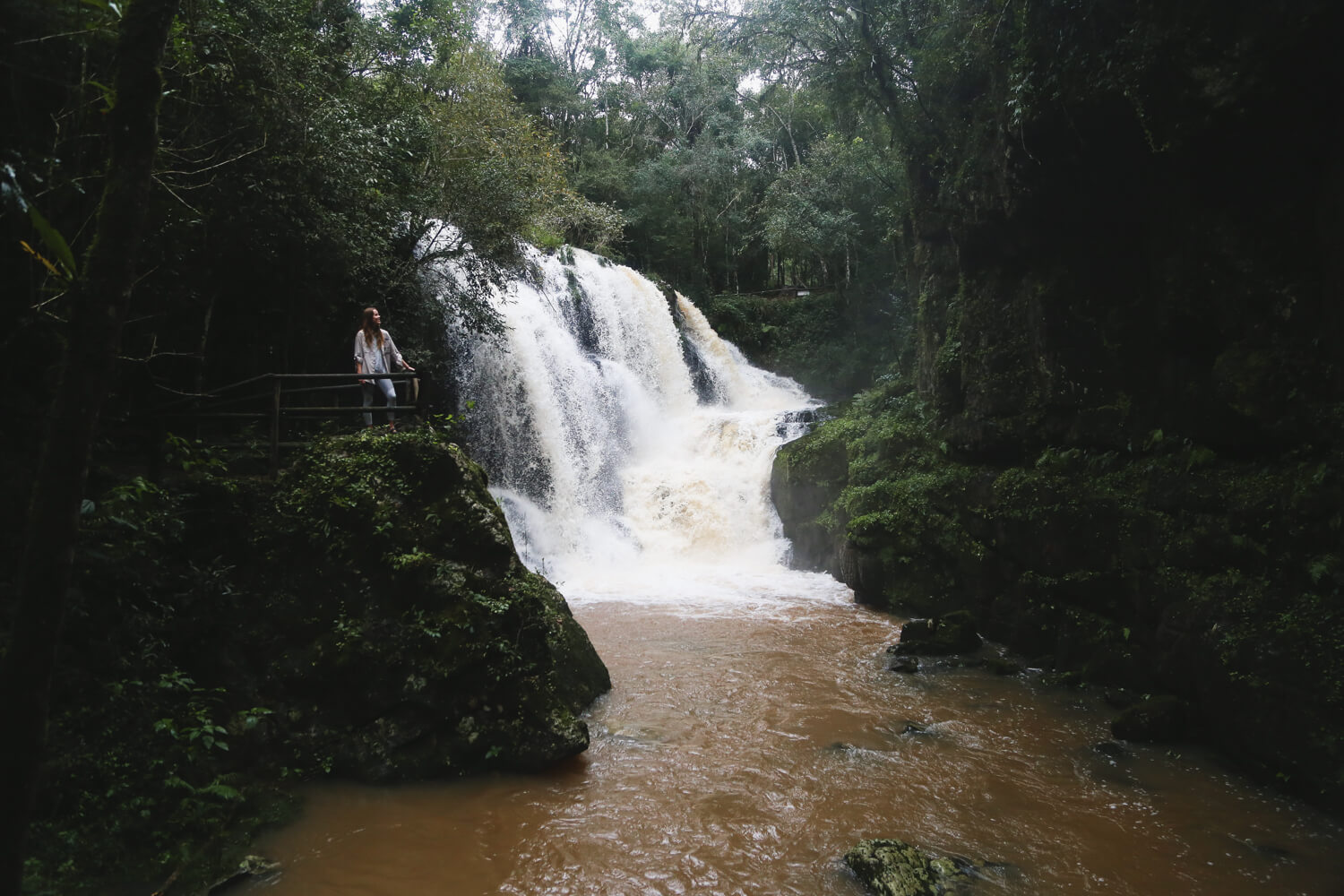 QUICK NOTE: This post contains affiliate links and Sol Salute may receive a commission for purchases made through these links, at no extra cost to you.
5 Days in Misiones: Our Northeast Argentina Road Trip
If you're been to Argentina or are currently planning a trip there, it's likely you've experienced Misiones.
That's because this tiny Northeastern province is home to Iguazu Falls.
These infamous falls are a true natural wonder so it's easy to see why nearly all Argentina itineraries include a short visit to them.
But while most people fly in and out of Iguazu in a day or two, my husband and I recently decided to do the exact opposite.
We spent five nights exploring Misiones, everything the province had to offer except Iguazu.
We toured the Jesuit missions, hiked through the jungle, visited Misiones' other impressive waterfalls and toured a yerba mate plantation.
Tips & Alternatives for This Itinerary
We flew in and out of Posadas and drove a loop through the southern half of the province.
This itinerary can be altered to include Iguazu by increasing the loop or flying into Posadas and out of Puerto Iguazu (or vice versa). This will depend on your own time restrictions and interests.
The below map is our route (in blue). Iguaza Falls is marked by an orange pin.
This post does not include information on Iguazu, but I do have an extensive guide dedicated to the falls. Read it here.
This trip can also be extended southward into the Corrientes province to include a visit to the Ibera Wetlands. If you have a month, starting in Iguazu and working your way south to Ibera would be ideal. That's the dream, this itinerary is our five-day reality.
Wondering when to go? Read my guide on the best time to visit Argentina.
How to Get around Misiones: Rental car, Bus, or Tour?
As usual, I recommend renting a car.
You'll have the freedom to move when and where you want in a region that isn't easy to navigate with public transport.
And to be honest, there are so many beautiful road trips in Argentina.
Argentina is a great country to explore by car, just check out this road trip packing list, download a map, and you'll be good to go.
Buses may connect larger towns but once you're in said towns, it will be harder to reach the state parks, waterfalls and trails you're there to see.
There also aren't many guided tours like there are in other provinces like Salta or Jujuy.
Everything is centered on Iguazu, with a few very, very long day trips departing from Puerto Iguazu to see the San Ignacio Mission and the Wanda Mines.
If you want to really dive deep into the jungle here, you'll be happier with a car.
Day 1: The Missions
We landed in Posadas at 8 am, bright and early and ready to take full advantage of the day.
We would be spending our first night in San Ignacio, which was only an hour away but we had a full day of sightseeing planned!
Parque Ecologico "El Puma" – Don't Visit
Misiones and Corrientes are home to some serious wildlife. And much is endangered, such as the yaguarete (jaguar). So when the Misiones tourism office told me about El Puma, I had to go.
They are supposedly working towards the conservation of these species and working to reintroduce animals into the wild (yaguaretes have recently been reintroduced to the Ibera Wetlands, for example).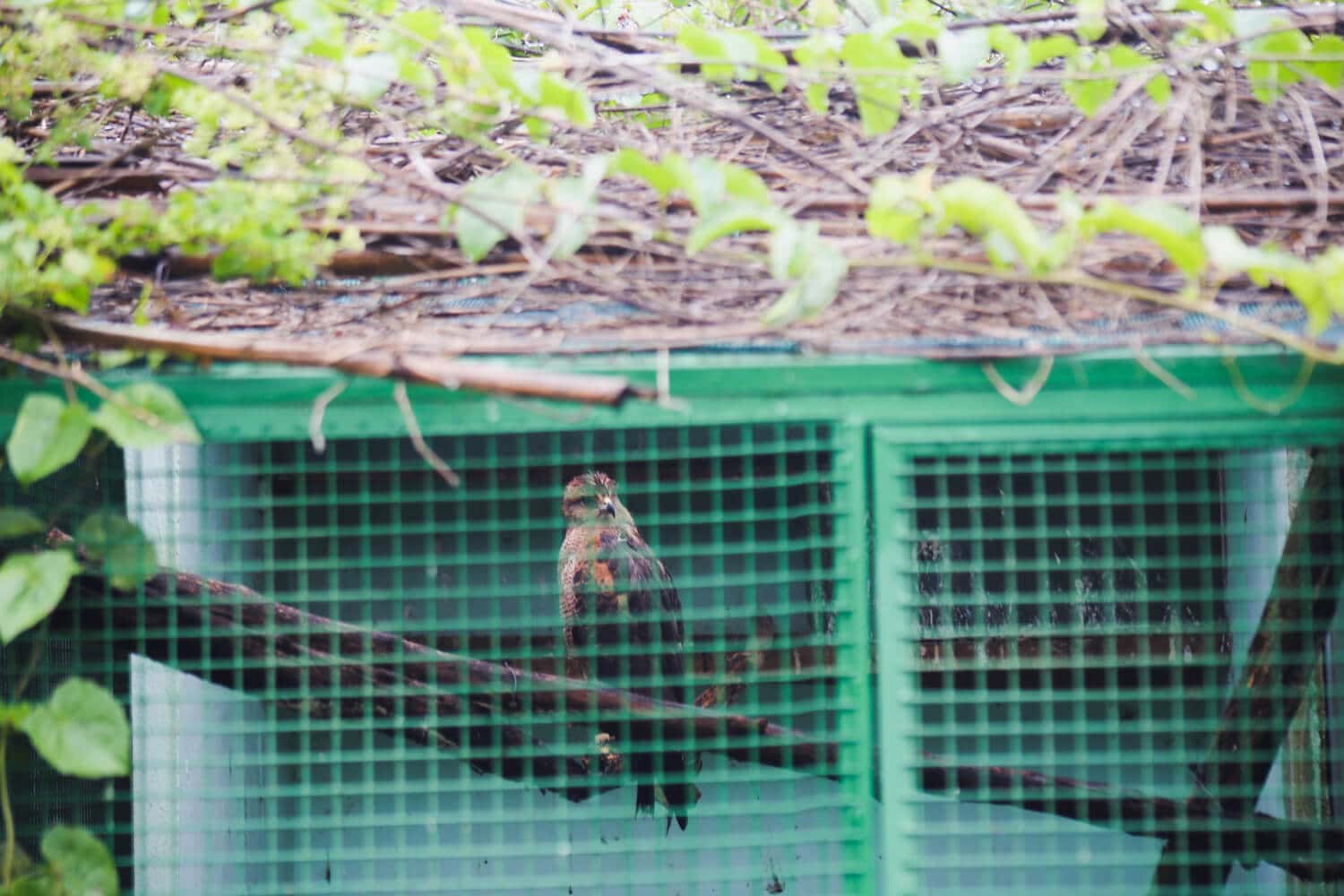 Unfortunately, it was a horrible experience and I do not recommend visiting El Puma.
When we finally tracked down what I guess were park rangers, they just indicated where we could walk to look at the animals.
They couldn't even be bothered to accept our entrance fee because they didn't want to bother finding the cash box.
We followed the path they indicated only to find animals in horrible conditions and tiny enclosures and cages.
Perhaps elsewhere in El Puma there is real conservation work going on, at least I hope there is, but I'll never know because we left the second we saw the eagle in his tiny cage.
READ NEXT | Read my post about the best destinations for wildlife in Argentina to see where to see wild animals ethically in their natural habitat.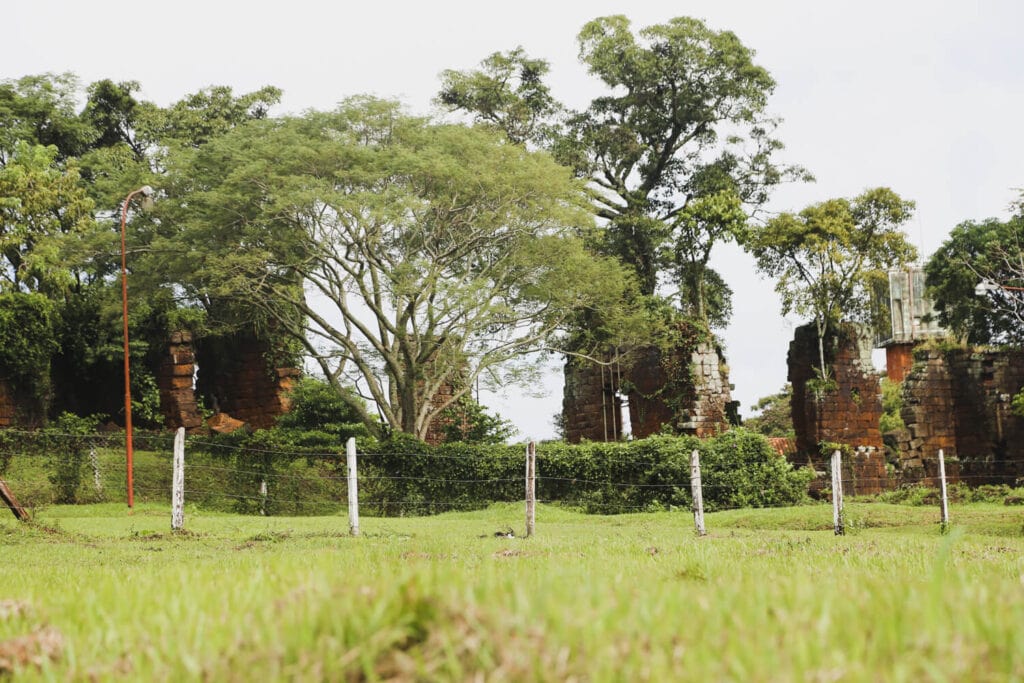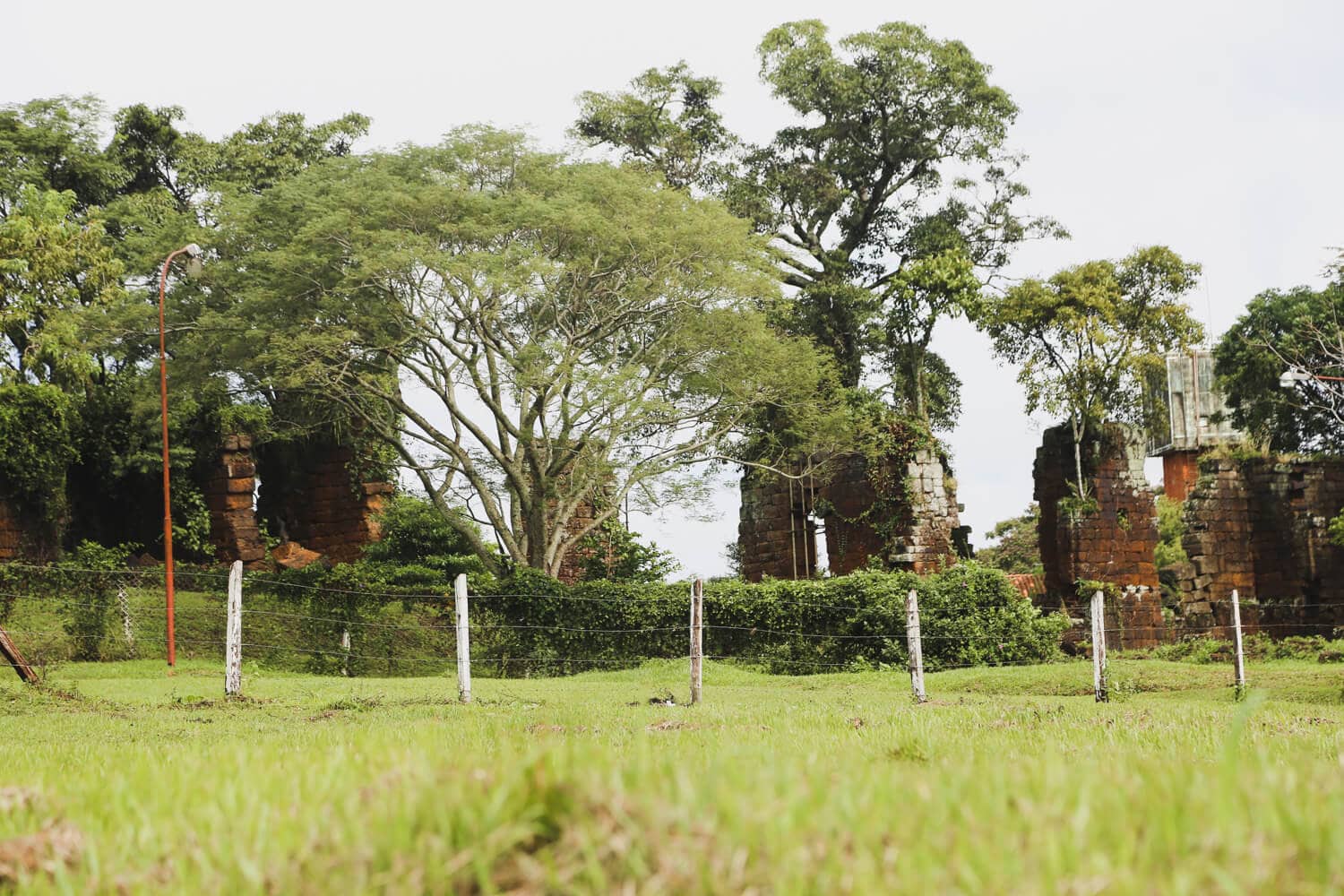 Mision Candelaria
After the sad wildlife disappointment, it was mission time.
We spent the rest of the day exploring the Jesuit missions and started in Candelaria.
Surprise, surprise when we pulled up to find the ruins of the mission are inside the walls of a prison!
I pulled up and thought, WOW, these missions are really popular. Those cars were all prison employees, face palm.
So while you can't visit these ruins, you can see the from the road.
The ruins took on a lot of damage during the Paraguayan War and have received the least amount of care/reconstruction (I repeat, it's a prison).
So, there's not really much left to see in Candelaria.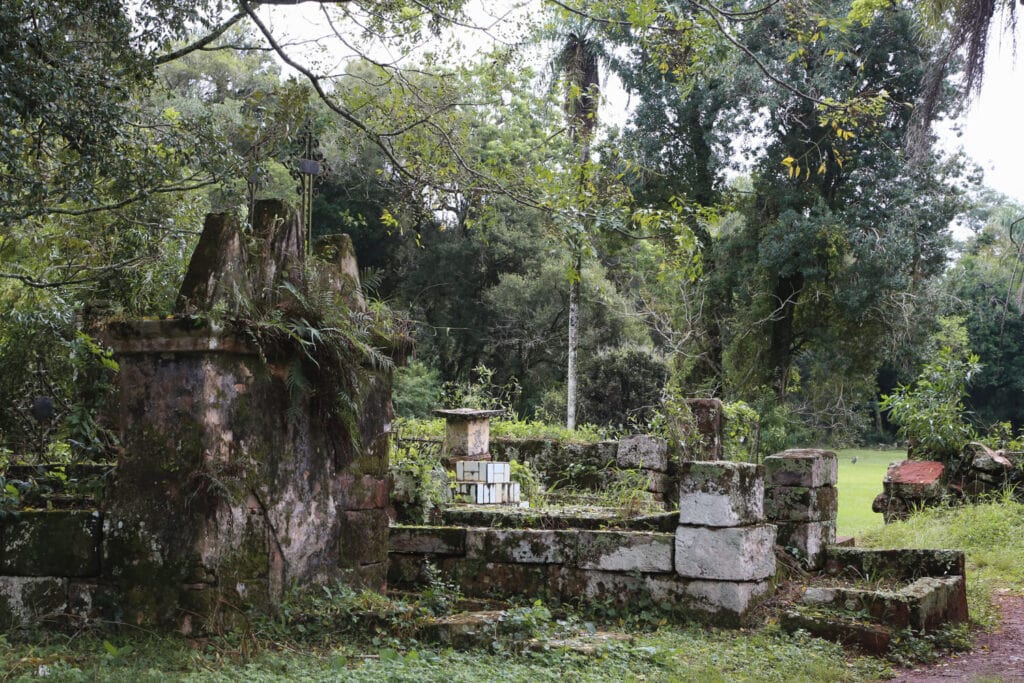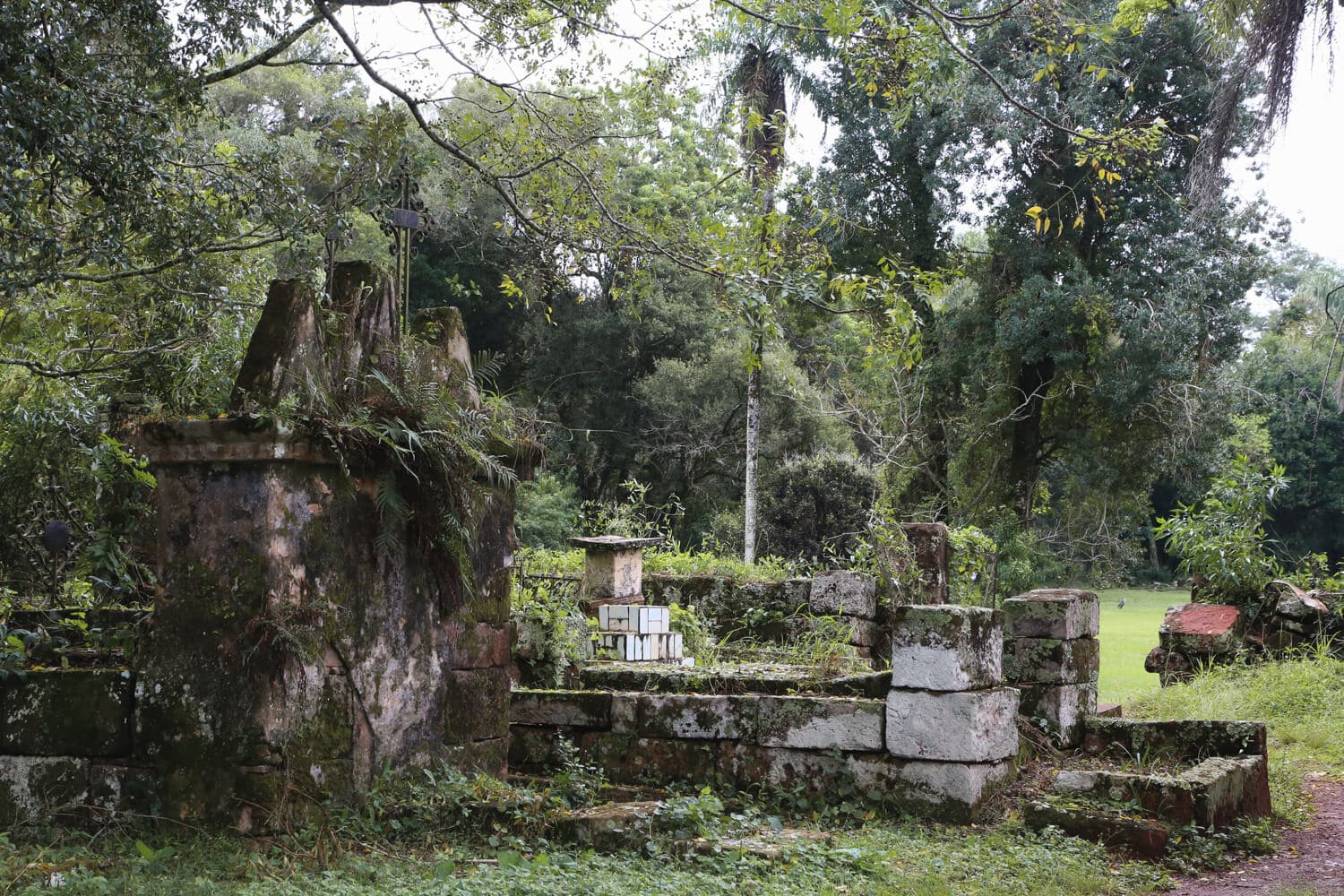 Mision Santa Ana
After Candelaria, we hopped back onto the Ruta 12 for about fifteen minutes to Santa Ana.
At the parking lot, there is a ticket office, bathrooms, and a small museum (all of the missions offer the same).
We paid for our ticket here, which included a visit to all of the missions.
The tour guides were all out sick or studying so we explored on our own, but I recommend doing at least one mission with a guide, if possible.
Lunch on the road
We stopped for lunch at one of the restaurants on the side of Ruta 12 outside of Santa Ana.
There are a few to choose from and they all serve the same thing.
Argentine fast food (milanesas, pasta, etc) with a Brazilian twist, due to its proximity to the border.
Our restaurant had a buffet with the black beans that are typical to Brazil, stews, salads, and rice.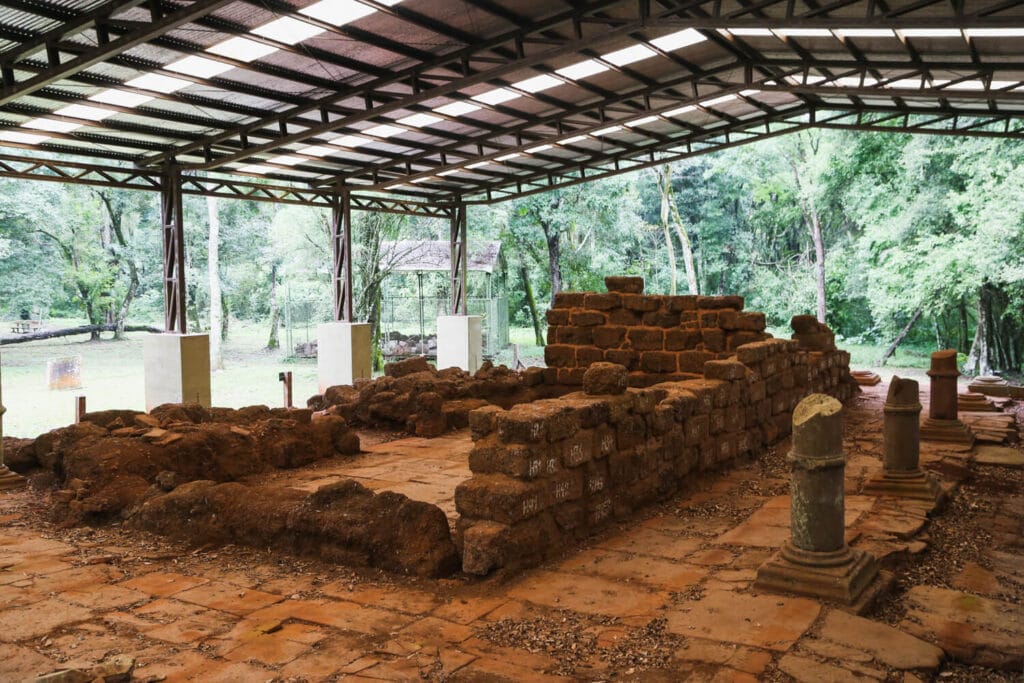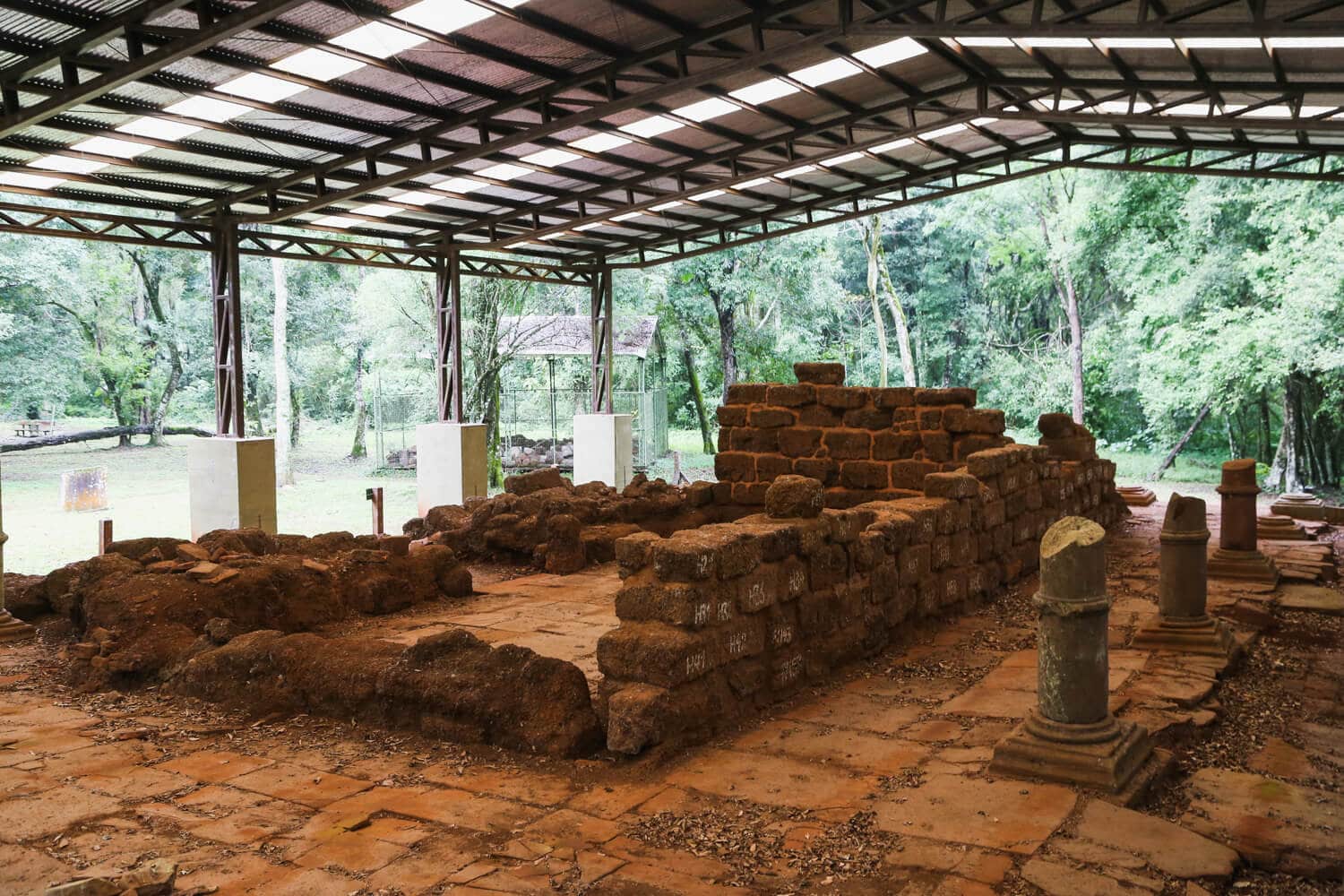 Mision San Loreto
Bellies full, we hit the road again for just another 10 minutes to visit the ruins of the San Loreto Mission.
By car, these missions feel impractically close to each other!
But back in the 17th century, separated by dense jungle and traveling by foot, I can only imagine it was a far different story.
When we got out of our cars at San Loreto, a guide met us to rush us out to meet with a tour group that had just departed a few minutes before we had arrived.
I'm so grateful for his effort because touring with a guide made all the difference.
He was informative not just about the missions but about the flora and fauna of the area.
It really made the experience much more enjoyable to learn about what we were looking at.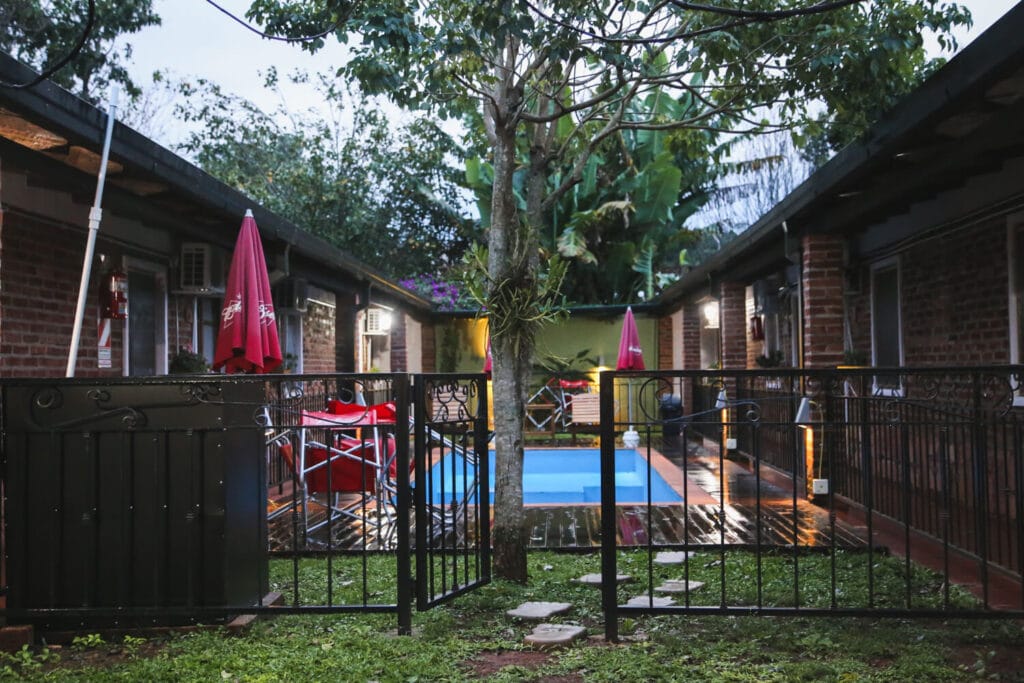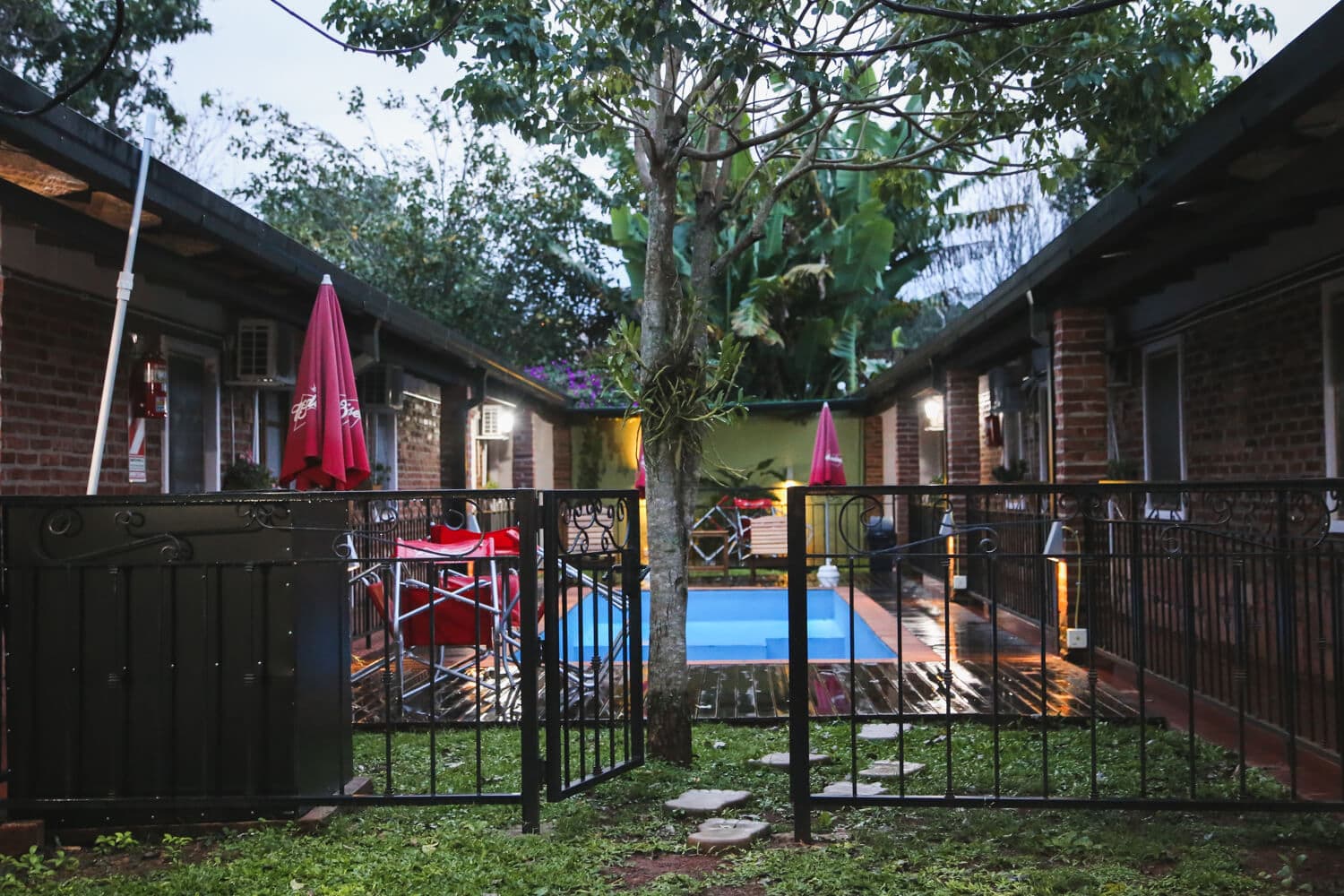 Arrive in San Ignacio
From San Loreto, we drove to our home base for the night.
We arrived in San Ignacio at around 5 pm and went straight to our hotel.
There was time to visit the San Ignacio Mini (the final mission on our tour) but we had been dodging storm clouds all day and decided to save it for the following morning.
We checked in at the Montes Hostería & Bar Café.
It's a small, family-run hotel. The room was basic but comfortable (and really big).
All the rooms surround a small swimming pool, which is essential if you're visiting in the hot summer months.
We decided to have dinner at the hotel restaurant. It had the best reviews and the convenient location was a winner for our weary bones.
The food was really good (leaps and bounds better than our highway lunch).
I'd definitely stay here again on future trips. For your stay, check rates here.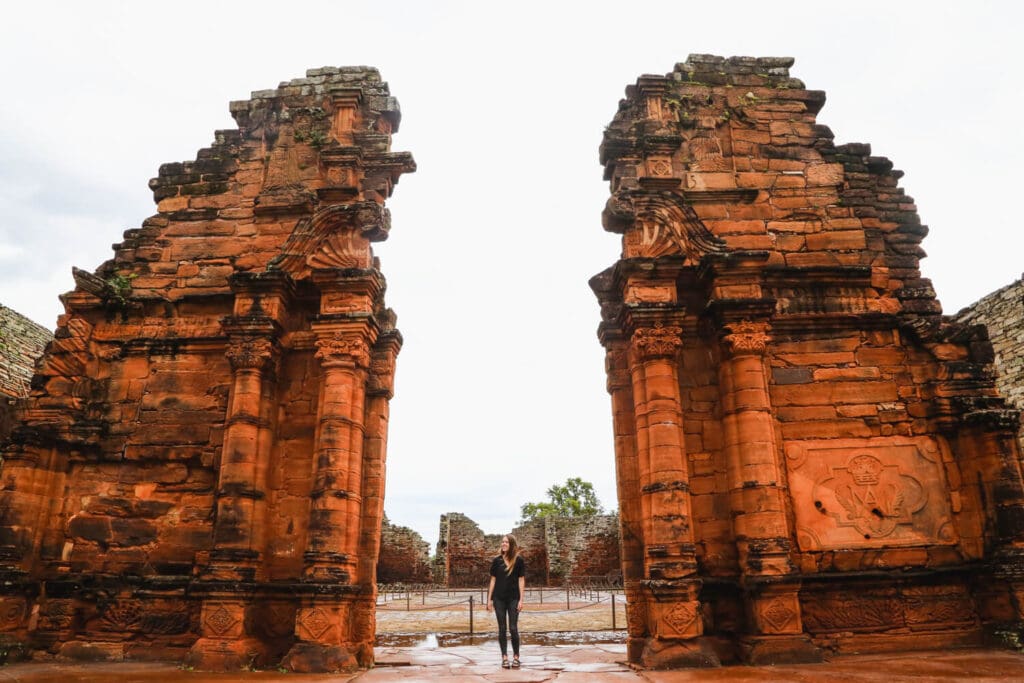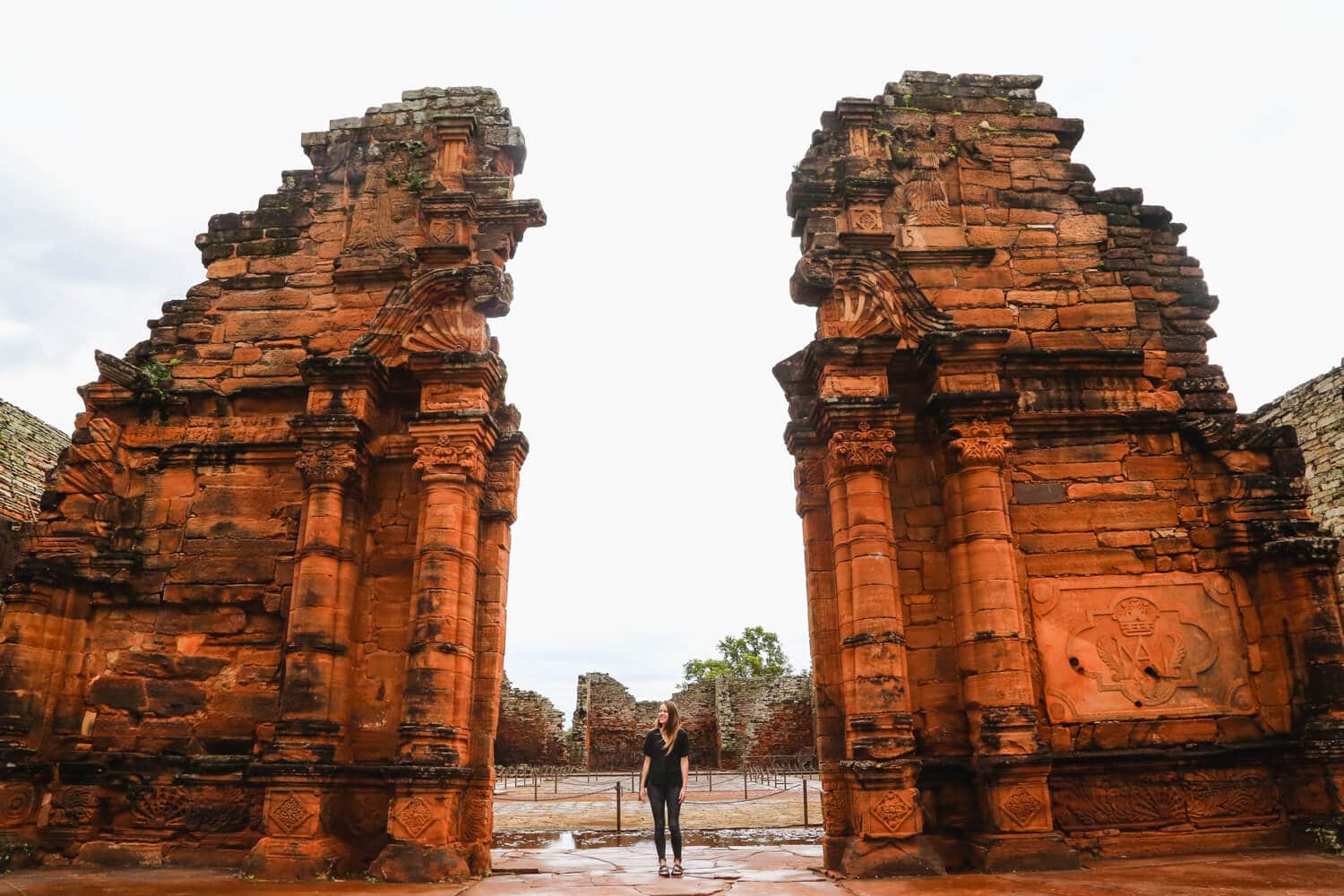 Day 2: Explore San Ignacio
We slept like babies with the storm pouring down on our tin roof.
I love rain on a tin roof.
And we were lucky to wake up to a sunny-ish morning.
We ended up dodging rain showers all day but we were still able to see everything we had planned!
San Ignacio Mini
We got here just after the doors opened and decided to visit without a guide when they couldn't tell us when the guided tour would depart (in 30 minutes, 45 minutes, or when an unspecified number of people accumulated).
We didn't want to wait and end up getting caught in the storm.
So, we marched off on our own and promptly got caught in the rain.
Luckily, it was just light rain. Nothing that an umbrella couldn't cure.
The rain also did the nice trick of scaring all the other tourists away and leaving the missions only to us.
Horacio Quiroga's House
As we got in our car after San Ignacio Mini, the rain had let up and we'd have clear skies until after lunch.
Our next stop was to Horacio Quiroga's house just outside town.
Quiroga was an Uruguayan writer who lived in the jungle outside San Ignacio at the turn of the 20th century.
I really enjoyed our guided tour since I wasn't familiar with his life or works.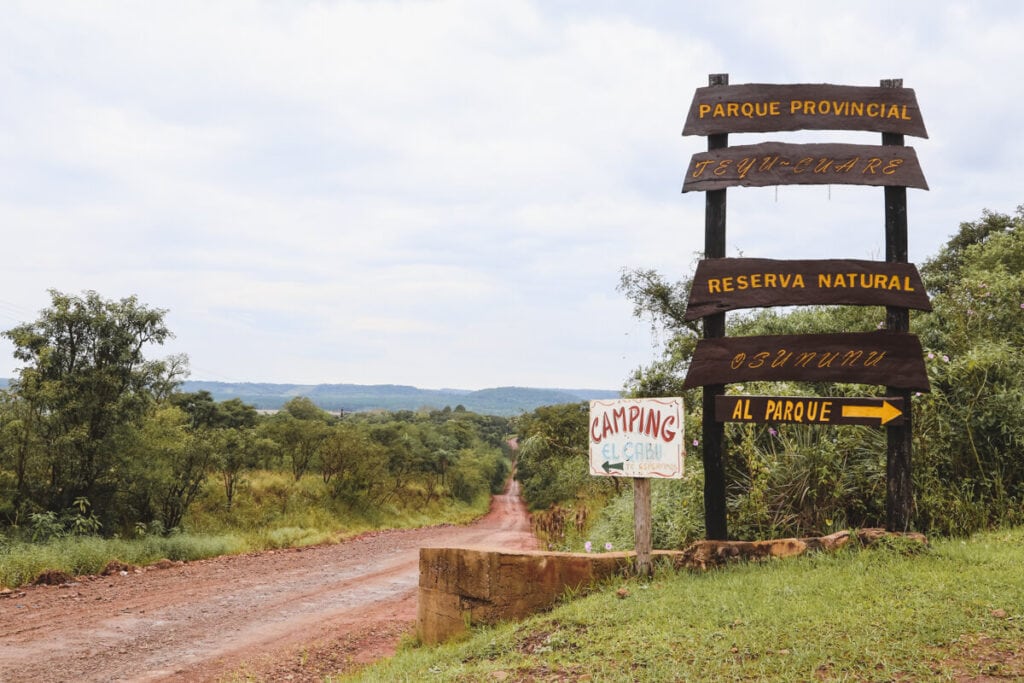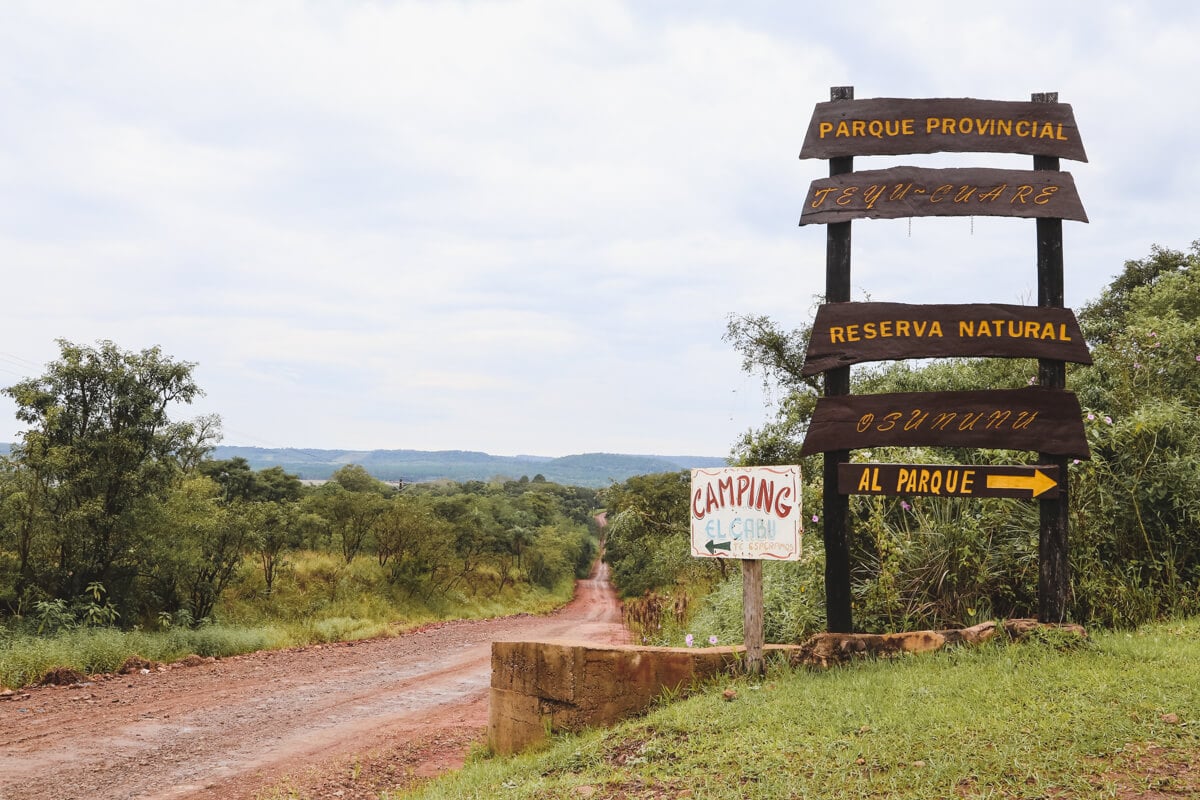 Parque Provincial Teyú Cuaré
There are a lot of state parks (parques provinciales) in Misiones that are worth a visit, and I had my sights set on Teyú Cuaré.
We hiked two of the short trails through the jungle.
One leads to the ruins of a Jesuit structure that was rumored to have housed Nazis fleeing after World War II, a remnant of Argentina's dark history.
Two other hiking trails lead to the Parana River overlooking Paraguay on the other shore.
One trail, I believe, leads down to the water, we took the trail that led to a panoramic viewpoint.
We made it there and back just in time to beat the rain!
Mission accomplished.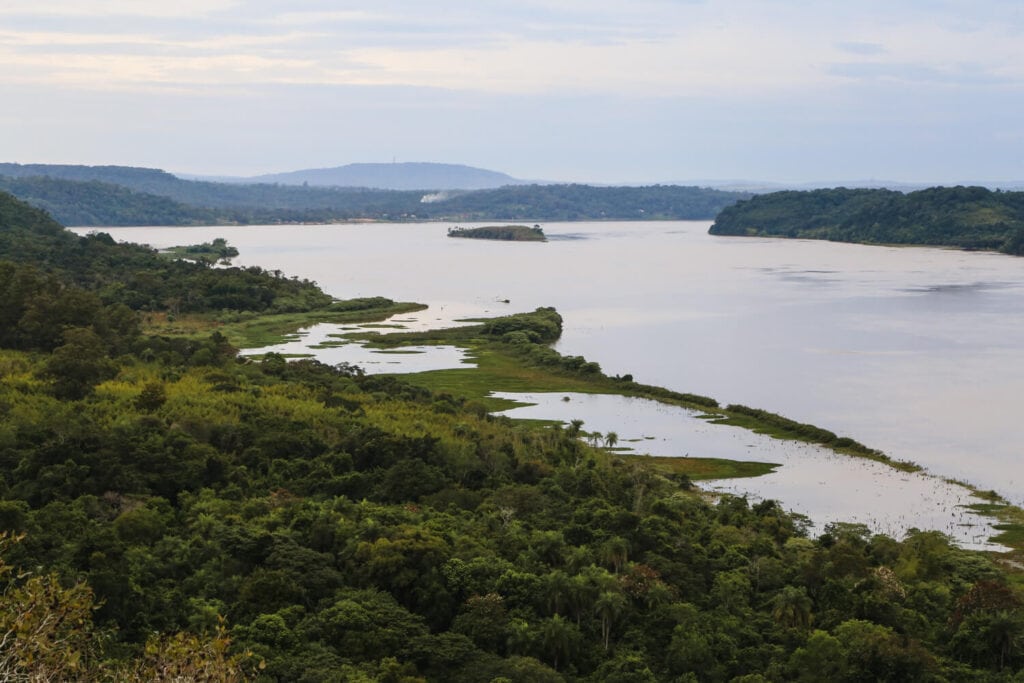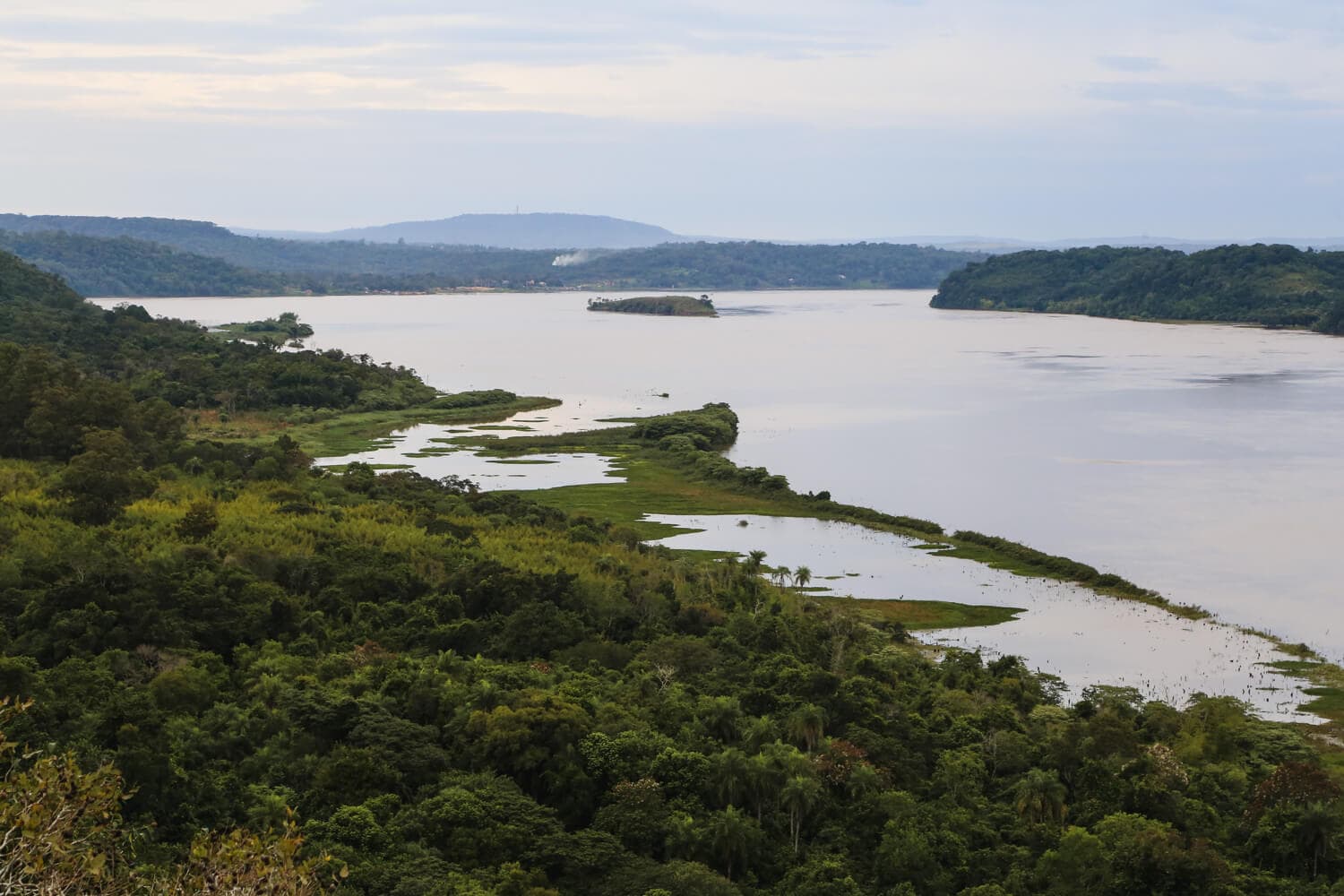 Read Next: Guide to Argentina's National Parks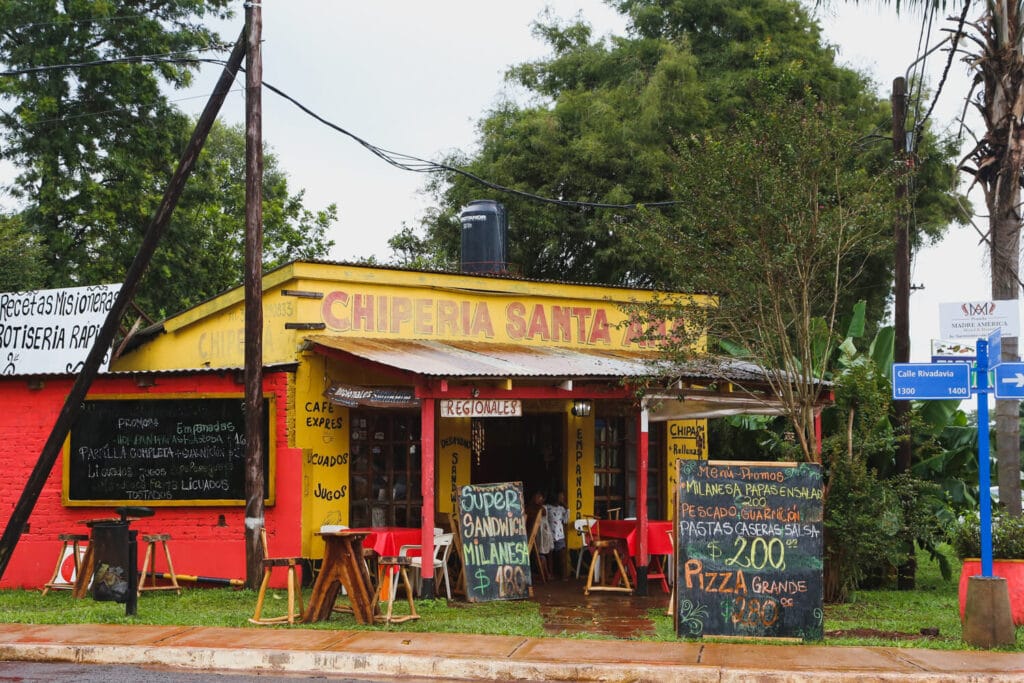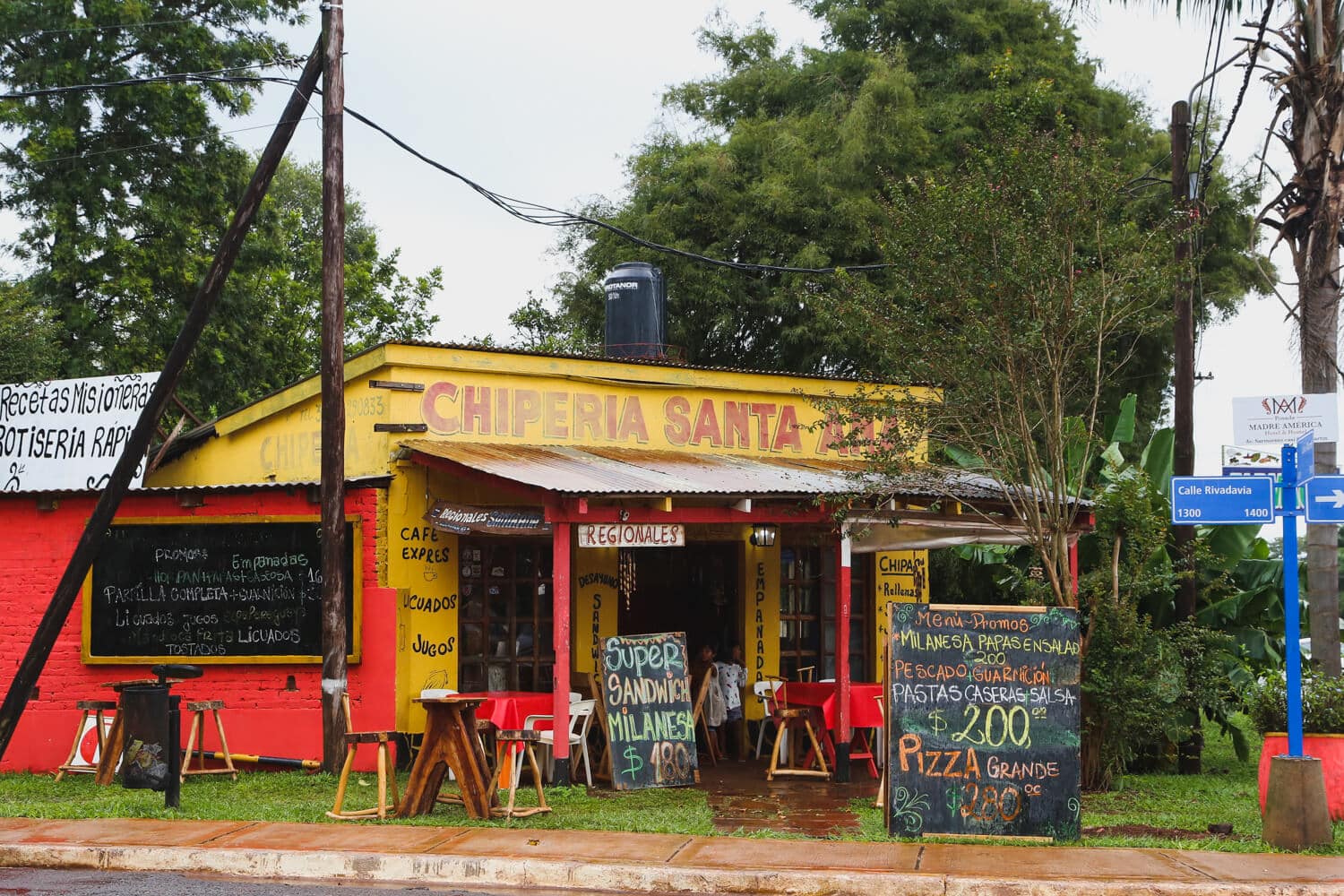 Lunch and Onward to Aristobolo del Valle
We had an eventful morning, seeing everything we could in San Ignacio before 1 pm.
It was time for a quick lunch before hitting the road, and we wanted to try something local.
We drove back to the ruins in town to eat Chipa Guazu, which tasted very much like cornbread from the southern US.
Bellies full of chipa, we were in the car driving towards the center of the province. We would be spending our second night just outside Aristobolo del Valle.
This region is famous for it's yerba mate and tea plantations, which lined the highway.
It was a gorgeous drive, and we stopped more than a few times to photograph the rolling hills of tea.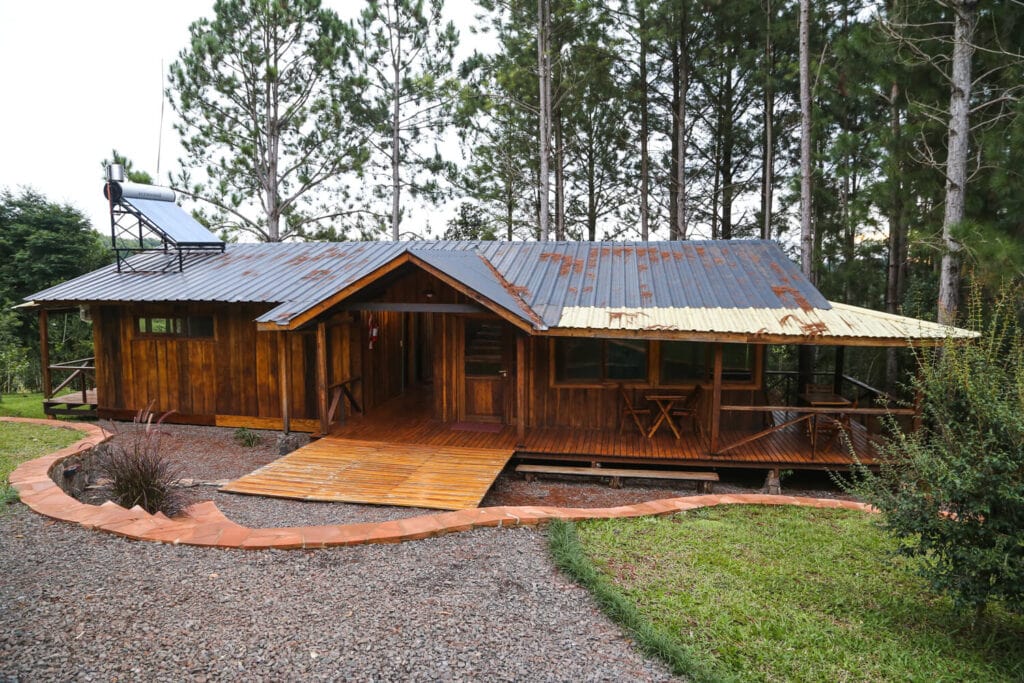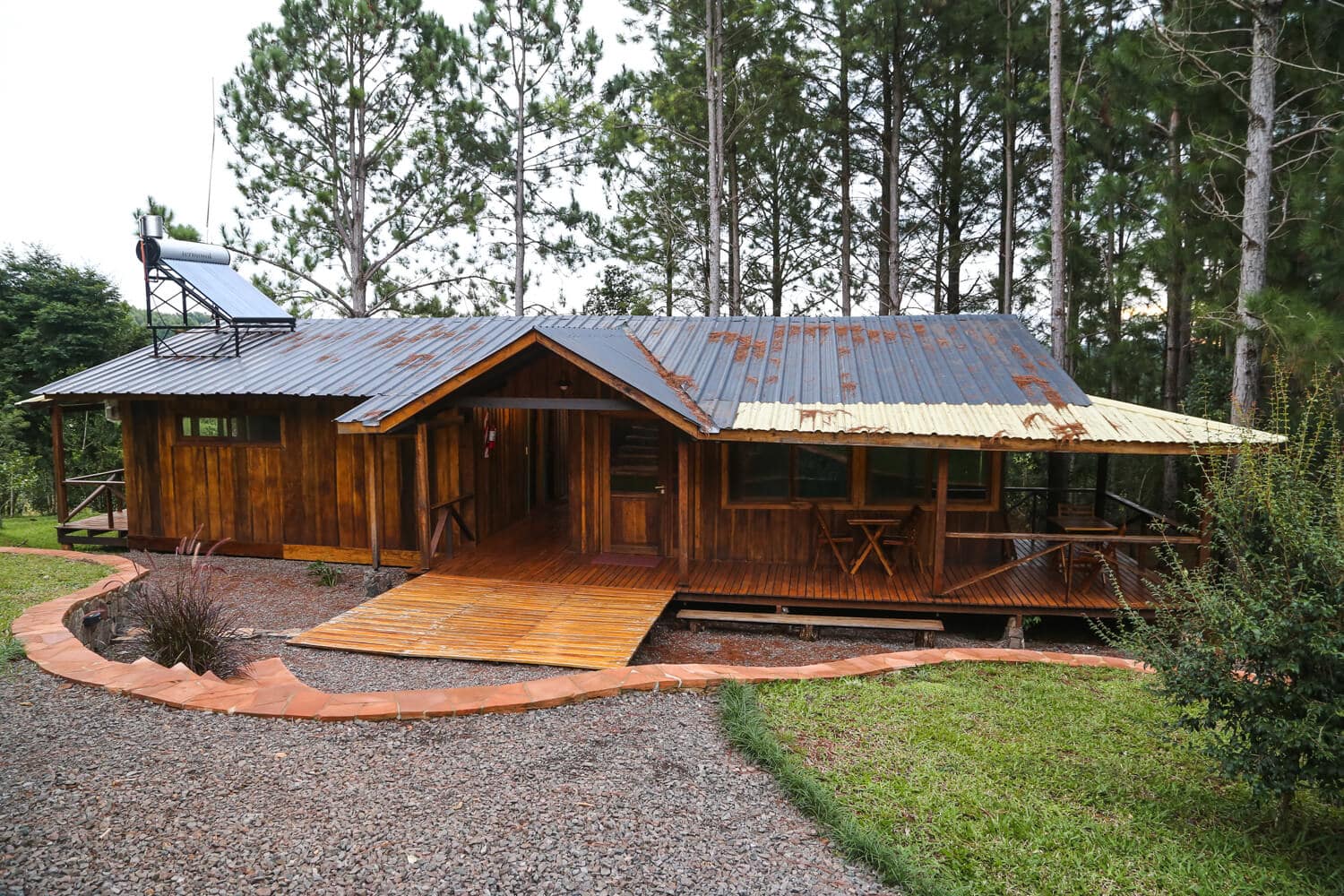 Checking In at Salto Encantado
My reason for visiting this area was to see the Parque Provincial Salto Encantado, another popular state park in Misiones.
We stayed at Piel de Timbó, a small cabin less than a kilometer from the park, not far from the larger town of Aristobolo del Valle.
The cabin is divided into three large private rooms, each with their own balcony overlooking the jungle below. It's family run and the property is gorgeous.
You're free to wander the property, where they grow fruit and yerba mate, but we were blessed with more rain so were forced indoors.
It's a property worth staying a few nights in summer to explore the region in full, unfortunately, our itinerary only allowed one for night. For your stay, check rates here.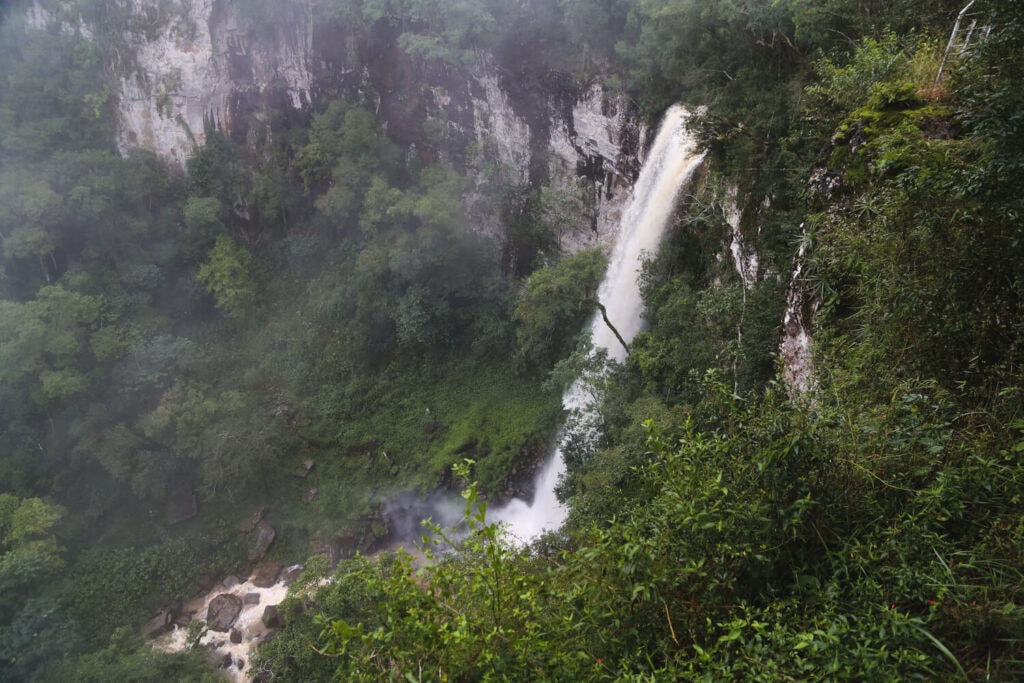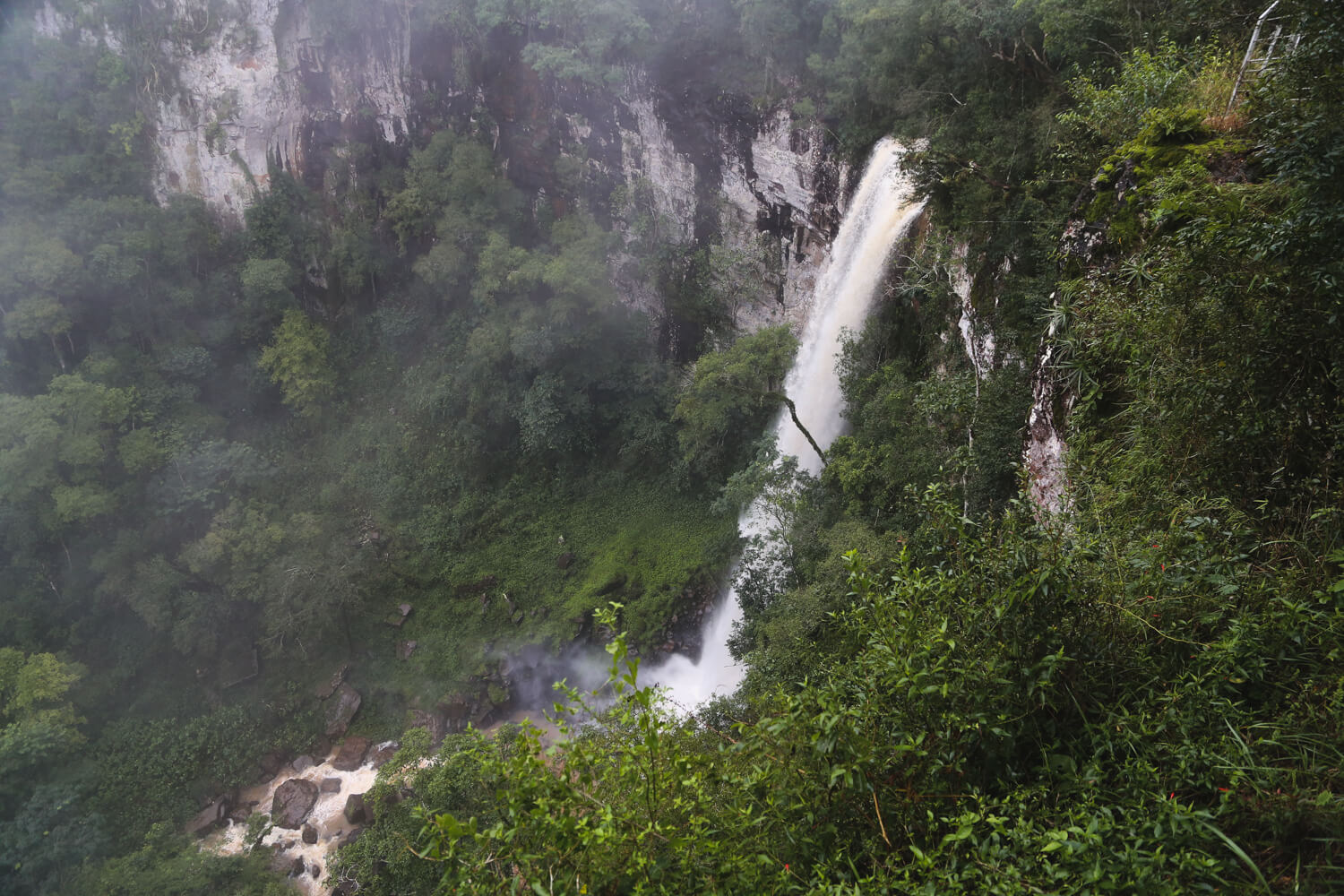 Day 3: Salto Encantado & Drive to Mocona
Continuing our theme of touring under umbrellas, we woke up to another rainy day (it is the rainforest after all).
Our day started with a quick visit to the Parque Provincial Salto Encantado to see the waterfall.
If you're blessed with good weather, you could easily spend a day here hiking the trails. With the rain, our visit was brief.
A day on the Road
After Salto Encantado, we spent the morning on the road to our next destination: Mocona Falls.
It was another morning driving through tea plantations, making it another easy, beautiful drive.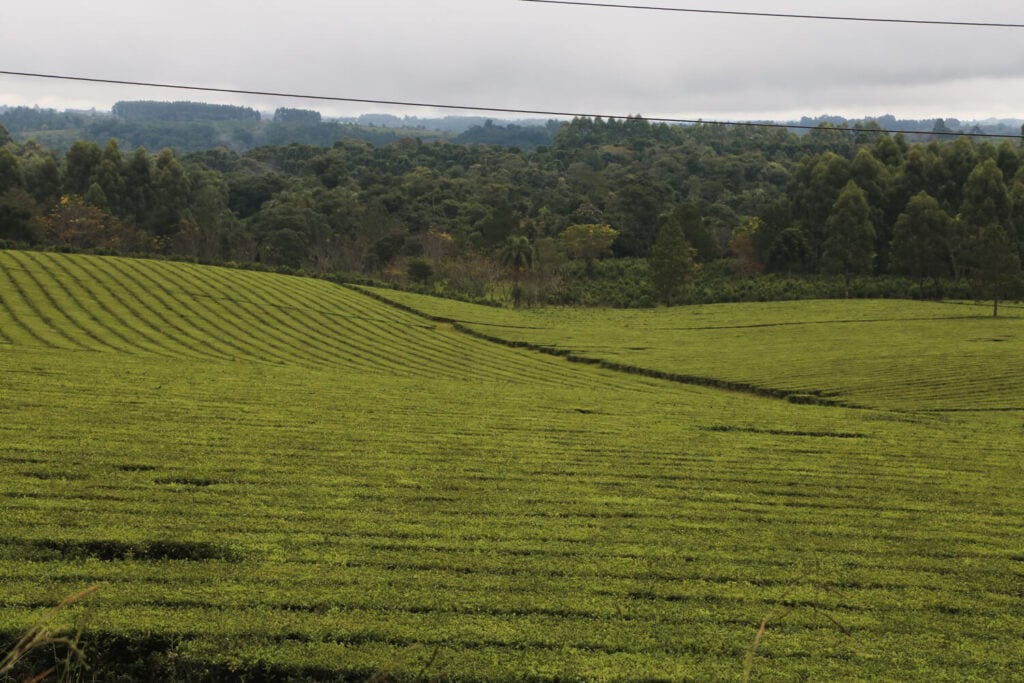 We stopped for lunch in El Soberbio, which is the closest town to Mocona Falls.
El Soberbio is the easiest base for the falls and surrounding attractions.
But since Soberbo is a thirty-minute drive from the park, we decided to treat ourselves to two nights inside the Yabotí Biosphere Reserve, right in the heart of the action (read: jungle).
2 Nights at the Mocona Virgin Lodge
We arrived at the Mocona Virgen Lodge at around 3 pm under torrential rain.
Unfortunately, this wasn't anything an umbrella could cure. We checked in and rushed to our room, where we hid out from the storm all afternoon.
It wasn't until the following day when I could truly appreciate how beautiful this property is.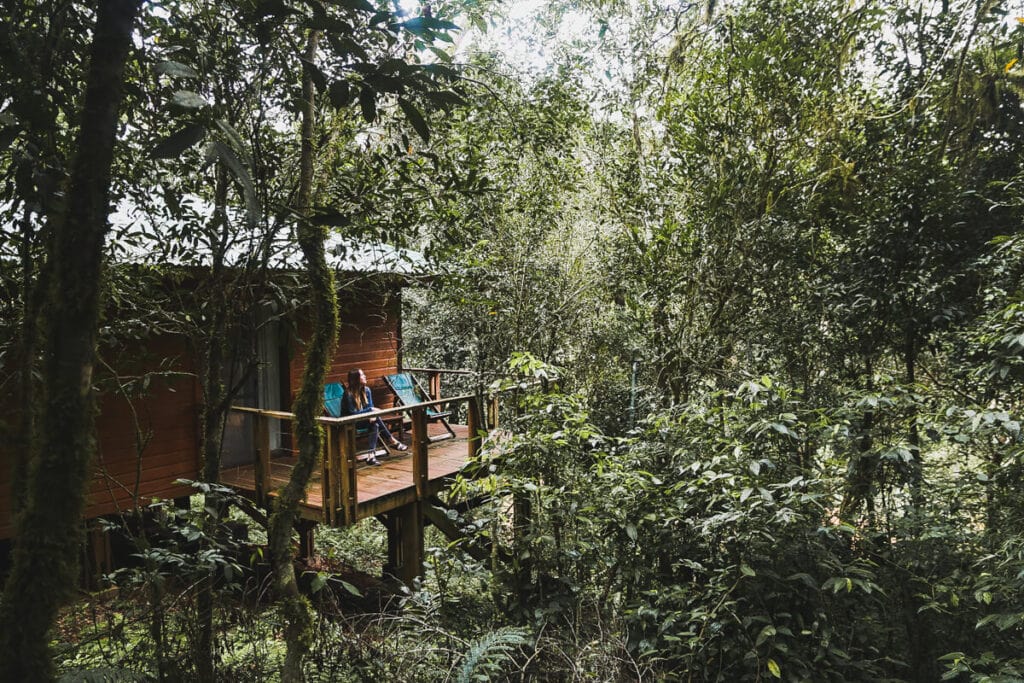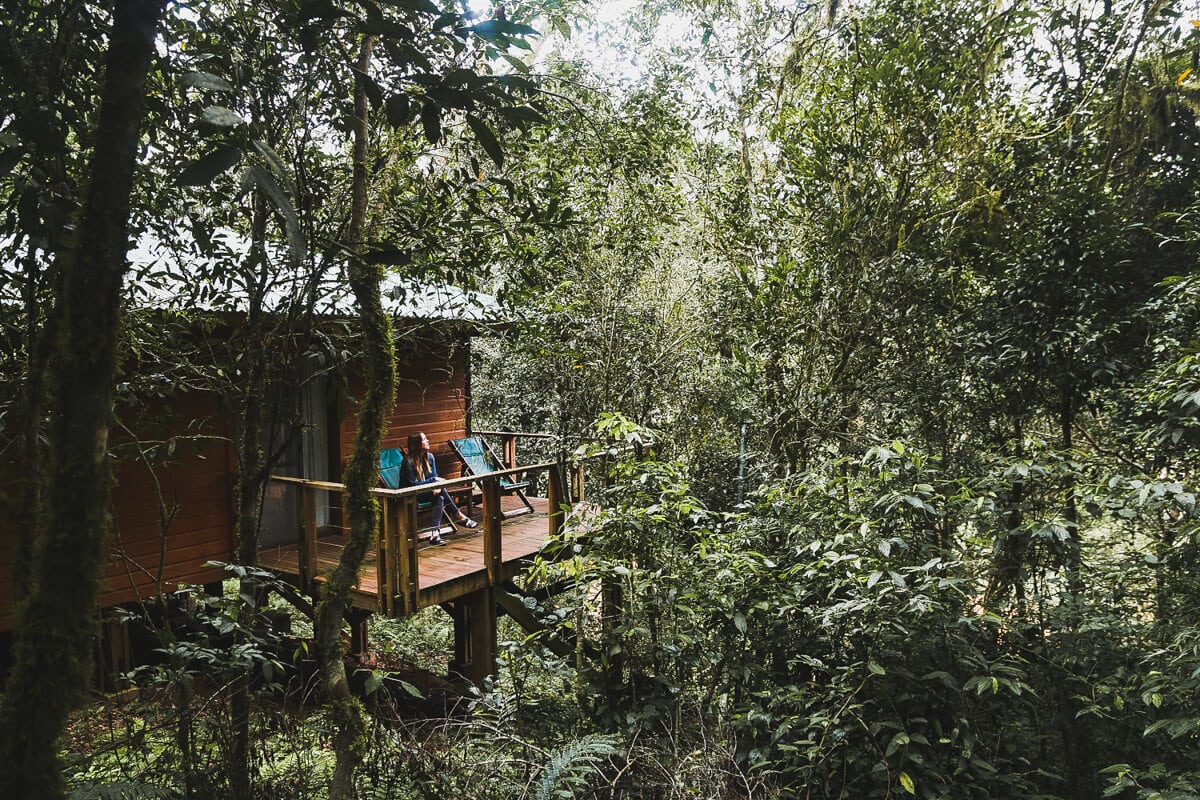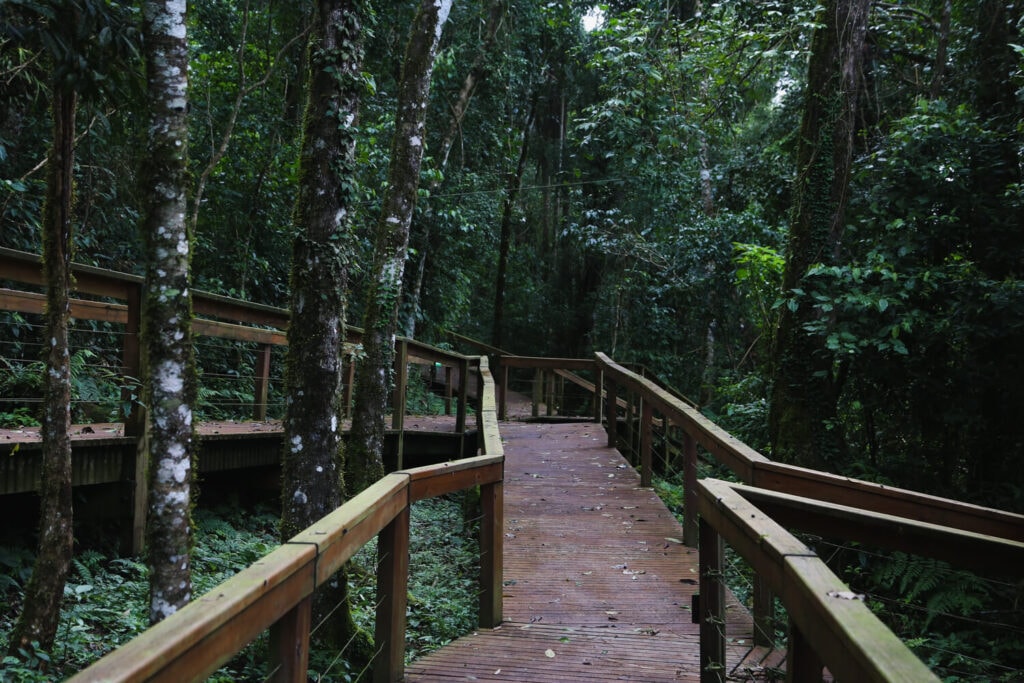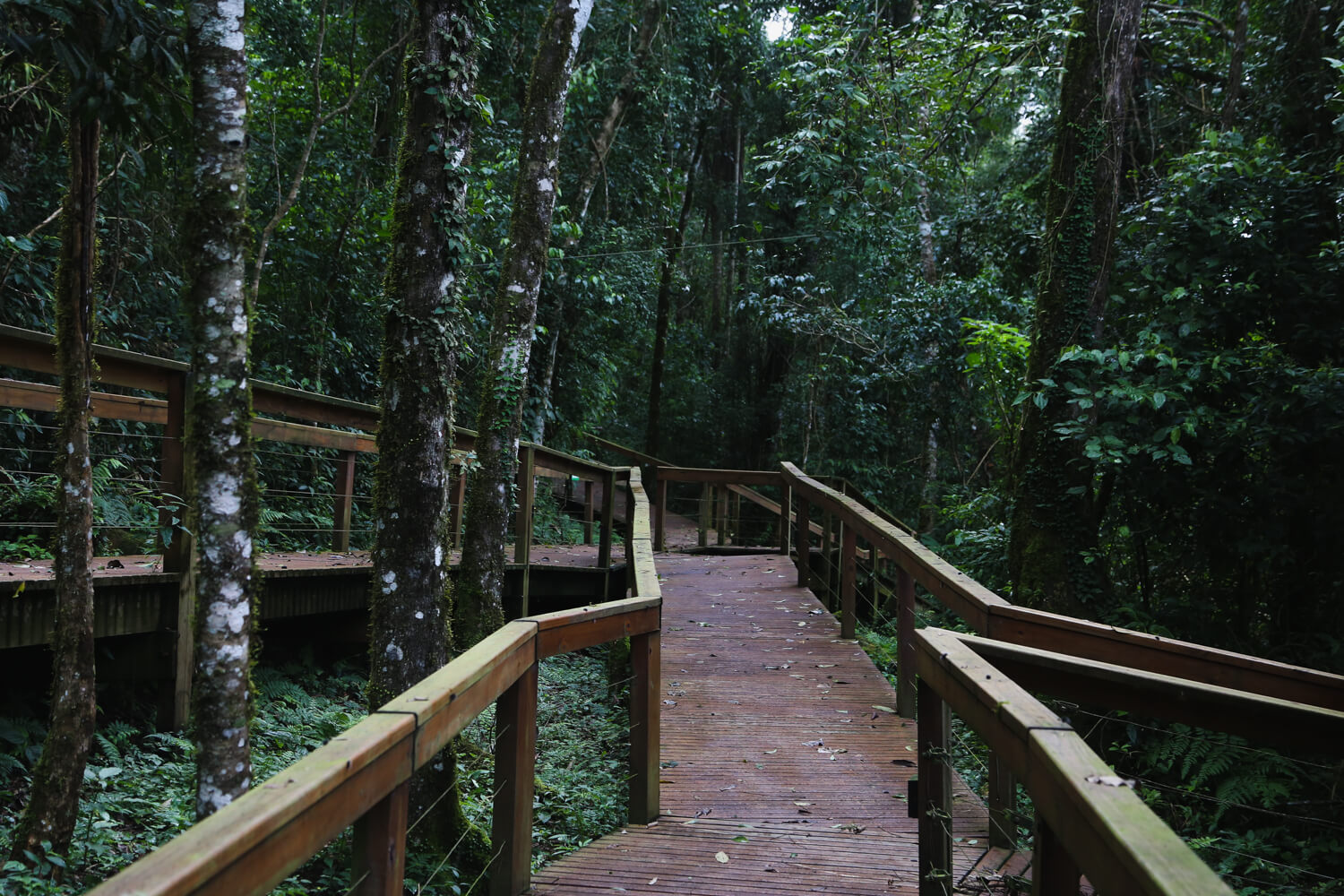 The rooms are tree houses built in the jungle, with private balconies overlooking the water below.
There are wooden pathways the connect the rooms to the pool, main lobby and the restaurant.
It was a unique experience, staying in the heart of the jungle!
The lodge was pricier than our other hotels but I justified it by the fact that the rate includes full board and all activities.
We had all three meals covered, along with activities like kayaking and zip lining, and saved gas money from the 30 minute drive each way each day.
If you want to be pampered in the Selva Misionera, check rates here.
Day 4: Zip Line & The Mocona Falls
We only had one full day here and we had to make it count.
There's enough to do to fill two or three days!
After breakfast, we joined the other guests and some outside visitors for zip lining.
Activities like kayaking and zip lining are available to anyone at a fee (and are included in guests' room rates).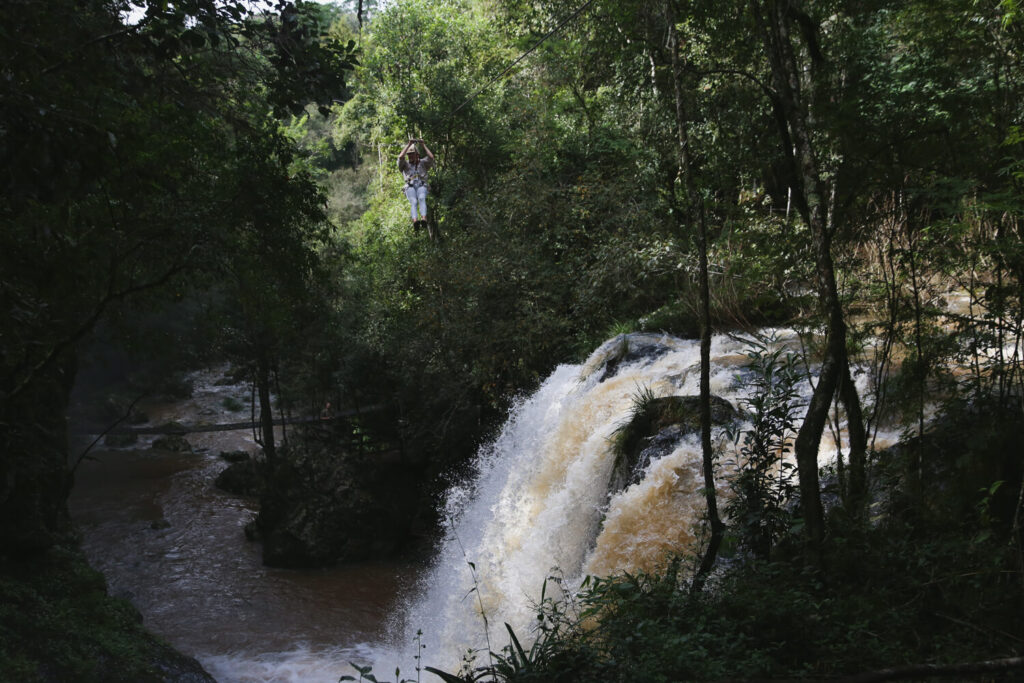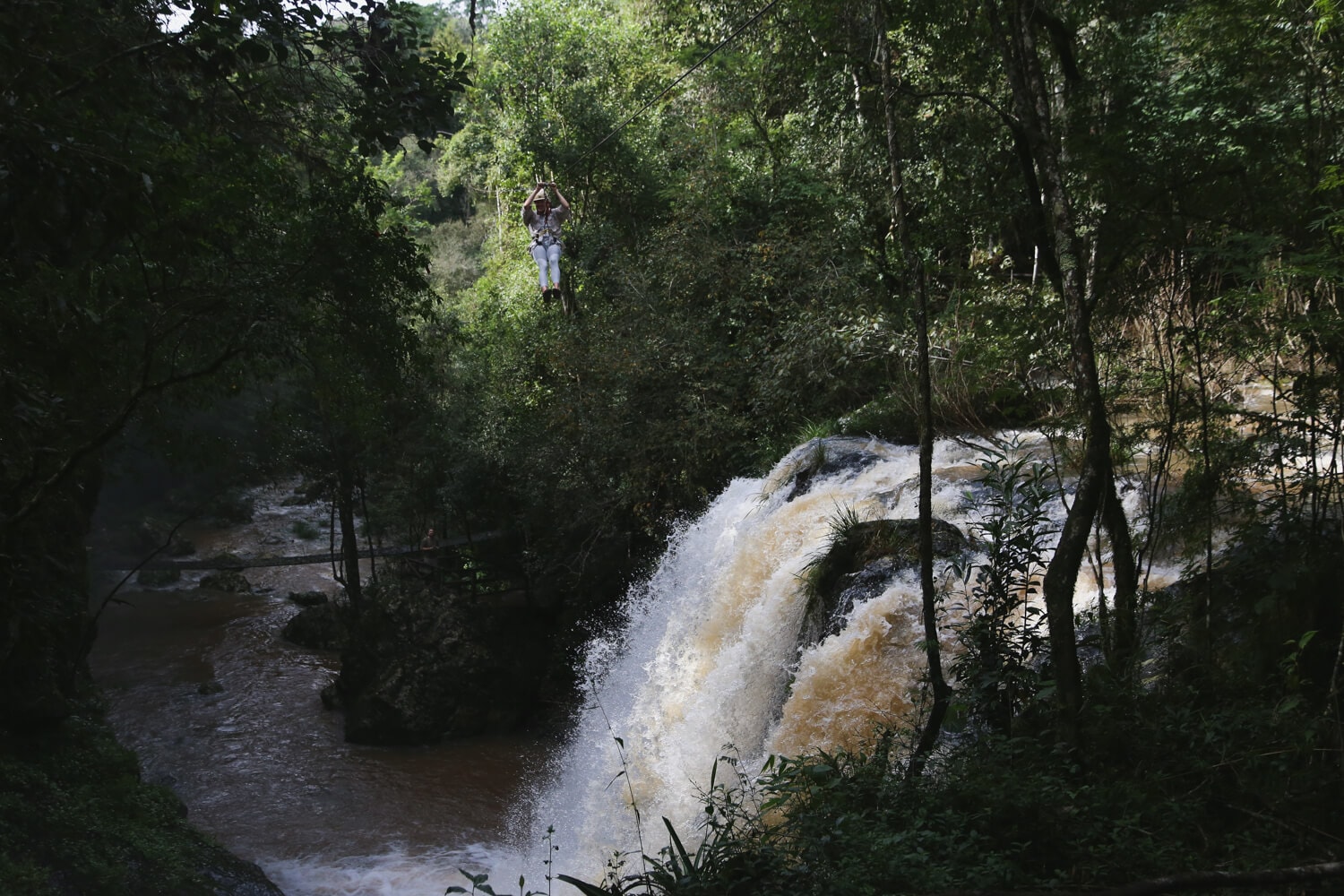 Zip Lining OVer the Jungle
There are two lines to zip down (non-technical verbiage) that are 300 meters long.
I never thought zip lining looked fun, but I was very wrong.
I could have zipped back and forth all day had it been an option!
The view below was so beautiful, especially on the 2nd line that flies over a waterfall.
Salto Horacio
When we were finished, our guides unburdened us of our harnesses and left us where we ended our zip line.
From here, we admired the Salto Horacio waterfall we had just zipped right over.
Out of all the waterfalls we saw this trip, this was my favorite! It was truly impressive.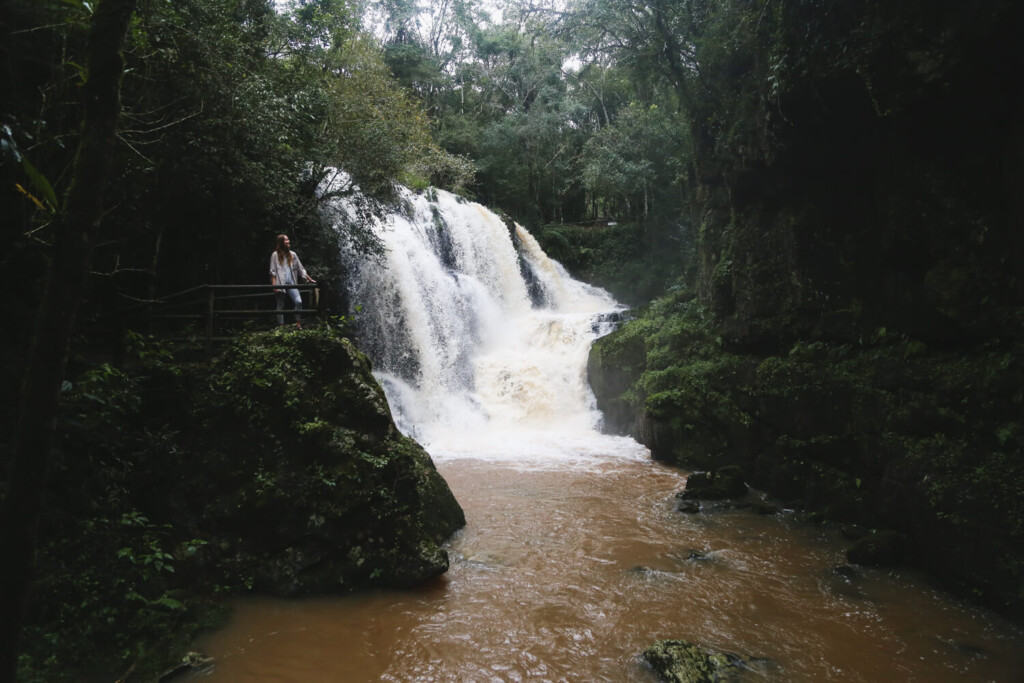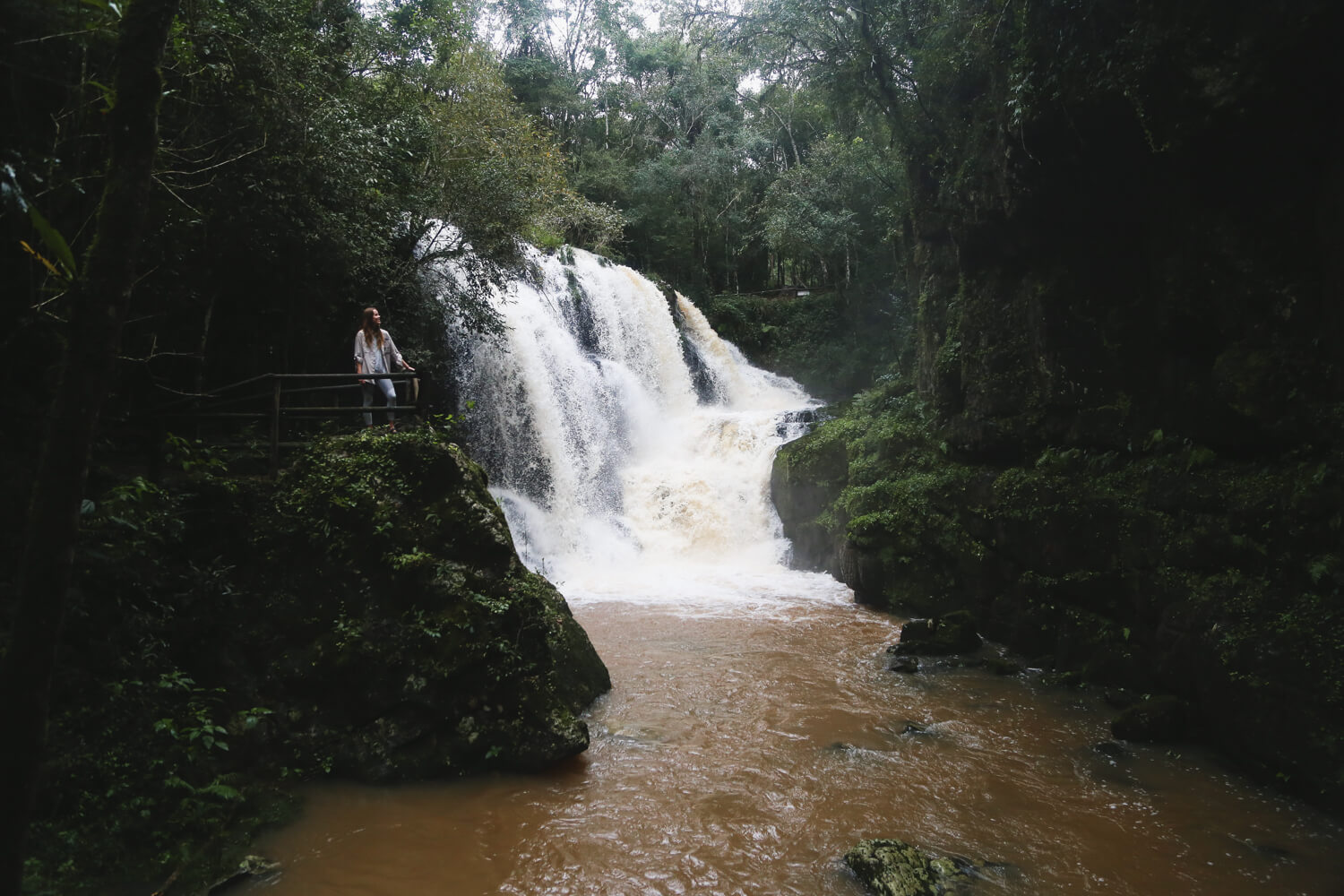 Sendero Oveja Negra Hike
Salto Horacio is also conveniently the trail head for a 2 kilometer trail through the jungle, Sendero Ojeva Negra.
We took our time completing this small hike before returning for lunch.
It was an easy level hike. The only challenge is that humidity and the occasional caterpillar hanging from a branch (pay attention to where you're walking).
We returned to the lodge just in time for lunch and the news that we would be lucky enough to see the Mocona Falls that afternoon!
Our Saltos Mocona paseo Nautico
We were lucky to have the first excursion in over four days, and none would be happening for a few days after our departure. We go VERY lucky to see the falls.
The entire excursion lasts between an hour to an hour and a half.
You won't get wet except for a bit of mist. I enjoyed the view during the boat ride there as much as the falls themselves.
Read Next: A Complete Guide on Visiting Los Saltos de Mocona
Day 5: Yerba Mate
For our final full day we had our longest drive.
We needed to get ourselves back to Posadas all the way from Mocona. Luckily, the views continued to not disappoint.
We drove along the Uruguay River for the bulk of our morning before turning inland towards the city of Obera.
We only had time for lunch in here, however, if you have time you should visit the Federación de Colectividades.
This region received a lot of immigration in the 20th century and this museum highlights Misiones' diversity.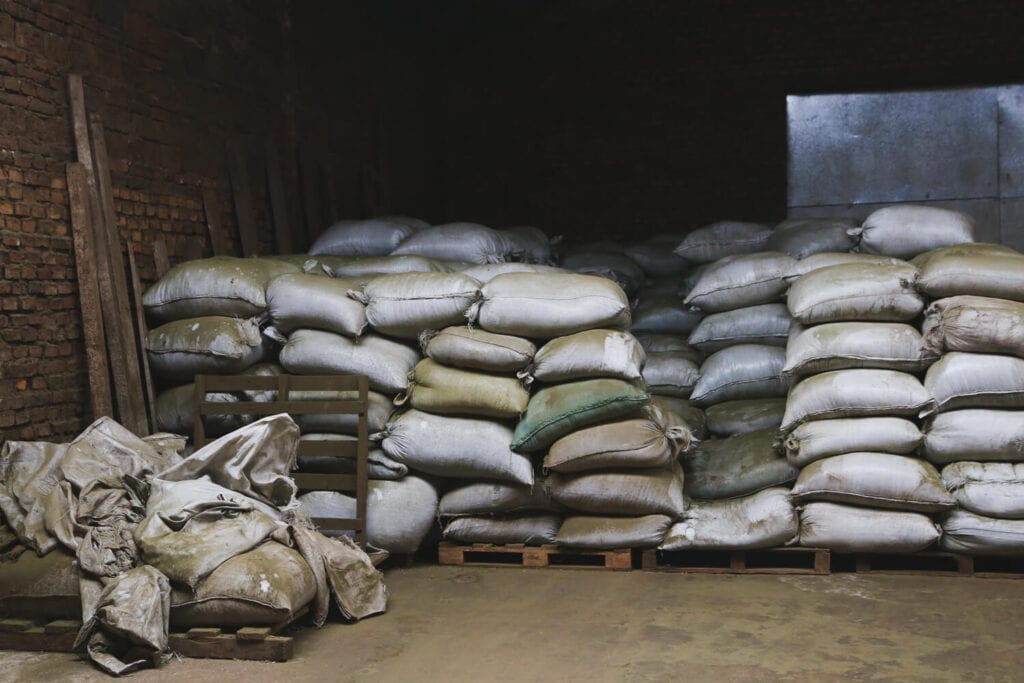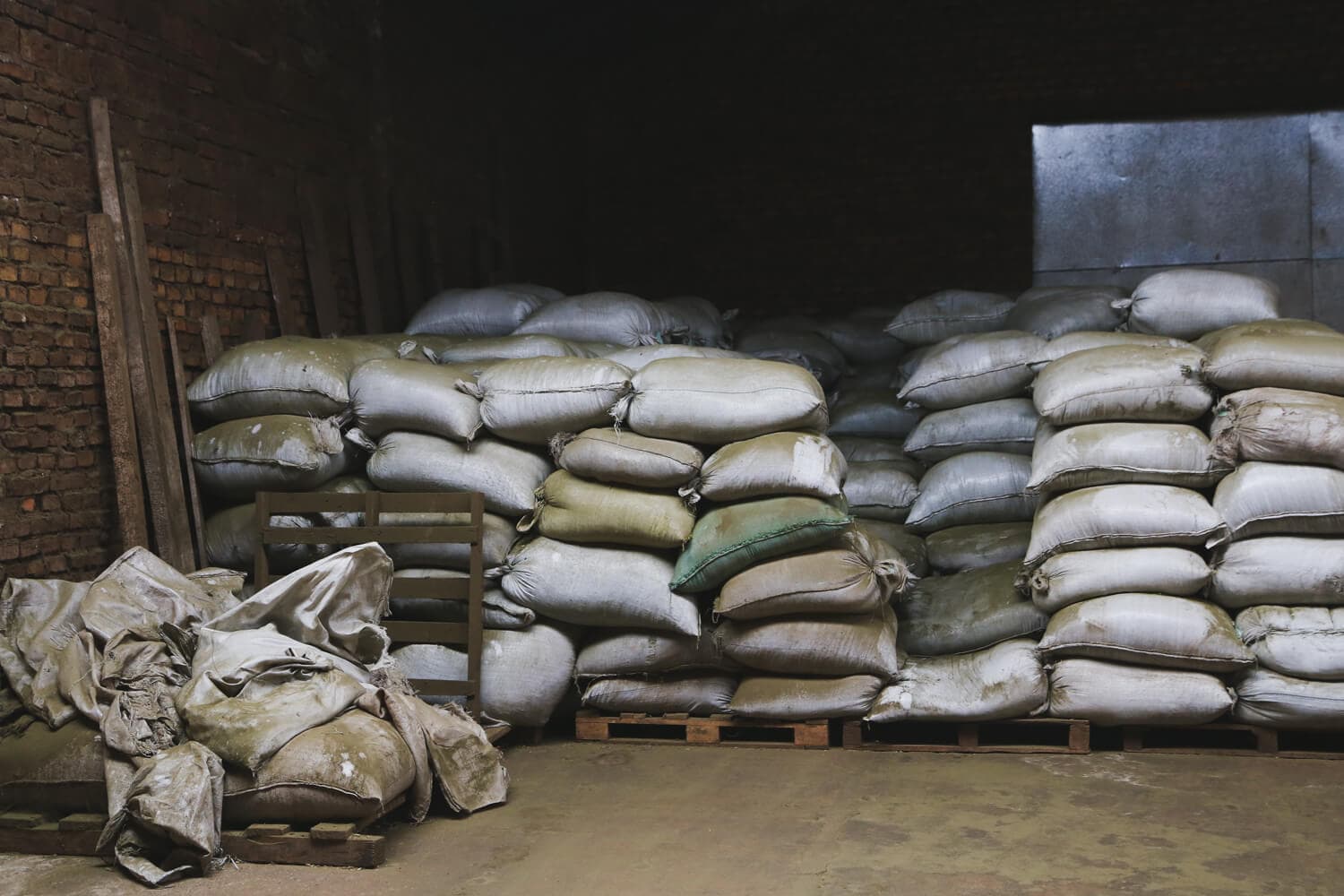 Kraus Organic & Fair Trade Yerba Mate
Misiones and neighboring province Corrientes are the only place in the world that grow Yerba Mate.
So, obviously, I had to visit a plantation and factory here! When I found Kraus, I knew they were the one (out of many, many options) I wanted to visit.
They produce organic mate and it's a family run endeavor.
We were received by the owners and shown around the property before closing out the experience the only appropriate way: by drinking mate!
After nearly ten years in Argentina, this was the first mate I was able to enjoy without sugar.
They dry their leaves with gas versus by smoke, which results in a much smoother tea.
I'm grateful for the two bags they gave us as a parting gift because I'm now a convert to yerba mate! If you're not in Argentina, you're in luck, because their mate is available on Amazon!
Our Final Night & The End OF OUr Misiones Road Trip
It was only an hour drive to the airport, and the beautiful hotel property was worth the earlier wake up.
Al Kamar was so gorgeous that me and my husband are both tempted to return to spend a few nights there.
There are small cabins, a large pool, and a great quincho (patio with a grill) to take advantage of!
If you're looking for a place to use as a base to explore the missions, I recommend spending a few nights at Al Kamar.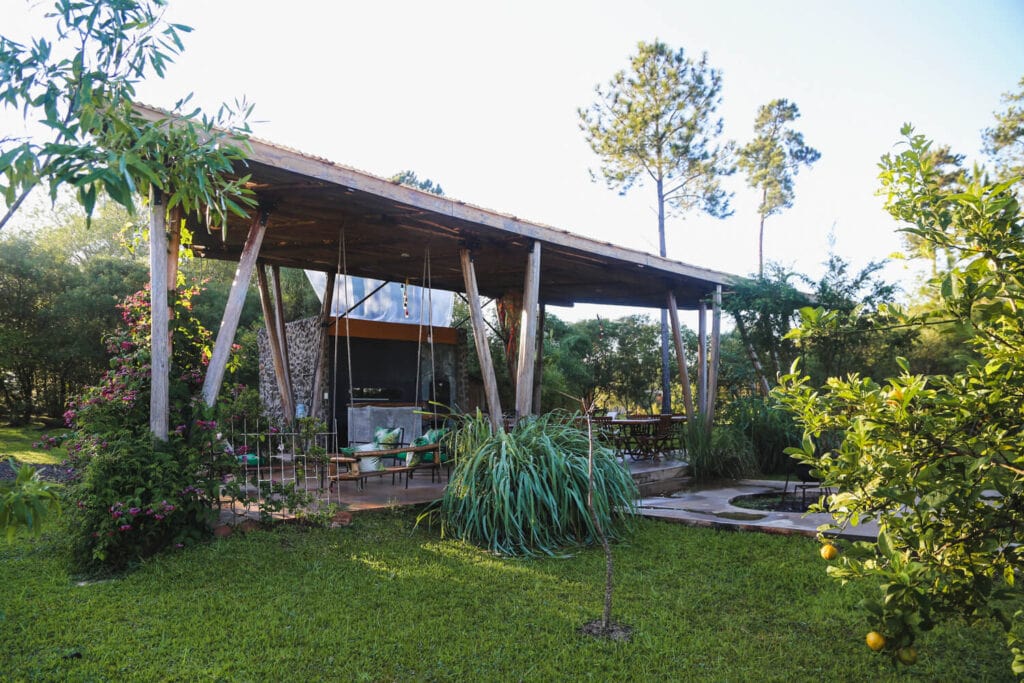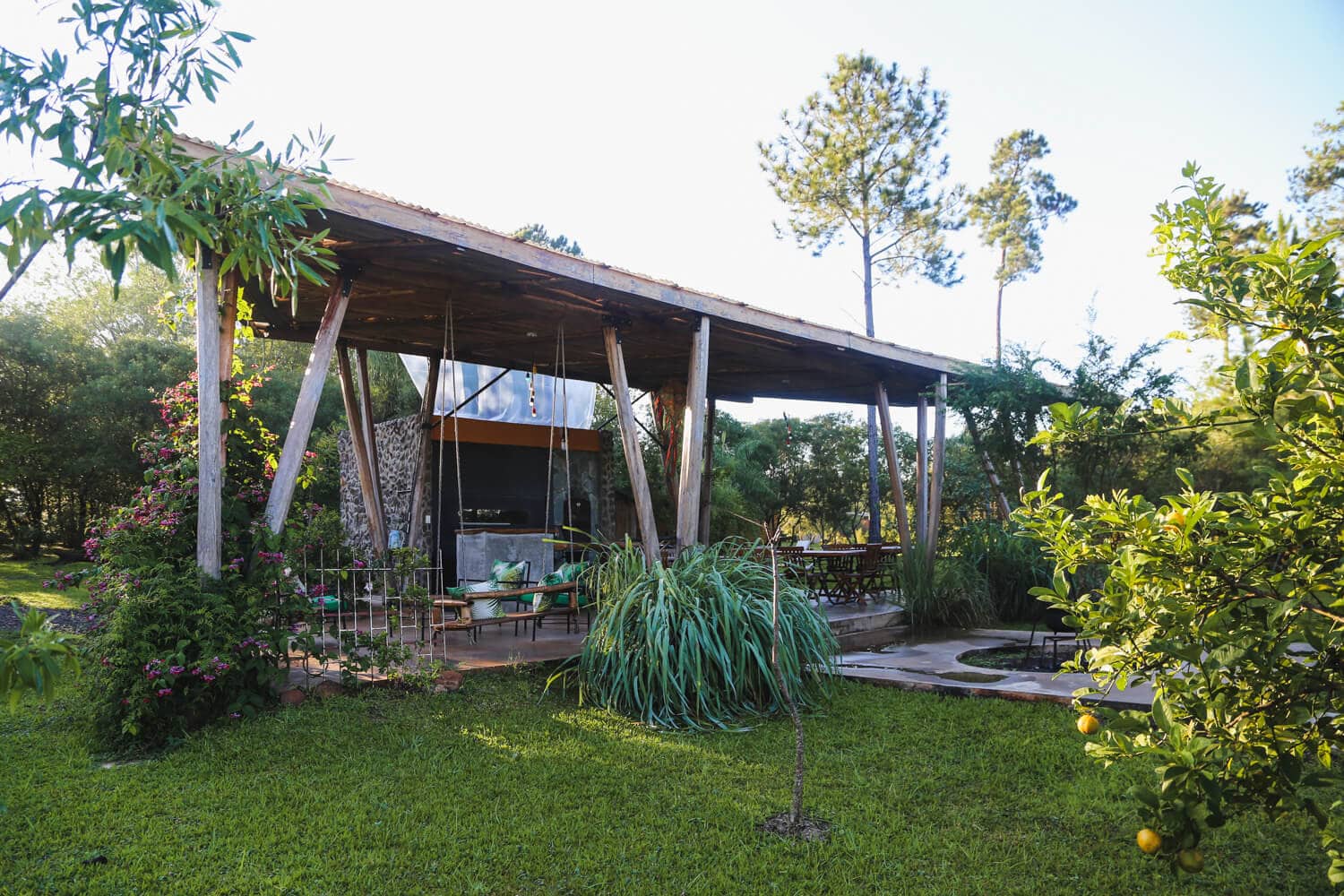 Explore Misiones!
There are mountain people and there are beach people, but I'm a desert person.
I like dry climates and cacti, so I hadn't expected to love Misiones and its humid, green jungle as much as I did. It's a beautiful province that is vastly underappreciated.
If you want to go off the beaten track in Argentina, this is the place to do it.
So what are you waiting for?
If you have any questions about Misiones, let me know in the comments below!
Keep Reading About The Northeast
Argentina Travel Resources
Pin It For Later