Everyone remembers the Alamo, but Texas' fight for independence wouldn't have been possible without Sam Houston and a group of stubborn, brave men in a freezing cold, tiny wooden shack outside of present-day Brenham.
This post is all about visiting historic Washington-on-the-Brazos and other historic sites near Brenham, Texas.
Let's get moving along the Independence Trail…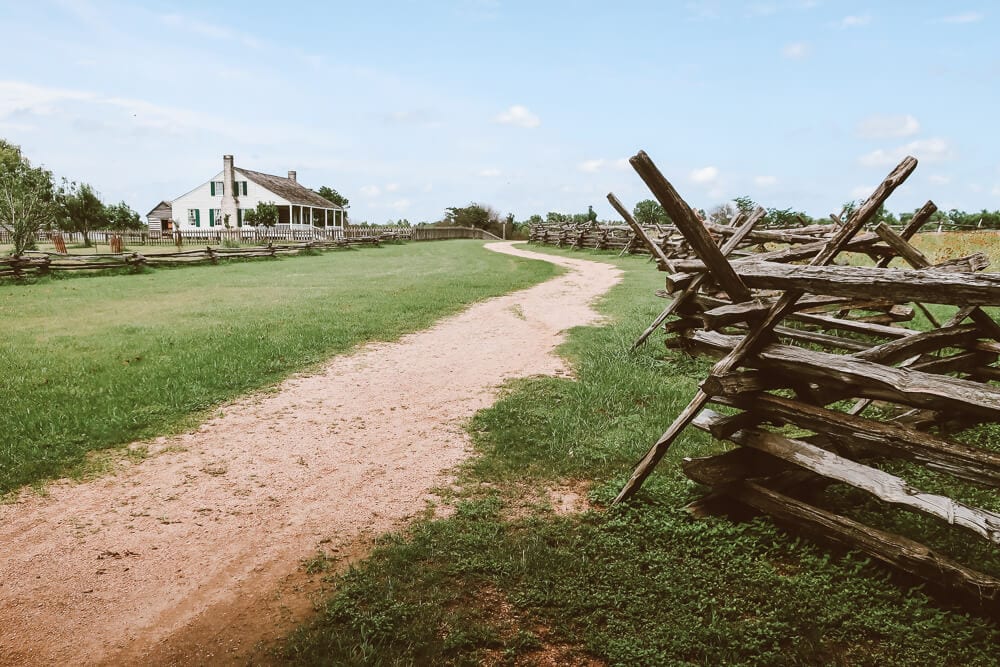 QUICK NOTE: This post contains affiliate links and Sol Salute may receive a commission for purchases made through these links, at no extra cost to you.
The Independence Trail: 5 Historic Sites near Brenham, Texas
Washington County is known as the Birthplace of Texas.
On March 2, 1836, 59 brave men declared Texas a "free, sovereign and independent republic."
When in Brenham, there are a number of historic sites to visit to travel back in time and discover Texas' exciting history.
Here are the best places to visit in and around Brenham.
Washington-on-the-Brazos
The first (and most obvious) destination for history lovers in Brenham is Washington-on-the-Brazos.
This is where you can be in the room where it happened (well, a recreation).
In the 1800s Washington-on-the-Brazos was a budding town with a prime location on the Brazos River where steamboats could bring in merchandise. This is where they decided to hold the convention to draft Texas' new constitution during the war for independence from Mexico.
Today the site houses Independence Hall (a recreation of the building where the constitutional convention was held), the Star of Republic Museum, and the Barrington Plantation.
Purchase your ticket at the visitor center, it includes entrance to all three sites.
There are guided tours every hour and I highly recommend it! I just went on a tour recently and despite having studied Texas history in school I still learned so much on the tour.
There is a playground, picnic tables, and trails that lead down to the river so you can make a whole day of your visit here.
I always pack a picnic to enjoy and now that I have my own son, I love bringing him here to see history and have a picnic where I would play all the time as a child growing up in Brenham.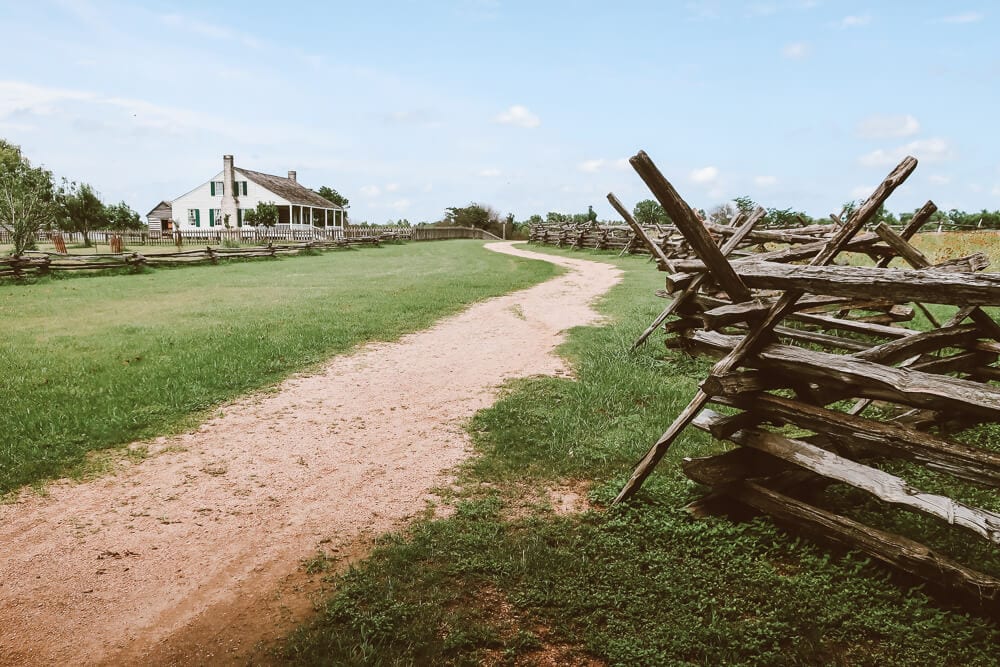 Barrington Plantation
The Barrington Plantation is a living history farm. It forms part of the Washington-on-the-Brazos historic site outside Brenham.
You can see the original home of Dr. Anson Jones, the final president of the Republic of Texas.
The guides here dress in 1800s appropriate costumes and work the farm and livestock using the tools and methods of the time.
See them paint the fence, harvest corn, and tend to the resident longhorns, chickens, and turkeys.
Kids will love seeing the animals and talking to the interpreters who love to talk about their fictional daily life!
Note: As part of Washington-on-the-Brazos, your entrance fee covers the Barrington Plantation. You can purchase your ticket at either site's visitor center depending on which you visit first. They're on the same site but you do need to drive a short distance between them.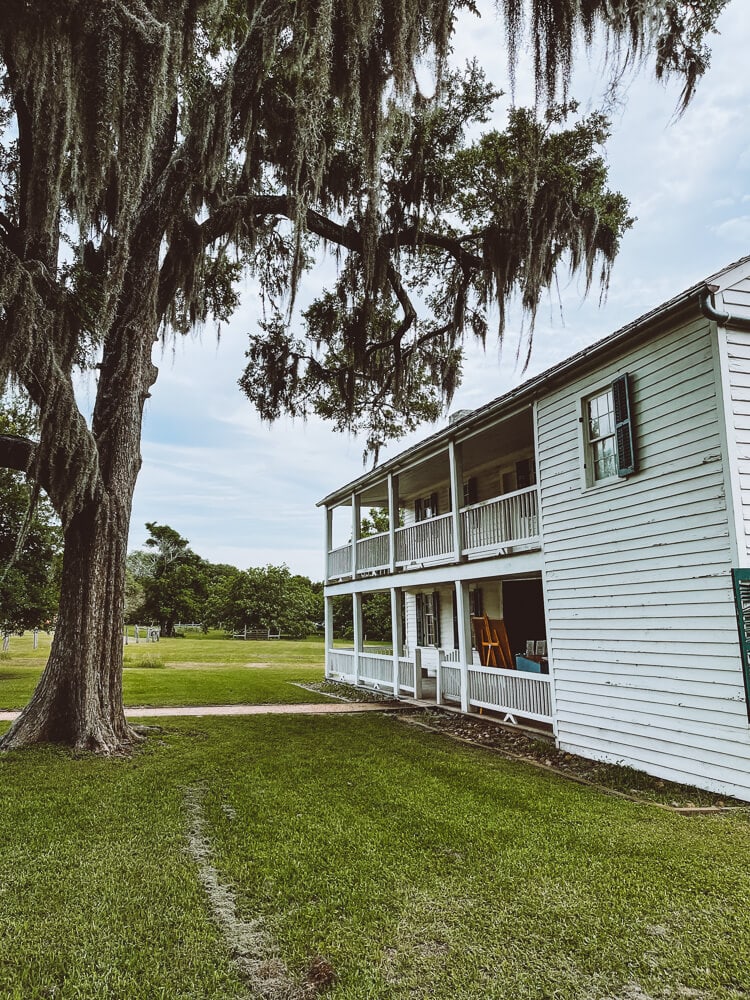 The Fanthorp Inn, Anderson
Imagine traveling across Texas in the 1800s, suffocating in the stifling fashion of the time in the humid heat while the wooden wheels bang over the rocks as you travel for miles on the hard bench of a stagecoach.
In small-town Anderson, you don't have to imagine it.
Visit the restored Fanthorp Inn, see a restored stagecoach, and experience an incredibly preserved piece of Texas history.
The Fanthorp Inn is part of the Washington-on-the-Brazos Historic Site but is about 20 minutes away in Anderson. Entrance is free but tips are welcome (and encouraged, our guide was SO entertaining and informative).
In 1834, industrious English immigrant Henry Fanthorp turned his tiny two-room dogtrot cabin into an inn for weary travelers.
Over time he expanded, became the postmaster, and hosted renowned guests like Sam Houston.
There are picnic tables on-site if you'd like to bring a picnic to enjoy under the shade of the oak trees and their Spanish moss.
Don't leave town without visiting Anderson's tiny one-block downtown just four blocks from the inn.
Anderson's courthouse is one of the most beautiful and unique that I've ever seen. Just steps from the courthouse is an antique shop that you could easily lose yourself in for hours.
Washington-on-the-Brazos & Fanthorp Inn Itinerary
We spent the morning in Anderson and the afternoon at Washington-on-the-Brazos & the Barrington Plantation. It's very easy to visit it all in one jam-packed Texas history day. Pack a picnic to eat at either site or stop in the middle in Navasota for lunch on the road.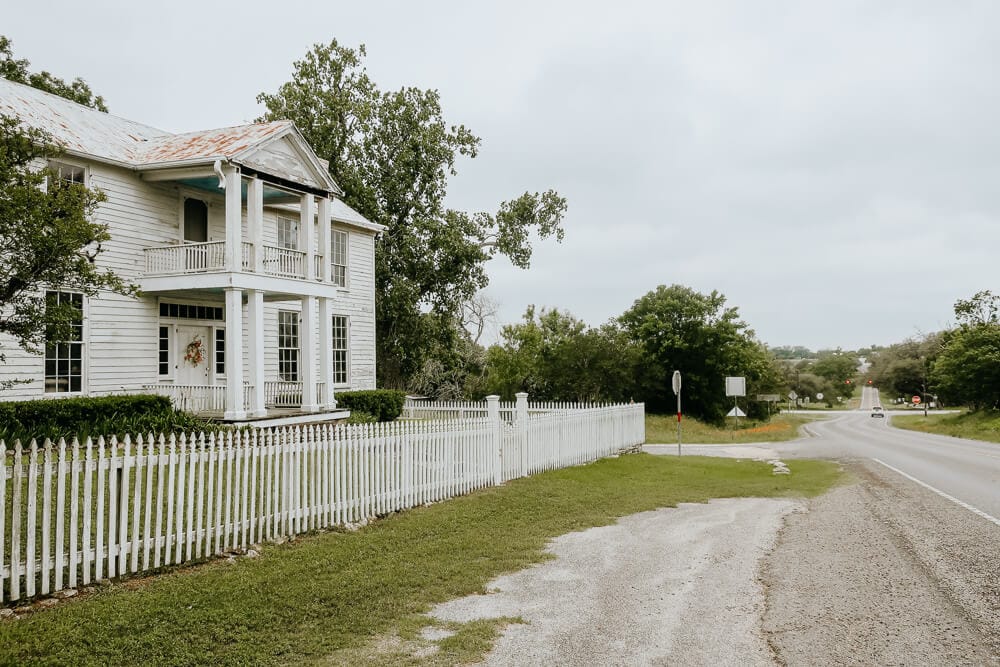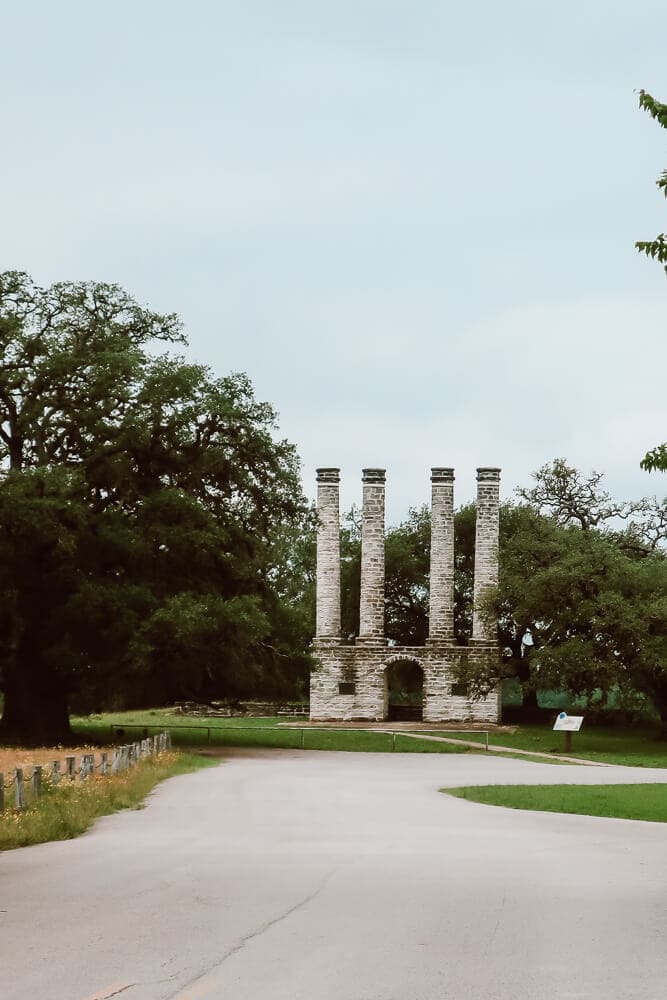 Independence, Texas
In tiny Independence, just a 15-minute drive from Brenham, you can immerse yourself in Texas history.
It was founded in 1835 by mostly German settlers, Baylor University got its start here, and it played a major role in the fight for Texas Independence.
Sam Houston relocated his family here thanks to the promising educational opportunities for his daughter.
This was the site of Baylor University and offered educational opportunities for women (something uncommon at the time).
After his death, Sam Houston's widow returned to Independence, eventually dying of yellow fever. You can see her home while walking the self-guided circuit in town (but it isn't open to the public).
Then visit Old Baylor Park to see the ruins of the old university. Not much remains aside from the arches to one of the building's entrances but they stand imposing among the oak trees on the rolling hills.
There are swing sets and picnic tables here as well as restored homes and pioneer buildings from the 1800s. This site is also a stunning field for wildflowers and bluebonnets every spring!
There are a only few guided visits to the two historic log cabins and school building on select March and April weekends each year. Contact the Independence Visitor Center for information.
Even if you can't tour them, it's still worthwhile to see them. Being a stone's throw from Old Baylor Park we walked over and had a look around.
San Felipe de Austin State Historic Site
San Felipe de Austin is 45 minutes from Brenham. It's a bit further than other sites on this list but is still easily done in one day, you can even stop in Bellville on the way to make a full day of it.
Here are all my favorite things to do in Bellville.
It's also close to Houston and a great day trip from Houston.
This unique historic site preserves Stephen F. Austin's original settlement in 1823.
Whereas the other sites on this list highlight life during and after the fight for independence, San Felipe de Austin offers a look into what life was like for settlers in Mexican Texas before 1836.
San Felipe de Austin was the first provisional capital of the Republic but unfortunately, it did not survive the war for independence. Settlers burned it as they fled to keep it out of the hands of the approaching Mexican army.
Keep Reading about Texas: