Tiny Bellville, between Houston and Austin, offers quite the quirky day trip from either city.
Spend the morning catapulting rocks into the moat of a castle, then forge your very own knife before ending the day in jail.
Top it all off with a burger or baked potato the size of your head!
This post is all about the best things to do in tiny but mighty Bellville.
QUICK NOTE: This post contains affiliate links and Sol Salute may receive a commission for purchases made through these links, at no extra cost to you.
Things to do in Bellville
Here are the top five things to do in Bellville.
1. Newman's Castle (& Bakery)
Newman's Bakery is a Bellville staple, dishing up fresh kolaches and country breakfasts for over three decades.
Mike Newman, the town's baker, built his very own castle in the Texas countryside just a ten-minute drive from his bakery.
The bakery is open 7 days a week and the castle is open for tours 6 days a week. Call the bakery to reserve your tour ahead of time (required).
On the day of your tour, you'll pop by the bakery by 10:30 a.m. to get directions for the castle (and if you're me, a jalapeno cheddar sausage kolache or two).
Tours are fairly unstructured and extremely quirky. It includes lunch from, you guessed it, the bakery, and lasts 1.5-2 hours.
We showed up as Mr. Newman was knighting some fellow tour-goers with wooden swords. We had a brief welcome before catapulting stones into his moat as his Irish hound bounded after them into the water.
We were basically given free rein over the castle for the remainder of our tour.
We explored the chapel, dining hall, and bell tower (with impressive views as far as the eye can see).
It's a must-do experience if you're in the area!
I grew up just twenty miles down the road and didn't realize this was here until recently. It's fun for the kids and those of us big kids.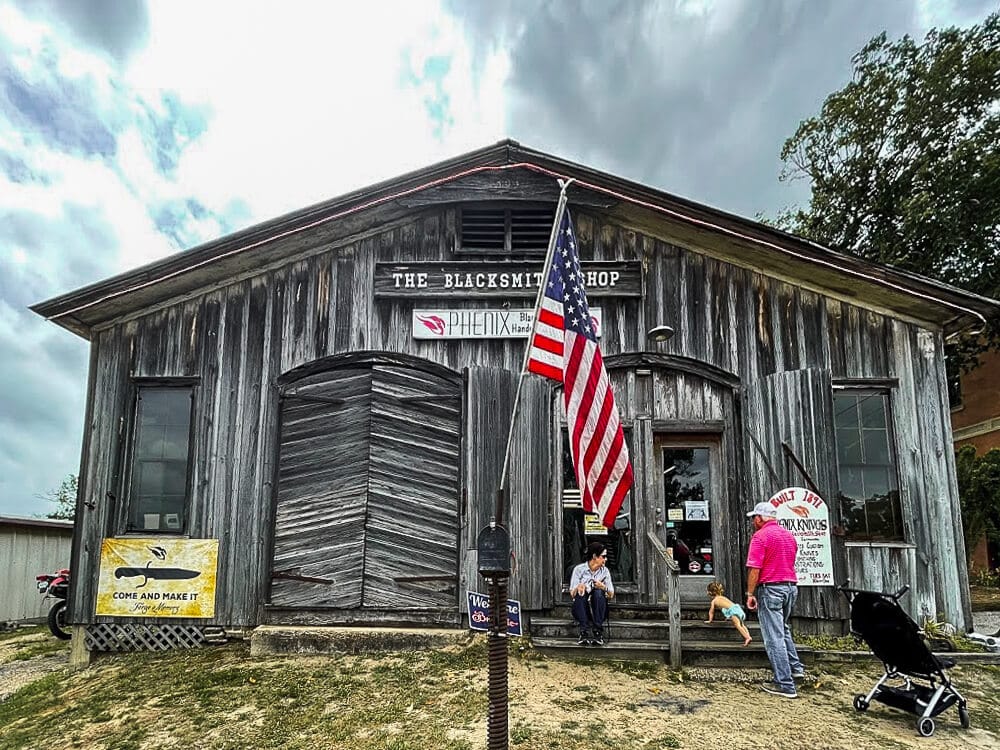 2. Forge Your Sword at Phenix Knives
"Cowboy" Szymanski's claim to fame was appearing on the History Channel's surprisingly addicting show, Forged in Fire.
His blades are made to last for generations and he forges them in a 3,000-degree fire in a building that has been a blacksmith's shop for over a hundred years.
I enjoyed talking to Cowboy when we wandered into his shop. After chatting a while he excused himself to forge a knife with a 10-year-old visitor (who had been at the castle with us earlier that morning. A castle and a blacksmith really do form the perfect itinerary).
You can purchase one of their knives (or have one made to your specifications). If you want to Forge Your Own, for just $30-50 you can beat your own knife out of a horseshoe.
They also have classes and tomahawk throwing in the shop.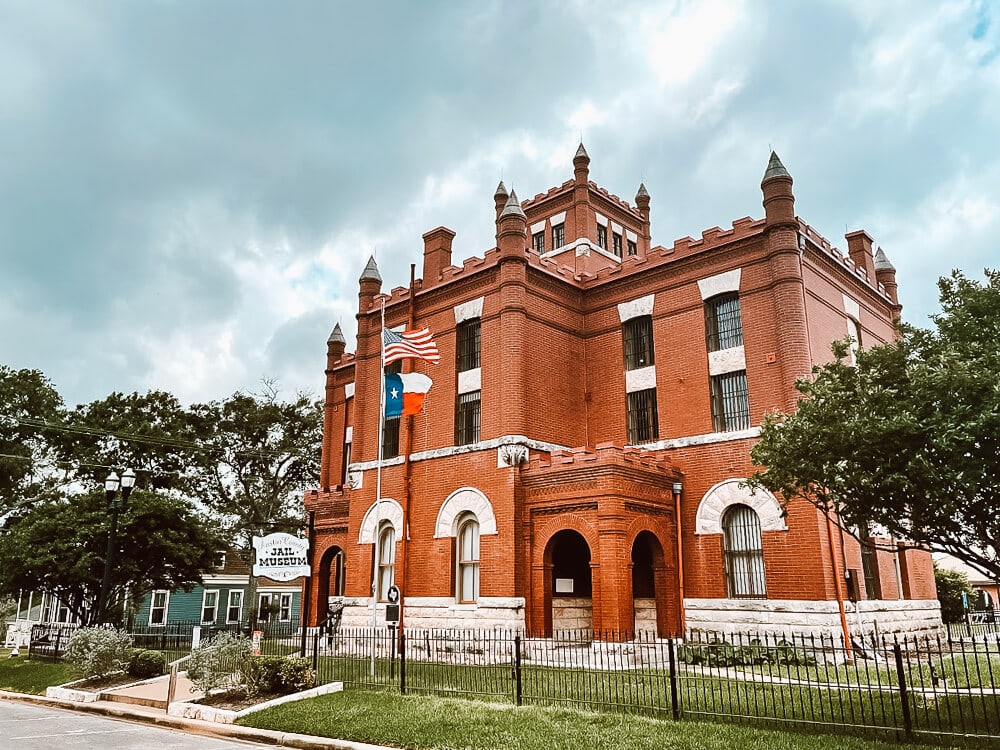 3. Austin County Jail Museum
Bellville chose the coolest of all locations for their history museum, the county jail.
The jail was built in 1986 and operated for nearly a hundred years. Learn Bellville's history (founded by two brothers who formed part of the Old 300! ) and get a fun shot of yourself behind the bars.
Their opening hours are very limited, only on Saturdays from 11 a.m. to 3 p.m.
I recommend calling to reserve your tour ahead of time, click here for more information. If you can't visit on Saturday, they may be able to schedule a tour on another day.
We went during the week and didn't realize we'd need to reserve the Jail Tour ahead of time, all the more reason to return! (Well, that and Mr. Newman's kolaches).
4. The Meat Market
When in Texas, eat BBQ or grill up your own.
Swing by the Bellville Meat Market, just across the traffic light from Newman's Bakery, to pick up one of their specialties like jerky, sausage links, or tamales.
If you'd rather not do the cooking you can pick up a prepared meal, like enormous baked potatoes made to your liking.
5. Shop Downtown
When in any small Texas town I recommend shopping. You never know what sort of treasure you'll find.
I read that in the late 1880's there were six saloons alone on Bellville's downtown square.
Unfortunately, they're long gone but the antique shops and boutiques that took their place are equally entertaining (even if in a completely different way!).
My favorite shop was Nothing Ordinary Antiques on 123 E Main Street.
It's the sort of antique shop I live for, with sellers operating independent booths you're guaranteed to find unique knick-knacks of all sorts.
I picked up a fun children's book from the 1960s and nearly grabbed a quilt and some hankies.
I could have spent the entire afternoon wandering in here had their AC not been on the fritz on a hot summer day (my wallet thanks the broken AC).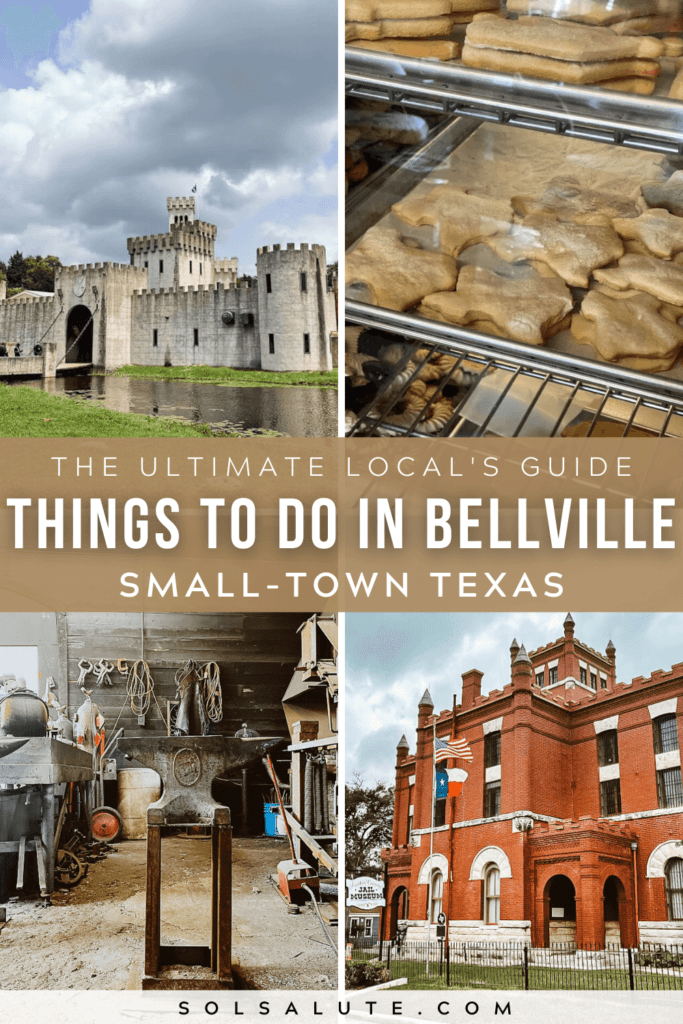 A Day in Bellville, Texas
With these great things to do in Bellville, it's easy to fill a day's itinerary.
I recommend starting with breakfast at the bakery before touring the castle, then head over to Phenix Knives and explore downtown.
You can grab dinner to go at The Bellville Meat Market to end the day!