The markets in Mexico City are bustling with life.
Food stalls flip blue corn tortillas, loading them with cactus and fresh cheese.
Locals hurry down the aisles, stocking up on the week's groceries.
The sights, sounds, and smells are a one-of-a-kind assault on the senses.
To go on a Mexico City market tour is to experience this authentic facet of Mexican daily life.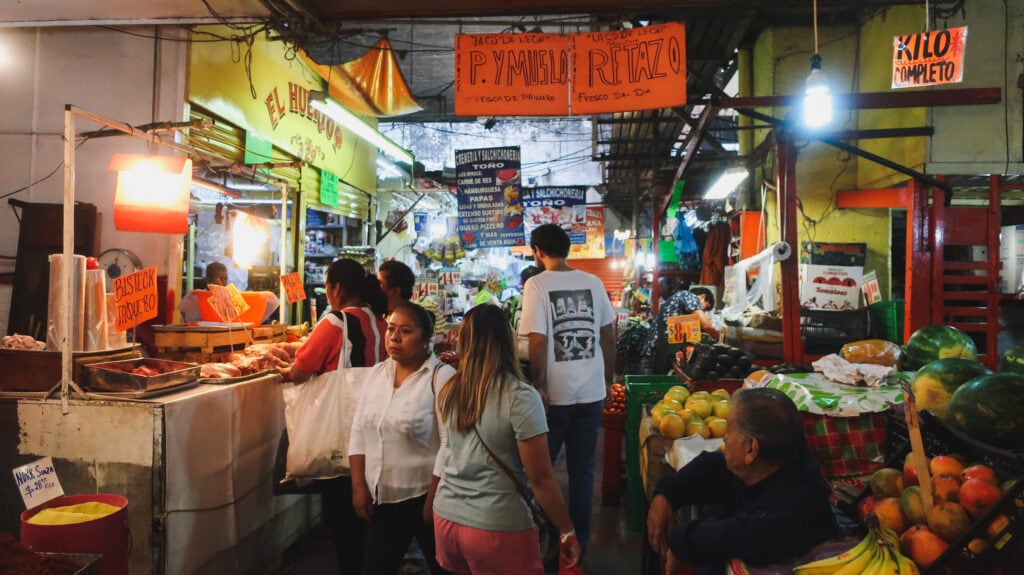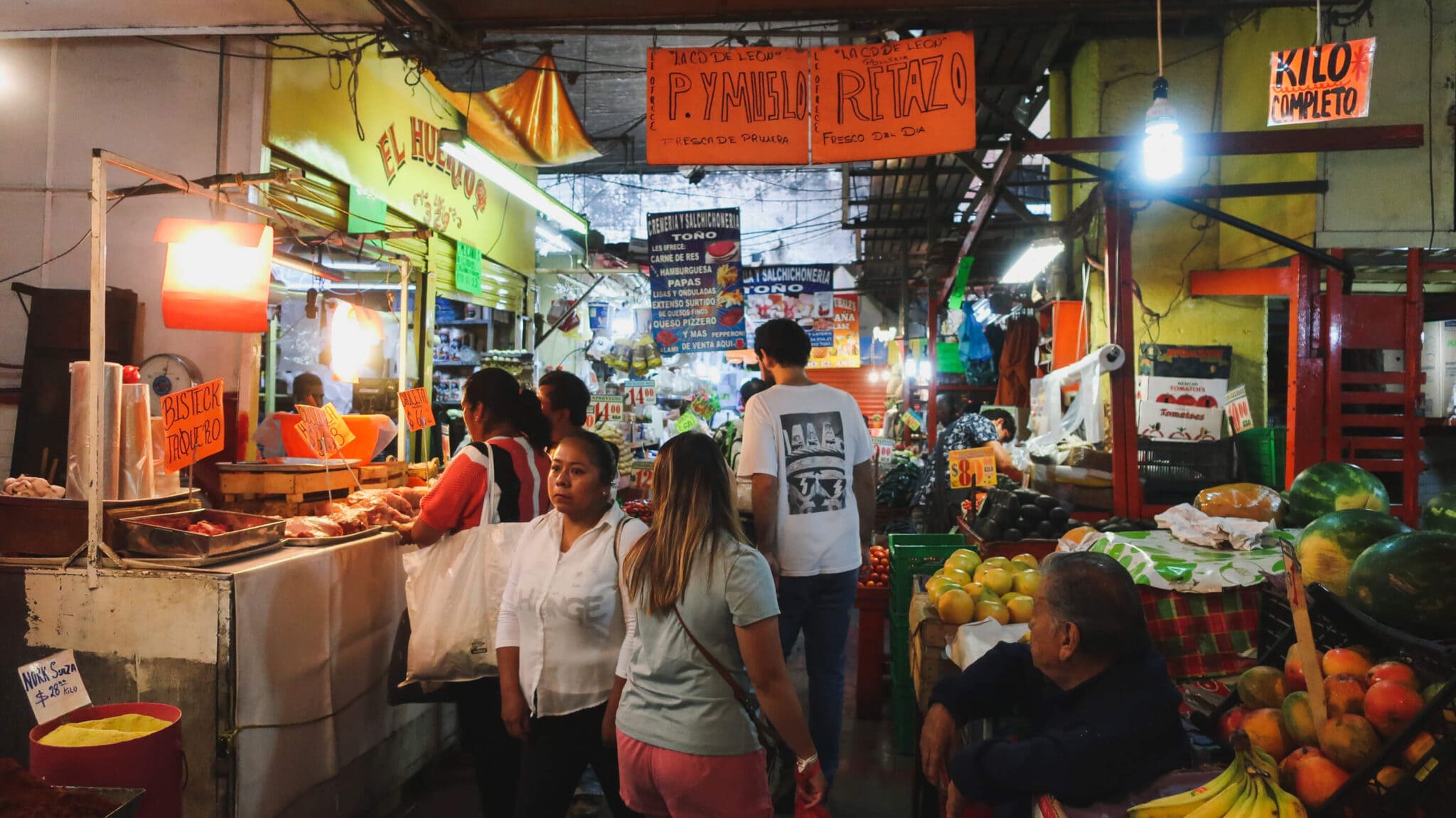 QUICK NOTE: This post contains affiliate links and Sol Salute may receive a commission for purchases made through these links, at no extra cost to you.
The Best Mexico City Market Tour of La Merced
I knew I wanted to go on a Mexico City market tour when my friend and I spent a long weekend in the city.
The Mercado de la Merced looked intriguing, but even with my fluent Spanish I was far too intimidated to go in alone.
There are times when hiring a local guide can change everything, and exploring the markets of Mexico City is one of those times.
Our tour took us through all parts of the market, introducing us to foods and stands we never would have experienced on our own.
It was a food tour, market tour, and cultural experience all wrapped up in one.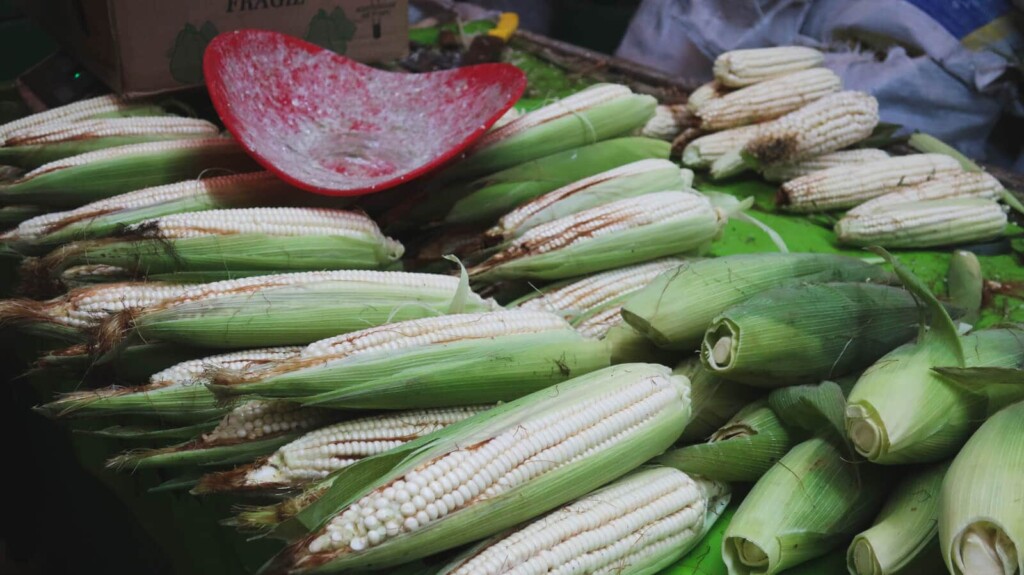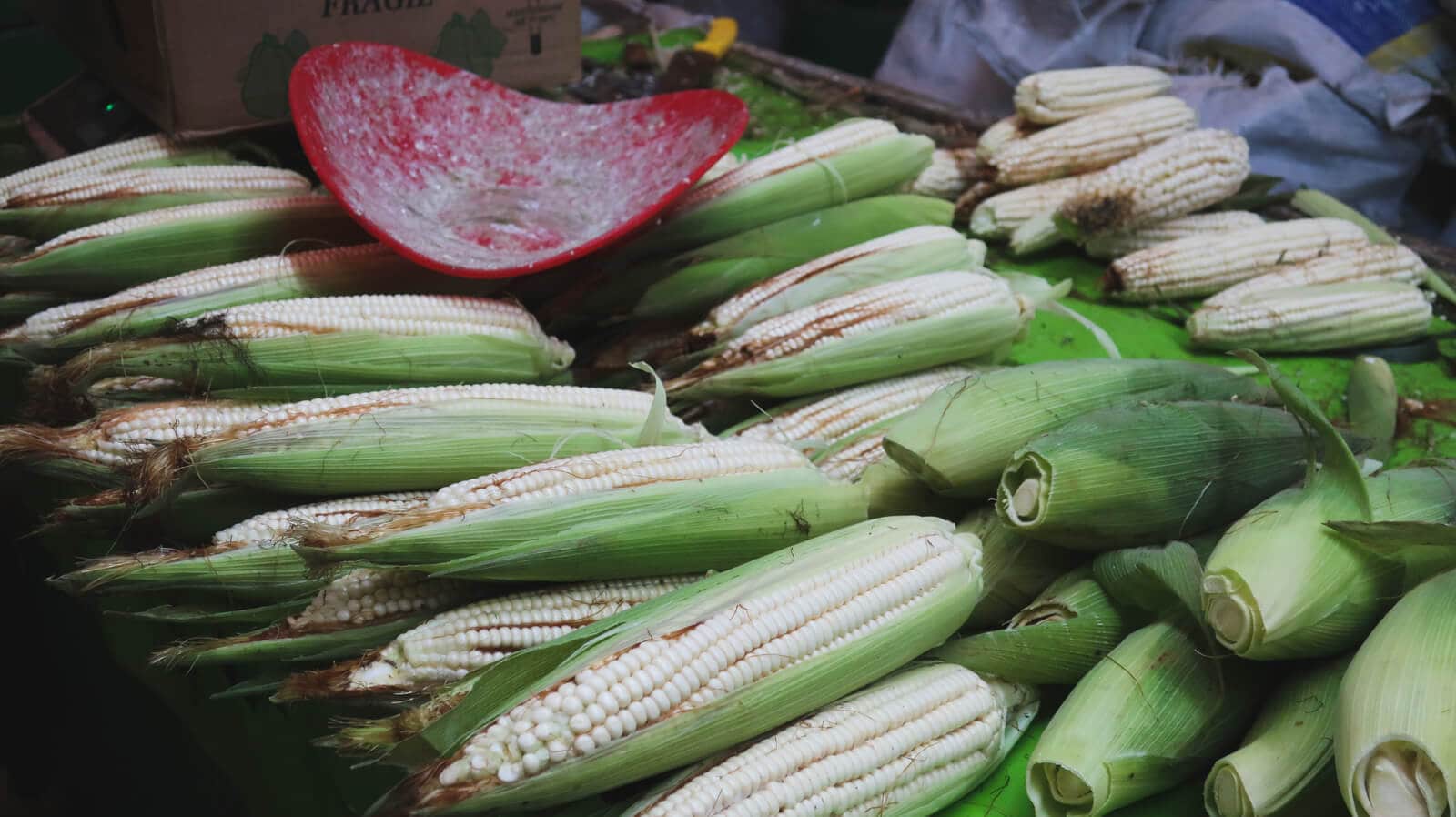 Why Bondabu Tours of Mexico City?
There are plenty of tour companies to choose from for market tours in Mexico City.
But when I found Bondabu I knew I wanted to explore the city with them.
This is how they describe themselves on their site:
"We are explorers off the City's beaten paths; fascinated with our culture's expressions and committed to sharing its magic."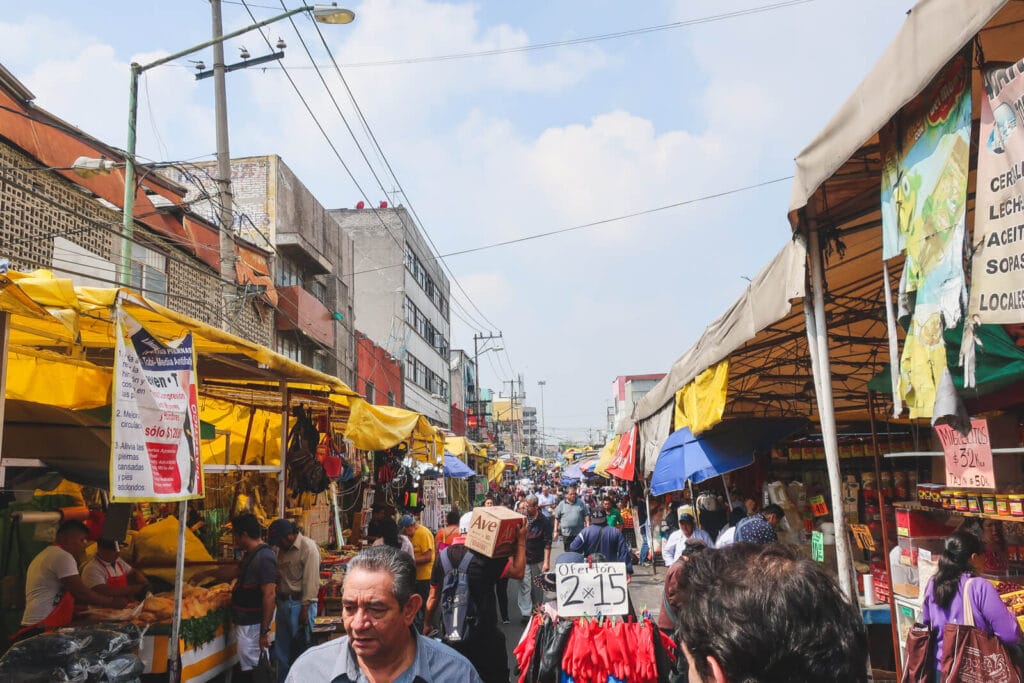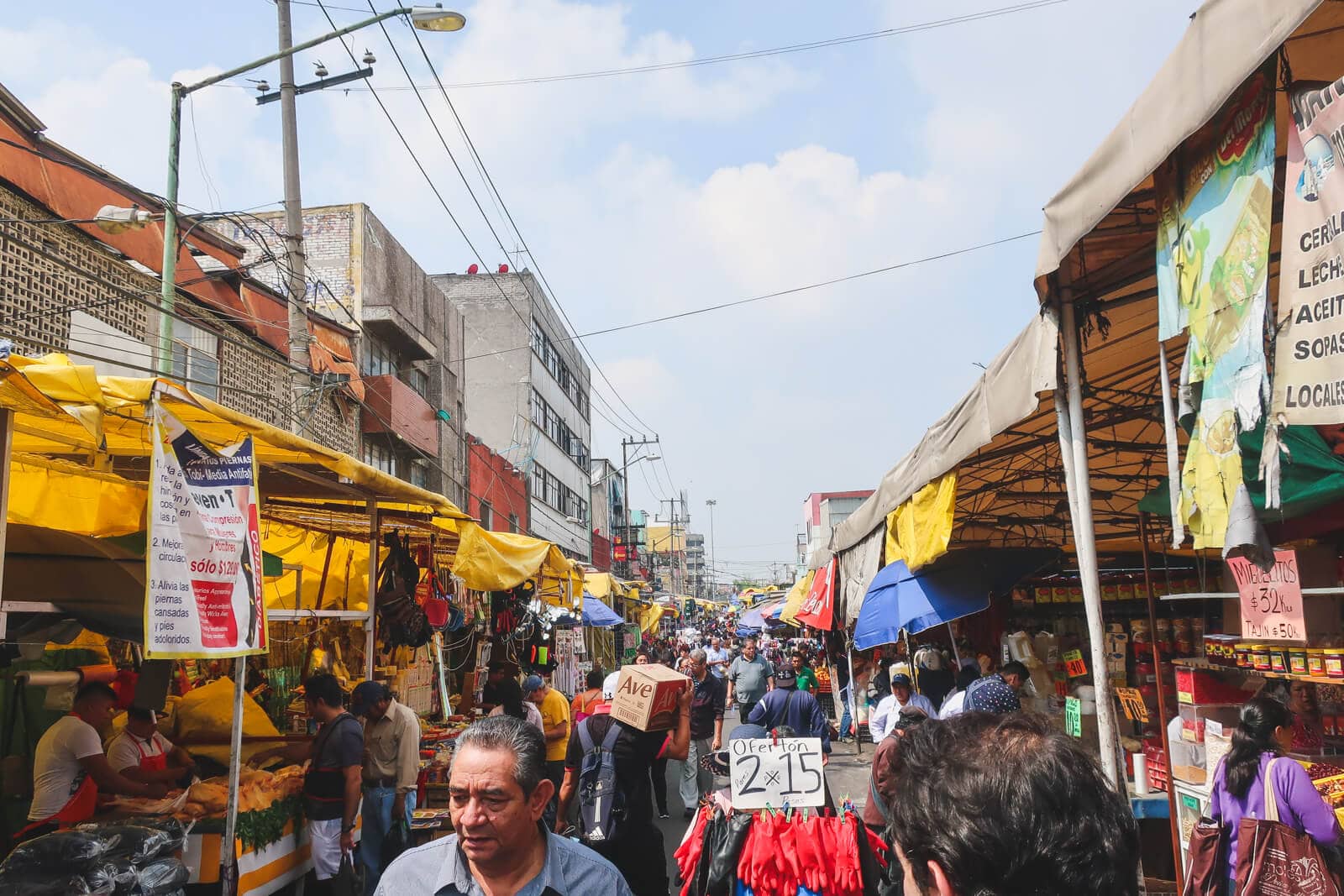 Our Market tour in Mexico City
My friend and I met our guide Mario near a subway station downtown.
The tour started with a quick introduction to the Mexico City metro system, which can come in handy if you're visiting from the US (where public transportation is basically non-existent).
It was only a few stops to the market, which is houses its own subway station.
Walking up the stairs, we emerged directly into La Merced's hustle and bustle.
We stuck close to Mario as we wove in an out of the thin passageways dividing the countless stands and vendors.
The plan was to get to the far end and work our way back the way we came.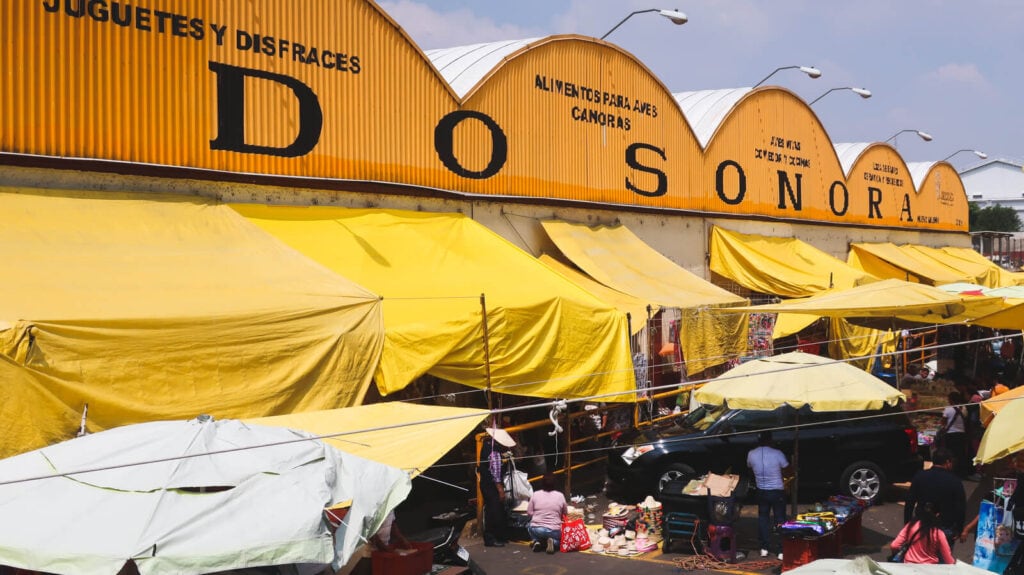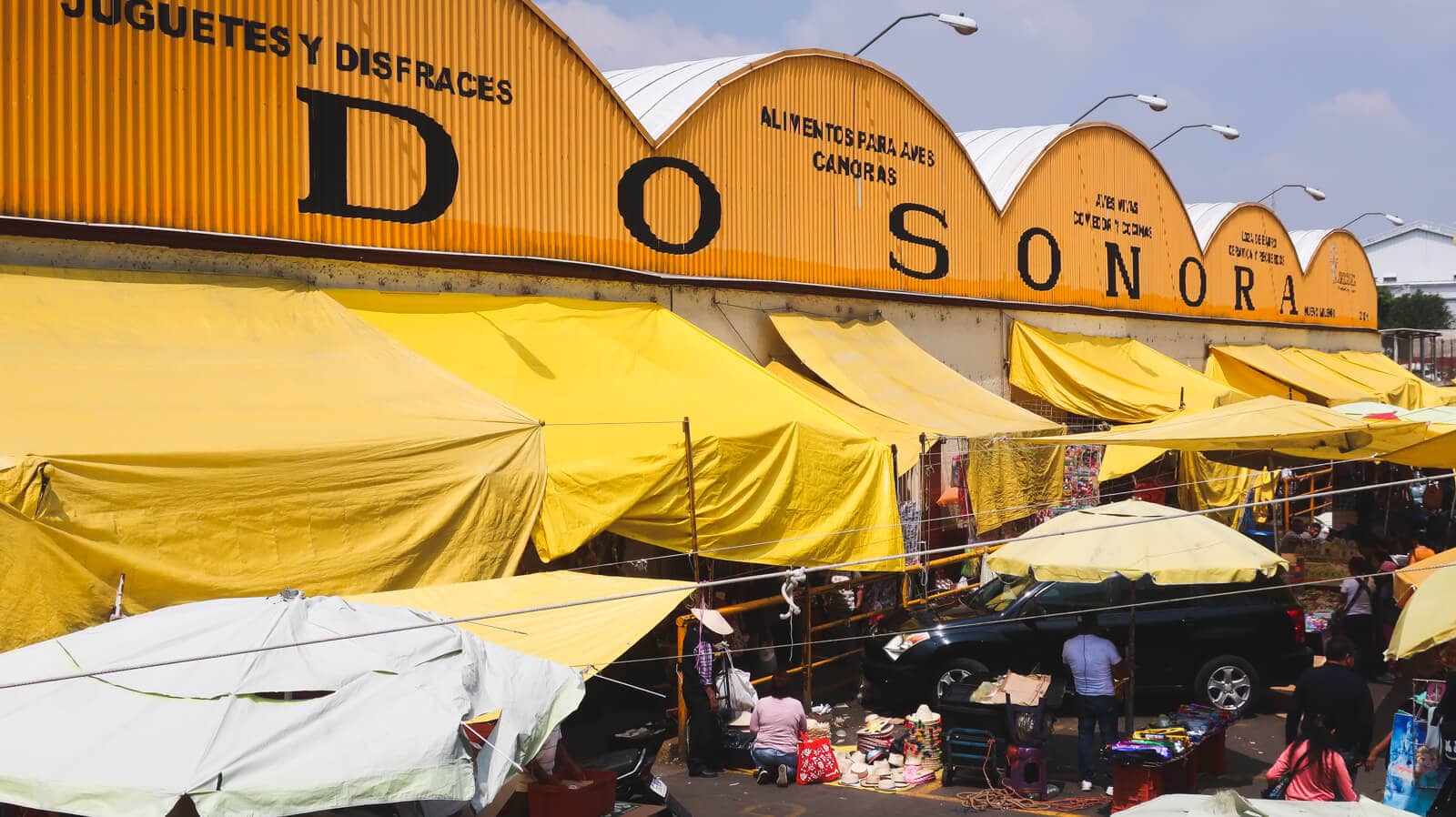 Mercado Sonora
Despite this being a tour of the Merced Market, we actually explored a number of different markets in the eastern portion of Mexico City's downtown.
After weaving our way through La Merced, we actually begun our tour across the street in the Sonora Market.
In Sonora we saw a number of stands dedicated to medicinal herbs, magic, and Santería (which while different, reminded me a lot of Argentina's folk saint San la Muerte!).
Having later gotten sick in Mexico, maybe I should have picked up some Jacaranda flowers to cure my future stomach problems (hindsight is 20/20).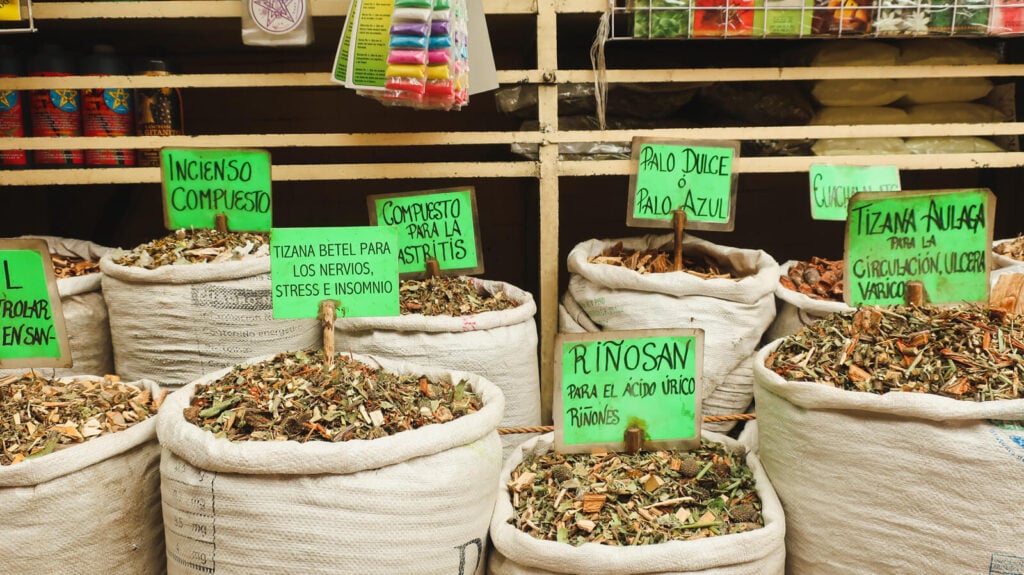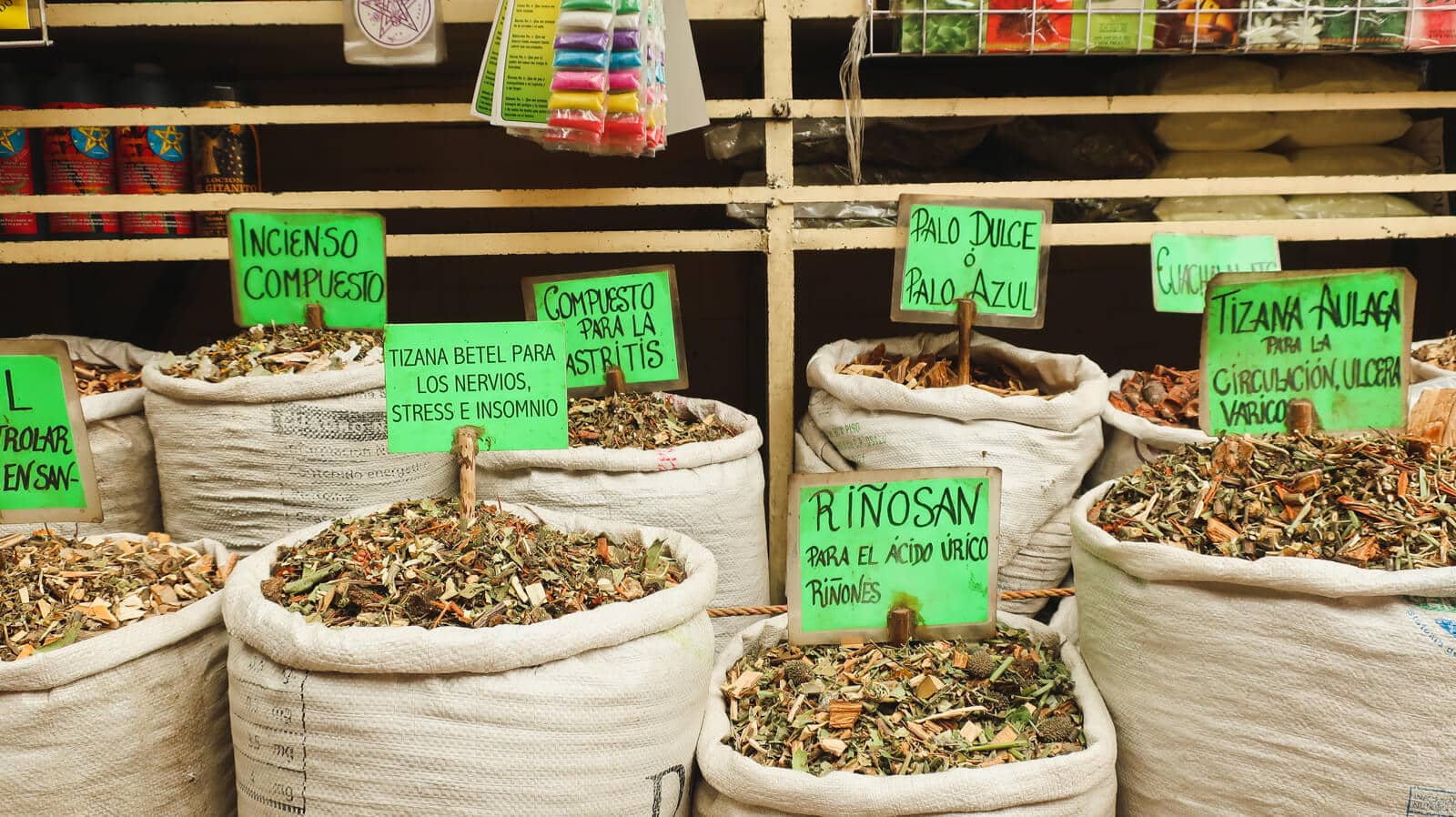 I loved seeing this side of Mexican culture and Mario really made sure we saw everything we could.
The one part of the market that upset us enough to stick with us were the live animals for sale.
Chickens, goats, and puppies of all breeds were kept in tiny cages, sometimes piled in on top of each other.
I'm not sure if they were meant for pets, food, or other magical ends (I assume all three), but it was hard to see.
There's a baby Jesus statue that is said to have cried blood due to the happenings in the Sonora Market and he is appropriately displayed just steps from these stacks of animal cages.
I'm upset too, baby Jesus.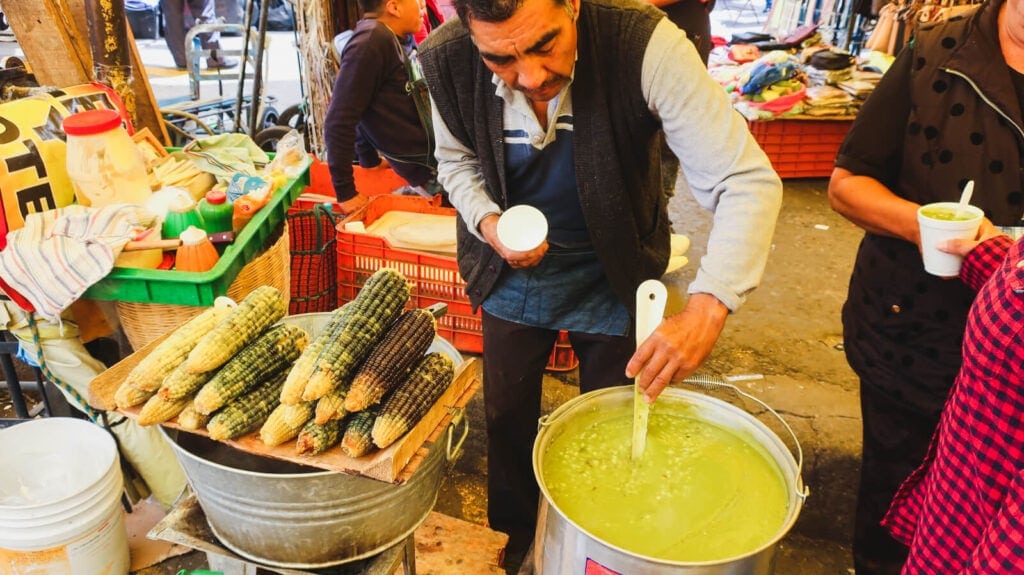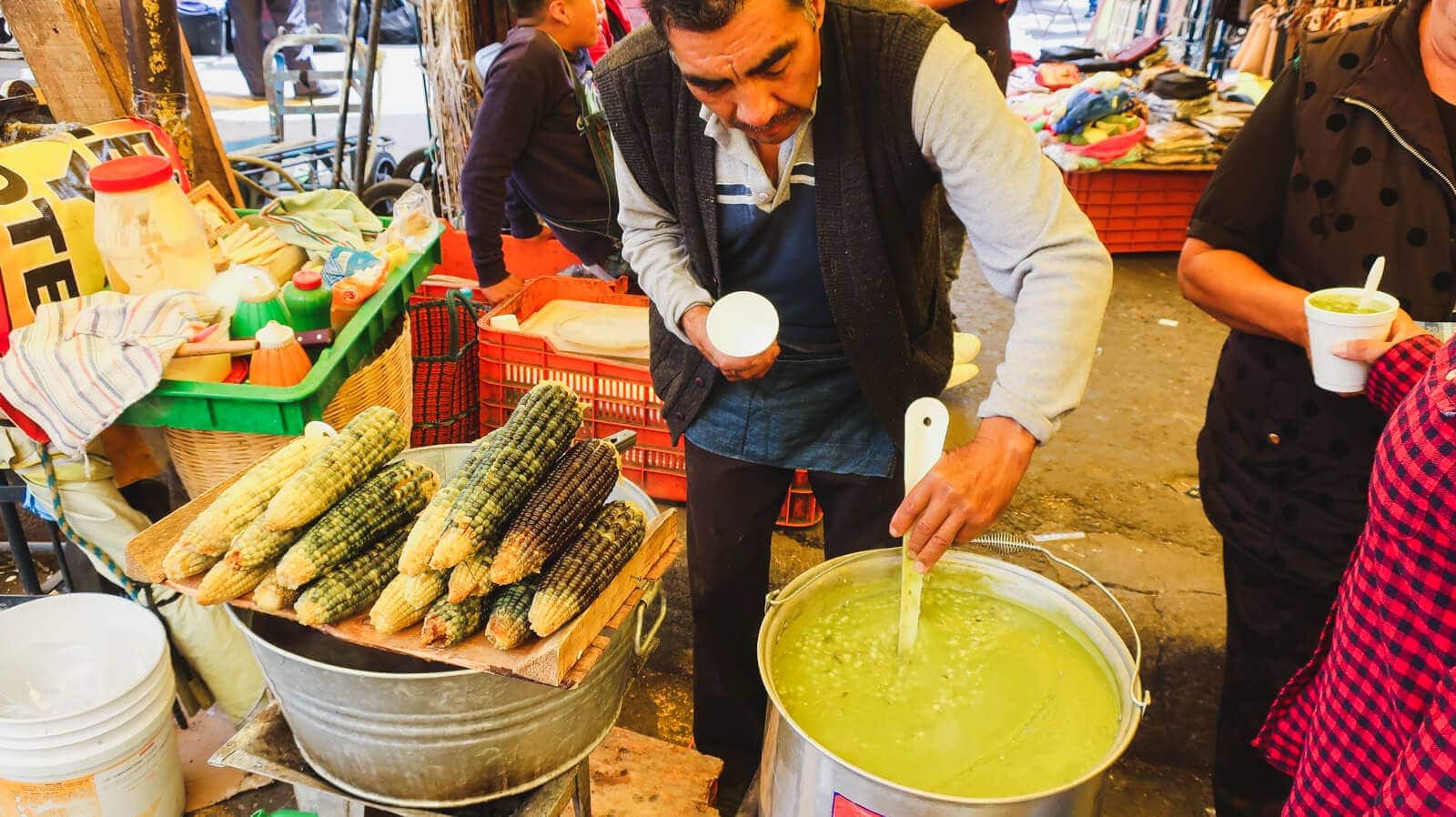 After our stroll through the Sonora Market, it was time to start the eating portion of our tour.
We were offered elote (the corn you see above), but still being full we passed.
This would be the only food item we'd say no to all day on what would become an all-out, full-day grazing session.
Seriously, we ate a lot.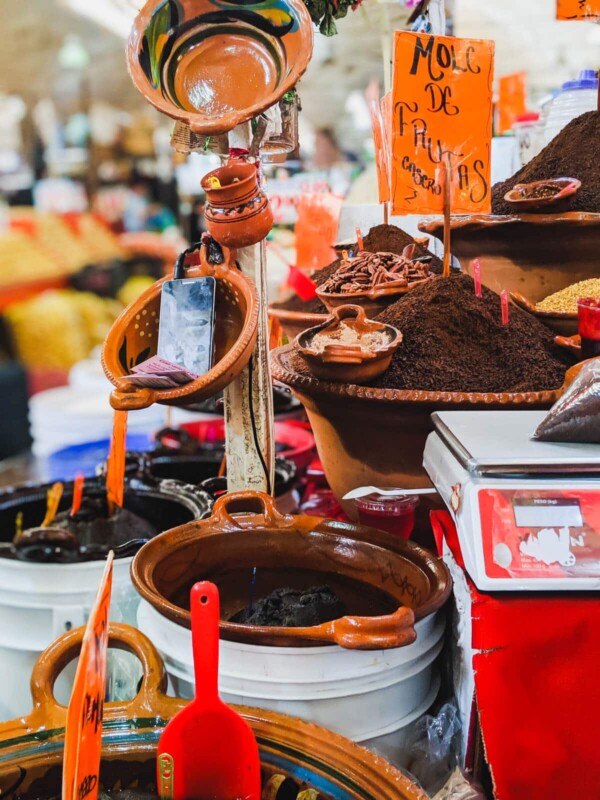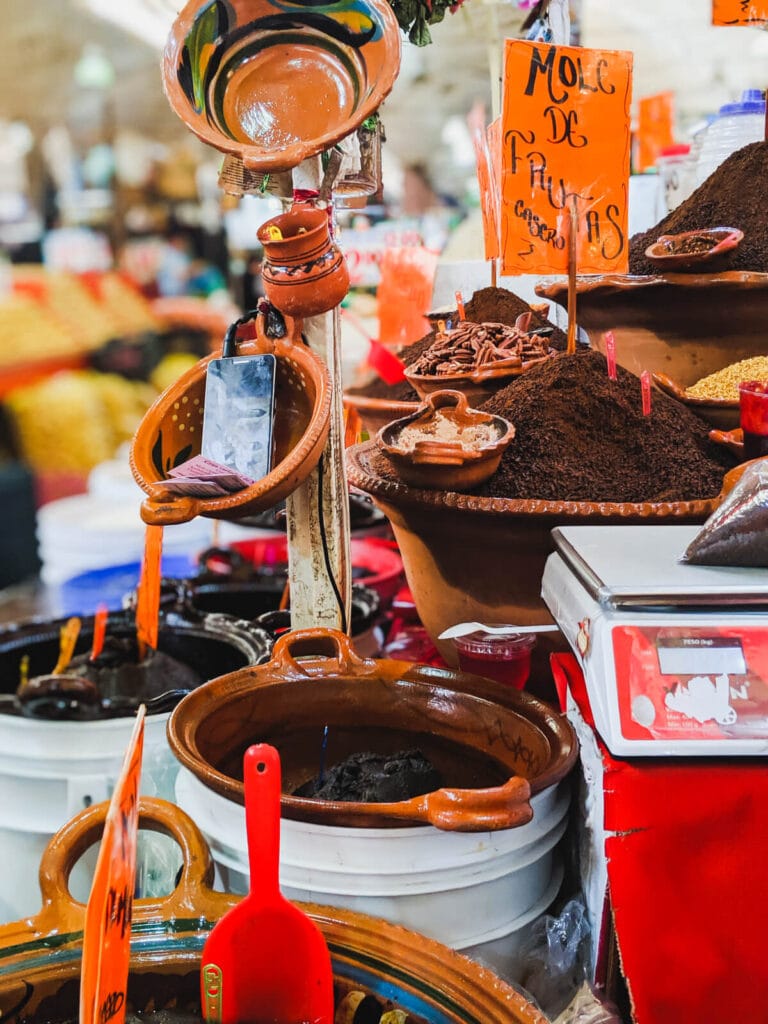 Merced Market, A Mexico City Food Tour
Back in La Merced, Mario walked us through the market, pointing out different things here and there.
There were stands dedicated to selling all the makings for a good salsa (basically, my own personal concept of Heaven).
Other stands were dedicated to the omnipresent corn and its husks (tamales please!).
Our first taste was a Pineapple-Sugar Cane Juice that I still think fondly of.
Next up was a mole tasting.
Spoonful after spoonful of mole was handed to us, followed by spoons filled with powdered spices (that I tasted with trepidation) and even peanut butter-like pastes.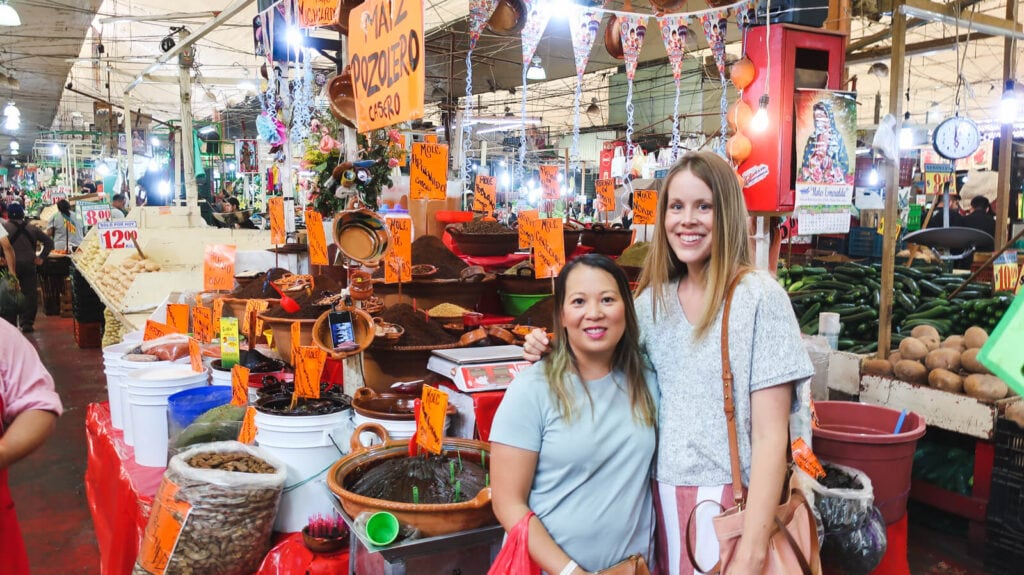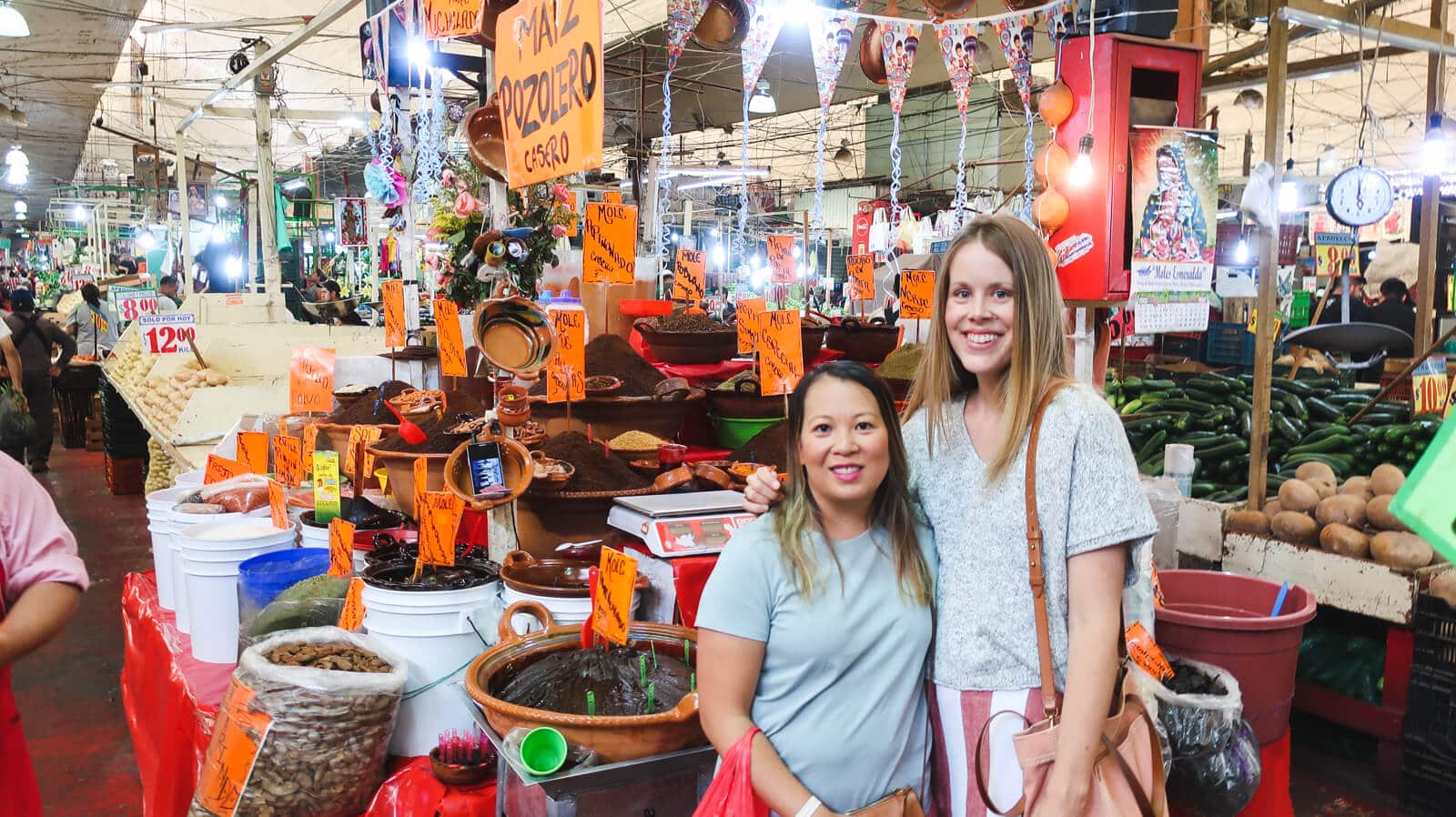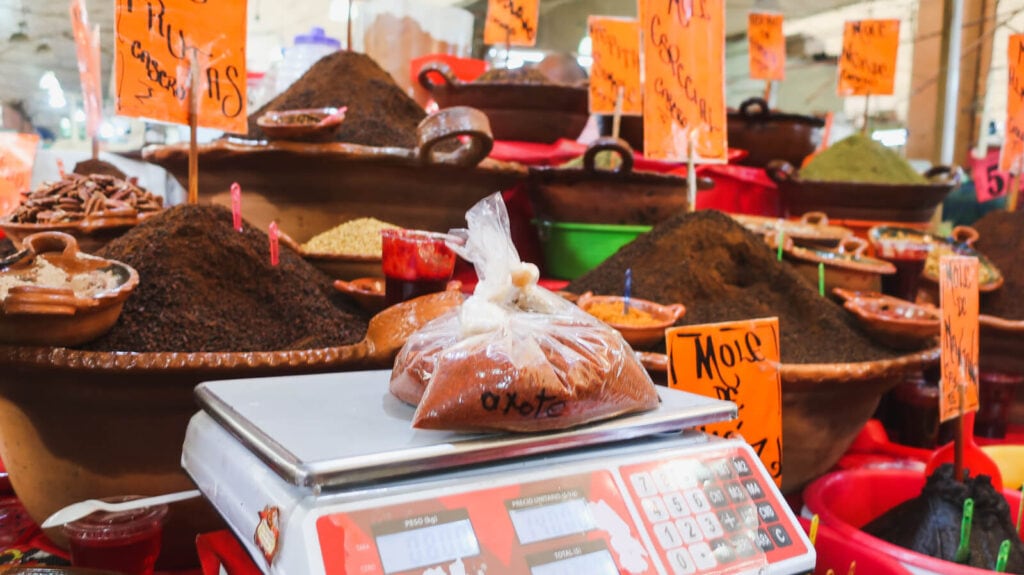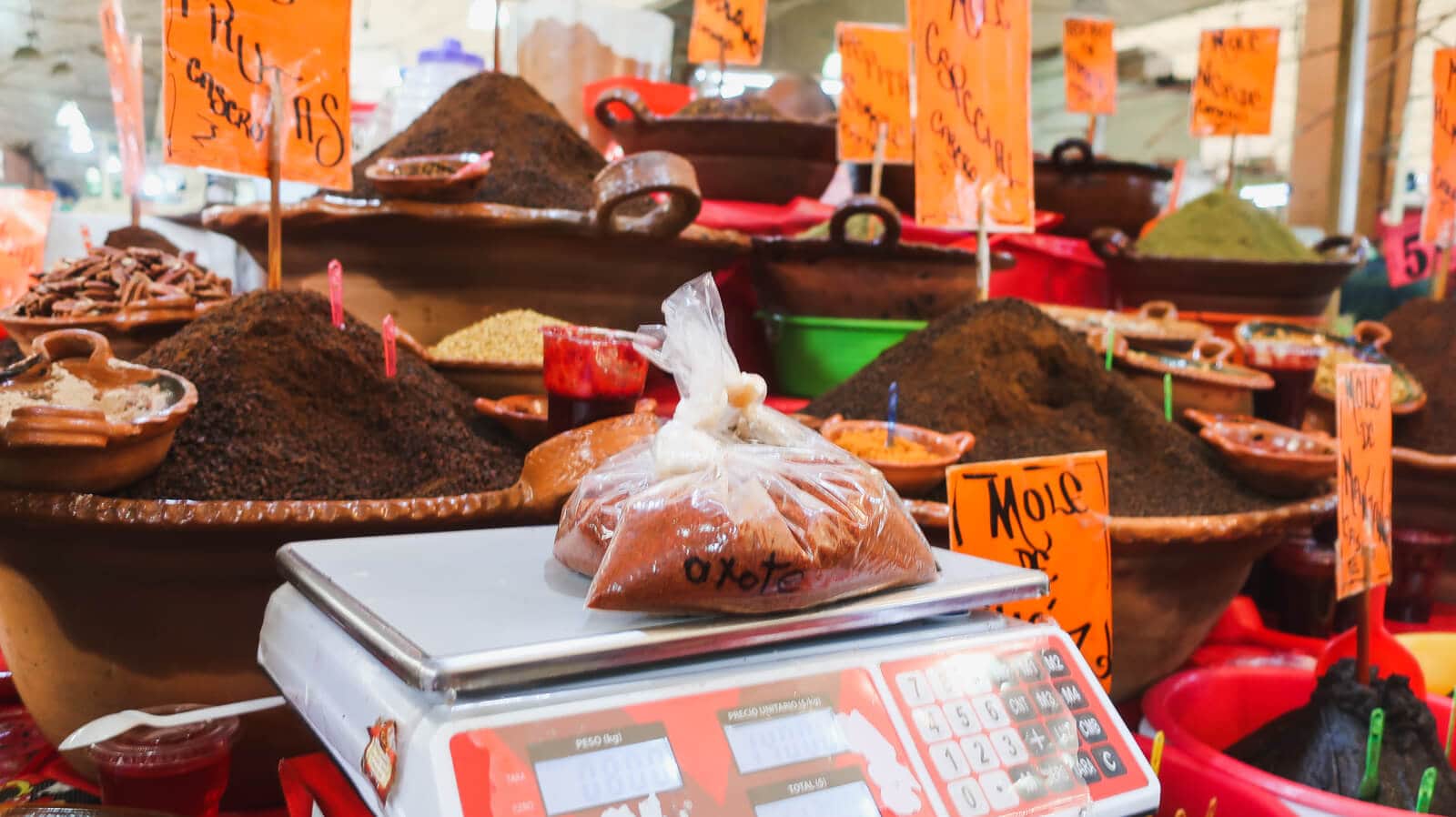 It was all delicious and I picked up some mole, chile, and achiote powders to re-create some of my favorite Mexico City dishes back home.
Well, for my husband to re-create for me…
Prehispanic Food Tasting
Another highlight was visiting the stands selling pre-Hispanic foods.
We were free to try anything we wanted! Much easier said than done for this picky eater.
I tried a chapulin, or grasshopper.
The taste is surprisingly pleasant due to the salt and seasoning, but there's something to be said about the texture of those little legs and wings…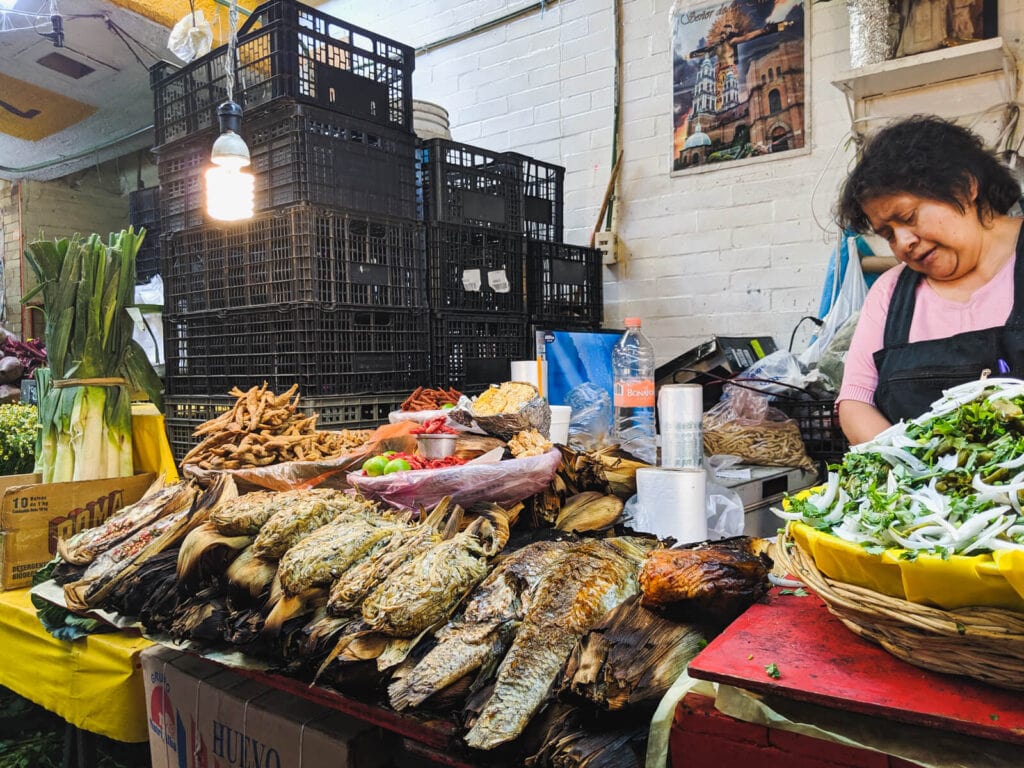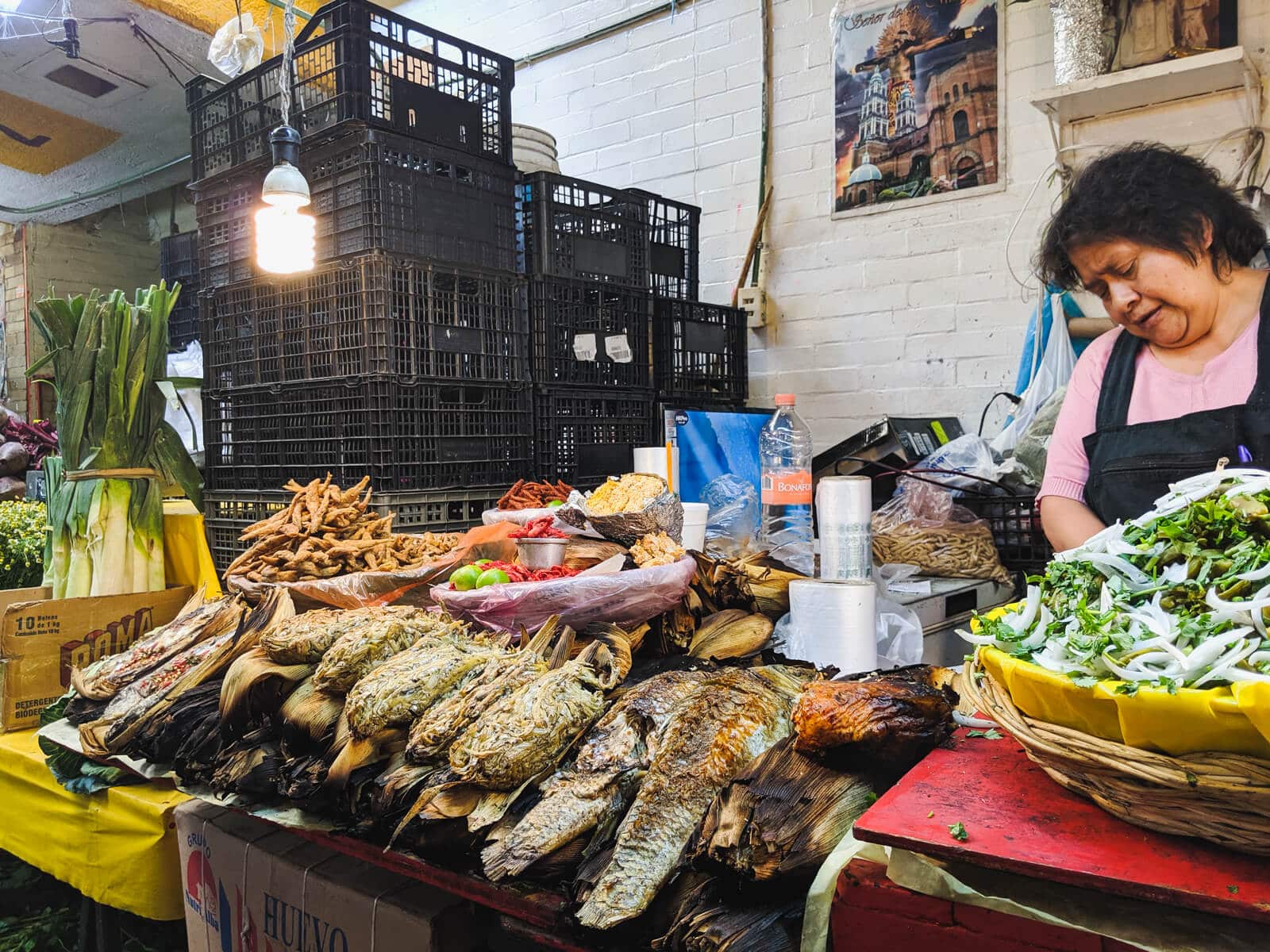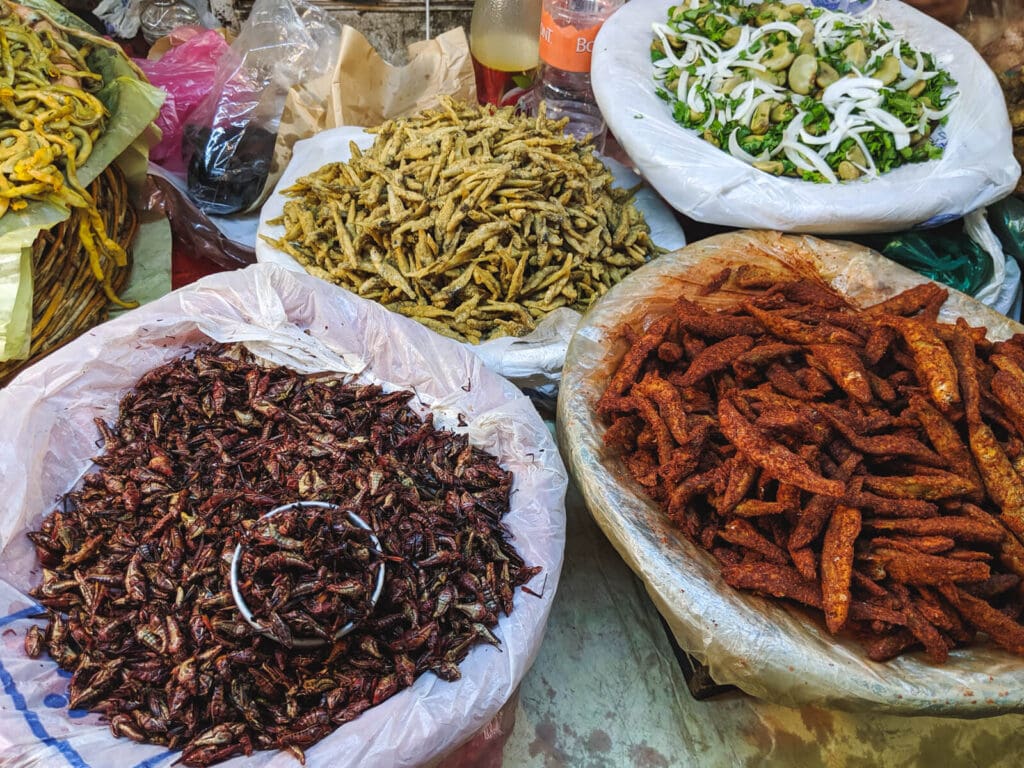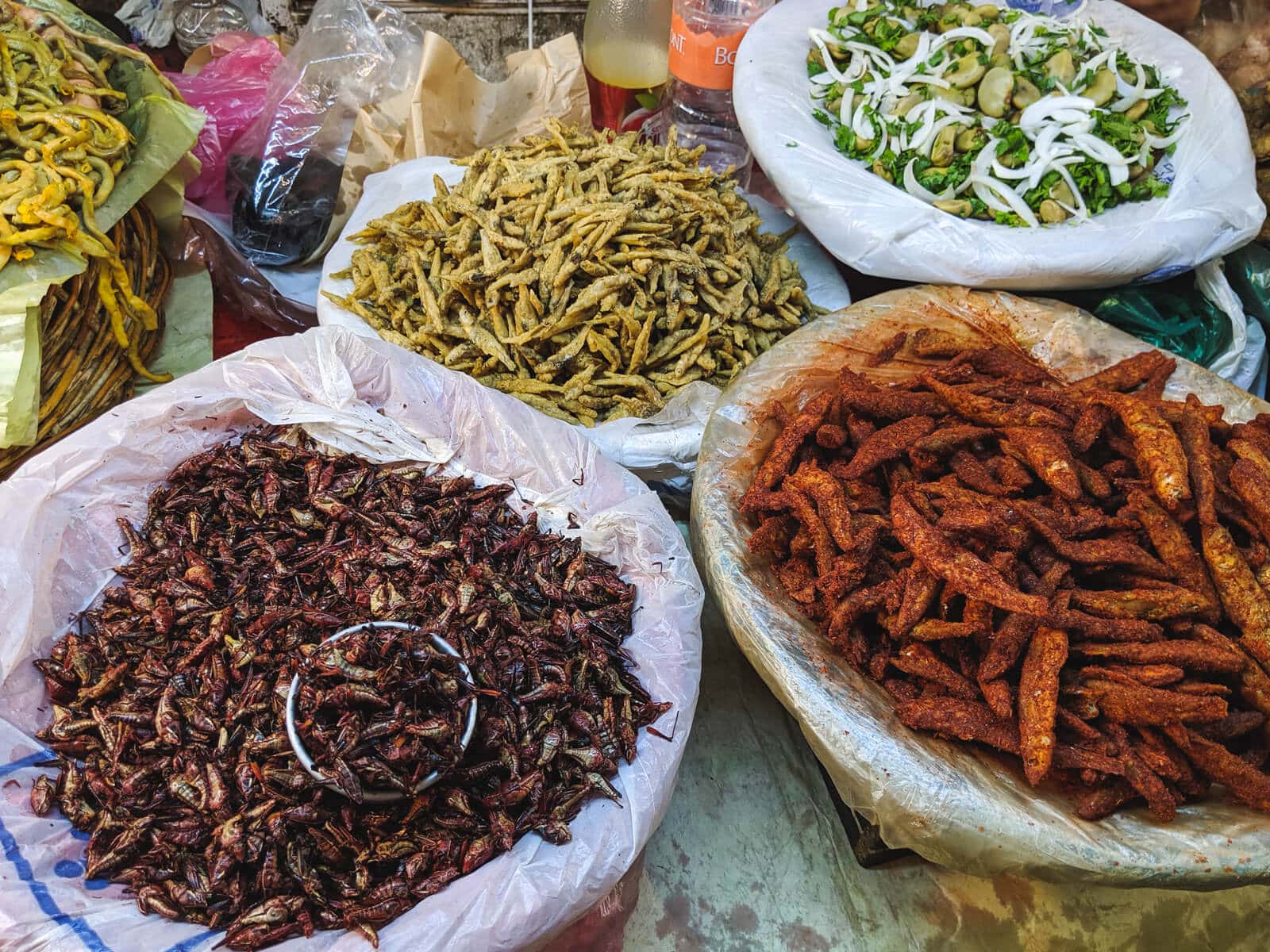 My friend Ly was more adventurous, trying what looked like little crawdads (not too exotic for us Texans!) and fish eggs.
I reluctantly tried the fish eggs as well when I made the mistake of pointing at them to ask what they were.
Point with care, people!
The taste was actually fine, just a bit fishy.
Tlacoyos, Quesadillas & Tacos, oh my!
After tasting spices, mole, grasshoppers and fish eggs, it was time for some real eating.
First up on the menu were tlacoyos and quesadillas.
I had a tlacoyo (like a tortilla but more oblong and slightly thicker) topped with nopales (prickly pear) and queso fresco.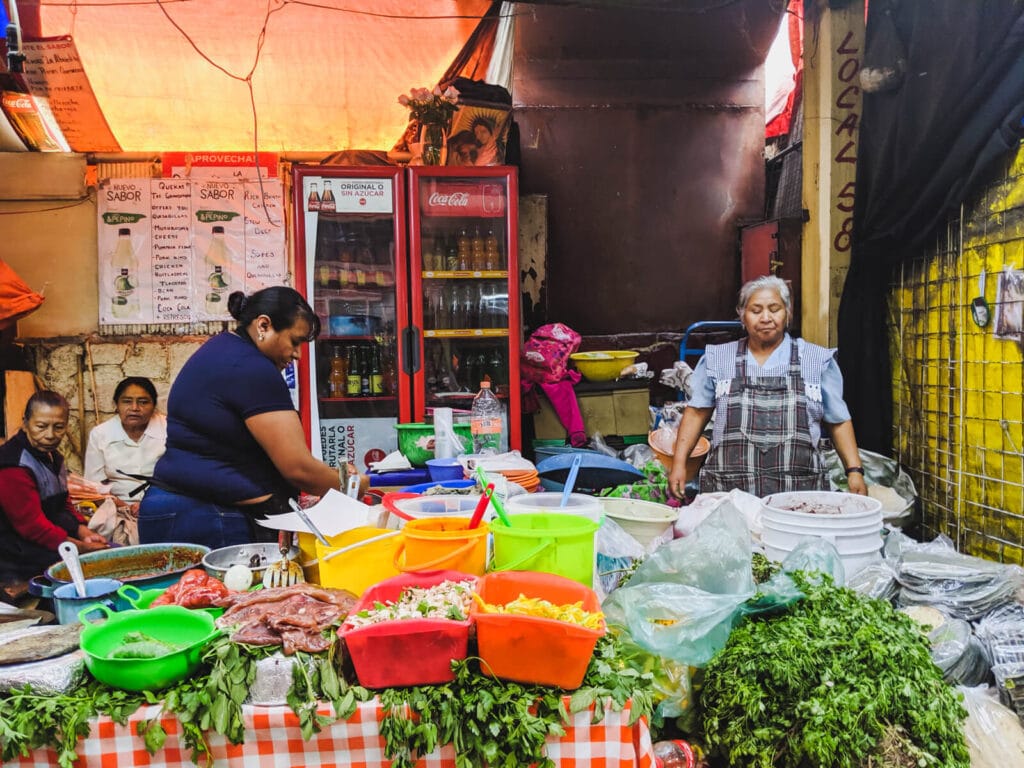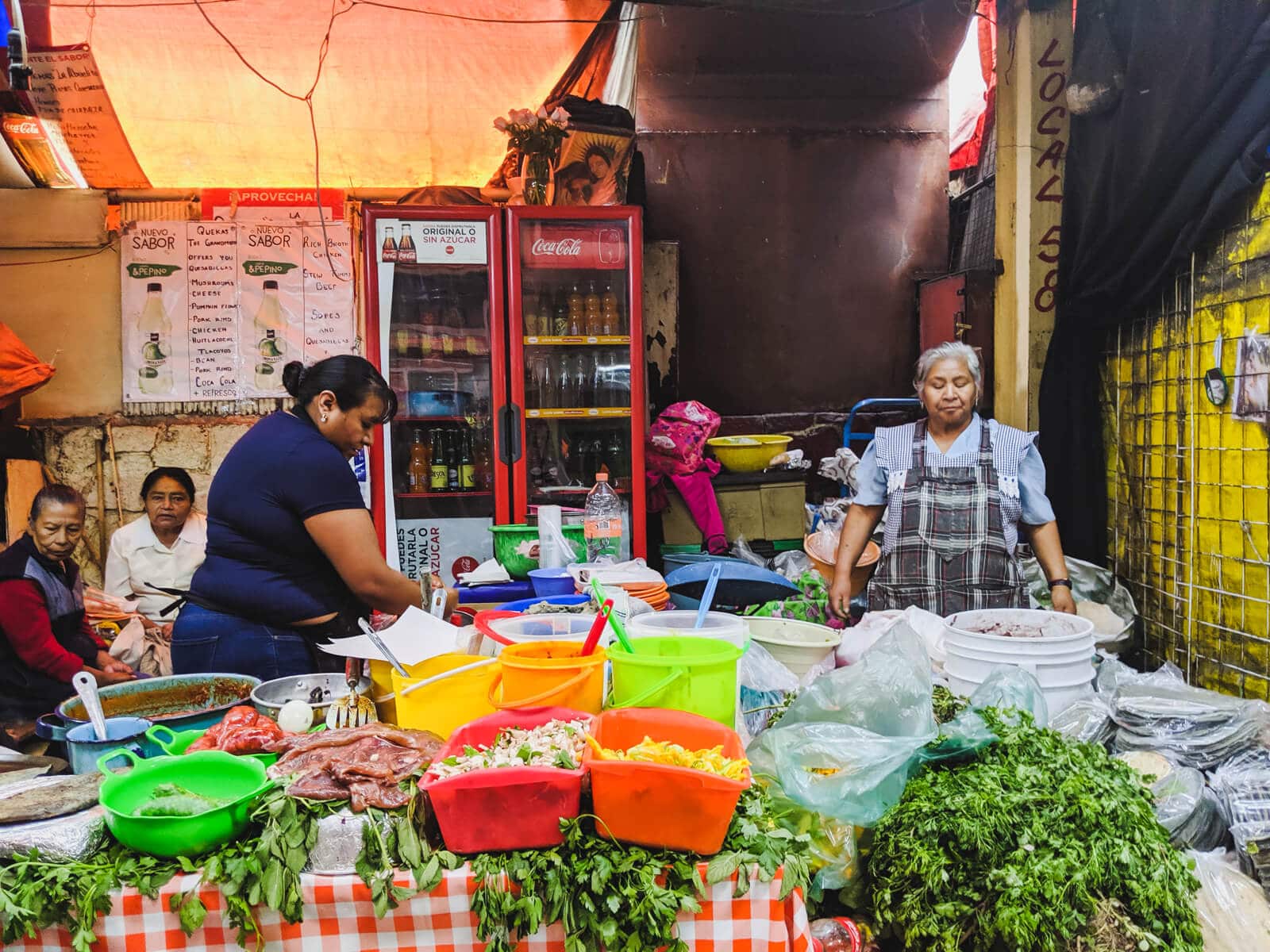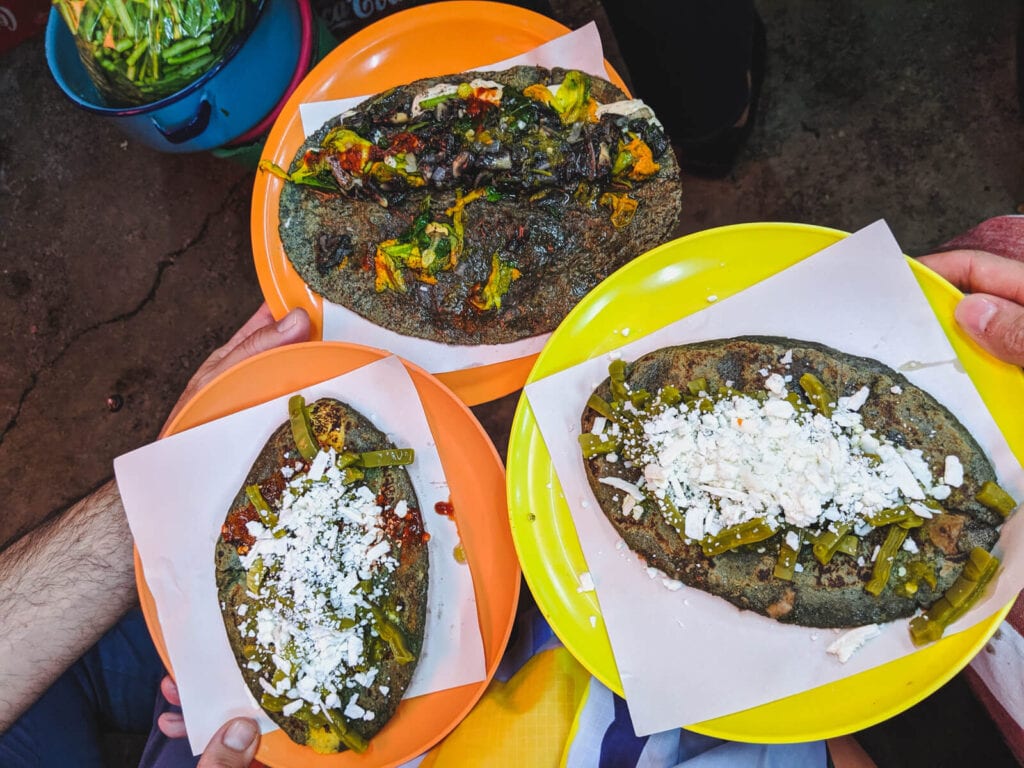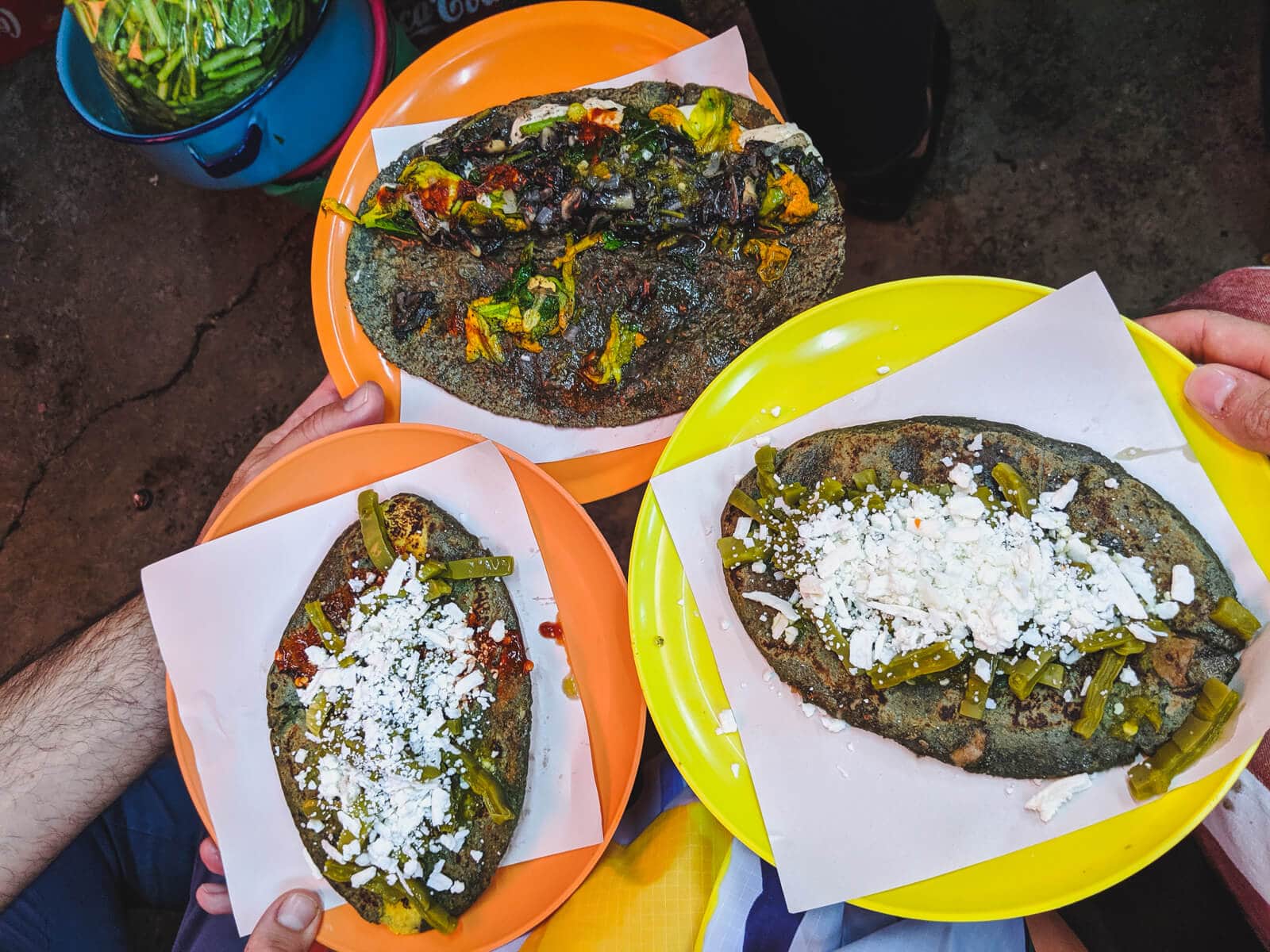 Ly opted for the quesadilla on blue corn filled with squash blossoms and huitlacoche (a corn fungus that's considered a delicacy).
The cheese on the quesadilla was a mozarella-like stringy cheese from Oaxaca.
Both were delicious and we intended to split them 50/50, but we each had clear favorites and swapped back.
Now, on a normal day, in real life, this would be enough for me.
But on vacation…it was time for tacos.
Mario guided us into this tiny little taco spot that had it not been for him, I'd have flown right by.
The grill's edges were filled with every cut of meat imaginable, with a clean space in the middle that was quickly filled with our taco filling.
We each had a suadero taco, a cut of beef from the chest of the cow.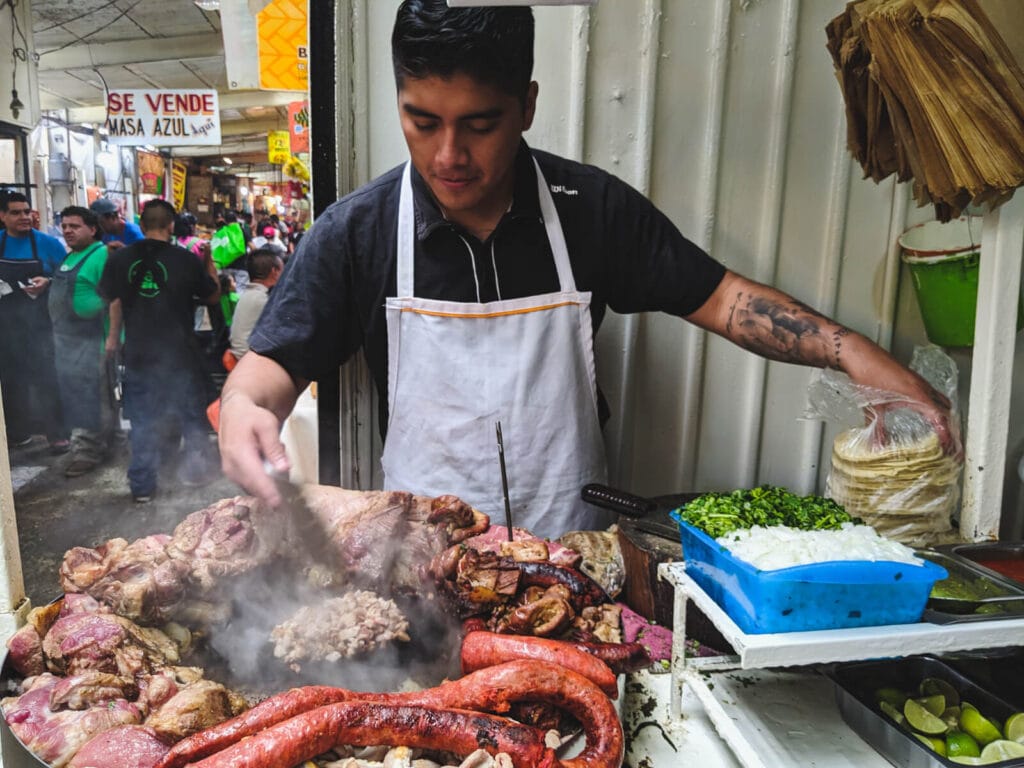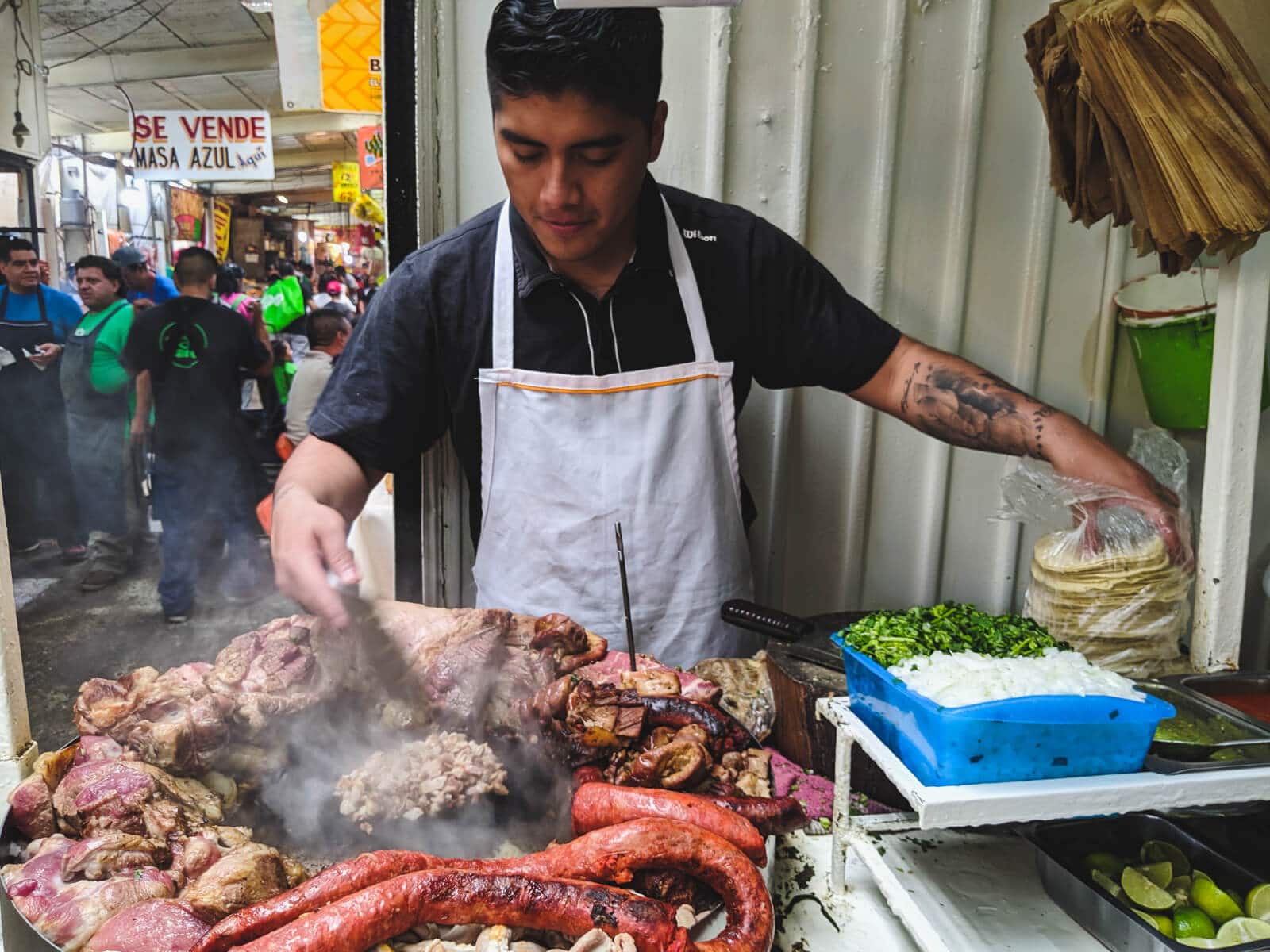 This taco marked the end of our time in the market, but we were far from finished with the tour.
The amazing secret about this tour is that we saw much more than we ever expected.
We were actually guided all across the eastern portion of the Centro Historico.
This area of the center is less visited by tourists and I was grateful to have Mario to follow behind.
He walked us from stop to stop, pausing to point of interesting facts about this monument or that shop (like a street lined with shops dedicated to selling clothes and costumes for baby Jesus statues!
Want to pray for good health?
Then you better get your baby Jesus a doctor's outfit!).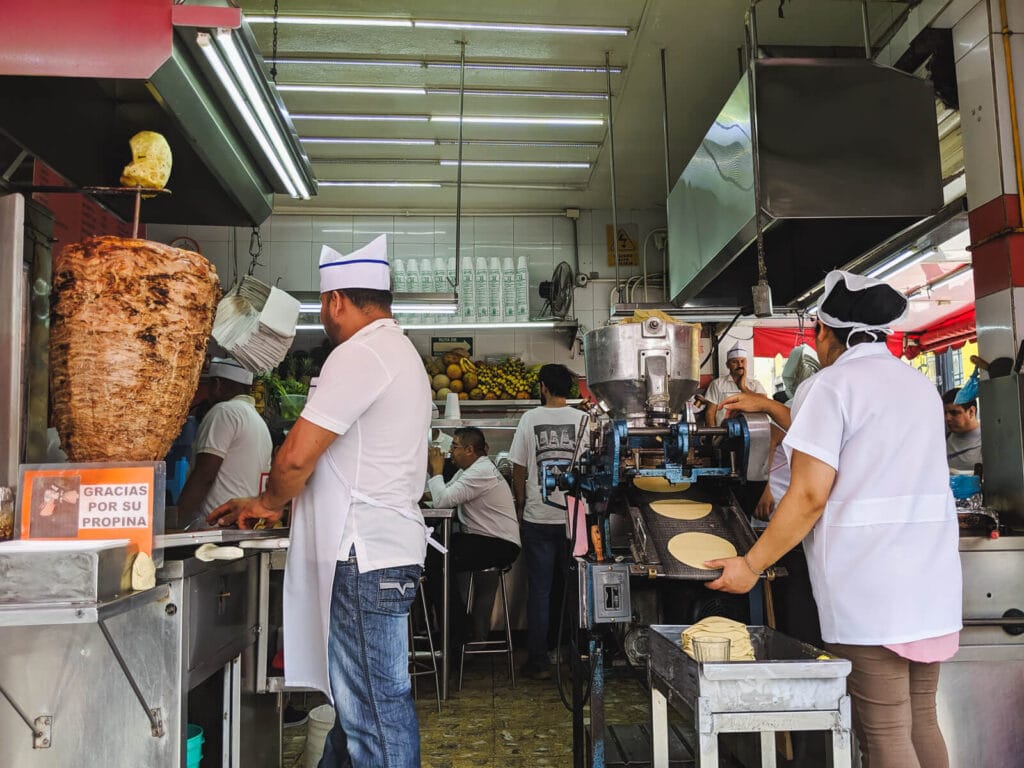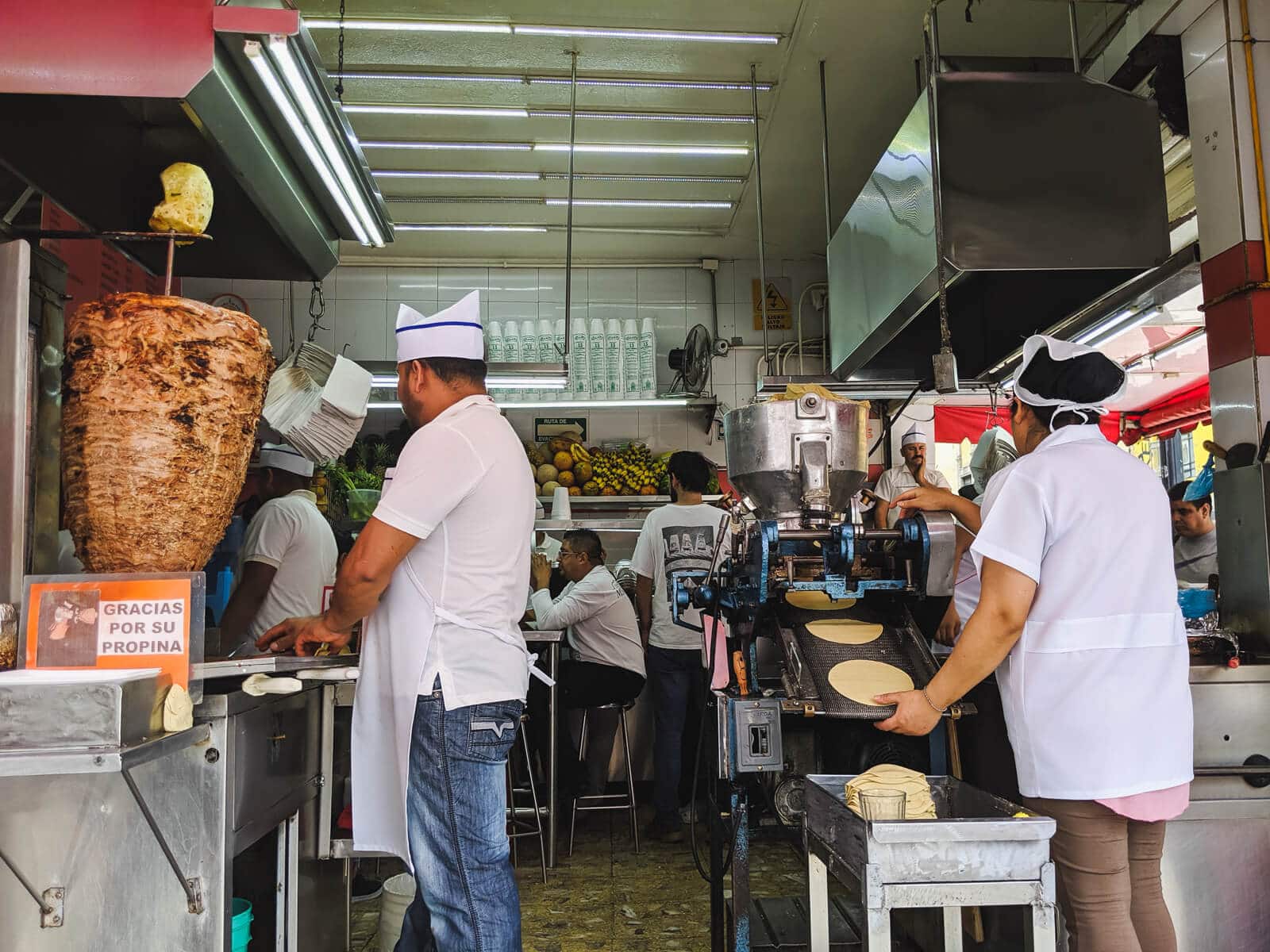 Exploring Beyond the Market
I think the tour would normally include one taco, but we are dedicated and driven people and got another at this taco al pastor spot.
It was our first stop outside the market and was a full-on restaurant (compared to the stands in the market).
The taco al pastor here noticeably lacks the typical red color from the achiote.
It wasn't any less flavorful than it's red cousins and it didn't survive long on our plates.
They were some of the best tacos in Mexico City.
We washed it down with a Guava Agua Fresca, which was heaven in a glass.
Hyperbole aside (I was very parched by this point), it was refreshing.
From here we wandered through the city. Mario pointed out sinking churches, tiny chapels, interesting monuments, and even a plaza filled with masseuses giving open-air deep tissue massages, because WHY NOT.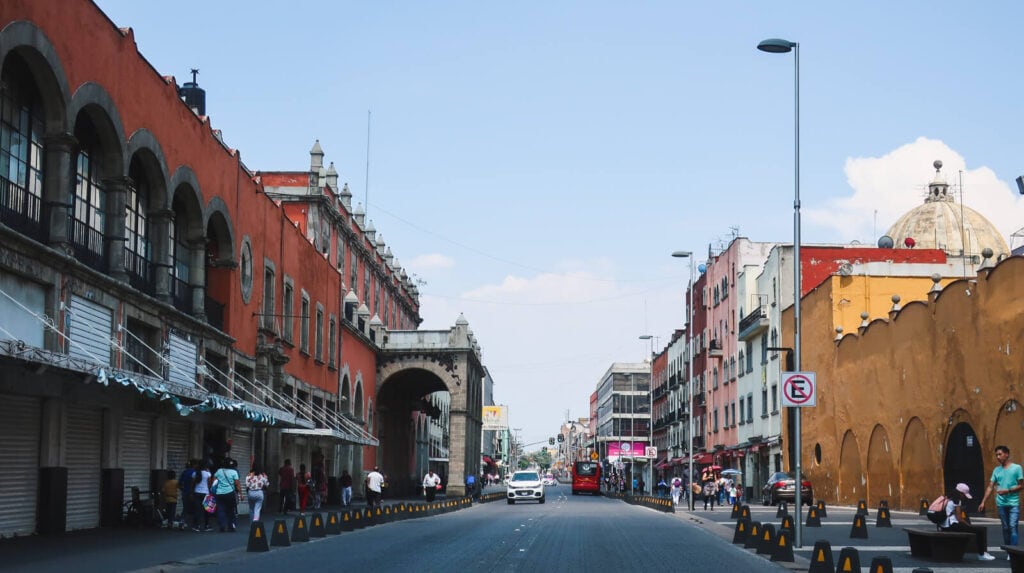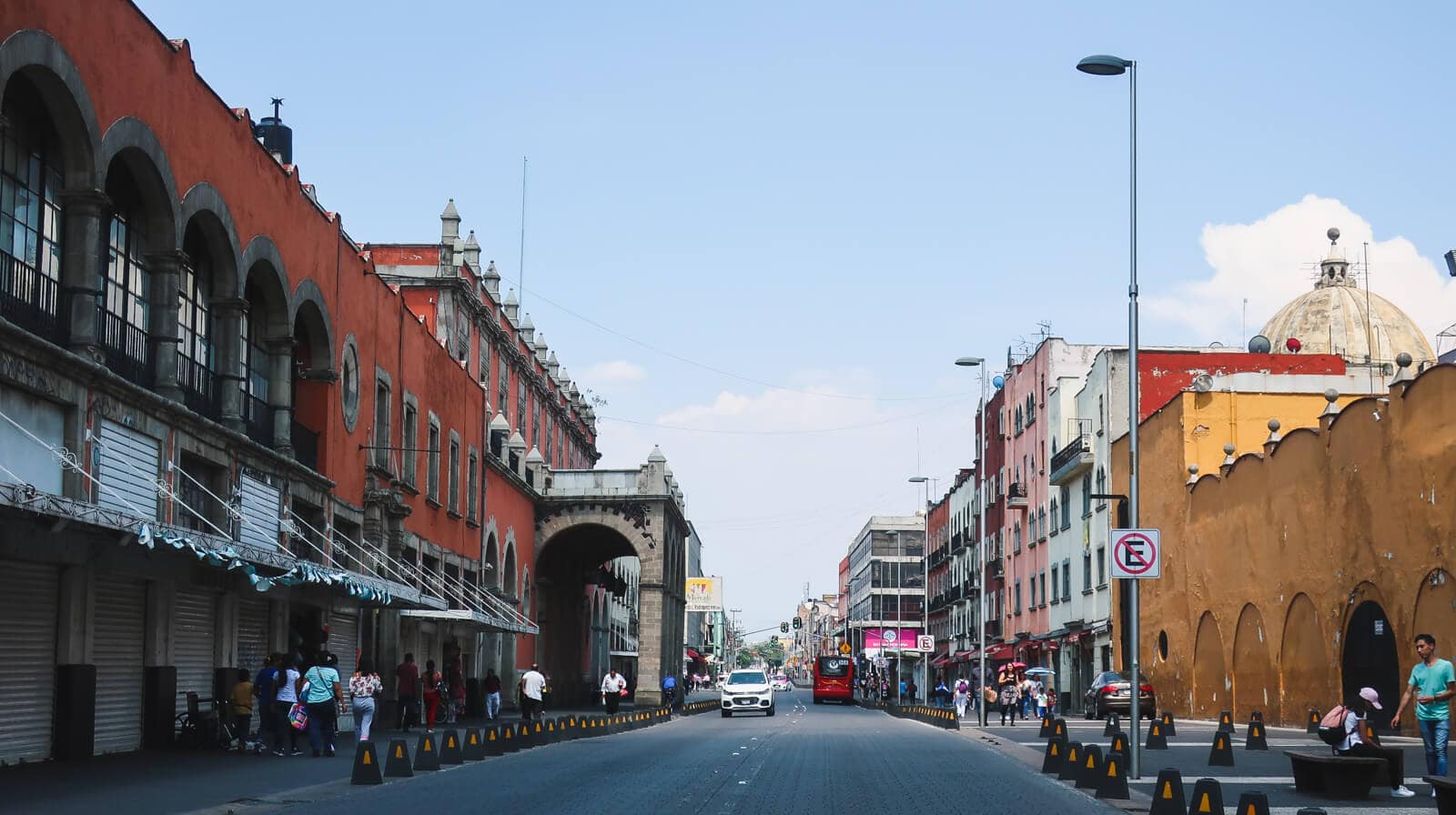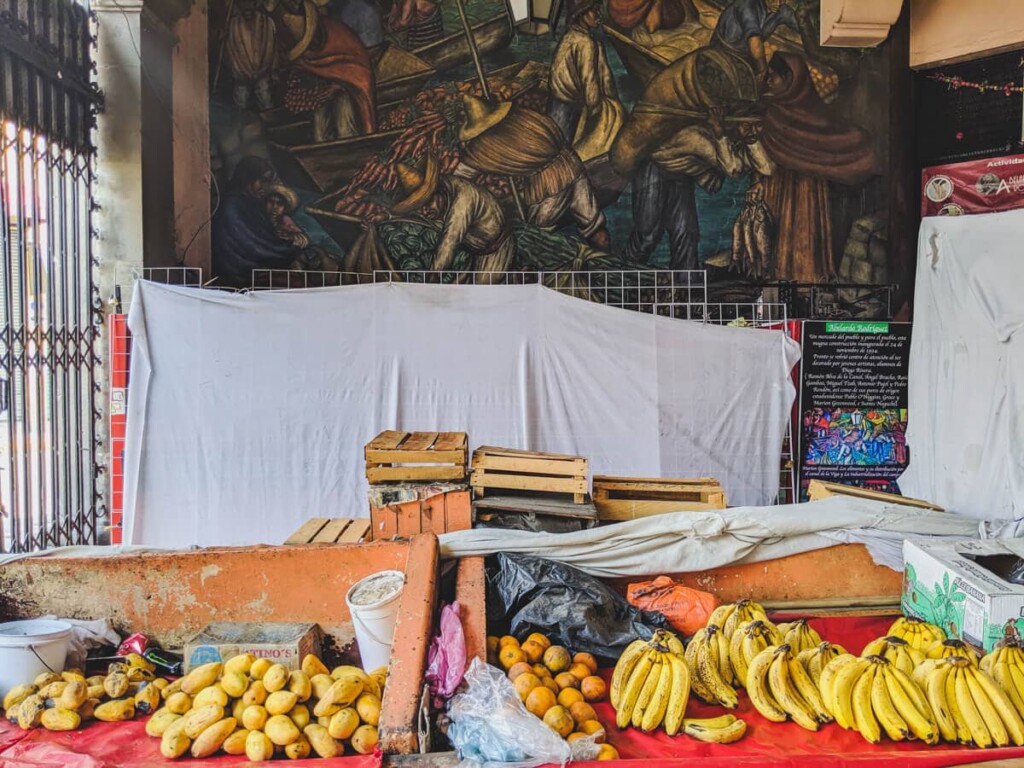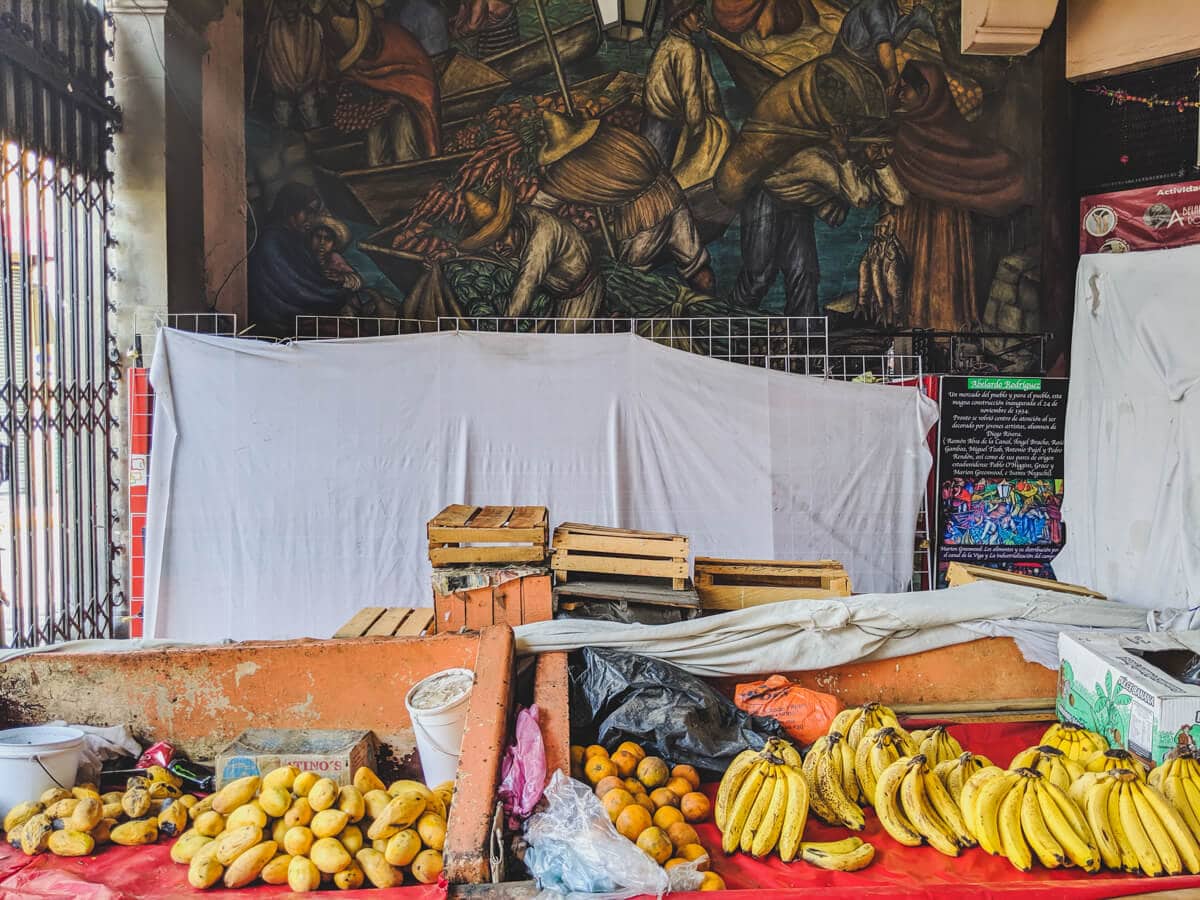 A huge highlight for me was visiting a market filled with murals by Diego Rivera's students.
It's one of the most unknown places to see Diego Rivera murals in Mexico City (well, his protege's murals).
It's so far off the beaten track that when I told my Mexican friends from the city about it, they had never even heard of it.
The market and the high school next door both house impressive works of art in buildings used by all classes of society in their everyday life.
So it's no surprise that they highlight communist themes (present in most of Rivera's works).
By painting these murals in the "people's domain" of the market, they are taking art out of the hands of the privileged and distributing it to the poor.
Pulque, Crickets & Prickly Pear Ice Cream
We ended our day with a couple more pit stops.
Mario stopped in front of a tiled wall broken up only by an open, unmarked door. "Do you want to try pulque?"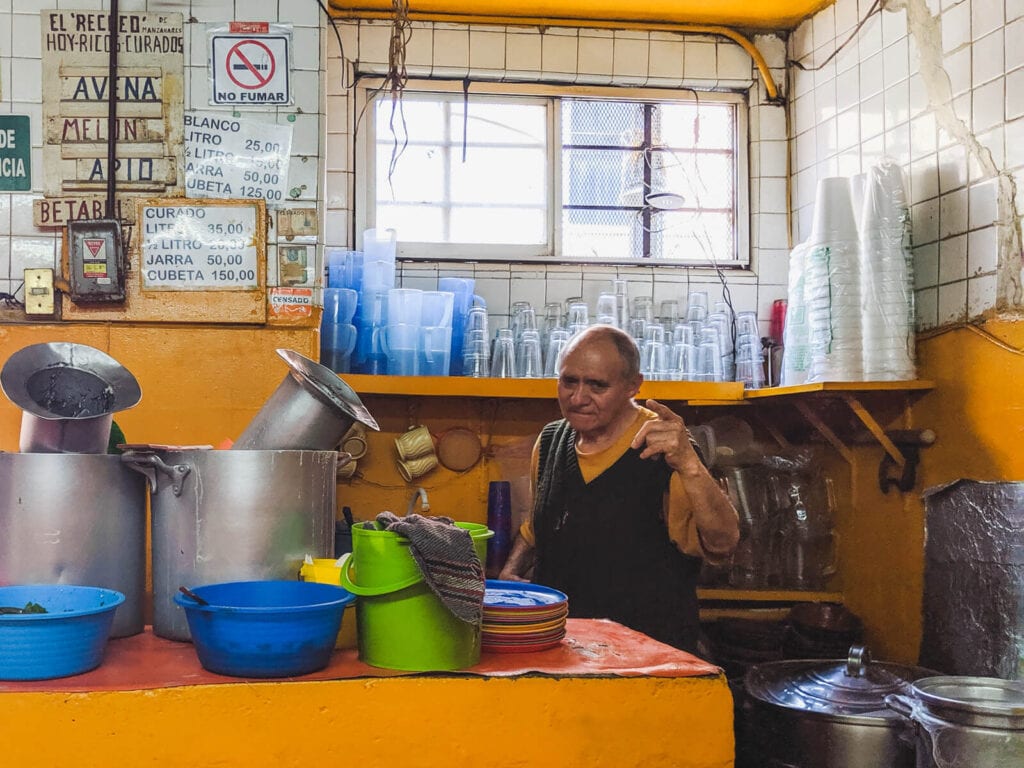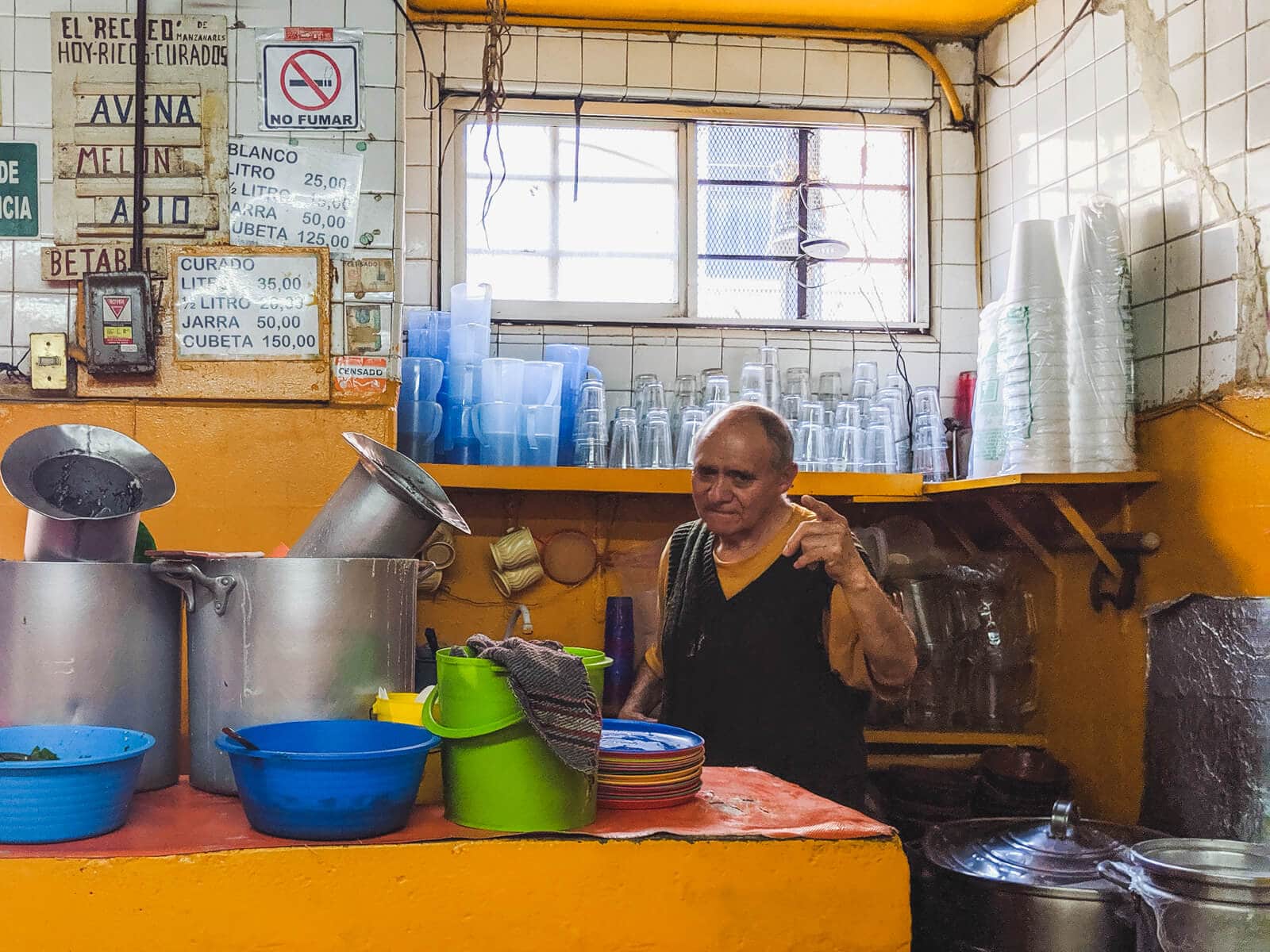 Pulque is made from the fermented sap of the Agave and it is nothing like its cousin, Tequila.
Pulque is viscous like a thin milkshake and bubbly like kombucha and has been around for at least a thousand years.
Hipsters are reclaiming the beverage but we were in an original pulqueria.
Out of the four flavors brewed up each day, we chose melon.
Beet, Oatmeal, and Celery were the other options. It's a hearty, nutrition-filled drink.
If you're in Mexico, try it. It's impossible to bottle it so it can only be drunk fresh in a pulqueria, this may be your only chance!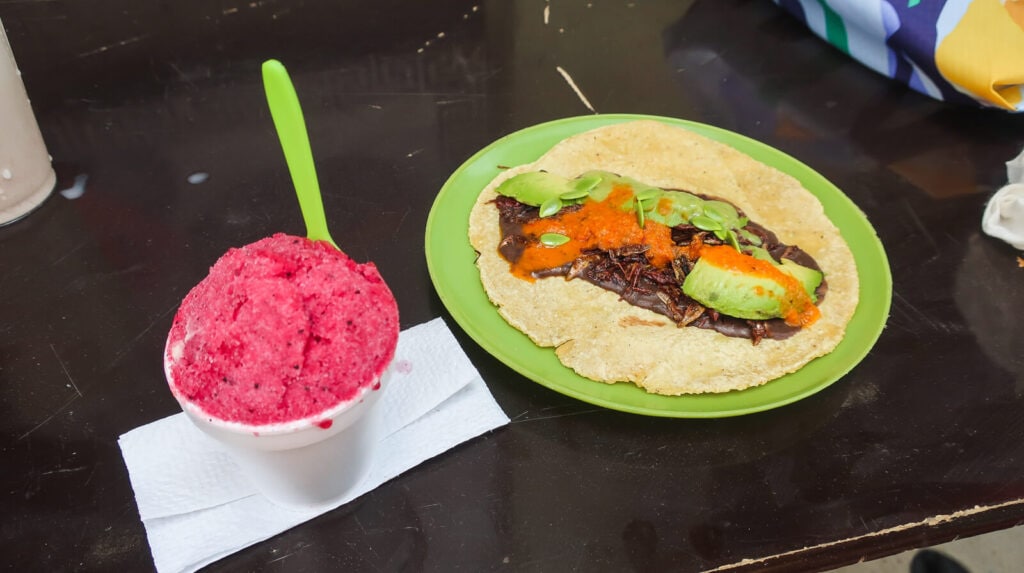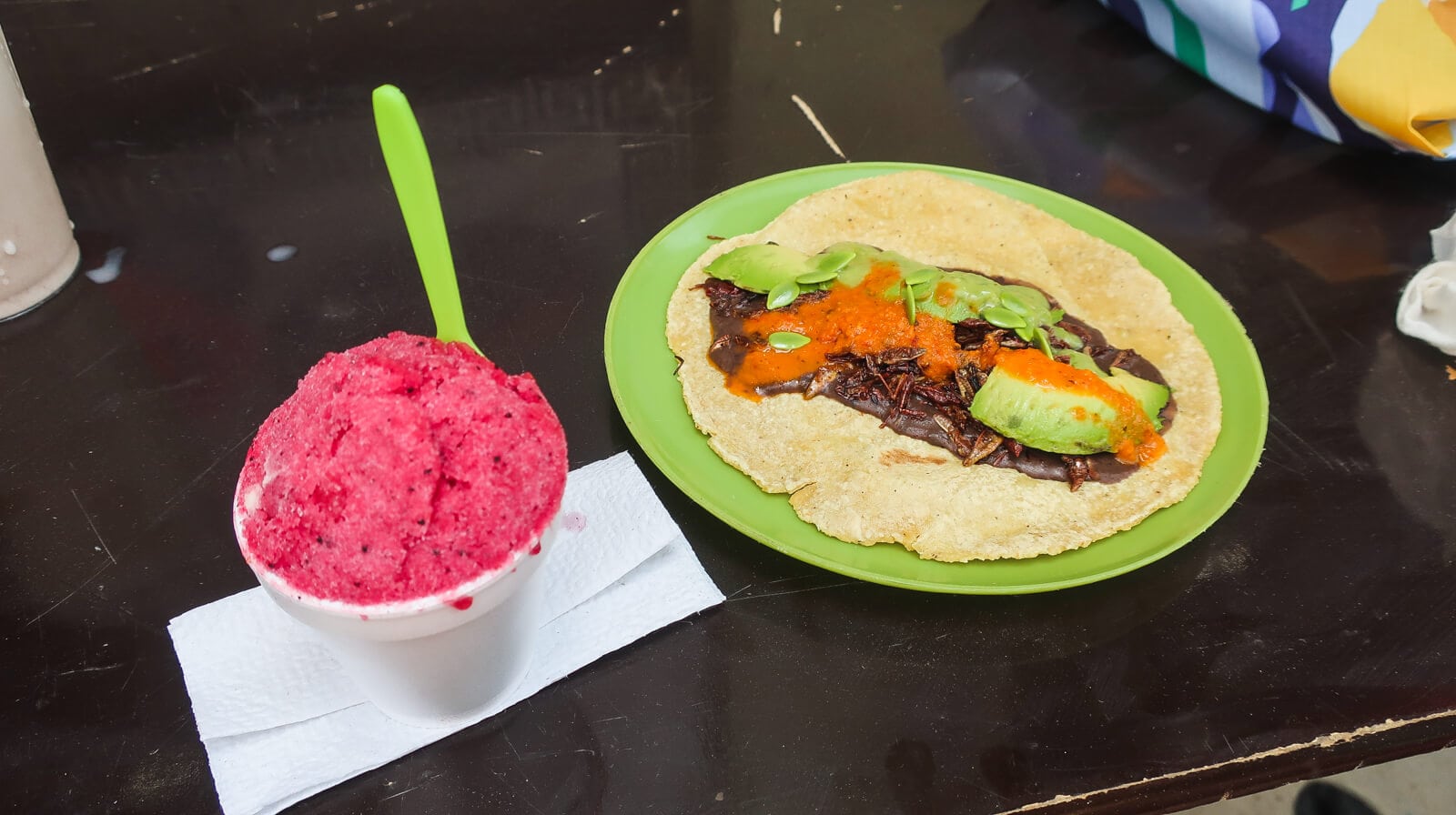 Our final stop wasn't included in the tour but I happily pulled out a few pesos to try this prickly pear sorbet.
Ly stayed on trend by being more adventurous and trying a chapulines taco (grasshoppers).
Bondabu's La Merced Adventure was a great experience. They promise that you'll "experience a raw and authentic side of the city" and I feel like we did just that.
We were on the tour for four hours, explored three different markets, tried everything we wanted, and saw far more than I had space to mention in this post.
Our tour ended in the Zocalo, the perfect spot to continue with your day.
To plan the remainder of your day, read my post about spending one day in Mexico City's downtown.
RESERVE YOUR TOUR | Thanks to Bondabu Mexico for hosting us on this excellent tour of La Merced and its surrounding neighborhood. As always, all opinions are 100% my own. Click here to reserve your Merced Adventure.
More Bondabu Mexico City Adventures:
Helpful Tips to have the Best Tour Possible
Dress comfortably. We walked A LOT, so pack any of these comfortable walking shoes and you'll be good to go.
Pack a bottle of water, we tried a lot of foods as well as juices but I was glad to have a bottle of water as well for both the heat and to cool off from spices I'm unaccustomed to.
The market is hectic, there are lots of people bustling about and new sights and smells. If you think you'll be overwhelmed by this, consider one of their other tours. For me, this was what made it special.
Bring extra cash in case you want to pick up any souvenirs. You don't want to waste much precious time shopping on this tour but if you see something you can't live without, get it while you're here. (Ly got a terracotta coffee cup for 15 pesos that we saw later going for 75 at the Ciudadela Market).
Wear sunscreen! And pack a hat and sunglasses. We spent a lot more time outside the market than I expected.
Leave the bling at home, don't be flashy here. Dress discretely.
Finally, be adventurous! Enjoy the experience to the fullest by trying all the new foods and drinks you can!
MEXICO CITY TIP: Schedule a Flytographer Photo Shoot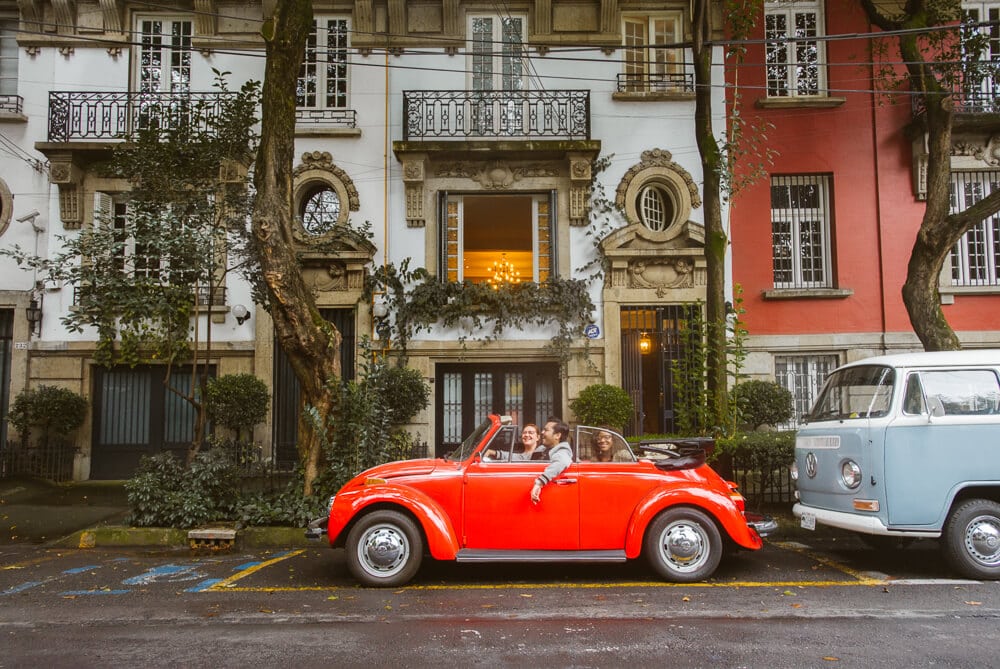 For memories that will last a lifetime and make your family photos stand out (and your Instagram pop), I recommend scheduling a professional photo shoot with Flytographer.

Their photographers are incredible, they're used to working with tourists like us and I bet they'll be able to give you local tips like their favorite taco stand, bars, or neighborhoods!

I discovered Flytographer ages ago but didn't actually try it until recently here at home in Argentina (see my pictures here).

I wish I had known how fun it is when I was in Mexico City because its beautiful streets are MADE for it. Next time I'm there I will definitely do this!

Click here and get $25 off your first shoot.
Read More about Mexico City:
PIN IT FOR LATER