On our most recent trip to South Africa our itinerary was 100% countryside, ocean, safari and mountains.
We didn't have much more than one day in Johannesburg before our flight out.
I was determined to make the most of our short time. This is how we explore Joburg in just one day.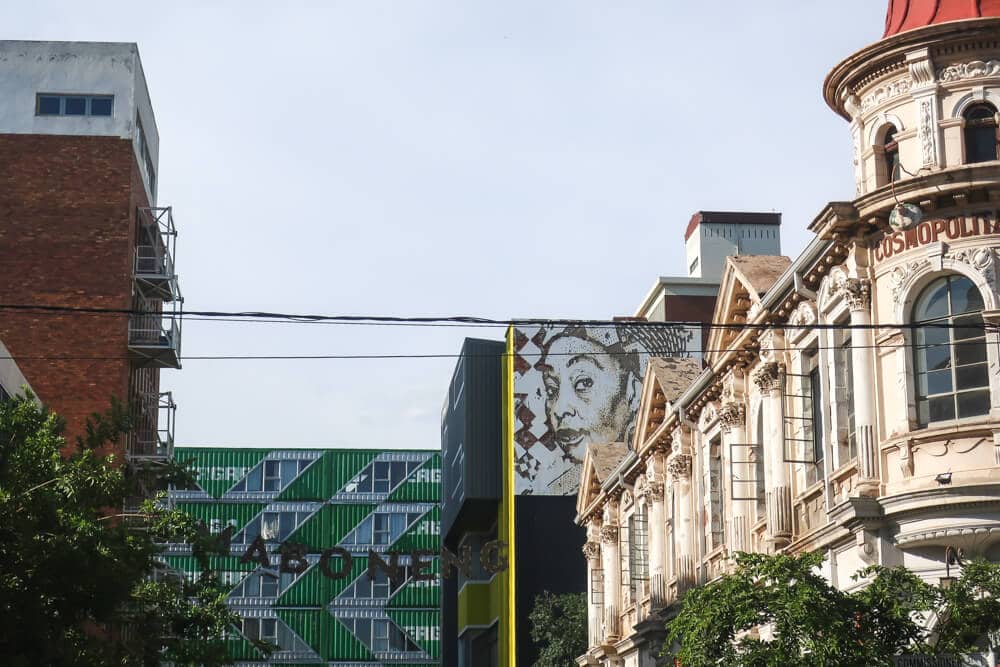 QUICK NOTE: This post contains affiliate links and Sol Salute may receive a commission for purchases made through these links, at no extra cost to you.
How to Spend 1 Day in Johannesburg
I wasn't sure what to expect of our too-short stay of seeing Johannesburg in one day.
Only one day isn't enough for any city.
Unfortunately, sometimes that's all you have and one is better than none!
So when deciding what would be the best use of our time I focused on history.
I visited a lot of museums in Cape Town (District 6, Robben Island, etc.) and learned so much there.
I wanted to do the same in Johannesburg.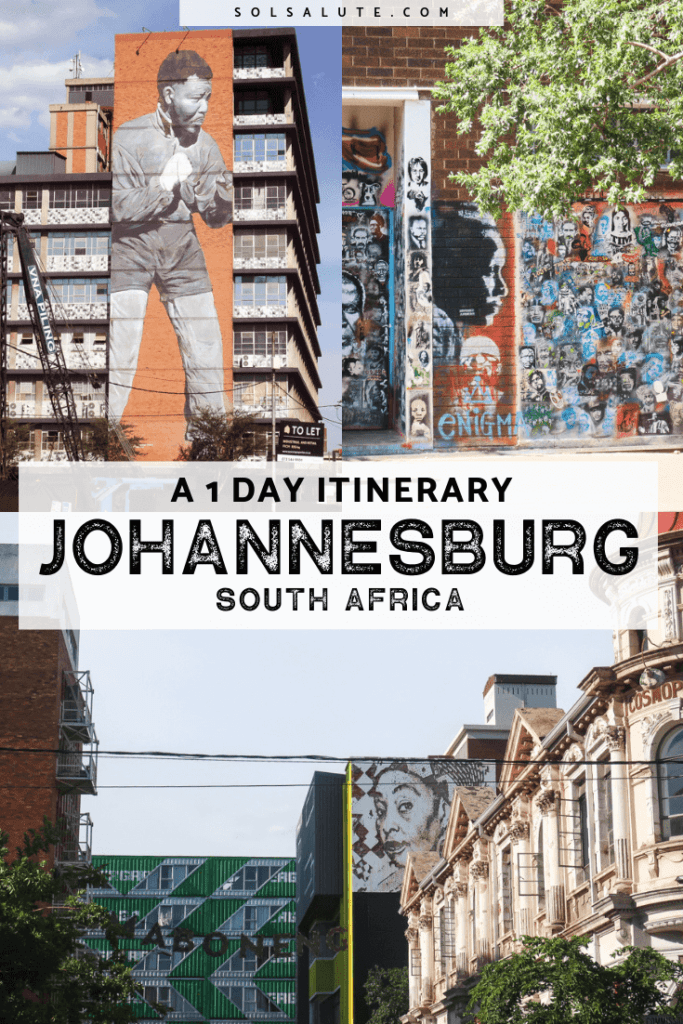 How to get around Johannesburg
Johannesburg is built like an American city. It's spread out and not exactly designed for the pedestrian.
There is no public transportation (at least none that is any good for tourists or this itinerary).
We either drove our rental car or relied on Uber.
Download Uber and consider getting a local SIM card so you can easily call a ride when you need one.
Get a South African Sim Card
I tend to resist getting a local SIM when I travel because I like to disconnect.
However, in South Africa I recommend getting one, just to be safe.
If you get lost looking for an isolated hotel in the countryside or if you need an Uber in a pinch, you'll be glad you have the option.
Things to keep in mind:
Get your South African SIM at the Vodacom storefront at the airport (I don't believe it's possible anymore for tourists to get one elsewhere, even with a passport). Check their airport locations here.
Get a lot more data than you think you need. Data here disappears faster than you'd expect. I don't know how but it just gets eaten up!
WiFi is available in banks, malls, and fast-food restaurants. When possible, just hop in and mooch off their connection to preserve your precious data.
Wondering what to pack? Read my guide on what to pack for South Africa.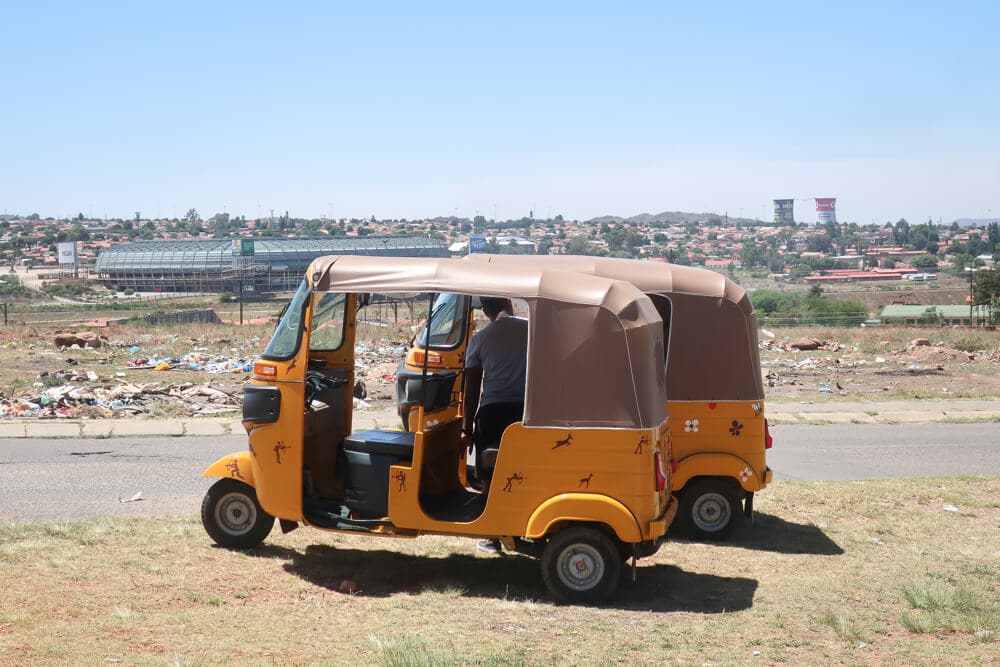 Morning Soweto Bike Tour
We started our day with this bike tour of Soweto.
The tour took four hours and ended with a delicious lunch so it was an excellent way to spend the first half of our day.
Township tours, Should you do it?
One our first trip to South Africa, I was torn on the idea of going on a township tour.
I didn't want to go on a poverty safari, parading through a township with my privilege in one hand and camera in the other.
But on the other hand, I really wanted to go! Like it or not, townships form a huge piece of South Africa's history.
You can't study the apartheid without reading about the townships. I wanted to see that side of South Africa.
After a lot of research, I found that there are some really great tours of townships all across the country.
Go into it focusing on respect, with an interest in history, and don't take photos of people without permission (this is just common sense anywhere).
Lebo's Soweto Bicycle Tours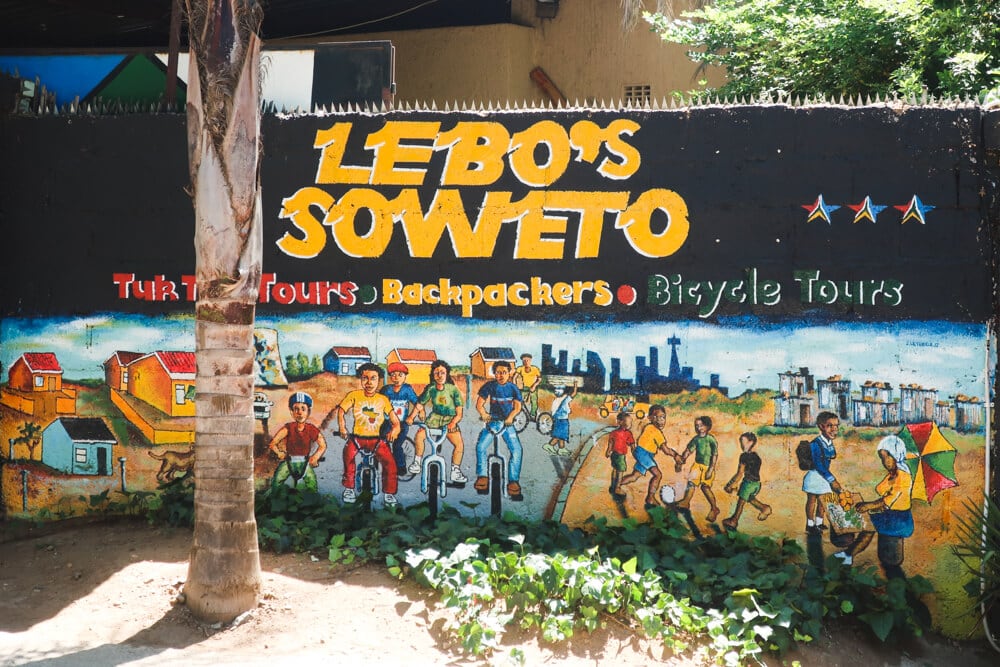 Ok, so with all that said, I can confidently recommend touring Soweto with Lebo's Soweto Backpackers.
They offer a few different ways to explore Soweto with walking tours, bike tours, and tuk-tuk tours.
Knowing I'd be itching for some exercise after spending a week on my butt in the car on safari, I booked us a 4-hour bicycle tour of Soweto.
I really, really loved this tour! It exceeded my expectations.
Our tour guide, Rambo, was great (they all were).
The one thing I was worried about was the heat and that I'd get hungry or dizzy biking on my light breakfast. But no worries, because we ate so much during the tour!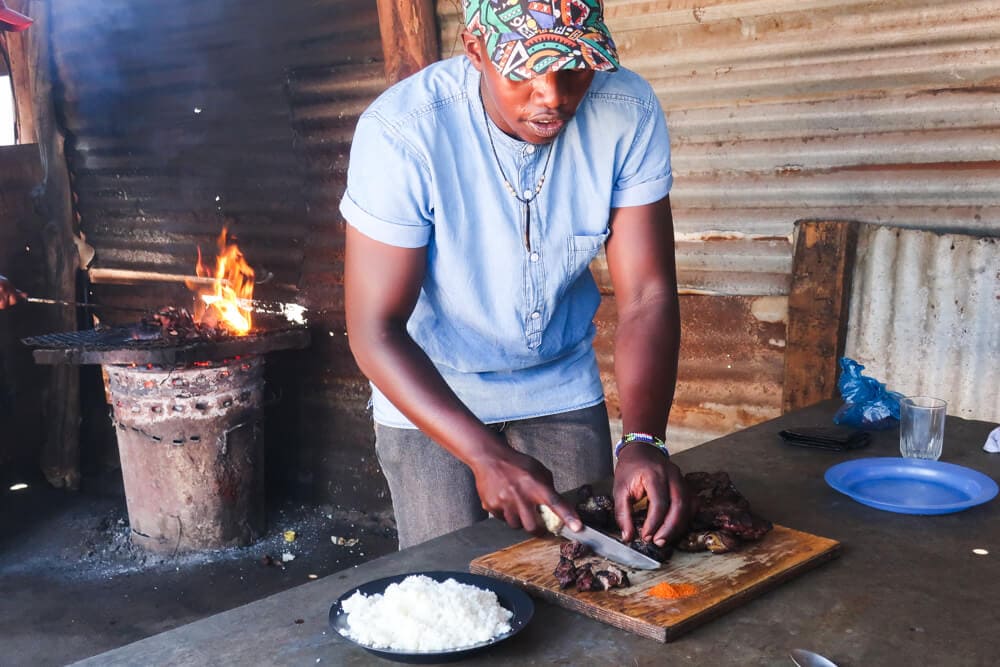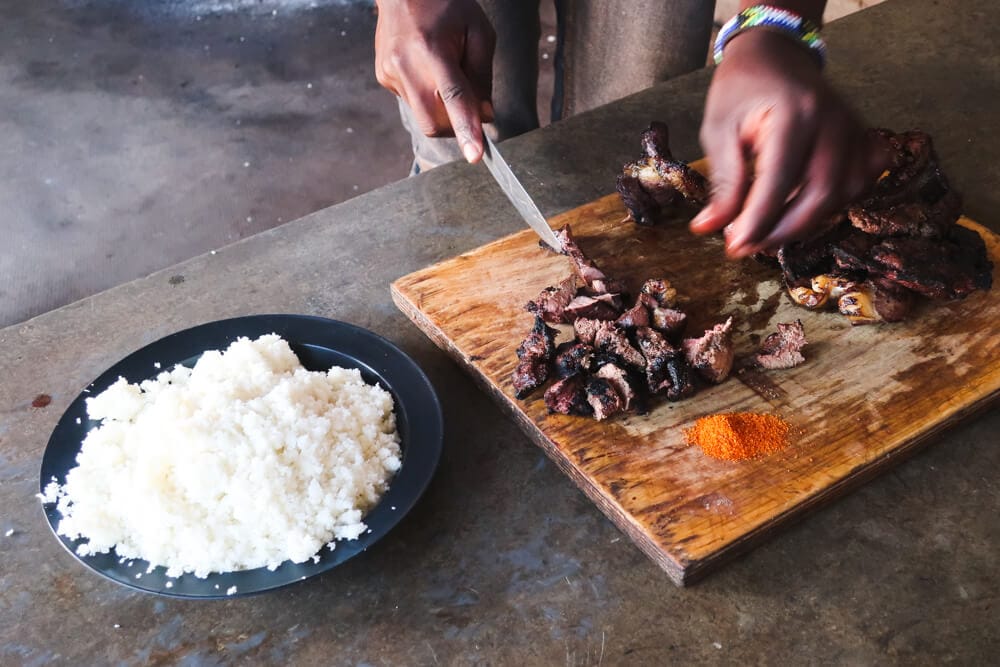 If you need water at any time, you can stop and run into one of the small shops and get whatever you need.
Early in the tour, we stopped at a restaurant and I tried beef heart for the first time.
There were a few different cuts of meat, served with pap and hot peri-peri sauce.
Later in the tour, when I didn't think I could take any more of the hot sun, our guides surprised us with frozen juice in a plastic bag (the perfect Popsicle).
We saw a lot of different aspects of Soweto, and words really can't do it justice.
It's something you need to see and experience first hand.
If you want to see Soweto, go on this bike tour.
If you don't want to bike or cannot bike, take their tuk-tuk tour.
You'll see parts of the city you'd never see otherwise, and be better because of it.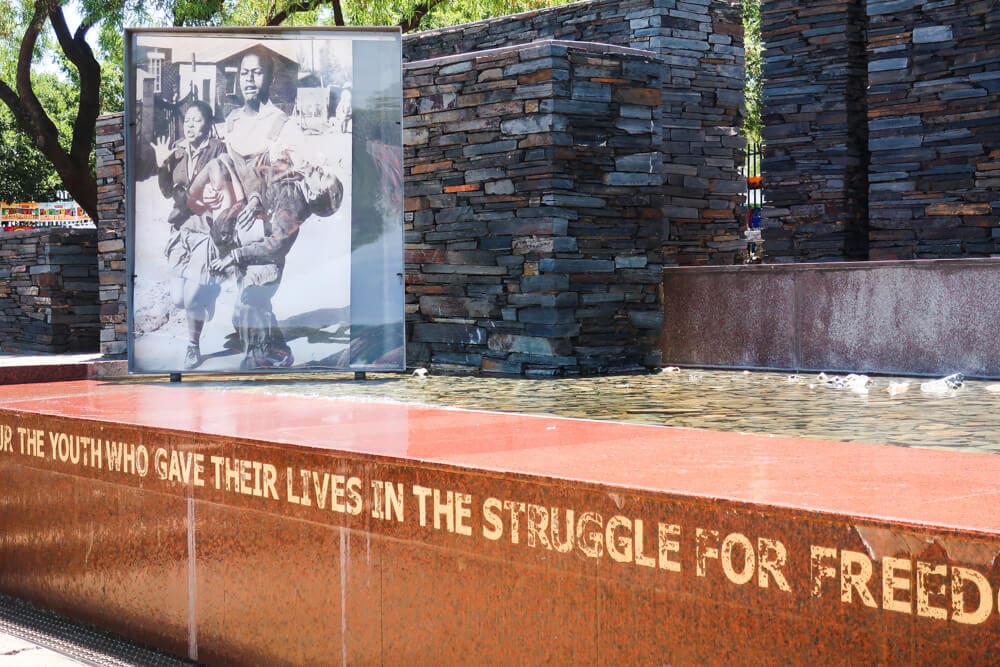 Of course, we saw Nelson Mandela and Desmond Tutu's houses, but we also saw so much that you can't see unless you're with a local.
I also would never have learned as much as I did without this tour.
There are some things you should do with a guide, and this is one of them.
The morning ended with tuk-tuks and bikes reunited again at the Backpackers.
In a circle we tried African beer, made from sorghum.
There's a non-alcoholic version for little ones that is more like a high energy smoothie. All this ended with home cooked lunch that's included in the tour.
Despite having a yard full of tables to choose from, we all squeezed into one table and ate together family style. The perfect way to end a perfect morning.
STAY AT LEBO'S BACKPACKERS
Reserve a room at Lebo's and stay the night in Soweto. There are plenty of activities to enjoy here, including monthly storytelling nights on the last Thursday of each month.

There are dorm rooms, private doubles, and family rooms available to suit every traveler. Check rates here.
Afternoon at the Apartheid Museum
Where | Cnr Northern Parkway & Gold Reef Roads
When | Mon – Sun: 9h00 – 17h00, closed on Good Friday, Christmas & New Year's Day
How much | 80-95 Rand
This museum is a must. No, don't groan, I heard that.
I know that the idea of visiting a museum on vacation can feel like a drag, but this one is too important to miss.
It's also excellently done. You'll need to spend a lot of time here, we spent three hours in the Apartheid Museum. It wasn't enough.
The museum moves in a specific direction from beginning to end, guiding you through history chronologically. After paying, you walk through a simulation of apartheid.
Your ticket randomly assigns you a race and you enter through your designated white or non white door.
Things to keep in mind
Give yourself plenty of time here. Their website says to allow two hours to "briefly interact with the exhibits."
I'd say that two hours would be very "brief." There is a LOT to read.
Reading every plaque/information posted here would probably take weeks. We spent three hours but could have spent many more, I was just too exhausted from travel to keep going.
You can't eat or drink in the museum, but there are some bits outside where you can.
Also, at the more or less halfway point, there's a "break room" of sorts. There are a couple of vending machines outside where you can grab a snack.
No photos are allowed inside, only outside.
Evening in Maboneng
The neighborhood of Maboneng, located downtown, was very cool. It reminded me of Palermo Soho in Buenos Aires.
It's small with only four blocks to explore, so it's easy to tack on to the end of a long day in Johannesburg.
Maboneng is small but filled to the brim with cute boutiques, vintage shops and hip restaurants that were far too hip for me.
There is also a lot of impressive street art to hunt down, like a multi-story mural of Nelson Mandela as a young boxer.
The largest second-hand bookstore in the Southern Hemisphere is here as well. Looking for a particular book? I'm sure they have it.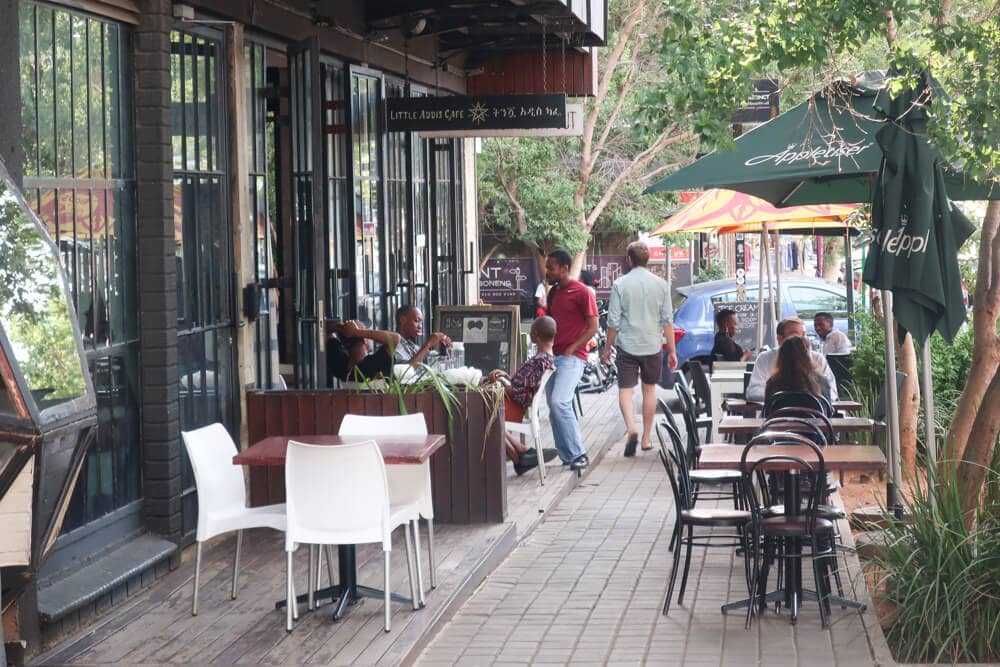 Where to eat in Maboneng
LIVING ROOM | 5th Floor, Main Change Building, 20 Kruger St | I really had my heart set on having sundowners at the Living Room. Their rooftop terrace was calling my name, unfortunately for me, it was closed for a private event.
PATA PATA | 286 Fox St | We weren't very hungry after everything we ate in Soweto, but we did need to rest our bones. We ended up at Pata Pata for a drink and dessert (their Malva Pudding y'all! So good!). If you're hungry for an actual meal, they serve traditional African cuisine.
LITTLE ADDIS | 280 Fox St | Just down the block from Pata Pata, Little Addis serves Ethiopian food. If I had been hungry, I probably would have chosen to eat here. I hear it's one of the best restaurants in town!
THE BLACKANESE | 20 Kruger St | The Blackanese specializes in African-Asian fusion. I read about The Blackanese on more than one Johannesburg guide and it comes highly recommended, I'm just not a fan of sushi (don't shoot me). If you are, try The Blackanese!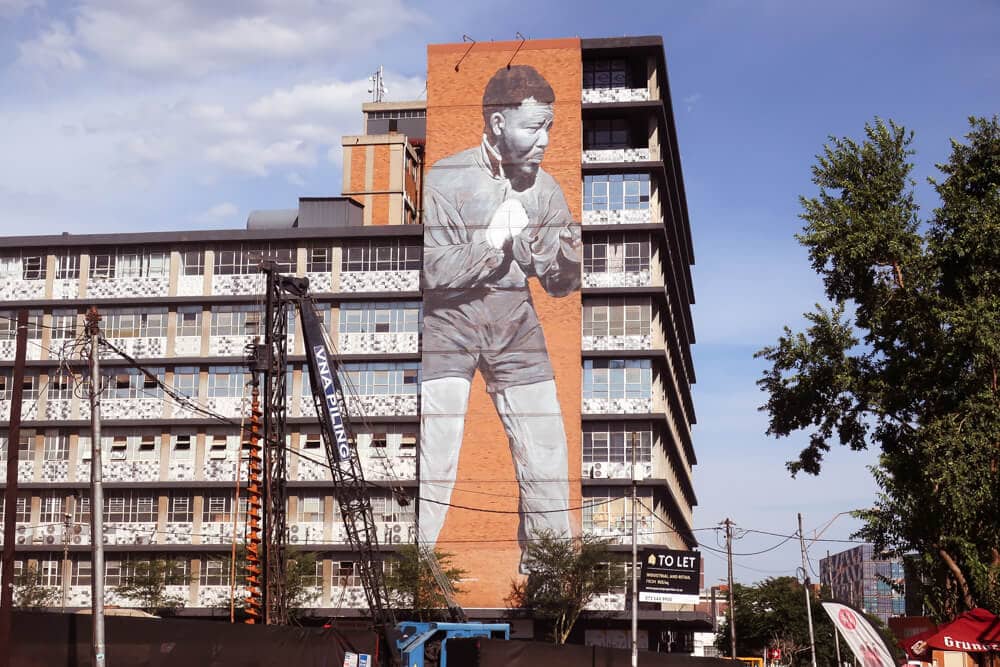 Guided Tour of Maboneng
Ok, so my "one day in Johannesburg" is a bit of a stretch.
We actually had a day and a half here. We spent one late afternoon in the Apartheid Museum. And on our second day, we saw Soweto and Maboneng.
In one day, you wouldn't have time for a tour of Maboneng after Soweto & the Apartheid Museum. You would have time for dinner here after the museum.
However, if you have an extra day, I recommend taking a guided tour of Maboneng.
Curiocity Backpackers also offers excellent tours, think. I booked a tour the morning of for a walking tour that afternoon.
When we got to Curiocity though, it turned out there was no tour! There was a glitch in the system that had shown me a tour that wasn't actually offered that day.
I bristled and prepared myself for an argument (after many years of poor customer service in Argentina, I'm hardened).
But there was no need, the young woman (I wish I had gotten her name) handled the situation beautifully!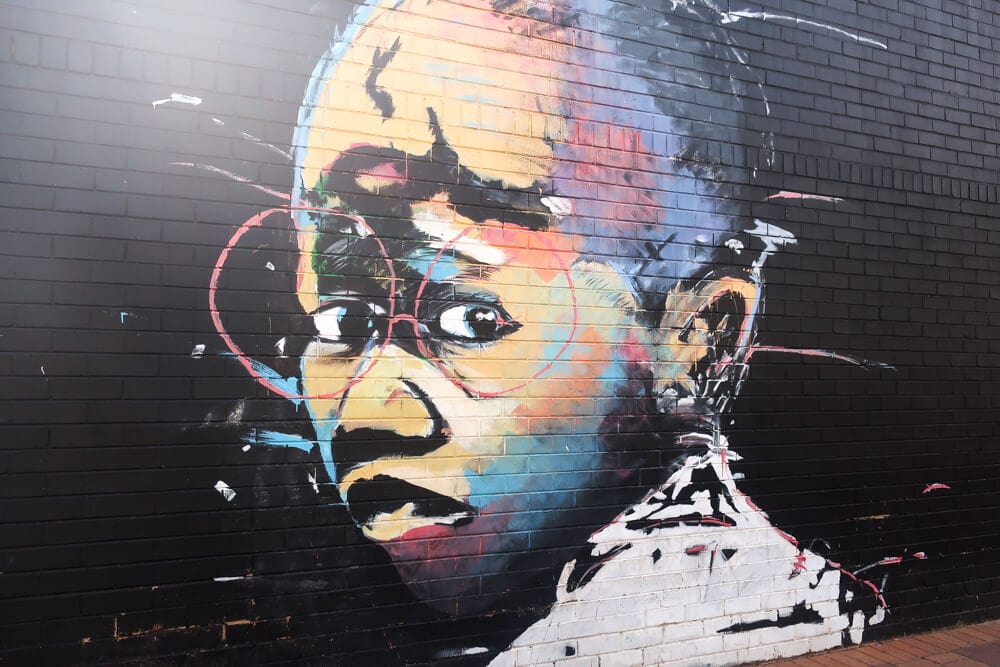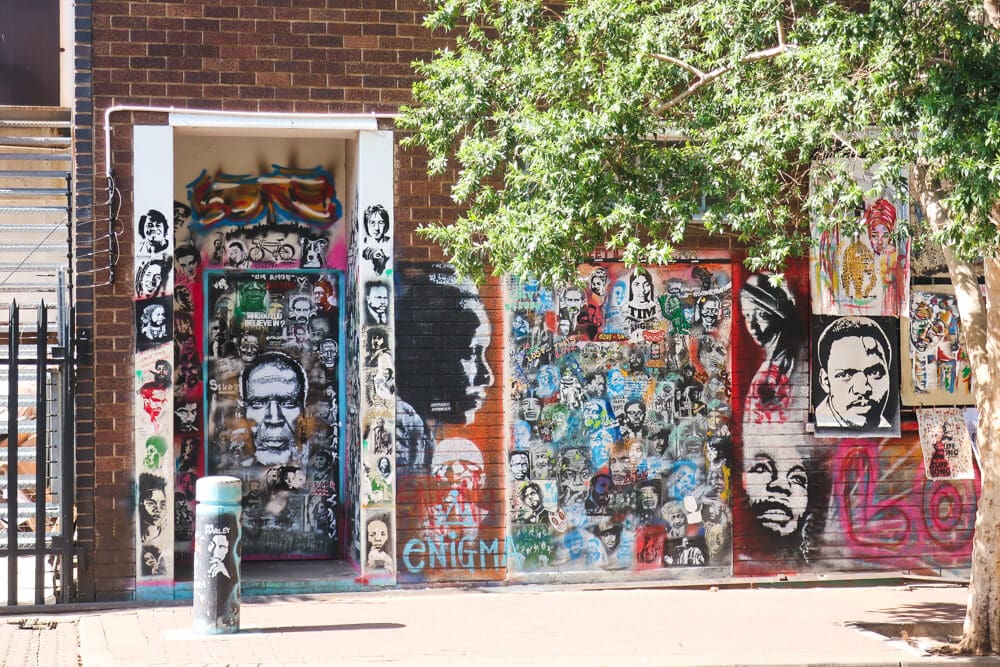 Since we wouldn't be in town the next day to attend the actual scheduled tour, she quickly refunded our money and offered to have two of the hostel's interns give us a quick walk around the neighborhood.
I think she intended for them to just give us a short briefing of what we could do and where. However, they gave us an all-out tour of Maboneng.
We saw everything I wanted to see, from street art to the book shop, as well as things I hadn't expected (like a visit inside an apartment building built entirely out of containers, see below).
It was a great tour and a huge surprise, thanks Curiocity!
Check out all the tours on offer here or reserve this full-city tour that includes Maboneng.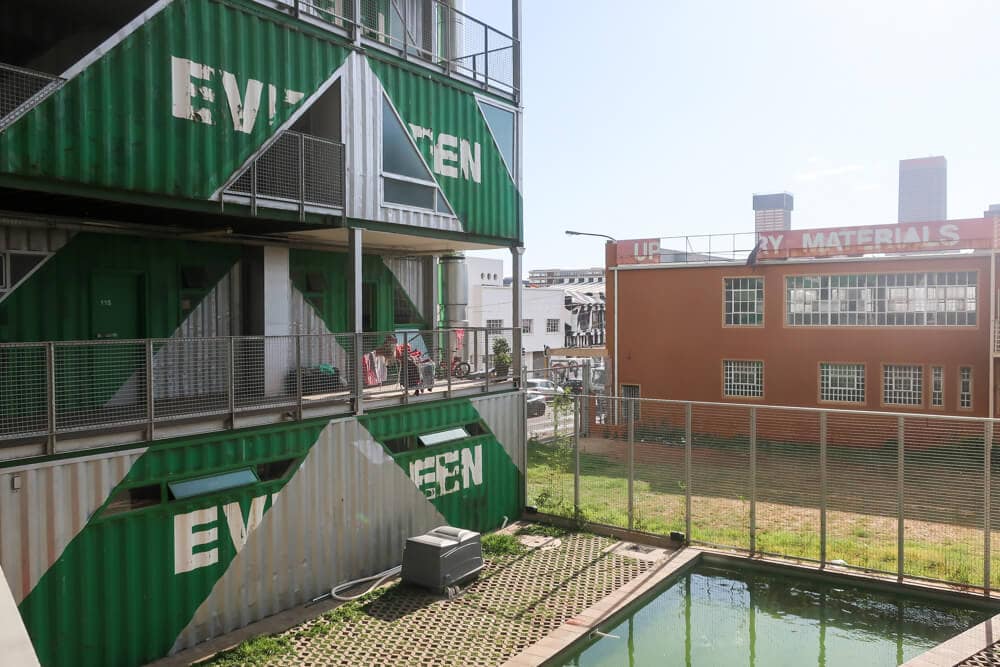 Where to stay in Johannesburg
I don't have any first hand experience to share as we stayed with a friend.
Strangely though, I did visit two hostels during our 1 day in Johannesburg.
I loved them both and I wouldn't think twice about staying at either on future trips.
CURIOCITY | I just gushed about how well they treated us at Curiocity, so it's clear why I'm recommending them. I didn't see the rooms, but from the state of reception and the bar/cafe, I can only imagine them to be just as nice as they look in the photos. Check rates here.

LEBO'S SOWETO BACKPACKERS | While it might not be ideally located for all of your time in Johannesburg, this hostel was great. And there's plenty enough to do in Soweto to merit staying at least two nights here. We only saw a tiny portion and I'd love to come back and see the Orlando Towers for instance! I also felt very safe here, so I don't hesitate to recommend staying at Lebo's. Check rates here.
Both of these hostels are great places and ways to save money on accomodation in Johannesburg.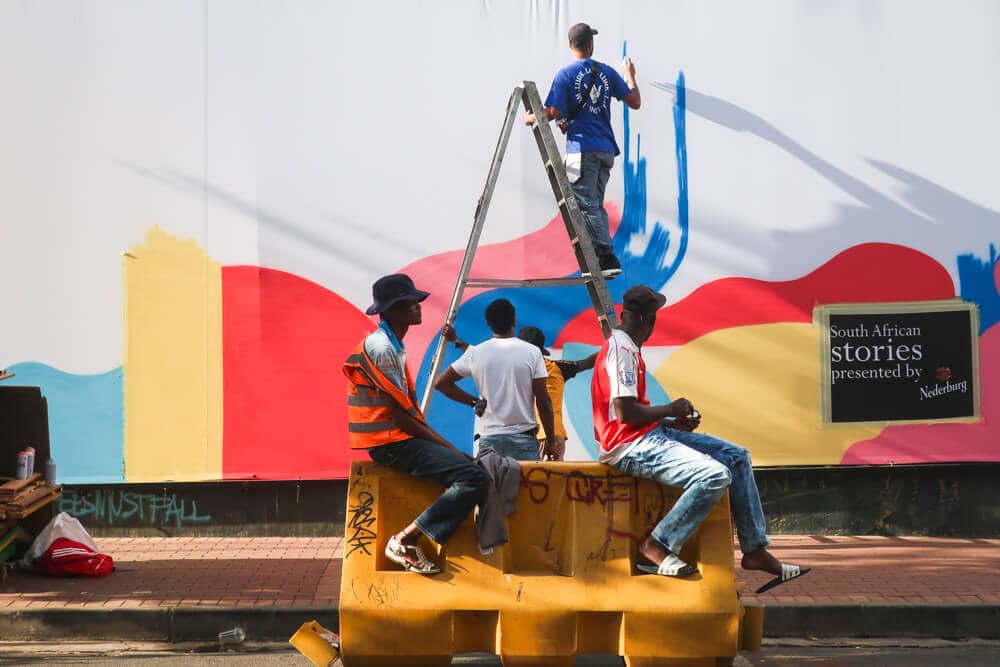 Is Johannesburg Safe?
I'm going to be completely honest with you here, Johannesburg is not the safest city I have ever visited.
This doesn't mean you shouldn't got here or that you should walk around in fear!
But I recommend taking your usual practices of staying aware of your surroundings and not flashing your valuables and kick it up a notch.
Be careful. Watch your surroundings.
If you're driving, especially from the airport, make sure you're not being followed. Car-jackings are a reality, not a myth.
A friend of mine was car jacked just outside of the gate to my friend's house where I stayed in Johannesburg.
They weren't hurt, but they lost everything and were shaken up.
Nothing happened to us, we were careful and I never felt like I was in danger. But just like my friend who lives there says, you feel safe until you're not.
I always hate to write things like this, because I worry it will scare people off from visiting a city. And I feel like Johannesburg is a wonderful city and worth seeing!
So, go to Johannesburg, don't be afraid. Just be cautious. If you're driving, always be aware.
If you're walking, consider an UBER, and definitely don't walk around late at night.
Ask your hotel/hostel what neighborhoods are safe for you to visit or walk in.
And with all of that, enjoy it. Johannesburg was a very cool city, and I'm sure I'll visit it again for the longer visit it deserves!
Read More About South Africa