The fire and an imposing parrilla sit in the center of the room, surrounded by a square bar.
Diners sit side by side, facing the fire.
The chefs put on a show from the open kitchen.
At Fogón Asado professional parrilleros take the traditional asado and convert it into an upscale 8-course dining experience.
If you're looking for the best steak in Buenos Aires and a memorable experience, this is it.
This post is a review of my experience at Fogón Asado.
If you're trying to navigate the many steak options and food tours of Buenos Aires, this post will undoubtedly help you in your decision.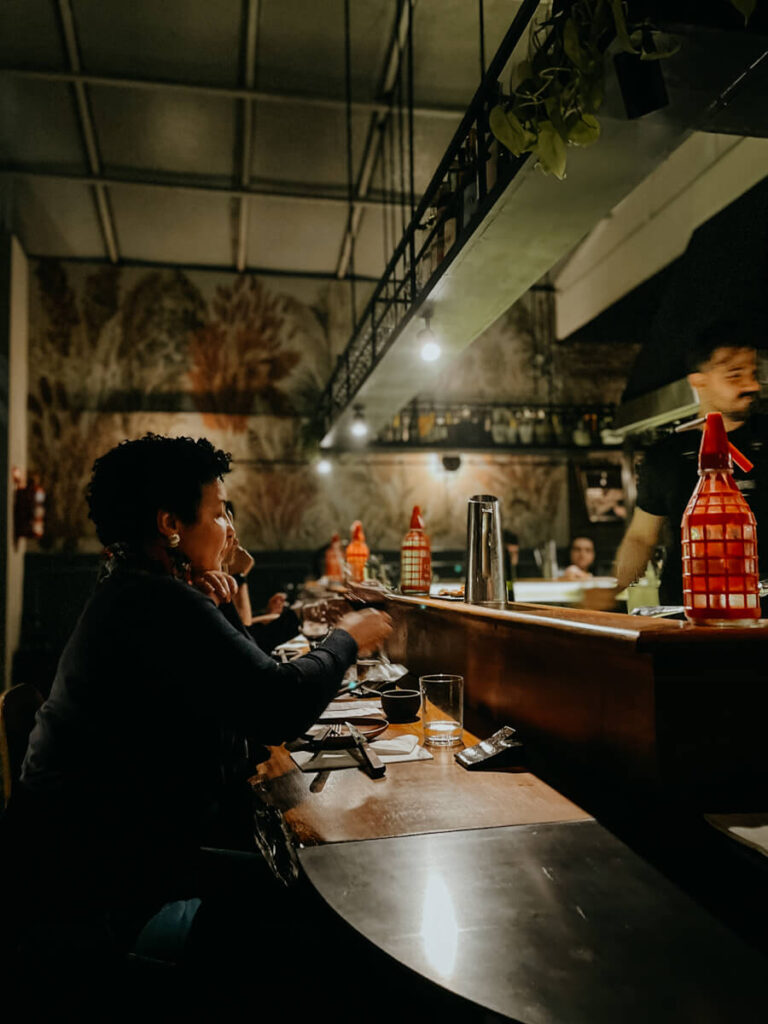 QUICK NOTE: This post contains affiliate links and Sol Salute may receive a commission for purchases made through these links, at no extra cost to you.
Fogón Asado Review
Dinner starts punctually at 7:45 pm.
While upsettingly early for Argentines, this is perfect for early bird me.
A lot of meat is about to be consumed and you'll need the rest of the night to digest before collapsing into bed.
If you're worried about adjusting to the local dining schedule in Argentina, you'll be relieved at Fogón Asado's start time.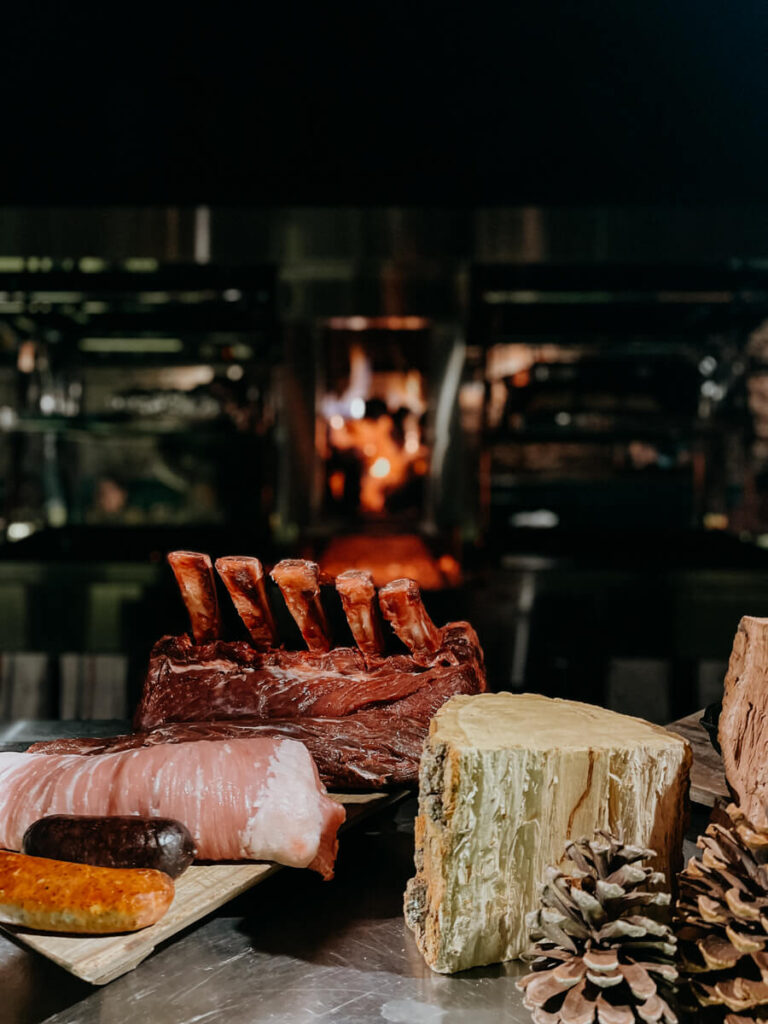 We showed up and were taken to our seats, right in front of the massive fire. A cocktail made with torrontes wine and yerba mate gin was waiting for us.
While guests arrived and settled in the chefs explained the cuts of meat we'd be eating.
We learned about the grill itself, the wood used, and were shown a platter of meat that included some of the most impressive ribs I've ever seen.
As we sipped on our gin cocktail, we prepared our own chimichurri with the jars of spices in front of us.
Despite being a chimi lover, I have to admit that during the meal I forgot we even had it.
The meat was so tender and flavorful, it didn't need the help of any sauce.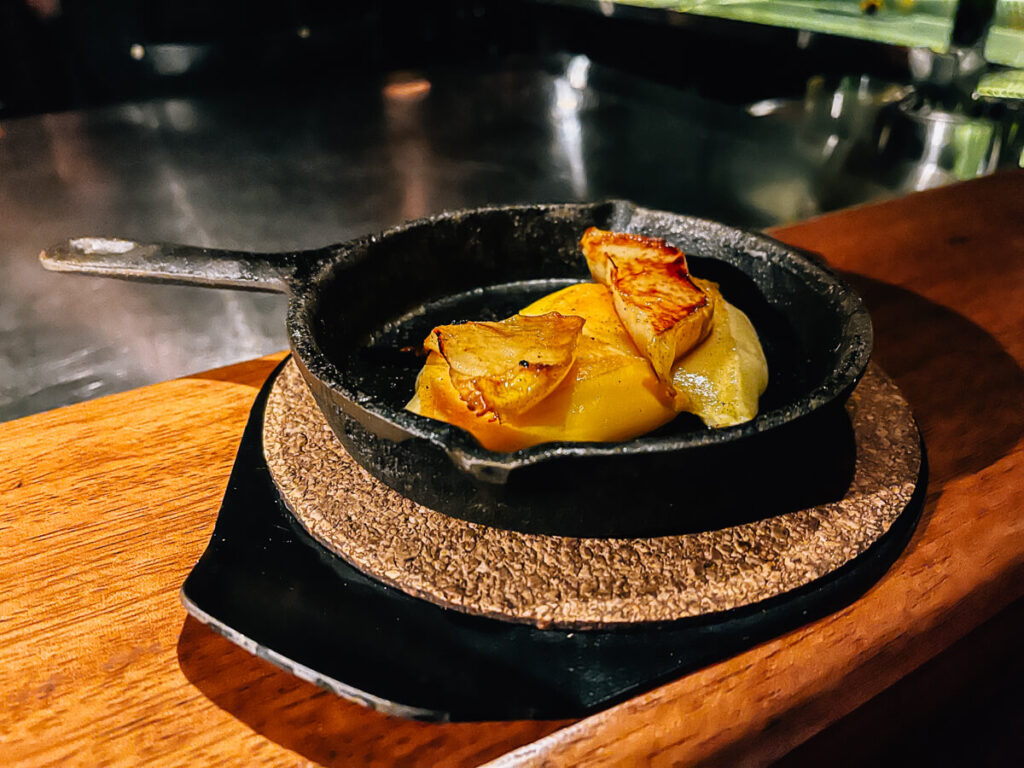 Related: The Argentine Experience: A Dinner Party & Lesson in Argentine Culture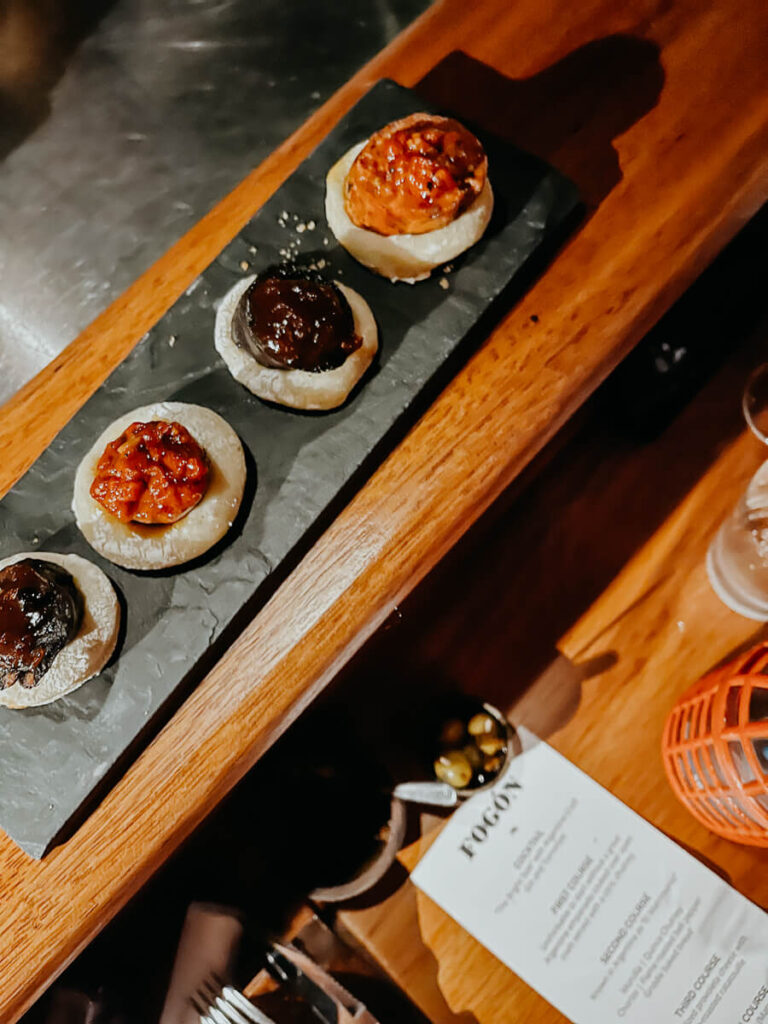 An Asado in 8 Courses
Once the food started rolling in it was a bit of whirlwind.
First we tried empanadas, then chorizo and morcilla, sweetbreads, and provoleta (a grilled cheese) …
With our wine glasses regularly filled and the chefs detailing the preparations of the next courses for us it was an all encompassing experience.
After the flurry of small starters, we watched as pine cones created the perfect smoke for our main course, the ceja (or the eyebrow to the rib eye).
It was quite the show seeing them pull the flaming pine cones from the fire but even that paled in comparison to the final product.
The ojo de bife had been cooked into such a buttery texture that with a simple tap the bone slipped away from the meat.
The steaks were cooked to perfection, medium for me and for my friend, rare. Argentina tends to overcook steak so if you're looking for the perfectly juicy rare steak, it's right here.
Every dish was detailed in a way that you'll never see in a typical steakhouse.
The provoleta cheese was topped with a cooked pear.
The typically tough and fatty matambre was perfectly paired with a fresh citrusy salad.
These small details elevate the asado into the fine dining experience Fogon is proud of.
At the end of the meal, when I thought I couldn't hold a single bite more, we were served dulce de leche filled crepes (panqueques con dulce de leche) with whipped cream and Patagonian berries.
A hot branding iron pressed into the sugar covered pancake, filling the space with smoke once more to end the perfect meal.
Book Your Own Fogón Asado
If all of this is making your mouth water, click here to book your own 8 course Fogón Asado Experience.
With limited seating and high demand, they tend to sell out so I recommend booking your seats in advance.
Keep in mind that you'll be sitting side by side with your party. Having gone with just one friend that was no problem at all and it's really what makes the experience as great as it is.
In fact, we talked with all the other guests on our side of the bar.
If you have any questions about the meal, feel free to comment below as I always respond!
RESERVE YOUR ASADO | Thanks to Fogón Asado for inviting me to try this unique Buenos Aires food experience. As always, all opinions are 100% my own. Click here to reserve your asado.
Read More About Eating in Buenos Aires:
Argentina Travel Resources