If you're reading this right now it must be raining in Buenos Aires and you're bored.
Most of the best things to do in Buenos Aires are outdoors exploring the markets, street art, and neighborhoods.
What are you supposed to do when it rains in Buenos Aires!?
This post is here to save your day!
Here are all of my favorite indoor things to do in Buenos Aires when it rains, from bookstores to palaces.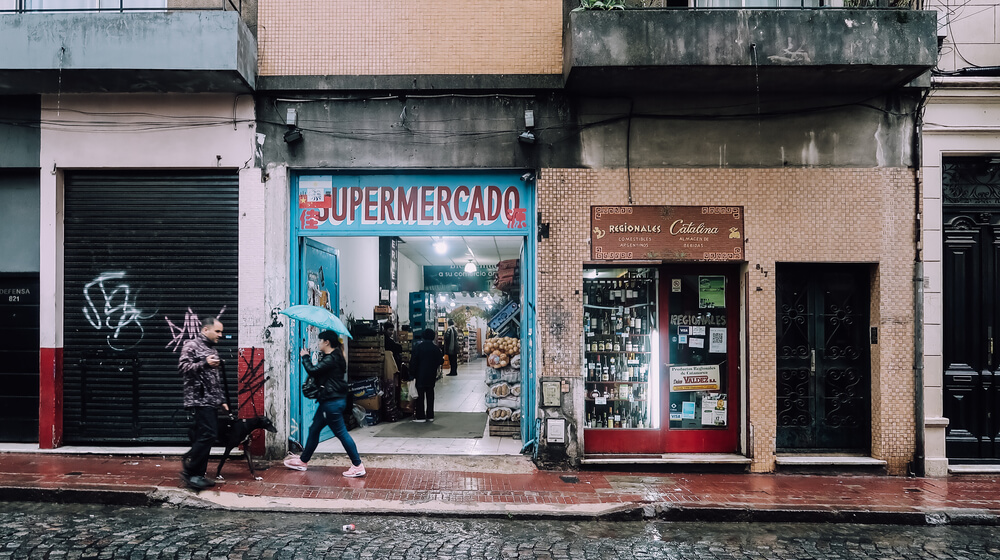 QUICK NOTE: This post contains affiliate links and Sol Salute may receive a commission for purchases made through these links, at no extra cost to you.
What to do when it rains in Buenos Aires?
When it rains in Buenos Aires, it pours.
It also tends to rain all day, forget about a passing shower.
I used to despair when it rained here, as all my favorite things to do here involve walking the streets or markets.
However, recently my best friend visited, and the forecast was doom and gloom. I was forced to leave my comfort zone and search for indoor activities in Buenos Aires.
Here is what I came up with: a complete and unique list of things to do when it rains in Buenos Aires.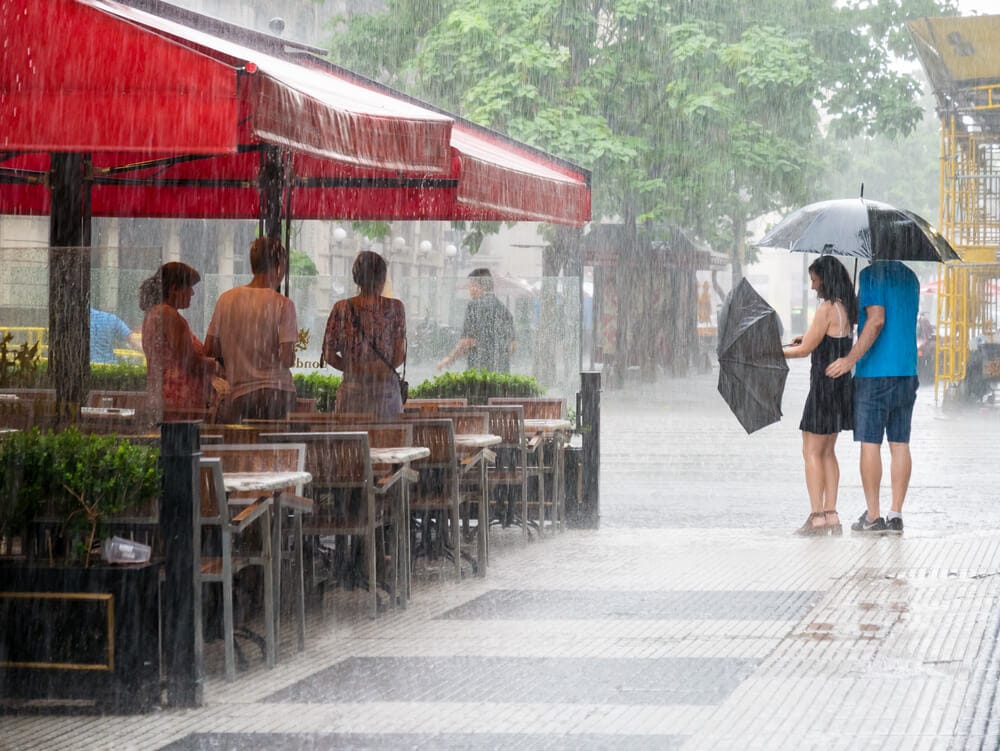 But First, Prepare for a Buenos Aires Rainy Day
Wear shoes that won't get damaged if they get wet.
Loose sidewalk tiles are the bane of my existence here.
Step on one after or during the rain and all of the water underneath it is now inside your shoe.
Don't say I didn't warn you.
You're going to want something that will keep your feet dry like these rubber Chelsea Boots that don't look like clunky rain boots. If it's too hot out for rainboots, I love my rubber Birkenstocks.
And obviously, grab your travel umbrella and/or raincoat.
Most importantly, read my post about the most important apps to use in Buenos Aires and download a ridesharing app.
If it's just light rain you can easily walk, but if it's storming you'll need to be able to call a car easily to avoid standing under the deluge. Uber exists here but it's a bit precarious.
A great Uber alternative is Cabify (and if you use my code, ERINM7, you'll receive a credit to use towards your first ride). Download Cabify for iOS here or Android here.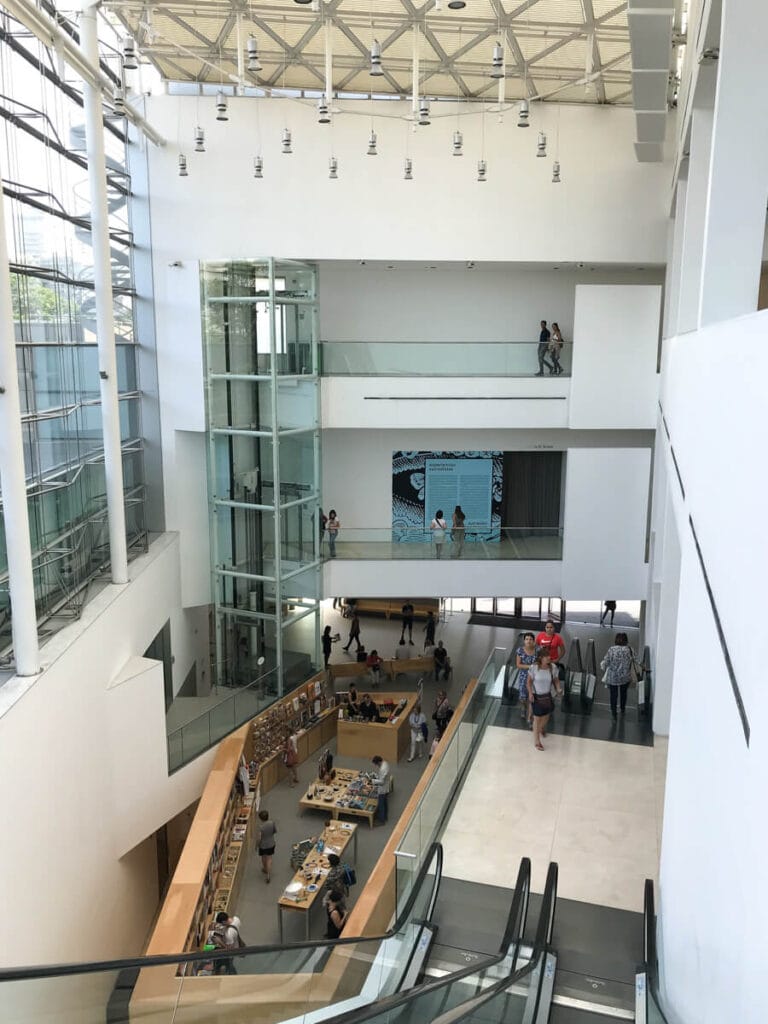 Unique Things to do in Buenos Aires When It Rains
So, without further ado, here are my top things to do on a rainy day in Buenos Aires.
Sip on coffee or wine or take in a bit of culture.
Visit MALBA
If it's pouring, hide from the rain in a museum!
The MALBA, or Museum of Latin American Art in Buenos Aires, has a solid permanent collection that never disappoints.
I've also seen some pretty impressive temporary exhibits here like Mario Testino's photography and Diego Rivera.
Check their official site for special exhibits and hours (Wednesdays are half off). 
There's a cafe inside the museum as well, feel free to break for a coffee and pastry before going back out into the rain!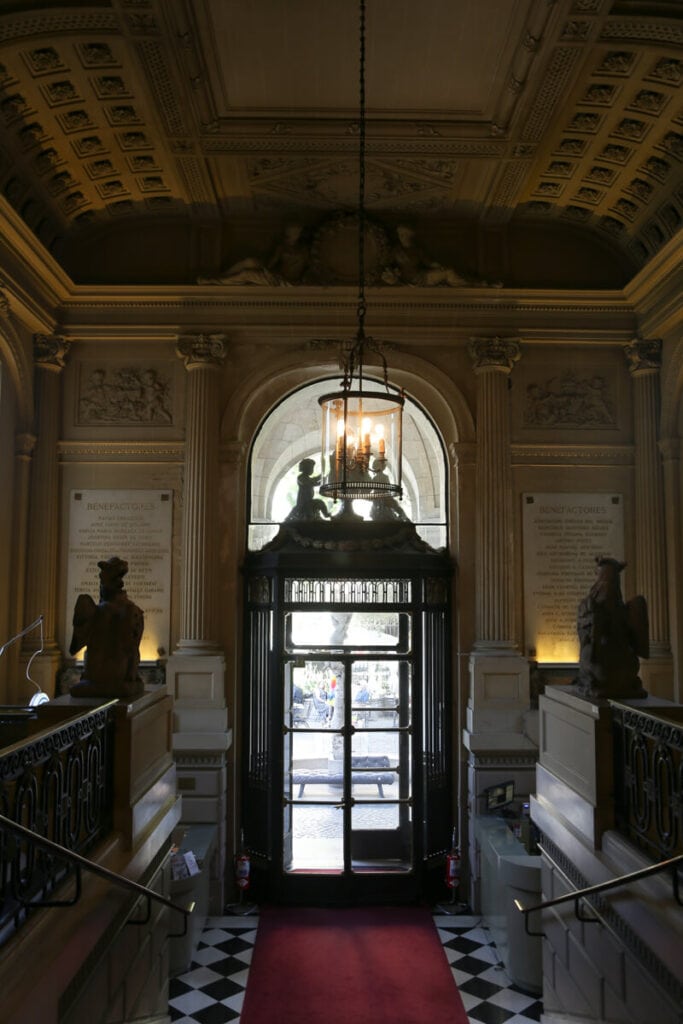 Pretend you're wealthy in a Historic Mansion
Only 8 blocks from MALBA (making it easy to combine the two on a rainy Buenos Aires afternoon), is the Museo Nacional de Arte Decorativo (National Museum of Decorative Art).
This historic mansion is old money Buenos Aires, a remnant from when the city was poised to be one of the wealthiest in the new world.
This single-family home was designed and built-in 1911, but the government purchased it in 1936.
That's why this mansion is so well preserved as a museum (rather than demolished and turned into another hideous apartment tower).
Important information: MNAD is open every day except Mondays from 12:30-19, entrance is free.
For more information (including guided visits in English) visit their official site.
Read Next | The 10 Best Tango Shows in Buenos Aires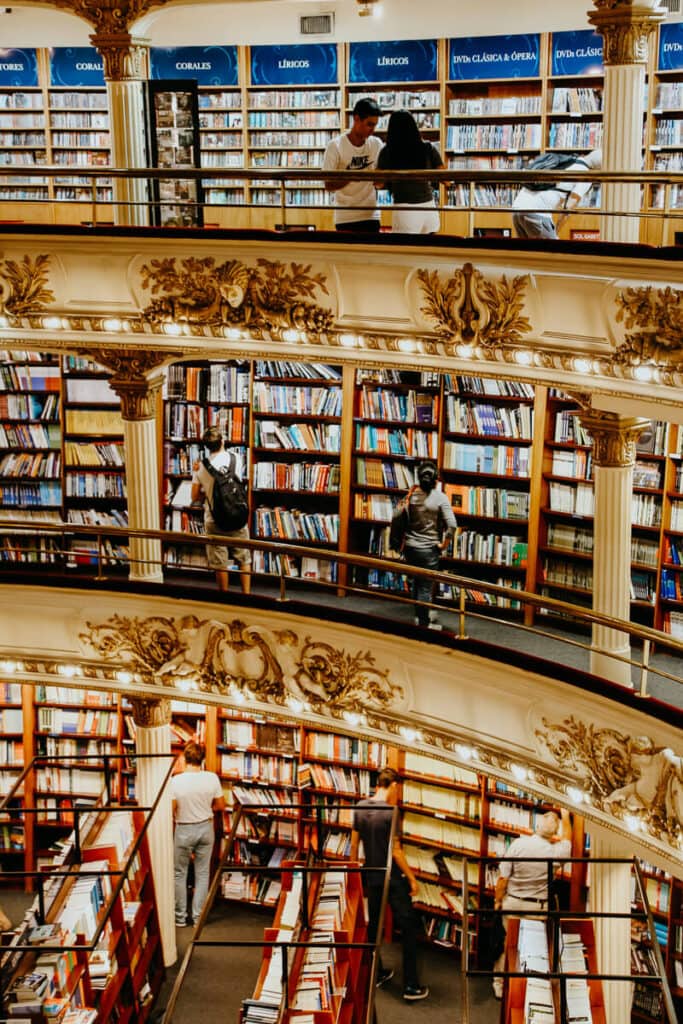 Be intellectual in a Bookstore
Buenos Aires has more bookstores per capita than any other city in the world.
There are bookstores everywhere you turn.
When in the United States, where Amazon has ruthlessly put all the "Meg Ryan Shop Around the Corner" shops out of business (You've Got Mail reference, you're welcome).
Being able to lose yourself among the bookshelves of an actual brick and mortar bookstore can be refreshing!
My two favorite bookstores to escape a rainy day in Buenos Aires:
El Ateneo Grand Splendid | Av. Santa Fe 1860 | Barrio Norte – You've likely heard of this one. It's regularly on must-see lists as one of the most beautiful bookstores in the world. This historic theater-cum-bookstore is a jaw-dropper. Pick out a book and read it in the coffee shop (set up on the old stage).
Libros del Pasaje | Thames 1762 | Palermo Soho – This is my favorite bookshop in town. It's cozy and I always discover a fun new book on display here. Their coffee shop in the back is extra cozy on a rainy day.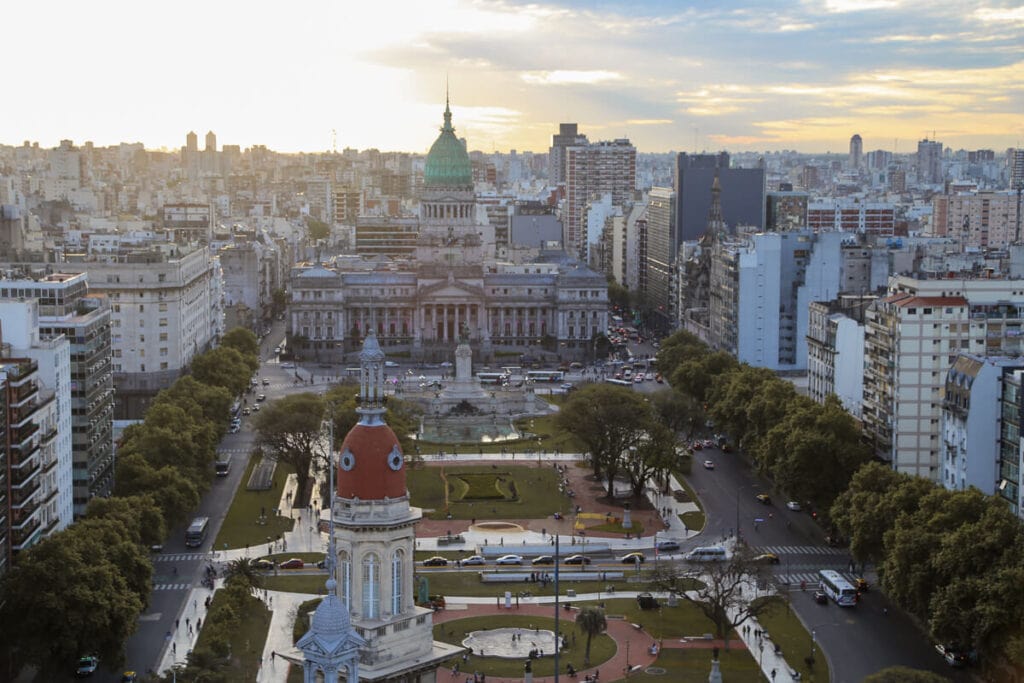 Tour the Congressional Palace
Leave behind the Malbec for a second and learn something.
The tours are free and offered in English or Spanish (so no excuses!).
PRO TIP: the Senate and Congress have separate websites with different tour information and times, but both tour the exact same things.
The only difference is which office runs each tour. You'll be guided by an employee of the Congress or the Senate.
So check the tour times for each and choose the one that works with your schedule.
Check hours for the Senate here and the House of Representatives here.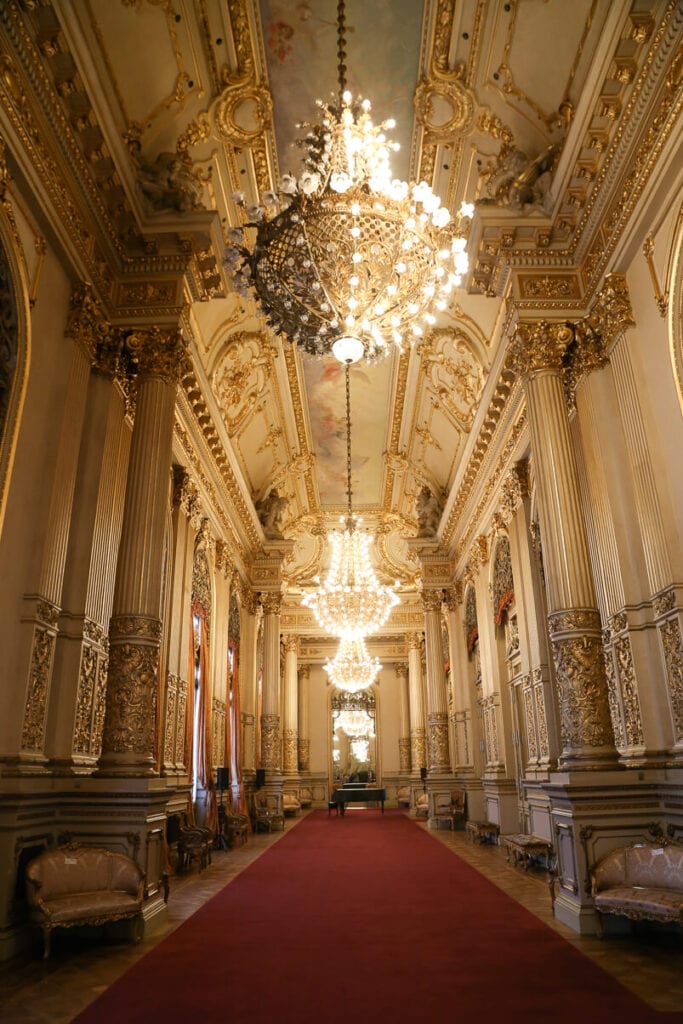 Visit Teatro Colon
The Teatro Colon Opera House is worth visiting rain or shine, but on a rainy day, it's an excellent Buenos Aires indoor activity.
There are daily guided tours in English and Spanish from 9 am – 5 pm.
The tour they offer is excellent (my parents recently visited and their guide sang for them!).
For tour times, prices and to reserve ahead of time visit their site here.
Looking for something to do on a rainy night? Go to an opera or ballet in the theater!
Channel your inner hipster at a new coffee shop…
Buenos Aires has really stepped up its coffee game in recent years. I feel like there's a new coffee shop opening up in Palermo Soho every week.
Bring that book you bought at El Ateneo and cozy up with a flat white in a cafe filled with Argentine men with man-buns, beards and skinny jeans.
A few personal favorites (all in hip Palermo Soho) are Padre, Full City Coffee, and Café Cuervo.
Order one of these traditional Argentinian desserts to go with your coffee.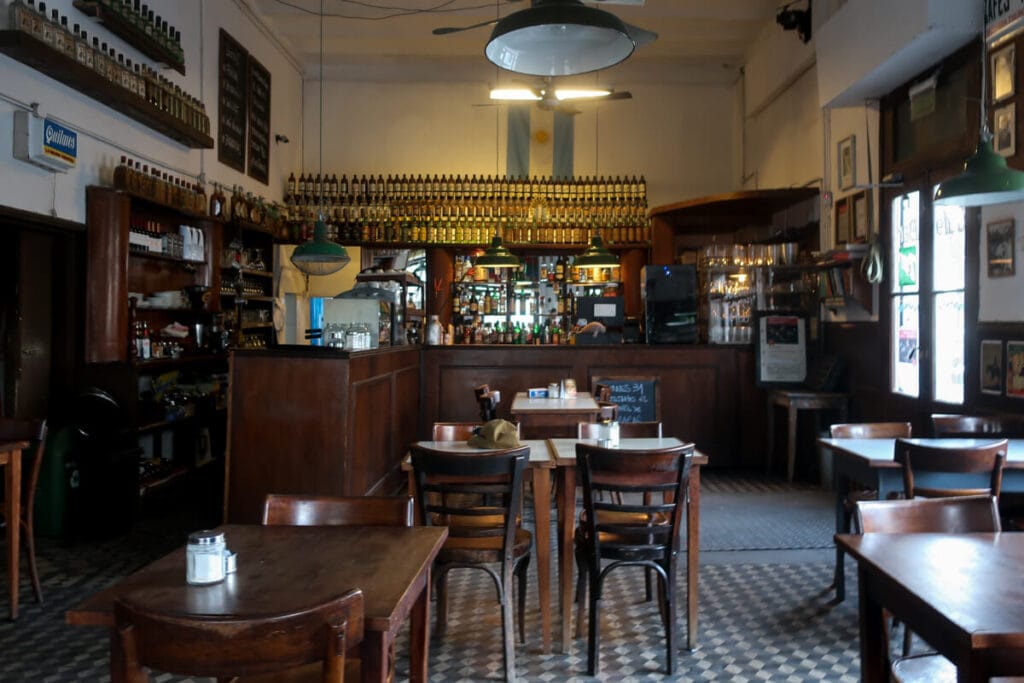 …or visit a historic Bar Notable
While the coffee may be better for coffee snobs in a new cafe, I prefer the ambiance of one of the many bares notables (an official list of historical notable bars and cafes in the city).
Cafe Tortoni is the most famous of these, but there are so many more amazing ones to choose from!
Have a coffee or visit before dinner for Copetin (an aperitif like Campari or Cynar served with a small snack). 
My favorite bares notables are in San Telmo: Bar El Federal, La Poesia or Bar Plaza Dorrego.
Search for the closest one to you here (search by neighborhood with the drop-down menu).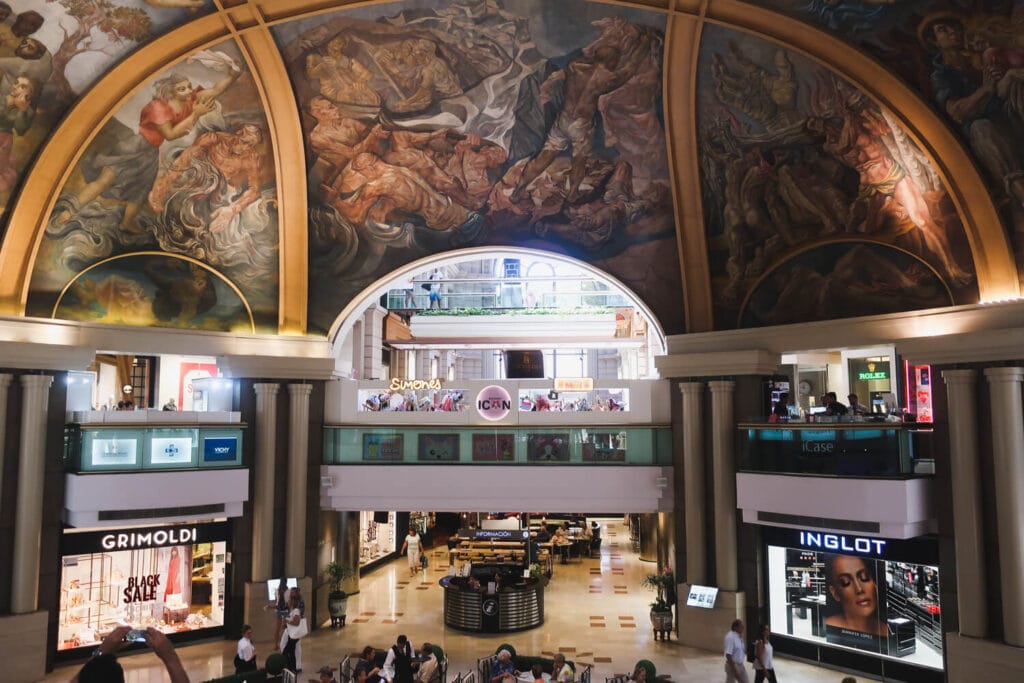 Shop in Style at Galerías Pacífico
Clothes are notoriously expensive in Argentina (there's a reason most Argentinos go shopping in Miami every year), so you're visited the Galerías Pacífico mall for the building, not the shops.
This opulent shopping center (located on the corner of Florida Street and Cordoba Avenue), is a work of art.
The building is from 1889 and could easily fit in in Paris.
The star is the central dome, covered in elaborate murals by Argentine artists.
If you do want to go shopping here, read my Buenos Aires shopping guide.
Read Next: The Perfect Buenos Aires Itinerary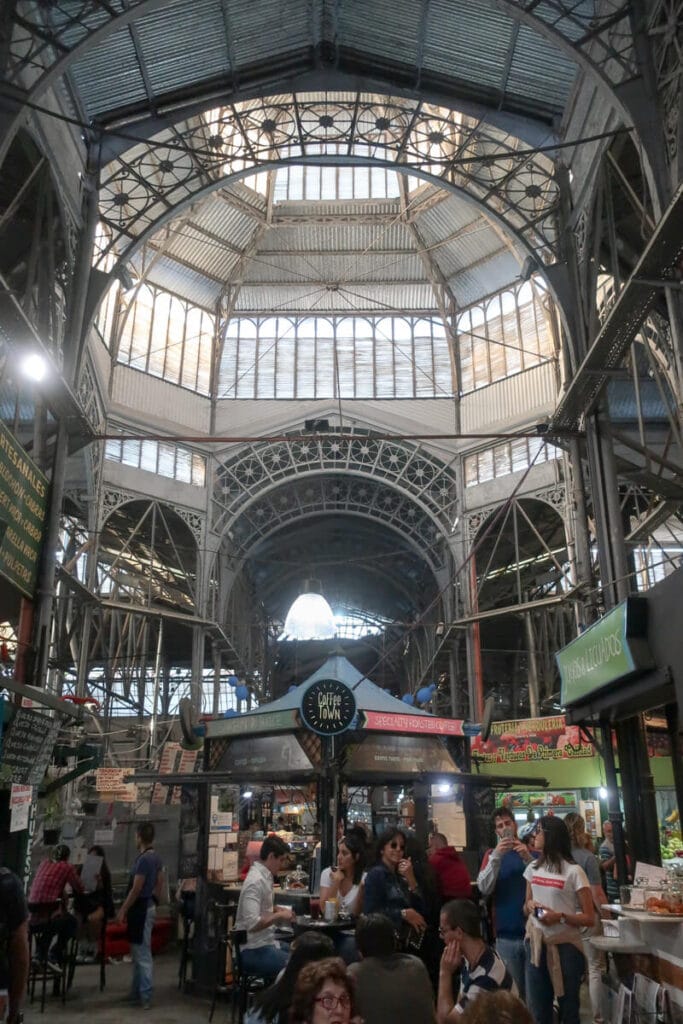 Be a foodie in San Telmo
San Telmo has changed a lot since I first lived there 9 years ago. In 2010, my only options were steak, pizza or empanadas.
There are a plethora of new restaurants here that would make any foodie happy. Perez-H makes great burgers, El Banco Rojo makes great everything and newbie Saigon is filling a huge void of Asian food in Buenos Aires.
The indoor market (address: Humberto 1º 401) used to house only antique eclectic knick-knacks and vegetable stands.
For better or worse, the vegetable stands are being turned into hip new food stalls. Try Aussie meat pies, Swiss beer or excellent coffee alongside the knick-knack shops.
Go Wine Tasting
Wine is the official national beverage of Argentina, therefore it is your cultural duty to taste as much of it as possible.
There is no shortage of wine bars in Buenos Aires where you can order a glass or a bottle, but treat yourself to a real tasting with a sommelier for a memory you'll never forget (unless you overdo with the Malbec).
This tasting comes very highly recommended, learn from the best with a sommelier guiding your tasting.
Reserve your wine tasting here.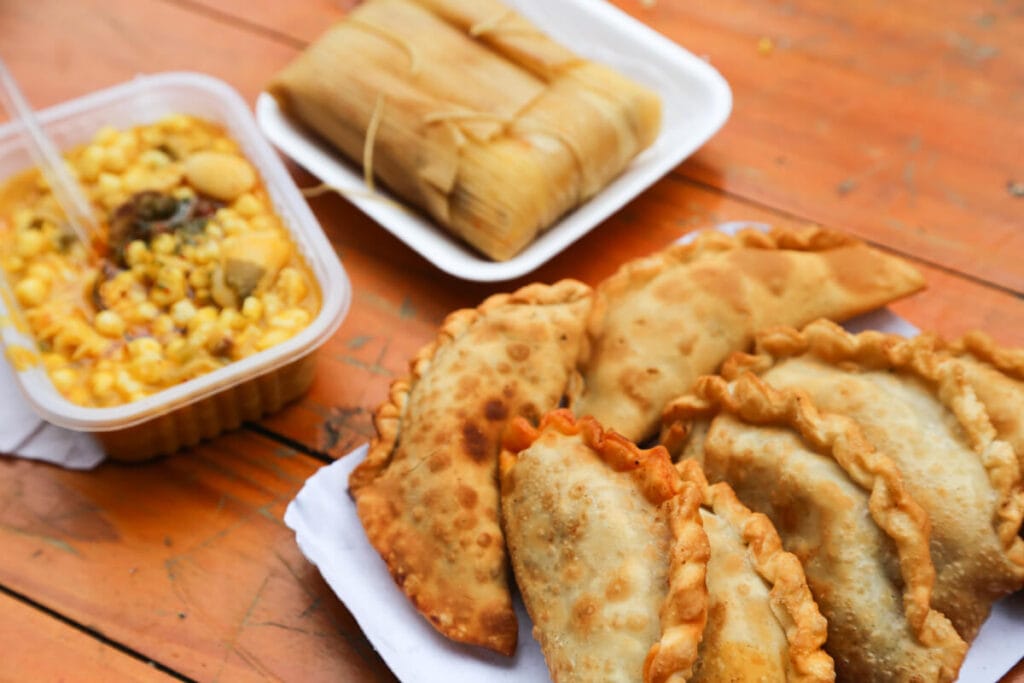 Take a Cooking Class
Now that you're a wine connoisseur, take a cooking class and learn to make your own Argentine steak and empanadas.
Imagine showing off all your new culinary and wine skills to your friends back home!
The Argentine Experience is the highest-rated tourist experience in Buenos Aires.
Everyone I know who has gone has had such a great experience, they rave about it!
I hear there's even an empanada competition, so come with your creative hat on (and an empty belly)!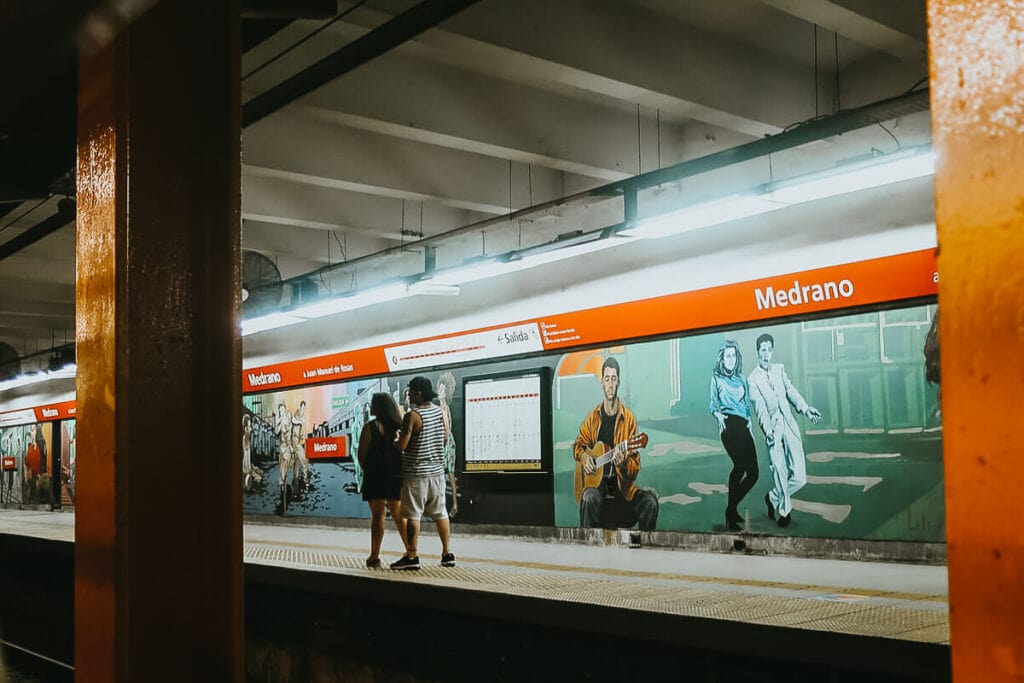 Check out the (underground) Street Art
It's no secret that there is some amazing street art in Buenos Aires.
But, you can't really appreciate it on a stormy day, now can you?
Lucky for you, the subway stations on Subte Line B (the red line) make up a sort of underground urban art museum. Each station is covered in its own, unique mural.
For a unique rainy day activity head underground! Start at the terminal and get off at each station along the way to see all of the Subte B murals.
Read More about Buenos Aires:
Pin This For a Rainy Day