If you're reading this right now it must be raining in Buenos Aires and you're bored.
Most of the best things to do in Buenos Aires are outdoors exploring the markets, street art, and neighborhoods.
What are you supposed to do when it rains in Buenos Aires!?
This post is here to save your day!
Here are all of my favorite indoor things to do in Buenos Aires when it rains, from bookstores to palaces.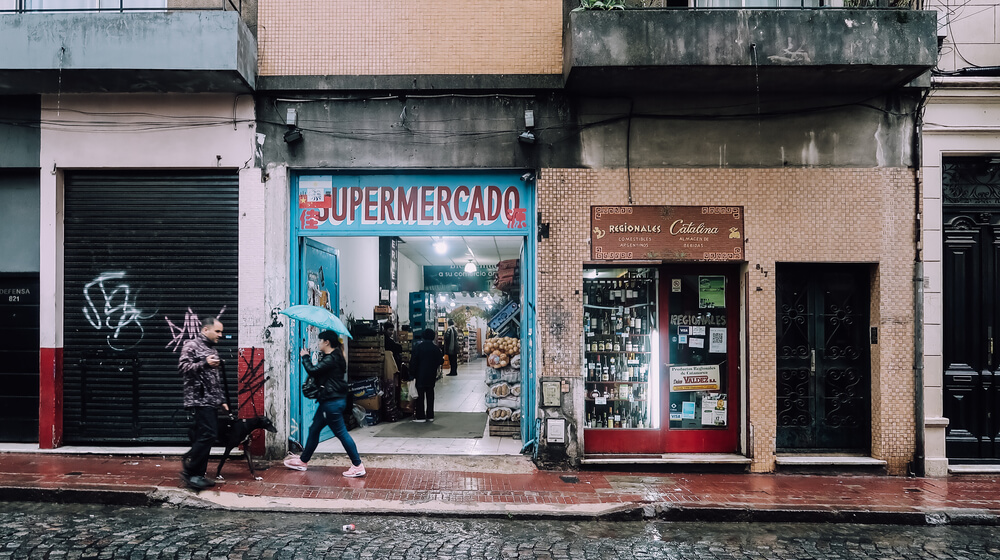 QUICK NOTE: This post contains affiliate links and Sol Salute may receive a commission for purchases made through these links, at no extra cost to you.
What to do when it rains in Buenos Aires?
When it rains in Buenos Aires, it pours.
It also tends to rain all day, forget about a passing shower.
I used to despair when it rained here, as all my favorite things to do here involve walking the streets or markets.
However, recently my best friend visited, and the forecast was doom and gloom. I was forced to leave my comfort zone and search for indoor activities in Buenos Aires.
Here is what I came up with: a complete and unique list of things to do when it rains in Buenos Aires.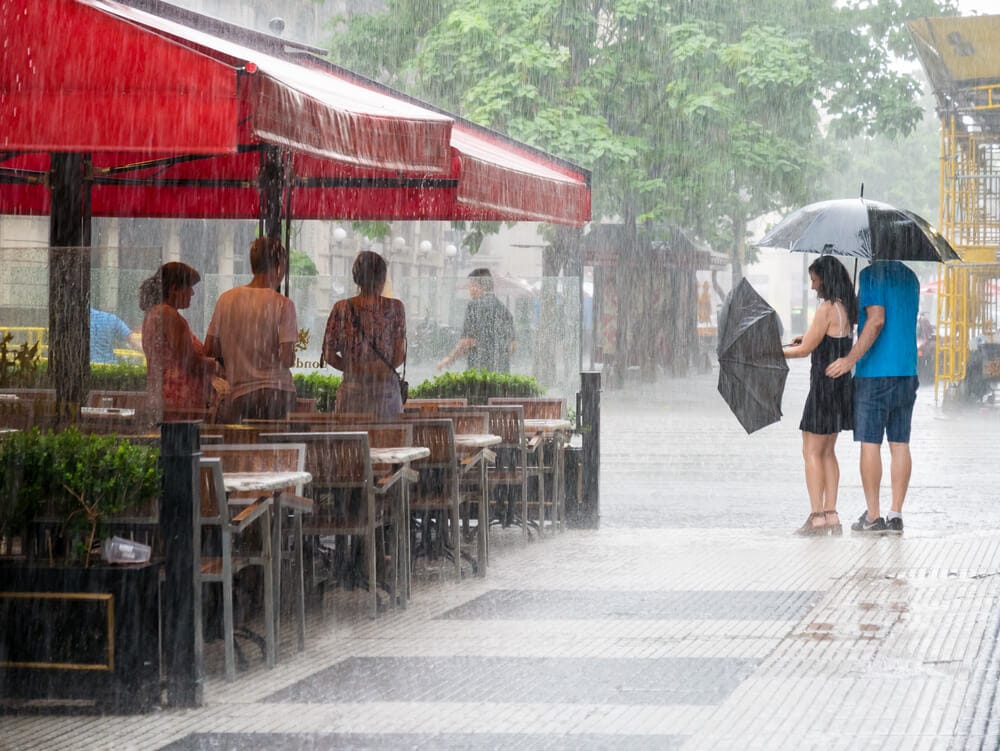 Things to Know Before Touring Buenos Aires When It Rains
Here are a few things to keep in mind when touring Buenos Aires on a rainy day.
Wear rainboots. Aside from actual rain, puddles form under loose sidewalk tiles and they will soak you. You're going to want something that will keep your feet dry like these rubber chelsea boots that look like regular cute boots and blend in.
And maybe it goes without saying… but grab your travel umbrella and/or raincoat.
Download a local ridesharing app: Uber is an option but unreliable in Argentina. A great alternative is Cabify (and if you use my code, ERINM7, you'll receive a credit to use towards your first ride). Download Cabify for iOS here or Android here.
Confirm opening hours/tour availability before going. For all of the museums in this article, always check opening hours and tours as they change often and may close on weird days/times or require a booked tour.
17 Unique Things to do in Buenos Aires When It Rains
So, without further ado, here are my top things to do on a rainy day in Buenos Aires.
Sip on coffee or wine or take in a bit of culture.
THINGS TO DO WHEN IT RAINS IN BUENOS AIRES MAP //
Want to find something close to where you are right now? I pinned all the places in this article onto a Google Map, embedded at the end of this post.
Visit MALBA
If it's pouring, hide from the rain in a museum. The MALBA, or Museum of Latin American Art in Buenos Aires, has a solid permanent collection that never disappoints.
I've also seen some pretty impressive temporary exhibits here like Mario Testino's photography and the works of Diego Rivera.
There's a cafe inside the museum as well, feel free to break for a coffee and pastry before going back out into the rain!
Check their official site for special exhibits and hours. Wednesdays are half off.
Other Art Museums in Buenos Aires:
Looking for other art museums to hide from the rain in Buenos Aires?
Museo Nacional de Bellas Artes | Recoleta, Fine Arts Museum with more than 30 rooms housing a permanent collection and 3 housing multiple temporary exhibits, closed Mondays
Fundación PROA | La Boca, Modern art museum with a nice cafe on the top floor with a view of the port
Museo de Arte Moderno | San Telmo, Modern Art Museum in San Telmo, open every day except national holidays. Wednesdays are free of charge. English language guided tours are available on Wednesdays, Saturdays, and Sundays at 11:30 a.m.
Museo Nacional de Arte Decorativo | This museum is so special it needs it's own mention, next up on this list…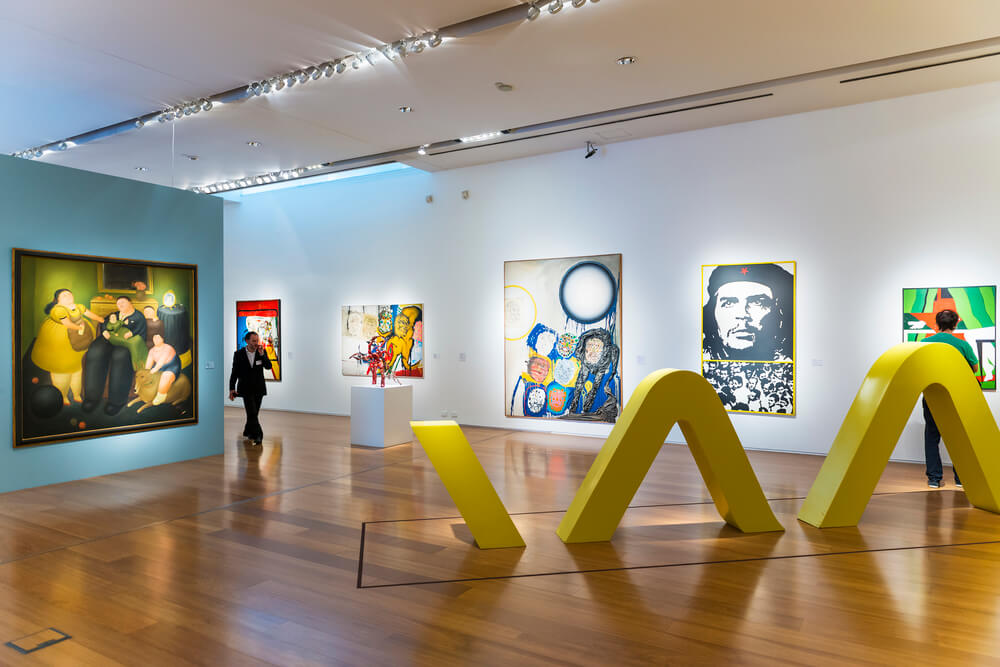 Museo Nacional de Arte Decorativo
Only 8 blocks from MALBA (making it easy to combine the two on a rainy Buenos Aires afternoon), is the Museo Nacional de Arte Decorativo (National Museum of Decorative Art).
This historic mansion is old money Buenos Aires, a remnant from when the city was poised to be one of the wealthiest in the new world.
This single-family home was designed and built-in 1911, but the government purchased it in 1936.
That's why this mansion is so well preserved as a museum (rather than demolished and turned into another hideous apartment tower).
Important information: MNAD is open every day except Mondays from 12:30-19, entrance is free.
For more information (including guided visits in English) visit their official site.
Museo de la Inmigración: The Immigration Museum
For a unique look into Argentina's history, take a taxi to the Immigration Museum (it's a bit tough to reach on foot if you're unfamiliar with the area, particularly if it's raining).
The museum is housed in the old Hotel de los Inmigrantes, a building that operated from 1911-1953, housing recently arrived immigrants and providing training to help them find work.
The massive waves of immigration that took place here at the end of the 19th century and the beginning of the 20th century made Buenos Aires and Argentina what you see today.
Open from Tuesday through Sundays from 11 a.m. to 8 p.m., confirm hours on the official site here.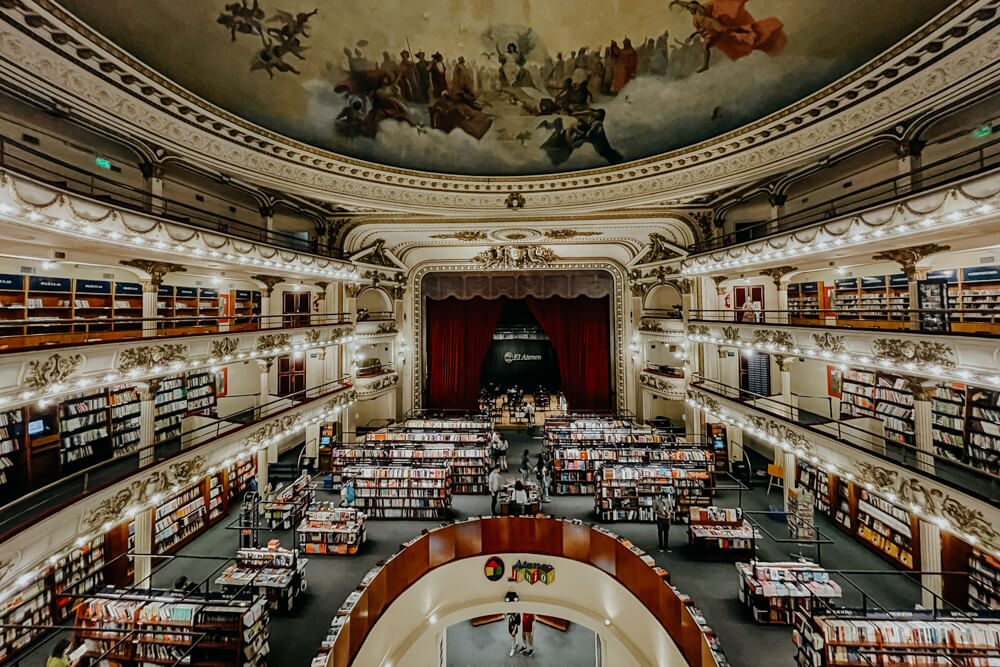 Lose Yourself in the City's Many Bookstores
Buenos Aires has more bookstores per capita than any other city in the world.
While Amazon killed the small bookshop in the US, they are not only alive but thriving here.
Being able to lose yourself among the bookshelves of an actual brick and mortar bookstore is refreshing.
My three favorite bookstores to escape a rainy day in Buenos Aires:
El Ateneo Grand Splendid | Av. Santa Fe 1860, Barrio Norte | You've likely heard of this one. It's regularly on must-see lists as one of the most beautiful bookstores in the world. This historic theater-cum-bookstore is a jaw-dropper. Pick out a book and read it in the coffee shop (set up on the old stage).
Libros del Pasaje | Thames 1762, Palermo Soho | This is my favorite bookshop in town. It's cozy and I always discover a fun new book on display here. Their coffee shop in the back is extra cozy on a rainy day.
La Librería de Ávila | Adolfo Alsina 500, San Telmo | This historic bookstore always has the best books about Buenos Aires and Argentina's history and culture. It's the oldest bookstore in the city!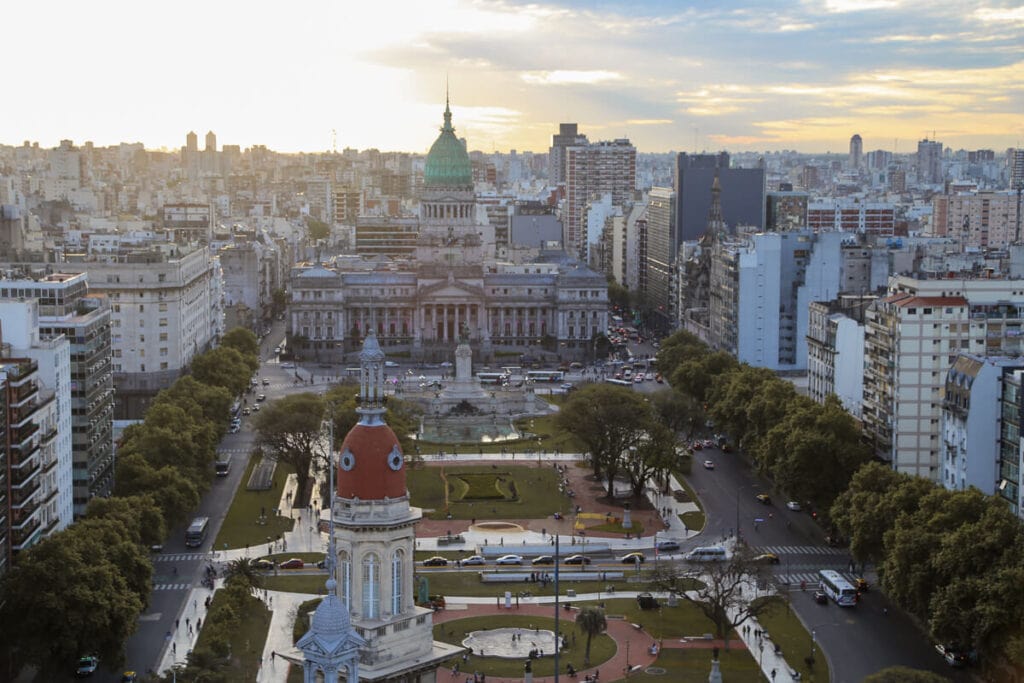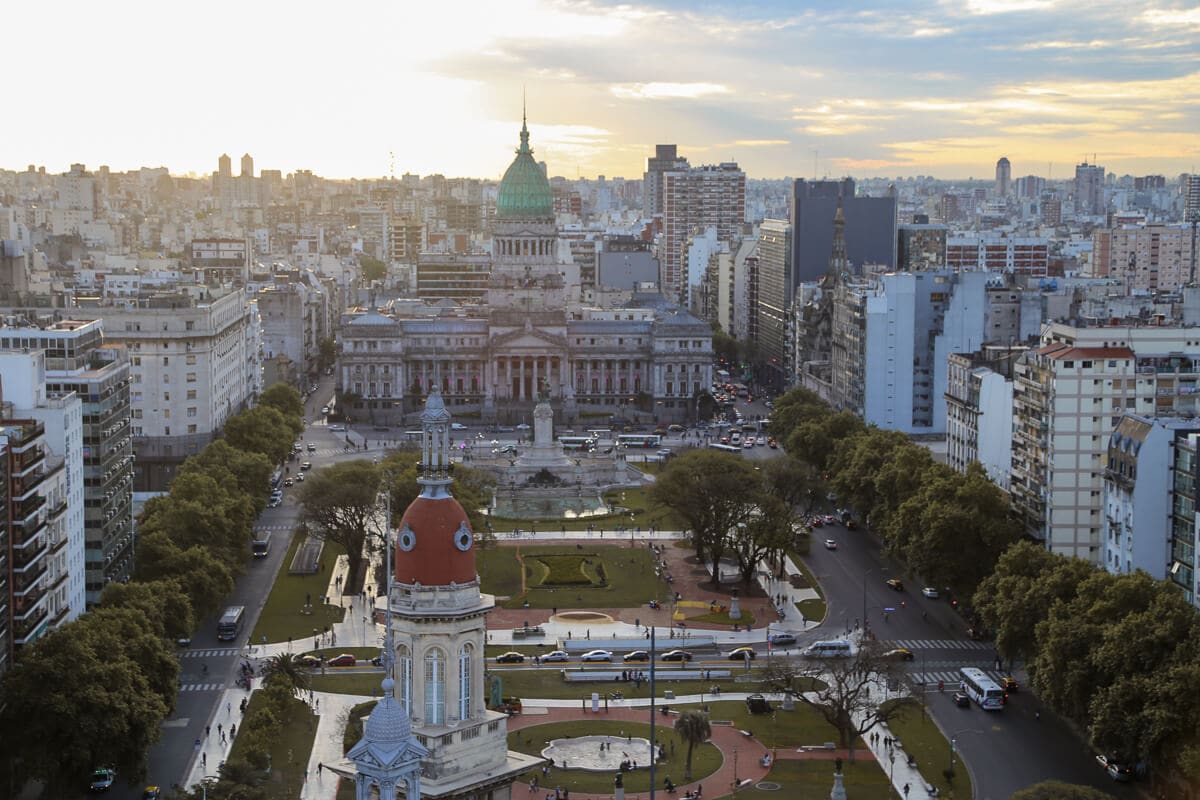 Tour Congress
Buenos Aires' Congressional Palace offers regular guided tours of the House of Representative and the Senate. These tours are a bit off the beaten bath and even most locals don't know they're offered.
The tours are free and offered in English or Spanish.
PRO TIP | The Senate and Congress have separate websites with different tour information and times, but both tour the exact same things. The only difference is which office runs the tour.
Check the tour availability for each and choose the one that works with your schedule.
Check hours for the Senate here and the House of Representatives here.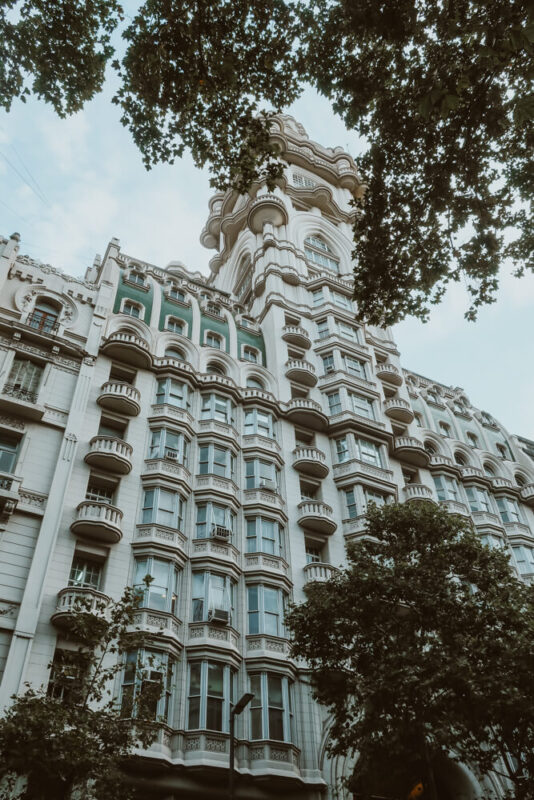 Experience Dante's Divine Comedy in Palacio Barolo
Palacio Barolo is one of the most iconic buildings in Buenos Aires, just a couple blocks from Congress.
Barolo's design is based on the Divine Comedy by Dante Alighieri.
The bottom floor is designed to represent hell, the floors of office space in the middle are purgatory, and the lighthouse on the roof is heaven.
Those into the Free Masons will also find a lot of symbolism present all over the building.
A tour here is a must-do for any Buenos Aires itinerary and since it's mainly indoors, it's a great thing to do when it rains in Buenos Aires.
There is also a new café with views of Congress and a patio to enjoy if the weather abates.
This official site has links/emails for reserving guided tours or click here to reserve quickly.
Buenos Aires Hop On Hop Off Bus
If you still want to see the city despite the rain, the hop on hop off bus by Greyline is an excellent option.
These bus routes cross the entire city and cover a lot of ground from Belgrano to La Boca. You'll hear about the history of what you're seeing as you go and if the weather is awful, you can do so under cover inside the bus.
These buses are something I always recommend.
They're a great introduction to any city and can double as transportation for harder to reach neighborhoods (like La Boca) and save you taxi fare.
Click here for more information and to reserve.
Visit Teatro Colon
The Teatro Colon Opera House is worth visiting rain or shine but it's an excellent Buenos Aires indoor activity for a rainy day.
There are daily guided tours throughout the day but tours in English are only offered at 1 pm and 3 pm.
The tour they offer is excellent (my parents recently visited and their guide sang for them!).
For tour times, prices and to reserve ahead of time visit their site here.
Looking for something to do on a rainy night? Go to an opera or ballet in the theater!
Colon Fabrica, La Boca
While we're on the topic of Teatro Colon, get behind the scenes at Colon Fabrica in La Boca.
In this warehouse of a museum check out scenery, wigs, costumes, and more.
They're open on Fridays, Saturdays, Sundays, and federal holidays from from 12:00 to 18:00 at Av. Pedro de Mendoza 2163 in La Boca.
Click here for the official site to purchase your ticket.
Eat Your Weight in Butter At a Specialty Coffee Shop
Buenos Aires has really stepped up its coffee game.
Especially since the dark times of 2020 when a major pastry trend hit the city and blessed us with epic buttery treats served up alongside specialty coffee.
Bring that book you bought at El Ateneo and cozy up with a flat white in a café and order bottomless medialunas (local version of a croissant).
Note: Bottomless orders of medialunas are not actually a thing but in the right mood, I could eat an ungodly amount.
A few great ones (of many) to choose from are Café Cuervo, Usina Cafetera, Lattente, Cruasan, Gula, La Kitchen, and honestly, I could go on forever.
Read this list of great new pastry spots by Pick Up The Fork for more.
Order one of these traditional Argentinian desserts to go with your coffee.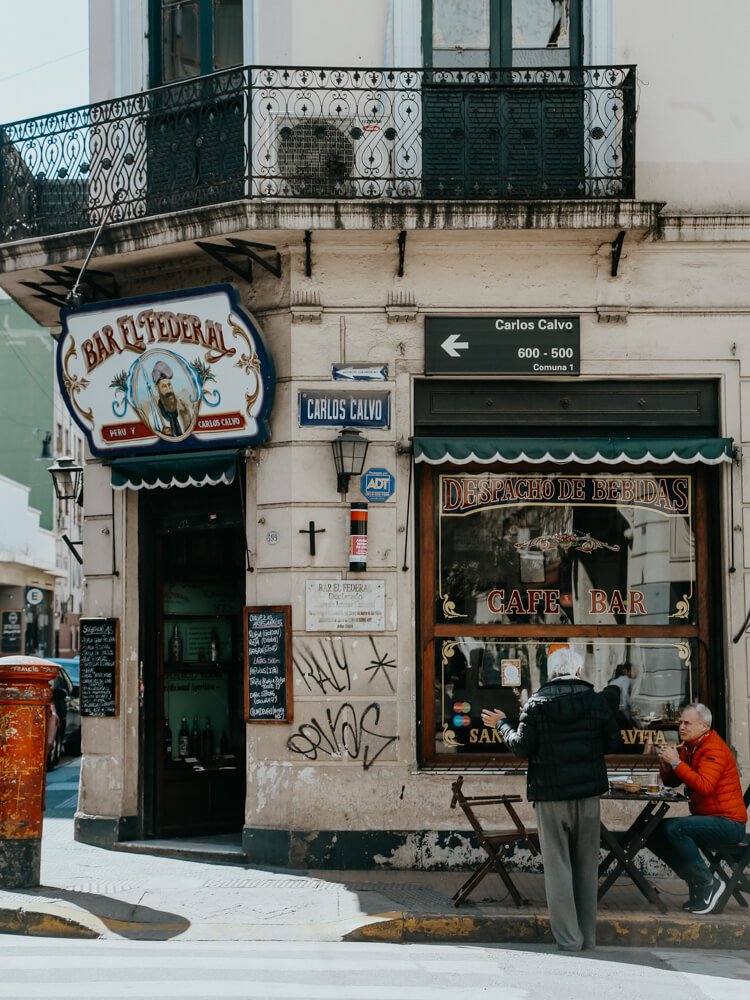 Have Coffee in a historic Bar Notable
While the coffee may be better for coffee snobs in a more modern café, there is something that cannot be beat by the ambiance of one of the many bares notables (an official list of historical notable bars and cafes in the city).
Cafe Tortoni is the most famous of these, but there are so many more to choose from.
Have an afternoon coffee or go before dinner for Copetin (an aperitif like Campari or Cynar served with a small snack). Many also have lunch menus with traditional dishes like gnocchi, milanesa, and picadas.
My favorite bares notables are in San Telmo – Bar El Federal and La Poesia. I also love El Banderín in Almagro and Los Galgos not far from Teatro Colon.
Search for the closest one to you here (search by neighborhood with the drop-down menu).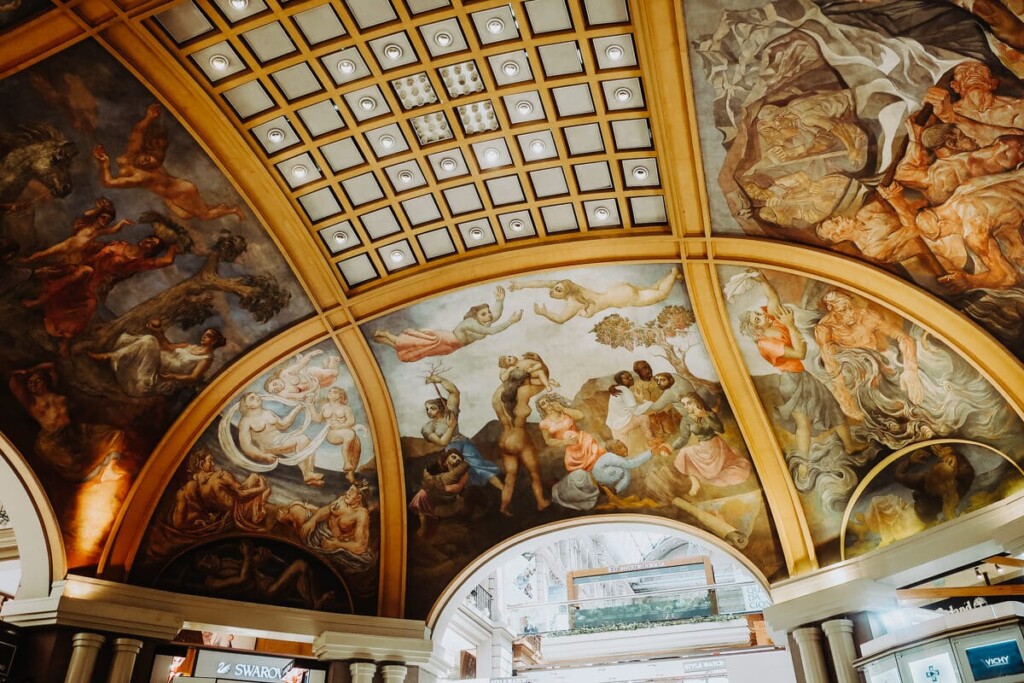 Shop in Style at Galerías Pacífico
Clothes are notoriously expensive in Argentina (there's a reason most Argentinos go shopping in Miami every year), so you're visiting the Galerías Pacífico mall for the beauty of the building rather than shopping.
This opulent shopping center (located on the corner of Florida Street and Cordoba Avenue), is a work of art.
The building is from 1889 and could easily fit in in Paris.
The star is the central dome, covered in elaborate murals by Argentine artists.
After walking in from ground level, head downstairs for a coffee and slice of cake at Madison Cafe, located directly under the muraled dome. Tables surround the central fountain and the views are incredible, especially considering you're indoors on a rainy Buenos Aires afternoon.
If you do want to go shopping here, read my Buenos Aires shopping guide.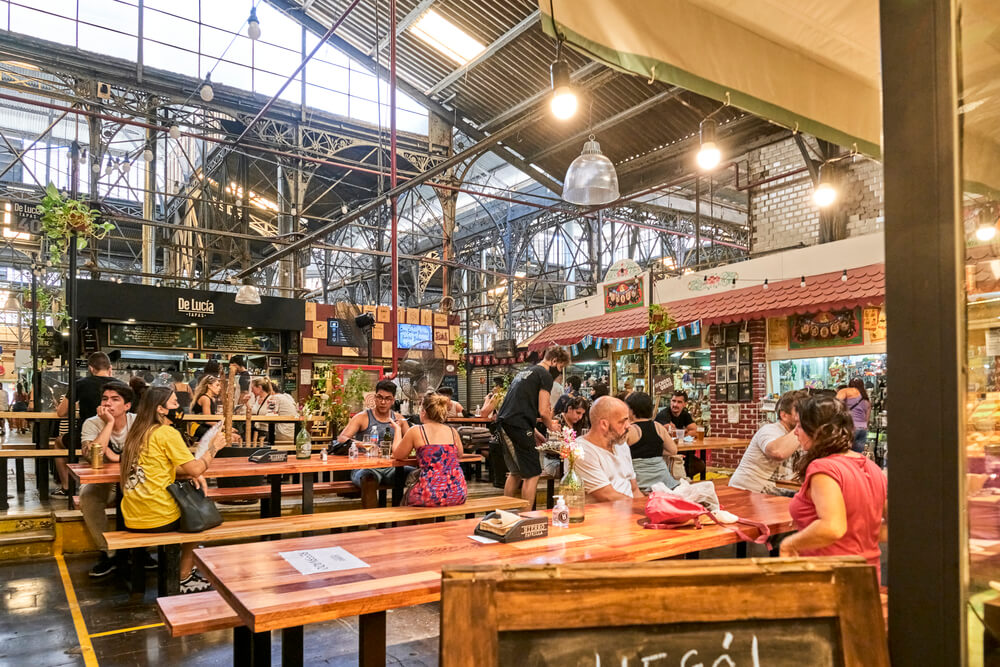 Eat & Shop in the Mercado San Telmo
San Telmo has changed a lot since I first lived there 12 years ago. In 2010, my only options were steak, pizza or empanadas.
These days, there are a plethora of new restaurants here that would make any foodie happy. Perez-H makes great burgers, El Banco Rojo makes great everything and Saigon fills a huge void in regards to Asian food in Buenos Aires.
The indoor market (address: Humberto 1º 401) used to house only antique eclectic knick-knacks and vegetable stands.
For better or worse, the vegetable stands are being turned into hip new food stalls. Try Aussie meat pies, Swiss beer or excellent coffee alongside the knick-knack shops.
For something a bit more local, the choripan (chorizo and crusty French bread sandwich) at Juan Bautista is incredible.
Other Indoor Food Markets in Buenos Aires:
San Telmo isn't the only indoor food market to get away from the Buenos Aires rainy streets.
Here are some other food courts to pig out in:
Mercado de los Carruajes | Official Site | Just a few blocks from the Casa Rosada, this indoor market is located inside the old presidential horse carriage storage building. The building itself is gorgeous and we're lucky to have it finally re-modeled and re-opened.
Mercado Soho | This market in Palermo Soho has a wine bar, cocktails, and other international food options to choose from. It's a good option for the afternoon or night.
Mercat Villa Crespo | Of these markets, the Mercat Villa Crespo most resembles a market (but is still mostly food court). The space is beautiful and you'll find plenty to eat (and bring home).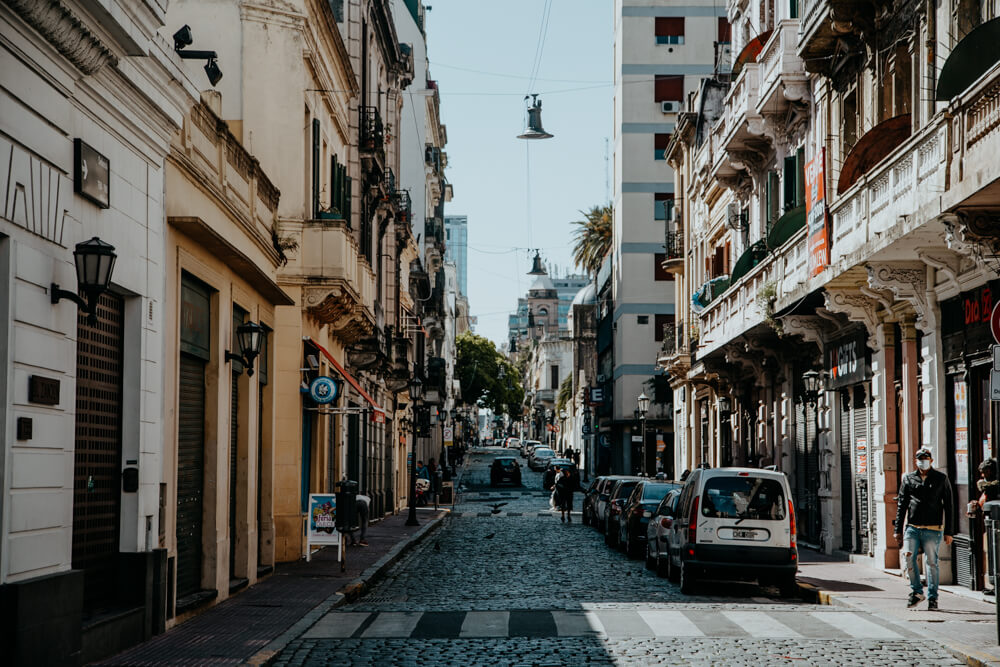 See San Telmo's Underground Tunnels
Underneath many of the avenues in Buenos Aires are underground tunnels and streams. One of these is the Zanjon de Granados in San Telmo, thought to be the site of the first settlement here in the 16th century.
During a renovation of this colonial mansion the owner discovered remnants of historical artifacts that date back centuries, giving us a rare look into Buenos Aires' history.
I love the tour in this museum because the building is beautiful, the tunnels are undeniably cool, and the artifacts will teach you something about this city's history you won't see anywhere else.
This historical complex also includes La Casa Minima, the city's tiniest house.
Click here for the official site to see tour times (there is about one per day of the Casa Minima, if you time it right you can tour both).
Go Wine Tasting
Wine is the official national beverage of Argentina (technically sharing the honor with Yerba Mate). Therefore, it is your cultural duty to taste as much wine as possible while here.
There is no shortage of wine bars in Buenos Aires where you can order a glass or a bottle. My two favorites are Pain et Vin and Hache.
Alternatively, I recommend treating yourself to a proper tasting with a sommelier in order to learn more about Argentina's wine history and regions (there is a lot more to it than Mendoza and Malbec).
This tasting in Palermo is excellent with guaranteed small groups to keep the experience intimate.
For more options, read my post all about where to go wine tasting in Buenos Aires.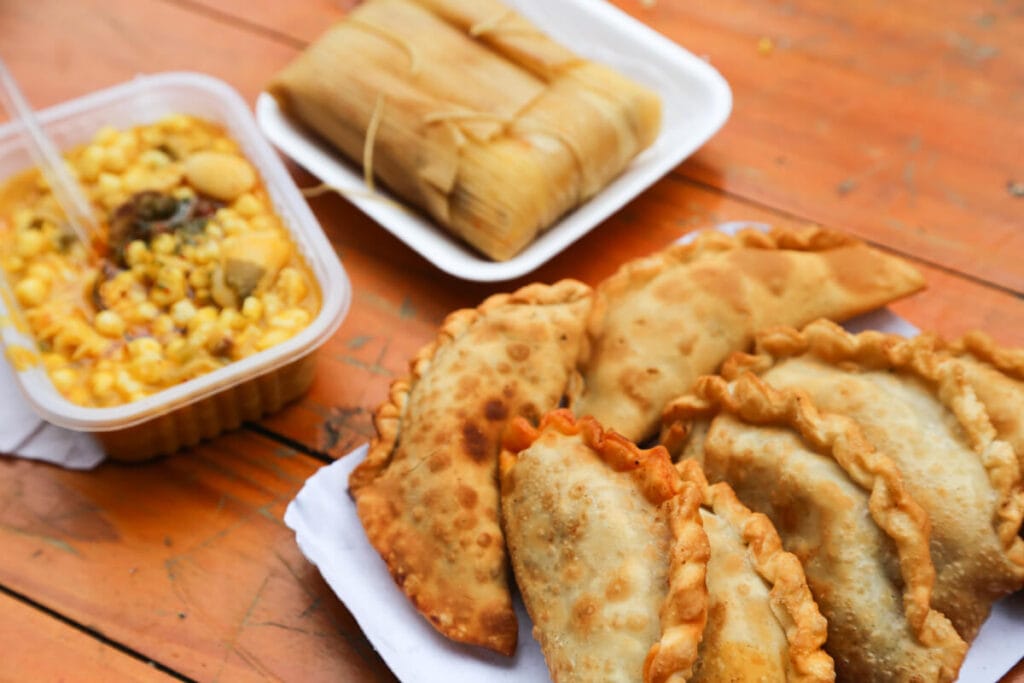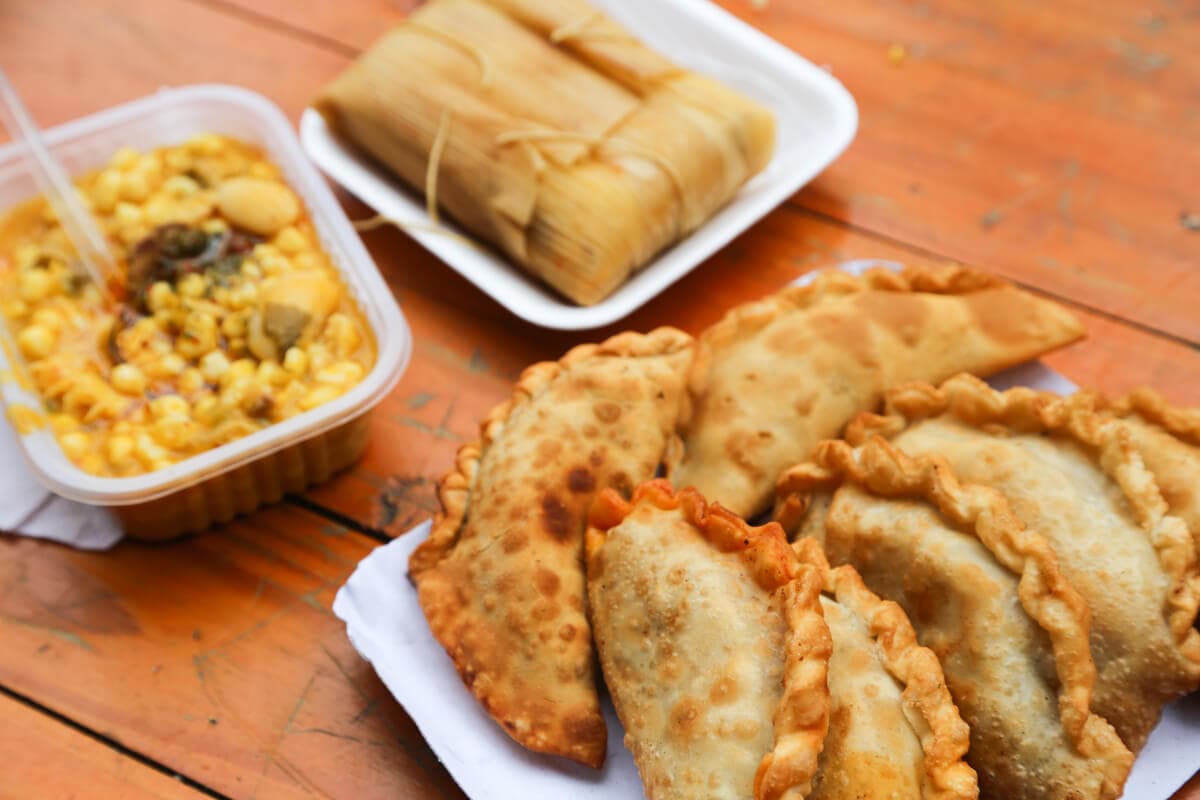 Take a Cooking Class
Now that you're a wine connoisseur, take a cooking class and learn to make your own empanadas while learning all about Argentine cuisine.
The Argentine Experience is the highest-rated experience in Buenos Aires.
Everyone I know who has gone has had such a great experience, they rave about it!
While you start off the evening with a lesson in empanadas, this isn't a simple cooking class. The Argentine Experience is a dining experience, with a coursed meal and wine pairings.
You'll try it all from traditional asado to yerba mate.
If you want to dive into Argentina food history, this is a must-do experience.
Have a Long Lunch
In Buenos Aires, meals are long affairs. There is no table turnover or being rushed out by your waiter, you can sit and take your time, enjoy conversation, and savor the wine.
If it's raining, take full advantage of this and eat like a local.
Go out for a long lunch in one of Buenos Aires' best steakhouses like Don Julio. Sit for hours and enjoy a coursed meal of starter, steak, and indulgent flan.
Drink all the wine.
Enjoy yourself while you hide from Buenos Aires' rain.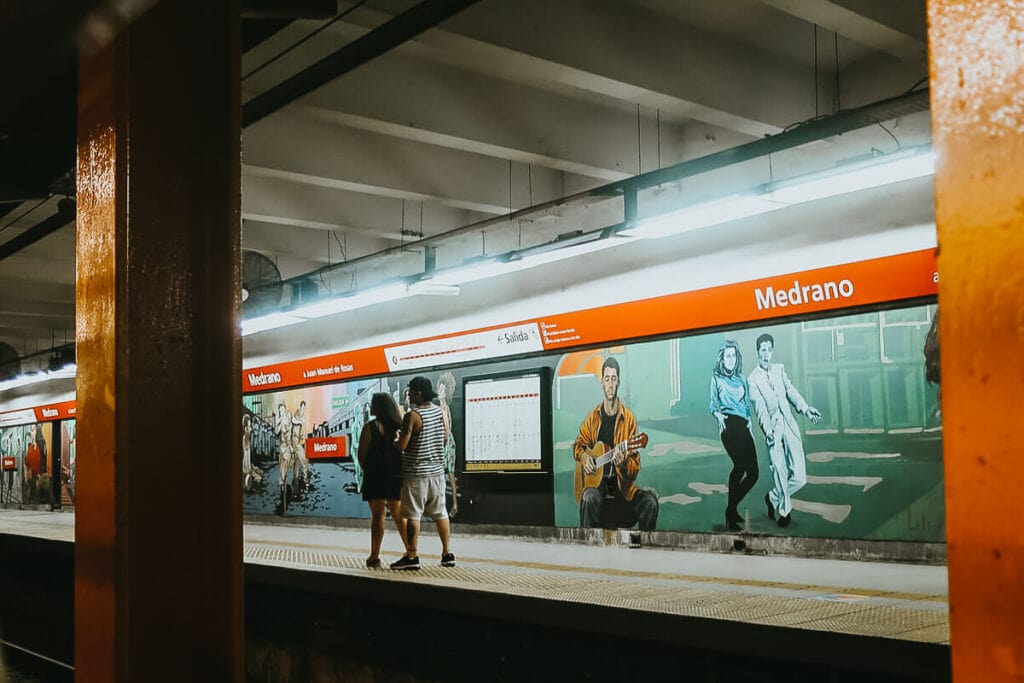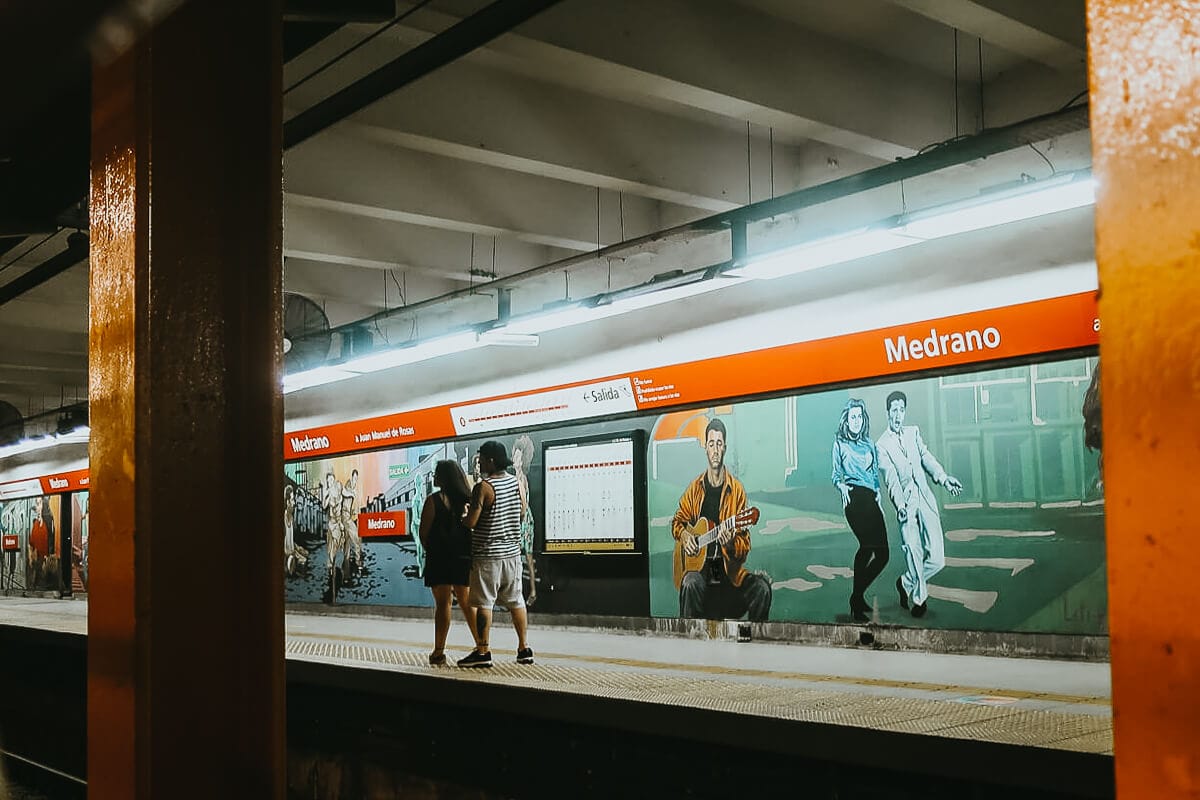 Check out the (underground) Street Art
It's no secret that there is some amazing street art in Buenos Aires.
But on a stormy day it can be a tad hard to slow down and enjoy the murals.
Lucky for you, the subway stations on Subte Line B (the red line) make up a sort of underground urban art museum. Each station is covered in its own, unique mural.
For a unique Buenos Aires rainy day activity head underground.
Start at the terminal and get off at each station along the way to see all of the Subte B murals.
Buenos Aires Rainy Day Activity Map
Read More about Buenos Aires:
Argentina Travel Resources
Pin It For Later