"You have to go to La Cumbrecita! When are you going to go to La Cumbrecita?!"
Like a broken record, we heard this from my in-laws ever since I met my husband's family.
They have been going to La Cumbrecita, Argentina regularly for years.
When they want peace and quiet away from the city, they run to this little German town in Argentina, in the province of Cordoba.
So when we needed a break from Buenos Aires last week, we finally took their advice…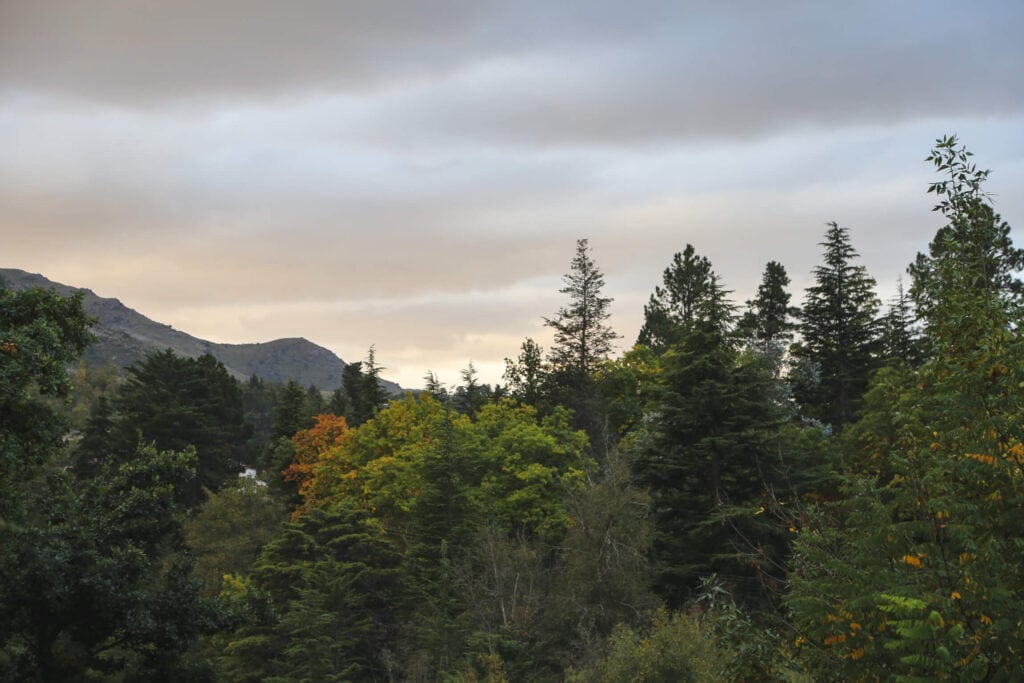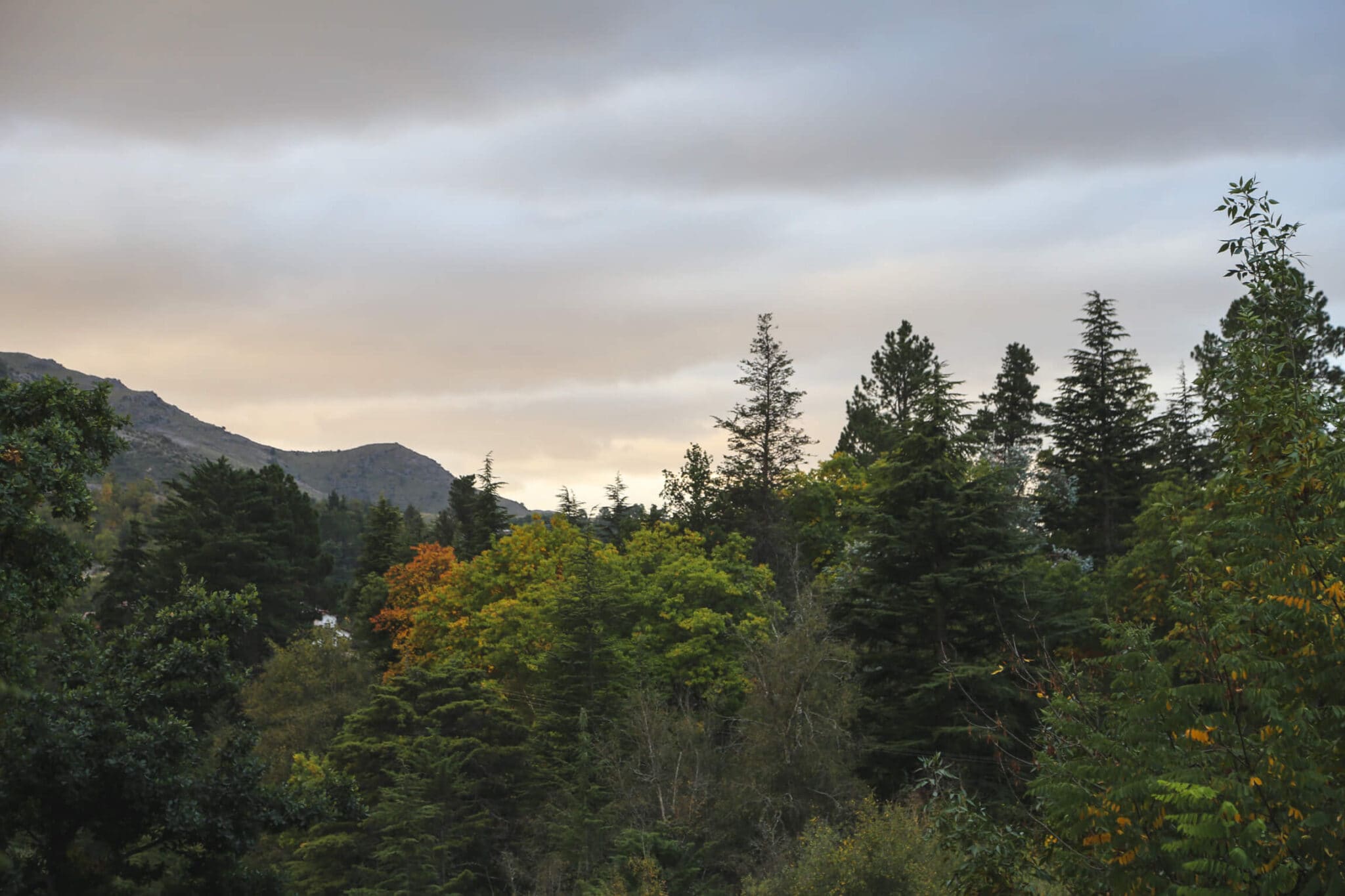 QUICK NOTE: This post contains affiliate links and Sol Salute may receive a commission for purchases made through these links, at no extra cost to you.
La Cumbrecita, Argentina: A Quaint German Town in Argentina
La Cumbrecita is in Cordoba, a province that's located pretty much in the geographic center of the country.
It was settled by Dr. Helmut Cabjolsky and his family and their housekeeper, Liesbeth Mehnert, and her husband in the 1930's.
The family built a summer home here in the Calamuchita Valley and slowly tourism took off. They planted plants and pine trees to make it feel even more like home.
It's both odd and beautiful, this blanket of pines forms a sort of oasis in the more pampa like terrain of the surrounding mountains.
Being in La Cumbrecita feels a lot more like being in a Alpine village rather than Argentina.
The neighboring town, Villa General Belgrano, even hosts a huge Oktoberfest every year!
How to get to La Cumbrecita
The nearest airport is in the provincial capital, Cordoba city. If you're planning on visiting the city, check out this list of things to do in Cordoba.
The easiest way is actually to take the overnight bus to Villa General Belgrano from Buenos Aire.
From there, take the Pajaro Blanco bus to La Cumbrecita just one hour away.
To get to La Cumbrecita from Cordobayou'd take a three-hour bus to Villa General Belgrano, then the Pajaro Blanco.
Between that 3 hour bus and all the time you'd spend in an airport/flight, it's actually just easier to take the bus from Buenos Aires.
Long-distance buses in Argentina offer lie-flat seating so you can sleep comfortably. You also arrive in the morning rather than wasting an entire day on air and bus travel.
Compare bus routes and purchase tickets on the Plataforma 10 website and at Central de Pasajes.
You can purchase your ticket for Pajaro Blanco when you arrive (above), it costs around the equivalent of 7 USD.
Pro-tip: Only book long-distance buses with Cama/Cama Suite in the name. You don't need any of this semi-cama business. They serve dinner and breakfast, but the food is not good. Eat before if you can.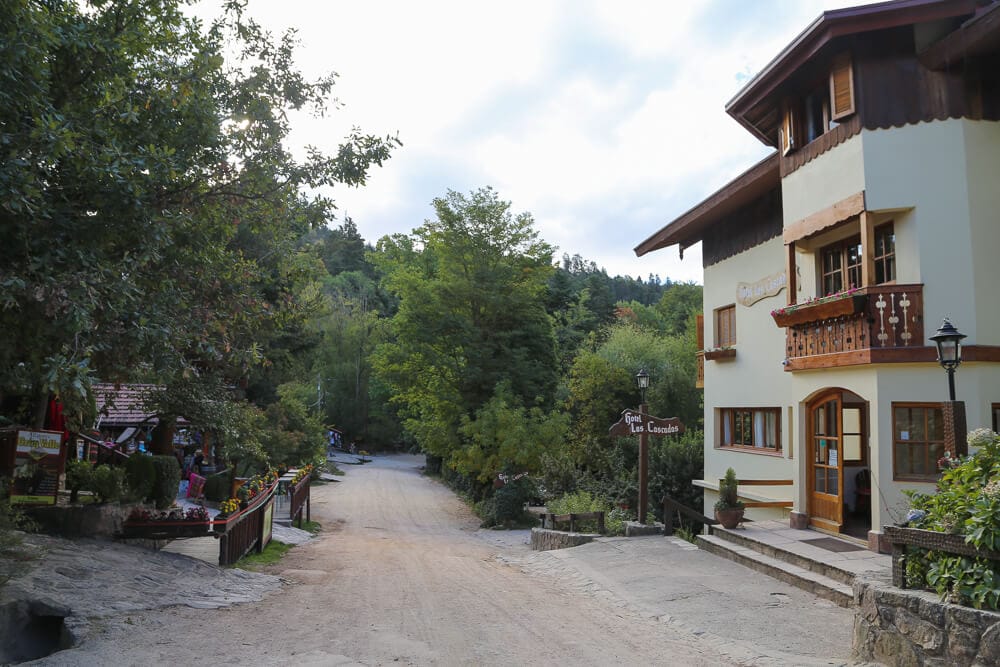 Where to stay in La Cumbrecita
There are a lot of small hotels catering to the tourists that flood this small village.
With their adorable wooden details and rustic signage, they look like they'd be more at home in the Alps than in the Sierras of Cordoba.
We stayed in Las Cascadas. It was very cozy and felt like being in your grandparents' house more than being in a hotel.
They have nooks to settle in with a book on a rainy cold afternoon.
On the sunny afternoons, we took our books down to the creek that passes by behind the hotel and read on the rocks.
Rates included breakfast AND dinner, a four-course home-cooked dinner at that.
The location is great as well, close to the center of town (if you can call the main streets of such a tiny town "downtown" haha).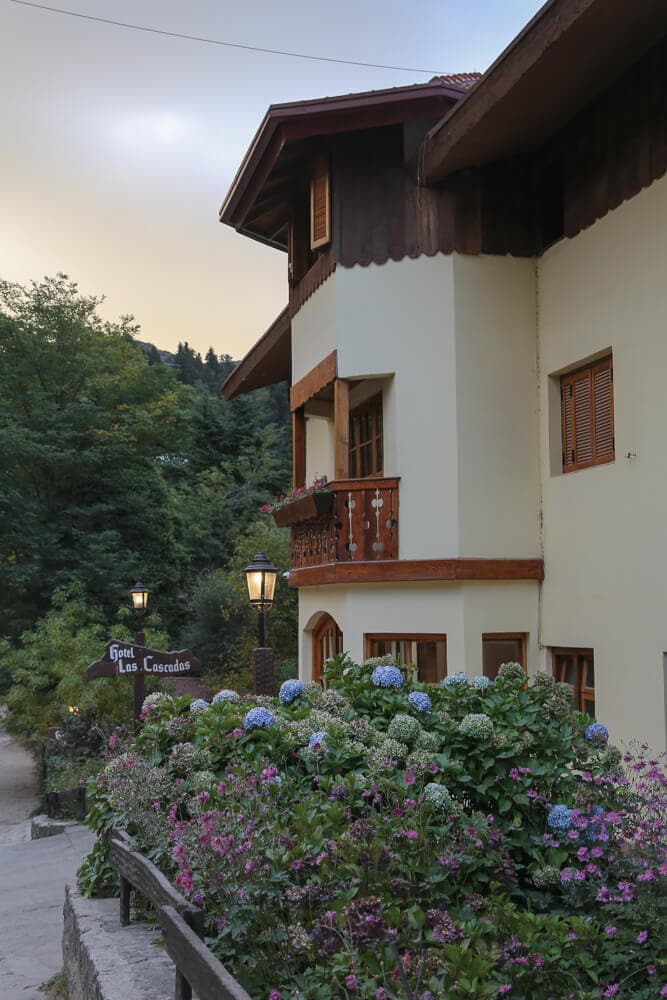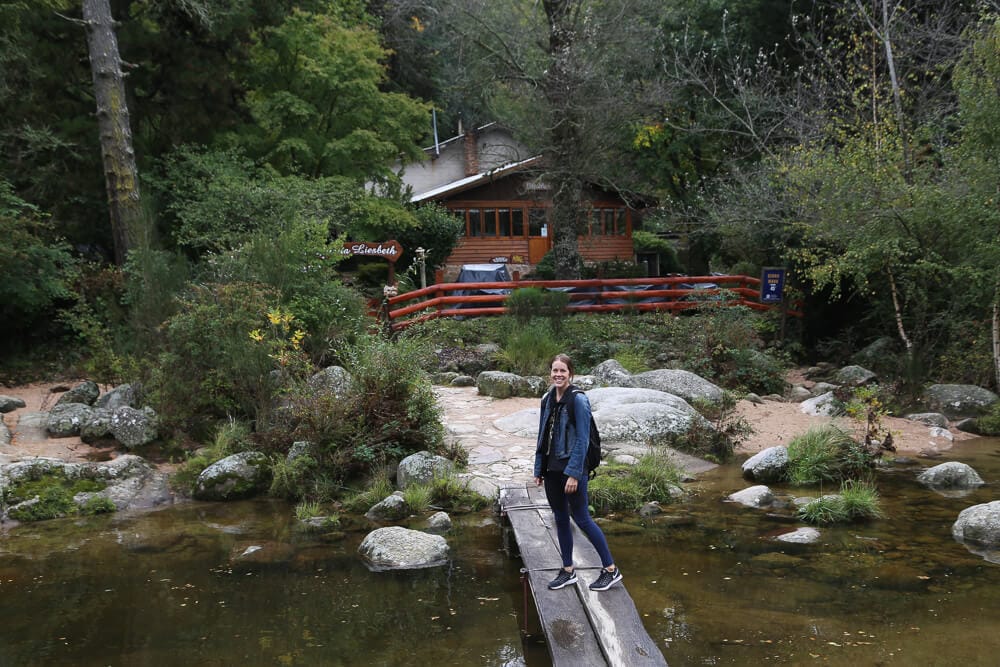 The Best Hikes in La Cumbrecita
Besides eating delicious German food and drinking craft beer, there are some gorgeous hikes to be done.
We did two Cumbrecita hikes: La Cascada and Cerro Wank.
Cerro Wank Hike
The trailhead begins to the right of the Confiteria Liesbeth (above).
The hike will take you between 45 minutes to an hour to get to the peak.
First, you'll walk up a dirt road, at the top of the hill you'll see a wooden sign with an arrow pointing left, follow it.
The path is marked by sticks painted green, so just keep an eye out for those and you're golden!
We brought a picnic to enjoy at the peak with a view. The panoramic views were stunning, overlooking the hills with the town below.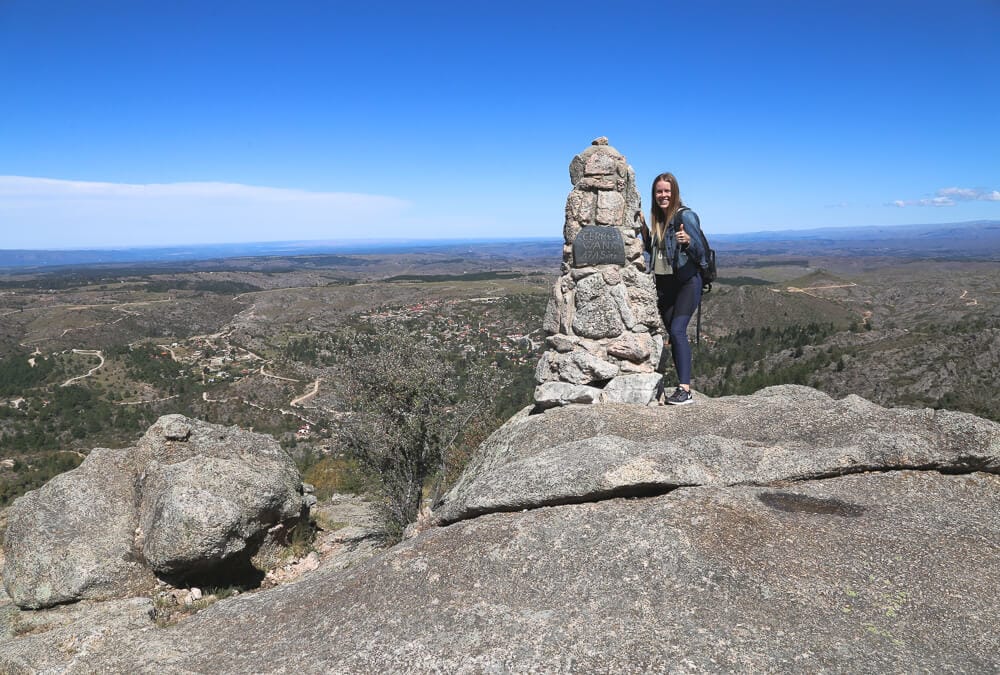 La Cascada Hike
We hiked to La Cascada (waterfall) after breakfast one morning.
The town is flooded with daytrippers by around 11 and we wanted to beat the rush. It was worth it because we didn't see another person until we were nearly finished.
It was a quicker hike than Cerro Wank, taking around 20 minutes to get there.
The path itself is beautiful but the waterfall is gorgeous. The picture above doesn't do it justice.
We left our backpacks behind and went down the rocks to the water, sitting on the boulders there for quite a while enjoying the silence and morning sun.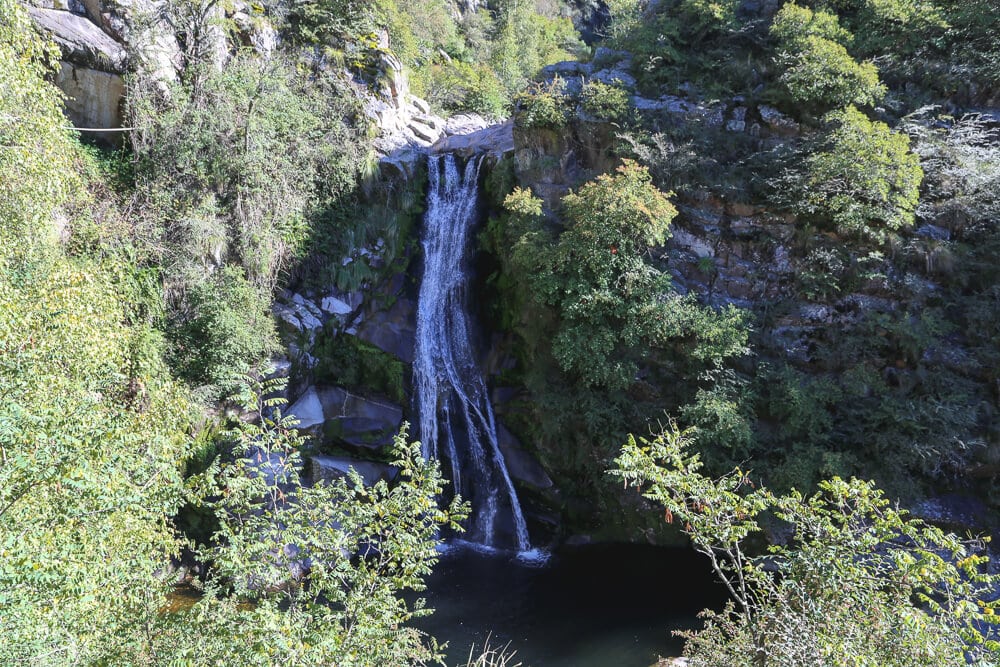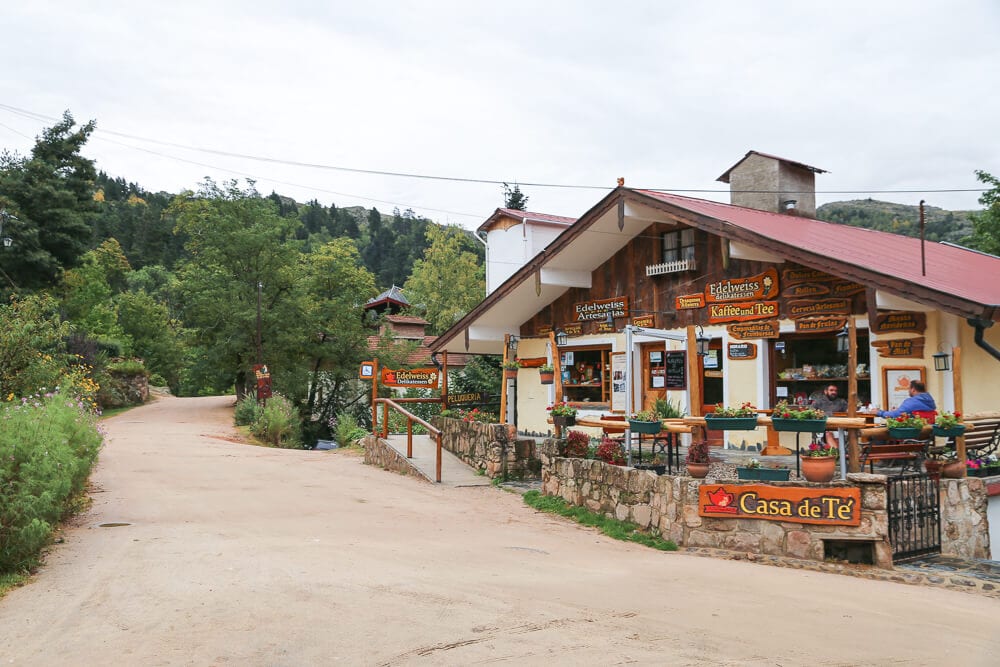 Where to eat in La Cumbrecita
What you'll eat is likely German: a lot of goulash with spätzle and sausages.
There are tea houses with cakes (with the names written in German on the menus) and teas made out of local herbs. I loved the raspberry empanadas myself (had one every day, no regrets).
Here were our favorite restaurants in La Cumbrecita.
Edelweiss
Edelweiss is a tea house and shares the building with a gift shop that sells beautiful woven scarves. T
hey offer delicious cakes (order a slice of sachertorte and pretend you're in Vienna), a large variety of teas, and beer.
They also sell delicious raspberry empanadas, which taste like a poptart that your grandma made from scratch.
Helmut's Casa Bar
I can't speak for their food, but their terrace is a great place to enjoy a glass of wine or beer and watch the sunset.
The building was the founder's home, Engineer Helmut Cabjolsky.
The dining room is covered in photos of the town as they found it and shows the progress of building up the area.
La Colina
This was the best meal we had! It's on a hill (hence the name, which translates to "the hill") overlooking the town. The view alone is worth it, but the food is fantastic.
At the entrance to the town, you'll be bombarded with people handing you flyers to restaurants.
One will be from La Colina, talk to him. He'll drive you up the hill himself in a yellow Range Rover.
We each had ravioli (Martin's with trout and mine with deer) and a locally brewed beer.
La Posada Encantada
Ok, not a restaurant, it's a chocolate shop! And I'm a chocoholic, love at first sight.
The chocolates were delicious, I bought a bag full and ate them all by nightfall.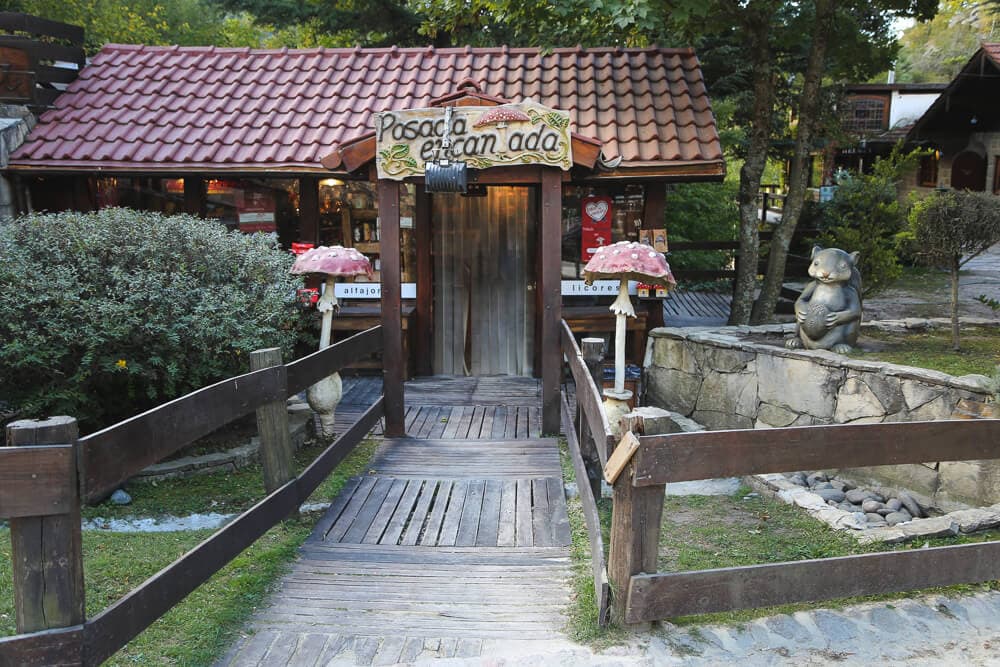 The Best German Town in Argentina: La Cumbrecita
I loved our weekend in La Cumbrecita.
We spent 2 nights, having 3 full days there, but if you can spare the time I'd recommend spending at least 3 nights.
While it's a common day trip from Villa General Belgrano or even Cordoba (which just sounds miserable, that's far), you won't have much time to see that much.
The first pajaro blanco bus is at 10, so you'd be getting a pretty late start, not allowing enough time to hike and eat a relaxing meal.
Are you planning a trip to La Cumbrecita? If you have any questions, just ask below!
PIN IT FOR LATER