Taking your practice on the road with you can be key to surviving long flights, bus rides, and road trips.
Muscles get tight after walking across Paris or sitting still for 8 hours on the red eye.
Tempers flare due to jet lag and our diets are off kilter.
Maintaining your personal yoga practice while on vacation can make all the difference.
Choosing the best travel yoga mat for your needs will make those hotel room chaturangas even easier.
This post is a complete guide to the best travel yoga mats on the market (and I've tried them all!).
The Best Travel Yoga Mats 2023
Don't have time to read the whole article? Here's a quick breakdown:
Keep reading for more suggestions and more details…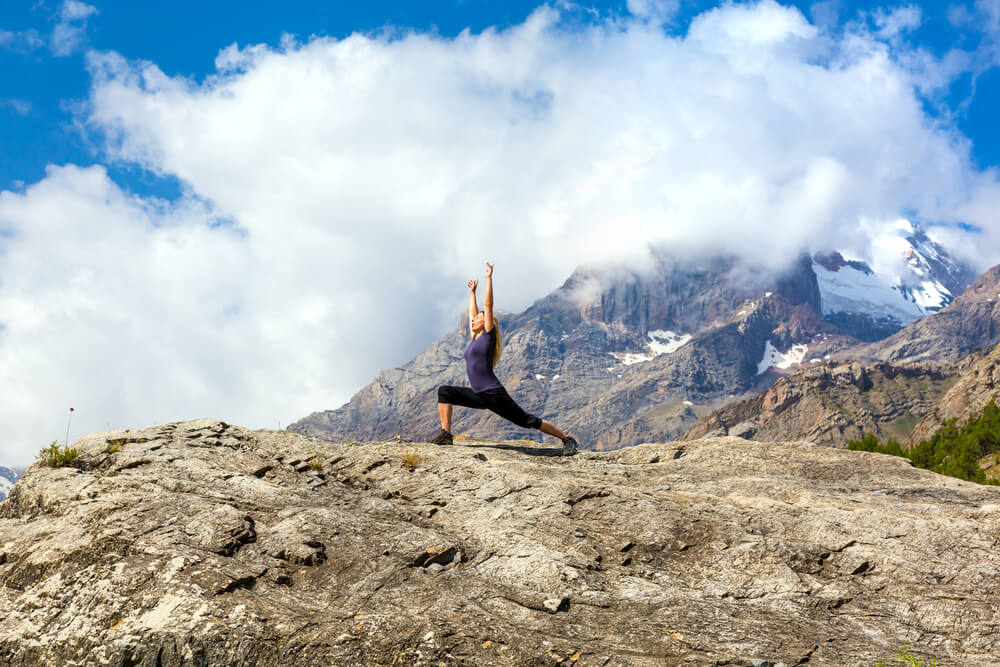 QUICK NOTE: This post contains affiliate links and Sol Salute may receive a commission for purchases made through these links, at no extra cost to you.
The Best Travel Yoga Mats on the Market in 2023
There are so many yoga accessories and props on the market today that it can be hard to decipher what you truly need and what's just extra fluff.
A travel yoga mat, for me, is not fluff.
Personally, I find having a travel mat with me on the road makes the difference in whether I practice or not.
Stepping foot on my mat simply puts me in the right headspace to practice.
I wholeheartedly think travel yoga mats are important for traveling yogis.
This post is a complete guides to help you find the perfect mat for you!
I own and regularly use three mats on this list, and thanks to friends, I have practiced on the rest.
Not sure what you need in a travel mat?
At the end of the article I go into detail on what's important to look for.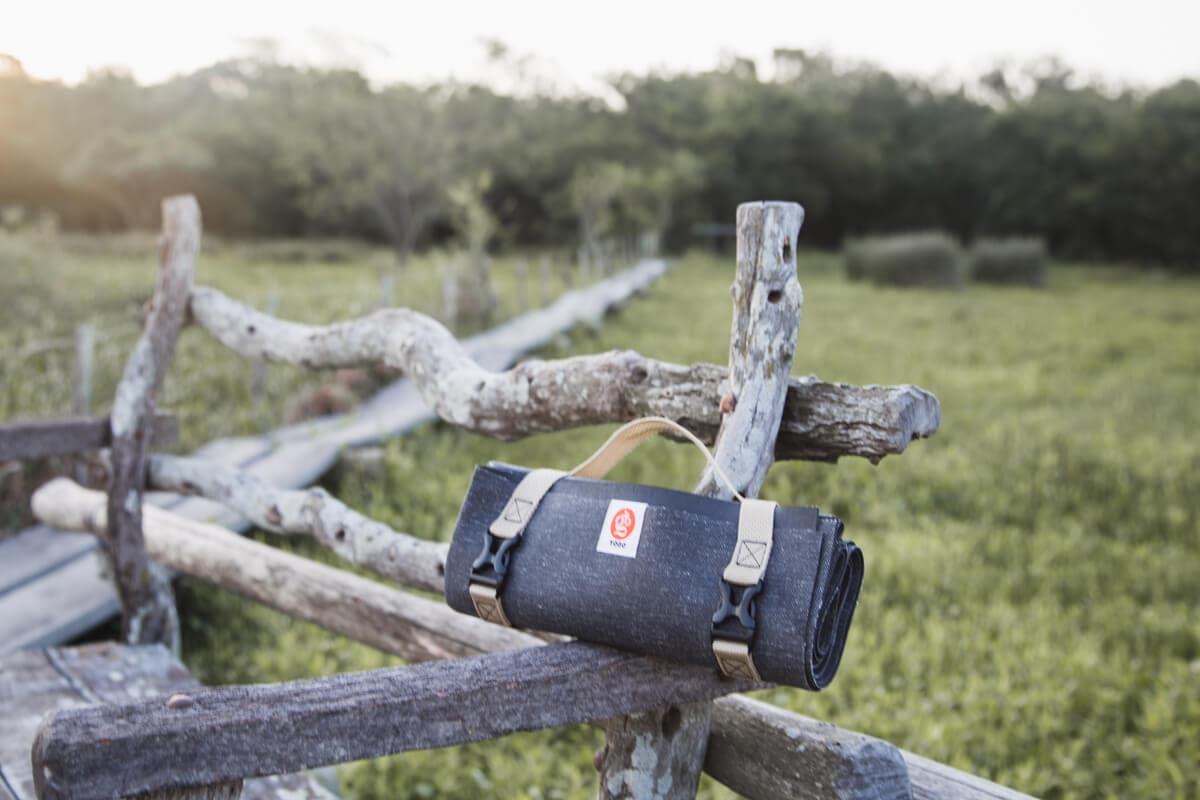 Best Yoga Mat for Travel 2023: The List
If you've decided to take your yoga practice on the road with you and you're looking for the best travel yoga mat for you, then you're in the right place!
Here are a list and breakdown of the best options for a yoga travel mat in 2023.
1. YOGO Ultralight Travel Yoga Mat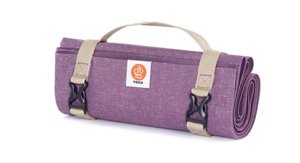 This YOGO Ultralight travel mat is perfect for frequent travelers and quickly became my favorite.
It's an incredibly compact yoga mat that even comes with its own built-in straps and handle.
Unfold it, practice, then easily roll it back up into its straps.
The texture is very similar to Manduka's travel mats but with added features.
Cleaning has also been very easy because I just use the built-in handle to hang it in the shower.
Rinse it off while you shower (with a gentle, neutral soap) and leave it hanging to dry.
You can read my full review of the YOGO mat here.
The surface of this mat reminds of the Manduka travel mat. It's smooth but very grippy.
That's because the YOGO mat is also made from renewable tree rubber.
And even better, as a company, they give back by planting food-bearing trees and providing restorative agroforestry training in Africa.
A major detail that sets YOGO apart?
This mat is designed to be sanitary.
The folding system allows for the bottom of the mat to never come in contact with the top.
You don't have to worry about rolling the hotel room floor germs onto the top of the mat, where you rest your face in child's pose.
2. Manduka EKO superlite Travel Mat
Manduka is a fantastic brand (and one of my favorites).
I actually their travel mat in two different colors, three of their prolite mats (as my main, daily use mat) and I live for their affordable eQua towels when I practice hot yoga.
Manduka is well-known for its quality, so it was a given that their travel mat was also going to be good quality yoga mat. Colors are simple but beautiful.
Manduka's eKO Superlite foldable yoga mat for travel should be at the top of anyone's list. It's lightweight at 2.2 pounds and folds up to the size of a single pair of jeans.
Manduka mats are very grippy and smooth. You won't slide around in warrior 2.
It's a very environmentally friendly, non toxic yoga mat.
Manduka mats include no PVC, toxic plasticizers or harmful dyes, They're made from sustainably harvested natural tree rubber and are biodegradable.
Some people complain of an obnoxious rubbery smell fresh out of the box, but this fades with use. If it really bothers you, give it a deep cleaning before your first use.
The Manduka mat is a very sticky mat, which is a good thing, but this can cause it to bunch up in transitions.
It's a very thin yoga mat, which can be tough on the knees (but that's nothing a knee pad cushion or folded hand towel can't solve.)
In fact, I always have a folded t-shirt or hand towel next to my mat for this purpose because all travel mats are notoriously thin.
2.5 Manduka Pro Travel Mat
Since originally writing this article, Manduka has come out with a travel mat version of their popular pro mat.
Being a serious fan of the Manduka Pro, I can't wait to get my hands on this travel version.
They have taken their best mat and made it a bit lighter.
The pros to the pro mat (pun intended) are that it's a big thicker than the Manduka travel staple, eKO Superlite) at 2.5 mm.
It also has that texture that I love.
Some report having to break the pro mats in to get it sticky and avoid slipping on it.
I've never had that problem.
This mat weighs a bit more than the eKO Superlight at 3.2 lbs (versus 2.2 lbs).
Decide what you prioritize: the lighter weight of the eKO Superlight or the thickness of the Pro Travel.
PSST! HEY!
Stay with me to the end of this post for my recipe for all-natural homemade mat cleaner!
3. MIKKOA | Best Travel Mat for Hot Yoga (& Most Beautiful Mat!)
MIKKOA Travel Yoga Mats are the most beautiful yoga mats I have ever seen.
Most notably, their mats are a hybrid of yoga mat and yoga towel.
If you practice Bikram or Heated Vinyasa and don't want to pack both a towel and a mat, then this is the best travel yoga mat for you.
It's two in one.
I got the Galaxy Aurora pattern pictured below but there are other unique patterns to choose from.
They also offer regular yoga mats and beach towels.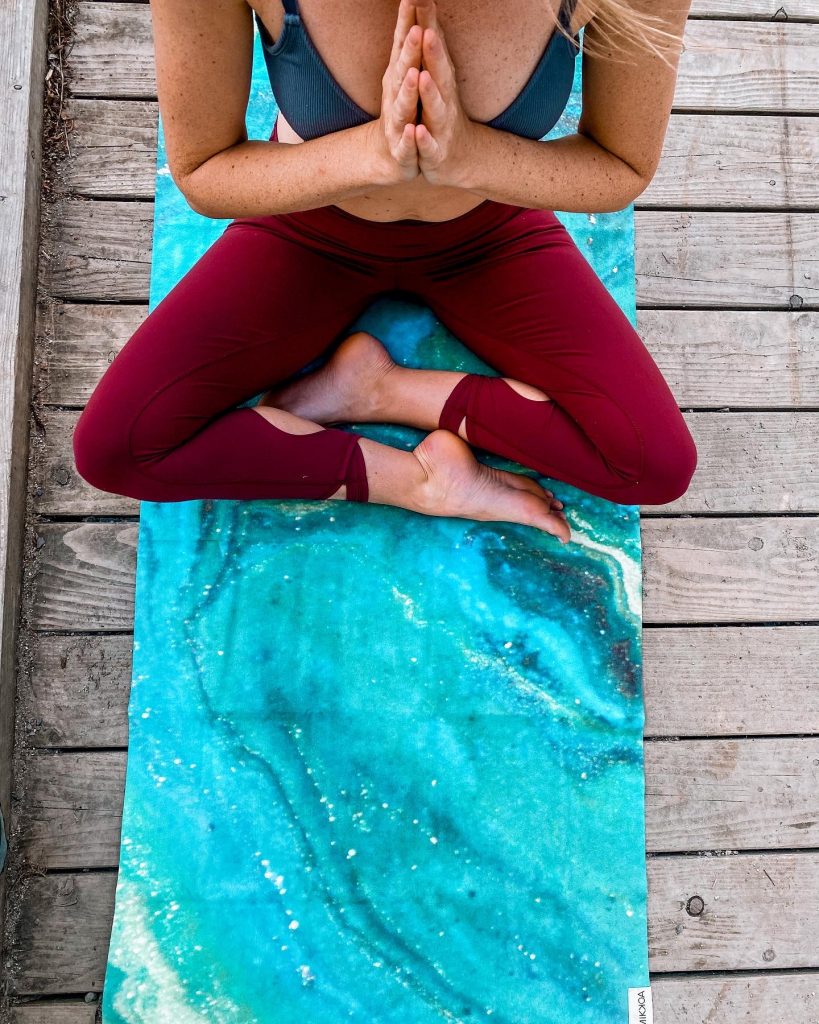 What I like about my MIKKOA travel mat:
It only weighs 2 pounds and is actually 10 cm longer than normal yoga mats (I love this extra length to stretch out in savasana!).
It folds up to be extremely compact but when unfolded there are NO creases or marks.
The rubber base doesn't slip on hard floors
MIKKOA is eco-friendly: They plant a tree per mat sold and the mats include no harsh chemicals, no plastic, no PVC, no TPE, no Silicones or phthalates
It's a small company, support small! This mat is similar to Yoga Design Lab mats but I find the patterns much more beautiful and love supporting the small, woman-owned business.
They're Australian but offer free shipping to the US and it shipped to me very quickly (and even after shipping from down under all the way to me in Texas it unfolded to zero creases).
The microfiber is very smooth and you may slip at first.
It's ideal for a sweaty practice because, like most yoga towels, they get grippy with sweat.
You can fix this by giving the mat a quick spritz with the studio's yoga mat clear spray bottle at the start of practice.
4. Jade Voyager Fold Up Yoga Mat
Jade shares the top of the yoga mat market with Manduka.
In fact, most yoga studios offer either Manduka or Jade mats as their rental mats so you know you can trust their quality.
Jade's Voyager mat is an extremely lightweight yoga mat at only 1.5 pounds.
The mat folds up compactly to easily fit in your suitcase or backpack.
Jade is a very sustainable company and gives back by planting a tree for every mat purchased.
If you trying to decide between the Jade Travel Mat and Manduka, in my personal opinion it comes down to texture.
Both companies produce a great anti-slip yoga mat, but where Manduka mats are smooth, Jade mats have more texture that you'll feel under your feet.
Read Next | The 5 Best Online Yoga Programs I Use
5. Gaiam | Most Affordable Travel Yoga Mat
Gaiam is a great yoga company because they offer good quality yoga mats at very accessible prices.
The Gaiam travel mat folds into a 10″ x 12″ compact square.
While most travel mats are folded for travel but best stored rolled, Gaiam's is made to be stored folded.
The mat is perforated for easier folding, these markings may or may not bother you during your practice, but it's something to keep in mind.
This Gaiam yoga mat weighs 1.8 pounds and has a smooth (besides the creases for folding), grippy texture.
It comes in fun patterns that are a bit more subdued than those on the MIKKOA mats.
I was unable to find any information regarding Gaiam's environmental practices.
6. Liforme Travel Yoga Mat | Best Mat for Alignment
This mat is ideal if you're focused on improving your alignment.
Liforme's AlignForMe markers will remove any doubt on proper hand and foot placement.
The Liforme Yoga Travel Mat is thicker, wider, and longer than most travel mats.
Consequentially, it's the least compact mat on this list.
It's not foldable (it's only stored rolled and comes with its own yoga mat carry bag).
This means it won't pack into smaller luggage easily for the minimalist packers out there.
It's also heavier than the other mats here at nearly 4 pounds.
Honestly, while I've loved using my friend's Liforme mats, it's too big for me to justify as a regular travel mat.
If you want a mat that's easier to transport around the city or bringing in and out of your car, however, this is a great option.
I find the Liforme mats to be extremely soft.
The surface is smooth but has a good grip and it's a high-quality yoga mat and thicker than the typical thin travel mats.
If you don't mind the weight and prefer a thicker mat with more cushion, then this is the mat for you.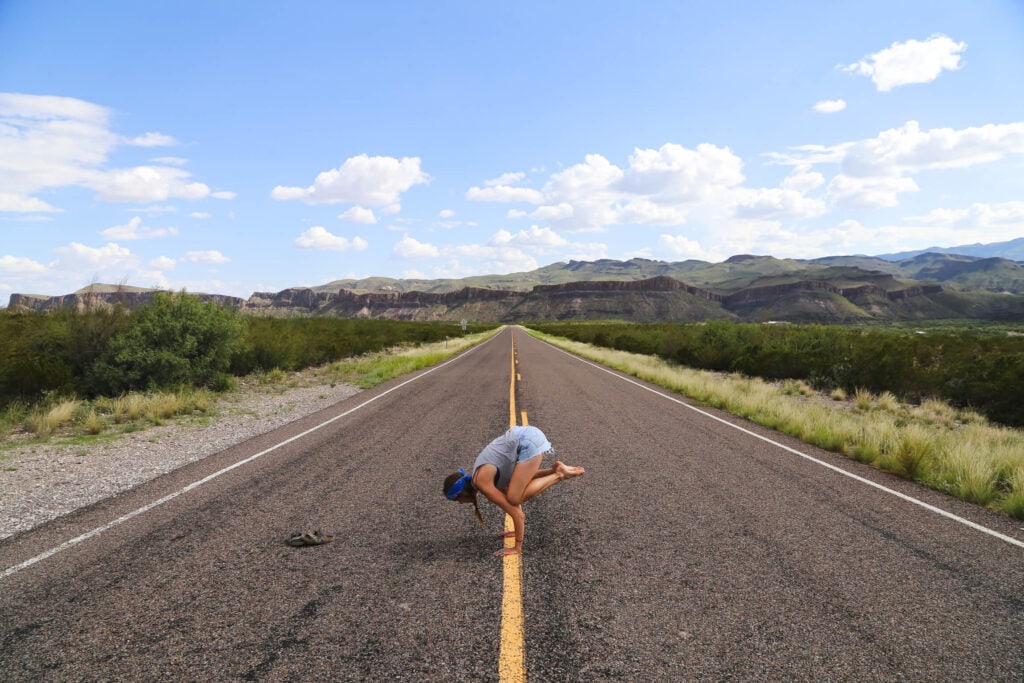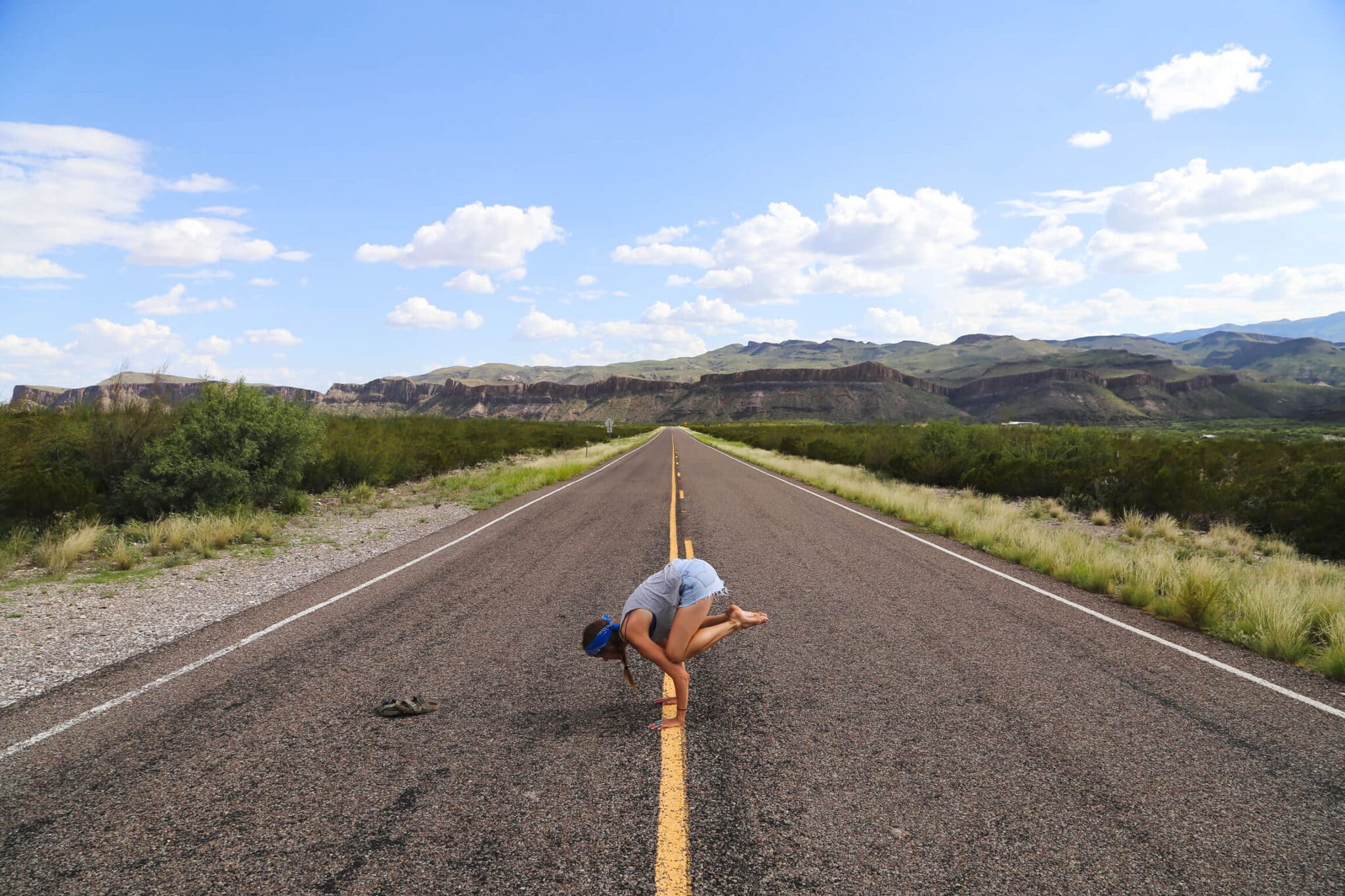 Knee Support for a Thin Yoga Mat
The only con to travel yoga mats derives from the main pro, they're very thin!
This is why it shouldn't be your main mat for your daily practice (unless you practice on carpet), it can really tire your knees.
When I travel on a hard floor while traveling, I usually bring a hand towel or t-shirt with me to provide a cushion for my knees during poses like tabletop or low-lunge.
But if you have particularly sensitive knees, there are specific cushions (like these) out there for you that may provide superior support and grip on the mat.
Proper Care for your Folding Yoga Mat
After investing in your new travel mat, be sure to take good care of it so it will last through all your exciting travels.
Here's some tips and tricks to get serious mileage from your new mat.
Store it rolled
While most travel mats on this list are foldable yoga mats, it's best to not store them that way long term.
I travel with my Manduka Superlite folded, but when home or at the hotel, I store it rolled like a regular mat.
This just prevents unnecessary wear and tear.
Keep it clean
It's also important to maintain a clean mat.
Give your mat a cleaning after each trip to keep it sanitary, grippy and long-lasting.
Use an all-natural cleaner for the best results. I particularly love this lavender cleaner.
My Homemade Yoga Cleaner Recipe
While the above cleaner is easiest for travel with its small, compract spray bottle, when at home I make my own mat cleaner in a large, glass bottle.
Of course, you can use whatever empty bottle you have laying around, but I bought these amber glass spray bottles on Amazon because they're easy on the eyes.
I fill them 3/4 of the way with water and top it off with white vinegar.
Generously add in drops of lavender essential oil and tea tree essential oil.
That's it!
Shop the ingredients below:
Picking a Travel Yoga Mat 2023: What I Look For
Before choosing the perfect travel yoga mat, it's important to know what to look for.
Here are the 5 most important features you should keep in mind while shopping for your mat.
1. Weight
First and foremost, how much your travel mat for yoga weighs dictates how often you'll actually pack it.
Packing is an art-form and with overweight luggage fees as high as they are, you should first check how much each mat weighs, the lighter the better.
Almost all the mats on this list weigh 2 pounds or less.
Some prefer a little extra weight for the comfort of more thickness (like Liforme mats).
2. Foldable Travel Yoga Mats
How small does the travel yoga mat fold down?
For me, foldability is the most important feature to save valuable suitcase space.
3. Stickiness
Is this mat sticky? Does it offer good grip so you're not sliding all over the place in Goddess pose?
Or is the non-grip texture so rough that it will irritate you when you're relaxing in supine positions?
If you're sensitive to textures (a bit of a Princess and the pea), then you may prefer a smoother mat, like the Mikkoa mat on this list.
Do you practice hot yoga? You'll need a grippy mat, like Manduka or YOGO, for when the sweat inevitably begins to flow.
4. Sustainability
Yoga is more than a workout, it's a way of life.
One of the main tenants of the philosophy is the concept of ahimsa: practicing a lifestyle of non-harm.
Be mindful when purchasing your yoga mat and consider sustainability.
Is it made of an ecologically friendly material?
Does the company contribute to green causes?
Like this Jade mat, they plant a tree for every mat purchased.
5. Style
This last one may seem less important, but is it?
Your yoga practice is personal and an outlet for self-expression.
Do you want a mat in a color that will calm you or in a bright pattern that will energize you?
If you're working on a specific chakra, you can search for a mat in its color to help keep you mindful of it.
Some mats are more technical, with markings to help with alignment, like Liforme.
Others are just jaw-droppingly beautiful, like Mikkoa.
You'll be spending a lot of time on your mat, so be sure to find one you love.
You May Also Like: