Argentina's capital is fashionable city (it is called the Paris of South America after all).
If you're looking to shop, you've come to the right place.
This post is a complete guide to shopping Buenos Aires, including my favorite boutiques, architecturally impressive malls, leather, and more.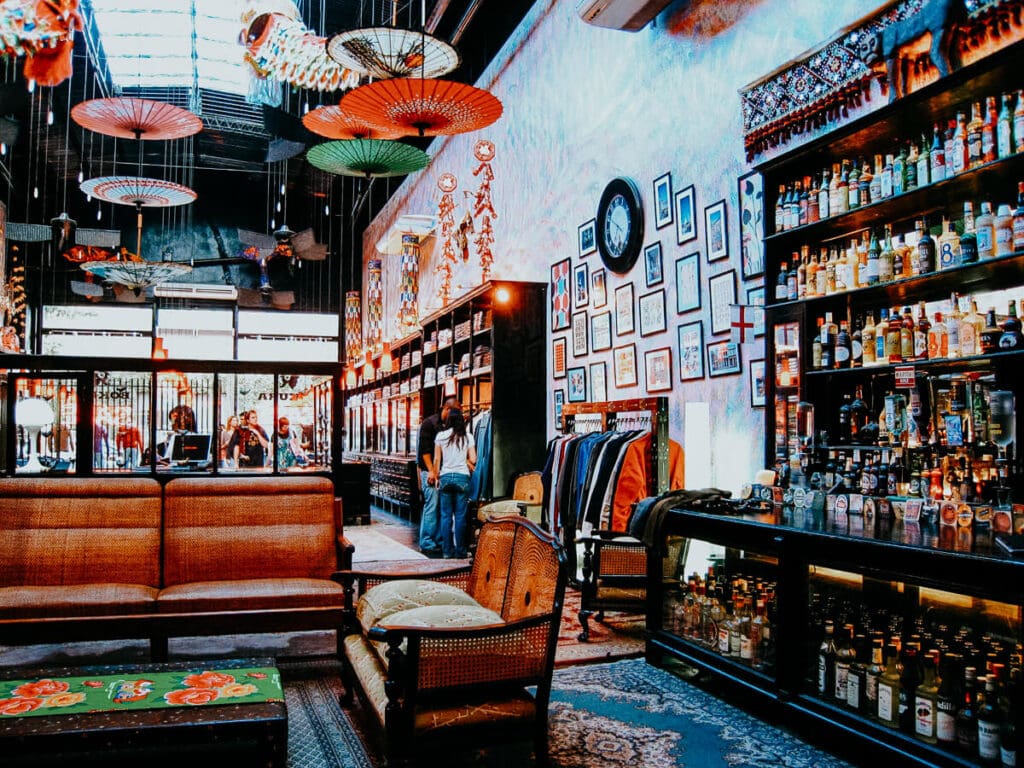 QUICK NOTE: This post contains affiliate links and Sol Salute may receive a commission for purchases made through these links, at no extra cost to you.
Shopping in Buenos Aires: What to Expect
When traveling to Argentina, I recommend packing light.
Between the high quality leather goods, antique treasures of San Telmo, Palermo's boutiques, countless bookshops and many outdoor markets, you'll be returning home with a much heavier suitcase than you arrived with.
If you're looking to shop Buenos Aires til you drop this post will give you everything you need to know.
I start out with my favorite five designers and boutiques, then guide you to city's best shopping districts and malls, iconic bookstores and, of course, where to get leather goods.
Shopping Buenos Aires Designers & Boutiques
I haven't always enjoyed shopping in Buenos Aires. Many majors brands are expensive and low quality.
I lost my patience with blouses becoming tattered after one ride through the washing machine, preferring to fill my suitcases with new clothes when visiting family in the US.
But I've converted.
I've fallen in love with a few local designers that create simple yet unique pieces. All are great quality and very affordable.
I'm in love and my closet has been slowly filling with Argentine creations.
Here are 5 small, local businesses that I'm obsessed with.
Carolita Home
Carolita weaves subtle but beautiful tapestries in neutral earth tones and designs dresses that are the definition of effortlessly put together.
She incorporates her tapestries into many of her accessories, adorning leather sandals, belts, purses and hats.
If you want your own wall hanging she also takes custom orders. Reach out to her to discuss options, measurements and prices for your own one of a kind tapestry.
To shop Carolita Home visit her online storefront (which ships locally and internationally) or make an appointment to visit her showroom in Núñez.
Loidas Naturals
Sabru is the eco-conscious heart and soul behind Loidas Naturals.
She focuses her energies on comfortable, effortless designs and being kind to the environment.
Her cotton and linen designs are over-sized, one sized fits all chic and flattering for all body types.
I'm obsessed with her maxi pants with the matching top!
Think baggy linen pants, simple dresses, jumpsuits and loose sweaters you can wear year round.
Keep an eye on her website and Instagram for collaborations with other designers like Montessori style wooden toys and candles in hand crafted clay jars.
Flan Mixto
Flan Mixto takes vintage denim and leather jackets and remixes them with hand woven ponchos from Argentina's northwest.
The coat is diced and spliced with the wings of a one of a kind poncho that replaces the sleeves.
Follow them on Instagram to keep up with restocks or find their ponchos at Facon in Palermo or Arandu in Recoleta.
If you have a coat of your own you'd like to recycle contact them for a cost estimate to convert your old jacket into a brand new Flan Mixto creation.
I had my old J Crew jacket brought back to life this way and now it's a one of a kind poncho.
Facon
Martín Bustamente is the owner and curator of Facon, a shop in the heart of Palermo Soho offering the city's best collection of artisanal crafts from around Argentina.
Bustamente travels across Argentina and works with local artisans to stock his shop with hand carved Chané masks from the Northwest, woven baskets from the Northeast, ceramics, blankets, jewelry, ponchos and more.
As it couldn't get any better, Facon is also a wine bar. Go for the shopping but stay for a drink or attend one of their regular wine tasting events.
Palo Santo Sunglasses
Palo Santo creates handmade wooden sunglasses and prescription glasses in their workshop and storefront in Palermo Hollywood.
They have a variety of styles to choose from. Have a look on their website or stop by their shop in person to try them on.
I loved my pair (that I heartbreakingly left behind at a restaurant in the Caribbean, I hope they found a new home!).
Neighborhoods for Shopping Buenos Aires
If you feel like going for a stroll through the streets of Buenos Aires for some window shopping, these are the neighborhoods to lose yourself for an afternoon of self indulgence.
Palermo Soho, Sylish and Young
One of the best ways to spend a sunny afternoon is by ambling through the cobblestone, tree lined streets of Palermo Soho.
This neighborhood is one of the best places to shop in Buenos Aires and is home to the city's top restaurants and best street art.
The blocks surrounding Plaza Armenia and Plaza Serrano are the best place to shop in Buenos Aires.
The clothing and design shops here not only have great merchandise for sale but are also stylishly decorated and are a unique experience all on their own.
Wander aimlessly in and out of the shops and stop for a coffee at one of the many sidewalk cafes to make a day of it.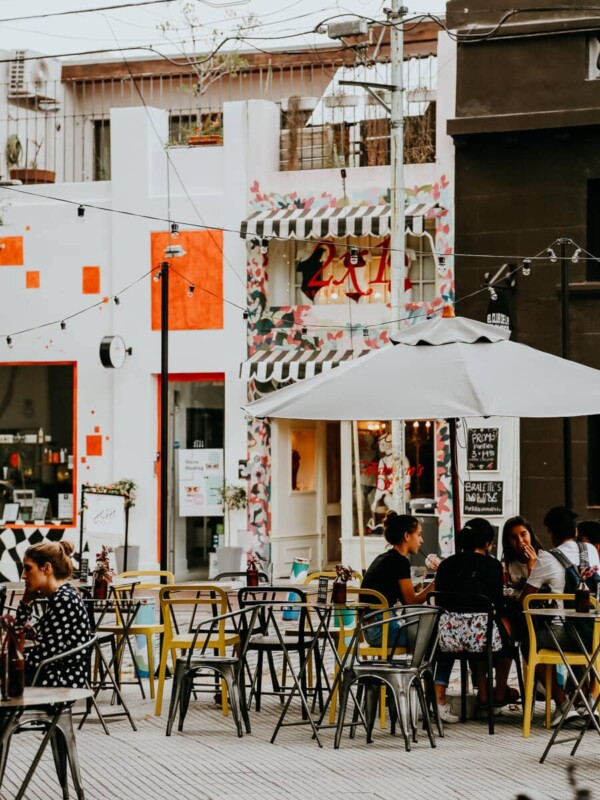 Recoleta, Posh Luxury Brands
If you're looking for the ritzy Paris of South America head to Recoleta.
Avenida Alvear is the top shopping street here and home to most of the luxury labels and shopping in Buenoss Aires (although strict import regulation caused most international brands to leave Argentina a few years ago).
Here are a few Buenos Aires shopping highlights near Avenida Alvear:
Fueguia 1883: Pick up a new scent at Fueguia 1883. The dark interior is decadent and the walls and tables are lined with delicate bottles of perfume to sample
Arandu: Just steps of Avenida Alvear find Arandu, housed in what was once a single-family home. Arandu sells leather goods (bags, traditional shoes, and belts) as well as polo equipment and clothing. I can easily lose myself in Arandu for hours.
You'll also find a few jewelry stores, high-end boutiques, and just a few blocks away is the Patio Bullrich Shopping Mall.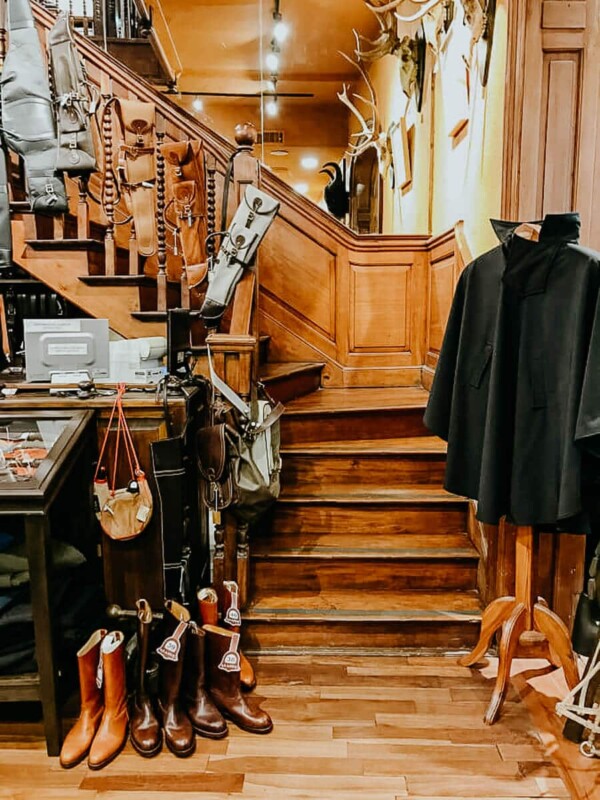 Villa Crespo, the Aguirre Outlets
Argentina's outlet "mall" is on Aguirre Street and surrounding blocks in Villa Crespo.
Take a taxi to the corner of Aguirre and Gurruchaga and explore a few blocks in every direction.
These are the outlets of the major Argentine brands that you'll also find in the major malls.
Prices will be slightly better (but don't expect the bargain basement prices you see in North American outlets).
Complete your Buenos Aires shopping experience here by walking 6 blocks to Murillo Street to shop the city's leather district.
Florida Street, Pedestrian Open Air Shopping
If you're exploring the city, there's no way you won't be taking a stroll down the pedestrian Calle Florida at some point.
Florida is an open air shopping mall and home to most of the major brands, but Florida is also a major site to see, whether you're there to shop or not.
This pedestrian thoroughfare connects Plaza San Martin (a posh square with luxury jewelry and leather shops) to Plaza de Mayo and the Casa Rosada.
Walking down Florida Street you'll see leather and jewelry shops (selling the country's national Rosa Inca stone), major local and international brands, and the stunning Galerías Pacífico shopping center.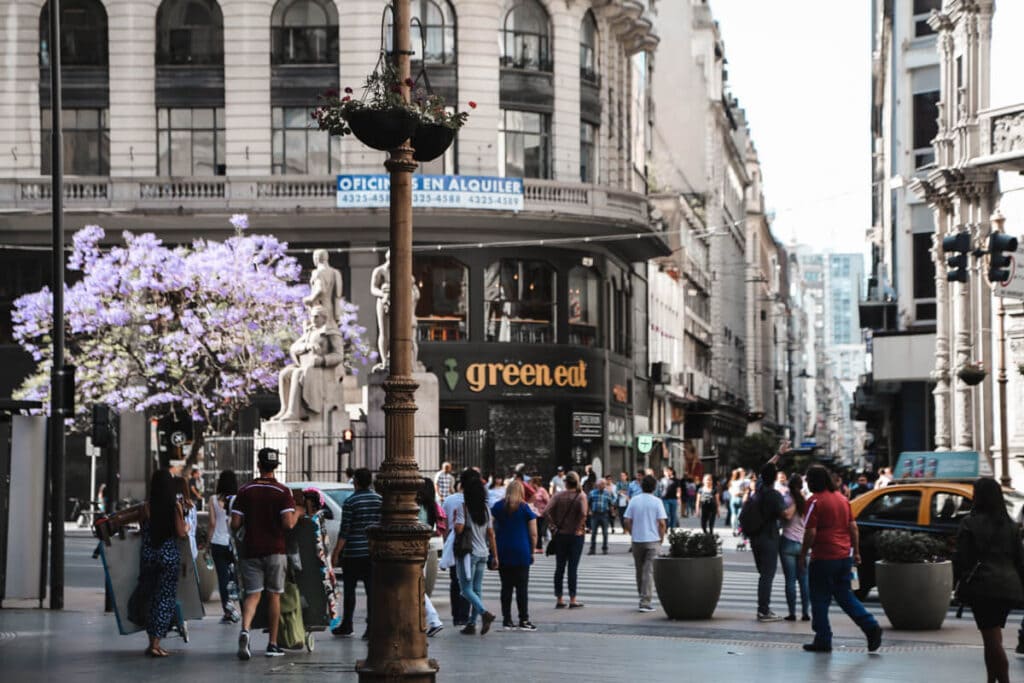 Buenos Aires Shopping Malls
While I recommend shopping at my favorite designers or in the shopping districts above, there are two malls are worth visiting (if for the architecture alone).
Galerías Pacífico
On the corner of Avenida Cordoba and pedestrian Calle Florida downtown, you have to go inside Galerías Pacífico.
This impressive structure was built to house the Argentine Bon Marché, modeled after a French store of the same name.
It went on to serve as the first home for the city's Fine Arts Museum and a railway company's office building.
Today it's one of the only Buenos Aires shopping malls worth visiting (in my opinion).
Head straight to the heart of the building and look up at its mural covered dome ceiling. Peruse the shops or go down the stairs to the coffee shop located directly under the dome.
Have a coffee and pastry here and experience the true Paris of South America.
This gallery is also home to the biggest Christmas tree in Buenos Aires over the holidays so if you're here in December, definitely go to Galerías Pacifico.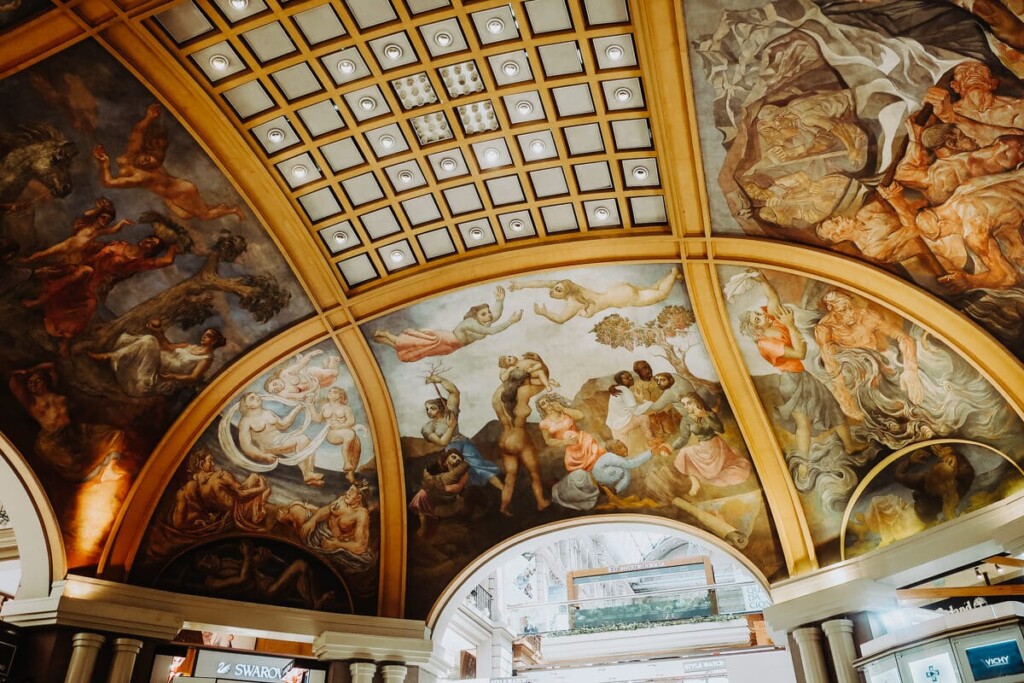 Patio Bullrich
At Posadas 1245 in the posh area of Retiro (bordering Recoleta), Patio Bullrich is another historic mall in Buenos Aires.
It was built in 1867 to serve as an auction house for the Bullrich family.
Everything ranging from cattle to heirlooms was sold on its auction floor.
It's been a shopping mall since the 1980's, housing international and local luxury labels.
Most of the original design was respected and it's worth a visit to see the building even if you're not in the market for a designer dress.
Other Buenos Aires Shopping Malls
Again, I recommend sticking to the beautiful boutiques of Palermo and Recoleta when shopping in Buenos Aires, but if you're still keen on exploring the malls, here are the rest of the city's top malls.
Alto Palermo | Av. Santa Fe 3253 | Alto Palermo is closest to Palermo Soho and easy to combine into one day of shopping Buenos Aires' most stylish neighborhood.
Recoleta Mall | Vicente López 2050 | Recoleta Mall is just a block from the cemetery and a few blocks from Avenida Alvear. While I'm not a fan of its shopping, if you go to the Mostaza hamburger chain's outdoor balcony in the food court you'll see an aerial view of the cemetery below.
Alcorta Shopping | Jerónimo Salguero 3172 | Alcorta Shopping (formerly Paseo Acorta) is near the MALBA and the Jardin Japones, combine it with a cultural day in the museums.
DOT Baires Shopping | Vedia 3600 | The DOT is on the northern edge of the city in residential Saavedra. It is far off the beaten path and you're not likely to be near it if you're visiting as a tourist, but if you live here it's a huge mall worth a visit if you're on a major shopping mission as it has everything.
The Many Bookstores of Buenos Aires
Buenos Aires has more bookstores per capita than any other city in the world.
While Kindle killed the American bookshop a la You've Got Mail, they thrive here in Buenos Aires.
Even if you can't read Spanish, these bookstores are worth checking out (and actually most have an English language section).
El Ateneo Grand Splendid
Av. Santa Fe 1860, Recoleta
If there's a list of beautiful bookstores out there, El Ateneo is on it.
National Geographic even named it The World's Most Beautiful Bookstore in 2019.
The Grand Splendid was originally a theater then a cinema and has the opulence of an opera house. Today it's a multi-tiered bookstore.
When you visit make sure to go up stairs and check the out the view from every floor.
If your feet need a rest, have a coffee at the cafe on the stage.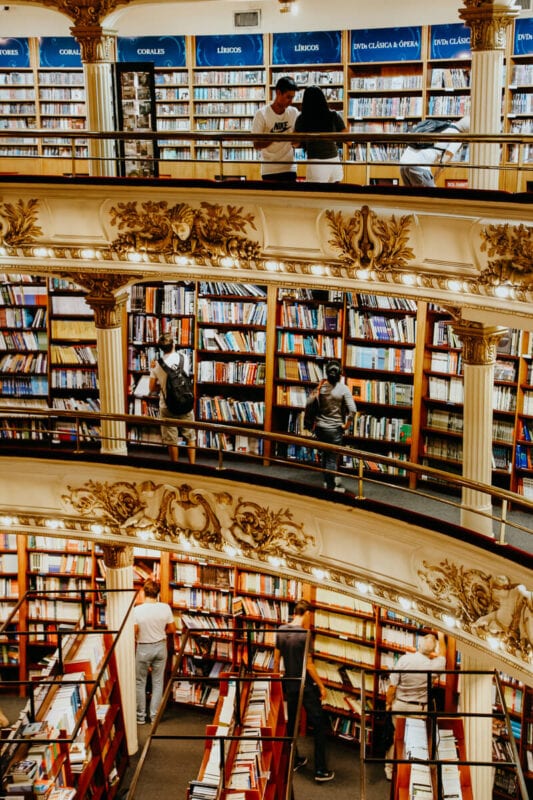 Librería de Ávila
Alsina 500, San Telmo
This is the city's oldest bookstore and actually one of the (if not the only) building in Buenos Aires still serving its original purpose.
Built as a bookstore in 1785, it may have changed names and ownership over the years but it still remains a bookstore.
It's just steps from Plaza de Mayo in San Telmo.
If you speak Spanish and/or are interested in Argentine history and culture you'll enjoy losing yourself among this shop's interesting collection.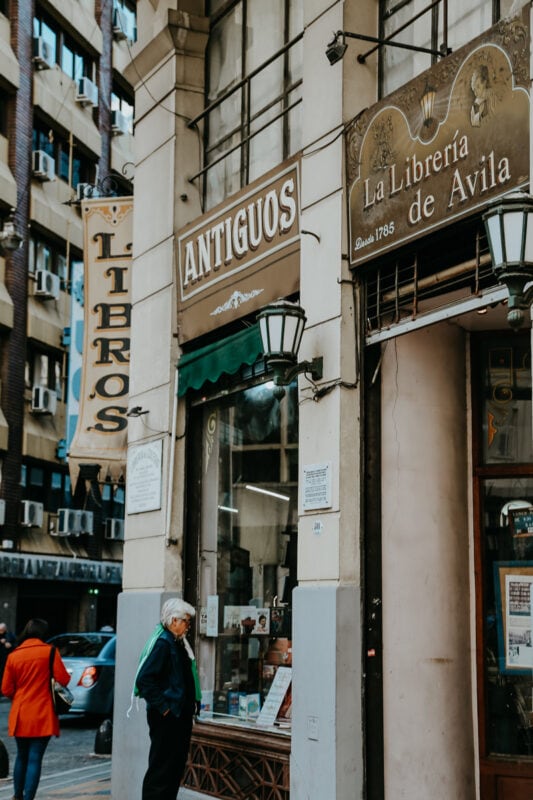 Libros del Pasaje
Thames 1762, Palermo Soho
Libros del Pasaje is a modern bookstore built in 2004.
It's small but packed to the brim with books, including a great section of children's books at the front of the shop.
I always find something interesting on the center tables with the staff's chosen books and often do my gift shopping here!
The coffee shop at the back has plenty of soft couches to sink into with your new book and a cafe con leche.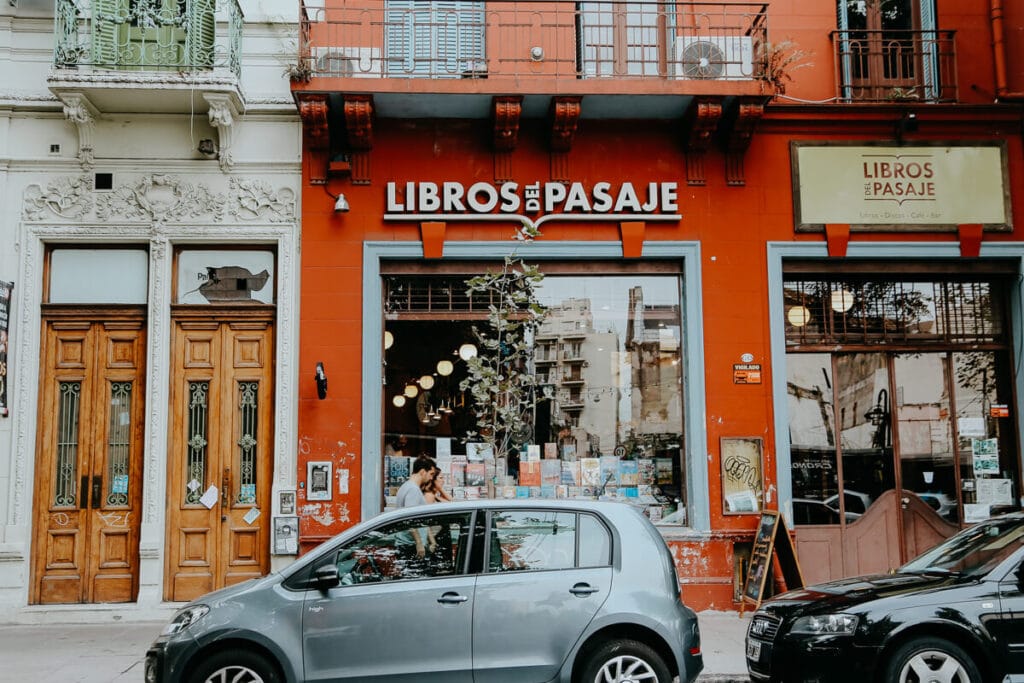 Leather Shopping Buenos Aires
I'd be shocked if you're not out hunting for a new leather jacket, purse or boots when shopping in Buenos Aires.
Keep an eye out for unique pieces at the markets, particularly the Sunday market in San Telmo.
Sellers there often have both new and vintage jackets and bags.
Aside from the markets, here are a couple great recommendations for Buenos Aires leather shops.
The Leather District, Villa Crespo
There are two blocks on Murillo Street in Villa Crespo filled with nothing but leather stores.
The quality and style varies so shop around.
Start at Murillo 666, both the name and address of the most popular and highest quality shop in the district. They have great jackets as well as furniture.
La Casa de las Botas, Palermo
For a particularly unique souvenir, have a custom pair of equestrian boots made just for you.
Get measured, choose the style and colors and you'll have a pair of boots unlike no other.
La Casa de las Botas in Palermo has been making custom boots for over 50 years.
Check out their website to get an idea of their style.
You can place an order online but if you'll be in Buenos Aires, stop in to be measured and design your boots for the best fit (and experience!).
The Best Shopping in Buenos Aires
I hope this guide left you fully prepared to shop til you drop, whether you're off to peruse the city's many bookshops or the hip boutiques of Palermo.
This stylish city is brimming with creative designers and outdoor shopping districts.
Enjoy the experience of wandering in and out of the shops, pause for a coffee break, and admire the beautiful neighborhoods as you go and you'll have an day you'll never forget.
Read More of my Buenos Aires Shopping and Tourism Guides
PIN IT FOR LATER