Shopping in Argentina can be either a one of a kind experience or a frustrating, bang your head into the wall experience.
There's no in between.
So if you're trying to figure out how to navigate how to shop in Buenos Aires, I hope this guide will lead in you in the right direction.
The first thing to understand, imported goods are hard to come by and expensive in Argentina.
What does that mean for you? That means that picking up a new pair of Nike trainers or getting camping gear for Patagonia can be very, very pricey compared to the US or Europe.
I would avoid that by planning ahead and bringing everything you need for your trip with you.
Don't plan on picking up things as you go. Pack for your hikes, camping trips, and all seasons that you'll need.
So, what should you shop for?
Leather, hand made anything, bespoke leather jackets and shoes, woven rugs and tapestries from the north, local designers for clothing, antiques, so, so much…
You just need to know where to look.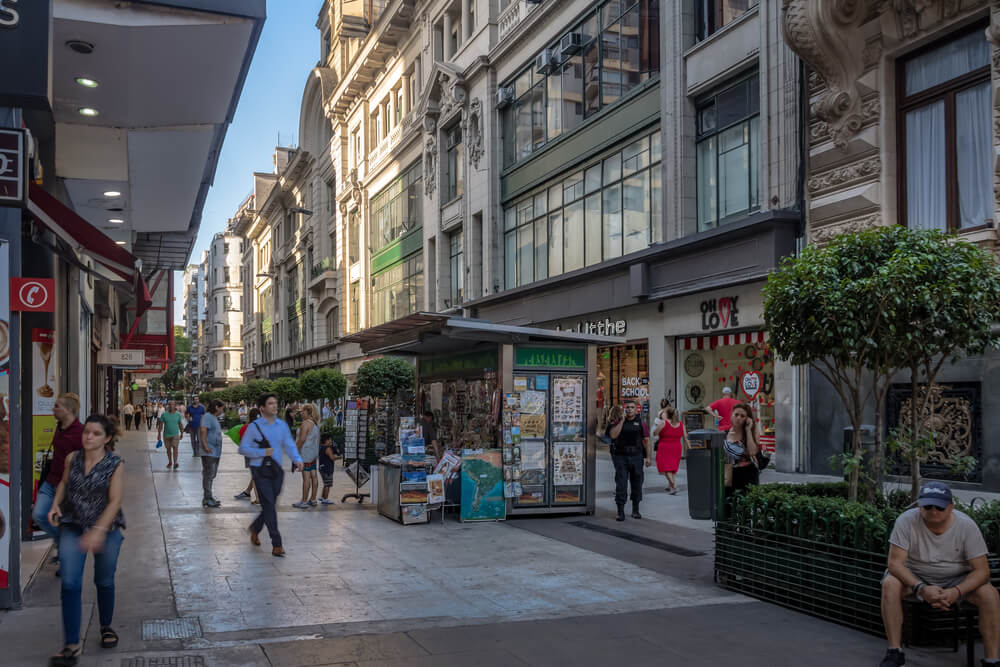 QUICK NOTE: This post contains affiliate links and Sol Salute may receive a commission for purchases made through these links, at no extra cost to you.
Shopping in Buenos Aires
To make the most out of your Buenos Aires shopping experience, forget about the idea of shopping in a mall or down a main drag of shops.
The beauty of design and clothing here lies in this city's independent designers, private showrooms, and historical bespoke artisans.
Do you really want to shop 'til you drop? Book a curated, private shopping tour with Lunfarda Travel. They'll cater the day to your taste and interests. Use code SOLSALUTE for a 10% discount on all tours booked with them.
Independent Designers & Showrooms
Below are some of my favorite places to shop (or dream about shopping at) throughout the city.
// Carolita Home // Carolita weaves subtle but beautiful tapestries in neutral earth tones and designs dresses that are the definition of effortlessly put together. She incorporates her tapestries into many of her accessories, adorning leather sandals, belts, purses and hats. She has an online storefront and a physical showroom in Nunez.
// Blue Sheep // Clean, modern clothing, they have an online store and a few in person showrooms in Patio Bullrich, in La Colorada (I recommend this showroom in particular in an architectural stunner in Palermo), or in La Aldea (a shopping area in the Pilar suburb).
// Nimes // Beautiful leather bags in Villa Crespo, I'll refrain from saying how many of their bags I already own (it's a lot, I want more).
// Flan Mixto // They combine custom ponchos with vintage denim and leather jackets for a winter coat you won't find anywhere else. I had one made with an old jacket of mine! Or buy a ready made one as they show up. You can fill out the form on their link in bio to get your own.
// Gorrión // Cruelty free backpacks and cross body bags that just about everyone in Buenos Aires uses, I have two cross body fanny packs that are my go to bag for errands or bike rides. Check out their show room in Palermo Soho.
// Palo Santo // Palo Santo makes wooden glasses and sunglasses and have a showroom in Palermo.
// Facon // The owner of Facon undertakes the hard task of traveling the country in search of beautifully crafted goods to display in his curated storefront in Chacarita. You'll find unique pieces from all across the country.
// Caucus Lab // Simple, modern designs with a traditional weaving style, they have stunning rugs and tapestries
TIP // Just about every shop will offer a cash discount, ask before paying just in case forget to mention it. 10-15% is the norm if they offer it.
Traditional Designers & Showrooms
Here are just a few traditional bespoke artisans in Buenos Aires:
// Hats – Lagomarsino // These are the most beautiful and well made hats you will find in Argentina. You can shop their online catalogue or find them in many shops throughout the city. Arandu on Ayacucho in Recoleta is a great spot for items like this.
// Leather jackets – Sylvia y Mario // Handmade, authentic Argentina leather jackets made in store. Go in person to fit yourself for the jacket of your dreams.
// Shoes – Calzados Correa // Artisanal handcrafted shoes since 1955, classic menswear shoes made of the highest quality leather.
Malls in Buenos Aires
Ok, I already said to skip the malls.
I stand by that statement.
But, there are a couple of beautiful malls that are worth visiting for the architecture alone.
1. Galerías Pacífico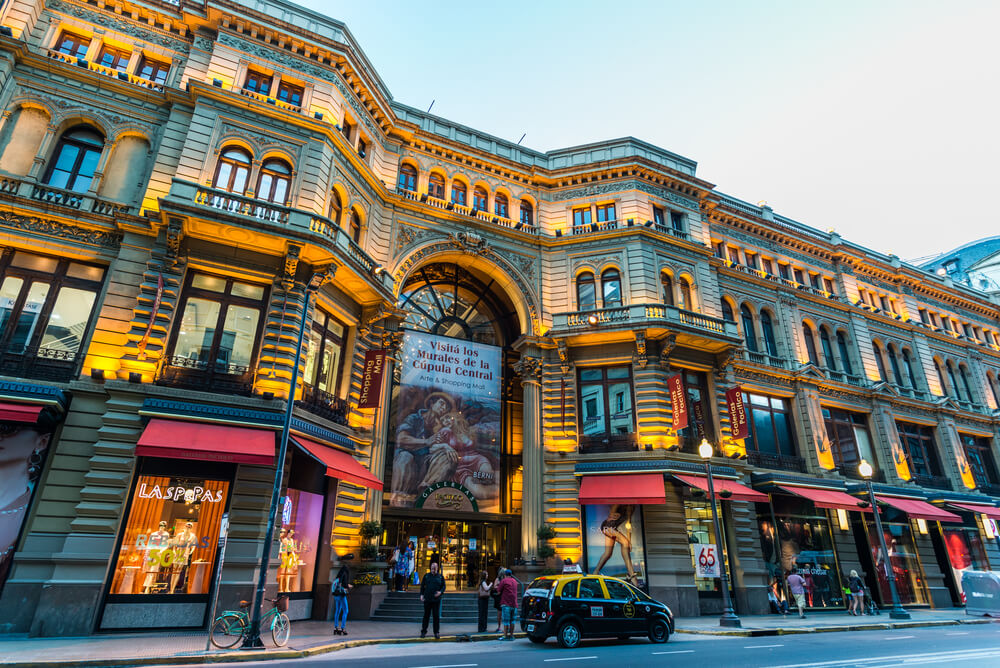 On the corner of Avenida Cordoba and pedestrian Calle Florida downtown, you have to go inside Galerías Pacífico.
This impressive structure was built to house the Argentine Bon Marché, modeled after a French store of the same name.
It went on to serve as the first home for the city's Fine Arts Museum and a railway company's office building.
Today it's one of the only Buenos Aires shopping malls worth visiting (in my opinion).
Head straight to the heart of the building and look up at its mural covered dome ceiling.
Peruse the shops or go down the stairs to the coffee shop located directly under the dome.
Have a coffee and pastry here and experience the true Paris of South America.
This gallery is also home to the biggest Christmas tree in Buenos Aires over the holidays so if you're here in December, definitely go to Galerías Pacifico.
2. Patio Bullrich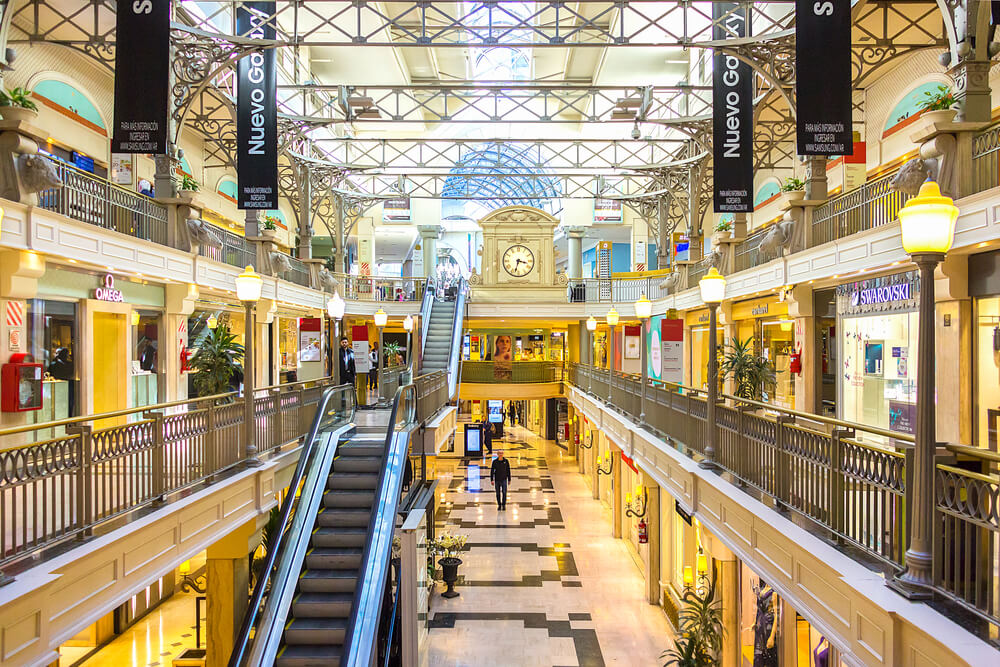 At Posadas 1245 in the posh area of Retiro (bordering Recoleta), Patio Bullrich is another historic mall in Buenos Aires.
It was built in 1867 to serve as an auction house for the Bullrich family.
Everything ranging from cattle to heirlooms was sold on its auction floor.
It's been a shopping mall since the 1980's, housing international and local luxury labels.
Most of the original design was respected and it's worth a visit to see the building even if you're not in the market for a designer dress.
3. Palermo Soho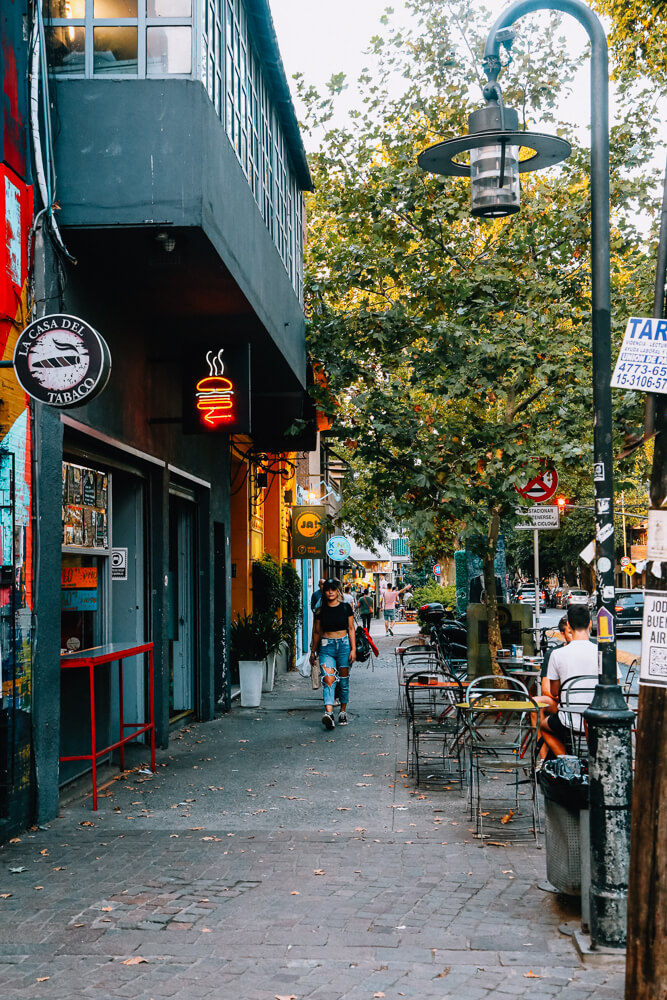 OK, Palermo Soho isn't a mall.
But it is a major shopping hub and one of the few that's enjoyable.
With stylish boutiques throughout, this neighborhood is one of the best places to shop in Buenos Aires and is home to the city's top restaurants and best street art.
The blocks surrounding Plaza Armenia and Plaza Serrano house boutiques, a mix independent designers and major local brands.
The clothing and design shops here not only have great merchandise for sale but are also stylishly decorated and are a unique experience all on their own.
Wander aimlessly in and out of the shops and stop for a coffee at one of the many sidewalk cafes to make a day of it.
4. Other Buenos Aires Shopping Malls
While there's nothing special about the following malls, they do get the job done if you need to shop for jeans or a new dress.
A mall is a mall and they'll deliver just fine:
Alto Palermo | Av. Santa Fe 3253 | Alto Palermo is closest to Palermo Soho and easy to combine into one day of shopping Buenos Aires' most stylish neighborhood.
Recoleta Mall | Vicente López 2050 | Recoleta Mall is just a block from the cemetery and a few blocks from Avenida Alvear. While I'm not a fan of its shopping, if you go to the Mostaza hamburger chain's outdoor balcony in the food court you'll see an aerial view of the cemetery below.
Alcorta Shopping | Jerónimo Salguero 3172 | Alcorta Shopping (formerly Paseo Acorta) is near the MALBA and the Jardin Japones, combine it with a cultural day in the museums.
DOT Baires Shopping | Vedia 3600 | The DOT is on the northern edge of the city in residential Saavedra. It is far off the beaten path and you're not likely to be near it if you're visiting as a tourist, but if you live here it's a huge mall worth a visit if you're on a major shopping mission as it has everything.
Cheap clothes shopping in Buenos Aires
Ok, all of my favorite spots mentioned above are nice and all, but if you're on a backpacker's budget and need a tank top and pair of shorts, where should you go?
Of course you can find clothes that are more affordable than the Adidas or Levi's that have been marked up two and three times their average price.
Just know that with that step down in price you also get a step down in quality.
Whatever you buy on a budget here won't last long but it will do in a pinch.
They will outfit you for your trip if you find yourself in need of shorts in an unexpected heat wave.
Plaza Serrano, Palermo Soho – There's a number of markets for independent designers surrounding this square in Palermo. Each designer has their own booth and if you buy something you'll pay them directly. But each market/shop does have it's own generic dressing room if you want to try on items from multiple designers. You'll find easy tank tops, dresses, and even button down shirts and joggers here.
Avenida Nazca in Avellenada – If you're hell bent on cheap clothes, Avellenada is home to a ton of cheap shops along Avenida Nazca, head to Subte stop San Pedrito and start walking. Set your expectations accordingly… Will these clothes survive one or two washes? Try and find out.
Ferias Americanas – These are the thrift stores of Buenos Aires, where locals sell their old clothes, if you're willing to dig you can find some real gems. Search in Google Maps for the ones nearest you.
Outlets – While you won't find the bargain basement deals that you find in the US, major brands here DO have outlets where you can get clothes at decent prices. Most are located in Villa Crespo on and around Aguirre street between Juan B Justo and Scalabrini Ortiz.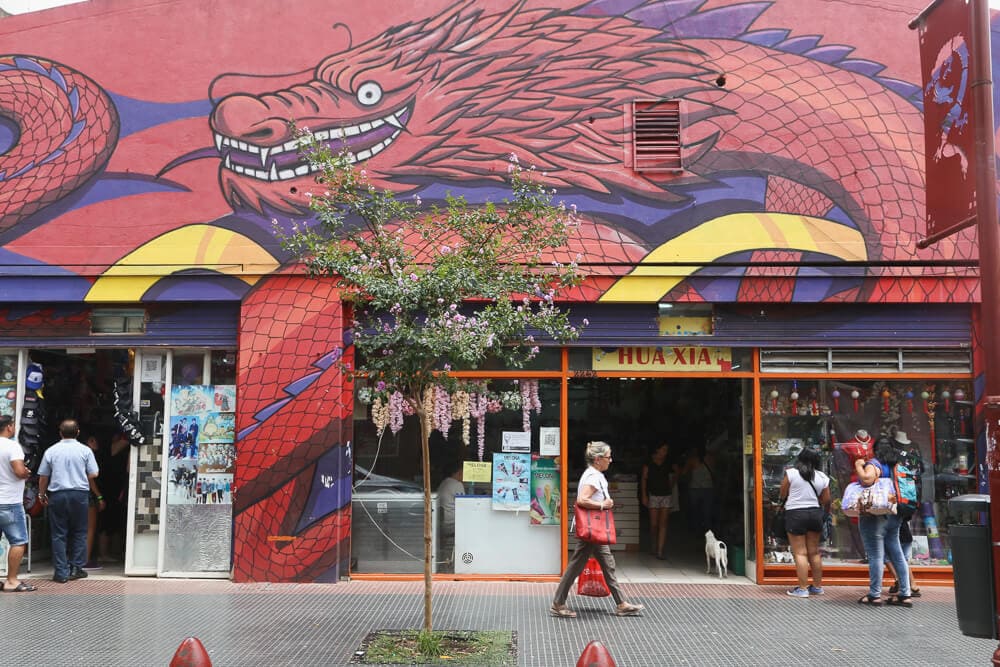 Where can I find…?
Are you looking for something very specific?
Finding it might be a bit easier than you think.
Shops in Buenos Aires are often groups together by genre.
Photography, cookware, fabric, and even fireworks…
Each has it's own zone.
Head to that general area and you'll find plenty of options for what you need.
Spices and food imports – Barrio Chino in Belgrano
Musical instruments – There a ton shops on Talcahuano between Rivadavia and Sarmiento (plenty on Sarmiento in this same intersection)
Jewelry, think simple silver and gold bands, etc – Calle Libertad between Rivadavia and Sarmiento
Cookware for chefs (of both the professional and homemade variety) – Avenida Jujuy, list of bazars here
Basic furniture shops are everywhere but Avenida Belgrano is known for its quantity
Antiques – San Telmo on and around Plaza Dorrego
Party decor – Once
Cheap toys in bulk – Once
Thread, buttons, cloth, etc – Once
Basically, you can find A LOT in Once
Duty Free Shopping in Buenos Aires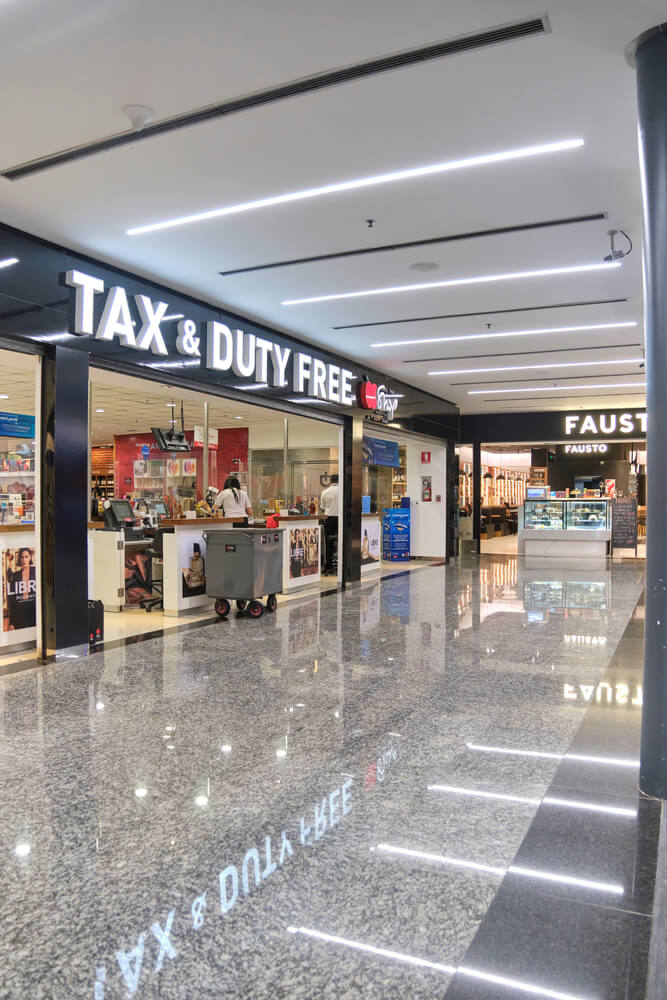 Have leftover pesos at the end of your trip?
The best way to unload yourself of them is shopping in the airports in the duty free shops.
Prices here are set in dollars but when you pay in pesos they convert at the official rate, making it a very good deal for you if you got those pesos at the blue dollar rate.
Confused and don't know what I'm talking about? Read all about currency exchange in Argentina here.
Good Luck Shopping in Buenos Aires!
I hope this guide left you fully prepared to shop 'til you drop, whether you're off to peruse the malls or the hip boutiques of Palermo.
This stylish city is brimming with creative designers and outdoor shopping districts.
Enjoy the experience of wandering in and out of the shops, pause for a coffee break, and admire the beautiful neighborhoods as you go and you'll have an day you'll never forget.
How about a personalized shopping experience? Reminder of this tour mentioned at the top of the article, a curated, private shopping tour with Lunfarda Travel will get you into showrooms you wouldn't find any other way.

They'll cater the day to your taste and interests. Use code SOLSALUTE for a 10% discount on all tours booked with them.
Read More about Buenos Aires