Ironically, some of the most quintessential things to do in Buenos Aires involve leaving the city in your rearview mirror.
The rural countryside surrounding the city is iconic, with working ranches, gauchos and polo fields.
And out of all these tempting day trips from Buenos Aires, the most popular is without a doubt a day trip to Colonia del Sacramento, Uruguay.
I've been to Colonia more times than I can count and I never tire of it.
Its peace is the perfect antidote to the chaos of Buenos Aires.
This post will give you all the information you need to plan your day trip to Colonia del Sacramento, Buenos Aires will be waiting for you when you return.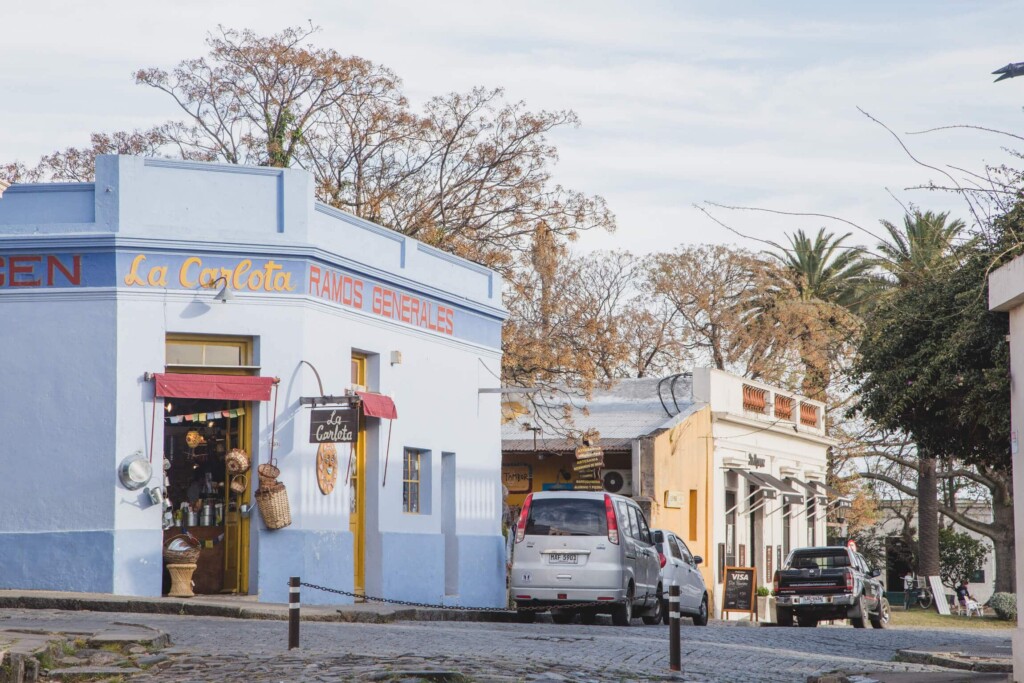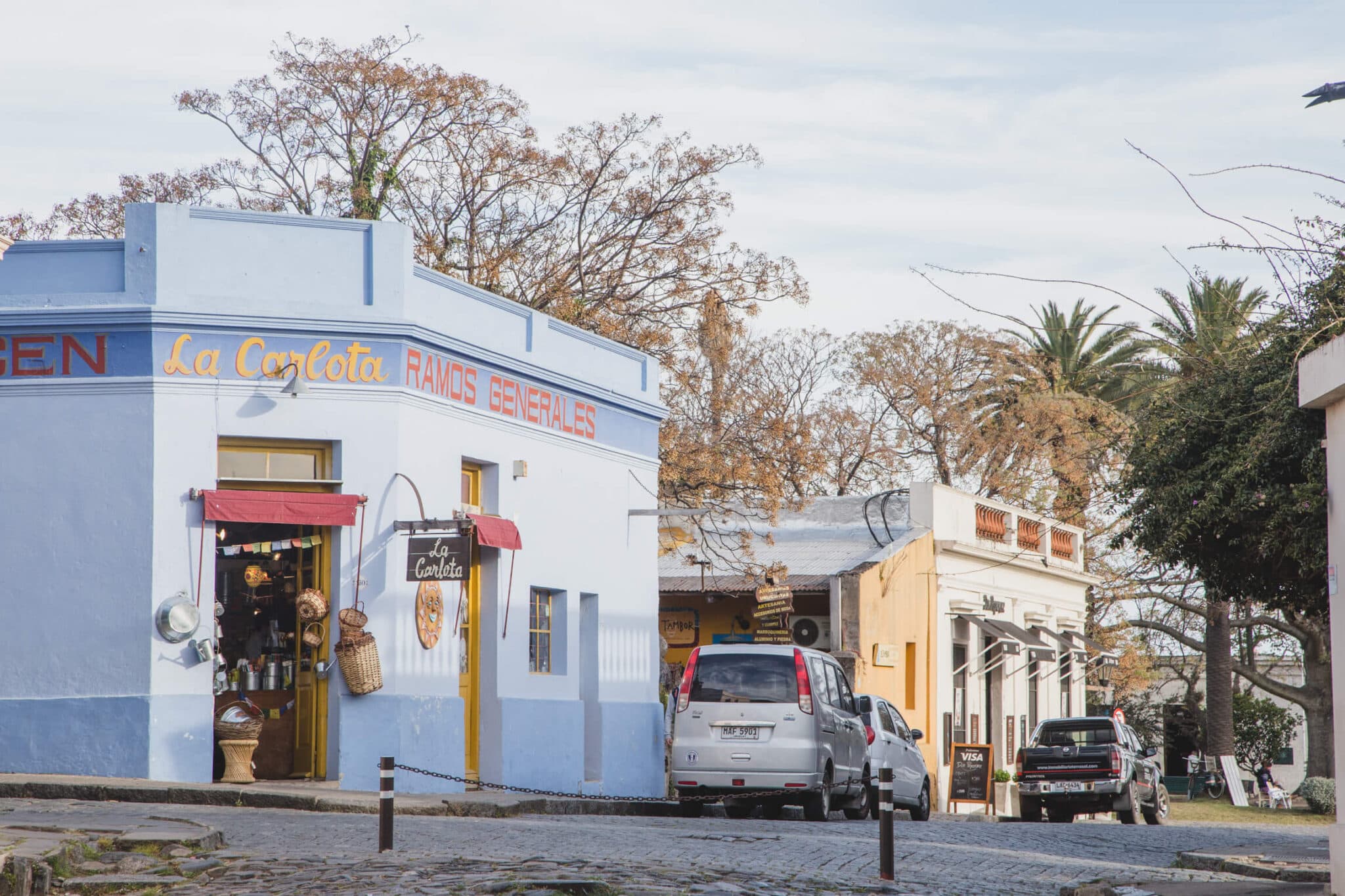 QUICK NOTE: This post contains affiliate links and Sol Salute may receive a commission for purchases made through these links, at no extra cost to you.
The Ideal Colonia Day Trip from Buenos Aires
Colonia is the perfect day trip because it's very easy to get to despite being across the river in a different country entirely.
The ferry, departing from downtown Buenos Aires, takes only an hour and is very affordable.
The Ferry from Buenos Aires to Colonia
There are three ferry companies to choose from when planning your day trip to Uruguay.
Two depart from the Buquebus Terminal in Puerto Madero (near Retiro and Cordoba Avenue).
The third departs from its own smaller terminal on the opposite end of Puerto Madero.
I recommend comparing prices on all three before selecting one.
Departure times tend to be the same across the board.
All of the websites can be changed to English and are easy to navigate.
BUQUEBUS | This is the most well-known ferry to Uruguay. If you click on their site and select day tours, you'll see a selection of tour packages that include walking tours, bike rentals, and meals. We never pay for these extras and just get the simple day trip ticket (it's a small town and you can navigate it solo with zero trouble). But if you want a more complete experience they can make it seamless for you.
SEACAT COLONIA | Seatcat is my favorite little secret. They are nearly always cheaper than Buquebus but use the Buquebus ferries. Pay less and travel on Buquebus by purchasing your tickets via Seacat.
COLONIA EXPRESS | These ferries depart from the smaller Colonia Express terminal on the other end of Puerto Madero. They offer a larger variety of package tours such as packages with wine tastings, a golf cart rental, or a trip out of the city to the Uruguayan countryside.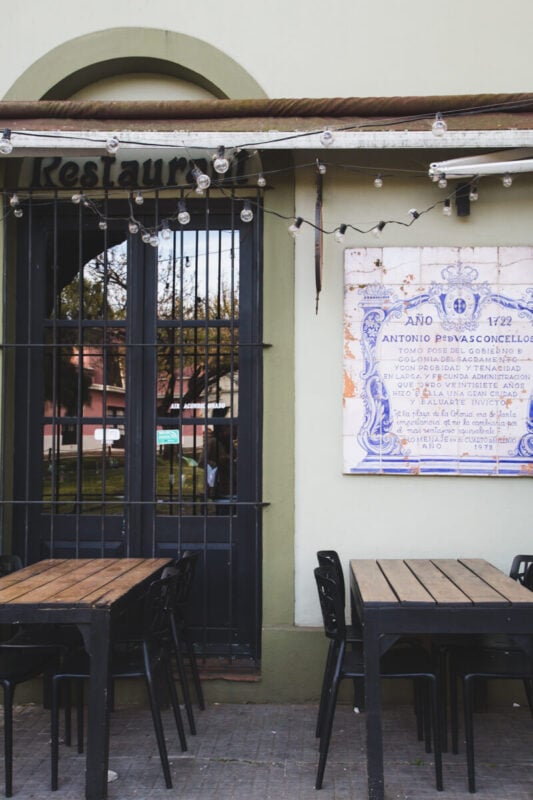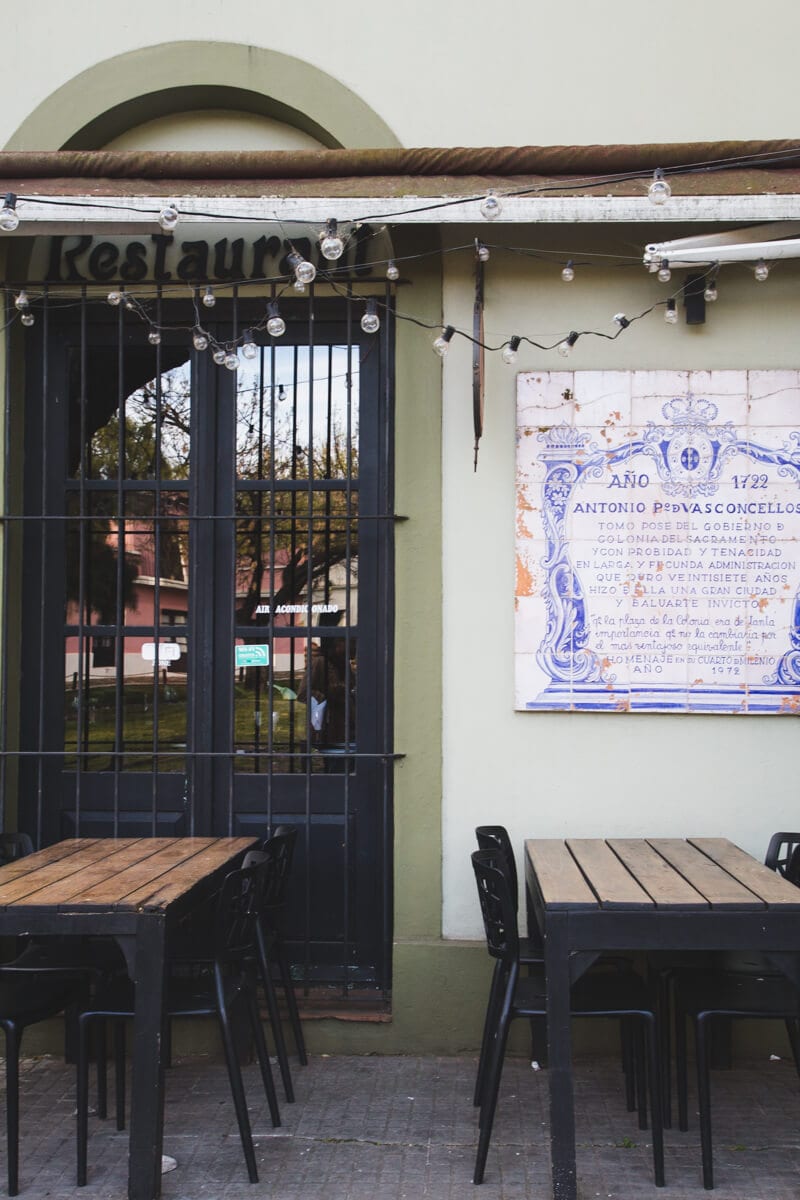 How Much Time Does Colonia Need
The most common Colonia del Sacramento – Buenos Aires day trip timeline departs Buenos Aires at 8 am and leaves Uruguay to come back at around 4 in the afternoon.
This is plenty of time to see everything at a relaxed pace. This schedule is perfect if you have dinner plans in Buenos Aires that day.
We recently left on the later ferry at around 12:30 and stayed until 9 pm.
We had the same amount of time to explore Colonia and seeing the sunset was so beautiful!
If photography is important to you this will also be ideal because you'll be there for the golden hour (and this town is made for photographers).
You can see my golden hour photo below.
Alternatively, if you'd like even more time you could, of course, leave at 8 am and return at 9 pm. But unless you have scheduled activities like the day in the countryside tour I don't think this is necessary.
We like to see things at a slow and relaxed pace and find that 8 am – 4 pm is plenty of time.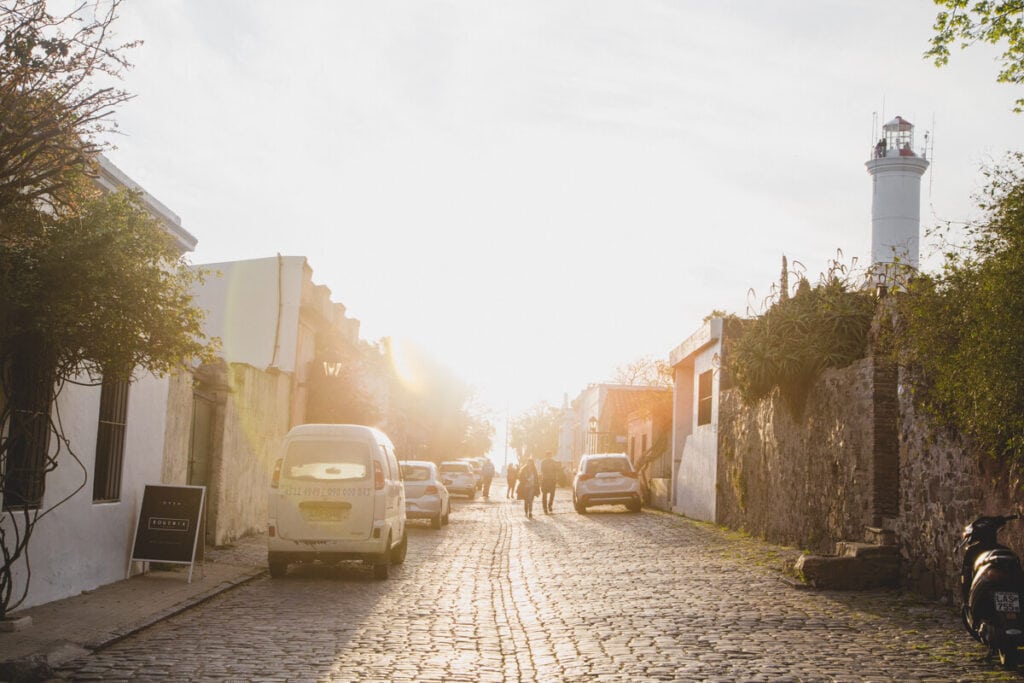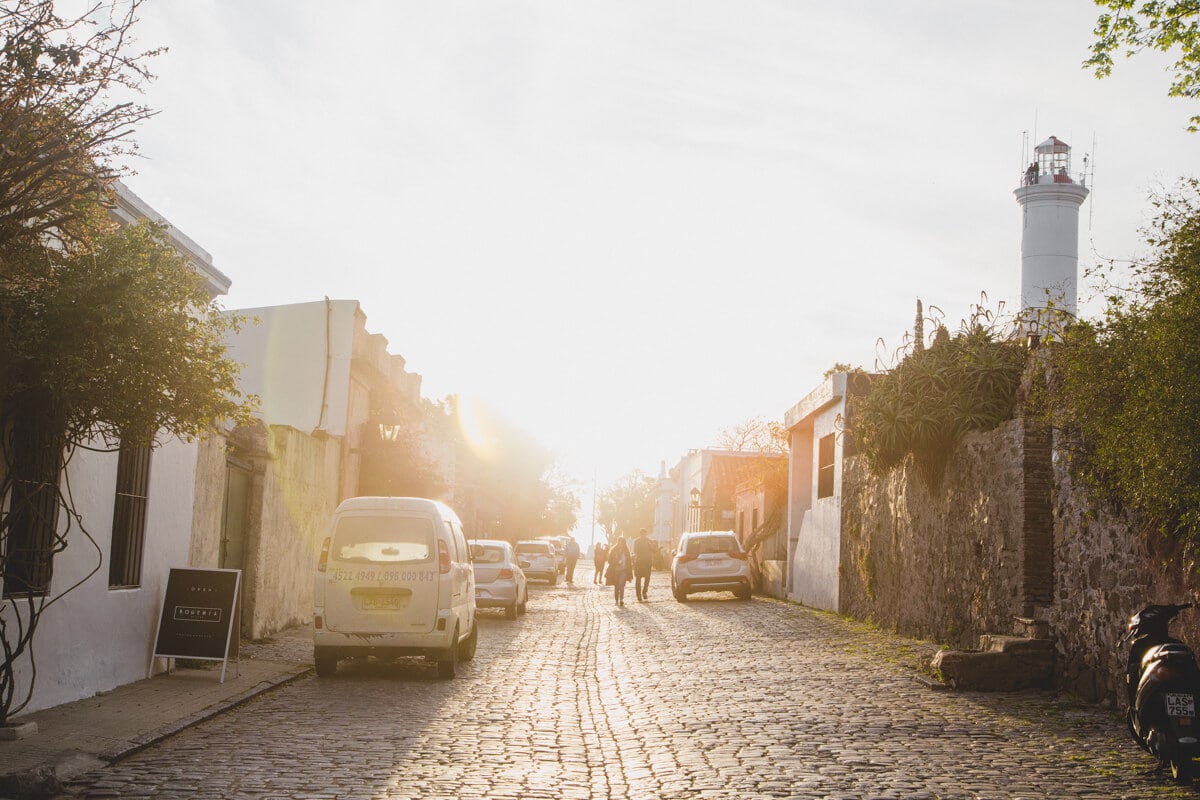 Read Next: The 10 Best Things to do in Uruguay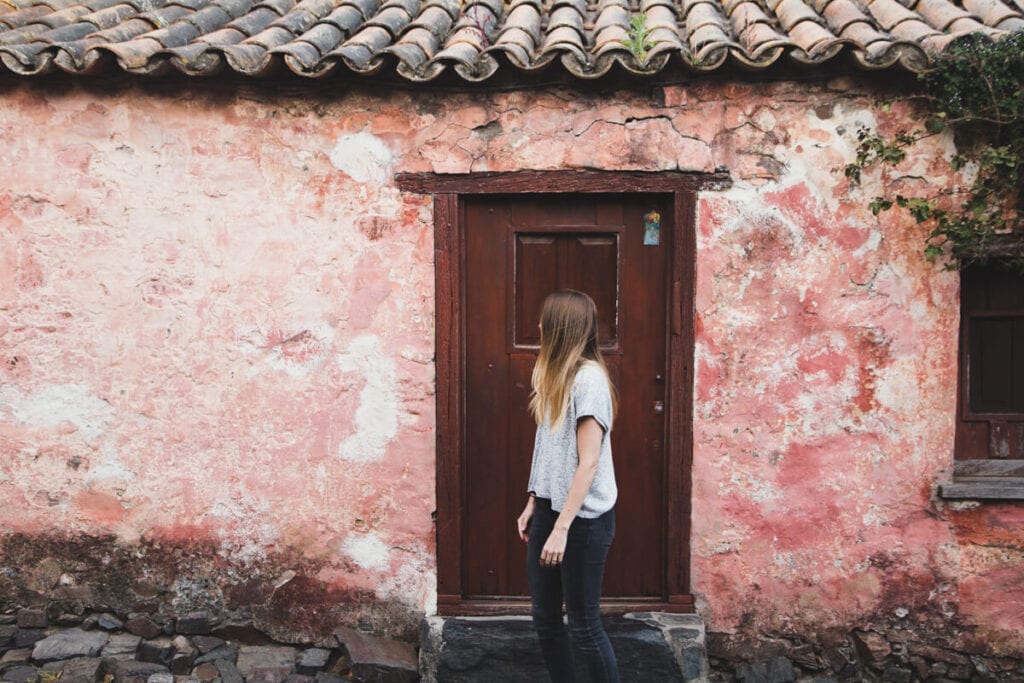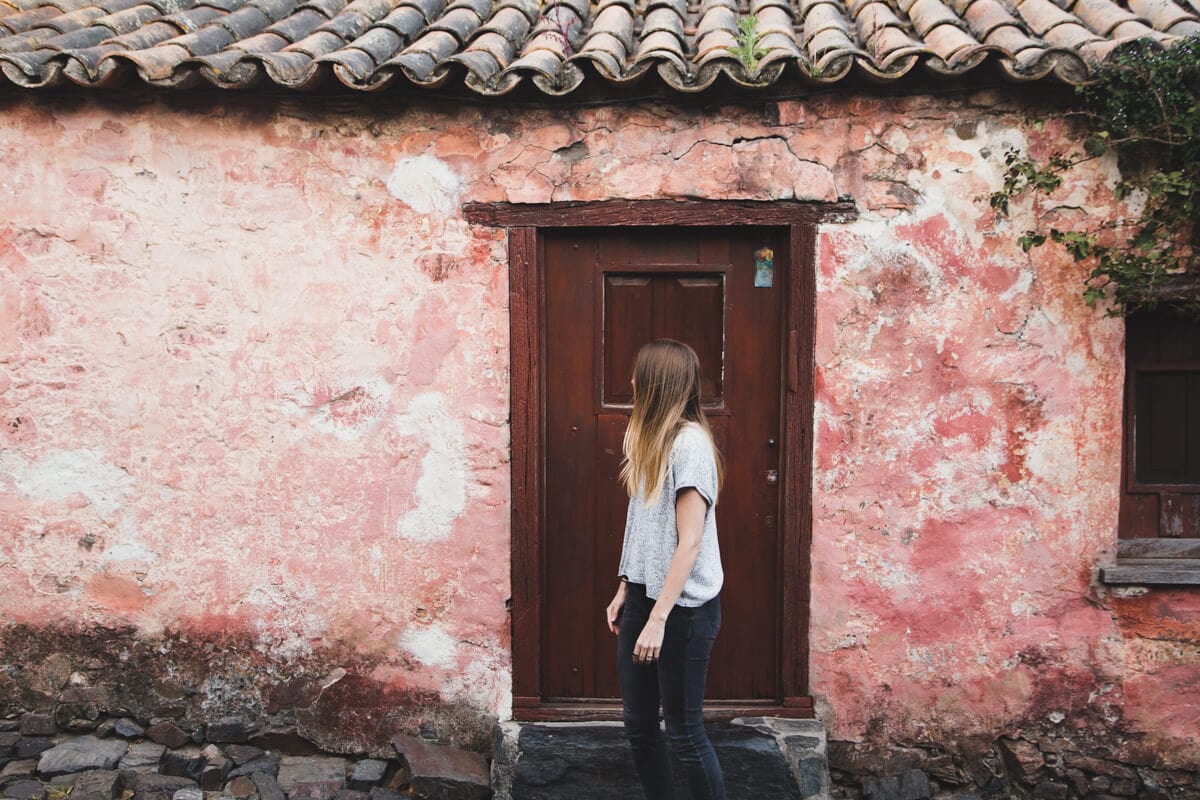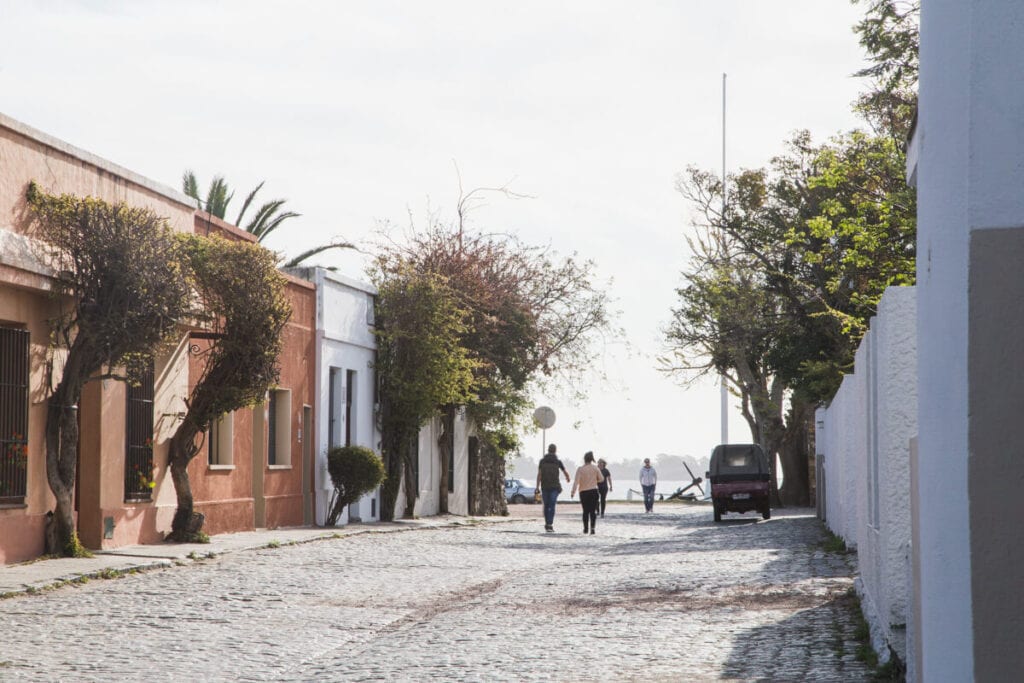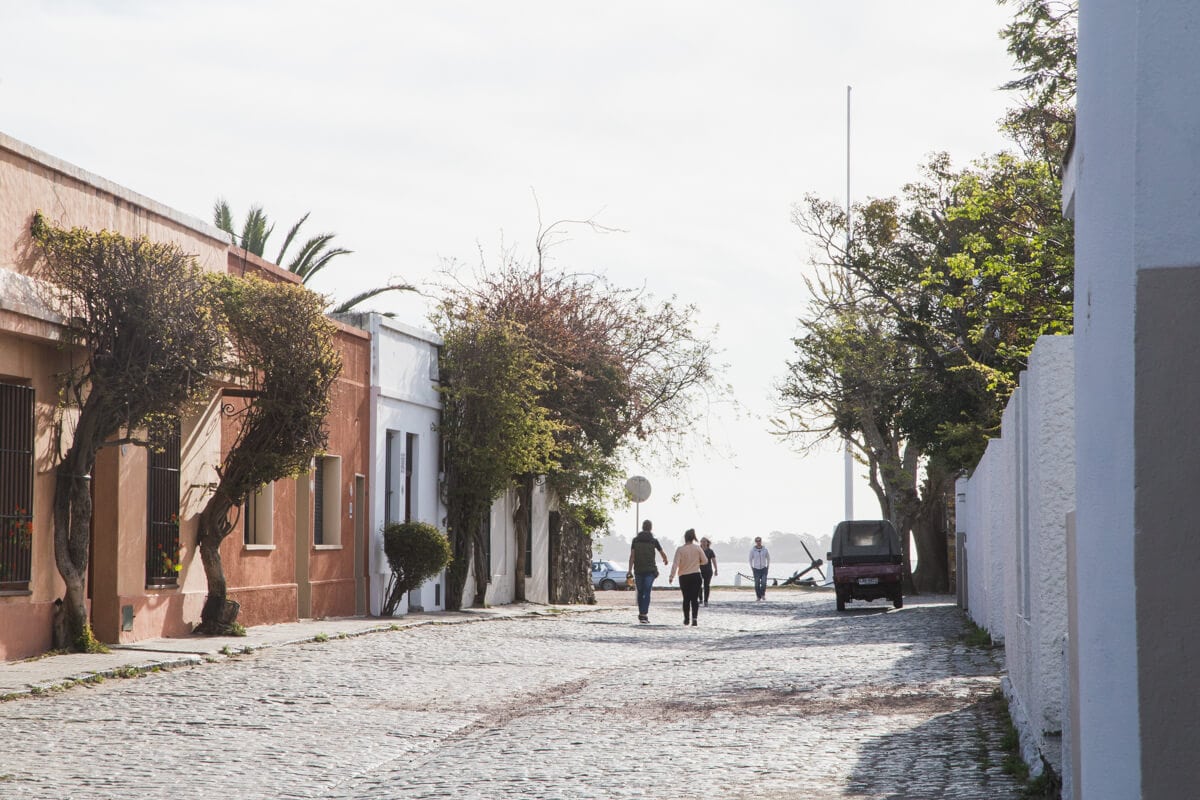 Argentina-Uruguay Immigration
They have made crossing the border here very easy. The two country's immigration agents are together on one side of the border.
When you leave Buenos Aires you'll go straight from the Argentina exit stamp to the Uruguayan next to them for your entry stamp.
Once you arrive in Uruguay, you're free to go!
Same goes for departing Colonia. You'll get both stamps together, one after the other.
Quick note, don't forget your passport!!
Map of Colonia del Sacramento
I've attached the map below mainly to show you how small Colonia really is. The ferry terminal is on the bottom right and the historic old city center is everything to the left half.
Things to do in Colonia
Ok, you're off the ferry and breathing the fresh air of Colonia del Sacramento. Now what?
Hang a left and make your way to the historic old town.
My favorite thing to do in Colonia is basically nothing.
City life living in Buenos Aires gets to me and when I'm lucky enough to spend a day in Uruguay, all I want is to disconnect and relax.
The best thing to do is eat, drink, and amble down the cobblestone streets.
This small town is the epitome of picturesque. Here are some of the Colonia highlights.
Try Chivito
Chivito. The most iconic Uruguayan dish is the Chivito: a meat lover's sandwich featuring beef, ham, bacon, a fried egg, lettuce, tomato and whatever else you could wish for.
Our lunch spot advertised a vegetarian version, so there's hope if you're on a plant-based diet.
However, I'm not exactly what a meatless Chivito could possibly involve since it's made of three types of meat!
Maybe play it safe and order a salad.
Eat Lunch on the River
I've been coming to Colonia over the past ten years and it hasn't changed one bit. Except for the restaurants, there are much better places to eat now!
For clean ingredients and high quality fare eat at Charco Bistro or Bohemia Bistro.
They are conveniently next door to each other making it easy to compare the views and menus before choosing.
Both are steps away from the Instagram famous Calle de los Suspiros and are right on the river.
The views are incredible and the food is very, very good! I'm partial to the garden at Charco.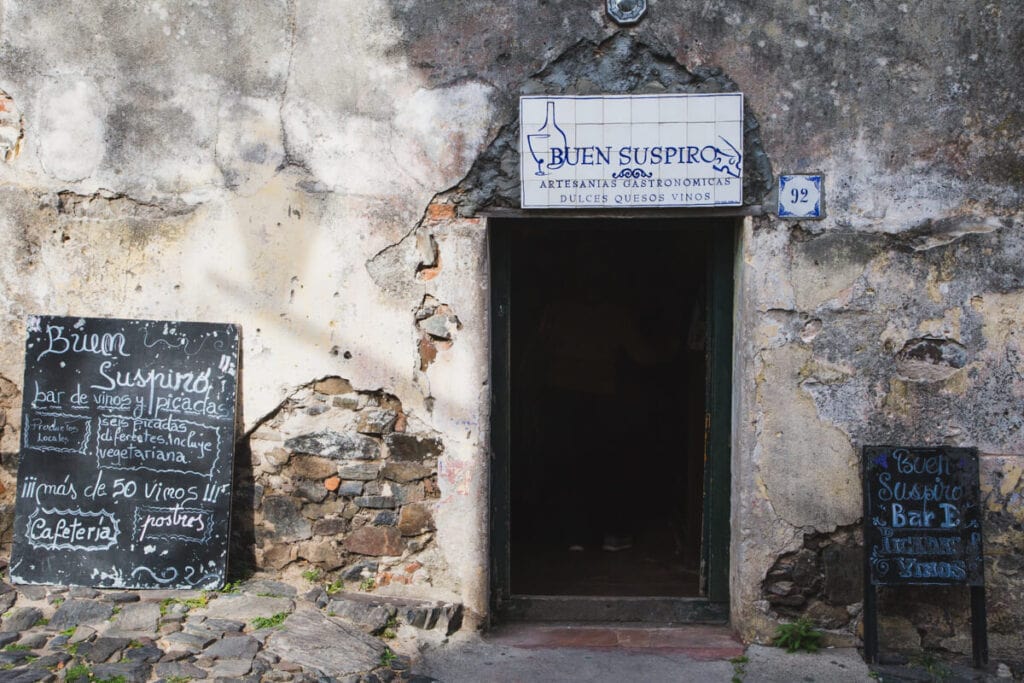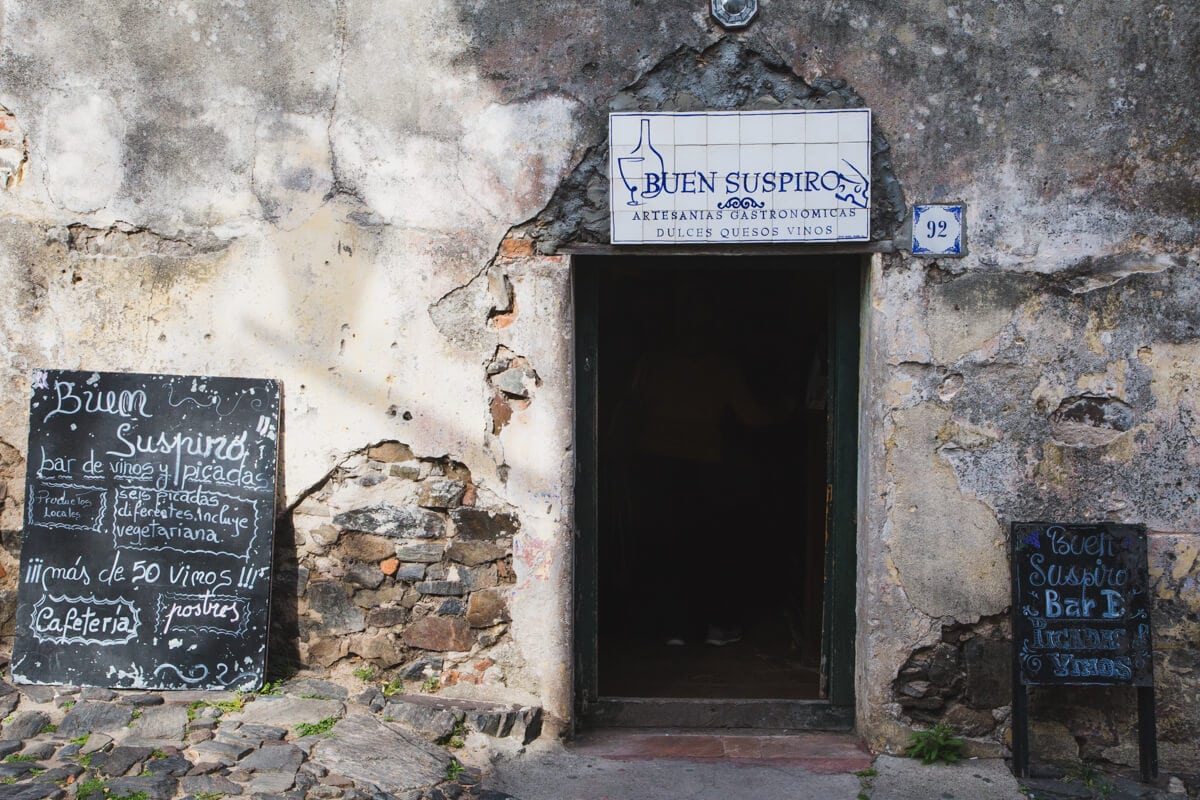 Have Uruguayan Wine at El Buen Suspiro
After walking off your lunch, it'll definitely be time for a glass of wine. El Buen Suspiro, on Calle de los Suspiros, is the definition of hole in the wall.
You'll have to duck to get in the low door and it feels like you're stepping back in time.
Order a glass or bottle of Tannat, Uruguay's best red varietal, and a charcuterie platter (picada) to while away the time.
Take A Million Photos
Whether you fancy yourself an Instgrammer or not, you'll have a hard time putting your camera down in Colonia.
Every corner is more beautiful than the next!
Bring your best camera, charge the batteries and have plenty of space available on your memory card.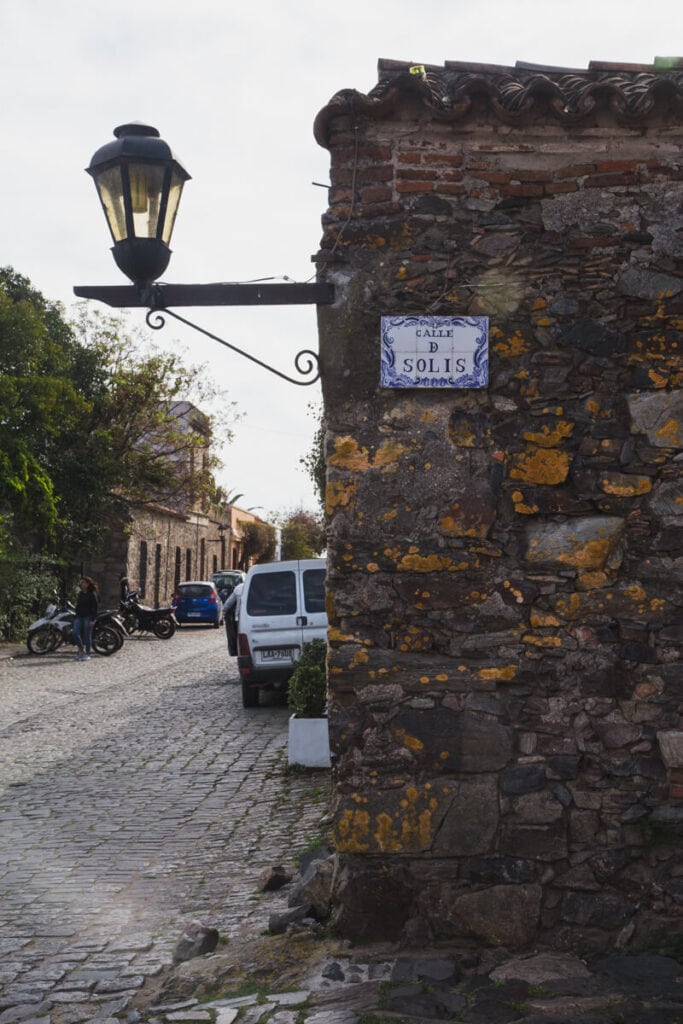 Visit the Museums & Lighthouse
I'll admit I've never stepped foot in the museums here (I meant it when I said I come to disconnect and do nothing!). But Colonia del Sacramento has a lot of history to delve into if you're willing.
You can also pay the equivalent of $1-2 US to climb to the top of the lighthouse for the best view in town.
For more information on the city's museums, click here.
Final Tips for a Smooth Colonia del Sacramento Day Trip
Colonia del Sacramento is a small town. It's easy to visit and very low-key. There's not too much to worry about when planning this day trip. Nevertheless, here are a few extra tips to make sure you have the best day possible.
Wear comfortable shoes. The cobblestones are no joke and if you wear heels, you'll break an ankle. This is the place for sneakers or flat sandals.
If you can swing it, try to visit on a weekday. Weekends get packed not only with tourists but also Argentines and Uruguayans. But if you have your heart set on a certain restaurant, just make sure they'll be open on the weekday you choose.
Budget. The food in Uruguay is much more expensive than in Argentina. Compared to some European or American cities, it may not feel too pricey, but if you've grown accustomed to 25 cent pastries, your wallet might hurt here. Our cheap lunch special cost us $15 US each (not horrible, but not Argentina cheap).
It's possible to rent a golf cart for your day in Colonia. Personally, I don't think it's necessary. Colonia is really small. However, if you have mobility issues this is a great option. Read more here (sorry, in Spanish). You can also arrange bike or moto rentals.
And finally, enjoy yourself!!
This small town is a tourist hot spot but it's for good reason. It's beautiful and one of my favorite ways to get away.
If you have any questions at all about planning your Colonia day trip, just let me know in the comments!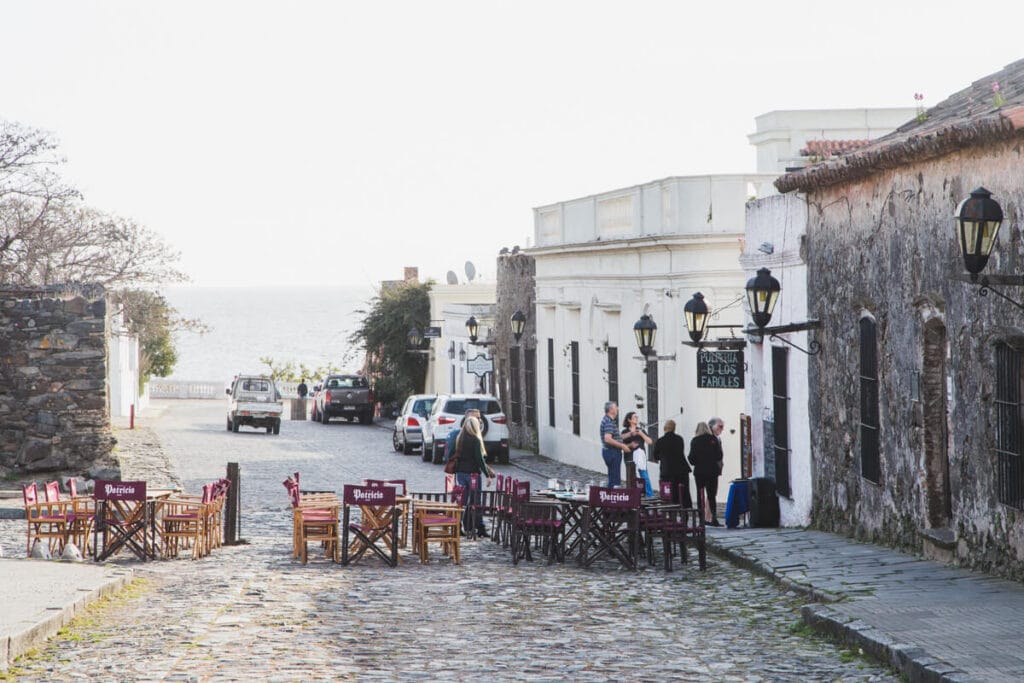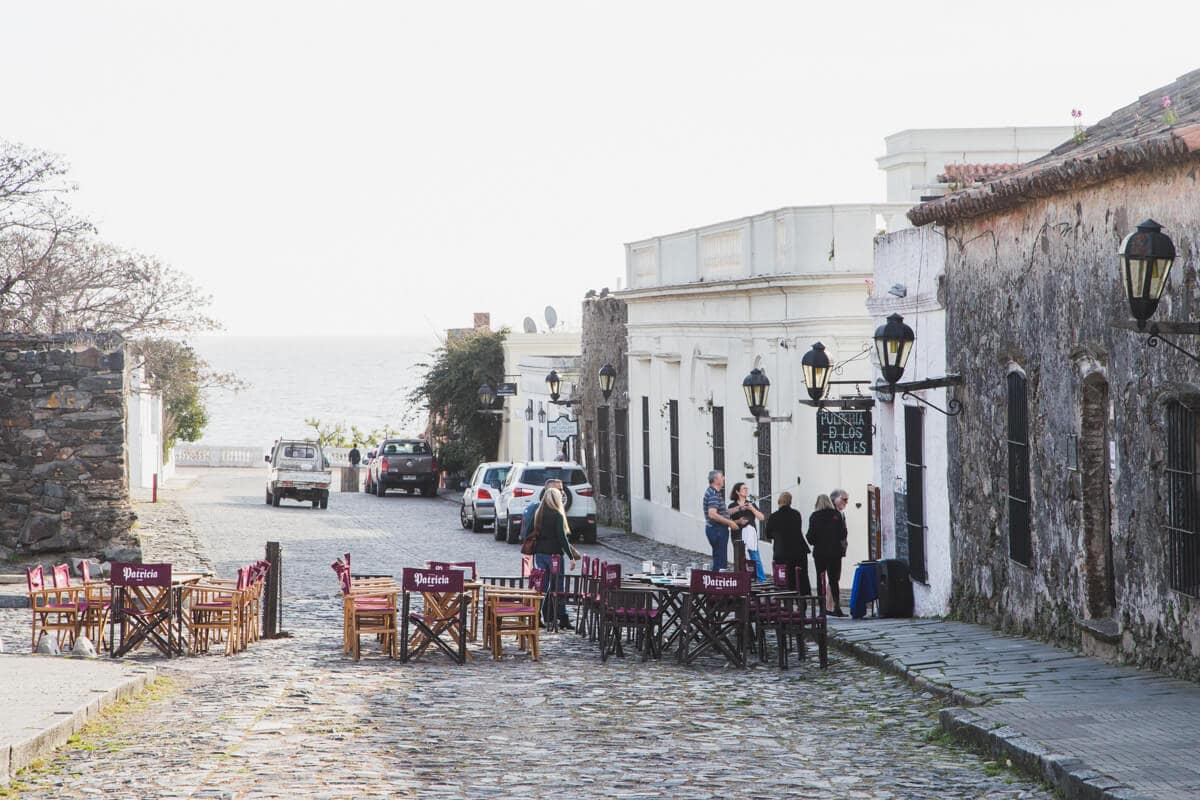 Read More about Buenos Aires Day Trips:
Pin It For Later