As we drove out of the city, we left the chaos of congested traffic and inconsiderate Porteño drivers in our rearview mirror.
I could feel myself slowly relax as the buildings disappeared and were replaced by the grassy pastures of the infamous Pampas that surround the city of Buenos Aires.
We were on our way to the small town of San Miguel del Monte to spend a weekend at the luxurious Estancia La Bandada.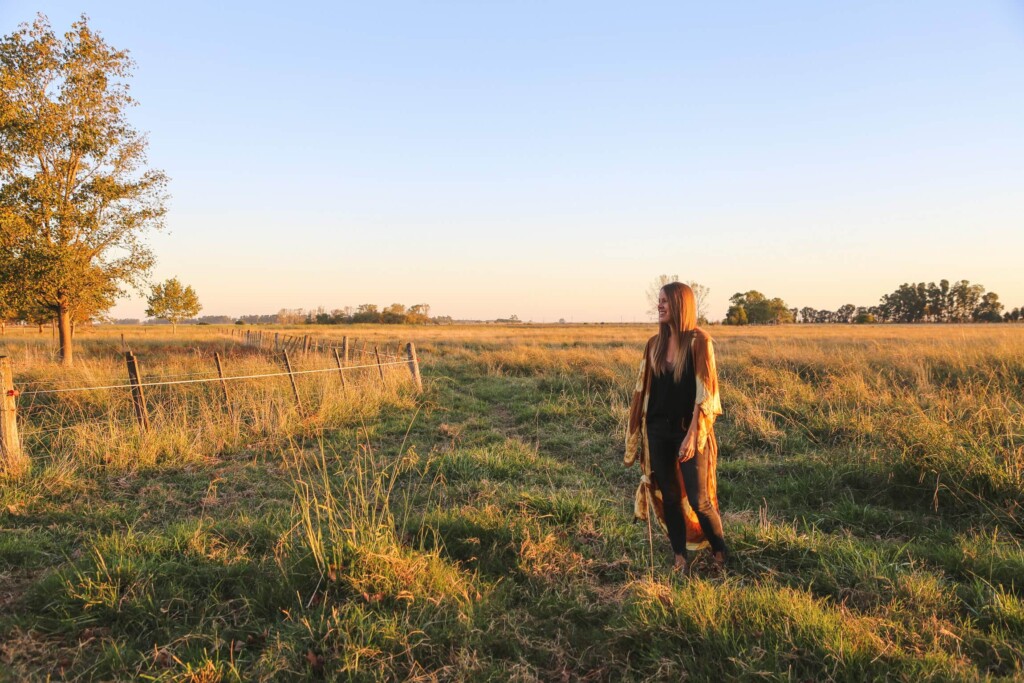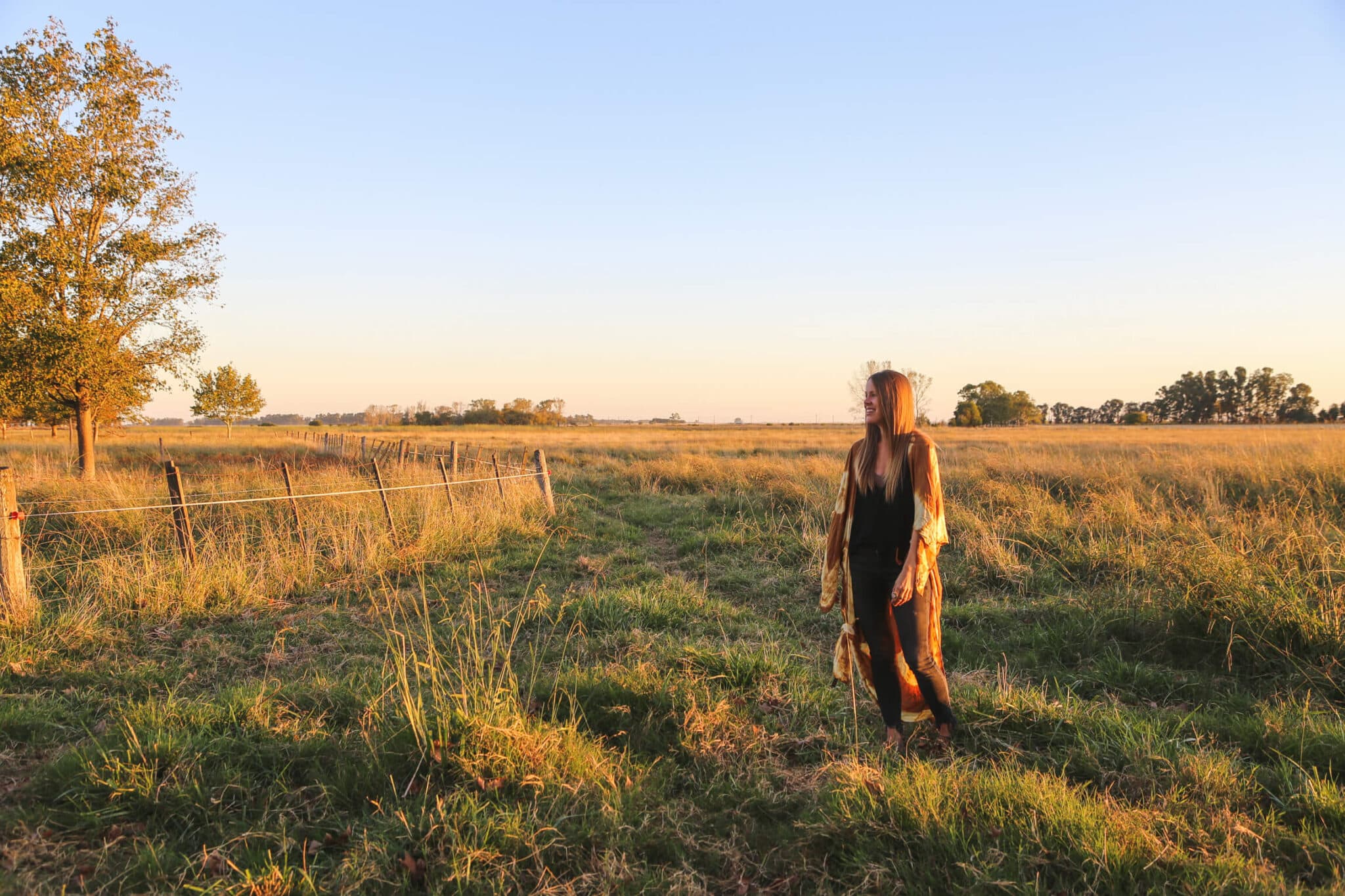 QUICK NOTE: This post contains affiliate links and Sol Salute may receive a commission for purchases made through these links, at no extra cost to you.
Estancia La Bandada: Paradise in Las Pampas
Estancias are one of my favorite things to do in Argentina.
When I was invited to spend a night at Estancia La Bandada I didn't have to think twice. We were lucky to spend one night there but I could easily of spent days relaxing on this beautiful property in San Miguel del Monte.
This post is a complete (and honest) review of our stay.
We were graciously hosted by Estancia la Bandada, as always, all opinions are my own.
For more information check their website and follow along with them on Instagram.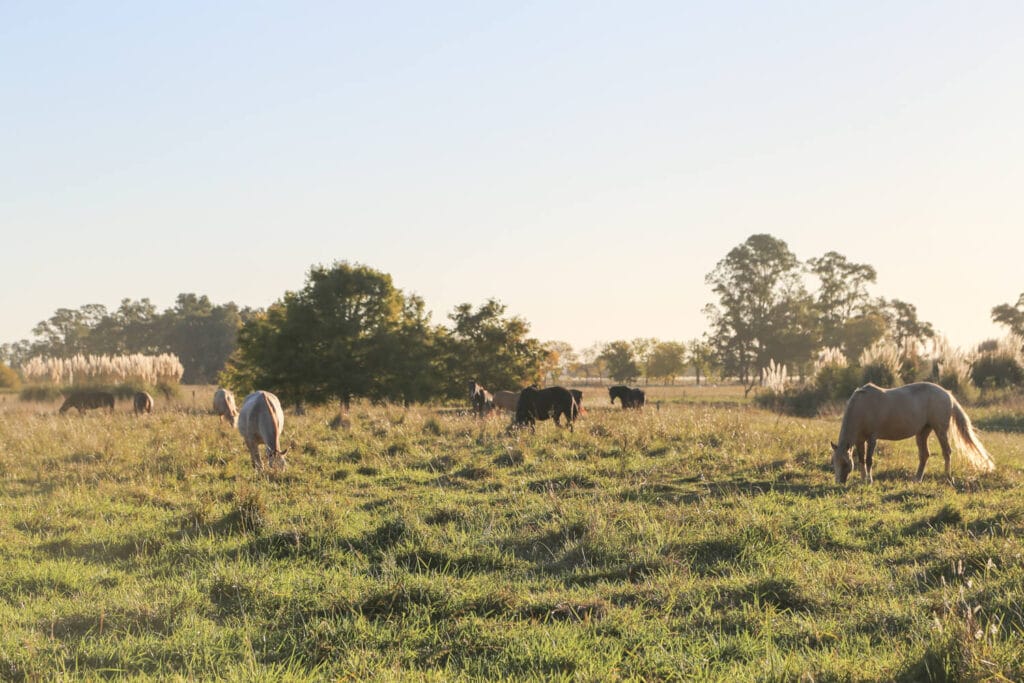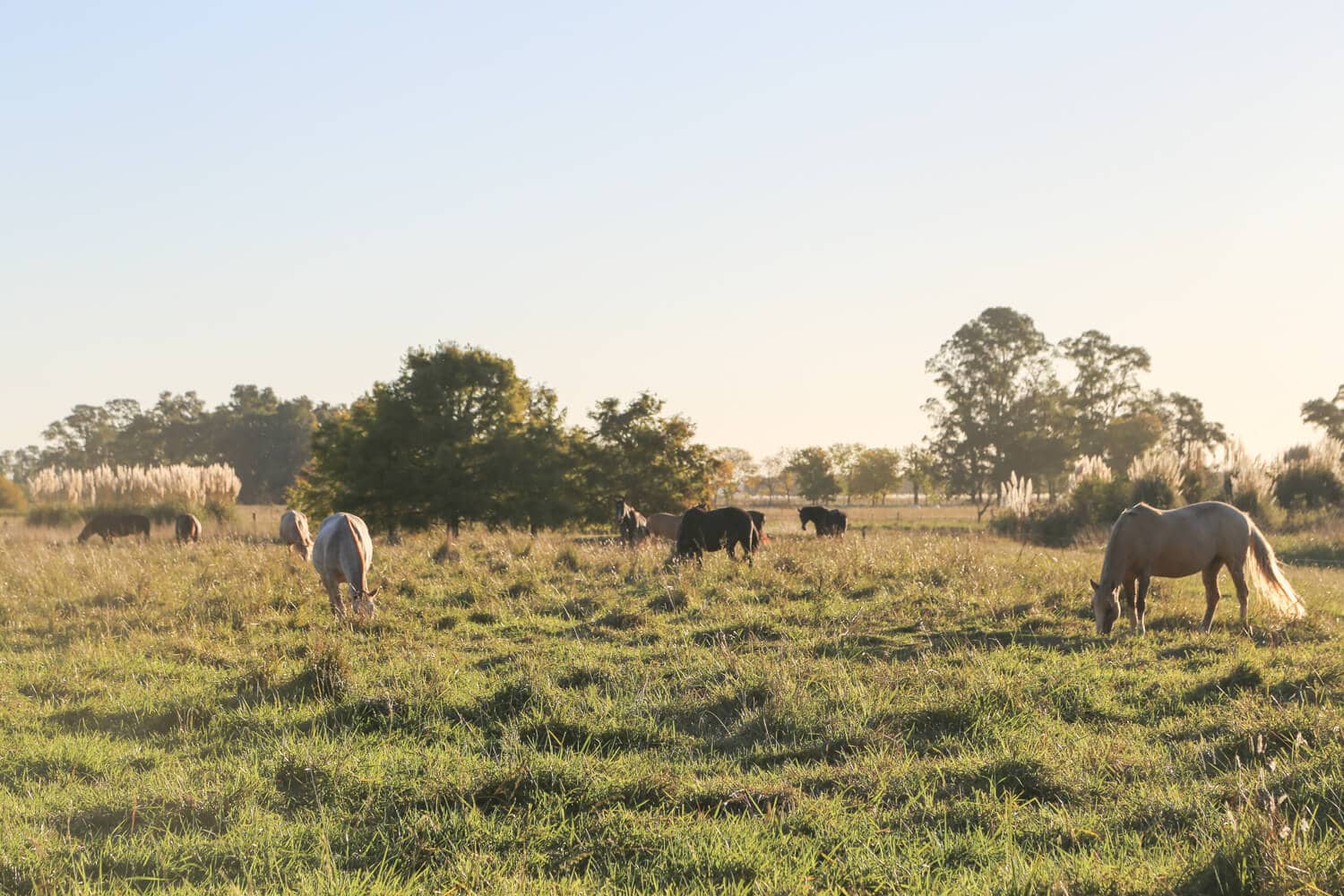 Where is La Bandada?
La Bandada is on the outskirts of San Miguel del Monte.
This historic town in the Argentine countryside is just an hour and a half from downtown Buenos Aires.
It was an easy drive for us and if you're traveling without a car, you can easily arrange a transfer with the estancia or rent a car here.
San Miguel del Monte is conveniently located near Ezeiza International Airport.
If you schedule your stay for the final days of your trip, you can leave straight to the airport without worrying about city traffic causing any stressful delays, marking a blissful end to an adventurous trip.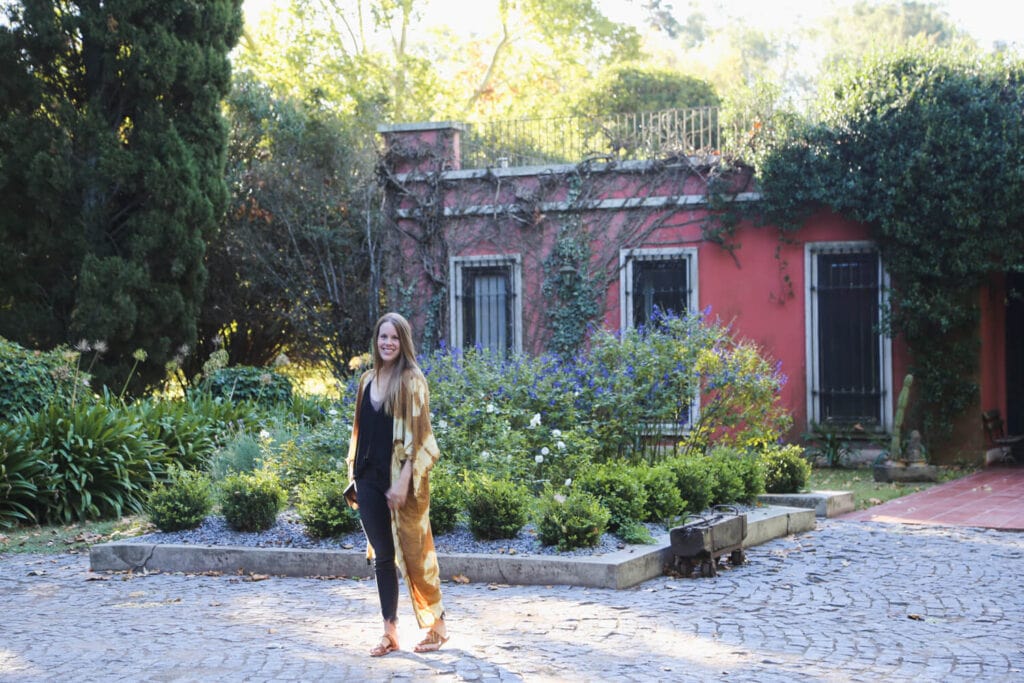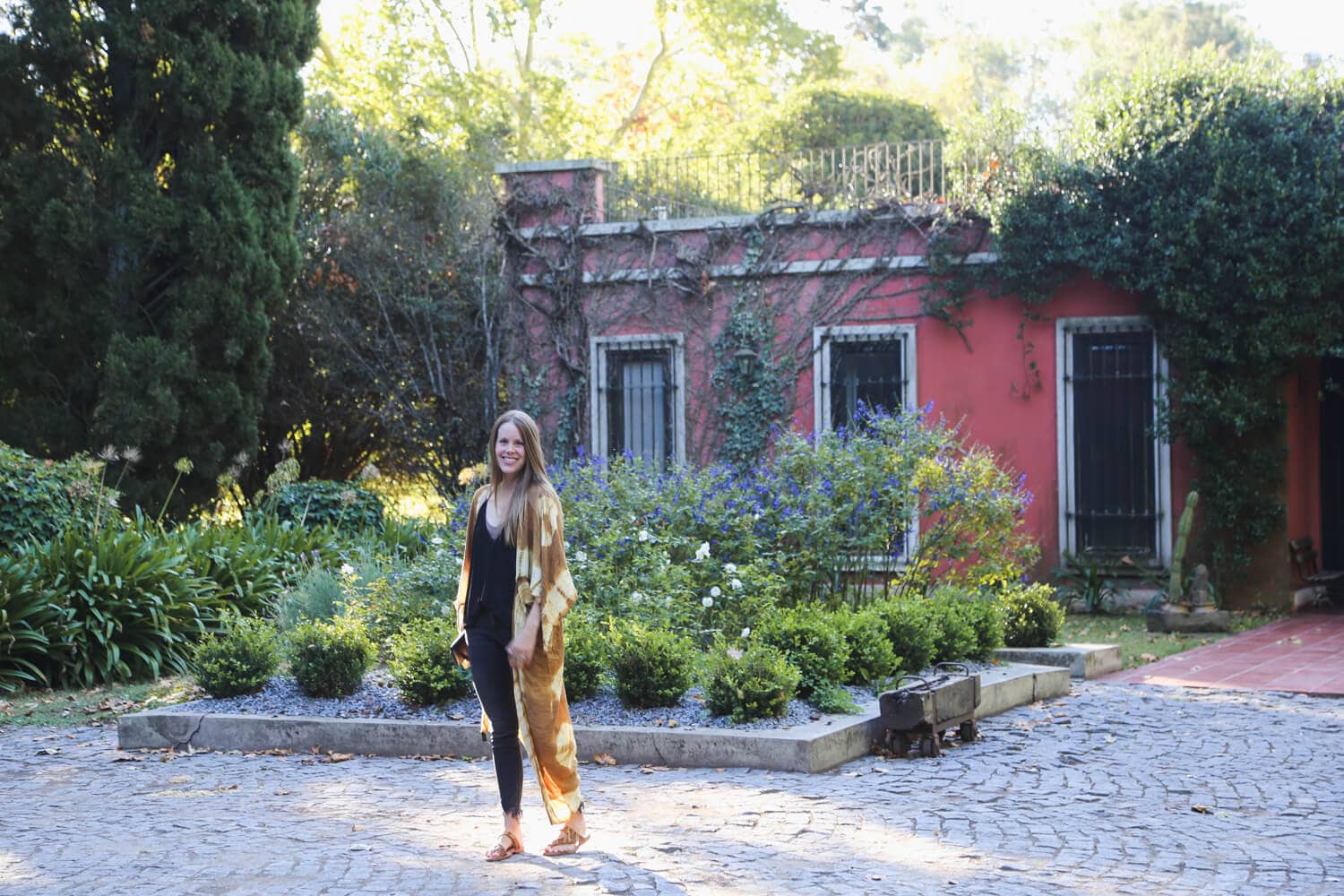 End Your Trip at Estancia La Bandada & Unplug
When we travel, especially in Argentina, we don't stop. We wake up with the sun and keep moving until well after dark.
There's just so much to see and do and hike and eat that I forget that vacations are also meant for rest.
Spending a day at a Buenos Aires estancia like La Bandada is the perfect antidote for such hyperactivity.
Estancias are slow-paced and indulgent. You eat, rest, go on horseback rides, and experience gaucho culture in a relaxed, spectator-like manner.
You're there to disconnect and relax. If you're like me, consider booking a couple nights at La Bandada at the tail end of your trip.
Whether you stay at the beginning or end of your Argentina itinerary or just visit for the day on a dia de campo, you'll have a great time.
Visiting an estancia is a quintessential Argentine experience, an excellent look into rural culture and one of the most popular day trips from Buenos Aires.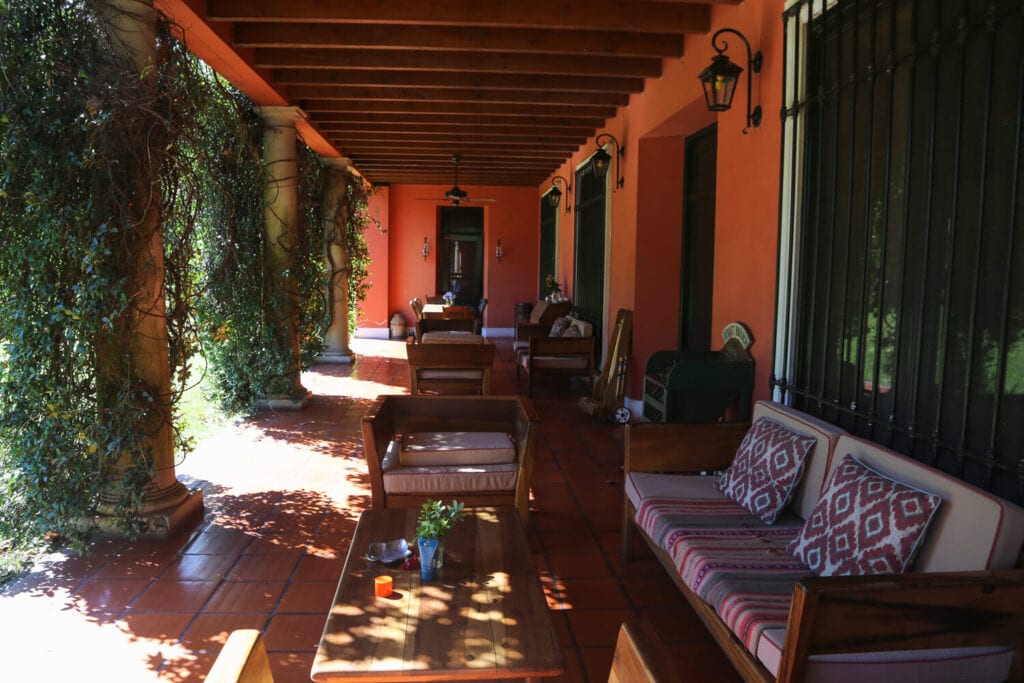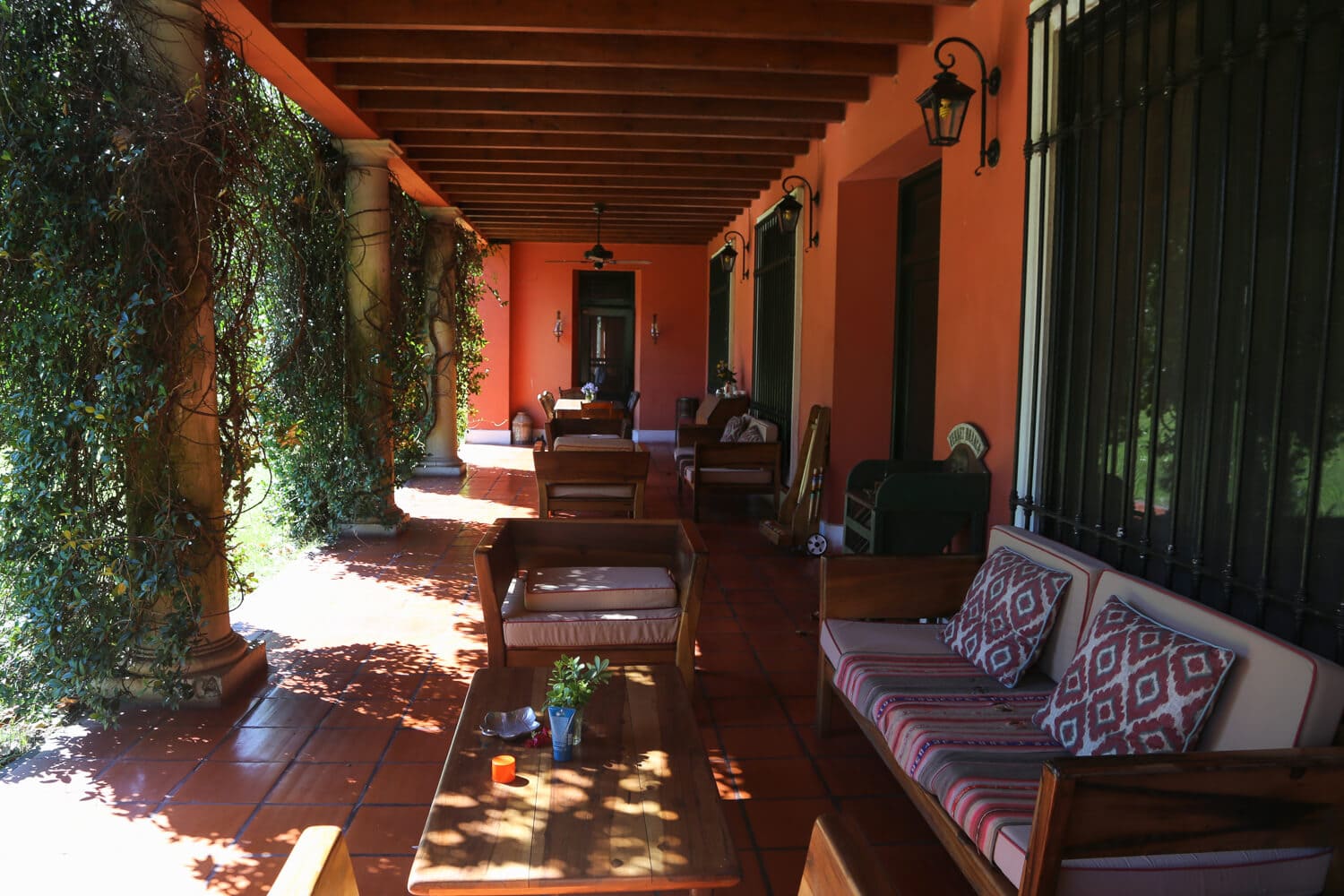 Our Experience at La Bandada
When La Bandada invited us to spend a night on their beautiful property, I was pumped (to say the least).
I'm from the country in Texas, and the congestion of Buenos Aires tends to wear me down.
The idea of spending the weekend on a quiet ranch in the Argentine Pampas was just what the doctor ordered.
Lunch at La Bandada
We arrived at La Bandada at 11 am so we could maximize our day of relaxation.
We stashed our things in our room and ventured out to the patio (above) with our books.
While our books sat on the coffee table (where they would remain all weekend, untouched), we had fresh lemonade with herbs from the garden and bruschetta to tide us over until lunch.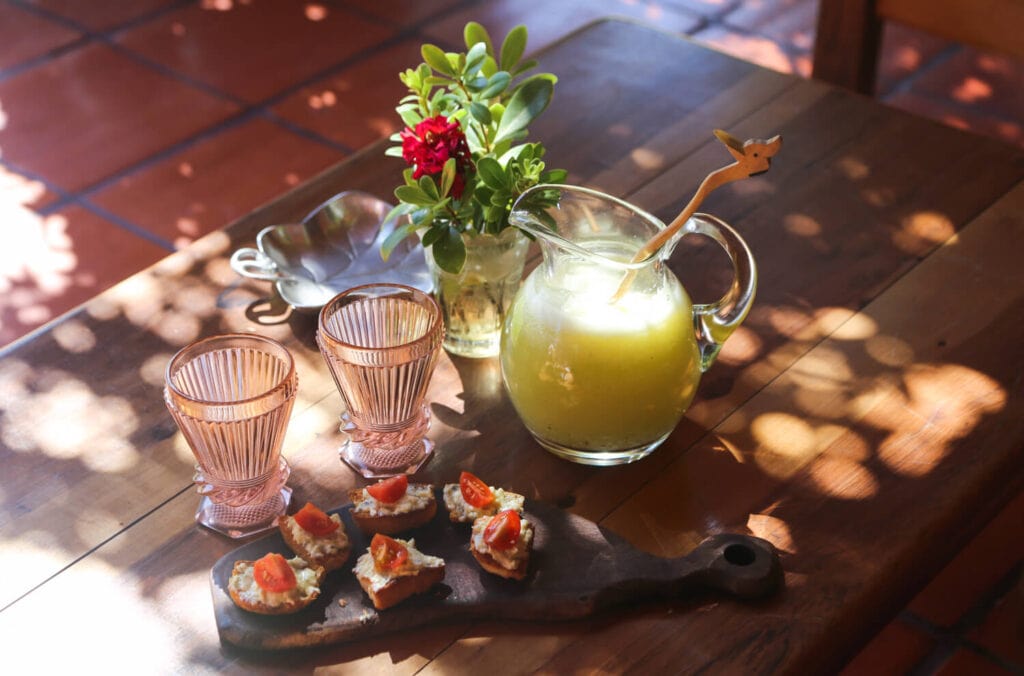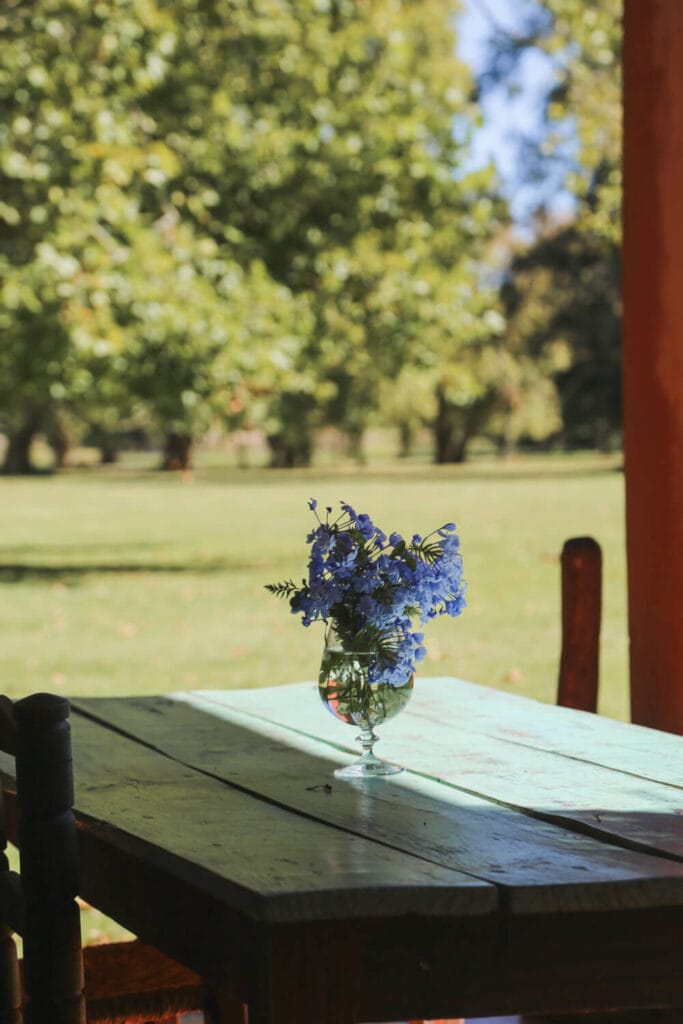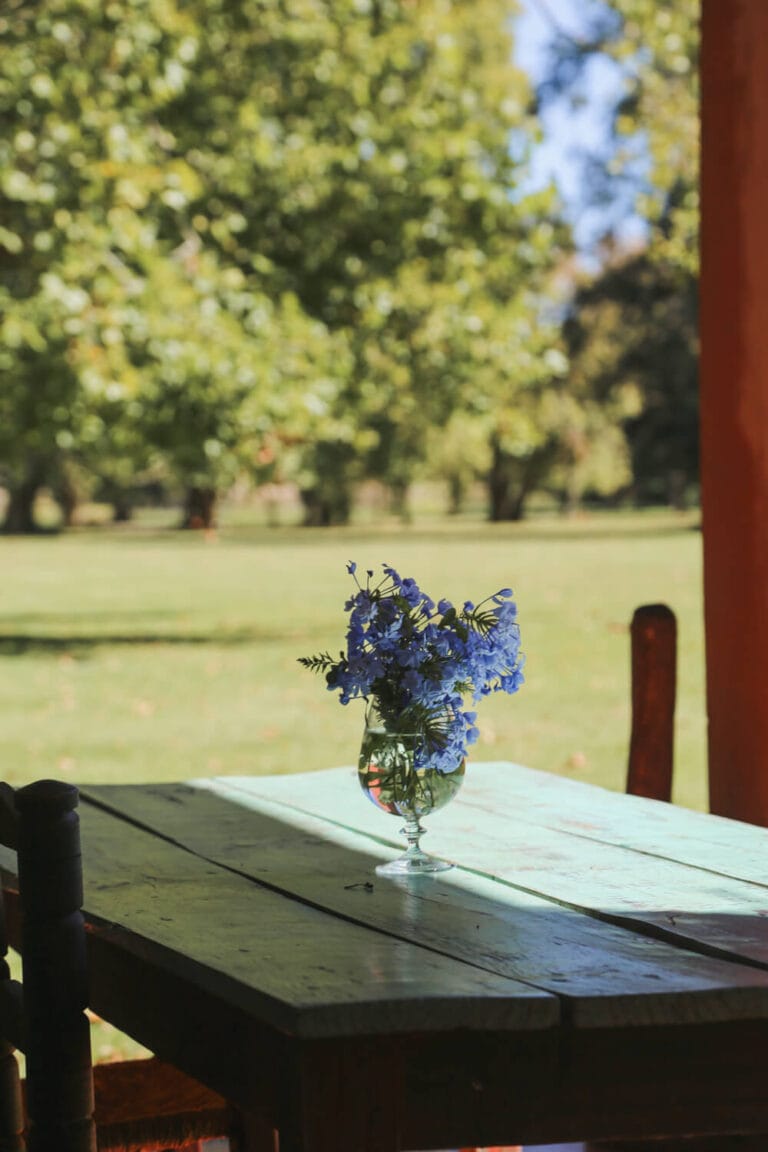 We had fresh pasta for lunch with sauteed vegetables and a crisp white wine.
If you're coming out for a dia de campo you'll likely have a meat centered asado on the lawn.
Dessert was a Dulce de Leche mousse (Argentina makes amazing desserts) with another glass of wine (I never say no to wine).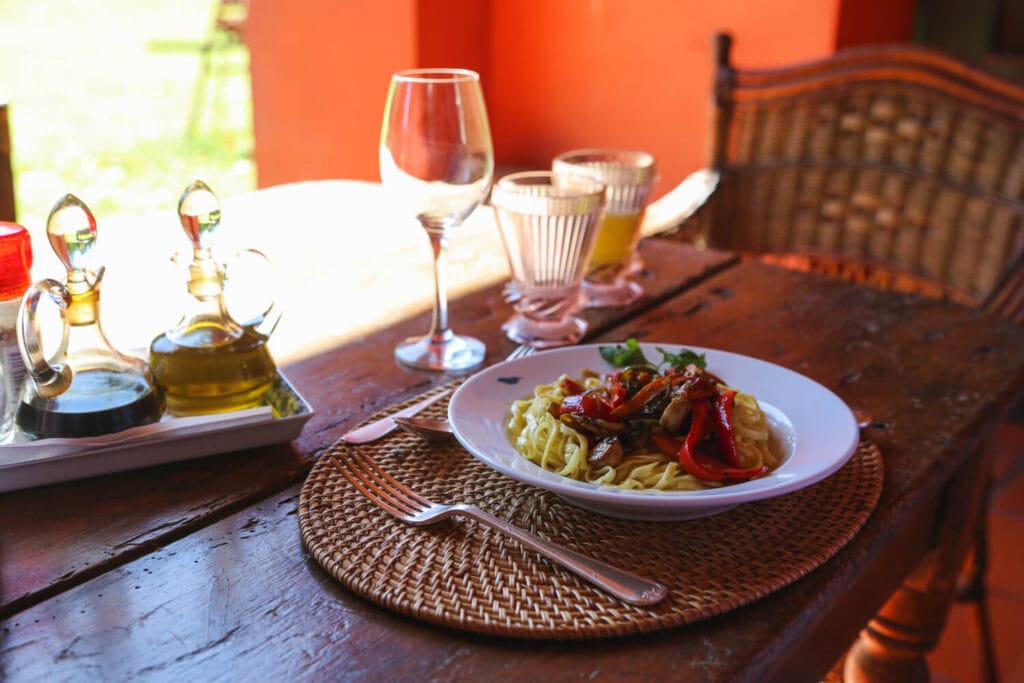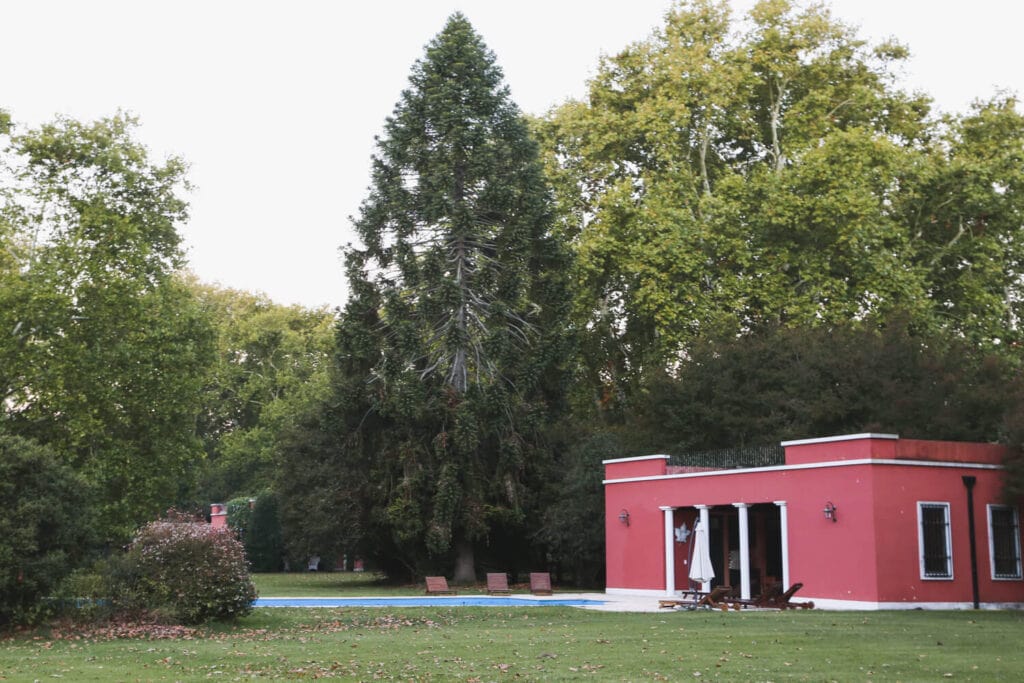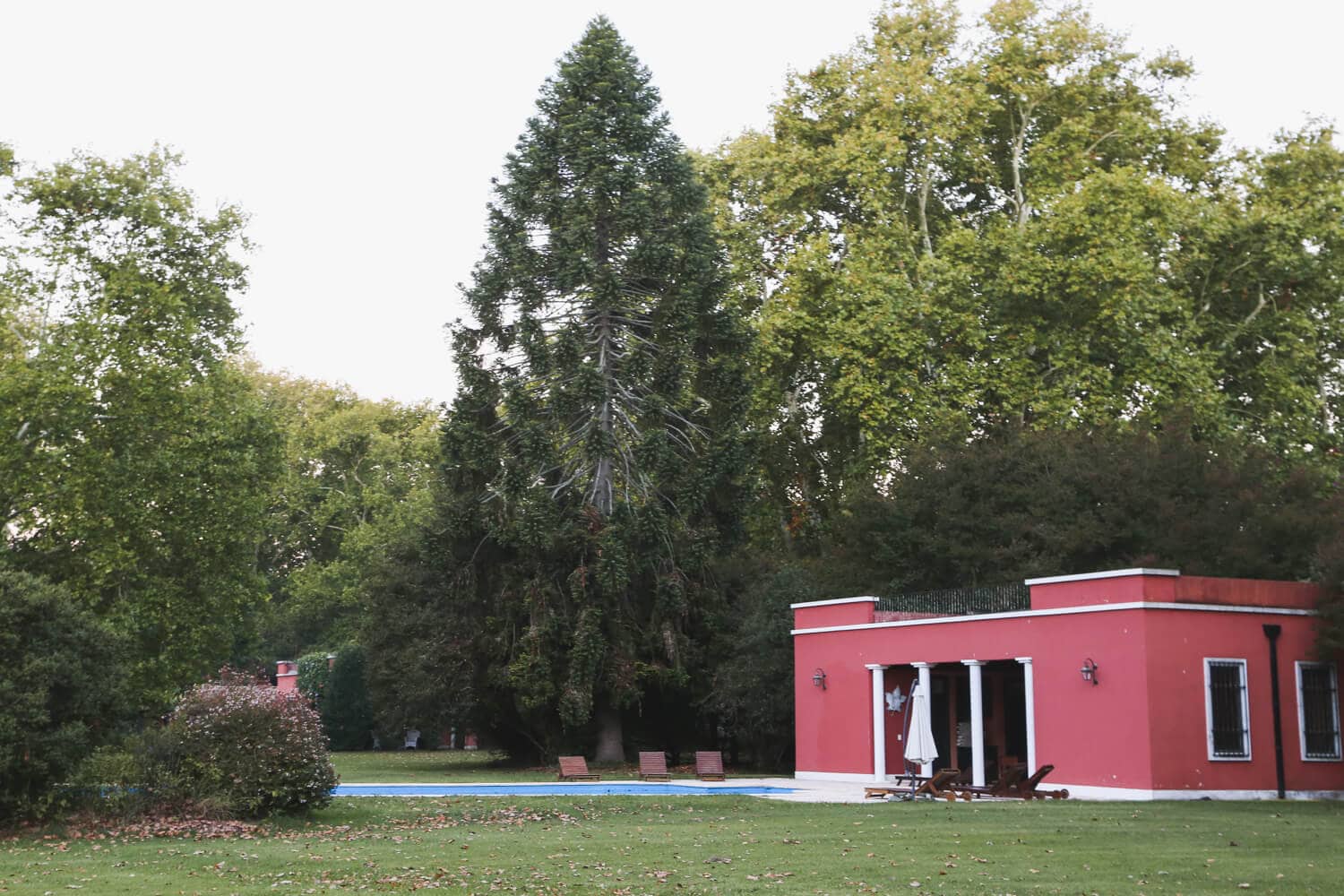 Activities at Estancia La Bandada
You can do as little or as much as you want at La Bandada.
We opted for "as little."
After lunch, we relaxed by the pool until our planned afternoon horseback ride.
You could easily order a bottle of wine to enjoy by the pool and spend your entire day parked in one of the lounge chairs.
If you want to experience more of Argentine culture while you're here, you can organize a visit to watch the local Polo team practice or arrange a cooking class from the excellent chef.
The ranch is your oyster. I, personally, loved the pool!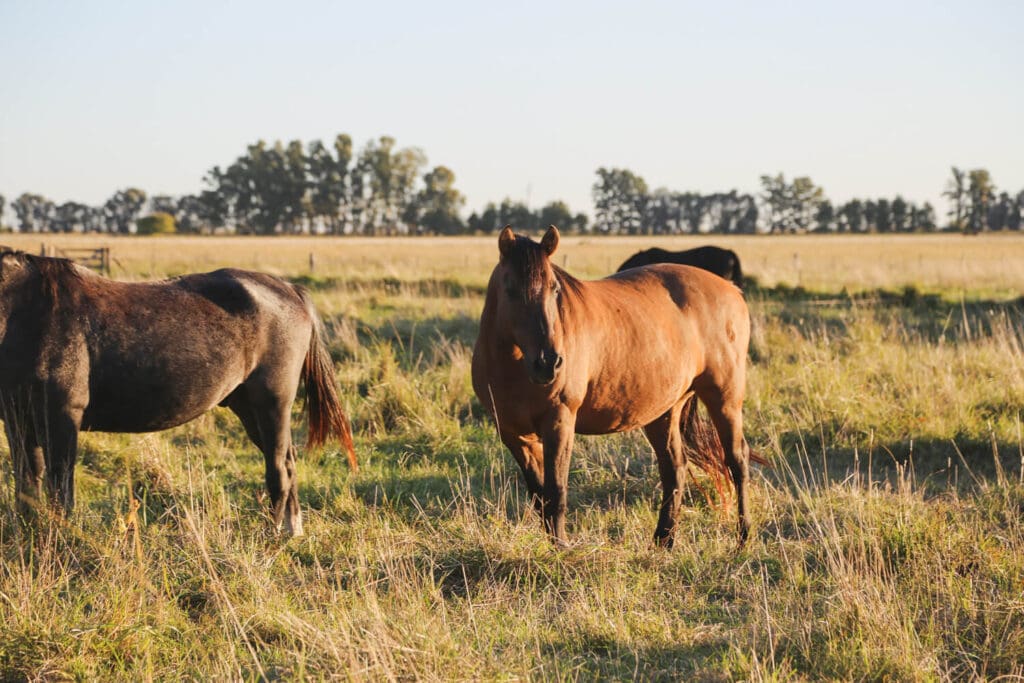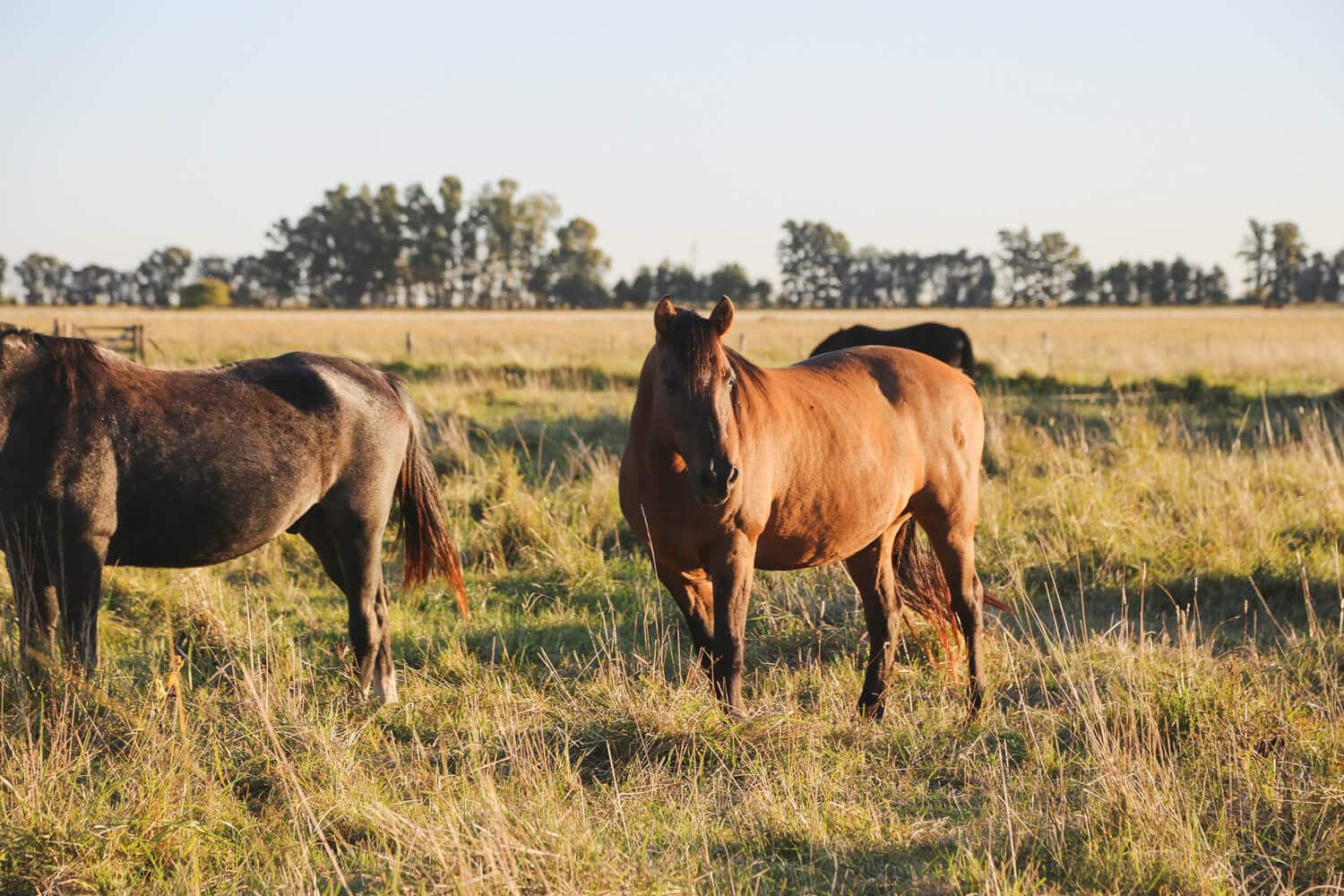 A Horseback Ride Through Las Pampas
At 3, Lucia picked us up from our room for a horseback ride through the property.
We rode by the small laguna, visited the property's 3 resident llamas and bird watched.
If you're an avid bird watcher, you'll be in heaven here! I'm not exactly a birder myself, but I did enjoy seeing some colorful species I'd never seen before.
To continue our trend of eat, rest, repeat, merienda (afternoon tea time) was waiting for us after our horseback ride. We enjoyed our freshly baked banana bread and tea on the back patio.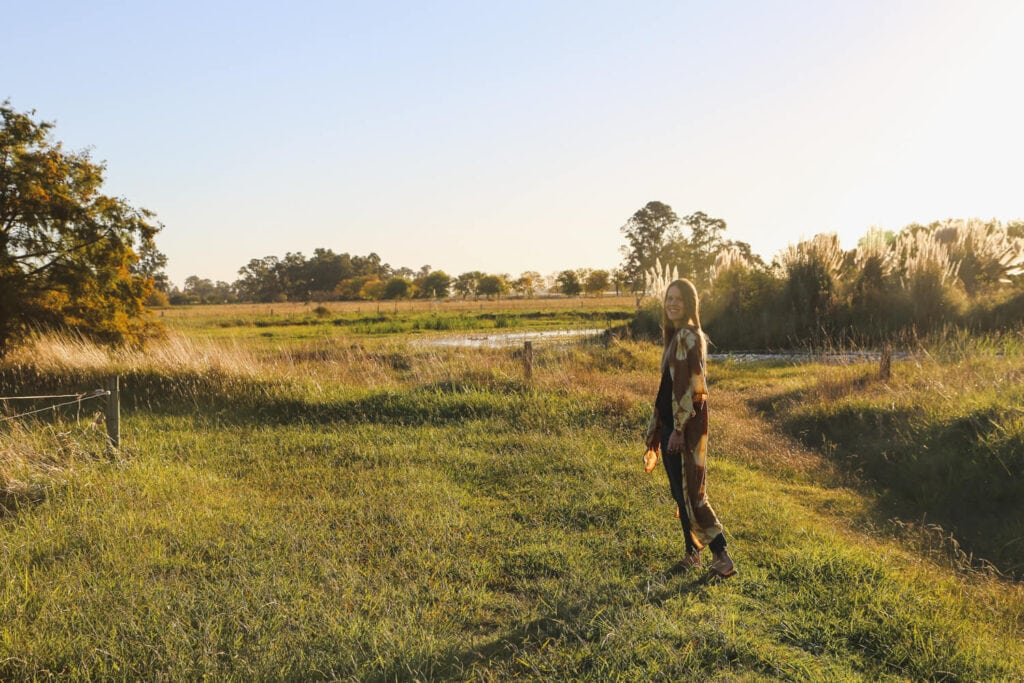 Sunset over Las Pampas
My favorite part of the entire day was watching the sunset over the laguna.
We took a print out with all of the regional birds and a pair of binoculars and went on a walk across the property.
Martin enjoyed the bird watching but I only had eyes for the sunset.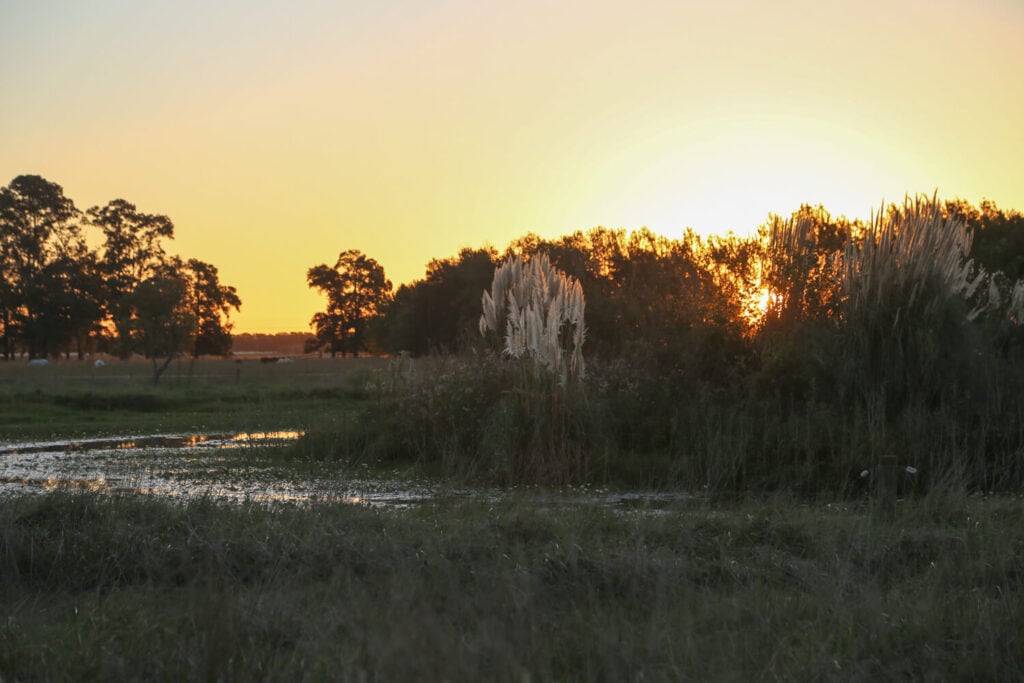 Fires & Dinner at La Bandada
When we were walking back to our room, I could see the smoke billowing from our room's chimney.
While we were away they had built a fire in our room and it was the coziest thing ever to return to!
The only downside was that it was hard to peel ourselves out of the room for dinner. Where another fire was burning…
Dinner was a top notch asado (a barbecue grilled on the fire above) served at the dining table in the main living room.
We ordered a bottle of my favorite Amalaya Malbec and dug in.
The meal included all of the traditional cuts along with grilled vegetables. Not all asados are created equal and this one was first-rate.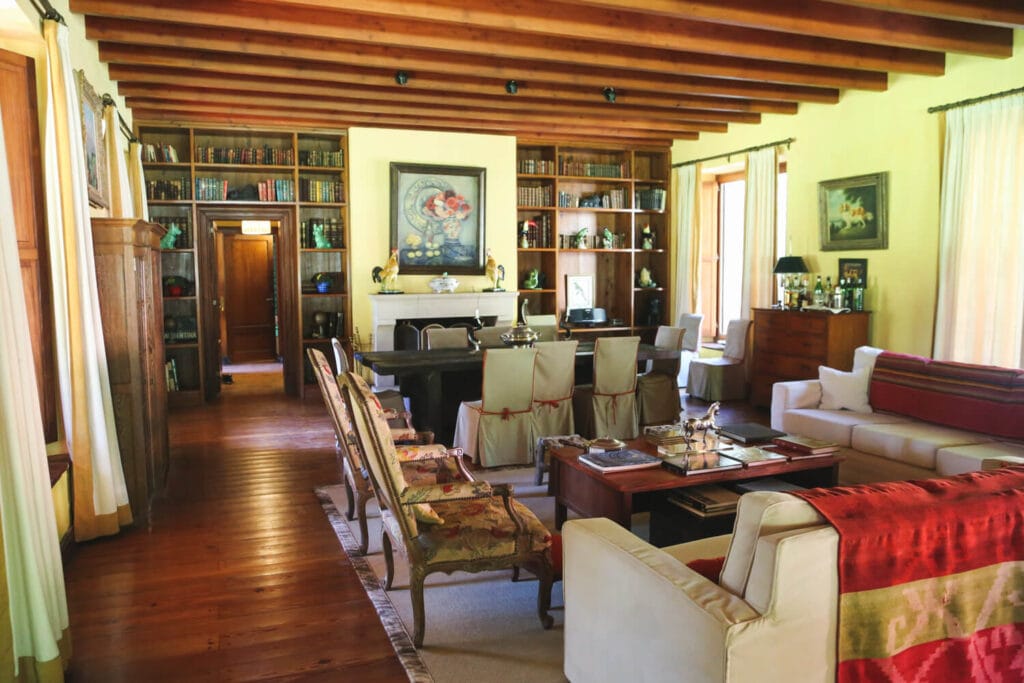 The End of a Perfect Day
After dinner, we returned to our room to the fire (that had been refreshed while we were away). I felt so relaxed after our day at La Bandada.
Sometimes it can be hard to disconnect and let myself just do nothing and enjoy.
If you're in need of a bit of disconnect yourself, I recommend adding a night or two at Estancia La Bandada to your Buenos Aires itinerary.
It's the ideal complement the hectic hustle and bustle of the city.
Check rates and availability for your stay now.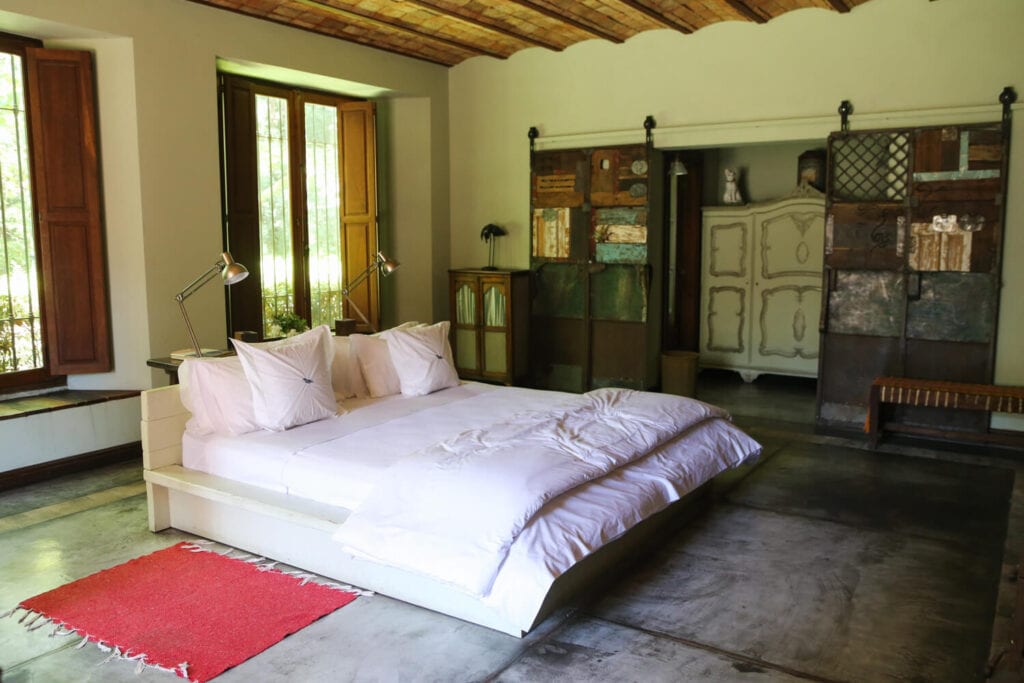 Our Room at La Bandada Estancia
I don't have the words to do our room justice. It was decadently comfortable without a single touch of pretension.
It was impeccably decorated with blankets, rugs and pieces of furniture from across Argentina. The enormous bathtub comes with yerba mate shampoos and soaps, and I've already mentioned the fireplace.
Every detail was clearly well thought out.
We slept like babies with only the sound of the birds to disturb us.
The property has 5 rooms, each named for one of the regional birds. Our room (above) was El Hornero.
It's the largest room, ideal for a couple, and had its own private patio. There are two other rooms that are suitable for couples or solo travelers, and two two-bedroom suites that would be great for families.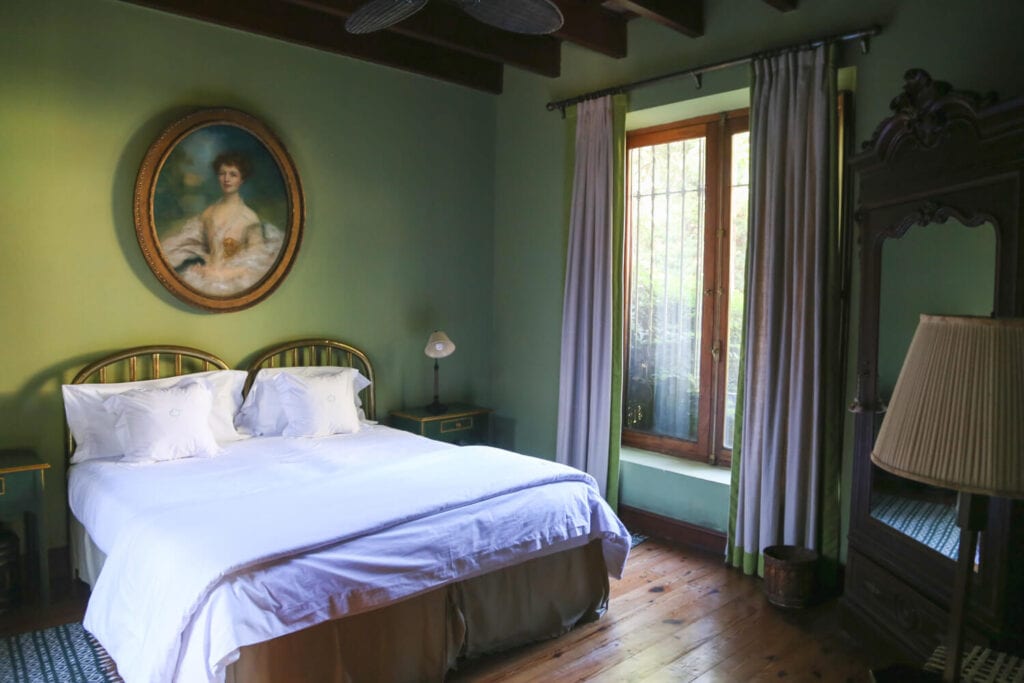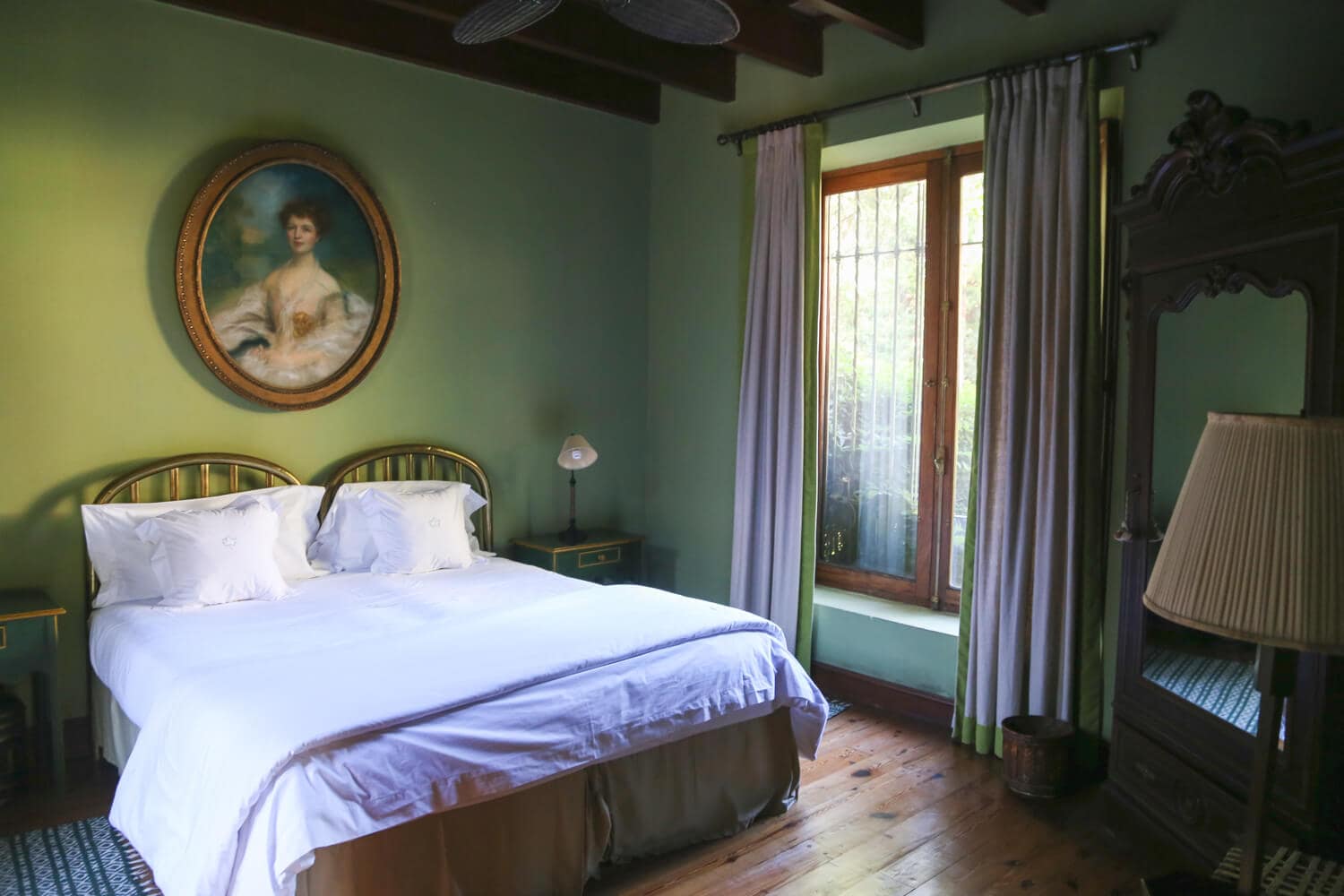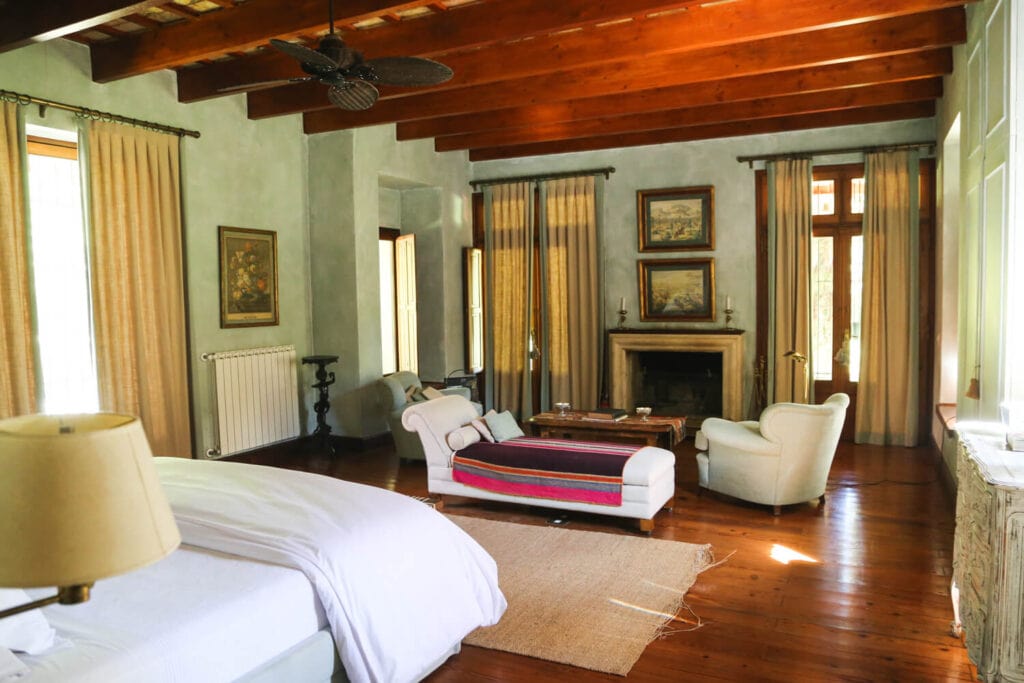 We woke up at 8 am just in time for breakfast, which was waiting for us in the dining room.
The full spread was a classic Argentine breakfast but prepared with the best ingredients.
Pastries, toast and jam can be found on any breakfast table across Buenos Aires, but the fresh bread and house made jam (made from fruit grown on the property) were excellent.
The fresh squeezed juice, fruit salad and coffee made my morning.
A reluctant Goodbye
After breakfast we hung around the living room, talking to Grace (thanks for everything!) about her travels and her plans for La Bandada.
We were in no rush to leave and when we finally began our drive back home to Buenos Aires, we did so reluctantly but refreshed from a perfect weekend at La Bandada.
PIN IT FOR LATER