A daily yoga practice can do wonders but it can be hard to maintain the same consistency on the road that you have at home.
It can take a little extra dedication and a lot more flexibility (and not the kind that lets you touch your toes!) but it's 100% possible to maintain a yoga practice while traveling.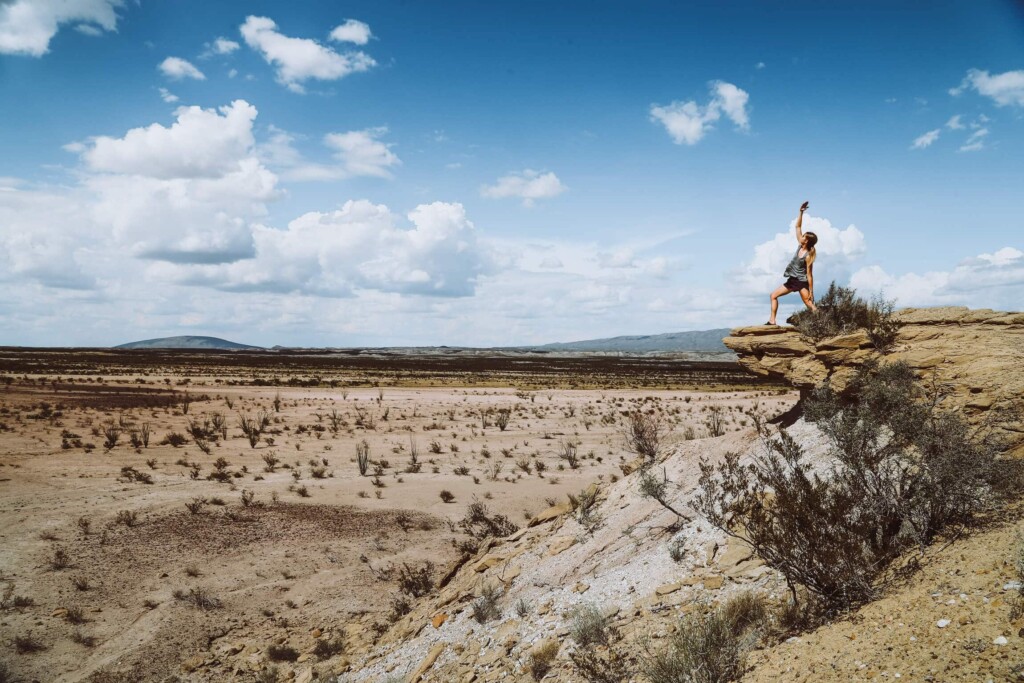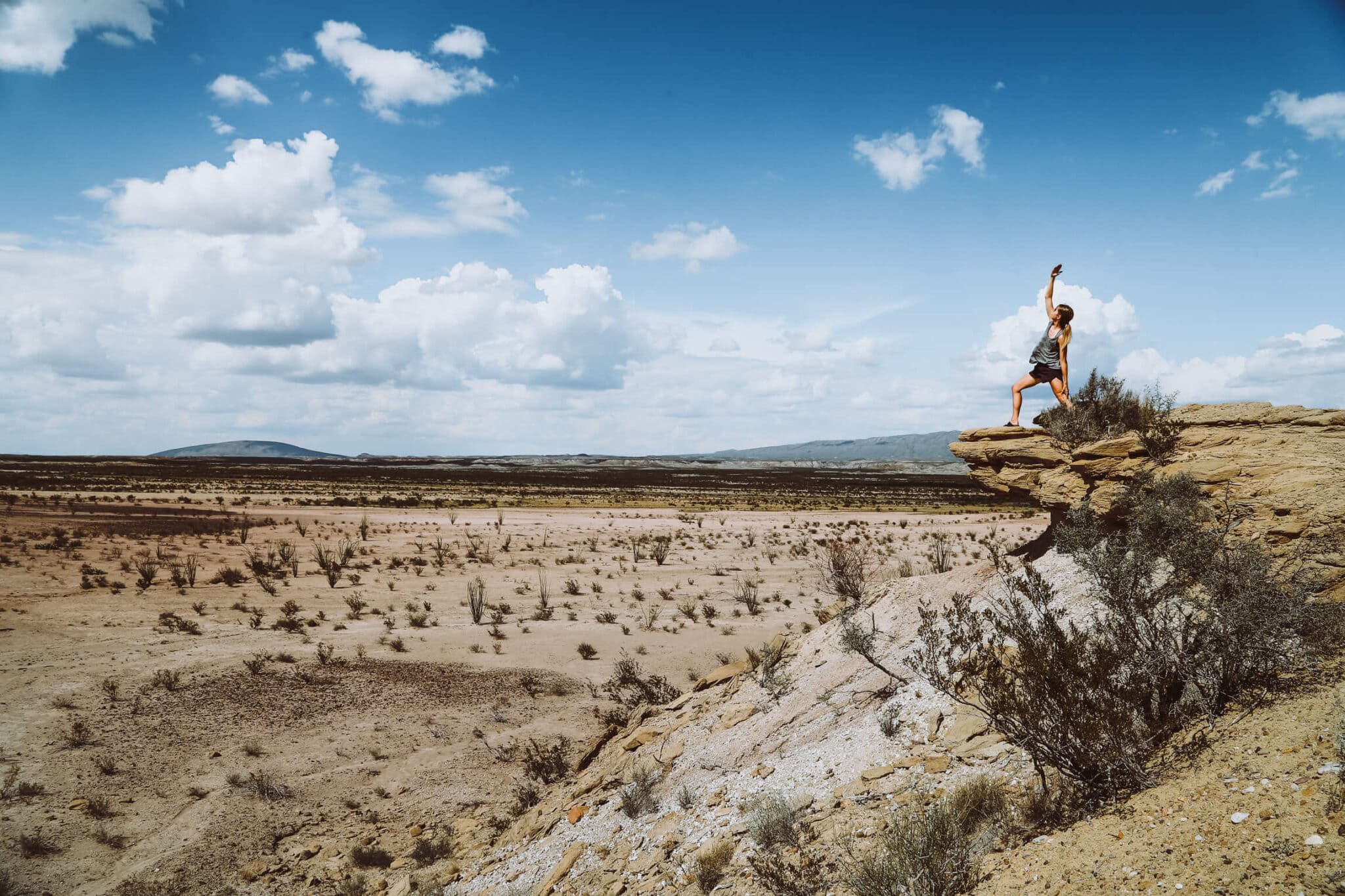 QUICK NOTE: This post contains affiliate links and Sol Salute may receive a commission for purchases made through these links, at no extra cost to you.
How I Maintain My Yoga Practice While Traveling
While I always make an effort to practice yoga when on the road, I have to admit that I'm not always successful.
There are so many new things to see and do. I tend to pack my schedule tight with little to no downtime.
At the end of the day we're worn out. In the morning I'm groggy and ready for breakfast.
But if I make just a little extra effort, I can always find time to hit my mat even on holiday.
And when I do, I always, always feel 100% better afterwards.
Here are the main things I've found that help me maintain my yoga practice while traveling. I hope it helps you too!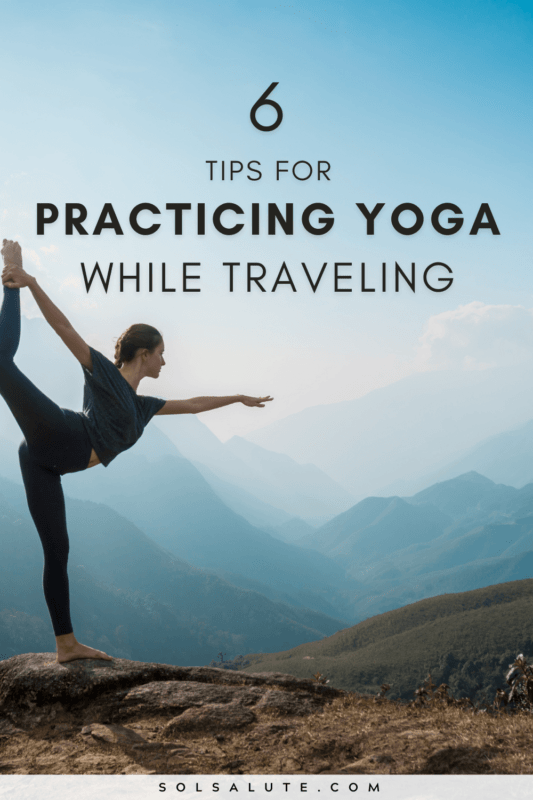 1. Bring A Travel Mat
Bringing along your yoga mat is bringing along your dedicated practice space.
The physical action of rolling out my mat and feeling the texture of it below my bare feet flips a mental switch.
It puts me in the right headspace to practice without distraction.
Invest in a mat designed for travel.
They're much more affordable than thick, regular yoga mats and will fold up into the size of a pair of jeans to slip unnoticed into your backpack or suitcase.
Read my post here about my favorite travel mats.
Choose one that's right for you and never leave home without it.
TLDR: Of all the mats in the post linked above, this YOGO mat is my favorite. It's foldable (to the size of a newspaper), has a built-in strap, has beautiful color options, and I take it everywhere!!
2. Do 10 Sun Salutations
When I really don't want to move my body, I promise myself I'll do just 10 simple sun salutations.
It is a simple sequence that I can do mindlessly and get out of my head.
It is also a full-body sequence, lengthening the spine, opening the heart, strengthening the upper body, and elongating the legs.
Usually, by the 5th sun salutation I'm adding in more postures and, more often than not, I end up moving into a complete practice.
But even when I only do the sun salutations and nothing else, I feel SO much better by the end.
My head is clearer and I'm ready to start the day after an efficient 10 minutes on the mat.
When in doubt, just do sun salutations!
3. Use Online Yoga Classes & Download Ahead of Time
There are so many options for yoga classes online that there is really no excuse.
You can practice with your favorite teaches from anywhere at any time!
These 6 online yoga programs are my personal favorites. I use them all and personally swear by them. Some are free on YouTube and a few are subscription based.
TIP: Find a program that lets you download the videos for later.
You'll be grateful when your hostel's WiFi is down or you're in an isolated location with no cell service.
4. Wake Up Early
Let's be honest, once the day gets started you're not likely to cut your fun day on vacation to do yoga.
Set your alarm and literally salute the sun.
The best way to be sure you're getting your practice in is by starting your day with it.
No surprise happy hour or delayed tour will get in the way as the day evolves.
Starting the day with your practice will also get you into the right head space to start the day on the right foot.
5. Practice at a Local Studio
Find a few studios in your destination and schedule a few classes into your itinerary.
It's a great way to meet new people while you're in a new city as well as get a more local's experience.
I, personally, have a hard time making time for this but if I plan in advance I tend to be more successful.
Before you leave home do a little research into the yoga scene where you're going.
TIP: Rent your hotel room or Airbnb with your practice in mind! Look for a big balcony, yard, or terrace so you can watch the sunrise from your mat.
6. Do More Than Asana
Asana, or the physical postures, is only one branch of a complete yoga practice.
Don't feel like you have to physically move your body every single day to be a true yogi. You absolutely don't!
Sit in stillness. Meditate. Be kind to those around you even (especially) when you're exhausted with jet lag. Avoid waste and do as little harm as possible.
All of this is yoga.
TIP: A lot of the yoga programs I list in the link above under online yoga classes also have recorded meditations.
If you're having a hard time calming your mind to sleep after a crazy travel day, calming recorded meditations can work miracles.
The Traveling Yogi
I hope these tips keep you moving wherever you find yourself!
Whenever I travel I push myself physically, hiking all the trails and walking as long and as far as I can and maintaining my yoga practice on the road is the salve my body needs.
Remember to go easy on yourself, enjoy the practice and enjoy your holiday.
How do you stay active when you travel? Let me know in the comments
Read Next: